---
Era Najib Altantuya : Kezaliman ISA Perlu Ditentang
Posted: 31 Jul 2009 10:04 AM PDT
I
su Semasa : Kezaliman ISA.
1. Sejak Akta Keselematan dalam negeri dikuatkuasakan pada tahun 1960, kira-kira 10,662 orang ditahan dibawah akta zalim itu.
2. ISA digubal oleh penjajah untuk mencantas insugensi komunis, tetapi kemudian ISA digunakan untuk memburu suara-suara bangkangan terhadap kerajaan.
3. Chegu Bard mengisahkan peristiwa Memali pada tahun 1985. Ratusan peluru hinggap ke dada Ustaz Ibrahim Libya.
4. Ustaz Burhanuddin Al-Helmy, pemimpin PAS ditahan ISA pada 1965 sehingga menghembuskan nafas terakhirnya pada 1969.
5. Tan Sri A.Samad Said ditahan di bawah ISA hanya kerana sebuah puisi yang mendesingkan telinga.
6. Ustaz Harun Din melihat pada sudut syarak. Hadith sahih "Orang yang mendakwa mesti membawa bukti tuduhannya, orang yang dituduh mesti membawa bukti yang disebaliknya." Islam pada asasnya tidak membenarkan hukuman tanpa perbicaraam.
7. Ab Malek Hussin mengisahkan semasa menjadi tahanan ISA yang dicurahkan air kencing ke mulutnya.

8. Dr. Nasir Hashim (ADUN Kota Damansara) - Najib membebaskan tahanan ISA dalamasa menahan orang lain di bawah ISA. Selagi ada ISA selagi itulah negara kita bukan negara demokrasi. Mengubah 60 hari ke 30 hari tidak ada bezanya, penahanan tanpa bicara.

9. September 1998, era reformasi, beberapa pemimpin pembangkang ditahan termasuk Datuk Seri Anwar Ibrahim.

10. Kerajaan menggunakan pelbagai alasan untuk menahan sesesorang untuk ditahan di bawah ISA. Nik Adli Nik Aziz ditahan kerana kononnya terlibat dengan latihan ketenteraan Afghanistan yang tidak dapat dibuktikan.

11. Exco Selangor Teresa Kok ditahan kerana didakwa menghina Islam selepas mendema alat siaraya kepada sebuah surau.

12. Akuan Bersumpah, seorang polis menyiasat Ah Long dan polis itu dikenakan tindakan tatatertib kerana Ah Long itu mempunyai kaitan dengan Ketua Polis Negara, Tan Sri Musa Hassan.

OLEH ITU 1 OGOS 2009, PASTIKAN KITA BERSAMA GERAKAN MANSUHKAN ISA KE ISTANA NEGARA.



SIM – UOL Freshmen Orientation Bash @ Butter Factory
Posted: 30 Jul 2009 08:45 AM PDT
Photo Courtesy of Yang Fanglin
Event: SIM UOL Freshmen Orientation Bash
Location: Butter Factory @ One Fullerton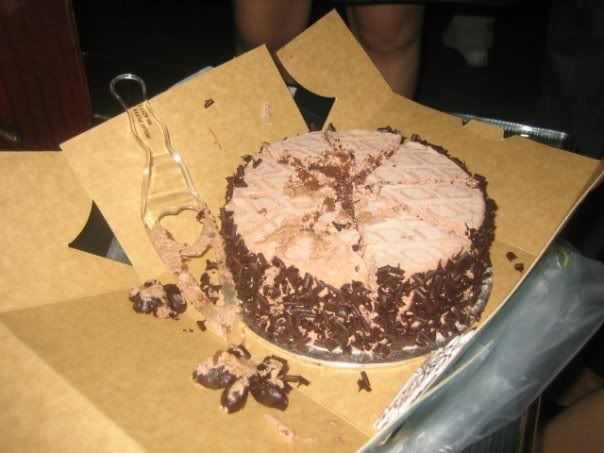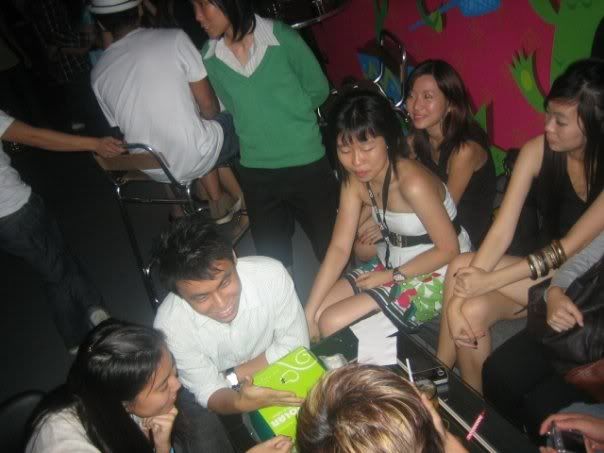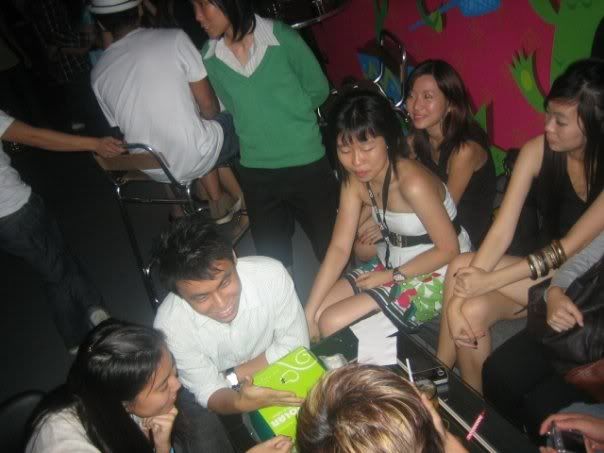 NOT FOR THE FAINT HEARTED.
BUT THERE IS THIS GREEN GREEN MAN LURKING IN THE BACKGROUND AT BUTTER FACTORY~!
ITS ONE OF THEIR FLOOR STAFF
HOLD YOUR BREATH AH!
.
.
.
.
.
.
.
.
.
.
.
.
.
.
.
.
.
.
.
.
.
.
.
OH MY GOODNESS~! HELP ME~!
altantuya najib: Roadblocks ahead of tomorrow's protests - nizar zambry
Posted: 31 Jul 2009 10:34 AM PDT
UPDATED 2PM Police have set up roadblocks at major traffic arteries throughout the Klang Valley towards Kuala Lumpur ahead of two mass rallies planned for tomorrow.MORE

| | |
| --- | --- |
| | Simultaneous rallies: pro-ISA vs anti-ISA |
| | Change in plan for pro-ISA group |
IF only the police were as effective in combating crime as they were in 'creating chaos' in traffic, then I would '

tabik hormat

' them.
Thanks to the police, ordinary

rakyat

like us were forced to go through the terrible traffic. THANK YOU, POLICE. Terima kasih!

The three mighty men of David: Why some soldiers become great?
Posted: 31 Jul 2009 09:59 AM PDT
(
Image
Source
)
Introduction
Why do some soldiers become great?
The exceptional military achievements of David's army were par excellence. Out of these, the three mighty men of David were the most outstanding. (
2 Samuel 23:8-17
)
#1
:
Triumph Over Limitations
Josheb-Basshebeth: He raised his spear against eight hundred men, whom he killed in one encounter.
#2
:
Triumph Over Impossibilities
Eleazar: He stood his ground and struck down the Philistines till his hand grew tired and froze to the sword.
#3
:
Triumph Over Larceny
Shammah: He took his stand in the middle of the field. He defended it and struck the Philistines down.
Review our shortcomings Published on July 30 , 2009
Posted: 31 Jul 2009 06:59 AM PDT
Dear Editor,
I was puzzled to read the letter in The Star, on fatwa needed on MACC procedure by Prof Dr Kamarudin Mohd Yusoff.
While I appreciate his compassion for the death of Teoh Beng Hock, that shows concern beyond religiosity, what I do not agree with is his reasoning that the investigative procedure used by MACC is professionally taught by Westerners and since Westerners are godless people their method of investigation is based on the end justifying the means.
This is a simplisitic notion that does not address the root cause of the problem. Procedures are basically written by humans and they could be reviewed and changed, but what is critically important is the intention of the interrogator and whose purpose he or she is serving.
When one analyses the behaviour of MACC since its change of name, what I see is the selective nature of how it conducts its investigation.
This is evident when it is prompt in investigating opposition politicians, but slow when it involves top Government officials or former and present ministers.
Therefore till the MACC is able to build up its professional image, immersed in a culture that is not subservient to any political authorities, the fatwa that is intended by Professor Dr Kamarudin will merely be academic and a public relation exercise that lacks substance.
A paradigm shift in thinking is needed, where those who are still beholden to old culture in the MACC should be replaced and punished if found guilty, as one reflects on the tragic death of not only of Teoh Beng Hock but also those who have died in similiar circumstances in our beloved Nation.
Blaming the Westerners for our own shortcomings is shortsighted and should be avoided.
Ronald Benjamin
Ipoh
Herald Malaysia
Posted: 31 Jul 2009 06:56 AM PDT
A death in the hands of MACC smacks of torture and, to say the least, is shocking. We know that when torturous methods are used to extract information from a person, such a practice or practices are not only unjust and unethical, but also evil. No wonder death itself was the definitive statement of this wickedness!
Why was Teoh Beng Hock interrogated in a manner that is unethical? There are more questions to that tragic death of Teoh than there are answers. Why was he interrogated till 3.45am? We all know that information extracted under duress or torture is unreliable. So, why make efforts to distort the truth?
Teoh is a polical aide to Selangor exco member Ean Yong Hean Wah who was being investigated for allegedly having paid RM2,400 for 1,500 Malaysian flags used in the Merdeka Celebrations in 2008, but seemingly with no supplier having delivered the flags. Who is really at fault? And why interrogate an aide who is not the accused person for this measly sum of RM2,400 from 6.00pm to 3.45am. Why torture the person till the wee hours of the morning? Why work in the dark? Those who accused of Jesus of blasphemy also worked in the dark. Unethical practices, like corruption, are known to flourish in the dark areas of life.
Haven't the dailies consistently reported on cases of "corruptions" where millions of Ringgit were siphoned off with no action being taken on those prominent corrupt figures? Awakened by the death of Teoh, the public are questioning the MACC's selective method of interrogation on certain people. Today's citizens read and discuss much about the events of the country and they are aware that the crimes committed by the poor are nowhere near those who commit crimes to build their palatial mansions.
Nevertheless, the death of Teoh and the outcry of the public point to some corrupt practices. The death of Teoh Beng Hock demands that MACC be brought to court for a fair trial and not be 'studied' by a Royal Commission.
Herald Malaysia
A Catholic's perspective on the Al-Islam issue Published on July 30 , 2009
Posted: 31 Jul 2009 06:53 AM PDT
Dear Editor,
For too long, the sensitivities of Catholics have been brushed aside by misinformed Muslims acting on the excuse of ferreting out murtad cases. In 2007, the Holy Mass at Our Lady of Lourdes in Silibin was disrupted when a group of Muslims received a controversial sms that we were "converting" Muslims en masse. This was proved to be unequivocally false. The ceremony which was disrupted was one for first Holy Communicants, young children who are receiving the sacred host, something which the Catholics hold as sacred and sacrosanct. At that time, the Muslims stayed outside and staged a protest, and caused a great deal of fear, tension, and anxiety amongst the Catholics.
In 2009, Muslim journalists have come into our Church, unannounced and disguised as Catholics. This time, they participated in the Holy Eucharist and even received Holy Communion, which is reserved for Catholics alone, and had the audacity of spitting out and then photographing the expelled communion for all and sundry to see. And they even publish it in their magazine. What was their reason for acting in this manner? Again, to ferret out murtad cases.
Can we not see a progression in this? They have now entered our churches and participated in our ceremonies. The sensitivities of Catholics have been completely ignored. Indeed, the latest episode is but a blatant act of contempt towards our religion. What does this white communion wafer mean to us? Joachim Francis Xavier and Sudhagaran Stanley, the two people who have lodged a police report on this matter, subsequently had this to say:
"The 'communion' is held with great reverence and cannot in any way be mishandled or [treated] with a lack of respect. Even Catholics are not allowed to take home the 'communion' but are instructed to consume it immediately during the service. Catholics go through an elaborate process of preparing themselves to receive this 'communion' worthily and those who have not done so are advised to refrain from receiving it."
Xavier and Stanley in a press statement said they were "outraged that these Muslim men consumed it [the communion] only to spit it out later, have it photographed, and have its image published". The two Catholics said it was "total disrespect" for what Catholics regard as sacred.
This time it has gone beyond total disrespect. S 298A of the Penal Code makes it a criminal offence to cause disharmony, or feelings of enmity, hatred or illwill, or prejudicing, etc. the maintenance of harmony or unity on grounds of religion. The fact that the journalists of Al Islam believed that they were ferreting out cases of conversions/apostasy/murtad do not afford them a defence.
S. 298A (7) provides that it shall NOT be a defence to any charge under this section to assert that what the offender is charged with doing was done in any honest belief in, or in any honest interpretation of, any precept, tenet or teaching of any religion.
Such conduct and behaviour is intolerable, inexcusable, unjustifiable, outrageous, and above all, criminal. In such circumstances, Justice has to be allowed to take its course, and due process of the law must take place. I want these journalists to know and understand that there are consequences to their actions. I want these people who think they are at liberty to desecrate our rituals, our sacred liturgy, and our most Holy Eucharist on the pretext of ferreting out murtad cases to understand that such misguided and unfounded belief does not afford them a defence. Such belief does not give them the licence to commit what Catholics regard as sacrilege, to desecrate what we hold as holy, sacred, reverent and sacrosanct.
Over and above the journalists, I question the judgment of the editor of Al Islam who had allowed this article to be published, completely brushing aside the sensitivities of Catholics. I call on the Minister to exercise his powers under Section 7(1) of the Printing Presses and Publications Act, 1984 to prohibit the publication of Al Islam as being likely to be contrary to any law, i.e. S. 298A Penal Code, or is otherwise prejudicial to or is likely to be prejudicial to public interest or national interest.
The same must also be said for the printer of the magazine who may have committed an offence under S. 4(1)(b) of the same Act by printing a document which is likely to promote feelings of illwill, hostility, enmity, hatred, disharmony and disunity.
Gregory Chan
Roman Catholic Seminarian
Via Email
Herald Malaysia
Christian Sudanese woman facing 40 lashes for wearing trousers
Posted: 31 Jul 2009 06:45 AM PDT
A Christian woman who faces 40 lashes for wearing trousers in Sudan made a dramatic appearance in court yesterday to fight her case. Lubna Ahmed al-Hussein walked into the packed hearing in the same green slacks that got her arrested. Under Islamic laws used in parts of the country, it is illegal for a woman to wear trousers rather than long skirts in public.
But the law is not supposed to apply to non-Muslims like Miss Hussein, a former journalist who works for the United Nations. And it is only imposed sporadically in the capital, Khartoum, where she was arrested. Indecency cases are not uncommon in Sudan, but Miss Hussein has used hers to campaign against dress codes.
Yesterday journalists scuffled with police armed with batons outside the court and some reporters, who were briefly detained, had equipment confiscated. Scores of women, some wearing slacks, attended to support Miss Hussein. The case was adjourned as lawyers discussed whether her status as a UN employee gave her legal immunity.
After the hearing, defence lawyer Nabil Adib Abdalla said she had agreed to resign from the UN in time for the next session on August 4, to make sure the case continued. Mr Abdalla said: 'First of all she wants to show she is totally innocent, and using her immunity will not prove that. 'Second she wants to fight the law. The law is too wide. It needs to be reformed. This is turning into a test case.'
He said Miss Hussein was ready to face the maximum penalty for the criminal offence of wearing indecent dress in public, of 40 lashes and an unlimited fine. Miss Hussein was arrested in June when police raided a party she was attending at a restaurant in Khartoum's Riyadh district. She said before the hearing: 'Thousands of women are punished with lashes in Sudan but they stay silent. The law is being used to harass women and I want to expose this.'
She said a number of other women arrested with her received lashes. But her case was sent for trial when she called in a lawyer. Northern Sudan is governed by Islamic law which includes restrictions on public decency, particularly for women. While most women wear traditional dresses in public, some, particularly from the mostly Christian south, wear slacks and more Western clothes. Lashing is often administered minutes after a trial, in public outside the court room for male defendants but generally in private for women.
Daily Mail
I will sing of the mercies of the Lord forever
Posted: 31 Jul 2009 09:09 AM PDT
I will sing of the mercies of the Lord
Forever I will sing, I will sing
I will sing of the mercies of the Lord
Forever I will sing of mercies of the Lord
With my mouth will I make known
Thy faithfulness, Thy faithfulness
With my mouth will I make known
Thy faithfulness to all generations!
I will sing of the mercies of the Lord
Forever I will sing, I will sing
I will sing of the mercies of the Lord
Forever I will sing of mercies of the Lord
(
Click here to listen to the song in YouTube
)
Posted: 31 Jul 2009 08:19 AM PDT
The first Malaysian movie that I ever watched repeatedly is Sepet, a Yasmin Ahmad film.
I am definitely a fan of Yasmin Ahmad's films. Her films and commercials, in particular Petronas ads, have touched hearts of young and old locally and globally. Her films/ads are often found controversial but articulately expressed. She is undoubtedly the true spirit that lives up to the Malaysian Malaysia concept.
Unfortunately, Yasmin Ahmad suffered a stroke and died due to severe brain haemorrhage on 25 July. I was devastated and I know I was not the only one who couldn't accept the fact she is no longer here to produce more life-touching movies. She is and was the only reason I watch Malaysian-made movies.
I am definitely missing her now. And I pray that Yasmin Ahmad finds peace eternally.
Posted: 31 Jul 2009 08:02 AM PDT
Politics in Malaysia has become very interesting. People says that in the era of transition, there will be a lot of fake scenes, false stories, self-manufactured and concocted news to divide the attention of the public.
There are still people in the corridor of power, refuses to give up the power in their hands easily, not even without a fight.
Do not forget that those in the corridor of power have been enjoying the privilege of being in power since more than 50 years ago. No logical person will give up this power easily without even giving a fight, particularly when they are at the losing end even after one year they lost a portion of their powers to Pakatan Rakyat in some of the states in Malaysia.
News of Teoh Beng Hock's death has plunged this nation to another sad state of affairs. We feel sad not only we lost a good friend and an good, young and idealistic comrade, but because his death reveals so much about this country, particularly the darker side of the country.
Never in the history of this country that a death of a political aide caused so much controversies around it.
Also never in the history of this country that a death of a political aide brought about some many spin-doctors who spin the stories in their own way to suit the taste of their political masters.
Blogs and anonymous bloggers are mushrooming after the incident to desperately link Teoh's death with underworld activities. This is another attempt to "deflect public outrage at Teoh's mysterious death at MACC and the refusal of the Prime Minister and the Cabinet to heed family and public demands to establish a Royal Commission of Inquiry to get to the bottom of the causes and circumstances of Teoh's death", according to YB Lim Kit Siang.
At first they tried to turn it into a racial issue, which is the most easiest and the most conventional way of doing things but later they found that it does not work. In fact, it has become a disservice and burden to the PM's 1Malaysia concept.
It has further proven useless when Pakatan Rakyat managed to put up a thousand-strong gathering in Kelana Jaya. Though the victim is a Chinese but Pakatan Rakyat shows their unity with Teoh Beng Hock by turning up to support the cause to seek for justice for Beng Hock. Key Pakatan Rakyat Leaders were together in the public rally and even more heavy weights were present during the funeral in Semenyih.
So, their racial tactics could not last long. They are almost running out of ideas until they have to spend about seven days later to turn the whole episode against DAP Selangor in specific and Pakatan Rakyat in general.
It is seven full days that they could not do anything to salvage MACC. MACC was like a lame duck and everybody have a free shot of fire at MACC. MACC was almost paralysed because of this. This comes together with so many other questions, on why MACC "released" Teoh Beng Hock at 3:45am? Why his handphone was not returned to him if he was ever "released"?
So all of us read all sorts of stories in the blog targeting at DAP ADUNs. I believe the blog could be authored by more than one writers looking at the different writing styles, different level of English proficiency and several spelling errors (Wong Chuan How, Wong Chuan Chow etc).
Already there are rumours that the blogs are operated by a group of employed cyber-troopers. They are tasked with the sole mission to rebut negative comments/blogspots against the authority in the Federal Government.
Some of them even claimed that they are seeking justice for Teoh Beng Hock. I am wondering why they never mentioned about forming a Royal Commission of Inquiry to reveal the real truth to everybody? A RCI is the best platform to reveal and uncover everything. Moreover, if there are really some truths in their claims that the death of Teoh Beng Hock is related to underworld activities, do you think BN will easily let go an easy target?
They blog to seek justice for Teoh Beng Hock or to run down Pakatan Rakyat and Teoh Beng Hock?
They seek justice for Teoh Beng Hock and yet they claimed Teoh Beng Hock siphoned off RM112 from the Selangor State Government? Yes, RM112 from the government coffer. That is why even the BN-controlled main stream newspapers and media are not interested in cooking up the stories. Simply because they themselves also find it difficult to believe.
Of course, there are always some exceptions, i.e. Utusan Malaysia and UMNO Youth.
Bind Us Together Words by Bob Gillman
Posted: 31 Jul 2009 08:21 AM PDT
Refrain


BIND US TOGETHER, Lord, Bind us together




With cords that cannot be broken.




Bind us together, Lord,




Bind us together,




Bind us together with love.
There is only one God,
There is only one King;
There is only one Body,
That is why we sing:
Refrain
Made for the glory of God,
Purchased by His precious Son;
Born with the right to be clean,
For Jesus the victory has won.
Refrain
You are the family of God,
You are the promise divine;
You are God's chosen desire,
You are the glorious new wine.
This hymn is suitable as the second hymn sung after the marriage ceremony, which is about praise and celebration of the union. It is also suitable as the third hymn that is sung after the signing of the register, which usually speaks of the desire that God goes with you into the future to help you live out your vows. It is also suitable to sing during Communion, if you decide to include it during the ceremony.
(Source: WeddingGuideUK.com)
Altantuya Najib: ISA rallies pointless - nizar zambry
Posted: 31 Jul 2009 08:42 AM PDT
BREAKING NEWS

updated 9.45pm The two ISA demonstrations planned for tomorrow are pointless since the government is already in the process of reviewing the security law, says the PM.MORE

| | |
| --- | --- |
| | It will bring no benefit |
| | ISA should not be politicised |
Before this

Umno

was very keen (I think

she

is still very keen) to '

marry

'

PAS

. Now that

PAS

has made it compulsory for its members to participate in the rally tomorrow, I wonder what will happen if

Umno

really '

marry

'

PAS

.
Umno

has to '

divorce

'

ISA

in order to '

marry

'

PAS

!
The 9Th Methodist Convention - "Spreading Scriptural Holiness, Transforming The Nation" (Talk 2) - Part 5
Posted: 31 Jul 2009 07:26 AM PDT
The 18th century Revival undeniably successfully transformed England. Further to that, Bishop Rev Dr. Hwa Yong cited the Christian movements in South America and Eastern Europe where depressed Christians came up to reform the society.
"It was the commitment to gospel, to God, that drove the reform movements," Bishop said.
"What is of significance is God-driven commitment towards transforming society. Number (of committed people) is rather unimportant," Bishop reiterated.
If John Wesley and the revival laid the foundations of social-political transformation, what does that have to teach us?
"It simply tells us that national transformation is a possibility," Bishop made it very clear to the audience.
Bishop Rev Dr. Hwa Yong quoted Cf. Robert Bellah, a Berkely sociologist, saying," I think we should not underestimate the significance of the small number of people who have a new vision of a just and gentle world. In Japan a small minority of Protestant Christians introduced ethics into politics, and had an impact beyond all proportion to their numbers. They were central in begining the women's movement, labor unions, socialist parties, and virtually every reform movement. The quality of a culture can be changed when two percent of its people have a new vision."
Era Najib Altantuya : Parti Gerakan Sokong GMI
Posted: 31 Jul 2009 06:47 AM PDT
D
alam satu perkembangan baru, Parti Gerakan hari ini menyatakan sokongan kepada kempen memansuhkan Akta Keselamatan Dalam Negeri (ISA).
Ketua Pemuda Lim Si Pin berkata ramai rakyat Malaysia yang tidak bersetuju dengan akta zalim ini, dan Gerakan mahu memainkan peranan menuju pemansuhan ISA.
"Oleh kerana perhimpunan Gerakan Mansuh ISA(GMI) esok diharamkan, jadi kami tidak akan menyertainya,kerana itu kami hadir hari ini untuk memberikan memorandum supaya mengehentikan ISA kepada Yang di-Pertuan Agong, malangnya memorandum kami ditolak kerana tidak memberikan surat rasmi terlebih dahulu. Walaubagaimanapun kami akan menghantar surat rasmi secepat mungkin spaya diterima memorandum ini.
Gerakan Mansuhkan ISA dan Pakatan Rakyat mengadakan perhimpunan menuntut pemerintah Umno-BN menghapuskan akta penjajah British itu. Menyusuli perhimpunan ini adalah satu Deklarasi Mansuhkan ISA kepada Yang Di-Pertuan Agong.
Lim Si Pin bersama delegasi 20 orang pemuda Gerakan juga akan menyerahkan memorandum serupa menggesa kerajaan Pusat memansuhkan ISA.

Pemuda Gerakan pada awalnya merancang untuk menyertai Himpunan Mansuhkan ISA esok, namun menarik diri atas alasan GMI adalah pertubuhan haram.

Lantas mereka mahu menyerahkan memorandum kepada Yang di-Pertuan Agong di Istana Negara hari ini, namun gagal berbuat demikian kerana tidak memaklumkan penyerahan itu seawalnya. - TVA



A pain in the Butt - A Paki in Britain
Posted: 31 Jul 2009 04:00 AM PDT
This about Pakis in Britain, humourous but true - edit.
From the Eye On The World
(
UK
) Meet Hassan Butt, he's the younger brother of Omer Butt. You know, that
pious devotee
of the Islamic faith who refused to deal with NHS patients at his dental surgery unless they subscribed to his version of the Islamic faith.
(Women had to don the hijab, Men had to remove gold and keep their women folk in place and policewoman had no right to complain if they were knocked down by his car with him at the wheel)
Well, it seems that one is as bad as the other. You see, while Omar was learning how to bully women around by trying to stick an instrument into their mouths, younger brother
Hassan packed his bags
and buggered off to the Motherland in which to recruit followers to fight British soldiers in Afghanistan.
Oh how the media loved him and how he had no problem informing the world how he had
sent hundreds to their deaths
in which to fight the infidel. How he himself had no problem dying for the cause and how in the end Jihad will prevail. Then he hit a problem.
Sick of all the bad press he was giving them. Pakistan told him to sling his hook back to Britain, and tail between legs he returned, and when he was picked up by
the Old Bill
at the airport, he cried that he was a liar and that he made everything up, and could he please be allowed to live in the infidel's country. And the infidel, fearful of offending his human rights, did.
Well, where one Butt became constipated, the other (Omer) decided to cover the great unwashed with his own brand of religious diarrhea. During one such incident where Omer was arrested for acting like a little shit, Hassan arrived and bemoaned the fact that big brother had nicked his big brother. He did so by referring to the Police as the Gestapo and demanded to know why he was being treated as a Paki. (Err, bugger lugs, have you looked in the mirror lately?) He finished off his one man stand by claiming the police of being 'rednecks' and belonging to the BNP.
It appears that the days of
Muslims playing the victim card
may be slowly falling by the wayside, as today Mr Butt was fined £200 and ordered to pay £100 costs and a victim surcharge of £15 for playing the race card in which to try and excuse his own racist behaviour.
I'm sure the Pakistani police wouldn't have been as lenient towards this upstanding pillar of the Islamic community. But then how do you expect to be treated when your surname is Butt and found guilty of talking out of your arse.
Najib Altantuya Langgar Fatwa Haram Letak Kalung Bunga Di Tugu Peringatan
Posted: 31 Jul 2009 05:43 AM PDT
P
erdana Menteri Datuk Seri Najib Tun Razak pada Jumaat menghadiri istiadat meletak kalungan bunga sempena sambutan Hari Pahlawan 2009 di Tugu Peringatan Negara di sini.
Turut meletak kalungan bunga dalam istiadat pagi ini ialah Panglima Angkatan Tentera Jen Tan Sri Abdul Aziz Zainal, Ketua Polis Negara Tan Sri Musa Hassan, Panglima Tentera Darat Jen Tan Sri Muhammad Ismail Jamaluddin, Panglima Tentera Laut Laksamana Tan Sri Abdul Aziz Jaafar dan Panglima Tentera Udara Jen Tan Sri Azizan Ariffin.
Presiden Persatuan Bekas Tentera Malaysia Senator Datuk Muhammad Abdul Ghani turut meletakkan kalungan bunga di Tugu Peringatan Negara.
Terdahulu C/Insp Mohamed Awang dan ASP Rose Baini Kassim mendeklamasi sajak bertajuk "Pahlawanku" sebaik sahaja tiupan "Last Post" bergema dan bendera Malaysia diturunkan.
Turut hadir ialah Menteri Dalam Negeri Datuk Seri Hishammuddin Tun Hussein, Menteri Pertahanan Datuk Seri Ahmad Zahid Hamidi, beberapa menteri kabinet, anggota Parlimen, serta pegawai kanan polis dan tentera.

Hari Pahlawan disambut bagi memperingati mereka yang terkorban demi mempertahankan negara, dan majlis kali ini dimulakan malam tadi dengan kehadiran Perdana Menteri ke majlis tahlil dan doa selamat di Masjid Negara di sini.

Hari Pahlawan yang disambut setiap 31 Julai sejak tahun 1960-an memberi peluang kepada rakyat menghargai pengorbanan anggota perajurit yang terkorban demi mempertahankan dan menegakkan kedaulatan negara.

-- BERNAMA

..............................



Letak kalungan bunga di Tugu Peringatan HARAM – JAKIM





ENAKMEN PENTADBIRAN UNDANG-UNDANG ISLAM 1991 (Enakmen 3/91)



Fatwa berikut yang dibuat oleh Mufti Negeri di bawah subseksyen 36 (1) Enakmen Pentadbiran Undang-Undang Islam 1991 setelah diluluskan oleh Jawatankuasa Perundingan Hukum Syarak menurut subseksyen 39 (6) Enakmen itu adalah disiarkan menurut subseksyen 36(2) Enakmen itu:

"Meletakkan kalungan bunga di Tugu Peringatan sempena upacara sambutan Hari Pahlawan dan upacara-upacara lain adalah haram dan hendaklah ditinggalkan."





Tajuk : Bacaan doa di tugu peringatan


http://www.e-fatwa.gov.my/mufti/fatwa_sear...t.asp?keyID=428

Berdoa di tugu peringatan adalah ditegah oleh syara' dan hukumnya haram kerana perbuatan seumpama itu termasuk di dalam larangan firman Allah, surah al Maidah ayat 90 yang bermaksud:



"Wahai orang-orang yang beriman, sesungguhnya arak, judi dan al-ansab(menyembah berhala) dan al azlam (bertenung nasib) adalah najis daripada amalan syaitan. Maka hendaklah kamu jauhkan daripadanya moga-moga kamu berjaya".



Keterangan: "Al-Ansab" maknanya batu orang-orang jahiliyah sembelih korban disisinya dan beribadat kepadanya. Berdoa adalah ibadat, berdoa di batu tugu peringatan sama seperti orang-orang jahiliyah beribadat di al-Ansab yang dimaksudkan di dalam ayat 90 itu



Tajuk : Upacara Hari Pahlawan di tugu peringatan


http://www.e-fatwa.gov.my/mufti/fatwa_sear...t.asp?keyID=608

Bahawa haram tiupan dan bertafakur dengan menundukan kepala kepala selama 20 saat dengan meletakan kalung bunga ditugu, bacaan sajak yang boleh menimbulkkan semangat kepahlawanan adalah diharuskan, tetapi dengan syarat tidak dilakukan dihadapan tugu, atau di dalam suasana yang dilarang oleh syarak kerana semua ini adalah upacara agama juga.



P/s : Kalau dah kerajaan sesuka hati melanggar fatwa yg dikeluarkan oleh kerajaan sendiri, camner nak suh rakyat ikut.






Era Najib Altantuya : Mohd Sabu Disebut Calon Popular Untuk bertanding Di Permatang Pasir
Posted: 31 Jul 2009 05:15 AM PDT
N
ama Ahli Jawatankuasa PAS Pusat, Hj Mohammad Sabu disebut-sebut sebagai calon poular untuk bertanding di dalam pilihanraya kecil Permatang Pasir tidak lama lagi. Nama lain yang turut disebut-sebut ialah Ustaz Mohd Salleh Man, Pesuruhjaya PAS Pulau Pinang.
DUN Permatang Pasir kosong apabila wakil rakyatnya Datuk Hamdan Abdul Rahmat pulang ke rahmatullah di Institut Jantung Negara jam 6.15 pagi. Jenazah Allahyarham telah selamat dikebumikan petang tadi selepas Asar di kampungnya di Permatang Pasir Pulau Pinang.
Allahyarham telah seminggu berada di IJN untuk menjalani rawatan susulan akibat kesakitan di bahagian jantung. Beliau telah menjalani pembedahan jantung pada tahun 2003 di Hospital Besar Pulau Pinang.
Allahyarham menjadi Pesuruhjaya PAS Negeri selama 11 tahun setelah pemergian Haji Zabidi Ali penghujung tahun 1980 an.
Beliau seorang yang dedikasi dan merupakan pejuang yang sanggup berkorban apa sahaja termasuk harta benda kerana memartabatkan Islam, kata Pesuruhjaya PAS Pulau Pinang, Ustaz Mohd Salleh Man.

Mohd Hamdan baru sahaja menerima anugerah Darjah Setia Pangkuan Negeri yang membawa gelaran Datuk pada 11 Julai lalu daripada kerajaan Pulau Pinang.

Allahyarham, pesuruhjaya PAS negeri hingga 2003, bertapak di Permatang Pasir selama tiga penggal sejak 1999.

Sebelum menceburi politik sepenuh masa, beliau berkhidmat sebagai guru di Maktab Sultan Abdul Hamid, Kedah pada 1965 hingga 1966, kemudian sebagai pegawai pentadbir kerajaan Kedah mulai tahun 1966 ehingga 1977.

Jawatan terakhirnya dalam kerajaan adalah sebagai pegawai pentadbir di Jabatan Kastam dan Eksais Diraja Malaysia antara 1977 hingga 1983.

Allahyarham meninggalkan seorang balu dan enam anak.

Dengan kematian Hamdan, bermakna SPR akan mengadakan satu pilihan raya kecil di situ dalam masa 60 hari dari sekarang.

Dalam pada itu Suruhanjaya Pilihan Raya (SPR) dijangka mengumumkan tarikh penamaan calon dan pengundian bagi pilihan raya kecil Dewan Undangan Negeri (DUN) Permatang Pasir selewat-lewatnya 10 Ogos ini.

Pengerusinya, Tan Sri Abdul Aziz Mohd Yusof berkata pilihan raya kecil itu akan diadakan berikutan kematian penyandang, Datuk Mohd Hamdan Abdul Rahman, dan SPR masih menunggu surat makluman kekosongan kerusi DUN Permatang Pasir itu daripada Speaker (DUN) Pulau Pinang, Datuk Abdul Halim Hussain.

"Kami jangka surat makluman itu akan diterima selewat-lewatnya Isnin ini danselepas itu satu mesyuarat akan diadakan bagi membincangkan soal tarikh hari penamaan dan pengundian bagi pilihan raya kecil DUN berkenaan," katanya ketikadihubungi di sini, hari ini.

Sementara itu Abdul Halim berkata beliau masih menunggu sijil kematian Mohd Hamdan sebelum menyerahkan surat makluman kekosongan DUN Permatang Pasir kepada SPR Pulau Pinang. Beliau berkata Dewan Undangan Negeri akan bersidang selama dua hari mulai 10 Ogos ini dan Allahyarham sudah mengemukan beberapa soalan bertulis untuk sesi kali ini.

Dalam perkembangan berkaitan, Majlis Tertinggi Umno hari ini memutuskan bahawa parti itu akan meletakkan calon dalam pilihan raya kecil Dewan Undangan Negeri (DUN) Permatang Pasir, satu tindakan yang bertentangan dengan sikap mereka sewaktu memboikot pilihanraya kecil Penanti yang menganggap pilihanraya kecil tersebut sebagai membazirkan masa, tenaga dan wang ringgit.




Posted: 31 Jul 2009 02:53 AM PDT
I have never found myself attracted to something so black. Yet now I am totally enjoying the pleasure of being engulfed with the darkness and the feeling of mystery that is lurking beneath the handsome dimness.
Do I sound like I have a crush on a negro vampire?
I am talking about my favorite kitchen la!
Azman and I are in the midst of getting ourselves in debt for 30 years OUR OWN HOUSE! Yea! And just like any other makcik hot blooded woman, young and sexy.. I dream of the kitchen.
Black kitchens and red kitchens. Oh if I have these, I will never cook in them, I vow to be just like Nigella Lawson (minus the boobies), an ultimate domestic goddess! I promise!!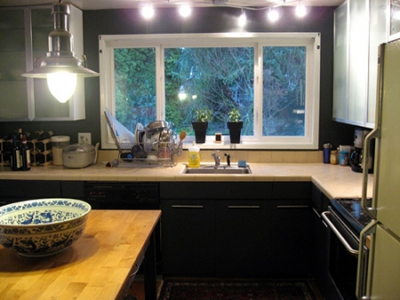 the black yet cosy…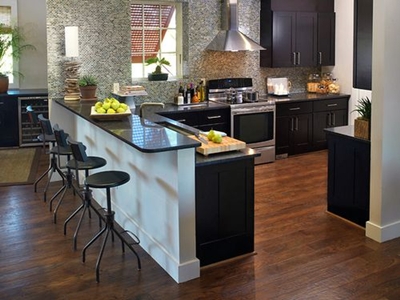 the elegant one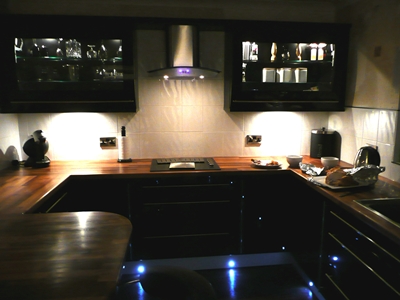 the totally posh one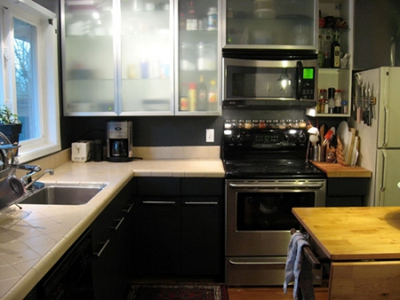 the cool one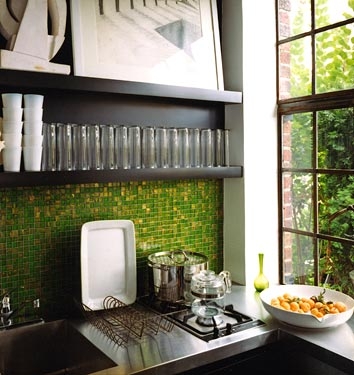 The one with tiles are green not black but just gorgeous… And lovely view outside the window…
I am totally in love with the house we are getting. The kitchen is huge. But the kitchen cabinets have already been installed. Although they are nice and cost a fortune, tapi mak tak taste la nyahhh!!! Color brown kekdahnya! Takpalah, mak pasrah!
Era Najib Altantuya : SPRM dan PDRM Terdesak Untuk Lakukan Cover-up
Posted: 31 Jul 2009 03:37 AM PDT
S
aksi utama inkues keatas kematian Teoh Beng Hock, Lee Wye Ling berkata Suruhanjaya Pencegahan Rasuah Malaysia (SPRM) telah merampas bukti dalam milikan beliau secara paksa dan tidak mengikut lunas undang-undang.
Peguam Lim Lip Eng berkata SPRM telah merampas peralatan digital kliennya namun tidak memberi sebarang borang laporan persetujuan untuk ditandatangani, seperti yang ditetapkan oleh prosedur perolehan bukti.
"15 haribulan lepas pegawa SPRM dating ke rumah Lee dan membawa semua Komputer, cakera keras, dokumen dan invois sebagai barang kes tetapi tidak diberikan salinan borang persetujuan Lee. Jadi kami khuatir selepas kes ini tamat, Lim tidak dapat menuntut balik barang-barangnya kerana tidak mempunyai borang bukti barangnya diambil.
Lim Lip Eng berkata tindakan SPRM itu tidak mengikut prosedur akta Suruhanjaya Pencegahan Rasuah 2009 akan dicabar dalam sesi inkues berikutnya.
"Di bawah akta Suruhanjaya Pencegahan Rasuah 2009 seksyen 33 dalam kurungan 3, suatu salinan senarai yang disebut hendaklah disampaikan dengan beberapa segera pada pemunya harta. Dalam kes ini pegawayi SPRM telah gagal berbuat begitu,jadi kami akan melalui Gobind menulis surat kepada pihak polis meminta salinan, jika tidak kami akan mecabar SPRM dalam inkues.