---
Both were accused of theft; the Christian woman was dragged naked through the police station. The Muslim woman was not touched, guess where?
Posted: 19 Aug 2009 09:19 AM PDT
In a failed state called Pakistan!
Not much hope for justice
, where minorities are concerned in Pakistan. Washington -- International Christian Concern (ICC) has learned that a pregnant Christian woman miscarried on July 26 after police beat her and dragged her naked through their police station in the Gujrat District of Punjab, Pakistan. Police had arrested her and a Muslim woman after their employer accused them of theft, but police did not even touch the Muslim woman.
The woman, Farzana Bibi, worked as a maid in the house of a wealthy Muslim. During a wedding held at the house, some jewelry was stolen from some of the landlord's female relatives. The police were called, and when they arrived at the scene they arrested two maids: Farzana and a Muslim woman named Rehana. Nazir Masih, Farzana's husband, said, "Police registered a fake theft case against my wife and Rehana without any proof."
Nazir went on to say that the police tortured his wife even though she told them she was pregnant. He told ICC, "Sub-Inspector Zulfiqar and Assistant Sub-Inspector Akhter subjected her to intense torture. They stripped off her clothes and dragged her naked around the compound of Cantonment Area Police Station in Kharian. They humiliated and tortured my wife, but did not do anything to Rehana."
Although Farzana complained of severe pain, the police ignored her pleas and detained her for another two days. When her condition became critical, the police finally transferred her to the Tehsil Headquarters Hospital in Kharian, where she miscarried.
Nazir filed a report with the District Police Officer in Gujrat, detailing the abuse his wife received and her miscarriage. The District Office initiated an investigation after receiving the report, withdrawing the false accusations and suspending officers Zulfiqar and Akhter.
The authorities have pledged to punish all those responsible. Please pray that at God would comfort Farzana and Nazir and that justice would be carried out. Please also call your Pakistani embassy and ask them to defend the rights of Christians.
Jeremy Sewall, ICC's Advocacy Director, said, "While we were not able to confirm whether Farzana was innocent of robbing her employers, it is absolutely unacceptable for police to humiliate her and abuse her so severely that she lost her child. The fact that the Muslim woman accused of the same thing was at least treated like a human being just proves again that if you are not a Muslim in Pakistan, you have no rights. The government should go beyond suspending the two officers guilty of this crime and try them for manslaughter."
Assyrian International News Agency
Posted: 19 Aug 2009 09:53 AM PDT
Waktu sahur masa belum ada rumahtangga sendiri memang lain..semua mak siapkan.

Lauk sahur hari pertama..nasi putih panas..daging masak kicap, telur masin (wajib sebulan puasa), sayur goreng kacang buncis biasanya..tapi kadang2 sayur jenis lain ada jugak. Dan.. baki2 lauk berbuka yang tak habis..ini dari hari sahur kedua lah.

Sesiapa yang taknak bangun sahur akan dikejutkan sampai bangun.

Berbuka? Rojak, sup tulang (sepanjang bulan puasa), ayam goreng (mesti ada) dan ikan sikit2. Entah kenapa, ikan tak brapa laku atas meja di bulan puasa.

Kemudian, ada pisang goreng..mesti pisang abu..digoreng bogel2 sampai hitam sikit dan disusunkan macam sadin atas pinggan besar..satu lapis tabur gula, lapisan pisang goreng kedua tabur lagi gula, lapisan ketiga pun tabur gula lagi.Pisang2 yang panas ni bila sejuk melekit macam kena sira..sedap oi makan sebagai pencuci mulut.

Korma akan di hiris halus2 dan kelapa parut putih bercampur sedikit garam akan digaulkan sekali..licin kitaorang makan..takpayah suruh2.
Aruah mak suka buat kueh dadar, gunting kecik2 dalam bentuk 3 segi dan makan dengan kuah manis yang sangat istimewa..kenapalah I tak ambik resipi tu!

Air cendul selalu dihidangkan.Begitu jugak air sirap cincau. Kadang2 air mata kucing.

Ini lah serba sikit memori berbuka dengan adikbradik.

Mungkin bulan puasa I nak cubalah rajin sikit ke dapur..sejak takde maid ni malasnya masak..asyik beli lauk sana sini..mahal tapi tak sedap.

Padahal bulan puasalah kita nikmati makan bersama sekeluarga. Nanti satu hari anak2 I nak cerita apa tentang berbuka..mama asyik beli lauk bila berbuka? Time sahur makan roti jer? Hmmm..

Besok kena rapikan dapur untuk bulan puasa. Kena bersihkan dan susun segala periuk kuali elok2..blender lama tu nak buang lah..nak beli blender baru.

Alas meja yang I beli kat Pasar Payang haritu belum jahit2 lagi tepinya..hee..kenalah buat besok.

Kena check mangkuk2 yang duduk tak berpakai lama..bulan puasa ni kena keluar!

I nak ajak Cik duduk dengan kitaorang bulan puasa ni..kesian dia..sorang2..tapi dia taknak..sedih..dulu2 dialah yang selalu tolong mak pergi beli barang2 dan hidangkan lauk sedap2 kat dapur..

Semua adikbradik I sekarang berbuka dengan cara masing2 bersama keluarga tersayang.
I nak cubalah buat sup tulang selalu2.Hari2 kang takut pulak anak2 I jemu.

So you all bersahur macam mana? Berbuka selalu masak apa?

I tulis B.M. harini..jemu jugak cakap omputih sokmo.

Selamat Berpuasa. Semoga kita sekali lagi berjaya menjalankan segala ibadah dalam bulan Ramadan dengan sebaik mungkin..InsyaAllah.

najib altantuya: Mystery letter emerges, inquest adjourned - teoh beng hock nizar
Posted: 19 Aug 2009 08:57 AM PDT
UPDATED 5.51PM
The letter, the contents of which were not revealed, has been given to the police for investigations. Inquest to resume on Monday.
MORE
najib altantuya: Muhyiddin now jumps to Rohaizat's defence
Posted: 19 Aug 2009 08:21 AM PDT
UPDATED 10.48PM The DPM said the BN candidate will make a statutory declaration, if necessary, to clear his name from allegations pertaining to his disbarment.MORE
najib altantuya: Q&A: PKFZ sizzled like 'koay teow'
Posted: 19 Aug 2009 08:28 AM PDT
Adding a culinary twist, the Sarawak politician says the trial by media was akin to
char koay teow
, a colloquial term for cooking up a small issue.
MORE
After reading the article, Tiong seemed to have given sound answers.
Responding to the statement that people found it strange that someone from SPDP would finance MCA activities, he said he helped others besides MCA. As an example, he mentioned that he had financially supported S Vigneswaran, former MIC youth chief. Tiong also said that when helping people, one should not look at race, then our country would be in harmony.

Hmmm...this guy sounds real. If he's for real, we should be happy lah..after all, he should 'pay back' to society after getting so much money...Of course, how he got the money is another question altogether. 'Black' money or 'white' money? No one knows for sure. ;)

Posted: 19 Aug 2009 06:41 AM PDT
UKM dan Perempuan Puaka
*UNTUK 18 TAHUN KE ATAS (UNSUR SERAM KETERLALUAN)
oleh: Belia tidak berpersatuan
Selepas berakhir Pilihan Raya Kampus aku rasa UKM mula aman dari pekik lolong mamat dan minah yang turun ke jalan. Hanya sikit-sikit bunyi pekikan berok nakal melompat bila dapat sisa makanan dari jamuan selepas meeting yang maha kerap. Pendek kata, keadaan memang tenang, sesuai untuk study sambil memejamkan mata. Tapi harus diingat. Sejarah mesti berulang. Ini pon kalau ikot teori Ibn Khaldun….haha..
Entah sumpahan laknat dari mana yang menyebabkan setiap purnama makhluk ini pasti menyerang garang. Puaka ini memang lantang. Setiap purnama wajib datang. Dia menyerang. Makhluk puaka tidak diundang ini tiada lawannya, jangan katakan  Bukan Murugadas, Pak Hitam dari Selama pon telah dibaham ke dalam perut rumahnya. Ngeri, selepas dijumpai, Pak Hitam tidak waras lagi. Ini bukan mitos. Angin pagi Rabu 12 Ogos berbau garang.
Firasat aku tragedi seram berdarah pasti akan berulang. Angin bertiup songsang itu bagaikan membawa khabar mangsa kali ini lebih ramai,malah lebih dahsyat. Petang itu hujan renyai, bagaikan bakal mengiringi angka korban malam ini. Malam telah datang. Bagaikan hampagas menyedut sampah, rakyat UKM seakan terpanggil untuk dijadikan mangsa. Dengan tidak semena-mena, satu pekikan memecah telinga. Peluh aku jatoh.. aku tau dia akan bermula bila-bila masa. Pekikan itu semakin kuat. Pekikan Aku Hanya Serangga dari Awang BPR disambut dengan ngauman keretapi kecik dari rumah puaka. Sejarah berulang lagi. Mangsanya semakin ramai. Dari jauh aku nampak Bukan Murugadas berasak-asak hendak membeli token.. Walau apa pon Pesta Konvo kali ini bukan Murugadas ingin masuk dalam rumah Puaka lagi…..
Posted: 19 Aug 2009 04:48 AM PDT
Get your daily dose of Delirium via Reader or delivered via Email


The new prepaid provider Tune Talk is now LIVE! This is another Tony Fernandes project with Jason Lo taking reigns to run this arm. Tune Talk will be riding on the Celcom network and will be carrying the prefix 010. If you are the highest calls, you can win a Air Asia e-voucher worth 1Million ringgit [...]
Great Relief, yet more death are happening....do we care?
Posted: 19 Aug 2009 04:47 AM PDT
That there no reported death relating to H1N1 over the past 24 hours. Should we still we alarmed? YES! Malaysia is now ranked no 8, shot up over the past month - not the kind of "Malaysia Boleh" we want to achieve. I sincerely hope this number stays and we all take the neccessary precautions. To keep yourself updated, this is good reference
http://en.wikipedia.org/wiki/2009_flu_pandemic_by_country
Talking about death. While we were caught up in the death of Teoh Beng Hock, another death in police custody happened. Many have missed this. Check out Haris' blog
Lastly and not the least important, you may not heard about this young chap, Gary Robert who died under very mysterious circumstances. We must read this blog,
http://justiceforgaryrobert.webs.com/
- speaks for itself. You must make this known!
I care, yet I am angry! How much is the a Malaysian's life worth?
Spread the word.
REST IN PEACE!
Posted: 19 Aug 2009 02:42 AM PDT
About one year ago, Victor Chin bandied around the idea of Wuan and I holding a joint photo exhibition with him. The theme would be about the death of our mothers. We both have posted entries about the death of our mothers in our blogs respectively. As timing would have it, KLPac (Kuala Lumpur Performing Arts Centre) gave us a slot just right after our wedding banquet in Penang.
As Victor would be traveling up to Penang for the banquet too, we had to do some juggling with our deadline to ensure that everything for the exhibition were done before we leave Kuala Lumpur. In fact, Victor did most of the work in organising the photographs and then send them for post-processing, printing and finally to the framer for stretching the printouts.
When we got the frames hung up on Monday, Victor announced to us that we got an extension to run the exhibition until September 13. It was originally slated to end on August 30. Friends and readers of The Digital Awakening are invited to view the images at Pentas 2 Foyer of KLPac. It is opened to the public from 10am to 10pm daily.
Why did we chose to showcase our deceased mothers? This is something that we would like to share during walkabouts and open discussions with visitors on every Saturday and Sunday (22, 23, 29 & 30 August and 5, 6, 12 & 13 September) from 2pm to 4pm. Do drop by.
The Star also ran an article on this exhibition titled "Pictures that speak a thousand words" in StarMetro yesterday (August 18, 2009).
Related posts:
Seminar on the UNECE Water Convention at the World Water Week Stockholm
Posted: 19 Aug 2009 01:25 AM PDT
STOCKHOLM, Aug. 17 The World Water Week, attended by delegates from over 130 countries, incited more global action in its opening session here on Monday.

Water and its links to development, peace and conflict were keywords in the annual sessions, Anders Berntell, executive director of Stockholm International Water Institute (SIWI), said in his opening address.
It was not only water or water services that were important. In many cases, the key factors were goods and services produced or sustained from water, as well as the sensitive ecosystems, Berntell explained.
During World Water Week, delegates will explore the circumstances that promote access to water for various populations in different contexts.
"The equitable access to sustainable water services is fundamental to reducing poverty and promoting economic growth and social development, at local and national levels. The link between water management, growth and poverty reduction is obvious. By increasing access to water, we can change the lives and health of poor women, men and children for the better," said Gunilla Carlsson, Swedish minister for International Development Cooperation.
Adaptation to climate change was a challenge for every country, and of particular importance to developing countries as they were more dependent on and exposed to the vagaries of the weather, she added.
Dr. Bindeshwar Pathak, the 2009 Stockholm Water Prize Laureate and founder of the Sulabh International Social Service Organization of India, also called for action in his lecture.
By Editor: Mu Xuequan
Posted: 18 Aug 2009 10:11 PM PDT
Vintage world map by Japanese mapper Nagakubo Sekisui, created in 1850…
Notice how huge Antarctica was portrayed back then; global warming lol?
[more Japanese antique maps at Joel's blog]
Japanese antique world map from YeinJee's Asian Blog
Posted: 19 Aug 2009 12:02 AM PDT
Christchurch business man Wayne Eyre has turned his 'mans room' into a replica submarine.
For many men, their house is their castle. For one Canterbury man, his play room is a submarine complete with working periscope.
Wayne Eyre has turned part of his Spencerville property into a wrecked submarine featuring "plutonium-leaking" torpedoes, at a cost of $100,000.
In the rusting interior of the submarine, which appears to have beached on a deserted island, Eyre has all the creature comforts reclining chairs, a three-metre big-screen TV and a top-notch surround-sound system.
Customwood has been sprayed with concrete and painted to resemble rusting steel beams, while plastic sheets have been melted to give the impression of bent steel ripped apart when the submarine hit an island. Speakers emit sonar and ocean sounds throughout the 12-metre by 5.5m room.
At one end of the room, a bar has been created from materials likely to be found on a deserted island. Shelves have been made out of halved tree trunks, while there is a washed-up surfboard.
The bar top is engraved with the random writings of a shipwrecked soul, while vines work their way through the submarine and smoke seeps out of interior walls.
Eyre, an engineer who co-owns Altherm Aluminium Canterbury, originally wanted his big screen surrounded by rock, so he got in touch with friend Dean Johnstone.
However, the original concept somehow morphed into a submarine.
Johnstone, who owns Belfast signwriting company JBFX, was chief signwriter for Peter Jackson's King Kong film. He also made the mammoth bones for the movie 10,000 BC, directed by Roland Emmerich.
Johnstone has had eight people working on the submarine project, including two people fulltime, for the past three months.
Eyre admitted the room was a little extreme. However, he had just built a new home and while it was lovely, it was stark and had sharp edges. He wanted one room that was different.
"It's all been very hush hush. Our friends have no idea." So what does his fiancee think?
Stacey James said the submarine room was cool and that their three children loved it.
However, she was perfectly happy with the original entertainment room.
This posting includes an audio/video/photo media file: Download Now
Posted: 18 Aug 2009 10:08 PM PDT
My friends Rogayah and Badul (not their real names, tak bagi nama tapi bagi link boleh???) have highly recommended in a very persistent way that I go to Pat Pong while I was in Bangkok recently. They said I wouldn't wanna miss the experience of watching the popular ping pong show at the popular tourist attraction!
Like me, Azman had never been to this place either despite having gone to Bangkok several times mainly because his Japanese co-worker was afraid that Azman is actually a Muslim terrorist in disguise as Sony engineer. Have you not seen my husband's goatee?? Just kidding, he has never gone there perhaps because he was not there with adventurous friends.
I too was not adventurous enough.
To get to Pat Pong, we took the BTS Skytrain Silom Line and got off at Sala Daeng Station. From the station, it took about 2 minutes walk to Pat Pong Night Bazaar. The Bazaar is on a stretch of street with dozens of bars on either side.
From the open doors you can already see the dancing girls in bikini. Come to think about it I am not sure if they were girls or boys that had gotten their twinkee cut off.
As we walked from the station to the bazaar, Azman stopped to take this photo.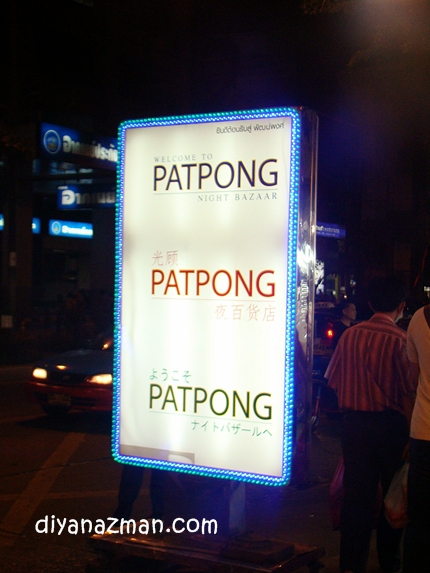 Then a guy came to us and muttered something in Thai. Like I said, I know I resemble very much like Tata Young so the mistake was completely understandable. (Please clean after your blood vomit, thank you!) After seeing our blank expressions he realized that we were tourists thus he put on his most enthusiastic face and invited us to his bar. He said it just the way Dory told Marlin where the big white boat went, "It is right this way, follow me!"
He said "LIVE SEX SHOW? COME ON!!"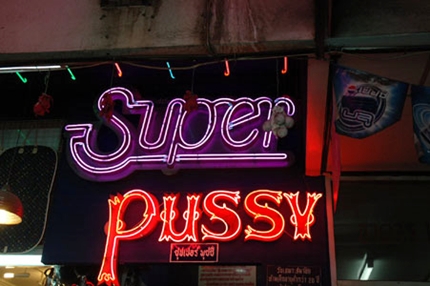 Aku rebah ke lantai lalu pengsan disitu juga ko!

After we declined, another man approached us. He was holding a tattered sheet of paper that looked like a restaurant menu. It was indeed a menu. But not listing choices of food or drinks.
It was a list of acts that super Thai vajayjay can do. I am not kidding.
1. P*ssy shoot pingpong ball
2. P*ssy write letter
3. P*ssy blow candle
4. P*ssy open Coke bottle
5. ….
6. ………
And the list goes on up to 15 to 20 items altogether. This time I didn't pengsan. I was so amazed! I mean these women, they have really great talent! THEY CAN WRITE LETTERS, GUYS!!!! USING THEIR VAJAYJAY!! Do they start with Dear Sir? Do they sing Happy Birthday before they blow that candle? WITH THEIR VAJAYJAY??
It was amazing, yes! And deep inside my heart this lady curiosity (or was it the satan?) telling "Go! Go watch the amazing fefets!! You want to see this… you do!!"
But my intellectual self was saying "IF JEMAAH ISLAMIAH BOMBS THIS PLACE, YOUR NEXT 7 GENERATION WILL BE KNOWN AS DECENDANTS OF A COUPLE THAT DIED WHILE WATCHING P*SSY SHOOTING FRUITS AND OFFICE SUPPLIES."
And just where would I put my already dead face then?
Besides, if I go and see the letter-writing fefets. I wouldn't be able to stop myself from correcting her spelling and that would be rude!
I told the man that I wanted to go shopping not see the show. He insisted that shopping can be done till 2 in the morning but now it wass happy hour. Strictly no cover charges just buy a drink – beer or soda. It was hard getting away from him.
Throughout the long stretch of road, we were approached this way by many pimps. With same approach, same things on the menu.
The air reeked alcohol and hard core maksiat.
Somehow I feel like the entire Bangkok has that atmosphere around it. Everywhere you looked at you see sleazy Thai girls with their arms around white men. On the streets they were practically lining up waiting for customers. They were everywhere!
And yet the Thais are very religious people. The LCD panel on their train showed their high Buddhist priest giving khutbah a speech; temples everywhere and people are flocking to give offerings and prayers. Almost everyone I see wear religious amulet around their neck and adorn their cars with photos of their priests and Buddha. At the same time they were also selling pirated DVD with signs PORNO *NEW*. How contradicting!
Haven't this highly-exposed-by-media priest advice the people not to shoot ping pong balls with their p*ssy? And get people pay to watch it? Aren't their highly worshipped King and Queen feeling the smallest pinch of embarrassment with what their people are doing for living? These are question I know very difficult to answer.
I thank God that I am in Malaysia. I thank God that I still feel the way I do. God save me.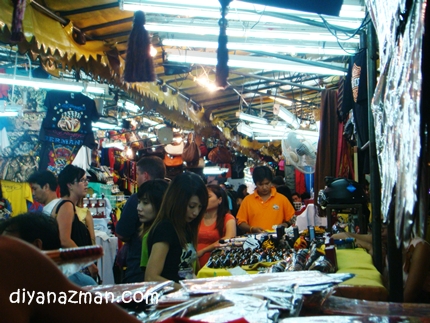 Pat Pong Night Bazaar. Here is not a place to shop, the sellers are bloodsucking, neck-choking overpricing their imitation goods. A pair of children's pirated Man United kit costs RM100. In Malaysia it is only Rm19.90.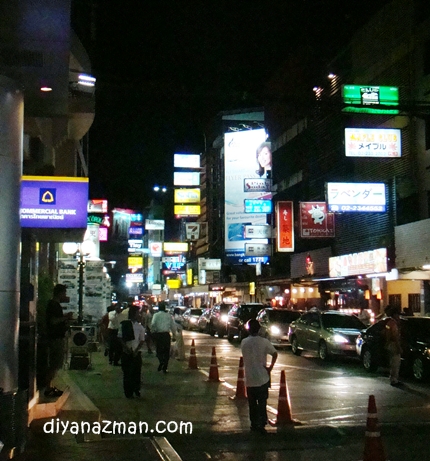 Busy streets near Pat Pong. Brothels disguising as spa, pubs and clubs. Can't be seen in the photo but the whores are loitering around waiting for customers.
Sharing -  There are several Hollywood films that have featured Pat Pong. These include The Deer Hunter (1978), starring Robert De Niro and they are available at HBO Store.
najib altantuya RM1 rental: Tiong feels 'conned' by MCA - nizar
Posted: 18 Aug 2009 11:01 PM PDT
Bintulu MP Tiong King Sing rents out eight four-storey buildings to MCA-owned TAR College Sabah at RM1. [VIDEO INSIDE]MORE

| | |
| --- | --- |
| | 'I'm not begging for a PhD' |
haha
That's what chinese is good at what! Especially those who claim to represent chinese and fight for chinese!
CHINESE

CON

CHINESE!
Posted: 18 Aug 2009 07:31 PM PDT
SPRM melanggari hak asasi manusia semasa menyiasat Wong Chuan How
Posted: 18 Aug 2009 10:06 PM PDT
DAP tidak pernah mengganggu penyiasatan SPRM tetapi SPRM perlu telus, adil, profesional dan bebas apabila menjalankan siasatannya terhadap pemimpin-pemimpin DAP dan Pakatan Rakyat yang lain. Jikalau SPRM dapat menjalankan tugas dengan telus, adil, profesional dan bebas, maka SPRM tidak perlu meminta pendapat kerajaan berkenaan mekanisme siasatan terhadap kes rasuah yang melibatkan ahli-ahli
najib altantuya Umno reiterates Rohaizat's innocence - nizar
Posted: 18 Aug 2009 10:52 PM PDT
Party's information chief Ahmad Maslan said Rohaizat was a victim of circumstances, having had to bear the burden of resolving problems arising from a problematic land transaction.MORE

| | |
| --- | --- |
| | Partner to be blamed |
| | 'He is actually a hero' |
Still want to defend Rohaizat ah...Umno will have a tought time trying to explain, to concoct a convincing story...As the saying goes,
if you tell the truth, you don't have to remember anything
...
Permatang Pasir folks may be just villagers but I am sure they are humble and honest people...
This is what
Ragunath, Bar Council President, said of Rohaizat's case
:
"Rohaizat was disbarred on March 7 last year and he appealed against the Bar Council decision to the High Court, which also dismissed his appeal on Aug 12 this year."
Posted: 18 Aug 2009 10:07 PM PDT
I received a parcel several days ago from Sarawak (from my uncle). And guess what in my hands?
-
-
-
-
-
-
-
-
-
-
-
-
-
-
-
-
-
-
-
-
-
-
-
-
-
-
-
-
-
-
-
-
Jeng....jeng...jeng.....hehe
It was an Orang Ulu traditional attire! 
He he he. I bought this in Lawas, because there is an aunty sells it quite cheaper than any places. The price? Well, of course it's expensive for a traditional attire, but it's cheaper than other places. 

It's RM300, ok? Other places I saw they sell it for RM400-1000. But I guess RM300 is way cheaper. In Lawas, ok?
Why I bought this? Well, suka-suka. I have a full set of Iban attire and Bidayuh's. So I bought an Orang Ulu's to complete my collection. But most importantly this attire is for my upcoming Borneo Night in campus somewhere in September.
How do I look like in this dress? Well, well, of course beautiful. Muahaha! Borneo girls are beautiful, lar. Ha ha ha. Ok, you'll see it very soon. Surprise....peewwwwiiittt!
Era Najib Altantuya : Salehuddin Cabar Zahid Berdebat
Posted: 18 Aug 2009 09:12 PM PDT
N
aib Presiden PAS Salahuddin Ayub mencabar Naib Presiden UMNO Datuk Seri Ahmad Zahid Hamidi untuk berdebat
mengenai isu pembatalan lesen guaman sivil calon Barisan Nasional (BN)
pada pilihan raya keci Dewan Undangan Negeri (DUN) Permatang Pasir, Rohaizat Othman.
Salahuddin
memberi tempoh 24 jam
kepada naib presiden UMNO itu untuk memberikan jawapan sama ada beliau bersedia menyahut cabaran itu.
"Malam ini saya cabar untuk berdebat satu lawan satu dengan Zahid. Saya nak dedahkan tentang calon BN yang bertanding pada pilihan raya itu," katanya pada ceramah di Permatang Tok Kandu di sini, malam tadi.
Beliau mendakwa Ahmad Zahid, yang juga Pengerusi Badan Perhubungan UMNO Pulau Pinang, tidak teliti dalam pemilihan calon BN yang bertanding pada pilihan raya itu.
Lesen guaman Rohaizat dibatal berikutan masalah yang ditimbulkan oleh bekas rakan kongsi firma guamannya.
Mengenai kenyataan Ahmad Zahid bahawa PAS tidak perlu mempertikai pemilihan calon BN, Salahuddin berkata: "Ini menjadi masalah kepada penduduk di Permatang Pasir kerana jika calon ini menang ia akan mewakili mereka," katanya.

Pada pilihan raya kecil itu, Rohaizat, 38, yang merupakan Setiausaha UMNO Bahagian Permatang Pauh, berdepan Pesuruhjaya PAS negeri, Mohd Salleh Man, 52.

Pilihan raya itu diadakan berikutan kematian penyandang kerusi itu, Datuk Mohd Hamdan Abdul Rahman daripada PAS pada 31 Julai lepas kerana sakit jantung. -bernama

Cake Recipes From My Car Servicing Centre
Posted: 18 Aug 2009 04:26 AM PDT
I know. What a title isn't it? You must have thought I'd gone nuts.
But the title of this post stands because… I really got some recipes from my car servicing centre this afternoon although I did get more than pissed. I got pissed because the people keep telling you to change this and that and when you get the bill for servicing your car, you almost die of a heart attack. The bill's crazy. (But more of this later*…)
Most car service centres have 'waiting lounges' while your car gets its engine oil changed, or its air-conditioner cleaned. Sometimes I bring along my Asus netbook so I can hook up on the free wifi and reply emails during the 1 hour to 2 hour wait.
There's the TV but who's watching TV these days right? And the ice cream corner isn't exactly what I like either. The magazines are rather old and most of them are Malay magazines.
Today I'd planned to read my Pratchett but that didn't happen. I saw Her World on the magazine rack and decided to poke about - I've never been a fan of this magazine (it reminds me too much of my mother's era!). In fact, I've never been much of a local women's magazine fan unless they're passed to me by my sister after she's finished clipping out contest forms!
But surprise. The magazine featured a few very simple cake recipes! Since I tote along my Canon Ixus everywhere and I was too lazy to start scribbling down the recipes, I decided to take some snaps of the recipes! The best thing about technology these days! No pen or paper? No problem. Have camera will travel!
In fact, the cakes were pretty interesting plus they had basic and simple ingredients - Apple Cake with Pine Nuts, Chocolate Raisin Cake, Lemon Almond Cake and Banana Cake.
Here's one of them:
This is the second part - where the ingredients are listed:
And finally part 3 where the instructions are:
I'm going to try them out soon! Wait for the results.
(* Oh ya, never let the car service people tell you what YOU ought to change/replace in your car even though it is 'recommended' to do so. If you don't feel you ought to simply change and replace parts of your car, tell them you don't need the change. We don't need to be bullied into paying hundreds of ringgit just because someone tells us it's needed. As a consumer, you decide what you want. Don't let others make decisions for you.)