---
Era Najib Altantuya : Permintaan Melampau, Tiada Lagi Rundingan - Guan Eng
Posted: 09 Aug 2009 10:01 AM PDT
K
etua Menteri Pulau Pinang Lim Guan Eng berkata pihaknya tidak akan meneruskan lagi perbincangan dengan penduduk Kampung Buah Pala selepas mereka menolak jalan penyelesaian yang diusulkan kerajaan negeri.
Beliau berkata kerajaan negeri kesal para penduduk menolak tawaran rumah dua tingkat untuk setiap keluarga dan sebaliknya menuntut pihaknya membayar pampasan RM3.5 juta kepada mereka.
Walaupun kerajaan negeri memahami situasi yang dihadapi penduduk, namun tuntutan RM3.5 juta ini, kata Guan Eng, telah melampaui batas.
"Jangan membuat tuntutan yang berlebihan, kita menawarkan sebuah rumah teres dua tingkat ditempat asal mereka bernilai hampir RM600 ribu di Pulau Pinang.Mereka tiada peluang duduk di rumah teres dua tingkat, malah ramai rakyat di Pulau Pinang tidak mempunyai peluang sebegini.
"Sekarang mereka menuntut rumah yang bernilai RM3.5juta. Saya rasa kerajaan negeri telah buat apa yang mampu, kita serahkan kepada mereka untuk membuat pilihan. Kalau mereka tidak mahu, itu terpulang mereka mungkin mereka boleh mencari orang luar yang boleh menuntut sebuah rumah bernilai RM3.5juta," katanya.

Guan Eng menambah rakyat Pulau Pinang telah mendengar hujah dan kenyataan dari semua pihak, yang menunjukkan penduduk kampung sering bertukar fikiran. Rundingan awal bersama penduduk yang menghasilkan persetujuan positif sebelum ini akhirnya terbantut dengan sikap sebegini.

Kampung Buah Pala bertitik-tolak dari penempatan tanah estet penjajah British, dan tanah penempatan ini diserahkan semula kepada kerajaan negeri Pulau Pinang sebaik-sahaja Malaya mengecapi Kemerdekaan.

Pihak kerajaan negeri bagaimanapun membenarkan penduduk Kampung Buah Pala menetap diatas tanah tersebut melalui Lesen Penempatan Sementara atau TOL.

Kerajaan BN menjual tanah Kampung Buah Pala kepada Koperasi Pegawai Kerajaan Pulau Pinang, yang kemudiannya mengikat kontrak dengan Nusmestro Ventures (P) Sdn Bhd untuk memajukan projek pangsapuri mewah di tanah terbabit.

Kes ini dibawa ke muka pengadilan, namun keputusan mahkamah memihak kepada pemaju. Selepas siri-siri tunjuk perasaan dan perbalahan, kerajaan negeri akhirnya campurtangan dan menawarkan cadangan supaya pemaju memperuntukkan sebahagian tanah itu untuk penempatan Kampung Buah Pala.

Dalam pada itu juga, penduduk ditawarkan rumah dua tingkat bernilai RM600,000 di negeri pulau yang semakin kesempitan tanah itu.

Penduduk menolak tawaran ini atas alasan rumah dua tingkat ini hanya akan siap dalam masa dua tahun, dan sementara menunggu kediaman baru mereka siap, mereka hilang punca tidak tahu menetap dimana.

Memburukkan lagi keadaan dengan campungan pihak-pihak tertentu. Isu Kampung Buah Pala bertukar panas apabila masalah ini menjadi perbalahan kaum selepas pemimpin Hindraf menuduh kerajaan negeri mahu menghapuskan apa yang mereka dakwa kampung warisan masyarakat India.

Kontroversi ini bertambah huru-hara apabila Hindraf beria-ira mahu membawa kes ini kepada Unesco supaya badan dunia itu menarik balik status Kotaraya Warisan yang dianugerahkan kepada Georgetown kerana membenarkan penempatan sementara ini diratakan.

Ketua Menteri Pulau Pinang berkata bahawa ia adalah susah untuk berunding dengan penduduk Kampung Buah Pala kerana mereka asyik menukar fikiran dan semalam Pengerusi Pertubuhan kampong tersebut membuat laporan polis terhadap beliau mengenai kenyataan yang dikeluarkan sebelum ini.

MIC, yang turut beria-ria mendapatkan kembali keyakinan masyarakat India, menawarkan RM3.2 juta untuk membeli tanah itu dan menyerahkannya secara percuma kepada penduduk.

Kerajaan negeri, yang turut didesak supaya membeli tanah itu pada harga RM3.2 juta, bagaimanapun tidak mampu berbuat demikian kerana undang-undang menetapkan bahawa urusan tanah tidak boleh diuruskan sewenang-wenangnya, tidak sepertimana dibawah pemerintahan BN dahulu.

Nilai tanah Kampung Buah Pala dianggarkan mencecah RM100 juta ringgit.




This posting includes an audio/video/photo media file: Download Now
A Long Overdue Update – Wedding Dinner Preparations
Posted: 09 Aug 2009 09:39 AM PDT
This is perhaps my longest interval for not blogging. With the wedding dinner just five days away, Wuan and I have been busy with errands. Weekends have been spent getting the essential items. Two Sundays ago, we went hunting for Wuan's evening dress. She got a simple one from Beatrice Looi at Bangsar Village. The weekend just passed, we went to Mid Valley Megamall to shop for my shirt and shoes for the both of us. I had spent the weekdays in between arranging seatings and tables for the 300 guests. That took five days and plenty of headaches. I have done all I can from here. The rest will have to be wrapped up in Penang when we get there.
Advertisement: Honda Wheelchair Vans at IMED Mobility in Minnesota and South Dakota.
Related posts:
Era Najib Altantuya : Ali Rustam Perlu Cermin Diri Dulu - Khalid Samad
Posted: 09 Aug 2009 09:16 AM PDT
C
erminlah dulu diri sendiri sebelum membuat sebarang kenyataan!
Begitulah teguran Ahli Parlimen Shah Alam, Khalid Samad kepada Ketua Menteri Melaka, Dato Seri Ali Rustam yang menggesa PAS keluar daripada Pakatan Rakyat berhubung isu arak.
"Saya menegesyorkan kepada ketua menteri Melaka yang dulu telah di halang untuk bertanding dalam pemilihan umno kerana didapati bersalah atas rasuah politik, mencerminkan dirinya dulu sebelum nak komen orang lain".
Khalid berkata demikian selepas menyampaian Hadiah Pertandingan Marhaban dan Berzanji Selangor 2009 di Auditorium MBSA, petang tadi.
Katanya, Ali Rustam seharusnya mencontohi tindakan kerjaan Selangor dalam menangani isu arak yang menyumbang kepada gejala sosial yang semakin serius melanda masyarakat negara ini.
"Dan negeri Melaka pun patut berusaha untuk mencontohi,dimana kita nak tingkatkan kesedaran di kalangan masyarakay berhubung dengan keburukan dan kerosakan hasil daripada budaya minuman keras,yang selama ini telah menjadi satu perkara yang biasa.so saya rasa dia punya cabaran tu tak kena tempat la", tambah Khalid lagi.

Isu pengharaman penjualan minuman keras di Selangor telah mencetuskan kontroversi daripada pelbagai pihak.

Khalid berkata setakat in 10 daripada 17 rangkaian 7eleven telah menghentikan penjualan arak di premis perniagaan mereka. Manakala 7 lagi telah memperketatkan penjualan minuman keras kepada orang ramai.

Menurut Khalid lagi, PAS memandang pengharaman ini sebagai satu langkah membendung umat Islam daripada terlibat dengan arak, selain membantu mengurangkan masalah sosial yang berlaku disebabkan pengaruh alcohol.


Heart-marked chihuahua gets identical brother
Posted: 09 Aug 2009 07:09 AM PDT
Heart-kun, the chihuahua that made headlines in 2007 with his perfect heart-shaped birthmark, is having a brother that shares similar cuteness…
Named Love-kun, the new puppy was also born in Odate, northern Japan. The pet owner must have done something good in her past-life; having a cute dog like this is quite a blessing, having two is just heaven [image via Petsugar]
Heart-marked chihuahua gets identical brother from YeinJee's Asian Blog
Strelitzia, the bird of paradise flower
Posted: 09 Aug 2009 06:50 AM PDT
Strelitzia, commonly known as the bird-of-paradise flower due to its resemblance; also known as the crane flower in South Africa, its country of origin. Photos taken at the Butterfly Farm in Cameron Highlands, Malaysia, during my July trip…
Strelitzia, the bird of paradise flower from YeinJee's Asian Blog
Posted: 09 Aug 2009 09:22 AM PDT
On 2nd August 2009, Azman and I went to Bangkok for shopping and sight- seeing. I was my first time to the capital city of Thailand and Azman fifth or sixth, maybe. He was there on work for the earlier trip AND HE BETTER NOT KNOW WHERE THE TIGER SHOW IS!!!!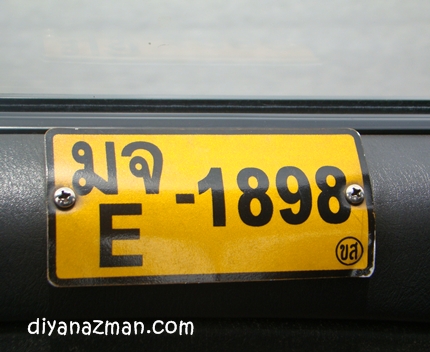 The taxi that took us from the airport to Royal Asia Logde off Sukhumvit Road
From the moment we sat down on the flight until the very last moments we spent in Bangkok, I had been holding my stomach not to vomit blood from the repetitive attempt to tell these people that SORRY, I AM NOT THAI! PLEASE SPEAK ENGLISH…
Oh well, what can I say, it's not their fault, I have always know that I could pass anytime for an Indon, a Malay, a Thai, Sri Lankan, Indian, Pinoy, Chindian, a Martian.. I had been mistaken for a Chinese girl many-many times too…I bet the Chinese babe that I was mistaken for just had fallen asleep in the tanning bed and woke up like a piece of bread after ten minutes in the toaster. On high temperature!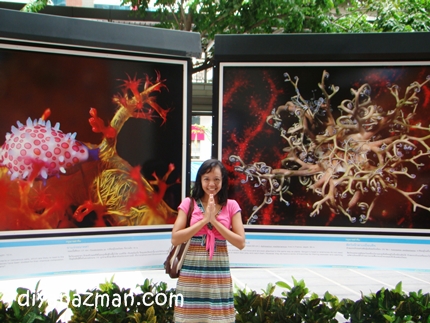 Sawadee Kap!
Anyway, after touch down at Bangkok airport we went straight to check in at the hotel, leave our bags and straight away took the BTS train to Chatuchak. Chatuchak is claimed to be the biggest market in the world and opens only on weekends. To get to super duper cool bazaar like market, just took the train and get off at the last station – Station Mo Chit. The market that sells just about everything under the sun is situated across the nice Chatuchak park.
I bought a lot of things there. Not too much by my standard actually, I was in full capability to purchase more, but the items I had gotten included three wall decorative lights that's dirt cheap but huge. Azman had a tough time carrying the box around the hot and humid market, so I consoled myself keeping a mental note that when I wake tomorrow morning I would still be in Bangkok.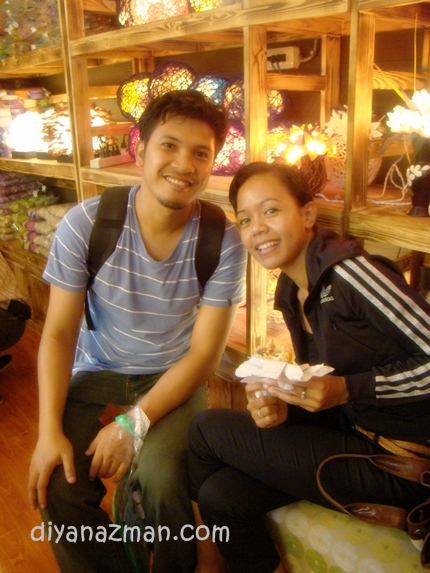 Shopping at Chatuchak
I would say eating in Bangkok is pretty hard for a Muslim. There are plenty of Thai halal food around but when there are pork bergantung manja beside the halal chicken I cannot telan laaa… heheheh.. So we ended up eating from the Arab restaurants that sell costly food and since Arabian food is not really my fave, after our second meal there, I had a headache. Hehe.
There is so much that I would like to write about this trip. More stories coming in the next entries, but in the mean time, I would say that Bangkok excites me and scares me at the same time. Though I would say that I am no Miss Goody Two-Shoes in Malaysia, still the women of Bangkok freaks me. Especially with all the vegetables that they can shoot from their vajayjay.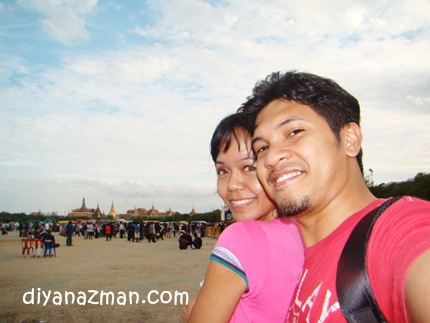 Later~
Posted: 09 Aug 2009 09:00 AM PDT
While browsing through the blogs, I just found out that swearing is actually good. I'm not talking about taking an oath because this word has 2 meanings. The one I'm talking about will be the one on cursing, being rude, etc... Although it's impolite to swear but researchers finds that swearing could help reduce our stress. You swear when you're frustrated, angry, pain, 'high'.. Lol.. . Don't you know that swearing toughen you up? It's a good news though because I swear a lot... That's why I'm gonna 'fuck' all night long!
"If you take a diamond and crush it, the dust you get will be black."
"We face difficulties in life, but we need to lead our lives and not let others control our path"
Problems.. problems.. problems... We can have a thousand problems a day. Yet, it was never easy to keep it in you.. and neither it's easy to solve it.. Look behind those eyes and see how many problems they faced although they're happy.. I'll find a day where I go so drunk and couldn't speak.. not forgetting too, wear black for the rest of the month...

Biggest Loser Asia: Audition @ Fitness First The Curve
Posted: 09 Aug 2009 09:12 AM PDT
We were there for the audition of the
Biggest
Loser Asia on Saturday, Aug 1, 2009.
Actually, my other half wanted very much to go for the audition. I had to go with her to lend her moral support though she prodded me to join her as well.
When we reached Fitness First at about 10:30 AM, there were already many who were lining up waiting for their turn.
After 'scanning' the scene, we were certainly convinced that we were not qualified as 'overly obese'. Thus, we left the scene, feeling comforted that there were many more people out there who were much
BIGGER
than two of us put together.
Lesson learnt
: There is a
BIG
difference between being fat and overweight!
8DD
Love Yourself, Love Your Family - The Star on Saturday
Posted: 09 Aug 2009 09:00 AM PDT
Saturday August 8, 2009
Love yourself, love your family
AT YOUR SERVICE
By TAN SRI FAIZAH MOHD TAHIR
MOTHER Teresa is famed to have answered when asked, "What can you do to promote world peace?" Her answer was, "Go home and love your family."
The 21st century has brought to our doorsteps the moral question of family and its institutions. The weakening of our social fabric today is seen through the increase in child abuse, domestic violence, juvenile delinquency, rising divorce, breakdown of morality and substance abuse, to name a few societal predicaments.
Unresolved issues in families spill into the larger base of communities, holding in many instances an entire society at ransom of their safety and security, its peace of mind.
Are our family institutions stable anymore? Findings from the nationwide Malaysian Population and Family Survey (MPFS 2004) show that divorce rates are up by 1.8% to 2.2% of the population from 0.7% recorded in 2000.
More than 98% of couples from the same survey still perceived their family relationships as strong and cohesive. Ironically, we are witnessing increasing numbers of divorce and stress in family life which is directly affecting our value systems.
With the ageing population, we are also witnessing increasing numbers of "sandwich generations"; a generation where working adults have to support both their elderly parents and young children.
About 10% of the elderly in Malaysia live alone, according to MPFS 2004, while 1 in 4 claim that they have not received any financial assistance from their children who live away from them.
We are starting to observe an increasing number of children neglecting, abdicating and franchising their responsibilities or even abandoning their parents.
This will become more pervasive as the society ages. It is critical to nip this trend in the bud. It has often been said: "A parent can take care of many children but many children can't take care of even one parent".
The role of parents in inculcating values cannot be underscored. It is imperative that parents, as the first and most important teacher to their children and role-model-in-chief, instill values such as filial piety, responsibility, inter-generational caring and respect amongst family members. Sadly, these values are amiss in our society today.
To protect and support the families to be strong and resilient, we must return to basics. We must return to developing family and communal values. The FAMILY is the primary source to developing a comprehensive social system.
Family is where we all learn vital and fundamental skills which determine one's character and resilience. While every family is unique, there are some core values that bind us all which cuts across culture, ethnic and religion.
Respect is the recognition that everything and everyone is just as important as we are. Honesty simply means telling the truth.
Responsibility means having a sense of duty and keeping to one's moral obligations and being accountable for one's actions. Caring means the show of humanity, sympathy and/or mercy to our fellow human beings.
Strength of character infused with respect, honesty, responsibility and care defines the backbone to a society. These invaluable values have to be imbued back into our cradles at home.
For the Ministry, developing a caring society built on a strong and resilient family institution remains our core focus, regardless of challenges of the times.
The Family First: Bring Your Heart Home Campaign launched by the Women, Family and Community Development Ministry in 2003 has been instrumental in changes to regulations and incentives.
This include increase in paternity leave from three to seven days, and medical benefits for public sector employees being extended to their parents.
It also include three days compassionate leave for death of immediate family members, tax incentives for companies which conduct family-related activities, tax relief for children who pay the medical expenses of their parents and increase in the eligibility criteria for financial assistance particularly for vulnerable families such as single mothers, families with disabled persons and elderly.
In 2004, we introduced an accessible counselling service for a whole family through the Kembara Kaunseling programme. This programme spanned the spectrum for adolescents, adults and couples.
By year end, more comprehensive family counselling services will be made available at all the 53 Nur Sejahtera clinics in the country.
In 2006, we started the SMARTSTART course for couples intending to get married and those who have been married for five years or less. The programme, now offered in 4 languages, offers couples tips and skills in areas such as parenthood, managing family stress and conflicts amongst others.
To help Malaysian families cope with contemporary living and lifestyles, Parenting@Work Programme was introduced at the workplace in 2007. Issues such as work-life balance, effective parenting and stress management are emphasised at the workplace.
To address the negative risk taking behaviour amongst the young, kafe@TEEN was set up to provide counselling services, skills building, and reproductive health education for those aged 13 to 24.
Due to its popularity today, with the Education Ministry, we will be up scaling this through five schools in Penang, Kuala Lumpur, Selangor, Pahang and Kelantan.
All these programmes are of no real benefit, if as individuals in our daily roles, we do not focus on ourselves and our families.
We cannot as a nation gain development and growth if our own lives are broken. The 1Malaysia vision calls on us to be a family in our homes, and in our land. 1Malaysia seeks for us to return to the basics of mutual respect, honesty, responsibility and a caring society.
To gain success as a nation, we must define success in our own homes, in our own souls and in our own conscience.
> Tan Sri Faizah Mohd Tahir, who is the Women, Family and Community Development Ministry secretary-general, welcomes comments and suggestions. She can be contacted at faizah@kpwkm.gov.my.
PET+BLOGSPOT is the official online blog of the Malaysian Animal-Assisted Therapy for the Disabled and Elderly Association (Petpositive).
Our blog which was first established in October 2007 currently has more than 25,000 hits. Kindly take note that views expressed in this blog are not necessarily those of Petpositive.
You may also visit our Webpage by browsing: www.petpositive.com.my
Fatah: We'll sacrifice victims until Jerusalem is ours
Posted: 09 Aug 2009 06:48 AM PDT
Great news! The Palestinians who never miss an opportunity to miss an opportunity just told Israel they won`t negotiate until Jerusalem is returned, so unless they hope to live to be a thousand years old I suggest the Palestinians forget about Jerusalem. The Syrians won`t talk to Israel unless Israel first agrees to return the Golan. Do these folks have a problem with their memory? They LOST the war after Israel was attacked. To the victors go the spoils so Jerusalem and the Golan should remain Israel`s FOREVER. Never before in the history of our planet have the people who lost a war dictated the terms of a peace agreement to the winner.(Comments extracted from Haaretz)-edit.
The status of Jerusalem as the future capital of a Palestinian state is a red line that no Palestinian leader is permitted to cross, President Mahmoud Abbas' ruling Fatah faction declared in the West Bank on Saturday.According to Israel Radio, the Fatah general conference, which convened in Bethlehem for a three-day gathering, adopted a position paper which also states that the Palestinian national enterprise will not reach fruition until all of Jerusalem, including the outlying villages, come under Palestinian sovereignty.
"People should know when they are conquered"
Fatah, which rules the West Bank but was ousted from power in Gaza by the Islamist Hamas movement, also ruled out any interim agreements with Israel. "Fatah will continue to sacrifice victims until Jerusalem will be returned [to the Palestinians], clean of settlements and settlers," the paper states. According to Israel Radio, the paper does not make a distinction between the eastern and western halves of the capital, nor does it distinguish between the territories within the Israeli side of the Green Line and the areas captured by Israel in the 1967 Six-Day War.
Mahmoud Abbas was re-elected on Saturday to lead Fatah by consensus at the party conference.
Continued here...
This posting includes an audio/video/photo media file: Download Now
Ku Li: BN power-sharing model broken, needs new one
Posted: 09 Aug 2009 08:18 AM PDT
The ruling Barisan Nasional's racial power-sharing model is broken with the races now polarised, veteran Umno politician Tengku Razaleigh Hamzah charged today, adding it needs to begin anew with "our common humanity".
The Gua Musang MP also said race was just a constructed category and called for new ways of mediating conflicts among the races in the country, despite the recent shrill cries of Malay supremacy among his fellow Umno colleagues and Umno-held media.
"The racial power-sharing model now practised by Barisan is broken. It takes more honesty than we are used to in public life to observe that this is not a temporary but a terminal crisis. An old order is ending," Tengku Razaleigh told the Kelab Umno Australia at the Melbourne University.
Umno stalwart Tengku Razaleigh Hamzah has charged that BN's racially-driven model can no longer work in today's society. — Picture by Jack Ooi
He noted the major races remained polarised despite the country's economic growth and progress towards multiracial politics although the government and opposition are still largely mobilised along racial lines.
"It is not yet time to herald a new dawn. Instead, we are in a transition full of perils and possibilities," the Kelantan prince said in a copy of the speech sent to The Malaysian Insider.
He told his audience Barisan Nasional was put together to ensure that every community had a place at the table but it was not a permanent solution and the coalition has to wake up to the fact that it no longer worked.
"It was designed as an interim work-around, an early stage on the way to 'a more perfect union' and not as the desired end-state. Over the years, however, we have put up barricades around our system as if it were a fore-ordained and permanent ideal.
"In doing so, we have turned a half-way house into our destination, as if we must forever remain a racially divided and racially governed society," said the politician popularly known as Ku Li.
He said the ideal should be a free and united society in which individuals can express their ethnic and religious identities without being imprisoned in them, adding "We must aim for a society in which public reasoning and not backroom dealing determines our collective decisions."
Tengku Razaleigh, who lost out again for a shot at the Umno presidency last year, said the power-sharing model in Malaysia was an elite style of government justified by the virtue and competence of natural leaders of the communities.
"It does not work when political parties are led by the ignorant and the corrupt who have no standing in the communities they claim to represent," he said bluntly, saying the country now has top-down rule and power had become increasingly unaccountable with Umno beholden to the executive.
"Our decades under highly-centralised government undermined our power-sharing formula, just as it undermined key institutions such as the judiciary, the police and the rule of law.
"Our major institutions have survived in appearance while their substance has eroded. Seen in this light, the election results of March 8, which saw the Barisan Nasional handed its worst defeat since 1969, was just the beginning of the collapse of a structure which has long been hollowed out," Ku Li said.
He told the Kelab Umno Australia that they are generation of transition and would play a key role in determining the country's outcome.
"We need a new beginning to racial relations in Malaysia, and you must pioneer that beginning. We need to re-design race relations in Malaysia, and you must be the architects and builders of that design," he told his audience.
He advised them to take advantage of the perspective of distance in overseas education to reformulate questions and come out with answers for the nation.
"Begin with our common humanity. Respect for our common humanity must override all lesser affiliations, including race," he said, noting one of Islam's most powerful contributions to human civilisation has been its insistence on the equality of all human beings.
"Islam tolerates no notions of racial superiority or inferiority. All human beings are equal before God. That same principle of equality is absolutely fundamental to democracy, and democracy is a foundational principle of our Constitution.
The veteran politician said democracy is part of the nation's make-up and although the citizens can gravitate to racial groupings, it should not overshadow the allegiance to the constitution and the claims of equal dignity.
"Political parties based on race or religion must never be allowed to do or say anything contrary to justice and equality," he added.
Bucking the trend in his party that espouses Malay supremacy, Tengku Razaleigh said Malaysians must anchor themselves in the constitution and restore its primacy as it establishes the equality of citizenship.
"It gives us the framework of law and order within which we become a nation. It establishes the primacy of the rule of law, the sovereignty of Parliament, the independence of the judiciary and civil service and of our law enforcement agencies. These are the institutions which guarantee the freedom and sovereignty of the people," he added.
Ku Li has challenged the young generation, which he calls the "generation of transition", to move beyond making race their sole identity.
Speaking on race, he noted that while it united people in a common feeling, it can also divide and said that Malaysians are not just diverse in race but diverse in different ways, including location, class, social status, occupation, language and politics.
"We would be terribly impoverished as persons if our identity was given ahead of time and once and for all, merely by our membership of a fixed racial category. I would be a very dull person if you could tell who I was simply by looking up my race," he said, adding it was not the most importance category in the world.
He pointed out that race would retard growth as individuals and hence as a society, apart from turning people into stereotypes and maintain a view of the world bordering on racist.
"I want to urge you, as the makers of the new social landscape we need in Malaysia, to reject taking race to be a unique and fixed categorisation, to reject race as a central category of social and political life," Tengku Razaleigh said, reiterating it was just an identity and a constructed category.
He railed against the politics of race saying it will always divide, "and the ultimate solution to intra-racial problems it leads us to is, in the end, violence."
"It is easy to identify the practitioners of this kind of racial politics. They will rely on veiled threats of communal violence even as they take part in democratic politics," he added.
The Umno veteran also called for new ways of mediating conflicting claims between the races, new ways of bringing people to the table, of including everyone in the decision-making process.
"These new ways must be based on more open conceptions of who we are. Malaysia's major races have lived together not just for decades but for centuries. Their cultures have interacted for millennia. In that time there has been mutual influence, mixture and cross-pollination at a depth and on a scale that our politics, popular culture and educational curriculum have largely pretended does not exist.
"It is time to embrace this real diversity in our political and personal lives. Our racial identities are not silos in a cornfield, forever separate, encased in steel, but trees in our rainforest: standing distinct but inexplicable without each other and constantly co-evolving," he said.
Tengku Razaleigh pointed out that he was not recommending anything novel to the audience as it was cardinal principles in the constitution and the faiths, including Islam.
"Let us have the sense of perspective to see our ethnic identities against these cornerstone principles of religion and ethics, and let us now educate our young, apprentice our youth, and conduct ourselves according to these principles.
"And then let us have a new beginning for Malaysia," he said when ending his speech.
Posted: 09 Aug 2009 08:11 AM PDT
Members of the Youth Wing of the United Malay National Organisation, who have been long considered brash and rash and extreme in their views and actions, surpassed themselves on the afternoon of 26 February when a group of about 20 of them invaded the Parliament in Kuala Lumpur intending to prevent the wheelchair bound member of parliament, Karpal Singh, 69, from entering the House of Representatives to take part in the day's proceedings and to force a retraction of his earlier utterances.
When debating a motion on the king's speeches, Karpal brought up the issue of being sent two live bullets by post. He claimed the bullets were sent by the UMNO Youth and labeled them celaka. Celaka translates as 'accursed' or 'damned.' They also wanted to confront Karpal over his alleged insult of the Perak Sultan and the Malays by stating that the Sultan of Perak could be sued in the political controversy that is raging in Perak.
Karpal also rounded off his earlier speech in Parliament by declaring 'Singh is King' presumably influenced by the title of a Bollywood flick currently being screened in Malaysia. This statement further enraged the UMNO youths, as it was construed as a further insult on the sultans.
As the UMNO Youth blocked Karpal's path and created a fracas, it is alleged that the security guards and police personnel stood by and watched, not bothering to come to the aid of the veteran disabled MP.
Karpal Singh has said he has not done anything wrong. As a lawyer, he said, he was merely stating the law when he said the sultan could be sued in court. Many senior lawyers as well as the Malaysian Bar Council have concurred that the Malay rulers are subject to civil and criminal prosecution based on the Malaysian Constitution.
Prior to this confrontation, noisy demonstrations were held by the same group outside Karpal's law firm in Kuala Lumpur. Demonstrations were also planned in Penang outside his home under the leadership of Mohamad Khir Toyo, who is seeking to be elected head of the Youth Wing in the coming party elections. The planned demonstration was stopped by the police after Karpal complained they were not doing anything to protect him.
Mahathir Mohamad, when he was Prime Minister was instrumental in clipping the powers and removing the immunity of the Malay rulers between 1983 and 1993 and making them liable to prosecution. Mahathir, when putting forward his case to the people of Malaysia on the need for such a drastic course of action against the rulers, singled out the allegedly extravagant lifestyles of royalty. The rulers of the states of Perak and Johor were singled out for mention.
UMNO including the Youth Wing were staunchly behind Mahathir and there was no talk of insulting the rulers, sedition or treason.
When the withdrawal of immunity of the Sultans and curtailing their powers was discussed and passed by both the Houses of the Parliament, it is significant to note that the Democratic Action Party, of which Karpal Singh, is the national chairman, voted against the act. It was passed with the overwhelming support of UMNO and other components of the Barisan Nasional, the ruling national ethnic coalition
What did Karpal mean by his statement "Singh is king?" Most certainly not an obsession with Bollywood. A closer look at the culture and religion of the Sikhs will provide interesting answers. Most male Sikhs are called "singh," which means "lion," the king of the jungle. Quite often princes and maharajas in India use the title of Singh to denote their royal and warring abilities. In this context, the term "king" was not a reference to the rulers at all.
More than 100 police reports alleging treason and sedition have been made against Karpal. That these reports will not stand up in a court of law is obvious. Karpal should however bear in mind that he would have caused less controversy had he used more diplomatic language, particularly in parliament.
A good grasp of cultures of the various ethnic groups as well as Malaysian history should be made essential knowledge for ALL politicians and aspiring politicians. Most Malaysians, including the Malays, are aware that the ruling Malay party is not truly concerned about the rulers, and their complaints against Karpal and the opposition grate like a broken record being played too many times, especially when not a squeak was heard from these very Malay leaders in1983 and 1993. It only shows their lack of respect and understanding of the laws of the country, parliamentary procedures, and cultures of the various communities.
The fact that the prime minister and the deputy prime minister have not commented on the invasion of the sanctity of the parliament and the intimidation of a wheelchair-bound opposition leader speaks volumes on the conduct of politics and governance in Malaysia.
The Malaysian Insider

UMNO Stalwart Questions Malaysian Aide's Death
Posted: 09 Aug 2009 07:29 AM PDT
Teoh Beng Hock, an aide to a Malaysian opposition assemblyman, was found dead on July 16 on the roof of a building next to the Malaysian Anti-Corruption Commission after eight hours of questioning in a case in which he was only a witness. It appeared he had thrown himself off the 14th floor of the MACC headquarters. The 28-year-old Teoh's death has kicked off widespread outrage against the government in Malaysia. Tengku Razaleigh Hamzah, the former finance minister and a long-time stalwart in the United Malays National Organisation, wrote this open letter, which appeared in the Chinese-language newspaper Sin Chew Daily.
An Open Letter From Tengku Razaleigh Hamzah

Mr Teoh Beng Hock's death marks a watershed in the attitude of the public towards their government. The government has plumbed a new low in loss of credibility. Many people have come up to tell me in anger or despair that they feel their country has gone off the rails. People who previously considered themselves apolitical have been roused into active engagement.

There have been too many deaths under custody. But this death is particularly disturbing because Mr. Teoh died after interrogation by a specially commissioned watchdog agency, inaugurated with fanfare last year by the outgoing administration. The very agency set up to combat the abuse of power has
become in the public eye a symbol of the abuse of power.

Mr. Teoh was a mere witness. He was questioned about the possible misuse of funds by his employer, a state assemblyman, to buy flags for the last Merdeka celebrations. The sum in question was RM2,400. He was questioned for eight hours through the night. He was found dead the following day outside the MACC's headquarters.

Mr Teoh, 30, would have registered his marriage last weekend. His fiancée is two months pregnant.

If the Perak debacle (eds: in which the ruling national coalition induced three opposition Assembly members to change sides, overthrowing the state government) members to reminded us of the importance of the Constitution, the death under suspicious circumstances of Mr Teoh Beng Hock has brought home in a heart-wrenching way how much we need our public institutions to be independent and law-abiding. A shocked public is demanding answers, and rightly so.

Questions about how Mr Teoh died cannot be shut down with the usual warning that it is "liable to confuse the public" because the public is already confused. We are confused about how an idealistic young man with everything to live for can enter the headquarters of the Malaysian Anti-Corruption Commission as a witness one day and be found dead outside the next.

Questions about the death of Mr Teoh cannot be swept aside with the paternalistic instruction to leave it to the authorities to investigate," because the death of Mr Teoh appears to be just the result of "leaving it to the authorities investigate." It is precisely the independence of the investigating authorities that people are questioning.

Questions about the death of Mr Teoh cannot be suppressed with the warning "not to speculate" when the investigating authorities were apparently able to prognosticate, ahead of their own investigations, that foul play was not involved, and some leaders appear to have special knowledge that Mr Teoh jumped to his death of his own accord.
Questions about the death of Mr Teoh cannot be evaded with the low tactic of racializing the issue because the death of Mr Teoh touches us all as citizens, brothers and sisters and fathers and mothers. None of us wants to live under a government apparatus that cannot be trusted to be independent and to tell the truth.

Questions about the death of Mr Teoh cannot be suppressed with authoritarian prohibitions because they are about the integrity and independence of institutions that belong to the people. Those ministers who talk down to the people may have forgotten who put them into government and pays their wages, and whose questions they were put there to ask. And to answer.

To ask such questions is not to "politicize" the issue but to exercise our ownership of an issue that touches each and every one of us as citizens: our basic institutions are rotted out, and we are headed down the path of a failed state.

It is our right and indeed our duty as citizens to keep asking questions when someone dies under circumstances that put the entire government under a shadow. As we ask these questions let us accept our joint responsibility to push uncompromisingly for an overhaul of the key institutions that have rotted through under exactly the kind of authoritarianism that would prohibit discussion of the circumstances of the death of Mr Teoh Beng Hock.
MACC - You cannot operate from a vacuum
Posted: 09 Aug 2009 08:13 AM PDT
The Malaysian Anti-Corruption Commission (MACC) is angry, so I gather, because the Prime Minister has agreed to set up a Royal Commission of Inquiry into their interrogation procedures and methods they employ.
The MACC officers feel that they are not getting the support they believe they have a right to from the Prime Minister. There are two aspects about all of this that really trouble me:
One, on the question of the RCI, the MACC is being unacceptably presumptuous even to think that it has a right to determine whether there is any necessity or need for a group of independent eminent citizens to be appointed to look into the way our anti-corruption boys and girls conduct themselves. Their attitude is symptomatic of a deep problem inherent in the mental makeup of these MACC functionaries who seem to have great difficulty in understanding and accepting their place in the larger scheme of things.
There is also the fear that their much proclaimed professionalism cannot in truth bear close public scrutiny. I can understand their feeling of being abandoned like an unwanted diseased pet or a rag doll after the Teoh Beng Hock affair.
After all, haven't we, by default, allowed them to develop a culture of their own, one of impunity?
However, circumstances have caught up with them, as they have a habit of doing, and now they are being held accountable for their actions, probably for the first time, and don't they resent it?
They must now cooperate and support the work of the RCI. My advice for what it is worth is for them to focus on simply doing a better job and not straying into areas that do not concern them. As with all public servants, they have to remember that they must operate within the law because they are, after all, creatures of the law. They must expect the law to apply equally to them.
Another aspect that troubles me is that they expect, as a birthright, government support irrespective of the merit of their case or their actions. I can understand their feeling of being unfairly treated after all these years of doing little chores for the likes of Tun Mahathir Mohamad, Tun Abdullah Badawi and even the current Prime Minister.
This, mind you, is what is perceived by the public, rightly or wrongly, as the principal work of the MACC when they are not out scooping up ikan bilis. I know, of course, that this is not true, but try convincing the public. Perceptions may not have any basis in fact, but they are real.
The MACC must be prepared to put all of its actions under public gaze. We are not interested to know who they are investigating and why, but we have every right to expect them to act in strict adherence to the law, and in faithful observance of the principles of human rights and dignity.
If they have to use force and inflict torture in as part of their investigation procedure, then they are not in the wrong organisation.
I am of an age when I remember quite clearly the Japanese occupation and the methods the Japanese devised to interrogate their suspects. I will not go into any detail, but suffice to say they were not human.
Now, do not get me wrong. I am not suggesting that the MACC interrogators use similar methods, but there again the public perception is that questionable methods have been applied by the MACC. All this suggests that members of the community at large do not trust the MACC to do the right thing by the people they deal with.
Like their counterparts in the police, the MACC is part of the larger community within which they operate. How well they succeed in their assigned roles, duties and functions depends on public support, cooperation and confidence.
As we know, confidence is a fragile commodity. It is not something you can buy off a supermarket shelf. It is difficult enough to earn it, and even more difficult to retain it. People will want to be convinced that their trust will not be misplaced.
On current showing, I fear both the MACC and the Royal Malaysia Police have a lot of confidence building ahead of them.
The police, in spite of claims by the IGP and others to the contrary, have not changed one bit. The Royal Commission that inquired into the police service, for all practical purposes, might as well not have been appointed judging by the outcome.
The police will continue to be regarded, again rightly or wrongly, as an oppressive occupation force. I know this is not entirely true but it is up to the police to prove the public wrong by reversing these negative perceptions by being seen to act properly.
It will not be easy, but under the right leadership, it can be done. Part of the problem with the police leadership culture is that the top echelons of the service are not good listeners; they take criticisms personally.
There is also a highly developed tendency to assume that they know everything there is to know about policing. Being thirty years in the police or any service, merely means doing the same rotten things over and over again for thirty years. It surely is not a good enough qualification to lead a modern service with emphasis on integrity, efficiency and a heightened sense of the rights of the people they have to deal with in the course of their work.
We who pay the piper should be calling the tune, and not the other way round. The Minister of Home Affairs might want to get on the podium and wave the baton, or in this case a really big stick, to keep both the police and the MACC playing to a strict ethical tempo. It would be a nice change for once.






Posted: 09 Aug 2009 07:51 AM PDT
On November 25, 2007, an estimated 20,000 ethnically Indian Hindus gathered in the streets of Malaysia's capital, Kuala Lumpur, to protest against government discrimination. The backdrop of the state-owned Petronas Twin Towers, Malaysia's foremost symbol of modernity and progress, served as a damning indictment of the faults that now divide Malaysian society.
When Malaysia (then Malaya), along with many other Southeast Asian countries, became independent in the 1950s, many political experts thought its tremendous racial and religious diversity made it a tinderbox, a potential "Balkans of the East." Seeming to prove them wrong, Malaysia's steady economic growth helped bring about prosperity that ensured at least a peaceful coexistence among the different ethnic groups. Malaysia's story of prosperity and harmony, a model of similar trends across Asia, prompted an international tourism ad campaign with the tagline: "Malaysia: Truly Asia."
Yet beneath that veneer, frustrations among the country's Indian minority had been bubbling under the surface for decades before they were finally aired at the protest in November 2007. The unexpected intensity and broad support for the protests within the Hindu minority came as a rude shock to the Malay community and the ethnic Malay establishment that dominates the state and its institutions.
A group known as Hindu Rights Action Force (HINDRAF) emerged as a major player behind the protests. Frustrated by the Malaysian government's positive discrimination towards indigenous Malays, Waytha Moorthy, a lawyer by profession, founded HINDRAF soon after seeking counsel on the issue from Tuanku Syed Sirajuddin, the Malaysian king, in January 2006—but to no avail. The Malaysian government reacted to the protests, which were the culmination of HINDRAF's efforts, by jailing Moorthy's brother along with four other HINDRAF leaders, under a dated pre-independence law, the Internal Security Act.
Speaking to the Globalist, Waytha Moorthy, in exile in London, asserted that the jailings were illegal. "This act was illegally invoked under the guise of national security to silence the legitimate voice of democracy in Malaysia," he said. Initially in self-imposed exile, Moorthy has now had his Malaysian passport revoked, making him, in his words, "de facto stateless." He added that the five protest leaders are still being detained "without having been charged in open court, with no opportunity to defend themselves." This is, according to Moorthy, an indictment of the independence and fairness of the Malaysian judiciary. But the Indian Hindus' woes go back much further.
An Old "New" Policy
Since independence, Malaysia has had a partisan, race-based political system. The ruling coalition consists of the main Malay-Muslim party, United Malays National Organisation (UMNO), and parties representing the ethnic Chinese and Indian communities. The Malays, or Bumiputeras (sons of the soil), who were historically disadvantaged under colonialism, were accorded special entitlements under the benignly titled New Economic Policy, which gave them privileges in employment, education, and business. The policy was started in 1971 as a response to race riots on May 13, 1969, between the Malay and Chinese communities, a result of the Malays' grievances regarding their poor economic conditions. The Chinese community has long held significant economic and financial power, mitigating the domination of political power by the Malays. But that arrangement left the Indian community feeling powerless and deeply frustrated.
In recent years, many Indians, who are mostly Hindu, have been aggrieved by a new perceived abuse: the destruction of Hindu temples. The Associated Press reported that eight temples were destroyed over three months from February to May 2006, ostensibly for occupying land illegally. HINDRAF claimed in a November 2007 letter to British Prime Minister Gordon Brown that a Hindu temple is destroyed every three weeks in Malaysia. The lack of accurate and unbiased news coverage in Malaysia makes the exact number of destroyed temples difficult to verify, but none deny that the pattern is real.
Moorthy joined forces with human rights organizations such as the Minority Rights Group International and Amnesty International to protest this situation. Aside from the ignominy and agony of seeing local temples destroyed, the Hindu community witnessed a Malaysian Hindu soldier, Maniam Moorthy (no relation to Waytha Moorthy), a national hero as a member of Malaysia's first-ever expedition to Mount Everest, buried by the government as a Muslim. According to Waytha Moorthy, this highly controversial incident served as a catalyst to spark the formation of HINDRAF.
Though it has united Indians around its cause, HINDRAF may have further polarized Malaysian society by emboldening its opposition at the same time. Some Malays have taken umbrage at HINDRAF's emergence, seeing it as an affront to the proper status quo as currently enshrined in Article 153 of the Federal Constitution: "It shall be the responsibility of the Yang di-Pertuan Agong [the King of Malaysia] to safeguard the special position of the Malays."
In response to the rise of HINDRAF, Johan Saravanamuttu, a visiting fellow at the Institute of Southeast Asian Studies in Singapore and an expert on Malaysian politics, said, "These incidents have put a greater emphasis on ethnicity in politics." Also, he argued, greater racial emphasis accentuates the partisan climate in Malaysian politics: "These extravagant demands probably damaged the cause in the minds of many Malaysians by making HINDRAF look more extreme."
But he stressed that most Malays empathized with the Indians' demands, seeing them not so much as challenges to Malay hegemony but as expressions of frustration with Indian marginalization. Adriana Nordin Manan, a Malay researcher in politics and social sciences, said, "People across the ethnic spectrum are beginning to see the New Economic Policy as a policy that was good in the beginning but needs to be reviewed in order to benefit the poor from all the ethnic groups, the majority of whom are Malay to begin with." She added, "I hope that Malaysia becomes a nation of people who regard themselves as citizens, where not everything is seen as a zero sum game between the ethnic groups."
A Shift in Mindset
Indeed, HINDRAF may have sparked a national soul-searching exercise that has led many to rethink the structure of Malaysian society. Moorthy said of the socioeconomic policies in the country, "There has been a shift in mindset among all Malaysians."
While Malaysia's Indians remain a politically weak constituency unlikely to bring about broad political change in Malaysia's partisan race-based political system, the election last March, which saw the incumbent political party lose votes in all communities, supported Moorthy's idea. Saravanamuttu said, "The issues HINDRAF raised have resonated deeply across the board and made a palpable, real impact on the election results." He cited analysts' estimates that the greatest swing of votes from the incumbent Barisan National coalition to opposition parties was seen among Indian voters, with a change of about 35-40 percent.
This shift was further given credence by a poll in June and July 2008 by the independent Merdeka Center that showed that a majority across all races felt that Barisan Nasional's "race-based affirmative action policy is obsolete and must be replaced with a merit-based policy" for a truly fair redistribution of wealth.
In response to calls for change, the Federal Government has introduced the "Race Relations Act," which aims to build stronger interracial ties. Saravanamuttu is skeptical of the move. "This act [will] prove to be of limited effectiveness, for it proscribes rather than liberates race relations in the country," he said. Other more positive harbingers for Malaysia were a declaration last March by the newly elected Penang state minister that his state will not follow the New Economic Policy and a statement by deputy Prime Minister Najib Razak in October urging his party to end the New Economic Policy, something that, if realized, would go a long way toward alleviating Indian anger. Yet the same month also saw the home minister declaring HINDRAF to be an illegal organization.
Meanwhile, Moorthy ruefully told the Globalist, a generation has grown up knowing tension, not tolerance. "When I was growing up, my father's friends, of various races, used to come visit and celebrate together diwali with open house festivities, inviting friends and neighbors," he said. "In recent years, my nephews and nieces do not get their friends visiting them anymore." In November 2008, HINDRAF urged Malaysian Indians not to hold diwali open houses at all to protest deeply entrenched government discrimination. That the lights went out on diwali, the festival of lights and the holiest day in the year for Hindus, was at once a bitter irony and a symptom of the ills plaguing all of Malaysian society.
Monish Shah is a freshman in Morse College.
altantuya najib PM to revive old Thaipusam tradition - nizar
Posted: 09 Aug 2009 09:13 AM PDT
Prime Minister Najib Abdul Razak intends to continue with the tradition of his predecessors by visiting the iconic Batu Caves Hindu temple for the annual Thaipusam festival next year.MORE

| | |
| --- | --- |
| | 'One people with one dream' |
| | Funds to develop Batu Caves |
According to the article, the tradition stopped at the premiership of Dr M and Abdullah.

Well, good lah for Najib to 'revive' the tradition.

I'm beginning to fall for Najib's niceties.

He's much nicer than Pak Lah. ;-)

Posted: 09 Aug 2009 07:16 AM PDT
najib altantuya Nine feared dead in NY midair collision
Posted: 09 Aug 2009 07:51 AM PDT
Nine people, including a child, were feared killed when a helicopter carrying Italian tourists collided with a light plane over New York's Hudson River.MORE

| | |
| --- | --- |
| | Mayor: Incident not survivable |
| | Densely crowded air corridor |
NEW YORK, Aug 9 — Nine people, including five Italian tourists, were killed yesterday when a small plane clipped a helicopter over New York and both aircraft plunged into the Hudson River.
New York Mayor Michael Bloomberg said there were five Italian tourists and a pilot aboard the helicopter and three people on the plane including the pilot and a child. Three bodies had been recovered by nightfall and officials held out no hope of finding survivors.
"This has changed from a rescue to a recovery mission," Bloomberg said. "There's not going to be a happy ending."
Search and rescue craft rushed in vain to the crash area in the vicinity of West 14th Street in Lower Manhattan immediately after the collision at noon EDT (midnight Malaysia). The weather was clear and mild.
Bloomberg said the plane, a Piper Saratoga, appeared to hit the back of the helicopter, a Eurocopter AS350, which immediately broke up and fell into the river.
The helicopter was operated by Liberty Helicopter, the largest sightseeing helicopter operator in the US Northeast.
Debbie Hersman, the chairwoman of the National Transportation Safety Board, said in a briefing the helicopter had been located and marked with buoys and investigators were using side-scanning radar to try to locate the aircraft.
The NTSB's 10-member investigation team suspended operations at nightfall and would resume the search today at 7am, Hersman said. She said the team hoped to be able to remove the debris from the river today.
While the NTSB does not expect to find recording equipment in the wreckage because small aircraft are not required to carry them, Hersman said investigators expected to be able to determine the cause of the crash by interviewing air traffic controllers and reviewing air traffic control and radar data.
Hersman said another Liberty pilot had witnessed the crash. "He saw a small single-engine aircraft approaching from behind (the helicopter). ... He stated that he saw the right wing of the aircraft impact the helicopter."
An eyewitness told the NY1 local TV station he saw a wing come off the plane and the helicopter "fell like a stone" into the river. Others reported hearing a loud boom.
Chunks of debris also fell on the New Jersey side of the river, narrowly missing motorists.
In January, a US Airways jet with more than 150 people on board crashed into the frigid Hudson River off Manhattan after apparently hitting a flock of geese. All aboard survived.
The Aircraft Owners and Pilots Association reports there have been 70 midair collisions involving 140 aircraft in the United States over the last 10 years. There were fatalities aboard 83 of those aircraft.
Bruce Landsberg, president of the AOPA Air Safety Foundation, said in a statement that "we should avoid speculating about who did what or who is at fault until the (NTSB) investigation has run its course." — Reuters
(Source: The Malaysian Insider)

Era Najib Altantuya : 1 Ogos Dedahkan Kebebalan UMNO
Posted: 09 Aug 2009 06:19 AM PDT
U
mno sudah lama berpolitik. Namun parti tersebut tidak faham apa dia politik. Ini dapat kita lihat dari apa yang berlaku semasa perhimpunan rakyat menentang ISA pada 1 hb Ogos yang lalu.
Umno fikir dengan menggunakan polis untuk menyuraikan dengan ganas perhimpunan aman rakyat tersebut ia akan mendapat keuntungan politik. Umno fikir rakyat akan takut dan gentar dengan pihak polis justeru itu tidak akan berani hadir di perhimpunan aman tersebut.
Tidak keterlaluan kalau kita katakan
himpunan tersebut dihadiri ramai rakyat kerana promosi besar-besaran dari pihak polis di media-media arus perdana. Apabila pihak polis memberi amaran supaya rakyat tidak memyertai perhimpunan aman tersebut, ia dikira satu promosi percuma dari pihak polis.
Untung pihak penganjur kerana tidak perlu membayar sewa iklan kepada TV3, RTM dan Utusan.
Walau apa pun niat polis,
apa yang jelas semakin banyak polis memberi amaran dan ancaman , semakin ramai pula kehadiran orang ramai dalam perhimpunan aman tersebut. Untuk itu kita patut berterima kasih pada pihak polis dan juga Umno !!
Selepas kejayaan perhimpunan Bersih sebelum Pilihan Raya Umum 2008 yang lalu,

rakyat kini tidak lagi gentar dengan amaran polis.

Sebab itu kita dapat lihat meskipun gerak kerja bagi menghimpun rakyat untuk menyertai perhimpunan menentang ISA tidak dilakukan dalam tempoh yang lama ( tidak seperti perhimpunan Bersih ) namun semua dapat melihat betapa ramai rakyat tanpa mengira agama, bangsa dan fahaman politik hadir bagi menunjukkan protes mereka ke atas ISA yang zalim tersebut.

Semasa saya hadir di Balai Polis Bukit Jalil pada malam tersebut bagi bertemu dengan mereka yang ditangkap datang seorang lelaki memaklumkan kepada saya bahawa hanya beliau sahaja yang tidak ditahan pada hari itu sedangkan isteri,

empat orang anak perempuannya dan seorang menantu lelakinya semuanya ditangkap polis. Beliau tidak sedih sebaliknya berbangga dengam mereka semua.



Tindakan ganas pihak polis ke atas rakyat yang berhimpun tanpa senjata hanya menguntungkan Pakatan Rakyat ( PR ) dan merugikan Umno.

PR bukan parti yang sempurna tetapi kebersamaan tiga parti yang menganggotai PR tersebut menentang ISA memberi harapan baru kepada rakyat tentang masa depan demokrasi dalam negara ini. Tindakan ganas pihak polis bermakna Umno sanggup melakukan apa sahaja dan menggunakan sesiapa sahaja bagi mengekalkan ISA yang zalim tersebut.



Jika Umno cerdik sedikit, ia akan membenarkan perhimpunan aman tersebut berjalan dengan aman tanpa berlakunya sebarang insiden yang tidak diingini. Paling lama perhimpunan aman akan berlangsung adalah setakat 3 jam jika tidak diganggu polis.



Jika Umno tidak gunakan ( baca : salahguna ) pihak polis untuk mengganggu hak rakyat untuk berhimpun secara aman sudah tentu Umno akan mendapat pujian dari dalam dan luar negara. Ramai yang akan memuji Najib kerana demokrasi dilihat hidup sedikit di eranya. Namun Umno, sebagai parti yang terkenal dengan kejahatannya, tidak mahu dan tidak senang dilihat baik. Ia lebih senang dilihat sebagai parti yang terus menerus jahat dulu, kini dan selamanya.



Perhimpunan raksasa I hb Ogos yang lalu

mengesahkan rakyat telah berubah dan Umno terus tidak berubah. Umno dan agen-agennya seperti polis, media pro Umno dan Peguam Negara masih terus berada ditakuk lama.



Setiap kali ada perhimpunan aman besar-besaran,

polis yang tidak berubah ini akan terus menerus menggendangkan lagu dan irama yang sama dan lama - perhimpunan haram kerana tidak ada permit, rakyat jangan hadir, kalau hadir akan ditangkap !!!



Media pro BN seperti TV3 yang juga tidak pernah berubah akan juga menyiarkan berita menggunakan teknik pemberitaan yang lapok -

menemuramah para peniaga yang kononnya tidak suka rakyat berhimpun kerana ia akan menjejaskan pendapatan mereka.



Tidak pernah TV3 terfikir untuk menyiarkan berita yang adil iaitu jika perhimpunan aman tersebut dapat berjalan dengan aman tanpa gangguan pihak polis sudah tentu ia akan menguntungkan para peniaga apabila mereka yang hadir ke perhimpunan aman tersebut akan singgah ke gerai-gerai dan kedai-kedai peniaga tersebut selepas berakhirnya demonstrasi aman tersebut. Ilmu ekonomi mana TV3 pakai, para peniaga di KL tidak mahu orang ramai berkunjung ke KL !!!

Kini

TV3 dan pemimpin Umno sibuk mencanangkan kisah para peniaga untuk menyaman Gerakan Mansuhkan ISA ( ISA ). Saya tak tahu siapa yang menjadi penasihat kepada para peniaga tersebut, tetapi yang jelas adalah para peniaga tersebut nampaknya sedang dikhayalkan dengan mimpi Mat Jenin.



Saya tidak tahulah kalau undang-undang dah dipinda.

Tetapi yang saya tahu menyaman satu badan yang tidak berdaftar seperti GMI adalah kerja sia-sia.

Kalau benar peniaga hendak menyaman mereka sepatutnya dinasihati dengan jujur

bahawa peluang untuk mereka mendapatkan pampasan dari pihak polis adalah lebih baik sekiranya mereka menyaman polis. Saranan Prof Khoo Kay Kim supaya rakyat menyaman pihak polis adalah lebih munasabah daripada nasihat busuk pemimpin BN supaya peniaga menyaman GMI.





Peguam Negara yang tugas utamanya adalah mendakwa penjenayah sebenar juga tidak pernah berubah setiap kali ada perhimpunan aman. Mereka akan berhempas pulas mencari jalan bagaimana mahu mendakwa rakyat yang tidak berdosa. Maka timbullah pendakwaan yang tidak masuk akal.



Sebagai contoh 13 orang wira Unit Amal ingin didakwa kerana terlibat dalam pertubuhan haram.

Pendakwa raya yang tidak cerdik mendakwa Unit Amal adalah pertubuhan haram kerana tidak berdaftar. Lihatlah betapa jahilnya pihak Pendakwa.





Unit Amal adalah satu unit kecil di dalam PAS. Memandangkan PAS adalah parti yang sah di bawah Akta Pertubuhan, maka menurut undang-undang mana-mana unit, lajnah atau biro di dalam parti tersebut juga adalah dikira sah dan tidak perlu didaftarkan.



Kalau ikut "logik gila"

Peguam Negara sudah tentu parti politik tidak akan mempunyai apa -apa biro atau lajnah bagi menggerakkan parti tersebut sebab semuanya tidak sah kerana tidak berdaftar termasuklah biro-biro dalam Umno

.

Untuk rakyat yang berhimpun tersebut ingatlah sedikit penderitaan yang kita alami dari semburan gas pihak polis tidak akan sama dengan penderitaan mereka yang ditahan dengan zalim oleh rejim zalim yang menggunakan Akta yang zalim ! -peguampas (Mohd Hanipa Maidin)


MAF of Sibu East District - Our Visit to MAF of Huai Ang Methodist Church
Posted: 09 Aug 2009 05:47 AM PDT
It was Sword Practice on the book of Ecclesiastes at MAF of Huai Ang Methodist Church on the evening of August 8. As usual, we brought along our caring hearts.
We were warmly received by the brothers and sisters upon arrival. It was touching and they truly made us feel homely.
It was an eye-opening Sword Practice on Ecclesiastes. You may call their way of conducting innovative.
We were treated to fried mee hoon, fried noodles and green bean soup after the fellowship gathering. The hospitality was heart-warming.
Thank you, brothers and sisters, for your excellent reception.
We posed for a group photo after the tea reception. Wow! It was all thumbs up! Rev Tai is 7th from right on the first row and James Lau is 3rd from left on the second row. James Lau is my long-time friend.