---
Posted: 22 Sep 2009 09:00 AM PDT
Let The Music Heal Your Soul And Take Control
Posted: 22 Sep 2009 09:46 AM PDT
Bravo AllStars : Let the music heal your soul.

Touché) Oh if someone writes a song with a simple rhyme
('N Sync) Just a song where his feeling show
(Scott Moffatt) And if someone feels the same about the simple
song
(Gil Ofarim) Oh sometimes you can hear them sing
(Squeezer) Music gives you happiness and sadness
(Nick Carter) But it also, also heals your soul

(All) Chorus: Let the music heal your soul
Let the music take control
Let the music give you the power
To move any mountain

(Touché) If someone plays piano with same simple chords
(Aaron Carter) So melodic and endearing, too
(Brian Littrell) Oh if someone plays guitar with the old piano
(The Boyz) And maybe you hear them sing
(Nick Carter) Music gives you happiness and sadness
('N Sync) But it also
(Blümchen) Also heal your soul

(All) Chorus: Let the music heal your soul
Let the music take control
Let the music give you the power
To move any mountain

(Brian Littrell) Let the music heal your soul
Let the music take control
Let the music heal your soul

(Nick Carter) Oh yeah

(All) Chorus: Let the music heal your soul
Let the music take control
Let the music give you the power
To move any mountain

P.S. Happy Birthday, Hamster Lamb Kuat Yen


This posting includes an audio/video/photo media file: Download Now
sambal belacan – the traditional way
Posted: 22 Sep 2009 07:20 AM PDT
yummy yummy! sambal belacan (pounded chilli with fried shrimp paste) is the one thing that i must have with my rice. if there is no curry to go along with my rice, then i must have sambal belacan mix with the rice until the whole rice is red! well sometimes if some of the dishes already have some sambal or some curry/chilli gravy, then i can take the gravy… if not, i have to have my sambal belacan!
well lucky me. my mother made the sambal belacan herself… and in the traditional way, by using this… (what's it call eh?).
since monday was a holiday, i was around when she made the sambal belacan so i managed to take some shots.  pounded manually by hand sambal is always much better than the one that used machine (which is what you get when you buy it at the store). these days of course, you hardly see people pound chilli to made sambal themselves as they prefer the easy life – use machine to grind!
here is the picture of the cut chillies, all ready for pounding. my mum also used chilli burung mix with the red chilli. the belacan she fried in the kuala first… and i like to steal to eat the belacan after it is fried. haha. really. the taste is so wonderful!
following is the picture of the chilli that had been pounded. the red one is the well… red chilli whereas the greenish one is the chilli burung.  my mum usually made quite a lot of the sambal belacan. she put them all in small containers, and gave some to friends. for us, we put a little in a container where we will use often, whereas the remaining… lots of them… we put in a bigger container and stored in the freezer (so that it won't go bad) – also of course this is to replenish the sambal belacan we have finished.  when the one in the freezer is going to finish, then mum will have to start her pounding job again!
Randoms: Pre Celebratory Dinner
Posted: 21 Sep 2009 08:00 AM PDT
The Orchard Road "Branded" – Ah Meow
The Orchard Road "Branded" – Ah Gao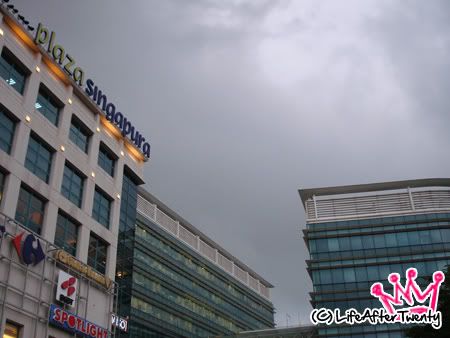 Dark Clouds covering Plaza Singapura. It always happens whenever I DON'T HAVE my umbrella with me!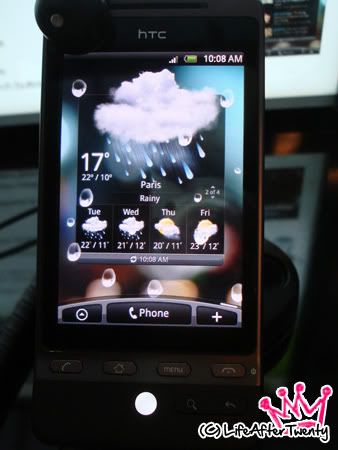 987FM DJ Daniel Ong was at PS promoting this new phone – HTC Hero at a Starhub roadshow.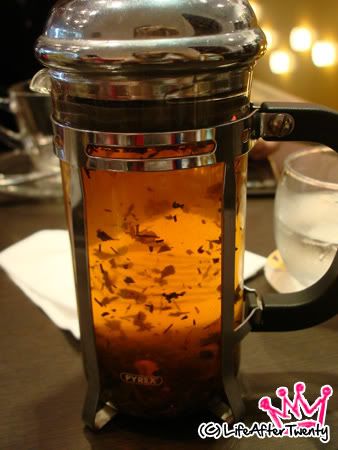 My Lemon Breeze. I forgot what is it for. =(
Nic's Camomile + Green Tea – helps in digestion, so as to have more space for the steamboat later.
The Glass Cup with 2 cookies. (Self explanatory)
Laff of the Day from Petpositive
Posted: 22 Sep 2009 09:00 AM PDT
Friday, September 18, 2009
HUMOUR OF THE DAY
A Lab Report & Cat Scan
A woman brought a very limp duck into a veterinary surgeon. As she laid her pet on the table, the vet pulled out his stethoscope and listened to the bird's chest. After a moment or two, the vet shook his head sadly and said, "I'm sorry, your duck, Cuddles, has passed away."The distressed woman wailed, "Are you sure?" "Yes, I am sure. The duck is dead," replied the vet."How can you be so sure?" she protested. "I mean you haven't done any testing on him or anything. He might just be in a coma or something." The vet rolled his eyes, turned around and left the room.He returned a few minutes later with a black Labrador Retriever. As the duck's owner looked on in amazement, the dog stood on his hind legs, put his front paws on the examination table and sniffed the duck from top to bottom. He then looked up at the vet with sad eyes and shook his head. The vet patted the dog on the head and took it out of the room.
A few minutes later he returned with a cat. The cat jumped on the table and also delicately sniffed
the bird from head to foot. The cat sat back on its haunches, shook its head, meowed softly and strolled out of the room.The vet looked at the woman and said, "I'm sorry, but as I said, this is most definitely, 100% certifiably, a dead duck."The vet turned to his computer terminal, hit a few keys and produced a bill, which he handed to the woman. The duck's owner, still in shock, took the bill. "$150!" she cried, "$150 just to tell me my duck is dead!!!

The vet shrugged, "I'm sorry. If you had just taken my word for it, the bill would have been $20, but with the Lab Report and the Cat Scan, it's now $150."

Humour and laughter are the best medication all of us can afford to have because it comes without costs. Besides just taking our anti epileptic drugs daily, always make sure you top it up with an ample and generous dose of humour and laughter. Humour and laughter have the abilities to zap away your negativities, bleach your darkest moments till it turns glaringly white, flush away fear and embarrassment and spruce your mind, health and soul till it becomes cleany clean clean.

I always enjoy good humour and great hearty laughs. My hubby and I were engaged in a game of snooker recently. Both of us had no experience at all with this game. We were so clumsy in handling the long sticks. The only rule of the game was the winner will be decided based on the number of balls entered. My hubby and I posed in all sorts of wierd and funny positions when playing this game. At one point of time, my hubby showed off to me by doing a bend stroke. He bent his body so low onto the snooker table as if he was lying face front on the table. Then with limited vision, he pushed the stick forward. Instead of hitting the ball in front of him, the stick tilted and pointed upward to the ceiling. At that funny sight, I fell instantly onto the floor as if I was having a seizure. I grabbed my chest and tummy and was laughing uncontrollably. I laughed and laughed till all my body muscles ached. I was completely out of strength to stand up on my own. My hubby had to stretch out his hand to me to pull me up from the floor. Both of us continued laughing our hearts out.
So, laugh whenever you can. Laughter has miraculous healing power. Laugh and others will laugh with you. Share a humour and make your laughter contagious. Laughter will lift up your burdens. Laughter will make you forget about almost everything.
The above write up was published in www.epilepsylegacy.blogspot.com It is a superb blog on epilepsy managed and authored by Serene Low who is an epilepsy activist.

PET+BLOGSPOT is the official online blog of the Malaysian Animal-Assisted Therapy for the Disabled and Elderly Association (Petpositive).
Our blog which was first established in October 2007 currently has more than 25,000 hits. Kindly take note that views expressed in this blog are not necessarily those of Petpositive.
You may also visit our Webpage by browsing: www.petpositive.com.my
Posted: 22 Sep 2009 06:26 AM PDT
Investigative journalists dubbed the "Hitler Hunters" have tracked down 39 relatives of the Nazi dictator living in Lower Austria, it has emerged.
Spanish daily El Mundo claimed their Belgian correspondent Marc Vermeeren and his colleague Jean-Paul Mulders of Het Laatste Nieuws newspaper found them after managing to secure the DNA of one of Hitler's relatives.
The reporters said they followed three great-grandsons of Hitler's father Alois who live under the name Stuart-Houston in Long Island near New York for a week.
Vermeeren said Brian and Louis work as gardeners, while Alexander is a retired psychologist.
When Alexander Stuart-Houston – the eldest of the three brothers at 60 – threw a napkin out of a car window after wiping his mouth at a drive-in restaurant, the journalists took samples of his DNA which helped them to trace the other relatives of the Austrian-born dictator.
Mulders said: "Hitler's other living relatives reside in Lower Austria's Waldviertel region under new names which slightly differ from Hitler. Most of them probably don't know of their relationship.
"Hitler's American relatives agreed not to have children," he added.
Vienna - Naked woman arrested at Westbahnhof
Posted: 22 Sep 2009 06:33 AM PDT
A woman was arrested after she stood in front of one of Vienna's busiest train stations naked and shouted "who wants me?" at passersby.

Police said scared locals had called them after spotting the woman at a construction site at Vienna's Westbahnhof or western railway station.

Vienna police spokesman Mario Hejl said today (Mon): "She was obviously disturbed and was put under a doctor's care."

By Lisa Chapman Auatrian times
The woman, who has created himself: Sophia Loren is 75
Posted: 22 Sep 2009 06:24 AM PDT
Posted: 22 Sep 2009 06:23 AM PDT
U
.S. doctors have for the first time a tooth fitted with an artificial lens and implanted in one eye. For a woman with severe corneal damage may see again and even read.
Thanks to the implantation of a prepared tooth with a lens in her eye (Keratoprothetik can a blind woman from the U.S. to see again. As the doctors in a hospital in Miami on Wednesday communicated was Sharron Kay Thornton after surgery two weeks ago from a bandage. A few hours later she was able to see faces and objects. Meanwhile, the 60-year-old can read again. "I could not wait to see my seven grandchildren that I did not know," said Thornton. She was nine years ago went blind after a rare disease. That she could see again, was "truly a miracle."
Posted: 22 Sep 2009 06:22 AM PDT
Posted: 22 Sep 2009 04:52 AM PDT
I was so tired and took a nap... when i woke up and walked out from my room. Mom asked me what i would like to have for dinner? 
Mom: What would you like to have for dinner?
Mom: There is some pork porridge in the pot... 
Me: Errrr... mom my stomach is okay already.
Mom: So what would you want  for Dinner then

.
At the end, i have plain TLC pork porridge for my dinner... 
Muslim Man Beheads Christian in Egypt
Posted: 22 Sep 2009 05:53 AM PDT
Egypt (AINA) -- Osama Araban, a Muslim man riding a Harley-Davidson motorcycle, went on a rampage last week in Egypt, killing 63-year old Coptic Christian Abdo George Younan, in the village of Bagour, before traveling onwards and stabbing with intention to kill two other Copts in two different villages, at least 10 km apart (AINA 9-18-2009). In the village of Behnay he repeatedly stabbed Coptic shoemaker Adib Boulos before being stopped by eyewitness Behman Saeed, after whom Osama Araban ran, leaving the victim behind. Adib suffered a broken skull and lung hemorrhage, and is still fighting for his life in intensive care unit at Shebin el-Kom Hospital.
Osama Araban then traveled to the village of Mit Afif and stabbed his third victim, Sobhy Barsum, a blacksmith. He also stabbed his brother Hani Barsum in the neck -- only to be saved by a co-worker. Hani was also hospitalized.
Osama Araban was arrested the following day.
The funeral procession of Abdo Younan was attended by thousands of Copts, led by Metropolitan Archbishop Benjamin of Menoufia Diocese and seventeen clergymen. Hundreds of banners were held, showing the amount of anger and injustice felt by Copts. Anti State Security chants were heard during the procession, besides calling on President Mubarak and the government to save the Copts from the hands of the fundamentalist[s] who are killing them.
This incident which took place on September 16, 2009, has left Copts in Egypt shocked and angered, not only because attacks against Copts have been escalating, but because of the way the murder was committed.
The details of the attacks, not told by the media, but exposed by Coptic lawyers and activists, reveal that 35-year old car painter Osama Araban not only stabbed Abdo nine times but also severed his head from his body -- an Islamic ritual beheading. He then meticulously washed his bayonet with the water hose the victim was using, before setting off on his motorcycle to the next two villages, looking for more Coptic victims....
No Muslim has ever been sentenced justly for killing a Copt. Consequently, the Egyptian Government's manipulation of facts is not to save the Copt's murderer from a just punishment, but more to save its face in front of the Western world for being blatantly unjust towards the Coptic victim, given that Egypt is a member of the UN Human Rights Council which is responsible for the protection of human rights around the globe. By Mary Abdelmassih for
AINA
, September 21
Posted: 22 Sep 2009 04:32 AM PDT
The cow-head procession from Section 23 in Shah Alam to the Selangor State Secretariat has stirred the ire of people of Malaysia. Both Muslims and non-Muslims are asking one particular question: Why did the 50-odd people begin their procession after the Friday noonday prayer?
Seemingly, many feel that there is a movement towards an establishment of some sort of absolutism in the country. This emerging tendency, through threats and violence, points to a form of domination of the nation by a particular group of people. A semblance of this was seen in the recent related dialogue session between the Selangor State Government and some of the residents of Section 23. It was rude awakening that something is amiss in our nation.
So, should we condone this emerging stance of absolutism in our multi-cultural nation? No! As loyal and peace loving citizens, we are able to say without much hesitation that our national philosophy — Rukun Negara — promotes a way of life that goes against this trend which is being fanned by a small number of extremists in our nation. We have only to look at the world history to know that whenever a leader, dictator or monarch proposed and supported such a trend, that trend just fizzled out after a process of civil war and was discarded for good!
Remember French King Louis XIV (1643-1715), who proclaimed himself as "L'etat, c'est moi" meaning "I am the state". He was humiliated by the famous French Revolution that did away with the absolute monarch and any rule by the monarchy. The immediate past century has a few examples of people who tried to create an absolutist rule but saw their efforts being snuffed out. One of notoriety is Adolf Hitler, who through his own absolutist ideology tried to create an elite race! Did his evil intentions succeed? The Soviet Union has changed, and the world is waiting for changes in Myanmar and North Korea.
Yes, we need to check on this emerging absolutism and the supremacy of a particular race in our nation, and work towards a deeper understanding of our Rukun Negara that will enable all of us to live in peace with one another and learn to have the much needed respect for others. As a member nation of the ASEAN, have we not espoused the idea of "prosper thy neighhour"? Let us practise what we preach.
Herald Malaysia
Posted: 21 Sep 2009 08:21 AM PDT

Ju Ju Hokkaido Hot Pot
1 Selegie Road #B1 – 18 Paradiz Centre (Now known as PoMo) Singapore 188306
Tel: 6336 6689 Fax: 6838 6967
Website: www.juju-restaurant.com

Dinner – 7 Course Set Meal ($29.80++ per person )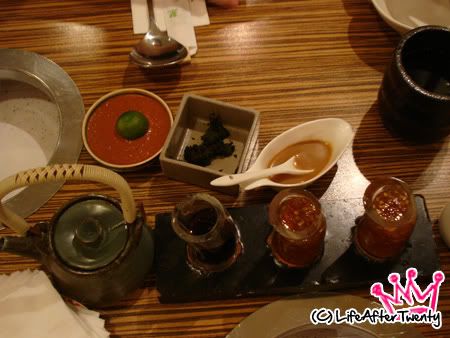 From Left
Top Row – Sambal Chilli, Basil Leaves, Peanut & Sesame Sauce
Bottom Row – "I-forgot-what-kind-of" Vinegar, Sweet Soy Sauce, Sweet Chilli Sauce.
The 七分熟 Egg which I didn't dare to eat. Off the menu, it's called Semi-Boiled Golden Egg with House Starters. It's the sweet soy sauce below.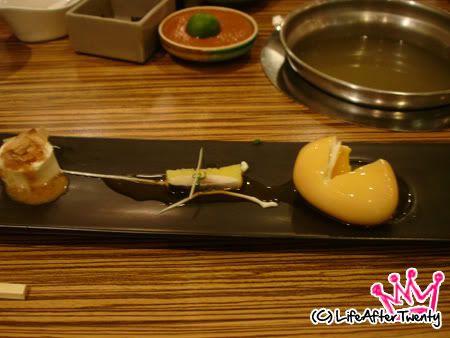 This belongs to Nic… He loves it. She ewks it. >_< But the tofu on the left is VERY NICE!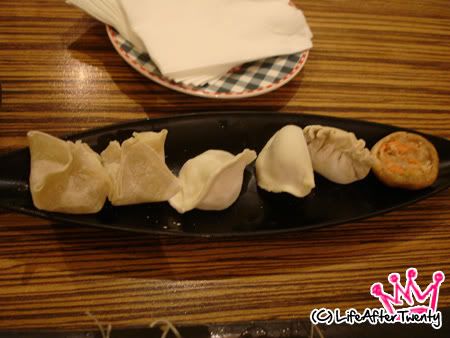 All the different kind of dumplings – Assorted Hand-made Rainbow Dumplings.
only applicable to dinner sets.
冬粉与米粉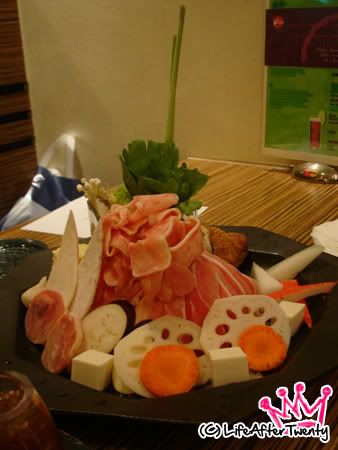 Nic ordered the Juicy Pork Slices set. AND THE BEST THING WAS THAT I GOT SO EXCITED COOKING THE STEAMBOAT THAT I FORGOT TO TAKE A PHOTO OF MY BELOVED SEAFOOD PLATTER~!!! GAWD~!!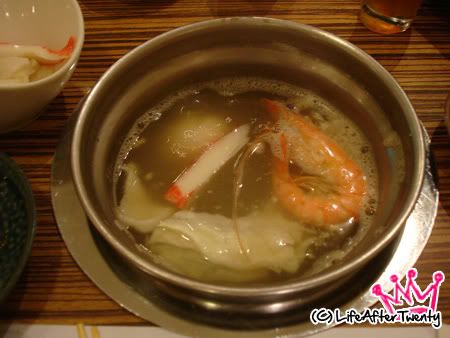 And ya, I was busying cooking. You see…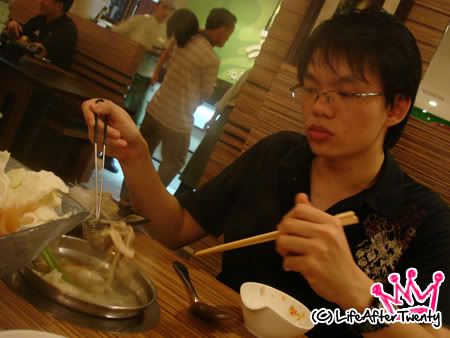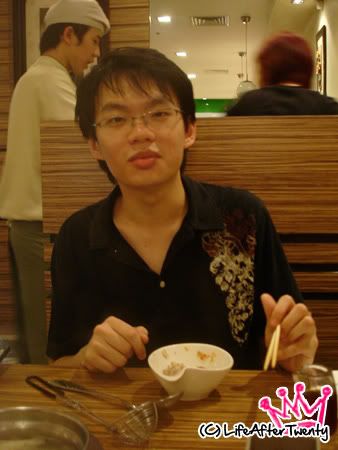 Nic's mummy favourite sentence: Aiyo, Nic ah! How to bring you out eat like that?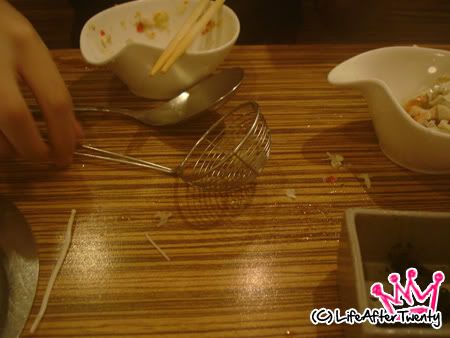 He only attempt to clean after I took this photo. *sighs* Too late already~!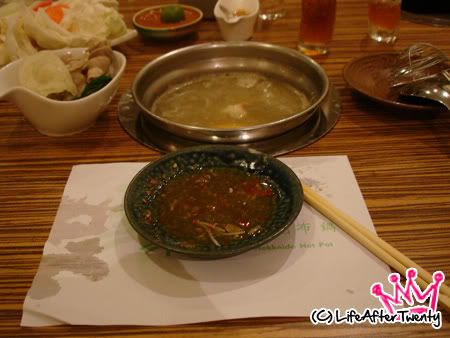 And this is how she eats. Though a little wet, but it's still better than yours! So clean and neat right? *giggles*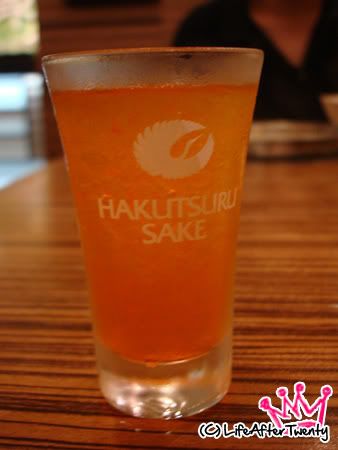 Ice Plum Vinegar. I read it somewhere that it helps in digestion. Very refreshing as well. I like it very much. It comes in a small glass, like shots. If only it was buffet-styled. I would have ordered shots and shots of it!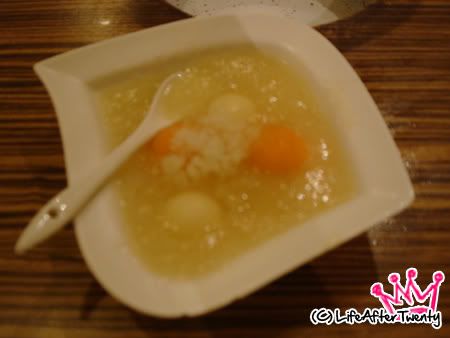 Honeydew something. I forgot the name again.
I forgot to use macro – the flower button. Blur-ed. =(
I took a close up shot this time. It blended ice with honeydew puree and 2 servings of honeydew and rock melon each.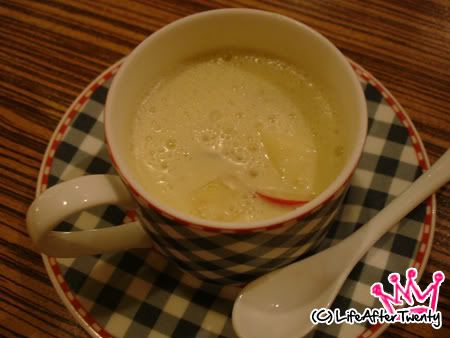 Nic ordered the Fruit Sago. The milk taste was pretty strong. But Nic said it was nicer than my Honeydew dessert. =\ And since it was served in a cup, you can choose not to use the spoon, and drink it from the cup. =)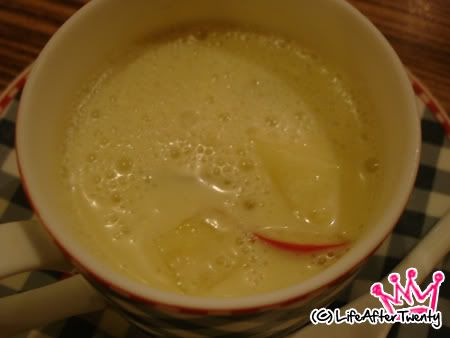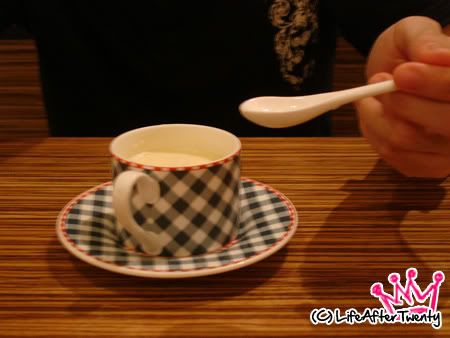 He said, I LIKE THE SPOON. IT'S CUTE~!
Okay, we are cam-whoring. You can skip the rest below. =)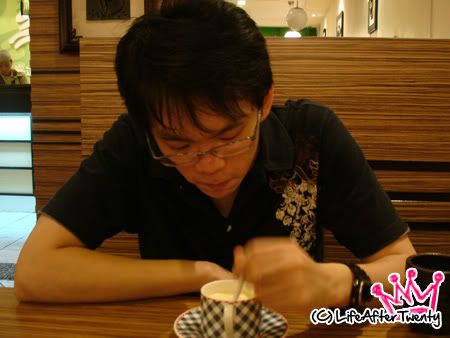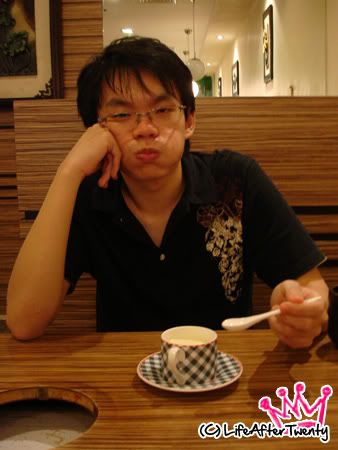 From Dhoby Ghaut to Harbourfront and back to Punggol. Because we wanted a seat back home. Too tired and full from the steamboat. *burps*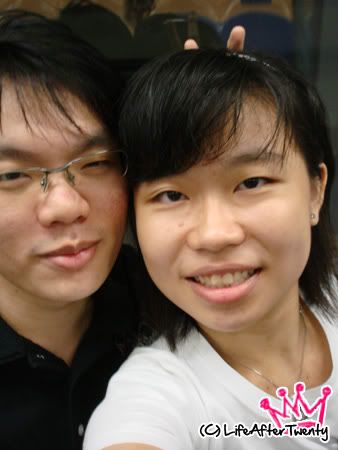 najib altantuya: Kelantan has not given up hope on oil royalty
Posted: 22 Sep 2009 06:18 AM PDT
KOTA BHARU, Sept 22 (Bernama) -- The Kelantan state government has not given up hope on its oil royalty claim from the federal government, Menteri Besar Datuk Nik Abdul Aziz Nik Mat said today.
He said though the state government had initially expected the oil royalty to be paid before Aidilfitri, it would still strive to make headway on the issue.
"Discussions between officers from both sides are being carried out to facilitate the approval process. We are still hoping for the discussions to have a positive effect," Nik Aziz told reporters here.
He was replying to a question on whether the state government had given up hope on the oil royalty claim after having expected to receive the payment from the federal government by Aidilfitri.
According to a report last month, the state government is seeking RM1 billion in oil royalty, claiming that the money constituted five per cent of the earnings from petroleum and liquefied natural gas extracted from offshore Kelantan since 2004.
Era Najib Altantuya : Pinggan Tak Retak...
Posted: 22 Sep 2009 05:58 AM PDT
P
inggan tak retak, nasi tak dingin - orang tak hendak, kami pun tak ingin.
Kira-kira demikianlah maksud Pakatan Rakyat Selangor terhadap kenyataan dua orang ADUN UMNO yang menganggotai SELCAT yang mengumumkan pendirian mereka kemungkinan akan menarik diri dari menggotai badan tersebut.
Teng Chang Kim, Speaker Dewan Undangan Negeri Selangor yang juga Pengerusi Selcat memberitahu, pihaknya tidak akan menghalang jika mereka hendak berbuat demikian.
"Itu hak mereka. Kita sudah beri mereka peluang... peluang yang lebih besar untuk mereka (untuk menganggotai) Selcat," katanya.
Teng memberitahu, DAP, Parti Keadilan Rakyat (PKR) dan BN masing-masing mempunyai dua wakil dalam Selcat berbanding hanya seorang wakil PAS.

Kata beliau, Selcat masih boleh berfungsi walaupun kedua-dua BN memutuskan untuk keluar kelak.

"Mereka dilantik menganggotai Selcat berdasarkan perwakilan (BN) dalam DUN... terserah kepada mereka (anggota BN)," katanya lagi.

Keputusan rasmi mereka dijangka diketahui bulan depan.

"Selcat hanya memerlukan kuorum tiga anggota (untuk menjalankan urusannya). Jadi, jika anggota BN keluar, Selcat masih boleh berfungsi, ia tidak akan membawa apa-apa kesan," jelas Teng.

Semalam, salah seorang wakil BN dalam Selcat, Ismail Sani memberitahu bahawa beliau sedang mempertimbangkan kemungkinan tersebut.

Ismail yang juga Ahli Dewan Undangan Negeri (ADUN) Dusun Tua memberitahu, rakannya, Sulaiman Abdul Razak iaitu wakil rakyat BN kawasan Permatang juga mempunyai pendirian yang sama.

Dr. Khir yang dihubungi hari ini merestui pendirian mereka.

Selcat ditubuhkan oleh DUN Selangor selepas pilihan raya umum Mac 2008 untuk memantau selia dan memeriksa keupayaan, kebertanggungjawab dan ketelusan dalam segala urusan pentadbiran kerajaan negeri.

Selain kedua-dua ADUN BN itu, anggota Selcat terdiri daripada Teng (DAP-Sungai Pinang) selaku Pengerusi, Haniza Mohd. Talha (PKR-Taman Medan), Azmin Ali (PKR-Bukit Antarabangsa), Shaari Sungib (PAS-Hulu Klang) dan Edward Lee Poh Lin (DAP-Bukit Gasing).

Teng memberitahu, BN telah diberikan peluang menganggotai kesemua jawatankuasa DUN Selangor termasuk Selcat dan Jawatankuasa Hak dan Keistimewaan.

Perjalanan Selcat kini dikritik dengan pegawai-pegawai daerah yang dipanggil memberi keterangan mendakwa mereka dilayan seperti penjenayah dan perlu menjawab soalan mengikut kehendak jawatankuasa itu.

Kelmarin, Pegawai Daerah Klang, Bakhtiar Hussin) menyifatkan Selcat tidak mencerminkan proses siasatan sebenar kerana lebih menjurus kepada serangan peribadi selain menjejaskan imej serta kredibiliti diri beliau sebagai penjawat awam.

Beliau adalah antara sembilan Pegawai Daerah di Selangor yang dipanggil memberi keterangan pada 9 September lalu.

Bakhtiar mendakwa siasatan yang diketuai oleh Teng dilakukan dalam suasana tegang dan tidak berhemah.

LUCUT AUTOMATIK?

Ketika ditanya sama ada kedua-dua wakil BN boleh dilucutkan secara automatik kerana tidak menghadiri sesi pertemuan Selcat secara berturut-turut, Teng memberitahu, "tiada peraturan sedemikian."

"Tidak... tiada peruntukan menggugurkan mereka secara automatik atas kegagalan menghadiri sidang Selcat. Jika mereka hendak keluar daripada Selcat, itu hak mereka," katanya.

Ismail semalam memberitahu mStar Online bahawa beliau hanya hadir satu sesi pertemuan Selcat iaitu yang pertama pada Mac lalu.

Sehubungan itu, kata Teng, rekod kehadiran wakil BN dalam mana-mana jawatankuasa semasa kerajaan negeri Selangor ditadbir BN menunjukkan peratusan kedatangan yang buruk.

"Dulu pun rekod kehadiran mereka adalah buruk, bukanya sekarang," kata beliau.


Era Najib Altantuya : Karut, Tiada Rebutan Kuasa MB dan Speaker Selangor - Teng
Posted: 22 Sep 2009 05:50 AM PDT
S
peaker Dewan Undangan Negeri (DUN) Selangor, Teng Chang Khim menyangkal dakwaan Ketua Pembangkangnya, Datuk Seri Dr. Muhamad Khir Toyo bahawa wujud rebutan kuasa antara beliau dan Menteri Besar, Tan Sri Khalid Ibrahim di sebalik isu Selcat sekarang.
"Saya tidak berkuasa... saya cuma Speaker sahaja... itu saja," kata Teng yang juga Pengerusi Jawatankuasa Pilihan Khas Mengenai Keupayaan, Kebertanggungjawaban dan Ketelusan Selangor (Selcat) yang berhadapan dengan kritikan pegawai-pegawai kanan kerajaan dan pembangkang peringkat negeri sejak minggu lalu.
"Saya tiada kuasa untuk melantik Exco, saya tiada kuasa mengetuai majoriti anggota di DUN, saya tidak melantik ketua-ketua syarikat kerajaan negeri..," kata Teng sambil menegaskan, Khir yang juga bekas Menteri Besar Selangor, sengaja mahu mencetuskan masalah dan mengeruhkan hubungan beliau dengan Khalid.
Sambil mempertahankan perjalanan Selcat yang diwujudkan tahun lalu, Teng memberitahu, idea penubuhan jawatankuasa itu dibawa oleh Khalid selaku Menteri Besar dan ketua kerajaan negeri selepas Pakatan Rakyat membentuk kerajaan ekoran keputusan pilihan raya umum 8 Mac 2008.

"Selcat adalah idea, inisiatif Khalid selaku Menteri Besar. Bukan saya bawa idea ini ke DUN," katanya lagi.

"Saya lihat Khir bertindak macam kebudak-budakkan," kata Teng lagi.

Teng mengulas kenyataan Dr. Khir pagi tadi kepada mStar Online yang mendakwa isu terbaru yang menyelubungi Selcat adalah bukti wujudnya perebutan kuasa antara Menteri Besar dan Speaker DUN itu.

"Saya melihat Menteri Besar (Tan Sri Khalid Ibrahim) tidak boleh buat apa-apa. Speaker (Teng) memiliki kuasa yang lebih besar berbanding Menteri Besar," katanya.

Selain itu, kata Dr. Khir, BN Selangor juga akan memfailkan kes mempertikaikan status Selcat dan undang-undang DUN yang melarang mana-mana wakil rakyat mempersoalkan Selcat.

Kes akan difailkan awal bulan depan.

Sehubungan itu, Dr. Khir menambah, Selcat digunakan sebagai "instrumen kuasa politik, bukannya untuk memperbaiki pengurusan kerajaan negeri."

"Ia lebih merupakan instrumen politik," katanya.


Hwai Ang Methodist Church - Fund-Raising Sales For Church Extension Project
Posted: 22 Sep 2009 05:29 AM PDT
Hwai ang Methodist church held a charity sales function this morning within the church compound for the purpose of raising funds for the proposed church extension project. I brought Yian along with my mother-in-law to partake of the grand sales.
Upon reaching the venue, I was amazed by the huge crowds that bustled the whole place. We almost had to throng to get nearer to the stalls. It was simply jam-packed!
The sales presented a diverse range of mercandise. In fact, it was so wide in spread that you could hardly come out empty-handed.
We made a round of the place, stopping here and there to pick up our favourites. It was quite fun time buying for good cause.
Then we stopped at the food court (a makeshift eatery) where a variety of foods and beverages were served. Without a further thought, we decided to take our breakfast there. From mouth-watering kampua to aromatic 3-in-1 hot coffee, the food court truly pampered the customers with extensive menu, all at thumb-up quality in twerms of taste. The friendly waiters and waitresses put to practice courteous service with a smile to render a very heart-warming service. They deserve a word of praise!
The sales function was perhaps one of the best organised church sales I have ever come across. From merchandise to courteous services, the event reflected thoughtful planning and one-heart joint efforts by the church members for the good cause of God's work. I was very much touched when three BB boys came forward as porters to help us with the merchandise. The organising committee really gave attention and thought to all minute aspects.
The sales function was really a job well done! May God continue to bless you!
najib altantuya Dr M: Corruption-free candidate important for Bagan Pinang - nizar nizar nizar
Posted: 22 Sep 2009 05:20 AM PDT
SEREMBAN: Umno should pick a candidate who is free of money politics (vote-buying) for the Bagan Pinang state by-election, former prime minister Tun Dr Mahathir Mohamad said on Tuesday.
He believed that the Barisan Nasional could win the by-election on Oct 11 with a big majority because the seat was Umno's stronghold.
Having corruption-free candidates would be a very important factor in Bagan Pinang as well as in the next general election, he told reporters after attending Mentri Besar Datuk Seri Mohamad Hasan's Aidilfitri open house in Rantau here.
"For me, it's not just this place. The people throughout Malaysia want to know whether we are serious about eradicating money politics, corruption and so forth," he said.
If Umno fielded an candidate who was not clean, it might win in Bagan Pinang but would lose in other constituencies, he said.
He also feared that the party would lose badly in the 13th general election if the trend continued.
"I'm not thinking about individuals. I know everyone and I don't care about anyone but I'm thinking only of the party," he said.
The Bagan Pinang seat fell vacant following the death of incumbent Azman Mohamad Noor of the Barisan on Sept 4. Nomination is on Oct 3. -- Bernama
(Source: The Star Online)

Posted: 22 Sep 2009 03:31 AM PDT
how often do you shop for clothes? once in a long while or quite often? or only when a festive occasion comes up? yep… that's me, i only shop for clothes come every christmas and chinese new year. i already have so many clothes in my wardrobe!! also in my office, i don't have to wear nice clothing. our office's dressing is very casual – i always wear jeans/pants with t-shirts. sometimes we even wear 3/4 pants!
ladies, i'm sure shop for clothes quite often (like my friend eelynn) but i'm an exceptional lady who don't. (well… er… not really that exceptional because the reason is no fat bank account
) well, have any of you ladies try shopping for clothes online? forget amazon or ebay – here comes shopwiki.
shopwiki is an amazing online shopping site because the site finds every online shopping sites on the internet for you. through your searches, it will show up as many as 30,000 online stores. no kidding!
shopwiki has an extensive line of clothes for you to choose from. there are different categories like suits for work and clothes for party. why, there is even a buying guide to help you along. i find the guides very helpful indeed. one of the guide said for you to identify why you need the clothes first before you start shopping. good tip. many people don't. most of them are impulse shopper… who happened to pass by and see the clothes they like, so they buy!
i was pleasantly surprise that there is a category for petite woman. well, that's me… small and petite (er… small yes,… but petite… that is what i like to think so.
). at least if i don't go online shopping, i can use all those useful guides and tips. if you are a petite woman, do drop in at shopwiki to see what kind of clothes suits you. there's also accessories for petite women! stuffs like shoes, lingerie, tights.
you'll have to visit the site for yourself to know how great the site is… how easy it is to shop. clicking on a category, will show you photos of all the clothes/accessories for you to choose one. when your eyes set on one that you like, you just click on it, and it will take you to the store selling that particular clothes/accessory.
go on… happy shopping!