---
Posted: 16 Oct 2009 09:42 AM PDT
Dey, inggava Muruku soru sappedek… nallarekek! wonnei rendek munnei nallek anji arrei! vanakam deepavali! macha! teh tarik kurang manis satu!
Hehe! Was just telling all my Hindu readers (if there are any) to drive carefully in Diwali season in Tamil! What you think I cant speak Tamil? Of course I can! :p
Cimiki da Boss would like to wish all our Indian friends a Happy Diwali!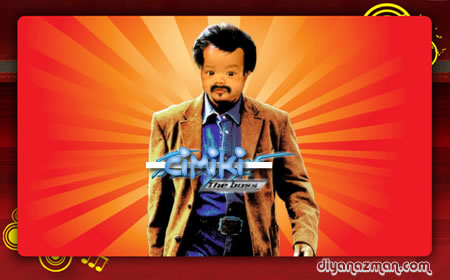 SuJu's Kang-in, DUI, hit & run
Posted: 16 Oct 2009 09:04 AM PDT
Korean pop group Super Junior's member Kang-in, who was indicted for a bar brawl last month, is in trouble again… a bigger trouble in fact.
He was booked for fleeing the scene after causing a traffic accident under the influence of alcohol in early morning of October 16 [more on Koreatimes]
Kang-in only turned himself in six hours later, probably after consultation with his company; both the artist and company have issued public apologies (to the fans).
Apology WTF. He could have killed someone; luckily nobody was seriously hurt in the accident. DUI was bad enough, and running away instead of checking the victims? It's a disgrace dude.
SuJu's Kang-in, DUI, hit & run from YeinJee's Asian Journal
Posted: 16 Oct 2009 08:57 AM PDT
Not me lah.
While I would love to say I'm THAT gutsy, I am not. I am a vainpot and love my hair a bit too much to go bald BUT hear me out.
I've got a gutsy friend who will be shaving off all her hair for charity come this November. I spoke to her two weeks ago and she wanted me to help her.
So this is the email I sent out to my friends:
Dear friends
My friend, Nancy will be going bald for charity come 1 November. I know her personally and she's one big-hearted woman, putting in lots of hours in raising funds for the sick and needy.
Nancy is the Development Manager of Penang Adventist Hospital (PAH). She will be raising funds for PAH because as you know, PAH sponsors heart patients, and those who are suffering from serious illness (cancer, chronic kidney disease, accidental head injury, tumour, major burns, major organ transplant, Parkinson's disease, HIV, cleft palate repair and major amputation of limbs).
In a nutshell, Nancy will be going bald for charity on 1 November to collect funds for PAH.
Yes, bald.
She is shaving off all her hair in aid of charity come this 1 Nov. during the PAH organised charity food fair. This is one courageous woman!
The charity fair will feature about 85 food stalls offering vegetarian, non-vegetarian and even halal food inclusive of games store. There will also be entertainment, games, lucky draws and "Penang Greatest Shave" and many other interesting activities.
Of course you don't have to shave off your hair to help - but you can contribute in your own way.
You can support PAH by:
1. Setting up food stalls
2. Sponsoring a food stall (RM500 and above)
3. Major supporters with a minimum contribution of RM5,000 will be acknowledged during the event and on the backdrop of the stage
4. Donations in form of food, lucky draw or game prizes
5. Cash or cheque donations. All cheques should be made payable towards "Adventist Hospital & Clinic Services' for Dr J Earl Gardner Fund. Tax-exemption receipts will be issued.
6. Helping sell or buy the charity fair tickets at RM20 per booklet.
If you and your business can help, please email Nancy [ nancyong @ pah.com.my ] directly.
What's more, help tell as many friends as you can. PAH needs all the support it can get.
In case you wanna know how Nancy looks like now, here's the bubbly lady with her hair intact.
This photo was taken the night we sat talking at her office - she is one hard worker who works late into the night, emailing people who can help her when it comes to raising funds for Penang Adventist Hospital's much needed coffers.
So please help if you can.
Most of us cannot imagine where our money goes sometimes when we give a donation. With this, you will know.
It goes towards giving another human being a chance at life.
altantuya Najib to MCA: Put your house in order - nizar nizar nizar nizar nizar
Posted: 16 Oct 2009 08:33 AM PDT
The BN chief was non-committal on whether fresh polls was necessary to resolve on MCA crisis.
During a press conference after the conclusion of the 60th Umno general assembly today, Najib said,
"Solving the problem means not only legally, but also morally and politically... otherwise, MCA can never win the support of the Chinese community."

There is no more Chinese cause in Malaysia.
Moreover, MCA is always solving its never-ending internal problems.

So, there is never a need to win the support of the Chinese community.


There is no need for a Chinese party in Malaysia.
Go back to China and help the Chinese!

Baek Ji-young – Don't Forget MV – IRIS OST
Posted: 16 Oct 2009 06:15 AM PDT
Korean drama IRIS's OST, titled Don't Forget, sung by Baek Ji-young. The MV only focused on the love triangle between the three main characters in the spy-action thriller, played by Lee Byung-hun, Kim Tae-hee and Jung Jun-ho…
Nice song; Baek Ji-young did well to bring out the sorrow and emotions. Would be great to have a clean (without conversation) version.
IRIS is one of the most anticipated Korean dramas of the year. The star-studded drama opened strongly on October 14; its English subbed episodes are scheduled to start showing on KBS World channel (lucky me lol) on Nov 11.
Other co-stars include Kim Seung-woo, Kim So-yeon and Choi Seung-hyeon.
[video via moonml@Youtube]
Baek Ji-young – Don't Forget MV – IRIS OST from YeinJee's Asian Journal
This posting includes an audio/video/photo media file: Download Now
Malaysian Immigration confirm detention former member of Iraqi Parliament
Posted: 16 Oct 2009 07:29 AM PDT
KUALA LUMPUR: Malaysian Immigration Department today confirmed former member of Parliament Mohammed alDaini Iraq detained on 10 last Oct as obtained using false travel documents.
Immigration Director-General Datuk Abdul Rahman Othman said he was detained at the KL International Airport (KLIA) in Sepang.
"Suspect still detained because we are still waiting for the new travel document from the Embassy of Iraq before he was sent back to your country," he said when contacted by Bernama here.
A newspaper report today former members of Iraqi Parliament, who disappeared eight months after the direct attacks involved bombs on Iraq parliament canteen in 2007, has been detained in Malaysia.
Abdul Rahman said the case was investigated according to Section 12 of the Passports Act 1966.
Related Articles
BERNAMA
JYP Entertainnment USA & Canada Audition 2009
Posted: 16 Oct 2009 05:37 AM PDT
Another US & Canada audition for Asian pop star wannabe. Korean agency JYPE is looking for new talents who are residing in USA and Canada and born in year 1982-2000, regardless of gender and nationality.
JYP Entertainnment USA & Canada Audition 2009 from YeinJee's Asian Journal
This posting includes an audio/video/photo media file: Download Now
Era Najib Altantuya : Teoh Beng Hock Diarah Siasat Atas Arahan SPRM Putrajaya
Posted: 16 Oct 2009 05:23 AM PDT
O
perasi mengheret mendiang Teoh Beng Hock ke kancah siasatan Suruhanjaya Pencegahan Rasuah Malaysia (SPRM) disyaki diarahkan Putrajaya, dan bukan SPRM negeri.
Peguam Gobind Singh Deo mengesyaki tangan-tangan Putrajaya mendalangi siasatan ini.
Kenyataan ini dibuat berdasarkan kepada pededahan Penolong Penguasa Risikan, Arman Alias kepada Koroner Azmil Muntapha Abas di Inkues hari ini.
"Saya merasakan ada dua perkara yang menimbulkan keraguan daripada keterangan Arman bahawa beliau adalah merupakan seorang Pegawai daripada SRPM Putrajaya menunjukkan dalam siasatan kes ini pada awal-awalnya arahan diberikan oleh Pegawai daripada Putrajaya supaya mereka boleh ikuti dengan dekat perkembangan kes ini,'' katanya.
Dalam pada itu, Gobind turut mengatakan Arman sebenarnya tidak memahami dengan jelas apa yang disiasatnya ekoran dari kenyataan beliau apabila diminta menjawab beberapa soalan.

"Apabila disoal, beliau bersetuju pada permulaannya, beliau tidak tahu secara tepat apa kesalahan dan tidak dapat melihat dengan jelas. Mereka itu seolah-olah hanya membawa semua fail dan mencari sahaja, hendak mencari satu kesalahan," katanya.

Sementara itu, bekas majikan Teoh Beng Hock, Ean Yong Hian Wah meminta Ketua Pesuruhjaya SPRM, Datuk Seri Ahmad Said Hamdan memberi penjelasan mengenai campurtangan pegawai SPRM Putrajaya dalam siasatan terhadap Beng Hock.

Menurutnya Ahmad Said tidak seharusnya mengambil sikap berdiam diri seperti yang dilakukan ketika mayat Beng Hock ditemui di Plaza Masalam 16 Julai lalu tanpa memberi sebarang penjelasan walaupun mendiang masih dalam tahanan SPRM.

"Saya harap ketua pesuruhjaya SPRM Datuk Seri dia perlu beri penjelasan pada rakyat dan keluarga Teoh Beng Hock mengapa pegawai-pegawai SPRM Putrajaya datang untuk mencampurtangan dalam siasatan begini.

"Saya juga minta SPRM perlu bertanggungjawab ke atas kematian Teoh Beng Hock dan sehingga kini tiada siapa mengaku bersalah dan tiada sebarang penjelasan daripada SPRM bagaimana Teoh Beng Hock boleh jatuh dari pejabat SPRM di tingkat 14 Plaza Masalam," katanya.

Menurutnya campurtangan pegawai SPRM Putrajaya berkenaan merupakan usaha menakut-nakutkan dan menjatuhkan wakil rakyat Pakatan Rakyat di Selangor.

"Memang kita dapati apabila SPRM mula membuat siasatan ke atas semua wakil rakyat Pakatan Rakyat di Selangor, mereka mempunyai agenda yang tertentu. Jika hari ini kita dapati ada pegawai SPRM dari Putrajaya masuk ke dalam Selangor untuk menyiasat wakil rakyat dan bukan sahaja Teoh Beng Hock jelas sekali mereka mahu menakutkan kita dan mahu menjatuhkan wakil rakyat dan Kerajaan Negeri Selangor," katanya.

Beng Hock adalah setiausaha politik kepada Exco Selangor Ean Yong Hian Wah dan ditemui mati berhampiran ibu pejabat SPRM negeri 16 Julai lalu.

Pakatan Rakyat mengesyaki Beng Hock adalah mangsa konspirasi siasatan besar-besaran SPRM terhadap kerajaan Selangor.

Menteri Besar Tan Sri Abdul Khalid Ibrahim seraya mengeluarkan arahan sebarang siasatan selepas ini hanya boleh dilakukan dalam keselamatan bangunan Setiausaha Kerajaan Negeri bagi mengelakkan kejadian yang sama berulang.

Perbincangan inkues Beng Hock akan bersambung pada 21 Oktober ini. -TVS




This posting includes an audio/video/photo media file: Download Now
Era Najib Altantuya : Sikap Binatang UMNO Jelas Bila Mahu Sekat Peruntukan Ke Selangor
Posted: 16 Oct 2009 05:16 AM PDT
U
mno mahu Putrajaya menyekat peruntukan ke Selangor supaya rakyat negeri ini sedar hanya Umno dapat membantu mereka.
Perwakilan Umno Selangor Abdul Shukur Idrus berkata sekatan ini perlu kerana kerajaan Menteri Besar Abdul Khalid Ibrahim meraih sokongan meluas dari program bantuan sosio-ekonomi yang dilaksanakan.
Abdul Shukur menjelaskan kerajaan negeri mengagihkan RM1,000 berupa bantuan khairat kematian dan RM1,500 kepada warga tua - walhal Umno sekadar menyumbang RM300.
Beliau menambah agihan sosio-ekonomi seperti ini menjadi buah-bicara rakyat Selangor walhal peruntukan sebenarnya datang dari Kerajaan Pusat.
Abdul Shukur berkata demikian ketika membahaskan ucapan Presiden Umno Najib Abdul Razak di Persidangan Umno ke-60 hari ini.

Sementara itu Exco Kerajaan Negeri Selangor, Yaakob Sapari berkata kerajaan pusat telah menyekat peruntukan kepada kerajaan negeri selepas Pakatan Rakyat mengambil alih pentadbiran negeri.

Menurutnya gesaan berkenaan jelas menunjukkan ketidak matangan pemimpin Umno memahami memahami sistem federalisme dan demokrasi sehingga sanggup menghukum rakyat.

"Hari ini pun peruntukan pusat pada negeri telah ditarik balik. Kerajaan negeri membangunkan negeri dengan pendapatan yang ada sahaja.

"Pemimpin Umno kena faham apa makna kerajaan persekutuan, ada kerajaan persekutuan dan ada kerajaan negeri, dan dia perlu menghormati demokrasi. Mana kita ada pilihan raya, rakyat dihukum kerana membuat pilihan sendiri," katanya.

Menurutnya kerajaan Pusat perlu memberi penjelasan kepada rakyat Selangor begaimana wang peruntukan yang seharusnya disalurkan kepada Ahli Parlimen dan Pejabat Daerah digunakan.

Beliau bagaimanapun memberi jaminan bahawa kerajaan negeri akan berusaha memastikan bantuan sosio-ekonomi kepada rakyat Selangor tetap dilaksanakan walaupun mendapat halangan dari kerajaan pusat.

Katanya isu berkenaan tidak seharusnya timbul memandangkan rakyat Selangor berhak menerima peruntukan dari kerajaan pusat kerana mereka merupakan pembayar cukai.

"Peruntukan Ahli Parlimen ditarik balik, peruntukan di pejabat daerah ditarik balik dan kita mempersoalkan di mana duit itu dibelanjakan, apa jadi dengan duit-duit itu.

"Kerajaan pusat kena jelaskan kepada rakyat Selangor bagaimana wang itu dibelanjakan secara telus. Dia kena ingat 32 peratus pendapatan pusat dari Selangor, hasil cukai Negeri Selangor," katanya.



This posting includes an audio/video/photo media file: Download Now
Posted: 16 Oct 2009 03:40 AM PDT
Posted: 16 Oct 2009 02:05 AM PDT
Posted: 16 Oct 2009 01:28 AM PDT
DIWALI WEEKEND VIEW: Serious Attempt At Digging Into Dog Problem - MALALYSIAKINI
Posted: 16 Oct 2009 12:41 AM PDT
The contentious issue of dogs, especially the strays, is finally getting serious attention from concerned parties keen on creating greater awareness among the public and local councillors on animal rights.
A forum was organized in conjunction with World Animal Day to bring animal lovers, NGOs, local councillors and the public to tackle the dog 'problem'.

It was organized by the Petaling Jaya Municipal Council's Health Department, the Department of Veterinary Services, the Society for the Prevention of Cruelty to Animals (SPCA), Progressive Animal Welfare Society (PAWS), Pet Positive, local councils in Selangor and other NGOs.


Canine Action Team (CAT) committee chairman Anthony Thanasayan (left) stressed the importance of understanding dogs and treating them with respect.

This view is supported by State Executive Councillor Ronnie Liu and he said that we should appreciate the usefulness of dogs.

"However, we must control strays as it is a real issue and can be a nuisance.

"The local councils are looking into the best practices with SPCA and other NGOs to be implemented. This issue has been ignored for too long," he added.

According to Liu, the state government is willing to work with NGOs as he admitted that the local councils may not have enough specialist and expertise on handling animals.

Currently, the Petaling Jaya Municipal Council holds monthly meetings with CAT and representatives from other Selangor's local councillors to discuss on matters pertaining dogs.

With regards to the dog catching issue, Thanasayan said that there is no point in catching the strays if the public does not have a wholesome understanding of dogs and their value to the community.

"This action is only a knee jerk reaction and will not be sustainable in the long term," he said.

Free licence for the disabled and elderly

Thanasayan said that other local councils should adopt the move made by the Shah Alam Municipal Council where licensing of dogs by the disabled and elderly is waived.

" We live in fear that our dogs will be caught by dog catchers for the lack of licensing.

"It is a great hassle for many disabled to get out of the house much more to purchase a license as many of them are not able to afford one," Thanasayan added . He was born disabled and is wheelchair bound.

Liu, on his part said that he encourages other local councils to take this into account and emulate the Shah Alam example.

Educating the public

"The earth does not belong solely to humans and we should share it with animals," he said.

People should understand that dogs are not our enemies, he said on educating the public on how to live harmoniously with dogs and the community should understand and treat animals well.


"This is an issue of civic consciousness and everyone should practise civility towards animals,"Liu added (right).

The relevant parties like NGOs, parents, teachers and local councils have the duty to cooperate and instill these values in children from young, he said.

Liu said that it is important for the whole community to cooperate, be it dogs' lovers or not.

"Nevertheless, it is the duty of the councillors to come up with guidelines and it is the duty of the community to follow them," he said.

PET+BLOGSPOT is the official online blog of the Malaysian Animal-Assisted Therapy for the Disabled and Elderly Association (Petpositive).
Our blog which was first established in October 2007 currently has more than 30,000 hits. Kindly take note that views expressed in this blog are not necessarily those of Petpositive.
You may also visit our Webpage by browsing: www.petpositive.com.my
Posted: 15 Oct 2009 11:56 PM PDT
The man of today? A mollaccione Bolt? Slow compared to the Aboriginal
Posted: 15 Oct 2009 11:58 PM PDT
" A scientist says the physical and athletic superiority
prehistoric men capable of extraordinary performances "
LOMDRA (October 14) - Many Australian Aboriginal prehistory could have overcome the world's fastest man, Jamaican Usain Bolt and some young Tutsis in Rwanda were jumping up to 2 feet in height during the initiation ceremonies, any woman Neanderthal would beat at arm wrestling the former actor and bodybuilder Arnold Schwarzenegger, current governor of California.
Of these and other discoveries about Manthropology, a book Australian anthropologist Peter McAllister who has the provocative subtitle The inadequate male modern science. According to McAllister, that now is, "no ifs or buts, the worst man in history. "We are in fact inferior to the male gang of homo sapiens that ever walked the planet," he says. Having analyzed a wide range of tracks, documents and objects, the scientist says that modern man is less than its ancestors, among other things, running and jumping. His conclusions on the rate of Australian Aborigines 20,000 years ago are based on a series of fossil footprints of six men who hunted prey, preserved in the clay bed of a lake. For McAllister.

The analysis of fingerprints of one of six hunters, known as T8, shows that, in that race one day in prehistoric times, he reached the 37 km / h on a soft and loose. Bolt, however, when established, with 9 "69, the world record in the 100 meters at the Beijing Olympics last year, reached a top speed of 42 km / h.

Interviewed at the University of Cambridge English, McAllister argues that - with the techniques of training, the shoes and the trails of today - the Aborigines could reach 45 km / h. "If you were able to run at 37 km / h on land very soft, I imagine that probably would pass if Usain Bolt had benefited from the advantages he has," he says. "We can say that T8 accelerated towards the end of its run," he adds, speculating that many of his contemporaries could have done likewise.

As for the high jump, some pictures taken by a German anthropologist at the beginning of the last century show - according to McAllister - that some young Tutsi Rwandan touched the 2.52 meters. "It was a rite of initiation, all had sottoporvisi. To enter into adulthood, should be able to jump at least up to them, "says the scientist. Neanderthal woman - continues McAllister - he had a muscle mass 10% higher than the average European man of today. If well trained, she and Schwarzenegger at arm wrestling there would be no race.

Among other examples cited by the anthropologist in Australia to demonstrate the physical superiority of man of antiquity, the Roman legionnaires, who traveled over 60 miles a day wearing equipment equivalent to half of their body weight, and always Aboriginal Australians, who threw a spear at over 110 meters (the current world record javelin is 98.48 meters). But why, then, the decline? "We are not very active these days, and since the industrial revolution we are," McAllister said, arguing that previously people were "much more robust than us. "The human body is very plastic and responds to stimuli. We lost 40% of the diaphysis of long bones because we have a lot less muscle mass. We are not subject to the same loads or challenges of men of antiquity or even a more recent past, so our bodies have not developed. And the level of training of our top athletes are not close to those levels. "
Dirty men. 70% do not wash their hands with soap
Posted: 15 Oct 2009 11:57 PM PDT
Most people rinse their hands only with water jet..

Only one third of men wash their hands with soap after being in the bathroom. E 'researchers have discovered how the London School of Hygiene & Tropical Medicine, who examined more than 250 thousand people to check their hygiene habits after using the toilet.
The results were published in the journal American Journal of Public Health at the 'World Day for washing hands,' that is celebrated today. "We have discovered - explained Gaby Judah, chief researcher of the study -- that most people would just rinse your hands with a water jet instead wash them with soap. This is particularly true in men, while in women the percentage is lower.
"This may pose risks to health. Soap - continued - reduces the risk of contamination by diseases such as influenza. The researchers, who monitored the toilet through the use of sensors positioned in the trays of soap, they also found that signs with messages that invite guests to wash their hands increase the use of soap. "People respond to messages designed to trigger reactions of disgust, said Judah. "We have compiled a list of the most 'effective: the best seems to be' The person next to you and you 'wash with soap?'.
STATEMENT BY DEFENCE MINISTER ENCOURAGING
Posted: 15 Oct 2009 11:32 PM PDT
It is encouraging to note the statements made by Defence Minister Datuk Seri Dr. Ahmad Zahid Hamidi relating to future arms purchase as reported in the Malay Mail dated October 13, 2009, under the bold headlines that reads 'Arms purchase review on the cards'.
What strikes me are two significant statements, firstly quote " We will make sure that the funds allocated to the Armed Forces are spent wisely and arms procurement and other contracts are delivered on time and within the budget" unquote, and secondly quote "As long as I am Defence Minister I will make sure that the Armed Forces will not be the victim of greedy people who only want to make quick buck" unquote.
My personal comment on the above statement (if it were to be adhered strictly) is that it is going to cause a 'commotion' and 'uneasiness' among the many agents/vendors/commission seekers/cronies/cohorts etc, etc, that have been doing a flourishing business with Mindef. I do not need to mention who they are because it is common knowledge, as they are frequently seen loitering along the corridors of Mindef, and are continuously at the behest of the top bosses (Armed Forces and civilian alike), with some even listed in the entourage of the bosses during their foreign visits.
Someone did say to me sometime ago that doing business with Mindef is like you going on a fishing spree, whereupon having found the 'lubuk', you are assured of a good catch. But in order to continue enjoying a good catch, you are expected to also feed the small fishes as well, that loiters around the 'lubuk'.
I am also told that the small fishes are littered all over, beholden to their bosses, prowling like hawks waiting for a bite at anything that moves. That's the way to do business with Mindef, and I have said enough in my earlier postings concerning the corrupt practices of some of the bosses, that I only hope to see one day, one handcuffed and dragged to prison.
I am glad that the Defence Minister has made his position known to all, and my only hope is that the tender system for a contact with Mindef is fair, transparent and void of cronyism and special favour. And most of all, that all bidding are through the open tender system, and not the direct negotiation that was so common in the past.
CRUSADE AGAINST CORRUPTION
Posted: 15 Oct 2009 11:00 PM PDT
I spent my Diwali @ Uganda last year... Diwali is not a holiday in Uganda... So i worked throught the whole day. But my Indian colleagues took leave @ home... he made me tasty murukku and papa-don . The lights of the apartment were on for the whole night. Gosh~ The Uganda people has not enough electricity supply yet my Indian colleagues still on lights up the whole apartment....
This year i am back to Malaysia... unfortunately i was not invited to any Diwali celebration... what a sad case. No Murukku for me... Guess what? Last night, all of the sudden, I crave for Murukku and placed an update status in FaceBook. Got two replies...
TZ
is craving for murukku all of the sudden... maybe it's the diwali festive season... Anyone care for giving him some murukku to ease his crave...
Friend #1 reply :
ask Sxxx (Need to protect the person identity)...hehehe
Friend #2 reply :
Got a whole tin of murukku from a Summit last Thu... VERY NICE!!!!!
I wanna Murukku... anyone care for giving me some... Murukku where are you? For those who celebrate Diwali festival... How do you celebrate, mind to share?
Ku Li: Amendments good, but not enough - nizar nizar nizar nizar nizar najib altantuya
Posted: 15 Oct 2009 10:58 PM PDT
BREAKING NEWS
Umno member Tengku Razaleigh Hamzah described the amendments to the party's constitution yesterday as good but not enough to ignite far-reaching reforms.
Ku Li says Umno reforms not good enough

UPDATED
By Neville Spykerman
KUALA LUMPUR, Oct 16 — While welcoming the constitutional changes in Umno, Tengku Razaleigh Hamzah said the amendments approved this week did not go far enough to check the influence of warlords and the prevalence of vote-buying.
He said the amendment to allow more delegates to vote for office bearers was not enough to check abuses such as vote-buying.
The Gua Musang MP pointed out that he had proposed three years ago that all Umno members be allowed to elect the party president, his deputy, the vice-presidents and supreme council members.
"All members should be allowed to vote not just the delegates, to check the influence of warlords and money politics," he said.
He pointed out that there was no quorum for the annual meetings in many branches because this was not an election year and no money was being handed out.
"The party needs to correct this attitude because the members are motivated by 'lollies' and money," he said.
He said Umno must also change the way it selects candidates for elections and should consider emulating the system in the United States where primaries are held.
The system allows members in a particular constituency to select leaders who they know will serve the people, he said.
"Umno should stop the nonsense, where the leadership selects candidates because it did not work during the March general election last year."
He said many previous leaders did not go to their constituencies and only returned when VIPs were around.
At the same time, he said, Umno should not stop at just constitutional reforms but change the attitude of leaders.
"People want change... credible leaders who are free of corruption, who have not done things which are scorned by the public," he said.
"We need a clean slate of people because that's what is demanded by the people who are sick and tired of seeing bad leaders. Leaders whose records are blemished," he added.
He said this did not happen during the time of Tunku Abdul Rahman, the country first prime minister, and the question needs to be asked why in this time and age we need such leaders to be our representatives.
He said the result of the Bagan Pinang by-election, where former Negri Sembilan Mentri Besar Tan Sri Isa Samad who was suspended from the party for money politics triumphed over the PAS candidate, can be interpreted in many ways.
He warned that while Umno may have won the battle, he was not sure if it could win the war which was the general election, judging by the sentiments of the people.
When all is said and done, he said he was still in Umno because he still has hope.
Tengku Razaleigh said he hopes common sense will prevail in the party.
"I would like to see the party improve itself," he said.
Posted: 15 Oct 2009 09:47 PM PDT