---
Let Not The 2010 Budget Be A Fake One Says Petpositive - malaysiakini
Posted: 23 Oct 2009 10:12 AM PDT
An economist, a representative of the disabled community, a curator and a small business association chief give their immediate reactions on the budget announced by Prime Minister Najib Abdul Razak today.

Below are their comments:

Abdul Ghafar Ismail, UKM economics professor and research fellow for Perdana Leadership Foundation and International Syariah Research Academy

Looking at the budget, I am quite concerned about the deficit as 5.6 percent is still quite high. Compared to EU countries for example, the standard is around 3.5 percent. The extra two or so percent is worrying.

A big deficit means that a large amount of funds form the money market will be taken up by the government, and this will reduce the amount of borrowing available for the private sector. The private sector may find it difficult to grow and conduct business.


On improving export by 3.5 percent, this will largely depend on the economic health of our trading partners like the US. We'll have to see about that.

With an operational expenditure of RM138.3 billion and a revenue of RM 148.4 billion, this is quite bad, as our revenue is only enough to cover our operational expenses. If this is the case we don't have any savings and are spending almost nothing for development. If it continues in the long term we will sink deeper into debt.

As for the GST, even if the government is considering implementing it, the problem is the hardware, software and procedures to implement it are not yet in place. Accounting practices of companies for example would have to change.

The government spending in improving our infrastructure such as roads, rails and ports is good and long awaited. It would certainly benefit our construction sector.

But the huge investment in infrastructure may be politically motivated. In economics it is recognised that sometimes politics dictate the type development.

If a general election is near, then there is a lot of short term incentives and benefits, which will endear the government to the populace. But if the a general election is in the long run, then the type of development will be like ports and roads that will only see completion in the long run. Then the government can claim later that they have done a lot of good for the people.

The incentives provided for the Halal industry is good but we may need to spend more to promote the halal industry and even expand it to include not only food products but non-food products as well.

With the government stepping back away from the economy, the challenge is now upon the private sector to make up the investments and the local market to generate consumption. The tax cuts and breaks will help generate consumption because this will increase disposable income.

The setting up of INTAN as a school of governance is good for the government to finally realise that good governance is key to our well being, economically. This will instil better management values and reduce leakages in governance.

The focus on SMEs and small traders through funds, loans and micro credit is a good move as small businesses make up 80 percent of our economy.

Incentives for the Islamic banking sector are a good thing for this will stimulate the service sector and contribute to our export of services.

Anthony Thanasayan, Petpositive president

The budget is better because at least there was some mention of the disabled. But even then it is still very disappointing because it appears to be another charity budget, instead of proving that the disabled are also part of the 1Malaysia plan.

We're glad that he has raised the allowance for disabled children from RM50 to RM150 because at least it is more a more noticeable and dignified budget. But why only disabled children, and not allowances to help all sections of the disabled?


And where did they get figures saying there are only 4,000 disabled children who need help? It is as if there has been no consultation from the disabled group at all, and if there was, someone certainly gave him the wrong info.

We are actually more interested in what will happen to the RM9 billion allocated to infrastructures. Would this include universal pavements that can be used by able and disabled friendly people? We really need to address this issue and realise that pedestrians have rights too... otherwise this RM9 billion will just go to waste. Not everyone drives.

On the matter of Internet, the budget gives tax breaks, but that will only help those who are well to do enough to pay taxes, not those who need help. We would have liked him to say that every disabled person who cannot leave the house due to the ill planned public transport and pavements can get free broadband Internet. At least if they have access to a computer they can be productive, and even gain employment.

Similarly, targeted subsidies for petrol should consider if the person is disabled or not, and not just be means tested, as petrol prices as well as toll prices is a big hindrance to the emerging group of young disabled who are trying to live independent and productive lives.

Further, we hope that the plans to build and refurbish schools would consider the provision of disabled toilets, which (Home Minister, and the then Education Minister) Hishamuddin (Hussein) had promised three years ago. I had to stop schooling at the age of 10 because of this and this is a cruel thing to do to a child.

We also urge that the Klinik Desa that was proposed to be wheelchair friendly, especially since it will be located in shop houses.

That means to provide lifts, and to make sure that the corridors are large enough for wheelchairs, which are used not just by the disabled, but also the sick and elderly.

If these provisions are not met, then I believe the budget will be a fake one that pretends to look out for the welfare of all.

Chua Tiam Wee , SMI Association of Malaysia president

SMI Association welcomes The Budget 2010 which is a caring budget towards achievement of 1-Malaysia concept, high income economy, further liberalization especially financial sector and further ease of doing business.

The SMI Association welcome the specific measures to assist SMEs especially ensuring adequate and easier assess to financing during the current economic downturn. The rationalization of SME Funds from 79 to 33 will allow underutilized SME funds to be merged with more popular funds and be utilized. Currently SME need working capital financing rather than financing in capital expenditure for expansion as there is still excess capacity in the current downturn in demand.

In view of this, we propose that the government to relook into the almost exhausted government guarantee fund to increase further , such as the SME Assistance Guarantee Scheme (SAGS) and Working Capital Guarantee Scheme.


The Co-ordination of these SME Funds by SME Corp will reduce the run around by SMEs to various agencies for funding. However, SME Corp being new in its responsibilities hopefully will be sufficiently staffed with competent personnel to cope up with the demand and avoid any bottlenecks.

We welcome the government setting a speedier timeline of six days approval and four days disbursement for microcredit financing which are much needed by micro enterprises in short of funds. We also hope similarly SME Corp which has been allocated with RM350 million funding will also set their own speedy disbursement timeline. On micro financing, government should also look into the current high interest rates imposed by the micro credit lenders.

We welcome the tax deduction for expenses by SME to register the patent and trademark as this will reduce their cost burden in protecting their intellectual property and encourage them to invest in R & D and development of new products for the worldwide market.

Simon Soon, art curator and founder of contemporary arts and culture website, ARTERI

If we look at Singapore, a lot of money has been pumped into making it the culture and arts centre of the region. And this has been mainly because they fell short in that area, when they applied to be considered to be a developed country. This made them realise the importance of culture vibrancy, and this I feel is what it happening here.

I feel (the allocation of RM200 million for a Creative Industries Fund and RM3 million for a welfare fund), shows that the government is understanding the significance of cultural capital to the development of a country. It's a welcomed first step and it shows that the government is acknowledging of culture and arts and culture as not just kuda kepang dancers or satay vendors at a tourism event.

However, perhaps it is not the best way for the funds to be managed by the Ministry of Information, Communications and Culture as there may be a question of accountability and transparency. Further, the civil service in Malaysia is unfortunately very closely tied up with driving political agendas, so there is a fear that the fund will be used to push propaganda type of works. There may be a bias against works that are critical of the government.

It is my understanding that the Balai Seni Negara has had its funds cut for next year, so it is interesting to see if the policy on the creative industry has any effect on this.

It would also be good to have further clarification on who is included in the "penggiat seni", because RM3 million can go a long way.
PET+BLOGSPOT is the official online blog of the Malaysian Animal-Assisted Therapy for the Disabled and Elderly Association (Petpositive).
Our blog which was first established in October 2007 currently has more than 30,000 hits. Kindly take note that views expressed in this blog are not necessarily those of Petpositive.
You may also visit our Webpage by browsing: www.petpositive.com.my
saya anak bangsa malaysia coming to penang!
Posted: 23 Oct 2009 09:13 AM PDT
for the past weeks, a few of us in penang had been working hard scouting around for a venue and finally we had managed to get one which is right in the heart of georgetown and the good thing about it is that it is FOC! if not, other venues we checked out at least minimum RM500.  well, managed to get it FOC through mr stephen b.c. tan, as he is a member. the place? the hu yew seah hall in madras lane (behind telekom office in burmah road).
some of you guys might remember the SABM gathering in KL  well you can read about it at haris ibrahim's blog.
haris and his team are now bring SABM to penang.
date:  sunday, 15 nov. 2009
time:  9.00am to 10.00pm
venue:  hu yew seah hall, 43 madras lane (behind telekom HQ)
details of the programme and how to register can be found in haris' blog but i have CnP here the details as below:
Penangites, block out 15th November, 2009 in your diary.
The Saya Anak Bangsa Malaysia Roadshow, which has been planned as a full-day event, hits Penang on that day.
The venue : Hu Yew Seah Hall, 43 Madras Lane, Penang
We will kick off the event with a half-day youth workshop "Ada Apa Dengan Bangsa?" that morning, anchored by our smart partner, KOMAS. Participants will be urged to explore our identity, who we really are and what we believe in as Malaysians.
Numbers at the youth workshop, which is scheduled to start sharp at 9.00am, to be conducted with a mix of both Bahasa Malaysia and English, will be limited to 30 participants so that there will be greater scope for interaction.
If you're aged between 17 – 25 and would like to participate in the youth workshop, send your details ( name, i.c. number,  address, telephone contact number, and what you are presently doing ) to admin@sayaanakbangsamalaysia.net
The SABM forum, simply entitled "Bring Along A Friend",  kicks off in the afternoon, tentatively scheduled to start at 2.30pm, with the screening of  "Sepuluh Tahun Sebelum Merdeka", an excellent documentary by Fahmi Reza, who will himself be at the forum to share some of his thoughts with us. The documentary gives an insight into the state of politics some 10 years before Malaya attained independence from the British. This documentary makes for an excellent backdrop for the forum and Q & A session that will follow immediately after.
A panel of speakers is being assembled to deliver some thought-provoking ideas whereafter participants will be given ample time during the Q & A session to get in on the healthy discussion that we hope will happen. The names of panellists will be announced at a later date.
We will serve light refreshments after the forum and Q & A session and then we will be screening KOMAS'  "Gaduh". If you have not yet watched this short film, this screening in itself may be reason enough for you take make the effort to attend the forum.
Why is the forum entitled "Bring Along A Friend"?
Quite simply, because that's what you'll have to do to attend the forum.
This is how it works.
Attendance is by invitation.
So you'll have to e-mail us for an invitation, both for yourself and a friend of yours.
Now if you're a Malay Malaysian, you'll also have to register a non-Malay Malaysian friend, besides registering yourself for the forum. Conversely, if you're non-Malay Malaysian, we will require you to also register a Malay Malaysian friend.
As with the youth workshop, if you'd like to attend the forum, send your and your friend's details ( name, i.c. number,  address, telephone contact number, and what you and your friend are presently doing ) to admin@sayaanakbangsamalaysia.net.
Dakwaan Perobohan Kuil di Glenmarie
Posted: 23 Oct 2009 09:06 AM PDT
Nik Nazmi Nik Ahmad, Ahli Dewan Negeri Seri Setia meminta semua pihak bertenang tentang perobohan binaan di Glenmarie, Shah Alam yang terletak di bawah kawasan DUN beliau.
MIC mendakwa binaan tersebut merupakan kuil Mathurai Veeran.
"Saya telah bercakap dengan YB Dr. Xavier Jeyakumar, Exco Kerajaan Negeri Selangor dan juga dengan MBSA tentang kejadian tersebut. Kami sedang menunggu laporan penuh dan kronologi perobohan tersebut sebelum tindakan lanjut diambil. Malang sekali beberapa pihak termasuk MIC cuba mengsensasikan isu tersebut demi tujuan politik khususnya di dalam media Tamil. Saya menyeru semua pihak bertenang dan mendapatkan fakta sebenar sebelum mengulas isu ini."
Dalam perkembangan berkaitan Ahli Majlis MBSA K.Uthayasoorian berkata, MBSA akan mengambil tindakan undang-undang sekiranya pihak BN-MIC masih terus memainkan isu sensitif ini.
K.Uthayasoorian berkata demikian dalam sidang media di bangunan MBSA, petang tadi.
Timbalan Datuk Bandar Shah Alam, Mohtar Hani menegaskan bahawa struktur bangunan yang dirobohkan Majlis Bandaraya Shah Alam 21 Oktober lalu di Jalan Persiaran Kerjaya, Glenmarie, Seksyen U1, Shah Alam bukanlah kuil mahupun pusat ibadat.
"Lawatan siasatan yang telah dilakukan oleh unit aduan bahagian penguatkuasa MBSA pada 16 Febuari 2009 , jam 6.00 petang lalu satu notis telah dikeluarkan dibawah Akta Jalan, Parit dan Banguan 1974, Seksyen 70 (1) mendirikan Struktur binaan tanpa kebenaran daripada pihak Majlis. Bangunan yang dirobohkan ini disebut sebagai Tokong Datuk, ini bukanlah kuil mahupun mana-mana rumah ibadat , tetapi sebenarnya adalah tempat pemujaan bagi ramai orang yang meminati nombor ramalan bagi tujuan perjudian.Mereka diberikan tempoh 1 bulan bagi proses pemindahan," katanya.
Light at the End of the Tunnel?
Posted: 23 Oct 2009 08:22 AM PDT
My Kiwi pal Jake called me this evening to tell me he'd just read a very interesting article over at The Malaysian Insider. The article, with the promising title Budget 2010: Easy PR status for skilled expats, has even more promising information inside:
The government said today it will simplify the granting of permanent residence (PR) status to talented and skilled expatriates in a bid to drive the economy forward.

Prime Minister Datuk Seri Najib Abdul Razak also announced that visas will be automatically given to working family members within 14 days for those coming to work here, in addition to the extension of PR status to foreigners married to Malaysian women.

Tabling the 2010 Budget in Parliament here, Najib said during said the move is intended to accelerate technology transfers through the import of superior foreign skills and expertise.

This will contribute to the transformation of the country into a high-income nation, one of the major goals in Najib's first Budget as prime minister.
There's more, of course, but what I find especially interesting is, obviously, the bit about PR. Let's look at that again, shall we?
[...] the extension of PR status to foreigners married to Malaysian women.
Now, with the way things tend to go here in Malaysia, I can't bring myself to jump up and down with delight, despite the 'wow, great news' feeling such words should provoke in me.
But if it is indeed true…wow, great news!
I guessed the Mysterious Singers correctly.. Knew It Was Bunkface..
Posted: 23 Oct 2009 09:05 AM PDT
Don't want much, I just want everything
Thought that I could, do almost anything
One step in front of the other
Thought that I could do it alone

In the blink of an eye, it's just another day
Telling me why, I'll find another way
Got this feeling, got me reeling
I can almost start believing

Now there's me and you
And we are not alone
You and me
We are together now
Through my window, I can see there's
More than you and more than me
Me and you
And we are not alone
Different view
We are together now
Through my window, I can see
Our wildest dreams could be so real

I see a spark, it starts a fire
Is this the one worth waiting for?
Thought that I could do it without you
Can't exist like this anymore

Now there's me and you
And we are not alone
You and me
We are together now
Through my window, I can see there's
More than you and more than me

Now there's me and you, you and me
We are not alone and we are together
Through my window I can see
Our wildest dreams could be so real

JUDGMENT ON TIAN CHUA – A BAD PRECEDENCE
Posted: 23 Oct 2009 07:21 AM PDT
It is easy to get a jail sentence and a fine in this country.........just bite a policeman. And it is easy too for a policeman to bash up someone, and not face the law at all. Call this justice the Malaysian way, and our policemen are somehow immune to the law.
Did we not see how they bashed up Kugan to death, only to get another lone Indian policeman to blame. Are we to believe this script, that it takes only one Indian policeman to kill one tough Indian in the police cell. Come on.......Malaysians are not that stupid as you may think, to believe in such a well scripted lie. I am sorry for repeatedly quoting the Kugan case, because I believe the police have been blatant in the act of abuse and torture.
That was what Batu MP Tian Chua got for biting a policeman; a fine of RM3,000 and a six months jail sentence that is just enough to strip him of his post as an elected parliamentary representative. Isn't this another well scripted judgment? Surely, I am not alone in saying this. Call for an opinion poll if you care.
I did not expect that sentence to be that severe, as the bite was done in retaliation to being punch by the policeman. I would have reacted in the same manner if I was punch first, and isn't that a natural reaction for someone who is being abused?
I find it hilarious and unacceptable that the magistrate had based his judgment merely on the statement by the policeman that he (policeman) was bitten, whereas the magistrate himself asserted that, "the video recording did not show the biting".....read The Sun dated October 23, 2009. To me, such a judgment is bad precedence, unthinkable in any decent courts elsewhere in this world; maybe with the exception of Zimbabwe.
CRUSADE AGAINST CORRUPTION
Posted: 23 Oct 2009 05:46 AM PDT
This is 2 in 1 blog post.
Before that, read
this
first.
Wow! Can you believe that? Rm10.8 mil! If I were them, I just don't know what to do with that sum of money. First, I may go traveling around the world, ALONE. He he he. Second, use that money to further studies in a renowned university (Harvard, Yale, or any US Ivy League unis..hahaha), getting my second degree (field that I really interested). Thirdly, buy anything that I wanted, hahahaha. Fourthly, well, as a nice and good person, donate some to charities, of course. Fifthly, buy a house (cash) for my parent and finally, use that money to send my sister to good universities oversea (Malaysia's unis, no class...hahaha).
But sadly, that's just a DREAM which will never come (-_-'').
Ok, second news. Read
here
.
Oh gosh, If I were that baby boy, I won't get many troubles to purchase my flight ticket anymore. I can go ANYWHERE with FREE ! Jezzzz......still, it's just
angan-angan mat jenin
. Sigh.
p/s: I hope my dad win the Jackpot. He he he. He loves to play jackpot. Ermm....
Era Najib Altantuya : Sivakumar Dibenar Cabar SPR
Posted: 23 Oct 2009 05:16 AM PDT
B
ekas Speaker Dewan Undangan Negeri (DUN) Perak, V. Sivakumar dan enam yang lain diberi kebenaran mencabar keputusan Suruhanjaya Pilihan Raya (SPR) yang tidak mengosongkan kerusi DUN Behrang, Changkat Jering dan Jelapang bagi mengadakan pilihan raya kecil.
Hakim Mahkamah Tinggi (Bahagian Rayuan dan Kuasa-Kuasa Khas) Lau Bee Lan memutuskan demikian di kamar beliau hari ini selepas menolak bantahan awal yang dikemukakan oleh Jabatan Peguam Negara.
Bantahan tersebut ialah bahawa permohonan bagi mendapatkan kebenaran semakan kehakiman itu merupakan suatu perkara yang sudah menjadi akademik berikutan keputusan Mahkamah Persekutuan pada 9 April lalu.
Pada tarikh tersebut, Mahkamah Persekutuan memutuskan SPR merupakan entiti yang layak untuk memutuskan kekosongan sesebuah kerusi DUN dan bukannya Speaker DUN.
Mahkamah Persekutuan membuat keputusan tersebut setelah ADUN Behrang, Jamaluddin Mohd. Radzi, Kapten (B) Mohd. Osman Jailu (Changkat Jering) dan Hee Yit Foong (Jelapang) merujuk kes itu ke mahkamah tertinggi negara memandangkan ia melibatkan isu Perlembagaan.

Dalam keputusannya hari ini, Hakim Bee Lan menyatakan, Sivakumar dan enam yang lain mempunyai hak di sisi undang-undang (locus standi) untuk mencabar keputusan tersebut.

Ekoran keputusan tersebut, peguam Ranjit Singh memberitahu pemberita, pihaknya akan memfailkan semakan kehakiman untuk mencabar keputusan itu.

Pada 10 Mac lalu, Sivakumar bersama ADUN Sungkai, A. Sivanesan; ADUN Kuala Sepetang, Tai Sing Ng; ADUN Keranji, Chen Fok Chye dan tiga lagi individu memfailkan permohonan tersebut secara berasingan.

Mereka memohon mendapatkan perintah agar kerusi DUN Behrang, Changkat Jering dan Jelapang diisytiharkan kosong untuk diadakan pilihan raya kecil.

Jamaluddin, Mohd. Osman dan Yit Fong serta SPR dinamakan sebagai responden pertama hingga keempat dalam permohonan itu.

Mereka turut memohon writ bersifat quo warranto (permohonan yang mencabar kesahihan pelantikan perjawatan) kepada ketiga-tiga ADUN itu untuk menjelaskan kuasa yang ada pada mereka dalam melaksanakan tanggungjawab dan tugas sebagai ADUN kawasan masing-masing.

Mereka juga memohon perintah deklarasi bahawa DUN-DUN tersebut telah kosong berikutan perletakan jawatan tiga ADUN serta perintah injunksi bagi menghalang responden pertama, kedua dan ketiga daripada menjalankan tugas sebagai ADUN.

Sementara bagi SPR pula, mereka memohon perintah certiorari bagi membatalkan keputusan dan tindakan mereka yang gagal melaksanakan pilihan raya kecil bagi ketiga-tiga kerusi DUN terbabit.

Turut dipohon ialah perintah mandamus (untuk memaksa) terhadap SPRM supaya mengadakan pilihan raya kecil bagi ketiga-tiga DUN tersebut.



Some random vain photos taken at tuition class
Posted: 23 Oct 2009 05:00 AM PDT
The vain person is not me but is my friend Jin Jie. He asked me to take photos of him. =)
Just a short post which I will not elaborate and write a lot as more photos of in tuition class is coming, we were having photo taking session for the past two weeks with my tuition teacher because he wanted it to keep as his memory.
The green shirt is Jin Jie.
If you are from far, tuition class is quite a popular thing in Malaysia and parents spend a lot for their children to go to tuition class, hoping to them to score good result in exam, because we always think that the teaching in school is not sufficient and I also agree with that a little bit.
Kin You, Lit Chen, Jin Jie, Yun Huai.
We just can't get away from tuition. It's part of Malaysian student's life. It's more popular in the urban area and I am not sure about that. I think 9 out of 10 of my friends go to tuition class.
Private one-to-one class or group tuition class, I prefer a group tuition class because I don't like quiet environment and mixing with friends is fun. I can always make some new friend from there.
So, do you go to tuition class? Do you have tuition classes in your place?
I am now in Singapore. Follow me at Twitter @nicholaschan and check out awayfromcomputer.com!
Posted: 23 Oct 2009 04:34 AM PDT
The loud reformer Obama himself proves even emptier in his promises than Bush.
President Obama keeps roaring out deadlines like a lion — only later to meow like a little kitty.
Remember, for example, how he bellowed to cheering partisan crowds that he would close down the detainment facility at Guantanamo within a year? The clock ticks — and Guantanamo isn't close to being shut down. It once was easy for candidate Obama to deplore George W. Bush's supposed gulag. Now it proves harder to decide between the bad choice of detaining non-uniformed terrorist combatants and the worse ones of letting them go, giving them civilian trials, or deporting them to unwilling hosts.
Going back further to September 2007, candidate Obama postured about Iraq that he wanted "to immediately begin to remove our combat troops. Not in six months or one year — now!" That "now!" sure sounded macho.
On Iraq, candidate Obama also railed that "the American people have had enough of the shifting spin. We've had enough of extended deadlines for benchmarks that go unmet." Talk about "unmet" deadlines and "spin" — here we are in October 2009, and there are still 120,000 U.S. troops in Iraq. The reason why Obama fudged on his promised deadline is that the surge in 2007 worked. American deaths plummeted. The theater is quiet. Iraqi democracy is still there after six years. Obama cannot quite admit these facts, but on the other hand, he does not want to be responsible for undermining them.
This July, our president roared out another impending deadline. He warned Iran that it had to prove its compliance with non-proliferation protocols by September — or face new consequences since the U.S. was not going to "wait indefinitely." Now it's October, and even the French are exasperated that Obama still sounds like the king of the jungle but acts like a purring house kitten. And no wonder that Iran and its patron Russia seem to be calculating that Obama will figure that a nuclear Iran is less troubling for him than the consequences of offending Vladimir Putin, spiking oil prices or using force in the volatile Middle East.
The list of differences between what the melodramatic Obama threatens or promises to do and what he actually does is endless.
Health care: The president once warned Congress that it had to pass comprehensive reform by the August congressional recess. August came and went, and now we're still waiting, waiting, waiting . . . .
Afghanistan: This was once Obama's promised war to win — the one we had to refocus on after supposedly taking our eye off the ball to fight in Iraq. Now, instead, we are suddenly blaming the eight-year-old Karzai government for not being the stable partner we need to finish the job.
Ethics reform: During the campaign, Obama vowed to end lobbyists in government, post legislation on the Internet five days before a presidential signing, and air health-care negotiations on C-SPAN.
In short, just imagine if Obama were to warn Congress to get health-care done by November 15 — or else; or to give Iran one last chance until the first of the year to stop enriching uranium; or to promise that Guantanamo really, really will close on March 1, 2010. Would anyone take him seriously, much less fret about the consequences of ignoring those vows?
Obama ran on the accusation that Bush missed promised targets and deadlines. Yet when the loud reformer Obama himself proves even emptier in his promises than Bush, he suffers from theatrical hypocrisy, too. But there is an even greater problem. Overheated rhetoric got Obama into these jams — and he seems to expect that his dramatic flair can always get him out as well. So we all await more of the empty hope-and-change hocus-pocus — as Obama explains how he never really promised to get out of Iraq "now!" or to "take further steps" against Iran in September 2009.
When Jan. 1, 2010, comes and goes, I expect the president to say that, "I can no more shut down Guantanamo than I can . . . ."
Well, by now you know the rest of what follows.
Victor Davis Hanson is a senior fellow at the Hoover Institution and a recipient of the 2007 National Humanities Medal. © 2009 Tribune Media Services, Inc.
Source: National Review.
Jailed a day for RM5,000 bribe
Posted: 23 Oct 2009 03:56 AM PDT
SHAH ALAM: A sand-mining operator was sentenced by a Sessions Court here to a day's jail and fined RM30,000 for giving a RM5,000 bribe to an assistant enforcement officer six months ago.
Lee Kui Sun, 47, was charged on May 8 with bribing Nor Zaini Ratiman, of the Hulu Langat district office, as an inducement not to take action against him for transferring and selling sand illegally.

He was accused of committing the offence at Sungai Long quarry in PN8602 Lot 7700 Hulu Langat about 7.30am on April 3.

He was charged under Section 17(b) of the Malaysian Anti-Corruption Commission (MACC) Act 2009.

During mitigation, Lee's counsel Lim Kien Huat said his client, a father of seven, was only a subcontractor as well as being the sole breadwinner for his family.

According to the facts of the case, the MACC Putrajaya, Hulu Langat Land Office and Rela were in a joint operation to check the Sungai Long quarry about 4am on April 3.

During the operation, the enforcement team caught lorries carrying sand out of the area without permit.

About 7am, Lee had approached Nor Zaini and another enforcement officer Mohd Shahril Che Saad, admitted that the sand activities had been carried out without a permit and begged them to settle the matter there.

He then offered RM5,000 to Nor Zaini so that no action would be taken against him.

Lee insisted on giving the money although he was told it was wrong for him to do so, calling his wife to get the money.

The MACC enforcement officer arrested Lee after he handed the money to Nor Zaini.

Judge Mat Ghani Abdullah ordered Lee to be jailed six months if he failed to pay the fine.

Posted: 23 Oct 2009 03:47 AM PDT
YAB Dato' Seri Mohd. Najib bin Tun Hj. Abd. Razak
Photo taken on 8 August 2009
since he took office, it looks like he's done well. (i do not do political talks through blogs,  so please expect no political speech here hehe).
Budget 2010 is a pretty good one too, in my opinion. comprehensive, holistic.
for now, it's Hail Dato' Seri from me.
p.s.: hail to Pak Lah too – simply for refusing to sit at VIP seats but sitting among all other perwakilan instead, during Persidangan UMNO recently. that is as humble as a great person could be.
Best Way To Store Digital Photographs
Posted: 23 Oct 2009 02:22 AM PDT
One of the surviving digital photographs taken with the Nikon Coolpix 3100.
My first digital camera was the Nikon Coolpix 3100. I must have taken some 8,000 shots with this tiny camera until I upgraded to the Canon Powershot A610 some time in end-2005. Most of the images taken with the Coolpix 3100 were kept in the hard drive of my desktop computer in Penang. Unfortunately, the drive failed when I wanted to back up the images to CD-R. All I have left are the images stored in Wuan's computer the times I visited her here in Kuala Lumpur before I moved down.
Theoretically, digital images last forever. However, their longevity are dependent on the media that they are stored in. Most of my hard drives last an average of three years. CD-Rs last a little longer if they are properly stored. I tend to leave them lying around unprotected. They usually accumulate dust and scratches over the years. I lost some images that way too. Those lost images leave a gaping hole in the chronicles of my photography journey. I am determined not to lose any from now on.
I have learnt my lessons. Between Wuan and I, we have 40,000 digital photographs. For us, backing up images has become a continuous process now. The images from the cameras are downloaded to my 160GB external drive or Wuan's 40GB external drive. From there, the images are then transferred to DVDs. They are stored in two separate copies and those copies stored in different locations. That is what we are doing for our existing digital photographs. I am also looking at a 1TB external drive for primary back up as the current 160GB external drive is fast filling up. At the same time, I am looking around for better quality DVDs for this purpose too. Please do share with me how you store your digital photographs.
Related posts:
Era Najib Altantuya : Mursyidul Am PAS Kecewa Bila Keputusan Muktamar Tidak Dipatuhi
Posted: 23 Oct 2009 02:36 AM PDT
C
adangan Mursyidul Am PAS, Datuk Nik Aziz Nik Mat agar diadakan satu mesyuarat agung luar biasa untuk menentukan hala tuju kepimpinan PAS dipercayai ekoran kekesalan pemimpin veteran PAS itu terhadap apa yang berlaku di Selangor.
"Saya percaya Nik Aziz sangat kesal dengan apa yang berlaku di Selangor. Yang lebih dikesalinya adalah beliau tidak nampak ada sebarang kenyataan apatah lagi tindakan dari pemimpin PAS terhadap Hasan Ali yang menggoncang kerajaan Selangor dari dalam itu.
Padahal muktamar PAS telah memutuskan untuk memperkuatkan Pakatan Rakyat.
"Ia menjadi semakin parah apabila PAS kalah di Bagan Pinang. Salah satu puncanya dikatakan kerana kekurangan sokongan orang bukan Islam. Salah satu puncanya pula dikatakan kerana mereka tidak berpuashati dengan apa yang berlaku di Selangor," kata seorang penganalisa politik PAS.
Beliau mengulas tulisan Nik Aziz dalam blognya semalam. Nik Aziz dalam tulisan itu mencadangkan agar diadakan satu mesyuarat agung khas untuk memilih kepimpinan PAS yang baru.

Tulisan Nik Aziz dipercayai dibuat bagi mengulas tulisan Profesor Dr Abdul Aziz Bari dalam sebuah akhbar harian yang melebelkan Presiden PAS, Datuk Seri Abdul Hadi Awang bersama timbalannya, Nasharudin Mat Isa dan Setiausaha Agung PAS, Datuk Mustafa Ali sebagai pro Umno.

Ekoran itu, Aziz mencadangkan agar PAS membuat perubahan pimpinan dan mencadangkan nama Menteri Besar Kedah, Datuk Seri Azizan Razak sebagai ganti Abdul Hadi kerana bagi beliau Azizan lebih terbuka dan PAS Kedah pula lebih tersusun berbanding PAS Terengganu.

Tulisan Aziz diserang hebat oleh Ketua Penerangan PAS, Idris Ahmad dalam web PAS, Harakahdaily. Harakahdaily juga menyiarkan tulisan sebuah badan PAS dari Terengganu yang juga menyerang Aziz.

Semalam, Harakahdaily menyiarkan pula tulisan yang pro kepada Aziz yang dibuat oleh AJK PAS Pusat, Mohamed Hanipa Maidin. Tulisan Hanipa mengambil sikap terbuka dengan tulisan Aziz sebagai satu kritikan untuk mematang dan membetulkan PAS.

"Saya yakin Nik Aziz kesal dengan apa berlaku di Selangor dan dia tidak lihat apa pemimpin PAS yang ada buat untuk membetulkannya," kata penganalisa itu.

Sementara itu, menurut sumber, Menteri Besar Selangor, Tan Sri Khalid Ibrahim telah menghantar sepucuk surat kepada Abdul Hadi dan lain-lain pimpinan utama Pakatan Rakyat untuk memperbetulkan apa yang berlaku di Selangor.

Beliau dikatakan merujuk kepada kes Hasan Ali dan meminta PAS khasnya membuat satu Standard Operating Procedure (SOP) dalam kes membuat kenyataan akhbar di kalangan pimpinan parti untuk mengelakkan pertembungan berlaku lagi di kalangan pimpinan Pakatan.

Namun, The Malaysian Insider difahamkan, Abdul Hadi belum menjawab surat itu dan pejabat MB Selangor dikatakan ternanti-nanti apakah reaksi PAS terhadap surat itu.

Namun begitu, The Malaysian Insider di fahamkan, tindakan telah diambil oleh PAS melalui Majlis Pimpinan Pakatan Rakyat.

Baru-baru ini, Datuk Seri Anwar Ibrahim dalam sidang medianya bersama Abdul Hadi dan Lim Kit Siang telah memberikan amaran agar para pimpinan Pakatan Rakyat berhati-hati dalam membuat kenyataan media.

Beliau meminta agar semua masalah sesama mereka diselesaikan menerusi mekanisma Pakatan.

Menurut sumber, Pakatan Rakyat telah menubuhkan Majlis Bersama Pakatan Rakyat yang dianggotai oleh 33 anggota iaitu 11 dari setiap parti.

Ia juga akan ditubuhkan di peringkat negeri untuk menjadi platform antara mereka.
Weekend in Port Dickson – Pictorial
Posted: 22 Oct 2009 11:28 PM PDT
As promised here is a pictorial entry on what we did last weekend. I am warning you this post banyak GAMBAR MENJOLOK MATA, MAKA BERSEDIA LAH KAU KASSIM SELAMAT!
To those who cannot load the many photos, let me share with you one secret on fast downloading – NEW COMPUTER. Hahaa
We went to Port Dickson last Sunday and spent one night there at Selesa Beach Resort. Never heard of that hotel before? Well, me too. We pre-booked a room at Corus Paradise Resort, but once we arrived there, hell, if this is paradise then Putrajaya must be called Las Vegas, I'm telling ya!
So, bye bye Corus and we walked in to Selesa. Though we knew it was 4 stars but come on… it's Port Dickson, what do you expect, right? But I guess we were wrong and I fell in love with that place instantly. It might be the low expectation, it might be time gap since our last holiday (Bangkok wasn't it?), but one thing for sure, we had such a great time in Port Dickson!
Immediately after checking in, we got ready to hit the beach. I put Miki on a swimming diaper, go change into my swimsuit and go back to Miki and saw that he pooped. Great! We only had two of those expensive diapers, kid! Can't you just poop in your normal Drypers? Ughhh… He does that all the time, go to new place and poop to mark new territory. Macam kucing pulak, tau lah binatang kegemaran adalah kucing.
Anyway, after we wasted a swim diaper in 4 minutes, we went to the beach. It was just outside our room's patio. Nice!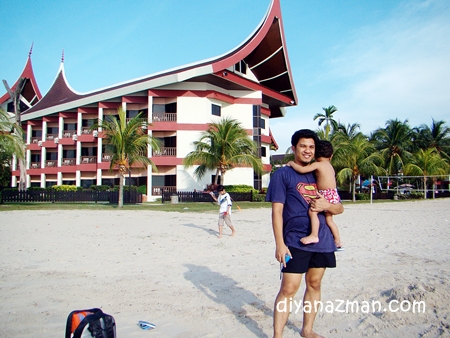 Selesa Beach Resort, our room was on the ground floor behind Azman.
View from our patio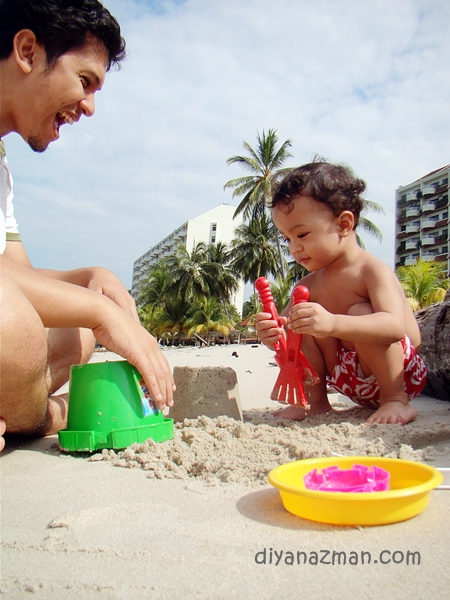 Building sand castle. More like we build sand castle and Miki demolishes sand castle.
Miki had so much fun playing with sand. He digged some, threw some, ate some. I couldn't remember Port Dickson can have such white sand. On that day they weren't so many rubbish and people as well. Almost had the beach all to ourselves.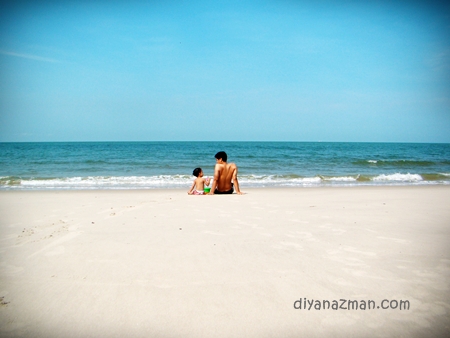 Daddy and Son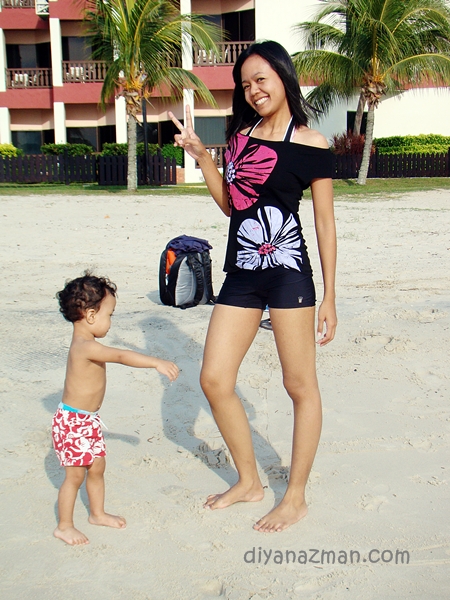 Mummy & Son.
Sebab takde orang, boleh la pose gedik lite-lite… We hang out at on the sand till late afternoon, then sambung rendam Miki dalam swimming pool pulak.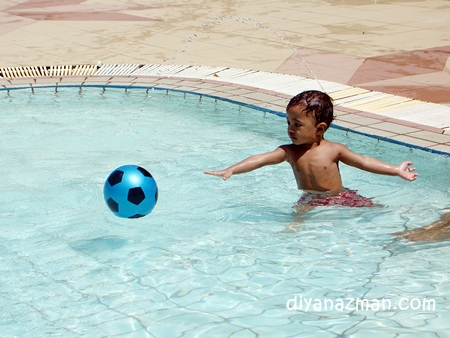 At night we had a nice ayam bakar and ikan bakar dinner in some restaurant that I cannot remember its name, jalan-jalan at the nice pasar malam and bought some stuff including a bottle of blowing bubbles for Miki.
The we went back to the pool and lepak there playing soap bubbles with our kid. It was so nice to get to relax under the stars like that. With cool ocean breeze and all. I wish I could do this every night.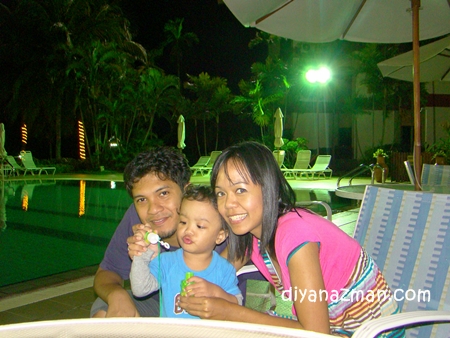 Chilling by the pool. Masing-masing muka lebam lepas lepak pantai, yang aku pelik Miki apsal tak gelap pun. Aku jerr dari Mocha Latte ke Americano…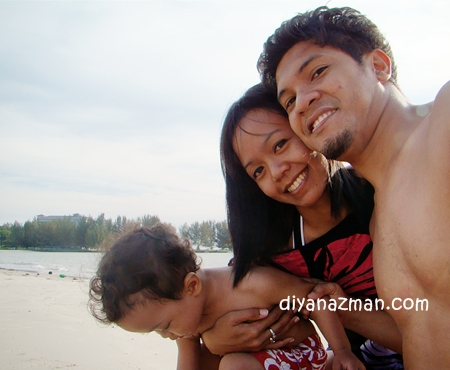 The next day, we had a nice breakfast of which Miki had 3 drops of orange juice to drink and a whole lot of air to breath. Then we went to beach again and to the pool again. We even collected live clams from under the wet sand (which Miki was so amazed and siap gigit on few sebab saja nak rasa)  before we said farewell to the not-so-notorious anymore Port Dickson.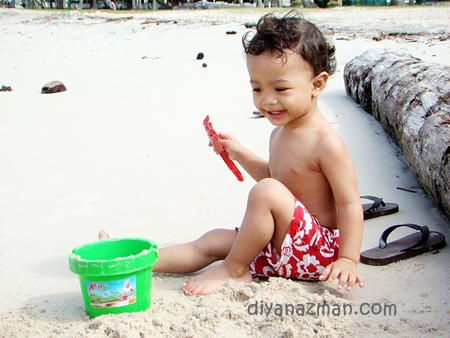 Our short holiday was not an expensive one, not a fancy one. But I believe if you spend even the littlest money, the shortest time but with lots of love with the people you care – everything would be great!
Seize the day, guys! Have a nice weekend!

ps- my favourite photo from this trip is the one on the new masthead..

Posted: 22 Oct 2009 11:02 PM PDT
State Housing, Town and Country Planning & Arts Committee chairman Wong Hon Wai (second right) with judges Leong Hoy Yoke (right), Haryany Mohamad (left), Thanneermalai Muniandy (third right), Felix Chua (second left) and Julina Ismail evaluating some of the designs.
As reported in The Star.
Monday October 12, 2009
A difficult time for mascot design judges
JUDGES for the state government's Competency, Accounta-bility and Transparency (CAT) mascot design competition are having a hard time selecting a winner from the 234 entries submitted.
State Housing, Town and Country Planning Committee chairman Wong Hon Wai said most of the participants were students from all over the country, and the youngest was 14 years old.
"Such overwhelming response show that the younger generation recognise our (state government) efforts in making CAT governance a way of life."
He told a press conference on Saturday that the winning design would associate the state government with dynamism, competency, creativity, integrity and social harmony.
"The state will consider making the winning design the official state mascot. As we have a lot of designs to evaluate, we hope to announce the winning design within a month.
"The judges are art and design experts Leong Hoy Yoke, Haryany Mohamad, Thanneermalai Muniandy, Felix Chua and Julina Ismail," he said.
There are four prizes: three special prizes and one top prize. Each special prize winner will receive an award of RM1,000 while the top prize winner will receive RM3,000.
As reported in Guang Min Daily.
老虎 獅子 貓頭鷹也來了•檳福貓設計賽變動物園
2009-10-12 00:00
(檳城訊)"福貓設計比賽"變成動物園,參賽者充分發揮天馬行空的豐富想像空間,在接獲的234份作品當中,也不乏有奇珍異獸,如老虎、獅子及貓頭鷹。
檳州城鄉規劃、房屋及藝術委員會主席黃漢偉行政議員指出,2009年檳州福貓設計比賽共接獲234份來自全國各地的作品,即日起由5名專業評審做出評估,並將會在一個月內舉行頒獎儀式。
他說,這次比賽的主題雖然是"福貓",但只要是"貓科類"的作品,如老虎、獅子等也被大會接受,但是否可以獲獎,則交由評審滿足決定。
貓科類作品也接受
他說,是項比賽獲得年輕一代的響應,最年輕的參賽者只有14歲,最年長是40歲,最多的參賽者來自檳城,其次是雪蘭莪。這也顯示了年輕一代認同州政府打造一個能幹、公信及透明(CAT)的良好施政,同時也要融同入企業運作及普通市民的生活文化。
"在這項福貓設計比賽當中,年輕一代通過他們的作品表達了他們對檳州政府期望,希望領袖們能維護公共體系中的廉正、政治倫理及道德價值觀。"
"我們要讓年輕人相信未來一片光明,充滿平等機會、公平競爭的平台及社會公義。每個馬來西亞人都有權利在我們所熱愛的國家,享受民主、公正、法治、廉潔、人類尊嚴及自由及政治平等。"(TTK)
作品須能反映三民使命
黃漢偉說,脫穎而出的福貓作品必須能夠反映檳州的活力、能力、廉正及社會和諧,展現州政府立志實踐"三民"的使命:啟迪民智、賦權予民、富國強民。
"我們的評審團包括5名在檳州藝術設計領域皆有卓越成就的人士,他們是:梁海煜、哈雅妮、旦雅文萊、蔡繼隆及朱麗娜,他們將推薦優秀的作品給檳州政府。"
他指出,州政府將頒發4份獎項(3份特別獎及1份首獎)給得獎人士。每名特別獎得主可獲得1000令吉獎金。首獎得主的作品將被州政府選為檳州福貓,並可獲得3000令吉的獎金。"
針對優勝作品是否成為檳城的新標志,這則有待州政府的考慮。(TTK)
Counter
Data
.com
credit cards
Counter
Hari terbuka PAS Kampung Melayu
Posted: 22 Oct 2009 10:57 PM PDT
Bergambar bersama PAS Kampung Melayu, Air Itam
Counter
Data
.com
credit cards
Counter
Posted: 22 Oct 2009 09:40 PM PDT
Random food from my Langkawi holiday in August 2009…
Nasi Pattaya (Pattaya rice) @ Oriental Village
Fried rice wrapped in an omelette, a common dish in Malaysia; in fact pretty common in East Asia with slight variances. The Malaysian version, I assumed, was originated from Thailand with its namesake popular beach-resort-city.
Langkawi trip random food from YeinJee's Asian Journal
altantuya Najib dares not come clean. Mahathir wants to come clean - nizar nizar nizar nizar nizar
Posted: 22 Oct 2009 10:38 PM PDT
The former premier is disappointed that he has been robbed of the chance to take the stand in court and clear his name.
Dr M wants to come clean but Najib dares not come clean over the scandal that linked him to the murder of Altantuya.
Tengku Razaleigh in his post '
We should all come clean
' said:
Swearing on the Al-Quran
is not the way out. Scoundrels have been known to do that. The truth, established through the rigorous and public scrutiny of the law, is the only remedy if an untrue story has gained currency not just internationally but at home among a large section of the people. Najib should voluntarily offer to testify at the trial of the two officers charged with killing Altantuya Sharibuu. He could also write to these newspapers and if necessary he should take legal action against them to clear his name and that of our country.
Posted: 22 Oct 2009 10:27 PM PDT
THIS is an excerpt of an article from the Malaysia Today. It comes after the recent announcement by the Prime Minister to declare 16 September as a national holiday to commemorate Malaysia Day. My two cents: We have to always be guided by the intention of our founding fathers. And be better...

THE 20 POINTS

The agreement
Point 1: Religion
While there was no objection to Islam being the national religion of Malaysia there should be no State religion in North Borneo, and the provisions relating to Islam in the present Constitution of Malaya should not apply to North Borneo.
Point 2: Language
a. Malay should be the national language of the Federation.
b. English should continue to be used for a period of 10 years after Malaysia Day.
c. English should be an official language of North Borneo for all purposes, State or Federal, without limitation of time.
Point 3: Constitution
Whilst accepting that the present Constitution of the Federation of Malaya should form the basis of the Constitution of Malaysia, the Constitution of Malaysia should be a completely new document drafted and agreed in the light of a free association of states and should not be a series of amendments to a Constitution drafted and agreed by different states in totally different circumstances. A new Constitution for North Borneo (Sabah) was of course essential.
Point 4: Head of Federation
The Head of State in North Borneo should not be eligible for election as Head of the Federation.
Point 5: Name of Federation
"Malaysia" but not "Melayu Raya".
Point 6: Immigration
Control over immigration into any part of Malaysia from outside should rest with the Central Government but entry into North Borneo should also require the approval of the State Government. The Federal Government should not be able to veto the entry of persons into North Borneo for State Government purposes except on strictly security grounds. North Borneo should have unfettered control over the movements of persons other than those in Federal Government employ from other parts of Malaysia into North Borneo.
Point 7: Right of Secession
There should be no right to secede from the Federation.
Point 8: Borneanisation
Borneanisation of the public service should proceed as quickly as possible.
Point 9: British Officers
Every effort should be made to encourage British Officers to remain in the public service until their places can be taken by suitably qualified people from North Borneo.
Point 10: Citizenship
The recommendation in paragraph 148(k) of the Report of the Cobbold Commission should govern the citizenship rights in the Federation of North Borneo subject to the following amendments:
a) sub-paragraph (i) should not contain the proviso as to five years residence.
b) in order to tie up with our law, sub-paragraph (ii)(a) should read "7 out of 10 years" instead of "8 out of 10 years".
c) sub-paragraph (iii) should not contain any restriction tied to the citizenship of parents – a person born in North Borneo after Malaysia must be federal citizen.
Point 11: Tariffs and Finance
North Borneo should retain control of its own finance, development and tariff, and should have the right to work up its own taxation and to raise loans on its own credit.
Point 12: Special position of indigenous races
In principle, the indigenous races of North Borneo should enjoy special rights analogous to those enjoyed by Malays in Malaya, but the present Malays' formula in this regard is not necessarily applicable in North Borneo.
Point 13: State Government
a) the Prime Minister should be elected by unofficial members of Legislative Council.
b) There should be a proper Ministerial system in North Borneo.
Point 14: Transitional period
This should be seven years and during such period legislative power must be left with the State of North Borneo by the Constitution and not be merely delegated to the State Government by the Federal Government.
Point 15: Education
The existing educational system of North Borneo should be maintained and for this reason it should be under state control.
Point 16: Constitutional safeguards
No amendment modification or withdrawal of any special safeguard granted to North Borneo should be made by the Central Government without the positive concurrence of the Government of the State of North Borneo.
The power of amending the Constitution of the State of North Borneo should belong exclusively to the people in the state. (Note: The United Party, The Democratic Party and the Pasok Momogun Party considered that a three-fourth majority would be required in order to effect any amendment to the Federal and State Constitutions whereas the UNKO and USNO considered a two-thirds majority would be sufficient).
Point 17: Representation in Federal Parliament
This should take account not only of the population of North Borneo but also of its seize and potentialities and in any case should not be less than that of Singapore.
Point 18: Name of Head of State
Yang di-Pertua Negara.
Point 19: Name of State
Sabah.
Point 20: Land, Forests, Local Government, etc.
The provisions in the Constitution of the Federation in respect of the powers of the National Land Council should not apply in North Borneo. Likewise, the National Council for Local Government should not apply in North Borneo.