---
Posted: 28 Oct 2009 09:12 AM PDT
Saw a new video made by Namewee, I am kinda fan of him. In this latest video, he got heated and angry over the blackout at his residential area. He was in the middle of composing a song and, BLACKOUT. The whole area went dark but the funny thing is there's electricity at the Muar's TNB building. See the video and see how he went to the TNB to complain and scold at those lazy ass.
This posting includes an audio/video/photo media file: Download Now
nizar najib altantuya: 1Malaysia Tragedy - Search continues for missing two schoolgirls
Posted: 28 Oct 2009 09:00 AM PDT
Search continues for missing two schoolgirls

KAMPAR, Oct 28 – The search and rescue operation is continuing, except for a brief spell from 6.30pm when it was stopped due to heavy rain, for the two primary schoolgirls who went missing in the Kampar River after a suspension bridge collapsed on Monday night near Sekolah Kebangsaan Kuala Dipang near here.
Kampar police chief Supt Aziz Salleh said more than 300 personnel were taking part in the operation.
The girls, V. Divyahshree, 12, of Sekolah Kebangsaan Tamil (SRJK) Gopeng and M. Davadharshini, 11, of SJK Tamil Mambang Di Awan, went missing after they and 20 other pupils fell into the river when the bridge collapsed as they were crossing it.
Nineteen of the pupils were plucked out from the swift-flowing waters but N. Dina Deve, 11, of SJK Tamil Mambang Di Awan, drowned. They were among almost 300 pupils from about 60 primary schools who were to have participated in a unity camp near the school.
The parents of Divyahshree and Davadharshini offered prayers and sprinkled flowers near the collapsed bridge.
The parents waited by the river as the search and rescue team extended their operation up to 30km downriver to Sungai Galah near Batu Gajah.
Six officers from the Public Works Department in Kuala Lumpur were also at the scene today to study the structure of the collapsed bridge. – Bernama
Posted: 28 Oct 2009 09:00 AM PDT
I'm going to spend my first weekend of November 2009 in Penang. Since i have been Penang millions and millions times... this round i wanted to mark my food print in my blog to introduce the food paradise to the world... so my reader will be benefit from my posts. Bahija has sent me a mail few months back to request me to send her some recommended place for her next visits. Bahija, do stay tune my blog for latest recommendation eh~
Before going to the recommended places, i would like to seek for some of your suggestion on where i could get more good food. I know couple of nice places which i did visit them on my last few visits. Any new recommendation ?
Any Penangkia mind to share?... I know one Klang-kia likes CKT so much until whenever i ate CKT @ Penang, he asked me to think of his sad face.... Klang-kia, wanna to join me to Penang this round for all the possible CKT that you can get in Penang... :p
Char Keoy Teow (CKT)
Penang Penang Here I come again...
From Link Hotel to Outram Park to Vivo City
Posted: 28 Oct 2009 08:07 AM PDT
Continued from previous journey, Alvin and I were at Bugis and we took the cab to go to check-in at our sponsored hotel and that is the Link Hotel. I actually saw this Link Hotel two years back when I was having my dinner at Tiong Bahru and now get a chance to stay in it.
The taxi driver didn't really know his way around, luckily I still remember it's near a market and we arrived after some turn. He did give me a discount afterall. The hotel is a 4 story heritage-look building with a bridge in the middle link to blocks, so I guess it's where there name came from.
Checked in the hotel and didn't find any Nuffnang people hanging around in the lobby. The hotel girl told me that they were here but actually they were still on the bus. Drop our luggage in the hotel room, checked some email in the net and we went out for a walk. The room is quite small by the way but it's nice for two of us and the best is that there's free Internet connection in the room via LAN.
We didn't want to take the cab and we went to look for the nearest MRT. One thing is bad about the hotel is that it's not near to the MRT station. The nearest MRT station is 10-15 minutes walk away and that is the Outram Park station. Since we got plenty of time, so we went walking.
I actually got no idea where to go. Alvin didn't know the way around so I was his guide most of the time because I know a little bit about Singapore. After some thinking, we bought tickets to Harbour Front station which is only one stop away and the place lies Vivo City, one of the biggest shopping mall in Singapore.
It was just window shopping. Didn't buy anything, found a very cool shirt but didn't buy. Regreted.
Spent like 2 hours there, took lots of photograph and explored the whole mall. A place that is very happenings and I like happening place. It's so unlike mall in Penang. Malls in Penang are so quiet on the weekday. Boring.
We then took the train back to the hotel again, thought that it was late and we walked fast. But actually we were still early because when we were going back, the Malaysian bloggers has just only arrived at the hotel. =)
Next stop: Nuffnang Asia Pacific Blogs Award at Pan Pacific Hotel Ballroom.
photos without watermark are taken by Alvin's D90.
Posted: 22 Oct 2009 07:41 AM PDT
Was at ECP with Nic for a very late lunch. He decided to head to Mac for lunch before heading further down to rent the bikes. And so, I was craving for Mac's garlic chilli for a very long time, I ordered Mac Nuggets meal and took pumps and pumps of the garlic chilli.
And then we were given this sticker thing, which I thought I have to collect in order to enjoy rebates of some sorts. (You know, like those aunties who collect the stamps at Shop N Save in order to have like 5% rebate of your bill) But it's not. It supposed to be like those cards you collect when you purchase a set of property when you play Monopoly.
Instead of buying property within the same colour, this time you have to collect the stickers of the same colour in order to have A CHANCE of winning the price in that section.
Every Extra Vale Meal (EVM) set entitles you to 2 sets of stickers (4 pcs of stickers)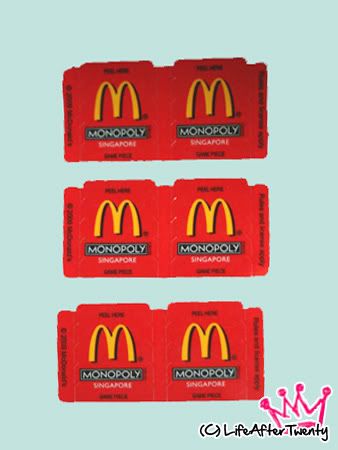 Then you supposedly have to peel out the stickers and stick it onto a hard surface. ( I didn't.) Just peel out the top portion of the sticker will do.
After you tear out the sticker, this will be the "cards" that you are supposed to collect. There are a total of 8 colours to collect. So, all the best people~!!
Close up shots – Donated to Vanessa. (when I have my next mac meal, i will share the stickers again~!)
Posted: 15 Oct 2009 07:12 AM PDT
Courtesy of Miss Cherie who gave me $30 CapitalLand vouchers as my birthday present, I finally decided to buy THE CONVERSE SNEAKERS which I had been secretly (maybe not to those ppl whom i kept whining to) eyeing for a long long time!!
It's retailed at $65.90. I know many will say converse sneakers doesn't worth that price. Besides, the sneakers isn't made of leather, it's just normal CANVAS sneakers.
But the thing is, I have this fetish for thick shoelaces since my secondary school days. I always buy US Masters shoes match with thick shoeslaces I bought from 77th Street, together with US Master socks – which others said look like those socks that Japanese girls wear. And back then, there wasn't any white (slim-fitting) shoes that came with white shoelaces, and thus my "modified" shoes.
And now, finally with sponsorship from Cherie, I finally own my THICK THICK SHOELACES SNEAKERS~!!!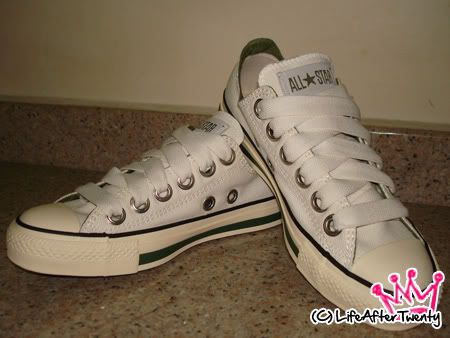 Nic says those cream-like laces doesnt look outstanding enough, and therefore, upon further modifications, this is my end product… but the green laces aren't my best alternatives. Couldn't find the shade of green that made the sides of the shoes and that is thick enough.
Shall make do with this at the moment. =D
nizar: CAN 100PLUS CURE DENGUE? - nizar nizar nizar nizar nizar nizar nizar nizar
Posted: 28 Oct 2009 07:42 AM PDT
Can 100Plus cure dengue?
Husna Yusop
KUALA LUMPUR (Oct 21, 2009): Can 100Plus cure dengue?
That was the question posed by Datuk Ibrahim Ali (Ind-Pasir Mas) during a question-and-answer session in the Dewan Rakyat today.
He said he heard some people were cured of dengue after drinking the isotonic drink but in some cases, it did not leave any effect.
Expressing concern that the widespread belief could endanger the life of certain people such as diabetics, he asked Deputy Health Minister Datuk Rosnah Abdul Rashid Shirlin the measures taken by the ministry to give the right information to the public.
"What is the method used by the ministry to create awareness among the people so that they consume medicine not based on belief but based on medical reference?" he asked.
Rosnah said she was aware of it herself, but to date there was no scientific analysis which could support it.
"However, I'd like to share my experience here that one of my relatives too had consumed the drink when he was infected by dengue. Alhamdulillah (Thank God), so far he is healthy, has recovered and it (100Plus) did not do him any harm," she said, adding she would consider Ibrahim's suggestion and will get a good answer for him later.
She added that the ministry had set up special hotlines to give information and explanation to the public on certain diseases.
Earlier, Karpal Singh (DAP-Bukit Gelugor) asked whether dengue was an endemic in Malaysia and what were the efforts taken by the government to combat the rise in cases.
Rosnah said it was an endemic disease in the tropical and sub-tropical areas, including Malaysia, but the number of dengue cases hds been on the decline this year.
"In the first week of this year, 1,633 cases were reported with an average 1,176 cases reported every week until March.
"However, thanks to the government's prevention and control efforts and with public cooperation, in the 41st week (from Oct 11 – 17), only 563 cases were reported," she said.
Until Oct 17 also, she said, the number of accumulated dengue cases was 33,123 compared with 36,234 in the same period last year – a fall of 3,111 cases.
She said the number of dengue-related deaths also fell from 80 cases last year to 72 in the same comparative period.
In the same period, the number of dengue cases in nine states also fell, except for Selangor, Penang, Sarawak, Perlis, Malacca and Sabah, she said, adding the government spent RM12 million on promotional activities through the media.
(Source: Sun2Surf)

Posted: 18 Oct 2009 07:01 AM PDT
Aunt just came back from Australia and she brought back a whole bag of nougats and chocolates for us!
Putting both together, of course I'd choose Nougats! That's why its featured on my blog~! Whee~!!
The original crunchy one is loves~!!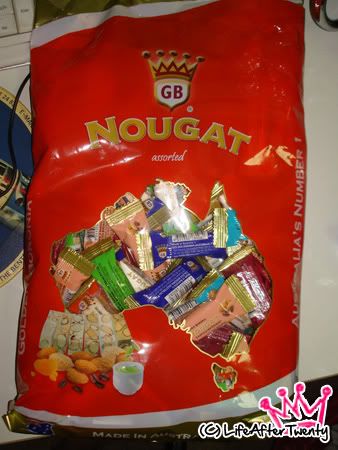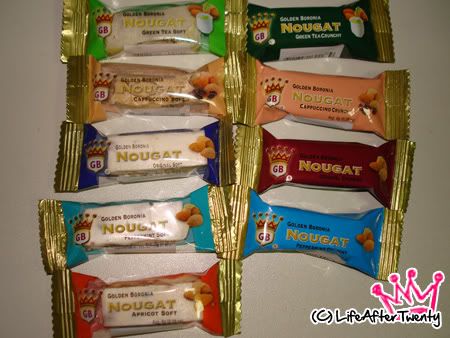 The 7 types of nougats…
The Chewy Series
Green Tea Soft, Cappuccino Soft, Original Soft, Peppermint Soft, Apricot Soft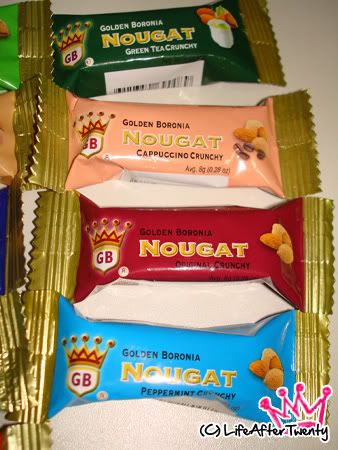 The Crunchy Series
Green Tea Crunchy, Cappuccino Crunchy, Original Crunchy, Peppermint Crunchy
I don't know why there isn't any Apricot Crunchy to complete the series. Maybe there is, but I couldn't find it.
My Nephew in the New Straits Times
Posted: 28 Oct 2009 06:11 AM PDT
Getting physical with The Brothers Grimm
Oliver Johanan Peters tells GWEN MANICKAM he's thrilled about doing physical theatre in A Grimm Fairytale
Click on image to enlarge
"OF course, I still live at home, I'm Indian, aren't I?" says Oliver Johanan Peters, one of seven young talents in director Helena Foo's theatre production, A Grimm Fairytale. Peters, 24, is an only son and the youngest of four children in his family but he stresses: "I'm not pampered. My three sisters bully me. I've cautioned them that I may be the one who selects their retirement homes, so..."
Of the new production, an excited Peters says: "This is the first time I'm doing physical theatre, which is different. In theatre, people walk on stage, do something and walk off. In physical theatre, it's extremely exaggerated. Lots of contemporary dance moves, action and music. For example, if I play a wolf, I'd have to interpret and create all the characteristics and actions to bring the wolf alive, not just walking on all fours."
With the rest of the cast – Lex Balakrishnan, Claudia Low, Nur Zakuan, Gabriella Robinson, Capri Chin and Seshadri Kalimuthu – Peters has been training with exercises and interaction. "A lot of moving and bending, and playing characters as well as pretending to be prop, or an action or even an emotion. It feels like something new age, really awesome."
At his first rehearsal, when the director played music and told the cast "let themselves go", Peters turned rigid. "I was the only one with no dance background, so you can imagine my trauma. I was so stiff. I had no idea how I was going to make it. But thanks to the supportive cast members, I was nimble enough by the second rehearsal. Now I love every minute of it."
Inspired by the original Brothers Grimm Fairytales, Foo has woven three Grimm stories – The Little Red Cap (original name of Little Red Riding Hood), Rapunzel and Hansel & Gretel – into a single 90-minute play. The performance will stay close to the original Grimm stories, which are different from modern versions we read today. For example, in The Little Red Cap, after the first wolf is killed, there is a second wolf and a sequel to the story. And at end of Hansel & Gretel, the children cross the river to return home on the back of a duck.
"In this production, the familiar stories and lovable characters are placed in a cleverly built virtual setting. The set feels more urban than mediaeval. It's a plaster miniature that the cast made themselves," says Peters excitedly. "It was then filmed in parts. In the video backdrop, an expectant mother narrates the three stories to her unborn child while on stage, the characters come alive." Peters started live performances at age 13. "I did choral speaking with numerous church productions," he says. "The church play directors are experienced and hosted many theatre workshops which I took part in and learned from."
After school, Peters studied theology and philosophy for 2½ years while working part-time at The Actors Studio. This, he says "exposed me to a great, different way of expressing myself, so I decided to put religious studies on hold and pursue theatre full time." He began performing for local audiences last year, starting Theatre For Young People (T4YP). With this troupe, he performed Ten: Theatrical Lightning Strikes Human Relationships (nominated for best ensemble performance for the Boh Cameronian Awards 2008), The Sonnets Of William Shakespeare, Love And Beauty and T4YP's 24 Hour Theatre, the T4YP Sweatshop.
He was last seen entertaining the audience as Mr Din in All Hail The King during Short+Sweet Malaysia 2009. He also does stand-up comedy with the Young Comedians Of Malaysia (YCOM). Peters has been asked to act with the T4YP ensemble 2009 for Rosencrantz And Guildenstern Are Dead and as Horatio in the 15-Minute Hamlet.
"I really want the confidence that comes with the experience of being in as many productions as I can get into." He took part in a Shakespeare workshop conducted by theatre veteran Jeff Kevin from Australia, that concluded with a workshop performance, titled From The Page And On To The Floor at KLPac. But, as much as he loves theatre, it's not enough to pay the bills, so Peters works in commercials and on TV. "I'm absorbing all I can now because in two years time, I would like to go to England or Australia to work and study theatre.
Catch A Grimm Fairytale from Oct 29 to Nov 1, 8.30pm (3pm matinees on Oct 31 and Nov 1) at Pentas 2, KLPac. Tickets RM33 (adult), RM23 (seniors), RM18 (students and the disabled). Dress up on Halloween night (Oct 31, 8.30pm) and get A Grimm's Fairytale goodie bag.
NST
Any alcohol ban is doomed to fail
Posted: 28 Oct 2009 06:05 AM PDT
Personally speaking, Islam should be afforded the same respect it bestows on other religions-edit.
I refer to the letter
Hasan Ali 'a beacon of light for Islam'
. Politics aside, I would like to express my concerns 'openly and uninhibitedly' - as the writer suggested, on a few points raised in his letter.
The recent charade about the sale of canned and bottled beer in Shah Alam is telling in many ways. I can still recall a series of pictures of Chinese PAS supporters drinking canned beer and posing before the press at their operations centre in Terengganu. It was the height of the 2004 general elections, and subsequent criticisms of the matter were duly reported in the New Straits Times.
I suppose there is a difference in behaviour during courtship and after.
If Hasan Ali is keen to regulate the sale of canned and bottled beer, he should call for the regulation of such goods under the liquor license (or motion for a new license). It is immature of our politicians to frame it as a religious and cultural tussle, when no such conflict exists. If our argument is on the easy access to intoxicating beverages like beer near residential areas, then a restriction on sales through licensing is the answer. Why make arguments along a divisive path of religious sensitivities - thus pitting the Muslims against the non-Muslims?
Continued here in full from Malaysiakini
Kenyataan Media Nizar dan Sivakumar
Posted: 28 Oct 2009 05:26 AM PDT
P
ihak polis menahan kami beberapa kali sebelum boleh masuk dewan, tidak pernah berlaku Adun dilayan seperti penjenayah.
Apabila kami tidak mahu menyerahkan jubah dan kekerasan digunakan untuk merampas songkok dan jubah. Mereka menekan dan mencekik saya supaya saya tidak bernafas dan lemah. Walaupun Adun PR cuba menyelamatkan tetapi mereka menghadapi ramai polis.
Sivakumar menunjukkan sekali lagi cebisan jubah yang masih tinggal sebagai simbol demokrasi.
Sivakumar mempersoalkan tindakan kami dilarang membawa masuk kamera. Juga beliau mendakwa semacam dirancang tidak ada anggota media dalam ruang legar SUK semacam hendak mengelak media melihat apa yang berlaku.
Speaker Sivakumar mengesahkan sidang pada hari ini dengan meluluskan tiga usul iaitu usul berkaitan tragedi di Kuala Dipang, tahniah dengan prestasi Kerajaan PR dan pencalonan seorang calon untuk menjadi Ahli Dewan Negara yang baru.

Sementara itu Datuk Seri Nizar Jamaludin pula berkata, rombongan Adun PR telah dihalang oleh 5 sekatan dan ini bercanggah dengan demokrasi. Terbukti kekecohan bermula dari arahan defekto BN.

"Saya rakamkan disini atas arahan BN kepada pihak polis menghalang kami."

"Jika Speaker itu haram maka usul, bajet adalah tidak sah dan semuanya tidak mengikuti peraturan."

"Saya mendesak Menteri Keselamatan Dalam Negeri, Hishamuddin wajib meletakkan jawatan kerana tindakan polis yang memalukan," ujarnya lagi.


Era Najib Altantuya : BN Tolak Usul Tragedi 1 Malaysia
Posted: 28 Oct 2009 05:23 AM PDT
U
sul yang dibentangkan Ahli Parlimen Pakatan Rakyat berhubung tragedi perkhemahan 1 Malaysia Kuala Dipang, Kampar baru-baru ini ditolak Dewan Rakyat.
Ahli Parlimen Gopeng Dr Lee Boon Chye berkata beliau amat kesal pemerintah enggan membenarkan tragedi itu dibentangkan di Dewan Rakyat.
Pakatan Rakyat turun padang melawat tempat kejadian melihat tragedi tersebut.
"Selepas tragedi berlaku saya sempat melawat tempat kejadian pada 2.30 pagi, 27 Oktober 2009 dan berpeluang menemuramah sebahagian daripada ibu-bapa murid yang terlibat" ujar beliau.
Dari pemerhatiannya, Dr Lee berkata struktur jambatan tidak menepati piawaian pembinaan, bahkan rombongan yang melalui jambatan itu tidak diselia pengurus perkhemahan 1 Malaysia.

" Struktur jambatan itu tidak mengikut cirri-ciri keselamatan dan semasa murid menyeberangi Sungai Kampar yang lebarnya lebih 20 kaki, tidak ada kawalan dari guru ataupun pegawai yang bertanggungjawab" tambah beliau.

Pada kejadian 26 Oktober kira-kira jam 10.30 malam itu, 22 murid sedang menyeberang jambatan yang baru dua minggu siap dan tidak semena-mena jambatan itu roboh.

" Bukan itu sahaja, ibu bapa juga sudah mula menimbulkan kebimbangan terhadap kem 1 Malaysia ini" tambah beliau apabila mendengar sendiri luahan para ibu-bapa yang ditemui di tempat kejadian.

Sementara itu bagi Ahli Parlimen Batu, Tian Chua, perkhemahan 1 Malaysia adalah antara inisiatif kerajaan yang tidak jelas objektifnya.

" Kita telah menyaksikan banyak inisiatif kerajaan seperti projek Kem 1 Malaysia yang dilaksanakan tanpa perancangan yang betul" katanya.

Manakala bagi Ahli Parlimen Sungai Petani, Dato' Johari Abdul pula berpendapat, kerajaan seharusnya mengambil pendekatan yang lebih terancang dan teliti jika mahu mewujudkan kem yang seumpama ini.

"Sepatutnya ada Prosedur Operasi yang Standard (SOP)atau SOP ada cuma tidak diperaktikkan" katanya kepada media.

Ahli parlimen Pakatan Rakyat akan terus mendesak kerajaan untuk menggantungkan kem 1 Malaysia sehingga keselamatan para peserta dikenalpasti.

Tragedi jambatan runtuh di Kuala Dipang dekat Kampar telah mengorbankan satu nyawa kanak-kanak India Deve a/p Nathan sementara dua lagi rakannya masih belum ditemui.

Murid berkenaan sebahagian daripada 298 murid dari 64 buah sekolah rendah dari Tronoh, Batu Gajah dan Kampar yang menyertai aktiviti kokurikulum perkhemahan 1Malaysia anjuran Pejabat Pelajaran Daerah (PPD) Kinta Selatan. -TVS



This posting includes an audio/video/photo media file: Download Now
Posted: 28 Oct 2009 02:03 AM PDT
We (Buddies) had our board meeting last night with ngam-ngam quorum. It would be a blessing if we can get full board attendance, even once a year. With everyone busy with their own work and family, and only joining Buddies on voluntary basis, it can be very difficult to gather all the volunteers under the same roof at the same time. One of our board members even tendered her resignation last night as her job requires her to travel a lot, leaving her very little time for voluntary work.
That's why after the meeting last night, when a fellow volunteer asked me if we should be roping in more Malays as volunteers in our organisation, I said I didn't care which race they're from. Malays ka... Chinese ka... Indians ka... heck, if he can get Mat Sallehs oso I don't care. We just need volunteers so that the small group of volunteers that we have don't suffer from burnout!
Nevertheless, we are still proceeding with our plan for an awareness programme at one of the Orang Asli settlements in Perak. During last month's board meeting, we assigned 2 of the board members to get more info from their contacts. One of them was to get in touch with the JHEOA. Well, he did get in touch with one officer, but got a rather disappointing reply. The officer said they are not interested to participate since there are already other agencies/organisations dealing with such matters (HIV). (Ladies & gentlemen, welcome to Malaysia... the land of "that's not my job"!) I'm not sure if that is the stand of JHEOA or just that particular officer my colleague contacted, but frankly, I initially thought going through JHEOA first would be more proper rather than just pandai-pandai sendiri. If they don't want to have any part in this, so be it. Pinggan tak retak, nasi tak dingin, orang tak hendak, kami pun tak ingin...
We still intend to go in anyway. My other colleague's friend has agreed to help us out, and we also have another volunteer who has also had the experience of going into the OA areas. In addition, I've also been liaising with someone from the COAC (Center for Orang Asli Concerns) who seem more interested in the project, and willing to help out at least in connecting us with the OA community leaders.
So yep, God-willing, we're targeting early December for our project, in conjunction with the World AIDS Day.
On another note, remember little Baby K... the hole-in-the-heart baby? Well, she's due for her heart operation in November. The cost of RM20K for the operation has already been covered, so we don't have to worry about going around asking for donations; but Mr and Mrs K still need some money to cover their cost of living in KL during the period when Baby K is hospitalised in IJN. And with the kind of jobs they have, taking leave from work means unpaid leave. In other words, less income for them next month.
But not to worry, the board has approved a certain amount from our Welfare Fund (a portion of the RM20K grant we got from Yayasan Sultan Azlan Shah before Raya has been allocated to our Welfare Fund) and the approved amount will be given to Mrs K before they leave for KL.
Hopefully there will be no other complications for the little girl before, during and after the scheduled surgery...
Getting Away with Murder in Malaysia
Posted: 28 Oct 2009 03:48 AM PDT
26th Oct 2009. It's best to be connected to the ruling national coalition. See also:
Malaysian Aide's July Death 'Probably Homicide'
On July 16, according to the testimony of a Thai pathologist, Teoh Beng Hock, a 29-year-old aide to an opposition politician, was probably beaten during a marathon questioning session, sodomized, strangled unconscious, dragged to a window of the Malaysia Anti-Corruption Commission in
Kuala Lumpur
and thrown to his death.
The country's law enforcement establishment maintains that Teoh committed suicide by leaping from the MACC building after the inquiry was concluded into irregularities in his boss's accounts. But it is far from the first "suicide" in custody and what happened to Teoh happens all too frequently when the luckless collide with the powerful in Malaysia. His real killers are unlikely ever to be identified. As many as 350 people have died in custody since 1990. The privileged are rarely brought to trial.
The most infamous recent case before Teoh's is that of Altantuya Shaariibuu, a 28 year-old Mongolian translator who was murdered in 2006 by two bodyguards of then-Deputy Prime Minister Najib Tun Razak. Altantuya had been jilted by Najib's best friend, Abdul Razak Baginda, and was demanding money from him.
Although numerous witnesses and evidence connected Najib to the affair, he was never questioned or put on the witness stand, nor was his chief of staff, Musa Safri, who Baginda said in a cautioned statement he approached about getting Altantuya from ceasing her harrassment. His two bodyguards were convicted of the murder although one, in his confession, said the two men were to be paid RM100,000 to kill her. The court never asked who would pay the money. The confession wasn't allowed in court. Baginda was acquitted without having to put on a defense and promptly left the country and Najib was eventually named Prime Minister.
Continue here, for the article in full to the Asian Sentinel
Posted: 28 Oct 2009 03:11 AM PDT
we went for our HIV test today, second round.
no, not that we doubt the credibility of the result when we did our first test back in June.
not that there's anything wrong with us either.
only, we lost our documents. hmphffh.
so. as it turned out, Klinik Kesihatan Ampang really improved their service.
first time round, we came at almost 2 p.m. and we got our result at around 4.30 p.m., thanks to the waiting game. not that they were too many people then, but it was just the procedures. take your numbers then wait till you're called then pass your forms then pass it to the lab person then let he or she pinch your finger for blood sample then wait for your result. and oh, the lab person doesn't only do HIV tests, he/she also is the one who does blood and urine tests for every possible medical reasons, hence the queue.
but now, it's only these:  take your  number >> wait till you're called >> MO takes your blood sample and you can actually see your blood runs on the test kit and tadaaa! for all you know you are HIV-free already.
time taken? we got in at 2.15 p.m. and left at 2.50 p.m. 35 minutes.
way beyond expectation for a government health institution. for any health institution, per se. hebat hebat.
i'm not sure about other klinik kesihatan, but i can safely recommend KK Ampang to all, for HIV tests.
wow, another reason to be oh-so-proud of ampang, besides the legendary traffic jams. hoh yeah! \o/
Posted in i'm a happy kid!, tips here and there, wedding bell
Posted: 28 Oct 2009 01:00 AM PDT
Malaysian PR: Some McVay Guy's Thoughts (and Mine)
Posted: 28 Oct 2009 01:51 AM PDT
The other night a reporter from the Malay Mail called me to get my thoughts on the recent announcement that foreign husbands will get PR. Here's the article that appeared the next day, entitled 'Budget 2010: Visa cheer for expats':
THE 2010 Budget announced by the Prime Minister last Friday has brought smiles to expatriates planning to spend more time here.

Prime Minister Datuk Seri Najib Tun Razak in his maiden budget announced that the government would be making it easier for talented and skilled expatriates to get permanent residence (PR) status in a bid to drive the economy forward.

He said visas would automatically be granted to working family members within 14 days for those coming to work here, in addition to the extension of PR status to foreigners married to Malaysian women.

This was well received by expatriates residing in Malaysia who have been longing for PR status.

Canadian Jordan McVay, 35, who has been living here for the past seven years after marrying a Malaysian said he would be elated if the government kept to its announcement.

"Within seven years, I have had 17 visas and each trip to the Immigration Department has been frustrating. I have been told so many times that it would be difficult to obtain PR status here by Immigration officers," McVay told Malay Mail.

"If I had brought my wife back to Canada, she would have been granted a PR within six months. It has been easier for foreign women that marry Malaysian men to obtain PR status.

"Previously the government announced different types of programmes for expats, but they didn't work. I really hope that this does work. I will be very delighted," he added.

Cyrus Daruwalla from India echoed McVay's sentiments and said that the government was moving in the right direction.

"This will definitely encourage more expats to come to Malaysia but we shall have to wait and see how this is going to play out. I am still skeptical about the PR issue."

Daruwalla has been living in Malaysia for 16 years after marrying a local woman.

"The government is making the right move and it shows more equality. This will help bring in expats,"
Daruwalla said.

Briton Bob Teasdale was equally thrilled with the announcement and said he would apply for PR status now that the rules have been eased.

"Asia is the way of the future and Malaysia is doing the right thing. The Malaysian government has had various programmes to encourage foreigners to move here and it has all been great, especially the Malaysia, My Second Home programme," he said.

"I have family and friends who will be interested to move here if this programme is implemented. However, it is still easier to obtain PR status in Hong Kong and Singapore," Teasdale said. Teasdale has been living in Malaysia for 16 years and is married with two children.
It wasn't just my name the reporter got wrong. Not all of the quotes attributed to me in the article were my exact words, as far as I can remember anyway. To be fair, though, I sort of talked the guy's ear off, which gave him a lot of quotes to work with but may have overwhelmed him a bit if he was jotting down notes instead of recording the conversation. When I realised afterwards that he had probably missed quite a bit of what I had said, I sent him an email with some quotes he could use. Here's what I wrote:
My wife and I have been married since 2001, and we've lived in Malaysia since 2002. Since coming here I've had 17 visas, the longest being just short of two years. Getting those visas was frustrating enough, but what's been even more frustrating is the fact that it's incredibly difficult to get PR here. I have a number of friends who are married to Malaysians and they all face the same obstacles when it comes to dealing with the Immigration Dept. and trying to get PR. I know people who have been here for decades before finally getting PR. How many have given up and left, taking their Malaysian spouses away with them?

When the news about PR being extended to foreign husbands of Malaysian women came out in the last couple of days in relation to the 2010 budget, of course I was excited, but I haven't really allowed myself to jump for joy yet, because I've been excited by promising announcements in the past only to be disappointed. For example, a couple of years ago the government announced that foreign spouses would be able to get five-year visas, but it turned out only those with five-year work contracts would be eligible. I don't know anyone who has ever had a five-year employment contract, let alone a five-year visa.

If the government is serious about this latest initiative, then I will be very happy, and very grateful. Extension of PR to foreign spouses would be an acknowledgement that we are immigrants, not merely visitors as stated on our visas. We have strong ties to this country, with not only Malaysian spouses but in many cases Malaysian children as well. My wife and I have a three-year-old son, born and raised here, and another on the way. Getting PR here would certainly make it easier, not only for me but for my entire family, to enjoy life in Malaysia and to contribute in our own way to this country we all call home.
My written quotes didn't quite make it into the article, but I suppose the reporter did get the gist of what I had told him, despite a few mistakes here and there. I wish he'd got my name right, though. I thought I had spelled it out pretty clearly. But hey, it's not the first time: people get it wrong all the time in Canada too.
Meanwhile, the details of this new PR initiative are still scarce. I think the next step will be a call to the Immigration Department. Let's see what they say.
Posted: 28 Oct 2009 01:32 AM PDT
I was in the Korean Republic (
South Korea
) recently on a business trip and arrived,with a colleague, a day prior to reporting to the venue. We were suppose to meet up with another colleague and to be picked up at the
Incheon International Airport
the next day. So I suggested to my colleague that we just store our luggage at the airport's storage facility and maybe shower at the airport.
Image by http2007 via Flickr
We touched down at about 6.30 a.m. and exited the arrival hall around 7.00 and stored our luggage. We found out that the shower facilities was in a spa at the airport, and we got to pay 20,000 KWon to use it. Hence we decided to skip shower and took a bus ride into Seoul, and we disembarked at
Itaewon
and had kebab for breakfast.
We went around Seoul by subway and finally took the bus back to Incheon International at about 9.00 p.m., took our stored luggage and then went down to the spa for our shower. We found out that besides shower we can use the facilities like the lounge where you can sit and watch tv and sleep on the recliner seats.
As we were putting our things in the locker we went looking for our bath towels, and what did we find? Towels the size of face towels. And guess what? That was the size of towels available... Much to our chagrin :)
We left for
Anseong
the next morning to the meeting venue, checked into our rooms and what did we find? Face towel sized towels as bath towels....
I told my colleagues, maybe we should use the towels to cover our faces....
visit my scribd - rutz.zainal
Related articles by Zemanta
Posted: 27 Oct 2009 10:55 PM PDT
May you rest in peace, Syarifah Baby.
You have bring joy to our lives and real meaning of family to us.
You will be missed by the family of Abd Khalib.
Abd Khalib Syed Abd Hamid
Kamsina Haron
Sharifah Muhaymin Abd Khalib
Syarifah Nazurah Abd Khalib
Syed Abd Faris Abd Khalib
and all extended families and friends.
Era Najib Altantuya : ADUN BN Perak Adakan Sidang Sarkas
Posted: 27 Oct 2009 10:56 PM PDT
M
acam mana dikelicik dan dibega pun, UMNO dan BN memalukan diri sendiri setiap kali cuba mengadakan sidang DUN Perak.
Kesemua perlakuan yang dilakukan menjadikan mereka serba salah. Serba tak kena dan memalukan diri sendiri.
Bagaiman diputar dan dibelit, fakta tetap mengatakan BN dan semua institusi yang menegakkan rampasan kuasa di Perak adalah salah.
Berselindung disebalik kuasa federal adalah langkah sementara.
Pasti kuasa itu akan jatuh. -Prof Hamirdin