---
nizar Five in a row or Waterloo in Bagan Pinang? nizar nizar nizar nizar
Posted: 10 Oct 2009 08:26 AM PDT
The odds seem to be heavily stacked against the PR candidate but PAS believes its man is capable of pulling off a surprise or two.
This is RPK's prediction, in his own words, of course:
Anyway, so that no one can accuse me of chickening out, I shall predict the by-election result for tomorrow. And my crystal ball says to go with the Indians. So it shall be

PAS

within a 1,000 or so vote majority.
Posted: 10 Oct 2009 03:53 AM PDT
Continuing from my earlier 2 post, this trip to Doi Tung had been an eye opener for me in a lot of ways.
On the 2nd October 2009, I reached the Doi Tung point at around 8PM where my host came & picked me up to her house. The place that I stayed is very comfortable, cooling & peaceful. Dinner was prepared and since it had been a long long traveling day for me, I opted for a good rest instead of going anywhere.
Next morning, woke up at around 9AM, went to my host's sister house. Had my breakfast which is similar to our Malaysian laksa, just that it is spicier served with minced pork & pig's blood cubes. It is really yummy!
Then we went visiting around the village, I am really touch with the warm reception of these villagers. Each & every house we went, there were food & drinks. It is like a whole day long feasting session. And not to mention plenty of beers. Beers are dirt cheap. A dozen of big bottles of "Leo" beers cost me about 500baht.
Practically my second day, I eat, eat & eat... drink, drink & drink... in short, I am drunk.
My 3rd day in Doi Tung, this is somehow the most important day for the people here. Then only I realized that they actually considered mid-autumn as their new year celebration. There are plenty of new years in this part of Thailand actually. In October they celebrated the mid-autumn in a big way, then in November, they celebrate "Loy Kae Thong" which to welcome the winter, then the Thai too celebrate the common new year celebrated worldwide on every 31st December and somewhere in April they will celebrate Songkran.
I shall continue the 3rd day on a separate day, gotta take an early rest because I am heading to Hong Kong early tomorrow, my flight will be 7AM.
While I am away, the best medium to keep touch with me
songm@hotmail.com (
Facebook
& MSN)
mikemmery (
Twitter
& Skype)
Do add me ya!
Posted: 10 Oct 2009 06:45 AM PDT
Taken in tHE Spring. This shopping mall is the latest addition to the shopping pleasure in Kuching.
Group photo at the lunch reception.
Allen at the entrance of tHE Spring.
Ming Hoo, Sing King and their two sons.
A jovial moment at the lunch.
The three nephews of Yian. First and second from left are the groom and bride. Not in the picture is the second nephew who was then committed with course assignments in Australia.
The hosts with the bride's parents coming all the way from Alor Star.
All the outstation guests were well received by the hosts. It was simply a thumb-up! The reception started two days before the wedding, making the hospitality memorable.
After landing on the day of arrival, Yian and Allen headed straight to a lunch reception at a local restaurant. The lunch gathering was both warm and joyous. It provided a good time of chatting over delectable foods.
Yian and Allen took the afternoon off to call on my sisters. It was hectic, but the afternoon was truly a wonderful one.
On the way to the dinner reception, they popped in to tHE Spring for some shopping. At Sugar Bun, they got hold of the enticing ice cream. This promotional item was like a hot cake. It became a crowd-puller for the shopping mall!
Villagers sue top cop for abuse of power - nizar nizar nizar nizar nizar
Posted: 10 Oct 2009 06:40 AM PDT
Villagers are taking Pitas district police chief Haris Amroh to court for destroying their crops and property.
The villagers from Kampung Bulud Batu (KBB) in Montuyon, Pitas District (
Pitas has the dubious distinction of being the poorest place in Malaysia
), will haul district police chief Haris Amroh to court on Monday for a whole list of offences that include wanton destruction of their crops and property, confiscation of planting tools, abuse of power and acting beyond his jurisdiction.
So far, there has been no response from the police, according to senior Kota Kinabalu lawyer Kong Hong Ming. Kong has agreed to represent the villagers 'pro bono publico' (for the public good) in a civil suit: "Not a single person has been interviewed by the police so far."
Police again! Instead of protecting, they are now plundering!
Era Najib Altantuya : Ketua Polis NS Perlu Minta Maaf Secara Terbuka - Salehuddin
Posted: 10 Oct 2009 04:39 AM PDT
N
aib Presiden PAS, Salahuddin Ayub meminta Ketua Polis Negeri Sembilan, Dato' Osman Salleh agar membuat permohonan maaf secara terbuka kepadanya berhubung satu kenyataan yang dibuat semalam, menyatakan beliau enggan hadir ke Ibu Pejabat Polis Daerah Port Dickson.
"Saya minta Ketua Polis Negeri Sembilan agar memohon maaf secara terbuka kerana menyatakan saya tidak mahu hadir memberikan kenyataan di Ibu Pejabat Polis Daerah Port Dickson," ujarnya pada sidang media harian PAS di Markaz Induk PAS, Port Dickson pagi ini.
Menurutnya, ASP Azman datang ke Markaz Induk PAS untuk memaklumkan beliau perlu hadir ke IPD Port Dickson untuk memberikan kenyataan berhubung beberapa kes keganasan yang terjadi sejak kempen dijalankan.
"Kenapa ketua polis negeri sembilan menyatakan saya tidak mahu datang memberi kenyataan dan bekerjasama dalam membantu kes keganasan dan kekecohan yang berlaku.
"Ini satu fitnah kerana saya telah hadir ke sana, pada jam 6.45 petang semalam bersama peguam saya, Hanipa Maidin," ujarnya.

Tegasnya, beliau tidak bertanggungjawab mengenai kes-kes keganasan yang berlaku.

"Saya telah mendedahkan terdapat lima laporan polis yang dibuat sebelum ini walaupun ada laporan akhbar yang mendakwa hanya wujud satu laporan sahaja.

Sebaliknya, beliau kesal dengan pihak polis yang tidak membuat apa-apa tindakan ke atas pemuda Umno yang mengaku membawa kumpulan komando bagi membantu parti itu.

"Apa yang saya ingin pertikaikan, Kenapa pihak polis tidak mengambil tindakan ke atas kumpulan komando yang dibawa Pemuda Umno pada pilihan raya kali ini?" katanya lagi.

Beliau juga menasihatkan pengundi agar tidak perlu takut untuk keluar mengundi esok dan berani melakukan perubahan dalam memastikan keadaan yang lebih baik.

"Jangan takut untuk keluar mengundi dan yakin untuk membuat perubahan pada pilihan raya kali ini," demikian ujarnya.
Era Najib Altantunya : MIC Tertipu, Najib Dalangi Penubuhan Parti Makkal Sakhti
Posted: 10 Oct 2009 04:08 AM PDT
P
elbagai usaha dilakukan oleh UMNO-Barisan Nasional dalam tuntutan meraih kembali kepercayaan masyarakat India di negara ini.
Penambahbaikan program-program pembangunan terus direncanakan oleh kerajaan bawah pimpinan Perdana Menteri Najib Tun Razak.
Kami berkunjung ke pejabat Ahli Parlimen Kapar, S Manikavasagam untuk mengetahui respon beliau terhadap beberapa agenda Perdana Menteri kepada kaum India yang diumumkan baru-baru ini.
"Terutama sekali saya lihat sekarang Perdana Menteri Najib Tun Razak banyak membantu masyarakat India dan baru-baru ini saya lihat asrama 1 Malaysia dan juga parti yang baru Makkal Sakthi. Saya lihat perkara ini pertama sekali, ia secara tiba-tiba. sasya melihat pada pilihanraya yang lalu, kita menang besar terutama masyarakat India yang menyokong Pakatan Rakyat" ujar beliau.
Tambahnya lagi, Makkal Sakthi Malaysia (MMSP) merupakan salah satu taktik yang digunakan oleh Najib untuk meraih kembali sokongan masyarakat India sementelah MIC berada dalam keadaan kucar-kacir.

"Ini saya rasa PM melihat bagaimana nak pecah, nak dapat balik sokongan Barisan Nasional. Gula-gula yang akan diberi. Saya rasa banyak, beliau sekarang tumpu untuk dapat sokongan balik kepada Barisan Nasional" katanya. Namun beliau menambah, Najib melakukan perhitungan yang salah sekiranya mengandaikan Makkal Sakthi dapat meraih sokongan kaum India kerana meletakkan R.S Thanenthiran sebagai teraju parti itu.

Thanenthiran ialah bekas penyelaras Kebangsaan Hindraf yang telah dipecat.

Bagaimanapun kata Manikavasagam, Hindraf sama-sekali tidak akan memberi sokongan kepada Makkal Sakthi yang didalangi oleh Najib kerana ia merupakan sebuah parti dan bukannya badan sosial seperti Hindraf yang telah diharamkan oleh kerajaan Malaysia.

"Makkal sakthi ini sebenarnya dibiayai oleh Najib. Dibelakangnya memang Najib ada. Kira-kira beliau nak pecah. Nak dapatkan sokongan balik. Makkal sakthi ini, Thanenthiran dipecat dari Hindraf".

Namun Manikavasagam percaya, masyarakat India pada hari ini tidak mungkin akan terpedaya lagi dengan permainan UMNO-BN.

Malah katanya masyarakat India semakin bijak dalam menilai sikap kepemimpinan yang dimiliki oleh Pakatan Rakyat berbanding UMNO-Barisan Nasional.

Bunyinya mungkin seperti satu ugutan namun inilah hakikatnya, pengharaman Hindraf dan isu kepala lembu yang bersentimen perkauman menimbulkan kemarahan yang tidak berpenghujung kepada masyarakat India di negara ini.

"Ini bukan perkara yang senang dan mudah untuk mereka lupa. Yang terbaru isu kepala lembu. Mereka sangat marah. Saya pergi ke beberapa tempat, beberapa kuil di seluruh negeri, saya lihat mereka marah. Mesej mereka beri " we want to change the goverment the next election".

Dalam pada UMNO-Barisan Nasional hebat mencanang keputusan yang dicapai dalam Mesyuarat Jawatankuasa Kabinet Mengenai Kedudukan Kaum India, Manikavasagam mahu Najib merenung kembali agenda kerajaan sebelum ini sama ada ianya telah dicapai atau sekadar cakap kosong.

"Hari ini kalau kita pergi ke mana-mana mahkamah, 15 OKT yang kena tahan, 10 India. Di Simpang Renggam sahaja 65 peratus pemuda-pemuda India ada di dalam. Ada sesetengah yang tidak terlibat dalam dalam jenayah. Macam mana kita hendak memulihkan. Kalau sekarang mereka masuk, 2 tahun, sama seperti ISA, mungkin akan bertambah ke 4 atau 6 tahun, bila dia balik, tidak ada apa-apa pemulihan di sana. Mereka seolah-oleh pergi belajar, dapat diploma, balik jadi penjenayah lebih berat lagi" tambahnya.

Kabinet dikatakan telah memutuskan untuk menambahbaik beberapa program seperti kursus kepada belia India yang memperuntukkan dana sebanyak RM20 juta, meningkatkan usaha menambah jumlah pengambilan pekerja kaum India dalam sektor awam, menambah jumlah pengambilan kaum India di peringkat lembaga pengarah, memberikan peruntukan biasiswa kepada pelajar kaum India di bawah Jabatan Perkhidmatan Awam (JPA) serta menambah penyertaan ekuiti kaum India melalui peruntukan 15 peratus unit saham dalam Amanah Saham Malaysia.

Namun malangnya saat gula-gula politik ini diberikan, kerajaan ujarnya terlepas pandang terhadap dua pelajar India yang ingin melanjutkan pejaran dalam bidang perubatan ke Ukraine iaitu M Saraswathy dan Latah A/P Appunaidu.

Setelah beberapa kali memohon untuk mendapatkan biasiswa kerajaan namun jawapan yang diterima begitu menghampakan.

"Beliau datang sini setelah minta dengan kerajaan tetapi ditolak, tidak dapat kelulusan pinjaman. Dia datang ke pejabat saya, 2 orang datang bersama keluarga dan saya terpaksa suruh mereka ke Agro Bank di Klang dan mereka dapat RM 90 ribu dan RM 80 ribu. Dan saya sebagai Ahli Parlimen, saya yang jadi penjamin. Sepatutnya kerajaan bantu sebagai biasiswa".

Berdasarkan tindak tanduk itu, kami ajukan kepada Manikavasagam sama ada penambahbaikan program-program pembangunan kepada masyarakat India dan tertubuhnya Makkal Sakhti sebagai petunjuk Pilihanraya Umum Ke 13 akan berlangsung dalam tempoh yang terdekat, namun ini jawapan beliau:

"Saya rasa PRU tidak akan diadakan secepat mungkin. Saya rasa 2013 akan diadakan PRU. Sokongan masih lagi terutama masyarakat Cina. Mereka lihat bukan sahaja masyarakat India, orang Cina pun banyak menyokong PR. Jadi macam mana hendak kembalikan? MIC dan MCA pun ada masalah. Bukan sahaja Najib nak dapat sokongan balik dari kalangan masyarakat India, orang Cina macam mana? Bukan mudah, bukan secepat ini hendak adakan PRU ke 13" ujarnya sebelum mengakhiri perbualan.




This posting includes an audio/video/photo media file: Download Now
Posted: 10 Oct 2009 03:51 AM PDT
Below are download links of several interesting pictures of hot STPM chicks Sijil Tinggi Pelajaran Malaysia (STPM) Trials Examination papers divided according to states they're from. Some of you might find it useful where as some not. Anyway, it's only for art stream subjects like Sejarah, Pengajian Perniagaan, Ekonomi and Pengajian Am. Hope you find it useful! Use it wisely!

All you have to do is just click on the subject you wanted and you'll be diverted to the download page. Very simple thing to do. For those taking Sejarah, do concentrate on papers from Kelantan and Terengganu.

Enjoying suffering for a month before the D-DAY!

Pengacara wanita tersilap cakap
Posted: 10 Oct 2009 02:59 AM PDT
GAMBAR menunjukkan seorang pengacara wanita tersilap cakap semasa menyampaikan laporan dalam satu program televisyen di Jerman.




BERLIN - Seorang pengacara wanita di Jerman mendapat malu kerana dia tersilap menyebut perkataan apabila menuturkan fisting yang bermaksud satu perbuatan seks, lapor sebuah akhbar semalam.

Pengacara itu sepatutnya menyebut perkataan phishing yang membawa maksud penipuan e-mel dan bukannya fisting.

Kesilapan itu berlaku dalam program televisyen Heute, terbitan rangkaian ZDF yang menyiarkan laporan berhubung satu skim e-mel yang digunakan oleh penggodam untuk mengintip pengguna Internet.

Skim e-mel itu melibatkan penghantaran amaran palsu kepada pengguna yang diminta menukar kata laluan mereka tetapi maklumat tersebut sebenarnya dihantar oleh penggodam.

Namun, pengacara wanita itu tersasul apabila berkata: "Firma-firma besar seperti Yahoo dan Google tidak terkecuali daripada menjadi mangsa skim penipuan yang dinamakan sebagai serangan fisting."


Makan boleh sebarang makan, cakap jgn sembarangan cakap, kelak binasa badan.....



How to fold clothes and avoid wrinkles when traveling - www.onebag.com
Posted: 10 Oct 2009 05:59 AM PDT
end of the road for the 2 feuding leaders
Posted: 10 Oct 2009 01:40 AM PDT
Malaysiakini report:
In a dramatic vote at today's MCA extraordinary general meeting, party delegates dealt a blow to both feuding leaders – party boss Ong Tee Keat and his suspended deputy, Dr Chua Soi Lek.
A total of 2,304 party delegates effectively ended Ong's presidency by passing a motion of no confidence against his leadership with a margin of 14 votes.
They voted to reinstate Chua as a full party member with a majority of 109 votes.
However, the delegates voted against Chua in bringing him back as party deputy president.
The unprecedented results mean that the shadowy Third Force has prevailed in getting rid of both leaders.
The Third Force, which is not aligned to the two factions, has paved the way for new leaders to take over the party.
"In the event that both are voted out, two members of the central committee would be appointed to replace them while their positions (in the CC) will be filled by ordinary party members," said MCA secretary-general Wong Foon Meng.
The results of the three resolutions are:
1) Motion of no confidence against Ong
For: 1,155
Against: 1,141
Spoilt votes: 8
Majority: 14
2) To annul the party's decision to expel/suspend Chua
For: 1,204
Against: 1,095
Spoilt votes:5
Majority: 109
3) To reinstate Chua as MCA deputy president
Against: 1,184
For: 1,110
Spoilt votes: 10
Majority: 74
Ong accepts party's decision
At a press conference in the wake of the announcement, Ong said that he accepted the party's decision.
Meanwhile, Chua is believed to be in a nearby hotel.
This is not the first time that MCA is facing a leadership crisis.
In 2002, the party was also involved in a leadership tussle between its then president, Ling Liong Sik, and his deputy, Lim Ah Lek, over the purchase of Nanyang Press Holding Berhad.
The crisis caused both leaders to step down and they were replaced by Ong Ka Ting as president and Chan Kong Choy as the deputy.
UPDATED:
Will Ong quit as MCA chief?
After the announcement, Ong move to the 9th floor of the MCA headquarters where he held a press conference.
Flanked by his key supporters including vice-president Liow Tiong Lai, Ong appeared a little disappointed but calm.
Asked whether he was shocked by the results, he said: "I'm still what I'm, did you see any expression of shock?"
"From Day One since we determined to resolve party crisis through the EGM, this is it, and we accept the decision."
As if hinting that the battle may not be over, Ong added the matter of the EGM vote still needs to be brought up for discussion in the central committee and presidential council.
Meanwhile, Chua is believed to be in a nearby hotel. His supporters are demanding new party elections to resolve the crisis.
In a brief two-sentence press statement issued 90 minutes later, he thanked the party delegates for their support in reinstating him as MCA member.
"I accept the decisions made by all central delegates and I hope that the MCA central leadership will respect decisions made by the central delegates in the MCA EGM."
He is apparently suggesting that Ong should step down as party president after losing the motion of no confidence against him.
No need for two-third majority to 'boot me out'
Ong has previously vowed to resign should he fail to get the backing from the delegates.
"The first resolution, the vote of no confidence, we know that a simple majority once carried, I will be left with no choice but to bow out and step down," he told the Star in a Sept 19 interview.
"Anyone who argues that I do not need to do so, that only a two-third majority is required to boot me out, I think that is a great lie.,"
Ong also argued that the 22-member presidential council (PC), which include top ministers, should quit as well.
"If he (Chua) were to be reinstated by a simple majority, this tantamounts to casting a vote of no confidence against the entire PC.
"If this were to happen, then by democratic principle, the whole lot would have to go, the entire PC, as it was a collective decision and not a one-man decision."
Deja vu for MCA
This is not the first time that MCA is facing a leadership crisis.
In 2002, the party was also involved in a leadership tussle between its then president, Ling Liong Sik, and his deputy, Lim Ah Lek, over the purchase of Nanyang Press Holding Berhad.
The crisis caused both leaders to step down and they were replaced by Ong Ka Ting as president and Chan Kong Choy as the deputy.
Today's EGM decisions may open another front in the proxy war between the Ong and Chua camps as they may now start to line up their allies and supporters to fill the void.
Era Najib Altantuya : PAS Buat Laporan Polis Terhadap SPR Mengenai Undi Pos
Posted: 10 Oct 2009 02:45 AM PDT
P
AS hari ini memfailkan satu laporan polis terhadap Suruhanjaya Pilihan Raya (SPR) kerana mendakwa suruhanjaya berkenaan telah melakukan beberapa kesalahan mengikut peraturan pilihan raya.
Naib Presiden PAS, Salahuddin Ayub berkata laporan polis berkenaan dibuat oleh wakil calon PAS, Ramli Ismail awal pagi tadi.
"Satu laporan polis telah dibuat, dalam isu ini kita mahu membina satu pemikiran bahawa terlalu banyak isu yang dipertikaikan dalam undi pos," katanya dalam sidang media di sini hari ini.
Menerusi laporan polis berkenaan, PAS menyenarai lima kesalahan yang mereka dakwa dilakukan oleh SPR berhubung isu pengundian pos.
Pertamanya PAS mendakwa daftar pemilih tentera tidak mempunyai nombor siri pengundi pos yang sebenar seperti yg dikeluarkan dalam daftar pemilih SPR selain daftar pemilih tentera tidak mempunyai nombor tentera yang penuh.

"Selain itu kita juga nyatakan bahawa daftar pemilih tentera tidak mempunyai nombor identiti isteri pengundi pos.

"Daftar pemilih tentera juga tidak mempunyai nombor lokaliti pengundi pos dan selain itu daftar pengundi tentera tidak mempunyai nombor kad pengenalan lama isteri pengundi pos," katanya.

Tambah Salahuddin lagi, penggunaan daftar pemilih yang berbeza juga menyukarkan polling agent daripada PAS untuk mengesahkan identiti pengundi pos semasa mereka datang mengundi.

"Polling agent kita tidak boleh berfungsi kerana mereka tak boleh menyemak daftar pemilih pengundi pos," katanya.

Proses pengundian pos melibatkan anggota keselamatan iaitu tentera dan polis telah bermula sejak Khamis lalu dan berakhir tengah hari ini.

Anggota tentera mengundi di Dewan Jeneral Tan Sri Sani, Pusat Latihan Asas Tentera Darat (Pusasda) Kem Si Rusa manakala anggota polis mengundi di Ibu Pejabat Polis Port Dickson.

Terdapat sejumlah 4,604 pengundi pos di kawasan DUN Bagan Pinang. Daripada jumlah itu 4,571 terdiri daripada anggota tentera, 31 anggota polis manakala dua pengundi pos dikategorikan sebagai pemilik tak hadir kerana bertugas di luar negara.

Mereka merupakan sebahagian daripada 13,664 pengundi dalam DUN Bagan Pinang, yang turut membabitkan 9,060 pengundi biasa.


Era Najib Altantuya : Pulihkan Badan Kehakiman Barulah Malaysia Maju, Husam.
Posted: 10 Oct 2009 02:41 AM PDT
U
mno kini telah goyang. Umno sendiri menolak Isa Samad kerana dia bukanlah calon yang bersih," kata Exco kanan kerajaan negeri Kelantan, Datuk Husam Musa.
Beliau berkata demikian ketika mengulas tindakan Perdana Menteri, sewaktu dalam ucapan merasmikan Majlis Aidilfitri Perantau di Batu 2 Port Dickson, pagi tadi.
Menurut Husam, Indonesia lebih baik daripada Malaysia kerana mereka mengamalkan Rules of Law – Undang-Undang Dasar Negara Republik Indonesia berbanding Malaysia yang mengamalkan sistem Demokrasi Berparlimen di bawah pentadbiran Raja, tetapi demokrasi itu masih diperkosa oleh pemimpin BN.
Beliau yang juga Pengerusi Jawatankuasa Perancangan Ekonomi, Kewangan dan Kebajikan negeri Kelantan berkata, proses pembangunan Malaysia, terutamanya dalam pertumbuhan ekonomi negara hanya akan dapat dipercepatkan sekiranya badan kehakiman diperbetulkan dahulu.
"Yang menentukan peneraju badan kehakiman ialah kerajaan. Oleh itu, kerajaan perlu diperbaiki untuk menegakkan keadilan yang berdasarkan Rule of Law,

"Tanpa Rule of Law, binasa halaqah. Calon yang bersih hanya akan lahir dari kerajaan yang bersih," tegasnya yang juga ahli jawatankuasa kerja PAS Pusat.

Antara agensi yang perlu diperbaiki adalah badan kehakiman dan perundangan, serta badan keselamatan. Contoh yang jelas ialah apabila penyiasatan yang dijalankan kini menjadikan pelapor yang sering dipersalahkan dan diancam sedangkan yang bersalah tidak dikenakan tindakan ataupun disiasat dengan terperinci.

"Apabila kes ini dibawa ke mahkamah pula, ia diadili berdasarkan kepentingan pihak tertentu. Oleh itu, amat perlu integriti kehakiman ditegakkan," tambahnya.

Beliau sebelum itu turut berkongsi cerita tentang seorang pengundi berbangsa Cina yang telah menyatakan kepada beliau, bagaimana dia merasakan dengan menghadiri program anjuran PAS.

"Program PAS telah banyak memberi input kepada dia, berdasarkan fakta itu dia telah mendapat keberanian dan keyakinan, agar tidak takut kepada pihak tertentu, kerana takut kita hanya perlu kepada Tuhan," ujarnya lagi.


Era Najib Altantuya : BN Hancur, MCA Lulus Undi Tidak Percaya Kepada Ong Tee Kiat
Posted: 10 Oct 2009 02:37 AM PDT
B
arisan Nasional berada di ambang kehancuran apabila para perwakilan MCA membuat keputusan dramatik pada mesyuarat agung luar biasa (EGM) yang diadakan di sini pada Sabtu dengan perwakilan parti meluluskan usul undi tidak percaya terhadap kepimpinan Presidennya, Datuk Seri Ong Tee Keat dengan majoriti 14 undi.

BN menerima tamparan hebat apabila undi tidak percaya itu diluluskan kepada Presiden MCA yang telah menerima sokongan dari sebahagian besar pemimpin MCA dan BN sendiri.
Malah EGM itu menyokong usul Soi Lek diterima semula sebagai anggota parti.
Teta[i perwakilan telah menolak usul untuk mengembalikan jawatan Timbalan Presiden, kepada Datuk Seri Dr Chua Soi Lek.
Pegawai yang terlibat dalam EGM tersebut berkata keputusan dramatik yang dibuat perwakilan di Mesyarat Agung Khas MCA hari ini menyebabkan terpaksa merujuk semula perlembagaan parti.
Seperti termaktub dalam perlembagaan MCA, seorang presiden parti hanya boleh dilucutkan daripada jawatannya dengan majoriti dua per tiga undian.

Seramai 1,155 ahli perwakilan berkata mereka tidak percaya dalam kepimpinanan Ong manakala 1,141 menyatakan yang sebaliknya pada EGM kali ini.

2,304 ahli perwakilan telah mengundi dalam EGM hari ini.

Keputusan EGM itu diumumkan oleh Speaker Datuk Yik Phooi Hoong pada kira-kira 4.25 petang tadi.

Pengundian tersebut dijalankan berdasarkan tiga resolusi iaitu:

1) Ahli-ahli mesyuarat agung tidak yakin terhadap kepimpinan Ong

Berikut ialah keputusan bagi resolusi pertama:

Setuju: 1,155

Bantah: 1,141

Undi Rosak: 8

2)Keputusan Majlis Presiden pada 26 Ogos dalam menerima cadangan Lembaga Disiplin dan keputusan susulan Jawatankuasa Pusat (jika ada) untuk memecat atau menggantung Soi Lek dibatalkan.

Keputusan bagi resolusi kedua:

Setuju: 1,204

Bantah: 1,095 Undi Rosak: 5

3) Dr Chua dikembalikan jawatan sebagai Timbalan Presiden MCA.

Keputusan resolusi ketiga pula adalah seperti berikut:

Setuju: 1,110

Bantah: 1,184

Undi rosak: 10

Terdahulu, 2,307 perwakilan telah mendaftar untuk mengundi pada EGM MCA hari ini.

Bagaimanapun, tiga orang daripada perwakilan berkenaan tidak mengundi.

Jumlah perwakilan yang hadir pada EGM tersebut ialah 96.93 peratus.

Proses pengundian berlangsung pada pukul 10.30 pagi hingga 12 tengah hari di Dewan San Choon di sini pada Sabtu.

Para pemimpin MCA yang hadir pada mesyuarat ialah Timbalan Presiden, Datuk Seri Dr Chua Soi Lek yang telah digantung telah tiba disitu pada pukul 8.10 pagi tadi.

Dr Chua berkata kepada para pemberita bahawa beliau akan menerima apa jua keputusan yang akan dibuat oleh para perwakilan.

Dua Naib Presiden MCA, Datuk Seri Liow Tiong Lai dan Datuk Seri Kong Cho turut hadir pada mesyuarat khas tersebut hari ini.

Liow berharap para perwakilan pusat akan bersikap matang dan membuat yang bijak untuk kebaikan parti.

Presiden MCA Datuk Seri Ong Tee Keat selamat tiba pada kira-kira pukul 9.15 pagi untuk mesyuarat itu.

Mengikut peraturan EGM, pengiraan semula hanya akan dibenarkan sekirannya terdapat perbezaan kurang daripada 1% undi sahaja.

Jika jumlah undi yang diperolehi adalah sama, Speaker mempunyai kuasa untuk mengudi seperti yang termaktub dalam perlembagaan parti, dalam Arikel 169.


Bagan Pinang: Indian Support For BN?
Posted: 10 Oct 2009 01:59 AM PDT
PORT DICKSON, Oct 10 - Indications are that Indian voters in the Bagan Pinang state constituency will help the Barisan Nasional (BN) win the by-election tomorrow, according to a member of the BN Supporters Club.
R. Nantha Kumar, former Kedah MIC chief, said this was based on the number of members the club had secured in the constituency.

He said the club was set up after many Indians, angry with the MIC, gave their support to the opposition Parti Keadilan Rakyat (PKR), adding that the club provided a platform for the Indians who disliked the MIC to express support for the government.

Nantha Kumar said members of the club comprised people of all communities but the Indian members numbered about 2,000.

He said the Indians were disappointed with the PKR leadership which he claimed failed to fulfill its promises after the party had won in the elections, alleging that Teluk Kemang Member of Parliament Datuk Kamarul Baharin Abbas, whom the Indians had helped to win in the general election, never interacted with the constituents.

"Many now realise that the PKR will not help the Indians. They do not think the PKR will administer the country. Only the BN can help the Indians through Umno," he said.

Another club member, K. Sanjkaram, 32, said he joined the club after being disappointed with the unfulfilled promises of the PKR.

"The Indians have begun to have confidence in the credibility of Prime Minister Datuk Seri Najib Tun Razak. Previously, the support could have been 50:50 but now it looks like it is more than 60 per cent," he said.

The Bagan Pinang by-election is a straight fight between Tan Sri Mohd Isa Samad of the BN and Zulkefly Omar of PAS. The by-election has been necessitated by the death of state assemblyman, Azman Mohd Noor of the BN, on Sept 4.

-- BERNAMA

She without arm, he without leg - ballet - Hand in Hand
Posted: 10 Oct 2009 02:27 AM PDT
This posting includes an audio/video/photo media file: Download Now
The Fateful Battle - Bagan Pinang N31
Posted: 10 Oct 2009 01:52 AM PDT
Bagan Pinang by-election is not only a storm ahead of Pakatan Rakyat, but it also signifies that what the rakyats have all along been hoping for; a cleaner government and a better tomorrow for Malaysians, is now under siege.
Malaysians can actually get over the fact that the 1Malaysia propaganda is just a slogan that will only become another laughing stock for other countries; exactly like "Malaysia Boleh". But since Najib become our Prime Minister, I bet most people can feel strong sense of segregation among ourselves. Lies, hatred and racism have again further infiltrated the communities of normal rakyats.
The death of Beng Hock marked the beginning of the actual 1Malaysia concept. Beng Hock's tragic death shook the nation, but UMNO seized this opportunity to instigate suspicions between the Malay and Chinese communities. Soon after that, UMNO did not hesitate to hold another infamous cow-head protest against an Indian temple, insulting the Hindus with a bloody cow head together with racist chantings in the public. Utusan Malaysia and Berita Harian stirred up this issue and now, UMNO's agenda to split us apart is near to success when fear and precautions towards the Malays pavilioned the Indian communities.
"The poor Malays are robbed in broad daylight, government contracts are awarded to crony companies, we see poor Malays, Chinese, Indian everywhere throughout all BN governed states, and they call me a traitor?" added Anwar.
-Anwar responding to UMNO 's dispraise. Taken from The Malaysian Insider
Until today, almost half a year has come and passed since the new era of Malaysia begins under the racist coalition government. Pakatan Rakyat's winning streak in the 8 by-elections after 308 have sufficiently proved that the rakyat is still somehow utterly disgusted by the 'new Barisan Nasional" under our new PM.
However, its very unlikely that Pakatan Rakyat will get through the Bagan Pinang by-election; the one which is headed by the corrupted Isa, representing Barisan Nasional.
It really doesnt matter if Pakatan Rakyat lose this seat, but the winning of Isa in Bagan Pinang will be a 100% accurate diagnosis that Barisan Nasional will be more corrupted each and everyday from now on, and national unity may soon become extinct from our beloved homeland.
C Guevara
ONG vs CHUA: Ong OUT, Chua IN - nizar nizar nizar nizar nizar
Posted: 10 Oct 2009 02:00 AM PDT
Posted: 10 Oct 2009 12:31 AM PDT
…of our house is signed, stamped, validated and it is right here in my hands! Finally! Alhamdulillah! We are so glad…
I will write in details the chronology of important steps that we took as part of the process of buying a house in Malaysia later. But in the mean time, I am gonna go do that hoola dance that I do when I am happy.. hhhehe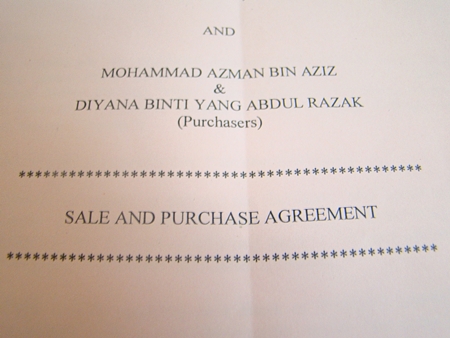 PJ Dog-Lovers In For A Treat Tomorrow
Posted: 10 Oct 2009 01:32 AM PDT
DATELINE PETALING JAYA: 
PJ residents who are dog-lovers are in for a special treat tomorrow when the City Council (MBPJ) kicks off its first-ever Dog Forum in the PJ Library in Jalan Selangor.
Titled "Dogs: Pets or Pests?" the forum to celebrate World Animal Day 2009 is expected to attract about 300 participants made up of dog-lovers as well as non pet-lovers.
"Everybody is invited to our special event that is primarily targeted to raise awareness about dogs and how best to care for them - and at the same time, be mindful of our non pet-loving neighbours," says Anthony SB Thanasayan who is chief organiser of the forum.
The event to be launched by YB Ronnie Liu and attended by MBPJ Mayor Dato Roslan bin Sakiman will be held at 8am on October 11.
The speakers are representatives from MBPJ, Department of Veterinary Services, Petpostiive and SPCA.
All are invited. 

PET+BLOGSPOT is the official online blog of the Malaysian Animal-Assisted Therapy for the Disabled and Elderly Association (Petpositive).
Our blog which was first established in October 2007 currently has more than 30,000 hits. Kindly take note that views expressed in this blog are not necessarily those of Petpositive.
You may also visit our Webpage by browsing: www.petpositive.com.my
Posted: 10 Oct 2009 12:03 AM PDT