---
Posted: 05 Oct 2009 09:00 AM PDT
TZ is in Penang now. For what purpose? Nope not for vacation, not for searching food to eat, not for visiting relative and friends... So what is TZ doing in Penang?
Hehehe... this trip to Penang is to attend CSCP pre-examination course. As i mentioned earlier, my CSCP exam is coming on this December 12th 2009. My lecturer has offered me a free course on CSCP pre-exam course. Unfortunately, the course is not in Kuala Lumpur but it's in Penang. Since i have place to stay in Penang... my aunty place. I just accepted the offer immediately on two Sunday ago. I left KL on Sunday evening... missed Anton's cooking on Sunday night gathering ... Sigh~
How's the course? It's a nice preparation course. Very organized, step by step... Hopefully this will help me more on my study for CSCP certification on this coming December 12th 2009. Anyway, gotta hit the bed now. Need to go to class tomorrow. Ciao...
Posted: 05 Oct 2009 08:55 AM PDT
Get your daily dose of Delirium via Reader or delivered via Email


While we are flocking the Proton showrooms to buy the national car we are so proud off, Australians think other wise. Check out this video of a crash test that was conducted in Australia .How did we do? We came out tops! As the No.1 ranked WORST car!
Surat Untuk Najib Dari Bapa Altantuya
Posted: 05 Oct 2009 09:39 AM PDT
K
enyataan Dr. Shaariibuu Setev berhubung lawatan Najib Razak ke Paris pada 5-6 Oktober 2009, sebagai kenangan kematian anak perempuannya Altantuya Shaariibuu pada 19 Oktober 2009 di Malaysia.
Saya kesal kerana tidak dapat menghadirkan diri di Paris untuk bertemu dengan Encik Najib Razak, ketika beliau membuat lawatan rasmi selaku Perdana Menteri Malaysia.
Saya jatuh sakit, dimasukkan ke hospital disebabkan keadaan yang kurang sihat. Saya teringin untuk bercakap dengan Encik Najib, menyampaikan mesej kepadanya dan berjabat tangannya. Saya cuba untuk bertemu dengannya di Parlimen Malaysia pada tahun 2007, tetapi beliau meninggalkan dewan terlebih dahulu. Perjalanan saya di Malaysia tidak sempurna pada kali itu.
Tiga tahun saya menderita sejak anak perempuan saya Altantuya Shaariibuu mati di tangan Polis Di-Raja Malaysia dengan cara yang zalim. Beliau meninggal dunia pada 19 Oktober 2006, semasa bulan Ramadan, bulan yang paling suci untuk Muslim. Beliau diletupkan dengan bahan letupan militan, dan pembunuhan yang pelik ini masih belum menemui punca sehingga hari ini.
Walaupun dua orang polis (Azilah Shaari and Sirul Omar) yang terlibat dalam pembunuhan ini telah disabitkan kesalahan dan dijatuhkan hukuman mati, namun keluarga saya dan saya masih tidak mampu untuk menjelaskan kepada dua orang cucu saya, anak Altantuya - Altanshagai dan Multanshagai, bahawa ibu mereka telah mati dalam keganasan dan kekejaman di tempat yang jauh bernama Malaysia.

Saya berharap PM Najib Razak menikmati lawatannya di Perancis, di mana sahabat rapatnya Abdul Razak Baginda yang menjadi broker kepada sebuah syarikat Perancis, menjurus kepada situasi yang berakhir dengan pembunuhan anak perempuan saya. Tidak dinafikan bahawa beliau telah mati sebagai penterjemah kepada sebuah syarikat Malaysia yang membeli submarine Perancis bernilai billion Euro, dan mengetahui banyak perkara yang tidak diketahui sama ada orang awam dari Malaysia mahupun Perancis.

Saya telah memfailkan guaman sivil terhadap dua orang polis dan kerajaan Malaysia, menuntut pampasan untuk kematian anak perempuan saya. Beliau adalah penyara keluarga yang utama untuk kedua-dua anak lelakinya. Kini kedua-duanya menjadi anak yatim, dan masa depan mereka tidak menentu untuk saya. Usia isteri saya dan saya semakin lanjut dan kami bukan orang yang berada. Ia hanya adil apabila kerajaan Malaysia bertanggungjawab kepada apa yang berlaku kepada anak perempuan saya.

Dua orang polis yang melakukan pembunuhan keji terhadap anak perempuan saya yang berumur 28 tahun, berkhidmat di bawah Najib Razak, selaku Timbalan Perdana Menteri dan Menteri Pertahanan pada ketika itu.

ADC (aide de camp) Najib , DSP Musa Safri dilaporkan memberitahu polis (chief inspector Azilah) untuk membantu Abdul Razak Baginda (kiri, gambar kiri), berunding dengan Altantuya apabila beliau datang untuk meminta komisennya. Namun, Musa Safri tidak pernah dipanggil untuk tampil di mahkamah dan disoalsiasat penglibatannya dalam kes ini.

Memandangkan banyak yang dikaitkan Najib dalam pembunuhan ini, adalah mustahil dan tidak bertanggungjawab untuk Najib membersihkan tangan dalam isu ini, bersikap seolah-olah tragedi ini tidak berlaku terhadap anak perempuan dan keluarga saya.

Syarikat Perancis yang terlibat dengan perundingan orang Malaysia ini juga tidak dapat dikecualikan. Anak perempuan saya tidak akan ditimpa kematian yang zalim ini seandainya deal ini telus dan adil.

Saya merayu atas nama anak perempuan saya, isteri saya, dua orang cucu saya dan semua orang Mongolia, jangan biar anak perempuan saya mati dengan begitu sahaja. Mayatnya mungkin diletupkan kepada jutaan cebisan yang gagal dikenalpasti, tetapi hati kami kekal satu, menegakkan keadilan untuk anak perempuan saya yang tercinta, untuk menenangkan rohnya dan memastikan anak yatimnya memiliki masa depan yang wajar.

Terima kasih.
Yang ikhlas,
daripada seorang warga Mongolia yang anak perempuannya dibunuh oleh polis di Malaysia: Dr Shaariibuu Setev. -Merdeka review


Era Najib Altantuya : BN Gunakan Undi Pos Untuk Menang Secara Haram Sejak 1959
Posted: 05 Oct 2009 09:14 AM PDT
P
ercaya atau tidak, itulah realiti sebenar bermulanya penyelewengan undi Pos yang diguna parti pemerintah untuk meneruskan legasi kekuasan mereka.
Seorang bekas pegawai tentera, Brigadier Jeneral (B) Datuk Zakaria bin Hj Dahlan menceritakan, pada hari tersebut beliau berada di dalam hutan untuk latihan.
Beliau dimaklumkan kertas undi pos akan dihantar dengan helikopter kepada semua anggota yang terlibat dengan latihan tersebut.
"Perkara yang saya tidak boleh lupa adalah pada Pilihan Raya Umum pertama tahun 1959. Waktu itu saya dalam hutan, helikopter sampai dan saya berada di bawah untuk sambut bungkusan kertas undi pos.
"Malangnya ia jatuh dalam paya. Saya dapatkan bungkusan itu dan keringkan kesemua kertas undi pos itu untuk dibahagi kepada anggota yang terlibat.

"Tiba tiba dapat arahan supaya sarjan mengumpulkan semua kertas-kertas undi itu, dan pangkah kesemuanya tanpa perlu diberi kepada anggota, " ceritanya sepenuh hati.

Beliau yang terlibat dalam ketenteraan lebih dari 30 tahun berkata, undi pos sememangnya talian hayat pemerintah sejak dari dulu.

Mereka mengarahkan pegawai-pegawai atasan supaya memastikan undi pos memberi kelebihan kepada mereka.

"kadang-kadang anggota tidak tengok pun kertas undi, tetapi bila dicek, dia sudah membuang undi, katanya lagi.

Pada beliau, amalan undi pos sudah menyimpang jauh dari maksud sebenar. Melihat zaman sekarang ini katanya, undi pos tidak lagi sesuai kepada anggota yang menetap dalam kem.

"Pada zaman saya dahulu, undi pos adalah melalui pos, ataupun diterbangkan dengan helikopter dijatuhkan dari udara kepada anggota dalam hutan sahaja.

"Tapi sekarang, undi pos adalah anggota-anggota yang bermastautin dan bermukim dalam kem, sepatutnya tidak perlu undi pos kerana mereka boleh hadir mengundi seperti orang awam lain mengundi," katanya.

Seorang lagi bekas pegawai tentera Brig Jeneral Hj Abdul Ghani B Hj Mahluddin, turut mendedahkan perkara sama.

Beliau yang tidak bersetuju dengan pengendalian undi pos mengakui, pernah diadu oleh rakan rakan tentera yang lain berhubung tindakan salah guna undi pos tersebut.

Mereka menceritakan bagaimana mereka diarah memangkah kesemua kertas undi pos untuk anggota anggota bawahan.

"Tidak kurang dari 10 orang berpangkat koperal dan sarjan datang minta maaf pada saya. Mereka beritahu pada Pilihan Raya lepas mereka telah diarah bangun tengah malam, waktu anggota lain sedang tidur.

"Beberapa pegawai atasan mengarahkan mereka menuang semua kertas undi atas meja dan menyuruh mereka memangkah BN kesemuanya," katanya.

Isu pengundian pos kembali menjadi tumpuan menjelang pilihan raya kecil Bagan Pinang 11 Oktober ini.

Berdasarkan daftar pemilih setakat 4 September lalu, daripada sejumlah 13,664 orang yang layak mengundi pada pilihan raya kecil DUN Bagan Pinang, seramai 4,604 merupakan pengundi pos.

Beberapa tindakan telah dibuat Pakatan rakyat khususnya dalam usaha membebaskan anggota tentera dari dikongkong parasaan takut akibat beberapa prosedur undi pos.

Antaranya cetakan no siri anggota pada Borang 2 yang membolehkan mereka dikesan mengundi parti pilihan mereka. -harakahdaily


Era Najib Altntuya : N9 Terbengkalai Di bawah UMNO BN
Posted: 05 Oct 2009 09:05 AM PDT
N
egeri Sembilan terdiri daripada tujuh daerah yang meliputi seluruh negeri itu.
Selain kaya dengan hasil bumi dari sektor pertanian, Negeri Sembilan juga terkenal sebagai tempat tumpuan pelancong.
Salah satu daerah yang begitu terkenal dengan pelancongan tentunya Port Dickson. Nama Port Dickson mula dikenali menjelang 1902, kerana menjadi satu-satunya stesen kereta api di Selatan Semenanjung serta kemunculannya sebagai pelabuhan terunggul.
Pada waktu itu, sistem pengangkutan melalui kereta api dan jalan raya mendatangkan faedah kepada syarikat multinasional seperti Shell dan sebagainya. Nama Port Dickson kemudiannya terus unggul sebagai kawasan pelancongan namun sayangnya ia tidak bertahan lama.
Waima kini, Port Dikcson tidak lagi menjadi pilihan utama pelancong untuk bersantai pada cuti hujung minggu. Beberapa faktor menjadi punca utama mengapa Port Dickson seolah-olah 'luput' dari peta pelancongan masyarakat di negara ini.

" Kita boleh lihat, seperti yang pernah dibangkitkan keadaan sekitar pantai tidak begitu bersih dan tidak ada pembangunan pelancongan yang baru. Kita masih lihat gerai-gerai usang yang sepatutnya perkara ini menjadi fokus utama bagi mereka".

"Ini mencerminkan keadaan pantai itu. Saya fikir tidak akan ada perubahan. Selain daripada kalau perubahan. Selain daripada kalau kita ada keinginan Port Dickson ini dimajukan seumpama Melaka, tertarik dengan pembangunan di Melaka" ujar Ahli Parlimen Teluk Kemang, Datuk Kamarul Baharin.

Dari sudut pembangunan, dapat kita lihat dengan jelas beberapa projek terbengkalai menyambut kehadiran tetamu di pintu masuk ke Port Dickson. Keadaan yang seumpama ini bukan hanya menyajikan panorama yang kurang enak pada pandangan mata malah turut merosakkan imej Port Dickson sebagai pusat pelancongan terkemuka di Malaysia.

Menurut penduduk Kampung Bagan Pinang, Jasni Abdul Rahman, projek terbengkalai memberikan banyak kesan sampingan kepada kehidupan penduduk setempat.

" Projek terbengkalai ini pada pandangan saya, kalau kita melalui sepanjang persisiran pantai Port Dikcson, kita dapati kawasan Bagan Pinang sehingga Teluk Kemang banyak terdapatnya projek-projek terbengkalai".

"Jadi saya harap pihak berkuasa tempatan dapatlah menguruskan projek-projek terbengkalai. Ia akan mengundang masalah sosial seperti penggunaan dadah dan sebagainya. Penduduk harap pihak berkuasa tempatan bersihkan kawasan tersebut" ujarnya.

Apa sebenarnya yang berlaku di Port Dickson? PD Marina World misalnya yang terletak di pintu masuk Port Dickson memberi gambaran kawasan pelancongan yang tidak terjaga.

Malah PD Marina ini juga dikatakan terletak di kawasan tanah rezab orang Melayu Kampung Bagan Pinang. Bagaimana pula projek yang diusahakan di atas tanah rezab orang Melayu ini tidak diselenggara dengan baik?

Bangunannya yang kelihatan usang malah dikelilingi oleh semak-samun mencemarkan imej destinasi pelancongan itu.

Kami ajukan persoalan ini kepada penduduk Bagan Pinang sendiri yang melihat dari dekat keadaan di tempat mereka.

Seorang lagi penduduk tempatan yang tidak mahu namanya disebut berkata, projek terbengkalai memberi kesan kepada pertumbuhan ekonomi di Port Dickson.

"Okay, bila menyebut tentang projek terbengkalai ini, Port Dickson ini adalah merupakan pusat pelancongan, kita mempunyai ramai pelawat dari dalam dan luar negeri".

"Yang penting apa pandangan masyarakat apabila melihat kebanyakan bangunan-bangunan terbengkalai.Daripada situ je pun, kalau ada pelabur asing datang melawat ke negara kita, kalau dia tengok banyak projek terbengkalai. Jadi daripada situ je, pelabur asing yang datang ke negara kita, dia akan tengok banyak projek terbengkalai, jadi macam mana situasi sebenar ekonomi negara kita" ujarnya.

"Jadi macam mana situasi negara kita sebenarnya, adakah negara kita ini negara maju atau negara kita ini negara rasuah disebabkan bangunan terbengkalai? Cuba kita tengok, sekiranya seorang pelancong asing yang datang sini, kita tengok, dia dapat data daripada bank dunia yang sudah mengeluarkan data mengatakan negara kita ini adalah negara yang paling banyak rasuah" tambahnya lagi.

"Bila dia tengok rasuah dengan dia tengok pula bangunan tepi pantai ni ini banyak pula terbengkalai, jadi apa pandangan dia. Sekiranya satu-satu projek yang hendak dijalankan tidakkah mereka semak dulu latar belakang syarikat, mampu ke syarikat ini buat projek sampai siap, mampu ke projek ini diberi kepada satu syarikat sedangkan syarikat itu tidak mampu hendak dibuat. Ada tidak kajian dibuat? Terus dia bagi satu syarikat yang tidak mampu disiap dan akhirnya syarikat itu turut terbengkalai begitu sahaja," katanya. -TVA

Mengapa perkara ini berlaku?

Para pelabur bagaikan takut mahu menaburkan wang mereka di Port Dickson. Kempen Think Tourism yang diwar-warkan nampaknya gagal membuahkan hasil. Adakah ini puncanya mengapa banyak bangunan terbengkalai yang dapat di lihat di sekitar Port Dickson dan Negeri Sembilan?


Go ahead and sue: Subra dares Samy - nizar nizar nizar nizar nizar
Posted: 05 Oct 2009 09:05 AM PDT
UPDATED 5PM
In what appears to be a never ending saga, Samy Vellu and his nemesis are at loggerheads again.
The president said MIED and Aimst were non-governmental organisations set up in his personal capacity in
a report which appeared in Malaysiakini last week

The report was the cause of the rift between Subramaniam and Samy with the former
dismissing this as a blatant lie, saying it only confirmed rumours that the latter was planning to hijack the immensely valuable organisations held in trust for the party.
The bane of race-based politics...MCA has its PKFZ scandal...MIC now in this MIED 'scandal'. ;-)
Poor Chinese and Indians...
1Malaysia: What's it all about, Najib? altantuya nizar nizar nizar nizar nizar
Posted: 05 Oct 2009 08:25 AM PDT
Premier Najib Abdul Razak should define the concept clearly instead of letting it recede into another branding exercise, say the unconvinced.
So far,
the '1Malaysia' tagline has been bandied about at various corporate initiatives such as the launch of the 1Malaysia F1 team, 1Malaysia earthquake fund for Sumatra and government-sponsored projects like the 1Malaysia lantern festival.


I think the
academics and activists
need not urge
premier Najib Abdul Razak to clearly define the concept of '1Malaysia'. It is already perceived
to be nothing more than "another branding exercise".
Just like Pak Lah when he became the PM, the tagline was 'Cemerlang, Gemilang, Terbilang'. What happened??? His Cemerlang, Gemilang, Terbilang' very soon faded and was taken over by '1Malaysia'.
A change of heart - By MELINYA SARAH
Posted: 05 Oct 2009 07:20 AM PDT
Read this piece written by a 16-year-old student that I know personally:
Sunday October 4, 2009
By MELINYA SARAH
EVERYBODY says it is nice to have a twin. You have a mate to play, study and share secrets with. Twins are practically best friends! They can go to school together, comfort each whether when either one of them is blue, plus do many more things together. Twins are cool!
Well, sadly, not for me. I have a twin brother, Alex. We have different interests and have never liked each other. Alex loves to read; he's a bookworm or, in my language, a nerd. On the other hand, I'm a music-freak; I love to sing, play my guitar and write new songs. I even have a band of my own. Whenever we finish making new songs together, we'll post it on You-tube.
Like I said, my brother and I dislike each other. We always quarrel over everything. From our lunch to our dinner plates, to whose turn it is to do the chores, to practically EVERYTHING! Our parents have tried many ways to make sure we don't kill each other. I feel sorry for them.
Once, my friends came over because we'd written a song called No Clue and wanted to work on a melody for it. We jammed in my bedroom as my parents weren't around.
Did I mention my room is big enough to fit in my bed, closet, study table, a drum set, keyboard, bass guitar, an acoustic guitar and an electric guitar?
After some hours of jamming, I thought the song was perfected. So we decided to sing it all over again to make sure everyone was satisfied before uploading it on You-tube. Well, I suppose we were quiet for a few minutes before we started singing the song all over again. That was when Alex came and started banging on my door.
"Alexia, could you please be a bit more quiet? I need peace and quiet," he shouted from outside my door.
"That would be impossible, Alex. Relax, it's not THAT loud," I shouted back.
"Alexia, you know I'm older than you, so I expect you to show me a little respect, please!"
"Yeah, by only 12 seconds! Just wait for another 10 minutes or so. We'll be done by then."
"You'd better be, or I'll tell mum and dad about your asking your friends to come over without telling them. Deal? I'm giving you guys another 20 minutes."
"Deal! Uugh ... can't you leave me alone for one whole day?"
"THAT WOULD BE IMPOSSIBLE, ALEXIA! All right, I'll come back after 20 minutes."
Well, we may be different, but there is one thing that we have in common. Both of us are geniuses.
Alex studies hard, while I study smart. We can easily score straight As in exams regardless of how many subjects we take. Last year, we scored straight As for our PMR and were offered places in a full boarding school.
Our parents encouraged us to accept the offer. I wasn't interested. But Alex had packed his belongings even before he got a place in the boarding school. I guess he knew about the school all along. Hey, we can search for things on the Internet.
So, we accompanied Alex to his new school to lend him support. At least, that was what mum said. I didn't want to go, but she made me. She promised to take me shopping while dad and Alex hunted for the items he needed in school, right after he had registered.
After everything was done, we dropped Alex at the school gate. Mum and dad waved goodbye. I didn't even bother to look at him. At least now he could have all time he wanted to study, while I could have all the time I wanted to write new songs and jam all day with my band buddies. Yahoo!
Three months passed but life wasn't the same without Alex. I'd been doing everything alone; the chores and the studying. Somehow, I missed my brother.
Annoying as he could be, he had always been the one who supported me when I needed it. I was the one who had been disrespectful to him. Oh, how I regretted that.
On the first day of the first semester break, I was alone at home while mum and dad were at work. I felt a little lonely, so I picked up my guitar and started playing a song in the living room.
Just when I started singing, a taxi stopped right in front of my house. The driver came out to help his passenger with his bag. Was that Alex?
Without hesitating even a second to waste, I ran out and hugged my brother. I probably embarrassed him in front of the taxi driver for saying "I'm sorry" a million times. But I was glad he forgave me.
It's true what they say – absence makes the heart grow fonder.
(
Source
:
The Star Online
)
Altantuya's ghost to 'haunt' Najib in Paris - nizar nizar nizar nizar nizar
Posted: 05 Oct 2009 06:56 AM PDT
The scandal over the murdered Mongolian woman will hang over Najib's head during his official four-day stay in Paris.
The statement was to have been originally read out by her father Setev in Mongolia's capital Ulan Batur, but later ill health prevented him from travelling to Paris.
Mongolian beauty Altantuya Shaaribuu's spirit is expected to haunt Prime Minister Najib Abdul Razak through her statement during his official four-day trip to Paris this week in a bid to shame him.

According to French Liberation newspaper correspondent Arnaud Dubus, Setev's statement will instead be read out by two opposition Malaysian MPs who are now in Paris."I know these two MPs have met with some French journalists but I don't have any details yet about a press conference," he told Malaysiakini in an email. (Source: Mkini - Support Mkini - Subscribe to Mkini!)

Following is the PRESS STATEMENT by the Altantuya Shaariibuu Foundation as posted in Malaysia Today:
Posted by admin
Monday, 05 October 2009 14:27
Sunday will mark the start of Malaysian Prime Minister Datuk Seri Najib Tun Razak's first official four-day visit to France to discuss bilateral, regional and international issues with top French leaders including President Nicolas Sarkozy and Prime Minister Francois Fillon.
France is one of Malaysia 's key trading partners with bilateral trade in 2008 reaching a total of RM13.91 billion. Currently, several French companies operate in Malaysia including Lafarge (cement), Technip (infrastructure for gas and oil exploration), Alcatel (telecommunications), Alstom (energy and railway equipment) and Carrefour (retail).
However what was omitted from mainstream reports in Malaysia and France is that Najib since assuming Premiership in March 2008 is easily the most controversial Prime Minister since political independence in 1957 as he has been linked, through two policemen in charge of his protection and according to the statutory declaration of a private investigator, to a murder case. And we are not talking of any "normal" murder case but the gruesome murder of a beautiful Mongolian woman Altantuya Shariibuu connected to the purchase of French submarines worth a billion euros.
How is Najib linked then? Apparently, she was introduced by Najib to Abdul Razak Baginda, a close friend and defense analyst from the Malaysian Strategic Research Centre think-tank, to work for the deal Baginda was brokering for the Malaysian government to buy three submarines from France for one billion euros. According to the same private investigator, the duo quickly became romantically involved.
In October 2006, Altantuya was informed that the commission of 114 million euros was paid into the account of Perimekar, a company Baginda controlled. Altantuya then went to Kuala Lumpur to demand her share of the commission, which was to have been US$500,000. She went missing on 19 October 2006. In the last letter she wrote before her murder, she said that she had been blackmailing Baginda. The private investigator who linked PM Najib to Altantuya a few days after reneged on his first statement and then disappeared.
The Malaysian police found fragments of her bone in a forested area in Shah Alam, some 30 km from Kuala Lumpur . Police investigation revealed that she was shot twice before C4 explosives were used on her remains. Baginda and two members of the police force were arrested and charged for her murder. The two murder suspects Azilah Hadri, 30 and Sirul Azhar Umar, 35 are members of the elite Unit Tindakan Khas (the Malaysian Police Special Action Force or counter-terrorism unit) and were both assigned to the office of the then Deputy Prime Minister Najib Tun Razak, who was also the Defence Minister. Both policemen were found guilty and sentenced to death while Baginda was acquitted. The Malaysian Attorney General has not appealed on Baginda's acquittal and he is now a free man.
The father of Altantuya, Professor Shariibuu Setev who had tried but failed to seek satisfactory justice and accountability in Malaysia will issue a statement in Paris to highlight his daughter's murder and how its linked to the Malaysian Prime Minister and the billion euro French submarine deal.
Era Najib ALtantuya : Tanda UMNO Akan Tersungkur Di Bagan Pinang
Posted: 05 Oct 2009 05:09 AM PDT
M
ungkin ni tanda-tanda Umno akan semakin tempang, lepas kalah di semua PRK sebelum-sebelum ni, dengan kalah di Bagan Pinang ni dah tentu-tentu Umno akan makin tempang sebelum dikuburkan.
Guna selogan 1 Malaysia konon, tapi apa yang depa pi kelentong di estet, langsung tak mencerminkan macam depa nak 1 Malaysia. Tak habih-habh nak lagakan antara rakyat Malaysia.
Isu kepala lembu contohnya, aku dapat maklumat yang Umno masuk estet cerita kat pengundi India, bukan orang Umno yang bawak kepala lembu tapi orang PAS.
Kalau sumber maklumat yang bagi kat aku tu betui (dan aku memang yakn sumber tu batui), memang celaka betui orang Umno yang buat kerja tu.
Macamana tak celaka, kalau ada orang sudah berak dalam rumah orang lain tiba-tiba dia pulak bawak cerita aku yang berak kat situ. Yang celakanya depa boleh cerita tanpa rasa malu, walaupun memang jelas ada gambar depa yang tengah berak. Tak ka celaka punya kerja tu.

BTW semalam ada informer bagi maklumat, walaupun nampak macam orang India agak ramai bila kelab penyokong BN buat program tapi dia kata kali ni BN akan kena tipu dengan orang India, bagi makan depa sapu, bagi duit depa kebas tapi undi depa akan bagi kat calon Pakatan Rakyat. Kredit gambar untuk Zaki Jitp - cenangau


Era Najib Altantuya : Muhyiddin Merapu Tuduh Pembangkang Edar Surat Palsu
Posted: 05 Oct 2009 04:10 AM PDT
D
akwaan Timbalan Presiden Umno Tan Sri Muhyiddin Yassin bahawa Pakatan Rakyat mengedarkan surat palsu sebenarnya adalah perang psikologi Umno-Barisan Nasional.
Pengerusi Perhubungan Parti Keadilan Rakyat (PKR) Negeri Sembilan Datuk Kamarul Baharin Abbas berkata ianya sengaja dibangkitkan Umno-Barisan Nasional untuk menuduh Pakatan Rakyat.
"Ini mungkin satu perang psikologi dari pihak Barisan Nasional menuduh kita, semua yang kita buat palsu apa hal?
"Kadang-kadang digunakan untuk perang psikologi. Ini cara dia, dia buat dia tuduhnya pembangkang," katanya.
Semalam Muhyiddin mendedahkan taktik kotor pembangkang kononnya menyebarkan surat palsu Umno kini menghadapi konflik ketika pemilihan Tan Sri Isa Samad sebagai calon Barisan Nasional pada Pilihan Raya Kecil Bagan Pinang.

Berita Harian melaporkan Muhyiddin berkata pembangkang cuba mengelirukan pengundi bagi menunjukkan berlakunya perbalahan dalam Majlis Tertinggi Umno berhubung pencalonan Isa.

Muhyiddin berkata taktik berkenaan digunakan pembangkang yang bimbang dengan pencalonan Isa.

Kamarul berkata Umno-Barisan Nasional seharusnya terlebih dahulu membuktikan surat berkenaan adalah palsu sebelum membuat tuduhan.

"Betul ke surat itu palsu bagaimana kita boleh dapat kepala surat itu dia kena siasat betul lah buktikan surat itu palsu.

"Mungkin orang kita tidak buat benda ini, macam mana boleh dapat kepala surat? Kepala Surat bukan boleh buat-buat buktikan surat itu palsu.

"Kalau boleh buktikan sekarang ada DNA buatlah. Carilah siapa yang bertanggungjawab. Dia hendak senang saja apa lagi dia hendak komen,"katanya.

Menurut Kamarul Baharin, sekiranya surat berkenaan surat palsu itu diedarkan pembangkang, bagaimana pula kepala surat dan cop rasmi Umno diperoleh.

Beliau menambah Umno-Barisan Nasional lebih tertekan berbanding Pakatan Rakyat.

"Bagi Pakatan pertandingan ini bukan pertandingan hidup dan mati, kerana kita tidak boleh mengubah kerajaan negeri tetapi kesannya kalau isa kalah itu besar pada Barisan Nasional.

"Yang pertama seorang tokoh bekas menteri besar kalah. Itu kesannya besar. Yang keduanya pengundi tolak Barisan Nasional, jadi kesannya pada Barisan Nasional, tamparannya pada Barisan Nasional kalau kalah lagi teruk dari Pakatan Rakyat," katanya.

Kamarul berkata Pakatan Rakyat berada dalam keadaan fokus untuk merampas kerusi Umno-Barisan Nasional.

"Pakatan Rakyat kalau kalah tidak menjadi apa-apa kerana kerusi berkenaan kerusi Umno. Kita hanya boleh bertanding dengan harapan kita boleh merampas kerusi Umno.

"Yang tertekan Umno kerana kalau dia kehilangan kerusi di Bagan Pinang bermakna sokongan orang Melayu pada Umno makin kurang," katanya. -TVA




This posting includes an audio/video/photo media file: Download Now
Posted: 05 Oct 2009 02:24 AM PDT
After reserving Saturday for my final (I think) Raya rounds, I thought I'd make Sunday my rest day. Other than a
kenduri aqiqah
at a friend's house nearby my place, I was planning to simply relax at home in the afternoon.
But on Saturday during my Raya rounds, a text message came in from Wani. She wanted to do a small makan-makan at home on Sunday to celebrate her son's birthday (which fell during fasting month) and so she invited me to join the do.
So yes, after the heavy lunch during the kenduri aqiqah for my friend's first grandchild (it was sort of aqiqah cum Raya open house), and after my zohor prayer, off I went to a fellow volunteer's house. 3 of us volunteers planned to go, so we might as well car pool. And since I had been driving around on Saturday, this time I just wanted to sit and relax in the car, so we went in my colleague's car. We did try to call a few other volunteers to ask if they'd like to join and make the birthday-do a bit more meriah, but most of them already had other plans, so tiga orang pun tiga oranglah!
As we got to Wani's house, her elder son, the one with hearing problems and a very highly excitable kid, came running to the car. Aiyo, I so very gayat lah with this boy. He got even more excited when I took out a hamper from the car to be given to them. It was just a cheap hamper - the same type that I gave to the other families I visited on Saturday, but good enough to excite the children.
All the food were prepared personally by Wani - first I ate the mee soup, then the nasi impit and finally the moist chocolate cake. The chocolate cake was nice but it was so rich I simply couldn't take in any more food after eating it. Besides, I did have heavy lunch earlier at the kenduri aqiqah.
After a while a few female neighbors came and they did seem a bit shy seeing a man (my colleague) in the house, and since we were already full (or at least I was bloody fool, errr... I mean bloody full!), we decided to make a move.
Tomorrow I intend to go to Sofie's place to bring her son to an optician so he can get a pair of glasses. The poor boy must be struggling in class trying to figure out what's written on the board. It's about time he gets a clearer vision of things.
Posted: 05 Oct 2009 02:58 AM PDT
Another Choseuk Hanbok special, individual gallery for actress Kim So-eun; the girl is so cute she deserves an independent showcase lol…
Kim So-eun in Hanbok from YeinJee's Asian Blog
Posted: 05 Oct 2009 03:26 AM PDT
I WAS alone on Malaysia Airlines KK-KL flight last night
After a (short) two-week holiday in Sabah and overseas
I had to go back to work in Putrajaya
Was sleepy. But Henry Wanyoike (right) woke me up
This athlete, a Kenyan, made me speechless
Blind. Running with the help from childhood friend
Joseph Kibunja (second from right)
And they (or rather Henry) had tasted victories. At World events!
Gold. More than gold is in order
Visit http://www.henry4gold.com
Or even HERE
We should be ashamed of our "able" selves...

(Its a real pity, I could not get the wonderful


article about Henry, in the October's




MAS Going Places in-flight magazine)



Posted: 05 Oct 2009 02:06 AM PDT
Chuseok 2009 special – Korean celebs in Hanbok
Posted: 05 Oct 2009 12:43 AM PDT
Korean celebrities don in traditional Hanbok to greet the fans on Chuseok, Korean harvest festival. Some pretty women, a few hunks and a little kid in beautiful costumes; can't remember everyone's name regrettably…
FT Island
Chuseok 2009 special – Korean celebs in Hanbok from YeinJee's Asian Blog
SNSD Into The New World encore
Posted: 04 Oct 2009 11:58 PM PDT
Korean pop group SNSD performing their old debut song Into The New World at SBS Idol Bigshow, a special gig over the weekend to celebrate Chuseok…
The nine girls released their first single in August 2007; and despite various controversies, they rose to fame gradually and became one of the top female pop groups at the moment.
[video via nasasapce@Youtube]
Girls' Generation news
Previous: SNSD – Sorry Sorry special stage
SNSD Into The New World encore from YeinJee's Asian Blog
This posting includes an audio/video/photo media file: Download Now
The Eye Infection and The Bad Mother
Posted: 04 Oct 2009 09:53 PM PDT
Last Friday when sending Miki to the babysitter's, she told me that one of the boys there had eye infection. The mother of the child (MoC) could not take leave and had no choice but to send him to the babysitter. I think even the world's biggest idiot would know that eye diseases are highly infectious and patients must be quarantined to avoid spreading. Apparently that poor little boy has contracted the disease on Thursday and yet his mother still pushed him to the babysitter on Friday.
That MoC must be the biggest idiot not only on planet earth but the entire galaxy. The next time I see her I am gonna get my hands on her face and rip it open. I bet inside she is Dato' Sri Najib or Obama in disguise as a softspoken Malay mother BECAUSE UNLESS SHE IS A BUSY-AS-A-MAD-BEE PRIME MINISTER OR A PRESIDENT HOW CAN SHE NOT GET A LEAVE TO TREAT THAT FREAKING EYE DISEASE?????
I took a half day off that day to get Miki away from that place and coincidently at the same time Miki had an audition for Abbot ad in Damansara. I will write about the audition later but on the way back Miki's left eye has begun to produce white discharge.
I was very disappointed and gave the babysitter a call. She was very sorry that Miki was infected but there was really nothing that she could do. Though she could have been more firm but I totally understand her. She is a very nice, caring and understanding lady and she could not turn MoC down.
Kesian lor orang tak boleh cuti. Orang kerja la katakan, macam lah orang lain tak kerja kannnn?????? Eeeiii.. geramnya akuuuu…

Anyway, we rushed Miki to the doctor late that Friday afternoon, but look at his condition on Saturday.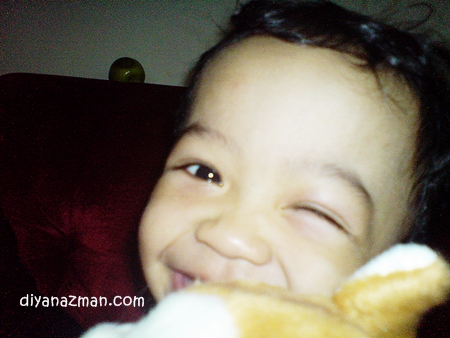 My poor baby was still smiling wide in this picture despite his eye being swollen and red. Luckily it was not irritating, watery or producing any discharge but still I was really mad with the fact that this could have been avoided if MoC had been more CIVILIZED!!! Please laa… I am writing this as a reminder to all parents including myself. What do you feel when other kids has gotten sickness from your baby just because you wouldn't take a day or two off? That is an act of selfishness, inconsiderate and pure stupidity.
This morning the babysitter informed me that not only Miki but ALL the children there including her own kids has gotten the sickness. I think we all should send the medical bills to MoC. That would be fair isn't it? You share your germs, we share our med expenses, no?
PS- This is the same mom that sent her baby who was vomiting every 20 minutes and infected Miki with diarrhea before he was even one. When Miki had Rotavirus, I didn't take him to the babysitter for 9 whole days for fear he will get others sick too… I think I am gonna give her a piece of my mind the next time I see her. Today, Miki's condition has improved, eyes no more swollen just a little reddish.
Sleeping With My Facebook Buddies
Posted: 04 Oct 2009 11:46 PM PDT
The moment I opened my eyes, there sleeping beside me was this bald, dark skinned and good looking man who, in my mind, was supposed to be one of my Facebook buddies. Beside him were two other good looking female Facebook buddies, all lying side by side on the same mattress with me. I do not know what we were doing there. We were all fully clothed, mind you. And then I woke up. Noon naps will never be the same again.
Related posts:
Era Najib Altantuya : AMK Desak Ismail Sabri Tarik Balik Tuduhan Atau Hadapi Tindakan Undang-undang
Posted: 04 Oct 2009 11:39 PM PDT
A
ngkatan Muda Keadilan Malaysia mendesak Menteri Perdagangan Dalam Negeri Koperasi dan Kepenggunaan Datuk Seri Ismail Sabri Yaakob (gambar) memohon maaf di atas perkataan samseng yang digunakan ke atas Parti Keadilan Rakyat (PKR).
Ketuanya Shamsul Iskandar Mohd Akin berkata Ismail Sabri diberi tempoh lima hari mengemukakan permohonan maaf dan menarik balik perkataan berkenaan.
Sekiranya Ismail berdegil, pihaknya akan mengambil tindakan undang-undang.
"Kita desak supaya beliau menarik perkataan samseng tersebut kerana dalam setiap pilihan raya kecil insiden samseng ini bukan merupakan budaya Keadilan.
"Kita desak Ismail Sabri untuk minta maaf kerana membuat gambaran bahawa parti kita parti yang ganas.

"Kita akan saman beliau ini kenyataan yang memalukan, ini parti yang ada undang-undang dan mengikut lunas perlembagaan dan hukum," katanya ketika dihubungi TV Antara sebentar tadi.

Beliau berkata demikian ketika mengulas mengenai laporan Sinar Harian hari ini. Ismail Sabri dilaporkan berkata Pas telah dipengaruhi oleh budaya samseng yang dibawa PKR.

Dalam laporan berkenaan Ismail berkata sejak Pas bersama-sama PKR mereka sering bertindak diluar batasan dengan mencemuh dan memaki hamun pemimpin.

Ismail berkata demikian merujuk kepada insiden beliau dan Ahli Majlis Tertinggi Umno Datuk Azeez Abdul Rahman kononnya diserang oleh penyokong Pas di Bagan Pinang.

Menurut Shamsul insiden samseng sebenarnya dibawa oleh Ketua Pemuda Umno Khairy Jamaluddin ketika beliau menjadi Timbalan Ketua Pemuda.

"Pada kita ini soal maruah parti dan serangan ini merupakan serangan berbaur provokasi yang mengundang tindakan daripada pihak Keadilan.

"Insiden samseng dan ganas ini mula ditunjukkan oleh Khairy Jamaluddin dahulu ketika beliau menjadi Timbalan Pemuda Umno Barisan Nasional," katanya.

Mengulas mengenai dakwaan dua pemimpin Umno berkenaan bahawa mereka diserang penyokong Pas sewaktu hari penamaan calon Shamsul berkata, beliau mencabar Ismail mengemukakan bukti dan saksi insiden berkenaan.

Katanya, ia merupakan provokasi yang sengaja dilakukan Umno-Barisan Nasional.

"Beliau diserang oleh sekumpulan penyokong yang katanya daripada Pas tetapi sehingga sekarang tiada bukti kukuh yang menunjukkan beliau diserang oleh orang Pas kerana provokasi-provokasi seperti ini adalah identiti Barisan Nasional.

"Mereka biasa dengan keadaan melakukan provokasi kemudian menuduh orang lain melakukan tindakan tersebut," katanya. -TVA