---
1malaysia crap!! – superiority of islam showing!
Posted: 12 Nov 2009 09:45 AM PST
what the hell!!! why all of a sudden, the government cancel the permit of the herald? so a christian publication is not allowed? is this najib's 1malaysia at work?? even if a christian (or for that matter any non muslim) publication is allowed, there are restrictions here and there. why?? because there is 2malaysia, not 1malaysia! 2malaysia – 1 for umno/muslim and 1 for non umno/non muslim. 
all this while, while the 'allah' case is pending in court, herald has not been using the word 'allah', so why all of a sudden cancel herald's permit for next year? well, even if herald does use the word 'allah', what's wrong with it? i had blog so many times already about the use of allah and mentioned so many times already how 'allah' does not belongs exclusively to the malaysian muslim. the world will be laughing at us to hear that malaysia has copyrighted 'allah' for muslim' use only!! why should only islam use 'allah'?? because islam wants to be superior!! it's ketuanan islam at work!!
of course let's not talk about the damn silly reason they (govt.)  gave – that muslim will be confused on reading the word 'allah' in a christian publication.  they have no faith in their own muslim? they are embarrassing their own muslim!! oops. sorry i said i do not want to talk about it but i talked about it in the process of not talking about it.
luckily i noticed that MCA had came out to defend herald. from malaysiakini (full article at the end of my post):
In an immediate reaction, MCA spokesperson Gan Ping Sieu described the ban as "repulsive and unreasonable".

"MCA strongly urges the Home Ministry to reconsider the retraction of The Herald's printing permit. By denying The Herald's permit renewal, the Home Ministry could be misconstrued as acting punitively against the religious publication's suit against the government on the usage restriction of the 'Allah' terminology."

He added that the move would destroy the goodwill between religious bodies and the government.

"The 1Malaysia concept of mutual respect and inclusivity should be upheld by government departments."
yeah, by denying the herald's permit, the govt. is not only being punitive but is infringing on our (christians) rights! why are we not allowed to have our publication? so mad!!
mad! mad! mad! when we are not allowed to use 'allah'!! 
mad! mad! mad! when now suddenly the permit for next year is cancel! 
i'm very mad because i had been contributing articles to the herald a lot these days.  no, i'm not a staff of the herald but  i'm consider a stringer for herald. that's why you see, i have the herald press tag (picture).  if there's no herald, whatever will happen to all the reports i'm making for events/activities of the church? if there's no herald, where do i get extra pocket money? if there's no herald, how do catholics keep informed of not only activities but of their faith? herald is here to keep us informed and to form us (to grow in faith)!
i notice that malaysiakini mentioned about MCA speaking up but the malaysian insider didn't. whereas in the malahysian insider, it was mentioned about the editor of the herald enlisted the help of datuk michael chong,  a special officer to the home minister  and a church-going catholic, to clear the confusing chain of events but malaysiakini didnt mentioned that. hmm… different reporting.
coming back to the word 'allah', in the latest issue of the herald (15 nov), under the 'letters to the editor' column, is this  letter:
'allah' used by christians long time before advent of islam.
dear editor

i am a christian from the middle east and i would like to comment on the issue of the 15,000 bibled detained because they contain the word 'allah'.

the word 'allah' or 'allah' has the same meaning in other languages as: god, dieu (french) etc. but my point is: we, the christians in the middle east have been using the word 'allah' in our arabic language before even the rise of islam 1400 years back, and we've been around since lord jesus' period.

mattar rabie
(via email)
i think i would not want to continue writing anymore because the more i write, the more frustrated i get. i had already also blog so many times about the allah issue, so better don't do it now.  please do click on 'read the rest of the entry' to read the article from malaysiakini (that is if you are not a subsriber of malaysiakini)
—————————————————
Malaysiakini
Nov 12, 09, 5.37pm
The Herald loses permit amid 'Allah' row.
Weekly Catholic newspaper The Herald has lost its publishing permit for next year amid a long-running dispute over its use of the word "Allah".The loss of The Herald's permit comes as it prepares for a High Court hearing on Dec 14 in a legal battle between the Catholic Church and the authorities over the use of the world "Allah" in the paper's Malay-language section.
The government has argued that the word "Allah" should be used only by Muslims, who dominate the population of Malaysia.
"It is very confusing. One letter in August said we have the licence to print (in 2010) and the next thing is we receive a letter in September saying the permit is not approved. Something is amiss," The Herald's editor, Father Lawrence Andrew, told AFP.
Father Lawrence (left) said the Home Ministry cancelled the new permit without any reason.
The Roman Catholic Church has waged a two-year legal battle with Malaysian authorities over the use of the word "Allah".
The priest said he had met with Home Ministry officials last month to resolve the issue but declined to elaborate.
Home Ministry officials could not be immediately reached for comment.
The Herald newspaper, circulated among the country's 850,000 Catholics, nearly lost its publishing licence last year for using the disputed word.
Asked if The Herald would be available in January 2010, he said: "I hope it will be there."
The newspaper is printed in four languages and has a circulation of 14,000 copies a week.
Strings of religious disputes
The row is among a string of religious disputes that have erupted in recent years, straining relations between Muslim Malays and minority ethnic Chinese and Indians who fear the country is being "Islamised".
Religion and language are sensitive issues in multiracial Malaysia, which experienced deadly race riots in 1969.
About 60 percent of the nation's 27 million people are ethnic Malay Muslims.
The rest of the population includes indigenous tribes as well as ethnic Chinese and Indians – practising Buddhism, Christianity and Hinduism, among others.
More than half of Malaysia's Catholics are from indigenous groups, most of whom live on the Borneo island states and who mainly speak Malay.
In an immediate reaction, MCA spokesperson Gan Ping Sieu described the ban as "repulsive and unreasonable".
"MCA strongly urges the Home Ministry to reconsider the retraction of The Herald's printing permit. By denying The Herald's permit renewal, the Home Ministry could be misconstrued as acting punitively against the religious publication's suit against the government on the usage restriction of the 'Allah' terminology."
He added that the move would destroy the goodwill between religious bodies and the government.
"The 1Malaysia concept of mutual respect and inclusivity should be upheld by government departments."
Cari Makan @ Penang - CKT and CCF
Posted: 12 Nov 2009 08:05 AM PST
You must be wondering what is CKT and CCF ? CKT is Char Keoy Teow (fried noodles with eggs and cockles ) and CCF is Chee Cheong Fun (Rice thick noodles rolls with prawn paste)
These are two popular food that you can get almost everywhere in Penang island. I know my friend Klang Kia is going to drool over these two food. He told me to think of him crying when I ate CKT and CCF. Sorry dude, i was not able to pack the food back from Penang but i managed to capture the image with my Nikon D70.
This is a Chinese Style CKT that you can find it @ Lai Lai food court Ayer Itam on the way to Penang hill. The price is reasonable but the taste is so so only. Taste a bit salty.
I was surprised when this CKT was served. It was not dry, it came with the sauce. This is a Malay style of CKT @ the base of Penang Hill, a small restaurant besides the cable car station. The taste was okay but it's really different from the normal CKT we had.
You can find this CCF @ BT Food court, Burmah Road, two blocks away from Tune Hotel, just besides the Wesley Methodists Church. The CCF is not as great as the one in New World Park. The sauce was a bit sweeter.
Anyway, the CKT and CCF were not listed in any Food brochure that prepared by the Tourism board of Penang... Yup! Penang Tourism Board has come out a list of Penang food and printed its location and time in a brochure that you could get it from any tourist information center. Just get one and you could go and cari cari makan @ Penang.

Sleeping in a bed with five others
Posted: 12 Nov 2009 08:29 AM PST
Every night I go to bed with five guys. They are Azman, Miki, Bobo, Kokong and Pichun. Naughty girl me eh?
Just kidding! Haha! Now that Miki is as tall as half the length of my body; co-sleeping is being reconsidered seriously.  Not only we have to bear getting kicked on the jaw, the gut, the you-name-it in the middle of the night by his dainty feet; we also have to bear being kissed in our slumber by furry stuffed cats!
Sometimes they appear in my sleep… mysterious cat faces peering close to mine and giving me big fat kisses.. I wake up terrified, waving my hands about pushing them away while God-knows what obscenities has escaped my lips. Then I open my eyes and see Miki holding his 3 cats and flashing his dazzling smile  "Mummy, nak shoo shoo!"
I must say his choice to tonyoh cat busuk to my face is an amazing modus operandi. Horror ok? Tengah-tengah tidor kena comolot dengan menatang berbulu!!! Konfem terus bangun!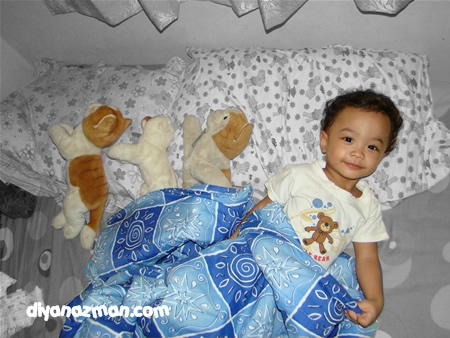 Cuteness eh? From left – Bobo, Pichun, Kokong aka Cat Busuk and the little raskal. Recently Miki has officially named his cats, don't ask me what Pichun and Kokong means. Sound very Siamese to me…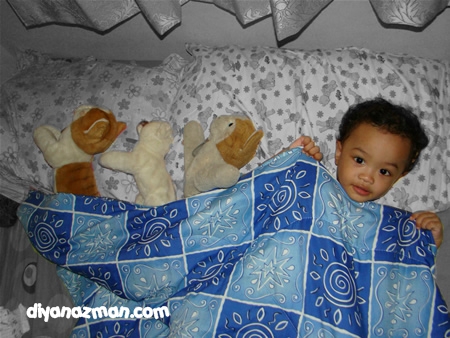 This has been going on for the past few days. He lines up that 3 "animals" in a row like this and share a blankie with him. "Shimut! Shimut" he said, trying to pronounce selimut. Then he made me lay down on the far side next to Bobo. Ehh.. bapak ko nak tidor mana?
Posted: 12 Nov 2009 08:06 AM PST
1. God Fearer
1.
Naaman
- Commander of the army of the king of Aram (Syria)
- Great man in the sight of the master and highly respected
- Valiant soldier but he had leprosy
- God is upon those in the market-place whose heart is open
2.
The Captured Girl
- Maid to Naaman's wife was strategically placed by God
- We are not pawns in the devil's chess game to be exploited or to be pushed away. God allows circumstances to push us into the centre of His will and to be strategically placed for His purpose
- Naaman's wife, like many wives, had great influence over her husband (eg. Esther)
- Know how to be engaged with those who are in the sphere of influence
Sleeping Beauties Waiting To Be Smooched In The Library
Posted: 12 Nov 2009 06:57 AM PST
nizar: MACC panel wants to re-look Lingam case - nizar nizar nizar nizar nizar nizar
Posted: 12 Nov 2009 07:33 AM PST
In the wake of mounting criticism over the 'closure' of the VK Lingam case, the MACC's operations review panel (PPO) has expressed interest in re-examining the matter.
Why oh why.

Even Tun Dr M says '

not correct

' to close Lingam case.

I don't think Tun wants to wait until he goes to the grave.



He said he wanted to
defend himself over this issue, which exploded during the reign of Abdullah Ahmad Badawi.
Thus,
he was waiting for his day in court.


Come on, MACC. Do Tun a favour. You cannot be so useless and powerless.

Posted: 12 Nov 2009 01:35 AM PST
So, this is my picture which I grabbed from my friend's Facebook. I still laughing look at this picture. Yes, I was a prefect from primary 4-6. Ha ha ha ha. I still remember the teacher's name (inside the pic), he is Mr Francis Huang. I still see him at the church, which I supposed he won't remember me after all. He he he, I think he's retired now, if not mistaken.
I did talked to him, but he says, he can't remember me at all. Haha ha. Although I was his little ''slave'', I helped him carried the books up and down. His office looked like a store room, full with books. Yeah, every year, people will buy books from him, be it buku latihan, buku latihan tubi or text books. I was the person who became his kuli, cashier and just everything which I can say, his ''slave''.
But I still remember him, because I did learned a lot from him. I remember he says, '
'to be a good human, is where you are being good with them.''
Which I wasn't sure what he meant actually, but I think, I can understand that. Ermm.
My mum says, my primary school days were ''zaman komunis'', which I don't know why she said that. Maybe I was a little ''ganas'' girl, maybe. He he he.
So, readers, how was your ''zaman komunis''? He he he
p/s: Wahh....8 days to go, I'll be at home. he he
A Canadian-Malaysian Connection: Unwanted Soldiers
Posted: 11 Nov 2009 11:34 PM PST
As a Canadian living in Malaysia, I find it interesting whenever I find some connection between the my country of my birth and the place I now call home. That is, I find it interesting when two seemingly separate aspects of my life intersect beyond the boundaries of my little family, like one time when I watched a Canadian and Malaysian driver battling for position in an A1 race (let's face it, you usually don't see Malaysia and Canada competing against each other in pretty much anything). It reminds me of my wedding, when people who were in my life but not one another's lives were suddenly sitting together at one table. It was like a comic starring both Batman and Spiderman. It was interesting.
I got that feeling again (and more) today when my friend Tariq alerted me to a National Film Board of Canada documentary from 1999 called Unwanted Soldiers. It tells the story of a group of young Chinese-Canadian men who lived in a society in which they couldn't vote, get decent jobs, or even safely leave Chinatown. When the Second World War came along, they discovered to their great frustration that they couldn't even get accepted into the army to fight for their country. However, when the Japanese occupied what was then called Malaya, the British hatched a plan to drop soldiers into the Malayan jungles to arm and train the guerrillas; the natural choice was to find Chinese-speaking soldiers who could blend in. That's when they got the Canadian army to open the doors to Chinese recruits, several of whom were taken to an island off BC and trained in commando tactics. The soldiers were then dropped into the Malayan jungle and remained there until August 1945, when the Japanese finally surrendered.
Who knew there was such a fascinating Canadian connection to such a tumultuous period in Malaysian history? I certainly didn't.
Of course, the story doesn't end in 1945. There's more to this documentary than just war. The fighting these men did in the jungle was nothing compared to their fight for dignity. The documentary is almost an hour long, but it's worth it. Do take a look.
Sure, it's not Remembrance Day anymore, but it doesn't have to be, does it? As fellow Cape Bretoner and blogger Kate Beaton writes:
Remembrance Day always makes me ruminative about the place of history in our current consciences, because it is one of the few holidays where we are explicitly told listen you have to remember this thing that happened ok and, one, people pay attention, two, there is nothing jamming the line like bbq's or parties or football games or chocolate eggs or presents. History: You should give a shit, who knew.
Anyway, watch the documentary if you have time. It's a truly moving Canadian story, with a bit of Malaysian spice.
Posted: 11 Nov 2009 11:43 PM PST
The serenity in the dense darkness was intermittently interrupted by the rustling of leave as the slow breeze brushed past the foliage of durian trees, bamboo and long untapped rubber trees. It was about ten in the evening. Tinnitus roared loud inside my ears. The continuous screeching momentarily discomforted me. I had never been in such silence before.
The car was parked on the road. The road clung on to the terrain as it wound its way from Teluk Bahang on one end to Sungai Pinang on the other. The land sloped upwards into infinity on one side. I could not see the peak. On the other, it sloped down to my Tua Ku's house that perched on the slope ten storeys below the road. The half brick and half timber house was at least half a century old then.
A spring gurgled nearby. I knew where it was even in that blindness. I had stood beside it many times, listening to the sounds the water made as it wound it way around the bedrock. A granite slab covered the opening to keep it from being contaminated. Two families depended on that source of fresh water, the only source available miles around.
Crickets chirped incessantly. I liked the permeating darkness. No artificial lights, no lights at all, save for the stars twinkling high above. It was a clear night though The sky was sparkling, a symphony of stars were dancing to the rhythm of the universe. I was barely into my teens. The wide expanse above made me feel even more insignificant.
I could lie down there the entire night watching the abundance of little lights twinkling away. A city boy like me seldom got the opportunity to witness the splendour of heaven in its full glory. Street lamps and other forms of light pollute the night sky, only allowing views of the brightest stars to be visible.
Across the road from where the car was parked, near the upward slope, specks of green glowed and dimmed, and seemed to be drifting here and there without purpose. I knew what they were although that was my first time seeing them. Fireflies!
I counted. There were about ten, or perhaps twenty. I have forgotten. It was such a long time ago. What I do remember was that I stood there transfixed, watching, waiting, for them to get closer. I wanted to see one up close. They kept their distance. I was absolutely fascinated nonetheless.
Related posts:
On getting up the hill for Splendid View
Posted: 11 Nov 2009 10:00 PM PST
Last Saturday, we took a cable car up to a place that have the most splendid view in Penang... Anyone know where is this place that you could see the whole panoramic view of Penang? Yup~ It's the Penang Hill.
Me: Dude, this is the first time to go up... Just wanna to let you know. Don't expect too much eh~
Friend: Why?
Me: Up there nothing much. You are able to see the whole Penang view, a few old hotels, one indian temple, one mosque. That's all.
Friend: Is it? Okie
Me: Yup... we just need about the most 3 hours to finish everything.
Went to buy the ticket and off we went up the hill...
Splendid view of the city of Georgetown
Owning a Nikon 18-200mm zoom lens, i managed to take a closer shots of Malaysia longest Bridge from the top of the hill. Errrr.... whenever i saw the Penang Bridge, first thing comes to my mind... Massive Jam... hehehe... with the 3rd lane now, it actually easy the traffic a bit... :)
Penang Bridge
We left Penang Hill at about noon and headed for lunch :)
Am I Still In The Youth Category?
Posted: 11 Nov 2009 11:20 PM PST
I wonder what is considered youth in this country. Is it a person aged 35 and below? Or 40 and below?
I stumbled on this via Twitter and thought, hey, sounds like a super cool event. Unfortunately, the contest didn't state what youth was.
The exciting thing was - all these lovely, famous folks were coming to Putrajaya this 16 November. There's Sir Bob Geldof, Lorraine Hahn, Biz Stone (smack yourself if you don't know who this is), Garry Kasparov and many more top personalities of the world.
I guess we all need to act like groupies once in a while.
It's exciting to bask in the same venue and be so close as to be able to touch these people.
They're alive and here and in the flesh.
It doesn't matter if you're 17 or 70, if you come face-to-face with your idol, you go all queasy and weak and feel like a stupid, gawking teen all over again.
Anyway, if you're living in KL, this is the best contest for you. After all, if you win, you get to rub shoulders and elbows and do the camwhoring with these people.
Deadline's tomorrow.
All you need to do is to tell THEM (the AirAsia people), if you could change one thing in your lifetime, what would it be, and who will it be for? Yourself, your community, or your country? And how will you contribute to it?
I know. Sounds like some cheesy topic you get in your sekolah menengah essay-writing classes.
But, cheesiness aside, you might come away with some magic dust that inspires you to greater dreams in life.
I know for a fact that people need inspiration and inspiration in the form of your fave idol/popstar/Nobel laureate winner/web2.0 guru/media star can kick you out of your humdrum life.
Go impress them!
nizar MB: Federal gov't shortchanging S'gor - nizar nizar nizar nizar nizar
Posted: 11 Nov 2009 10:02 PM PST
The RM400 million grant for development is pittance says Khalid Ibrahim, who also reveals the actions of a few errant ministers.
To a question
posed by Taman Medan state assemblyperson Haniza Mohamed Talha
on the restrictions that the federal government has imposed on the state government when granting funds, Khalid told t
old the state assembly.
out of the over RM600 million paid by Selangor people in taxes, the federal government was only granting us RM400 million in total for development.

Khalid (right)
, the Ijok state assemblyperson.
nizar RPK discharged but not acquitted over sedition - nizar nizar nizar nizar nizar
Posted: 11 Nov 2009 09:53 PM PST
The case has been put on hold for the time being until the infamous blogger can be found...
I

pray

RPK

will never be found until the semblance of justice returns to this land...
Raja Petra Get Discharge Not Amounting To Acquittal On Sedition Charge
PETALING JAYA, Nov 11 (Bernama) -- Blogger Raja Petra Raja Kamaruddin, who is charged with sedition, was given a discharge not amounting to acquittal by the Sessions Court here Wednesday because the police could not trace him.
Judge Rozina Ayub, in making the order, said it was most embarrassing for all the parties concerned that the prosecution had failed to serve the warrant of arrest on Raja Petra, as a result of which a discharge had to be given and the case was left hanging and without an ending.
"This case cannot proceed. It's a pity because the the prosecution had called seven witnesses," she said.
Rozana also ordered that a notice be served on Raja Petra's wife, Marina, to show cause why she should not forfeit the RM5,000 bail that she had posted.
"The bailor in this case, namely his wife, has to come to court to explain his absence, or forfeit the bail," she said.
Earlier, deputy public prosecutor Mohd Dusuki Mokhtar informed the court that the police had failed to trace Raja Petra till today.
The court had expected the case to be disposed of by end of next month and the prosecution had lined up at least eight witnesses. However, Raja Petra went missing after seven witnesses were called.
The court subsequently gave three postponements -- on May 22, July 17 and a final one on Oct 12 to enable the prosecution and police to trace him.
On May 6 last year, Raja Petra, 60, pleaded not guilty to posting seditious words relating to an article in his web site www.malaysia-today.net on April 25 last year.
-- BERNAMA
Era Najib ALtantuya : Ku Li Akan Jelaskan Isu Royalti Minyak - Husam
Posted: 11 Nov 2009 07:42 PM PST
E
xco Kelantan, Datuk Husam Musa berkata, bekas Pengerusi Petronas, Tengku Razaleigh Hamzah bersetuju memberikan penjelasan berhubung pembayaran royalti minyak melalui satu ceramah anjuran Kerajaan Negeri.
Katanya, persetujuan Ahli Parlimen Gua Musang itu dibuat setelah beliau bertemu dengannya pada Sidang Dewan Rakyat dua hari lalu di ibu negara.
Beliau berkata, Kerajaan Negeri turut melantik sebuah syarikat guaman untuk menjadi panel peguam bagi tuntutan wang royalti yang kini berjumlah RM2 bilion sejak hasil perolehan dibuat pada 2 Januari 2005.
"Tengku Razaleigh akan memberikan penjelasan mengenai perjanjian antara Kerajaan Negeri dengan Petronas yang telah dibuat pada 1975, kita tidak pasti lagi bila ceramah itu akan diadakan kerana Menteri Besar Kelantan (Datuk Nik Abdul Aziz Nik Mat) menunaikan haji di Makkah.
"Kalau sempat, kita buat sebelum Menteri Besar pergi. Jika tidak kita buat selepas itu," katanya kepada pemberita selepas Mesyuarat Exco Kerajaan Negeri di sini, semalam.

Husam berkata demikian mengulas perkembangan tindakan kerajaan negeri terhadap isu tuntutan pembayaran wang royalti yang sebelum ini berjumlah RM1 bilion melalui mahkamah berikutan pada 4 November lalu Perdana Menteri Datuk Seri Najib Tun Razak mengumumkan pembayaran wang royalti ditukarkan kepada wang ihsan dan ia akan dibuat pada tahun depan.

Nik Abdul Aziz semalam juga meminta supaya pembayaran wang ihsan daripada pusat seharusnya diberikan kepada Kerajaan Negeri untuk diuruskan dan bukannya melalui agensi pusat Jabatan Pembangunan Persekutuan Kelantan (JPPK) mahupun Petronas yang menaja Program Pembangunan Wilayah Pantai Timur (ECER).

Husam berkata, panel peguam akan membuat kajian serta meneliti fakta yang ada di dalam perjanjian yang telah dibuat sebelum menjelaskan kepada Nik Abdul Aziz.

Beliau berkata, berdasarkan fakta yang dikeluarkan di laman web mengenai Malaysia-Thailand Kawasan Pembangunan Bersama (JDA) hasil perolehan royalti kepada pusat berjumlah RM800 juta dan separuh daripadanya perlu diberikan kepada Kerajaan Negeri.

"Pusat terima RM800 juta bayaran tunai royalti minyak dan RM400 juta daripadanya perlu dibayar kepada Kelantan dan jika pembayaran itu dituntut sejak 2005 hingga tahun depan maka jumlahnya menjadi kepada RM2 bilion," katanya.

Ditanya kenapa Kerajaan Negeri meneruskan tuntutan melalui mahkamah walaupun Kerajaan Pusat memberikan peruntukan wang ihsan, Husam berkata, melalui perjanjian yang telah dimeterai sebelum ini iaitu pada 1975, Kerajaan Pusat perlu membuat pembayaran tunai kepada kerajaan negeri hasil royalti minyak.

Katanya, Sarawak dan Sabah telah menerima bayaran royalti minyak walaupun operasi perolehan minyak lebih jauh tiga batu nautika daripada perairan negeri tersebut.

Menurutnya,, bagi kawasan JDA, Kabinet tidak pernah menafikan ianya bukan kawasan perairan negeri, jadi secara tidak langsung kawasan JDA itu adalah di bawah negeri Kelantan.

"Kami tidak mahu aniaya Pusat, kerana jika Kelantan berjaya mendapatkan tuntutan royalti minyak itu, bagaimana pula dengan wang ihsan yang telah diberikan," katanya. -SH


MACC agent wanted to make political donation?
Posted: 11 Nov 2009 07:24 PM PST
IPOH, Nov 11 – Former PKR state executive councillor Jamaluddin Mohd Radzi, who is on trial for corruption, was under the impression that the agent provocateur who caused his arrest was just interested in helping his party in the Permatang Pauh by-election when he met him last year.
In fact, on the day he had supposedly received a bribe from the agent, there had only been discussion of the by-election and nothing about the RM180mil housing project he had been arrested over.

The startling evidence submitted by the agent himself, Mohamad Imran Abdullah, in court today, throws light on just how far Jamaluddin was involved in the case, and is a departure from the former's original statement.

Jamaluddin was charged alongside his colleague, another former PKR state executive councillor Mohd Osman Mohd Jailu, and three others, for allegedly receiving bribes in exchange with helping Mohamad Imran obtain the RM180mil housing development in Seri Iskandar last year.

Jamaluddin however merely faces a single charge involving RM5,000 in cash, which Mohamad Imran had allegedly given to him on Aug 14, 2008, at his office in the Perak State Seceretariat.

The money was allegedly given as gratification to Jamaluddin to help Mohamad Imran secure the project.

During cross-examination of the star witness today however, Mohamad Imran admitted that in his only meeting with Jamaluddin, which was on Aug 14 itself, he had been introduced to the latter as a person who was "interested in helping with the Permatang Pauh by-election".

The question was put to him by defence counsel Surjan Singh, who asked if his client, another accused, PKR politician Usaili Alias, had made the introduction.

Surjan Singh: Did Usaili tell Jamaluddin that you came to meet him because you were interested in the Permatang Pauh by-election?

Mohamad Imran: Yes, that is true.

Surjan Singh: Did Usaili ask you to bring RM5,000 to give to Jamaluddin.

Mohamad Imran: No, he did not ask.

Surjan Singh: Who was the one who told you that the money was to go to Permatang Pauh as well as to help secure the project?

Mohamad Imran: (Another accused former Perak Development Corporation technician) Ruslan (Sahat) was the one who asked for it.

Surjan Singh: Whatever Ruslan asked for, we would never know, but to Usaili, Ruslan had said that it was for the Permatang Pauh by-election.

Mohamad Imran: That, I do not know.

Surjan Singh then drew the court's attention to a report that Mohamad Imran had met with the Malaysian Anti-Corruption Commission (MACC) after his meeting with Jamaluddin at the latter's office on Aug 14.

Surjan Singh: You said in your report that the money was for Permatang Pauh and to help secure the project but actually, during your meeting, they never once spoke about your project. It was you who brought up the topic of the project but they never spoke about it. Only you did.

Mohamad Imran gave a long pause and appeared to be trying to recall the events of Aug 14 and when he finally responded, he agreed with Surjan Singh.

In his testimony yesterday, Mohamad Imran had also said that both Jamaluddin and Usaili had been avidly discussing the by-election and political matters during his meeting.

He said that when he mentioned his project, Jamaluddin had merely nodded his head.

During the earlier hearings in court, Mohamad Imran had also mentioned that when he had produced the RM5,000 in marked ringgit notes to Jamaluddin, the latter had not touched the money.

He had also admitted that the words "contribution for Permatang Pauh" had been used during the exchange of the money.

The money, Mohamad Imran had added, had subsequently been passed to Usaili, under orders from Jamaluddin.

At the time of the incident, Usaili was the election director for the Permatang Pauh by-election.

During the hearing later today, Surjan Singh decided several times to give a "Bahasa Malaysia" lesson to Mohamad Imran whom he claimed was having trouble understanding the language.

Mohamad Imran had claimed that the words "dalam pertemuan sama" (in the same meeting), which were used in his report on Aug 14, had meant the entire events that had taken place in the Perak State Secretariat that day and not just his meeting with Jamaluddin.

Surjan Singh: In your report, you said "in the same meeting, Usaili had asked for another RM5,000 and told me to meet him tomorrow." But this is not true because during the meeting with Jamaluddin, Usaili never asked for the money.

Mohamad Imran: In the (Jamaluddin's) room, he did not. But he asked for it on the way out towards the lift.

Surjan Singh: Mr Imran, the words "in the same meeting", it refers to the meeting with Jamaluddin. Are you stupid? If you cannot understand Bahasa Malaysia, don't you worry, I can teach it to you.

Looking angry, Mohamad Imran replied that he disagreed with Surjan Singh.

Later the witness and the counsel clashed again over another discrepancy in Mohamad Imran's report, causing Surjan Singh to tell him again that he needed to learn Bahasa Malaysia.

In his report on the events of Aug 14 at the Sri Sayang Apartments in Penang, Mohamad Imran had claimed that he had given RM2,000 to Ruslan and two other accused, former Perak Tengah district councillor Zul Hassan and businessman Fairul Azrim Ismail.

Despite admitting that the money had not only been requested by Ruslan but also given directly into his hands, Mohamad Imran still maintained that his report was accurate.

Surjan Singh: Your report that you gave the cash to all three men was not true because in the videos, you were seen only giving the money to Ruslan.

Mohamad Imran: The report is correct because the others were there too.

Surjan Singh: Imran, Ruslan was alone in the living room when you gave him the money.

Mohamad Imran: Yes, he was alone. But the others were around in the apartment unit.

Judge Azhaniz Teh Azman Teh looked up at this and repeated Surjan Singh's question on behalf of the counsel.

"So you are saying that your report is accurate?" he asked Mohamad Imran.

Mohamad Imran: Correct, Tuan. Because they (Ruslan, Zul, Fairul) were all in the unit. Including (MACC officer) Norliza (Musa).

Norliza had gone undercover in the case as Mohamad Imran's girlfriend.

At this testimony, Surjan Singh stared at Mohamad Imran and said, much to the amusement of everyone in court, "Oh? You say Liza was in the unit too, right? And that just because the others were in the room, they too received the RM2,000 bribe from you? So you are saying that Liza is one of them now? She too received the money? Then why isn't she sitting here in this dock with the others?"

As he spoke, Surjan Singh gestured to where the five accused were seated.

Mohamad Imran look stumped at the exclamation and took some time before he answered, "What I meant was that they were all inside the unit."

The hearing proceeds tomorrow.

nizar MACC: Jayanthi not the key witness - nizar nizar nizar nizar nizar
Posted: 11 Nov 2009 06:09 PM PST
Posted: 12 Nov 2009 12:10 AM PST
Its been three days since I really got back from Kuala Lumpur. Really meaning that I did not have to rush back to Kuantan over the weekends as I've been doing for the last 3 weekends.

Boy, I felt so clever for starters..organising an Art Exhibition for 2 weeks, preparation within 2 weeks..maybe I should make a small non blockbuster movie on that.. like what happened to my art exhibition, be prepared for zero sponsors and having to dig from my savings. Who on earth would want to sponsor such a movie right? Nevermind..I'm not vengeful at all..never was..don't know how.

Whats my next project? I hope Hyatt Hotel Kuantan will sponsor me a space somewhere in December for 3 days. For that I have to get a good recommendation from a VVIP to support my request. I'd like to put up a Pahang Arts And Crafts including Tenun Pahang Exhibition. There'll be a very huge conference around that time whereby the PM will be officiating it. So I have more than a month to work on this self-made project. But I must start on it quickly.
No more 'bidan terjun' stuff!

Whats the problem then? Laziness, feeling lethargic and hating to put on a thick skin asking help from big shots who seem indifferent to your 'holy' causes..

Yes yes..I hate that part..to ask help from top politicians..I have to say that because my other half has been very frank and outspoken about his views in his famous sopo blog, even though we are staunch UMNO members, we have felt been segregated to quite a big extent..many of our requests especially in business have been very very slow.
Being a mantan Adun, he has to queue for hours at the parliament to see a high ranking officer from the PM's office to get a much needed recommendation letter..and so be it..you're just a nobody all over again.

So what more of me..just a housewife wanting to whip up a tiny event company..the feeling can be very discouraging. Luckily we have not reached the pariah status.

Yesterday I tried to catch up with both my yoga and aerobics to try and look fit after weeks of playing truant. I brought home a bag of weary and tired bones until today..well..its okay..never push your body old lady..nasib baik tak sakit jantung..IJN people are waiting to ambush you because sak has been writing about them..habislah..hehehe

Lunch..with the Swiss Garden General Manager..must ask him whether hes got friends at Eastin PJ to help my good friend Zakaria Periuk Kera put up a solo exhibition and be given a free space for at least a week. We'll see..I have finally learnt the word CSR..Corporate Social Responsibility..gosh..I didn't know that existed!

Breakfast?? Its probably going to be tosei garing at Aliff's or nasi lemak at Maliki or meehoon curry with a double kaya and butter toast at Old Town Kopitiam..

Ahh...Dato' is not around..hes been helping to chauffeur my children to work this past few weeks apart from his business meetings. Its almost a month..I am so glad the children can rely on his everlasting affection for them..he was complaining a bit yesterday..sakit belakang!

Btw..with a family friend, he helped sent the 5 huge Eiffel Tower easels to BSLN on Tuesday. They had to tape the easels really well at the back of the Frontier.
And if you saw a handsome old man about 10 days ago picking up a very huge painting that fell on the road somewhere in Taman Tun..well well...thats my guy!!

Posted: 11 Nov 2009 03:21 PM PST
Thief (thieves) broke into my house in the early morning of 11th November 2009. I lost my handphone and all the contact numbers in it. To all of my friends please sms me your contact numbers to my 0199125647 so that I can rebuild my phonebook. Please don't forget to include your name otherwise I may not be able to discern your name unless you include it.
We didn't lose much as the thief only took away a copper jug we bought from Mecca in 1997, my Seiko Kinetic watch, two old handphones including my Motorola and a bottle of water. Well those are the few things we could discern as missing.
Thank you.
Posted: 11 Nov 2009 03:00 PM PST
Get your daily dose of Delirium via Reader or delivered via Email


This is such a true stat! For me at least!? When was the last time you used IE for browsing proper? Its been ages for me. The last time i used it was when i had to format my laptop and i used IE to download firefox and it was firefox all the way since! Open [...]
Era Najib Altantuya : Syarikat Milik Pemimpin Umno Tipu 3436 Pembeli Rumah
Posted: 11 Nov 2009 03:23 PM PST
S
atu fail Akta Rahsia Rasmi didedahkan Menteri Besar Tan Sri Abdul Khalid Ibrahim hari ini.
Hasil pendedahan itu, sebuah syarikat hartanah milik pemimpin Umno didakwa menipu 383 pemilik tanah dan 3,436 pembeli rumah di Bukit Cherakah.
Khalid menggesa orang-ramai yang telah tertipu supaya merujuk kepada dokumen ini, dan mendakwa syarikat terbabit ke muka pengadilan.
"Kita mendedahkan dokumen ini dengan tujuan membantu orang-ramai mendapat gambaran sebenar, bagaimana kejadian ini berlaku. Kerajaan negeri tidak akan ambil tindakan, tetapi kita menasihatkan orang-ramai supaya membawa kes ini ke pihak guaman," kata Khalid.
Kementerian Perumahan dan Kerajaan Tempatan mengesahkan projek perumahan Bandar Alam Perdana telah terbengkalai sejak 2006.

Projek yang diusahakan oleh syarikat Ladang Bukit Cherakah Nominees Sdn. Bhd. ini adalah milik bekas Exco Selangor Miskun Sutero, yang telah meninggal dunia dua tahun lalu.

Berdasarkan dokumen ini, 383 pemilik tanah dijanjikan pampasan RM360,000 seorang dan sebuah rumah setiap seorang.

Manakala 3,436 pembeli telah membeli 3,819 unit rumah dengan membayar wang pendahuluan kepada pihak bank. Perumahan ini dijangka siap pada 2002, malangnya projek ini terbengkalai.

Pemilik tanah tidak mendapat pampasan yang dijanjikan, manakala pembeli-pembeli terpaksa menanggung hutang bank.

"Tanah hilang, rumah tak dapat. Orang-ramai memberi harapan masalah ini dapat diselesaikan segera," kata Khalid.

"Kerajaan negeri akan terbitkan risalah tentang kes ini yang boleh didapati laman sesawang Kerajaan Negeri Selangor, di Pejabat Daerah berdekatan dan Pejabat Menteri Besar pada Isnin ini," tambah beliau. -TVS




This posting includes an audio/video/photo media file: Download Now