---
Siapa Yang Akan Masuk PAS Dulu, Pak Lah Atau Mahathir?
Posted: 30 Nov 2009 10:07 AM PST
T
un Dr Mahathir menulis dalam blognya bahawa
seorang bekas pemimpin kanan Umno bercadang untuk menyokong PAS kerana 'Umno busuk hingga ke ususnya.' Dr M mengulas hal tersebut dalam 13 perkara. Apakah tulisan tersebut adalah sebagai tanda pembuka laluan ke arah ingin menyertai PAS?
Sekurang-kurang supaya orang lain dulu atau terus sama-sama menyertai PAS beramai-ramai? Dalam politik macam-macam boleh jadi.. tiada mustahil.
Anda cuba menilai sendiri. Begini tulisannya..
1. Pilihanraya Umum ke-13 hanya dua tahun lagi. Saya sedang meneliti reaksi rakyat terhadap UMNO dibawah pimpinan baru. Saya terkejut. Saya terkejut kerana seorang bekas pemimpin UMNO yang kanan telah meluahkan perasaannya dengan berkata "UMNO is rotten to the core" (UMNO busuk hingga ke ususnya).
2. Beliau telah berkata yang beliau sedang memikir untuk menyokong PAS. Beliau juga berkata beliau telah bertemu ramai pemimpin-pemimpin UMNO yang telah bersara dan mereka speendapat dengannya.
3. UMNO busuk daripada peringkat terendah hingga ke peringkat tertinggi katanya. Di cawangan, ketua cawangan hanya berjuang untuk mengekal dirinya sebagai ketua sahaja. Kenapa? Sebabnya majoriti ketua cawangan dapat jadi pengerusi Jawatakuasa Kemajuan dan Keselamatan Kampung dengan elaun tertentu dan kuasa untuk mengagih peruntukan. Berpeluang juga untuk jadi kontraktor Kelas F untuk projek kecil di luar bandar.

4. Untuk menentukan dirinya tidak dicabar ketua cawangan tidak akan benarkan sesiapa yang lebih terpelajar daripadanya masuk UMNO cawangannya. Lebih daripada itu kebanyakan peruntukan untuk jadi ahli UMNO, yang mana dia mesti melalui cawangan, tidak akan dilayan. Tujuannya ialah supaya cawangannya tidak mempunyai banyak ahli kerana mereka tetap akan menimbulkan masalah dan sukar dikawal, bahkan sukar disogok pun.

5. Sebab itu tidak ramai ahli profesional yang dapat menjadi ahli UMNO. Sebaliknya semakin ramai daripada pemimpin PAS terdiri daripada doktor, peguam, jurutera dan lain-lain profesyen.

6. Oleh kerana ketua cawangan biasanya tidak memiliki pelajaran yang tinggi dan beliau menentukan ahli lain dalam cawangannya mempunyai ilmu pengetahuan yang lebih rendah daripadanya, maka apabila ketua terpaksa berhenti kerana sebab-sebab tertentu, maka penggantinya akan terdiri daripada yang kurang berkebolehan daripadanya. Dengan itu kualiti kepimpinan akan merosot sepanjang masa.

7. Tentu ada cawangan yang tidak seperti ini tetapi pengecualian hanya mengesahkan keadaan yang sebenar.

8. UMNO, kata bekas pemimpin kanan ini sekarang dipimpin oleh perasuah. Mereka menjadi ahli Majlis Tertinggi kerana sogokan wang. Orang ramai tidak akan serah nasib mereka kepada perasuah.

9. Penempatan perasuah dalam Kerajaan dan badan-badan lain juga memburukkan lagi imej UMNO. Sudah tentu perasuah akan dipilih sebagai calon UMNO dalam Pilihanraya Umum ke-13. Jika mereka diberi kemenangan maka negara akan dapat Kerajaan perasuah. Sebab itu beliau tidak akan sokong UMNO sebaliknya akan menyertai dan menyokong parti lawan. Katanya lagi hingga kini separuh daripada orang Melayu tidak merasai nikmat kerana Kerajaan-Kerajaan pimpinan UMNO menidakkan hak mereka sedangkan mereka juga orang Melayu walaupun mereka menyokong parti lawan. Mereka yang menyokong parti lawan bertambah sejak (Tun) Abdullah kerana ramai daripada ahli UMNO sendiri sudah tidak percaya kepada UMNO.

10. Yang tinggal katanya ialah orang yang berkepentingan yang berharap mendapat sesuatu kerana menyokong UMNO. Mereka ini bukan nasionalis dan mereka tidak boleh diberi kepercayaan.

11. Banyaklah lagi hujah-hujahnya akan sebab-sebab UMNO tidak lagi akan diberi peluang untuk memerintah negara yang disayangi olehnya. Saya tidak akan hurai lebih lanjut. Hanya yang saya ingin sebutkan ialah pendapat beliau sudah menular ke semua peringkat orang Melayu, bahkan ahli UMNO juga.

12. Rakan-rakan dalam Barisan Nasional semuanya berpecah dan lemah. Mereka tidak mampu menjayakan Barisan Nasional.

13. Masa semakin singkat untuk memperbaiki keadaan ini. Saya mencatat maklumat ini untuk pengetahuan umum sahaja.

Kepada Dr M, jangan sampai Pak Lah masuk PAS dulu. Bekas PM sebelum ini pun ada yang sertai pembangkang. Itu sahaja, sekian. (AK)

Ulasan GB

Ia bukan satu hal yang mustahil. Walau sekalian banyak dosa Pak Lah atau Mahathir terhadap umat Islam dan rakyat negara ini, namun keadaan boleh berubah bila masa Allah mahu melimpahkan hidayah dan rahmatNya kepada mana-mana hamba yang dikasihiNya.

Di dalam sejarah Islam, Rasulullah s.a.w. pernah berdoa "Ya Allah muliakanlah Islam dengan masuknya salah satu dari dua Umar." yakni Umar bin khathab dan Amr bin Hisyam atau dikenal sebagai Abu Jahal. Rasulullah tak pula adakan kerajaan perpaduan samada dengan Umar atau Amr!

Allah mengurniakan Umar Al-Khattab kepada umat Islam, yang walaupun pada awalnya menjadi musuh Islam nombor satu sehingga kepala Rasulullah nak dipenggalnya, tetapi kekuasaan Allah menetapkan Umar menerima hidayah dan muncul sebagai salah seorang kahlifah utama selepas Rasulullah s.a.w.

Kalau ada rezeki Pak lah atau Mahathir, dapatlah beliau bersama jemaah Islam. Jika tidak, terimalah sahaja apa yang bakal ditempuhi, kalau tak di "sini", di "sana" balasan menanti.

Namun satu hal yang kena terima, kerana ada pemimpin PAS yang nak sangat ke UMNO, siapa pula dari PAS yang bakal dihantar oleh Allah ke parti UMNO?


Posted: 30 Nov 2009 09:04 AM PST
K
erajaan Pusat Barisan Nasional akhirnya akur kepada gelombang kritikan pembangkang dan orang ramai terhadap kursus Biro Tata Negara.
Kursus-kursus itu yang dilihat lebih untuk memupuk sentimen perkauman dan menggembeling sokongan untuk Barisan Nasional, akan dirombak serta merta.
Ini bagi memenuhi desakan Pakatan Rakyat yang mahukan kursus-kursus BTN itu membantu mengeratkan perpaduan antara rakyat pelbagai kaum.
Bercakap kepada wartawan di ruang legar parlimen hari ini, Menteri di Jabatan Perdana Menteri Nazri Abdul Aziz berkata rombakan ini dibuat kerana kandungan program BTN berpotensi menghancurkan kestabilan negara.
Apabila ditanya apakah kerajaan akhirnya akui kritikan terhadap modul BTN, Nazri berkata kurikulum BTN sedia ada menjurus kepada satu kaum dan tidak selari dengan konsep 1Malaysia.

Nazri sebagai dipetik berkata "Pada saya kurikulum ini tidak selari dengan kehendak PM, iaitu 1Malaysia. Kursus BTN hanya untuk peserta dari satu kaum sahaja, tetapi kini kita mahu kurikulum yang membabitkan semua".

"Saya bersetuju sangat kita tidak boleh beriringan dengan BTN kerana BTN ini memfokus kepada sikap perkauman. Dan sikap memberi ransangan yang negatif kepada kaum yang lain atau parti yang lain" ujar ahli parlimen Kuala Langat, Abdullah Sani Abdul Hamid.

BTN mengundang kontroversi selepas tujuh wakil rakyat Selangor menyerahkan memorandum menggesa penjawat awam dan penuntut di institut pendidikan milik kerajaan negeri dilindungi dari program indoktrinasi BTN.

Memorandum tersebut berkata akal peserta BTN disusun-semula supaya membenci kaum Cina dan parti-parti yang tidak sealiran dengan UMNO-BN.

Ahli Parlimen Subang, Sivarasa Rasiah berkata rombakan tidak memberi kesan jika masalah perkauman dan kesetiaan membuta-tuli terhadap Umno tidak diatasi.

"Bila kata merombak semula, saya lebih suka kalau dapat mendengar komen yang lebih spesifik bahawa cara yang lama, cara yang telah diamalkan sebelum ini, itu akan diubah" ujar beliau kepada TV Selangor. -TVS



This posting includes an audio/video/photo media file: Download Now
Posted: 30 Nov 2009 06:29 AM PST
As early as 6.15 this morning I was having my breakfast, and as early at 6.35 am, I left home heading to KL to attend the Media Sensitisation Workshop organised by the Malaysian AIDS Council (MAC). The aim of the workshop was to create awareness amongst media professionals (mainstream media, electronic and new age media) in the country on the socially and culturally sensitive approaches to dealing with the subject of HIV/AIDS in conjunction with World AIDS Day which falls on 1st December every year.
Partner organisations were also invited to attend the workshop to observe and to network with the media.
I had actually earlier on received an invitation at my personal email address (which I use for this blog), and then later there was also an invitation faxed to my NGO centre.
Guided by my friends Gee, Pea and Ass (GPS daaa...), there was no problem going to Puteri Park Hotel where the function was held. Of course the GPS didn't guide me to the hotel's parking which can be confusing but thank goodness I had been to the hotel a few years ago so basically I knew I had to go somewhere to the back lanes to get into the hotel's parking.
For the opening of the workshop, we were given some background information - introduction of MAC, MAF, Partner Organisations, MOH, plus an overview of HIV/AIDS in Malaysia.
Then we were all taken for the Voices of HIV+ Tour : where we were brought around Chow Kit Road, visiting the communities... all within walking distance from the hotel where the workshop was held.
First we were brought here...
Here we were briefed about the activities held at this centre, including their outreach activities and the facilities they provide at the drop-in centre.
The above centre caters for the adults. After visiting the Pusat Komuniti Ikhlas, we walked over to Nur Salam, a safe house for street children, managed by Dr Hartini Zainudin.
I'm telling you, despite already being exposed to HIV voluntary work for the past 5 years, the visit to Nur Salam was really an eye opener for me, not just for the media! Not all the children at Nur Salam are homeless, not all of them are poor. There are children out there who prefer to go to the streets rather than going home. They get involved in drugs (even used by some syndicates as drug pushers and dealers), they get involved in sex - exposing themselves not only to HIV/AIDS, but also to a long list of other diseases as well.
According to Dr Hartini, most of the children have not been tested for HIV, and even if they were, she wouldn't even know what to do. They definitely need more help from MAC and/or other partner organisations to help them deal with the matter.
With hundreds of children going to Nur Salam (some sent by volunteers, some by their own parents and some children go there on their own accord after hearing about it from friends), and with about only 30 volunteers, Nur Salam definitely needs more volunteers.
So, I'd like to take this opportunity to encourage my blog readers out there, especially those who are staying in or around KL, who loves children and who are looking for a platform to start doing voluntary work, how about volunteering for Nur Salam? Frankly I would if I was staying in KL.
Why should you volunteer?
Yep, because every child matters!
How can you volunteer? You can get more info by calling Nur Salam at 03-40454021.
Anyway, after the tour, we headed back to the hotel to continue with the workshop. A few sex workers related their experiences and how they felt.
Martin Choo, a consultant researcher at the Centre of Excellence for Research in AIDS (CERIA), gave a comparative analysis of Malay and English headlines on vulnerable populations. Then Dina Zaman, a consultant with Straten Consultants touched on topics like the role of the media and principles for reporting on HIV/AIDS.
Overall, the workshop was an eye opener, and just like the Unicef Media Workshop on Children which I attended last year, it was also a good opportunity for partner organisations to network with the media.
12 Days of Christmas - Chirstmas is coming! YEAH
Posted: 30 Nov 2009 08:10 AM PST
On the first day of Christmas,
my true love sent to me
A partridge in a pear tree.

On the second day of Christmas,
my true love sent to me
Two turtle doves,
And a partridge in a pear tree.

On the third day of Christmas,
my true love sent to me
Three French hens,
Two turtle doves,
And a partridge in a pear tree.

On the fourth day of Christmas,
my true love sent to me
Four calling birds,
Three French hens,
Two turtle doves,
And a partridge in a pear tree.

On the fifth day of Christmas,
my true love sent to me
Five golden rings,
Four calling birds,
Three French hens,
Two turtle doves,
And a partridge in a pear tree.

On the sixth day of Christmas,
my true love sent to me
Six geese a-laying,
Five golden rings,
Four calling birds,
Three French hens,
Two turtle doves,
And a partridge in a pear tree.

On the seventh day of Christmas,
my true love sent to me
Seven swans a-swimming,
Six geese a-laying,
Five golden rings,
Four calling birds,
Three French hens,
Two turtle doves,
And a partridge in a pear tree.

On the eighth day of Christmas,
my true love sent to me
Eight maids a-milking,
Seven swans a-swimming,
Six geese a-laying,
Five golden rings,
Four calling birds,
Three French hens,
Two turtle doves,
And a partridge in a pear tree.

On the ninth day of Christmas,
my true love sent to me
Nine ladies dancing,
Eight maids a-milking,
Seven swans a-swimming,
Six geese a-laying,
Five golden rings,
Four calling birds,
Three French hens,
Two turtle doves,
And a partridge in a pear tree.

On the tenth day of Christmas,
my true love sent to me
Ten lords a-leaping,
Nine ladies dancing,
Eight maids a-milking,
Seven swans a-swimming,
Six geese a-laying,
Five golden rings,
Four calling birds,
Three French hens,
Two turtle doves,
And a partridge in a pear tree.

On the eleventh day of Christmas,
my true love sent to me
Eleven pipers piping,
Ten lords a-leaping,
Nine ladies dancing,
Eight maids a-milking,
Seven swans a-swimming,
Six geese a-laying,
Five golden rings,
Four calling birds,
Three French hens,
Two turtle doves,
And a partridge in a pear tree.

On the twelfth day of Christmas,
my true love sent to me
Twelve drummers drumming,
Eleven pipers piping,
Ten lords a-leaping,
Nine ladies dancing,
Eight maids a-milking,
Seven swans a-swimming,
Six geese a-laying,
Five golden rings,
Four calling birds,
Three French hens,
Two turtle doves,
And a partridge in a pear tree!

This posting includes an audio/video/photo media file: Download Now
BTN taught me the Chinese are the Jews of Asia - nizar nizar nizar nizar nizar nizar nizar nizar nizar
Posted: 30 Nov 2009 07:43 AM PST
By Asrul Hadi Abdullah Sani
KUALA LUMPUR, Nov 27 — I am one of the privileged few to have attended a local public university and learned the meaning of hate, thanks to the ever popular Biro Tata Negara.
All undergraduates were forced to attend this programme or else they would not be eligible for graduation.
The BTN under the Prime Minister's Department brought in "intellectual" speakers who were supposed to enlighten the students about the meaning of being a Malaysian but instead it felt more like a communist propaganda camp brainwashing those attending about the importance of "Ketuanan Melayu".
The camp would usually take place during the weekends. Students would have to register early in the morning and the programme would last the whole day.
The organisers were always on their guard, asking participants to show their student identification cards each time they entered the hall, fearing the presence of outsiders.
In the hall, students were asked to turn off their mobile phones.
During the lectures, questions were planted among the audience and the students were advised not to ask any other questions.
One speaker began with the history of Malaysia and how much the country had gone through, always emphasising the May 13 riots.
He stressed the point of how much the Malays had sacrificed and how the community should be united especially from outside threat — the Chinese community.
He said that the Chinese community were "the Jews of Asia" and were just itching to take over when Malays were disunited and broken.
The speaker also revealed a greater Chinese conspiracy where the Chinese Malaysians were working together with Singapore to topple the Malay government.
"Do you want to become like the Malays in Singapore?" he asked.
He also went so far as to criticise Malay girls for dating boys from other races.
He added that they should not be cheap and embarrass their families.
Once, a student told the speaker that as Muslims, we should also respect other races who are also Muslims.
"All Muslims are Malays so it does not matter if they are Chinese or Indians. If they are Muslims then they are Malays," the speaker replied.
This is why I was relieved when I learned that the Selangor government had moved to ban its civil servants, employees of state subsidiaries and students at state-owned education institutions from attending any BTN courses with immediate effect.
However I believe racism in varsities does not end at BTN because classrooms have also become victims of ignorant scholars.
My friend was verbally abused during his sociology class when he did not agree with the points made by his lecturer.
"You must be DKK," the lecturer told him.
"What is DKK?" he asked.
"You must be darah keturunan keling (descendents of Indians)," the lecturer said, pointing to his dark skin.
My Saudi friend was also shocked by the comments made by his lecturer in his Islamic civilisation class.
"We should save our Orang Asli from the Chinese people. They are like the Palestinians and the Chinese are Israel. We must fight the Jews," the lecturer told his students.
The lecturer even failed one of his students in his oral exam when he quoted a Western scholar in his presentation.
"You should be ashamed of yourselves. You are a Muslim and should only use Islamic scholars," he scolded the student.
I was personally saddened when my Islamic law lecturer compared Christianity to Head & Shoulder's 3 in 1 shampoo in referring to the religion's Holy Trinity.
I feel that racism has been institutionalised in our country and that BTN is only the tip of the iceberg.
Deputy Prime Minister Tan Sri Muhyiddin Yassin defended BTN yesterday and claimed that it was not racist but is line with the 1 Malaysia concept.
I have to humbly disagree and would like to suggest maybe the ministers should bring their overseas children home and let them have a taste of what BTN is.
(Source: The Malaysian Insider)
I'm a Sherlock Holmes in the Making
Posted: 30 Nov 2009 06:52 AM PST
Posted: 30 Nov 2009 06:56 AM PST
The silicon chip inside her head
Gets switched to overload.
And nobody's gonna go to school today,
She's going to make them stay at home.
And daddy doesn't understand it,
He always said she was as good as gold.
And he can see no reason
'Cause there are no reasons
What reason do you need to be shown?
Tell me why?
I don't like Mondays.
Tell me why?
I don't like Mondays.
Tell me why?
I don't like Mondays.
I want to shoot
The whole day down ...
... and that's how the first part of the song
'I don't like Mondays'
by the
Boomtown Rats
go. That song echoes what I feel right now and the only consolation is that Monday is almost over. Yes, everything that could go wrong for my Monday went absolutely wrong. I'm too stressed out and exhausted about the whole Monday so I'll just leave some short
(hopefully)
snippets about my
'beautiful'
Monday!
9.35am
Switched on my workstation and discover that it's on an eternal restart loop! Great, just great! There goes all my work that I slogged over the past week and now I'll never see it again cos the only way to stop that eternal restart loop of my PC is to reformat the darn thing! And I had some VERY important work saved too! Back up, Nick! Back up!
11.20am
After reinstalling most of the drivers back
(and we do have some propriety drivers for our large format inkjet machines)
, I discover that some of the drivers are corrupted
(and it has to be the IMPORTANT drivers at that!)
. Calling the vendors doesn't get much done as they can only come tomorrow or the day after
(so what do I do in the meantime? Knit?)
. I have deadlines to meet so I resort to downloading all the drivers which takes almost all day.
3.45pm
Finally get all the drivers up and loaded again. The printer decides to get into the picture by printing out wonderfully fuzzy images! Good god, you're not supposed to do that! You're an RM87,000 plus machine! You're not supposed to give me grief! Damn you! Damn you! Damn you!
4.22pm
The machine problem is fixed. A client calls and says he needs his T-shirts delivered by Wednesday! No problem but that was before the supplier tells me he hasn't even started production yet! Great, just great! Monday is sure getting better by the minute. Between me screaming at the supplier and my client screaming at me, I wished the earth would have opened up and swallowed me whole. The worst part is the client is a friend of mine and the event is this Friday and it happens to be taking place out of town. I don't know how I'm going to get the T-shirts delivered. I am hoping for divine intervention here ... urmmm God, are you listening to me?
4.52pm
I decide to pack it up and head for home. I can't take this any longer and if I stay in the office for one more minute, I'm afraid the building will collapse or some thugs will take the whole office hostage! Going home while there is still some semblance of hope is the best thing to do ...
... The telex machine is kept so clean
As it types to a waiting world.
And mother feels so shocked,
Father's world is rocked,
And their thoughts turn to
Their own little girl.
Sweet 16 ain't so peachy keen,
No, it ain't so neat to admit defeat.
They can see no reasons
'Cause there are no reasons
What reason do you need to be shown?

Tell me why?
I don't like Mondays.
Tell me why?
I don't like Mondays.
Tell me why?
I don't like Mondays.
I want to shoot
The whole day down. 
.
UMNO Mengganas di Sidang DUN Pulau Pinang
Posted: 30 Nov 2009 06:16 AM PST
K
urang dari 100 orang menyertai tunjuk perasaan mendesak Ketua Menteri Pulau Pinang Lim Guan Eng meletakkan jawatan di luar bangunan Dewan Undangan Negeri Pulau Pinang hari ini.
Tunjuk perasaan ini terdiri dari gerombolan Pemuda Umno, Gerakan, MCA dan MIC menggesa Guan menyerahkan jawatannya itu kepada Timbalan Ketua Menteri 1, Mansor Othman.
Perhimpunan ini ternyata mencemarkan sidang dewan sempena 50 tahun Jubli Emas Dewan Dun Pulau Pinang. Ketika kekecohan berlaku, Guan Eng sedang merasmikan Pameran Maklumat Sivil 2009 DUN-Menghubungkan NGO dan Penggubal Dasar Dewan Undangan Negeri Pulau Pinang di perkarangan dewan.
Guan Eng dalam satu sidang akhbar selepas itu mengkritik perbuatan demonstrasi tersebut yang dianggap mencemarkan imej Pulau Pinang, dan hanya memburukkan imej parti itu sendiri dengan kekasaran dan kelakuan yang tak ubah seperti sebuah parti samseng.
This posting includes an audio/video/photo media file: Download Now
BTN Diperalat BN, Racun Pemikiran Pemimpin Melayu
Posted: 30 Nov 2009 05:56 AM PST
K
eputusan kabinet merombak kurikulum BTN dibuat setelah Pulau Pinang menyusuli tindakan Selangor memulau kursus BTN berkuat kuasa serta merta.
Ini berikutan semakin ramai peserta kursus itu tampil mengecam kursus-kursus itu sebagai helah untuk mengekalkan sokongan orang Melayu kepada UMNO.
Menurut beberapa peserta, modul-modul kursus BTN secara halus, turut menjurus kepada menyemarakkan rasa benci terhadap kaum Cina, dan parti Pembangkang.
Bekas pengarah Biro Tata Negara (BTN), Johari Abdul menyelar kerajaan Malaysia terhadap pemesongan agenda asal BTN.
"Ia (BTN) amat terpesong. BTN diwujudkan sekitar tahun 80-an. Bermula dengan Datuk Seri Abdullah Badawi yang menjadi pengarah belia di Kementerian Belia dan Sukan. Kemudian, dipindahkan ke Jabatan Perdana Menteri baru dipanggil Biro Tata Negara. Tujuan utama, tujuan asas BTN diwujudkan adalah untuk membakar semangat anak-anak Melayu dan Bumiputera" ujar Johari.

Ujar Johari, BTN pada asasnya mempunyai garis panduan yang jelas iaitu untuk menaikkan semangat anak muda bumiputera untuk bersaing dalam bidang akademik namun dasar itu mulai kendur dari semasa ke semasa.

"Tapi kita tidak pernah menggunakan BTN ini sebagai tempat untuk mencerca pemimpin-pemimpin. Amat berbeza sekarang, BTN digunakan sebagai agensi, saya tidak kata semua tetapi ada dalam program-programnya mencerca pemimpin-pemimpin" katanya.

Menurut Johari, BTN pada masa kini bukan sahaja bersifat perkauman, malah turut menghina pemimpin negara seperti mantan Timbalan Perdana Menteri, Datuk Seri Anwar Ibrahim.

"Ada pensyarah-pensyarah dalam program BTN ini Anwar mempunyai 3 bilion, dan ini disahkan oleh bekas governor, Datuk Murad dahulu, ini cerita tahun 1999 sedangkan bekas pengarah penyiasat BPR mengesahkan setelah siasatan dibuat, tuduhan 3 bilion itu tidak betul" katanya lagi.




This posting includes an audio/video/photo media file: Download Now
46th Golden Horse Awards (2009)
Posted: 30 Nov 2009 05:06 AM PST
Taiwanese film No Puedo Vivir Sin Ti (lit. I Can't Live Without You in Spanish) was the biggest winner at the prestigious 46th Golden Horse Awards on Saturday night in Taipei. It's the first local movie to win the best picture in seven years; and director Leon Dai also begged the personal award.
Hot favourite Li Bingbing was crowned the best actress; while Huang Bo and Nick Cheung were both named as best actor(s), a first in the award history. Full winning list after some red carpet and winners' pics…
Best leading actress Li Bingbing
46th Golden Horse Awards (2009) from YeinJee's Asian Journal
MAF of Huai Ang Methodist Church - Your Paths Drip With Abundance
Posted: 30 Nov 2009 04:01 AM PST
DS Rev. Ting shared a wonderful message themed "Your Paths Drip With Abundance".
The group singing was pretty impressive.
An energetic dance item. Gee, they don't look their ages!
This item was really a plus for the evening.
The cross talk was engrossing.
The cake-cutting time!
It was a thanksgiving celebration on the gracious occasion of the 20th anniversary of MAF of Huai Ang Methodist Church on 15th November, 2009. I had the honour to be invited to partake of their joy in this blessed service.
DS Rev. Ting Tiew Kiong, in his message themed "Your Paths Drip With Abundance", quoted Psalm 65:11, saying, "The kind of life makes the kind of person; the kind of person makes the kind of fellowship; the kind of fellowship makes the kind of church. To sum up, it is glorious life that builds up good church!"
The fellowshippers of MAF of Huai Ang Methodist Church presented several items including dance, cross talk (or comic dialogue), etc to glorify God.
It was a joyous evening and I praised God for it!
Photos: Steven Hii

Selangor Anjurkan Forum Awam Pertahan Keputusan Haramkan BTN
Posted: 30 Nov 2009 04:26 AM PST
S
elangor akan menganjurkan forum khas mengenai Biro Tata Negara (BTN) supaya masyarakat umum menilai kewajaran langkah kerajaan negeri melarang penyertaan dalam program anjuran biro itu.
Menteri Besar Selangor Tan Sri Khalid Ibrahim berkata beliau mengambil langkah itu susulan kritikan daripada menteri Barisan Nasional yang masih mempertahankan kursus BTN.
Forum ini dijangka melibatkan bekas-bekas pegawai dan pensyarah BTN, serta saksi-saksi yang pernah terbabit dalam kursus BTN.
"Bekas peserta, pensyarah dan pihak lain (yang berkaitan) akan dijemput untuk berkongsi pengalaman mereka," katanya.
Ia akan membedah-siasat modul tarbiyah BTN, dan mengapa kerajaan negeri mengambil langkah drastik melarang penyertaan penjawat awam negeri dan penuntut universiti kerajaan negeri ke program itu.

"Apa yang kami pertikaikan ialah kandungan serta penyampaian program BTN ini, dan sejak akhir-akhir ini kandungannya dikatakan mulai berat sebelah, di samping tidak mencapai objektif untuk menyatukan seluruh rakyat Malaysia," jelasnya.

Tan Sri Khalid berkata kerajaan negeri Selangor dan Pakatan Rakyat menyedari ketidaksempuraan program BTN dan potensi keganasan yang lahir dari kursus seperti ini.

"Langkah itu diambil selepas kerajaan negeri melihat kursus berkenaan sebagai satu proses doktrinisasi oleh kerajaan Barisan Nasional bagi mewujudkan rasa benci terhadap pembangkang,"katanya lagi.

"Saya tidak pernah membantah sebarang program yang bertujuan menyemai semangat nasionalis dan patriotik di kalangan rakyat,namun sebaliknya pula yang terjadi.jelasnya.

Walaubagaimanapun, beliau melahirkan sukacita kerana tindakan kerajaan negeri mengharamkan program tersebut adalah tepat dan disambut baik oleh rakyat Selangor.

"Saya juga berpuas hati kerana ketika ini rata-rata kalangan orang ramai mulai membincangkan mengenai kualiti dan nilai kursus-kursus BTN,"ujarnya. -TVS




This posting includes an audio/video/photo media file: Download Now
Ibrahim Ali Dalang Demo Esok Di Kelantan
Posted: 30 Nov 2009 04:33 AM PST
E
sok ada demontrasi di hadapan Pejabat Setiausaha Kerajaan Negeri Kelantan. Katanya NGOs akan buat.
Siapa NGOs itu? Katanya dari kalangan puak Ibrahim Ali, Ahli Parlimen Pasir Mas yang betanding atas tiket PAS. Kenapa beliau nak berdemo? Katanya mahu mendesak Tok Guru Nik Abdul Aziz meletak jawatan sebagai Menteri Besar.
ITU lah si Ibrahim Ali. Orang yang ingin didesaknya itu adalah orang yang memberi keizinan kepada beliau bertanding di kerusi PAS atas nama tiket PAS. Orang yang menyuap nasi ke mulut beliau sendiri yang nak digigit jari. Inilah perangai Ibrahim Ali.
Sekarang beliau sedang mengerah di seluruh negeri termasuk ketua-ketua Umno Bahagian juga supaya rakyat keluar beramai-ramai untuk berdemontrasi. Apakah Ibrahim Ali mahu magerankan Kelantan sekali lagi?
Kita tengok apakah tindakan pihak keselamatan besok. Kita percaya mereka mampu mengawal keadaan. Kalau bola sepakpun boleh takkan demo tak boleh. Jangan risau polis ada.

Kenapa Brahem Ali mahu berdemo? Apakah sebenarnya disebalik gerakkerja beliau ini? Di rasakan ada sesuatu yang cuba dimainkan oleh beliau. Atau beliau sedang "Menawan Hati" Perdana Menteri untuk diterima masuk Umno semula. Kalau jadi… beliau mahu jadikan macam Perak.

Brahim tetap Brahim… -manjanik

Ulasan GB

Ada pihak di dalam PAS sendiri menyalahkan TG Nik Aziz kerana membenarkan Ibrahim Ali bertanding di atas tiket PAS untuk kerusi Pasir Mas.

GB menyatakan bahawa itu menunjukkan bahawa TG Nik Aziz berhati mulia. Sentiasa terbuka untuk menerima "sesiapa saja" yang ingin bekerjasama dengan PAS Kelantan.

Seandainya "sesiapa saja" itu menipu dan mengkhianati PAS, maka TG Nik Aziz dan PAS tidak rugi apa-apa kerana TG Nik Aziz adalah orang yang yakin bahawa Allah itu Maha Berkuasa. Allah akan tetap membalas perbuatan durjana si penipu dan si pengkhianat tersebut.

Nak ke mana kamu Ibrahim? Setelah UMNO sendiri enggan menerima kamu semula walau dah berkali-kali kamu mengampu dan membodek untuk menyertai UMNO semula?

Setiausaha Pemuda UMNO Kelantan, Bazlan Baharuddin pernah meminta Majlis Tertinggi (MT) parti itu membuat penilaian terperinci sebelum menerima semula kemasukan beliau ke dalam UMNO bagi mengelak 'pisang berbuat dua kali.'

Akhirnya Ibrahim Ali yang terasa malu, membuat kenyataan balas, "saya kena fikir bukan setakat pisang berbuah dua kali, tapi lima kali atau 100 kali", nak tunjukkan kononnya beliau tak kepingin sangat nak sertai UMNO walaupun itulah hajatnya yang sebenar.

Dan GB terfikir, apakah dia ini Kolonel Mat yang dimaksudkan oleh TG Nik Aziz?



Review on TVB's Beyond the Realm of Conscience
Posted: 29 Nov 2009 06:24 AM PST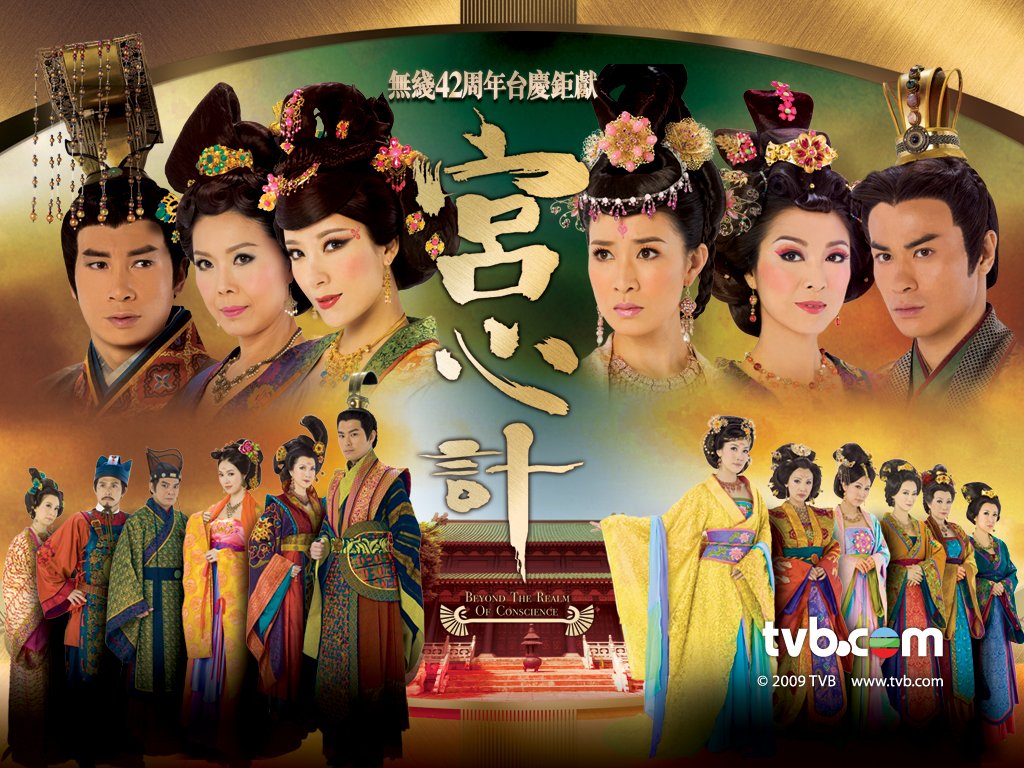 I have finally finished watching the 33-episode mind-blowing series. If you remembered, I once blogged about this few weeks ago at here.
I can finally let go of the TV's remote control and surrender it to my mum who has been fighting for the TV to watch her Korean series.
You will definitely love the series if you are a fan of twists and turns, the glorious Tang dynasty and the bickering of the palace maids and concubines. It is different from 2004's War & Beauty although many viewers compared BTROC is not as grand as WAB. BTROC has its distinctive plot, revolving around two childhood friends and how they survive in the palace filled with wickedness and evil schemes.
For those who have yet to watch, grab the DVD's or watch it online. Here are some of the film captures from the series.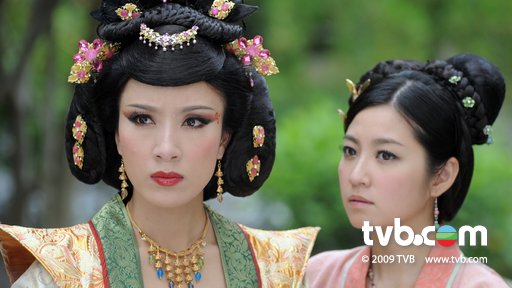 I must applaud Tavia's acting in this series. She totally deserves to win an award for taking up this role.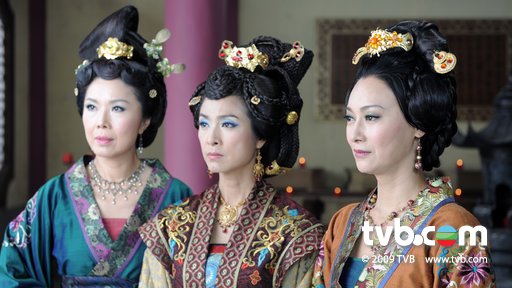 With veteran actresses like Michelle Yim and Susanna Kwan, you should take this opportunity to embrace their experienced acting.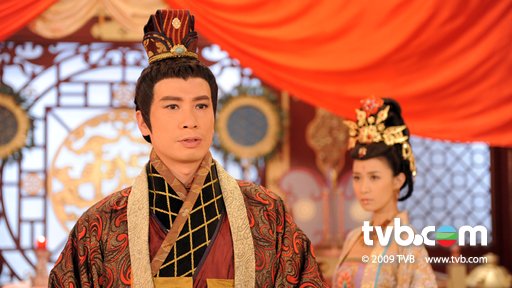 Moses Chan did a good job as the Emperor.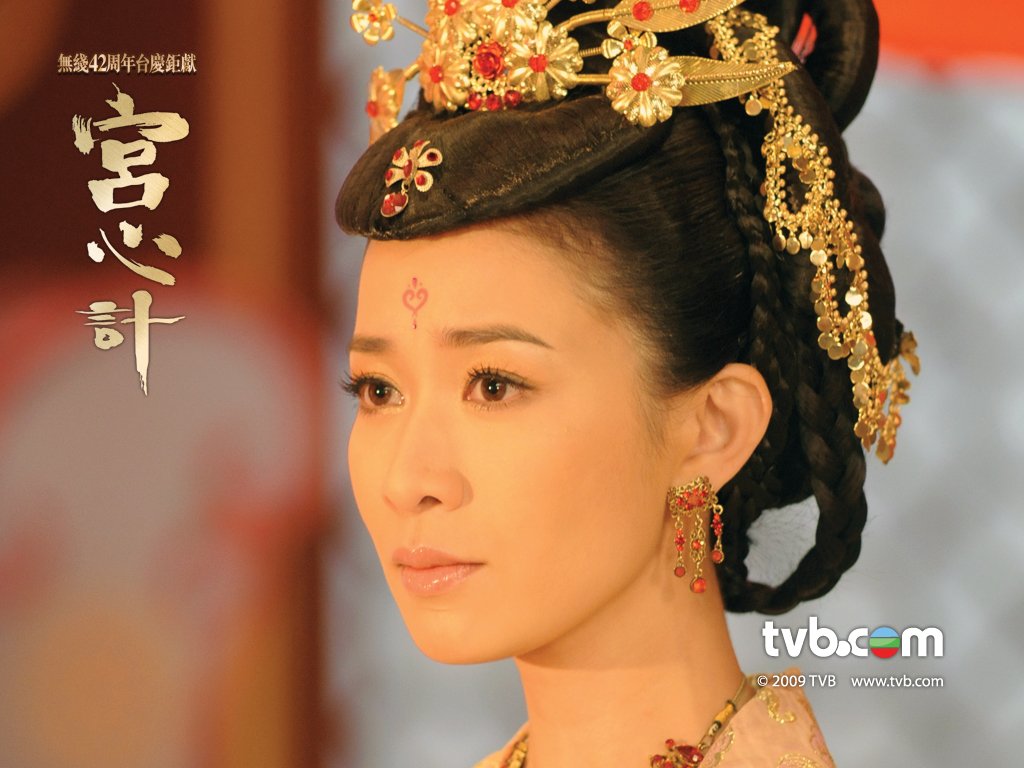 Not to forget Charmaine has improved her acting skills after being a log for so many years.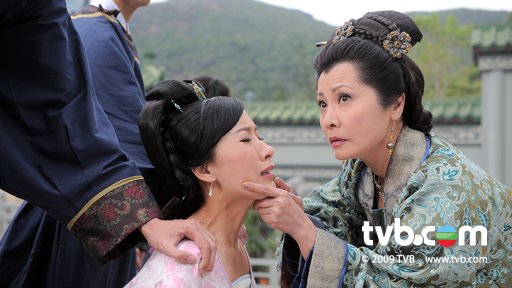 I better NOT show you too many scenes. You should watch this series yourself.
Enjoy!
Btw, you can join the Facebook Group for this series —-> here
Christmas At The Gardens Mall 2009
Posted: 30 Nov 2009 03:07 AM PST
The Christmas decor at The Gardens Mall is up. Wuan and I spent some time at the concourse area taking photographs and basking in the festive atmosphere yesterday. The pine trees were gaily decorated with baubles, butterfly cutouts, snow flakes, garlands of ice drops and fairy lights. The colour theme was generally white with the exception of the trees and poinsettias that added splashes of red to break the monotony.
Christmas trees at The Gardens Mall.
Christmas trees at The Gardens Mall.
Poinsettias to brighten up the atmosphere.
Close-up of the Christmas tree decor – butterfly cutouts, baubles and fairy lights.
Related posts:
Ahli Qariah Shah Alam Serah Memo Bantah JAIS Batal Tauliah Khalid Samad
Posted: 30 Nov 2009 03:07 AM PST
S
atu memorandum mengandungi 1013 tandatangan diserahkan kepada Jabatan Agama Islam Selangor (JAIS) bagi membantah penarikan semula tauliah semetara Ahli PAtlimen Shah Alam, Khalid Samad.
Memorandum berkenaan yang diserahkan oleh Ahli-ahli Qariah Masjid dan Surau Shah Alam turut menggesa JAIS mempertimbangkan semula tindakan berkenaan.
Wakilnya, Ismahali Ismail berkata, tindakan bantahan berkenaan dibuat berikutan Khalid Samad merupakan seorang yang berkaliber dalam menyampaikan khutbah mahupun ceramah.
"Jadi tujuan memorandum ini kami membantah apa yang telah dikatakan oleh JAIS dan kami minta pada pihak Datuk Khusrin dan jugak JAIS untuk melihat semula, mempertimbangkan semula berkenaan tauliah yang berhormat," katanya
"Dan kami mengharapkan semoga mungkin ada kesilapan teknikal di mana-mana dapat diperbetulkan dan beliau mendapat semula pertauliahan dan biarlah pertauliahan itu pertauliahan tetap, insyallah."

Memorandum berkenaan diserahkan kepada Ketua Penolong Pengarah Bahagian Dakwah JAIS, Ahmad Zaki Arshad.

Bagaimanapun, beliau enggan memberi sebarang komen berhubung penyerahan memorandum berkenaan.

Terdahulu, JAIS telah menarik balik tauliah Khalid Samad dengan alasan ceramah yang disampaikan beliau tidak mantap walhal umum mengetahui kredibiliti tokoh penceramah itu. –Hadri Yaziz (TVS)




This posting includes an audio/video/photo media file: Download Now
Umno-led BN protest: Uncontrollable violence! - nizar nizar nizar nizar nizar nizar
Posted: 30 Nov 2009 02:31 AM PST
Sep 8, 2008..Umno in Action.
Today, there was a protest staged outside Penang State assembly. The protest, led by Penang Umno Youth chief Norman Zahalan, started at 12.15pm and ended about 45 minutes later.
Later, Penang Gerakan Youth chief Oh Tong Keong told
Malaysiakini that
he tried to stop the unknown protestor to set the posters on fire but the situation became uncontrollable
.


Why didn't the police control the situation? Police is unafraid to catch people who light up candles but afraid to catch people who set posters on fire.

Posted: 30 Nov 2009 03:07 AM PST
Yes, I am blogging again after reading an article from Cleo magazine. The title of the eye-catching article is 'Is it time to dump him?'
The subtitle reads 'Once some guys go off the boil, the heat is gone forever. Can you tell when it's time to move on?'
What an interesting article. I reckon that you get hold of November's Cleo magazine. Oh wait, it's already 1st December tomorrow. Fear not, I am sure many of your female pals will keep a copy of Cleo. If not, you can browse them in most of the hair saloons in town.
There are some tips that I can share with you if you are anxious to know what's over and out. You know your relationship is past its use-by date when you:-
Make excuses for why he can't come over because you would rather curl up with a good DVD than spending time with your boyfriend.
Feel embarrassed, annoyed, insecure or plain bored in his company more often than he makes you feel totally captivated or in love
Struggle to find things to talk about over dinner.
Start screening your calls because you simply don't feel like talking to him.
Find yourself constantly bitching to your girlfriends about him.
Realize that being around him lowers your mood, self-esteem or enjoyment of going out.
Keep coming up with excuses why you don't wanna be that intimate (read: make love).
Discover that the more you get to know him the less you like him.
Don't want to come out with your friends if he's coming because he has no social skills or gets jealous easily when you blink in the direction of another guy.
Spend every waking moment feeling totally insecure about how he feels about you, whether you can trust him and whether you're good enough for him.
Want to change everything about him – from his clothes to the way he slurps his coffee.

(Cleo, Nov 2009)
Well, this is the realistic world, like it or not. Relationships sometimes hit a rough patch and it takes lots of love and staying power to work through the problems. In times like these, you may slip into a rut and need to shake both parties out of complacency by ensuring that you communicate more and have fun together.
Nevertheless, there are some signs that you should take notice when a relationship has lost its mojo for good. If your current romance is suffering from such symptoms, the author suggests that it's time to dump your boyfriend and find a man who will treat you right.
But before you break the seal, I suggest you think repeatedly that why both of you fall in love in the first place. Is it worthwhile to break up without working hard to close the widened gap in between? Is there any more hope and turning point?  Only you will know. No one can tell you what you should do or what you can do. You will know whether it's worth to save it or to break it.
Posted: 30 Nov 2009 01:55 AM PST
The television was the centrepiece in the rather bare living room. A box made from laminated wood encased the cathode ray tube. The box was supported by four legs about the height of a coffee table. The convex screen provided many hours of entertainment in black and white. There were only two channels – RTM1 and RTM2. The dial pointed at the "2″ position all the time. That was the channel with more entertainment programmes. Households that owned televisions or radios needed to get a license from the government. This was renewable annually and can be applied through the post office. The framed license hung on the wall next to the set.
That was the time before the VHS video casette recorder was invented. It was either watching shows in the cinemas or on televison. P. Ramlee movies ruled the silver screens and airwaves. One of the most popular sitcoms on television was Empat Sekawan also known as Li Kor Bo Wa Kor (Your Hardship Does Not Compare To My Hardship) in Chinese. It featured four friends conversing in four different Chinese dialects. There was Lai Meng, Wong Ah Hor, Hon Ying and the other actor whose name escapes my memory at the moment. They were hilarious on screen. We would gather and watch everytime the show came on.
Chinese movies were usually from Hong Kong and Taiwan. The few Hong Kong artistes whose name stuck with me till now are Liu Kei, Leong Sing Por, Lee Heong Kam and Tze Yin. The plots were usually run-of-the-mill: good guys versus the bad guys, lots of tears from the fair maidens mistreated, lots of scheming by the bad guys and evil stepmothers, rain, thunder and finally good triumphing over evil.
I was in primary school then. My school was one of those few that was in the afternoon sessions. During school holidays, apart from playing with the neighbourhood kids, I would be glued to the television screen. The stations started broadcasting at 3.00 pm. The national anthem come on first. The Jack Lalanne Show was next with his signature jumping jacks and a series of other exercises for the audience to follow. Jack Lalanne would be in a track bottom and tight cap sleeved shirt that showed off his muscular arms and chest.
Commercial advertisements were usually slotted before and after shows. There were very little interruptions in between. Cigarette advertisements were rampant. Dunhill and Benson & Hedges were the two more prominent brands. Dunhill cigarettes were packed in glossy maroon coloured boxes with gold on the edges. Benson & Hedges was unmistakeable with its gold coloured boxes. Dad smoked Benson & Hedges. He usually bought the 20 sticks per box packing.
Of all the commercials on television, I remember one particularly well. Nearing the end, three pretty ladies were walking away from an aircraft parked at the tarmac. They were dressed in smart cabin crew uniforms. They were cheerful with their million dollar smiles. At the end, the jingle went like this: Lady lembut, Lady selesa, Lady selamat, with the word "selamat" trailing till the end of the clip.
Related posts:
Why even bother about this<br><br>So much storm and fuss about this
Posted: 30 Nov 2009 12:40 AM PST
Why even bother about
this
So much storm and fuss about this and in the first place what merit is the program that so much importance is attached to it and the federal government insist that it must go on? I am quite sure the budget to run all these is not cheap and it could be put to much better use.
What is their agenda behind all these that
they
are so adamant to have it continued? Isnt 1Malaysia all about 1people united together, 1nation sharing the spoils of the earth, 1 people working for the common good, 1people coming together hand in hand working together to build the nation? And all I hear is "We are the masters of the land and you have to be thankful for your place here and you have no rights to question privileges given to a select group?
Arent we all Malaysians born and bred here entitle to equal rights just like any rightful citizen, why should there be a distinction on the grounds of race?
Is God racist? Isnt it a fact that red or yellow, black or white, all are equally precious in His sight? Why should there be this cry of Ketuanan be drummed into the minds and souls of our impressionable young minds.
God save this nation before it gets sucked deeper into the black hole