---
Posted: 03 Nov 2009 07:20 AM PST
Get your daily dose of Delirium via Reader or delivered via Email


Windows 7 is finally making its way to our shores and you can be part of the planned launch.The event is planned to happen on: When : 24 November 2009 (TUE) Time :9.00am -- 6.00pm Where : Kuala Lumpur Convention Centre The event is themed : Cost savings, productivity and innovation I have been waiting for this new OS to [...]
Open Letter to My Son – Those Precious Kisses
Posted: 03 Nov 2009 08:28 AM PST
Dear Miki,
It has been so long since I last wrote a letter to you. It is something that I deeply regret and I hope I will be able to forgive my very own self. You see Miki, though these letter are addressed to you, it is myself that I see reading it back many-many years from now, as loving reminiscence of how much your Daddy and I are in love with you, our one and only son.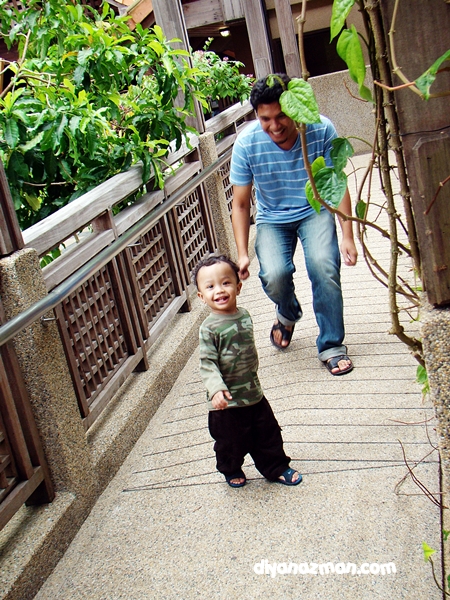 at Taman Warisan Putrajaya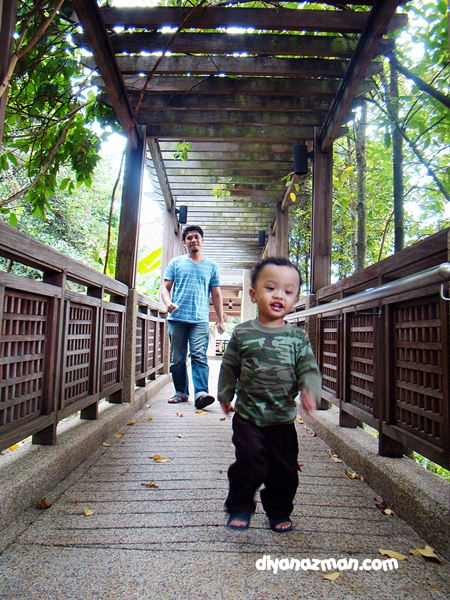 A little while ago you made me cry, Miki. You climbed our display cabinet happily because well that's what toddlers do. However, while you are at your conquest to Mount Cabinet you knocked your Daddy's notebook, it fell down from where it was sitting and came bumping on the floor. Your Daddy raised his voice and you came to me running and bawling in tears.
My hugs and kisses stopped your wailing and snuffles but they didn't wash away the look of gloom and remorse on your beautiful face. Daddy demanded you to apologize. You leaped from my embrace, throw your arms around Daddy's neck, look at him in his eyes and said, "Sowweee!" for sorry.
That must be the sincerest apology that the world have witnessed. And you didn't stop there. You showered Daddy with your soft baby kisses. On his left cheek, then right and left again and again and again and on his forehead too before you looked at him and said sowwee one more time.
And so I shed my tears.
I do not know what those tears were for. Could it be me watching the sweetest drama in the world starring two of my favorite boys?
Or is it the inescapable melancholy inside my heart that accompanies the adventure of watching you grow? You indeed grow very fast, my son. I am barely catching up.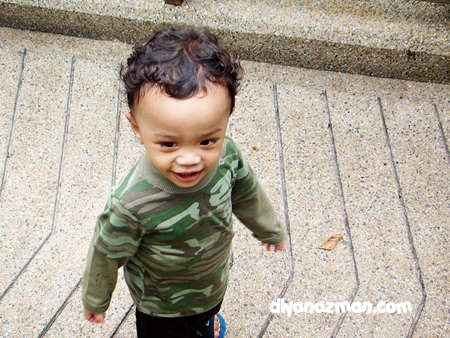 Miki, 27 September 2009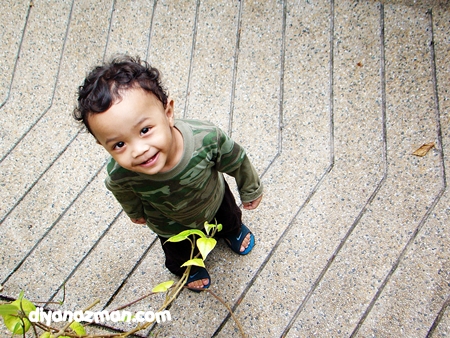 Age 1year8 months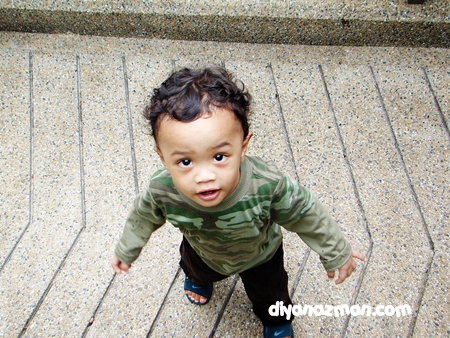 You started to understand apologies when you were about a year and six months old and almost all the times your 'sowweee' would make my heart melt with love. Now at one year and nine months you have mastered the cutest way of asking for forgiveness (sowwee), thanking people (thanchuu – thank you) and say you are welcome (welchom!). Every night before we sleep, you would kiss us on our faces, say goodnight (oonight) and "I you you!" for I love you. I am extremely smitten with this bedtime routine, baby! Owhh, but when you demand me to sing "Burung Kakak Tua" non stop for 20 minutes before you doze off, I am just beaten not smitten.
I am sure all other kids your age are doing the same thing but especially for you my son, I am telling the world that I am extremely proud. I hope and I want you to continue to be this person that although so tiny in size but has all the ability to have the adults wrapped around your finger. Not by screaming, kicking or throwing yourself on the floor but by continuing what you do now – charming people with your smiles and friendliness; your wit and humor; never forget to thank and appreciate people; be quick to admit of your wrongdoings and be quick to apologize. And when you do so, say it through your lips and feel it sincerely in your heart. It is a tough world out there my son, be kind and the world will be kind to you.
I love you and if there is any mosquito out there dares to lay one micro leg on your body, my son, I'll burn that damned kelambu.
Mummy.
two-party system by datuk zaid ibrahim
Posted: 03 Nov 2009 08:20 AM PST
with reference to my post yesterday, 'two-party system – possible?' apart from the link of anil netto i pointed out in that post, there is also a write up in malaysiakini on the forum.  at the moment now, though, i'm going to give you the transcript of datuk zaid's speech. here you get to read only the first 2 paragraphs. please click on the link below for the full speech. do read it all in length.  interesting points made by datuk zaid.
—————————-
Two-party system
by Datuk Zaid Ibrahim
(during the sembang-sembang forum)
A two-party system is one where two major parties or two major grouping of political parties dominate the voting in an election, at all levels. The obvious examples are Labour vs. Conservatives in Britain; the Moderate Justice party with Islamic roots vs. the secular westernised grouping in Turkey; and the Republicans vs. the Democrats in America. The two-party system is the outcome of an evolutionary process where the main political players gravitate towards a common political philosophy. Ultimately, we discern in most countries the creation of two separate groups that are philosophically distinguishable. So one can say that Labour is more oriented to the centre left with strong union and workers affiliation whereas the Conservatives are more right wing and more averse to Big Government. Most importantly, both parties represent the interest of all segments of society.
Malaysia has never been short of having an Opposition. But some parties in the Opposition got offers that were too good to refuse and joined the Barisan Nasional and one point or the other in our short history. These are political parties from Sabah and Sarawak. We have also an Islamic Opposition Party in the shape of PAS and a secular Opposition Party in the shape of DAP but only Malays would support PAS, and mainly non-Malays would support DAP. So Opposition parties thus far continue to be segmented, are not broad-based, and have narrow communal appeal. This helps to justify the authoritarianism of UMNO, in the name of ensuring that an acceptable coalition to all communities remains in power. That's why the BN has ruled for 52 years.
But it is time for a change.
full transcript of datuk zaid's speech.
This posting includes an audio/video/photo media file: Download Now
Mental Health Problem Under Diagnosed - bernama
Posted: 03 Nov 2009 08:00 AM PST
Mental Health Problems Under Diagnosed

By Soraya Jamal

KUALA LUMPUR, Oct 29 (Bernama) -- About 450 million people worldwide suffer from some sort of mental illness such as depression, schizophrenia and bipolar disorder but fewer than half receive the help they need, according to World Health Organisation(WHO).

WHO also estimated that by 2020, mental illness could comprise 15 percent of global disease.

Mental health disorders are more common than you think. Last year, 400,227 patients sought psychiatric help in Malaysian government hospitals, a 15.6 percent increase from 346,196 patients in 2007.

The Third National Health and Morbidity Survey in 2006 indicated mental health disorders among teenagers as increasing.

Females are also more prone to mental health problems at 12.1 percent compared with 10.4 percent for males.

Five out of 10 leading causes of disability are related to mental illnesses. Major depression is fourth most disabling disease in the world and is expected to be the second leading cause of disability worldwide by 2020.

UNDER DIAGNOSED

Despite being a common and serious problem, mental health is still not widely accepted as critical public health problem and often under diagnosed by primary care specialists.

The ASEAN Federation for Psychiatry and Mental Health (AFPMH) president, Professor Dr Mohamad Hussain Habil said this is mainly attributed to two factors.

First is the lack of knowledge or understanding in diagnosing or treating the ailment while the second factor is directly related to the stigma associated with mental health disorders that is rife even amongst the medical practitioners.

Early detection in the community by primary care specialists can yield numerous benefits relating to costs and productivity, and in some cases preventing the problem from becoming full-blown disorder.

According to the report of the National Advisory Mental Health Council, treatment outcomes for people with even the most serious mental illness are comparable to outcomes for well-established general medical or surgical treatments for other chronic diseases.

The early treatment success rates for mental illnesses are 60-80 percent, well above the 40 to 60 percent success rates for common surgical treatments for heart disease.

For individuals who have mental health problems, not getting the help that they need can cause social distress as it can lead to isolation and cause strain on their finances as they keep on seeking medical opinions or consultations, not to mention loss of job due to reduced productivity.

Struggling with the situation also diminishes the patients' and caregivers' quality of life. Even worse, under diagnosis can end tragically if patients commit suicide.

PRIMARY CARE ROLE

AFPMH and the Malaysian Psychiatry Association (MPA) commemorated the 2009 World Mental Health Day on October 9 by addressing the important role of primary care specialists in identifying and treating psychiatric disorders.

This year's theme is "Mental Health in Primary Care; Enhancing Treatment and Promoting Mental Health".

Many people will not think of consulting a psychiatrist as most will not even consider that they have a mental health issue. And those who do are generally too embarrassed to visit a mental health specialist and often more at ease with their neighbourhood doctors.

These primary care specialists are the front liners of the public health care system and are familiar with their patients' medical history. Therefore the need to be well equipped to identify the symptoms and have the necessary knowledge in psychiatry to administer treatment," Professor Dr Mohamad Hussain said in a press conference recently.

Professor Dr Mohamad Hussain, who is also Addiction Specialist and Consultant Psychiatrist at the Department of Psychological Medicine, Universiti Malaya Medical Centre, said early detection and proper diagnosis enable patients to receive appropriate treatment.

It also prevents more debilitating disorders and ultimately enables the patient to continue with a normal life and integrate with society while undergoing treatment, he said.

ONLY 2OO PSYCHIATRISTS

Professor Dr Mohamad Hussain also said, there are only 200 psychiatrists in Malaysia while the ideal number is 2000.

"An integrated collaborative approach involving primary care specialist will lessen the burden faced by psychiatrists and provide patients, especially those from the low-income group affordable and accessible treatment.

"This approach ensures that patients do not have to travel far to get their medication from psychiatrists, which considerably reduces the burden on their caregivers," he said.

Primary care specialist must realise that psychiatric patients deserve access to the best form of treatment and at the same level of priority within the primary health care system alongside other medical disorders such as heart disease, diabetes and cancer.

Despite the fact that mental and physical health is highly interconnected, mental health issues have been treated more of social issue, he said.

STIGMA

Stigma that persists amongst the public and even primary care specialists is the greatest barrier to successful treatment leading to many psychiatric cases being undetected and untreated.

"Psychiatry has come a long way. The latest medications make mental disorders highly treatable. However many still refuse to seek professional help because they fear being labeled as 'crazy' and being discriminated if they are diagnosed with a mental illness," noted President of MPA Dr Yen Tech Hoe.

This issue is further compounded when some primary care specialists also subscribe to this misconception and consider mental health issues a less important component of the medical profession.

Many primary care specialists are unaware that most psychiatric illnesses can be presented through physical symptoms and they usually treat the pain without further examination.

This low awareness of mental health in primary care setting brought on by a lack of interest amongst primary care specialist to acquire latest knowledge and clinical skills in psychiatry, said Dr Yen.

"When patients express or exhibit psychiatric symptoms such as feeling unusually lethargic or sad, having poor concentration or loss in appetite, primary care specialist tend to disregard this signs," added Dr Yen.

MENTAL ILLNESSES CAN BE TREATED EFFECTIVELY

Mental illnesses usually occur alongside chronic disorders such as heart disease, diabetes, cancer and stroke, highlighting the significant co-morbidity of mental and physical disorders.

Research has shown that patients with severe mental illnesses are often twice as likely to have multiple physical health problems. Untreated psychiatric symptoms can worsen the pain and exacerbate psychiatric and medical outcomes as well as prolong the years of unnecessary suffering, said Dr Yen.

Many primary care specialist also believe it is difficult and time consuming to treat mental health patients who are then referred to psychiatrists.

"Many mental health can be diagnosed and treated effectively at the primary care level. Early detection and treatment can also help minimise the problem while enhancing the potential for recovery and productivity," he said.

Dr Yen said for every dollar spent on treating mental illness, the outcome is much better than any other illness especially since the treatment available is very good.

EFFECTIVE MENTAL HEALTH SERVICES

Meanwhile, Associate Professor, Department of Primary Care Medicine, Faculty of Medicine, University of Malaya, Dr Noor Zurani Md Haris Robson said a proactive and mutual commitment by the government, non-governmental organisations, families, caregivers and medical fraternity including nurses and paramedical staffs, were vital in facilitating the integration of effective mental health services in primary care environment.

"The government should develop a framework that advocates the need to incorporate primary care for mental health. Psychiatry, like other fields in medicine is constantly evolving and we need to train and educate primary care specialist in order for them to gain better understanding of mental health problems.

I believe there are many primary care specialists who are interested in treating psychiatric patients and we should offer them the opportunity to get the latest updates on the developing areas in psychiatry. These can be achieved through continuing medical education programmes," she said.

Dr Noor Zurani said primary care doctors play a central role in treating mental health disorders such as depression and anxiety.

Continuous communication between primary care specialists and psychiatrists are essential in avoiding any misunderstandings when coordinating treatment for patients with severe mental health illnesses.

The patients' well-being should be the underlying concern and both parties must be willing to share information and understand each other's role in treating patients.

-- BERNAMA

PET+BLOGSPOT is the official online blog of the Malaysian Animal-Assisted Therapy for the Disabled and Elderly Association (Petpositive).
Our blog which was first established in October 2007 currently has more than 30,000 hits. Kindly take note that views expressed in this blog are not necessarily those of Petpositive.
You may also visit our Webpage by browsing: www.petpositive.com.my
nizar Blitz continues: MACC charges ex-Gerakan state rep - nizar nizar nizar nizar nizar nizar
Posted: 03 Nov 2009 07:07 AM PST
UPDATED 5.50PM
The MACC's dragnet in Selangor continues with another former state rep arrested.
Malaysiakini
reported:
The anti-corruption watchdog is also investigating several Pakatan Rakyat assemblypersons, leading some quarters to allege that it is part of a plot to topple the new state government.

However, both Barisan Nasional leaders and MACC have denied this.

Well, almost two months ago, the Umno Selangor chief said he wanted Selangor back in BN fold.



Since then, everything seems to be going against the Pakatan state government so much so that RPK posted today -
Will Selangor fall in January?
Posted: 03 Nov 2009 06:41 AM PST
#1
The Power of God
Acts 3 - Peter annd John healing the crippled man:
Silver and gold have I none but such as I have I give unto you. In the Name of Jesus of Nazareth "rise up and walk".
The crippled man was healed instantly and went "walking and leaping, and praising God".
The Power of God is released through:
A. The filling of the Holy Spirit
B. Prayer and fasting
C. Going out into the mission field.
#2
Ministry of Angels
Posted: 03 Nov 2009 04:48 AM PST
Never thought that I will miss cuddling so much, something that is free in life but I took for granted at times and now I blardy miss it! It's freaking cold here now, I wish I can be cuddling to get some body heat with my partner.
But cuddling is not always a good thing, I am trying to recall some of my experiences with some girls I got involved with. As I am a bit horizontally gifted, most of the girls I got involved with mentioned that I am so nice to cuddle but the problem is when they fell asleep soundly, I always got my arms trapped and removing it will be an unpleasant and perhaps will wake the girl up. I then end up having pins & needles on my arms the next morning.
Then I bumped into this video on youtube on how to avoid your arm being trapped while cuddling. In another words, it is the cuddling kamasutra. Sounds interesting and I wanna share it with my male readers especially so that you will know what to do when you find yourself in such situation;
I am perfect for cuddling no.4
:)
This posting includes an audio/video/photo media file: Download Now
Sibu In The Blue Ocean - Part 2
Posted: 03 Nov 2009 05:21 AM PST
Tan Kee Hian then moved on to take the audience on a Blue Ocean journey of Sibu. The gists were to focus on strategic ideas and bring capabilities together with a long-term view to better develop Sibu.
Kee Hian explored the subject basing on his extensive global experience in strategic planning and first-hand knowledge at the Federal level. His sheer love for Sibu drove him to come to share with the fellow Sibuians.
The sluggishness of the development in Sibu has been a burning issue. Calling it a trigger event, the as-is developmental status of Sibu is characterised by:-
1. Sibu has been called a slumbering giant.
2. A sunset town.
3. We are still indulged in the past glories.
4. Sibu has been hollowed out (the young elite group is leaving).
5. We are left with the crumbs. Even the Federal government has left out Sibu.
6. Sibu has been dubbed a cowboy town.
In the present development cycle of Sibu, we are at a declining stage.
Therefore, what are of utmost concern to Sibuians are: What is the next development cycle of Sibu? Where do we go from here? Is it business-as-usual?
The picture shows Dato' Seri Wong Soon Koh giving an opening address. Photo: Terrence Tan of MPI
Posted: 03 Nov 2009 03:13 AM PST
MAKHACHKALA: Seorang bayi Dagestan membingungkan doktor apabila ayat suci al-Quran ditemui pada tubuhnya.

Ibu bapa kanak-kanak berusia sembilan bulan itu, Ali Yakubov, berkata mereka terkejut apabila perkataan Allah timbul pada dagunya sejurus selepas dia dilahirkan.

Sejak itu, beberapa ayat suci dalam bahasa Arab muncul pada belakang, lengan, kaki dan perut Ali.

Keluarganya mendakwa, ayat lama akan hilang dan ayat baru pula muncul.
Biasanya, ia berlaku dua kali seminggu, iaitu setiap Isnin dan malam Jumaat.

Pegawai perubatan berkata, mereka tidak dapat menjelaskan kejadian misteri itu tetapi menolak kemungkinan ditulis seseorang pada kulit kanak-kanak itu.

Ibunya, Madina, berkata dia dan suaminya semakin patuh dalam melakukan suruhan agama selepas kejadian itu.

Madina dan suaminya pada mulanya tidak menunjukkannya kepada sesiapa penemuan itu sehinggalah baru-baru ini apabila perkara itu didedahkan kepada doktor.

Ali kini menjadi tumpuan masyarakat Islam di Dagestan.

Anggota Parlimen tempatan, Akhmedpasha Amiralaev, berkata kanak-kanak itu adalah tanda kebesaran Tuhan.

"Allah menghantarnya ke Dagestan dalam sebagai tanda untuk menghentikan keganasan dan ketegangan di negeri kami," katanya.

Menurut Madina, Ali biasanya meragam apabila kejadian aneh itu berlaku.

"Dia akan menangis dan suhu badannya meningkat. Sukar untuk memegangnya ketika itu.

"Tubuhnya pula bergerak aktif, memaksa kami meletakkannya dalam buaian.

"Sungguh sedih melihat dia menderita ketika itu," katanya.

Seorang imam tempatan, Abdulla, memberitahu penduduk tempatan, memang ada ayat dalam al-Quran yang menyatakan, Tuhan akan menunjukkan kekuasaan-Nya di pelbagai tempat dalam dunia, selain pada diri manusia sendiri untuk membuktikan bahawa al-Quran itu kitab yang benar.

"Kejadian itu tidak sepatutnya disembunyikan," katanya.
Posted: 03 Nov 2009 03:10 AM PST
Gambar Contoh.
RR JEJANTAS AIR KEROH BLACK AREA:-
AWAS!
Sehari sebelum hari raya aidilfitri, saya drive dari damansara ke tol tangkak tap singgah sekejap di RR JEJANTAS AYER KEROH untuk buang air kecil dan solat doha dlm jam 8.30am. Parking keta iswara saya 2nd lane kat RR-keta banyak keluar masuk. Saya turun semula ke parking kul 9.00am dapati bonet keta x boleh bukak so saya bukak dari dlm keta, alangkan terkejutnya barang2 dlm bonet saya dlm 6-7 beg (termasuk handbag mengandungi duit & brapa kad, beg barang kemas, beg baju etc) tak ada- bonet keta saya dh kosong melainkan 1 beg plastik isi kasut buruk dia x ambik. Pencuri itu membukak bonet keta saya mengunakan screw drive or spare key
Bila saya buat polis repot, pihak polis x hairan kerana dia kata RR JEJANTAS AYER KEROH memang black area.
Soalannya mengapa PLUS & POLIS MELAKA TIDAK BUAT sesuatu menghalang pencurian berluasa, atau standby RELA di RR yang panas.
Sekarang saya fobia nk berhenti di mana2 RR. Kerana dari kesan kecurian itu hingga skrg saya belum dapat IC dan kerugian yg banyak. SEDIH!
fznHamid
Aspirin Only For Heart Patients - bbc online
Posted: 03 Nov 2009 02:02 AM PST
Aspirin 'only for heart patients'
aspirin tablets
Low dose aspirin is widely given to people who have had heart problems
The use of aspirin to ward off heart attacks and strokes in those who do not have obvious cardiovascular disease should be abandoned, researchers say.
The Drugs and Therapeutics Bulletin (DTB) study says aspirin can cause serious internal bleeding and does not prevent cardiovascular disease deaths.
It says doctors should review all patients currently taking the drug for prevention of heart disease.
The Royal College of GPs says it supports the DTB's recommendations.
Low-dose aspirin is widely used to prevent further episodes of cardiovascular disease in people who have already had problems such as a heart attack or stroke.
Given the evidence, the DTB's statement on aspirin prescription is a sensible one
Prof Steve Field, Royal College of GPs
This approach - known as secondary prevention - is well-established and has confirmed benefits.
But many thousands of people in the UK are believed to be taking aspirin as a protective measure before they have any heart symptoms.
Controlled trials
Between 2005 and 2008, the DTB said four sets of guidelines were published recommending aspirin for the "primary prevention" of cardiovascular disease - in patients who had shown no sign of the disease.
FROM THE TODAY PROGRAMME
More from Today programme
These included people aged 50 and older with type 2 diabetes and those with high blood pressure.
But the DTB said a recent analysis of six controlled trials involving a total of 95,000 patients published in the journal the Lancet does not back up the routine use of aspirin in these patients because of the risk of serious gastrointestinal bleeds and the negligible impact it has on curbing death rates.
Dr Ike Ikeanacho, editor of the DTB, said: "Current evidence for primary prevention suggests the benefits and harms of aspirin in this setting may be more finely balanced than previously thought, even in individuals estimated to be at high risk of experiencing cardiovascular events, including those with diabetes or elevated blood pressure."
'Sensible statement'
Professor Steve Field, chairman of the Royal College of General Practitioners, said the DTB was an excellent source of independent advice for medical professionals.
He said: "Given the evidence, the DTB's statement on aspirin prescription is a sensible one.
"The Royal College of General Practitioners would support their call for existing guidelines on aspirin prescription to be amended, and for a review of patients currently taking aspirin for prevention."
June Davison, senior cardiac nurse at the British Heart Foundation said: "It is well established that aspirin can help prevent heart attacks and strokes among people with heart and circulatory disease - so this group of people should continue to take aspirin as prescribed by their doctor.
"However, for those who do not have heart and circulatory disease the risk of serious bleeding outweighs the potential preventative benefits of taking aspirin.
"We advise people not to take aspirin daily, unless they check with their doctor.
"The best way to reduce your risk of developing this disease is to avoid smoking, eat a diet low in saturated fat and rich in fruit and vegetables and take regular physical activity."
PET+BLOGSPOT is the official online blog of the Malaysian Animal-Assisted Therapy for the Disabled and Elderly Association (Petpositive).
Our blog which was first established in October 2007 currently has more than 30,000 hits. Kindly take note that views expressed in this blog are not necessarily those of Petpositive.
You may also visit our Webpage by browsing: www.petpositive.com.my
Era Najib Altantuya : Pengarah JAIS Perlu Ditangkap!
Posted: 03 Nov 2009 01:55 AM PST
B
anyak pihak kesl dengan tindakan Jabatan Agama Islam Selangor (Jais) yang sesuka hati bertindak untuk menahan seseorang tanpa sebarang kesalahan yang jelas untuk dibuat pertuduhan.
Pengarah JAIS, Datuk Mohammed Khusrin Munawi perlu dipertanggungjawabkan dan beliau perlu ditahan serta disoal siasat sebab-sebab tindakan yang tidak profesyenal serta mengaibkan pihak tertentu dilakukan oleh JAIS.
Harakahdaily pula melaporkan bekas Mufti Perlis, Dr Asri Zainal Abidin membidas sikap JAIS kerana tidak profesional, sambil lewa dan memungkiri janji apabila tiada wakil atau pendakwa daripada Jais yang hadir ke Mahkamah Syariah sebentar tadi.
Beliau yang dibebaskan oleh pihak mahkamah tanpa sebarang pertuduhan dan perbicaraan menyifatkan Jais tidak wajar memperlakukannya seperti itu sehingga menyusahkan pelbagai pihak.
Berita sebelum ini:

Bekas Mufti Perlis, Dr Asri Zainal Abidin akan menunggu di Mahkamah Syariah sehingga jam 1 petang nanti untuk menunggu pertuduhan ataupun dokumen berkaitan difailkan ke atasnya.

Sebelum ini, Dr Asri yang tiba di mahkamah sejak jam 9 pagi tadi diberitahu tiada pertuduhan difailkan.

Demikian siri episod tangkapan terhadap Dr Asri yang dianggap aneh oleh pelbagai pihak hari ini apabila diberitahu bahawa tiada pertuduhan atau dokumen berkaitan difailkan pagi ini.

Dr Asri dilihat tiba pada jam 9 pagi tadi kerana diarahkan untuk hadir di mahkamah atas alasan secara lisan oleh pihak Jais bahawa beliau mengajar tanpa tauliah.



(Gambar:Dr Asri di Mahkamah Syariah Gombak hari ini)

Dalam kejadian malam tadi,beliau ditahan oleh sepasukan anggota polis dan pegawai Jabatan Agama Islam Selangor (Jais) ketika mengadakan ceramah agama di sebuah rumah di Taman Sri Ukay, Hulu Klang.

Ceramah itu dihadiri kira-kira 100 orang termasuk Anggota Parlimen Ampang (KeADILan), Zuraida Kamaruddin dan Anggota Dewan Undangan Negeri Hulu Klang (PAS), Saari Sungib.

Namun,Dr Asri yang ditahan tengah malam tadi telah dibebaskan dengan jaminan polis kira-kira pukul 1.10 pagi tadi. Bagaimanapun beliau dikehendaki hadir ke mahkamah pada jam 9 pagi ini.

Di pekarangan mahkamah pagi tadi, Dr Asri menbidas sikap pihak berkuasa dan pendakwa yang tidak hadir lagi sehingga kini.

"Mereka tangkap saya dulu baru tuduh. Tetapi mahkamah kata belum ada apa-apa pertuduhan lagi. Saya pun tak tahu sebab apa nak datang sini

"Pihak Jais yang bagi arahan, tetapi saya nak tahu 'tangan ghaib' siapa di sebaliknya,"tegas Dr Asri.

Menurutnya, tindakan tidak profesional ini menyebabkan membuang masa beliau, para penyokongnya, termasuk wakil-wakil rakyat (Saari Sungib dan Zuraida Kamaruddin) dan wakil Menteri di Jabatan Perdana Menteri, Datuk Jamil Khir Baharom.Turut kelihatan di pekarangan mahkamah yang memberikan sokongan kepada beliau adalah Ahli Parlimen Titiwangsa, Dr Lo' Lo' Hj Ghazali, Naib Ketua Pemuda PAS Pusat, Azman Shapawi Abdul Rani, Marina Mahathir dan Zainah Anwar (SIS).

Ketika ini, Dr Asri berada di luar mahkamah dan sedang berbincang dengan wakil NGO dan wakil-wakil rakyat.

Beliau difahamkan akan bertemu dengan Datuk Jamil Khir sebentar lagi.

Hampir 100 orang hadir untuk memberikan sokongan kepada beliau termasuk puluhan wartawan.

11.00 pagi: Ketika ini, Dr Asri sedang menunggu di dalam Mahkamah Syariah dan beliau berkata akan menunggu pertuduhan sehingga jam 1 petang nanti.

1.00 petang:Dr Asri sebentar tadi dibebaskan tanpa sebarang pertuduhan dan perbicaraan dengan jaminan pihak mahkamah.

Menurut beliau, semasa ditemui wartawan, penantian (menunggu pendakwa dan wakil Jais) adalah sesuatu yang sia-sia.

Beliau juga mengkritik Jais kerana tidak hadir untuk memberitahu jenis pertuduhan ke atasnya dan mempersoalkan kenapa badan agama itu memungkiri janji sedangkan beliau telah menunggu sejak jam 9 pagi tadi.

Dalam pada itu, beliau juga memaklumkan bahawa ada perjanjian antara pihak peguam dan mahkamah bahawa mereka boleh dipanggil bila-bila masa atau sebaliknya.

Bertanyakan sebarang tindakan lanjut di pihaknya, beliau memberitahu, pihaknya akan merujuk kepada peguam.

Dr Asri kini akan menuju ke Hotel Putra, Kuala Lumpur untuk bertemu dengan Datuk Jamil Khir dan selepas itu satu sidang media akan diadakan.


Era Najib Altantuya : UMNO BN Dalangi Tindakan JAIS - Khalid Samad
Posted: 03 Nov 2009 01:22 AM PST
A
hli parlimen Shah Alam tersepit apabila didakwa mempunyai "rekod jenayah" tetapi sehingga kini gagal mendapatkan penjelasan polis berkenaan perbuatan jenayah yang telah dilakukannya.
Akibat "rekod jenayah" beliau itu, Khalid Samad tidak diberikan tauliah menyampaikan kuliah agama di Selangor walaupun beliau mendapat kelulusan awal daripada Jabatan Agama Islam Selangor (Jais).
Dalam surat jabatan itu bertarikh 10 Julai 2008, pemimpin PAS itu diberikan tauliah mengikut kategori-kategori D1 (boleh mengajar atau berceramah) dan D2 (mengajar fardhu ain atau berkitab).
Kebenaran itu bagaimanapun dibatalkan olej Jais dalam suratnya 28 Oktober 2008 susulan tapisan keselamatan polis Selangor mendapati Khalid, adik kandung bekas menteri Datuk Shahrir Samad, mempunyai "rekod jenayah."
Setelah Khalid meminta penjelasan dalam suratnya hujung September lalu, polis Selangor berkata semakan polis Bukit Aman mendapati beliau mempunyai "rekod jenayah".

Jenis jenayah yang didakwa dilakukan oleh bekas ahli jawatankuasa pusat PAS itu tidak pula dinyatakan dalam surat ibu pejabat polis kontinjen (IPK) Selangor bertarikh 27 Oktober 2009 kepada beliau - yang diterima semalam.
'Jelaskan apa rekod saya...'

Bercakap dalam sidang media di Shah Alam hari ini, Khalid menulis kepada IPK untuk mendapatkan butiran mengenai "jenayahnya" itu.

"Saya minta mereka jelaskan, apa rekod saya... Tetapi saya difahamkan mereka tidak dapat beri rekod untuk orang perseorangan, walaupun yang minta itu tuan punya badan sendiri," katanya.

Sebaliknya, kata beliau, polis memintanya menghubungi Jais untuk mendapatkan butiran berkenaan.

"Ini aneh. Apa hal Jais nak tanya rekod jenayah untuk saya. Sepatutnya kalau saya ada rekod jenayah, kononnya, saya tanya pada polis apa rekodnya, dia beritahu sayalah," katanya.

Beliau juga menyifatkan tindakan Jais tidak meluluskan permohonannya untuk mendapatkan tauliah "terlalu berbau politik."

"Saya ini dalam keadaan tersepit. Nak dapatkan penjelasan daripada Bukit Aman pun tak boleh, nak buat rayuan kepada (Jais) pun tak boleh dan ini bagi saya sesuatu yang terlalu berbau politik," katanya.

Beliau mendakwa, Jais telah mengambil tindakan yang mempunyai unsur politik apabila menggunakan hak dan bidang kuasanya untuk menyekat penceramah yang telah lulus ujian kelayakan sepertinya.

'Saya lulus temuduga'

"Kalau nak ambil tindakan bukan atas sebab tak ada tauliah tapi ambil tindakan atas ajarannya tak betul. Dan ianya perlu dibuktikan di mahkamah.

"Tapi bila ada (sistem) tauliah ini, dia ada kuasa untuk menghalang. Atas apa sebab sekalipun, ia tidak boleh dipertikaikan (kerana) ia merupakan hak dan kuasa mutlak (Jais) dan ini terdedah pada disalahguna.

"Hakikatnya saya telah lulus temuduga di (Jais). Maknanya kemahiran atau kemampuan atau layaknya saya untuk menyampaikan khutbah dan tazkirah tidak dipertikaikan dari segi agamanya, " kata Khalid..

Menurutnya lagi, ajaran Islam yang dibawa oleh penceramah-penceramah dalam PAS sepertinya, juga tidak berbeza daripada ajaran daripada penceramah yang ditauliahkan Jais.

"Orang macam Tok Guru Nik Aziz dan sebagainya ada keterlibatan dia dalam politik sebagai pimpinan utama PAS. Tetapi benda-benda ini semua sepatutnya tidak diambil kira.

"Saya rasa mereka juga tahu bila mereka mengajar agama, mereka juga tidak timbulkan isu PAS-Umno dan sebagainya. Atas platform ceramah politik barulah begitu," katanya.

Khalid berkata, beliau sendiri tidak membawa mesej politik ketika menyampaikan khutbah, tetapi sebaliknya membawa mesej ajaran Islam secara umum.

Malaysiakini difahamkan, Khalid telah menyampaikan khutbah Jumaat di kira-kira 20 masjid dan surau di sekitar Shah Alam semenjak dipilih menjadi wakil rakyat pada Mac tahun lalu.

Menurutnya lagi, beliau berharap menteri besar akan memanggil mesyuarat dengan exco Selangor untuk mengkaji perubahan-perubahan yang boleh dilakukan ke atas proses pentauliahan penceramah agama.

"Memang (Jais) di bawah (Majlis Agama Islam Selangor) yang terletak bawah Sultan. Tetapi kerajaan negeri pun ada exco agama yang ada peranan," katanya lagi. -malaysiakini




This posting includes an audio/video/photo media file: Download Now
Posted: 03 Nov 2009 12:42 AM PST
Fei Por with the cone collar.
Photo by Wuan.
"I come in peace. Take me to your leader."
Fei Por has been wearing the cone collar since the day we took her back from the vet in Ipoh last Friday. She has an open sore that she kept licking, making it raw. It looked painful. The collar has effectively prevented her from doing that. The sore is healing day by day. She was also prescribed antihistamines, antibiotics and iodine solution. Although she refuses to take the tablets, Wuan has little problem making her swallow them.
We have to keep her in the house to prevent her from wandering around the neighbourhood for now. Hopefully the collar can be removed soon so that we can let her out. She looks uncomfortable and miserable cooped up inside. Cheeky is not helping either by playing rough with her every now and then although she is very patient with his antics.
Advertisement: Honda Wheelchair Vans at IMED Mobility in Minnesota and South Dakota.
Related posts:
Era Najib Altantuya : Saari Sungip Bidas Noh Omar
Posted: 03 Nov 2009 12:41 AM PST
T
uduhan terbaru Umno-BN yang mendakwa Pas hanya menumpang gagasan Pakatan Rakyat dilihat berniat jahat.
Adun Hulu Klang Saari Sungib berkata pemimpin Pas, DAP dan Parti Keadilan Rakyat membentuk satu musyawarah yang menjadi nadi kepada gagasan kerajaan baru ini.
Beliau berkata demikian mengulas tuduhan Timbalan Pengerusi Perhubungan Umno Negeri, Datuk Noh Omar baru-baru ini. Noh Omar mendakwa Pas diketepikan dalam urustadbir kerajaan negeri.
"Itu adalah tidak benar sama sekali, kerana dari segi strukturnya Pakatan Rakyat ini wujud dari peringkat nasional, Pimpinan Tertinggi sentiasa mengadakan perbincangan dengan garis panduan serta panduan-panduan yang telah ditetapkan agar pemimpin Pakatan Rakyat yang mentadbir negeri dan parti masing-masing di setiap negeri Pakatan Rakyat berjalan dengan baik,"katanya.
Saari melahirkan rasa kesal Umno-BN sentiasa mencari peluang untuk menghakis kepercayaan rakyat. Siri pergeseran pendapat antara pimpinan Pakatan Rakyat dijadikan peluru, namun Saari berkata ini harus dilihat sebagai proses mematangkan gagasan kerajaan alternatif ini.

"Seramai 3 Adun Pas di Selangor menjadi Exco Selangor dan ini merupakan satu penghargaan kepada Pas.Ini juga merupakan satu semangat kesetiaan,kebersamaan yang di tunjukkan kepimpinan Pakatan Rakyat Selangor,"jelasnya.

Mengulas isu yang sama, Adun Taman Haniza Talha tidak menolak serangan ini bermotifkan politik.

Sebelum ini, ketua perwakilan Umno Selangor Abdul Shukor Idrus ke Persidangan Umno ke-60 menggesa kerajaan pusat menyekat peruntukan kepada kerajaan negeri.

Abdul Shukor berkata Umno perlu menghentikan program pro-rakyat khususnya khairat kematian tajaan kerjaaan negeri.

"Saya lihat kenyataan Noh Omar itu seperti orang dah gila talak sebab Selangor telah berada dibawah kerajaan Pakatan Rakyat, sekarang ini dia akan menggunakan apa jua taktik tidak kiralah samada kenyataan rambang beliau atau apa-apa fakta untuk cuba mempengaruhi rakyat,"jelas Haniza.

Sementara itu, Adun Kinrara Teresa Kok yakin akar umbi Pakatan Rakyat lebih matang dan menyedari taktik provokasi Umno-BN.

"Dia hanya mahu mengapi-apikan Pakatan Rakyat, DAP ,PAS dan parti komponen yang lain. Noh Omar bukan dari kerajaan Pakatan ,dia hanya pandai komen sahaja dengan tujuan untuk mengasingkan PAS jauh lagi dari Pakatan Rakyat,"katanya -TVS


Era Najib Altantuya : Badrul Hisham Dibeli UMNO-BN - S.Manikavasagam
Posted: 03 Nov 2009 12:35 AM PST
A
hli Parlimen Kapar, S.Manikavasagam dengan lantang menyatakan kemungkinan besar bekas Adun Pelabuhan Klang, Badrul Hisham Abdullah di beli UMNO-Barisan Nasional.
Beliau yakin kerana dirinya turut pernah di tawar oleh ahli parti itu sebanyak 50 juta semasa mempunyai sedikit salah faham dengan PKR sebelum ini.
"Saya rasa Badrul di beli 10 juta atau 20 juta...Umno ada belakang di sini, masa sidang media, tengok siapa disebelahnya....masa saya ada perbalahan sikit dulu, Aziz Samsudin offer saya 50 juta, bukan 1 ringgit, 2 ringgit, tapi 50 juta, tapi saya masih disini, rakyat pilih kita, Badrul adalah pengkhianat kepada pengundi di Port Klang," katanya.
Katanya, dakwaan ini menjadi lebih jelas apabila Badrul keluar dari parti itu dan menyertai parti bebas menyokong UMNO-BN.
Beliau berkata demikian kepada media di Majlis Rumah Terbuka Deepavali di Kota Damansara hari ini.

Beliau kesal Badrul gagal menjalankan tugas dengan baik dan kerana itu telah menyebab nama Parti Keadilan Rakyat tercemar.

Jelas YB Mike, Badrul langsung tidak mahu menemui mana-mana wakil rakyat lain yang mahu berjumpa dan berbincang dengannya.

Justeru itu, Manikavasagam setuju dengan cadangan Menteri Besar, Tan Sri Abdul Khalid Ibrahim untuk memilih calon wakil rakyat dari parti itu yang benar-benar faham falsafah parti dan dengan semangat untuk memperjuangkan parti.

"Kita kena skrin calon, betul-betul jiwa rakyat baru bertanding..bukan macam Badrul, yang lain takkan lompat parti, kita tengok apa yang dia lakukan, mana dapat wang? Peruntukan dari mana?," katanya. -TVS



This posting includes an audio/video/photo media file: Download Now
Era Najib Altantuya : Selangor Mahu Asri Disiasat Dengan Adil
Posted: 03 Nov 2009 12:36 AM PST
M
enteri Besar Selangor Tan Sri Abdul Khalid Ibrahim mahu Jabatan Agama Islam Selangor atau JAIS memberi penjelasan munasabah mengenai isu penahanan bekas Mufti Perlis, Dr Asri Zainul Abidin.
Dalam kenyataan akhbar yang dikeluarkan lewat hari ini, Tan Sri Khalid berkata, langkah ini perlu kerana pelbagai persoalan dan pertikaian timbul berhubung cara penahanan itu dibuat.
Katanya, Kerajaan Negeri telah dimaklumkan bahawa JAIS memiliki kuasa yang bebas dari kekangan kerajaan negeri dalam menguatkuasakan Enakmen Pentadbiran Agama Islam Selangor, masih menyiasat kes Dr Asri yang dikatakan mengajar agama tanpa tauliah.
Khalid menggesa Jais supaya memberi penjelasan sewajarnya kepada rakyat Selangor yang terkesan dengan penangkapan Dr Asri.
Pasukan penguatkuasa JAIS dengan bantuan polis malam tadi menahan Dr Asri di sebuah rumah di Taman Sri Ukay, Hulu Klang.
Dr Asri yang dituduh mengajar agama tanpa tauliah ketika itu sedang memberi ceramah kepada lebih 300 hadirin.

Penahanan ini menarik perhatian umum kerana Dr Asri adalah bekas Mufti Perlis.

Sementara itu, dalam satu sidang akhbar petang tadi Pengarah Jais Datuk Mohammed Khusrin Munawi berkata siasatan terhadap Dr Asri akan disegerakan.

Dr Asri Zainul Abidin akan didakwa selepas Jabatan Agama Islam Selangor (Jais) selesai menjalankan siasatan.

"Kita telah pun menerima banyak aduan tentang kegiatan Dr Asri ini sejak beberapa tahun yang lalu dan kita memang telah beberapa kali cuba mengambil tindakan dan kali ini kami berjaya dan beliau akan didakwa selepas kertas siasatan itu siap,'katanya.

Bekas Mufti Perlis itu akan didakwa bawah Seksyen 119 Enakmen Pentadbiran Agama Islam Selangor 2003.

Khusrin Munawi menafikan pendakwaan ini bermotifkan politik. Pihaknya bertindak mengikut peruntukkan undang-undang yang telah ditetapkan.

Tambahnya, Jais juga telah bertindak kepada sekurang-kurangnya 10 orang penceramah agama yang menjalankan kuliah di Selangor tanpa tauliah.

"Kepada mana-mana pihak yang ingin membuat ceramah di negeri Selangor ini dinasihatkan agar mengikut peraturan yang telah ditetapkan dan diminta menghormati undang-undang dan titah Duli Yang Maha Mulia Tuanku. Dimana semua pihak tidak terkecuali, dimana sahaja di dalam negeri Selangor ini perlu mendapatkan tauliah dari Jabatan Agama Islam,"jelasnya.

Beliau berkata demikian dalam sidang media di Bangunan Jais, petang tadi.

Mengulas isu penyebaran ajaran Wahabbi, Datuk Khusrin berkata ia tidak sesuai untuk dijelaskan sekarang, memandangkan siasatan masih dijalankan.

Beliau berkata demikian ketika diminta mengulas laporan Berita Harian hari ini yang mendakwa Jais menyiasat bekas mufti Perlis ini kerana menyebarkan ajaran Wahabbi.

Dr Asri mencabar pihak yang membuat tuduhan itu supaya tampil dan mengemukakan bukti.



This posting includes an audio/video/photo media file: Download Now
Era Najib ALtantuya : Ahli Parlimen Sri Gading Pertahan Tindakan
Posted: 03 Nov 2009 12:18 AM PST
A
hli Parlimen Sri Gading, Datuk Mohamed Aziz tetap mempertahankan tindakannya mendesak Presiden Gerakan, Tan Sri Koh Tsu Khoon berundur dari barisan Kabinet Najib Razak.
Mohamed Aziz berkata pihaknya berpandangan Koh tidak layak menduduki Kabinet, namun menyambut baik tindakan Najib mengenepikan saranan itu.
"Nasihat TPM kita terima dengan baik. Terima kasih kepada beliau lah" katanya.
Manakala bagi ahli parlimen Kinabatangan Datuk Bung Moktar Radin pula, ujarnya beliau dan Aziz akan terus menegur sesiapa sahaja yang dirasakan perlu ditegur dalam parlimen.
"Soal tegur bukan hanya kepada Koh Tsu Khoon atau Tee Keat, kita tegur mana yang kita lihat ada kepincangan dan rakyat lihat perlu ditegur. Itu sahaja", ujar beliau.

Malah ujar Aziz, apa yang dilakukan hanyalah untuk kepentingan rakyat semata-mata.
"Untuk rakyat. Kan kita kata rakyat didahulukan" ujar Aziz lagi.





This posting includes an audio/video/photo media file: Download Now
Mahathir dashes hopes of groups eyeing Proton sale
Posted: 03 Nov 2009 12:04 AM PST
KUALA LUMPUR, Nov 3 – Malaysia's former prime minister Mahathir Mohamad has dismissed news reports that national car maker Proton Holdings is for sale, writing in his blog that he has told the company's chairman and chief executive that it "is not for sale".
Dr Mahathir's influence has soared in the new administration of Prime Minister Najib Razak, and the former PM indicated that he is back as Proton's adviser and "busy on a plan to resuscitate the company".

Under the previous administration of Abdullah Badawi, Dr Mahathir hinted that he had no role in Proton as "no one asks me for advice".

His unequivocal statement that Proton is not for sale will dash the hopes of at least three parties said to be interested in the company. They are the DRB- Hicom conglomerate, the Naza auto group and the management of Proton itself, whose chairman suggested it two weeks ago.

Dr Mahathir began by saying that Proton is returning to profitability given the number of new cars he keeps seeing on the roads. "I know that a new car is not noticed on the roads until a certain volume of sales is achieved," he said in his blog.

"Since Proton acquired a new chairman in the person of Nadzmi Salleh, I find it easier to perform the work of Proton adviser," he continued. "The Prime Minister has also indicated that Proton's affairs should be referred to me. Accordingly, I have been busy on a plan to resuscitate the company and have been talking to potential technology partners for Proton."

Then he got to the point. "Lately I have been disturbed by media reports that Proton is to be sold to certain parties. This talk has agitated the staff of Proton. Their worry affects their performance. I have told the chairman and the chief executive that Proton is not for sale – and there is no plan to sell Proton in the foreseeable future.

"The need is to restructure the company and reach agreement with the potential partner," said the former premier. "After that, work has to be done to ensure Proton fully recovers."

Dr Mahathir's comments are likely to have been noted seriously by the government, as Proton was his brainchild back in 1984. They would also have been noted with regret by Syed Mokhtar Al-Bukhary, the controlling shareholder of DRB-Hicom, which news reports indicated was front runner for the car firm.

The tycoon bid for Proton six years ago but his bid was rejected by the-then premier Abdullah. DRB-Hicom was thought to be looking at buying 32 per cent of Proton.

The car firm posted a net loss of RM320 million for the year to March 31, 2009 but is expected to be back in the black in the current financial year. Its sales have climbed steeply and it expects to sell 155,000 units by the time its financial year closes in March 2010. – Business Times Singapore

Anwar slams poor effort to fight graft
Posted: 03 Nov 2009 12:02 AM PST
KUALA LUMPUR, Nov 3 – Opposition Leader Datuk Seri Anwar Ibrahim today slammed the ruling coalition for what he alleges are cases of "selective prosecution".
The arrest of maverick ex-Perlis mufti Dr Mohd Asri Zainul Abidin on Sunday night allegedly for delivering a lecture in Ampang without permission from the Selangor Islamic Affairs Department (Jais) was a case in point, the PKR adviser said.

Anwar, who was in court today for his sodomy case to be mentioned, explained that he had just been updated on the happenings in the country by Selangor Mentri Besar Tan Sri Khalid Ibrahim.

The high-profile politician, who is fond of quoting from the Quran during his many public lectures, noted there was no valid reason for the Dr Asri's arrest.

"We do not condone those measures," the PKR adviser stressed.

The former Umno man appeared cynical of the Malaysian Anti-Corruption Commision's (MACC) seriousness about fighting graft when asked to comment on yesterday's arrest of several lawmakers for corruption, including one from his rival Barisan Nasional (BN) faction.

He noted that they were merely hauling up the "small fry" instead of catching the "big fish."

Anwar named several highly-controversial BN government business deals as cases the MACC should prioritise for prosecution; from the ongoing hulabaloo over the Port Klang Free Zone (PKFZ) project to old stuff such as the Defence Ministry's submarine and Sukhoi fighter jet purchases and state-owned Perwaja Steel corporation calamity.

"You can't ignore these major cases," he said.

"If they are serious in combating corruption, we will support them," Anwar said.