---
Posted: 01 Dec 2009 08:00 AM PST
the MAD dinner (and about my KL trip)
Posted: 01 Dec 2009 09:20 AM PST
the table where the citizen journalists (CJ) were seated. suppose to be 10 of us of course but one didn't turned up, so 9 of us at the table. (this picture was taken by malaysiakini's staff, indrani – and shows only 5 of us on one side).  i was not among the 10 selected ones actually but 3 of those selected ones couldn't made it,  only then i came in as the selected ones. why was i not selected? because i do not do video! those selected ones are those who did a lot of video for malaysiakini tv. it seems that the training of 'ciizen journalists' which malaysiakini is now giving at so many states now, is actualy more of training of 'video journalists'. yes the training focus more on video. after the trainees 'graduated' malaysiakini encouraged them to go out and made videos.  those who made lots of videos will then be consider as the top best trainees… and these people are the selected ones (as per get invitation to the dinner FOC. me not selected, had to pay RM100).
oh dear i'm suppose to talk about the malaysiakini dinner.  oh well i was there early with vijay and shan. we reached there about 6.00pm and the cocktail party was suppose to start at 6.30pm. lots of people hanging around drinking and chit chatting. i notice many of the ladies were dressed very sexily – low cut dresses showing cleaveages here and there.  we hang around the lobby for more than an hour! think about 8.00pm only then we were allowed to enter the dining hall.
several stalls from the sponsors were set up at the lobby. there was an informative exhibition about malaysiakini. many  books like those on human rights and written by activists were on sale too.
our table was at the last row! thank god there ere 2 giant screens at the side, so at least we can have a good view of the stage.  on all the chairs of the dining table, there was a 'goody bag' which consists of a book in bahasa by lee ban chen (ugh! i don't like the book. not going to read it) and many discount coupons for stuffs like dining, hotel stay and so on. on the table were 10 pots of 'misai kucing' plants,  placed inside recycled mineral water botttle (cut) and very nicely wrapped up with gunny sack cloth.  the surprise that came was when  the MC announced for us to look under our chairs for a gift – and the gift turned out to be free stays at tune hotel at various locations. i got the one at kuching. too bad. i don't like it as i won't be going to kuching. i wanted to have the free stay at tune hotel KL since i go to KL often! see, i already stayed at tune hotel during the dinner night.
in the beginning, there was a spectacular video footage about how malaysiakini survive 10 years then also about the malaysiakini staff. this was followed by speeches from stevan gan and premesh chandran, the two bosses of malaysiakini.
the entertainment was ok. many people though don't like joanne kam po po's stand-up comedian act since they find her jokes to be crude and raunchy. also some don't  like the entertainment from her 'special ladies dancers' who wore very sexy wearing very revealing clothes.  well to me, it's ok. i had seen joanne kam performed before long long ago in a nightclub and of course with her and her troupe around, we should expect this kind of performance (crude and sexy).  good thing there were other singers like reshmonu around to entertain the crowd.
i took the aeroline bus (luxury coach) to and fro but i found that this time the service is not so good. the pg – kl trip, something went wrong with the power supply and for 1/2 hour or so we were without air-con. a foreman came to repair the power supply later at a rest-stop, which took about 1/2 hour! (when the bus host said only 10 mins!).  we were given nasi lemak as the food (with chicken). the kl – pg trip bus, the airwaves channel (songs) were not working! from pg – kl yes it was working and they provided us with headphone to listen to the channels. i try all 5 channels but the songe were lousy. in the end i did not listen to the channels but instead listen to lite FM radio channel on my handphone.
the last time i use aeroline, i did not go down to the lounge so this time during the pg – kl trip i made sure i go down to the lounge but i was shocked to notice that the lounge was occupied by 3 persons permenantly. they were seated there with their luggages and all. upstairs i did notice 2 empty seats – why they were not seated there? i understand that some people did complained before that when the seats were all taken up, they will sell the lounge seats to passengers. this is not fair for us passengers -when we want to use the lounge, we can't! what's the purpose of taking the double decker bus with lounge if we can't use the lounge even for a few minutes only. i think next time i don't want to try aeroline anymore. will try the 5-stars luxury coach instead.
i reached KL at 2.00pm so had a few hours to relax, settled down before i get ready for the dinner. at first had wanted to take taxi to the dinner venue in bukit kiara but luckily vijay said he was going to show shan's the way to the venue and will be meeting shan at malaysiakini office so asked me if i want to go to malaysiakini's office and go with him to bukit kiara. that way at least i save on taxi fare to go all the way to bukit kiara as i only take taxi to malaysiakini's office in bangsar utama.
the tune hotel was quite ok. i choose the one without air con and toiletries. the rate is actually only RM56 but after all the tax, i had to pay about RM77. you can see some pictures of the hotel at the link i will give you later.
on sunday morning after checking out from tune hotel (wah! their check out time is so early – at 10.00am), i took the lrt to kelana jaya to meet eelyn for steamboat lunch. (waited almost 1/2 an hour for eelyn at the station!).  the steamboat there (forgot the name) was very nice – took so many prawns, not forget some crabs and the mantis prawns. they had barbecue chicken wings too which were very delicious indeed. i notice a table with malay patrons and another with indians. then later a group of filipinos came in. wahh! the restaurant (halal food) must be very famous and it's kind of a 'bangsa malaysia' restaurant (first time i notice malays in a chinese steamboat restaurant). i had so much to eat that i was so full that i don't have to take dinner. haha. for dinner, i just took a chicken curry puff.
after lunch, eelyn dropped me at amcorp mall and i jalan-jalan for 1/2 hour before meeting farida. went for tea at starbucks (at bangsar) with farida. farida also took me to the rumah saya anak bangsa malaysia. here's the photo of me in front of the rumah.
when we were done, farida dropped me back at the hotel where sharon came to pick me and together with daevid and her friend, we went to see the movie 'a christmas carol' in 3D format. after movie, went back to sharon's house to stay the night. the next morning, sharon so kindly give me a lift to 1utama where the aeroline bus station was. we had breakfast there.
it was a good weekend trip – the dinner and meeting up of 3 friends. tonight i'll be leaving for johor bahru! going to plentong to attend the 'exodus' programme – a programme about migrants and intinerants. i'll be there more as observers to write for herald and UCAN. will be back on monday morning. i understand there is wifi there. good. got chance to go online.
for photos of the malaysiakini dinner, including the tune hotel please go to my facebook photo ablum.
Ong: Someone wants to take me out of the Cabinet - nizar nizar nizar nizar nizar nizar nizar nizar nizar
Posted: 01 Dec 2009 08:40 AM PST
IPOH: MCA President Datuk Seri Ong Tee Keat said the party could lose everything, but never should it forego its own sovereignty.
During a "Unity Dinner" with Chinese associations in Ipoh Monday night, he said someone inside the party had attempted to mobilise massive manpower and resources to topple him and get rid of his transport minister post.
He said it would be far more meaningful if such resources had been otherwise channelled towards reclaiming of the RM1.64bn lost in the PKFZ scandal.
He added that some people had lashed out on him mercilessly and tried to wipe him out of politics.
He said some wealthy and powerful people had tried to get close to the Malays in order to consolidate their own businesses, adding that he had spent too much time tracking down the PKFZ scandal that he did not have time entertaining these people.
He also said Chinese associations should not allow these wealthy and powerful people to determine how they should stand.
On whether Prime Minister Datuk Seri Najib Tun Razak had been unhappy with the current situation in MCA, Ong said he had no idea, saying that he had just been discharged from hospital.
However, he said he was aware of the meeting between MCA leaders and DPM Muhyiddin on Sunday night, but did not know the details of their meeting.
He also said it would be up to the MCA central committee to decide whether the the general assembly should be held as scheduled on 5 December.
He told the guests at the dinner that he had been served with three yellow cards throughout his political career, and was not sure whether he would get a red card soon.
"I received the first blow in 2002 after I was elected the MCA Youth chairman. I was looking into the issue that some well-performing Chinese students had been denied admission into local universities back then.
"My second yellow card came in 2006 when I was the deputy higher education minister and MCA vice president, for revealing the misappropriation of allocations for Chinese primary schools.
"The third yellow card was served this year when I was probing the PKFZ scandal, which later also triggered the MCA crisis."
He said some quarters within MCA had accused him of holding on to power, but he said if he were to hold on to power, he wouldn't have attempted to raise the PKFZ issue at all.
He advised Chinese associations in the country not to beat around the bushes on unproductive issues, but should instead focus their resources and wisdom on issues pertaining to the Chinese community and make plans for their future. (Translated by DOMINIC LOH/Sin Chew Daily)


FIT FOR LIFE Health-Bytes: LOVE YOUR LIVER
Posted: 01 Dec 2009 08:19 AM PST
Pakistani Christians: Will Saudis allow construction of cathedrals to challenge Swiss ban on minarets?
Posted: 01 Dec 2009 06:01 AM PST
While the world waxes indignant over the Swiss minaret ban, it is useful to put things into perspective. In Egypt, Christians are persecuted. In Pakistan, construction of new churches is severely restricted. In Saudi Arabia, it isn't allowed at all.
Karachi: November 30, 2009. (PCP) Dr. Nazir S Bhatti, President of Pakistan Christian Congress PCC expressed surprise on statement of Pakistani
(Paki hypocrite named Asma Jahangir, UN special rapporteur on freedom of religion or belief and chairperson Human Rights Commission of Pakistan)
representatives in UNHRC expressing concern on Swiss vote ban on construction of minarets on mosques and other Islamic institutions in Switzerland when construction of new Churches in Pakistan has to follow strict government guidelines which prohibits one furlong from existing mosque and use of loudspeakers.
Nazir Bhatti said " Christ The King processions and other open rituals have been banned in public places from decades but not any Muslim human right activists have raised voice against government actions to damage true spirit of religious freedom in Pakistan but their protests in name of human right against Swiss government vote to ban minarets is index of substandard"
In a statement released by PCC Central office here today also urged Saudi Arabia to allow construction of Churches in kingdom to challenge Swiss ban on minarets.
"The Human Right activists around world shall raise voice to press upon Saudi Arabia and other Islamic countries in Middle East to permit construction of Cathedrals and ensure religious freedom for Christian minorities" added Nazir S Bhatti.
Pakistan Christian Post
Politik Kelantan Bergolak, Angkara Siapa?
Posted: 01 Dec 2009 06:48 AM PST
M
utakhhir ini kelihatan seolah-olah kerajaan Kelantan dibawah pimpinan YAB Datuk Menteri Besar Tok Guru semakin dihimpit masalah. Seluruh peluru media kerajaan pusat khususnya umno dan kuncu mereka semakin galak membawa isu-isu yang boleh menampakkan keburukan pimpinan PAS khususnya dan kerajaan negeri amnya.
Sayugia diingatkan bahawa Tok Guru diserang habis-habisan oleh juak umno adalah kerana Tok Guru telah menolak pelawaan Presiden umno bagi menubuhkan kerajaan perpaduan di Malaysia.
Program untuk menjatuhkan Tok Guru tak pernah berhenti dijalankan oleh juak umno dimana anak Tok Guru pernah ditangkap dan ditahan selama lebih 5 tahun dibawah ISA.
Kes pelajar dipukul oleh guru sekolah agama berdekatan rumah Tok Guru dibesar-besarkan oleh media cetak arus perdana, kes Air Kelantan diserbu oleh SPRM, isu menggondolkan bukit di Gua Musang dan beribu-ribu isu lain telah dimainkan secara sistematik dengan satu tujuan, satu hala, satu keperluan iaitu menjatuhkan maruah Tok Guru, mengaibkan kerjaan Kelantan kerana tak pandai memerintah negeri. Juak juak umno hampir berjaya menipu rakyat Kelantan kerana mereka berkerja siang dan malam demi mencipta kejayaan.
Umno dan juak mereka akan terus berusaha untuk mengambilalih pemerintahan Kelantan dari PAS kerana hasil minyak yang berlipat ganda. Umno amat bijak menipu dan mengkelabukan mata rakyat yang gilakan mata benda dengan membelakangi hukum Allah.

Mereka menjahilkan diri sendiri dan menyesatkan orang lain demi kepentingan politik peribadi. Juak umno dulu, kini dan selamanya sanggup menipu semua orang di Malaysia, sanggup menutup segala pintu rasuah dari diketahui umum, mereka juga sanggup bersekongkol dalam melakukan khianat terhadap bangsa Melayu atas nama Parti Melayu Bersatu. Sesungguhnya merekalah yang menanam semangat politik sempit demi untuk meneruskan kuasa yang ada.

Kelantan terus membangun walaupun geran tahun dibayar lewat, hutang tetap dibayar kepada kerajaan pusat, kakitangan awam tetap merasai bonus bila diistiharkan, pinjaman kakitangan tiada faedah dikenakan, semua rakyat layak mendapat perlindungan insuran, pengajian agama dimertabatkan kerana ada kuliah mingguan.

Pendek kata hak rakyat didahulukan, Islam diutamakan oleh pimpinan PAS Kelantan yang diterajui oleh Tok Guru. Bekas exco MCA juga didapati sentiasa memberi derma kepada Tabung Serambi Mekah dan semua bangsa dapat hidup aman tenteram dan tak pernah berlaku kekacauan sebagaimana yang diancam oleh juak umno Kelantan.

Percayalah bahawa Umno akan terus berusaha untuk merampas kuasa dinegeri yang diperintah pembangkang kerana mereka bijak tak boleh diajar, bodoh tak mahu belajar dari sejarah silam.

Kepentingan peribadi dan kroni sudah sedaging dalam diri masing-masing sehingga menyebabkan Islam diketepikan, keadilan dipinggirkan, Malaysia yang kaya raya hampir muflis dan papa kedana kerana rasuah yang berleluasa. Rakyat perlu faham semua kejadian ini. -Rakyat Kelantan


Malaysia economy stagnant: finance minister - nizar nizar nizar nizar nizar nizar nizar nizar nizar
Posted: 01 Dec 2009 06:35 AM PST
Malaysia's economy has been stagnating for the past decade and is now trailing badly behind its neighbours.
Second Finance Minister Ahmad Husni Hanadzlah (left) told an economic outlook conference that Malaysia was trapped in a low-value-added, low-wage and low-productivity structure and added that among its peers - China, India, Vietnam, Indonesia, Philippines and Thailand, Malaysia's economic growth over the past three years was second-lowest.
Read more @ AFP.

1Malaysia Tragedy: Kuala Dipang suspension bridge did not meet specifications
Posted: 01 Dec 2009 06:22 AM PST
Published: Tuesday December 1, 2009 MYT 6:27:00 PM
By PRIYA KULASAGARAN
PETALING JAYA: The suspension bridge which collapsed near SK Kuala Dipang in Kampar, Perak, did not meet required engineering codes and specifications.
A statement issued by Education director-general Tan Sri Alimuddin Mohd Dom Tuesday revealed that the structure was only able to take the weight of eight pupils (each weighing 35kgs).
The tragedy occurred on Oct 26 when pupils from 60 schools in the state tried crossing the bridge in groups of 14 to 17.
Alimuddin added that the collapse was caused by a faulty concrete block connection.
"The investigation committee found that the concrete block connection in Pylon A could not handle the uplift force from the back-stayed cable.
"Additionally, the private contractor involved had not submitted a plan of the structure or received any approval from authorities such as the district council and Drainage and Irrigation department,'' he said.
In the tragedy, three primary school pupils attending a 1Malaysia camp drowned after the suspension bridge they were on collapsed into the Kampar river.
At around 10.30pm after an ice-breaking session at the campsite, the organising teachers allowed pupils in groups of 14 to 17 to cross the bridge for their meal at the school.
Meanwhile, some pupils returned to the campsite to retrieve their water containers and cutlery.
According to Alimuddin, under the weight of pupils crossing from both directions, the bridge began to collapse.
Additionally, heavy rainfall earlier in the evening had increased the river level and current, causing the bridge to sway.
Some of the pupils who were swept away by the current were saved by the camp commandant, trainers, teachers and workers who had jumped into the river after them, he said.
Firemen, rescue workers and the police showed up later to continue the search for missing pupils.
The Education Ministry, he said, would take into account the views of the Public Works Ministry and Department, the Construction Industry Development Board, and the Attorney-General's Chambers in deciding the appropriate measures to be taken against the involved parties.
There is also an ongoing police investigation into the incident, he said.
Kuantan's Evergreen Aerobics Instructor !
Posted: 01 Dec 2009 06:55 AM PST
Meet May my very senior aerobics teacher!
Shes 58 years old, very fit and extremely radiant.
She is really an inspiration to all her students be they young or old like me.

I have the tendency to get bored easily attending aerobics classes.
If I do not run to May's place I'll normally join my young Sarsha aerobics instructor.

Since I wrote an entry on the aerobics marathon organised by Sarsha Fitness Centre, I will feel incomplete not mentioning May's Life Fitness Centre.

May is also a brilliant yoga teacher. She has been teaching both aerobics and yoga for the past 20 years.
A grandmother, all her three children are living in the US.

She loves to exercise and is forever encouraging all her students to do the same!

Her clear beautiful voice and very sweet smiles would always accompany us during our sessions!

Here are some captions I took at the 6-7 pm aerobics class.

After suffering a 'heelspur' ailment for almost a week, I was so glad to be back for a very refreshing workout!


L-R..Seot Fan, Christine, Madam Tuala, May and Grace
Rombak BTN, Kabinet Akui Ada Yang Tidak 'Kena'
Posted: 01 Dec 2009 06:13 AM PST
K
eputusan Kabinet untuk merombak semula kursus Biro Tata Negara (BTN) jelas menunjukkan pimpinan Barisan Nasional mengakui adanya perkara yang tidak kena dalam kursus berkenaan.
Exco Pendidikan, Pendidikan Tinggi dan Pembangunan Modal Insan Halimah Ali berkata kerajaan Barisan nasional seharusnya berfikiran lebih ke hadapan dengan tidak hanya menafikan setiap fakta yang diutarakan pembangkang.
"Akhirnya kabinet mengakui bahawa ada sesuatu yang tidak kena pada kurikulum yang selama ini mereka gunakan untuk kursus-kursus BTN dan Nazri Aziz sendiri mengatakan apabila melihat BTN dijalankan memang ada unsur-unsur perkauman dan merosakan.
"Walaupun menteri lain termasuk Timbalan Perdana Menteri menafikan bahkan menteri wanita dan menteri dalam negeri menafikan tetapi apabila malihat, tetliti dan mendengar maklum balas bekas peserta jelas lihat ada unsur perkauman dan menanamkan satu konsep doktrin ketuanan Melayu,"katanya.
Halimah berkata pimpinan Barisan Nasional tidak seharusnya cepat melatah berdepan dengan keputusan Kerajaan Negeri Selangor menghentikan penghantaran penjawat awam dan penuntut isntitusinya dari menyertai BTN.

Beliau menyarakan pimpinan berkenaan menjalankan kajian terlebih dahulu sebelum membuat kenyataan.

Halimah berkata, walaupun kursus itu akan dirombak, kerajaan negeri tetap meneruskan pengharaman berkenaan bagi melihat rombakan dan kesannya.

"Walaupun mereka hendak nak rombak, kita masih teruskan pengharaman kerana kita tahu PPSMI pun diberhentikan tetapi berkuatkuasa 2012, lama lagi,"katanya.

Menurutnya kerajaan negeri sedang mengkaji modul BTN dan sekiranya didapati terdapat modul yang sesuai untuk digunapakai, ia akan diterapkan ke dalam program SPIES anjuran kerajaan negeri. -TVS




This posting includes an audio/video/photo media file: Download Now
Teks Kuliah BTN Dirangka Awal Tanam Kebencian Kepada Pembangkang
Posted: 01 Dec 2009 05:48 AM PST
P
engalaman Setiausaha Politik kepada Menteri Besar Selangor, Nik Nazmi Nik Ahmad menyertai program Biro Tatanegara pada tahun 2004 membuka minda beliau tentang betapa kejinya taktik kerajaan Umno-Barisan Nasional menanam kebencian melalui biro itu.
Beliau turut menceritakan kepada TV Selangor pengalaman diarah memberi kuliah subuh berdasarkan teks yang telah dirangka oleh pihak BTN.
Kandungan teks tersebut menjelaskan bahawa penangkapan tanpa bicara dan penyeksaan dibawah Akta Keselamatan Dalam Negeri (ISA) adalah halal di sisi Islam.
"Macam saya juga kita diminta misalnya membaca kuliah subuh tapi kuliah subuh tersebut tidak diberi peluang untuk mahasiswa yang besar panjang ni untuk menyampaikan hujah mereka sendiri sebaliknya diberikan teks.
"Dan teks yang saya ingat, ialah Malaysia sebuah negara Islam dan satu lagi, ISA halal dari segi Islam," katanya.
Menurut Nik Nazmi lagi, peranan mahasiswa seolah-olah tidak wujud dalam program yang sepatutnya menitikberatkan aspek pengukuhan jati diri dan kewarganegaraan.

Apa yang dijamah oleh peserta-peserta BTN adalah cerpen yang mendakwa parti-parti pembangkang adalah ekstrem dan kolot.

Nik Nazmi menjelaskan beliau tidak menafikan bahawa perlu ada program kenegaraan untuk mahasiswa namun perkara yang dikesalkan beliau adalah modul politik sempit dan kebencian yang ditawarkan kepada para peserta.

Menurut pandangan beliau, BTN mengamalkan komunikasi satu hala dengan menyekat segala ruang untuk mahasiswa meluahkan input mereka.

"Kita tidak menafikan bahawa kita boleh adakan program kenegaraan, bahawa kita perlu tahu sejarah, kita perlu tahu masalah-masalah yang membebani masyarakat kita pada hari ini. Tetapi ia harus dibuat dengan suasana yang lebih terbuka, kurang partisan," katanya.

Beliau berpendapat sekiranya BTN mahu menerapkan unsur politik maka ia perlu mengundang hujah dari semua pihak dan bukan hanya monopoli UMNO-Barisan Nasional.

"Dan pada masa yang sama, kalau betul nak dibawa masuk pandangan UMNO misalnya, saya tidak menyangkal mahasiswa berhak diberikankan exposure ataupun pendedahan daripada pegawai-pegawai tersebut tetapi bawa sama orang-orang lain, ahli akademik, bawa sama orang Keadilan, orang PAS, orang DAP supaya ada satu perbahasana ada wacana yang mana mahasiswa yang besar panjang yang kebanyakkannya boleh mengundi, boleh menilai," katanya.

Beliau menambah, unsur kepartian tidak harus dicampur adukkan dengan program BTN yang menjadi salah satu syarat kepada pegawai kerajaan dan pemegang biasiswa.

"Jadi isu kepartian yang saya rasa bukan pada tempatnya. Kalau kelab UMNO misalnya nak buat satu kursus, buat. Siapa nak datang, datang. Siapa yang tak nak datang, sudah.

"Tetapi ini program yang diwajibkan untuk semua pemegang biasiswa, untuk semua pegawai kerajaan dan berbentuk partisan. Jadi itu yang saya rasa sedikit kurang senang dengan program ini," katanya.

Beliau turut mencadangkan kajian perlu dibuat secara lebih intensif dengan menubuhkan suruhanjaya diraja yang terdiri daripada ahli akademik untuk memantau modul program BTN supaya kembali ke matlamat asal.

Nik Nazmi mengulas, ini merupakan kejayaan moral bagi kerajaan negeri memperjuangkan hak rakyat supaya tidak ditindas oleh pihak UMNO-Barisan Nasional yang menerapkan input yang tidak sejajar dengan kehendak negara. –Hadri Yaziz (TVS)




This posting includes an audio/video/photo media file: Download Now
Stumble upon this.<br><br>Size truly doesnt matter in the eyes of the
Posted: 01 Dec 2009 06:01 AM PST
Stumble upon this.
Size truly doesnt matter in the eyes of the world.
Small is good.
And "Wow"
And the list is long. 50 good reasons.
Wow again.
The little
red dot
scores so highly.
Lee Kuan Yew's name certainly sell, no matter his age.
Wow he certainly has appeal.
President Obama regards Lee as
legendary
And where does Malaysia stand?
Oh God,
this
doesnt good. This is alarming!
With so much politicking, debate over whether BTN should be continued, so much energy and time all frittered that the business of governing is neglected. So we the poor tiny pelanduk gets squeezed when the "gajah sama gajah berjuang".
Public transport remains as inefficient as ever. The queue in the immigration department remain as long as ever. Machines that are suppose to speed up the application process breaks down with no speedy repair. And there is the looming dreaded GST. So another round of inflation. We get squeezed again.
Ninja Assassin trailer in LEGO
Posted: 01 Dec 2009 06:00 AM PST
Seriously cool imitation of Ninja Assassin's original trailer in LEGO…
Check more of Keshen8's LEGO animation at Youtube.
Ninja Assassin trailer in LEGO from YeinJee's Asian Journal
This posting includes an audio/video/photo media file: Download Now
Gong Li, Cosmopolitan, Great Wall of China
Posted: 01 Dec 2009 05:39 AM PST
Chinese actress Gong Li is the December cover girl for Chinese Cosmopolitan magazine [Cn] with the snowy Great Wall of China as backdrop…

Read the rest of this post »
Gong Li, Cosmopolitan, Great Wall of China from YeinJee's Asian Journal
Sibu In The Blue Ocean - Part 24
Posted: 01 Dec 2009 04:58 AM PST
Tan Kee Hian based his vision for arts and crafts in Sibu on the following:
1. Make Arts and Crafts Cluster a recognised industry cluster:
-It is co-located
-With multiple arts and crafts sub-sector
-Critical mass of players in each sub-sector
-Commonalities shared interests across the cluster
2. Anchor companies in sub-sectors with large-scale operations which are supported by network of smaller entities.
3. With full industry ecosystem supporting cluster:
-Marketing, promotion, R&D, financing, business support
Photo: Terrence Tan of MPI
Kelantan Sedia Temu Najib Runding Isu Royalti Minyak
Posted: 01 Dec 2009 05:30 AM PST
E
xco Kerajaan Negeri Kelantan, Husam Musa menyambut baik kesediaan Perdana Menteri Najib Abdul Razak untuk berunding mencari penyelesaian berhubung isu royalti minyak Kelantan.
Sehubungan itu, Husam berharap tidak ada mana-mana menyalah-tafsir doa Menteri Besar Kelantan Tuan Guru Nik Abdul Aziz Nik Mat sebagai taktik mencetuskan konflik.
Bagi Husam, doa adalah senjata orang-orang yang tertindas, khususnya rakyat Kelantan yang dinafikan royalti seperti yang dijanjikan.
Beliau melahirkan rasa kesal pihak tertentu sengaja memutar-belit isu sekitar doa tersebut, tanpa melaporkan penjelasan dan pendirian Nik Aziz.
"Semalam perdana menteri telah menyebut bahawa beliau sedia untuk berunding dan beliau minta supaya Tok Guru janganlah doakan dia".

"Kita masih menuntut pembayaran itu dibuat kepada kerajaan negeri secara langsung. Bukan wang itu diuruskan oleh kerajaan pusat melalui peruntukan wang ehsan. Kalau kita lihat kehendak undang-undang ini ialah pembayaran tunai terus kepada kerajaan negeri," katanya.

Husam berkata kerajaan negeri Kelantan sukacita menyambut kesudian Najib untuk turun berunding.

Kerajaan negeri berpendapat pembayaran royalti minyak adalah lebih adil dan munasabah sekiranya ia disalur terus kepada Perbendaharaan Negeri Kelantan, dan bukan kepada agensi lantikan Kerajaan Pusat atau koridor projek raya.

"Saya bagi pihak kerajaan negeri, selaku pengerusi jawatankuasa petroleum negeri Kelantan yang dilantik oleh exco telah menulis surat kepada Perdana Menteri. Tadi saya telah berjumpa dengan Ketua Penerangan UMNO Malaysia, Datuk Maslan mohon jasa baik untuk dia mengatur perjumpaan di antara wakil kerajaan negeri dengan wakil dari Jabatan Perdana Mentei atau pun Perdana Menteri dalam isu tuntutan royalti," katanya. -TVS




This posting includes an audio/video/photo media file: Download Now
Swiss voters lied to pollsters, banned minarets - November 29th, 2009
Posted: 01 Dec 2009 05:17 AM PST
Switzerland has voted overwhelmingly to ban triumphalist minarets on Muslim mosques. On a respectable turnout of 55 per cent, there was a landslide victory for banning minarets: nearly 58 per cent for a ban, just 42 per cent against. It appears that only the three most westerly French-speaking cantons voted against the ban, while the other 23 cantons voted in favour.
This went completely contrary to pre-referendum opinion polls which had shown a 10 per cent lead for the pro-minaret camp; instead, the margin was 16 per cent in favour of a ban. People lied to opinion pollsters. Are they doing the same in Britain? Are they saying they will back Dave when they have rather more robust intentions in mind? Could the Vichy Tories be in for a shock? They certainly will be in 2015.
The usual suspects are proclaiming that Switzerland will now have "pariah status". On the contrary, there is significantly more respect for Switzerland around the world after the referendum than there was before. The news that the electorate in one European country has had the resolution to defy its political class and refuse to roll over and indulge a politically correct minority will be an inspiration to other electorates.
There is a backlash on the way: at present it is showing itself in small ways, over minor matters such as minarets, but presently it will manifest itself on more substantial issues such as immigration and bogus climate change. It is no coincidence that the people most loudly bemoaning the ban on minarets in Switzerland are those who most vociferously applauded the prohibition on crucifixes in Italian classrooms. The consistent principle is an attack on European Christian civilisation, complemented by subservience to all the enemies of that civilisation, secular or Islamic.
The Swiss voters have not forbidden the practice of the Muslim religion: they have simply insisted that it should not indulge in triumphalism by towering over Christian churches. If they had really wanted to play hardball they would have insisted that the first mosque in Switzerland could only be built the day after the first Christian cathedral opened for worship in Riyadh. British and European Christians have been doormats for secularists and politically correct "faith groups" for too long. It seems the days of abject masochist subjection are over.
By Gerald Warner in the Telegraph
Mengapa Presiden PAS Salahkan Penasihat Nik Aziz?
Posted: 01 Dec 2009 04:16 AM PST
R
amai yang terkejut dengan kenyataan Presiden PAS, Hj Abdul Hadi Awang yang menyalahkan penasihat-penasihat Datuk Nik Abdul Aziz Nik Mat yang gagal memberikan "nasihat undang-undang dan politik" yang betul sehingga menjerumuskan menteri besar itu dalam kontroversi dakwaan mengamalkan kronisme.
Saya tidak tahu daripada mana sumber yang Presiden PAS perolehi, tetapi kritikan sedemikian yang merupakan sesuatu yang sebelum ini tidak digalakkan mana-mana pemimpin untuk membuat kenyataan kepada media berhubung dengan soal dalaman parti nampaknya sudah tidak bermakna lagi.
Haji Abdul Hadi dilaporkan di dalam kenyataannya menyebut:
Apa yang kurangnya ialah mereka yang bertugas di sekeliling yang tidak memberi nasihat perundangan dan politik yang betul kepada Tok Guru.
Sekalipun ia hanya mengambil sekitar dua baris di dalam sesebuah halaman, namun kesannya besar shingga akhbar-akhbar termasuk akhbar online memfokuskan ayat tersebut untuk menimbulkan suasana hurang harmoni di kalangan para ahli.

Ahli PAS kini tertanya-tanya siapa yang Tuan Presiden maksudkan dengan "mereka yang bertugas di sekeliling" atau apakah Tuan Presiden sendiri yang tidak mendapat maklumat yang betul dari penasihat-penasihat yang mengitari mengenai hal yang berlaku?

Nik Abdul Aziz sendiri pernah menyatakan bahawa beliau sudah tua untuk didalangi yang bermaksud beliau tidak ada penasihat yang mendalangi apa-apa keputusan Nik Aziz dan tidak juga timbul soal "mereka yang bertugas di sekeliling yang tidak memberi nasihat perundangan dan politik yang betul" kepadanya.

Lain-lain di dalam kenyataan itu amat terpuji isi kandungannya dan adalah amat bagus sekiranya perenggan yang menyentuh mengenai "nasihat orang keliling" itu tidak disebutkan kerana ia memerlukan pembuktian, tanpa bukti ia adalah fitnah. Jika nak dikatakan satu persepsi, ia hanya persepsi dari mereka yang dikenali kumpulan UG yang berdiri bersama Tuan Presiden sendiri. Tetapi bilangannya minoriti dalam parti.

Kalau nak dibedah dan dedah penasihat-penasihat Tuan Presiden lebih banyak yang tak beri nasihat perundangan dan politik yang betul kepada Presiden sehingga timbul pelbagai isu perpecahan dalam parti, malah sehingga kini ramai yang tak berpuashati dengan kepimpinan Tuan Presiden. Lebih baik tak usah sebab nanti ada yang memaki-maki GB dan GB memungut pahala-pahala percuma manakala dosa-dosa kering terlempar kepada pemaki-pemaki itu lantarannya.




Kenyataan Penuh Presiden PAS

Keputusan yang diambil oleh Tok Guru Mursyidul Am PAS dengan meminta menantu beliau Ir. Abdul Ariffahmi Abd Rahman untuk meletakkan jawatan dari kedudukan sebagai CEO PMBK adalah jelas merupakan satu tanda keikhlasan dan jiwa besar yang ditunjukkan oleh Tok Guru yang bersedia menerima keputusan parti.

Sifat berjiwa besar ini juga ditunjukkan oleh seluruh ahli keluarga beliau yang bersabar dengan ujian yang dan ini sangat berbeza dengan konsep kronisme yang diamalkan oleh kerajaan Barisan Nasional yang tidak boleh dirombak dan dirungkaikan.

Kita juga berhadapan dengan undang-undang manusia yang seringkali menjatuhkan hukuman dengan tidak adil – iaitu hukuman telah dijatuhkan sebelum maklumat sepenuhnya diperolehi dari sumber yang amanah dan benar.

Benarlah keadaan yang digambarkan oleh Rasulullah saw "Akan berlaku di akhir zaman keadaan yang celaru, orang amanah dikatakan khianat, orang khianat dikatakan amanah, orang benar dikatakan bohong dan orang bohong dikatakan benar".

Kita dapati Tok Guru selaku Pengerusi PMBK telah menjalankan pelantikan yang ikhlas.

Apa yang kurangnya ialah mereka yang bertugas di sekeliling yang tidak memberi nasihat perundangan dan politik yang betul kepada Tok Guru.

Kita dapati bahawa selama 19 tahun pemerintahan PAS di Kelantan, Tok Guru selaku Menteri Besar dan ahli keluarganya tidak pernah mengambil peluang dari jawatan yang diamanahkan ini.

Seluruh ahli PAS menjunjung tinggi keikhlasan Tok Guru dalam menjalankan amanah yang sangat besar dan berat ini.

Kita juga sangat hairan dengan sikap orang yang menyerang Tok Guru ini kerana mereka berdiam diri pula dengan membiarkan kesalahan dan ketidakadilan terhadap rakyat yang dilakukan oleh para pimpinan UMNO dan BN sewenang-wenangnya.

Kita berharap agar Tok Guru dan keluarga bersabar dengan ujian masyarakat yang tidak memahami keadaan sebenar yang berlaku.

Kita mengharapkan agar mereka yang suka menyebarkan api kebencian agar segera bertaubat kerana sabda Rasulullah saw "Barangsiapa yang bermusuh dengan orang-orang yang mentaati perintahku maka aku mengisytiharkan kemurkaan yang sekeras-kerasnya".

Saya juga menyeru seluruh ahli PAS agar berbangga dengan keputusan Tok Guru beserta ahli keluarganya yang bersedia menerima keputusan parti, dan marilah kita bersama-sama dengan Tok Guru dalam menghadapi ujian fitnah media yang tidak putus-putus dan cubaan musuh untuk meletakkan kerajaan PAS di Kelantan dalam keadaan tidak tenteram.

Marilah kita sama-sama mempertahankan kerajaan yang telah dibina di atas dasar amanah Allah ini dengan seluruh tenaga yang kita ada.

Presiden PAS
Abdul Hadi Awang


Posted: 01 Dec 2009 04:23 AM PST
3 more days, 3 more days, then I am out of high school and everything related. This is the mix feeling of excited and sad, excited for the end of exam and sad for leaving high school. Life is like that, but I want to say, I am still young! =D
So day 6 of SPM has gone and it was Biology. I don't really like Biology, I did learn things from Biology, a lot, but it's hard getting the terms into my mind. I always thought it's hard, but somehow my Biology scores in school weren't very bad and I got quite high, once. Weird huh?
Yet, I still got to say Biology is the hardest subject among 3 science subjects to me. Chemistry and Physics are fun. Wondering, did you guys take these subjects last time? Or just 3-in-1 Science?
Forgot to turn on colour.
The night before was bad because my sleep was bad, probably was the coffee I had a few hours before sleep. I kept waking up in the middle of the night which turned out, I think I had just a little sleep. So I brought along a tumbler of coffee to school too. Thankfully, it freshen me and kept me awake.
There's 3 paper for Biology, so do the Chemistry and Physics. And so, we have to look for lunch ourselves. There's only a stall opened in the school's canteen and there's one coffee shop opposite our school, since most people will either go to the canteen or that coffee shop and became so crowded, we went elsewhere to eat. We went to Farlim, just a 5 minutes drive away to eat chicken rice, then got back in time before the next paper starts.
So, I have question that I didn't know how to answer and I wrote a lot, hopefully what I've wrote was correct. 1A FTW!
New Moon 2009 – Story of the Biyatch, the Cuddly Werewolves and the Vegetarian Vampire
Posted: 01 Dec 2009 02:24 AM PST
New Moon is a movie based on a novel of the same name by Stephenie Meyer and is the sequel to 2008's Twilight. I watched it during the weekend. I think it worth nothing but a puddle of steaming bat poopoo.
For someone who has not read the books or seen the earlier prequel, I believe I would not be less disappointed even if I have. The list of reasons why I vomit blood the movie is a failure to me can be amazingly extensive, and number one, it's definitely because I am not 13.
The two hours spent felt like two years. The extremely slow pace was suffocating, the entire movie has so many kissing scenes and yet the real vampire must-have scene seemed to be intentionally left out. Leaving viewers with endless questions…
What happened to the missing backpackers/hitchhikers that were lost in the woods? Jacob denied that his pack has anything to do with it so it got to be Victoria. But if all I saw of Victoria was swinging from tree to tree and scaring old man to a heart attack, boy that's just wimpy! Sad and wimpy! And these werewolves were hanging around protecting Bella from the avenging Victoria, and that she was gonna kill her. You sure? I didn't even see her try.
What kind of vampire movie that doesn't have any blood sucking scene? Answer- a shitty one aka New Moon. The only sight of blood in the movie was at Bella birthday party when she had a PAPER CUT! Paper cut, ladies and gentlemen! That is one notch higher in the scale of gruesomeness than a splat of blood bursting from a squashed mosquito.
Let's refresh! Remember the part when a whole bunch of tourist was conned into going inside the chamber of the Volturi, and the scene had ended with screaming sounds. For goodness sake show us some action! Not because viewers like me are blood thirsty but because it can actually depict what these vampires are capable of. Setakat pegang-pegang tangan dapat baca fikiran… eii Ayah Pin Kerajaan Langit pun boleh buat! Dia tak vampire pon! Dia Melayu murtad jer…
And there's another scene where Jacob has started to fight with Sam and the other hottie werewolves were ordered to "Take Bella to Emily's!" I was almost saying wth? I don't wanna see no Emily! I wanna see the fight?! So not only the director failed to show the vampires in action, he deprived viewers from seeing dogs' brutality too. Same goes in the scene where the werewolves was chasing Laurent (gosh he made me wanna sing Boom Boom Pow!) Come on! Not all viewers are teeny boppers, some want to see how werewolves kill vampires. I think that's a crucial part that needs to be portrait considering this is a movie about a wide breadth of the human evil breed.
Overall, scene potholes in New Moon are way much more than the potholes on the road at Puncak Jalil. Vomit blood!
And don't get me started on the characters. I believe it's the repugnantly bad acting, that even Dakota Fanning couldn't help but don't you just get started on Bella Swan. This girl is one intrepid, sick in the head and extremely bitchy! She needs to study, or get a hobby and get herself to college instead of bashing herself around men all the time! Sangat gedik ok?? Pergi layan Facebook la yang ko dok ingat kat jantan je tuh pehal?? Eii aku mmg anti pompuan gatal uols!
And her character played by Kristen Stewart is annoyingly forever lower-lip biting and having period pain. Oh by the way Bella, the whole cougar thing?! Is totally acceptable if the anak ikan looks like this! Mengerti?!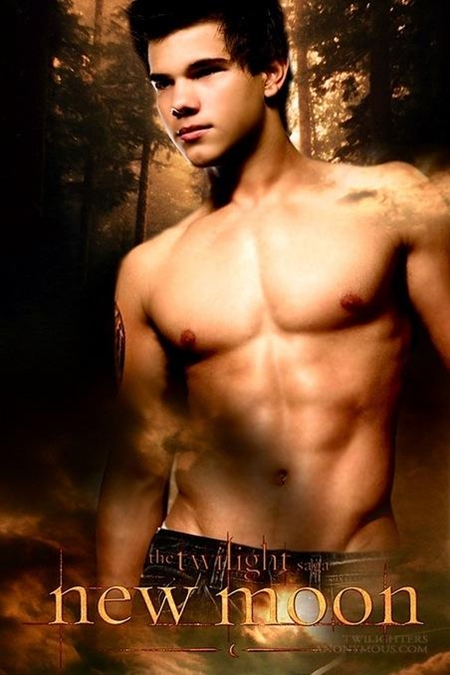 The effects in this movie are another thing that saddens me. Who made them? Is it the same maker of Agent Oso? The werewolves were so cuddly cute, if Miki had watched the movie, I am sure he has named Jared, Paul, Jacob and Sam as Chuchu, PinPin, Kamomo and Nonee.
I believe as much as flashbacks are cliché and boring, they are still needed on sequels. A good sequel must be able to shine on its own without depending on viewers to watch the earlier movie or read the book that it was based on. I will forgive Edward Cullen for having so many teeth but I will not forgive myself for letting myself fooled by Win, my ten year old niece and watched this movie!!!
Two and a half out of five.