---
*sigh* first the police, now the MACC…
Posted: 28 Dec 2009 09:42 AM PST
… so what else is new to this MALAYSIA BOLEH business.
yesterday morning i just blog about the police lodging police report against a chief minister (who is from DAP, not UMNO) and this evening i read about the MACC requesting PI bala to write formally to them so that they can initiate an investigation.  why bala's case is so special that he has to write in formally ? what about when MACC hauled up the late teoh beng hock… did someone wrote in formally to them to before they acted?  again, this is another case of being selective. double standard.  *sigh* i don't know what else to say. go to the link of the malaysian insider to read what others said (many of which i fully agree).
Waspada, Jangan Biarkan Anda Digigit Nyamuk
Posted: 28 Dec 2009 09:14 AM PST
K
erajaan Negeri menyeru orang ramai supaya berwaspada dengan penularan wabak Denggi dan Chikakunya.
Exco Kesihatan Dr Xavier Jayakumar berkata Selangor berada di tangga ketiga terburuk diserang Denggi dan Chikakunya, beliau meminta orang-ramai memainkan peranan membantu kempen kerajaan negeri memerangi penularan wabak.
"Kes denggi dan Chikakunya di Selangor walaupun terkawal namun itu tidak bermakna kita boleh bersikap lewa,"katanya.
Dr Xavier mengingatkan masyarakat memastikan tahap kebersihan kediaman pada tahap optimum bagi membendung pembiakan nyamuk.
Katanya, arahan kepada pihak terbabit sentiasa akan dikeluarkan dari semasa ke semasa bagi memastikan wabak sentiasa terkawal.
"Kita telah bagi arahan kepada semua PBT dan pegawai Kesihatan untuk teruskan dengan program-program yang telah diadakan sekarang sebab itu saya terima kasihlah kepada penduduk juga sebab kerjasama penduduk sekarang kita nampak, bila kita kedua pihak bekerja bersama-sama ini dapat menurunkan kes Denggi dan Chikakunya di negeri Selangor",katanya. -TVS




This posting includes an audio/video/photo media file: Download Now
It's been a long haul after three hours from Cairo to Bahrain
Posted: 28 Dec 2009 09:35 AM PST
It's been a long haul after three hours from Cairo to Bahrain and about eight hours from Bahrain to Kuala Lumpur. This blog has been left idle after a eleven days nine nights trip to Egypt and I have been in the blur of what is happening in Malaysia.
The whole day after landing home have me doing three rounds of laundry of myself and my son who's back from NUS and my daughter who has taken annual leave to go on this trip.
There's too much about Egypt that has left an impression on me. Not at the moment can I pen my thoughts. Probably the next two days until I gather my thoughts together will everything fall in place. And probably after my son has given a copy of all about 700 shots he took with the new digital camera I bought from him.
Will have to start work soon and get my brain in gear for the year ahead. It's just about three days to the new year. And here's a message of hope I received thro the mail.
YOU STILL HAVE HOPE
Author Unknown
If you can look at the sunset and smile,
then you still have hope.

If you can find beauty in the colors of a small flower,
then you still have hope.

If you can find pleasure in the movement of a butterfly,
then you still have hope.

If the smile of a child can still warm your heart,
then you still have hope.

If you can see the good in other people,
then you still have hope.

If the rain breaking on a roof top can still lull you to sleep,
then you still have hope.

If the sight of a rainbow still makes you stop and stare in wonder,
then you still have hope.

If the soft fur of a favored pet still feels pleasant under your fingertips,
then you still have hope.

If you meet new people with a trace of excitement and optimism,
then you still have hope.

If you give people the benefit of a doubt,
then you still have hope.

If you still offer your hand in friendship to others that have touched your life,
then you still have hope.

If receiving an unexpected card or letter still brings a pleasant surprise,
then you still have hope.

If the suffering of others still fills you with pain and frustration,
then you still have hope.

If you refuse to let a friendship die,
or accept that it must end,
then you still have hope.

If you look forward to a time or place of quiet and reflection,
then you still have hope.

If you still buy the ornaments,
put up the Christmas tree or cook the supper,
then you still have hope.

If you can look to the past and smile,
then you still have hope.

If, when faced with the bad,
when told everything is futile,
you can still look up and end the conversation with the phrase... "yeah...BUT.,"
then you still have hope.

Hope is such a marvelous thing.
It bends, it twists, it sometimes hides,
but rarely does it break.
It sustains us when nothing else can.
It gives us reason to continue and courage to move ahead,
when we tell ourselves we'd rather give in.

Hope puts a smile on our face
when the heart cannot manage.

Hope puts our feet on the path
when our eyes cannot see it.

Hope moves us to act
when our souls are confused of the direction.

Hope is a wonderful thing,
something to be cherished and nurtured,
and something that will refresh us in return.
And it can be found in each of us,
and it can bring light into the darkest of places.
NEVER LOSE HOPE!
Top 10 news of 2009 as seen by Malaysiakini
Posted: 28 Dec 2009 09:09 AM PST
The prince and the teen model

The 'fairy tale' marriage of Indonesian teen model Manohara Odelia Pinot and Kelantan prince Tengku Muhammad Fakhry Petra soured early this year, creating a media feeding frenzy with her sensational allegations of torture, kidnapping and rape.
Flip-flop education policy

After years of hedging, the government reversed the policy of teaching science and mathematics in English, six years after it was introduced by then-prime minister Dr Mahathir Mohamad.
Cops: Killers or protectors?

Some things never change. Police abuse was No 7 in our top 10 news of the year for both 2003 and 2004. It made a reappearance this year.
Bloody protest in Shah Alam

It was a small protest numbering about 50 odd people but it grabbed headlines and was widely viewed as a shocking display of religious insensitivity.
Death in MACC: Murder or suicide?

On July 16, the death of a young man demolished whatever little credibility was left in the barely one-year-old Malaysian Anti-Corruption Commission (MACC).
The year of by-elections

There were nine by-elections this year and the 2008 political tsunami continues to stalk the BN. The ruling coalition failed to regain ground in six of the contests.
The mother of all scandals

They called it the mother of all scandals. The entire project could cost taxpayers up to RM12.5 billion and the fate of a number of once powerful politicians hangs in a balance.
MCA power struggle: No end in sight

MCA's 60-year history has been littered with never-ending power struggles, but the latest infighting is living proof of the validity of the sayings "Politics is the art of the possible" and "There are no permanent enemies in politics".
From prime minister to 'prime sinister'

While not actually hailed as saviour, Najib's ascension to the throne of prime minister was a blast of fresh air after six drowsy years under Abdullah Ahmad Badawi. But it was not long before public perception of him changed from prime mover to 'prime sinister'.
Seeing double in the Silver State

Without a doubt, the biggest news story of the year was the political coup in the Silver State.
(Source: Mkini - Support Mkini - Subscribe to Mkini!)
Kelab Belia Graduan 1Malaysia Serah Memo Kepada SPRM
Posted: 28 Dec 2009 08:57 AM PST
S
uruhanjaya Pencegahan Rasuah Malaysia (SPRM) diminta menyiasat mengenai
dakwaan penyelewengan dan penyalahgunaan kuasa dalam anak syarikat sebuah syarikat berkaitan kerajaan (GLC) membabitkan kira-kira RM160 juta.

Setiausaha Agung Kelab Belia Graduan 1 Malaysia Ezaruddin Abd Rahman berkata kelab itu menerima maklumat bahawa penyelewengan yang dilakukan dalam anak syarikat GLC yang berusia lebih 50 tahun itu dikesan sejak 2006.
Beliau berkata demikian kepada pemberita selepas menyerahkan memorandum mengenai dakwaan penyelewengan itu kepada Penolong Kanan Penguasa SPRM Azlin Mohd Ali di pejabat SPRM di sini untuk siasatan.
Memorandum itu antara lain mendakwa pemberian tender yang tidak mengikut prosedur dan syarikat yang diberikan tender tersebut merupakan syarikat di mana seorang daripada anggota Lembaga Pengarah GLC itu mempunyai kepentingan di dalamnya.
Memorandum itu turut mendakwa mesin yang dibekalkan oleh syarikat tersebut juga menimbulkan masalah dan kerugian.

Ezaruddin berkata pihaknya juga akan menyerahkan memorandum itu kepada Pejabat Perdana Menteri.

Kelab Belia Graduan 1Malaysia merupakan badan bukan kerajaan yang terdiri daripada golongan profesional muda pelbagai bidang di seluruh negara yang ditubuhkan pada 10 Nov lepas dan kini mempunyai 8,000 anggota. – Bernama


Shopping for schooling needs – Round 5
Posted: 28 Dec 2009 06:19 AM PST
I promised Lin I'd fetch her and her 2 schooling children to shop for their schooling needs today. This morning while I was still at my office I called her up to ask if I should fetch her at home or at her goreng pisang stall. She told me her stall is closed for today, so I should fetch them at home.
I got to Lin's house at 3 pm – on the dot. After I honked, I saw Lin coming out with a girl. At first I thought the girl was Marlia, Lin's youngest daughter, but when I looked again, eh… lain pulak muka! After a while, Rahim, Lin's son came out. When they got into my car, Lin introduced the girl as her niece who spent time at her house during the school holidays. Lin's brother (the girl's father) knew about my role and so it wasn't a problem for the girl to tag along as she knew me as the lady from the charitable organisation helping Lin's family out.
But Marlia was not around. She was still at her Opah's kampong house. She was supposed to be back on Sunday (yesterday) but with so many cousins around, she postponed it to this coming weekend. When Lin called her last night to inform her that Makcik Afizah would bring them shopping for their schooling needs today, her reaction was, "Alaaaa…. NAK IKUT!" But I wasn't about to postpone my plan just because she was not back, so today we went ahead without Marlia. Marlia's father had already bought her school uniforms and work/exercise books from school, but had yet to buy her shoes, school bag and other stationeries.
So today we just went to buy uniforms, school bag and a pair of school shoes for Rahim and stationeries for both Rahim and Marlia. Although Marlia did mention what type of school bag she wanted and what size her shoes were, we figured it's better for Lin to wait for Marlia to come back and let her choose her own bag and shoes, and then Lin would submit the receipts to me so I could reimburse her.
Well, I think I'm done with shopping for schooling needs  for this year. Next year is just a few days away anyway. There are still a few families who have yet to submit their claims to me, but at least I'm not the one who has to bring them out shopping…
Anyway, I was informed by Lin that her ex-hubby, Mr Darling has begun to slack in paying the monthly alimony of RM300 ordered by the court. He's either paying it late, or less; giving all sorts of excuses. His present father-in-law got sick and he needed to spend extra lah (that's not Lin's problem is it?), he had bought Marlia's uniforms and workbooks lah (isn't that his responsibility? That shouldn't be deducted from the alimony!).
So guess what? I told Lin to do a few things…
1. Since Mr Darling works with a government agency, I told Lin to arrange for the alimony to be automatically deducted from his salary. At least he cannot give any more excuses such as the above.
2. I got Lin to give me the whole list of Marlia's schooling needs that had been paid for by Mr Darling so I could reimburse Lin with the money. At least it would cover for the alimony that he's not paying her.
3. I told Lin to remind her children NEVER to inform their father that they are getting financial help for their schooling needs. If he finds out, chances are he'd leave his children's financial needs totally to our care!
Another reason for Lin to arrange for the alimony to be deducted from Mr Darling's salary is to save him the trouble of having to come over to send the money to Lin. In the first place, even without salary deduction, all he needed to do was to bank in the money into Lin's bank account. But he's not doing that. The salary deduction may also save Lin the trouble of having Mr Darling come over to the house, sometimes at odd hours. He recently came over at night to give October's alimony – knowing pretty well that his 2 younger children were at their Opah's kampong house. Luckily their 18 year old son was home, so at least Lin was not alone. But since he came at night, Lin was already in her sleep clothes (her baju kelawar).
Not wanting to let Mr Darling in, Lin just stood at the door to take the money from him. Lin didn't realise that with the light from inside her house, and Mr Darling outside in the dark, her baju kelawar was rather see-through. And Mr Darling had the cheek to say, "Jaranglah baju. Tak tahan tengok."
Gatal punya jantan! Dah ada bini baru pun masih tak hilang miang lagi!
SPR Sedang Mempersempadankan Semula Kawasan DUN & Parlimen Perak
Posted: 28 Dec 2009 06:53 AM PST
P
erak tidak akan berpilihanraya selagi Suruhanjaya Pilihanraya belum habis menyiapkan kerja-kerja persempadanan semula kawasan Parlimen dan DUN di Perak.
Ia adalah untuk mempastikan Barisan Nasioal tidak diaibkan dengan kekalahan lagi seandainya pilihanraya diadakan di negeri itu, demikian tegas seorang pemerhati politik.
"Pilihanraya yang lepas menunjukkan bahawa negeri Perak telah jatuh ke tangan pembangkang dengan kebanyakan kerusi di bandar telah dirampas oleh Pakatan Rakyat. SPR dipercayai menjadi kuda tunggangan BN untuk mempersempadankan semula Perak supaya kawasan Parlimen dan DUN yang dimenangi oleh BN akan dapat ditambah dengan mengecilkan kawasan luarbandar dan melebarkan kawasan sebelah bandar," tegasnya.

"Hal yang serupa mereka telah dan akan lakukan di Wilayah Persekutuan dan Selangor, dan juga di negeri-negeri lain seperti Kedah dan Pulau Pinang," tambahnya.

Dalam satu perkembangan berkaitan, Menteri Besar Kerajaan Haram BN Perak, Zambry Abdul Kader menyatakan beliau tidak menolak kemungkinan langkah persempadanan semula dilaksanakan.

"Jika perlu diadakan, kita tidak ada masalah," katanya.

Beliau menolak dakwaan gerakan mesra rakyat anjuran Sekretariat Pilihan Raya Barisan Nasional (BN) Perak yang dilancarkan hari ini adalah persiapan BN bagi menghadapi pilihan raya negeri seperti yang dicetuskan oleh pembangkang sebelum ini bahawa Dewan Undangan Negeri (DUN) akan dibubarkan.

Zambry yang juga Pengerusi BN Perak berkata gerakan itu dilaksanakan secara agresif mulai Januari ini dengan tujuan mendekatkan pemimpin dengan rakyat di samping mengukuhkan semangat antara parti komponen BN.

"Ia juga adalah antara satu strategi kita untuk memastikan setiap rakyat (yang layak) mendaftar sebagai pengundi dan dengan cara ini kita berharap BN dapat menambah bilangan pengundi," katanya kepada pemberita selepas melancarkan program itu bagi peringkat Parlimen Bagan Serai di sini hari ini.

Beliau bagaimanapun tidak menolak bahawa program tersebut adalah sebahagian daripada persediaan awal BN Perak bagi menghadapi pilihan raya umum akan datang.


Man who burned Penang CM's poster assaulted: Violence begets violence!
Posted: 28 Dec 2009 07:10 AM PST
S Krishna Nair, 47, also known as Mak Mandin Kumar,
the controversial newsvendor, who allegedly torched and stomped on a poster of Chief Minister Lim Guan Eng at a rally last month, claimed he was attacked by a group of knife-wielding youths last night. He sustained severe slash wounds and bruises on his thighs, back, head, hips and hands during the attack in Mak Mandin mini-industrial area at 10pm yesterday.
Nair said he was riding home last night when he was stopped by eight youths
who wore full-faced helmets
on four motorcycles outside the Puspakom depot. They said in Malay that they wanted to talk to him. When he tried suggesting a place for them to talk, one man slashed him in the back and a fight ensued between him and six youths while
two others stood by to watch.



This man has certainly asked for it! What goes around comes around! He should thank his lucky stars that he is still alive! ;)



Banjir Di Jeddah Bulan Lalu : Pegawai Datuk Bandar Ditahan
Posted: 28 Dec 2009 04:34 AM PST
K
ira-kira 40 pegawai Arab Saudi dan kontraktor ditahan bagi membantu siasatan berhubung banjir 25 November lalu di Jeddah yang meragut 120 nyawa, menurut laporan media negara itu hari ini.
Saudi Gazette melaporkan lapan pegawai atasan pejabat Datuk Bandar Jeddah dibawa polis semalam bagi membolehkan penyiasatan peringkat awam dilaksanakan susulan kemarahan orang ramai berikutan bencana itu.
Antara mereka yang ditahan ialah pembantu kepada Datuk Bandar Jeddah, empat ketua jabatan dan bekas ketua bahagian projek bandar itu.
Ia susulan penahanan 30 atau lebih pegawai, juru runding dan kontraktor yang mana mereka akan dihadapkan ke jawatankuasa penyiasatan.
Jawatankuasa itu yang ditubuhkan atas arahan Raja Abdullah, diketuai Putera Khaled al-Faisal, Gabenor paling berkuasa di Makkah, termasuk Jeddah. - AFP

Ulasan GB

Peristiwa banjir di Jeddah sepatutnya menjadi pengajaran kepada kita semua.
Diantara beberapa Ayat Al-Quran dan hadith untuk renungan bersama:

"Tidak akan datang hari Kiamat sehingga negeri Arab kembali menjadi padang rumput dan sungai-sungai." Hadith Riwayat Ahmad

"Jikalau sekiranya penduduk negeri-negeri beriman dan bertakwa, pastilah Kami akan melimpahkan kepada mereka berkah dari langit dan bumi, tetapi mereka mendustakan (ayat-ayat Kami) itu, maka Kami siksa mereka disebabkan perbuatannya." Surah Al-A'raaf : Ayat 96

"Maka apakah penduduk negeri-negeri itu merasa aman dari kedatangan siksaan Kami kepada mereka di malam hari di waktu mereka sedang tidur? Atau apakah penduduk negeri-negeri itu merasa aman dari kedatangan siksaan Kami kepada mereka di waktu matahari sepenggalahan naik ketika mereka sedang bermain? Maka apakah mereka merasa aman dari azab Allah (yang tidak terduga-duga)? Tiadalah yang merasa aman dari azab Allah kecuali orang-orang yang rugi. Dan apakah belum jelas bagi orang-orang yang mempusakai suatu negeri sesudah (lenyap) penduduknya, bahawa kalau Kami menghendaki tentu Kami azab mereka kerana dosa-dosanya; dan Kami kunci mati hati mereka sehingga mereka tidak dapat mendengar (pelajaran lagi)?" Surah Al-A'raaf : Ayat 97-100




This posting includes an audio/video/photo media file: Download Now
Sibu In The Blue Ocean - Part 43
Posted: 28 Dec 2009 04:06 AM PST
Capability (2) "Systematic, Error-free Execution"
Tan Kee Hian then moved on to explain the third case example of success story:
Ding Tai Fung Restaurant
Kee Hian said he chose this to show that the concept of systematic, error-free processes applies to even something as mundane and people-based as making a xiao long pau, helping to drive this restaurant to global fame and success.
Kee Hian added that every xiao long pau has 18 folds. Why must it be precisely 18 folds for each and every pau? It is part of the culture and values, and systematic of everything they do in this restaurant.
The picture shows the premises of Sibu Supermarket at Kg. Nyabor Road, Sibu. It was the largest supermarket in Sibu in the 80s. It was short-lived and has since been closed down. Photo: Philip Hii
Pasar Tani Mega Kampung Simee In Ipoh – Part 2/3
Posted: 28 Dec 2009 01:50 AM PST
After we have photographed to our hearts' content the plants at the nursery stalls, we hopped over to where a strong stench emanated from. The two guys manning the stall were very friendly. When they saw us with our cameras, they encouraged us to take photos of their goods. They were selling a variety of salted fishes, dried anchovies, dried prawns, dried cuttlefishes and salted duck eggs.
I had wanted to get some heh bee (dried prawns) and ikan bilis halus (dried baby anchovies). The heh bee is for cooking dried prawns porridge. The dried baby anchovies I would steam with ginger and garlic in oil and eat with rice. The stall did not have what I wanted. I ended up taking only photographs, enjoying the pungence of the salted fishes and silently salivating over the dishes I could cook with the salted fishes available.
Salted duck eggs – telur itik masin.
Salted fish – ikan masin.
Dried cuttlefish – sotong kering.
Friendly salted fish stall keeper.
Dried prawns – heh bee – udang kering.
Pulau Pangkor dried anchovies – ikan bilis kasar Pangkor.
Related posts:
Posted: 28 Dec 2009 06:44 AM PST
How was your Christmas? Well, my Christmas was the best and amazing, I can say. Ok, today I'm going to teach how to cook Sarawak very special dish. An Iban traditional dish, called manuk pansuh. For those non-Sarawakian, this is good for you. And for those Sarawakian that still doesn't know how to cook this dish, also can learn.
First, what you have to prepare? Most important thing in cooking manuk pansuh is finding a good bamboos. Yes, bamboos. Bamboo that used to cook Malay's lemang is suitable. If in Sarawak, we called it Ruas (a different type of bamboo, suitable for cooking, not the itchy one, ok?) So, be careful when choosing a bamboo to cook, if not, your guests will feel itchy after eating your chicken. Ha ha ha
Ok, back to the ingredients. You need chicken (of course) which cut into small pieces (whateversizes you wish), ginger (ditumbuk halus, hehe), torch ginger (bunga kantan, you can add this also) and upak kecala (I don't know how to translate this in BM). But without Upak Kecala also no problem. But the simplest one is, ginger is more than enough if you don't want to add torch ginger. Because not everyone loves to eat torch ginger (me too). And don't forget SALT. He he he.
So, all the ingredients mix together with the chicken. (Just like the picture below)
Mix together all the ingredients : ginger, salt and torch ginger.Some people love to add some alcohol inside, like Ai Tuak-rice wine (Tuak is better). Put little bit of Tuak inside your mixed-chicken, and I can guarantee you, the taste is soooooooo different and more delicious (my family secret recipe. hahaha)
Those love spicy foods, yeah, you can add chillies. But I don't eat chillies. He he he.
After that, put the mixed-chicken into the bamboo. Add some water if you love soupy-manuk pansuh. But not too many, just enough, like a glass of water.
Then, after put all the mixed-chicken inside the bamboo, of course you have to close the bamboo's head. You can close it with pucuk ubi (daun jabang in Iban) just like above. But after it's cook, you can eat the pucuk ubi too. Nyum...nyum...
Before that, firing up your fireplace. Don't use coal when cooking manuk pansuh. Better use woods just like above.
Put your bamboos just like this. Careful, better watch out your fire and change sides often. Don't let only one side of your bamboo in fire, change it to another side and make sure it doesn't burn up, ok?
So, how we know it's cook already? Well, if in Iban, we called it : nganti sampai engkurak. engkurak mean boiling. Don't worry, you will hear the bamboo boiling inside. Just wait for it to boil for few minutes and then it is done. Easy, right? The only harder part is to watch out the fire only. Don't let your bamboo burn out too heavily even can see-through the chickens. Ha ha ha.
That's it! That's the chicken! Eat with rice. Ask any Sarawakians, this is the most delicious dish to eat, not even KFC can beat it! (The dark colour dish is black pepper beef)
This is my Christmas special dish this year. Nah, so rugi you guys can't come to my open house. Next time please come. He he he.
Manuk = chicken
pansuh= dunno how to translate this, but it's special type of cooking lar.
You can cook any meats with this style, be it chicken or pork (he he) or fish. I can guarantee you, you'll gonna miss this pansuh. There's nothing can beat this dish. Ada ummmpppphhhhh! What makes it's so delicious is the taste of the bamboo itself. The bamboo produced different type of taste when cook with it. (Meliur sudah ni)
p/s: I miss Christmas foods...huhuhuhuhuhu...
Jalan-jalan Cari Pasal School Holidays
Posted: 28 Dec 2009 12:31 AM PST
My family from Penang came over to KL last weekend to take advantage of the long Christmas holiday for jalan-jalan cari pasal. Dan kalau dah cari tu mestila jumpa kan? We sure had a lot pasal but it was fun!
Early 26th morning we left KL for Malacca. According to plan we should be stopping at Air Keroh's Zoo Melaka. As this is a school holiday trip, we are here to make the kids happy. If we were to make the adults happy, all places of interest should be air-conditioned, serve coffee, accept Mastercard and sell shoes.
But the zoo was full. Strictly no parking. From inside the car we could people queuing to buy tickets and the line is like what?? 50 meters? We decided not to stop and continue the journey to Banda Hilir. Itu pasal yang pertama!
Pasal yang kedua – my cheeky lil nephew has opened the back seat window and rested his chin and arm on it. Accidently, he pushed the window down too hard and the power window snapped. Maka tak boleh tutup la tingkap itu.
Pasal yang ketiga – tingkap tak boleh tutup thus air-con is just a bit cooler than dragon's breath! Hot! Cair taik telinga aku!
Pasal yang keempat – no parking! I don't think I wanna tell you about my quarrel with the Nepali security guard that didn't allow to triple park our car. It could lead to brain hemorrhage, just recalling about it.
Oh well, other than that, everything was fun. After all we were there to take the kids visiting the historical city. I am very proud of my nephew, Adam and niece, Nurin. They have gone so big now, so smart and knowing their history lessons very well.
That's three of us in the Menara Taming Sari. The tower is the first revolving "Gyro Tower" in Malaysia with main purpose of enabling visitors to view the city from a bird's eye view. You can see Banda Hilir, Dataran Pahlawan, Melaka Straits, TUDM museum, Stadthuys, Saint Pauls Peak, Independence Memorial, State Mosque and Melaka Island etc. Adam and his brother Arash loved this experience. 7 year old Arash even exclaimed excitedly to him Mum, "Ibu! Tu Penang! Boleh nampak Penang dari sini!"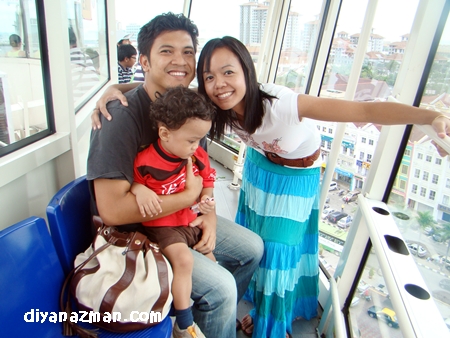 On Menara Taming Sari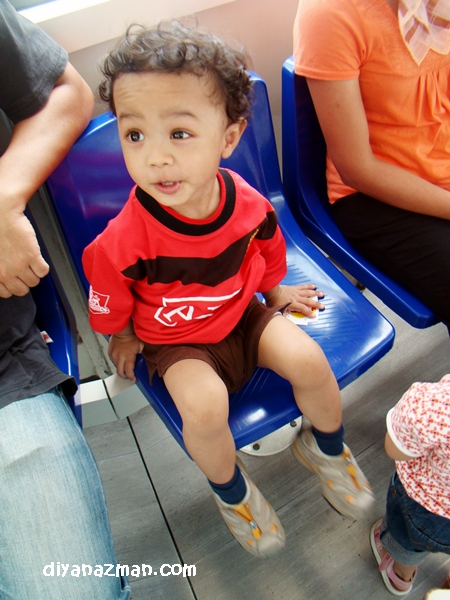 Cheeky Miki
Since there was a lot of walking need to be done, Sarah joined Miki strolling in the MX3. Tak sia-sia aku beli stroller sebesar mesin pembajak. Sarah is 3 years 1 month old. But Miki is just as tall as her already.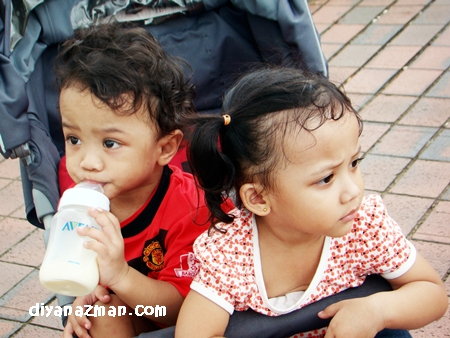 Miki is getting sleepy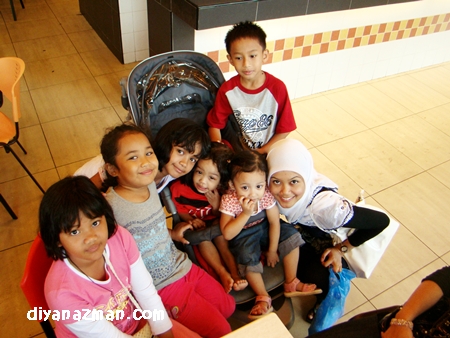 Spot the only adult. From left Sofiya, Farah, Win, Miki, Sarah and Shanana. Standing is Hariz. These are my beloved nieces and nephews. Shanana is the bibik.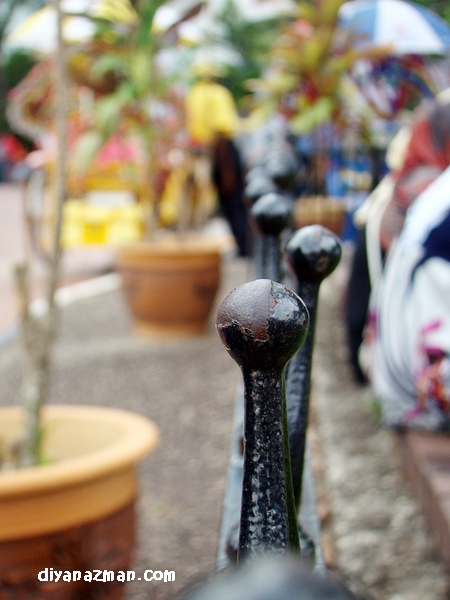 I dont know why Azman took this photo. But I think it is pretty. Melaka is a very nice place to be. Asam Pedas is a great food to eat. These are iron fencing around A Famosa.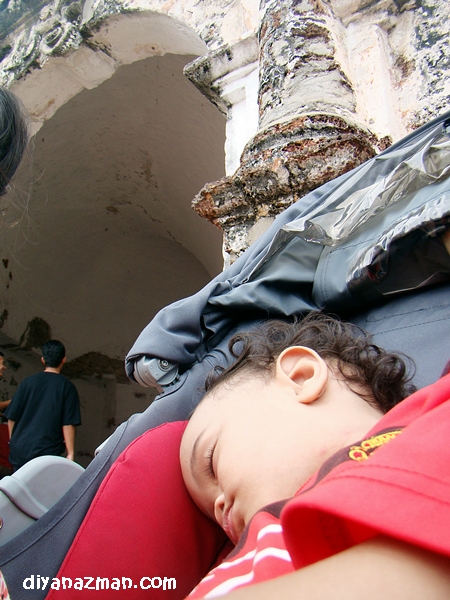 Miki asleep in front of A Famosa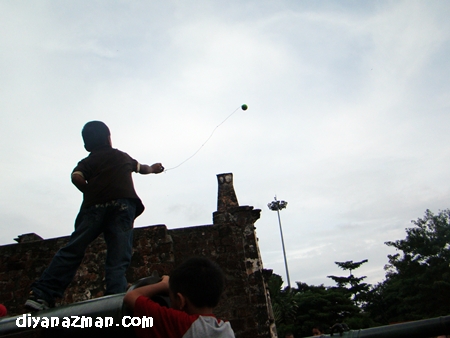 That is Arash playing yoyo-like toy while standing on the meriam gajah. Below is Hariz peering inside the ancient weapon. Sometimes I wish I can be like kids, always happy, no worries, no quarreling with Nepali security guards….
To all readers, Azman, Miki and I wish you a very Happy New Year 2010. We have so much stuff lined for next year.Insya Allah hopefully everything will go on smoothly. 

Posted: 28 Dec 2009 02:07 AM PST
B
ekas ketua menteri Sabah, Datuk Seri Salleh Said Keruak mencadangakan agar BN merintis usaha penjenamaan semula termasuk memperkenalkan logo baru yang lebih menarik serta mempunyai ciri-ciri dan pengertian gagasan 1Malaysia.
Dalam proses penjenamaan semula itu untuk mendekatkannya dengan hati rakyat, Barisan Nasional hanya perlu "dipasarkan" dengan singkatan BN saja, katanya dalam laman webnya www.keruak.com.
Salleh, yang juga timbalan pengerusi Badan Perhubungan Umno Sabah, berkata penjenamaan BN itu amat penting kerana dalam suasana politik sekarang, rakyat sudah mempunyai pilihan, iaitu satu komponen BN dan satu lagi Pakatan Rakyat.
Untuk memastikan BN terus unggul dan relevan, beliau juga mencadangkan agar ia mewujudkan sistem keahlian secara terus.



"Menerusi kaedah baru ini, mereka yang komited atau minat dengan BN dan dasar serta pemimpinnya, tetapi tidak menyukai parti-parti komponen tertentu kerana terlalu banyak politiking, akan dapat terus bersama kita,"
kata Salleh.
Namun, katanya, cadangan itu memerlukan perincian lanjut dengan mengambil kira sistem dan perlembagaan dalam BN. BERNAMA
Ulasan GB
Ada dua isu. Yang pertama, tukar lambang dacing degan lambang yang ada kaitan dengan 1Mlaysia dan perkataan BN saja
Yang kedua, keahlian terus, ertinya tak melalui parti-parti komponen yang terlalu banyak politiking.
Itu cadangan penjenamaan semula parti "dacing" dari Datuk Seri Salleh Said Keruak.
Ertinya dacing dah outdated. Tak relevan. Selepas ini ahli-ahli parti dacing akan tersipu-sipu malu nak kibarkan dacing, ia telah usang dan boleh dilongkangkan.
Ean Yong's investigation under Session 506 Penal Code is a weak case
Posted: 28 Dec 2009 01:24 AM PST
Selangor DAP State Chairman Ean Yong Hian Wah's statement on Christmas Day which caused him to be investigated by the Police under Penal Code Session 506 Punishment for criminal intimidation cannot hold water as Ean Yong did not intimidate the police force.For this purpose, I hereby reproduce Ean Yong's statement which was issued in Malay:"Saya ingin mengutuk sekeras-kerasnya terhadap pihak polis
Majlis Silaturrahim Keadilan Cabang Kelana Jaya
Posted: 28 Dec 2009 12:17 AM PST
Hadir di Dialog Bersama Keadilan Ranting Taman TTDI Jaya
Posted: 26 Dec 2009 12:10 AM PST
Merasmikan Majlis Penutup Kejohanan Futsal MPP Zon 16 MBSA
Posted: 26 Dec 2009 12:07 AM PST
Merasmikan Program Gunting Rambut dan Bengkel Kartun Bersama Zunar Desaria 5A / 5B
Posted: 26 Dec 2009 12:06 AM PST
Hadir di Konsert Rock the Vote di Kg. Sungai Buaya
Posted: 26 Dec 2009 12:02 AM PST