---
Christmas Day 09 to Gertak Sanggul, Teluk Kumbar
Posted: 07 Jan 2010 09:24 AM PST
Continued from previous post where I talk about going to the Jelutong seafront promenade, after that I thought of going to Queensbay Mall but I didn't know what to do at there. I believe there sure will be many people too because it's a public holiday, so we went somewhere else where we haven't been to before.
It's around 4pm, afternoon tea time, we went to the food stall at the market near to Sunshine Square at Bayan Lepas to eat our afternoon tea. I had a bowl of laksa there and they ordered themselves a bowl of tomyam noodle.
After tea time, there's 2 lame ideas for next destination, one is Auto City and another is Gertak Sanggul, Teluk Kumbar. I didn't feel like going to Auto City because I was there 3 days before Christmas so we went driving up to Gertak Sanggul for fun, pointless, it's just driving.
Was thinking to check out the beach or something near to the sea but found out that there's a bridge which connected out to the sea, and the bridge is broken and not usable. Too bad.
We were at the seaside in Jelutong and we were at the seaside again at Teluk Kumbar. I don't know this place is Gertak Sanggul or Teluk Kumbar. I like to call it Teluk Kumbar more, so any idea, precisely, this place is Gertak Sanggul or Teluk Kumbar? I think is somewhere between Gertak Sanggul and Teluk Kumbar.
There's sea, a good spot for sunset but we were early and we were so far away from sunset yet, like 1 hour more till sunset, moreover it was drizzling a little bit.
We then take photos again, the 3 of us. Hahaha.
It started to rain a little bit and we ran away from there. Since there's no bridge, there's no beach, nothing much to see, we went to other place again. Christmas Day 09 haven't end yet!
Kerajaan, KDN Politikkan Isu Kalimah Allah
Posted: 07 Jan 2010 08:16 AM PST
P
akatan Rakyat membidas tindakan kerajaan Umno-BN dan Kementerian Dalam Negeri mempolitikkan isu penggunaan kalimah Allah untuk semata-mata meraih sokongan orang Melayu.
Ketua Pembangkang Datuk Seri Anwar Ibrahim berkata kerajaan Umno-BN seharusnya bertindak mengadakan dialog dengan semua pihak berkepentingan dan tidak membiarkan isu itu melarat hingga ke peringkat mahkamah.
"Dan kini, setelah mahkamah membuat keputusan... Kementerian Dalam Negeri pula menyokong tunjuk perasaan oleh pelbagai pihak pada ketika emosi agama orang ramai melayang pada tahap yang begitu tinggi," kata Anwar.
"KDN jelas bersifat pilih bulu untuk membenarkan tunjuk perasaan tertentu dan memukul penujuk perasaan lain pada perhimpunan yang tidak digemarinya,' tambah Anwar.
Anwar berkata daripada memberi sokongan terbuka kepada protes dan tunjuk perasaan esok, kerajaan Umno-BN seharusnya menganjurkan dialog antara kumpulan berkepentingan bagi memastikan kepentingan Islam dan agama lain dipertahankan.

Beliau berkata dialog sedemikian akan memastikan penyelesaian yang rasional dan bersandarkan penelitian mendalam yang boleh diterima oleh semua pihak.

"Saya percaya kepada kebebasan bersuara tetapi KDN harus bersikap adil dan tidak memilih untuk menyokong kebebasan itu hanya dalam kes-kes tertentu," tambah Anwar. -TVS




This posting includes an audio/video/photo media file: Download Now
Posted: 07 Jan 2010 08:00 AM PST
It's so fast... I started work for a week already :p Another three more weeks to go and it's pay check day.
I know some of you are aiming my pay check so that i could treat you dinner, lunch or a Char Siew Pau... I would say... folks "Sorry! No trick'r treat, not Halloween yet" Blek~ Anyway, thanks for looking forward for me to give you a treat... :p
I have been busy and got so tired after whole day work and gym workout... So everytime i wanna to start my blogging... I felt so sooooo sooooo sleepy... Exactly, i gotta hit the bed now.
Nite nite everyone.... Ciao!
ps: Ed... i think yours is much more shorter than mine... :p
Razaleigh raps Umno, praises PAS - Umno the dinosaur!
Posted: 07 Jan 2010 08:00 AM PST
'PAS is holding onto the more plural and moderate position while Umno is digging itself into an intolerant hardline position that has no parallel that...
Umno veteran leader Tengku Razaleigh Hamzah who
ticked off his party for failing to provide leadership in the row over the use of the term 'Allah' by non-Muslim,
said today at
the Institute of Southeast Asian Studies' Regional Outlook Forum 2010,
"In a milestone moment, PAS, the Islamic party, is holding onto the more plural and moderate position while Umno is digging itself into an intolerant hardline position that has no parallel that I know of in the Muslim world."
Christmas Day 09 at Jelutong Seafront Promenade
Posted: 07 Jan 2010 07:28 AM PST
Last year's Christmas Day was special and very spontaneous. I woke up in mid morning and I have nothing to do, just surf the net and watch the TV. Initially, I thought of going to Penang Times Square at around 2pm after lunch to check out the Leo Club's activity.
I went to find Chen Yuen and Chai Wei to go along, and when we were at Penang Times Square, there's a long queue for carpark, which made me change my mind not to go there. I hate waiting for car park, it's very very long.
We then spontaneously think of a place to go. The first stop was the Jelutong Seafront Promenade at Nautilus Bay, very unfamiliar name. I found this name on Google. =) It's the seafront promenade at Bandar Sri Pinang, the four pillars standing high are the place's sign.
We actually went there just for fun. No idea where to go and it's not planned. Just got down, walked and took photos for a while then we hopped back on to the car and go to somewhere else.
The afternoon was pretty hot but the place was very windy because it's seaside, though we didn't stay long at there.
Chai Wei.
Chen Yuen.

Nice view of the Penang's Bridge.
I have got Christmas hat and I wore it the whole day! I realized most people here wear the Christmas hat on Christmas eve only, why so little people wear on Christmas Day?
Posted: 07 Jan 2010 06:54 AM PST
Do you watch Lost? Are you a fan of Lost? Yes I very am. I like Lost and miss it so much right now. After a long wait, finally it's back with the latest and last season very soon on 2nd February 2010. Woohoo! Excited, excited.
If you didn't watch Lost before, check out some fanmade video and the official sneak peak below.
This posting includes an audio/video/photo media file: Download Now
Canadian Snipers - Making a Good Taliban
Posted: 07 Jan 2010 05:03 AM PST
This is a very disturbing video, and is only appropriate for adult audiences. It depicts death and violence.Video of Canadian snipers wiping out Taliban snipers in Afghanistan. The video shots were not made through the shooter's telescopic sight -- they were made looking through the spotter's scope. The spotter lies right next to the sniper and helps the sniper find and home in on the target.Canadian snipers fire special .50 caliber McMillan tactical rifles which are bolt-action weapons with five-round magazines. The .50 cal. round is about eight inches long and about an inch in diameter.
The bullet itself is one-half inch in diameter and roughly one and one-half inches long.Pay close attention to the beginning of the video. A Taliban sniper is laying on top of the peak in front of you...when you hear the shot fired watch what happens. The Canadian sniper is about a half-mile away from the target.A Canadian sniper in Afghanistan has been confirmed as hitting an enemy soldier at a range of 2,310 meters or 1.434miles, at the time the longest recorded and confirmed sniper shot in history. The previous record of 2,250 meters was set by US Marine sniper Carlos Hathcock in Vietnam in 1967. The Canadian sniper was at an altitude of 8,500 feet and the target, across a valley, was at 9,000 feet.
Canadian sniper units often operate in support of US infantry units, which are very grateful for their help. The record lasted only one day, until another Canadian sniper hit an enemy soldier at 2,400 meters (8000 feet or 1.515 miles).The Canadian snipers were the only Canadian troops operating without helmets or flak jackets as they had too much other equipment to carry. Each three-man team has one sniper rifle and three standard Canadian C7 rifles, one of which is equipped with a 203mm grenade launcher, which fires assorted rounds of 40mm shells.
Source
Hat tip : Scott Thong.
240 Ribu Belum Berdaftar Sebagai Pengundi Di Kelantan?
Posted: 07 Jan 2010 04:29 AM PST
L
ebih 240,000 rakyat Kelantan yang layak mengundi belum mendaftar sebagai pemilih sekalipun pelbagai langkah telah diambil oleh Suruhanjaya Pilihan Raya (SPR) agar mereka berbuat demikian.
Pengarah SPR Negeri Ab. Rahim Md Salleh berkata jumlah itu adalah sebahagian daripada 1.4 juta penduduk Kelantan yang telah melewati usia 21 tahun dan layak mengundi.
"Jumlah itu boleh dikatakan agak tinggi berbanding negeri-negeri lain. Entah di mana silapnya, pelbagai cara telah dilakukan termasuk melantik agen dari wakil parti politik," katanya kepada Bernama di sini hari Khamis.
Beliau berkata keadaan itu mungkin berpunca daripada sikap sambil lewa rakyat selain suka mendaftar pada saat-saat akhir ketika pilihan raya semakin dekat.
Bagi menggalakkan golongan itu mendaftar, Ab. Rahim berkata pihaknya kini membuka kaunter bergerak di pasar raya seluruh Kelantan.

"Pembukaan kaunter itu lebih menyenangkan kerana orang ramai tidak lagi perlu pergi ke pejabat pos atau pejabat tanah jajahan semata-mata untuk mendaftar sebaliknya sebelum atau selepas membeli belah, mereka boleh mendaftar di kaunter yang dibuka," katanya. -Bernama

Ulasan GB

GB tertanya-tanya apakah ada agenda SPR mengumumkan jumlah mereka yang belum mengundi sebegitu ramai, 240,000 orang?

Jika kita masih ingat, jumlah pengundi begitu ramai di Terengganu dimana di dalam PRU yang lalu, jumlah pengundi keseluruhannya di negeri itu mencecah kira-kira 516,000 orang daripada jumlah satu juta keseluruhan penduduk negeri itu.

Apakah modus operandi yang serupa akan dilakukan di kelantan sebagai usaha untuk merampas Kelantan dari PAS?

Hubaya-hubaya Kelantan.



Perhimpunan: Najib Kata OK, Musa Hassan Kata Jangan
Posted: 07 Jan 2010 03:54 AM PST
K
erajaan di bawah pimpinan Datuk Seri Mohd Najib Tun Razak semakin celaru mengenai isu kalimah Allah.
Untuk mendapatkan sokongn orang Melayu terhadap partinya, Najib dilaporkan berkata,
Kerajaan tidak akan menghalang orang ramai yang ingin mengadakan perhimpunan di masjid-masjid selepas solat Jumaat esok bagi membantah mingguan Katholik menggunakan nama 'Allah'.

Datuk Seri Mohd Najib Razak diminta mengulas sama ada kerajaan mengamalkan sikap berbeza terhadap kumpulan tertentu yang menganjurkan demonstrasi.

Bantahan terhadap penggunaan kalimah 'Allah' dalam Herald The Catholic Weekly terus marak walaupun Najib sebelumnya menyeru semua pihak bertenang.
Najib berkata semua pihak perlu menyerahkan kepada Mahkamah Tinggi bagi menyelesaikan isu semasa.
"Kita perlu mengambil sikap bahawa perkara ini perlu diselesaikan melalui mahkamah secara baik.. kita sepatutnya tidak menaikkan tahap ketegangan di negara ini.

"Tapi walau apapun, pihak berkuasa sentiasa bersedia dan saya berharap jika ada orang yang mahu menunjuk perasaan, ia tidak akan merebak sehingga menjadi sesuatu yang amat serius... moga-moga ia hanya tunjuk perasaan yang minimum," katanya.

Sementara itu, Ketua Polis Negara Tan Sri Musa Hassan memberi amaran kepada mana-mana pihak yang berhasrat untuk berhimpun bagi membantah isu penggunaan kalimah Allah esok agar membatalkannya sebelum tindakan tegas diambil.

Beliau yang memantau secara serius perkara itu berkata polis tidak akan berkompromi dengan mana-mana pihak yang cuba mengeruh dan menjejaskan keselamatan negara.

"Jangan buat sesuatu tindakan yang boleh mengusutkan keadaan, kita perlu bertenang kerana ia melibatkan isu agama yang menjadi isu sensitif," kata beliau selepas merasmikan Seminar Pengurusan Inovasi dan Kualiti PDRM di sini hari ini.

Beberapa Badan Bukan Kerajaan (NGO) yang dijangka berhimpun secara aman bagi membantah penggunaan kalimah Allah oleh Herald Catholic di beberapa masjid di ibu negara selepas solat Jumaat, esok.

Beliau berkata polis tidak mengeluarkan permit kepada mana-mana permohonanuntuk berhimpun meskipun ia adalah perhimpunan secara aman.

Beliau berkata semua pihak perlu bertenang dan memberi ruang kepada mahkamah untuk menyelesaikan isu itu dan jangan membuat kenyataan yang boleh menaikkan semangat serta kemarahan orang ramai.

Semalam Hakim Mahkamah Tinggi Datuk Lau Bee Lan menangguhkan pelaksanaan perintah yang membenarkan penggunaan kalimah Allah dalam penerbitan itu setelah Peguam Negara, Tan Sri Abdul Gani Patail yang mewakili Menteri Dalam Negeri dan peguam mewakili Gereja Katolik, Derek Fernandes mencapai kata sepakat supaya perintah itu ditangguh sementara menunggu rayuan.

Laporan sebelum ini menyebut selain Pertubuhan Pribumi Perkasa Malaysia (Perkasa) merancang mengadakan bantahan di seluruh negara esok Pertubuhan Kebajikan dan Dakwah Islamiah (Pekida) juga akan menganjurkan bantahan yang sama.

Bantahan yang dinamakan 'Satu hati mempertahankan kesucian Islam' diadakan selepas solat di Masjid Negara.

Selain itu, dua NGO Islam berpengaruh Angkatan Belia Islam Malaysia dan Persatuan Kebangsaan Pelajar Islam Malaysia akan berhimpun di masjid Kampung Baru, Kuala Lumpur pada waktu yang sama.


Hati-hati mandi di Port Dickson!
Posted: 07 Jan 2010 02:51 AM PST
Dari email yg aku terima dari seorang sahabat.
Kawan aku bersama keluarganya pergi menghabiskan cuti persekolahan di Corus Paradise Rasort Port Dickson hari Sabtu lepas, pada petang itu dia bersama dengan anak perempuannya mandi manda ditepi pantai berdekatan resort, ketika sedang mandi tiba tiba kakinya seakan digigit sesuatu dan menariknya ke laut. Beliau melepaskan anaknya dari pelukan sambil menjerit meminta tolong. dan anak tersebut sempat diambil oleh ibu kawan aku itu. Dengan pantas seorang lelaki pergi mendapatkan kawan aku nih yg terus dibawa ke laut. Dalam keadaan cemas itu, lelaki tersebut terus menarik kawan aku itu dengan kuat, kemudian dia sempat melihat apa yg telah menarik kaki kawan aku itu...seekor BUAYA!!...
Kawan aku terus dibawa ke klinik (tidak ke hospital port dickson kerana gak jauh dan kakinya mengalami pendarahan teruk) selepas itu kawan aku terus dibawa balik Hospital Melaka. Di hospital Melaka beliau dimasukkan ke ICU. Sekarang keadaan kaki beliau agak serius kerana urat kaki byk yg putus dan jari2nya tidak dapat digerakkan. Persoalannya disini...macamana buaya boleh ada ditepi pantai, kalau seorang dewasa boleh ditarik kelaut, apa cerita pulak kalau budak2?? bila aku dapat tau cerita ini..hati jadi kecut untuk mandi manda di pantai port dickson.. Ada sesiapa lagi yg tahu cerita ini? Dengarnya perkara BUAYA bukan perkara baru di pantai Port Dickson..kenapa perkara2 ini perlu disembunyikan?
Maklumat dari harian Metro
Digigit ikan besar
Oleh Mohamad Yatim Latip
am@hmetro.com.my
MELAKA: Percutian seorang posmen bersama 15 anggota keluarganya di pantai peranginan Port Dickson, Negeri Sembilan menjadi mimpi ngeri apabila dia dipercayai digigit seekor ikan besar ketika mandi berhampiran sebuah apartmen di situ, Sabtu lalu.Susulan kejadian itu, mangsa, Mohamad Helmi Leman, 25, yang menetap di Kampung Air Limau, Masjid Tanah di sini, terpaksa menerima 50 jahitan dan kini masih dirawat di Hospital Melaka (HM) selepas ahli keluarganya meminta dia dipindahkan ke sini kira-kira jam 3 petang hari kejadian dari Hospital Port Dickson. Mohamad Helmi berkata, kejadian berlaku ketika dia sedang mandi bersama 10 anggota keluarganya kira-kira jam 8.30 pagi pada hari kejadian.
Menurutnya, ketika itu, mereka sudah menghabiskan masa selama setengah jam bermandi-manda di situ. Katanya, ketika asyik mandi di dalam air paras dada, tiba-tiba dia terasa pergelangan kaki kanan serta bahagian tapak kakinya itu direnggut seekor binatang yang disangkanya buaya.
"Ketika itu saya terasa suatu objek tajam dan bergigi merenggut kaki kanan saya menyebabkan saya amat terkejut. Sejurus itu, saya cuba merentap kaki saya tetapi haiwan berkenaan tidak melepaskan gigitannya dan sama-sama 'bertarung' selama tempoh kira-kira dua saat," katanya ketika ditemui di wad HM di sini semalam.
Menurut Mohamad Helmi, gigitan berkenaan menyebabkan pergelangan pangkal bawah buku lali sehingga tapak kaki kanannya mengalami luka teruk dan mengeluarkan banyak darah. Katanya, sebaik anggota keluarga lain menyedari dia digigit sesuatu, mereka terus membawanya ke darat sebelum menghubungi ambulans.
"Meskipun mengalami kecederaan parah dan dalam kesakitan, namun saya masih sedar ketika dibawa ke Hospital Port Dickson. Bagaimanapun, ahli keluarga saya terutama isteri, Sabariah Karim meminta supaya saya dipindahkan ke HM bagi memudahkan mereka melawat," katanya. Sementara itu, Mohamad Helmi berkata, orang kampung di kawasan itu mengesyaki kejadian terbabit disebabkan ikan yu memandangkan ketika ini mereka mendakwa musim ikan berkenaan berkeliaran di situ
BUAYA DI TANJUNG TUAN PORT DICKSON
Wednesday, March 04, 2009
MAKLUMAT DI PEROLEHI DARI EMAIL....erm.....dah lebih 20 tahun aku hidup baru 1st time dengar ada buaya air masin...cis......
disebabkan aku dapat dari email...so aku copy sejibik tak mau edit...hak milik org aku tulong publish yer
PORT DICKSON: Saya tidak menyangka ketika cuba meneropong pelbagai raptor di kawasan ini tiba-tiba objek yang saya lihat dalam teropong itu adalah seekor buaya,kata Ahli Persatuan Pencinta Alam Malaysia (MNS), Khoo Swee Seng, semalam.
Kejadian itu berlaku kira-kira jam 10.30 pagi kelmarin ketika dia dan isteri bersama dua sukarelawan datang ke Tanjung Tuan dekat sini, untuk memenuhi hobinya meneropong pelbagai jenis raptor di kawasan itu dan terkejut apabila ternampak kehadiran seekor buaya sepanjang kira-kira 2.5 meter.
setiap tahun saya datang ke Tanjung Tuan sempena Minggu Melihat Raptor untuk menyaksikan penghijrahan pelbagai jenis raptor seperti helang yang menyeberang dari Pulau Rupat, Sumatera ke sini, tetapi kali ini, saya tidak menyangka seekor buaya berada di kawasan ini.
buaya yang dipercayai buaya air masin atau nama saintifiknya, estuarine crocodylus prosus, muncul kira-kira 20 meter dari pantai selama kira-kira 30 minit dan kelihatan bergerak melawan arus ke arah selatan,katanya di sini, semalam.
penah gak gak aku mai sini pulau intan, tanjung tuan........tp alhamdulillah tak jumpa...klu tak adoi......tengok dari gambar mmg tanjung tuan...tak silap aku gambar diambil dari wakaf yg disediakn...mmg ada dibuar beberapa wakaf supaya pelancong dapat menikmati pemandangan dari atas bukit....
Misi Kemanusiaan ~ Bantulah Adrianna
Posted: 07 Jan 2010 02:40 AM PST
Ihsan dari blog Kassim selamat -
http://www.kassim8888.blogspot.com/
Nama Adrianna Alysya Bt Mohd Hanib berasal dari Kuala Lumpur.Umur 6 tahun 10 bulan. Mengidap penyakit kronik jantung berlubang yang serius sejak dilahirkan dan beliau adalah Orang KurangUpaya (OKU) iaitu tidak boleh mendengar, bercakap dan berdiri.
Boleh dikatakan setiap bulan Adrianna dirawat dihospital. Beliau memerlukan sejumlah bantuan kewangan untuk meringankan beban kewangan ibubapanya :-
1 ) Membeli sebuah kerusi roda khas untuk kanak - kanak yang berharga lebih kurang RM 3,000.00
2 ) Membayar hutang Institut Jantung Negara lebih kurang RM25,000.00.
3 ) Menampung perbelanjaan kos rawatannya dari masa ke semasa.
Sebarang sumbangan harap dapat disalurkan ke akaun / atas nama :-
Adrianna Alysya Bt Mohd Hanib
CIMB Bank A/c No : 1427 006 1573 521
Sekiranya sumbagan dalam bentuk cek diharap dapat hubungi ibu Adrianna seperti dibawah ini.
Fazirah Bt Sidek - Tel : 012 658 0456 / 013 695 3030
Harap dapat sebarkan. Semoga Allah merahmati budi baik saudara².
Protecting the Environment is a CRIME !
Posted: 07 Jan 2010 02:44 AM PST
MIRI, Dec 28 — Sahabat Alam Malaysia can be deregistered as a non-governmental organisation (NGO) if there is proof that it is involved in activities which threaten the nation's interest, says the Registrar of Societies (RoS) Datuk Mohd Alias Kalil.

He said the ROS office had yet to receive an official complaint against SAM which had been actively involved in activities against commercial logging and plantation development, besides the building of dams in this country.

Speaking at a news conference while visiting the RoS office here today, he said more information was required before it could take action against the organisation which has been active for over 30 years.

He gave the assurance that the RoS office would monitor SAM closely and any other NGO which acted extremely in fighting for their cause.

He said the relevant agencies under the Home Ministry should also take follow-up action to ensure that organisations do not operate illegally after their registration with RoS had been cancelled.

Mohd Alias said throughout the year, 705 organisations were deregistered.

He said only a small number of cases were due to their flouting regulations which allowed them to operate legally.

"Most of the organisations were deregistered because they failed to submit their annual reports," he said. — Bernama
--------------------------------------------------------------------------------------------
National interest or one-man interest? Who is that one man? Tepuk dada tanya selera, even 6 years old kids know the answer. Ask any Sarawakians, the answer will be only one.

''The government only pursue the kind of development they wanted, but not the kind of development we wanted, the indigenous people.'' - the people of Bakun.
p/s: Now, I realized that, protecting the environment and the rights of the indigenous people is a CRIME in a country, called, Malaysia. (-_-)
Zin, please dare to Dream and dare to do any thing because Allah had created all human equal
Posted: 07 Jan 2010 03:16 AM PST
Zin, please dare to Dream and dare to do anything because Allah had created all human equal.
Shoot for the moon.  Even if you miss, you'll land among the stars.  ~Les Brown. Success isn't a result of spontaneous combustion.  You must set yourself on fire.  ~Arnold H. Glasow
If anyone wishes to call me a megalomaniac, let them call me any name. Idare to xmillion times but not just exaggerated  x4 as some people wrongly thought.  I dare to dream and have the courage to try hard. If failed, I dare to start again or I try ways to use those failures as the pillars for my success. Alhamdullilah, Almighty Allah would definitely help me as HE had done before!
Because Allah had created all human equal and I don't think anyone or anything is too great that I need to avoid addressing or dreaming. That great person may be a King or the President or the Prime Minister or a very rich and influential cooperate leader, I will never hesitate to communicate. But I would always pay my greatest respect but I dare to ask the favour or any legitimate request. (But never the monetary request.) But I am always scared about one thing, i.e. the anger of Allah for not asking from the Almighty but depending on the other human being. The story of our Nabi Yunus' failure to doa' directly from Allah and asked the help of the fellow prisoner who was going to release always frightened me because Allah made him forget about the request for seven years. So I used to pray to Allah first and I always declare that if Allah agrees only the great leader who is a mere human being would be able to help me.
(But I used to avoid the mad, drunkard or bad gangster like people because they could blindly harm me.)
You know Zin, I had written to General Ne Win and General Khin Nyunt when they were in power. I wrote to Malaysia's first PM, previous King of Malaysia, Sultan, TDM, Senior Minister LKY, TAAB, DSAI, Bush and numerous other political, cooperate leaders university authorities etc. I wrote politely, give my views and sometimes requested for favour. Actually all of them are great and never harm me but I got the good responses on most of the time.
If we failed to voice out our request how these great leaders could understand or know our needs. FYI Allah had granted most of my wishes through them.
Zin, I dared to Dream anything. Dare to be first in the class, university and the whole country although my memories, intelligence and skills are just the average. But Allah had fulfilled almost all of my wishes with success. Just read back my previous postings.
You see, I had even changed or made a small history in Malaysia. UM/UHKL had accepted Burmese MOs, Specialists and Master students. RM One coins were withdrawn by Bank Negara after my letter in the Star. Some my achievements should be kept as a secret and I hope you would kindly put in my blog after I pass away.
Obstacles are those frightful things you see when you take your eyes off your goal.  ~Henry Ford
The rung of a ladder was never meant to rest upon, but only to hold a man's foot long enough to enable him to put the other somewhat higher.  ~Thomas Henry Huxley, Life and Letters of Thomas Huxley
If you want to make your dreams come true, the first thing you have to do is wake up.  ~J.M. Power
Great ideas need landing gear as well as wings.  ~C.D. Jackson
Life's problems wouldn't be called "hurdles" if there wasn't a way to get over them.  ~Author Unknown
Though no one can go back and make a brand new start, anyone can start from now and make a brand new ending.  ~Author Unknown
God gives us dreams a size too big so that we can grow in them.  ~Author Unknown
Seventy percent of success in life is showing up.  ~Woody Allen
Often, what seems an impossible climb is just a staircase without the steps drawn in.  ~Robert Brault, www.robertbrault.com
The best angle from which to approach any problem is the try-angle.  ~Author Unknown
The world needs dreamers and the world needs doers.  But above all, the world needs dreamers who do.  ~Sarah Ban Breathnach, Simple Abundance: A Daybook of Comfort and Joy, 1996
When solving problems, dig at the roots instead of just hacking at the leaves.  ~Anthony J. D'Angelo, The College Blue Book
You must have long-range goals to keep you from being frustrated by short-range failures.  ~Charles C. Noble
Wherever you go, no matter what the weather, always bring your own sunshine.  ~Anthony J. D'Angelo, The College Blue Book
Don't live down to expectations.  Go out there and do something remarkable.  ~Wendy Wasserstein
Things turn out best for the people who make the best out of the way things turn out.  ~Art Linkletter
Excellence is not a skill.  It is an attitude.  ~Ralph Marston
To be nobody but yourself in a world which is doing its best, night and day, to make you everybody else means to fight the hardest battle which any human being can fight; and never stop fighting.  ~e.e. cummings, 1955
Always be a first-rate version of yourself, instead of a second-rate version of somebody else.  ~Judy Garland
Wherever you go, go with all your heart.  ~Confucius
You've got a lot of choices.  If getting out of bed in the morning is a chore and you're not smiling on a regular basis, try another choice.  ~Steven D. Woodhull
Be who you are and say what you feel, because those who mind don't matter and those who matter don't mind.  ~Dr. Seuss
Put your future in good hands – your own.  ~Author Unknown
It is not the mountain we conquer but ourselves.  ~Edmund Hillary
What lies behind us and what lies before us are tiny matters compared to what lies within us.  ~Ralph Waldo Emerson
The promises of this world are, for the most part, vain phantoms; and to confide in one's self, and become something of worth and value is the best and safest course.  ~Michelangelo
The man who has done his best has done everything.  ~Charles M. Schwab
There are many wonderful things that will never be done if you do not do them.  ~Charles D. Gill
What a fool, quoth he, am I, thus to lie in a stinking dungeon, when I may as well walk at liberty!  I have a key in my bosom, called Promise, that will, I am persuaded, open any lock in Doubting Castle.  ~John Bunyan
The important thing is not to stop questioning.  ~Albert Einstein
The best helping hand that you will ever receive is the one at the end of your own arm.  ~Fred Dehner
Nature decrees that we do not exceed the speed of light.  All other impossibilities are optional.  ~Robert Brault, www.robertbrault.com
You have brains in your head.
You have feet in your shoes.
You can steer yourself in any direction you choose.
You're on your own.
And you know what you know.
You are the guy who'll decide where to go.
~Dr. Seuss
Promise yourself to live your life as a revolution and not just a process of evolution.  ~Anthony J. D'Angelo
Dreams are free, so free your dreams.  ~Astrid Alauda
I am always doing that which I cannot do, in order that I may learn how to do it.  ~Pablo Picasso
Stop being your own pest.
Start doing your own best.
~Danzae Pace
What we are is God's gift to us.  What we become is our gift to God.  ~Eleanor Powell
The true meaning of life is to plant trees, under whose shade you do not expect to sit.  ~Nelson Henderson
A successful person is one who can lay a firm foundation with the bricks that others throw at him or her.  ~David Brinkley
It's not who you are that holds you back, it's who you think you're not.  ~Author Unknown
Whether you think you can or think you can't – you are right.  ~Henry Ford
I quit being afraid when my first venture failed and the sky didn't fall down.  ~Allen H. Neuharth
In response to those who say to stop dreaming and face reality, I say keep dreaming and make reality.  ~Kristian Kan, Rich By 25
People are like stained-glass windows.  They sparkle and shine when the sun is out, but when the darkness sets in their true beauty is revealed only if there is light from within.  ~Elisabeth Kübler-Ross
Success comes in cans, not cant's.  ~Author Unknown
You have to expect things of yourself before you can do them.  ~Michael Jordan
If we all did the things we are capable of doing, we would literally astound ourselves.  ~Thomas Alva Edison
Life is not about discovering our talents; it is about pushing our talents to the limit and discovering our genius.  ~Robert Brault, www.robertbrault.com
Always hold your head up, but be careful to keep your nose at a friendly level.  ~Max L. Forman
Don't let anyone steal your dream.  It's your dream, not theirs.  ~Dan Zadra
Plant your own garden and decorate your own soul, instead of waiting for someone to bring you flowers.  ~Veronica A. Shoffstall, "After a While," 1971
The best way to gain self-confidence is to do what you are afraid to do.  ~Author Unknown
I've got a theory that if you give 100 percent all of the time, somehow things will work out in the end.  ~Larry Bird
The difference between try and triumph is a little umph.  ~Author Unknown
Opportunity is missed by most people because it is dressed in overalls and looks like work.  ~Thomas Edison
The only place where success comes before work is in the dictionary.  ~Attributed to both Vidal Sassoon and Donald Kendall
Nobody ever drowned in his own sweat.  ~Ann Landers
When the world says, "Give up,"
Hope whispers, "Try it one more time."
~Author Unknown
If one dream should fall and break into a thousand pieces, never be afraid to pick one of those pieces up and begin again.  ~Flavia Weedn, Flavia and the Dream Maker, © Flavia.com
There is no telling how many miles you will have to run while chasing a dream.  ~Author Unknown
Our greatest glory is not in never failing, but in rising up every time we fail.  ~Ralph Waldo Emerson
Your work is to discover your world and then with all your heart give yourself to it.  ~Buddha
Don't find fault.  Find a remedy.  ~Henry Ford
To the question of your life you are the answer, and to the problems of your life you are the solution.  ~Joe Cordare
the muslim can protest but the christians can't!
Posted: 07 Jan 2010 01:52 AM PST
that's what the umno govt and umno police telling us!
the home minister, kerismuddin and the two top men, DPM and PM said it is ok for the muslims to protest tomorrow after friday prayers at their mosques…. but look here, the christians in sabah are not allowed to protest!
the police in sabah ask the christians to call off the protest in view of the sensitivity of the issue… then why can't the police here do the same thing? you and i know why!
Posted: 07 Jan 2010 12:03 AM PST
Anak jantan Mummy loves toy guns! He runs around the house with his pistol fiercely; makes horrible firing sound, trying to shoot me people dead. When the battery died on him; he still runs around; trying to shoot me people dead by pointing the gun at me us and scream Pang! Pang! Pang! Fire! Fire! Fire!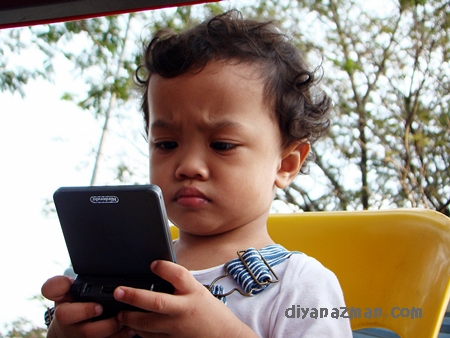 Loves video games. Here is playing Game Boy
Loves all make-beliefs that involves fighting, wrestling, boxing. Thank God he is not beating up any other kid at the babysitter's.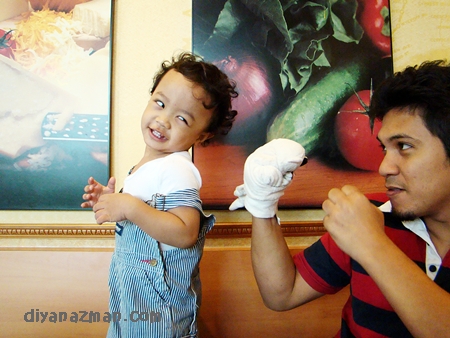 With Daddy at Subway
Loves running and jumping and tertonggeng-tonggeng especially at the park with Mother Nature.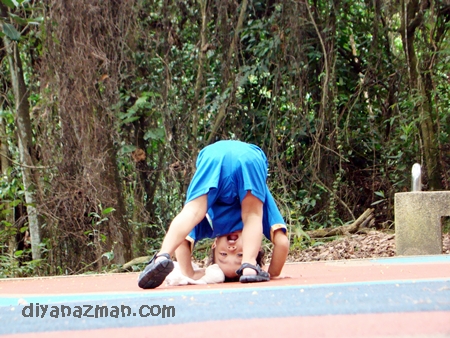 At Taman Bukit Jalil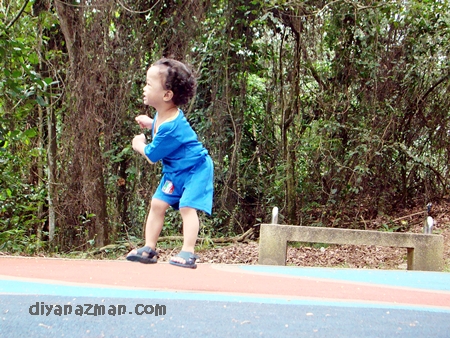 Miki's first jumping photo – one feet off the ground
Anak jantan Mummy loves everything messy, not afraid of bugs… a real little boy! Naughty and tough. But those curls just don't do him justice. Neither do the stuffed cat.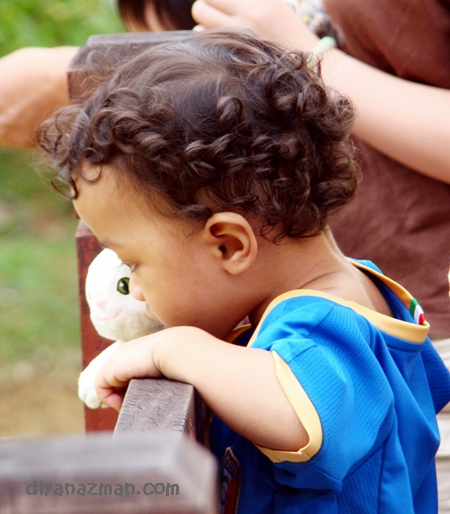 At Taman Bukit Jalil, climbing up the bridge's railing to look at all the tortoises and fish.
It is 10 days to Luth Mikael 2nd birthday and I am melancholic. Would he still adores me when he is older? Would he still look for me in the middle of the night? Would I still be able to comfort him with hugs and kisses? I love you son! Always and forever!
Posted: 07 Jan 2010 12:34 AM PST
Exco member slams police
Submitted by Izat on Thursday, January 7th, 2010
Suspect identified, but we are waiting for directive from DPP, says Selangor police chief
Thursday, January 7th, 2010 11:50:00
KHALID: Called for patience
PETALING JAYA: Police have identified a man in connection with a rape threat made against Selangor State exco member Rodziah Ismail. 
However, she slammed Selangor police chief DCP Datuk Khalid Abu Bakar  for moving too slowly in the investigation.
The rape threat was made against Rodziah when she was involved in helping to relocate a Hindu temple in Shah Alam a few months ago.
"I met Datuk Khalid a few weeks ago and I asked him about the status of my complaint. I have provided the police with evidence. I hope they can speed up the investigation and the man will be taken to court soon," she told The Malay Mail yesterday.
However, Khalid said the Selangor police have never treated the Opposition parties unfairly.
"Every investigation has its own merit, sometimes it can be a long one. Every detail is important. I hope the Opposition leaders will not make unfair comments about the police. Let us all be patient."
Khalid confirmed that the police have already identified the man, in his 30s, behind the sexual threat against Rodziah but are waiting for the okay from the Deputy Public Prosecutor before taking action against the man.
Meanwhile, another Selangor State government exco member, Teresa Kok, said she was glad that a 35-year-old man, who allegedly posted a death threat against her in her blog, had been arrested on Dec 16.
"As long as the case is solved, I am more than happy to hear it," she said, adding that the Selangor police chief had informed her of the arrest on Tuesday night.
"It shows that the police have taken my report seriously."
The suspect was released on bail after his statement was recorded.
Mobile Phone Radiation 'Protects' Against Alzheimers - bbc online
Posted: 07 Jan 2010 12:00 AM PST
Mobile phone radiation 'protects' against Alzheimer's
Mice were exposed to signals from a centrally-located antenna
After all the concern over possible damage to health from using mobile phones, scientists have found a potential benefit from radiation.

Their work has been carried out on mice, but it suggests mobiles might protect against Alzheimer's.
Florida scientists found that phone radiation actually protected the memories of mice programmed to get Alzheimer's disease.
They are now testing more frequencies to see if they can get better results.
The study by the Florida Alzheimer's Disease Research Centre is published in the Journal of Alzheimer's Disease.
Genetically altered mice
We don't recommend spending 24 hours a day on a mobile phone - we don't know the long-term effects, and bills could go through the roof

Rebecca Wood
Alzheimer's Research Trust
It involved 96 mice, most of which had been genetically altered to develop beta-amyloid plaques in their brains, which are a marker of Alzheimer's disease, as they aged.
The rest of the mice were non-demented.
All the mice were exposed to the electro-magnetic field generated by a standard phone for two one-hour periods each day for seven to nine months.
Their cages were arranged at the same distance around a centrally located antenna generating the phone signal.
The researchers, led by Professor Gary Arendash, said that if the phone exposure was started when the Alzheimer's mice were young adults, before signs of memory impairment were apparent, their cognitive ability was protected.
In fact, the Alzheimer's mice performed as well on tests measuring memory and thinking skills as aged mice without dementia.
If older Alzheimer's mice already showing memory problems were exposed to the electro-magnetic waves, their memory impairment disappeared.
Professor Arendash was the author of a previous study that said coffee could protect against Alzheimer's.
He said: "It will take some time to determine the exact mechanisms involved in these beneficial memory effects.
"One thing is clear, however - the cognitive benefits of long-term electro-magnetic exposure are real, because we saw them in both protection and treatment-based experiments involving Alzheimer's mice, as well as in normal mice."
Memory benefits
The memory benefits of phone exposure took months to show up, suggesting that a similar effect in humans would take years.
The researchers conclude that electro-magnetic field exposure could be an effective, non-invasive and drug-free way to prevent and treat Alzheimer's disease in humans.
They are currently testing whether different sets of frequencies and strengths might produce a more rapid and greater cognitive benefit.
Chuanhai Cao, another author of the study, said: "Since production and aggregation of beta-amyloid occurs in traumatic brain injury, particularly in soldiers during war, the therapeutic impact of our findings may extend beyond Alzheimer's disease."
The authors say previous studies have linked a possible increased risk of Alzheimer's with "low-frequency" electro-magnetic exposure like the energy waves generated by power and telephone lines.
They say mobile phones emit "high frequency" electro-magnetic waves that are very different because they can have beneficial effects on brain function, such as increasing brain cell activity.
Organs normal
They did carry out autopsies on the mice and found no evidence of abnormal growth in the brains of the Alzheimer's mice following months of exposure to the electro-magnetic waves.
They also found all the major peripheral organs, such as the liver and lungs, were normal.
Rebecca Wood, chief executive of the Alzheimer's Research Trust, said: "This research has been carried out in mice that mimic some of the symptoms of Alzheimer's in people, so we don't know if any similar effects will be seen in humans.
"Although the researchers hope their findings will translate to people, much more research is needed to find out if there could be any beneficial effects of long-term exposure to electro-magnetism, and to guarantee its safety.
"We don't recommend spending 24 hours a day on a mobile phone - we don't know the long-term effects, and bills could go through the roof."
Dr Susanne Sorensen, head of research at the Alzheimer's Society, said the results were "exciting and quite convincing".
"However, this research in mice is at an early stage and a lot more work is needed before we can say anything about the possible preventative or treatment effects of this type of radiation on people with Alzheimer's disease."
PET+BLOGSPOT is the official online blog of the Malaysian Animal-Assisted Therapy for the Disabled and Elderly Association (Petpositive).
Our blog which was first established in October 2007 currently has more than 30,000 hits. Kindly take note that views expressed in this blog are not necessarily those of Petpositive.
You may also visit our Webpage by browsing: www.petpositive.com.my
Posted: 07 Jan 2010 12:21 AM PST
On the last day, we headed to Boh Plantation's factory and estate, it was a long journey on a very narrow and winding road. Sorry no pictures on the drive trip, had to concentrate on the driving...
Had to park far from the factory due to too many visitors that day, we had to park near a Tamil school (only a small building). Everybody to walk uphill...
pic from Boh's platform.
Outside
Scenery of the quarters and school.
End.
Posted: 07 Jan 2010 12:05 AM PST
All photos were resized smaller and resolutions lowered due to webspace rendering the pictures to be in low quality. For High Resolution photos, do not hesitate to contact.
Taken from our apartment at Tanah Rata; Brij Court Apartment, near Tanah Rata wet market.
The cat was sitting on the road taken from the balcony of our 2nd Floor Apartment.
Bungalows at Sg Palas near Boh Plantation's factory and estate.
Boh's Cafe
More...
Posted: 07 Jan 2010 01:46 AM PST
Momo and Cashper must be having their radar system in a bit of a glitch.

Last Saturday, Cashper did his business behind our TV in the bedroom. I was told he even vomitted on the carpet in the laundry room. Well..Banun did the cleaning-up..afterall they are more of her cats..

And just now, Momo did her ladies biz on the carpet, on the chair and a bit on Harris's studying table..Wow she must have had a running business.

Harris must not know that a bit of poop got to his books..otherwise he'll turn into a gigantic Hulk just like the dad.

A few days ago, after dinner, Banun received a booming scolding from her father..
"Bannnnnuuuuuunnn! You get out of the house!!!!"

Hey..don't be alarmed! Its a normal thundering sound when the big boss is really very angry..thats the time when all of us noisy bees stop buzzing.
I've been told to scram many times..and I'm still at home??

Imagine..after securing 7As and 1B for her PMR, she wants to take up Commerce..
" Its my preference! I'm the one whos going to do the studying!"

Next morning on the way to school, I reminded Banun that she can only make her own decisions after shes gotten a good degree and is FINANCIALLY independent..
Even J listens to us..since we're still helping her balance her budget.
Hakim listens to us a lot..because he has been away abroad for so long and he still misses us even though hes back in Malaysia.

My children can always negotiate and do that bursa saham discussion with me.
But once the father's booming voice erupts..everything is settled!
The pasar malam bargaining ends!

"Baba has sacrificed so much for you all..you are going to regret a lot if you don't listen to him..just look at me..I wish I can see aruah nenek just for a few minutes and tell her how sorry I am for being so stubborn and not listening to her many times!"

After a full driving-cum-lecture of about 8 minutes, she replied.." Ok Ok! I ambik Sains!"

Like most/some fathers, Dato' is more of a doting father than a loving husband. But I'm not complaining anymore.
He can continue with Ms I during the day and Ms B at night!
I'm fortunate that theres a sleeping volcano in the house to diffuse the tiny crackling sounds in the house.
My kids are not afraid of me..but they shy and droop their heads infront of the 'godfather'.

We've decided to throw Hakim's wedding reception in KL.
It'll probably be in Eastin..InsyaALLAH.

p.s..Ms Internet and Ms Bolster!
And I have to get my left leg x-rayed..macam ada wayar rosak didalam..the bionic lady dah short-circuit sikit..and pensioner Zen is still having a gala time climbing rough and dangerous hilly terrains. Not fair!

Hai Pi.. After breakfast I saw this mid-thirties guy standing quite lama at the back of our stationery car. I was wondering..ni tukang tarik kereta ke..he was well-built but alone?
Cannot be lah..anyway instalment kereta dah beres.
Then baru Dato' and I realised..this guy was having some kind of nerve disorder and he was walking so slowly..step by step like a wooden soldier..
I felt momentarily depressed and sad..how we often take our good health for granted.

Somebody broke the car mirror on the driver's side..this car is an old 26 year old Benz..still can run around like a rabbit in town..but I don't think it'll be strong enough for long distance driving..
We parked it outside every night thinking that nobody would want to bash an old antique.
Terbang 200 plus repair cermin!

Dato' is also selling a very old antique manual Benz at 5 k..he bought it for 9k a couple of years ago.
I think its a 1970s model. Now parked at a friend's place. Repairs definitely needed..thats why its under the antique category..anybody interested?

And this morning? In my hurry to send Banun and Harris to school, I reversed into somebody's car parked under a tree in front of our house..bodoh betul..kenapa park situ???
Terbang lagi $$$ ketuk kereta..
Hoi!!