---
The Jakarta Post - Editorial: Allah for Malays only?
Posted: 12 Jan 2010 09:04 AM PST
The Jakarta Post | Tue, 01/12/2010 9:15 AM | Opinion
It is indeed ridiculous that Indonesian religious leaders urged Indonesian Muslims not to follow the acts of some Malaysian Muslims who attacked and damaged several churches in their country following the disputes over the use of the word "Allah" by non-Muslims. The attempts of some Catholic priests here (in Indonesia) to play down the dispute as merely a language problem and express sympathy to the Malaysian government are also no less absurd. We expect them to be more willing to accept the facts no matter how bitter or embarrassing they are.
The statements of the religious elites, as quoted by The Jakarta Post on Monday, reflected a strong sense of self denial – if not ignorance – that implied that Indonesia has no religious conflict, nor attacks on place of worship. Just click on Google and you will easily find out how many churches have been burned and damaged in this country over the last few years, including very recently.
While it is true that freedom of religion and freedom of expression is much more guaranteed in Indonesia — Malaysia's Constitution is discriminatory to non-Muslims and non-Malays — but the facts show that religious violence is much higher here than in the neighboring country. Therefore the above appeals are not based on true facts, but more on the willingness to portray that violence as a very rare practice here.
Showing sympathy by our religious leaders to the Malaysian government just because the government condemned the church attacks can also be misleading. It is clear the ruling government in Malaysia is the most responsible party in the violence. It was widely suspected, including by opposition parties and international media, that the government tried to use the sensitive issue between Muslims — by the Constitution, all Malays are Muslims — and non-Muslims to regain popularity there.
The Indonesian government is also the party most responsible for inter-religious conflicts in this country because of its refusal or inability to act firmly against law breakers. We can easily count the number of people who attacked places of worship and were punished. The police often seem powerless against such troublemakers for several reasons, including the cowardice of its generals to deal with people who use religious jargon to justify their barbaric acts. And like Malaysia, the government here often uses sensitive issues to divide people and cheaply boost its popularity.
Inter-religious dialogues are held only at the top level, while at the grassroots, people often feel they have no connection at all with their leaders. Only by having honest dialogue at all levels with sincerity and respect, will we be able to find and resolve the roots of the problems.
The problem in Malaysia is not just a linguistic problem, the roots are much deeper. And let us stop regarding others are worse than us. The church attacks are not exclusive to Malaysia. And to be honest, in many other parts of the world, mosques are also attacked by those who think their religion is superior to others.
Posted: 12 Jan 2010 08:43 AM PST
ok so police did their job and investigated this facebook posting…
…and had realesed the youth they detained after he claimed what he posted was a hoax.
now will the police please investigate these two umnoputera:
akhramsyah  muammar ubaidah bin sanusi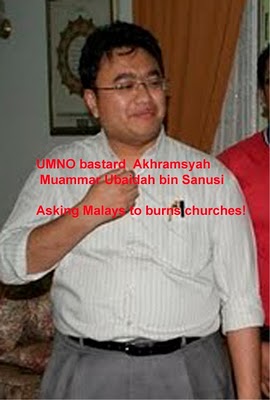 and tun faisal ismail aziz ??
names are given, photos are shown, what are you waiting for, oh police?
the first man, the fat guy, akhramsyah, was calling on people to burn churches! read what one blogger had to say of him here (labelling him umno bastard) and what that fat umno bastard wrote in the malaysian insider. someone from facebook said he works in shell and has asked as many people to write to shell management complaining about him.
the second man, tengku faisal is an umno youth exco and also media & c ommunications bureau officer, as well as an officer of the HM, kerismuddin!!  he is also admin for the facebook group '"menentang penggunaan nama 'allah' oleh bukan islam".' in his blog, he accused the archbishop murphy pakiam as being responsible for all the church attacks and the protests.  he is deliberately and obviously fanning religious tension!
Posted: 12 Jan 2010 07:59 AM PST
come for an inter-faith forum with PAS.
date:  13 jan (wed.)
time:  6.00pm
venue:  cathedral of the holy spirit, 1 tingkat besi satu, (island park)  green lane, penang
map here. if coming from town it is after the caltex petrol station.
STRICTLY FOR CHRISTIANS ONLY
Tan vs MACC: Leave to appeal granted
Posted: 12 Jan 2010 07:57 AM PST
U
PDATED 1.25PM
The Federal Court today granted leave for Kajang municipal councillor Tan Boon Wah to challenge the appellate court's decision on Dec 17 which ruled that the MACC could interrogate witnesses late at night.
MACC has been working 'round the clock' but it has only caught small fry.
MACC really has to work harder and convince the people that it is doing its job. 'Round the clock' is not enough!
@ The Malaysian Insider on Nov 18, 2009:
Small fry sinks Malaysia's anti-graft drive
NOV 18 - It is all about perception. And internationally, Malaysia is perceived to be doing so poorly in its anti-corruption drive that it sank in world rankings to 56 out of 180 countries.
To be fair, there are now more countries in the Transparency International's Corruption Perceptions Index (CPI), which defines corruption as the abuse of public office for private gain. They measure the perceived levels of public sector corruption – for example, the frequency of bribes – in 180 countries and territories.
But the TI's latest index revealed yesterday confirms what most Malaysians already believe of the national anti-graft drive. It just isn't there. And if it, it is pointed at political rivals to the Barisan Nasional, the coalition ruling the federal government.
A day earlier, a survey by the independent Merdeka Centre showed a whopping 74 per cent of those polled were dissatisfied with the government's handling of corruption and abuse of power issues.
The perceptions are indicative of what people think of Barisan's drive to clean the Augean stables of corruption. It is a Herculean task, to say the least, and one that the Malaysian Anti-Corruption Commission (MACC) has yet to grasp.
For what it's worth, the MACC announced it arrested 605 people last year for graft. No big names or big cases were mentioned. Fact is, the big names have had their cases thrown out by the court, showing how weak the cases were.
It is no wonder DAP Parliamentary Leader Lim Kit Siang reflected Malaysian sentiments when he asked for heads to roll in the MACC for Malaysia's poor rankings in the latest anti-corruption index.
The MACC, equipped with stronger laws, more officials and better equipment, was seen as a fresh start for the maligned Anti-Corruption Agency and the cornerstone of former Prime Minister Tun Abdullah Ahmad Badawi's promise of reforms for the country.
Sadly, all it has to show is a political aide that died mysteriously after overnight interrogation and a slate of big cases that have yet to show any results. Examples that come to mind are the Lingam case and the Port Klang Free Zone (PKFZ).
Instead, the MACC has gone for the small fry that also happen to be opposition politicians. Is it a wonder why people, be they Malaysians or foreigners, think so lowly of the anti-graft body?
Prime Minister Datuk Seri Najib Tun Razak will have to do more to ensure the CPI does not sink his premiership in its early days, as said by Lim.
After all, perceptions count.
And if heads must roll, so be it. Better other heads than the prime minister's at this point.
All Najib has to do is look at Indonesian President Susilo Bambang Yudhoyono, who is making great effort to quell corruption and the "legal mafia" in his country.
Yudhoyono knows the buck stops with him. Najib should know that, too.
YBK Tak Pernah Keluarkan Laporan Audit, SPRM Pula Mahu Siasat MB Selangor
Posted: 12 Jan 2010 07:01 AM PST
K
erajaan Selangor hari ini meminta Yayasan Basmi Kemiskinan (YBK) negeri itu menyediakan laporan audit kewangan dan pentadbiran harta yang telah diberi kepada mereka bagi tujuan melaksanakan program membasmi kemiskinan.
Setiausaha Politik kepada Menteri Besar Selangor Nik Nazmi Nik Ahmad berkata berdasarkan pemantauan kerajaan negeri, YBK tidak pernah mengeluarkan laporan audit mengenai perjalanan kewangan dan urusan pentadbiran sepanjang lima tahun lepas.
"YBK juga tidak ada sebarang laporan tentang bagaimana duit serta harta yang diperuntukkan untuk program membasmi kemiskinan dijalankan," katanya dalam satu kenyataan di sini.
Beliau berkata bagi tujuan itu kerajaan Selangor bersedia memberikan peruntukan supaya laporan audit dapat dibuat dengan segera memandangkan harta dan bantuan kewangan bernilai ratusan juta ringgit telah diberikan kepada YBK.

Katanya kerajaan Selangor juga berharap semua badan bukan kerajaan (NGO) menyokong usaha itu bagi memastikan YBK menjalankan programnya dengan lebih telus dan bertanggungjawab supaya program yang direncana memberi manfaat kepada golongan sasar tanpa mengira kaum.

Beliau berkata atas dasar itu jugalah Majlis Mesyuarat Kerajaan Negeri pada 20 Okt lepas memutuskan untuk melantik Menteri Besar Tan Sri Abdul Khalid Ibrahim sebagai pengerusi YBK, dan Pengerusi Jawatankuasa Tetap Kebajikan, Hal Ehwal Wanita, Sains Teknologi dan Inovasi Rodziah Ismail sebagai anggota lembaga.

Akhbar sebelum ini melaporkan YBK Selangor mempertikaikan tindakan kerajaan negeri itu mengenakan prasyarat untuk meluluskan pembangunan kampus Universiti Teknologi Mara (UiTM) di atas tanah milik yayasan itu di Serendah, Selangor.

Pengerusinya Datuk Zainal Abidin Sakom dilaporkan berkata badan itu perlu membayar tunggakan cukai RM6 juta dengan segera jika enggan menerima Khalid sebagai pengerusinya, sekali gus merencatkan pembangunan kampus UiTM tersebut. — Bernama



MACC to probe Selangor MB for demanding top post in foundation

Corruption Involved? An major update on chairmanship-for-project scandal involving Khalid Ibrahim, the Menteri Besar of Selangor, and the Yayasan Basmi Kemiskinan, an anti-poverty foundation. I blogged about it here [Is that Blackmail, Tan Sri?] last week based on an exclusive by The Malay Mail.

Today's front page of The Malay Mail, MACC joins the post-for-project fray, here. - rockybru


Ulasan GB

Begitu peka dan pantas SPRM untuk menyiasat apa-apa aduan yang berkaitan dengan PR Selangor, tetapi masih menyimpan semua aduan-aduan terhadap pemimpin-pemimpin UMNO BN yang telah dilaporkan sekian lama.

Nampaknya SPRM belum berubah dan tidak berubah sekalipun pengerusinya telah bertukar.

Pilihan yang ada untuk rakyat Malaysia - TUKAR KERAJAAN PUSAT.



Posted: 12 Jan 2010 06:37 AM PST
T
imbalan Pesuruhjaya II Pas Negeri, Datuk Husam Musa mendesak agar Ketua Pembangkang di Dewan Undangan Negeri (DUN) Datuk Md Alwi Che Ahmad (gambar) menjelaskan pemergian ke Makkah untuk menunaikan haji yang dikatakan ditaja oleh Tabung Haji.
Reaksi tersebut diluahkan Husam setelah Alwi yang juga Ahli Dewan Undangan Negeri Kok Lanas mempersoalkan salah guna kuasa dalam pembelian kek untuk Hari Raya Aidilfitri diberikan kepada Menteri Besar dan Ketua Pegawai Eksekutif (CEO) Perbadanan Menteri Besar Kelantan (PMBK).
"Saya nak tanya Alwi yang membangkit isu ini (kek), walaupun nilai kecil tetapi ia amalan lazim korporat. Saya difahamkan beliau ke Makkah sekali dengan Pak Lah (Datuk Seri Abdullah Badawi) bersama 20 orang VVIP dan tambang itu disediakan oleh Tabung Haji.
"Saya minta penjelasan dia, kalu dia dok sibuk kes PMBK, pemergian haji dia perlu dijelaskan kepada masyarakat, kenapa Tabung Haji biayai pemergiannya ke Makkah?" katanya dalam sidang media di sini, semalam.

Semalam Alwi berkata, beliau mempunyai bukti resit pembelian kek seberat 10 kilogram setiap enam biji kek bernilai RM516 sebiji yang diberikan kepada enam pihak termasuk Datuk Nik Abdul Aziz Nik Mat dan Abdul Abdul Arif Fahmi Abdul Rahman.

Sehubungan dengan itu, Md Alwi meminta Suruhanjaya Pencegahan Rasuah Malaysia (SPRM) Kelantan menjalankan siasatan terhadap dakwaan itu kerana badan tersebut turut menjalankan siasatan terhadap penyelewengan dan salah guna kuasa dalam PMBK. -SH

Ulasan GB

Kokok berderai-derai, rupanya ekor sendiri bergelumang najis. Alwi alwi!



Posted: 12 Jan 2010 05:55 AM PST
Posted: 12 Jan 2010 03:04 AM PST
My kiddo Miki is very fond with animals. We have pet rabbits now, both are super cute and super cuddly plus super hancing melantung baunya kalau tak cuci kandang mereka selang dua hari. Miki named the male one Kokades and the female one Kokading. And then he stopped calling her Kokading and called her Min Min instead. He pronounced Min Min by wrinkling his nose everytime, just like rabbits do when they sniff their way around.
Miki is currently on another phase of stranger anxiety. When meeting up new people he would either be really shy that he twirls his hands around and around or dead scared that he climbs up my body like a tree and wrapped his limbs around me so tightly he bent my under-wire.
For him to warm up and start being friendly would take like 20 to 30 minutes! What the heck? With that kind of intense suffocation, I would die within seconds! COD – Asphyxiation. Headline news – Son Hugged Mom to Death. Hmmm… I could make front page!
Anyway, last night we had dinner with Nize in Shah Alam and Miki was all shy despite having known Uncle Nize for two years already. Well two years might not be long but that IS the entire duration of him living in this world after all.
After he turned the restaurant upside down with his overzealous urges to explore the usage of cutleries, dinner was over and it was time to say goodbye.
On the way to the parking lot suddenly he wants to hold Nize's hand pulak. And then he wants Nize to carry him pulakk… And then he doesn't wanna get into our car pulakk… And when we tricked him to get inside dia buat syahdu-syahdu tak nak berpisah dengan Nize pulakkkkk… Banyak cekadak aaa!!!
It was funny after the car started moving he really cried and said "Nize Miki punyaa!!" Hahaha! He always say things like that when we told him it's time to stop playing with Kokades and Min Min! I think Nize has something in  common with the two bunnies. Must be the smell. Nize doesn't have fur.
This posting includes an audio/video/photo media file: Download Now
Congratulations Tan Sri Hassan Marican, we pray for your future
Posted: 12 Jan 2010 04:24 AM PST
Malaysian government's reason for renewing Hassan's contract was because "he is the best man for the job." Sorry, my article comparing my personal experience with Tan Sri and your predessor was deleted because of my family's request. (Because you are an angel in my eyes and he was the opposite of you.)
KUALA LUMPUR, Jan 12 — Tan Sri Hassan Marican's term at the helm of national oil company Petronas is likely to be extended for another year after his contract expires next month, The Malaysian Insider understands.
An announcement on the extension — expected soon from the government — will put an end to the uncertainty surrounding Hassan's future.
The Malaysian Insider understands that the government's reason for renewing Hassan's contract was because "he is the best man for the job."
There has been swirling speculation that Hassan would be replaced as Petronas chief executive after his contract ends in February. This was because of his clashes with the Datuk Seri Najib Razak administration in the past year over an appointment to the board of directors and his own independent streak.
The clash with the administration happened last year when Omar Mustapha, a senior aide of Najib, was denied a board seat at the oil firm despite explicit instructions by the prime minister.
Under the Petroleum Development Act, the oil firm is answerable only to the PM, which meant that the board may have been insubordinate in its actions.
Eventually, a second request by Najib led to the board "deferring" the decision. Najib then put his foot down and Omar has since joined the board.
The Omar saga led to much speculation surrounding Hassan's future. But The Malaysian Insider understands that the continued economic uncertainty and Hassan's experience has made replacing him now an unattractive prospect.
The rise of the national oil company into the big leagues through its success in getting awarded lucrative exploration rights in Iraq recently would have also helped tip the scales in favour of retaining Hassan.
Hassan's independent streak also won him accolades from many Malaysians recently.
Despite some pressure and expectation that it would sponsor the Malaysian-backed Lotus F1 Racing team, Petronas decided last month to instead put their money in the Mercedes Formula One team. This decision also led to further speculation about Hassan's future.
Conservative hawks within Umno have also been questioning the patriotism of the move by Petronas to back Mercedes instead of Lotus F1, but Hassan was understood to have made a strong case and convinced the PM that sponsoring Mercedes was a business decision.
It is understood that Hassan's shrewd experience in the oil industry and his fierce independence was something the Najib administration felt was needed for the oil company as Malaysia attempts in the next few months to chart a new economic model.
Royalti : PAS Kelantan Perlu Munajat Perdana Sekali Lagi
Posted: 12 Jan 2010 03:33 AM PST
A
llah Yang Disembah, Allah Tempat Kita Bermohon.
Kerajaan PAS Kelantan di bawah pimpinan TG Nik Aziz Nik Mat disarankan supaya mengadakan Munajat Perdana sekali lagi untuk menundukkan keangkuhan UMNO BN yang enggan melayan tuntutan baru kerajaan Kelantan untuk mendapatkan royalti minyak.
Datuk Mustapa Mohamed berkata tindakan kerajaan negeri mengemukakan tuntutan itu hanya merupakan satu usaha PAS mencipta isu baru bagi mengubah pandangan rakyat setelah gagal dalam tuntutan awalnya.
Mustapa, yang juga pengerusi badan perhubungan Umno Kelantan, berkata demikian bagi mengulas kenyataan Pengerusi Jawatankuasa Perancangan Ekonomi, Kewangan dan Kebajikan negeri Datuk Husam Musa semalam bahawa kerajaan Kelantan telah mengemukakan tuntutan royalti minyak yang baru melibatkan kawasan sempadan negeri itu dan Terengganu.
Menurut Husam, tuntutan itu melibatkan sebuah pelantar, dikenali pelantar Bintang yang telah beroperasi sejak 1984, terletak bersempadan antara Kelantan dan Terengganu dan sejak itu, jumlah royalti diperoleh oleh kerajaan pusat ialah RM9.7 bilion.

PAS Kelantan pernah menganjurkan beberapa kali munajat perdana dianntaranya ialah sehari sebelum pilihanraya umum 2008.

Tiada siapa menyangka waktu itu tangis dan esakan TG Nik Aziz yang memecah hening Suboh di majlis Munajat Perdana pada 7 Mac 2008 adalah tangis dan esakan yang mengangkat doa dan munajat rakyat Kelantan ke hadhrat Allah s.w.t. yang telah mengurniakan kemenangan besar kepada Kerajaan PAS Kelantan di dalam pilihanraya sehari selepasnya iaitu pada 8 Mac 2008.

Sepagi itu Tok Guru berkali-kali menyapu air matanya sebaik sahaja mengakhiri doa dan munajat yang dipersembahkannya kepada Allah setulus hati, penuh rendah diri.

Ia adalah satu doa yang besar, satu hari penuh hiba dan satu rayuan kepada Allah Yang Maha Esa untuk menyelamatkan Kelantan dari satu kospirasi jahat sebuah kerajaan Pusat yang mabuk kuasa.

Pada waktu itu, UMNO BN telah merancang pelbagai cara untuk merampas Kelantan dari tangan PAS, sehingga mereka telah bersiap-sedia untuk menobatkan MB baru dari kalangan mereka, Awang Adek Hussin namanya.

Berpuloh-puloh malah beratus biji bas mengangkut pengundi-pengundi luar masuk ke negeri Kelantan untuk memberikan undi kemenangan kepada UMNO BN.

Dan tiada siapa menduga, hati-hati pengundi hantu ini telah dipalingkan oleh Allah s.w.t. untuk memberikan undi kepada PAS.

Dan Allah memberikan kemenangan ceemerlang kepada PAS Kelantan!

Kini untuk mengisi kemenangan, untuk menjaga kemenangan, kita merasakan adalah amat wajar Kerajaan PAS Kelantan mengadap Rabbul-Jalil sekali lagi untuk mempastikan hak rakyat Kelantan dikembalikan oleh kerajaan Pusat.

Keangkuhan dan kezaliman manusia-manusia bernama Najib, Muhyiddin, Mustapa Mohd, Awang Adik Hussin dan lain-lain yang seangkatan dengan mereka perlu ditamatkan. Hak kerajaan dan rakyat Kelantan perlu dilunaskan sebelum mereka menjahanamkan royalti dengan nama baru - wang ehsan - untuk tujuan yang buruk, merampas Kelantan dari PAS.

Jangan tunggu esok kerana esok mungkin sudah terlambat!



Isu keselamatan Gereja, SUARAM Pertikai Polis
Posted: 12 Jan 2010 01:35 AM PST
S
uara Rakyat Malaysia (Suaram) melahirkan rasa tidak berpuas hati terhadap polis yang menyeru gereja mengawal keselamatan mereka sendiri, susulan satu rentetan serangan dan vandalisme sejak Jumaat lalu, kerana pasukan keselamatan itu kurang kakitangan.
"Suaram juga amat tidak berpuas hati terhadap pendirian polis bahawa pihak gereja perlu mencari langkah keselamatan secara persendirian atas alasan kekurangan pengawai polis," kata penyelarasnya Lucas Yap Heng Lung.
"Adakah masalah keselamatan rakyat Malaysia bukan tanggungjawab pihak polis, malahan rakyat perlu mencari langkah keselamatan secara individu untuk mendapatkan perlindungan?"
Selain mengecam polis dengan mendakwa pasukan itu gagal menyelesaikan serangan dan vandalisme, setakat ini sembilan kes, Yap juga berkata pasukan itu mengamalkan sikap tidak konsisten.
Beliau merujuk amaran Ketua Polis Selangor Datuk Khalid Abu Bakar kepada orang ramai agar tidak terlibat dalam sebarang demonstrasi di gereja Assumption, Petaling Jaya yang asalnya dijadualkan esok tetapi kini dibatalkan.

"Tetapi sebaliknya membenarkan perhimpunan aman diadakan di beberapa buah masjid mengenai isu kalimah 'Allah' pada 8 Januari lalu," kata Yap.

Sehubunga itu Suaram turut mempertikaikan Petunjuk Prestasi Utama (KPI) polis yang dilaporkan mencatat 113.8 peratus pada tahun lepas "walaupun pihak polis masih tidak dapat menjaga keselamatan negara secara berkesan."

"Kes kebakaran gereja dan cara pengendalian pihak polis dalam kes ini menjadi contoh terbaru kegagalan ini," kata penyelaras itu dalam satu kenyataan hari ini.

NGO itu juga yakin undang-undang sedia ada mencukupi untuk mendakwa mereka yang bertanggungjawab dan juga kerosakan harta benda gereja tanpa perlu menggunakan Akta Keselamatan Dalam Negeri (ISA), Akta Hasutan dan Akta Polis. -malaysiakini


A BLEAK FUTURE FOR MALAYSIA UNDER BN
Posted: 12 Jan 2010 01:20 AM PST
TENGKU RAZALEIGH : A BLEAK FUTURE FOR MALAYSIA UNDER BN - PL READ ON
TZ is spot on with his observation. In addition to corruption most
professionals in Malaysia are unethical and ripping the public off in their
greed for quick wealth.
---------------------------------------------------------------------------­-----
KUALA LUMPUR: Tengku Razaleigh Hamzah (picture) today painted a bleak future
for Malaysia under the Barisan Nasional government, saying it had squandered
the nation's oil wealth to the tune of billions of ringgit.
The former Finance Minister said Petronas's oil profits had been used "to
bail out failing companies, buy arms, build grandiose cities amidst cleared
palm oil estates.."
"Instead of helping eradicate poverty in the poorest states, our oil wealth
came to be channeled into our political and politically-linked class," the
first Petronas chief and former Umno vice president said in a speech at the
Young Corporate Malaysians Summit.
He said Petronas money had been used as a slush fund to prop up
authoritarian rule, to corrupt the entire political and business elite and
to erode constitutional democracy.
The Gua Musang MP told the conference that Petronas had contributed 40
percent to the national budget over the years.
But such a great reliance on oil income was getting untenable, he said. "The
oil that was meant to spur our transition to a more humane, educated society
has instead become a narcotic that provides economic quick fixes and hollow
symbols such as the Petronas Towers."
He said the future for Malaysians looks bleak with the government seeking
to broaden the tax base by introducing a goods and services tax (GST),
requiring Malaysians to pay an additional tax on top of income tax.
Malaysia is now caught in a middle-income trap, stuck in the pattern of easy
growth from low-value-added manufacturing and component assembly and unable
to make the leap to a knowledge-intensive economy, Tengku Razaleigh added.
Following is the text of his speech:
In a speech I made in April this year, I spoke of where we stand in our
developmental path and what I felt we must do to move forward.
I need to revisit that argument in order to develop it further.
We are stagnating. The signs of a low-growth economy are all around us.
Wages are stagnant and the cost of living is rising.
We have not made much progress in becoming a knowledge and services based
economy.
According to the World Bank, Malaysia's share of GDP contributed by services
was 46.2 percent in 1987. Ten years later, that share had grown by a mere
0.2 percent.
Between 1994 and 2007, real wages grew by 2.6 percent in the domestic sector
and by 2.8 percent in the export sector, which is to say, they were flat
over that 13-year period.
Meanwhile, our talent scenario is an example of perverse selection at its
most ruinous. We are failing to retain our own young talent, people like
yourselves, let alone attract international talent to relocate here, while
we have had a massive influx of unskilled foreign labour. They now make up
30 to 40 percent of our workforce.
Alone in East Asia, the number of expatriate professionals here has
decreased. Alone in East Asia, private sector wage increases follow
government sector increases, instead of the other way around. We are losing
doctors and scientists and have become Southeast Asia's haven for low-cost
labour.
I said that we are in a middle-income trap, stuck in the pattern of easy
growth from low-value-added manufacturing and component assembly and unable
to make the leap to a knowledge-intensive economy.
Regional competitors with larger, cheaper - and dare I say - hungrier labour
forces have emerged.. China and India have risen as both lower cost and
higher technology producers, and with giant domestic markets.
The manufacturing sector which propelled the growth we enjoyed in the 90s is
being hollowed out.. There is no going back, there is no staying where we
are, and we do not have a map for the way forward.
I am glad that the characterisation of Malaysia as being in a
'middle-income-trap' has been taken up by the government, and that the need
for an economic story, or strategy, for Malaysia is now recognised.
We stand in particular need of such a model because we are a smallish
economy. We cannot be good at everything, and we don't have to be.
We need only make some reasonable bets in identifying and developing a
focused set of growth drivers. It is not difficult to see what the elements
of such a growth strategy might be. Whatever we come up with should build on
our natural strengths, and our strengths include the following:
+ We are located at the crossroads of Asia, geographically and culturally,
sitting alongside the most important oil route in the world.
+ We have large Muslim, Chinese and Indian populations that connect us to
the three fastest growing places in the world today.
+ We have some of the largest and oldest rainforests in the world, a
treasure house of bio-diversity when the greatest threat facing mankind as a
whole now is ecological destruction, and the greatest technological advances
are likely to come from bioscience.
+ We have the English language, a common law system, parliamentary
democracy, good schools, an independent civil service and good
infrastructure.
These advantages, however, are declining. Our cultural diversity is in
danger of coming apart in bigotry, our rainforests are being logged out and
planted over, our social and political institutions are decaying. I have
spoken at length on different occasions about the causes and consequences of
institutional decline. The decline in our society, and indeed in our natural
environment, originates in a decline in our basic institutions.
The link between these is corruption. The destruction of our ecosystem, for
example, is made possible by corrupt officials and business people. The
uncontrolled influx of unskilled labour is a direct result of corruption.
These are problems we need to be aware of before we speak glibly about
coming up with new strategies and new economic models. We need to understand
where we are, and how we have gone wrong, before we can set things right.
You are young, well-educated Malaysians. Many among you have left for other
shores. Record numbers of Malaysians, of all races, work abroad or have
emigrated. Among these are some of our best people. They sense the
stagnation I described.
There is a certain lack of energy, ingenuity and "hunger" in the climate of
this country that young people are most sensitive to. In the globalised job
market, young people instinctively leave the less simulating and creative
environments for those that have a spark to them.
How did we lose our spark as a nation?
We have a political economy marked by dependence on easy options and easy
wealth. Like personal dependencies, these bad habits provide temporary
comfort but discourage the growth of creativity and resilience.
I mentioned our dependence on low-cost foreign labour.
The other dependence is something I played a part in making possible. This
is a story I want to leave with you to ponder in your deliberations today.
Our nation is blessed with a modest quantity of oil reserves. As a young
nation coming to terms with this natural bounty in the early 70s, our
primary thought was to conserve that oil.
That is why, when Petronas was formed, we instituted the Petroleum
Development Council. Its function was to advise the prime minister on how to
conserve that oil and use it judiciously for national development. We knew
our reserves would not last long.
We saw our oil reserves as an unearned bounty that would provide the money
for modernisation and technology. We saw our oil within a developmental
perspective. Our struggle then was to make the leap from an economy based on
commodities and low-cost assembly and manufacturing to a more diverse
economy based on high income jobs.
Aware that we had an insufficient tax base to make the capital investments
needed to make the leap, we planned to apply oil royalties to what you would
call today strategic investments in human capital.
Whatever money left after making cash payments, allocations for development
funds, etc, was to be placed in a Heritage Fund for the future. The Heritage
Fund was for education and social enrichment.
In working out the distribution of oil between the states, who had sovereign
rights over it, and the federal government, we were guided by concerns for
equity between all Malaysians, a concern to develop the poorer states (who
also happened to be the oil rich states) and a concern for
inter-generational equity. That oil was for special development purposes and
it was not just meant for our generation.
Sabah and Sarawak joined Malaya to form Malaysia because of the promise of
development funds. Yet today, despite their massive resources, they are some
of our poorest states.
Instead of being our ace up the sleeve, however, our oil wealth became in
effect a swag of money used to fund the government's operational
expenditure, to bail out failing companies, buy arms, build grandiose cities
amidst cleared palm oil estates.
Instead of helping eradicate poverty in the poorest states, our oil wealth
came to be channeled into the overseas bank accounts of our political and
politically-linked class.
Instead of being the patrimony of all Malaysians, and for our children, it
is used as a giant slush fund that has propped up authoritarian rule, eroded
constitutional democracy and corrupted our entire political and business
elite.
Our oil receipts, instead of being applied in the manner we planned upon the
formation of Petronas, that is, according to its original developmental
purpose, became a fund for the whims and fancy of whoever ran the country,
without any accountability.
The oil that was meant to spur our transition to a more humane, educated
society has instead become a narcotic that provides economic quick fixes and
hollow symbols such as the Petronas towers.
Our oil wealth was meant to help us foster Malaysians capable of building
the Twin Towers than hire foreigners to build them, a practice in which we
preceded Dubai. I would rather have good government than grand government
buildings filled with a demoralised civil service.
It is no wonder that we are no longer productive, no longer using our
ingenuity to devise ways to improve ourselves and leap forward.
Malaysia is now an "oil cursed" country. We managed to arrive at this
despite not having a lot of oil.
When I started Petronas in 1974, I did not realise I would see the day when
I would wish we had not uncovered this bounty.
The story I have told is a reminder of the scale of the challenge of
development. My generation of young people faced this challenge in the 60s
and 70s. You face it now. The story tells us that development is about far
more than picking strategies out of a box.
You have kindly invited me to address a seminar on strategies for
reinventing and liberalising Malaysia's economy. But the story of our
squandered oil wealth reminds us that it was not for want of resources or
strategies that we floundered.
Our failure has been political and moral. We have allowed greed and
resentment to drive our politics and looked the other way or even gone along
while public assets have been stolen in broad daylight.
I encourage you to take up the cause of national development with the
ingenuity that earlier generations of Malaysians brought to this task, but
the beginning of our journey must be a return to the basics of public life:
the rule of law, honesty, truth-telling and the keeping of promises.
The Malaysia we need to recover is one that was founded on laws and led with
integrity. With the hindsight of history we know such things are fragile and
can be overturned in one generation, forgotten the next.
Without a living foundation in the basics, you might sense an air of
unreality around our talk of reinventing ourselves, coming up with "a new
economic model" and liberalising our economy.
So before we can reinvent ourselves, we need to reclaim our nation. That
larger community, bound by laws, democratic and constitutional, is the
context of economic progress, it is the context in which young people find
hope, think generous thoughts and create tomorrow.
Don't Go Notorious Johor Bahru
Posted: 12 Jan 2010 01:04 AM PST
From: Tanki <5191...@gmail.com>
Subject: Don't Go Notorious Johor Bahru
Posted by: tt326c
Whenever we heard someone claimed that JB is notorious for wayside
robberies, we tend not to pay much attention to it until one day it
happened to someone close to you. Then you'll come to realisation that
it is the truth.
My son and his colleaque were robbed on Saturday morning in the busy
town of JB. Mind you, they were confronted by two men with syringes;
under threat that they would be contaminated with Aids. Both were
milked to a tune of RM1,500 and the irony was, the robbery was
committed near the Immigration and Police stations! Easy day's work,
eh?
Luckily, they did have the good sense not to retaliate and got
themselves hurt.
The purpose of this post is to remind fellow bloggers or their friends
to be extra careful when setting foot in JB, OK?
Kebebasan Media Dicabuli, Polis Ugut Wartawan SK
Posted: 12 Jan 2010 01:01 AM PST
K
ebebasan media sekali lagi dicabuli apabila wartawan Suara Keadilan diugut polis ketika membuat liputan ke atas keluarga mangsa pembunuhan kejam 4 beranak di Gemencheh, Negeri Sembilan, petang kelmarin.
Kejadian berlaku jam 3.30 petang apabila wartawan Abdul Qayum Abd Rahman, dihampiri 10 individu yang disyaki anggota polis merampas nota dan rakaman liputan.
Ketua Angkatan Muda Keadilan, Shamsul Iskandar Mohd Akin bersama Ketua Editor Suara Keadilan, Dzulkarnain Taib, hadir ke Ibu Pejabat Polis Daerah Shah Alam mengiringi Qayum membuat laporan.
"Saudara Qayum diganggu, laporannya dikoyakkan, gambar-gambar yang diambil diminta dipadamkan. Jadi ini merupakan tindakan-tindakan yang tidak berperikemanusian dan tidak menurut kebebasan media sepertimana yang dijamin dalam negara ini. Saya merasa marah dengan sikap ini dan mendesak pihak polis untuk menyiasat perkara ini. Dan pada kita apapun alasan yang akan diberikan kebebasan media itu harus dijamin,"katanya.
Kelmarin, Angkatan Muda Keadilan dan akhbar Suara Keadilan ke Gemencheh bertujuan mendapatkan reaksi keluarga mangsa selepas kejadian.

Menurut Shamsul, lawatan adalah dorongan maklumat yang diterima menyatakan isteri Perdana Menteri Malaysia, Datin Seri Rosmah Mansor dikatakan mempunyai talian persaudaraan dengan mangsa.

"Oleh kerana liputan ini ingin menegaskan bahawa sehingga hari ini tidak ada sebarang lawatan, tiada sebarang tunjuk hormat daripada isteri Perdana Menteri kepada keluarga ini, maka Angkatan Muda berasa terpanggil dan ingin menziarahi, paling tidak pun memberi sokongan dari segi moral dan belas kasihan kita terhadap peristiwa yang sedih ini,"katanya.

Menurutnya, amalan demokrasi yang dilaksanakan di negara ini menyatakan kebebasan media melaporkan berita termasuk media pembangkang.

Beliau turut menuntut ruang untuk wartawan menjalankan tugas tanpa diganggu oleh mana-mana pihak. -TVS



Wartawan PKR diugut depan rumah saudara Rosmah

Seorang wartawan akhbar PKR Suara Keadilan mendakwa polis bertindak kasar selepas mewawancara seorang wanita yang dikatakan ada pertalian keluarga dengan isteri perdana menteri Rosmah Mansor kelmarin.

Abdul Qayum Abdul Rahman berkata, beliau mengunjungi wanita yang dikenalinya sebagai Saharah, yang juga didakwa saudara kepada mangsa tragedi pembunuhan kejam di Gemencheh baru-baru ini.

Minggu lalu, empat beranak ditemui mati, termasuk seorang tanpa kepala, dalam insiden pembunuhan kejam di dua buah rumah berasingan yang terletak berdekatan di Kampung Batang Rokan.

Abdul Qayum memberitahu Malaysiakini, wawancara itu antaranya bertujuan mendapatkan reaksi wanita tersebut berhubung insiden menyayat hati itu.

Difahamkan wawancara itu juga ada menyentuh isu Rosmah.

Dalam aduan polisnya, Abdul Qayum berkata selepas mengetahui beliau wartawan Suara Keadilan, seorang lelaki berpakain biasa - dikenali sebagai Muhammad - memaksanya menyerahkan kad pengenalan dan mengambil nombor pendaftaran keretanya.

"Beliau turut merampas nota penulisan saya serta rakaman dihapuskan kerana tidak berpuas hati dengan temubual yang dijalankan bersama seorang wanita yang dikenali Saharah.

"Polis (bersama kereta peronda) menunggu di luar rumah, manakala Muhammad mengambil segala pengenalan diri dan dokumen yang dibawa oleh saya tanpa kebenaran saya sendiri," aduan polis Abdul Qayum, 25, semalam dipetik.

"Polis dan Muhammad mengugut saya dalam berbentuk ancaman mahu mencari saya dan keluarga dengan cara apapun jika temu bual tersebut disiarkan."

Bercakap kepada Malaysiakini, beliau berkata kejadian itu berlaku di depan rumah sumber tersebut tidak lama selepas beliau tiba di rumah itu 3.30 petang 10 Januari lalu.

Kerana bimbangnya keselamatan diri dan keluarganya, Abdul Qayum yang baru sebulan menyertai Suara Keadilan membuat laporan polis di ibu pejabat polis daerah (IPD) Shah Alam petang semalam.

Selain ketua Angkatan Muda PKR Shamsul Iskandar Mohd Akin (foto, kanan), beliau ditemani ketua wartawan akhbar terbabit, Fazallah Pit.
Posted: 12 Jan 2010 01:03 AM PST
[KTV] 張懸 – 寶貝
我的寶貝 寶貝 給你一點甜甜
讓你今夜都好眠
我的小鬼 小鬼 逗逗你的眉眼
讓你喜歡這世界
嘩啦啦啦啦啦 我的寶貝
倦的時候有個人陪
唉呀呀呀呀呀 我的寶貝
要你知道你最美
我的寶貝 寶貝 給你一點甜甜
讓你今夜很好眠
我的小鬼 小鬼 逗逗你的小臉
讓你喜歡整個明天
嘩啦啦啦啦啦 我的寶貝
倦的時候有個人陪
唉呀呀呀呀呀 我的寶貝
要你知道你最美
嘩啦啦啦啦啦 我的寶貝
孤單時有人把你想念
唉呀呀呀呀呀 我的寶貝
要你知道你最美
嘩啦啦啦啦啦 我的寶貝
倦的時候有個人陪
唉呀呀呀呀呀 我的寶貝
要你知道你最美
要你知道你最美
This posting includes an audio/video/photo media file: Download Now
Eight (8) Churches Attacked So Far....
Posted: 12 Jan 2010 12:32 AM PST
From: Tanki <5191...@gmail.com>
Subject: Eight (8) Churches Attacked So Far....
LOVE & FORGIVENESS
Posted by: Kumarathevan Balakrishnan
In this past few days, our nation that was always looked up as a
peaceful, multi-racial and multi-cultural country was slapped with one
of the worst religiously motivated attack on churches in our country's
history.
The arson attack on eight churches in Klang Valley and other parts
of the country have been condemned by our Prime Minister Datuk Seri
Najib Tun Razak as well as political leaders of both the ruling and
opposition parties.
Some call this the black day and some others say that this is truly
a sad day for Malaysia. This is an act of extremism, which could
dampen the government's effort in promoting 1Malaysia concept.
Never the less, the beauty of these scenario is that the leaders of
the Metro Tabernacle Church - that was badly effected in these
incident - said that they do not harbour any ill-feelings against the
culprits but choose to forgive those responsible.
The senior pastor of the church, Rev Ong Sek Leang was quoted
saying: "We have a congregation of about 1,700 who are Godly and
forgiving."
That is a peaceful and Christ-like remark. I salute them for their
stand. This shows their true Christian spirit of love and forgiveness.
We should love our enemies and pray for those who persecute us.
Jesus Christ told His disciples: "If someone slaps you on your left
cheek, give also the right side." – This shows that we should forgive
'on the spot' anyone who hurts us. Easy to say but it takes courage to
practice.
The other beautiful part is, many non government organizations
including the Muslim brothers condemn the unlawful and unIslamic
action and some NGO's even offered to make security rounds around
churches to make sure it's safety.
I believe, we should continue to be kind and tender hearted to one
another and forgive one another.
Let us together do everything possible on our part to leave in peace
with everybody and not revenge anyone.
SALAM 1MALAYSIA!
Malaysian Government as an arsehole expects loyalty from non Malays
Posted: 12 Jan 2010 12:07 AM PST
From: "Desmond133"
Subject: Malaysian Government as an arsehole expects loyalty from non Malays..
The day will arrive when they will be given their dues.
> Subject: A letter to Lim Kit Siang
> To:
> Have you seen this ? A fantastic 'hands on
> letter' that described exactly all us Non
> Bumiputras' basic feelings at the present moment of the
> stench from BN especially UMNO !
> Even amongst the medical profession there is unfair
> treatment !
> Dear Mr. Lim Kit Siang,
> I have utmost respect and admiration for your
> tenacity in remaining in Malaysia to champion the cause of
> justice and equality and fight for a Bangsa
> Malaysia.
> My heart broke when I read about your article
> regarding the honest cyber cafe operator especially when he
> wondered if he 'had chosen the wrong country' to start
> and operate his business.
> I see my situation summed up in that phrase. You
> have said before that the best and brightest are leaving
> this country. Well, I am making every preparation to leave.
> I have consistently scored straight As in every public exam
> and placed among the top 3 of my form. In university, I
> studied medicine and am among the top scorers. I have just
> graduated and scored near perfect results in a medical
> licensing examination that will enable me to work abroad and
> further my studies.
>
> I
> was born a Malaysian yet I cannot see myself as a Malaysian.
> As a Chinese, I feel that I am
> being discriminated against. I feel that the government is
> trying its hardest to sideline me just because of my race. I
> look around and see this discrimination manifested in
> various forms. From the issue regarding religious conversion
> to the allocation of places in local universities, the
> stench of discrimination is sickening.
> It was horrifying to note in my
> batch of medical students, there were a substantial number
> of malay students who actually did not apply for medicine
> but were sent to study it. It is disgusting to think that
> many STPM straight A scorers are deprived of a chance to
> study medicine while the government gives the places to
> people who are not even sure that they want to study
> medicine.
> I have seen how racial politics sully the
> environment in the university and how unqualified people are
> in high posts at the expense of far more intelligent and
> qualified individuals just because they are Malay. I have
> heard the terrible statements made by delegates at the
> recent UMNO General Assembly about revoking my citizenship
> rights should I question their special rights.
> I have seen the videos on YouTube where UMNO MPs
> have the audacity to ask us to 'keluar' of the country
> if we don't like what they are doing to it. And I see the
> pathetic attempt by the PM to 'discipline' these
> racists. I hate the fact that
> Gerakan and MCA have done NOTHING to fight for my rights
> instead of just kow-towing to UMNO for their own
> gains.
> Patriotism isn't about singing
> the national anthem or raising the flag. It isn't about
> accepting at face value everything the government says. It
> isn't about attending merdeka celebrations. It is about
> feeling accepted as part of your nation. It is about knowing
> that your nation accepts you as a son or daughter. It is
> about realizing that being a part of a nation entails
> certain responsibilities. That is my definition of
> patriotism.
> And right now, as a Malaysian, I am feeling
> anything BUT patriotic. 50 years of independence? So what?
> What has it done for me? Whoopee. I have a chance to change
> my life. I will change my destiny. I could not choose the
> country where I was born but I can very well choose the
> country that I will swear my allegiance to. I want a country
> that will recognize me as a citizen and grant me rights
> equal to that of all other citizens. I want a country that
> has the wisdom to recognize my potential and talents and
> reward me accordingly. I want a country where the government
> fears its people and conducts itself in a manner worthy of
> respect and honor.
> This is not my nation. I am leaving. Mr. Lim, I
> salute you and all those like you who can find the strength
> and energy to fight for an ungrateful bunch of people. How
> many actually held mass protests, hunger strikes or rose up
> to defend you and your family when you or your son was
> imprisoned for fighting for us? How many did more than just
> shake their heads and move on with their petty little lives?
> None that I know of. Yet you continue to defend their
> rights.
> You are an amazing man, Mr. Lim and I truly admire
> you for that. Unfortunately, I have a bright future ahead
> and I will not waste it in this country. It is not my
> nation.
> Thank you for fighting the good fight.
> (Author's name withheld for privacy)
The e-mail I got about CANCEROUS FOODS / PRODUCTS, some experts should shed light on these accusations because even a normal GP like me is not sure about the truth
Posted: 11 Jan 2010 09:46 PM PST
INSTANT NOODLES
Dear instant noodle lovers,
Make sure you break for at least 3 days after one session of instant noodles before you eat your next packet! Please read the info shared to me by a doctor. My family stopped eating instant noodles more than 5 years ago after hearing about the wax coating the noodles – the wax is not just in the Styrofoam containers but it coats the noodles. This is why the instant noodles do not stick to each other when cooking.
If one were to examine the ordinary Chinese yellow noodles in the market, one will notice that, in their uncooked state the noodles are oily. This layer of oil prevents the noodles from sticking together.
Wanton noodles in their uncooked state have been dusted with flour to prevent them sticking together. When the hawker cooks the noodles, notice he cooks them in hot water and then rinses them in cold water before cooking them in hot water again. This process is repeated several times before the noodles are ready to be served. The cooking and rinsing process prevents noodles from sticking together.
The hawker then "lowers the noodles in oil and sauce to prevent the noodles from sticking if they are to be served dry. Cooking instructions for spaghetti require oil or butter to be added in the water when boiling the spaghetti to prevent the pasta from sticking together. Otherwise, one gets a big clump of spaghetti!
There was an SBC (now TCS) actor some years ago, who at a busy time of his career had no time to cook, resorted to eating instant noodles everyday. He got cancer later on. His doctor told him about the wax in instant noodles. The doctor told him that our body will need up to 2 days to clear the wax. There was also an SIA steward who after moving out from his mother's house into his own house, did not cook but ate instant noodles almost every meal. He had cancer, and has since died from it.
Nowadays the instant noodles are referred as " cancer noodles ".
SATAY LOVERS (BARBECUE)
If you all eat Satay, don't ever forget to eat the cucumber, because eating Satay together with carbon after barbequing can cause cancer.
But we have a cure for that… Cucumber should be eaten after we eat the Satay because Satay has carcinogen (a cancer causing element) but cucumber is anti-carcinogenic. So don't forget to eat the cucumber the next time you have Satay's.
PRAWNS (SUGPO) & VIT C
DO NOT eat shrimp / prawn if you have just taken VITAMIN C pills!!
This will cause you to DIE in ARSENIC (As) toxication within HOURS!!
PORK AWARENESS
Try this and see whether the pork you bought has worms. There goes with your "Bak Kut Teh" for those who love it. Most men love to eat this so watch out before it's too late. If you pours Coke (yes, the soda) on a slab of pork, wait a little while, you will SEE WORMS crawl out of it. A message from the Health Corporation of Singapore about the bad effects of pork consumption. Pig's bodies contain MANY TOXINS, WORM and LATENT DISEASES.
Although some of these infestations are harboured in other animals, modern veterinarians say that pigs are far MORE PREDISPOSED to these illnesses than other animals. This could be because PIGS like to SCAVENGE and will eat ANY kind of food, INCLUDING dead insects, worms, rotting carcasses, excreta including their own, garbage, and other pigs. INFLUENZA (flu) is one of the MOST famous illnesses which pigs share with humans. This illness is harboured in the LUNGS of pigs during the summer months and tends to affect pigs and human in the cooler months.
Sausage contains bits of pigs' lungs, so those who EAT pork sausage tend to SUFFER MORE during EPIDEMICS of INFLUENZA. Pig meat contains EXCESSIVE quantities of HISTAMINE and IMIDAZOLE compounds, which can lead to ITCHING and INFLAMMATION; GROWTH HORMONE which PROMOTES INFLAMMATION and growth; sulphur containing mesenchymal mucus which leads to SWELLING and deposits of MUCUS in tendons and cartilage, resulting in ATHRITIS, RHEUMATISM, etc.
Sulphur helps cause FIRM human tendons and ligaments to be replaced by the pig's soft mesenchymal tissues, and degeneration of human cartilage.
Eating pork can also lead to GALLSTONES and OBESITY, probably due to its HIGH CHOLESTEROL and SATURATED FAT content. The pig is the MAIN CARRIER of the TAENIE SOLIUM WORM, which is found in its flesh. These tapeworms are found in human intestines with greater frequency in nations where pigs are eaten. This type of tapeworm can pass through the intestines and affect many other organs, and is incurable once it reaches beyond a certain stage. One in six people in the US and Canada has RICHINOSIS from eating trichina worms, which are found in pork.
Many people have NO SYMPTOMS to warm them of this, and when they do, they resemble symptoms of many other illnesses. These worms are NOT noticed during meat inspections.
SHAMPOO
Cancer-causing substance in shampoos. Go home and check your shampoo. Change before it's too late… Check the ingredients listed on your shampoo bottle, and see they have a substance by the name of Sodium Laureth Sulfate, or simply SLS. This substance is found in most shampoos; manufacturers use it because it produces a lot of foam and it is cheap. BUT the fact is, SLS is used to scrub garage floors, and it is very strong!!! It is also proven that it can cause cancer in the long run, and this is no joke. Shampoos that contains SLS: Vo5, Palmolive, Paul Mitchell, L'Oreal, the new Hemp Shampoo from Body Shop etc. contain this substance.
The first ingredient listed (which means it is the single most prevalent ingredient) in Clairol's Herbal Essences is Sodium Laureth Sulfate. Therefore, I called one company, and I told them their product contains a substance that will cause people to have cancer. They said, Yeah we knew about it but there is nothing we can do about it because we need that substance to produce foam. By the way Colgate toothpaste also contains the same substance to produce the "bubbles". They said they are going to send me some information.
Research has shown that in the 1980s, the chance of getting cancer is 1 out of 8000 and now, in the 1990s, the chances of getting cancer is 1 out of 3, which is very serious. Therefore, I hope that you will take this seriously and pass this on to all the people you know, and hopefully, we can stop "giving" ourselves cancer-causing agents.
E mail: 25 Tips for healthy heart
Posted: 11 Jan 2010 09:39 PM PST
THE SILENT GRIEVENCE OF A BUMIPUTRA
Posted: 11 Jan 2010 10:02 PM PST
Two nights ago, I received a call from a friend of mine who says that he and his family have moved to Texas, USA and back to his familiar job in the oil and gas (O&G) industry. He is a Malay, born in Penang and at a very early age left for the USA to seek a job in the O&G industry. That was in the early 70's.
Three years ago, he returned home with high hopes of starting his own O&G business. He teamed up with some Malaysians, but only to realise that it is not that easy to secure jobs in the O&G business in this country, however small the job and experience one has. He once confided to me that he lost a few thousand ringgit when an O&G job that was secured by him, was simply taken up by someone else because the company that offered him the job had changed the job specifications without his knowledge. The change in job specification simply means that his earlier proposal was disqualifed, and hence he lost the job. He claimed that he was victimised by someone in the company who had deliberately change the job specifications to suit another bidder. He suspects that there was corruption involved.
Having failed in all his attempts to secure an honest job opportunity in the O&G business, he decided to close down his business. He reasoned out to me that he regretted having left his job in the US, to returned home thinking that he can contribute some of his experiences in the country's O&G business. He even said that being a Bumiputra does not take him anywhere, nor was it ever considered in his submission for a job; this despite his credentials has having worked in large and reputable O&G companies in the US. In jest, he said that he denounced his status as a Bumiputra, and instead claimed himself to be a Bumikera.
While talking with him on the phone, I could sense his anger at the unfortunate experiences he faced in trying to do business in Malaysia. When I asked him if he wish at some point in time, to return home to start anew in business, this was his reply, "My family and I no longer wish to return home, and we have decided to make US our home. I feel more welcome here than in my own country, where I know that I can do business here without having to bribe or be cheated by someone. I no longer think that people in my country are honest in their business dealings".
I am extremely sadden by the unfortunate experience that my friend had gone through, and at the same time happy that he is back doing a job that he loved most in the US. I also know that many Malaysians are abroad working, with some earning incomes that they could never expect to get working in this country, and for this reason we do not expect them to return home either.
I have many friends too in the O&G industry, and they say that to survive in the business, one has to have both the 'know how' as well as the 'know who'. Of course, the industry being a multi million ringgit industry is never void of corruption and abuse, and it no surprise that this industry is now in league with the construction industry, that is reputed to be the most corrupt industry today.
CRUSADE AGAINST CORRUPTION