---
Posted: 02 Jan 2010 10:00 AM PST
Posted: 02 Jan 2010 08:10 AM PST
"Human beings can be tremendously happy and tremendously unhappy - and the choice lies in their hands"
"A happy person needs no religion; a happy person needs no temple, no church - because for a happy person the whole universe is a temple, the whole existence is a church"
"Happiness happens when you fit with your life, things you do so harmoniously is your joy"
"A real human being takes courage to move with things that make him happy"
"Whenever you see power, prestige, respectability you are no longer yourself - You forget everything.. your happiness, values, joy, your delight"
"People talk about their misery again and again.. they exaggerate, embellish it, make it look bigger"
"You have to decide yourself, you have to take your life in your own hands.. Otherwise, life goes on knocking on your door and you're somewhere else"
"From the very beginning, we start corrupting every child with poison of competitiveness. When hypnotized with the idea that he has to fight with others to survive.. and life can never be a celebration"
"Don't try to make things look as beautiful as possible, but it is only the surface.. Don't try to claim that it is yours"
"A real education will not teach you to compete; it will teach you to cooperate. It will not teach you to fight and come first but to be creative, loving and blissful without comparing yourself to others. It will not teach you that you can only be happy when you are first in everything - by doing so, you are habituated in misery"
"Don't destroy other's happiness, help others to be happy"
"The ambitious person is the unhappiest in the world. But we go on training children to be ambitious: 'Be the first, be the top, and you will be happy!"
Live in joy, in love, even among those who hate
Live in joy, in health, even among those afflicted
Live in joy, in peace, even among the troubled
Live in joy, without possessions, like the shining ones
The winner sows hatred because the loser suffers
Let go of wining and losing and find joy
Harga Diesel dan Petrol Dijangka Turut Naik
Posted: 02 Jan 2010 07:00 AM PST
P
arti Keadilan Rakyat (PKR) menjangkakan harga diesel dan petrol di negara ini akan dinaikkan sekaligus menambah beban yang ditanggung rakyat selepas menghadapi kenaikan harga gula dan roti semalam.
Ahli Parlimen Indera Mahkota, Azan Ismail berkata, jangkaan itu dibuat selepas Pengerusi Petronas, Hassan Marican memberi jaminan bahawa Petronas akan tetap membayar dividen RM30 billion kepada kerajaan.
Jaminan itu dibuat walaupun Petronas sebelum ini mencatatkan keuntungan yang lemah. Memberi amaran bahawa 'komitmen' sebegini boleh memberi tekanan keatas pendapatan pengeluar minyak nasional itu.
"Kita bimbang Petronas kata begitu, apabila harga minyak jatuh atau naik di pasaran dunia ia akan naikan harga minyak kepada rakyat. Mereka naikan harga di pam dan rakyat perlu bayar lebih kerana hendak jamin memberi kerajaan,"katanya.
Hassan dalam kenyataannya berkata komitmen ini perlu kerana kerajaan mengalami defisit belanjawan terbesar dalam tempoh 20 tahun pemerintahan, dan Petronas bertanggungjawab keatas hampir separuh dari perbelanjaan kerajaan.

Mengulas perkara ini, Azan berkata Malaysia satu-satunya kerajaan yang merumuskan belanjawan yang sepenuhnya bergantung kepada hasil gas dan petroleum.

Langkah ini mencerminkan dasar pentadbiran yang tidak munasabah kerana menurut Azan, kerajaan bertanggungjawab untuk mempelbagaikan sumber pendapatan negara terutama selepas rizab petroleum negara dilaporkan akan kehabisan dalam masa terdekat.

Menurutnya, wang Petronas sepatutnya digunakan untuk membangunkan modal insan, memajukan prasanana urban, pendidikan dan keselamatan, dan bukannya dipaksa membayar kocek pegawai-pegawai politik dan projek-projek mega.

"Jadi kenyataan itu boleh mambayangkan ada cadangan dari Petronas sekiranya berlaku krisis, ia akan dipindahkan kepada pengguna dengan cara menaikan harga minyak di pum ataupun minyak yang dijual kepada orang ramai. Selain daripada itu tidak ada logiknya alasan yang munasabah mengatakan Petronas sanggup memberi jaminan akan tetap memberi kepada kerajaan walau apa pun berlaku.

"Dalam keadaan krisis seperti ini munasabah kita mintak Petronas tidak lagi hanya bertanggungjawab melapor kepada Perdana Menteri sebaliknya Petronas perlu juga seperti agensi-agensi GLC yang lain melapor kepada Parlimen, maksudnya melaporkan kepada kedudukan tertiggi dalam negera Parlimen. Ia seolah-olah Petronas ini milik Perdana Menteri,"katanya.

Katanya, jika beterusan tidak mustahil Malaysia akan menghadapi nasib yang sama dengan negara Chile dan Mexico yang muflis kerana bebanan hutang.

"Kita bergantung kepada pinjaman luar maksudnya kita perlu berhutang kepada negara-negara lain Amerika Syarikat, Jepun, China, Arab Saudi. Bila negara ini berhutang ia kana jadi seperti negara Chili dan Mexico sehingga negara kena jual. Sekarang ini pun kita sudah menjual enjin kapal terbang," katanya. -TVS




This posting includes an audio/video/photo media file: Download Now
MACC INTIMIDATING WITNESSES, I PERCEIVE!!
Posted: 02 Jan 2010 07:35 AM PST
On 2009-11-01
,
MYsinchew.com
reported 'Wanted: Pornthip's head!'. An excerpt from the report: Pornthip fears no evil and would even go against the will of the authorities just to bring out the truth. She has gained tremendous popularity since, but that has also made her a target of some people.
Her life has been constantly under
intimidation
.
Empowering Myself in Year 2010
Posted: 02 Jan 2010 06:11 AM PST
2009 passed with a blink of an eye.
Yesterday, we welcomed 2010 with wide open arms. It marks another mile of decade since the new millennium started at Y2K.
2009 has seen me walking an arduous path with several gratifying moments. I am absolutely not proud with my achievements when I looked back at the resolutions I made 365 days ago. I for one, an ambitious perfectionist, is obsessed with higher expectations.
Failures of 2009's resolution:-
1. I failed to read a book a quarter. Ended up reading 75% of Harry Potter 6 and 65% of the Russian Concubine.
2. I failed to blog 12 times a month. What have I done? 78 entries in a year, which comes to an average of 6.5 a month.
3. I failed to be more adventurous. The only waterfalls I visited was Chamang Waterfalls on my birthday.
Achievements:-
1. I did travel to a colder climate country. Well, even though it was only for a few nights in Melbourne, but it was worth the experience.
2. I somehow learned a few things on photography. Thanks to Uncle Bear's DSLR and my infamous Canon Ixus 860IS which has served me nobly for 2 years.
3. And yes, I somewhat did increase my income. I have embarked on a new journey with Boston Scientific since 1 December. I am now looking forward with this challenging yet rewarding career.
Well, it is Year 2010. What about it? What am I going to do with this brand new year?
1. I shall empower myself with moderation. Moderation is the key of balance in life. I need to balance my diet which means less junk (such as sinful indulging of ice-creams). I need to incorporate exercise as a part of my lifestyle. I am definitely entering into a phase where skin-aging has started. I shall not watch dramas insanely (read: 10 episodes at one go, until wee hours). Thus, I will need to take good care of my health.
2. I shall empower myself in God's favour. It reminds me of the song from Carrie Underwood – Jesus Take The Wheel. It is undoubtedly that I cannot achieve what I achieved today without His absolute and divine strength. "I can do all things through Christ who strengthens me", as Philippian 4:13 says. In anything that I do, I just have to let God take charge. Be it my career, future partner, finance or family affairs. I surrender all to Him.
3. I shall empower myself in my career. New year, new career, what else do I need to do now? I have a zillion things to learn up about the electrophysiology of the heart and the cardiac rhythm management. I will gather all my strength and sources to master this rare skill, and take pride in my job. More confidence means more sales, and hence, more $$$!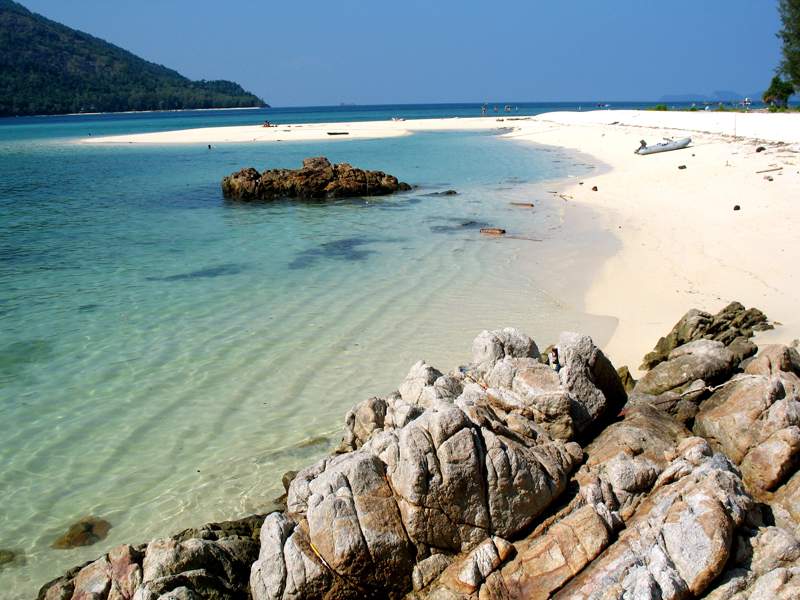 4. I shall empower myself with at least 1 beach holiday. I definitely need a break from the hustle-bustle of the metropolis. Air Asia, I rely on you for the best deals now. Tell me where should I go? Bali? Phuket? Koh Lipeh? And where are my travel partners?
5. I shall empower myself with more joy. Yes to laughter, no to tears. I shall laugh more than weep. I shall smile more than frown.
I humbly come before the Almighty God, to assist me in achieving my 2010 resolutions. I shall have faith in myself and be assured to accomplish them like winning a race.
Lastly, may 2010 be an empowering year for you and me!
God Bless xoxo
Posted: 02 Jan 2010 06:14 AM PST
Sibu In The Blue Ocean - Part 46
Posted: 02 Jan 2010 05:33 AM PST
Capability (4) "Sibu Is Not An Island"


Tan Kee Hian provoked the thinking of Sibuians with Capability (4) "Sibu Is Not An Island".
Sibu Is Not An Island simply refers to Sibu as not being isolated. In the observations of Kee Hian, Sibu has the following potentials:
1. Like Singapore, not much natural resources but:
-Resourceful people
-Convenient central location
-Surrounded by rich hinterland
-And favourable track record
2. Become the "orchestra conductor" or "systems integrator" for resources from and activities occurring beyond Sibu
.
3. Learn how to work with other cities, towns, and villages.
4. Be comfortable with a win-win arrangement:
-Smaller slice of a bigger pie
The picture shows the 2nd Governor of Sarawak, the late Tun Datuk Patinggi Tuanku Haji Bujang. Photo: Philip Hii
Augustine, Hakim "Tidak Relevan" Meninggal Dunia
Posted: 02 Jan 2010 04:17 AM PST
H
Hakim Mahkamah Persekutuan Datuk Seri S. Augustine Paul (gambar) meninggal dunia hari ini akibat penyakit kronik yang dideritainya sejak beberapa lama.
Beliau berumur 64 tahun. Beliau meninggalkan seorang isteri Datin Seri Dr Mary Paul dan dua anak iaitu Dr Juliana Sharmini, 29, dan Alan John, 27.
Beliau menghembuskan nafas terakhir pada 2.45 petang di Hospital Selayang, kata menantunya Robert Devan, 37.
Keranda yang membawa jenazahnya akan berlepas dari kediamannya di No. 16, Lorong Taman Pantai 7, Bangsar, Kuala Lumpur pada pukul 2 petang Ahad ini ke Parish of St Peter di No. 441, Seksyen 96A, Jalan Changkat Riong bagi upacara pengebumian pada 2.30 petang.
Augustine, lulusan Barrister-at-Law dari Inner Temple, England, memulakan kerjaya beliau pada 1971 sebagai Peguam Persekutuan di Jabatan Peguam Negara dan kemudiannya sebagai majistret di Ipoh, Perak.

Beliau pernah berkhidmat sebagai Hakim Mahkamah Sesyen di Temerloh, Pahang, Melaka dan Pulau Pinang dan merupakan pengerusi jawatankuasa khas mengenai percukaian sebelum dilantik Hakim Mahkamah Tinggi Kuala Lumpur pada Mei, 1998. -BERNAMA



MALAYSIAN JUDGES :: HALL OF SHAME
AUGUSTINE PAUL

S. Augustine Paul a/l Sinnappen, currently Federal Court judge, subjected himself to be a political whore in 1998. While a Kuala Lumpur high court judge, he participated in the political conspiracy orchestrated by the then prime minister Mahathir Mohamad to bring down the then deputy prime minister Anwar Ibrahim. He put through a show trial of Anwar and subsequently convicted the latter of sodomy and corruption.

The conviction was clearly riddled with holes. Augustine Paul allowed the prosecution had to change the date of the alleged offence several times after Anwar's lawyers demonstrated conclusively that he could not have been at the place at the date nominated. So crude was the frame-up that in one case the building in which the offence was alleged to have occurred, had not even been constructed.

In the end, Augustine Paul took the extraordinary step of allowing the prosecution to nominate 7.45 p.m. somewhere between January and March 1993. Even though the defence produced documents to account for Anwar's movements for every day over that period, Augustine Paul ignored the evidence and found Anwar guilty.

By convicting Anwar, Augustine Paul solely relied on the framed up allegations of the witness, Azizan Abu Bakar, who was shown by the defence team to be unreliable.

Augustine Paul was infamously called the "irrelevant judge" for repeatedly refusing submissions of evidence by Anwar's defence team and ruled them 'irrelevant'.

Obviously a judicial officer without any proper talent noteworthy, he had been a sessions court judge, until one week before Anwar's sodomy trial. He was promoted promptly to be a high court judge and took on the case. After serving his part in the political conspiracy, he was summarily promoted to be a judge of Court of Appeal on 1 August 2003, and then on to be a judge of Federal Court, the apex court in Malaysia, on 17 June 2005.

He ruled on Apr 16, 2009 that Perak Assembly Speaker V Sivakumar does not have the power to suspend Mentri Besar Datuk Zambry Abd Kadir and six state executive council members from attending the assembly. It is a decision that was made in blatant defiance of Article 72 (1) of the Federal Constitution which says,"The validity of any proceedings in the Legislative Assembly of any State shall not be questioned in any court".

The judges of the Federal Court have failed the people and the government of this country when they chose to ignore the law of the Constitution of Malaysia. In other words the judges have refused to do justice according to law.

Incidentally, ultra vires does not mean "outside the law". It means "outside one's jurisdiction, beyond the scope of one s power or authority". And we may ask, who is the Federal Court to say what is beyond the jurisdiction of the Speaker when the supreme law of the country says that "the validity of any proceedings in the Legislative Assembly of any State shall not be questioned in any court".

He was born October 12, 1944 in Batu Gajah, Perak. He had his early education at Sultan Yusof School, Batu Gajah and Anderson School, Ipoh. He was called to the Bar of Inner Temple, London in 1971 and obtained his Bachelor of Laws Degree from the University of London as an external student in 1979. He is married to Dr Mary with two children, Dr Juliana Sharmini and Alan John.


Ulasan GB

Tiga sudah pergi. Mohtar Abdullah, Abd Wahab Patail dan Augustine Paul,
Dua lagi: Abdul Gani Patail dan Musa Hassan.

Posted: 02 Jan 2010 02:23 AM PST
Posted: 02 Jan 2010 02:22 AM PST
Thumbelina - Kuda Terkecil Di Dunia
Posted: 02 Jan 2010 02:21 AM PST
Thumbelina (kiri) bersaiz kerdil berbanding kuda yang lain.


IA mungkin bersaiz kecil. Ia hanya berketinggian 17 inci (0.4318 meter) dan seberat 60 paun (22.39 kilogram).

Bagaimanapun, ia tetap seekor kuda kerdil yang cantik.

Thumbelina diiktiraf secara rasmi sebagai kuda terkecil di dunia oleh Guinness Book of Records pada tahun 2006 ketika ia berumur lima tahun.

Thumbelina tidak mungkin mampu menjadi juara kuda lompat kerana ia terlalu kecil hingga sukar melompat melepasi sebuah baldi.

Kuda terkecil ini dilahirkan di sebuah ladang ternakan dan kacukan 'kuda kerdil' di St. Louis, Amerika Syarikat. Ia dimiliki sepasang suami isteri.

Pada kebiasaannya, kuda kerdil sedemikian mencapai berat 250 lb (113.4 kilogram) dan tinggi 34 inci (0.8636 meter) apabila besar nanti.

Sejak Thumbelina dilahirkan, jelas sekali ia tidak dapat mencapai ukuran berat dan tinggi sebegitu.

Ketika dilahirkan, ia baru seberat 8 lb (3.629 kg). Akhirnya apabila ia besar, ia cuma seberat 60 lb (27.22 kg).

Thumbelina suka bermain dengan anjing-anjing spesis cockel spaneil berbanding dengan kuda-kuda lain.
Nuffnang Friso Family Day Out: Tony Pua and Najib were there!
Posted: 02 Jan 2010 05:16 AM PST
Thanks to mommy whose post entitled us to attend this event for
the second time
.

Janson having fun!


In the gym: Janson 'doing his thing' while most kids joined the song-and-movement activity.

Managed to meet and greet Tony Pua who was seated at the cafe on my way to the loo. 'Tony Pua!' I called him. He looked at me and smiled. Obviously, he didn't know me. So, I just said, 'Good to see a MP here.' He smiled.
The doting dad, Tony Pua with his eight-month-old son.
Then, during lunch, Najib was next to me!
Thankfully, he was not Najib-Altantuya!
FLASHBACK
:
Nuffnang Friso Family Day Out @ Kizsports & Gym 1U
on November 29, 2008.
This posting includes an audio/video/photo media file: Download Now
Posted: 02 Jan 2010 12:51 AM PST
siang td umah akak ade buat baca yasin..buat makan2 skit ahli keluarga ngan geng marhaban mak akak...ape lagi acara battle of marhaban lah kat umah akak td..tunjuk skill...
so menunya
1) masak lemak ayam dengan nangka
2) masak rambal goreng (yang cam pur tempe, kentang n bagai2 tu) masakan jawa
3) kerabu pucuk paku n kerabu mangga
4) pajeri nenas
entah ape thah lagi..ade aku kesah..mak akak yang masak....banyak gak lah..lebih kurang 11 jenis cam tu...
semalam mak akak cakap ari ni buat lepas asar...so balik keje akak pun bergegas balik...
rupanya dah buat kul 11 pagi....akak tengah keje lah gamaknya td...
lepas tu abang akak ade rakam guna handy cam....
yang tuhan..kawan2 mak akak makan cam pirana..mak akak cakap diorang berebut2....
akak mmg dah tau dah..dulu mase buat makan2 kat umah akak tu cam tu lah gak..makcik2 tua tu makan cam pirana..
tp yang penting tengah makan cam pirana tu..akak lalu semua stop makan dok tengok akak lalu...
" ko kenape x pernah tengok pondan..ap;e lagi training lah anak cucu korang jadi pondan..."
lepas akak lalu je sambung makan macam pirana..yang penting siap ade bawak tupperware mintak bungkus..hanjeng ke tidak...
tapi akak sonok cam tu..biar abis makanan tu..x lah kita membasir nak buang...yer dak?
selama ni akak ingat budak je kalau nampak makanan serbu cam pirana..ni kategori nenek orang pun sama...motip berebut2?
aku syak umah ko x de makanan....
..
Posted: 02 Jan 2010 01:36 AM PST
At least 45 people have over the last two days have died in landslides and floods in the Brazilian state of Rio de Janeiro. The authorities feared that more deaths may be required when more persistent rain is expected according to weather forecasts.

On Friday, found
22 people dead on the island of Ilha Grande 30 kilometers from the seaside resort of Angra dos Reis, one of Brazil's top tourist destinations. There was a small hotel and surrounding houses collapsed under the civil defense, writes TT. Another 15 bodies were found later floating near the island.
This after a 300 meter wide lermassa fell from a cliff as a result of recent days, heavy rains.
The mud was raging over the resort shortly after that many guests have returned to their rooms after a New Year party, writes Sky News.
TV images showed Pousada Sankay and homes buried under lermassor. Rescue Groups supported by helicopters and navy ships were struggling to get to the area.
- Rescue Groups told us that there is so much mud and water, where as, together with the fact that the place is very difficult to obtain, forcing them to almost remove the clay by hand without the use of heavier equipment, "said a spokeswoman for the civil defense.
Seaside resort can only reached by boat and had the time of the accident a total of 50 guests, says Sky.
The last heavy rainfall induced landslides and floods that killed 19 people across the state. 350 people in Rio de Janeiro's poor Zona Norte have also been left homeless after their houses swept away by the rain and mud, writes CNN.
Brazilian meteorologists say that it will continue to rain in the area.
Isu Zambry Pengganas : PKR Sedia Hadapi Zambry Di Mahkamah
Posted: 02 Jan 2010 01:38 AM PST
P
arti Keadilan Rakyat (PKR) mempertahankan kesahihan laporan akhbar terbitannya, Suara Keadilan yang menyiarkan berita bahawa Menteri Besar Perak, Datuk Seri Dr Zambry Abdul Kadir ditahan pihak berkuasa Amerika Syarikat (AS) ketika mahu memasuki negara itu baru-baru ini.
Pengarah Komunikasi PKR, Jonson Chong (gambar) berkata, pihaknya sedia berdepan dengan Menteri Besar itu di mahkamah bagi menyelesaikan mengenai perkara tersebut.
"Saya sudah periksa dengan pihak editorial Suara Keadilan, mereka mempertahankan maklumat yang diperoleh daripada sumber berhubung isu berkenaan.

"Mereka tulis berdasarkan maklumat yang diberikan oleh sumber yang boleh dipercayai itu dan kalau beliau nak bawa perkara ini ke mahkamah kami tiada masalah,"
katanya kepada mStar Online di sini hari ini.
Jonson berkata demikian sebagai mengulas mengenai penafian Zambry berhubung laporan Suara Keadilan bahawa beliau ditahan pihak berkuasa AS ketika mahu memasuki negara itu untuk menyertai misi pelaburan kerajaan negeri selepas namanya ada dalam senarai pengganas dan kemudian diarah pulang.

Menteri Besar itu berkata laporan bahawa beliau ditahan di Lapangan Terbang Antarabangsa San Francisco adalah satu pembohongan besar oleh akhbar berkenaan dan tindakan mahkamah akan diambil kerana sudah hilang sabar dengan fitnah yang dilihat menghina serta mahu mencemarkan nama dan karier politiknya.

Mengulas lanjut, Jonson yang bertanggungjawab terhadap akhbar terbabit berkata, Zambry mempunyai hak untuk membawa perkara tersebut ke mahkamah.

"Kalau beliau nak saman itu haknya, kami sedia menghadapinya di mahkamah nanti.

"Tapi kami harapkan prosedur mahkamah yang betul-betul adil tanpa campur tangan politik," katanya.

Laporan mengenai berita itu disiarkan Suara Keadilan dalam keluaran Bil 213 (29 Disember 2009 - 5 Januari 2010) yang memetik sumber rapat dengan Pejabat Menteri Besar memberitahu bahawa Zambry terbang ke San Francisco pada 9 Disember lalu atas misi perdagangan dan pelaburan anjuran Lembaga Kemajuan Perindustrian Malaysia (Mida).

Selain itu ditanya siapakah sumber terdekat yang memberi maklumat berkenaan, Jonson berkata: "Perkara itu saya tak boleh dedahkan lagi pada peringkat ini." -MSTAR


Posted: 01 Jan 2010 11:00 PM PST
As i mentioned earlier, this year i was having the opportunities to get myself down to the base of the KLCC to view the so called splendid fireworks... errrr.... yup a
countdown gathering

Flashback Dec 31st 2008, i was taking fireworks pictures from my balcony and i consolidated into this clip...
Flashback Dec 31st 2009, We have a small blogger gathering to leap over to twenty ten... during our dinner, we were talking about what were we doing on Dec 31st 2008... hehehe... i told them i was taking picture on my balcony... but one of the blogger said there were no countdown on 2008 to 2009 in KL... later i asked them to check my picture on the net... :p
Anyway, it was a nice dinner on the whole despite of the hiccup before the dinner between us and the restaurant manger (will tell u more about this in the future post). After dinner we went around KLCC park to secure a nice spot for view the "splendid" fireworks display... Due to the amazing crowded crowd in the KLCC park, we decided to walk away from the center of the crowd and settle @ the road near Isetan. This was the first time i sitting like that...
Picture taken by Jerry, copy from Medie007
When we sat there, we saw the wave of people kept walking towards the KLCC park direction... I got two snapshots using my Canon Powershots.. you must be wondering where is my Nikon D70... hehehe... i was too lazy to bring my camera and tripod. Tough to take care my baby... :p
Ten, Nine, Eight... Three, Two, One... Happy New Year... We hardly could heard the countdown and suddenly what we heard was people scream followed by the fireworks...
Damn! My battery gone off after 50 sec of recording... I didn't have any backup... i have no choice but to switch the recording from the camera to TZ's memory... Unfortunately, i could not show what has been captured in TZ memory over this post... if not it will be interesting... Anyway, it was a great countdown 2010 with my fellow bloggers.
Dec 31st 2010, ***blank*** (will fill in the blank later), wanna to find out what would be filled in this blank? Stay tune for a year eh~
Happy Twenty Ten
very big thanks for the blogger that organize this event
This posting includes an audio/video/photo media file: Download Now
DAP Selar SPRM Berhubung Laporan Polis Terhadap Dr Pornthip
Posted: 01 Jan 2010 11:40 PM PST
D
AP hari ini menyelar Suruhanjaya Pencegahan Rasuah Malaysia (SPRM) kerana membuat laporan polis terhadap pakar patalogi Thailand, Dr Pornthip Rojanasunand.
Setiausaha Agungnya, Lim Guan Eng,berkata ini adalah pertama kali dalam sejarah Malaysia tuduhan dilemparkan terhadap seorang pakar patalogi kerana menjalankan tugasnya.
"Saya terkejut apabila mendapat tahu SPRM membuat laporan polis terhadap Dr Pornthip yang hanya berada di sini untuk menjalankan tugas bagi mencari kebenaran," katanya kepada pemberita selepas melancarkan kempen "Tiada Beg Plastik pada Isnin, Selasa dan Rabu" di Komtar di sini hari ini.
Semalam, dua pegawai SPRM membuat laporan polis di ibu pejabat polis daerah Shah Alam terhadap akhbar tabloid "Suara Keadilan" dan Dr Pornthip berhubung satu artikel yang mendakwa kononnya pakar patalogi itu telah mengesahkan punca kematian setiausaha politik, Teoh Beng Hock, yang telah disoal siasat oleh SPRM, adalah dibunuh.
Lim berkata tindakan SPRM itu akan dilihat sebagai usaha memberikan tekanan terhadap pakar patalogi itu bagi menyembunyikan kebenaran.

Pada 16 Julai tahun lalu, Teoh, 30, setiausaha politik kepada Exco Selangor Ean Yong Hian Wah, ditemui mati di tingkat lima, Plaza Masalam di Shah Alam, Selangor selepas memberikan kenyataan sebagai saksi berhubung penyalahgunaan peruntukan kerajaan oleh wakil rakyat di Selangor, di pejabat SPRM Selangor yang terletak di tingkat 14, bangunan yang sama.

Inkues mengenai punca kematiannya sedang berlangsung di Mahkamah Koroner. -Bernama


Why Don't Ask the EAST MALAYSIANS??????
Posted: 01 Jan 2010 09:44 PM PST
If you ask my opinion, whether we are allowed using that ''term'' or not, I have no problem with it. As long as you just leave us behind without disturbing my religion, I'm ok with anything. To those hooo haaa about the court decision, please don't ACCUSE WE ARE TRYING TO CONVERT YOU. ASK THE SARAWAKIAN MALAYS IF WE EVER TRYING TO CONVERT THEM!
Tell you the truth, Sarawak is ''technically'' a Christian state. Actually more than half (the gov statistic says it's only around 40%), but the truth is, it's more than 50-60% are Christian (with Catholics are the majority). So, please, the CATHOLIC CHURCH, NEVER and NEVER once in a lifetime trying to convert the MALAYS. ASK ANY SARAWAKIAN MALAYS. We respect the Muslim communities. If any Malay converted, that's from their own decision,not from the church. We never give them the Holy Water (some people accused us this) to drink because Holy water is not meant for drinking (don't be too stupid and crazy lar).
Please stop this nonsense. And it has nothing to do by Freemason ka, Jews ka, or ''usaha dakyah Kristianisasi''. Don't be sooooooooooooo narrow-minded, please go out and open you brain.
Don't make your own theories about other people's religions without any proofs.
Why these people never ask the EAST MALAYSIANS about the issues?
Because this issue more related to the EAST MALAYSIANS? Should we the East Malaysians ''divorcing'' the Malaya? I think we should. They just mengganggu ketenteraman awam saja. And we also hate you,technically. Especially the EXTREMIST and holier-than-thou people.
This ''term'' is used mostly in East Malaysia, the natives of these two states, SARAWAK and SABAH.
p/s: That's why I prefer if we don't use the ''term''. Rather than kena tuduh sebarangan. If I don't use it, doesn't mean my faith is very shallow. Please lah!
Isu 800 juta : PAS Jadi Mangsa - TGNA
Posted: 01 Jan 2010 08:25 PM PST
M
enteri Besar Kelantan, Datuk Nik Abdul Aziz Nik Mat menyifatkan tindakan mahkamah mengarahkan Kerajaan Negeri membayar ganti rugi kira-kira RM800 juta disebabkan kelemahan Barisan Nasional (BN) ketika memerintah Kelantan.
Beliau, yang juga Mursyidul Am Pas berkata, keputusan mahkamah itu membuktikan BN tidak upaya tadbir negeri hingga menyebabkan kerajaan pimpinan Pas terpaksa menanggung segala masalah.
"Orang lain buang sampah, kita kena sapu. Ini penyakit bagi jaga negeri kepada orang yang tidak pandai (memerintah)," katanya semasa menyampaikan kuliah Jumaatnya di sini, semalam.
Beliau mengulas keputusan Mahkamah Tinggi Kota Bharu, Rabu lalu, yang mengarahkan Kerajaan Negeri membayar RM800 juta kepada Timbermine kerana melanggar perjanjian. Jumlah ganti rugi titu dikatakan tertinggi dalam kes saman sivil negara ini.
Nik Aziz berkata, beliau sedar isu itu pernah dibangkitkan dengan menyatakan Pas sudah menjual negeri kepada Singapura.

Namun, katanya, ketika parti itu mendapat kuasa dari rakyat, mereka juga tidak menyelesaikan isu itu hingga menyebabkan Kerajaan Negeri disaman.

"Waktu itu, saya balik dari Mesir pada 1962 dan 1967, saya masuk Pas dan bertanding. Ketika itu timbul cerita Pas Kelantan gadai negeri kepada Singapura. Ini cerita disebarkan sekitar 1970-an,

"Cerita ketika itu timbul Pas gadai kepada tauke Singapura (syarikat) Timbermine, mereka (BN) kata nak tebus balik jika undi (BN), kalu tak undi akan digadai selamanya.

"Benda ini masuk dalam kepala rakyat. Mereka yang melakukannya setengahnya sudah mati. Akhirnya undilah (menang) kita sangka tebus dah, tapi tidak lagi. Buktinya kita kena bayar RM800 juta, mereka tipu, ni wang ihsan nak tipu pula," katanya. -SH


A Case for The Removal of Subsidies
Posted: 01 Jan 2010 08:32 PM PST
I generally agree with the Government's move to reduce the subsidy on sugar and remove it from white bread. I was also happy (although it also hit my pocket) that the Government reduced the subsidies on petrol.
Generally subsidies make us have a false sense of economic security and well being. It also gives us a false inflation indicator as the index is calculated based on the subsidised price and not the actual market price and cost. We then think we have more money in our pockets whilst in all fairness, our purchasing power has gone down. Because of subsidised pricing and this false sense of security, we tend to be clumsy on our spending and maybe even consume more, which in turn chalks up a higher subsidy bill for the Government and taxpayers.
Subsidies are also a lot like burnt money. They tend not to have a high multiplier effect on the economy but is just given to the supplier direct. For example, Malaysia's subsidy bills runs up to approximately RM25 – RM30 billion. Imagine what the nation can do in terms of development, economic stimulus packages and so on if we have that much money in the nation's pocket instead of it being burnt money.
So,in general, subsidies are bad for the economy in the long run. The gradual removal of subsidies, especially to the rich must be implemented and welcomed. For example, why should a person who can afford to buy a luxurious huge oil guzzler of 3.0 litres or more, be given the same amount of subsidy per litre petrol as a person driving a 1.6litre. More so the oil guzzler might have a 120l capacity tank compared to the smaller car which has a 70l capacity tank. In this regard, obviously, the Government subsidy on petrol is being enjoyed by the wrong group.
However, in reality, the Government still needs to subsidise for the poor and the needy, especially on basic and essential items like rice, sugar and so on. Certain economic activities like padi planting, farming, fishing and so on also must be subsidised. These are all part of the overall "Food Security Programme" for the country. It is better to subsidise these activities and ensure domestic production of these food types rather than import from outside and be exposed to the whims and fancies of foreign country suppliers.
The removal of subsidies should be done gradually and smartly. Agreed that this will be an unpopular move politically but it must be done to ensure the country's competitiveness and survival in the long run. The Government must clearly explain and justify to the rakyat the importance and the effects of the removal of these subsidies. At the same time, the Government must clearly show where all the money saved as a result of the removal of the subsides go to. A case in question is the reduction of the petrol subsidy. The Government declared that it would save RM4billion which would be used to improve transport facilities and so on. Even if the ensuing world petrol price hike had wiped out the total RM4b savings, this must be explained clearly and in detail to the Rakyat instead of a one off remark. The same goes for the savings for sugar, white bread subsidies and other subsidies in the future.
Though the Government means well, lack of communication and explanation will lead to confusion and speculation. The Rakyat will think that there is corruption and leakages in the Government machinery which is a worse political death knell than the removal of subsides for the rich initially.
Remove certain subsidies and re-strategise on certain other subsidies to ensure that the subsidies reach the right target group. At the same time, the Government machinery must be improved to ensure there is no abuse or wastage on these subsidies.
Tell the rakyat clearly where the savings from the removal of subsidies have gone to.
Ahmad Ikmal Ismail
Vice UMNO Division Chief Jerai
(sent this article to the media)