---
Twitter Weekly Updates for 2010-01-03
Posted: 03 Jan 2010 07:59 AM PST
Christmas Celebrationg for the Elderly at Rumah Charis
Posted: 03 Jan 2010 09:30 AM PST
I am kind of back to Leo Club activities after being hiatus for many many months because of very stressful SPM examination. Although I've been retired from the post of First Vice President of the club, yet I still enjoy their activities and outings.
Boon Yan, the co-organizer.
I was in the Leo Club of Chung Ling High School, my name is still in their name list and I will be moving to a new Leo Club which is for those above 18 years old. Anyhow, I still like my old Leo Club of Chung Ling High School, all of the juniors are friendly and funny.
Me with the Japanese Youth Exchange student and Chien Ming.
Talking back about the recent activity that happened on the Christmas week, the Leo Clubs organized a Christmas visit to an old folks home far away in Relau, the name is Rumah Charis.
I went there once early last last year but that time was on a chartered bus and this time I was on my own. I tried to Google Maps the place but I can't find it. So with a little image left in my mind, I tried to feel my way around when I am at Relau. It's actually not very hard to go afterall and the Google Maps need to be updated.
Tict Chyn.
Stanley.
We have got our in-house santa class and santa girl with us that day, they gave out little kids to the elderly and keep saying "Hohoho, Merry Christmas", that's the only thing they said.
We also have our in-house beatboxer, Wallace who is only 17 years old and can beatbox like pro. Very cool.
We sang Christmas song, prepared some food for their tea time and had some entertaining games for them. The games were like mini bowling with bottles and a ball and puzzle games.
Wan Pei's cool poses.
Washing the plates.
I wonder did our visit does good for them or not. They are probably been dumped by their family at there, looking at their face, it looked like they have not been visited by people for a long time too. Our visit may made them miss home. Hope they had fun. =D
Posted: 03 Jan 2010 07:40 AM PST
Q & A on a Sunday
with Sasha Mohammed
Sunday, January 3rd 2010
PASSED THAT STAGE: Kamla Persad-Bissessar

Kamla Persad-Bissessar is convinced that come January 24, she will be elected the new leader of the Opposition United National Congress (UNC). The Siparia MP and UNC Deputy Political Leader took time out of her busy campaign and holiday festivities last week to talk with CCN's Senior Multi-media Investigative journalist, Sasha Mohammed.

Q: Do you believe in New Year resolutions? Did you make any?

A: Yes. My New year resolution is the same as the one I made weeks ago when I decide to enter the contest for Leadership of the UNC. A Resolution for Revolution- to be the best leader of the UNC and the best Prime Minister of Trinidad and Tobago

Revolution?

Revolution meaning turning around. T&T needs a turn around, a change in direction. Cosmetic changes, changing of the guards, changing of the messenger without changing the message and holding on to the status quo are not options. We need revolutionary change. Slowing down or stopping is not enough, we must change direction and turn in the forward direction. We must revolve or we will dissolve. We need revolutionary change now.

That sounds like 'gun talk' to me. Now that the holidays are over and we can imagine that the campaigning for the January 24 UNC internal elections shifts into high gear, are you ready? Do you have a strategy?

I have been ready from the day I made the decision to enter this race. And yes I have a strategy. But other than telling you that my campaign will not indulge in mudslinging, the strategy stays with my campaign team.

In the recent weeks, there were stories in the media about various MPs supporting current political leader Basdeo Panday by putting their names and signatures to letters stating so. Also there were reports that the Women's Arm was also supporting Mr Panday. What do you make of this?

With regard to the endorsement by the MPs and Senators, I have already issued a statement on that and I stand by that. The essence of that statement is that 15 legislators alone won't determine the result. I have faith in our members and they will elect me. And remember Senator Lyndira Oudit didn't sign that statement and she is supporting me. On the Women's Arm matter, I have now discovered that the statement to which you refer was not a bona fide decision of the women's executive. Four of the seven executive members are saying they don't know anything about that document and are supporting me.

But it goes further than that, you must admit. Do you believe, based on the MPs public endorsement of Mr Panday, that if you win, you are in for tough times in an executive/Parliamentary team stacked with Panday loyalists? Already, people like Dr Roodal Moonilal have said in news report that you will not have their support for Opposition Leader. What happens if there's a repeat of the Dookeran faction scenario? Will you form a new party?

It's part of their (the Panday team's) strategy to win. Unfortunately whoever is managing that aspect of the campaign didn't expect people to stand up for their rights and beliefs. Look at what happened with Senator Lyndira Oudit and the members of the Women's Arm executive (who broke ranks and came out publicly in support of Persad-Bissessar). In every campaign people take sides. That's their right. In any event, those are expressions from arms of the Party. But (sic) it will the body of the Party, the over 40,000 persons who will decide on January 24.

I trust the people and I am confident that they will elect me leader. I am sure that once the election is over we will all work together to focus on dealing with our internal issues and on getting ready to win a general election. The people in our party are there to serve the nation. I have every confidence that when I win this election we will all get together as a party and deal with our problems. That's the way we have done it in the past. And then we'll deal with the national problems, first of which is to get Manning to call an election and we'll win that election because the people are fed up with the Manning regime. The issue of forming a party is totally irrelevant because you are assuming I will not win. I have no time to dwell on that because it is irrelevant.

But how do you respond to statements by political analysts like Dr Selwyn Ryan (Sunday Express, December 27) where he stated that if you win, you may not be allowed to lead the party? You being ostracised by the rest of the party is a real possibility. Further, do you honestly believe you can bridge the race gap that continues to be the obstacle for the UNC getting into Government?

I noted that in that column Dr Ryan raised a number of questions about the future of politics in T&T without Mr Panday, which is almost an acknowledgement that I will win. We cannot predict the future.

However, what I do know is this: we have passed the stage of ethnic polarisation in our politics.

Of course there are allegiances based on race and that will never disappear entirely. But the post-70s generation has changed. This is the 21st century.

The electorate is more alert and more demanding. Technology has transformed political communication, so I don't expect a fragmented opposition like that. The United Labour Front in 1976 changed the political paradigm. Look at where we are today. People want a united opposition and that is why they encouraged me to run. I want a united Opposition and I know that all of us who are deeply concerned about the state of our nation will get together to vote the PNM out of office. I sincerely believe I am the only leader today who can undertake that task and win. I agree – this is not an easy task, but in the end I will win. This belief will guide all my actions post January 24, but for now, I'm concentrating on winning. I'll deal with the hiccups when they arise but I repeat- I will not engage in speculation, however real they may seem.

On that note, how do you respond to confirmed reports that Manning's right hand man – Jerry Narace – met with one of Panday's right hand men – Vasant Bharath – at Bharath's home on Christmas Day? Do you think there is a 'Manday Accord' between the leaders of the PNM and UNC to prevent you from getting into power? If so how do you propose to deal with this powerful obstacle?

There are three separate issues that you raise. First about the campaign and rumours of deals. We can't let fear guide us in this battle. I have faith in our members and they are the ones who will decide who will be the next leader of the UNC. Of course an incumbent in such a situation has certain advantages, but people lose elections, you know, even powerful people. And that's because there is no force that is mightier than the will of the people. I believe in the people and I trust their judgment.

I am not bothered by the meeting between Mr Narace and Mr Bharath. First of all both of them used to be business associates and they both said they met to share drinks as friends.

Let's give them the benefit of the doubt…their meeting is not one that causes me any anxieties or concerns. If they were talking about deals, then it is a sign of desperation and a sign of strength in my campaign.

And with respect to the so called Manday deal, that is all speculation and ole' talk for now. First things first. We have an election on January 24 which I will win. Then we go on to rebuild our party and get back into government.

Politicians are undermined by three standard tactics-accusations of alcoholism, promiscuity and corruption. How do you believe that these allegations, which are reportedly being done on the ground against you already, will affect your image? Do you think you can survive? What are the concerns for family and personal repercussions?

I don't subscribe to your political theory. What I know is that people use propaganda in a variety of ways to try to defeat an opponent. I expect people will try to derail my campaign in the same way. But let me make it clear that I am an honest, dedicated person who wants a better Trinidad and Tobago for all of us. I have started by running for the leadership of our party so I could restructure the UNC to win an election. Some people object to that because I am a woman; some of them because they believe it is their divine right to lead the UNC and others because they have private agendas. I have faith and confidence in our members who are the ones who will decide on January 24 who will be the new leader of the UNC and the next prime minister. But let me say that I do not think that my colleagues of the Party of the Rising Sun are capable of descending to the low levels of gutter politics or to reach for cesspool weaponry. They are men with values and families and they will not risk tarnishing the image of our Party

It's not my political theory-it's a political fact. In fact, Dr Ryan in his column said: 'I am also told that there is an entente discordiale between Panday and Ramesh Maharaj designed to block Bissessar at all costs. It is likewise being said that Manning is doing what he can to help Panday retain control of the UNC. All the talk about CEPEP ghost gangs may be just rumour, but it is a fact that all three men have a vested interest in her defeat.' So my question is, what if the men in your party surprise you and resort to this 'dirty ground campaign', what will you do?

Everybody seems to assume there will be a nasty campaign. Perhaps there will be but not from the Kamla campaign. We are more constructive than that. I have survived. I am a survivor. Women are survivors. We are strong, we are invincible. My family is fully behind me. But if I may use the war analogy, in battle you do have a choice of bullets, you will be struck down or injured by the choice of weapons of the opponents. That is the decision of others. Those are moral choices. Let me reiterate that I will not descend to those levels and will not be distracted from the noble cause of saving the nation. My job is to prevent or clean up dirt, not to produce and spread it. The slings and arrows, dirt and slime will not stop me and will not stop the People's Revolution. Political pollution will not halt the people's revolution.

To take up on your point about women being strong – what about the gender factor in this elections. So far one female Senator (Lyndira Oudit) has publicly endorsed you.

As Dr Ryan in his column notes 'Kamla's current momentum is sustained by the gender factor. Many women believe that the time has come to cash in the dividends which they have earned. They are next in the queue.'

Do you believe you have the winning edge as a woman? In 2007, in the famous 'No Woman, No Cry speech', you spoke of the pains of being in politics as a woman. Do you think the tide has finally turned and now it's the Time for Woman?

I am sure that I will get the support of many women, but not only because of my gender. The support of the Women's Arm of party is a clear indication that women are paying attention. I don't believe that my gender is what is giving me the edge; on the contrary I believe it is the fact that people – members of our party in particular are saying it is time to get out of opposition and they see me as the person who can do it.

And let me make it clear that I don't see myself as a female leader as opposed to a male leader. I am a leader and leaders have certain characteristics, regardless of gender.

Tell me a bit about what inspired that historic 'No Woman No Cry' speech, which one can trace back as the true initial declaration of your independence from the status of 'bridesmaid'.

There were many people who felt then that I could lead the party to victory; others didn't and as a loyal member of the party I accepted the verdict and remained loyal. I did not betray the party as Dr Ryan pointed out. I stood in the sea of men and fought a noble fight. Now people are looking again and saying 'perhaps we made a mistake in 2007, let's not do it again'.

On the topic of strange endorsements-there's the strange issue of Jack Warner's complete about turn in his endorsement of you. Is he financing you?

No. As I've said before, my financing comes from friends, family and supporters.

How do you honestly feel about his endorsement? I detected aloofness, caution and even skepticism in your initial response.

That's unfortunately is not how I see it. I said I welcome his endorsement and am happy for the support from Chaguanas West. And I wished him well in his campaign.

But now you have to deal with charges by people like Ramesh Maharaj that you are a COP/PNM agent?

I don't think I need to respond to every bit of propaganda from people who want to distract me from my goal. The record is clear. I have always been loyal to my party. Check your records and you'll see my loyalty. You'll also see Mr Maharaj conspiring with Manning and the PNM to overthrow our UNC government. The records are there.

How do you respond to charges of not having a track record of leadership, of not being consistent as someone who one day endorses Panday and then the other jumps ship? After all, there were many who were willing to wager that there was no way that you would ever dream of running against Mr. Panday? What changed your mind? Why did you do it?

There are a few things here that require clarity. First of all, I am not running against Mr. Panday I am running with him. We all want to see who is the people's choice. We are all engaged in a democratic process. I don't want Kamla's voice to prevail, I want the People's voice to come out loud and clear. Vox populei,Vox Dei. This is democracy at work. I am not fighting anyone. That is why I decided to run, it was in response to the call by the people. I have also told you earlier that I am well positioned to bring people together to defeat Mr Manning and usher the new era of revolutionary change to turn things around. My track record is there inside and outside of parliament for all to see; people will judge that record on January 24. And I've said before – this is not about Mr Panday but about the country.

To come back to your relationship with Mr Panday, I must ask -Why challenge your mentor who you said has been the best Prime Minister? Why not honour him and your Parliamentary colleagues by withdrawing from the race?

I believe that I have already addressed this point but let me go a bit further. Love, honour, sentimentalities, gratitude and nostalgia for the good old days are important to all of us in our relationships. That's what's happening in some quarters. However, they are not the criteria for determining strategy for defeating the PNM and addressing the future. This is not about emotions, this is about pragmatism. This is about what it will take to succeed at the polls.

People in South Africa have feeling, gratitude and affection for Nelson Mandela but they would not impose on him the task of heavy lifting and routine political duties, they have an honoured place for him. That is how Elders are respected in all cultures.

But why you? Why not Ramesh Maharaj? Why not Basdeo Panday? Are they not well equipped and experienced leaders who can lead the UNC. Again I ask, why you?

The general ability to lead is not in question here. It is the ability to UNITE the Opposition forces. Lord Macaulay said 'one man may lead a horse to water but twenty cannot make him drink'. I believe that the horses are more likely to respond to me. Not only do I have the ability and potential to lead but I am already showing effectiveness as a magnet for unity. We want to win an election, not just to win affection.

You speak of new leadership-what are some key policies you would implement as a Prime Minister? Give me a brief Kamla manifesto.

One step at a time completes the longest journey. The focus today is on the leadership of the UNC. First I am going to win that campaign and then move on. You ask about policies. Policy is something that is not to be taken lightly. It requires careful consideration, consultation and so much more.

As a leader I have no intention of unilaterally outlining policy without consultations with my political colleagues, advisers and key stakeholders in this nation, including the so-called 'little people' who are too often ignored by policymakers. That will come at the appropriate time.

Well, then, what would be your highest priority after winning the UNC leadership?

I will immediately embark on a healing process within the Party to re-group and re-deploy our resources in a formation to defeat the PNM. The healing process and Unity project will not be confined to the Party or parties but will be expanded to embrace the Nation. Our revolution is for revolutionary change from a nation of stealing to a nation of healing.

What will this history books say about you in 100 years after this fight?

It's unlikely that any of us will be here to read them. But it really depends on who's writing the history.

The best way to start writing that history is for journalists to be fair and honest in reporting what's going on. That's all we ask. And leave the rest to the historians. If we get it right in the first place in the media, chances are the historians would also get it right. And you know what? I think they will say Kamla Persad-Bissessar was a great leader, a humanitarian, a person dedicated to service for her nation.

And they would say she made a bold move, became the first female Prime Minister of T&T and that she saved Trinidad and Tobago from ruin.

TRINIDAD & TOBAGO NEWS
Posted: 03 Jan 2010 06:34 AM PST
I got the following SMS from Mrs K on the last day of 2009…
"Salam..maaf mgangu kzah mula2 pdh terasa susah sbb harapkan gji abg duit deposit umh 500 nak byr abg dpt gji 10hb itupun gaji x sampai 5rts lori 2trip 140 shah bru kja gji ckt nk byr buat pasport saya x tau mcmana nk cri duit nk pjm kt siapa mula nk pndh"
First and foremost, I always need a bit more time than usual to comprehend text messages such as this. No comma, no fullstop… although this time I understood the SMS terms better.
Basically she was telling me her sad story about being short of cash. What she was trying to do was to borrow money from me.
I have told her before that I wouldn't be entertaining any requests from her to borrow money. We (Buddies) are already helping her with her children's educational needs; when Baby K had to do a heart surgery in IJN, we helped out with some pocket money during their stay in KL using our Welfare Fund. They can't expect us to be their financial provider for every single thing. Certain things they would have to find the solutions themselves. When will they ever learn? We're here to help them become independent, not dependent! It's not like they are totally helpless. Mr K is already able to work. Their eldest son has also recently started to work although I had recommended that he joined Giat Mara to enhance his skills.
What I advise them to do, for their own future, they never listen. Now they want to borrow money? NO WAY!
But no, this time I changed my tactic. I did not go into my leter mode. Instead, I went into my McDonno mode. ;-)
Well, I did tell her before that I wouldn't entertain any requests from her family to borrow money. So that was what I did. I didn't entertain her. I didn't even bother to reply her SMS. Make donno je lah…
Guess what? Maybe my tactic worked this time. Without even me having to say anything, yesterday another text message came from Mrs K…
"Kzah, minta maap anta msj aritu…"
I guess she could sense that I was getting pissed off. Of course I was pissed off. Yes, they don't earn much I agree, but I know many other people who earn much less and yet never tried to borrow money from anyone. People who are worse off, like Sofie for example, would just cope with whatever that she had.
Again, I didn't respond to this second message from Mrs K. From my past experience with this family, whenever I don't respond to their call for help, somehow they'd still manage.
What I regret is that they still don't seem to learn from past mistakes. The moment they get their hands on some cash, they'd spend like there's no tomorrow. They knew way in advance that they'd have to move out of their house by year end, yet they never made any plans for it, hoping that when the time comes, someone would somehow help them out. Yes, I do believe in tawakkal, but where's their ikhtiar which should come before that?
My hope right now is that their children will benefit from our Children Education Fund. With the schooling help that we're giving, I hope the children will strive to do well in their studies so that a better future awaits them. I don't want the younger children to end up like Shah, their eldest brother who not only failed miserably for his SPM, he's also passing the opportunity to study in Pusat Giat Mara to enhance his skills and knowledge in the automotive field. He wants to work NOW so he could start earning an income as soon as possible.
Shah has followed his friend to work in another state down south. And since he and his friend intend to work in the neighboring country down south, he's trying to save money to enable himself to pay for a passport.
Frankly, I doubt Shah's decision to work in another state would help the family in any way. He needs to pay for his own house rental and other living expenses. And mind you, without much to offer in qualification and experience, he's not earning much. Maybe all he wanted was to get out of the house and stay on his own.
Which is sad, really. I could see that Shah had the interest in the automotive field. When he was staying with his parents, sometimes his friends would come over to get him to repair their motorbikes. If only he'd spend just 6 months to attend Giat Mara's training (the family didn't need to pay for fees whatsoever… in fact the trainees would be getting a monthly allowance of RM200), he'd probably be able to earn more when he finishes his training, maybe even start his own bengkel motor.
But no, they never seem to think long term.
I do hope I'm wrong though. I still hope Shah will succeed and will be able to help his family out.
Posted: 03 Jan 2010 09:23 AM PST
I HAD a horrid Christmas last week.
It turned out to be my worst Yuletide celebration ever!
The nightmare began on Christmas Eve.
The first sign of a sword of Damocles looming over my head came in the form of some distressing news from a dear friend of mine, KB, and her sickly father.
KB was forced to cancel all her plans to rush and be with her dad's side when his regular caregiver abandoned the old man (who uses a wheelchair) to himself in his flat.
What was worse was that his caregivers – a newly-married couple – were their own relatives. They absconded their responsibilities to attend midnight Mass and party away late until daylight.
KB is an inspiration to me. She is a highly devoted person to her family and works hard to look after them in their flat.
Despite that, and having three other brothers who can easily care for their dad, the men refuse to take any responsibility.
They have no qualms about leaving their disabled dad unattended.
KB, who solely pays for dad's meals, care and medication – as well as the caregivers' salary – is now forced to drive about 120 kilometres to and fro daily to look into dad's needs.
I simply can't believe how uncaring some people can be to members of their own family.
Don't they realise that they, too, will get old one day and very possibly face the same fate by needing caregivers for themselves?
I am told that there are laws in Singapore that allow action to be taken against errant children for abandoning their elderly parents.
With the numbers of elderly citizens on the increase, Malaysia should adopt such laws too in order to protect our precious seniors – especially when they are disabled.
It is shocking that whilst we all take pride that we live in a caring country, something like this can happen right in front of our noses.
On Christmas day I received the bad news that a personal helper that I had been hoping to get was not turning up as expected.
But that was only the beginning of all the jinxes that was waiting to be unleashed on me with all its might.
I was halfway from my home in Petaling Jaya to Rawang to attend a Christmas lunch when my car developed engine trouble.
I managed to pull over to the side of the road. This was the second time that something like this had happened in a month.
However, the last time I was with one of my service dogs and didn't have to worry about complete strangers coming up to my car to "offer help".
This time though, I was alone with only my wheelchair in the car. And that, too, was way back in the car boot.
I was approached by three men within 10 minutes. They said they were from a nearby car repair shop and immediately spotted the trouble.
The first said he could settle my problem (considering that I was disabled) for a "super discount" price of RM280.00. The second quoted RM180.00 and the third, RM80.00. (I had only RM50.00 in my wallet.)
It was then that I decided to call the Automobile Association of Malaysia.
They arrived about 40 minutes later.
But upon getting down of his vehicle, the driver discovered that his towing equipment was out-of-order.
He called for another lorry which arrived 30 minutes later.
All that while I was rather disappointed that the AAM telephone operator did not think to call me back to ask if I was safe and comfortable especially when he knew full well that I was a disabled driver.
Does the AAM not train their operators on how to respond to disabled drivers' SOS calls; or do they just decide to treat everybody as able-bodied people?
Within moments my car was transported up into a huge lorry.
So there I was on Christmas day – on top of the world – peering down on the rest of the other vehicles passing by me as I was being towed back to my home in PJ.
Amazingly, in my mind I was also in high spirits.
That's chiefly because despite being stranded on the road alone in my car, I had many friends who called me up and told me to hang in there.
One of my good friends, Antony Leopold, who uses callipers and walking sticks, actually drove over all the way to meet me with his able-bodied wife whilst I was waiting for the tow truck.
As for Andrew Martin, my able-bodied best friend, he had me covered. He was at the mechanic's near my home to receive me – famished and tired – the moment the monstrous vehicle arrived.
All these are shining testimonials to the fact that I know that I'll be able to get by 2010 with a little help from all my friends.
Happy New Year everybody!
The End
PET+BLOGSPOT is the official online blog of the Malaysian Animal-Assisted Therapy for the Disabled and Elderly Association (Petpositive).
Our blog which was first established in October 2007 currently has more than 30,000 hits. Kindly take note that views expressed in this blog are not necessarily those of Petpositive.
You may also visit our Webpage by browsing: www.petpositive.com.my
Last Photos in 2009 – KL Bird Park
Posted: 03 Jan 2010 09:15 AM PST
As I am writing this it is a few minutes shy of midnight and by the time the entry is published it will the 4th of January 2010.
The first four days of the year was very sweet, beautiful and peaceful! I DIDN'T GO TO WORK! It was marvelous! I had been on leave since 30th Dec, so that is 5 whole days of waking up late every morning, making home cooked lunch for the family and the best thing is getting Miki attached to me like never before.
Anyway here are the last photos taken in 2009. Just like from the very first day when the kid was born onwards, all our activities are Miki-oriented. Otherwise, they are not very suitable to be written here hehe.
So we took Miki to KL Bird Park. The fee to enter this free flight concept is RM45 per person or RM15 for MyKad holders. Kiddos as big as Miki can come in for free.
Miki sat in his stroller and the first bird that greeted us is the park was this: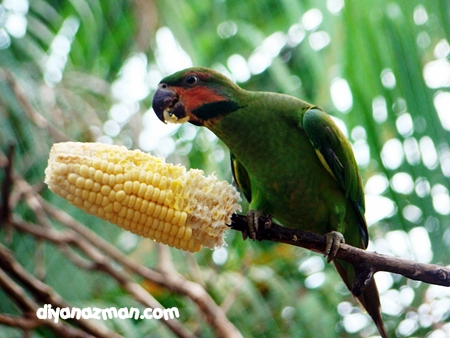 Aahh… Dadong-eating parrot!  What an attention grabber for Miki?! Oh by the way, our lil boy can pronounce jagong now.. no more cutie baby-talk dadong.

Now the Bird Park totally reminds me of JURASSIC PARK! Huge, exotic, colorful bird creatures are all over the place! Walking about, hopping around, flying over your head – leaving trails of droppings like rain of liquid pearls. Plop! plop! plop!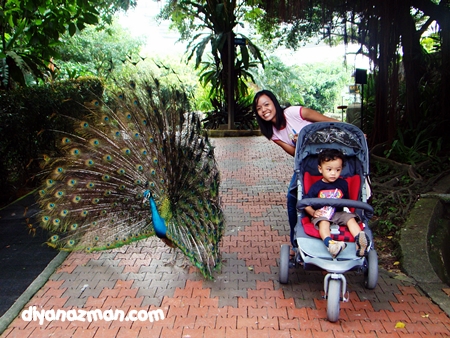 Owhh.. the droppings are not so bad really. It was a great place for kids to learn, now even a young woman like me have never had this close encounter with a peacock! They are magnificent creatures aren't they? And they were so many of them. Often blocking the red tiled path with their gorgeous tails!
Miki keeps telling his observation at the park until today – "Peacock tu kan… ekor dia kembang sangat!!" Cute!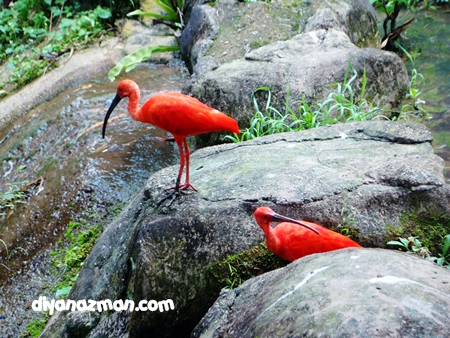 This ones are called Scarlet Ibis. What OTT birds they are!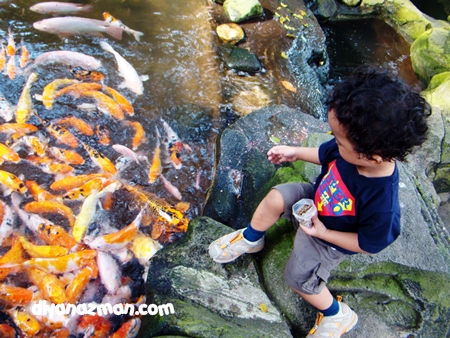 They had several fish ponds in the park and this one was the nicest. There was so many colorful koi in this one and we bought some fish food for Miki to feed them.
Once we opened the package, Miki took a couple of pellets and stuffed them inside his mouth. He thought they were his snacks. *slap forehead*
Anyway, they were thousands of birds  in the park including some really horny ones: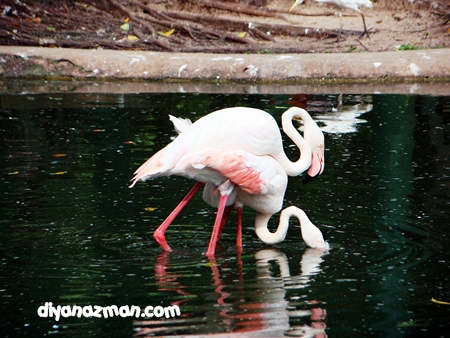 Oii! buat apa tuu?
Handsome one: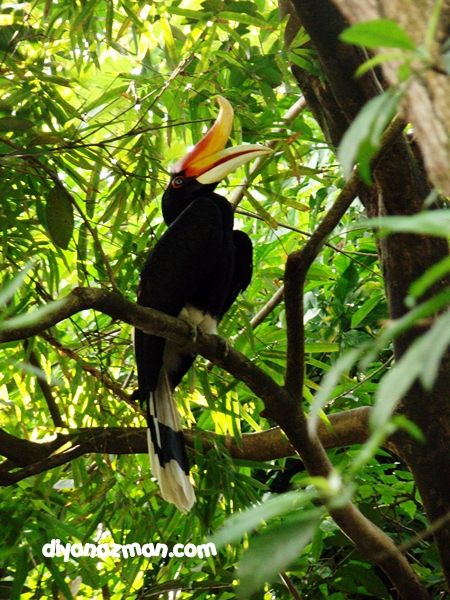 Rhinoceros Hornbill
Name I cannot remember ones: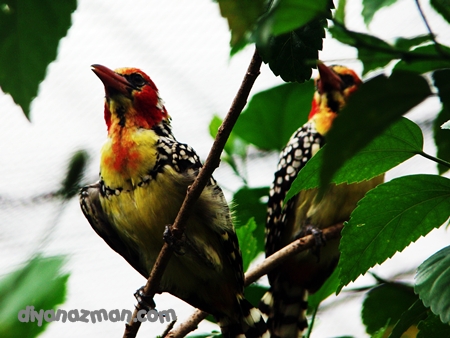 Here is Miki at the fowl nursery. Those chicks are really cute I can dip them in chocolate and swallow them whole. No lah! Of course not! I will get them slaughtered first, Halalan Toyyiba all the way ok?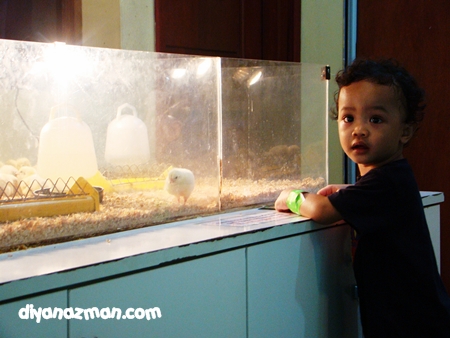 Anak ayam cute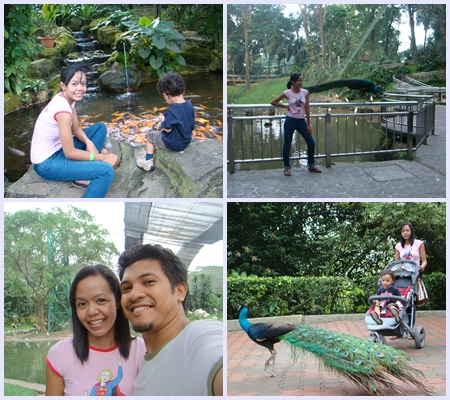 I really like my photo with Mr Peacock (top right). Can you see how big he was? Masak kari sedap tu. Anyway that's Azman and I in bottomleft photo, my hair originally was not that limp, I flattened them out because i was afraid some sparrow will make a nest out of my rambut gatal.
Azman didn't take any full length photo. He didn't feel very good about his toe. ( a pigoen pooped on it). Anyway that's how we look on the last dayof 2009. Let's revisit this post in 12 months. Owhh… when I said we, I meant myself, Azman, Miki and that stroller. Mclaren very good you know, they bird-shit  non stick wheel.
Happy new year everyone!
UMNO to NO: No sabotage but AN ACT OF GOD?
Posted: 03 Jan 2010 08:29 AM PST
No sabotage in Umno building
2010/01/03
KUALA LUMPUR: The missing letters from the word "Umno" atop its party headquarters at the Putra World Trade Centre (PWTC) is a result of poor maintenance and not an act of sabotage, said Umno information chief Datuk Ahmad Maslan.
He said the party secretariat and Putrade Property Management Sdn Bhd (Putrade), which is the management company of PWTC, had been informed of the "damage".
He added that swift action would be taken to replace the missing letters.
"I have advised Datuk Abdul Rauf Yusof and Putrade on the matter after receiving a text message from someone this morning.
"I will make sure that it will be fixed immediately."
Yesterday, blogger Ahirudin Atan of Rocky's Bru posted pictures of the Umno headquarters with only the "NO" and "UO" signs on the sides of the building.
The missing letters on top of the Putra World Trade Centre.


Some claimed on the blog that it was a sign of "the end of Umno" due to the "NO" sign.

Ahmad said it was just a coincidence that the sign formed such a word.




(

Source

: NST Online)

Posted: 03 Jan 2010 06:49 AM PST
A Happy New Year, 2010. I am writing this entry on January 3, and for some it is no longer a new year, it has been 3 days passed.
Many people would have new year resolutions but by the time the first week passed, new year resolutions are no longer new year resolutions and how many get the deserved follow-through for them to be fulfilled? I don't think that I ever had any resolutions to begin my new year. It is too short-termed and I choose to live my life as I think it should be, based on my mission in life. I do have a life mission and I do try to live my life based on that mission.
Several things are in store for 2010, the price of sugar is now increased due to the reduction of subsidy, not that that I care. I don't take too much sugar anyway.
The price of my ciggies are to increase, it had been been that way for a long long time and people still keep on buying. I wonder if people have a thing against smokers?
Liverpool started the new year with a positive note and I do hope they can sustain the results.
I bought a new mountain bike this evening and rode it from the shop in town back home and it's almost a 7 km ride. It took me less than an hour and had only one stop to buy a bottle of water and I rode in the rain and I love it... riding in the rain. I have 4 old mountain bikes that I am going to sell off to the scrap dealer.
Happy New Year!
visit my scribd - rutz.zainal
Nik Aziz: Non-Muslims can use 'Allah'
Posted: 03 Jan 2010 08:08 AM PST
Nik Aziz: Non-Muslims can use 'Allah'
By Mohd Zuharman
KOTA BARU, Jan 3 – PAS spiritual leader Datuk Nik Aziz Nik Mat has come out in support of the Catholic weekly Herald use of 'Allah' to describe the Christian God in the national language, saying it was permissible for those following the Abrahamic faith.
But the popular cleric expressed worry that the word "Allah" could be abused by certain quarters, echoing growing sentiment of Muslim Malaysians aghast at the Dec 31 High Court ruling that permitted its use.
"Its just a fear it can be abused. That's the worry," the Kelantan mentri besar said today when commenting on the landmark ruling.
Justice Datuk Lau Bee Lan said in her oral judgment that the Herald had a constitutional right to use the word, touching off a controversy that has led some Muslim groups to protest the ruling.
The government has said it will appeal against the ruling. A group has already started a Facebook group to get the government to reverse the ruling.
However, others including influential cleric and former Perlis mufti Dr Asri Zainal Abidin, have supported the ruling, saying all are encouraged to follow Allah.
Speaking to reporters after launching the state Women, Family and Health Development Secretariat, Nik Aziz said the authorities, such as scholars, should have a dialogue with the Christian clergy over the issue.
"This is so that there is no confusion among the society.
"In fact, Islamic philosophy itself can be spread through such events," he added.
The PAS Kelantan commissioner also said he was willing to attend such events if it was organised.
However, PAS Kelantan Council of Religious Scholars chief Datuk Mohammad Daud Iraqi declined to comment on the issue.
Instead, he said it was weaknesses in the government in monitoring the issue that has led to the controversy.
"This is not a new issue, it has gone on so long. The government should have looked specifically into the laws earlier on," he added.
A google search on 'allah christian middle east' yields many results. Below is one of them:
Allah is the name of the true One God in the Arabic language. In the Hebrew language His name is Eloh, Elohim for respect. It is well known that when a word is borrowed from one language to another, its spelling and pronunciation is often altered. It is, therefore, reasonable to say that Eloh and Allah are names of the same Deity of Abraham believed by the three monotheistic religions of Judaism, Christianity and Islam. Islam is the most rigorously monotheistic religion among the three dedicated to the worship of Allah, never seen by a human eye. (Source: it's Islam share knowledge)
Even though Muslims, Jews and Christians are of Abrahamic faith, Christianity as a religion differs greatly from Islam and Judaism, chiefly on the belief in Jesus Chirst as God and the Son of God.

Isu Kalimah Allah : Kecelaruan Di dalam PAS
Posted: 03 Jan 2010 05:17 AM PST
H
arakahdaily melaporkan PAS akan memanggil mesyuarat khas Lajnah Politik, iaitu lajnah paling berpengaruh dalam parti itu bagi membincangkan beberapa perkembangan terbaru termasuk isu penggunaan nama Allah oleh agama Kristian.
Setiausaha Agung PAS, Datuk Mustafa Ali berkata, mesyuarat itu akan diadakan malam esok di Pejabat Agung PAS, Jalan Raja Laut.
"Kita turut menjemput AJK PAS Pusat dalam mesyuarat khas ini," kata Mustafa kepada Harakahdaily.
Mesyuarat ini dijangka membincangkan secara mendalam keputusan Mahkamah Tinggi yang membenarkan majalah milik aktivis Kristian, Herald, untuk menggunakan nama Allah sebagai ganti 'God' dalam bahasa Inggeris.
Sejak keputusan itu dibuat, kelihatan pemimpin PAS tidak seragam pandangan mereka dalam isu ini.

Mesyuarat ini dijangka akan memberikan kata putus apakah pendirian bersama parti Islam itu dalam isu ini.

Anggota utama lajnah politik adalah pemimpin kanan PAS di samping beberapa pemimpin yang tidak berada dalam AJK PAS Pusat termasuk Khalid Samad, YDP PAS Shah Alam yang juga anggota Parlimen kawasan tersebut.



PAS arah Khalid Hentikan Kenyataan Tak Selari Dengan Parti

PAS mengarahkan Ahli Parlimen Shah Alam, Khalid Samad supaya berhenti daripada mengeluarkan sebarang kenyataan yang bertentangan dengan pendirian parti berhubung keputusan Mahkamah Tinggi Kuala Lumpur membenarkan majalah Herald-The Catholic Weekly menggunakan kalimah Allah dalam penerbitannya.

Naib Presiden PAS, Datuk Tuan Ibrahim Tuan Man berkata, Yang Dipertua PAS Shah Alam itu juga seharusnya lebih berhati-hati dalam mengeluarkan pandangannya bagi mengelakkan timbulnya kekeliruan di kalangan ahli dan juga masyarakat.

"Dalam isu ini saya fikir YB (Yang Berhormat) Khalid perlu lebih berhati-hati.

"Isu ini sangat sensitif, kalau kita tersalah memberi pandangan, impaknya sangat besar," katanya kepada mStar Online di sini hari ini.

Beliau berkata demikian sebagai mengulas mengenai perbalahan terbuka antara Khalid dan Ahli Parlimen Kulim-Bandar Baharu, Zulkifli Noordin berhubung keputusan kontroversi Mahkamah Tinggi itu.

Media hari ini melaporkan bahawa Zulkifli mendesak supaya Khalid keluar dari PAS dan menyertai parti lain termasuk DAP kerana menyokong keputusan tersebut.

Zulkifli juga mendakwa kenyataan Khalid itu telah merosakkan imej PAS sebagai parti yang memperjuangkan Islam.

Desakan Zulkifli itu dibuat sebagai respons kepada kenyataan awal Khalid yang dimuatkan dalam blognya iaitu Allah bukan Tuhan kepada orang Islam semata-mata tetapi Tuhan kepada seluruh alam semesta, termasuk orang bukan Islam dan Rasulullah tidak pernah menghalang penggunaan perkataan Allah oleh orang bukan Islam.

Katanya, al-Quran sendiri mempunyai banyak ayat yang menunjukkan bahawa orang bukan Islam, sama ada golongan Musyrikin, Yahudi mahu pun Nasrani menggunakan perkataan Allah apabila mereka memaksudkan Tuhan semesta alam.

Bagaimanapun Tuan Ibrahim yang juga Pengerusi Jawatankuasa Disiplin PAS beranggapan bahawa kenyataan Ahli Parlimen Shah Alam itu merupakan pandangan peribadinya dan tidak mewakili parti.

"Itu hanyalah pandangan peribadi beliau, bukan pandangan PAS secara keseluruhannya," katanya.

Ditanya sama ada pihaknya akan mengambil sebarang tindakan terhadap Khalid, Tuan Ibrahim berkata: "Saya fikir tak perlulah sampai nak ambil tindakan disiplin terhadap beliau.

"Kita dalam PAS sentiasa mengamalkan dasar terbuka apabila mengeluarkan pandangan, tapi dalam hal ini beliau bercakap mengikut pandangannya berdasarkan hukum ciptaan iaitu tuhan kepada semua manusia ialah Allah."

Mengulas sama ada tindakan Khalid itu akan menjatuhkan imej PAS kerana masyarakat melihat wujudnya perselisihan pandangan di kalangan pemimpin parti itu terutamanya dalam isu-isu sensitif, Tuan Ibrahim berkata, pihaknya sememangnya tidak menyekat kebebasan bersuara.

"Kita tak sekat ahli-ahli PAS yang ramai ini untuk memberi pandangan, tapi pandangan yang menjadi dasar PAS adalah datang dari enam peringkat tertinggi dalam parti iaitu Mursyidul Am dan timbalannya, Presiden dan timbalannya, Setiausaha Agung serta Ketua Penerangan.

"Kenyataan mereka ini kita anggap sebagai kenyataan rasmi parti," katanya.

Tambah Tuan Ibrahim lagi, pendirian PAS adalah jelas bahawa parti itu sememangnya membantah kebenaran yang diberikan oleh Mahkamah Tinggi itu berhubung penggunakan kalimah Allah.

"PAS membantah sekeras-kerasnya mengenai perkara ini dan kami menyokong semua usaha termasuk rayuan yang akan dilakukan Jabatan Perdana Menteri (JPM) dan Kementerian Dalam Negeri (KDN) terhadap keputusan itu," katanya. -MSTAR

PAS kecewa Mahkamah benarkan perkataan Allah dalam Mingguan Herald The Catholic

Parti Islam Semalaysia (PAS) kecewa dengan keputusan Mahkamah Tinggi Kuala Lumpur yang membenarkan akhbar mingguan Herald-The Catholic Weekly menggunakan perkataan Allah dalam penerbitannya.

PAS bimbang dengan membenarkan penggunaan nama Allah dalam penerbitan ini akan menimbulkan kekeliruan di kalangan orang Islam terutama di kalangan muallaf dan mereka yang hendak mendekatkan diri dengan Islam.

Penggunaan nama Allah telah dianggap sebagai serasi dengan masyarakat Islam dan bukan Islam di negara ini yang merujuk kepada penggunaan itu hanya untuk agama Islam sahaja. Perkara ini telah diakur sejak turun temurun oleh penganut agama Kristian di negara ini.

Penggunaan nama Allah dalam al-Quran, maksudnya "Dan jika kamu bertanya kepada mereka siapa yang menjadikan langit dan bumi, nescaya mereka mengatakan Allah". Allah yang mereka akur ialah sebagai tuhan "pencipta", bukan sebagai Allah yang tunggal yang patut disembah. Ini dinamakan kepercayaan Rububiyyah, bukan kepercayaan Uluhiyyah.

PAS mengharapkan supaya pihak Kerajaan membuat rayuan ke mahkamah yang lebih tinggi supaya ia mendatangkan kebaikan kepada kita bersama. Menghalang penggunaan nama Allah ini sebagai satu langkah "Saddu Zarai'c" untuk menutup pintu keburukan di kalangan masyarakat Islam khususnya dan masyarakat Malaysia amnya.

Perlu ditegaskan ini bukan berarti Pas menentang kebebasan agama lain untuk mengamalkan ajaran mereka sediri di negara ini. Selama ini Pas yang memerintah di Kelantan hampir 20 tahun memberi kebebasan kepada penganut agama yang manoriti mengamalkan agama mereka tanpa apa-apa gangguan daripada pihak berkuasa Pas di Kelantan.

Ustaz Idris Haji Ahmad
Ketua Penerangan PAS Pusat.

Nik Aziz: Tidak salah bukan Islam guna kalimah Allah

KOTA BARU, Jan 3 – Penggunaan kalimah "Allah" pada penerbitan Herald mengikut hukum pengamal agama Samawi tidak menjadi satu kesalahan, kata Mursyidul Am PAS, Datuk Nik Abdul Aziz Nik Mat.

Cuma beliau bimbang perkataan "Allah" kemungkinan boleh disalahgunakan oleh pihak-pihak tertentu.

"Tinggal lagi… takut disalahgunakan. Itu yang menjadi kebimbangan," kata beliau mengulas keputusan Mahkamah Tinggi membenarkan penggunaan perkataan "Allah" oleh Herald, Khamis lepas.

Hakim Datuk Lau Bee Lan dalam keputusan lisannya menegaskan bahawa Herald mempunyai hak berperlembagaan untuk menggunakan perkataan itu.

Keputusan itu mencetuskan polemik sejak Khamis lalu dengan ada yang mengadakan protes dan membantahnya.

Malah ada juga pihak yang menyifatkannya sebagai amalan biasa penganut Kristian menggunakan kalimah "Allah".

Ketika ditemui pada majlis perasmian pejabat Urusetia Pembangunan Wanita, Keluarga dan Kesihatan Kerajaan Negeri Kelantan dekat sini hari ini, Nik Aziz yang juga Menteri Besar Kelantan menyarankan agar pihak berwajib seperti badan persatuan ulama menganjurkan dialog bersama pemimpin agama Kristian bagi berunding berhubung isu berkaitan.

"Supaya ia tidak mendatangkan kekeliruan pada masyarakat.

"Bahkan fahaman falsafah Islam itu sendiri dapat diperluaskan melalui majlis-majlis seumpama itu," katanya.

Menjawab soalan kesediaannya untuk hadir jika majlis seumpama itu dianjurkan, Pesuruhjaya PAS Kelantan itu berkata, "saya akan hadir dan sanggup membuat pendedahan mengenainya jika diizinkan."

Sementara itu, Ketua Dewan Ulama PAS Kelantan Datuk Mohammad Daud Iraqi semasa dihubungi enggan mengulas lanjut mengenai isu berkenaan.

Sebaliknya seolah-olah beliau menyifatkan kelemahan pihak kerajaan tidak melakukan pemantauan awal berhubung masalah tersebut.

"Isu ni bukan baru, lama dah… sepatutnya kerajaan sejak dari awal lagi boleh mentelaah undang-undang itu secara lebih spesifik," ujarnya.

Sehubungan itu mufti Kelantan, Datuk Mohamad Shukri Mohammad berkata majlis muzakarah fatwa kebangsaan sudah pun membincangkan perkara itu dari sudut akademik sebelum ini.

"Muzakarah itu membincang kalimah 'Allah' spesifik untuk kegunaan orang Islam di Malaysia, tetapi tidak melihat dalam konteks negara lain," katanya.

Bagaimanapun Shukri enggan mengulas lanjut perkara itu memandangkan ia telah menjadi prosiding mahkamah.

"Kita tunggu apa keputusannya kelak. Sebab ia bukan berkahir dengan keputusan itu.

"Difahamkan kerajaan akan membuat rayuan terhadap keputusan itu.

"Prosiding mahkamah penjelasannya ialah melalui mahkamah," ujarnya. -Malaysian Insider


Ulasan GB

GB memaparkan ketiga-tiga berit di atas yang saling kait mengait.

Yang pertama dari Harakahdaily yang menyatakan PAS akan memanggil mesyuarat khas Lajnah Politik, esok bagi membincangkan beberapa perkembangan terbaru termasuk isu penggunaan nama Allah oleh agama Kristian yang memberi erti belum ada sebarang pendirian parti mengenainya.

Yang kedua, arahan Naib Presiden PAS, Datuk Tuan Ibrahim Tuan Man kepada Ahli Parlimen Shah Alam supaya berhenti daripada mengeluarkan sebarang kenyataan yang bertentangan dengan pendirian parti berhubung keputusan Mahkamah Tinggi Kuala Lumpur membenarkan majalah Herald-The Catholic Weekly menggunakan kalimah Allah dalam penerbitannya

Yang ketiga kenyataan media di dalam lamanweb PAS oleh Ketua Penerangan PAS yang memaparkan pendirian Parti Islam Semalaysia (PAS) kecewa dengan keputusan Mahkamah Tinggi Kuala Lumpur yang membenarkan akhbar.

Yang keempat, kenyataan Mursyidul Am PAS sendiri yang menyatakan dalah tidak salah bukan Islam guna kalimah Allah.

Sekiranya, pandangan yang menjadi dasar PAS adalah datang dari enam peringkat tertinggi dalam parti iaitu Mursyidul Am dan timbalannya, Presiden dan timbalannya, Setiausaha Agung serta Ketua Penerangan, mengapa pula Datuk Tuan Ibrahim Tuan Man boleh mengarahkan Khalid Samad menghentikan kenyataan yang kononnya tidak selari dengan pendirian parti? Bukankah kenyataan Khalid itu selari dengan pendirian Mursyidul Am PAS?

Di dalam hirarki parti, Mursyidul Am PAS adalah lebih tinggi dari Ketua Penerangan, justeru itu, pandangan dan pendirian yang menjadi dasar parti ialah kenyataan yang dikeluarkan oleh Tuan Guru Nik Aziz yang lebih terpakai.

PAS dilaporkan akan bermesyuarat khas mengenai isu tersebut, ini bererti BELUM ADA sebarang dari parti mengenainya. Jadi dimanakah kesalahan Khalid Samad yang dituduh mengeluarkan kenyataan yang bertentangan dengan pendirian parti?

Bagaimana pula Tuan Ibrahim boleh keluarkan kenyataan akhbar sedangkan yang menjadi dasar parti hanya enam orang tertinggi jawatannya di dalam parti?

Jika di atas kapasiti Ketua JK Disiplin, adakah ia justifikasi untuk membuat kenyataan akhbar dengan melanggar penetapan hanya enam orang yang berhak melakukan demikian?



Posted: 03 Jan 2010 01:36 AM PST
Salam to all & good day,
Naik lagi harga rokok!, rokok naik, gula pun naik 20 sen, al mahklum la 1 malaysia katakan, bila kerajaan dah papa kedana, mula la naik tu naik ni, sebab tak tahan nak tanggung subsidi, mungkin malaysia ni dah nak bankrup aku rasa, rokok baru-baru ni dinaikkan harga kepada rm6.40 sekotak, harga minimum bagi rokok-rokok murah, kalau dulu sekotak katakan rm5.00 bagi 20 batang, sekarang naik sehingga 25% sekotak -rm1.40.
Alasan yg diberikan adalah untuk mengurangkan kebolehcapaian dan kemampuan membeli rokok terutamanya oleh kanak-kanak dan remaja, tapi kalau mengikut temubual aku dengan kedai-kedai runcit sekitar melaka ni, mereka menyatakan, kurang adanya budak-budak sekolah yg membeli sekotak sekali rokok untuk diri mereka dan kawan, bukan semua budak-budak sekolah ni berhasil, diorg pun nak mencekik jugak, kalau duit rokok dah potong duit makan dia, apa yg diorg nak telan, telan asap ingat boleh kenyang ke?
Budak-budak sekolah biasanya hanya membeli rokok bukak, rokok sebatang-sebatang, rokok tu yg menjadi pilihan budak-budak sekolah zaman ni, dengan harga 60 sen hingga 80 sen sebatang, banyak sebenarnya kedai kat semua negeri dalam malaysia ni ada jual sebegitu, tetapi kenapa penguatkuasaan dari badan-badan yg bertanggungjawap lemah sangat, kalau nak naik harga rokok ni, kerajaan bukan main cepat bertindak, tapi pasal nk cari punca-puncanya, semua org buat bodoh, memang kesian dengan kita rakyat malaysia ni.
Kalau betul-betul nak bendung pembelian rokok pada kanak-kanak dan remaja, dari dulu lagi kita dah ada akta rokok - bagi kanak-kanak atau remaja yg bawah umur 18 tahun dilarang membeli hasil tembakau dan rokok di mana-mana kedai sekali, tapi ada diorg kesah di perniaga ni, yg diorg tau rokok jalan, soru ada, kalau tak da barang jalan, soru miss, jadi sebenarnya kerajaan harus lebih proaktif, diorg sepatutnya bendung dan cegah gejala menjual rokok pada budak sekolah dan bawah umur ni sehingga akar umbi, tapi kita kat malaysia ni biasalah, semua benda yg di implementkan, biasa nya hangat-hangat tahi ayam.
Bukan nak merendah-rendahkan martabat negara kita, tapi dengan tindak balas yg dilakukan kerajaan dengan sewenang-wenangnya untuk menaikkan sesuatu harga tu tidak munasabah kadang-kandang, asalkan dapat untung diorg tu proceed, yg matinya rakyat 1 malaysia ni, podah!.
Aku nak tgk, dengan kenaikkan harga rokok ni, ada tak budak-budak beli rokok lagi, kalau ada kita sumbat mulut menteri kesihatan kita dengan kotak rokok, sebab dia kata kajian kementerian kesihatan malaysia menyatakan bahawa budak-budak mampu untuk membeli rokok, sebab harga murah, mari sama-sama kita perhatikan, sama ada ia benar-benar wujud atau ada udang disebalik batu, kalau korg nak tau, rokok murah-murah yg dinaikkan harga ni, nelayan yg paling suka beli, sebab diorg kalau kat tgh laut tu, bermalam kat lautan, diorg perlukan rokok, kalau tak da rokok, diorg mati akal.
Jadi permasaalah ini sebenar bukan menyusahkan budak-budak ni sekolah untuk beli rokok, tapi nelayan-nelayan yg mcm nak mampus kat laut tu tangkap ikan, tapi takda rokok, kejam sungguh kan, org lain punya pasal, org lain yg terima akibat buruk mcm ni, memang cukup sedih tgk kerajaan mcm ni, rokok kalau sampai rm20 sekotak pun org akan beli lah, kalau dia betul-betul hisap rokok, diorg tak heran pasal harga, aku berani jamin kalau rokok naik harga lagi, rokok kalau takda, pembikin-pembikin filem, penulis-penulis skrip, penulis-penulis lirik atau lagu semua dh lama mati, sebab ada org kata rokok ni berikan ilham, tak tau lah ia benar atau tidak, tapi kalau ada org cakap mcm tu, mungkin betul juga kot.
Tapi kalau mulut tu dah memang suka berasap, tetap akan berasap juga, ada org tak makan pun takpa, kalau time bulan puasa tu, ada member, buka je terus pekene rokok dulu, tak boleh tahan dia kata, dah kene rokok tak makan pun dh kenyang dengan asap dia kata, kuat tak kuatnya penangan rokok, kalau dh kene, nak behenti merokok punyalah azab, susah beno nak berhenti hisap, duit memang macam tak berguna dah, mengalir mcm tu je tiap2 hari.
Untuk kerajaan, lepas ni nak naik apa benda lagi yer??, naik la barang banyak-banyak lagi, kasi harga tinggi-tinggi, naik bila time nak undi turunkan harga barang ni balik eh, nanti kita sokong BN lebih-lebih ok.....
NIAMAH!!!!
Gambar Sekitar Perkahwinan Putera Hamrija - Sahabat Satu Tempat Kerja
Posted: 03 Jan 2010 01:35 AM PST
Salam to all & good day,
Semalam hari paling bahagia bagi sahabat aku Hamrija, telah pun mendirikan rumahtangga dengan gadis pilihan dia, dan aku dan kawan-kawan tumpang bahagia bersama-sama.

Semoga jodoh hang kekal sampai ke anak cucu hendaknya.





Banner didepan pintu masuk ke rumah pengantin perempuan.
Time berarak, jauh aku dari tempat dia berarak tu, gambar tak clear ok, sorry.
Dalam khemah
Amin Karimun pun ada.
Banyak lauk, sedap-sedap lagi.
Ole-ole pun ada.
Abg Halim tgh jeling tu, larikkkkkk.
Tgh focus pada nasi beriyani dia ni.
Posted: 03 Jan 2010 01:29 AM PST
Dr Hanafi Abd Ghani ( Pensyarah Falkuti Perundangan Islam UIAM )
Perkara Memalukan yang kita sedar dan tidak di tempat kerja.
* Kurang memalukan
** Agak memalukan
*** Memang memalukan
**** Sangat memalukan
***** Terlampau memalukan
Kentut *****
Korek Hidung / Telinga / Kuku ****
Pandang Perempuan seksi *****
Garu Kemaluan *****
Garu Kepala **
Makan Dengan Gelojoh ***
Cungkil Gigi ***
Gigi Kuning ****
Baju Tidak Diseterika **
Tidak Memakai Stoking ***
Kuku panjang dan Bertahi ***
Berada Di Pejabat Antara Zohor Hingga Asar *****
Berada Di Pejabat Antara Asar Hingga Maghrib *****
Bau Badan atau Ketiak ****
Bercakap Sambil Makan ( Makanan Penuh Di Mulut ) ****
Menggigit Jari / Pen / Straw ****
Mengelap Dengan Baju Peluh / Sisa makanan / Lebihan Hingus ****
Bermain Lidah atau Air Liur ***
Menguap Tidak Menutup Mulut ****
Bersin Kearah Kawan (Tidak Menutup Mulut) ***
Sendawa Tidak Menyebut Alhamdulillah ****
Mulut Berbau ***
Menyanyi Sabil Bekerja *
Berkahak **
Mengulau / Internet / Facebook / Handphone Cover Line skit
Cari Makan @ Kuala Lumpur: California Pizza Kitchen (CPK)
Posted: 03 Jan 2010 12:15 AM PST
December 31st 2009, KLCC, Kuala Lumpur. The last dinner of the year was also our last 2009 blogger gathering. One of the blogger has organized this event @ this popular California Pizza Kitchen (CPK).
We arrived @ 8pm, we quoted the organizer name and the lady manager sent her assistant to let us know they don't have a table for 12... so we called up the organizer whom were on his way. After a bit of hooha... they finally setting up
tables
for us. The next thing we realized that they were combining three round tables to make up a big table for us... and a couples of chairs... what surprised me was the two stools was slotted in and it became part of the chair.
Hmm... first thing came into my mind... Is this a new theme that California Pizza Kitchen has for Twenty Ten?
"A HOMEY MEAL: Make your self @ Home"
... new setup for its guest... even our house table and chair is way way better than this...
Blogger A: Wow! they actually setup like our canteen table...
Blogger B: Is there any chance that we could get a table inside?
Manager : Even you wait we couldn't get you a table for 10 people. You might have to sit separately.
Me: Now. how could you give this setup for us? *pointing to the two stools*
Manager: *Angrily shouting* The chair can be changed.
Then she walked back into the restaurant and left us outside the restaurant... BTW, is this how a
Full Service Restaurant
Manager treated their customers... Later, i saw them taking out two chairs and replace the stools with the chairs...
Since our organizer agreed to take whatever we could get... we accepted the table... Guess what? straight after we sat down... there were a group of
10 peoples
(mix of Caucasion and non-caucasion)
walked in and requesting for a table... The front desk staff registered one of their name into the list and asking the group to sit @ the sofa beside the front desk to wait for their table... Later, the staff ushered the group to walk into the restaurant for their table. I straightaway felt that we were cheated and discriminated over what the manager told us earlier ... she was lying or what?... can i say that the restaurant management is racist too?
Let's fast forward to the food & baverage, I ordered a cocktail for my drink which i would say it should be listed in the Mocktail session under the menu... No alcohol taste at all, just sugar water and got charged for RM18++ ... sigh~... The food on the other hand was so dissatisfied... it was so sooo salty... Especially the Garlic Noodles was salty and oily too... it was nice on my last visit but really disappointed... Maybe you could argue that this was not their specialty... hmmm.... the pizza we ordered was
NOT
good...
NOT
cheezy and it tasted salty too.
Anyway, there is
ONE LITTLE
good things that i would like to mention over here. One of the staff (i should have asked him for his name) was very responsive towards his customer requests... I requested Parmesan cheese... and... the next thing i knew... the cheese was on the table... I thought it would take forever or even better
NOT
appear on the table given we encountered such a bad first impression of their customers service... ;p
Overall, I would
NOT
recommend this place to anyone... three words to describe
DISAPPOINTED
,
BAD
customers service and
NOT VALUE
for money... We spent around RM500 for 10 person dinner in this
SELF-CLAIMED Full Service Restaurant
.
.. which i was not convinced.
Summary rating:
First Impression (greeting customer) : 0/5
Ambience (table setting, environment) : 0/5
Customer Service (Serving food, response to customer request) : 0.5 /5
Food & baverage (taste, quality, value for money) : 0 /5
Overall rating : 0.5 / 5
ATM SWALLOWED MY MONEY! YEAH!!
Posted: 03 Jan 2010 01:40 AM PST
Was woken up by a call while resting in my car on 31 December, 2009.

'Good morning, this is Miss Tan from Public Bank...You made a withdrawal of RM90.00 at the ATM on 29 December but you did not take the cash. We found that there was an excess of RM90.00 and it belonged to you.' I was so happy to hear the good news!

On 29 December, an hour later after withdrawal, I only realized that I did not take the cash when I opened my wallet! I wished that the fault lied with the machine but it was not so when I checked my account online later that night that indeed a withdrawal had been made.

I was made to understand by Miss Tan that there was a buffer of 40 seconds for one to take the cash. After that, the machine would swallaw it. So, yes. Thank God that no one saw and stole the cash in that 40-second window of opportunity.

TGNA : Tidak Salah Bukan Islam Guna Kalimah Allah
Posted: 03 Jan 2010 01:21 AM PST
P
enggunaan kalimah "Allah" pada penerbitan Herald mengikut hukum pengamal agama Samawi tidak menjadi satu kesalahan, kata Mursyidul Am PAS, Datuk Nik Abdul Aziz Nik Mat.
, Malaysian Insider melaporkan.
Cuma beliau bimbang perkataan "Allah" kemungkinan boleh disalahgunakan oleh pihak-pihak tertentu.
"Tinggal lagi… takut disalahgunakan. Itu yang menjadi kebimbangan,"
kata beliau mengulas keputusan Mahkamah Tinggi membenarkan penggunaan perkataan "Allah" oleh Herald, Khamis lepas.
Hakim Datuk Lau Bee Lan dalam keputusan lisannya menegaskan bahawa Herald mempunyai hak berperlembagaan untuk menggunakan perkataan itu.
Keputusan itu mencetuskan polemik sejak Khamis lalu dengan ada yang mengadakan protes dan membantahnya.

Malah ada juga pihak yang menyifatkannya sebagai amalan biasa penganut Kristian menggunakan kalimah "Allah".

Ketika ditemui pada majlis perasmian pejabat Urusetia Pembangunan Wanita, Keluarga dan Kesihatan Kerajaan Negeri Kelantan dekat sini hari ini, Nik Aziz yang juga Menteri Besar Kelantan menyarankan agar pihak berwajib seperti badan persatuan ulama menganjurkan dialog bersama pemimpin agama Kristian bagi berunding berhubung isu berkaitan.

"Supaya ia tidak mendatangkan kekeliruan pada masyarakat.

"Bahkan fahaman falsafah Islam itu sendiri dapat diperluaskan melalui majlis-majlis seumpama itu," katanya.

Menjawab soalan kesediaannya untuk hadir jika majlis seumpama itu dianjurkan, Pesuruhjaya PAS Kelantan itu berkata, "saya akan hadir dan sanggup membuat pendedahan mengenainya jika diizinkan."

Sementara itu, Ketua Dewan Ulama PAS Kelantan Datuk Mohammad Daud Iraqi semasa dihubungi enggan mengulas lanjut mengenai isu berkenaan.

Sebaliknya seolah-olah beliau menyifatkan kelemahan pihak kerajaan tidak melakukan pemantauan awal berhubung masalah tersebut.

"Isu ni bukan baru, lama dah… sepatutnya kerajaan sejak dari awal lagi boleh mentelaah undang-undang itu secara lebih spesifik," ujarnya.

Sehubungan itu mufti Kelantan, Datuk Mohamad Shukri Mohammad berkata majlis muzakarah fatwa kebangsaan sudah pun membincangkan perkara itu dari sudut akademik sebelum ini.

"Muzakarah itu membincang kalimah 'Allah' spesifik untuk kegunaan orang Islam di Malaysia, tetapi tidak melihat dalam konteks negara lain," katanya.

Bagaimanapun Shukri enggan mengulas lanjut perkara itu memandangkan ia telah menjadi prosiding mahkamah.

"Kita tunggu apa keputusannya kelak. Sebab ia bukan berkahir dengan keputusan itu.

"Difahamkan kerajaan akan membuat rayuan terhadap keputusan itu.

"Prosiding mahkamah penjelasannya ialah melalui mahkamah," ujarnya.


SEMENTARA ITU, Dr. Muhd Nur Manuty, Pengerusi Biro Pemahaman dan Pemantapan Agama (BIPPA) Parti KeADILan Rakyat telah mengeluarkan kenyataan berikut:

"Merujuk kepada rentetan pelbagai kontroversi berterusan yang masih wujud berhubung penggunaan kalimah 'Allah' oleh pelbagai agama selain dari agama Islam di negara kita Malaysia sekarang ini, maka BIPPA PKR sukacita menjelaskan pendirian kami mengenai hal ini.

Kami berpendirian bahawa, keinginan rakyat bukan Islam menggunakan kalimah "Allah" sebagai Tuhan adalah suatu perkembangan yang sangat positif dan perlu diterima secara terbuka dan berlapang dada. Umat Islam di Malaysia tidak perlu menjadi gelisah dan "over react" dengan pelbagai andaian dan kemungkinan dengan fenomena yang dikata baharu ini. Sesungguhnya, kami melihat bahawa fenomena ini adalah manifestasi dari fitrah insani sejak dari azali lagi bahawa kesemua manusia memperakui keesaan dan penciptaan dunia oleh Allah SWT sebagaimana firmanNya yang bermaksud:

"Dan jika kamu tanya mereka (orang kafir) siapakah yang mencipta langit dan bumi? Mereka akan berkata Allah..." (Al Quran, Az-Zumar (39):38).

Adalah jelas bahwa penggunaan kalimah Allah oleh penganut bukan Islam telah berlaku sejak dari dahulu lagi, khususnya bagi para penganut agama samawi. Sebahagian dari kitab suci mereka memang menggunakan kalimah Allah (terutama di Timur Tengah). Di dalam kehidupan harian mereka hari ini, penggunaan Bismillah, Alhamdulillah, Masya Allah, Astaghfirullah, Wallahi dan sebagainya bukanlah suatu yang pelik dan janggal. Di Indonesia, penggunaan kalimah Allah di gereja-gereja memang telah lama menjadi kebiasaan. Begitu juga bagi bagi penganut agama Kristian di Sabah dan Sarawak.

Adalah jelas bahawa menggunakan kalimah Allah untuk mengiktiraf dan membesarkan Allah sebagai Tuhan, adalah hak asasi setiap insan. Hak ini perlu dihormati dan tidak boleh dihalang. Bukankah Allah itu Tuhan untuk semua - Rabbul `aalamiin atau Lord of the Universe?

Maka itu, kami melihat fenomena ini adalah bertepatan dan serasi dengan wadah dan perjuangan KeADILan selama ini. Malahan, perjuangan untuk menegak yang makruf dan mencegah kemungkaran akan menjadi lebih mudah dan selesa sepertimana firman Allah:
"Katakan wahai Ahli Kitab, mari tegakkan kalimah yang sama antara kami dan kamu iaitu bahawa kita tidak akan menyembah selain Allah dan tidak mensyirikkan (associate) Allah dengan satu apapun serta janganlah ada antara kita yang mengambil tuhan-tuhan selain Allah. Dan jika mereka berpaling maka katakanlah bahawasanya kami adalah orang Islam (menyerah diri pada Allah)" (Surah Ali `Imran(3):64).



Every week more than 100 people killed in Caracas
Posted: 03 Jan 2010 12:24 AM PST
In the Venezuelan capital Caracas meet every week around 100 people in a violent way of life. The Venezuelan Observatory of Violence estimates that the approximately 100 murders per 100,000 residents was. Worldwide, an average 9 per 100,000.
Caracas is considered the most violent city in Latin America. In second place is Ciudad Juarez, on the border between Mexico and the United States, where drug cartels fight a bloody war.
In Caracas on Thursday and Friday 157 people killed in the celebrations for the new year.
The majority of the victims fell in the street: they were victims of street violence or stray bullets.
Chavez
The government of President Hugo Chavez publish crime figures for several months no more. Chavez recently gave it a crime that the problem is that the Venezuelans "are most concerned about making".
In Caracas are approximately 3 million people, with the suburbs that there are five million.
(MVL)
Posted: 02 Jan 2010 10:46 PM PST
NEW YORK, Jan 3 — YouTube, the video site owned by Google, is about 10 times more popular than its nearest competitor. But Hunter Walk still thinks of it as an underdog.
For the director of product management at YouTube, the competition is not other websites: It is television.
"Our average user spends 15 minutes a day on the site," he said. "They spend about five hours in front of the television. People say 'YouTube is so big,' but I really see that we have some way to go."
To that end, Walk leads a team of about a dozen engineers, designers and project managers who are fine-tuning YouTube to give its users what they want, even when the users are not quite sure what that is. The goal is to get them to spend a few more minutes on the website every day.
This is easier said than done. YouTube will not disclose the size of its video library, but the company has said that about 20 hours of video are uploaded to the site every minute. That is the equivalent of more than 100,000 full-length movies uploaded every week.
With hundreds of millions of clips to choose from, the challenge that Walk's team faces is to figure out how to select the five or 10 or 20 that a user might enjoy the most.
The payoff could be large. Google executives have said that YouTube is still losing money, but it is on a path to profitability. Getting users to spend more time on the site would help it get there faster by selling more advertising.
It could go a long way towards extending its dominance, shoring up its position against sites like Hulu, which are attracting a growing number of users with full-length movies and television shows.
And it could help YouTube keep up with other competitors, including video search engines like Truveo and Blinkx, or sites like Clicker.com, which specialises in recommending professionally created videos online.
After Blinkx added better analysis of the visual content of videos to its engine last year, for example, the average number of clips watched jumped to nearly five, from 21/2, said Suranga Chandratillake, founder and chief executive of Blinkx.
For YouTube, part of the challenge is in handling people's searches. Last November, Americans typed 3.8 billion search queries on YouTube, more than on any search engine other than Google, according to comScore, a market researcher.
But perhaps more important, YouTube must finesse what technicians call discovery. That is the art of suggesting videos that users may want to watch based on what they have watched before, or on what others with similar tastes have enjoyed. The effort requires mastering data-mining techniques similar to those used by Netflix and Amazon to make movie or book recommendations.
"I don't think the YouTube problem is different from the Netflix problem or the Amazon problem," said Christopher Volinsky, executive director of statistics research at AT&T Labs Research.
He recently helped lead a team that won a US$1 million (RM3.4 million) prize established by Netflix to improve that site's recommendation engine by 10 per cent. That it took his team of top computer scientists three years to make a modest improvement to Netflix, which has some 70,000 titles, illustrates the complexity of the task, he said.
YouTube's work in these areas is largely hidden from users and involves dozens of tweaks, small and large, that Walk's team makes every month. Recently, for instance, the group began tackling what it calls topic exhaustion. No matter how much users may like to watch, say, Shaquille O'Neal highlights, they will inevitably reach a point when they will have had enough.
So while YouTube used to suggest more of the same topic to users who watched a particular video, it has gently begun to nudge them towards related topics. The Shaquille O'Neal video may prompt suggestions for Kobe Bryant highlights, National Basketball Association (NBA) clips or topics further afield, like sports stars who appear in films.
"If we guess wrong, you could leave us sooner," said Jamie Davidson, 25, an associate product manager on Walk's team. "But if we guess correctly, we may get you to watch another 10 videos."
The techniques involve creating vast graphs, which Davidson calls conceptual maps, of related concepts like Shaquille O'Neal, the NBA and Kobe Bryant, on which the proximity of two nodes indicates the closeness of two topics. The YouTube recommendation engine uses these maps to find new subject areas that might interest a user.
Over time, YouTube says it plans to rely more heavily on personalisation and ties between users to refine recommendations.
Walk's team meets weekly to discuss tweaks to YouTube's software.
During a recent meeting, a small group of engineers and user interface designers were brainstorming what might be the next big step in the site's evolution: pages that would immediately begin playing a stream of clips tailored for a user, instead of offering lists of suggested videos. The idea is to push more videos at users in the hope of allowing them to abandon the keyboard and increasingly experience YouTube from the couch.

"On YouTube, every 45 seconds, you are stuck at a decision point," Davidson said. "Any time there is a decision point, people may leave."
Gauging YouTube's success so far is difficult. It will not release detailed traffic statistics. But it says improvements in its search and discovery software have helped increase the average time that users spend on the site by 50 per cent in the last year.
Data from comScore appears to back that up. The average YouTube user watched 83 clips last October, compared with 53 a year earlier, though it is difficult to know how much of that growth was the result of the improvements.
Either way, the team plans to speed up the pace of innovation to help YouTube users search less and watch more.
"We are the second-largest search engine, and yet search is not even the right paradigm for discovering video," Davidson said. "We are trying to move beyond it." — New York Times
(Source: The Malaysian Insider)

Isu Kalimah Allah : "Kelajuan Membunuh"
Posted: 02 Jan 2010 09:56 PM PST
J
angan Terlalu Laju, Bahaya!
- Ust Zorkhanain Abidin
Ada orang Umno yang marah kalau saya kata Umno memang seronok dengan keputusan mahkamah mengenai penggunaan nama Allah.
Macam mana pula, bukankah ada gambar orang Umno mengangkat tangan membantah penggunaan nama itu oleh akhbar berkenaan?
Dan, jangan lupa, gambar yang mengangkat tangan itu adalah orang Umno Pulau Pinang. Mengapa Pulau Pinang?
Agaknya begini…
SATU - Umno berharap sangat supaya PAS bangun menentang keputusan mahkamah itu, kalau boleh bermati-matian, berdemontrasi besar-besaran.

Harapan mereka bila PAS bertindak sebegitu, sedikit sebanyak akan menyumbang kepada rasa tidak puas hati di kalangan pendokong PKR yang beragama Kristian.

Rasa tidak puas hati itu mungkin akan diluahkan. Pada waktu itu Umno berjaya memasukkan jarumnya untuk memecahkan kesepaduan Pakatan Rakyat.

Kalau ini berlaku, perangkap Umno memang mengena. Hasrat Umno untuk memburukkan PAS pada mata orang-orang bukan Islam dikira berjaya.

DUA - Katakan pula PAS menyokong keputusan mahkamah iaitu membenarkan penerbitan bukan Islam menggunakan kalimah Allah, Umno memasukkan pula jarumnya di kalangan orang Islam.

PAS tidak lagi berjuang Islam kerana menyokong keputusan mahkamah itu. Pada masa itu, imej PAS di kalangan orang Islam sendiri diburukkan oleh Umno.

Umno boleh mencanang kemana-mana, PAS bukan berjuang Islam sebab menyokong keputusan tersebut. Perangkap Umno mengena lagi kalau PAS mengambil sikap begini.

TIGA - Katakan PAS diam sahaja, ini pun akan dicanangkan juga oleh Umno. Tengok, PAS sudah jadi kuda tunggangan DAP, tidak berani membela agama sendiri kerana menjaga hati DAP.

Kalau PAS berani mengapa diam? Belalah agama…! Kesitu pulak perginya Umno.

PAS ada keutamaannya, membela agama. Mana satukah makna membela agama yang sebenar? Berkelahi dengan orang bukan Islam atas isu penggunaan nama Allah? Atau, tampilkan Allah sebagai Tuhan yang menurunkan rahmat untuk semua termasuk kepada orang bukan Islam?

Mana lebih besar mudaratnya? Orang Kristian guna nama Allah dalam penerbitan mereka? Atau, membiarkan rasuah, penyelewengan, salah guna kuasa, perampasan hak berleluasa?

Saya sering terpandang di cermin-cermin kenderaan stiker yang bertulis, 'Speed Kills'. Saya harap Ustaz Idris dan Ustaz Nasharudin jangan terlampau laju. Bahaya ustaz…! -bongkarsauh

Ulasan GB di SINI


Posted: 02 Jan 2010 09:29 PM PST
I like this article very much. It reflects what am I thinking right now.
According to Malaysia's Deputy Foreign Minister Kohilan Pillay, the number of Malaysians who have decided to up their roots and emigrate abroad has almost doubled this year. 3,800 Malaysians have given up their citizenship and simply opted to leave the country of their birth. Furthermore it has been noted that almost half of those who have left are professionals who have chosen to seek greener pastures abroad, citing better pay and working opportunities as well as marriage as the most common reasons given. Malaysia is the loser in this sorry equation, and though the right-wing communitarians among us used to quip 'if you dont like it, leave it', this sorry reply will sooner or later be exposed for the vain boast that it is. For Malaysians are indeed leaving, and many of them happen to be among the most precious human resource that the country cannot afford to lose.

For what is a nation, and what is Malaysia?

Malaysia, it has to be remembered is not a patch of land where the mountains and trees realise that they happen to be part of a nation they are not even members of. Neither do the roads, bridges, buildings and flagpoles that litter our urban landscape make up the essence of what is Malaysia.
p/s: So, what am I thinking? Like most the commentators said, I love my country but she doesn't loves me. I don't like the racist-feelings here. I will definitely go back to my own state later, no matter what. But I'm definitely not going back to this place, a place that across the South China Sea. If my state still stay with Malaya, I'm definitely going to other places where people see me only in black and white.