---
Malaysiakini wants to Police my thoughts and wants me to practice restraint
Posted: 10 Feb 2010 07:37 AM PST
They, Malaysiakini, the so called advocates of a free media want me to control my free speech. For me, "Human Rights" , means the pursuit of happiness. Edmund Bon once in Ipoh at the Heritage Hotel asked, what do you understand by the words "Human Rights?" I stood up and answered that it was the right of individuals to pursue happiness. His response with a smile was, " You are a trouble maker." Yep, he got that right
I like to comment on topics in Malaysiakini, they blocked me from commenting for awhile. They found my comments highlighted in red a tad too bit offensive. See them below. Somebody must have used a cattle prod up their arses and they jumped. Tell me if I was offensive? Restraint? I am already very friggin restrained. I have yet to start!!
News Editor to me
show details 12:54 PM (10 hours ago)
Dear Swami.
Your commenting function was temporarily disabled following a complaint. We have reviewed the matter and would be very much grateful if your could exercise some restraint when commenting in the future.
We thank you for your understanding.
Warm regards,
Editor
Malaysiakini.com
dswami
203.82.80.116
Just stop doing it, Malaysians Comments for this story
What are you smoking? This is 1@#$%$#@ Malaysia. Oops forgot, the "1"
you use is the middle finger of 1 Malaysia !!
Australia is a beautiful country. That is a fact. Even a visitor is made to feel at home. I served this country for a long time, suddenly I feel that I am a stranger here, why? So please quit
talking shit
, being a disillusioned idealist.
- Hide quoted text -
On 9 February 2010 20:34, D.Swami wrote:
Why have you disabled me for commenting in this thread
http://www.malaysiakini.com/letters/124057
? You, on the take?
Major (Rtd) D.Swami
US Being Sucked into Pakistan's World of Illusions By B. Raman
Posted: 10 Feb 2010 08:01 AM PST
The leaders and large sections of the people of Pakistan tend to live in a self-created world of illusions. They have always lived in such a world ever since the birth of the country in 1947.
2. They teach their children in school that civilization was brought to the sub-continent by Islam. They grow up not knowing the history of the sub-continent before the advent of Islam
3. They have always believed that one Muslim is equal to two Hindus. They teach their soldiers that Hindus cannot fight. They believed that their alliance with the US and the US military equipment supplied to them had made them invincible and that India would never be able to defeat them. They invaded Kashmir in 1965 thinking that Kashmir was theirs for the taking.
4. After a few days of fighting they realized that it was not. They realised too that Hindus can fight-----like hell. They found that all the Patton tanks and other modern equipment given to them by the US could not save them from the counter-attacks by the Indian Army. They fled from battle at Khem Karan after abandoning their Pattons.
5. But, they teach their children and soldiers that they won the 1965 war and that they forced India to sue for peace.
6. They looked down with contempt upon the Muslims of the then East Pakistan because most of them were descendents of converts from Hinduism. They convinced themselves that like the Hindus, the Bengali Muslims cannot fight.
7. They treated them like second class citizens of the country and suppressed them thinking that the Bengalis will not rise against their suppression.
8. They did and threw them out in 1971. The Bengali freedom-fighters and the Indian Army fought hand in hand in putting an end to the colonization of East Pakistan. Bangladesh was born. Over 90000 of the officers and soldiers of the Pakistan Army surrendered without a fight when the Indian Army and the Bengali freedom-fighters entered Dhaka. Zulfiquar Ali Bhutto came crawling to Shimla to get them released.
9. They teach their children and soldiers that through his clever diplomacy Bhutto forced Indira Gandhi to release the prisoners of war.
10. When Gen.Zia-ul-Haq overthrew Bhutto in 1977 and assumed power, many of their political leaders appealed frantically to the leaders of India and Afghanistan to help them escape from the country. If the authorities of India and Afghanistan had not helped them to escape to Europe, they would have landed in the gallows as Bhutto did.
11. When they returned to Pakistan from political exile after the death of Zia in 1988, they projected themselves as national heroes, who had hoodwinked the Army, gone into political exile and kept up the fight against the Army and for the return of democracy. They never spoke a word about the help rendered by India and Afghanistan. If India and Afghanistan had not helped, many of the political leaders of Pakistan may not be alive today.
12. In 1989, the very same political leaders who owed their survival to India colluded with their Army in sending a large number of terrorists trained by the Inter-Services Intelligence (ISI) into J&K. They thought that Kashmir was ripe for picking. Twenty-one years later, they are nowhere near the realization of their illusory dreams.
13. In 1994, they created the Taliban and helped it to capture Kabul in September 1996. It occupied large parts of Afghanistan with the help of the ISI and the Pakistan Army. The Pakistanis thought that was the end of the Indian influence in Afghanistan. They realized with a shock that it was not. Secular elements in Afghanistan, helped by India, Iran and Russia, hit back at the Taliban and its ISI patrons and facilitated the liberation of Afghanistan from the Taliban rule post-9/11. There was an anti-Pakistan uprising in Kabul and many Pakistanis, who were working for the Taliban in Kabul, were hunted down, caught, killed and their dead bodies thrown into the gutters of Kabul by the local population.
14. In 1999, the Pakistan Army under Gen.Pervez Musharraf occupied Indian territory in the Kargil Heights by taking advantage of the withdrawal of the Indian Army posts during winter. They had wild dreams of "liberating" the Siachen Glacier and the Kargil area of J&K. The Indian Army hit back and inflicted heavy casualties on the Pakistan Army. The US insisted that the Pakistan Army should withdraw from the territory occupied by it. Musharraf and after him, Mr.Nawaz Sharif, the then Prime Minister, flew to Beijing and sought China's support for their occupation. To their shock, China refused to support them. M.Nawaz Sharif flew to Washington DC to plead with the US for a face-saving formula so that they can withdraw without humiliation. The US declined to provide any. They were forced to withdraw unconditionally. They projected their Kargil humiliation to their people and soldiers as a great military victory by awarding a large number of gallantry medals to each other.
Continued here...
Posted: 10 Feb 2010 09:18 AM PST
yeah save penang from attacks from those people who only have their self-interests at heart.  because their self interests were not served, they spread lies about the peanng govt.  here and there. bayan baru MP, zahrain, nibong tebal NP, tan tee beng,  the muslim NGOs – they had been slandering the penang govt. so come tomorrow, to listen to the govt. itself speaking up.
reject slander! save penang!
Untuk Pengetahuan Tuan-tuan dan puan-puan di jemput hadir bersama:
Tarikh (date) :   Feb.  12, 2010 (Jumaat/Friday)

Masa: 9 malam (9.00pm – 11.30pm)

Tempat: Tapak Pesta Sg Nibong, Pulau Pinang  (Sg Nibong Pesta site)

YAB Lim Guan Eng, Ketua Menteri Pulau Pinang (Penang CM)
YB Mansor Othman, Timbalan Ketua Menteri (Penang DCM I)
YB Malik Kassim, Exco Kerajaan Negeri (State Exco)
YB Chow Kuan Yeow, Exco Kerajaan Negeri (State Exco)
YB Ravin, ADUN Batu Uban
YB Sim Tze Tzin, ADUN Pantai Jerejak
Sebarkan! Please forward!
Saiful an ex-student of Sekolah Menengah Kebangsaan Damansara Utama
Posted: 10 Feb 2010 08:43 AM PST
i can't believe i actually update my blog!!
Posted: 10 Feb 2010 06:49 AM PST
Assalamualaikum
Dear Blog (and friends out there),
i can't believe i am updating my blog!
like, finally! internet was down back in november and we got our (new) internet connection in mid-jan. been busy since before the wedding and all. not like i'm the Prime Minister now, no, not. but i had been so bad in managing my time.
tying to adjust to new lives (lives) and all, with things came in between here and there, life had been overwhelming!
but whatever. i just can't believe i'm on blogsphere tonight! huhu jakun kot! tapi betul jakun! been  missing all the nice blogs i'd been reading and all. time to catch up!
so here's from the wedding, 5th Dec 2009. yeah, two months back! if there's a show called Biggest Procrastinator Asia, call me up, i'm so in! :p
p.s.: how's everyone?
Filed under:
moments to remember by
,
wedding
,
wedding bell
,
words
Nizar masih MB Perak yang sah: Ku Li - www.selangorkini.com.my
Posted: 10 Feb 2010 08:15 AM PST
Rabu, 10 Februari 2010 | Ruangan:
Berita
KUALA LUMPUR, 10 Feb - Veteran Umno, Tengku Razaleigh Hamzah menegaskan Datuk Seri Ir Haji Mohammad Nizar Jamaluddin masih lagi menjadi Menteri Besar Perak sehinggalah beliau meletakkan jawatan atas kerelaannya sendiri, atau disingkirkan melalui usul undi tidak percaya pada persidangan Dewan Undangan Negeri.
"Usul pada Dun sahaja yang boleh menyingkirkan Nizar daripada jawatan itu, selain itu tak kiralah berapa banyak majlis angkat sumpah, lompat-melompat, sidang akhbar dan perisytiharan, atau apa jua iklan, paparan, sogokan atau tindakan dibuat ke atas persoalan ini tidak terpakai," katanya dalam satu kenyataan akhbar hari ini.
"Perlembagaan tiada memperuntukkan kuasa untuk menyingkirkan Nizar dengan apa cara sekalipun, termasuk petisyen atau arahan daripada sesiapa juapun."
Beliau juga berkata, sebuah kerajaan yang sah daripada segi perlembagaan adalah yang diberi mandat oleh rakyat dan hanya mandat itu yang menentukannya. Mandat rakyat kerana kerajaan yang ditubuhkan adalah berasaskan perlembagaan, yang mana ia dipilih melalui pilihan raya yang adil dan saksama.
"Untuk menguji mandat berkenaan maka kerajaan yang memerintah, mesti sama ada menyerahkan kembali kepada rakyat untuk menentukannya melalui pilihan raya negeri ataupun melalui usul undi tidak percaya pada persidangan dewan undangan negeri,' kata Tengku Razaleigh.
Beliau berkata, untuk menyingkirkan dan menubuhkan kerajaan baru dengan kaedah ataupun cara selain itu adalah bererti melanggar Perlembagaan, melanggari undang-undang dan risiko menubuhkan sebuah kerajaan haram.
Karpal: Judge 'lied'. AM I SURPRISED? NO. A judge is also a human... ;)
Posted: 10 Feb 2010 07:37 AM PST
Published: Wednesday February 10, 2010 MYT 9:27:00 AM
Updated: Wednesday February 10, 2010 MYT 10:16:43 PM
Sodomy II: Karpal claims judge lied (Updated)
By M. MAGESWARI and NURBAITI HAMDAN
KUALA LUMPUR: Lead defence counsel Karpal Singh accused the judge presiding over the Datuk Seri Anwar Ibrahim sodomy trial of being a liar.
Karpal on Wednesday argued that trial judge Justice Mohamad Zabidin Mohd Diah was lying when he said that evidence in relation to a bed in the Desa Damansara condominium had been given in open court.
The judge had said last Friday that he did not find any indication of contempt of court in a photograph showing Anwar's accuser Mohd Saiful Bukhari Azlan pointing to a bed that was published in a Malay daily.
Karpal is asking Justice Mohamad Zabidin to recuse himself for not cautioning the newspaper for publishing the photograph.
The defence maintains that the visit to the bedroom and condominium was part of proceedings held behind closed doors.
"There is nothing in the notes of proceedings or audio before this court to show that this detail was ever mentioned in open court.
"With much respect, your lordship did not tell the truth. We translate, you are lying. You lied and it can and has been proven that you are not being honest in court. You can't be impartial and you can't be unbiased.
"On those grounds, you have no alternative but to step down. It is not a mere perception but a reality. You stand condemned by your own ruling," Karpal submitted in the recusal application before a packed courtroom Wednesday.
Anwar had on Monday applied to recuse the trial judge on the grounds that his two rulings concerning news reports of the case had raised an element of bias.
The Opposition leader, 63, claimed trial to sodomising his former aide, Mohd Saiful, 24, at the Desa Damansara Condominium in Jalan Setiakasih, Bukit Damansara, here between 3.01pm and 4.30pm on June 26, 2008.
Karpal said: "In this application, what is fundamental, I say without mincing my words, you are guilty of not having stated of what is the truth."
"It is not the truth and it is a lie," he said firmly, shocking the courtroom.
He said his role was to defend his client to the best of his ability, adding that justice must "manifestly, expressedly and undoubtedly" be seen to be done.
"It is no point blaming the foreign press for (writing about) our legal system if a judge does not deliver what is expected of him in a trial. The judiciary of this country must redeem itself in the eyes of international (observers)," he said.
He said there was no blanket immunity for judges.
"You have forfeited the right to sit down on that chair and proceed to hear the trial," he said, stunning everyone in court.
On the trial judge dismissing his application summarily and ruling that the two articles with allegedly misleading headlines published by Utusan did not have the intention of being mischievous or to disrupt proceedings, Karpal said the judge could not come to such a conclusion on behalf of the newspaper.
Citing the Judges Code of Conduct 2009, enforced on July 1 last year, Karpal said the judge could also be subjected to disciplinary proceedings if he was found to have contravened the ethical requirement to perform his judicial duty without bias.
Lead prosecutor Solicitor-General II Datuk Mohd Yusof Zainal Abiden, however, submitted that no one should carelessly argue about impartiality of a judge.
DPP Mohd Yusof said the concerned party should prove that a judge had a pecuniary interest in order to disqualify him from further hearing the trial.
"The real danger of bias has to be examined in the context of the complaint. There is real danger of bias when the public concludes your lordship will be unfair to the parties by not deciding based on evidence adduced in court, or your lordship decides on erroneous grounds," he said in asking the court to dismiss the disqualification application.
On the photograph caption, DPP Mohd Yusof said it only referred to a room where the offence allegedly took place and that there was no dispute that the complainant went there.
"To say your lordship lied is a very strong word. You (lawyers) have to be polite. Certain ethics must be preserved," he said.
On the contention that there were two misleading headlines in Utusan over the sodomy trial, DPP Mohd Yusof said it was "proven" through the notes of proceedings that the concerned reporter had reported the truth and that the defence owed an apology.
Justice Mohamad Zabidin set Feb 18 to deliver his decision on the recusal application, saying that he needed time to study the submissions and case law provided by both parties.
(Source: The Star Online)

Coming Soon: Malaysia's First Animal-Assisted Therapy Van!
Posted: 10 Feb 2010 08:00 AM PST
PETPOSITIVE NEWS UPDATE:
Elderly and Disabled Malaysians who need animal-assisted therapy (AAT) in their homes - or at Petpositive's Therapy Centre in Petaling Jaya - will soon have their prayers answered. 
Thanks to CIMB Bank. 
Money to buy a brand new van was recently approved by the bank for our society to reach out to our disabled and elderly clients. 
Once we get the van, Petpositive will immediately become mobile to offer AAT in our members personal and charity homes.
"Not only that but we will be able to help our disabled and elderly clients' pets to the clinic as well as outdoor activities," pointed out Anthony SB Thanasayan, President of the Malaysian Animal-Assisted Therapy for the Disabled and Elderly Association or Petpositive for short.
"The van which will be able to seat four to five wheelchairs is also ideal for us to bring our members to the Petpositive Therapy Centre for peer counselling," he added.
Thanasayan said this during his Presidential Address in Petpositive's first Committee Meeting for the new year. 
The quarterly event was attended by Petpositive's Acting Secretary Ms Shenaaz Khan, Treasurer Dr C Vijayakumar and Assistant Mr Andrew Martin.
Ordinary Committee Members who were also present at the meeting were Mr Antony Leopold, Ms Sara Lew and Mr S Gopalasingam.
Also present at the meeting was Petpositive's mascot Reba the Shetland Sheepdog.
Another major discussion was how to make Petpositive work more effectively with the federal and local governments.
Some of the projects that Petpositive has successfully pursued with them were obtaining free dog licenses for the disabled and the elderly and accessibility and disability management issues. 
For more information about Petpositive, please contact 6-012-220-3146.
PET+BLOGSPOT       
PET+BLOGSPOT is the official online blog of the Malaysian Animal-Assisted Therapy for the Disabled and Elderly Association (Petpositive).
We take pride in the fact that everything you read in our blog is ACCURATE, RELIABLE and THE LATEST.
Our blog which was first established in October 2007 currently has more than 35,000 hits. PET+BLOGSPOT is updated frequently.
Kindly take note that views expressed in this blog are not necessarily those of Petpositive.
You may also visit our Webpage by browsing: www.petpositive.com.my
The Reality of Being a Malaysian
Posted: 10 Feb 2010 04:06 AM PST
A friend had just sent me an article and in the article contained hard facts, facts that I cannot deny. I am not too sure if you feel the same as me, I realized that friends & relatives around seem to get lesser & lesser.
Those years when Chinese New Year drew near, all sorts of gatherings & appointments filling up the diary but somehow this year 2010, I felt emptiness inside. Even the phone calls & face to face meet up had become much lesser.
Perhaps they are busy with their own things to do or perhaps people nowadays prefer to stay in. However, this is not entirely true, thinking further, actually all my old friends & relatives are very much alive and well, the hard fact is indeed they left the country, Malaysia.
Take my sister for example, she has plan to buy a property in Singapore and eventually settle down there with her husband.
My friends, Myke, Damian, Steve and a few more had already settled down in Singapore. All of them are already PR and some were offered citizenship too. Most of them are enjoying an income much higher than most of us here who still stuck in Malaysia.
Another friend, Lawrence had migrated to US, Kenji & Loh to Japan. My cousins in Canada & Australia. These are just few names that I mentioned here, the list can go on & on...
At first, I thought these are individual cases but after further thought, these are more than individual cases, in fact these are general symptoms of our society. These are big numbers and the statistics as follow.
Department of Foreign Affairs released the figures and confirmed that the situation is real. From March 2008 through September 2009, a total of 300,000 Malaysians migrated to other countries, among them 200,000 left between Jan - Aug 2009 (in the span of 8 months).
Cumulatively, a total of 2 millions Malaysians migrated, this number is close to the number of Indonesians workers in Malaysia today. The difference is, those who migrated are mostly professionals & middle class people. Hard fact indeed!
Those who migrated have many reasons to do so (even myself); to pursue career development, for the future of their children, in search of better life & environment. In short, they actually lost hope on Malaysia. With the recent racist remarks thrown to us Chinese as prostitutes & fellow Indian as beggars, not forgetting too attacks on churches & temples. What is happening in this country?!?!?
50 years ago, people said Malaysia is very good, far better than Hong Kong and even Japan. 30 years ago, people said Malaysia is not bad comparable to South Korea & Taiwan (no more mentioning bout Hong Kong & Japan). 20 years ago, people said Malaysia can do-lah, at least better than China & Thailand. 10 years ago, people said no matter how bad Malaysia is, cannot be worse than Vietnam & Indonesia (China had since booming into first world country).
Today, the economic growth rate in the above mentioned Asian countries had far exceeded Malaysia. Social & intellectual development had also developed tremendously. And we had politicians in the ruling party comparing us to Philippines, Myanmar & Zimbabwe. Sigh...
However, an economist who recently surveyed Philippines foreseen that in 20 years to come, Malaysia will replace Philippines as the world exporter of Malaysian maids.
Over half the century, Malaysians live in the big old imperial housing complex, closed up and survive on properties left behind by the ancestor; continue to consume up social resources, wasteful, and drive away talents; they never talk about competitiveness, totally neglect productivity, and hate meritocracy.
When Asia economic storm hit in 1997, Malaysia closed their doors, thinking we beautifully avoided a disaster, there even think of themselves as genius, being able to handle the situation so well. However, just look at other countries in our neighborhood, they stand up, face the storm, and walk out of the storm. They overhaul the system, improve the processes and march forward, they moved up to a new level. And Malaysia, still walking on the spot.
These are all hard facts. It is not my choice to be born a Malaysian, even if other fellow Malaysian from other races would hurl racist remarks on us Chinese, it is indeed not my choice. Why don't we work together to build the nation so that we can once put Malaysia on the map of the world? Why all the negative publicity about us Malaysians?
Time to wake up, we are very very late now...
Juara Rakyat: Heret Ahmad Maslan Dan UMNO Ke Muka Pengadilan
Posted: 10 Feb 2010 06:42 AM PST
B
anyak pihak hari ini menggesa pimpinan Pakatan Rakyat (PR) supaya membuat laporan polis dan SPRM terhadap UMNO dan Ketua Penerangan UMNO yang menyalahgunakan agensi kerajaan untuk kepentingan politik UMNO.
Hari ini, Ketua Penerangan Umno Datuk Ahmad Maslan yang juga Timbalan Menteri di Jabatan Perdana Menteri menyatakan tidak menjadi kesalahan untuk Juara Rakyat menggunakan agensi-agensi Kerajaan.
Dengan angkuh beliau berkata, tuduhan bahawa Umno menyalah gunakan agensi kerajaan dalam pelaksanaan program Juara Rakyat tidak berasas sama sekali, dan tidak perlu dilayan. Umno menurutnya, mengambil pendekatan untuk hanya 'memekakkan telinga'.
Tambahnya lagi, program Juara Rakyat pada dasarnya adalah pemudah cara kepada semua agensi kerajaan dalam melaksanakan tanggungjawab mereka untuk mendekati rakyat, sekaligus menepati konsep pentadbiran negara ketika ini iaitu rakyat diutamakan.
Naib Presiden PAS, Datuk Mahfuz Omar sebelum ini telah menempelak pemimpin Umno supaya menjelaskan kepada rakyat bahawa semua projek dan program yang dilaksanakan dalam siri kempen Umno Juara Rakyat adalah menggunakan wang, kepakaran dan jentera Umno sendiri.

"Barulah boleh Umno dabik dada kata dia juara rakyat. Kalau tidak, dia hanya jadi juara menyalahgunakan wang rakyat untuk kepentingan politik Umno yang kian pudar dan mulai pupus," ujarnya.

Mengulas program Umno Juara Rakyat, beliau berkata kemungkinan pemimpin Umno menyedari parti itu dilihat terlalu jijik oleh rakyat sehingga menolak Barisan Nasional (BN) dalam Pilihan Raya Umum (PRU) ke-12 lalu.

"Yang menghairankan saya kenapa mesti Umno Juara Rakyat. Bukankah Umno bersama BN memerintah Malaysia. Tidakkah Umno sedar yang ditolak oleh rakyat ialah kerajaan BN," ujarnya.

Nampaknya, kata beliau, pemimpin Umno hanya mahu rakyat melihat Umno saja yang juara rakyat dan bukannya BN.

"Atau pemimpin Umno memang sedar faktor penolakan rakyat terhadap BN adalah kerana Umno yang sudah dilihat terlalu jijik oleh rakyat.

"Mungkin inilah jawapannya sehingga Umno terpaksa bertungkus lumus untuk menampakkan yang Umnolah juara rakyat," katanya.

Baginya, program yang dilancarkan oleh Presiden Umno yang juga Perdana Menteri, Datuk Seri Najib Razak di Hulu Selangor itu merupakan usaha Umno yang terdesak untuk mengembalikan keyakinan dan sokongan rakyat kepada parti itu.

Ini, katanya seperti yang dinyatakan oleh Najib bahawa Umno sudah insaf atas segala kesilapan masa lalu selepas keputusan PRU ke-12.

"Saya tak kisah kalau Umno nak ajak rakyat kata dia juara rakyat itu hak dia sebagai parti politik. Memang semua parti politik berusaha untuk mendapat sokongan dan dokongan rakyat.

"Persoalannya ialah kalau Umno nak mengaku yang dia juara rakyat, adakah program dan projek yang dia buat dalam kempen Umno Juara Rakyat menggunakan wang, tenaga, kepakaran dan lainnya dari Umno sendiri," ujar Mahfuz lagi.



Rosmah Kekal Canselor Unisel Sehingga Hujung Tahun - MB
Posted: 10 Feb 2010 06:08 AM PST
I
steri Perdana Menteri, Datin Seri Rosmah Mansor masih kekal sebagai Canselor Universiti Industri Selangor (UNISEL), sehingga hujung tahun ini, kata Menteri Besar Selangor Tan Sri Abdul Khalid Ibrahim.
"Masih... masih... masih sehingga hujung tahun ini" katanya kepada pemberita selepas mempengerusikan mesyuarat mingguan Exco di sini hari ini.
Beliau berkata demikian ketika diminta mengulas laporan laman berita web, Malaysiakini, yang memetik Exco Kerajaan Negeri Dr Xavier Jayakumar sebagai berkata bahawa Rosmah tidak akan dilantik semula sebagai canselor selepas tempoh lantikannya tamat Jun ini.
Jayakumar berkata kerajaan negeri belum lagi membuat keputusan tetapi perkara itu telah dibincangkan dengan Menteri Besar secara tidak rasmi.

Abdul Khalid berkata sama ada Rosmah akan dilantik semula atau tidak sebagai canselor universiti milik kerajaan negeri itu, bergantung kepada keputusan lembaga pengarah universiti itu. - BERNAMA

Ulasan GB

Kerajaan PR bukan sebusuk kerajaan UMNO BN, cantas sesuka hati.

Teringat kita kepada Tan Sri Sanusi Joned disingkirkan sebagai Presiden Universiti Islam Antarabangsa oleh kumpulan Pak Lah kerana Sanusi merupakan orang kuat TDM.

Dia sesama dia juga singkir menyingkirkan.



Posted: 10 Feb 2010 07:10 AM PST
It's easy to know what kind of person I am. There is no need to do an extensive profiling study on me. I'm pretty much predictable I'd say... 
1. I am emotional. It shows in the way I talk about things I'm passionate about, or the way I deal with a situation or the way I express things. The simplest example is this blog! I bet you've figured that out already. But I never let emotions compromise my work (yes boss, I know you're reading this).

2. I am loud. I talk and talk and talk and talk... I get nervous in silent awkward moments. I laugh out loud. I talk loudly. I express my feelings out loud and strongly. I feel uncomfortable when I am unable to generate or create conversation.

3. I am opinionated. Seems like I have opinions for lotsa things. My opinions don't necessarily be right, but I just have one anyway hahahhaha

4. I am super duper stubborn. I don't listen to people especially those who are really close to me. I do what I wanna do. And the more I'm being told not to do something, the more urgency to do so.

5. I can be pretentious. What you see is merely the surface or tip of the iceberg. I have many skeletons in my closet. Ahah!

6. I may be a little bit crazy. OK. Maybe a lot. This can be validated by him. He did everything a guy could do to chase a girl away (yes, I do mean literally everything), and yet I still stick by his side without fail when there is simply no reason to do so. When I should have in fact hate him to guts. In return, I did a lot of things just to piss him off and made him stay away from me so that he'd push me away, ignore and kick me out of his life for good.. from stalking.. to harassing.. to invasion of privacy..to physical pain (u really don't wanna know)..to being a total bitch.. yet, somehow none worked either. He's still there the next day and the next day and the next day.

7. I dont know how to hate people. Most of the time I ignore those I dislike but I can never hate them. I don't know how to be mean and even if I do then the person definitely deserves it then.

8. I am a public person. My personal life is all over the web I think. Maybe because I think I got nothing to hide. But I believe most of the time when you publish more things, the lesser people ask about your personal life because they think they know everything already.

9. I'm adaptable. You can throw me away into a pool of people I don't know and I can mingle as of I've known them for years. My weakness is that I can only make friends for that particular time and then I will never remember them again unless they are really interesting lol

10. I am overly conscious about financial stability. One may call me materialistic, yet a girl gotta do what a girl gotta do - secure herself. I am wary about savings and expenditure. At times  I can be stingy - inherit that from dad.

11. I keep friends at arm's length. I've dealt with back-stabbing individuals and I've never trusted anyone entirely ever since. I learnt how to not belong in any clique and got used to do everything on my own since then. Most of my time is spent with family; siblings and family relatives.

12. I have a bad habit of talking about boring stuff like religion and politics and governance and blah blah blah. It chases 'normal' people away. I have no interest in music (so I suppose I'm gonna start developing some) or shopping (like normal girls do). I love outdoors. Anything adventurous!

13. I love attention. The more the better. Just don't expect me to reciprocate.

There you go. No secrets. It's all me..

Anwar Ibrahim at the Court today
Posted: 10 Feb 2010 03:43 AM PST
This posting includes an audio/video/photo media file: Download Now
Posted: 10 Feb 2010 03:31 AM PST
FEB 10 2010— For an event with only two outcomes, there is a 50-50 chance of it happening either way. So you would have thought. Consequently, many wanted the verdict of 9 February of the country's top judges in the apex court to reflect that logical outcome. More so in a constitutional impasse that has drawn attention of the entire nation, nay the entire world.
But wouldn't it be a wishful thinking to have ever thought that MB Nizar would win? Yes, perhaps, given the state of our very-much-to-be-desired judiciary. But in a not-so-clear-a-case like this acrimonious debate, you still harbour a little hope for a close call at least.
When the federal court returned a verdict of a thrashing 5-0 win to MB Zambry, you can't blame the many that have alleged that the law has truly become an ass. I could still recall MB Nizar wanted a full 9-member bench. The country has just been saved from being humiliated, the greatest shame of the century with a 9-0 verdict!
In the same vein, imagine the battle of two titans in a world cup with an outcome of 5-0 win. Now imagine a 9-0 win. Mind-shattering, too bizarre! That's exactly the state of affairs in our beloved country right now, Mr PM. Beleaguered.
It's most pathetic to have heard you, Mr PM, say, "let's accept the court's verdict and move on". That was your knee-jerk response as usual, nothing really go high up beyond your brain-stem. You have 'to say something' each time and you did. But true leaders have really 'something to say', regrettably, you didn't.
We shall wait in anticipation, for the time when the rakyat will one day tell you to just accept the verdict of the election, Najib ie your defeat, and move on. It may not be the next 13th GE as yet. But it could well be. You and your First Lady must pack your bags and get out of Putrajaya.
If you could gladly and heartily accept the verdict of that election that makes you the man who has led one of the world's longest-governing parties to defeat, perhaps we might reconsider our revulsion and disgust to this verdict. Perhaps we could emulate your magnanimity and grace. But could you accept defeat and just move on?
Be that as it may, the country has got to absorb the far-reaching implications of this verdict. Cynicism aside, I now write with a bipartisan interest, with the Federal Constitution (FC), the nation and the rakyat at heart.
Of the many implications, this piece is only highlighting one. But this one implication must be unequivocally and categorically said as it is the one that revises and transforms the FC through a backdoor manner of sort.
Never before had I wished to have a doctorate in law, only when 'lawlessness' and the assault on the FC have reached levels that were previously unimaginable. Yes, the verdict has outrightly disfigured the notion or doctrine of a constitutional monarchy.
Amidst their euphoria, the BN leaders seemed oblivious of the full import of the verdict. With the judgment by none other than the top judges of the apex court of the country, the principles governing a vibrant and functional parliamentary democracy is seriously challenged and critically compromised.
Do judges really understand the concept of responsible government, where it is a conception of a system of government that embodies the principle of parliamentary accountability responsible to parliament (and if bicameral, primarily to The Dewan Rakyat, which is directly elected, and thus more representative than the Dewan Negara) rather than to the monarch, or, in the colonial context, to the imperial government.
The apex court has added another case to a list of cases that contravenes the very notion of constitutionalism and representative democracy, the very heartbeat of the FC. That the Monarch could refuse the appointment of a Menteri Besar chosen by the party in power is admittedly arguable as in Terengganu. That didn't directly impinge and intrude on the practice of democracy but more appropriately to save democracy.
But if the Monarch could now dismiss the lawful Menteri Besar (and by so doing brings down a government i.e. causing a regime change) if he so chooses, one that is democratically elected and appointed by the people, this is totally not analogous and different from the former.
In very plain English, the Federal Court affirmed the role played by Sultan Azlan Shah in the change of government in Perak a year ago. The apex court concurred with the appellate court's ruling that MB Nizar must resign after failing to get the Perak Sultan to dissolve the state assembly to pave the way for fresh elections.
It was the Sultan who interviewed the three elected representatives who resigned from Pakatan Rakyat and concluded that MB Nizar had lost the confidence of the state assembly. Incidentally, two of the three assemblymen were under indictment for corruption.
In the true spirit of a responsible government and a country that upholds constitutional monarchy, renowned constitutional law experts from Malaysia and abroad, had critically opined that the proper forum to test a motion of no confidence should be the legislative assembly. The judges were also quick to penalise Nizar's lawyers on a technical ground of not resorting to the right provision in their submission. But judges of such stature surely need no reminders from lay people to see the bigger picture of constitutionalism and its underpinning objectives.
The court in this instance has added another case to a list of cases that contravenes the idea of constitutionalism and democracy, which stand at the very heart of the FC. That is actually the bone of contention in this debate.
The intervention of the royal household indeed invited scorn from Malaysians and subsequently embroiled the Monarch and the palace into disrepute. This is most regrettable much as it is disfiguring the notion of a constitutional monarchy. But the powers-that-be are not concern as long as they could achieve their political ends. In simple plain English again, theirs have now become a government appointed by the Monarch, not elected by the people.
Has the anger and disappointment with the palace gone away? No. The Merdeka Center survey shows clearly that a significant percentage of the people of Perak are dissatisfied with the role played by the palace in the Perak power grab.
Some 74 per cent of voters in Perak felt that elections remain the best way to end the impasse in the state. In the same survey conducted by Merdeka Center, voters were asked to choose which they preferred: a. the economy or b. having a democratically-elected government. Sixty per cent of the respondents said they wanted a government elected democratically.
That this is a very sad day for democracy is a gross understatement.
* The views expressed here are the personal opinion of the columnist.
http://www.themalaysianinsider.com/index.php/opinion/dzulkefly-ahmad/52658-has-the-law-become-an-ass-
The Beautiful Red Beaded Tunic
Posted: 10 Feb 2010 04:19 AM PST
Dear Miki,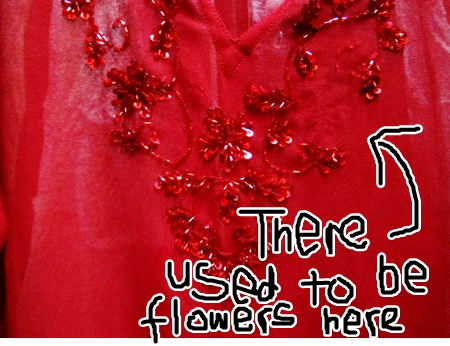 I hope you can read my hand writing. I used the mouse and my hand was shaky.
THAT SHIRT WAS EXPENSIVE, MIKI!
I took my eyes off you for just one minute and you turned our living room into heaven! Glittering ruby strewn across the floor!
I mengorat-ed your Daddy in that tunic, Miki! That one has a sentimental value!
No, you do have to repay me for a sin that naughty thing you have done when you were two. You Daddy had already!
Jom Daddy, let's go shopping. Your offspring destroyed my baju so now I need one new tunic and three new dresses.
Hmmppp
KESEDARAN PERUNDANGAN BELIA (YOUTH LEGAL AWARENESS): "KEMPEN PERLEMBAGAANKU/ MYCONSTITUTION CAMPAIGN"
Posted: 10 Feb 2010 03:42 AM PST
PADA 6 & 7 MAC 2010
DI HOTEL ARMADA, PETALING JAYA
Merujuk kepada perkara di atas, adalah dengan segala hormatnya, Sisters In Islam (SIS)
dengan kerjasama Jawatankuasa Undang-Undang Perlembagaan, Majlis Peguam Malaysia ingin menjemput saudara/saudari untuk menyertai Bengkel Youth Legal Awareness (Kesedaran Perundangan Belia) : Kempen Perlembagaanku/MyConstitution
2. Butiran bengkel kerja ini adalah seperti berikut:
Program: Youth Legal Awareness: My Constitution Campaign/ Kempen PerlembagaanKu
Tempat: Hotel Armada, Petaling Jaya
Tarikh: 6 & 7 Mac 2010
Peserta : Warganegara Malaysia, belia berumur 20 – 25 tahun
Pendaftaran: RM10.00 seorang
(Pembayaran boleh dibuat ketika pendaftaran pada 6/3/2010)
untuk pertanyaan:
03-7785 6121 (Sufiah/Syuhada)
Peguam Negara Peram Hasil Siasatan SPRM?
Posted: 10 Feb 2010 04:25 AM PST
K
etua Suruhanjaya Pencegahan Rasuah Malaysia (SPRM) Datuk Abu Kassim Mohamed berkata siasatan badan itu
berhubung beberapa kes berprofil tinggi telah disempurnakan dan kini diserahkan kepada Pejabat Peguan Negara untuk tindakan
, demikian lapor malaysiakini.
Kes-kes itu termasuk yang
membabitkan bekas menteri besar Selangor, Datuk Dr Mohd Khir Toyo dan bekas menteri pelancongan, Datuk Azalina Othman Said
.
"Saya berharap keputusan akan dibuat secepat mungkin," katanya.
Menurut Abu Kassim,
pihak peguam negara perlu menjelaskan kepada panel penasihat SPRM jika tiada tindakan diambil dalam tempoh enam bulan selepas siasatan diserahkan
.
"Mengikut suruhanjaya baru, apa yang dipendam oleh AG melebihi enam bulan mesti dijelaskan kepada jawatankuasa penilai. Mereka mempunyai hak untuk mengetahui," katanya.

Abu Kassim berkata demikian semasa pertemuan sejam antara anggota panel penasihat SPRM dengan pengarang kumpulan Malaysiakini, Steven Gan, minggu lalu.

Ulasan GB

Jika demikian halnya, GB merasakan bahawa desakan kuat perlu dilakukan ke atas Peguam Negara supaya kes-kes profail tinggi itu diambil tindakan segera. Hal ini juga perlu dibawa ke Parlimen.

Aduan juga perlu dilakukan kepada SPRM terhadap Peguam Negara, Abd Gani Patail, supaya Abdul Gani Patail disiasat mengapa melengah-lengahkan pendakwaan. Dan jika selepas enam bulan tiada pendakwaan, dikatakan peguam negara perlu menjelaskan kepada panel penasihat SPRM. Itu tidak memadai. SPRM boleh dipermainkan oleh Peguam Negara juga akhirnya. Peguam Negara tiba-tiba menjadi orang yang menentukan samada kes itu perlu didakwa atau pun tidak.

Dalam banyak hal, penyalah-gunaan kuasa oleh Peguam Negara boleh berlaku malah sudah amat ketara dan keterlaluan.

Pakatan Rakyat perlu pantas berfikir dan bertindak.

Pakatan Rakyat perlu memainkan peranan pro-aktif mempastikan Peguam Negara dan Ketua Polis Negara bekerja berdasarkan etika professionnya dan bukan untuk kepentingan kerajaan BN.

Pakatan Rakyat perlu pastikan kedua-dua orang ini dilucutkan jawatan dan untuk tujuan itu PR perlu membuktikan mereka bekerja untuk kepentingan kerajaan dan bukan negara.

Bukti-buktinya banyak jika dibentuk satu "task-force" bagi tujuan berkenaan.

Tapi alahai, PR belum bersedia ke Putrajaya, sampai ketua dah nak kena penjara pun, ramai pemimpin PR masih terbuai dengan isu-isu buatan musuh.

Bukan GB saja, rakyat lemas ler pemimpin-pemimpin lembab macam Pak Lah dulu.


Tindkan Tegas Akan Diambil Ke Atas Zulkifli Nordin - DSAI
Posted: 10 Feb 2010 01:29 AM PST
P
arti Keadilan Rakyat (PKR) akan mengenakan tindakan tegas terhadap Ahli Parlimen Kulim Bandar Baharu, Zulkifli Nordin berikutan kenyataan yang dikeluarkannya bertentangan dengan prinsip parti dan dasar Pakatan Rakyat (PR).
Ketua Umum PKR, Datuk Seri Anwear Ibrahim berkata, prinsip parti jelas bahawa hanya ahli yang mempersetujui dasar parti kekal dalam PKR.
"Itu dalam proses mesyuarat jawatankuasa disiplin dan kita akan tegas. Tidak mahu orang cari alasan untuk apa-apa, kita ikut prinsip saudara setuju pada dasar saudara kekal, tidak setuju tidak ada pilihan,'katanya.
Beliau berkata demikian ketika mengulas mengenai kenyataan Zulkifli bahawa DAP tidak diperlukan dalam PR yang dianggap sebagai punca utama masalah dalaman yang melanda pembangkang.
Anwar dengan tegas menyifatkan kenyataan itu sebagai pendapat peribadi Zulkifli yang dimanipulasi media Umno untuk memecahbelahkan oarang Melayu dan Cina.

"Itu pendapat peribadi dia yang bertentangan dengan pendirian pimpinan dan dasar Pakatan Rakyat serta Keadilan. Dalam konvensyen baru-baru ini PR telah memutuskan untuk menerima tiga-tiga parti induk PKR, Pas dan Dap menerima beberapa prinsip asas perlembagaan, nbaik bahasa, hak istimewa orang Melayu, agama Islam dan kedudukan Raja-raja.

"Tapi dipermainkan media Umno untuk memecahbelahkan diantara Melayu dan Cina dan ini diteruskan. Media Umno memperbesarkan seolah-olah DAP menetang hak ke istimewaan orang Melayu. Ia tidak berbangkit kerana pimpinan DAP, Keadilan dan Pas telah menandatangani bersama,"katanya.

Dalam pada itu, Anwar berkata beliau tidak menghalang sekiranya Pas ingin mengadakan perbincangan dengan Umno dan Pakatan Rakyat sedia maklum mengenai perkara itu.

Katanya, bagaimanapun Pas tidak berganjak dengan pendirian bersama Pakatan Rakyat untuk menengakkan prinsip mereka.

Terdahulu Mursyidul Am Pas, Datuk Nik Abdul Aziz Nik Mat melahirkan hasrat untuk melihat Umno dan Pars duduk semeja membincangkan isu berkaitan agama Islam.-YUSMAWATI MHD YUSOF (TVS)



Pakatan Rakyat tak perlu DAP

KUALA LUMPUR: Anggota Parlimen Kulim-Bandar Baharu, Zulkifli Nordin daripada Parti Keadilan Rakyat (PKR) mengibaratkan DAP duri dalam daging bagi Pakatan Rakyat (PR) dan sebenarnya tidak diperlukan langsung.

Beliau berkata, apa yang ada kini hanyalah persepsi iaitu PR tidak boleh bergerak jauh tanpa DAP kerana menyangka tidak akan menerima undian daripada bukan Melayu.

"Sebenarnya pada pandangan saya, kita tidak perlukan langsung DAP....PR perlu bertegas dalam meneruskan pimpinan agenda rakyat," katanya ketika program Soal Jawab bersama Pengarah Eksekutif Berita dan Operasi Editorial Media Prima yang juga Pengarah Eksekutif Editorial The New Straits Time Press (M) Bhd (NSTP), Datuk Ahmad A Talib di TV3, malam tadi.

Menurutnya, perbezaan ideologi antara ketiga-tiga parti ini mulai dikesan selepas keputusan pilihan raya umum ke-12 pada 2008 lalu yang sebelum ini diketepikan.

"Kita tidak dapat menjangka apakah perubahan drastik yang bakal berlaku dalam tempoh dua ke tiga minggu akan datang kerana keadaan menjadi kritikal apabila PKR mula bersuara mengenai kepemimpinan DAP di Pulau Pinang.

"Saya tidak akan terkejut jika ahli PR beramai-ramai membuat keputusan keluar parti yang mungkin bertindak secara individu atau mewujudkan parti baru.

Menjawab persoalan spekulasi keluar daripada parti, beliau berkata akan mengumumkan perkara berkenaan selepas perkara (keluar parti) itu sudah berlaku.

Malah beliau berkata, apa yang berlaku di Pulau Pinang adalah permulaan kepada DAP menunjukkan belang sebenar dan agenda sendiri apabila ditukar 'Malaysia Malaysian' kepada 'Middle Malaysia'.

"Pada saya, 'Middle Malaysia' ini cuba menukar Malaysia menjadi seperti Macau dan Hong Kong, malah inilah masalah sebenar dalam PR yang cuba di selindungi dan kebanyakan masalah berpunca daripada DAP," katanya.


Beliau berkata, peletakan jawatan oleh Ahli Parlimen sebelum ini kerana tidak berpuas hati, malah kejatuhan PR di Perak juga berpunca daripada DAP namun kini wujudnya pemberontakan dalaman. -hmetro

Zulkifli tidak wakili PKR kecam DAP

Setiausaha Agung DAP, Lim Guan Eng menyifatkan kritikan Ahli Parlimen Kulim-Bandar Baharu, Zulkifli Nordin yang mendakwa DAP tidak diperlukan dalam perjuangan pembangkang adalah pandangan peribadi beliau semata-mata, bukan mewakili pandangan Pakatan Rakyat (PR) atau Parti Keadilan Rakyat (PKR).

Ketua Menteri Pulau Pinang itu juga enggan mengulas lanjut kenyataan Zulkifli kerana perkara itu menyentuh isu dalaman PKR, di samping tidak mahu ianya disalah tafsir mana-mana pihak.

Guan Eng berkata, meskipun beliau dikritik hebat oleh beberapa pemimpin PR kebelakangan ini, beliau menerima apa sahaja tohmahan dan fitnah yang dilemparkan terhadapnya, asalkan ianya tidak mewakili parti berkenaan.

"Saya enggan komen kenyataan Zulkifli (Nordin) kerana bimbang ianya menyentuh isu dalaman PKR.

"Lagipun saya tidak mahu kenyataan saya disalah tafsir oleh pihak tidak bertanggungjawab. Biarlah parti beliau (PKR) yang menentukan apakah hukuman yang sesuai ke atasnya memandangkan kesemua mereka yang mengkritik pemimpin PR yang lain sudah dihadapkan ke Lembaga Disiplin parti,"katanya pada sidang media di sini semalam.

Guan Eng berkata demikian ketika diminta mengulas kenyataan Ahli Parlimen Kulim-Bandar Baharu itu yang mendakwa DAP tidak diperlukan dalam perjuangan pembangkang.

Zulkifli daripada PKR turut menyifatkan DAP sebagai 'duri dalam daging' yang sering menimbulkan banyak masalah dalam PR di samping menggesa, pemimpin tertinggi pakatan pembangkang bersikap lebih tegas dalam menangani isu itu.

Selain itu, Zulkifli turut mendakwa, wujud segelintir pemimpin dalam DAP yang mempunyai agenda sempit atau cauvinis. -SH
Ku Li: Nizar Masih MB Perak Yang Sah
Posted: 10 Feb 2010 01:20 AM PST
V
eteran Umno, Tengku Razaleigh Hamzah menegaskan Datuk Seri Ir Haji Mohammad Nizar Jamaluddin masih lagi menjadi Menteri Besar Perak sehinggalah beliau meletakkan jawatan atas kerelaannya sendiri, atau disingkirkan melalui usul undi tidak percaya pada persidangan Dewan Undangan Negeri.
"Usul pada Dun sahaja yang boleh menyingkirkan Nizar daripada jawatan itu,
selain itu tak kiralah berapa banyak majlis angkat sumpah, lompat-melompat, sidang akhbar dan perisytiharan, atau apa jua iklan, paparan, sogokan atau tindakan dibuat ke atas persoalan ini tidak terpakai,
" katanya dalam satu kenyataan akhbar hari ini.
"Perlembagaan tiada memperuntukkan kuasa untuk menyingkirkan Nizar dengan apa cara sekalipun, termasuk petisyen atau arahan daripada sesiapa juapun."
Beliau juga berkata, sebuah kerajaan yang sah daripada segi perlembagaan adalah yang diberi mandat oleh rakyat dan hanya mandat itu yang menentukannya. Mandat rakyat kerana kerajaan yang ditubuhkan adalah berasaskan perlembagaan, yang mana ia dipilih melalui pilihan raya yang adil dan saksama.

"Untuk menguji mandat berkenaan maka kerajaan yang memerintah, mesti sama ada menyerahkan kembali kepada rakyat untuk menentukannya melalui pilihan raya negeri ataupun melalui usul undi tidak percaya pada persidangan dewan undangan negeri,' kata Tengku Razaleigh.

Beliau berkata, untuk menyingkirkan dan menubuhkan kerajaan baru dengan kaedah ataupun cara selain itu adalah bererti melanggar Perlembagaan, melanggari undang-undang dan risiko menubuhkan sebuah kerajaan haram. -TVS

Ulasan GB

Dan Nizar dan PR di Perak sudah pun surrender, dah rela untuk jadi pembangkang.

"Bekas Menteri Besar Perak Datuk Seri Mohammad Nizar Jamaluddin berkata Pakatan Rakyat mahu kerajaan negeri yang dipimpin Datuk Seri Dr Zambry Abdul Kadir memenuhi beberapa tuntuan mereka.

Beliau berkata Ahli Dewan Undangan Negeri (Adun) parti gabungan pembangkang yang bermesyuarat malam ini juga menetapkan supaya mereka dibenarkan menggunakan kemudahan dewan orang ramai di Perak untuk menjalankan aktivitinya.

Selain tidak disekat daripada menghadiri mesyuarat Jawatankuasa Tindakan Negeri dan Jawatankuasa Tindakan Daerah bagi membolehkan mereka memberikan input bagi kepentingan rakyat Perak, katanya kepada pemberita di sini malam tadi.

"Kami merayu Adun pembangkang dibekalkan dengan sedikit peruntukan kewangan supaya kita dapat melancarkan kerja-kerja berkaitan kebajikan rakyat," kata beliau.

Nizar berkata gabungan parti pembangkang itu bersedia memberikan kerjasama kepada kerajaan negeri Barisan Nasional (BN) di bawah kepimpinan Menteri Besar itu demi kepentingan rakyat sekiranya syarat yang mereka tetapkan dipenuhi.

Walaupun beliau menerima keputusan Mahkamah Persekutuan yang mengisytiharkan Zambry sebagai Menteri Besar Perak, tetap menganggap ia merupakan sesuatu yang menyedihkan dan akan meneliti keputusan penghakiman itu sebelum memutuskan tindakan seterusnya." -MI


Posted: 10 Feb 2010 04:42 AM PST
As I was preparing my report on our Sponsorship/Children Education Fund (CEF), I had to go through the files to get the statistics – how many children and how much spent throughout the year.
16 children from 9 families were covered under our Sponsorship program, while another 23 children from 12 families were covered by our CEF. That means we managed to help out with the educational needs of 39 children from 18 different families (a few families overlap – some children covered under Sponsorship and another one or two covered by our CEF). All the while I thought we covered just about 30 children or so – I never realised we've reached almost 40!
Out of the 18 families, I'm either the main buddy or co-buddy to 13 of them, although I have met all 18 families, and have visited 14 of their homes – in 10 different towns. And of the 39 children, I've personally met 37 of them!
Our CEF actually started much earlier, when Buddies was still under the wings of FHA (Family Health Association, back then known as Family Planning Association). I hadn't even joined Buddies yet. However, since budget was rather limited, the financial assistance too, was limited as well.
So we started off the Sponsorship Program in 2008, getting individual sponsors to sponsor the needs of individual children, ie 1 sponsor to 1 child. The response was overwhelming!
And during the second half of 2009, we managed to get quite a huge sum from donors, and now we have more money to spend under our CEF as well. Alhamdulillah. So spend on the children we will – but only on their educational needs. We have always believed in the rights of the children to basic education at least – no matter what kind of circumstances their parents are in. It frustrates me every time I hear about children not going to school due to poverty. They will end up inheriting their family's poverty.
But it can be tough trying to influence some of them, especially if they have already stopped schooling. Somehow they only see the short term – they'd rather work now so they can help their family. Whereas if they think long term, they should be able to help their family better if they get better education!
Mrs K's son, Shah for example, opted to work even though I advised him to go to Giat Mara for just a 6 months course to enhance his skills and to enable him to get a better job. Devi's son, who stopped schooling at form one, also chose not to accept our offer to help him get back to school. He's now doing odd jobs to help his family. In both cases, the parents themselves did not encourage the children to continue studying. I guess they felt they needed their children more to earn income for the family.
Sofie too, almost asked her son, who was then in form 3, to work part-time. Only when I begged her not too, promising I'd try to get financial help for the family, did she agree to let him concentrate on his studies. Now the boy is under sponsorship, and Sofie's family is also getting some other financial help, so she is no longer thinking of getting the boy to work yet.
I do hope these children will fully utilise the educational help they are getting. I hope they will take the opportunity to do well in their studies, and hopefully after SPM they will also further their studies in higher learning institutions.
I already see hope in Lin's, Sofie's, Rosnah's and Pushpa's children. Their mothers are not only HIV positive – they are also thinking positive!