---
Posted: 21 Feb 2010 08:25 AM PST
Every 24th of December is Silent nite... Every 9th day of Chinese New Year is a noisy night... Every year we go to my grand uncle place for the celebration...
Last year celebration
I was @ my condo this year. Didn't go over to my grand uncle place due to my parent just got back from Vietnam and they were very tired. They were aslept now before i got back from my yamchar session.
Anyway, it's 12:27am now, the night was still very happening. Don't know what time those noisy will stop. All those firecracker, fireworks, gunshots (sound like) blek~ basically from every direction. Anyway, i have to force myself to sleep now. Otherwise i will be fishing tomorrow during work.
Okie~ Gotta hit the bed now. Ciao~ Do you celebrate the 9th day of CNY?
Posted: 21 Feb 2010 08:23 AM PST
assalamualaikum uollss...
sorry lame x jengok2 blog..busy dan malas nak type..
semalam akak lepak2 ngan kawan2 akak minum2..maklum lah malam minggu...so kawan akak sorang pandai menilik tapak tangan ...akak tahu menilik nasib itew berdosa....so akak
layan je....bukan nak percaya pun just suka2....
dia tengok tapak tangan akak dia kata....akak ni x kan kaya...hidup akak tahap tu je...cinta xde....sukar mencari cinta...kewangan tahap gitew2 je..x kan kaya....hidup lama tp sepi....
hebat kan dengan tapak tangan je dah dapat tahu masa depan..ape kata lepas ni ko tilek tapak kaki pulak..kot2 lain pulak kata dia....
mmg akak tak percaya benda2 ni....tp bila akak menung2 sorang2...kalau lah hidup akak seperti yang di gambarkan...alangkah pilunya hati ini....
sekarang ni pun kerja light2 je...gaji naik sikit je...kena maki berkati2 setiap hari...(tp akak dah isi borang kpli nak jadi cekgu...leh ke)...kadang2 tu bosan nak gi kerja..memikirkan ape lah lak yang akan jadi ari ni...kena maki lagi ke..tension..kadang2 tu menangis senyap2 depan komputer...hati terguris tp x sape tahu....
akak ni mmg happy go lucky orangnya..huha huha selalu...jarang nak tengok akak sedih..tp sebenarnya hati akak selalu menagis...x sapa tahu..dalam gelak2 akak tu sebenarnya menangis...x nak nangis depan orang..malu....
duit plak x pernah cukup..bayar tu bayar ni..dapat gaji je semua buat bayar lubang2 utang...utang mak abah lah..utang kawan..utang bank..macam2....
lepas tu kekasih xde...jelous tengok orang ade pasangan....ade gak teman nak lepaskkan perasaan...kita duk tengok je..mane kawan2 yang ade kekasih tu kita duk perli2 selalu..tp dalam hati sebenarnya...cemburu...selalu dok berkata dalam hati...agak2 ade ke orang suka kat aku ni..agak ade ke admire kat kite...ade ke yang tengok kita ni comel...mmmmm entah lah...sedih kenang nasib diri....
dah lah xde duit satu hal...kekasih xde satu hal lagi....tp nasib baik kawan2 n family ade...tp tu semua lain...kekasih lain....
kadang2 tu takut nak pikir...apelah jadi kat aku bila dah tua nanti...miskin...sorang2....huyooooo takut lah....
nak bukak business x tau nak jual ape....duit modal pun xde...feeling nak buat business...kawan2 lain semua dok pose ngan duit kepok2 ..kita jangan kata kepok...baru arini dapat gaji 3 jam kemudian tinggal 100....nasib...nasib...
nak usaha n ikhtiar cam ne lagi pun x tau...ke nasib aku ni cuma takat ni..ala2 cukup makan je...selalu aku doa kat tuhan...murahkan lah rezeki...panjang kan umur....
ape pun aku selalu ingat satu perkara...
" hidup mesti di teruskan walau ape pun rintangan...qada' dan qadar tu tuhan dah tentukan..kita cuma kena usaha supaya nasib berubah"...
mungkin aku x nampak jalan mane aku nak tuju kot...mmmm...entah lah...moga tuhan bukak mata dan pintu hati ni...
..
Twitter Weekly Updates for 2010-02-21
Posted: 21 Feb 2010 07:59 AM PST
Chronicles of Duncan MacLeod: Down by the Brook
Posted: 21 Feb 2010 07:58 AM PST
When compiling a family history, one basically has two sources of information: documents and oral history. They complement each other quite nicely, in most cases. Sometimes they contradict each other. Sometimes they do both.
Some of the things I've learned while researching the history of my mother's family have contradicted what Papa told me. As impressive as Papa's memory is, he's human; he gets things wrong. But I wouldn't trade his contributions to my knowledge of our family's history for anything.
Duncan MacLeod's grandparents, Angus and Jessie MacLeod, were still living when he and his brother Hughie spent their first summer up on River Denys Mountain, back in 1937. Papa and I were talking the other day and when I mentioned his grandparents, he said he was sure they were long dead by the time he and Hughie went up there. He said his uncle Dan would have taken him and Hughie up to see their grandparents. They would have wanted to see their grandchildren, he told me.
I don't know why Papa doesn't remember meeting his grandparents, and I feel bad that I annoyed him by telling him they were alive during the summer he spent with his uncle Dan. I know they were definitely alive during the summer of 1937. They wouldn't stay alive for long though: official government records show Angus and Jessie both died in early 1938. But while Papa doesn't remember meeting them, his memory of the story of their passing complements what the official records say.
My great-great-grandfather, Angus MacLeod, was born around the year 1848, give or take a year or two in either direction, in Inverness County, Cape Breton, Nova Scotia, the fourth of ten children born to Duncan MacLeod and Annie MacIsaac (the others were Duncan, Euphemia, John, Mary, Flora, Jessie, Flora Ann, Hugh, and William).
My grandfather once told me Angus's brother William, also known as Wild Bill, was his grandfather. I later discovered through my research that it was in fact Angus, not his youngest brother, who was my great-great-grandfather. William remained single and died in 1932 at the age of 70; it was Angus who married Jessie MacInnis, daughter of John MacInnis and Mary Ann MacDougall of Judique Intervale.
Angus and Jessie had 13 children that I know of: John, John Rory, Duncan, Donald Ignecious (aka Dan), Annie, Flora Ann, Mary Sarah, Neil Duncan, Hector, John Hugh (aka Hughie), John Alexander (aka Alec), Ronald, and Robert.
According to the official record of Angus MacLeod's death, he died at home on January 30th 1938. The official cause of death was 'Apoplexy', a term that was often used when someone had died suddenly, most likely of heart attack or stroke. His wife Jessie died just a few days later, on February 5th 1938. Her official cause of death was lobar pneumonia. The physician who'd attended to her, Dr. Kennedy from Mabou, reported that he'd begun treating her on January 27th, which was also the last day he'd seen her alive.
The official records yield other little bits of information that are quite useful as far as my research is concerned. You might say the records tell a story. All records do, if you know how to read them. Official records have told me a lot about my MacLeod ancestors, things even Papa didn't know. But they still can't tell the story like Papa can.
Angus was about 20 years older than his wife. (It was either Angus or Wild Bill who, when asked as a young man why he hadn't married yet, replied, "Because she hasn't been born yet.") It must have been difficult for Angus, who was around 90, to see his relatively young wife suffering terribly from pneumonia. He had probably always assumed (though this is just conjecture on my part) that he would die long before she did. Now he was faced with something that must have been unthinkable: life without her.
Maybe Angus thought that just couldn't happen. I'm not sure, but I know it didn't happen. On January 30th, Angus went out to get some water from the brook. It was the dead of winter; I'm not sure why his children let him go out there. Maybe they knew. Maybe everyone just knew. Angus went out to get some water from the brook and never came back. He was found down by the brook, dead.
Just a few days after her husband's death, Jessie succumbed to pneumonia. That's what the official records tell me. What the records don't say, though, is what Papa told me: that for years to come, the people of Glencoe would say that Jessie had really died of a broken heart.
***
Chronicles of Duncan MacLeod is a series of posts on my MacLeod ancestors. Some are based on my research but most are stories told to me by my grandfather, Duncan MacLeod. Here are the other posts in the series:
The Swans of Eigg
The Gardener's Crossing
The Kilt
Crooked-Neck MacLean
One Eye, Two Guns, Three Tunes & Twenty-five Cents
Hold Fast
Up Over the Mountain
Black Bears & Blueberries
The House Down the Road
The Blind Man's Biscuits
Opposition is for the Government to perform better - not worse! Opposition Necessary As Reflection Of Government - Mahathir
Posted: 21 Feb 2010 08:37 AM PST
He said the ploy indirectly dented investors' confidence in Malaysia, adding that in other countries, the opposition did not rally the support of the international community to support its cause.
"But why does the opposition here tarnish the image of the country by creating the wrong perception," he asked at a news conference after opening the 31st branch of the Tambun Umno division here today.
He was commenting on a note handed by 50 Australian members of parliament (MP) to the Malaysian High Commission in Canberra, calling for Datuk Seri Anwar Ibrahim's sodomy trial to be dropped.
"This turn of event occurred as a result of relations forged by opposition leaders with the international community, persuading them to interfere in the domestic affairs of the country," said Ahmad Husni.
He said however, the people could read the opposition's ploy.
Ahmad Husni, who is also MP for Tambun, said the people's support for the government had soared as they were confident of the leadership of Prime Minister Datuk Seri Najib Razak. — Bernama
Flashback

June 09, 2009 16:04 PM
Opposition Necessary As Reflection Of Government - Mahathir
SHAH ALAM, June 9 (Bernama) -- Former prime minister Tun Dr Mahathir Mohamad said the opposition was necessary as a reflection of the government.

"It's not healthy to have a one-party state. We need to have the opposition. Otherwise, we won't have a 'mirror' to see whether we look good or not," he said at a news conference, here, today.

He was asked to comment on the proposal made by PAS president Datuk Seri Abdul Hadi Awang at the party's 55th general assembly last week on the setting up of a unity government between PAS and Umno.

Dr Mahathir said the proposed unity government was also not clear, whether it was to be between PAS and Umno or between Barisan Nasional (BN) and Pakatan Rakyat.

"If unity is just among Malays, Chinese with Chinese, and Indians with Indians, we'll be divided into three groups. I don't know...but it's not my problem, I'm already retired.

"In those days when we formed BN, we invited all parties to join except DAP. PAS also joined BN but later split from the coalition as it used its power in government to strengthen the party and not BN," he said.

Asked how a unity government could benefit the country, Dr Mahathir said it would only bring good if both sides were sincere about doing it in the interest of the nation.

"But it's sometimes difficult for politicians to be sincere. I'm also a politician, you know," he said, smiling.

Earlier, Dr Mahathir launched a pilot plant of Green Base Utama Sdn Bhd in Section 28 here which turned discarded plastic items into biofuel.

He said the technology used by the company appeared to be able to solve the problem of plastic waste dumping although it was still a pilot project.

Green Base Utama chairman Tan Sri Abdul Halil Abdul Mutalib said the pilot plant could produce 5,000 litres of biofuel daily, with the fuel containing almost no sulphur, hence it was cleaner.

"So far, we have received orders from Sarawak Fertiliser Sdn Bhd which is willing to pay the price offered," he said.

Abdul Halil said interested parties including investors and the local authorities were welcomed to cooperate with the company in the venture or buy its fuel.

He said the company's biofuel was being sold at RM1.40 to RM1.50 per litre, which was lower than the market price of RM1.80 per litre.

-- BERNAMA
Posted: 21 Feb 2010 08:02 AM PST
Correct timing to take water will maximize its effectiveness to Human body.

Two (02) glasses of water - After waking up - Helps activate internal organs


One (01) glass of water - 30 minutes before meal - Help digestion

One (01) glass of water - Before taking a bath - Helps lower blood pressure

One (01) glass of water - Before sleep - To avoid stroke or heart attack

Please pass this to the people you know about.......
Posted: 21 Feb 2010 07:47 AM PST
Kyochon is one of Korea's biggest fried chicken franchise. It's currently endorsed by pop group Super Junior, thus you can see some of their faces on the box set…
Korea's Kyochon Fried Chicken from YeinJee's Asian Blog
Posted: 21 Feb 2010 07:33 AM PST
I was supposed to have blogged this yesterday but circumstances prevented me from doing so.

I wanted to blog this yesterday because it was the 7th day of the Chinese New Year (CNY) or Cho Chat. Anyway, it's still the 7th day of the lunar calender in some parts of the world. (What an excuse!) So what is so special about the 7th day?

Well, the Chinese believe that Cho Chat is a day for all human kind or the day when we were created. In other words, it's everybody's birthday including you and me! So happy birthday everybody!

It is common knowledge that the Yee Sang (also known as Lo Sang or Lau Sang) is part of CNY ceremonies. The Chinese perform this ceremony at the start of the family dinner hoping that the year ahead would bring good luck or prosperity.


(Pix above) A typical plate of Yee Sang. The main ingredient is raw fish. Nowadays, salmon is popularly used but those who can afford even use abalone. Other ingredients include peanuts. Notice the different colours of the ingredients. Some advertisements say "Colourful Yee Sang". I am not sure why the Chinese want their Yee Sang to be colourful but I suppose variety is the spice of life.
In Chinese, Yee means fish and it sounds similar to having extra or leftovers. That's why they use fish including salmon as the ingredient; hoping that there will be 'extra' (money) for the family in the year ahead.

Meanwhile, Sang means to live or to be alive. So Lo Sang means to have an easy life or easy to earn a living. Thus, when they do the ceremony, they try to lift the ingredients trapped by the chopsticks as high as possible. The Chinese believe that the higher you lift, the easier to earn a living or to have a better life.


Thus, in view of the above, and although CNY lasts for two weeks, the 7th day (apart from CNY Eve during family reunion dinner) is a favourite day to do the Yee Sang. It is, afterall, their 'birthday'.



In Malaysia which is a multi-racial, multi-cultural and multi-religious country however, this ceremony is also participated by non-Chinese (e.g. Malays, Indians, Kadazans) when they visit the CNY Open Houses.



Only yesterday, at Pandamaran near Klang in Kuala Lumpur, Malaysian Prime Minister Najib Razak joined in such a ceremony at the humble house of an ordinary Chinese folk, much to the surprise and delight of the house-owner. This is the beauty of Malaysia.

1Malaysia!

1 Malaysia is just theory to me, there's been no real action taken
Posted: 21 Feb 2010 06:56 AM PST
Pandamaran folk seek real change, not promises
By Neville Spykerman
KLANG, Feb 21— Pandamaran residents and community leaders believe Datuk Seri Najib Razak must move beyond rhetoric if he hopes to regain the confidence of the Chinese community.
They lamented at the lack of real change a day after attending the national-level Chinese New Year celebrations hosted by the prime minister in the Pandamaran new village.
"1 Malaysia is just theory to me, there's been no real action taken," said Jalan Papan community leader Ang Mah Chai, who campaigned for DAP in the last general elections.
The former Klang Municipal (MPK) councillor who attended the Federal Government's national level Chinese New Year open house in Pandamaran was responding to the prime minister's appeal last night for the Chinese community to give the government a chance to prove that it can do its best for the people.
Ang said as long as Umno insists on "Ketuanan Melayu" or Malay supremacy it will not regain the support of the community and this was evident from the lack of enthusiasm at last night's function.
"I didn't feel anything and there was just no excitement."
Ang said the prime minister did not score any points by raising trivial issues about billboards of the event being torn down because the applications were not filled or claiming Pakatan Rakyat (PR) Selangor government had deliberately organised their state Chinese New Year open house to draw people from Pandamaran (picture).
"These are just petty issues which he should have avoided," he added.
Ang also disputed press reports in the main stream news papers that there were 20,000 or even 40,000 people at the event, adding that Jalan Chang Ah Choon, when the functione was held, could barely accommodate 5,000 people.
Pandamaran resident Tee Boon Hock, who opted to go for the state's open house at the Dong Zen temple in Jenjarom, said Najib has an uphill task convincing the community, especially the younger generation, why it they should give the Government another chance.
"Talk is sweet but we want to see government institutions and policies being fair to all races." said the MPK councillor.
Local resident Lim Swan, who did not attend either dinner, said the Chinese community will probably smile and say thank you prime minister but keep what they really feel in their hearts.
"We heard all this before but unless there's real change its unlikely people here will support BN," she added.
1Malaysia is at best an ideal, at worst a political gimmick.

For lorry driver T Nathan, 44, who lost his 11-year-old daughter Dina Deve in the 1Malaysia camp at Kuala Dipang tragedy, 1Malaysia is just a political stunt. He said, "The lives of my daughter and her friends were sacrificed needlessly in the name of the 1Malaysia concept of (Prime Minister) Najib (Abdul Razak) which is a political stunt to fool Malaysians.

Memang Kamu Pengkhianat Rakyat Kelantan
Posted: 21 Feb 2010 06:14 AM PST
M
enteri Perdagangan Antarabangsa dan Industri, Datuk Seri Mustapa Mohamed hari ini meluahkan rasa sedih apabila dianggap mengkhianati rakyat Kelantan kerana tidak memihak kepada kerajaan negeri yang diteraju PAS dalam menuntut royalti minyak.
Pengerusi Badan Perhubungan Umno negeri itu berkata beliau telah melakukan yang terdaya mengikut keupayaannya sebagai anggota kerajaan persekutuan sejak 1996 dalam memperjuangkan nasib rakyat Kelantan meskipun mereka ditadbir oleh parti PAS.
"Sebagai anak jati Kelantan, saya sanggup meluluskan peruntukan berpuluh juta ringgit bagi membiayai projek-projek pembangunan untuk kepentingan kerajaan negeri," katanya kepada pemberita selepas majlis perhimpunan bulanan warga jabatan-jabatan persekutuan di sini.
Beliau memberi contoh antara projek pembangunan yang pernah diluluskannya ialah pembangunan Medan Tuan Padang bernilai RM1 juta, Pasar Siti Khadijah (RM3.3juta) dan Medan Usahawan Perbadanan Stadium Kelantan bernilai RM5 juta.
"Saya amat sedih dan dukacita jika dalam begini saya masih dikatakan sebagai rakyat yang derhaka dan mengkhianati rakyat Kelantan kerana semata-mata tidak menyokong kerajaan negeri dalam tuntutan royalti minyak yang diperjuangkan kerajaan negeri ini," kata Anggota Parlimen Jeli itu.

Mengenai isu royalti itu, Mustapa berkata beliau telah membantu rakyat Kelantan mendapat wang ihsan yang bakal diagih pada Mac ini.

"Soal tuntutan kerajaan negeri untuk mendapatkan wang royalti itu tidak berbangkit lagi, yang pastinya rakyat akan mendapat faedah melalui wang ihsan, cuma kaedahnya berbeza," katanya.

Mustapa diminta mengulas mengenai ceramah-ceramah yang diadakan penyokong PAS yang antara lain menyifatkan beliau sebagai pengkhianat dan menderhaka kepada rakyat Kelantan berhubung isu royalti minyak tersebut.

Mustapa menegaskan kerajaan persekutuan juga tidak pernah menganak tirikan Kelantan dalam agihan peruntukan pembangunan sepanjang negeri itu ditadbir PAS sejak 20 tahun lepas.

Malah katanya peruntukan yang diberi kepada kerajaan negeri Kelantan adalah berkali ganda lebih banyak berbanding kutipan hasil yang diserah kepada kerajaan pusat.

Mengulas mengenai surat layang yang memburuk-burukkan veteran Umno dan Anggota Parlimen Gua Musang Tengku Razaleigh Hamzah kerana menggunakan platform pembangkang untuk menyuarakan pandangan berhubung isu royalti minyak, Mustapa berkata perkara itu tidak sepatutnya berlaku.

"Saya tidak bersetuju kerana memang terdapat perbezaan pendapat antara pemimpin tetapi ia boleh dibincang dan diperdebatkan melalui fakta sebenar," katanya.

Terdahulu pada majlis itu Mustapa menyerahkan cek bernilai RM800,000 kepada Timbalan Yang Dipertua Majlis Agama Islam dan Adat Istiadat Melayu Negeri Kelantan (MAIK), Datuk Kamaruddin Mat Zin bagi tujuan membayar elaun imam dan kakitangan masjid di negeri itu. - BERNAMA



Ulasan GB

Memang anda pengkhianat kepada rakyat Kelantan. Nak kata apa lagi.

Jangan lupa pengakuan anda di DUN Kelantan satu ketika dulu bahawa sebagai ahli Majlis Tindakan Ekonomi Negara, anda mengaku telah menyekat pembangunan ke Kelantan.

Kini royalti Kelantan dirompak oleh UMNO/BN Kelantan di bawah JPP, sedangkan Perjanjian yang sah adalah diantara Petronas dengan Kerajaan Negeri Kelantan, bukan Petronas dengan UMNO/BN Kelantan, bukan Petronas dengan JPP jauh sekali Petronas dengan Mustapha Mohamad.

Kerajaan Kelantan dan Pakatan Rakyat perlu mengheret Mustapha Mohamad dan kerajaan Malaysia ke muka pengadilan, hatta sampai ke peringkat antarabangsa sekalipun.


This posting includes an audio/video/photo media file: Download Now
Staying in touch with the clients…
Posted: 21 Feb 2010 04:47 AM PST
We're already in the final week of February (already?!). I was looking through my log book (I have one book specifically for me to note down and scribble matters pertaining to Buddies), scribbling down things to be discussed in the coming Board meeting on Tuesday night, when I noticed that I had not been doing any house visits at all in February. Other than the month being shorter than the rest, there was also the CNY break when I decided to take a break for myself as well. Besides, basically all the children's back-to-school expenses had been settled and so I didn't really need to run around as much as I had to in December/January.
I did visit Azimah at the beginning of this month, but since she didn't want me to visit her at home, I met up with her elsewhere in town.
I also met Asiah when she came to Ipoh for her blood test, but then again, it wasn't a house visit. As a matter of fact, I have never visited Asiah at her home before. The last time I and 2 other volunteers went to visit her at her hometown, we met her in town, not at her home.
I met up with Halimah at the hospital, again not a house visit. While Halimah and her husband do not mind us Buddies visiting them at home, I have yet to do so. Halimah, along with Azimah, are my latest clients and I went to visit Azimah first as I consider her case more urgent. For the moment Halimah needs to come to Ipoh quite often for her appointments before she delivers her baby, I will probably only visit her at home after she delivers.
Other than the above, all other contacts with the PLHIV infected/affected families were either by calls or SMS.
Mrs K sent me a text message during the CNY break, asking me when I'd be visiting her at her new place. I had been keeping a distance from her ever since she tried time and again to borrow money from me, and I think she knew I got rather pissed off with her. I am only monitoring her children's school bus fares, which are banked in direct into the account of the bus operator.
Shila too sent me a text message even though I am not her buddy… asking me if I was busy and if I had started work (after the CNY break). The moment I told her I was already at my office, she replied, "Tngah kerja. OK x nk gnggu." Obviously it wasn't any serious matter – she just wanted to chat with somebody. I have introduced the PLHIV women to each other, and told them to exchange contact numbers so they could call/SMS each other whenever they feel like chatting with somebody. But I guess sometimes they don't get the replies from their felllow PLHIVs due to "habis credit", so they end up contacting me instead.
Today Rosnah's SMS came in – informing me of her new phone number. Sigh, why lah these people like to change their phone numbers so often? I bet most of the contact numbers of our PLHIV clients that are kept in the files at our centre are no longer valid! I personally have been using the very same number ever since I first started using the hand phone more than 15 years ago. The only change made was the change from 010 to 019 (the earlier one didn't use SIM card) but the rest of the 7 digit numbers had remained the same.
Anyway, I intend to visit Lin and send this month's supply of groceries to her before my office trip this Friday, so that will probably be my only house visit for the month.
There are quite a number of clients whom I have not contacted for quite some time – Ifa, Sha, Ani, Nuri, Suhaila, Maria amongst them. I'd better call them up to find out how they're doing… but I think I'll wait until I come back from my trip.
What about Yah? Oh forget it, I'd have to wait for her to call me – she changes phone numbers as often as she changes her clothes! (Ok, ok, I'm exaggerating of course, but really,  every time she calls it'd be from a different number…)
Pemuda MIC Persoal Kelewatan Siasatan Ke Atas Nasir Safar
Posted: 21 Feb 2010 04:41 AM PST
P
ergerakan Pemuda MIC berkata pihaknya agak kecewa kerana masih belum ada perkembangan siasatan berhubung aduan terhadap bekas pegawai khas Perdana Mentri, Datuk Nasir Safar yang didakwa membuat kenyataan berbaur perkauman pada satu seminar di Melaka, awal bulan ini.
Penasihatnya, S. Vell Paarti berkata pertubuhan-pertubuhan bukan kerajaan dan pergerakan itu berpendapat pihak berkuasa mengambil masa yang agak lama dalam mengendalikan kes berkenaan.
"Saya menerima makluman pertubuhan-pertubuhan bukan kerajaan juga rasa kecewa, mereka merasakan bahawa pihak berkuasa mengambil masa yang agak lama," kata beliau ketika ditemui.
Sehubungan itu Vell Paari berkata, Pergerakan Pemuda MIC bercadang untuk menemui Perdana Mentri Datuk Seri Najib Razak berhubung isu berkenaan.
"Jika mendapat peluang, kami dan pertubuhan-pertubuhan bukan kerajaan akan menyampaikan perasaan masyarakat India dalam isu ini kepada Perdana Mentri secara terus.

"Kita ada Perdana Mentri yang berorientasikan rakyat tetapi pada masa yang sama ada juga pihak yang mengeluarkan kenyataan-kenyataan macam ini, jadi kami ingin mengemukakan perasaan masyarakat India kepada beliau," katanya.

Dua hari lalu, Ketua Polis Melaka Datuk Mohd Rodwan Mohd Yusof berkata kertas siasatan berhubung kes Nasir itu telah diserahkan kepada pejabat pendakwa raya untuk tindakan susulan.

Polis telah merakamkan percakapan Nasir selama dua jam di Putrajaya baru-baru ini.

Siasatan kes mengikut Akta Hasutan 1948 dan polis telah mengambil keterangan 49 saksi termasuk peserta kursus dan enam wartawan tempatan.

Sebanyak 58 laporan polis telah dibuat di seluruh negara berhubung ucapan Nasir pada Seminar 1Malaysia di Pusat Dagangan Antarabangsa Melaka.

Nasir dikatakan mengeluarkan kenyataan bahawa "orang India datang ke Malaysia sebagai pengemis manakala orang Cina pula khususnya wanita untuk menjual badan mereka" ketika berucap pada Program Rapat 1Malaysia anjuran Jabatan Hal Ehwal Khas di Melaka, 2 Feb lalu.

Bagaimanapun Nasir menafikan perkara itu dan pada hari yang sama telah meletakkan jawatan sebagai pegawai khas kepada Perdana Mentri. -MI


Posted: 21 Feb 2010 08:09 AM PST
Untuk Renungan kita bersama.....
Adik cuma nak tanya ibu, kenapa begini jadinya? cinta Feb
Bu, adik Cuma ingin bertanya…
Rasanya ibu tak akan mampu menjawabnya...
Ibu ingat 14 feb tak
Malam tu ibu ada janji temu
Ibu jumpa jejaka tu
Ibu kata dia cintakan ibu
Benarkah bu?
Dia puji dan puja ibu
Dia rayu dan belai ibu
Katanya cintanya hanya untuk ibu
Benarkah bu?
Ibu terkhayal dengan bujukannya
Ibu terbuai dalam bicaranya
Ibu terlena oleh bisikannya
Benarkah bu?
Ibu tak kisah dia peluk ibu
Ibu izin dia sentuh jasad ibu
Ibu puas dapat buktikan setia ibu
Macam dia kata.. mahu bukti cinta dari ibu
Tapi benarkah bu?
Masa berlalu,
Hari ini lepas 9 bulan...
Pohon yang ibu dan lelaki tu tanam telah membuahkan hasil
Hari ini buah cinta kalian telah terzahir
Hari ini bukti kasih jejaka itu pada ibu telah lahir...
tapi benarkah bu?
Kenapa dia tidak sama menyambut kami?
Kemana dia telah pergi tidak azankan kami?
Mengapa ibu pun benci kami?
Sedangkan inilah semaian tanda cinta kalian?
Mengapa ibu?
Tak terasakah sakit dan perit
tak berbakikah kasih dan sayang dan
Tidak lagi kah ibu berTuhan?
Benarkah ibu?
Benarkah begitu?
adik cuma nak tanya je bu.....
Bro Rick Says....
Sejak akhir-akhir ini, kes pembuangan bayi, seolah-olah seperti sampah sarap yg tiada pemgharapan daripada manusia yg tidak bertanggungjawap, agak memilukan bila diperlihatkan sebegitu rupa, agak sedih melihat ia berlaku dan terus berlaku.....bila manusia nak sedar agaknya....
Posted: 21 Feb 2010 03:47 AM PST
A Korean orchestra covering Gee, a hit song from pop group SNSD. Nice…
[Video via Akihiro1701@Youtube]
SNSD Gee orchestra version from YeinJee's Asian Blog
This posting includes an audio/video/photo media file: Download Now
Keahlian Terus BN Bukti Perjuangan Perkauman Komponen BN Ditolak
Posted: 21 Feb 2010 02:05 AM PST
S
eorang Naib Presiden Umno semalam mencadangkan keahlian Barisan Nasional (BN) dibuat secara langsung tanpa perlu menjadi ahli parti komponen BN seperti diamalkan sekarang.
Datuk Seri Hishammuddin Hussein yang juga Pengerusi Jawatankuasa Induk Pindaan Perlembagaan BN, berkata perkara itu antara cadangan transformasi yang akan dikemukakan untuk perbincangan dan pertimbangan jawatankuasa pindaan perlembagaan BN pada akhir tahun ini.
"Cadangan itu selaras dengan harapan serta matlamat untuk mempermudahkan rakyat menyertai perjuangan BN.
"Saya sudah minta Ibu pejabat BN mengeluarkan surat kepada Presiden dan kepemimpinan parti komponen untuk melantik wakil masing-masing duduk bersama saya dalam jawatankuasa induk pindaan ini," katanya kepada media selepas perasmian Majlis Konvensyen Wanita Umno oleh Perdana Menteri yang juga Presiden Umno, Datuk Seri Najib Razak di Pusat Dagangan Dunia Putra, di sini, semalam.
Beliau berkata, pada masa itu dapat dilihat bagaimana BN membuat transformasi yang sesuai dengan cita rasa serta kehendak ramai, sama ada cadangan keahlian secara langsung itu boleh dibincang dan dipertimbangkan.

"Sebagai contoh, menjadi ahli dalam parti kita (BN) tanpa dibelenggu dalam konteks kepartian (parti komponen) dan had umur yang ditetapkan untuk menjadi ahli secara langsung...bagaimana badan gabungan, badan bukan kerajaan (NGO), anak muda kita yang mungkin belum lagi sampai kepada tahap mahu membabitkan diri secara langsung dalam parti tertentu tetapi ingin bersama BN dalam perjuangan kita.

"Ini perubahan yang saya rasa perlu untuk kita berkhidmat kepada rakyat. Gagasan 1Malaysia menuntut kita turut berubah. Saya percaya dengan kemahuan politik untuk melakukannya, kesedaran mendalam mengapa kita perlu melakukannya, sasaran tertentu, niat ikhlas serta komitmen bersungguh-sungguh, apa yang sudah dilakukan (transformasi) dalam Umno, saya cukup yakin juga dapat dilakukan dalam konteks parti BN," katanya.

Akhbar semalam melaporkan Konvensyen BN akan diadakan pada akhir tahun ini bagi meminda perlembagaan dan menggubal dasar yang bersikap lebih terbuka serta inklusif untuk mengiktiraf sumbangan parti politik, individu dan NGO yang menyokong parti itu.

Bagaimanapun, Hishammuddin berkata, sebarang pelaksanaan cadangan pindaan perlembagaan itu memerlukan persetujuan semua parti komponen BN.

Beliau berkata, keputusan awal melihat semula dan meminda perlembagaan BN adalah satu petanda baik menyahut seruan Umno untuk melakukan transformasi.

Katanya, transformasi dan juga pindaan perlembagaan Umno yang dilakukan pada perhimpunan agung lalu ternyata tidak sia-sia, termasuk sudah disahut oleh Pergerakan Wanita Umno sehingga mencetuskan kesedaran ahli bahawa perubahan perlu dilaksanakan.

"Apa yang kita bincangkan semalam (kelmarin dalam mesyuarat Dewan Tertinggi BN) ialah bahawa landskap dunia hari ini menuntut kita menyesuaikan perjuangan kita dan parti mengikut tuntutan semasa.

"Secara konsensusnya, kepemimpinan parti komponen dalam BN sudah bersetuju bahawa perlembagaan BN mesti menggambarkan apa keadaan di luar, bermakna parti perlu inklusif dan memberikan ruang kepada golongan yang ingin berjuang tetapi bukan berada dalam parti masing-masing.

"Perlembagaan yang perlu saya teliti dengan rakan yang lain menuntut kita melihat perkara ini dari kaca mata yang baru dan ia sudah dimulakan...kebetulan saya juga yang bentangkannya pada peringkat Umno, akan diperluas dalam konteks BN," katanya.

Ulasan GB

Akhirnya, sekalipun malu untuk mengakui, BN akur bahawa perjuangan perkauman menjadi menjadi teras parti-parti komponen utama di dalam BN telah ditolak oleh rakyat.

BN terpaksa melalui transformasi dengan mewujudkan sistem keahlian terus tanpa melalui parti-parti yang berasaskan kaum seperti UMNO, MCA dan MIC.

Berbeza dengan parti komponen Pakatan Rakyat dimana semua parti-parti utama tidak mensyaratkan dan ditentukan oleh pengenalan etnik tertentu, samada PAS, PKR atau DAP.

BN sudah ketinggalan, BN sudah lapuk dan BN telah terlalu semalam.


China- A Bubble to Deflate or A Big Bang?
Posted: 21 Feb 2010 12:39 AM PST
Ho Hua mailed it to me for my weekend reading. For those of you who are concerned with the rising China, I suggest you a moment or two to go through the following article.
Australian market news that matters, in 90 seconds or less
Money WeekendSaturday, 20th February 2010Melbourne, Australia
China - A Bubble to Deflate or a Big Bang?
By Shae Smith
Dr Phillip Low, a senior member of the Reserve Bank of Australia (RBA) recently announced that Australia's relationship with China has decades to run."For the next twenty years, on average, it is going to be a good 20 years for China and for us". Dr Lowe said.However, on the other side of the world Jim Chanos, famous for predicting Enron's fall, said "short sell China". So who's right? A multi billionaire that has made his fortune from foreseeing a corporation's demise? Or the RBA desperately trying to stave off Australia's impending recession?It's no secret that stimulus is responsible for China's current success. In fact, in an attempt to cool the overheating economy, the People's Bank of China (PBoC) demanded that banks increase lending reserves half a point up to 16.5% for the large banks.This is clearly a desperate move to slow down credit expansion.Dr Lowe from the RBA believes it's a good sign. The slowing down of stimulus and the tightening of monetary policy led him to say "...that is a favourable development in that it increases the likelihood that the Chinese economy is on a sustainable path. Time will tell though."It's strange that Dr Lowe was happy to say 'time will tell' when he openly admitted Australia's reliance on China's astronomical growth. "We are benefitting from high commodity prices and from our links with Asia." He said.He goes on to say "I'm quite optimistic that story [China] has decades to run and that underlies much of the positives for the Australian economy." That's doesn't sound like a twenty year plan, it sounds more like prayers.Especially when 70% of our exports are to the Asian market.But what about Jim Chanos? He's long been heckled for his bearish views on the market. Based on his blunt remark to 'short sell China', should you stop hoping China is Australia's white knight?Even if you push aside Jim's recent comments on CNBC that China is "cooking the books" and "faking, among other things, its eye-popping growth rates of more than 8%", what are the facts?Like many Western economy's today, China is running on stimulus. The fact that the banks tried twice last month to rein in lending is a sure sign of an economy about to burn out. Amazingly lending for January was ¥1.4 trillion (AUD $228 billion). This figure for January is nearly one fifth of the lending planned for 2010. In fact for all of 2009, the Chinese banks lent out over ¥9.5 trillion (AUD $1.552 trillion) to keep the economy humming - or burning in order to survive the 'GFC'. That's an enormous amount of credit to flood an economy.China's excessive stimulus and aggressive lending by the banks have created artificial demand, which has pushed our resource prices higher. When China announced their ¥4 trillion 'rescue' package in 2008, exact details of how it was going to be spent was unclear. Very little information was provided on where the money would be going. Any press release from China stated the stimulus was directed to 'infrastructure and social welfare'.To top it off, the Chinese government instructed the banks to 'loosen credit' and even encouraged the smaller banks to be part of a 'more proactive fiscal policy'. What these packages really told you, was China was going to spend, and it was going to do so in a big way.And that's exactly what they've done.But the side effects of all this spending is only just starting to become clear. The loose credit policies and stimulus have driven up property prices. In the major Chinese cities, house prices were up 9.5%, and land jumped a shocking 106% last year.Is slowing down stimulus too little too late for China?"Bubbles are best identified by credit excesses, not valuation excesses," Jim Chanos said in his TV interview. I like that definition. "And there's no bigger credit excess than China."So, will China be able to cool their economy and let the bubble slowly leak? Or are we waiting for a really big bang?Perhaps Dr Lowe unwittingly said it best with 'time will tell'.Shae SmithAssistant EditorMoney Weekend

Chinese New Year at Genting Highlands
Posted: 21 Feb 2010 12:17 AM PST
Gong Xi Fa Cai!!!
Last week we had a long 4 days weekend to celebrate Chinese New Year. Miki had a slight flu on Saturday, so on Saturday and Sunday, we pretty much stayed home except going to Giant, the park, Giant, ioi Mall, Amcorp Mall, the park, mamak, The Gardens, mamak, the park, mamak , ioi Mall and Giant.
I couldn't believe we stayed home that much.
So on Monday the three of us was tergedik-gedik to go out and spend money unnecessarily sight seeing a little bit. After lunch we found ourselves putting on our jackets and heading for Genting.
Going to Genting on CNY is almost suicide. Luckily we didn't die. We just spent 35 minutes looking for a parking space and that in compared to finding a parking space at MidValley Megamall is like cupcake. Topped with whipped cream and sprinkled with chocolate rice. One bite and all gone! Except one chocolate rice that stained my teeth.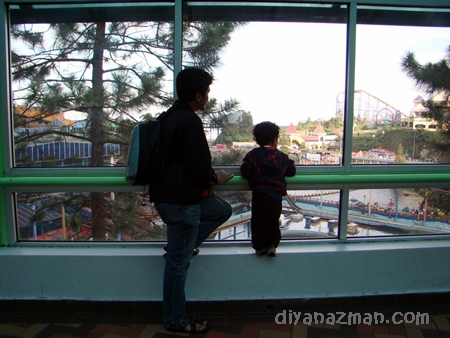 Genting Theme Park, Miki waiting for the Bug Train passing by
By the time we entered the theme park it was already 3pm. Too late to spend RM40 (I think) per person to get on the rides because we are not going back too late to avoid the fog. So instead we just makan-makan, buy a few stuff that strikes Miki's fancy and just show Miki that the world is a huge place and we are sharing it with a lot of different people.
There are the Arabs that don't smell very nice and there are Chinese from China that speaks really loud. For example. But no matter what we must respect everybody and be nice to everyone just the way we want to be nicely treated by them. Miki is too young to understand this of course but if you are a friendly person, you kids will grow up with smiles.
Another thing that make me very pleased that we have been to Genting last week was the Lion Dance! We got to watch it right in front of us! Miki was scared. I loveeee making his scared! Haha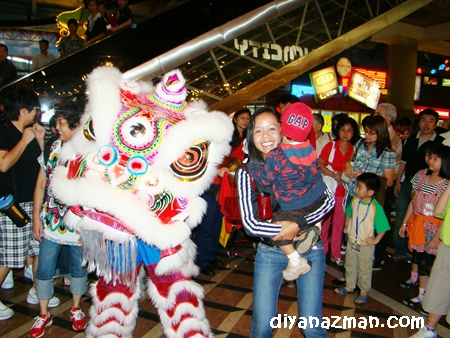 See  how Miki was hugging me tight? See how wide my grin was? hehehhee… wicked mom me! haha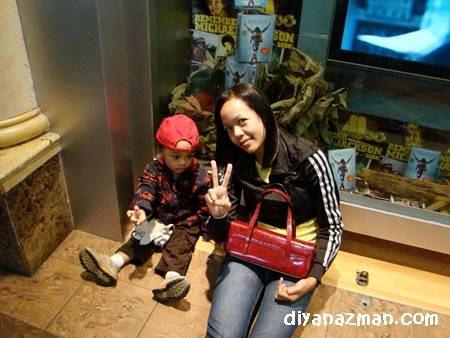 I am not so bad ok? After I spooked him out, I took him to a corner and gave him a Sugus for a treat! hehe
 But Miki being Miki, anak jantan Mummy, he was afraid for about a minute only. Soon after he was all jumping about running in the crowd and making cheeky monkey faces and impersonating the lions! haha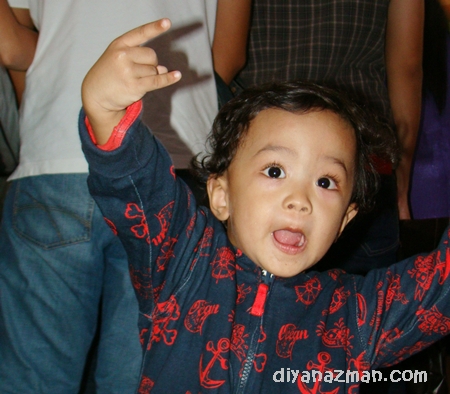 Miki rawks!!!! 
He knows that the Lion is a fake monster, "Ada abang dalam tuu..!" he said.

Clever boy!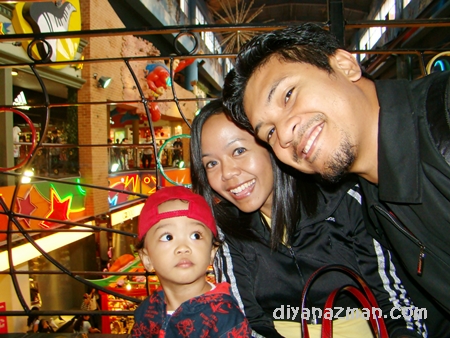 Here is the three of us. Miki still munching Sugus! Have a great Sunday everyone!
PS- the cute black and red sweater that Miki was wearing is a birthday present from my bosom buddy Mel. Like I said Miki is such a lucky boy he got that sweater all the way from JB even before his 2nd birthday. It's a beautiful reversible that Miki has worn first time here. Thanks Mel! Jom kita pergi Genting sesama nakk??
Trouble In Selayang Pound (Updated)
Posted: 21 Feb 2010 03:51 AM PST
PETPOSITIVE BREAKING NEWS UPDATE: 

7.20PM: MBPJ/MPK CHAIRMAN ANTHONY THANASAYAN HAS JUST GOT IN TOUCH WITH MPS COUNCILLOR TUAN GUNARAJAH GEORGE (Pix Right) WHO IS IN CHARGE OF THE AREA WHERE THE MPS DOG POUND IS.  TUAN GUNARAJAH, WHO ALSO HAS TWO DOGS HIMSELF, HAS PROMISED TO VISIT THE RAWANG DOG POUND TOMORROW TO INVESTIGATE THE CRUELTY CLAIMS. 
HE SAYS THAT IF THE REPORTS ARE TRUE, HE WILL ACT
Najib like The Incredible Hulk - only better: Don't make me angry, else there will not be forgiveness for you
Posted: 20 Feb 2010 11:18 PM PST
Rosmah beautifully described Najib's 'virtue', saying,
'If he is angry, there is no forgiveness for you.'
on
Hello Malaysia
over Bernama TV at Wisma Bernama on Friday.
I'm not sure if
The Incredible Hulk
who was famous for his stock phrase -
"don't make me angry
. You wouldn't like me when I'm angry"
, killed any of his nemesis but I'm sure Najib did not. ;)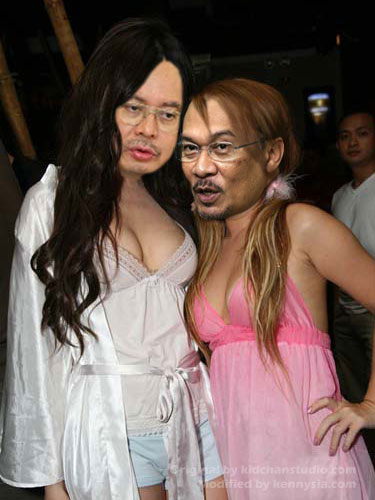 (
Image source
:
kennysia.com
)
Aduan-aduan Terhadap PAS, Apakah PAS Masih Primitif?
Posted: 20 Feb 2010 10:19 PM PST
E
xco Pemuda PAS Abdullah Karim menggesa jawatankuasa pusat membincangkan aduannya - berhubung dakwaan penglibatan ahli parti dalam 'konspirasi' menjatuhkan Pakatan Rakyat - yang ditolak baru-baru ini.
"Saya mohon agar perkara ini dibincangkan dan diteliti oleh ahli jawatankuasa (AJK) pusat PAS dalam mesyuarat mereka yang akan datang.
"Para pimpinan PAS yang duduk dalam jawatankuasa pusat PAS sudah tentulah lebih bijaksana dalam menilai perkembangan yang berlaku ini," katanya.
Abdullah diminta mengulas kenyataan Setiausaha Agung PAS Datuk Mustafa Ali yang berkata, pejabat agung parti menolak aduan Abdullah kerana tidak cukup merit untuk dipanjangkan kepada jawatankuasa disiplinnya.
Ketika dihubungi Malaysiakini semalam, Abdullah berkata, beliau menanggap keputusan yang diumumkan Mustafa melalui media baru-baru ini hanyalah pandangan peribadi.

Abdullah yang kini menetap seketika di United Kingdom berkata, tidak perlu untuknya menghantar surat bagi menyatakan hasratnya berhubung perkara itu kerana percaya Mustafa sudah tentu akan melakukannya.

"Keputusan yang dibuat atas nama parti adalah urusan kolektif yang mesti membabitkan organisasi supaya wujud elemen semak dan imbang," katanya melalui e-mel.

Ditanya kenapa perkara tersebut tidak disuarakan melalui ketua Pemuda dan AJK PAS Nasrudin Hassan untuk dibangkitkan dalam mesyuarat yang akan datang, Abdullah menjawab:

"Ini aduan saya buat atas kapasiti peribadi sebagai ahli PAS. Ia tidak membabitkn mana-mana organisasi dalam hirarki parti," katanya sambil menegaskan aduan itu melibatkan perkara sulit.

Sehingga semalam, Abdullah masih enggan mendedahkan bukti-bukti dakwaannya serta pihak yang terlibat dalam 'konspirasi' yang didakwanya itu.

"Saya kena tunggu dulu hasil mesyuarat AJK PAS pusat," katanya. -malaysiakini

Ulasan GB

Kita telah menyuarakan sebelum ini hahawa tidak wajar untuk PAS memperlekehkan aduan para ahli.

Jika sebelum ini Presiden PAS menuduh ahli-ahli menimbulkan "fitnah" di dalam blog sekalipun fitnah itu benar, kini setelah mengikut saluran yang betul pun, aduan-aduan itu ditolak dengan alasan tidak mempunyai merit.

Apa neraca merit? Mungkin hanya Setiausa Agung yang boleh menjawabnya. Jangan ia menjadi alasan untuk memperlekehkan aduan ahli.

Di dalam era digital ini, setiap aduan "pelanggan" sepatutnya perlu dilayan dengan baik. Itu sebab mengapa di pejabat-pejabat, di gedung perniagaan dan di kaunter-kaunter jabatan, disediakan tong "ADUAN".

Untuk syarikat yang mempunyai lamanweb dan portal maka mereka mempunyai E-ADUAN.

Cuma PAS sahaja yang fobia terhadap aduan sehingga tidak "appreciative" malah memperlekehkan aduan para ahlinya.

PAS sepatutnya sudah mempunyai "borang aduan" melalui internet yang boleh dimuatkan melalui lamanweb rasmi PAS atau harakahdaily. Ini adalah untuk mempercepatkan proses pengurusan aduan. Untuk memantapkan parti serta memperkasakan parti supaya ia sentiasa di depan di dalam teknologi maklumat.

Ini jangankan e-aduan, nak cari maklumat keahlian dan nak daftar jadi ahli melalui internet pun belum lagi dapat dilaksanakan parti, tapi merekalah paling bising supaya menggunakan teknologi maklumat untuk perkasakan parti.

Kalau di zaman Rasululullah, beliau paling depan di dalam teknologi tentera berkuda untuk berdepan dengan musuh. Di dalam sebuah hadith sahih Rasulullah dikatakan pernah menggadai "baju besi" baginda kepada seorang yahudi menunjukkan bahawa Rasulullah tidak ketinggalan mempunyai "kelengkapan perang" yang hebat. Mengapa di zaman teknologi maklumat ini masih ramai pemimpin PAS yang buta kayu dengan teknologi maklumat ini? Tetapi mereka paling bising suruh ahli-ahli guna teknologi maklumat?

Bilakah PAS akan dibebaskan dari cengkaman pimpinan era primitif ini?