---
Away to PLKN (Day 5): Gift from China by a Singaporean Friend
Posted: 31 Mar 2010 09:47 AM PDT
I met a Singaporean friend online, his name is Paul and I want to thank him for getting me souvenirs from his China and Hong Kong trip. One day while coming back home, I am so surprised to see there's a parcel on my doorstep and I there's my name written on it. So excited because the souvenirs has finally arrived. =D
I saw Coke logo. Yes, I am a Coca-Cola cans fans and have been collecting the cans for few years already and is still collecting! He bought me Coke plastic cups which are pretty cool. Now, it'll be something new for my Coke collection.
There's also casing for Google Nexus One. So nice to see there's accessories for the phone already. He didn't know what color I like so bought all five, but still, I like the transparent white the most. =) Pretty!
By the way, HAPPY APRIL FOOL. Nothing to fool you. LOL
Cari Makan @ Selangor : Rosemary Bites Restaurant
Posted: 31 Mar 2010 09:00 AM PDT
Q: How i get to know this Rosemary Bites Restaurant?
A: I have a small gathering with my ex-colleagues on Monday lunch... One of my colleagues has suggested this restaurant.
Q: Do i know the owner?
A: Yes, he was my colleague before he has his own business. It has been long time we never meet each other.
Q: Where is this restaurant?
A: It located @ Aman Suria Damansara Petaling Jaya.
Q: What are they offered?
A: They offered classic American dishes basically a western food restaurant with lots of variety of dishes from various part of America. Visit Rosemary Bites blog @
http://rosemarybites.blogspot.com/
Okie, since i was there for lunch... let me show you some of the picture of the food we had for lunch.
Ice Lemon Tea - Quench Your Thirst
Grilled Chicken with Mushroom Sauce
I ordered the set lunch Grilled Chicken Chop with Mushroom Sauce, it came with the Ice Lemon tea and add RM2.50 for Soup of the day. It's value for money with the nice environment.
Anyway, my ex-colleagues have ordered
Garlic butter fish
Grilled Chicken with black pepper sauce
Garden Salad
Grandma Apple Crumbles
I would have to give the two thumbs up for the yummy Grandma Apple Crumbles which tasted exactly what we had in US... Made us think about our previous company which gave us so many opportunities to travel to US. Hehehe... now we can get the same taste in Malaysia too...
Anyway, the restaurant not only offered the food that i took.. they have lots more different type of menu especially weekends... I wanna to visit one of these weekend to taste their weekend special menu.
Go ahead and give it a try. Recommended by TZ eh~.
Address:
Rosemary Bites Restaurant
28-A-G, Jalan PJU 1/43,
Aman Suria Damansara,
Petaling Jaya, Malaysia, 47301
Posted: 31 Mar 2010 10:14 AM PDT
Church of Our Lady of Fatima. Outside enjoyed our pizza after Easter play practice.
Ok, this going to be a busy week for me, the Easter Triduum: Holy Thursday, Good Friday, Easter Vigil and Easter Sunday. Phewwww!
I have one big problem. I haven't done my confession, yet. (*o*) It's not because I forget, but I feel I'm not ready to do a confession. For me, the Sacrament of Penance is very serious thing. I don't simply go for confession just because it's Easter or Christmas soon, but the rite of penance must do in proper way where you really, really confess your sins. If I confess my sins for the sake of some rules or just because it's Easter or Christmas, I don't feel I'm honest with the Papa up there.
I want to go back home and confess there, with my own parish priest (St Anthony's Catholic church, Bintulu). Because I feel want to do it that way, more comfortable with me. The problem with Catholics today is, they tend to do some things without even thinking why we done that. Example, the mass, are we simply go for mass because our parents are going too? Or because we know the real meaning behind the liturgy itself? Not many Catholics appreciate the beauty of the mass. They are like robots, kneel, pray, raise their hands because they get used to do it. Do we ever wonder why we do it? Not many people thinking about this. Sigh.
I don't care about any craps about what other denominations think on Catholic church. Whatever. Sendiri-sendiri punya bisnes la~
But really, do we, really practice what our own religion is preaching? Or we just simply a blind-follower? Religion is something we need to understand and deep learning. Not only have to simply follow what other people says.
Fr
Kevin
, are you agree with me :-D hahaha.....after you get back from Rome, don't forget to greet me if you happen to meet me in the church......hehehehe
p/s: No, this is not an April's Fool post :-P
Siri Bercakap dengan Miki – Doraemon Buat Kelakar Tak Lawak
Posted: 31 Mar 2010 09:39 AM PDT
(1)
After he freaked out at the Doraemon kiddy ride in Jusco; Azman tried to talk Miki out of his fear.
Azman – "Kenapa Miki takut kat Doraemon tu?"
Miki – "Doraemon tukam Miki!"
Azman – "Mana Doraemon tu boleh terkam Miki…. Janganlah takut kat dia."
Miki – "Doraemon tu *gibberish gibberish*
Azman – "Doraemon buat apa?"
Miki – "DORAEMON BUAT KELAKAR!"
Hahhaha. Itu kelakar!
(2)
One or two of Miki's friends his age can already memorize parts of songs and nursery rhymes but Miki hardly sings any song accept singing along with me. Or Ashley Simpsons. L-O-L-O-L-O-L-O V-E! Or Beyonce. Oh Oh Oh.. Oh Oh Oh… Single Ladies! *pengsan*
Aku pun dah pasrah bahwasanya anak aku bukan seorang yang puitis suka menghafal until he was about 22-24 months when Miki started to sing his heart out – AND SINGING HIS OWN SONG!
The melody varies very slightly but the lyrics are all very rich; in words and experience.
If we were driving and from afar we can see GIANT building, Miki would sing-
"Lalala… nak pergi GIANTTTTT… Nak beli jagungggg….. Mummy Daddy Mikiiiii…. Makan-makan jagunggggg…. jalan-jalannnnnn kat GIANTTTTTTTT"
Anytime we asked his to sing, he would quickly write a song about what ever activity he just did-
"Miki pergi taman…. Nampak tortoise! Amik makanannnnn… buang kat tasikkkk…. Fish makan-makan… tortoise datangg… ada monkeyyyyy…"
Once after dinner he sang-
"Mummy Daddy Mikiiii….. Makan nasi suppppppp… Makan sayurrrr…. Nasii… Ayam!!! Minum viiiiitagennnnnn! PASTU TUMPAH!!!! Abih baju!"
Then he clapped his hands happily " Yeaa, abis dah nyanyi! Miki pandai!"
Ko merapu memang pandai Miki. But anyhow Mummy is still very proud of you Miki, so don't sing the songs of other – you make your own! Smart boy MummyDaddy got here!
(3)
Miki is super duper whiny these days and super duper manja towards me. He sulks a lot too and he has a habit that both his parents do not. He practices the SILENT TREATMENT while Azman and I practice the ARGUE TREATMENT. When we got a problem we TALK SCREAM TALK TALK TALK! But Miki, despite the chatterbox, once kept quite in a ride from Kinrara to Putrajaya simply because Daddy who was driving was too busy to help him with GameBoy. Quiet! As in not a word! Wow.
Whenever I am around and Miki is sulking with his Daddy; he tends to come to me telling on every little thing that Daddy did to him.
"Aaaa… Mummy, Daddy buat Miki!"
"Aaaa… Mummy, Daddy cubit!"
"Aaaa… Mummy, Daddy jentik sini… sakit!" pointing at the injured body parts where Azman did as much as looked at it for half a nanosecond. Cari pasal betul…
At times it gets really funny and Azman would go on and on menyakat him. And the reporting cries was always the same…
"Aaaa… Mummy, Daddy sayang Miki!" pointing at his cheek where Azman kissed him.
"Aaaa… Mummy, Daddy babab sini!" pointing at his face where Azman wiped his tears with his finger.
"Aaaa… Mummy, Daddy kata Miki comel!" aaiii… kata comel pun tak boleh?
"Aaaa… Mummy, Daddy kata Miki cute sangat!" *pengsan*
"Aaaa… Mummy, Daddy kata Kokades cute sangat!" *pengsan bangun balik pengsan lagi*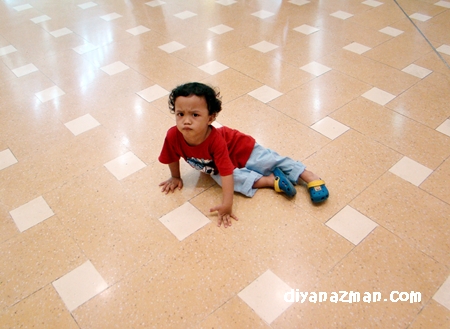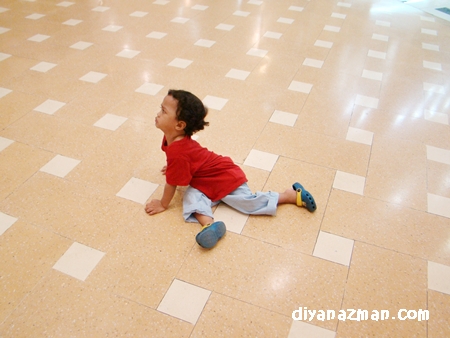 Bila dah merajuk, muncung bak pelikan dan terus lepak kat lantai sambil pose-pose Ifa Raziah
Why stop? Just close Chinese press lah. Let Utusan be the only press!
Posted: 31 Mar 2010 09:08 AM PDT
Umno vice-president Ahmad Zahid Hamidi has told the Chinese press to stop speculating about the re-entry of Ahmad Ismail to the Bukit Bendera division.
When met by reporters in Parliament today, the defence minister said, "I want this case closed." and insisted that the vernacular press should stop commenting about Ahmad's
impending return
to the Bukit Bendera division leadership.
Canines On The Discussion Table In MPS Tomorrow
Posted: 31 Mar 2010 09:00 AM PDT
PETPOSITIVE NEWS UPDATES:
After more than a month of waiting, some good news at last!
Our President and Chairman of the Canine Advisory Team (CAT) Anthony SB Thanasayan will finally be meeting up with the Selayang Municipal Council (MPS) this week.                                 
The reason is to discuss matters related to dogs.
Readers of PET+BLOGSPOT will recall how Our President visited
This posting includes an audio/video/photo media file: Download Now
Muhyiddin: I'm Malay first - 1Malaysia means Malays first, others second!
Posted: 31 Mar 2010 08:42 AM PDT
"
...if we cannot be fair to the Malays, then we cannot be fair to other races
," says Dr M.
Well said!
Confession is good for the soul. What more when it is the truth!
The truth is all non-Malays are marginalised and second-class citizens!
Posted: 31 Mar 2010 08:02 AM PDT
Yay, I don't know should I yay or not. I am now at the National Service Camp in Balik Pulau, somewhere at the back of Penang Island, approximately 40km away from my home. Hope I am having fun at there and don't forget my blog here!
I have taken 3 roll of films last year and I am only sharing the lomography now because I am in NS! Hehe, the above was taken on a Holga 120 with a Kodak 120mm film. Weird right? Because I forgot to roll over the frame. It overlapped.
NS has got technology-related entertainment!
Campur Tangan Apco Penjajahan Bentuk Baru
Posted: 31 Mar 2010 08:05 AM PDT
A
ngkatan Muda Keadilan (AMK) Pulau Pinang menganggap campur tangan Apco Worldwide dalam urus tadbir negara, sebagai satu bentuk penjajahan jenis baru.
Demi mempertahankan kedaulatan tanah air, AMK Pulau Pinang membuat laporan bagi menggesa siasatan menyeluruh terhadap firma perunding yang didalangi Yahudi Israel berfahaman zionis.
Laporan itu dibuat di Ibu Pejabat Daerah Timur Laut berikutan pendedahan oleh Datuk Seri Anwar Ibrahim di Dewan Rakyat semalam yang membangkitkan kebimbangan rakyat terhadap keselamatan di negara ini.
Semalam, Anwar mendedahkan peranan APCO Worldwide di Malaysia sudah bermula sebelum firma itu menandatangani perjanjian dengan kerajaan UMNO-Barisan Nasional dengan menggunakan nama syarikat Mind Team Sdn Bhd.
Kerajaan mahupun firma berkenaan cuba merahsiakan hakikat itu malah cuba mengelirukan rakyat berhubung tarikh sebenar firma itu mula campur tangan dalam urus tadbir negara.

APCO Worldwide bukan sebuah syarikat perunding yang biasa, sebaliknya didalangi individu berpengaruh termasuk penasihat antarabangsa kepada APCO adalah bekas Ketua Perlindungan dan Keselamatan Israel.

Naib Ketua Angkatan Muda Pulau Pinang, Ahmad Azrizal Tahir menegaskan Malaysia tidak mempunyai hubungan diplomatik dengan Israel tapi dibenarkan menjadi penasihat kerajaan Malaysia sekali gus mendedahkan Negara kepada risiko keselamatan.

Beliau menolak sekeras-kerasnya penjajahan jenis baru ini dan menyeru rakyat Malaysia bangkit menentang "Neo-Colonialism" tajaan Zionis-Israel. -TVS




This posting includes an audio/video/photo media file: Download Now
Hakikatnya MCA Sudah Hancur Dan Berkubur
Posted: 31 Mar 2010 07:27 AM PDT
A
khirnya, pemilihan semula MCA melabuh tirai. Tetapi, adakah perebutan kuasa dalaman akan dibubuh noktah? Biarpun begitu, bilakah pula perebutan kuasa dalaman seterusnya akan berlaku?
Apakah perebutan kuasa ini adalah babak terakhir untuk MCA? Selagi MCA masih berada di dalam Barisan Nasional, atau selagi BN mengekalkan model politik yang sedia ada, maka tanda penutup kata pergelutan hari ini akan berputar menjadi tanda pembuka kata pergelutan babak baru.
Untuk ahli MCA, ia kedengaran seperti sumpah yang terkutuk. Namun, dari perspektif yang lain, analisa dari strukturnya adalah lebih "murah hati", kerana tertumpu kepada bagaimana percaturan politik kini menyekat pemimpin MCA, dan bukannya memperbesarkan kualiti, ciri-ciri yang ada pada individu perseorangan.
Secara umumnya, perebutan kuasa dalam parti dilihat sebagai sesuatu yang negatif. Wajib kita persoalkan terlebih dahulu, apakah itu perebutan kuasa? Seandainya ia sekadar pergelutan kuasa dalam parti, maka ia bukanlah sesuatu yang negatif. Pada hakikatnya, persaingan bakal memperkasa sesebuah parti. Pemilihan awal Presiden dalam Parti Demokratik US antara Barack Obama dengan Hillary Clinton, biarpun sengit, namun cukup memberangsangkan, sehingga pemenangnya berjaya tampil sebagai Presiden US. Dengan kata lain, persaingan parti berkemungkinan memperkasakan parti.
Oleh itu, masalah MCA bukanlah pergelutan kuasa, tetapi pergelutan kuasa yang sering berakhir dengan perpecahan. Persoalannya, mengapa MCA semakin lemah? Kerana sistem politik yang tempang.

Sumber yang terhad

Kejayaan kemuncak untuk seseorang pemimpin MCA adalah menjadi menteri. Namun, dalam jangka puluhan tahun ini, MCA kekal dengan peruntukan empat jawatan menteri, sama ada kuat ataupun lemah. Pada tahun 2008, MCA hanya memenangi 15 kerusi parlimen daripada 40 yang dipertandingkan. MCA tetap diperuntukkan empat jawatan menteri sungguhpun ia mencapai prestasi yang paling teruk sejak tahun 1969.

Pada tahun 2004, MCA mencatat prestasi yang terbaik dalam sejarah, dengan kemenangan 31 kerusi parlimen. Dengan kata lain, seandainya pemimpin MCA bercita-cita untuk menyandang jawatan Menteri, maka ia bukan tercapai dengan menerokai gelanggang yang lebih luas, tetapi menggulingkan rakan separtinya dari jawatan Menteri.

Keadaanya tidak berbeza dalam politik peringkat tempatan. Untuk pemimpin akar umbi yang tidak terjangkau sebagai calon ahli parlimen mahupun ADUN, maka prestasi yang paling kemuncak atau cenderahati yang paling penting untuk mereka adalah menjadi ahli majlis tempatan.

Namun, kuota ahli majlis tempatan kepada MCA jugalah tetap, tidak menambah walaupun pengaruh MCA mengembang, dan jarang berkurang kerana penyusutan pengaruh MCA. Oleh yang demikian, kunci untuk menjadi ahli majlis tempatan bukanlah melalui perkhidmatannya untuk meluaskan pengaruh, tetapi memastikan diri agar berada dalam puak yang "betul", supaya nama dirinya tertera dalam senarai cadangan parti.

Dari atas hinggalah ke bawah, pemimpin MCA terpaksa melangkah mayat rakan seperjuangannya untuk mendaki ke puncak kuasa. Apakah ini tidak cukup untuk menjelaskan mengapa berlakunya kacau-bilau setiap tiga tahun, huru-hara setiap lima tahun dalam parti?

Pergelutan kuasa yang berlanjutan untuk 18 bulan ini adalah akibat daripada terlucutnya jawatan dalam kerajaan oleh sebahagian besar pemimpin MCA. Sumber dalam kerajaan tidak mencukupi, maka sumber parti menjadi mustahak. Malah, peluang bertanding dalam PRU ke-13 merupakan penentu hidup matinya nyawa politik masing-masing. Jadi, bagaimana perebutan kuasa boleh dielakkan? Perang dalaman ini pada hakikatnya untuk menentukan siapa si-kalah, agar pemenangnya memperolehi lebih sumber, supaya survive hingga PRU yang akan datang.

Pengagihan sumber

Sebelum dan selepas pemilihan, semua puak membincangkan penyatuan. Namun, seandainya semua orang diterima sebagai satu pasukan, mengapa pula tikam-menikam sesama sendiri sepanjang ini? Sungguhpun pimpinan tertinggi sudi untuk menerima semua puak, namun pembesar-pembesar di akar umbi dijangka tidak akan mengangguk kepadanya.

Chua Soi Lek memenangi kerusi Presiden dengan undi 38%, malah kedua-dua puak yang lain turut mendapat tempat masing-masing, dari jawatan Timbalan Presiden hinggalah AJK Pusat. Jadi, bersekutu dengan salah satu puak adalah satu-satunya pilihan.

Antara Ong Ka Ting dengan Ong Tee Keat, dendam Chua terhadap Ong Ka Ting lebih mendalam berikutan daripada DVD seksnya. Lebih-lebih lagi, puak Ong Ka Ting lebih ramai orangnya. Seandainya Chua bersekutu dengan Ong Ka Ting, sudah tentu sumber tidak cukup untuk diagihkan. Apakah pengikut Chua yang taat setia sepanjang ini akan berpuas hati?

Dalam keadaan sedemikian, mungkin Chua akan memilih untuk bersekutu dengan Ong Tee Keat, kemudian menarik beberapa pengikut Ong Ka Ting untuk meleraikan empayarnya. Jikalau begitu, adakah sekutu puak Chua Soi Lek - Ong Tee Keat akan berkekalan sehingga pemilihan parti pada tahun depan, seandainya pemilihan parti tidak ditunda atas alasan PRU?

Adakah puak Ong Ka Ting akan kembali untuk bertanding semula setahun kemudian? Lain kata jikalau Chua Soi Lek mampu mengagihkan sumber secara adil dalam masa yang singkat, agar perwakilan menerima "pengagihan kuasa" oleh "pimpinan kolektif". Jikalau keadaan ini tidak berlaku, maka pemilihan akan datang bakal menyaksikan pertarungan sengit.

Namun, nasib MCA dalam PRU ke-13 nampaknya bukan ditentukan sama ada MCA bersatu-padu atau berpecah-belah, tetapi lebih kepada sejauh manakah MCA respon kepada senario baru selepas dilanda "tsunami politik". Punca kepada malapetaka pergelutan MCA adalah UMNO yang mereka dan mengekalkan sistem politik yang tertutup ini, menurut analisa pergelutan di atas dari strukturnya. Namun, pihak yang harus dipersalahkan ialah pemimpin MCA yang bergantung dan ketagih kepada sumber.

Selagi MCA gagal membebaskan diri daripada kebergantungan terhadap sumber, maka MCA tidak mungkin berkata "tidak" kepada UMNO, malah gagal menukar peraturan yang ditetapkan oleh UMNO. Dilema MCA yang tidak terdaya mahupun tidak berani untuk menolak UMNO, adalah cabaran yang wajib diatasi MCA selepas PRU ke-12.

Ringkasnya, kemelut dalaman dan luaran MCA sebenarnya saling berkaitan, begitu juga dengan puncanya. Kebergantungan kepada sumber kerajaan mengakibatkan MCA tidak berani untuk mencabar kuasa UMNO, termasuk peraturan pengagihan sumber. Pemimpin MCA bukannya tidak menyedari masalah ini, cuma tidak terdaya untuk berbuat apa-apa.

Ong Ka Ting ketika menerajui tampuk pimpinan MCA telah mengehadkan tempoh untuk menyandang jawatan dalam parti. Langkah ini bertujuan untuk memecahkan jawatan, sumber yang ada kepada unit yang lebih kecil, untuk mengatasi masalah keperluan melebihi sumber yang sedia ada.

Oleh yang demikian, Kempen Pembelajaran Sepanjang Hayat, program kebajikan, yang melimpah semasa zaman Ong Ka Ting tidak terlari daripada logik pengagihan sumber ini. Oleh kerana Ong Ka Ting hanya menumpu kepada "pengurusan sumber", dan tidak berani untuk respond kepada kuasa UMNO, maka retorik politiknya untuk menutup kelemahan diri telah ditolak oleh pengundi. Lantaran itu, jawatan MCA berkurangan, mencetus perang perebutan sumber yang berlanjutan selama 18 bulan.

Ong Tee Keat telah menemui pasaran keperluannya, iaitu mencabar UMNO. Maka beliau menggunakan skandal Zon Bebas Pelabuhan Klang (PKFZ) untuk menonjolkan diri sebagai wira. Namun, cara pengagihan sumbernya terlalu lemah. Ia berakhir sebagai pemancung Chua Soi Lek dalam EGM, dan dirinya nyaris-nyaris dipancung. Kegagalan Ong Tee Keat mententeramkan parti menjurus kepada kesudahan dirinya tersungkur dalam pemilihan semula parti. Sama ada beliau mampu bertahan pada jawatan menterinya untuk memainkan peranan "menangkis serangan luar", sebenarnya terpulang kepada perancangan Chua Soi Lek selanjutnya.

Cara pentadbiran Ong Tee Keat sungguhpun tidak cukup halus, tetapi imejnya yang lantang bersuara tetap mendahului pemimpin MCA lain, sama ada persepsi di kalangan Melayu atau bukan Melayu.

Chua Soi Lek pula terbeban dengan skandal seksnya. Seandainya beliau gagal mempamerkan kemampuan yang setanding ketika pemilihan parti dalam hal pengendalian hubungan antara MCA dengan UMNO, proses pendemokrasian negara dan sebagainya, maka pesaingnya akan menuduh bahawa beliau tunduk kepada UMNO kerana DVD seksnya. Undi 39% yang diperolehinya akan menjadikannya Presiden yang tempang, dan pergelutan kuasa parti akan kembali setahun kemudian.

Sesetengah media menggelar Chua Soi Lek sebagai "come-back kid", tetapi mungkinkah MCA menjadi "come-back kid" selepas tsunami politik PRU ke-12? Ia bergantung sama ada MCA yang dipimpin Chua Soi Lek mampu menggarap imaginasi orang ramai, misalnya mengambil pendirian yang tegas dalam Model Ekonomi Baru, atau menjadi parti komponen BN pertama yang menyokong pemulihan pilihan raya kerajaan tempatan.

Seandainya Chua Soi Lek sekadar versi "Ling Liong Sik yang lebih bijak" dalam persepsi ramai, dan jikalau pemilihan ditundakan sehingga selepas pilihan raya umum yang lain, maka kemungkinan besar perebutan kuasa kali ini bakal menjadi pergelutan parti yang terakhir. Ini kerana tiada makna lagi untuk bertelagah di dalam MCA yang sudah terkubur dalam PRU ke-13. -merdeka review


Malaysian Insider: Investors zero in on education as key to high income
Posted: 31 Mar 2010 07:17 AM PDT
Malaysian Insider: Investors zero in on education as key to high income By Lee Wei Lian
KUALA LUMPUR, March 31 — Delegates at the Invest Malaysia conference have expressed their concerns over the Malaysian education system, lack of high skilled foreign talent, and overabundance of cheap low skilled foreign labour in the country when discussing the New Economic Model (NEM).
Delegates said that a highly skilled workforce was needed to justify a high income economy and suggested a "drastic" overhaul of the education system and that large numbers of foreign talent be recruited in order to cover the short fall in skills in Malaysia in the near term while labour intensive manufacturing operations be actively relocated to lower wage countries like Vietnam and Indonesia.
"Export labour intensive industries so that 4 million foreign workers have to go back," said a delegate from the Malaysian-German Chamber of Commerce and Industry during a forum at the conference. "How are we going to attract back talent from the Malaysian diaspora? Do we have the political will to grant dual citizenship?"
He also suggested that Malaysia adopted the German "dual system" model of training vocational students where training was 70 per cent practical and 30 per cent theory.
"Underpinning the NEM is people development and skills," said one delegate from the Malaysia-Australia business council.  "We've not heard much about education policy. We've seen stop-starts and reversal of policies. I'd like to hear if there is political will to scrap vernacular schools and proceed with a single stream catering to all races."
Datuk Wong Siew Hai, chairman of the Malaysian American Electronics Industry and a speaker at the conference said that years ago when he wanted his electronics MNC employer to relocate testing operations to Malaysia, he convinced them by showing Malaysia has the requisite masters and PhD graduates.
"However, today, we don't have enough PhD and masters students to ask the MNCs to relocate design operations to Malaysia," he said.
Another speaker, David Jones, chairman of the EU-Malaysia Chamber of Commerce and Industry said that thirty years ago, when he first came to Malaysia, investors appreciated the Malaysian workforce which had the requisite skills.
"Today, you have to see how do you compare with countries like China? You can't do it with cheap foreign labour," he said.
He added that despite perception that Singapore was expensive, foreign direct investment was still going up while it was declining in Malaysia where, according to him, all indicators were trending in the wrong direction — whether management skills or tertiary education.
"How do we achieve a breakthrough to justify a high income?" said one conference delegate. "Nobody is going to pay a high salary without getting value. Are we going to do something drastic with the education system?"
Tan Sri Amirsham A. Aziz, the chairman of the National Economic Advisory Council which drafted the NEM, said in response to delegate concerns that he understood the importance of improving the education system and said it is part of the Government Transformation Programme but warned education reform would take a while.
"Like all education reforms, you may not see results immediate results," he said. "It may take a generation."
The NEM unveiled yesterday is supposed to boost Malaysia's income to between US$15,000 (RM49,000)and US$20,000 (RM65,000) in ten years, partly by increasing foreign and domestic private investment.
Malaysia's declining position relative to its regional counterparts was noted by Bank Negara Deputy Governor Datuk Ooi Sang Kuang who pointed out during the conference that Malaysia's weightage in the one of the far east market indexes dropped from a high of 12 per cent to just 3 per cent currently and that Malaysia's share of Asian FDI also declined to just a fraction of what it once was.
Matthias, Bekas SU Politik Mahathir Enggan Bayar Denda, Pilih Masuk Penjara
Posted: 31 Mar 2010 06:13 AM PDT
M
atthias Chang, bekas setiausaha politik kepada mantan perdana menteri Tun Dr Mahathir Mohamad, akan menjalani hukuman penjara sebulan selepas enggan membayar hukuman denda RM20,000 atas kesalahan menghina mahkamah minggu lepas.
Khamis lalu, Hakim Mahkamah Tinggi Noor Azian Shaari menjatuhkan hukuman itu dan memberi tempoh seminggu untuk Chang membayar denda tersebut.
Chang didakwa menghina mahkamah selepas gagal memohon maaf kepada mahkamah selepas berbalah dengan hakim dan seorang peguam semasa soal balas dalam kes saman fitnahnya terhadap American Express (Malaysia) Sdn. Bhd.
Chang, 60, bersama penyokongnya, menunggu di Mahkamah Sivil Kuala Lumpur mulai jam 3 petang ini untuk mendapat perintah menyerahkan ke penjara disampaikan kepadanya.
Bagaimanapun, Timbalan Pendaftar K.Pavanni hanya memaklumkan kepadanya pada kira-kira jam 4.15 petang bahawa tempoh seminggu yang diarahkan oleh Noor Azian hanya tamat lewat petang ini.

Menurut prosedur mahkamah, perintah menyerahkan masuk ke penjara hanya boleh dikeluarkan pagi esok.

Jumaat lepas, Noor Azian juga membatalkan samannya dengan menyatakan Chang gagal membuktikan kes selepas mendengar keterangan saksi dari kedua-dua belah pihak serta penghujahan.

Chang, seorang peguam, telah menyaman American Express kerana melanggar perjanjian dan memfitnah kerana kad kreditnya digantung.

Dalam pembelaannya, American Express berkata tidak ada keterangan atau bukti mengenai pelanggaran perjanjian atau fitnah seperti didakwa oleh Chang.

Terdahulu itu, dalam sidang akhbar, Chang berkata beliau bersedia untuk dipenjarakan walaupun ahli Gabungan Persatuan Kwang Siew Malaysia telah mengumpul RM20,000 untuk membayar denda itu.

"Ini soal prinsip. Saya sanggup masuk penjara bagi membuktikan bahawa hakim tidak harus terlepas daripada sikap yang tidak beretika dan kelakuan yang tidak dapat diterima," katanya.

Chang mendakwa Noor Azian enggan menarik balik beberapa komen menghina terhadap peguamnya dalam saman sivil itu apabila mereka cuba menarik perhatian hakim kepada undang-undang relevan. - Bernama




This posting includes an audio/video/photo media file: Download Now
Calon PKR tanding di Hulu Selangor: Anwar
Posted: 31 Mar 2010 06:02 AM PDT
P
akatan Rakyat akan meletakkan calon daripada Parti Keadilan Rakyat (PKR) bagi pilihan raya kecil kerusi Parlimen Hulu Selangor.
Ketua Pembangkang, Datuk Seri Anwar Ibrahim, berkata beliau akan berunding terlebih dahulu dengan kepimpinan tertinggi Pas dan DAP sebelum menamakan calon itu dalam masa terdekat.
"Ia (pemilihan calon) masih terbuka... itu proses biasa dalam parti, kita kena dengar dari cabang negeri, masyarakat tempatan, kemudian kita bincang dengan rakan-rakan pimpinan PKR serta rujuk kepada pimpinan Pas, DAP dan kita bertanding itu atas nama Pakatan Rakyat," katanya.
Anwar berkata demikian pada sidang media selepas mempengerusikan Mesyuarat Majlis Pimpinan Pakatan Rakyat di Parlimen di sini hari ini.
Suruhanjaya Pilihan Raya (SPR) akan bermesyuarat Jumaat ini untuk menetapkan tarikh penamaan calon dan pengundian bagi pilihan raya kecil Parlimen Hulu Selangor berikutan kematian penyandangnya Datuk Dr Zainal Abidin Ahmad daripada PKR Khamis lalu akibat barah otak.

Pada pilihan raya umum 2008, Zainal Abidin menewaskan penyandang kerusi itu ketika itu, Datuk G Palanivel daripada Barisan Nasional dengan majoriti 198 undi.



This posting includes an audio/video/photo media file: Download Now
Majlis Peguam hantar memorandum kepada polis berhubung insiden penahanan Benjy
Posted: 31 Mar 2010 05:27 AM PDT
M
ajlis Peguam hari ini menghantar memorandum bantahan kepada Polis Diraja Malaysia kerana mendakwa seorang peguam dihalang melakukan tugas dan ditahan dalam insiden penahanan semula pelakon Khaireyll Benjamin Ibrahim atau Benjy di Kompleks Mahkamah Jalan Duta di sini pada 25 Mac lalu.
Peguam terbabit, Amer Hamzah Arshad, yang mewakili Benjy, mendakwa insiden itu berlaku di bahagian luar pejabat kaunter pembayaran sejurus sahaja ibu Benjy, dramatis dan pelakon terkenal Azean Irdawaty, selesai membayar wang ikat jamin berjumlah RM2,000.
"Kira-kira 10 orang berpakaian biasa mengerumuni saya dan anak guam saya dan mengarahkan beliau mengikut mereka.
"Mereka ini berkata mereka anggota polis tetapi tidak menunjukkan dokumen pengenalan atau bukti lain ketika menemui Benjy," katanya kepada pemberita di sini hari ini.
Amer Hamzah berkata, seorang lelaki kemudian menunjukkan satu kad menyerupai kad pengenalan polis sambil memberitahu bahawa dia akan menahan Benjy semula untuk siasatan mengikut Seksyen 3 Akta Dadah Berbahaya (Langkah-langkah Pencegahan dan Kawalan Khas).

Amer Hamzah turut mendakwa beberapa orang lelaki kemudian memegang tangannya dan menahannya supaya diasingkan daripada Benjy dan selepas itu barulah beliau dilepaskan selepas lelaki terbabit membawa Benjy ke ke Ibu Pejabat Polis Kontinjen Kuala Lumpur.

Katanya, ekoran itu beberapa orang lelaki terbabit telah menahan dan menghalangnya daripada melakukan tugas sebagai peguam.

Seramai 50 orang peguam serta adik Benjy, Elza Irdalyna, berhimpun di perkarangan masuk ke Bukit Aman selama satu jam sejak 12 tengah hari bagi menyerahkan memorandum bantahan itu.

Memorandum itu kemudian diterima oleh Pegawai Perhubungan Awam Bukit Aman, Asisten Superintendan Anuwal Abdul Wahab. -Bernama


They screw a Christian Brother, who had actually sacrificed 60 years of his young life serving this country by not awarding him his citizenship!!!
Posted: 31 Mar 2010 05:13 AM PDT
The actual reason for Bro Vincent moving from Fatimah Hospital to the Ipoh General Hospital was not due to the high and unaffordable costs. In fact the costs there were "managable" (as described by Bro Vincent)! Bro Vincent was informed that the GH there had the best and latest equipment to treat his rare bacterial infection. This has proven to be true and he has described his treatment there as "exceptional" and the services of the staff there, from the doctors to the nurses, as "excellent" and "extraordinary"! I have just called Bro Vincent, who has confirmed the above and he has asked me to reassure his friends and well-wishers that he is recovering speedily and his prayers are with them. - Martin Jalleh
Brother Vincent Corkery, age 82, the former principal of St. Michael Institution, Ipoh, was admitted to Fatimah Hospital just before Christmas last year and was discharged after a three-week stay. He had a rare bacterial infection between the toes of his left foot. Before this problem could be cleared up, his right foot developed the same problem.
Unable to afford the high hospital charges given his modest financial position, he decided to seek treatment in the Ipoh General Hospital. He was admitted on March 1 and was discharged a few days ago after a 27-day stay. Now he has go back daily for treatment as an outpatient. I have been visiting him quite frequently and almost on all occasions I was the only visitor. It seems that the La Salle Brothers have been forgotten.
Brother Vincent Corkery, who comes from Ireland, has served in Malaysia since 1948 or a span of more than 60 years. Several years ago, he applied for Malaysian citizenship after having obtained the necessary pass in written and oral Malay, but his application was rejected without explanation.
His main contribution has been to St. Michael's Institution in Ipoh where he served since 1958. In addition, he took an active interest in Malaysian education. In the 1960s, he was the state supervisor for oral English, and served in the early 1970s as secretary-general of the national conference of the Heads of Secondary Schools. For some years he was an active member of the Malaysian Historical Society.
As with other Brothers who taught in Malaysia, the financial remuneration provided to him has been barely adequate. His last drawn monthly salary as Principal was RM1,000, and when he retired in 1988, he did not qualify for a pension or for other retirement benefits. Since retirement, the La Sallian communal fund has provided him RM1,000 a month for his food and car maintenance.
Several of our important leaders of the nation, including our Prime Minister Abdul Najib Razak, Hishammuddin Hussein, the Sultan of Selangor, the Raja Muda of Perak Raja Nazrin and many others have had their education in my alma mater St. John Institution, Kuala Lumpur. I am sure that if they are aware of the plight of Brother Vincent, they will act promptly to remedy it.
In full....
700 Ahli AMK Ipoh Barat Keluar Parti Satu Pembohongan
Posted: 31 Mar 2010 05:06 AM PDT
K
enyataan media arus perdana yang mengatakan seramai 700 ahli Angkatan Muda KEADILAN Ipoh Barat keluar parti hanya propoganda Umno yang sudah kehabisan modal politik.
Setiausaha Majlis Pimpinan KEADILAN Negeri Perak, Anwar Zakaria menegaskan kenyataan tersebut adalah pembohongan dan hanya mainan Umno ketika pilihan raya diadakan.
"Saya ingin menyatakan pada hari ini, apa yang telah dikeluarkan oleh media sebelum ini berkenaan dakwaan 700 ahli Ipoh Barat keluar parti adalah tidak benar sama sekali. Saya sebelum ini adalah bekas Ketua AMK Perak dan saya tahu aktiviti AMK kawasan di situ tidak begitu aktif. Macam mana pula keahlian AMK Ipoh Barat boleh mencecah sebegitu ramai?
"Saya ingin mencabar Subramaniam (Ketua AMK Ipoh Barat) memberikan kepada saya senarai nama mereka yang keluar parti itu kerana kita nak kepastian tentang dakwaan tersebut, selain mempermudahkan kita mengemaskini nama ahli.
"Ini adalah kerja agen Umno yang diketuai oleh Ezam Mohd Nor dan beberapa pengikutnya. Kenyataan yang dikeluarkan itu dilakukan sewaktu program yang diadakan di Ipoh. Dari gambar yang kita ada hanya beberapa sahaja ahli yang keluar tetapi kerana ingin menampakkan ramai, mereka telah meletakkan warga negara Nepal yang bekerja di situ.

"Saya berpesan kepada Ezam jika ingin menjadi pencacai Umno jangan sampai menggunakan warga asing, ini nampak sangat taktik kotor mereka," jelas Zainal dalam satu sidang media.

Beliau menjelaskan tujuan sebenar Subramaniam ingin keluar parti adalah kerana masalah peribadinya.

"Semalam saya telah menelefon Subramanian dan beliau juga merupakan Ketua AMK Ipoh Barat, tindakan beliau keluar parti kerana tidak puashati dengan Ketua Cabang di sana bukan pasal kepimpinan KEADILAN sekarang," kata beliau lagi.

Sebelum ini AMK Muar juga menafikan laporan media arus perdana berhubung tindakan keluar parti oleh 50 anggota AMK cbang itu.

Pemangku Ketua AMK Muar, Ahmad Anwar Asyraf Ismail berkata hanya tiga ahli yang melompat dan bukannya 50 seperti yang digembar-gemburkan sambil menyifatkan laporan tersebut sebagai tindakan terdesak Umno-Barisan Nasional.

"Perkara ini merupakan satu bentuk fitnah jahat yang bertujuan untuk menjatuhkan kredibiliti dan kekuatan AMK Muar yang semakin hari semakin mantap dan dipercayai oleh rakyat Muar untuk memimpin harapan mereka.

"Ini merupakan usaha terdesak Umno-Barisan Nasional Muar yang semakin hari semakin ditolak rakyat," kata Asyraf.

Beliau mencabar supaya pihak membuat dakwaan tersebut tampil menunjukkan bukti bahawa 50 yang melompat tersebut adalah anggota berdaftar AMK Muar.


Malaysian Insider:Muslim scholars recast jihadists' favourite fatwa
Posted: 31 Mar 2010 03:51 AM PDT
Malaysian Insider:Muslim scholars recast jihadists' favourite fatwa
PARIS, March31 — Prominent Muslim scholars have recast a famous medieval fatwa on jihad, arguing the religious edict radical Islamists often cite to justify killing cannot be used in a globalised world that respects faith and civil rights.
A conference in Mardin in southeastern Turkey declared the fatwa by 14th century scholar Ibn Taymiyya rules out militant violence and the medieval Muslim division of the world into a "house of Islam" and "house of unbelief" no longer applies.
Osama bin Laden has quoted Ibn Taymiyya's "Mardin fatwa" repeatedly in his calls for Muslims to overthrow the Saudi monarchy and wage jihad against the United States.
Referring to that historic document, the weekend conference said: "Anyone who seeks support from this fatwa for killing Muslims or non-Muslims has erred in his interpretation.
"It is not for a Muslim individual or a Muslim group to announce and declare war or engage in combative jihad … on their own," said the declaration issued Sunday in Arabic and later provided to Reuters in English.
The declaration is the latest bid by mainstream scholars to use age-old Muslim texts to refute current-day religious arguments by Islamist groups. A leading Pakistani scholar issued a 600-page fatwa against terrorism in London early this month.
Another declaration in Dubai this month concerned peace in Somalia. Such fatwas may not convince militants, but could help keep undecided Muslims from supporting them, the scholars say.
The Mardin conference gathered 15 leading scholars from countries including Saudi Arabia, Turkey, India, Senegal, Kuwait, Iran, Morocco and Indonesia. Among them were Bosnian Grand Mufti Mustafa Ceric, Sheikh Abdullah bin Bayyah of Mauritania and Yemeni Sheikh Habib Ali al-Jifri.
RULE FOR MUSLIM RADICALS
Ibn Taymiyya's Mardin fatwa is a classic text for militants who say it allows Muslims to declare other Muslims infidels and wage war on them. The scholars said this view had to be seen in its historic context of medieval Mongol raids on Muslim lands.
But the scholars said it was actually about overcoming the old view of a world divided into Muslim and non-Muslim spheres and reinterpreting Islam in changing political situations.
The emergence of civil states that guard religious, ethnic and national rights "has necessitated declaring the entire world a place of tolerance and peaceful co-existence between all religious, groups and factions," their declaration said.
Aref Ali Nayed, a Libyan who heads the Dubai theological think-tank Kalam Research and Media, told the conference the great Muslim empires of the past were not a model for a globalised world where borders were increasingly irrelevant.
"We must not be obsessed with an Islam conceived of only geographically and politically," he said.
"Living in the diaspora is often more conducive to healthy and sincere Muslim living. Empires and carved-out 'Islamic states' often make us complacent."
Nayed said Muslims must also understand that "not all types of secularisms are anti-religious." The United States has stayed religious despite its separation of church and state, but some "French Revolution-like secularisms" were anti-religious.
The declaration ended with a call to Muslim scholars for more research to explain the context of medieval fatwas on public issues and show "what is hoped to be gained from a sound and correct understanding of their respective legacies." — Reuters
Kes bunuh Syafiah, Pemandu Teksi Akan Didakwa di Mahkamah Tinggi Shah Alam
Posted: 31 Mar 2010 03:47 AM PDT
M
ahkamah Majistret di sini hari ini membenarkan permohonan pihak pendakwaan supaya kes pemandu teksi yang didakwa membunuh kanak-kanak berusia tiga tahun pada Februari lalu dipindahkan ke Mahkamah Tinggi Shah Alam.
Majistret Zuraida Zakaria kemudian menetapkan 22 April ini untuk sebutan kes itu.
Terdahulu, Timbalan Pendakwa Raya Noorjidah Mohd Jusan, semasa mengemukakan permohonan itu turut memaklumkan kepada mahkamah bahawa semua laporan kimia dan bedah siasat telah siap sepenuhnya.
Mohd Fazli Azri Jamil, 28, didakwa membunuh Syafiah Humairah Sahari di padang bola sepak Jalan Utama, Kawasan Rumah Murah, Batu 30, Ulu Yam Lama Batang Kali, Selangor, pada 6.30 petang, 25 Februari lalu.
Tertuduh yang diwakili peguam P Kumar didakwa mengikut Seksyen 302 Kanun Keseksaan yang jika sabit kesalahan memperuntukkan hukuman mati mandatori.

Mohd Fazli yang ditahan di Penjara Tapah sejak ditangkap pada 26 Februari lalu dibawa ke mahkamah pada 9.15 pagi dengan diiringi beberapa anggota polis.

Turut kelihatan di mahkamah sejak awal pagi ialah ibu bapa dan saudara terdekat tertuduh. - Bernama



This posting includes an audio/video/photo media file: Download Now
Malaysian Insider: UK bans party drug 'miaow-miaow'
Posted: 31 Mar 2010 01:14 AM PDT
Malaysian Insider: UK bans party drug 'miaow-miaow'
LONDON, March 31 — Party drug mephedrone will be banned in Britain within a month, the government announced Monday, after a string of deaths were linked to "miaow-miaow".
Home Secretary Alan Johnson said mephedrone — currently freely available to buy on the Internet and in shops selling legal highs — would join amphetamines and cannabis as an outlawed class B drug, the second most dangerous kind.
The drug, also nicknamed Plant Food, has been linked to up to 25 deaths in England and Scotland since its popularity reportedly snowballed at music festivals in the middle of last year.
Its effects are similar to ecstasy and can include increased heart rate, anxiety and a sense of euphoria.
"The government is determined to crack down on these so-called legal highs and we must all play a part in ensuring children and young people know about their dangers," Johnson said, announcing the ban.
The move came after the government's Advisory Council on the Misuse of Drugs (ACMD) issued it with a report backing a ban on mephedrone and despite the resignation of a council member, Dr. Polly Taylor.
She quit in a row over how the government uses the council's advice which has already seen six other of its members resign. — afprelaxnews.com
Posted: 31 Mar 2010 12:27 AM PDT
I am gay, Ricky Martin said.
Ok, no effects on me, since I don't really fancy him. But, today, I'm not talking about Ricky all that. The main topic today is about homosexuality. Many people asked me before, what's my view on homosexuality.
OK, first of all, I'm not homo-phobia. I don't have problem with gay or lesbo. Except, yes, except, when a lesbo started to tell me, that she falls in love with me. Ok, it's kinda creepy for me. Seram sejuk, ok~
The first time I met a gay/lesbo when I was in high school. I know some of my schoolmates were lesbo, where they kissed in front of me! Creepy~ but that time I was thinking, let them be, not my problem after all. But I actually thinking, how the hell they are having sex? Using ''toys'' eh? (You know what I meant)
And do they actually can achieve orgasm by using toys? Ok, I'm very open in sex-related topics, and yes, I'm not innocent girl, I know quite a lot about sex-thingy, ok? Ha ha ha ha. Actually it's quite hard for me to accept a homosexual people as my friend, but I have no problem after all, unless they are telling me, ''I love you, Deepo''~by a girl, then, I have problem.
I don't know whether my observations are correct or not, but usually gays are good-looking (shit!) (*o*) oh no! Yes, I think so, because most gays that I personally known, are quite good-looking (ladies, please cry now)~ I'm stabbing my heart after wrote this, hahaha XD.
And another from my observations, those lesbo usually ugly girls. Ha ha ha ha. Maybe, ok this is my theory, maybe because there are no other men fall in love with them, so they end up become a lesbo. I guess :-P
Ok, I need a boyfriend now, ha ha ha ha. Creepy~ but honestly, I don't have problem to befriend with homo, but please don't tell me that you are falling in love me, only then, we can become best friend. Cause I don't care about your sexuality, because for me, the judgement whether it's right or wrong, it's all depends on Person up there :-)
p/s: I hope my future husband is not gay :-P