---
Posted: 26 Mar 2010 11:09 AM PDT
ok for a change, nothing about malaysia today but something about our neighbour down south – singapore. read this article 'what exactly is the singapore identity which binds us together?'.
quote:
Unlike in Malaysia where the racial divide between the Malays and ethnic minorities is growing wider, no race is treated more favorably than others in Singapore.
Though the ethnic Chinese constitutes about 75 percent of the population, they enjoy no special rights or privileges. Neither do the Malays who are the original inhabitants of Singapore before the arrival of the British.
How To Train Your Dragon (or toddler)
Posted: 26 Mar 2010 10:47 AM PDT
1) Rub his nozzle (dragon) or his dongga forehead (toddler)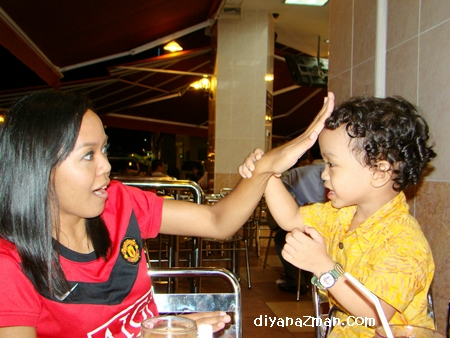 2) Tickle his tummy till he passed out (dragon) or tickle his tummy until he tickles you back (toddler)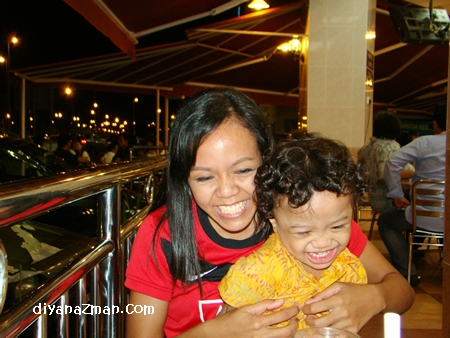 3) Bump your head on his (toddler); but I suggest you don't do this to a dragon,unless you wanna be a piece of toast!
Azman and I had a lot of things done today and at the end of the day we just thought, hey let's take Miki to see Alice in Wonderland! He loves rabbits and there is a rabbit in that one!
All things unplanned worked really well in this family, tak sempat aku nak mandi we went off to the nearest GSC – ioi Mall for the 9 oclock show. Coolest thing with unplanned agenda is it always end up with a twist – we bought tickets to see How To Train Your Dragon instead.
It was great!
Miki sat on my lap or his Daddy's lap ALL THE TIME! Ate popcorn and some crackers, drank mineral water and just watched the movie with full concentration! i have to repeat this – ALL THE TIME!
You know what that means? Yes, the movie was great, ok that's correct but what I am trying to say is – Miki is ready! He is now a Viking! So we can go watch movies without having to lying to our bosses sacrifice any precious annual leave while Miki is left at Mama Rose's! Yippeee!
Anyway, the movie is about a cowardly frail teenager who tamed the most fierce dragon; the Night Fury and nicknamed it Toothless. The young man changed the way his people lived from dragon hunters to pet-dragon keepers.
The story line is very interesting and funny and jumpy too for a two year old. I am so pleased that Miki understands the storyline and can tell parts of the story back us. After the movie was over, he was also very pleased with himself that he kept saying "Miki tengok sampai habis!! Sampai habis!!" And when the rock song that accompanied the curtain call came out, Miki apa lagi… DANCES in the dark. haha!
After the show we went to Pelita and I asked him what is the name of the "Abang" in the movie. My handsome curly-murly boy answered with confidence and clearity "SIPPY CUP!"
We love you Miki! His name was Hiccup.
46th Baeksang Arts Awards (2010) winners
Posted: 26 Mar 2010 09:44 AM PDT
Director Yun Je-gyun and actress Ko Hyun-jung were awarded the Daesang grand prize at the 46th Korean Baeksang Arts Awards on March 27. Yun was honoured for directing movie Haeundae, while Ko for her role in drama Queen Seon Duk.
46th Baeksang Arts Awards (2010) winners from YeinJee's Asian Blog
TGNA Umum Sedia Lepaskan Jawatan Mursyidul Am PAS
Posted: 26 Mar 2010 11:13 AM PDT
S
elepas lebih 23 tahun memegang jawatan Mursyidul Am PAS, Datuk Nik Abdul Aziz Nik Mat hari ini mengumumkan beliau sedia melepaskan jawatan itu.
Memberikan alasan kesihatan, beliau menyatakan bersedia tidak dilantik semula.
Datuk Nik Aziz berkata demikian ketika diminta mengulas laporan Majlis Syura Ulamak PAS bermesyuarat buat pertama kali bagi melantik barisan kepimpinan tertinggi baru.
Majlis Syura yang dipengerusikan oleh Mursyidul Am adalah badan yang paling berkuasa di dalam PAS.
"Saya mujur (setuju) benar, kalu tak beri tugas kepada saya. Tinggal di Kota Bharu nak pergi Kuala Lumpur bukan senang, selain dari kerja banyak di Kelantan ni, masalah kesihatan saya pun.. jadi mujur benar kalau tak de..," kata TG Nik Aziz.

Mesyuarat Majlis Syura Ulamak yang dipengerusikan oleh Presiden PAS, Hj Abdul Hadi Awang akan menentukan siapakah Mursyidul Am dan Timbalannya serta empat lagi Majlis Syura. Jawatan Timbalan Mursyidul Am kini disandang oleh Datuk Dr. Haron Din.

Mengikut Pindaan Perlembagaan PAS yang dibuat pada Muktamar Agung yang ke 29 pada 1983, jawatan-jawatan di dalam Majlis Syura adalah dilantik.

Mursyidul Am PAS yang pertama adalah Allahyarham Yusof Rawa yang memegang jawatan itu semenjak 1982 sehingga 1987 sebelum diambil alih oleh Datuk Nik Abdul Aziz sehingga kini. -TV9

Ulasan GB

Demikian merendah diri dan tawadhu' seorang yang bergelar TuanGuru. Nada sedih juga dapat dihidu dari kenyataan TGNA tersebut.

Yang gila jawatan sudah boleh tonjol diri... terutama yang galak meminda perlembagaan PAS semata-mata nak menepis keluar TGNA dan yang tak sabar-sabar nakkan pemimpin kesukaan mereka memegang jawatan Mursyidul Am setelah dilihat TGNA menjadi batu penghalang untuk mereka menjayakan misi dan visi mereka selama ini.

Berkilas ikan di air kita tahu jantan betinanya. InsyaAllah.




This posting includes an audio/video/photo media file: Download Now
46th Baeksang Arts Awards (2010) red carpet
Posted: 26 Mar 2010 07:42 AM PDT
Red carpet photos from the 46th Korean Baeksang Arts Awards which was presented on Friday (Mar 26) in Seoul. I would have found my way there if I had learned about the event a bit earlier; too bad I only realised about that when it's showing live on TV. Images from Newsen [Kr]…
Lee Min-ho
46th Baeksang Arts Awards (2010) red carpet from YeinJee's Asian Blog
YDP Majlis Perajaan Kelantan diganti
Posted: 26 Mar 2010 07:52 AM PDT
M
ajlis Perajaan Negeri (MPN) Kelantan hari ini mengumumkan pelantikan Tengku Laksamana Kelantan Tengku Abdul Halim Ibni Almarhum Sultan Ibrahim sebagai Yang Dipertua (YDP) MPN yang baru bagi menggantikan Tengku Abdul Aziz Tengku Mohd Hamzah.
Setiausaha MPN Datuk Mohd Aiseri Alias berkata pelantikan Tengku Abdul Halim itu berkuatkuasa semalam selepas pembatalan pelantikan Tengku Abdul Aziz yang juga berkuatkuasa semalam.
"Bagi menjunjung titah perintah Yang Maha Mulia Tengku Muhammad Faris Petra Ibni Sultan Ismail Petra, Pemangku Raja Kelantan dengan ini saya memaklumkan bahawa Yang Mulia Tengku Abdul Aziz Tengku Mohd Hamzah dibatalkan pelantikan dan dilepaskan menjadi YDP MPN berkuatkuasa 25 Mac 2010 (semalam)," katanya dalam sidang akhbar di Kota Bharu.
Turut hadir pada sidang akhbar itu Pengelola Istana Diraja Kelantan Datuk Abdul Halim Hamad dan Timbalan Setiausaha Kerajaan Negeri Kelantan Shafie Ismail.
Mohd Aiseri berkata pelantikan Tengku Abdul Halim sebagai YDPM MPN yang baru itu juga telah mendapat perkenan Pemangku Raja Kelantan.

Semalam Tengku Abdul Aziz yang bergelar Tengku Seri Utama Raja telah diumumkan sebagai Pemangku Raja Kelantan selepas apa yang didakwa bahawa Sultan Kelantan Sultan Ismail Petra telah melucutkan jawatan anakandanya Tengku Muhammad Faris Petra sebagai Pemangku Raja berkuatkuasa serta-merta.

Titah tersebut didakwa disampaikan baginda kepada Tengku Abdul Aziz dan dibacakan oleh Setiausaha Sulit Sultan Kelantan Datuk Wan Hashim Wan Daud di Istana Mahkota di Kota Bharu.

Bagaimanapun susulan daripada pengumuman itu yang dihebahkan di laman web media utama, Mohd Aiseri berkata Tengku Muhammad Faris Petra terus kekal sebagai Pemangku Raja kerana pelantikannya mengikut dua pertiga daripada 17 anggota majlis MPN pada 29 Mei tahun lalu.

Mohd Aiseri, yang juga Setiausaha Kerajaan Negeri Kelantan, berkata pengumuman Wan Hashim mengenai pemecatan Tengku Muhammad Faris Petra sebagai Pemangku Raja dan digantikan Pengerusi MPN, Tengku Abdul Aziz Hamzah berkuatkuasa serta merta adalah tidak terpakai kerana ia tidak mewakili MPN.

Tengku Abdul Aziz iaitu abang kepada Anggota Parlimen Gua Musang Tengku Razaleigh Hamzah juga telah bertindak secara berseorangan tanpa memanggil MPN bersidang.

Sementara itu satu laporan polis terhadap Wan Hashim telah dibuat di Balai Polis Kota Baharu di sini sebaik selesai sidang akhbar berkenaan.

Laporan polis itu dibuat oleh Timbalan Setiausaha Kerajaan Negeri, Shafie pada pukul 10.20 pagi berikutan tindakan Wan Hashim itu semalam.

Pada pukul 9 malam tadi, polis dilaporkan telah menahan seorang pegawai kanan Istana yang bergelar Datuk di kediamannya, di Taman Sri Aman, Kubang Kerian di sini dipercayai berhubung pengumuman pemecatan jawatan Tengku Muhammad Faris Petra sebagai Pemangku Raja Kelantan itu.

Sumber polis berkata penahanan lelaki itu disiasat mengikut Seksyen 419 Kanun Keseksaan iaitu melakukan penipuan.

Sementara itu, Menteri Besar Kelantan Datuk Nik Abdul Aziz Nik Mat meminta semua rakyat mematuhi undang-undang yang ditetapkan dalam perlembagaan bagi menyelesaikan kemelut Istana Kelantan sekarang.

Beliau tidak mahu rakyat terikut-ikut dengan mana-mana-mana kumpulan dalam isu itu, tetapi mengikut apa yang dikehendaki oleh perlembagaan kerana kerajaan negeri mempunyai perlembagaan tubuhnya sendiri.

"Saya nasihatkan kepada rakyat semua, masa kekecohan ini supaya patuh kepada perlembagaan, jangan dengar A dengar B, tetapi ikut perlembagaan," katanya. - Bernama




This posting includes an audio/video/photo media file: Download Now
Jenazah Ahli Parlimen Hulu Selangor Selamat Dikebumikan
Posted: 26 Mar 2010 07:59 AM PDT
J
enazah Ahli Parlimen Hulu Selangor, Datuk Dr Zainal Abidin Ahmad, selamat dikebumikan di Tanah Perkuburan Islam Kampung Melaka di Jalan Cheras-Kajang kira-kira jam 11 pagi tadi.
Jenazah Allahyarham disolat di Masjid Batu 10 Jalan Cheras dan turut hadir ialah Ketua Pembangkang dan Penasihat Parti Keadilan Rakyat (PKR) Datuk Seri Anwar Ibrahim dan isteri, Datuk Seri Dr Wan Azizah Wan Ismail, yang juga Presiden PKR, Timbalan Presiden Dr Syed Husin Ali, Naib Presiden PKR, Mustafa Kamil Ayub dan Pesuruhjaya PAS Selangor Datuk Dr Hasan Ali.
Timbalan Pengerusi Umno Selangor Datuk Seri Noh Omar yang juga Menteri Pertanian dan Industri Asas Tani juga dilihat berada ditanah perkuburan itu.
Allahyarham meninggalkan seorang balu, Datin Siti Zaharah Mohd Zin dan empat anak, Azura, 37; Azri Zin, 36; Aznizah, 29 dan Azizah, 25.

Beliau meninggal dunia kira-kira 9.27 malam tadi akibat barah otak di rumahnya di Batu 9 1/2, Jalan Cheras-Kajang.

Dr Zainal menang Parlimen Hulu Selangor pada pilihan raya umum ke-12 atas tiket Parti Keadilan Rakyat (PKR) menewaskan penyandang, Datuk G Palanivel dengan majoriti 198 undi.

Dr Zainal menyertai PKR pada 2005 dan dilantik sebagai Ahli Majlis Tertinggi bagi penggal 2007/2010.

Sebelum menyertai PKR, beliau pernah menjadi Timbalan Menteri Besar Selangor pada 1999, selain menyandang jawatan selaku Exco kerajaan negeri.

Beliau menang tiga penggal berturut-turut kerusi Dewan Undangan Negeri (DUN) Dusun Tua atas tiket Barisan Nasional (BN) pada pilihan raya umum 1990, 1995 dan 1999.

Dr Zainal dilahirkan di Cheras pada 10 Oktober 1939 dan memulakan kerjaya sebagai guru di Sekolah Tinggi Kajang (1961-1968), Pengetua Sekolah Menengah Kuala Kubu Baru (1972-1973), pensyarah Universiti Kebangsaan Malaysia (UKM) pada 1974.

Beliau memperoleh Doktor Falsafah Sains Politik dari University of California, Los Angeles pada 1980 dan pernah menjadi Dekan Fakulti Pendidikan UKM sebelum menyertai politik pada 1989.




This posting includes an audio/video/photo media file: Download Now
Berkhidmat untuk agama, bangsa & negara?
Posted: 26 Mar 2010 07:31 AM PDT
I had initially promised the lady from the club sponsoring groceries for Lin's and Sofie's families that I'd meet up with her at the minimarket at 2.30 pm today when I get the stuff to be delivered to Lin. However, by noon she said she couldn't make it that early and would only be able to make it after 4 pm. So I figured I might as well just get the groceries and deliver them to Lin; and then go back to the minimarket to take photos to be shown during the club's AGM next month.
Earlier in the morning I had given the list of groceries to the minimarket owner. Lin had informed me that she still had some of the stuff sent last month, and asked if I could replace those stuff with other things. So yeah, I took out the things which she still has, and added some other things. I noticed vermicelli was not included in the list for the past 2 months, so that was one of the things added to the new list. I didn't mention the quantity lah… little did I know that there would be enough vermicelli for a party!!
Anyway, right after all the items were put in my car, I immediately headed to Lin's house. I had told her earlier I'd be coming today. She is, after all, no longer selling pisang goreng (please refer my earlier story here for the reason) so she should be home.
Her youngest daughter was in school but her 15 year old son was home, so he helped to carry all the stuff from my car. I asked where her older son was… Lin said he just started work about 2 weeks ago in another town. Great! Even better still, according to Lin, while usually he couldn't care less whatever happened to his mom when he was home, now that he's staying elsewhere, he calls to ask how she's doing. Ibu manalah yang tak suka…
Lin is supposed to undergo a fibroid operation in a week's time; but when I asked her today, she said, "Saya rasa saya nak tangguh dulu lah kak."
"Kenapa pulak nak tangguh?!"
"Saya takutlah kak…"
"Habis tu, kalau tangguh engko ingat boleh hilang takut tu ke?"
I told Lin about the many ladies I knew who had undergone the same surgery and how good they are doing now. While I encouraged her to just go through the op, I told her it was up to her to decide, but since the hospital had already fixed a date next week, if indeed she decides to postpone, she'd better inform the doctors soon!
On another note, I was happy to note that Lin is beginning to get monthly financial assistance from the agency dealing with zakat. What I wasn't happy about was what she had to go through to get it.
Lin had actually submitted her application more than a year ago. I remember during one of my visits to her house, she did mention that she had to "buat muka tak malu minta bantuan" after she was hospitalised for a month and lost her job because of that. Having been too dependent on her ex-husband before this, Lin had to actually start from scratch to make a living.
Back to the application, Lin would from time to time enquire about her application to the officers, the same standard answer she got was, "Benda ni memang lambat. Mungkin dalam setahun baru lulus." When it was already a year and she'd enquire again, the answer was, "Oh, setahun pun belum tentu puan."
Coincidentally one fine day, a newspaper reporter happened to be interviewing the guy who allowed Lin to share his drinks stall for her pisang goreng business. Since the interview was done at the stall, the guy told the reporter that Lin too needed to voice out some problems and so the reporter agreed to interview her too. All Lin wanted to know was the status of her application. So yeah, Lin's story was published in the newspaper, and the very next day, the top officer at the agency visited Lin personally at her stall, and told her to come to their office. Lin went to their office, and one of the lower ranking staff dealing direct with the public, asked her to fill in another form as they had lost her earlier application. Then suddenly another staff came along and told them that he had found her form, together with all the supporting documents including the letter from the doctor. Duh! No wonder things didn't get moving!
Not long after that, Lin got a letter saying that her application had been approved and that she'd be getting a certain amount each month. Alhamdulillah, Lin was happy that at least she has some additional income to support her family. The letter gave her high hopes.
After a month, there was nothing yet. She went to the office to ask, and was told to just be patient. After 2 months, she enquired again… still nothing. By then Lin had some additional health problems and was told by the doctor to take a good rest. She had to take a break from her business. And by the time she wanted to start back her business, the guy who had earlier allowed her to share the stall, told her he wanted the space back for his own business.
Lin began to get worried about how to pay for house rental, utilities and other basic needs. It had almost been 3 months since she got the approval letter and she had yet to receive any cash. Then she remembered she had kept the phone number of the reporter who interviewed her earlier. So she called the reporter, not to ask for the matter to be published in the newspaper again, but to seek her help if she could make a call to the higher ranking officer to enquire. What Lin didn't know was that the reporter ended up having the matter published in the newspaper again!
And whaddaya know… the very next day Lin received a call from the people at the agency. One of the guys asked her why she had her story in the papers again – Lin herself was surprised upon hearing that. But anyway, she was told by one of the higher ranking officers to come to their office the next day.
Lin went, and was told that the particular officer was out. There was only one guy manning the counter then and when he somehow figured Lin was the woman mentioned in the papers, the guy said, "Ohh… akaklah yang keluarkan cerita dalam suratkhabar tu ya?!"
Lin told him she didn't know anything about the newspaper report, to which he responded, "Eleh… sudahlah kak! Kalau bukan akak yang bagi izin keluarkan cerita tu, takkan keluar dalam suratkhabar punya!"
Officer: "Ni hah, surat ni kan dah sebut bantuan akak dah lulus. Apa lagi akak nak?"
Lin: "Saya tak kata pun bantuan saya tak lulus. Saya cuma nak tahu bila boleh mula dapat bantuannya!"
Officer: "Akak ingat akak sorang je yang susah? Yang perlu bantuan?!"
Lin: "Saya tak kata pun saya sorang je yang susah!"
Officer: "Ah sudahlah kak, baik akak balik aje!"
By this time, Lin's tears were already flowing. But she refused to budge from the office. She was there because someone from the office told her to come.
Officer: "Balik ajelah kak. Kalau tak nanti saya repot polis nak?"
Lin: "Repotlah. Hantar saya masuk penjara. Tapi nanti kamu tolonglah bagi makan anak saya 6 orang tu!"
Officer: "Akak tau tak, kami boleh saman akak tau, pasal keluarkan cerita bukan-bukan pasal kami dalam suratkhabar tu?"
Lin: "Hah, samanlah. Bukannya saya mampu nak bayar pun. Lagipun bukan saya yang suruh keluarkan cerita tu kat suratkhabar!"
Officer: "Ah! Sudahlah! Kalau bukan akak yang buat cerita, tak keluar suratkhabar nya!"
Despite the tears in her eyes, and despite the fact that Lin is a very sensitive person, Lin persisted. She had the phone number of the reporter kept in her phone, and so there and then she called the reporter. The reporter, upon hearing the tone of Lin's voice (Lin was crying), and upon being told the problem, told Lin not to go anywhere and to wait for her at the office. The reporter coincidentally was on her way to cover an assignment nearby and decided to stop by the office to help Lin out.
The officer heard the conversation. The moment he found out that the reporter was coming, he immediately went in, and came out again with a form to be filled in and signed by Lin, before releasing the cash to Lin. YA AMPUUN!! The cash was already there! When the higher ranking officer asked Lin to come to the office, it was to get her monthly aid. This particular officer at the counter however, made life miserable for Lin just because Lin was the woman mentioned in the newspaper, giving a bad name to the agency (and probably getting him a scolding from the higher up officers). Imagine if Lin had actually gone back the first time the officer told her to!
Anyway, within 15 minutes, the reporter arrived at the office. When asked by the reporter why he scolded Lin, the officer denied everything – right in front of Lin's face!
Lin: "Yang tadi awak marah saya suruh saya balik tu apa?"
Officer: "Eh, mana ada?"
Adoi, geramnya akuuuuu… but ah well, you don't expect the reporter to believe him, do you?
I guess initially the officer didn't expect Lin to be contacting the reporter direct. And at that time, other officers were not in the office, so he thought he was in power lah kot! The moment he knew the reporter was coming, he probably got worried that another negative news would come out in the next day's papers, so he immediately turned helpful!
Well, the next time Lin went to the office, the same officer entertained Lin, and this time, he was nice to Lin. He even asked when Lin would have to undergo her operation.
Alright… so you get entertained only when you know the right people huh?
Sheeesh! To think that he's actually PAID to do the job!
Posted: 26 Mar 2010 07:29 AM PDT
Tomorrow, Saturday, March 27, 2010 will witness the inaugural AGM of PERKASA to be launched by Tun Dr. Mahathir Mohamed at PWTC. From what has been reported in the media, some 10,000 members and supporters are expected to attend. This includes some notables from UMNO and several other Malay NGO groups. I just do not know whether PWTC can accommodate that large number of people and if it does, this gathering will be much larger than UMNO General Assembly. And I also wonder who is actually providing the funds to manage this entire affair.
I have earlier posted two articles relating to PERKASA formed by sacked former UMNO member Ibrahim Ali, now an Independent parliamentarian, whom I described as a failed politician from Kelantan. If one can recall, he is said to have won the Pasir Mas parliamentary seat in the March 2008 General Elections out of sympathy from his constituents who are predominantly PAS supporters. Had PAS fielded a candidate to contest against him, he would have lost. One should also recall that during a by-election held for Pengkalan Pasir, Ibrahim Ali who contested as an Independent candidate lost badly to a BN candidate, including losing his deposit money. He only managed to garner 415 votes.
I stand by what I have said in my earlier postings of Ibrahim Ali and PERKASA. If the government does give its tacit approval (and I sense that it does) that the formation of PERKASA is to protect and defend the Malay rights, then I would suggest that UMNO be disbanded henceforth, and PERKASA be form into a political party (taking over from UMNO) with Ibrahim Ali as its President. If this does happen, then I dare declare that the nation will be heading for disaster.
Let us all wait for the outcome of the AGM which is just a few hours away. And if the AGM proves to be a big success, I am not at all surprise that UMNO will open its arms to receive Ibrahim Ali back into its fold.
CRUSADE AGAINST CORRUPTION
Pictures of Malaysians' protest at Swedish Embassy
Posted: 26 Mar 2010 06:57 AM PDT
Pic. Malaysian Insider
Three Pictures from Malaysian Insider
Malaysiakini pic
Photo by: AP
Pic Channelnewasia
Read Demotix for more pictures (from ? country)
Protest against Prophet's caricature published in Sweden
Username: *
Enter your Demotix.com username.
Password: *
Enter the password that accompanies your username.
Protest against Prophet's caricature published in Sweden
Hundreds of Malaysian Muslims gather after Friday Prayer at Masjid Tabung Haji in Kuala Lumpur in a protest against a published caricature of Prophet Muhammad in a Swedish newspaper.The crowd then moved towards Sweden Embassy. The leader of the protesters met the representative of the embassy at the embassy to handover a memorandum of the protest.
Date : 26 March 2010 – 2:30pm
Migrant workers abused, beaten and raped in Malaysia : Amnesty International
Posted: 26 Mar 2010 06:54 AM PDT
KUALA LUMPUR: Migrant workers are lured to Malaysia by promises of high salaries but often end up being exploited and abused, Amnesty International says in a report that urged the government to better protect foreign labourers.
"Migrant workers come to Malaysia to escape poverty and to provide for their families. Once they arrive, however, many workers toil in conditions that amount to labour exploitation," the London-based rights group said in a report released Wednesday.
Malaysia depends heavily on foreign labourers, who make up more than a fifth of the country's work force and fill jobs at construction sites, factories, restaurants, households and palm oil plantations.
But lower-than-promised wages, unsafe working conditions, and arbitrary arrests and extortion are common, said Amnesty.
An Amnesty team visited Malaysia in July 2009 and interviewed more than 200 workers - both legal and illegal - for the 100-page report titled "Trapped - The Exploitation of Migrant Workers in Malaysia."
Malaysia's Human Resources Minister Datuk Dr S. Subramaniam denied foreign workers faced discrimination, saying they had the same rights as Malaysian workers. He said they could bring complaints of mistreatment to the Labour Department, which solved most cases speedily.
"The system of bringing in foreign workers is a well established legal system ... It is fair to everybody," he told The Associated Press. "We offer the same kind of protection to foreigners (as to locals)... We don't protect employers who exploit workers."
In its report, Amnesty urged Malaysia to increase workplace inspections and step up prosecution of those who mistreat workers.
It also called on the country to amend laws to guarantee better conditions and to stop employers or recruitment agents from holding workers' passports, which restricts their ability to move about.
"The government of Malaysia has a responsibility to prevent ... abuses, which can include exploitation, forced labour, and trafficking in persons. Too often, the state fails to do so," Amnesty said. "Much of Malaysia's approach to migration is effectively to criminalise it, even though the country could not function without migrant labour."
Amnesty said it found that migrant workers, brought to Malaysia by agents, are often deceived about their pay, the type of job _ some don't even get work - and their legal status in the country.
Some workers are also held at their workplace by threat or violence, the report said. Three women from Myanmar, working as tailors, recounted how their employers called gangsters to intimidate and force them to work throughout the night.
About 2 million foreigners work in Malaysia legally, and an estimated 1 million more work illegally. Most come from poorer Indonesia. Others are from Bangladesh, India, Nepal, Myanmar, the Philippines and Vietnam. They mostly fill jobs shunned by locals in this relatively wealthy Southeast Asian nation.
Amnesty said authorities indiscriminately stop those looking "poor and foreign" under the guise of checking their papers but often these are "moneymaking ventures, nothing more than opportunities for extortion." -- AP
Posted: 26 Mar 2010 05:43 AM PDT
In recent years it has become fashionable to condemn Pope Pius XII (and, by implication, the Catholic Church) for his silence regarding Nazi persecution of the Jews. In fact, Pius confronted and condemned the Nazis on numerous occasions, and the Vatican saved more Jewish lives than any other organization apart from the Allied armies. The charge of remaining silent in the face of great evil could, however, much more plausibly be leveled against today's Catholics—and not only Catholics, but Christians in general—for their failure to speak out against the evils perpetrated in the name of Islam. The reason that we don't hear such criticism is that just about everyone has elected to remain silent on this topic, including those who usually delight in going after Christians. In fact, the critics of Pope Pius XII became upset with Pope Benedict XVI for not remaining silent about Islamic violence on the occasion of his speech at Regensburg. John Cornwell, the author of Hitler's Pope, and a rabid critic of Pius, condemned Benedict's speech as "incendiary" and "abrasive." Apparently, when confronted with the greatest evil of your own time, silence is golden.

So, there is plenty of silence to go around, but Christian silence is particularly disturbing because Christians are supposed to answer to a higher authority than prevailing opinion. In addition, Christians can't very well claim ignorance since much of recent Muslim animosity has been directed toward Christians. Here are some recent headlines:

*Iran: Protestant clergyman tortured for converting Muslims.
*500 butchered in Nigeria killing fields.
*Pakistan: Christian couple gets 25 years in prison for allegedly touching Qur'an with dirty hands.
*Four churches firebombed in Malaysia for using "Allah" for God.
*Egypt: At least six Christians killed in shooting outside church.
*Christians in Iraq fear extinction.
Continued here...
Kes Malek Bukti Institusi Kehakiman Negara Dipengaruhi Badan Eksekutif
Posted: 26 Mar 2010 04:58 AM PDT
B
ekas tahanan Akta keselamatan Dalam Negeri (ISA) Abdul Malek Hussein kecewa dengan keputusan Mahkamah Rayuan semalam yang membenarkan rayuan kerajaan untuk mengenepikan tuntutan ganti rugi RM2.5 juta.
Keputusan sebulat suara yang dibuat oleh Hakim Datuk Md Raus Shariff, Hakim Datuk Sulong Matjeraie dan Hakim Datuk Ahmad Maarof jelas membuktikan tindakan berat sebelah badan kehakiman yang masih dicengkam kuasa eksekutif kata Abdul Malek.
Tiga hakim tersebut memutuskan bahawa penahanan Abdul Malek adalah sah dan menolak semua dakwaan yang beliau diseksa semasa dalam tahanan.
Berikutan keputusan itu beliau tidak layak mendapat sebarang pampasan kewangan tetapi sebaliknya diarahkan oleh Mahkamah Rayuan untuk membayar kos RM50,000.
"Saya kecewa dengan keputusan yang membelakangkan arus perubahan yang dibuat oleh rakyat pada pilihan raya 2008 lepas,

Keputusan tersebut tidak selari dengan tuntutan rakyat dan institusi kehakiman dilihat masih dicengkam kuasa eksekutif,

"Kita tidak boleh harapkan badan kehakiman selagi kerajaan yang memerintah tidak ditukar kepada Pakatan Rakyat.

"Muktahir ini kes-kes besar seperti kes Menteri Besar Perak Datuk Seri Muhammad Nizar Jamaluddin, kes Datuk Seri Anwar Ibrahim dan sekarang saya juga tidak terlepas dengan keadaan situasi yang sama," beliau.

Abdul Malek berkata kerajaan Umno-Barisan Nasional tidak ikhlas menggunakan kuasa Parlimen untuk meminda Akta Keselamatan Dalam Negeri.

"Kegagalan badan kehakiman untuk berubah walaupun selepas pilihan raya 2008 menyebabkan rakyat hilang keyakinan terhadap institusi tersebut, dengan menggunakan hujah yang rapuh mereka cuma mahu mempertahankan kuasa eksekutif sahaja," kata beliau kepada Suara Keadilan.

Menurut Abdul Malek lagi beliau akan membawa kes yang diputuskan tersebut ke Mahkamah Persekutuan.

Beliau merupakan seorang bekas tahanan ISA yang sebelum ini berjaya menuntut hilang ganti rugi sebanyak RM2.5 juta .

Beliau ditangkap pada 1998 dan mendakwa diseksa semasa dalam tahanan.

Abdul Malek kemudian memfailkan saman pada Mac 1999 terhadap anggota cawangan khas Borhan Daud, Ketua Polis Negara ketika itu Tan Sri Abdul Rahim Noor dan Kerajaan Malaysia.

Pada 2007, hakim Mahkamah Tinggi, Datuk Mohd Hishamudin Mohd Yunus, memutuskan penahanan Abdul Malek ketika demonstrasi reformasi itu dibuat dengan niat jahat berdasarkan Artikel 5, Perlembagaan Persekutuan. -SK/TVS



This posting includes an audio/video/photo media file: Download Now
Malaysian Insider:Iran says Muslims must act over Jerusalem
Posted: 26 Mar 2010 04:31 AM PDT
Malaysian Insider:Iran says Muslims must act over Jerusalem
TEHRAN, March 26 — Iran attacked Israel's settlement plans in occupied East Jerusalem today, saying Muslims around the world needed to take action.
Announcements by Israel's right-wing government of new building projects in East Jerusalem — which the Jewish state seized in a 1967 war — have spoiled US plans to get Palestinians and Israelis back into peace negotiations.
"Expansion of Israeli settlements, destruction of Islamic and Christian sites and wide-scale construction of new synagogues … show the Zionist plans to accelerate Judaisation of East Jerusalem and unfortunately it is approved by American officials," Iran's Foreign Minister Manouchehr Mottaki said in comments reported on Iranian state radio.
"This has raised the alarm for all people around the world and doubled the need for Muslim and other countries to act seriously," he said, adding that the 22-nation Arab League should take a strong stance at its meeting in Libya this weekend.
US officials have sought to coax Israel into suspending further East Jerusalem projects and discussing core issues such as borders and the status of Jerusalem as part of indirect talks with the Palestinians that have been blessed by the Arab League.
Iran is locked in dispute with the United States and its allies, including Arab states, over its nuclear energy programme which they fear will allow Tehran to develop nuclear weapons. Iran says it has no such intention.
Israel says it considers a nuclear Iran as an existential threat and analysts say Israel, itself regarded as a nuclear power, could carry out raids on Iranian sites.
Iran, a major oil and gas producer, sees itself as the main champion of the Palestinian cause among Muslim countries. — Reuters
Posted: 26 Mar 2010 03:43 AM PDT
Just spent about 90 minutes on the above titled Academy Awards winning documentary, "The Cove". It is indeed the best documentary that I have ever watched with the message that it is trying to convey to the world.
The documentary is on how tens of thousands dolphins killed in a small town called Taiji in Japan and how these meats being traded as whale meats in Japan. Worth watching!
This posting includes an audio/video/photo media file: Download Now
Malaysiakini: Muslims protest against insult of Prophet
Posted: 26 Mar 2010 03:22 AM PDT
Malaysiakini: Muslims protest against insult of Prophet
Abdul Rahim Sabri

Over 500 Muslims gathered at the Swedish embassy today to voice their protest against three Swedish dailies for allegedly "insulting Prophet Muhammad".
They gathered at the embassy after Friday prayers led by Islamist party PAS youth chief Nasrudin Hassan and National Malay Students Federation (GPMS) president Jais Abdul Karim.
Both leaders submitted a two-page memorandum of protest to the embassy official.
The memo, endorsed by 19 Islamic non-governmental organisations, demanded that the Swedish government take stern action against the three dailies for inciting anger among the Muslims.
After submitting the memo, Nasrudin burnt the Swedish flag as a sign of protest.
Besides carrying posters that read 'We love the Prophet', 'Don't insult the Prophet' and 'We will fight for our Prophet', the group also shouted slogans like 'Rude Swedish' and 'Damn Sweden'.
Although around 40 police officers were seen patrolling the area, no untoward incident occured.
Foreign minister Anifah Aman on March 14 denounced the reprinting of the caricature of Prophet Muhammad by three Swedish newspapers that appeared on March 10.
The controversy started when a Swedish regional daily published cartoonist Lars Vilks' satirical cartoon in 2007, which prompted protests by Muslims in the country while Egypt, Iran and Pakistan made formal complaints.
An al-Qaeda front organisation had offered US100,000 to anyone who murdered Vilks, with an extra 50,000 if his throat was slit.
DISABLED TO KTM: Please conduct investigations professionally - StarMetro
Posted: 26 Mar 2010 03:35 AM PDT
Friday March 26, 2010Disabled group wants a fair probe(Click on link to watch the video)
A GROUP of disabled people is disappointed over the method of investigation by the KTM Komuter management in the case of a disabled person who was kicked by a KTM Komuter driver.
Anthony Thanasayan, who is a member of Malaysians Against Discrimination of the Disabled (MADD) and a MBPJ councillor said
This posting includes an audio/video/photo media file: Download Now
Posted: 26 Mar 2010 02:31 AM PDT
I had on Sunday, March 8, 2010 posted an article titled, "More Revelation" in which I wrote that there might have been an abuse and the element of corruption involved in the third tender bid and evaluation of the camouflage material/uniform for the army. The tender board's finding that the bidders have all not met fully the tender specification and criterion, gave rise to suspicion to some of the bidders who have themselves carried out their own technical evaluation on the camouflage material/uniform, and of which they are fully satisfied that their camouflage materials have met the tender specification and criterion.
I have recently been inform that the army tender board have now shortlisted three companies to proceed with a new tender, ignoring the earlier bidders who are believed to have met the tender specification and criterion. The three shortlisted companies are said to be associate companies of a famous and popular tailoring company, that seems to have an open-ended tailoring contract with Mindef, besides being a favourite to some top Mindef officials. I am told that this famous and popular tailoring company has no less than a dozen associated companies which is used to bid for Mindef contracts and tenders; ranging from army ordnance supplies, equipments and even weapons.
If one could recall, Seri Mukali Sdn Bhd, an associate company of this famous tailoring company had in 2007 been given the contract to supply ballistic helmets to the army; a contract worth RM19 million (or thereabout). It was later found that some 5000 pieces of these helmets were defective, but someone from the army had instructed units to proceed using these defective helmets. The same observation appeared in the Auditor General annual report, but little is known as to what action has Mindef taken, or was this matter just swept under the carpet? Certainly, black listing the company serves no purpose, because a new company can be incorporated in just a wink of an eye.
I clearly remembered that upon my return from a UN tour of duty in Cambodia in 1993, I was handed a voucher (without specifying the sum)to collect some clothing's from this particular tailoring company. I was told that the voucher was meant for my overseas clothing entitlement that was suppose to be given to me prior to my departure to Cambodia. This voucher is also available to all members of the contingent, and I know for sure that some have not taken nor receive the vouchers. Since there is no value or costs stated in the voucher, one can guess how much the tailoring company had claimed from Mindef.
Now, with regards to the new tender exercise for the supply of camouflage uniform for army, and if indeed army have called for as fresh tender, and listing only the three associate companies of the popular tailoring company as the only potential bidders, I will not hesitate to report this to MACC, and name army and members of the tender board for allege abuse and corruption. This is not a threat but it is a citizen's obligation that I have to fulfill.
CRUSADE AGAINST CORRUPTION
Posted: 26 Mar 2010 01:41 AM PDT
Tan Kee Hian shared with me this highly relevant article in his mail today. The article touches on the flourishing medical education in Malaysia. It is very much a red-ocean scenario - 24 medical schools for a population of 26 million.
Out of his deep concern for Malaysia generally, and Sibu in particular, Kee Hian pointed out that:
It is a very good illustration of a Red Ocean with lots of copycats jumping on the bandwagon of medical schools. As the learned doctor-author pointed out, Malaysia has ". . . 24 medical schools for a population of 26 million!" It is also relevant to Sibu. I understand many people (parents, doctors, leaders, etc) would dearly like to start a medical school in Sibu. Does it make sense to have the 25th "vanilla" medical school located in Sibu? Perhaps yes, if we could create an uncontested space, a Blue-Ocean medical school that offers unique value to society, the students, and the investors. I provided some clues in my "Sibu in the Blue Ocean" Lecture.
This article by Dr. Hsu Dar Ren is pretty insightful and it is worthwhile for you to take your precious time to read through.
"A Doctor Too Many" appears in Malaysiainsider today.
Malaysia, a country with about 26 million inhabitants, boasts of 24 medical schools now.
Just a few years ago, the number was less than 10. In fact, when my eldest son entered medical school 10 years back, I could count the medical schools with my fingers. Now even with my toes and my fingers, I can no longer. Some of the names are so new that I, as a doctor, did not even know they existed until I did some research for this article.
The list is below:
Public universities:
* University of Malaya, Faculty of Medicine
* Universiti Kebangsaan Malaysia, Faculty of Medicine
* Universiti Sains Malaysia, School of Medical Sciences
* Universiti Putra Malaysia, Faculty of Medicine and Health Sciences
* Universiti Malaysia Sabah, School of Medicine
* Universiti Malaysia Sarawak, Faculty of Medicine and Health Sciences
* International Islamic University Malaysia, Kulliyyah of Medicine
* Universiti Teknologi Mara, Faculty of Medicine
* Universiti Sains Islam Malaysia, Faculty of Medicine & Health Sciences
* Universiti Darul Iman, Faculty of Medicine
Private Universities and Colleges
* UCSI University, Faculty of Medical Sciences — School of Medicine
* Monash University Malaysia, School of Medicine and Health Sciences
* International Medical University, Faculty of Medicine
* AIMST University, Faculty of Medicine and Health Sciences
* Allianze College Of Medical Sciences, Faculty of Medicine
* Management and Science University, Faculty of Medicine
* Cyberjaya University College of Medical Sciences, Faculty of Medicine
* Royal College of Medicine Perak, School of Medicine
* Melaka Manipal Medical College, School of Medicine
* Penang Medical College, School of Medicine
* MAHSA University College, Faculty of Medicine
* Newcastle University Medicine Malaysia (NuMED)
* Taylor's University College, School of Medicine
* Utar
These are the medical schools in Malaysia. These schools, when fully functional, will produce about 4,000 doctors a year. There will be thousands more Malaysian doctors being produced overseas, since many Malaysians are studying medicine in the UK, Australia, New Zealand, India, Indonesia, Russia, Taiwan and even Ukraine.
The sudden mushrooming of medical schools is apparently due to shortages of doctors in the public sectors. This is because most doctors in government service resign after their compulsory services and opt for the supposedly greener pasture in the private sector.
In most other countries, the logical thing to do to counter this brain drain of doctors to the private sector is to find out why doctors are resigning from government service, and then try to address the woes of the doctors, and hopefully, keep them in service. I call this common logic.
The Malaysian solution, like in many other instances, does not take common logic into account but rather uses the sledgehammer approach. After all, we do have Malaysian logic, which is different from common logic practised in most other countries. For example, if we cannot have spacecraft of our own, we can still produce astronauts by sending Malaysians into space, hitchhiking on other countries' spacecraft.
In most other countries, the common logic will be to try to improve the working conditions in public sector so that doctors will stay back. But Malaysian logic is sledgehammer logic, and is very different.
If the doctors do not want to stay in government service, then Malaysia shall flood the market with doctors, so goes the Malaysian logic. Never mind that setting up of medical schools and training doctors are expensive businesses. We have petroleum and huge amount of development funds.
By building more buildings and buying expensive medical equipment to equip these medical schools, billions will have to be spent and, of course, in the Malaysian context, everyone will be happy, down from the planners, the contractors, the parents and all others involved, since the perception is that projects in Malaysia inevitably will have some leakages and wastages, and many people are very happy with these leakages and wastages.
Never mind that we may have the hardware but we may not have enough qualified people to man these medical schools.
The Malaysian logic seems to be like this: If enough doctors are produced, the market will be saturated with doctors, and thus, doctors will have nowhere to go but to stay in government service.
Well, the people may be clapping hands and rejoicing that, with more doctors than are needed, medical costs will come down.
Unfortunately, things do not function like this in medical education. Experience in some countries tells us that some doctors in private practice, when faced with too few patients, will charge higher and do more investigations, some of which may not be needed. So instead of medical cost going down, it will go up.
In any advanced nation, the setting up of a medical school requires a lot of planning and is not done on an ad hoc basis. Planning must include where to source for experienced and qualified teachers; where to build new or source for existing teaching hospitals, which are big enough for the placement of these medical students to do training.
Planning such as facilities, equipment, classrooms, curriculum. In the west, it takes many years of training for a medical school to be set up; whereas in Malaysia, we see more than 10 in the last five years.
In Malaysia, due to the sudden "exponential" increase in medical schools, we have medical schools pinching staff from each other, even the mediocre ones. With that number of qualified teachers only, it is unavoidable that many teachers may not have the experience and qualification to be medical lecturers.
The early birds (medical schools) are more fortunate. Their students are placed in bigger hospitals like the General Hospitals of Kuala Lumpur or Penang. Now, some of the medical schools just opened have to send their students to smaller district hospitals to do their training. The smaller hospitals are often manned by more junior doctors who are not qualified to be medical teachers, and these hospitals have only very basic facilities and equipment.
This is just the beginning of the problems. For a doctor, graduating from a medical school is the beginning of a life long journey, and the basic medical degree is more like a license to start to really learn how to manage and treat patients.
The most important year after a doctor graduates is the houseman-ship. If a doctor does not have proper houseman training, then he would face a lot of problems later on. He or she may know all the medical knowledge in the world (just for argument's sake, since knowledge of medicine is so vast that no one can know everything), but without the proper houseman training, he or she will not get the hand-on experience so crucial and important to doctors.
A doctor without proper houseman training is not unlike a person who has only ever raced in arcade games, suddenly being asked to race in a real life race. He would not have the hands on experience to do well. A doctor without proper houseman training would be like a person given a license to kill, and a disaster waiting to happen.
Now, with 4,000 doctors being produced in a year, where do we find so many houseman positions for these young doctors?
Even now, with some of the medical schools just starting and not yet producing doctors, and the number of doctors being produced is much less than the 4,000, the wards in some of the bigger hospitals are filled with so many housemen that, in some wards, there are not enough patients for these housemen to learn management skills.
About a year back, I was told, in HKL some of the units have more than 20 housemen. Recently one doctor told me that in some units, it may have even more than that. I was aghast. Since with that many housemen in a single unit, and so few senior officers to guide them and so few patients for them to learn from, how are they going to learn the skill of doctoring?
When there is not enough training for these housemen, what do you think our policy planners do? In the typical Malaysian style, they increase the length of houseman-ship from a year to 2, hoping that the longer time will help to give better exposure to these doctors.
Compared to Australia, New Zealand, and United Kingdom, houseman-ship is still one year only. By increasing the length of the houseman-ship, it is a tacit admission that our one-year houseman training is not as good as the above mentioned countries.
A poorly trained houseman will become a mediocre medical officer, and since now most of the specialists are trained internally, it will be a matter of time before future specialists may not be as well trained as presently.
Many parents do not know about the actual situation and still encourage their children to take up medicine. They are not told of the actual situation. The day will come when there are simply so many doctors that none are adequately trained. There will come a day when a doctor graduating from a medical school cannot even be placed in a houseman position.
And that day is actually very near.
India to use world's hottest chilli against terrorism
Posted: 26 Mar 2010 12:58 AM PDT
The Indian army is making tear-gas like hand grenades with the world's hottest chilli pepper, the Bhut Jolokia, as key substances.
The thumb-sized chilli, which grows around the banks of Brahmaputra River, has more than 1,000,000 units on the Scoville scale, 200 times hotter than Tabasco sauce. [News via Guardian][image by Mattandkim].
RB Srivastava, director of the Life Sciences Department at New Delhi HQ of the Defence Research and Development Organisation, said: "This is definitely going to be an effective non-toxic weapon because its pungent smell can choke terrorists and force them out of their hideouts. It would literally choke them."
Btw, do note that capsaicin, the active component of chilli peppers which gave the burning sensation, has been used as a key ingredient in pepper spray for quite some time… so the chilli-bomb idea is not something new.
India to use world's hottest chilli against terrorism from YeinJee's Asian Blog