---
DPM should be the president of perkasa
Posted: 15 Apr 2010 11:01 AM PDT
… or maybe he can form a new group – BERMELAYU DULU ??
i had blog about it when he first declared that he's malay first, malaysian second. now he's repeating it and said he won't apologise for saying that (who the hell asked him to apologise anyway? not i).  but wait there's more… read here, extract from malaysiakini:
"When I said that I am a Malay first, some dubbed me as an 'ultra'. But I am not afraid or worried what others may think just because I want to help my race first.
see that? "… because i want to help my race first."
whoa!! a DPM who think of his race first, who wants to help his race first. shocking, isn't it? oh no, shouldn't be shocking as we are already familiar with the antics of our umno government.
this is the kind of remark that drives non malays away, out of the country. this is the kind of remark that stop people who are away from coming back home.
this is the kind of remark that not a malaysian DPM can made but a malay DPM can. see he's admitting he is a PM for malays.
Don't be afraid and don't be apologetic when people say that we are racist for only wanting to help Malays because the Malays still lack in so many areas,' he said.
whoa! first of all he was admitting he's racist… and so are all those in gabungan pelajar melayu semenanjung (GPMS) student movement… whom he addressed this to. then he's admitting malays are still weak, malays ARE over-grown babies who wants to continue being fed.
oh well, this is 1malaysia for you eh? where? where 1malaysia? i see DPM (and also PM) for malays first – so what 1malaysia?? it's 2 malaysia all the way!!
(note: the 2malaysia facegroup is growing – over 3000 members now. join, if you haven't yet!)
Away to PLKN (Day 20): Back to Form 2TA4's Foosball Outing
Posted: 15 Apr 2010 10:02 AM PDT
So how's life people? Guess I am doing good here at the PLKN (National Service) camp. Do your place, your country has national service or army program? I know Singapore has it and the duration is 2 years, and it's tough.
My Malaysia is something short, 3 months and they say it's not tough. Though, I get to hold on to the real M-16 and fire a shot from it, yes, it's only one shot, but it's super fun! Bang Bang Bang.
Here's what I found in my Flickr, it's something old, like 4 years back when I was Form 2. During Form 2 that time, I studied in the class 2TA4, it's year 2006, the second year for me being in secondary school. I made a lot of friends and organized an outing for my classmate. It's going to Gurney Plaza, the usual place! Haha.
Looking back at the photos, I look so young, so child. But it's fun being young! =) Miss the day back, a little but, but somehow I don't have much memories before Form 3, maybe because I haven't grown up yet. Hehe.

Me is inside! Next to me is Yik Chia.
For RM2, can play the Foosball for 10 rounds as there's 10 balls. They were not a Red Box kaki, so we didn't go there.
2006 was like so many years ago! OMG, don't feel like growing older but cannot. Move on yeah.
Palanivel Menghilangkan Diri, Tak Tahu Mana Nak Letak Muka,
Posted: 15 Apr 2010 09:47 AM PDT
K
egagalan Timbalan Presiden MIC Datuk G Palanivel untuk hadir di majlis pengumuman calon BN P Kamalanathan mencetuskan persoalan sama ada beliau kecewa kerana tidak terpilih mewakili BN.
Ketika Timbalan Perdana Menteri Tan Sri Muhyiddin Yassin mengumumkan Kamalanathan sebagai calon BN Hulu Selangor, tidak kelihatan langsung kelibat Palanivel yang sebelum ini disebut-sebut akan dipilih.
Seorang lagi pemimpin MIC yang turut dispekulasikan V Mugilan bagaimanapun hadir dan bersalaman dengan Kamalanathan.
Ditanya berhubung perkara itu, Muhyiddin yang juga timbalan pengerusi BN mengakui bahawa Palanivel mungkin "sedikit kecewa".

"Mungkin beliau ada tugas lain atau sedikit kecewa. Kalau kita sendiri pun, mungkin ada perasaan sebegitu," katanya dalam sidang media selepas mengumumkan pilihan BN di hadapan kira-kira 2,000 penyokong di Bukit Beruntung.

Terdahulu dalam ucapannya, Muhyiddin bagaimanapun berkata, beliau mahu Palanivel terus membantu bagi memastikan kemenangan BN di kawasan Parlimen tersebut.

"Saya nak sebutkan dalam rekod di atas pentas ini, saya ucapkan terima kasih berbanyak-banyak kepada Datuk G Palanivel," katanya.

Katanya, Palanivel telah berjasa selama empat penggal bagi kawasan tersebut.

"Apa saja yang orang kata, dia sudah ada jasa. Kita perlu letakkan penghargaan itu di tempatnya," katanya lagi.

Katanya lagi, keputusan itu juga diambil dengan mengambil saranan daripada perdana menteri Datuk Seri Najib Razak yang mahukan kerusi parlimen tersebut kekal dengan MIC.

Jelasnya, beliau maklum dengan saranan daripada sesetengah golongan yang mahu kerusi itu diserahkan kepada Umno memandangkan majoriti penduduk di situ adalah kaum Melayu.

"Walaupun kita tahu MIC mewakili masyarakat kecil tapi mereka tetap perlu dibela, diberi tempat di parlimen atau DUN... kita tidak tamak," katanya.


Tambahnya, berdasarkan maklum balas, pengundi-pengundi di situ juga mahukan wakil daripada golongan muda.

"Banyak yang mahukan perubahan. Mereka mahu nafas baru untuk Hulu Selangor," katanya.

Jelasnya lagi, beliau telah mengadakan perbincangan yang panjang dengan pemimpin BN, khususnya dengan Datuk Seri S. Samy Vellu selaku Presiden MIC.

Dengan berseloroh, beliau berkata perbincangan demi perbincangan itu menyebabkan beliau tidak cukup tidur.

"Apabila saya buka mata saja saya nampak Datuk Samy Vellu," katanya yang disambut gelak ketawa para hadirin.

"Saya sangat gembira melihat beliau tersenyum hari ini... Kalau beliau senyum, semua orang akan senyum," tambahnya. -mk

Ulasan GB

Ya, sebelum ini MIC amat mempertahankan Palanivel, ada yang menyatakan akan memboikot PRK jika Palanivel tidak dicalonkan. Berpatah arang berkerat rotan bahagian-bahagian MIC pertahankan Palanivel.

Alih-alih nama orang lain yang diumumkan.

Ada juga desas-desus, Palanivel akan dilantik Senator dan kemudian Timbalan Menteri. Itu kompromi politik di dalam BN. Samy Vellu ada angguk. Satu bentuk rasuah yang telah lama dilakukan oleh BN.

Tapi Mugilan juga akan dapat habuan sebab namanya juga disebut-sebut sebagai bakal calon tempohari.




Park Shin-hye is Korean Vogue Girl (Apr 2010)
Posted: 15 Apr 2010 09:43 AM PDT
Korean actress Park Shin-hye is featured on the April issue of Vogue Girl [Kr] magazine. The 20-year-old star is highly sought after following her starring role in 2009's hit drama You're Beautiful…
Park Shin-hye is Korean Vogue Girl (Apr 2010) from YeinJee's Asian Journal
Posted: 15 Apr 2010 10:39 AM PDT
What is the indication of standard and value of a person? Yes, as a human, we are very judgmental person. We love to judge people from their appearance. Just because they are looking ''ugly'', we thought they are less educate than us.
Why I mentioned about this? Ok, I had so many experiences when I boarded the flight, the stewardess especially from that cheap flight (you know who). Since we are in Malaysia, why is that so difficult for them to speak in Bahasa Malaysia? I mean, we all understand BM, right? I noticed that these cheap flight stewardesses are very arrogant ladies.
You know, when they are dealing with passengers that look so handsome and wear expensive clothes, these ladies AUTOMATICALLY speak English to them. Standard la konon. But, when it comes to my turn, they speak Malay. No, no, I'm not saying by speaking Malay, the standard is going down. But, I can feel that they are judging my looks, it's like my looks, showing them, I'm a less educated lady. Everytime is like that. No, I don't feel offend. But, just because I wear t-shirt and jeans (macam orang gaji), does that means I'm less educated and my english is sucks? Or for sure I can't speak at all? Because I don't have pretty looks? Because I don't wear suit and high heels? I'm wearing sneakers only.
I think I should wear like Betty. Ha ha ha ha.
But the truth is, many of them are SPM-leavers. Cehhh, they only know plane-language. ''May I help you,sir?''...or...''your seat is on the left, number 13''...or...eh, got number 13 eh? Ha ha ha ha. I sit with a pak cik before. From his outer appearance, he may be looks like a typical kampung pak cik. Actually, when I was chit-chatting with him, and I asked where is he working, actually, he has a construction company in KL =_=''. And you know what, the stewardess thought he needs help with the flight ticket and showing him the seat because he looks ''no standard punya pakcik''. That's why the pak cik was laughing when he told me that story.
The stewardess asked him, ''pak cik tau tak baca tiket ni?'' See, how rude is that? Just because he doesn't wear suit or polo shirt (just normal baju Melayu with songkok), that stewardess shouldn't asked like that, because it reflects our professionalism.
Do I need to wear like this everytime I'm taking the plane?
I have no problem if they want to speak English, but be more professional. If they want to speak English, make sure they talk in APPROPRIATE MANNER, and never judge a book by its cover. Because their English also no better than us. It's true, most Malaysians are lack of professionalism. For example, maybe the appearance of the pak cik not very convincing, but never, never say, whether he knows how to read the ticket or not. Sigh~
The most lack of professionalism in our country is our very own politicians. Look at the way how they speak in TV. Very childish. Some says, ''don't talk shit!''. Is that showing the maturity or intellectual level when giving out an opinion? No, nobody can trust you if you acting that way. If he can gives appropriate comments, maybe people like me will not making fun of him. Now, many people making fun the way he talks. SHAMEFUL. Even myself can't trust him, childish.
Some politicians, denied everything that being asked. Says 'it's just a rumour', 'no such thing' and so on. After few weeks, suddenly what he has been accused was truly happened. I like how the Malaysian celebrities answer, ''no comment.'' I think this is more pleasant to hear that you deny something, in the end, that's happened. Isn't that hypocrites and two-faced?
I like how Dr Mahathir, our former PM talks. He talks with maturity, facts. I know many of you hate him, but I admit that I admired him to some extent. He's smart, good communication skills, not like some people, ''
I have changed my mode
''. Dr Mahathir is respected by many journalists. At least he is never making fun the journalists. Yorais! Ha ha ha....
Professionalism is not about what language you are using, but how you deal with people. Good communication skills, they way you treat them etc...
Last few days, I attended a grooming seminar by Madam Yasmin Siddik from Positive Grooming SDN BHD. It was interesting talk and I learned a lot from her especially things about professionalism. Even relationaship (marriage's life) also needs professionalism. Just like she said, our professionalism reflects our maturity. Yes, your brain function, folks!
I agreed with her, because I'd observed it too, that, smart man marries less intelligence woman. But smart woman marries smarter man. Ha ha ha ha ha ha.
p/s: I'm still don't know how to write impressive resume T_T
NOW EVERYBODY CAN SLEEP! PALANIVEL OFFERED SENATORSHIP!
Posted: 15 Apr 2010 09:01 AM PDT
Speaking before 2,000 BN supporters in a rally at Bukit Sentosa this afternoon,
Barisan Nasional deputy chief Muhyiddin Yassin today admitted, albeit jokingly, that negotiations with MIC leaders over the coalition's candidate for the Hulu Selangor by-election had been intense,
causing him sleepless nights of late.
DPM: 'Yes, I am Malay first and no apologies' - Sorry, no more 1Malaysia!
Posted: 15 Apr 2010 08:16 AM PDT
Interestingly, I found out while reading '
A view of Malaysia from across the Causeway
' that Paragraph 11, page four of the (GTP) Government Transformation Plan, stated:
"The goal of 1 Malaysia is to make Malaysia … ultimately a greater nation: a nation where, it is hoped, every Malaysian perceives himself or herself as Malaysian first, and by race, religion, geographical region or socio-economic background second and where the principles of 1 Malaysia are woven into the economic, political and social fabric of society."
Apparently, a Malaysian in Singapore was interviewed and asked the question, "Do you believe that under the Prime Minister's 1 Malaysia, non-Malays will be fairly treated?" In response, he quoted the goal of 1Malaysia.
;)
(Click
here
to read the article, '
DPM: 'Yes, I am Malay first and no apologies'
' at Malaysiakini)
Posted: 15 Apr 2010 07:50 AM PDT
Fictional or truth... it is probably a mix of both... based on various experiences by those who were on the ground when the US started a war with Iraq for supposedly having WMD which the US could not find at all later.
I'd definitely rate this movie high. And it's stupid to label this movie as an Action Movie. I thought it's one of the most honest movies about US & Iraq war...
"There's always a reason why we go to war..."
At least only tens of thousands people were MIA during Saddam's time within the span of more than 10 years. US invaded Iraq for only a couple of years, yet contributed to about more than a million of deaths of civilians.
For Bush, it's all a joke.
 Do you think war is a joke too, Obama?
And now, Iran's next?
Ramai Percaya Tan Wei Shu Dibeli
Posted: 15 Apr 2010 07:13 AM PDT
T
indakan bekas Exco Kedah dan Ahli Dewan Undangan Negeri Bakar Arang yang mewakili KEADILAN, Tan Wei Shu yang mengumumkan keluar parti hari ini dan menjadi ADUN Bebas tidak akan menjejaskan kekuatan parti atau sokongan rakyat terhadap KEADILAN mahupun Pakatan Rakyat, Suara Keadilan dipetik.
Presiden KEADILAN, Datuk Seri Dr Wan Azizah Wan Ismail ketika dihubungi Suara Keadilan berkata tindakan Tan itu telah dijangka kerana beliau tidak berpuas hati setelah parti membuat keputusan untuk mengugurkan beliau daripada jawatan Exco.
"Langkah beliau tidak ada kesan kepada parti kerana sudah kita jangkakan. Beliau banyak merungut setelah digugurkan itu kita tahu. Beliau digugurkan kerana masalah prestasi kerja dan kita mahukan seorang Exco yang mampu memperjuangkan kebajikan dan melakukan yang terbaik untuk rakyat.
"Kita telah melalui banyak proses ini (keluar parti) dan mereka yang berbuat demikian adalah individu yang mempunyai kepentingan peribadi dan komited kepada perjuangan parti. Saya yakin parti akan lebih mantap dan kukuh selepas mengharungi pengalaman pembersihan elemen yang tidak ikhlas dalam perjuangan parti," kata Dr Wan Azizah.
Ditanya sama ada tindakan Tan akan menjejaskan perjalanan kempen pilihan raya kecil Parlimen Hulu Selangor, bekas Ketua Pembangakang wanita pertama negara itu berkata ia sedikit pun tidak mempunyai kesan kepada jentera parti atau sokongan rakyat kepada KEADILAN dan Pakatan Rakyat.

Tan, 54, digugurkan daripada jawatan Exco Alam Sekitar, Hal Ehwal Masyarakat Cina,Sumber Tenaga Manusia, Pengangkutan 10 Mac lalu dan tempat beliau digantikan oleh ADUN Sidam, Tan Chow Kang.

Beliau merupakan wakil rakyat KEADILAN kedua yang mengisytiharkan keluar parti. Sebelum ini ADUN Lunas, Mohd Radzi Salleh berbuat demikian pada 23 Ogos 2009.

Tindakan mereka dibuat pada ketika Pakatan Rakyat berhadapan dengan pilihan raya kecil masing-masing di Permatang Pasir dan terkini di Hulu Selangor.

Ketua Pengarah Strategik Keadilan Tian Chua menyatakan tindakan Tan Wei Shu keluar dari Keadilan adalah disebabkan beliau kecewa kerana gagal memikul tanggungjawab yang diberikan sebagai exco negeri sehinggakan gagal untuk terus menjawat jawatan tersebut.

Menurutnya lagi, Tan Wei Shu juga tidak mampu menjadi seorang Adun kepada rakyat kerana beliau tidak mampu untuk bertutur fasih dalam bahasa Malaysia mahupun Bahasa Inggeris.

"saya sudah duga beliau akan keluar parti kerana sebelum ini PR telah pun membincangkan kelemahan Adun ini dimana tidak mampu menjalankan tanggungjawab sebagai exco negeri dan ada juga beberapa perkara yang menyebabkan beliau tidak diterima parti.

" Saya percaya bahawa beliau telah mengetahui mengapa beliau kecewa dengan pucuk pimpinan parti dan beliau perlu akur akan kelemahan diri beliau sendiri yang menyebabkan beliau disisihkan,"katanya.

Tian Chua berkata, PR tidak memerlukan pemimpin seperti Adun Bakar Arang yang akan memudaratkan parti berikutan beliau sendiri tidak mempunyai identiti terbaik untuk mewakili rakyat sebagai Adun.

"PR tidak inginkan wakil rakyat yang tidak beribawa dan mampu merosakkan parti.

"PR sentiasa beri laluan terbuka pada pemimpin yang tidak mampu melaksanakan tugas agar meninggalkan parti kerana kelemahan yang ada pada mereka akan membinasakan parti yang semakin kukuh,"katanya lagi.

Tian Chua menyifatkan bahawa Adun Bakar Arang mungkin telah dibeli oleh pimpinan parti Barisan Nasional yang menggunakan para pembelot parti Keadilan untuk bersama-sama bersetolongkol kearah kehancuran.

Ulasan GB

Kan lebih baik Tan Wei Shu berterus terang daripada terus menipu dan berbohong.

Dari pengamatan rakyat Malaysia, kesemua kaki lompat termasuk Tan "membaca teks yang telah disediakan" oleh pihak tertentu.

Kalau yang lepas-lepas isi kandungan teks nya hampir serupa dan berjaya dihidu oleh rakyat, kali ini diubahkan struktur ayat dan bahasa. tetapi menjurus kepada hujjah yang sama : tidak yakin dengan pucuk pimpinan parti.

Broker kali ini menyembunyikan diri setelah dibelasah hebat di dalam beberapa siri sidang media katak-katak yang lalu.


P.212 Sibu By-Election - Part 1
Posted: 15 Apr 2010 06:01 AM PDT
The atmosphere in Sibu is filled with the heat of the upcoming by-election. The fever is gripping the whole of Little Foochow now even though a date of it has not even been announced yet. When you stroll in the town, you start to feel the steam.
As hotly speculated, Junior Robert Lau (as popularly referred to now by the local folks) is almost confirmed to stand in the by-election under the banner of BN.
Junior Robert Lau is fast rising up in SUPP Sibu to be the second echelon in party leadership. If he sails through the BE, then we should see the ushering in of Robert Lau Hui Yew's era.
Junior Robert Lau should stand to benefit from the late Datuk Robert Lau syndrome. However, not to be discounted is the aftermath of the 308 political tsunami.
The legacy of the late Datuk Robert Lau leaves much for the electorate to reflect upon. What do they want now? A promise to change the sky or a politician with a pragmatic approach?
Sibuians have to make a choice now!
The second photo shows Junior Robert Lau at 'Sibu In The Blue Ocean", an open forum given by Mr. Tan Kee Hian held on November 2 last year at Kingwood Hotel. Junior Robert Lau subsequently penned an article to share his views on the outlook for Sibu.
Muhyiddin Pembohong, Calon BN Bukan Anak Tempatan
Posted: 15 Apr 2010 05:34 AM PDT
M
IC Hulu Selangor mempersoalkan kenyataan Timbalan Perdana Menteri Tan Sri Muhyiddin Yassin Isnin lalu menjanjikan bahawa calon "anak tempatan" akan diturunkan bertanding dalam pilihan raya kecil kerusi Hulu Selangor.
"Hari itu (Isnin lalu) timbalan perdana menteri mengatakan anak tempatan... tapi hari ini orang luar dibawa masuk. Apakah ini bukan cakap bohong?
"Kalau mengatakan bahawa hendakkan anak tempatan, dan jika tidak mahu Datuk G. Palanivel juga, lebih baik pilih V. Mugilan atau Balasundram (naib ketua MIC Hulu Selangor," kata Ketua Penerangan MIC Hulu Selangor Raily Muniandy ketika dihubungi The Malaysian Insider.
Bahagian itu diketuai oleh Palanivel.
"Kami ada ramai calon anak tempatan, yang berpelajaran... mengapa hendak membawa calon luar, dari Bahagian Selayang... calon yang pernah kalah dalam saingan Ketua Pemuda MIC bahagian (di Selayang)," katanya lagi.
Semalam beliau mewakili MIC Hulu Selangor berkata pihaknya hanya mahukan Palanivel, Ahli Parlimen empat penggal tetapi tewas dua tahun lalu, dikembalikan sebagai calon.

Katanya, jika Palanivel yang disyorkan MIC tidak diterima ahli-ahlinya akan protes.

Semalam mereka menegaskan bahawa mereka tidak akan menerima calon lain yang tidak direstui parti, antaranya Mugilan yang merupakan Timbalan Ketua Pemuda MIC pusat.

Kira-kira 4.30 petang tadi, kemelut calon bakal mewakili MIC berakhir dengan pengumuman rasmi nama Ketua Penerangan pusat parti itu, P. Kamalanathan untuk bersaing di Hulu Selangor.

Dengan pengumuman itu Kamalanathan akan berhadapan dengan calon Pakatan Rakyat Datuk Zaid Ibrahim pada pilihan raya kecil kerusi Parlimen Hulu Selangor.

Pengumuman dibuat oleh Timblan Pengerusi BN Tan Sri Muhyiddin Yassin.

"Kita memilih beliau kerana pengundi mahukan orang baru sebagai wakil rakyat.

"Beliau seorang yang kuat bekerja, lurus dah seorang yang pegang janji," kata Muhyiddin ketika mengumumkan Kamalanathan sebagai calon BN di Bilik Gerakan BN Bukit Sentosa, Bukit Beruntung.

Kamalanathan disahkan sebagai calon tengah hari tadi selepas siri perbincangan dan pertemuan dengan Muhyiddin dan kalangan pemimpin MIC hari ini.

Raily mengakui bahawa beliau secara peribadi kecewa dengan keputusan dibuat oleh MIC pusat dan BN hari ini.

"Bagaimana saya hendak keluar dan menjelaskan kepada mereka supaya mengundi. Kami akan pasang bendera seperti tetapi belum pasti sama ada akan keluar mengundi.

"Saya pun tidak boleh kawal ahli-ahli saya daripada keluar mengundi," kata beliau beberapa cawangan sudah mula tutup bilik operasi mereka dan begitu bilik operasi utama MIC Hulu Selangor di Kuala Kubu Baru.

"Pejabat Datuk Palani (ibu pejabat MIC Hulu Selangor) sudah ditutup sejak 12 tengah hari. Kalau pejabat utama sudah ditutup, bayangkan sendiri cawangan-cawangan lain," katanya. -TMI



Anak tempatan calon BN di Hulu Selangor: Muhyiddin

RAWANG: Calon Barisan Nasional (BN) yang akan bertanding pada pilihan raya kecil Parlimen Hulu Selangor adalah anak tempatan di kawasan itu, kata Tan Sri Muhyiddin Yassin.

Timbalan Perdana Menteri berkata demikian pada Majlis Penyerahan Geran Permulaan Prasekolah Swasta di Tadika Wawasan Gemilang, di Bandar Sungai Buaya, Rawang, sebentar tadi.

Minggu lalu, Perdana Menteri yang juga Presiden BN, Datuk Seri Najib Razak mengesahkan calon BN bagi pilihan raya kecil itu akan diwakili MIC. -BH


Myanmar blasts kill at least 24 and wounded more than 50
Posted: 15 Apr 2010 05:10 AM PDT
Myanmar blasts kill at least 24
YANGON, April 15 — At least 24 people were killed and many wounded in three explosions at a new year water festival in the former Myanmar capital of Yangon today, hospital sources said.
The government has not blamed any group or indicated the cause of the explosions. There were no immediate claims of responsibility.
"We have seen at least 50 wounded people taken to hospital," a witness at Yangon General Hospital told Reuters.
The junta has in the past blamed bombings on anti-government dissident groups and separate ethnic rebels seeking autonomy in the country that has been under military rule since 1962.
Witnesses said they heard three loud explosions at a pavilion.
"Some people were wounded but we are not in a position to give you further detailed information since necessary investigations are still in progress," police said.
Most of the pavilions on U Htaungbo Road along the scenic lakeside are run by companies close to the authorities.
In 1990, Nobel Peace Prize laureate Aung San Suu Kyi's party won a general election but was not allowed to take power by the military, which continues to maintain a tight grip on the country.
An election is expected to be held later in the year but no timeframe has been specified. The upcoming poll has been widely derided in advance as a sham to make the country appear democratic, with the military retaining control over key institutions.
Suu Kyi, who is currently under house arrest, has been in detention without trial for more than 15 of the past 21 years. — Reuters
Malaysian Insider : French, Swiss are happiest with health systems
Posted: 15 Apr 2010 05:05 AM PDT
Malaysian Insider : French, Swiss are happiest with health systems
LONDON, April 15 — French adults praise their healthcare system while patients in neighbouring Germany do not, a survey said today, in results that surveyors said more measured how expectations were managed than quality of care.
The findings highlight the challenges facing cash-strapped governments as expectations for healthcare — and the cost of providing it — climb inexorably due to ageing populations.
Consultancy Deloitte, which questioned a minimum of 1,000 people in each country, found 55 percent of those in both France and Switzerland gave their health systems a report card grade of "A" or "B".
That compared with just 30 per cent in Britain, 21 per cent in the United States and 17 per cent in Germany. Canada scored a middling 43 per cent of "As" and "Bs".
The rankings bear little direct relation to the amount spent on health in each country and Dean Arnold, Deloitte's head of healthcare, believes public contentment is actually a matter of understanding what a system can realistically deliver.
The United States tops the spending league table at US$7,290 (RM23,00) per capita, or the equivalent of 16 per cent of GDP, while Britain doles out just US$2,992 a head, or 8.4 per cent of GDP.
Switzerland, Canada, France and Germany are in between, spending US$4,417, US$3,895, US$3,601 and US$3,588 respectively, representing 10 to 11 per cent of GDP.
"Both France and Switzerland do a very good job of setting expectations for their patient populations and then meeting them, in terms of speed and quality of healthcare," he said.
"That's different to other countries, such as the United States, where you have very high — some might say unrealistic — expectations of what a healthcare system should deliver."
The survey was conducted before President Barack Obama's recent success in pushing through US healthcare reform, although the subject was very much in the air. Similarly, Germany has been in the midst of a major overhaul of healthcare.
In both countries, Arnold believes, the reform process may have brought public dissatisfaction to a head.
"Health reform sets more and more expectations, but when you're in the middle of reform or transition it is difficult to deliver against that," he said. — Reuters
Zaid Bertemu Kamalanathan , Bukan Palanivel Atau Mugilan, Jauh Sekali Muhammad Taib
Posted: 15 Apr 2010 02:25 AM PDT
K
etua Penerangan MIC, P Kamalanathan dipilih sebagai calon BN dalam pilihan raya kecil parlimen Hulu Selangor, demikian diumumkan Timbalan Pengerusi BN, Tan Sri Muhyiddin Yassin
Nama Kamalanathan memang telah disebut-sebut sebelum ini sebagai calon kompromi selepas pucuk pimpinan BN dikatakan menolak cadangan MIC untuk mencalonkan Datuk G Palanivel bertanding di situ.
Penyokong akar umbi, khususnya dari Umno sejak kematian ahli parlimen Hulu Selangor, Datuk Zainal Abidin Ahmad pada 25 Mac lalu secara terang-terangan menolak Palanivel.
Mereka mendakwa beliau tidak cekap dan gagal membangunkan Hulu Selangor meskipun menjadi ahli parlimen selama empat penggal, malaysiakini dipetik.
Sebaliknya, mereka yang menentang Palanivel mencadangkan timbalan ketua pemuda MIC, V Mugilan sebagai gantinya.
Mugilan adalah anak tempatan di Hulu Selangor tetapi pemimpin atasan MIC tidak merestui cadangan itu.

Ini kerana tidak ramai pemimpin atasan MIC memegang jawatan ahli parlimen ataupun ahli dewan undangan negeri dan jika Mugilan menang dia akan mempunyai kelebihan.

Pada mesyuarat tergempar jawatankuasa pusat MIC yang diadakan malam tadi, MIC berkeras mahukan hanya Palanivel sebagai calon mereka.

Jawatan senator, timbalan menteri

Mesyuarat itu juga mengambil keputusan untuk memecat timbalan ketua Pemuda MIC, V Mugilan sekiranya dia dipilih sebagai calon BN dalam pilihan raya kecil parlimen Hulu Selangor.

Samy Vellu berjumpa dengan Muhyiddin awal pagi ini di pejabat timbalan perdana menteri di Putrajaya tetapi Muhyiddin dikatakan terus tidak berganjak dan menolak timbalan presiden MIC itu.

Sebagai kompromi, difahamkan Palanivel akan dilantik sebagai senator dan timbalan menteri kerana bersetuju memberi laluan kepada Kamalanathan.

Kamalanathan, adalah ketua perhubungan awam Beras Jati Sdn Bhd, sebuah syarikat peruncitan beras.

Beliau dipertanggungjawabkan oleh pemimpin MIC untuk menjenamakan semula parti itu selepas pilihan raya umum 2008 yang keputusannya memalukan mereka.

Kamalanathan juga adalah seorang blogger, yang seringkali dijemput menghadiri rancangan ehwal semasa dan juga pensyarah sambilan di sebuah kolej swasta.

Meskipun bukan anak tempatan Hulu Selangor, Kamalanathan menetap di Rawang, sebuah pekan yang tidak jauh dari kawasan pilihan raya itu.


Lee Hyori – Chitty Chitty Bang Bang music video
Posted: 15 Apr 2010 01:55 AM PDT
Korean pop diva Lee Hyori is back with her latest album H-Logic. Below is the MV of the third track Chitty Chitty Bang Bang [video via 5xrauren@Youtube]…
Lee Hyori – Chitty Chitty Bang Bang music video from YeinJee's Asian Journal
This posting includes an audio/video/photo media file: Download Now
Benarkah Tan Wei Shu, ADUN Kedah Yang Keluar PKR Hari Ini Tidak Pandai Berbohong?
Posted: 15 Apr 2010 01:25 AM PDT
A
hli Dewan Undangan Negeri (Adun) Bakar Arang, Tan Wei Shu meninggalkan PKR hari ini.
Beliau sebelum ini merupakan exco kerajaan Kedah sebelum digugurkan dalam rombakan exco pada 10 Mac lalu.
Tempatnya diambil alih oleh seorang lagi wakil PKR, ADUN Sidam, Tan Show Kang.
Pada sidang medianya di sebuah hotel di Kuala Lumpur pada jam 3.30 petang ini, Wei Shu mendakwa tindakannya itu kerana dipermain-mainkan oleh pemimpin partinya.
"Cakap besar saya tak pandai, cakap bohong saya tak pandai, cakap mengampu saya tak pandai, cakap manis janji saya tak pandai, tapi yang saya pandai, boleh buat atau tak boleh buat dan mahu buat atau tak mahu buat...itu saja saya tahu.

"Saya cuma tahu bercakap benar, tak seperti orang lain bermuka dua dan lidah bercabang," katanya yang membacakan kenyataannya.

Wei Shu juga berkata dia akan menjadi Adun bebas dan berjanji akan terus berkhidmat seperti biasa dan berusaha memenuhi kehendak rakyat.

Pada akhir kenyataannya, Wei Shu berkata pengundurannya itu tidak ada kena mengena dengan perlucutan jawatannya sebagai exco kerajaan negeri Kedah. -mk

Ulasan GB

Anehnya Tan Wei Shu mengumumkan keluar PKR hanya sejam-dua sebelum pengumuman calon BN bagi PRK Hulu Selangor.

Dan Tan Wei Shu menyatakan perletakkan jawatannya tiada kaitan dengan perlucutannya sebagai Exco Kedah.

Beliau menambah .."Cakap besar saya tak pandai, cakap bohong saya tak pandai, cakap mengampu saya tak pandai, cakap manis janji saya tak pandai, tapi yang saya pandai..."

Betulkan kamu tidak pandai bercakap bohong?

Kalau begitu siapa yang berusaha dan mengaturkan perletakan jawatan kamu sehingga membuat pengumuman di saat seluruh negara sedang menyaksikan pertentangan PR dengan BN di Hulu Selangor?

Berapa banyak kamu telah dibayar?

Kamu tidak pandai berbohong bukan?




Heal the World – Michael Jackson (official music video)
Posted: 15 Apr 2010 12:26 AM PDT
In a 2001 Internet chat with fans, Jackson said "Heal the World" is the song he is most proud to have created. He also created the Heal the World Foundation, a charitable organization which was designed to improve the lives of children. The organization was also meant to teach children how to help others. This concept of 'betterment for all' would become a centerpiece for the Dangerous World Tour. In the documentary Living with Michael Jackson, Jackson said he created the song in his "Giving Tree" at Neverland Ranch.
An ensemble performance of "We Are the World" and "Heal the World" closed Jackson's memorial service at the Staples Center in Los Angeles on July 7, 2009. The song was performed as rehearsed by Jackson at the venue just days earlier, in preparation for his planned "This Is It" tour in London along with "Dirty Diana". Ciara, an R&B singer sung this song at the BET Awards 2009. Jennette McCurdy, is performing this duet with Brittany Hargest of Jump5 from her new album.
According to Jane Goodall, Jackson wrote the song, which he considered his most powerful to date, after discussions with her regarding the plight of wild chimpanzees, and Jackson's hope to promote more compassion towards wild animals. In a letter to Goodall, Jackson mentioned that despite the song having been inspired by chimpanzees, it ended up being about his hope for a better world for human children.[2]
The song was played at the funeral of James Bulger[3], and Jackson also donated the song to be used as the anthem for the charity the James Bulger Red Balloon Center, a school for children to go if they are being bullied or have learning difficulties[4].
This posting includes an audio/video/photo media file: Download Now
Garama River Cruise and the Proboscis Monkey
Posted: 14 Apr 2010 11:51 PM PDT
After the encounter with the chubby kingfisher, the boat ride was smooth and we waited quite awhile before we spotted the next wildlife.
When Miki had nothing spectacular to look at he turned to his usual self – A LITTLE MONSTER!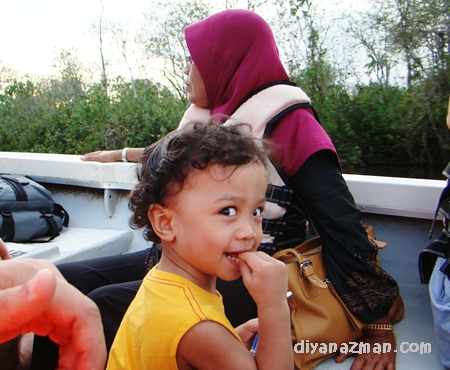 Miki nakal! tengok muka tu!!!!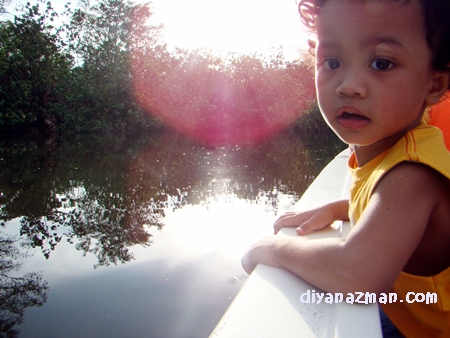 He took off his life jacket, he walked about in the boat, we wanted to look down at the water (dangerous!!)…..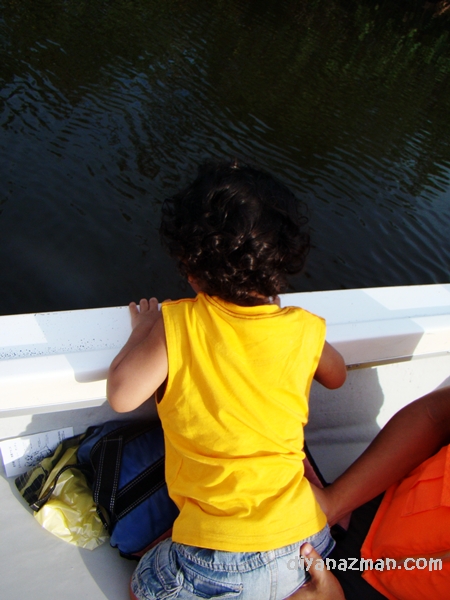 Pegang montot tu jangan kasi terjun!
He spat into the water, he wanted to touch the water!! he wanted to grab the leaves from the river side… he spoke very loudly, he ate his food and throw some in the water, he kacau-ed Opah, he even kacau-ed the fashionable tourist from Alor Setar, Nize's pujaan chenta hati:-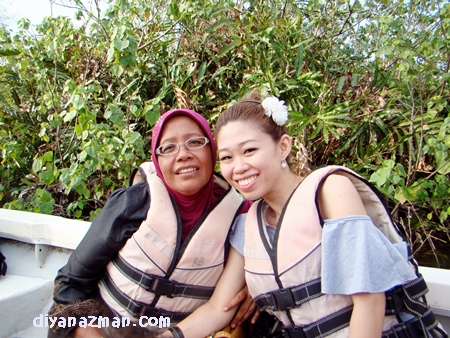 The nice college girl (that I didnt get her name) with my mum sat next to each other in the boat.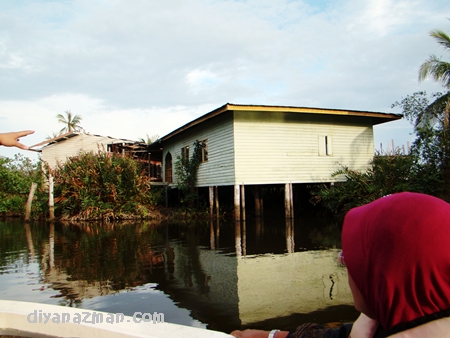 These two floating buildings were once upon a time a school. They were only connected via the river with no roads at all. The school has been abandoned 10 years ago and I believed the students have gotten a better school to go to. Wonder who is studying there now… the proboscis monkeys? the alligators? or cik ponti? hehe heheheee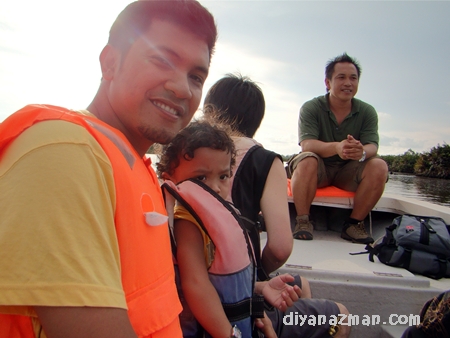 The guy in green is Phillip, our guide. He was very resourceful and the one responsible in telling us about the Kadazan-Dusun's exotic diet. I think he is Kadazan-Dusun too. He said these group of people eats every living thing including iguanas, monkeys etc. I think this only applies to those who are non-Muslims only.  Anyway Phillip is kinda nice, sib baik dia makan biawak, kalau tak aku kawinkan dia dengan ko Opy! hehehe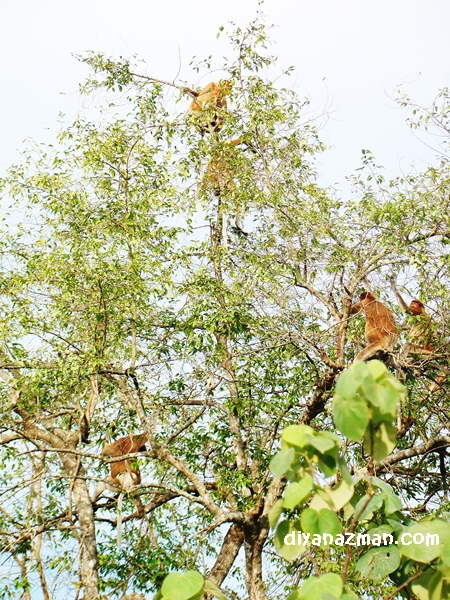 Harem of monkeys
The proboscis monkeys are very unique animals. They have the world longest nose among all creatures, has two stomachs; which explains the large protruding belly that is thought to stick out so much due to their diet and complex digestion system.  One of the stomach contains useful bacterias for digestions. They are the only type of monkey that do not feed on banana!! They only eat leaves of the mangrove trees and if they feed on fruits, the sugars will upset them so much that they could die! Not because of fruit poisoning but due to starvation when the upset tummy make them don't wanna eat! Tsk tsk!
This reddish fellas are very expert swimmers in fact they have webs like a duck in between their fingers. The long noses has a purpose by the way, when they swim, the nose act as a snorkel. (Ni suma Phillip cakap ekkk.. kalau salah pi belasah si Phillip!!)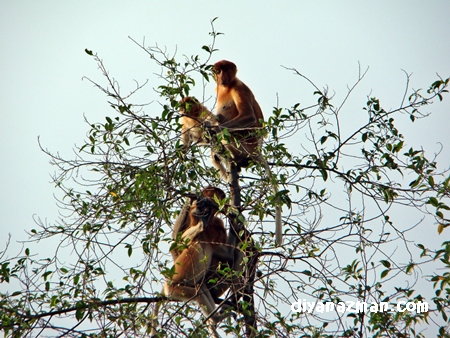 Proboscis monkeys' social system has two levels. One is the all-male groups ( they call it the bachelor group, i call it the gay group heheheh). These are made up of juveniles, adolescents and adult males. Juvenile males will leave the group they were born to at about 18 months, and join an all-male group.
The second level is made up of several groups which are led by separate males. Each male will have his own harem and several of these harems will come together to form a troop. Females may transfer from one harem to another when young, but the harems are mostly stable. Males tend to fight to head a harem. Like who wouldn't la kann???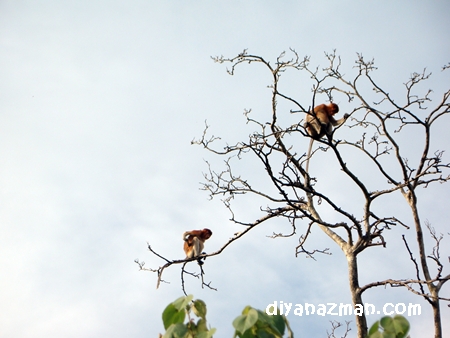 Chilling up high. These are two females. During our cruise we didn't get to see any bachelor groups but we saw 2 or three family groups.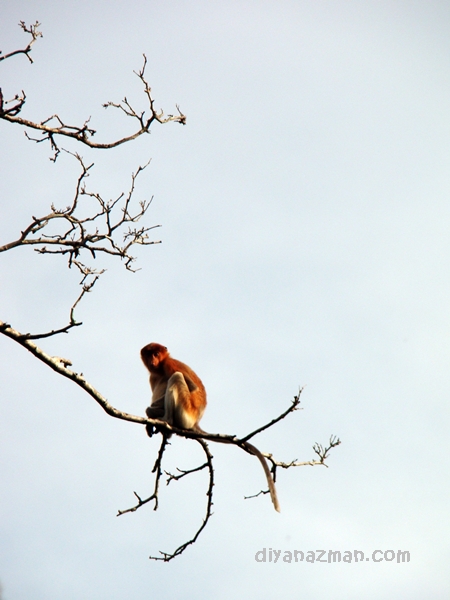 Pretty lil monkey…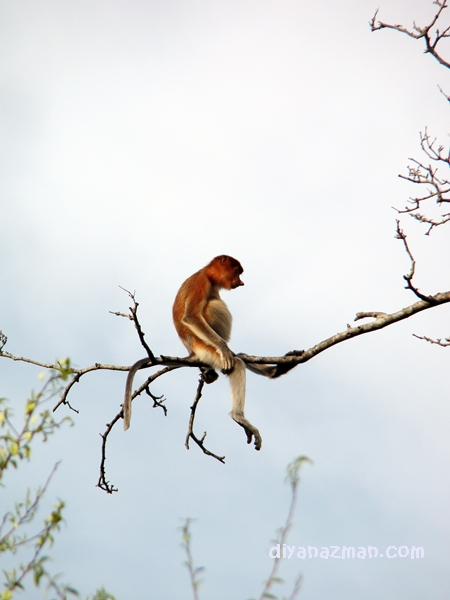 Buncit giler anak dara ni! Tak reti-reti ke nak buat sit up sekali sekala! ehehehe… that only applies to people not monkeys lalalalalaa
At one part of the river, there was a bunch of water buffaloes taking a cooling deep in the river. At Semenanjung aku penah tengok kerbau berkubang kat dalam lopak je ok!!! But the baffaloes in Sabah is more adventurous they were wallowing in the deep river. Miki was really fascinated with them. Many a times he called them "cow" other times he called them "Donald Duck". Ape kejadah??? Tak lawak Miki! Tak lawak!!
I think he couldn't remember the word buffalo so he substitutes it to Donald Duck. Suka hati ko jer kan???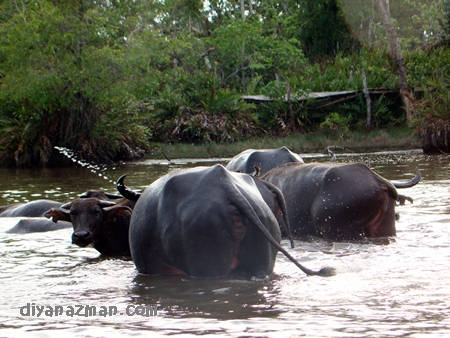 Beyonce dan Kim Kardashian sedang berkubang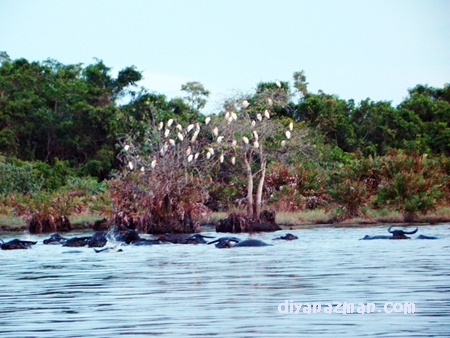 Buffalo and storks
The scenery was very beautiful. For people who appreciates nature, you all just have to this once in your life. When we were going up the river back to the base camp, suddenly dozens and dozens of storks flew above our heads and landed on this tree. It was an amazing sight. We have dozens of water buffaloes slowly crossing the river to a point that the boat had to stop and make way for them. And over our heads dozens of beautiful white birds flew freely in groups. Masya Allah…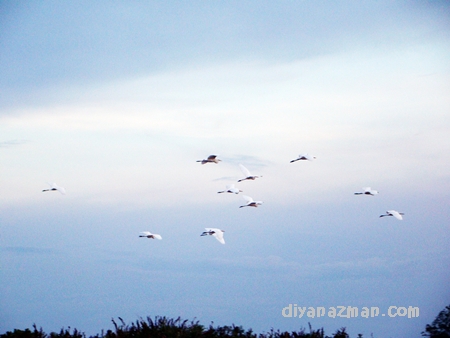 Phillip told us the name of these storks but I can't remember… They were beautiful…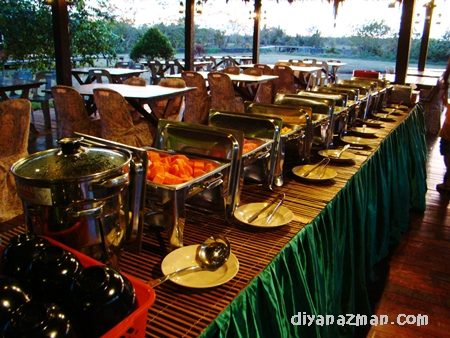 We came back to the base camp at dusk and served delicious buffet dinner. I didn't expect the food to be that good. even the mat sallehs  ate like nobody business.
In above photo, you can see a tree on the left. After dark the plain green leafy tree turned into a Christmas tree! It was suddenly light up with twinkling lights from fireflies!  Yes fireflies!  They are so pretty but my camera couldn't capture them.

Miki had an amazing time looking at the fireflies, one of the guides catch one and put it on his hand. So that help Miki to understand firefly easily; "Bug ada lampu, Mummy!" he said.  Before that he was busy pointing at every little twinkling light on the tree and said "Firefye! firefye! Firefyee!!" Pastu dia tunjuk ke langit at the stars pun dia kata "Tu! Tu! Tu firefye!!!" Itu bintang lah Miki! haha…
The tour ends after dinner. We were sent back to the hotel with van. Farewell beautiful Borneo sunset… Till we meet again…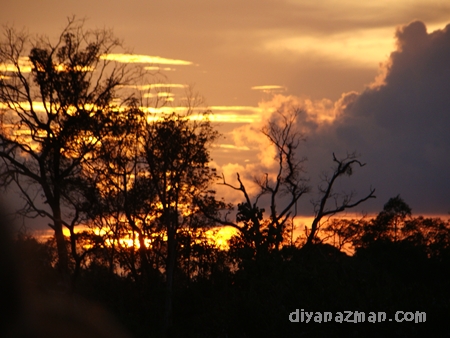 Myanmar and Malaysia don't Care About Myanmar Muslims
Posted: 14 Apr 2010 11:39 PM PDT
In Myanmar, all the Myanmar Muslims are discriminated because we are Muslims.
In Malaysia, all the Myanmar Muslims are discriminated because we are not Indon-Malay blooded people.
Where is JUSTICE?
Myanmar and Malaysia don't Care About Myanmar Muslims.
Just listen to this music of Michael Jackson – "They Don't Care About Us" (Official Prison Version)
Jackson said: (from Wikipedia)
The idea that these lyrics could be deemed objectionable is extremely hurtful to me, and misleading. The song in fact is about the pain of prejudice and hate and is a way to draw attention to social and political problems. I am the voice of the accused and the attacked. I am the voice of everyone. I am the skinhead, I am the Jew, I am the black man, I am the white man. I am not the one who was attacking. It is about the injustices to young people and how the system can wrongfully accuse them. I am angry and outraged that I could be so misinterpreted.

[1]

When questioned further about the lyrics on the ABC News program Prime Time Live, Jackson stated, "It's not anti-Semitic because I'm not a racist person … I could never be a racist. I love all races."[1] The singer also noted that some of his closest employees and friends were Jewish. That same day, Jackson received support from his manager and record label, who described the lyrics as "brilliant", that they were about opposition to prejudice and taken out of context.[1]. The following day, two leading members of the Jewish community stated that Jackson's attempt to make a song critical of discrimination had backfired. They expressed the opinion that the lyrics used were unsuitable for a teenage audience that might not understand the song's context, adding that the song was too ambiguous for some listeners to understand. They accepted that Jackson meant well and suggested that the entertainer write an explanation in the album booklet.[2]

On June 17, Jackson issued another public apology to anyone offended by his choice of words. He promised that future copies of the album would include an apology, by this point however, two million copies of the record had already been shipped. The singer concluded, "I just want you all to know how strongly I am committed to tolerance, peace and love, and I apologize to anyone who might have been hurt".[3] The next day, in his review of HIStory, Jon Pareles of The New York Times alleged, "In … 'They Don't Care About Us', he gives the lie to his entire catalogue of brotherhood anthems with a burst of anti-Semitism: 'Jew me, sue me, everybody do me/ Kick me, kike me, don't you black or white me'".[4]

On June 21, Patrick Macdonald of The Seattle Times criticized Jackson, stating, "He may have lived a sheltered life, but there really is no excuse for using terms like 'Jew me' and 'kike' in a pop song, unless you make it clear you are denouncing such terms, and do so in an artful way".[5] Two days later, Jackson decided, despite the cost incurred, he would return to the studio and alter the offending wording on future copies of the album; "Jew me" and "Kike me" would be substituted with "do me" and "strike me". He reiterated his acceptance that the song was offensive to some.[6][7]

Spike Lee noted a double standard in the music industry. While the New York Times asserted the use of racial slurs in "They Don't Care About Us", they were silent on other racial slurs in the album. Jackson used the word nigger on another song on the HIStory album, but it did not attract media attention.

The song begins with a child chanting, "Enough is enough of this garbage!" and a female helps sing the chorus—"All I wanna say is that they don't really care about us".

In 2009, Billboard described the area as "now a model for social development" and stated that Jackson's influence was partially responsible for this improvement.[26] For the first time in his career, Jackson made a second music video for a single. This second version was filmed in a prison with cell mates; In the video Jackson is seen handcuffed. It also contains real footage of police attacking African Americans, the Ku Klux Klan, genocide, execution, and other human rights abuses.[27]

There is a second video featuring jackson in a prison setting. http://www.highbeam.com/doc/1G1-18145914.html
This posting includes an audio/video/photo media file: Download Now
Myanmar haven't change yet to lure back its expatriates
Posted: 14 Apr 2010 11:01 PM PDT
I felt from my heart that most of us, Myanmar or Burmese felt the same as Malaysians who left their home for greener pasture. I never wish to insult Malaysia or agree with their comments about Malaysia but I felt that I too feel about my country of origin as these migrants felt about theirs'.
I hereby continue to present the Malaysiakini letters of Malaysians who decided to migrate.
Olivia
My name is Olivia and I would like to share my story. I am 34 and married to a French. We have been abroad since 2004 living in the UK, France and now in the Middle East although we did return to Malaysia in 2006 so that my husband could try to find a job in Malaysia but with no success.

I love Malaysia and didn't feel any discrimination until I entered a local university. Non- bumiputeras had to fight against quotas at every corner from getting accommodation to choosing a major.

The worse thing is that as soon as you step into the university, you are being forced into your own racial group which try to brainwash you not to mix with others. When I tried speaking to other races, they looked at me blankly like I was an alien from another planet.
I didn't have so much issues after university as I was working in global companies. The problem was marrying a foreigner.
Getting married to a Malaysian doesn't entitle you to work in Malaysia.
You still need to get a work permit and the problem is that there is a quota as well. The country I know now doesn't look the same anymore.
This problem occurs to any Malaysian who has married a foreigner and most of them are now living abroad. For example, I know a Malaysian Indian graduated from Cambridge and her Polish husband who even has a Masters from Stanford and he couldn't find a job in Malaysia. Now they're both holding high positions in the UK. Shouldn't Malaysia take advantage of these skilled resources?
After living and working abroad in a few countries, returning to Malaysia again to re-live our disappointment is at the very back of our minds.


Francis Perera
I have been in England for now 33 years, having come over here to study at aged 20. I left UM and the security of home in the summer of 1977 with a suitcase and rice cooker! Having qualified as a chartered accountant, life has been extremely good to me, having married an English lady (my wife of 27 years) and three wonderful children and a lovely home in the country-side.

After all these years, I still retain my Malaysian passport and regularly fly back with the family. It is a disappointment to see the manner in which the country is run these days as it could be a lot better for all.

The Thinker
Like most Malaysians who are staying in Denmark, the reason I am here is because I am married to a Dane. I have been living here for the past eight years and I don't see any reason why I should be coming back to stay in Malaysia for good. First of all, politics and religion should be separated.

Religion is a private matter and besides, most politicians or the religious authority use religion not to educate but to put fear into people to gain power. Corruption, inequality, injustice, nepotism, cronyism, red tape and abuse of power are becoming new traditions.
I live in a country where people sometimes only get married when they already have two kids. According to some, this is a great sin but it is not much greater a sin than dumping your baby in the garbage bin.
There is no freedom of expression and press freedom. If you try this, you will be taken to jail for reasons such as trying to disrupt the peace or harmony. If you are from the press, your license will be taken away.  You simply are not given a choice.
The economic system only supports those who are in favour of the government and the rich. Despite the New Economic Policy, there still a lot of people who live under the poverty line. The rich simply become richer and the poor will have to slave.
The education system speaks for itself because most politicians and the rich won't send their children to government schools or the local universities. The standard of teaching in the local universities has gone down over the years and we can see the result with the world ranking of our universities.
We want to be No 1, we want to be the best, the biggest, the tallest or whatever. But collectively we are far from that.
Jeff Balan

I live in Los Angeles, California. I left Malaysia but returned for a short period of time but I became so disgusted at the rampant corruption and the unscrupulous political situation.

I as a ex-policeman know what's going on in the police force and the police force will never change no matter what. Frankly, I cannot blame them. On RM1,200 ringgit a month, they can hardly survive.
In 1964, I joined the force with a Higher School Certificate. All my abang were promoted with only a Form Five cert. I could speak Chinese and Tamil but realised after the 1969 riots that I had to get out if I wanted to become successful.
I love my country, (Myanmar). I love the people, even my abang. Till today, I still speak and practice my national language and am even better at it than most (Myanmar).
But it boils my blood to see this beautiful country go to the dogs. The ruling masters of years have brought utter destruction to my country.

They should be asked to account on how they made their millions. Only in xx can a peon become a multi-millionaire. Only in xx can an insurance man own half of the city. Only in xx , can an idiot who has the right connections become so filthy rich.
Yes, these people become filthy rich at the expense of the village people, the poor Indians and Chinese.
I wish I can stay there but I cannot tell a lie, so that's why I live overseas.
 
This is the second of a four-part series where Malaysiakini invited the Malaysian diaspora to write about why they left the country. More tomorrow.
Part 1: 'Leaving Malaysia a necessity'
M'sian talent in high demand overseas
'Why I chose to return to Malaysia'