---
House Renovation Diaries – Day 1 – Destructions Begin
Posted: 26 Apr 2010 10:24 AM PDT
Ladies and gentlemen, renovating a house is difficult! Too difficult! Not that I have to do anything about the physical work. Not a brick I have to lift but decisions! They are wayyyy to many decisions I have to make, from way too many choices of choices that go endless on and on… Luckily there is a pillar of truth that I can always come back to, hug it tight and knock my forehead on it and most of the time I will my senses back.
It is the pillar of truth at the temple of the BUDGET! Money, suckers! Money!! Thank God I have a limited of that else I would go bonkers and tear down all walls and build new ones with those luxurious finishings!
Goshhh!! This is all amazing. Ok I am not gonna elaborate on the time and the exciting pain (ehh?) of choosing the color of my tiles but in this diary series let's see how all the work progresses.
Day one – 17 April 2010, also Miki's two years and three months birthday.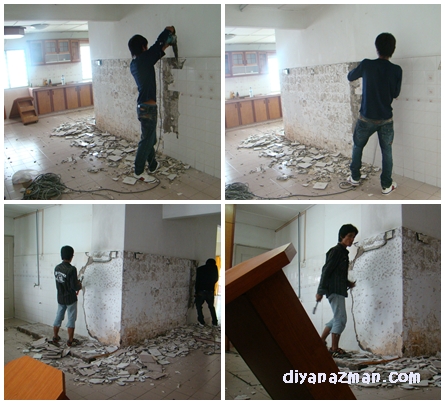 day 1
We went to the house and saw two Indonesian workers has already started their work. They were drilling off the tiles from my dining room and kitchen.The breakfast nook has been detached from the cabinets in my east wall and the tall food pantry also has been removed to make way for the removal of tiles behind it.
I am not sure if i want that pantry to be installed back in place or installed somewhere else or cut into pieces and make new furniture or just scrap it! See! too simple a thing..too many usage too many pros and cons. Ok buat rumah Kokades and MinMin ajelahhh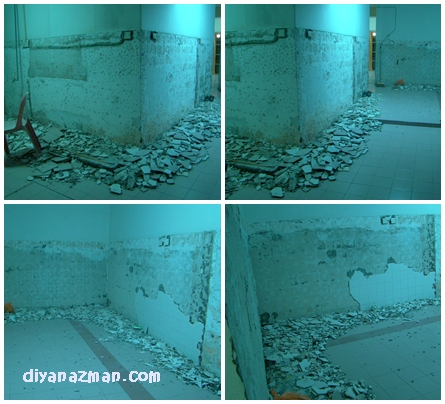 end result at day 1
When we came back again that night the broken tiles has been neatly lumped against the wall and what was used to be very neat and nice is now disastrous! Awesome!
Of course it is awesome, I had not only 2 Indonesian laborers working, there is an extra Awang Kenit helping. See!
I was sweeping the porch, trying to get rid of all the fallen leaves when Miki came menyibuk-ing.
"Miki nak sapu, Mummy! Miki nak sapu!!" he said.
"Tak payah biar Mummy buat.."
"Alaaaa.. Miki nak sapuuuu… Mummy penat! Mummy tak larat…." and he snatched the broom away from me.
Thank you son, but I am actually very larat, OKKK! Ingat Mummy apa?? takde stamina??? Lautan gelora bisa kurenangi apatah lagi porch sekangkang Miki??? Next time confirm Mummy panggil maid harian. Ops!
That's Miki at 2 years 3 months. Tall for his age. People keep guessing he is 3 years plus. Hair too curly-murly and pretty for a boy, people keep guessing he is a girl despite being dressed in the most boyish way that Mummy can think off. Speaks way too much for a toddler, Mummy and Daddy keep wanting to tampar muka ko berkali2 sebab sangat kurang asam dan notti dan mengada-ngada dan gedik!! Sangat sayang budak kecik ini… tapi jangan ko cuba2 conteng dinding Mummy yg baru nanti!! Hmmp! :p
Time to pressure the DVS - the malaysian insider
Posted: 26 Apr 2010 09:00 AM PDT
Dog lovers accuse authorities of uncaring attitude Sheena with her ribs sticking out. — Pictures courtesy of SPCABy Boo Su-Lyn KUALA LUMPUR, April 25 — Dog lovers have accused the Department of Veterinary Services (DVS), as the sole government arm in charge of animal welfare, of not protecting dogs.
They point out that only one case of animal abuse prosecution has been filed in the
Tengku Adnan: Chinese will not be sidelined *YAWN*
Posted: 26 Apr 2010 09:02 AM PDT
BN secretary-general says the Chinese voters in Hulu Selangor won't be neglected just because the majority voted for the opposition.
If BN lost, not only the Rasa Chinese primary school would get no money, the whole of Hulu Selangor would not only be sidelined but totally neglected. That is the sincerity of Umno-led BN government!
Posted: 26 Apr 2010 08:31 AM PDT
B
erita 1
Kakak, rakan yakin remaja ditembak polis bukan penjenayah
Norazura Amzah, 39, yang ditemui di perkarangan masjid di kawasan perumahan Seksyen 11 di sini berkata beliau hanya mengetahui adiknya Aminulrashid, 15, yang bakal menduduki peperiksaan Penilaian Menengah Rendah (PMR) mati ditembak ketika ingin membuat laporan kehilangan adiknya yang tidak pulang sejak malam tadi.
"Ibu telefon pagi tadi memaklumkan adik tidak pulang ketika keluar dengan sebuah kereta Proton Iswara milik seorang lagi kakaknya.
"Saya mula tidak sedap hati dan terus bergegas ke rumah ibu kemudian kami sekeluarga membuat laporan polis di Ibu Pejabat Polis Daerah Shah Alam di sini dan dimaklumkan terdapat kejadian tembak membabitkan seorang remaja berdekatan rumah ibu di Seksyen 11," katanya di sini hari ini.
Kejadian tembak itu juga dipercayai berlaku pada kira-kira pukul 2 pagi tadi hanya kira-kira 100 meter dari rumah mangsa.
Norazura yang beberapa kali terhenti bercakap kerana menahan sebak berkata mereka bergegas ke bilik mayat Hospital Tengku Ampuan Rahimah (HTAR) Klang dekat sini namun tidak dibenarkan masuk.

Beliau berkata seorang daripada pegawai bertugas di bilik mayat itu kemudiannya mengesahkan mayat remaja berkenaan menyamai paras rupa adiknya yang merupakan anak bongsu daripada lapan adik-beradik dan pelajar Sekolah Menengah Kebangsaan Seksyen 9 di sini.

"Maaf, saya sangat kecewa dan sedih, apalah salah seorang remaja seperti adik saya, jangan membuat tuduhan melulu dan cuba fikirkan apa rasanya andai dia berlaku kepada kita," katanya.

Tinjauan Bernama di perkarangan masjid di Seksyen 11 di sini mendapati lebih 200 rakan Allahyarham dan saudara mara berkumpul untuk menunaikan solat jenazah dan memberi penghormatan terakhir kepada mangsa.

Turut kelihatan Ketua Polis Daerah Shah Alam ACP Noor Azam Jamaluddin, timbalannya Supt M. Chandara serta Anggota Parlimen Shah Alam Khalid Abdul Samad.

Van jenazah polis turut disediakan bagi membawa jenazah ke tanah perkuburan yang diiringi unit kawalan motosikal polis.

Jenazah Aminulrashid selamat dikebumikan di Tanah Perkuburan Islam Seksyen 21 di sini selepas solat Maghrib tadi.

Sementara itu, Khalid berkata Ketua Polis Selangor Datuk Khalid Abu Bakar memberikan jaminan bahawa siasatan menyeluruh akan dijalankan bagi mengenalpasti punca sebenar kejadian itu.

"Allahyarham seorang remaja yang dikenali di kawasan ini dan kemungkinan melakukan jenayah adalah tidak mungkin sama sekali," katanya.

Seorang pemilik kafe siber, yang dikenali sebagai Amin berkata Allahyarham ialah seorang remaja yang mudah didekati dan penyayang serta sering mengunjungi premisnya.

"Kali terakhir saya menemuinya petang semalam ketika dia melayari Internet di sini dan bergurau dengan anak-anak saya, kemudian selepas bermain bola di padang berhampiran dia sempat melambaikan tangan ke arah saya dan isteri," katanya sebak.

Pada kejadian itu, Aminulrashid mati terkena tembakan polis manakala rakannya berjaya melarikan diri ketika terserempak dengan kereta peronda polis di kawasan seksyen 11 di sini. — Bernama

BERITA 2

Benjy ditangkap semula untuk tutup kelemahan polis, kata peguam

KUALA LUMPUR, 26 April — Penangkapan semula pelakon Khaireyll Benjamin Ibrahim, yang lebih dikenali sebagai Benjy, dan tindakan menahannya mengikut Akta Dadah Berbahaya (Langkah-langkah Pencegahan Khas) 1985, dibuat bagi menyelamatkan imej polis kerana gagal mengenakan tuduhan mengedar dadah terhadapnya, kata seorang peguam kepada Mahkamah Tinggi di sini hari ini.

Amer Hamzah Arshad, yang mewakili Benjy, berkata pegawai yang membuat tangkapan semula itu, Insp Nur Hazurah Ab Talib, mengaku dalam afidavitnya bahawa tidak terdapat bukti bagi mengenakan pertuduhan mengedar dadah terhadap pelakon berkenaan.

"Jadi, apa yang berlaku selepas itu ialah polis menggunakan peruntukan di bawah Langkah-langkah Pencegahan Khas, walaupun hakikatnya tidak ada bukti untuk mengenakan pertuduhan terhadap pemohon dan dia juga tidak pernah dianggap menjadi ancaman terhadap ketenteraman awam," kata Amer Hamzah dalam permohonan writ habeas bagi mendapatkan pembebasan segera Benjy.

Benjy, anak pelakon veteran Azean Irdawaty, mengaku tidak bersalah terhadap tuduhan memiliki 0.24gm methamphetamine di rumah beralamat A-6-5 Menara Duta 2, Jalan 1/38B, off Jalan Segambut di sini pada pukul 4 petang, 11 Mac 2010.

Sejurus selepas membayar wang ikat jamin, dia ditangkap semula kerana didakwa terlibat dalam kegiatan pengedaran dadah.

Dalam permohonan yang difailkan pada 8 April, Benjy menamakan Ketua Polis Negara, Menteri Dalam Negeri dan kerajaan sebagai responden serta memohon perintah agar dia tidak ditangkap semula setelah dibebaskan.

Dia juga memohon mendapatkan perisytiharan bahawa penangkapan dan penahanannya mengikut Seksyen 3(1) Akta Dadah Berbahaya (Langkah-langkah Pencegahan Khas) adalah salah, tidak sah dan terbatal serta berniat buruk.

Amer Hamzah berkata akhbar The Star, dalam laporannya bertarikh 27 Mac, memetik Menteri Dalam Negeri sebagai berkata bahawa Benjy ditangkap semula kerana polis memerlukan bantuannya dalam penyiasatan berhubung dadah sintetik.

Katanya adalah menjadi kelaziman di sisi undang-undang bahawa seseorang yang dikehendaki membantu polis dalam penyiasatan, tidak boleh ditangkap.

Amer Hamzah berkata ketika Benjy berada dalam tahanan, polis mengadakan sidang akhbar untuk memberi maklumat tertentu berhubung penahanannya, sedangkan tidak terdapat peruntukan undang-undang yang membenarkan perkara itu kerana siasatan berkenaan dianggap sulit.

"Satu-satunya kesimpulan lojik yang boleh dibuat ialah sidang akhbar itu dan pendedahan maklumat berkenaan bertujuan untuk mengaibkan Benjy dan untuk cuba menutup ketidakcekapan mereka kerana tidak berupaya mengenakan pertuduhan terhadap Benjy mengedar dadah," katanya.

Amer Hamzah juga merujuk kepada perisytiharan berkanun Afifi Hamidi, yang ditangkap bersama Benjy, bahawa seorang pegawai polis telah mengugut dan memaksanya supaya mengaitkan Benjy.

Peguam itu berkata Benjy tidak boleh ditangkap semula bagi tujuan mewujudkan kes terhadapnya dengan tujuan mendapatkan bukti supaya Menteri Dalam Negeri mengeluarkan perintah menahannya mengikut Seksyen 6(1) Langkah-langkah Pencegahan Khas.

Kata beliau adalah jelas bahawa polis tidak mempunyai sebab untuk mempercayai Benjy terlibat dalam sebarang kegiatan pengedaran dadah yang boleh memudaratkan ketenteraman awam dan oleh itu mahkamah tidak ada pilihan selain membenarkan permohonan Benjy agar dia segera dibebaskan.

Perbicaraan di hadapan Hakim Datuk Mohd Sofian Abd Razak bersambung esok. — Bernama

Ulasan GB

Dua berita di atas adalah dari agensi berita nasional. Jadi usah tuduh blogger menyebarkan berita palsu untuk merendahkan kredibiliti polis. Sepertimana GB selalu nyatakan bahawa tindakan polis itu sendiri yang menunjukkan bahawa PDRM tidak professional dan tidak ada integriti.

Gaji polis telah dinaikkan. Namun professionalisma dan kredibiliti polis terus merudum. Justeru sepatutnya gaji polis perlu diturunkan bukan dinaikkan jika demikian hal yang berlaku.

KPN, anda perlu bertanggung-jawab. Letak jawatan dengan segera sebelum lebih ramai orang awam jadi mangsa.



Datukship for someone who did nothing for the public
Posted: 26 Apr 2010 08:02 AM PDT
From: "how siau"
Subject: Datukship for someone who did nothing for the public
Perak BN Govt sudah Bodoh. Bolehland's shameful act of total disgrace - What sort of 'DATUKSHIP' was that?? Perak BN Govt sudah Bodoh. She will definitely find it not safe to return to her constituency
Surely the public cannot be blamed for its strong and solid hunch that Hee Yit Foong's datukship has very much to do with her role in helping the BN hijack the
Perak State Government. Surely Hee must be rewarded handsomely for such
great handiwork!
By Martin Jalleh
It was a historic occasion for Hee Yit Foong. She was bestowed the honorary
title "Datuk" by his Highness the Sultan of Perak, Sultan Azlan Shah, on the
occasion of his 82nd birthday.
Hee must have been so "hee-elated". It was the high point of her life after
having gone through the depths of great public humiliation and to contend
with the hate heaped on her especially by Perakians.
Indeed, she has been hounded and abuses hurled on her when she did the
hop-step-and-jump political dance. She hopped out of her party, stepped on
the people's will and jumped into the waiting arms of the BN as an
independent.
During a State Assembly meeting several DAP lawmakers gave her hell, threw
RM1 notes at her and told her to resign as she had no honour left for
selling her soul and State away!
Some in her Jelapang constituency hung an effigy of her and burnt it in a
mock Chinese funeral rite! Others wanted to get their hands on her whose
defection from DAP triggered BN's takeover of Perak.
Hee was hoping that the people would be hoodwinked by her hee-haw over how
she was supposedly shunned, smeared, sidelined and "squeezed out of the DAP
step-by-step" by its party leaders.
She denied that she had left the party because she was hankering after a
state exco seat and was huffing and puffing and making a hue and cry over
not being given a new Camry!
The DAP called her excuses pure humbug. They had not only groomed her to
such great heights in politics but made her the first non-Malay, female, and
physically handicapped deputy speaker in the country's history.
In Feb., Zambry harped about Hee's "service record" and asked Perakians to
give her "a chance to serve" as an assemblywoman. The rakyat of course saw
no reason to heed the hoax and highfaluting Umno Court-appointed MB!
Alas, the people are humoured by the State's high recognition of Hee through
the Sultan. What did she do to deserve to be hailed with such a title? What
is the hidden reason for the crowning of this overnight "heeroine" of Zambry's
State Government?
Zambry's hype about Hee's "service record" was half-witted and could not
really hold. Soon after she had hopped over to be independent of the people's
will and vote, she had gone into hiding in order to save her own hide.
Her constituents in Jelapang confirm she is in hibernation. The DAP has
formed the Jelapang Service Team (JST) to handle the needs of her
constituents.
Further, how has Hee performed in the State Assembly? Has she contributed
significantly to the debates (considering her halting Bahasa Malaysia) and
to policy making? The answer is very obvious.
Two of Hee's hallmarks in the supposedly hallowed House were when she became
"hee-sterical" and demanded that she had the power as deputy speaker to
chair the Perak state assembly to get Ganesan (illegally) elected as the new
speaker in the chaotic sitting.
The other instance was when she used a pepper spray on a PR assemblyman in
the House at the height of the havoc that took place. She denied doing it
but her histrionics in the State Assembly were highly publicised on U-Tube!
Surely the public cannot be blamed for its strong and solid hunch that Hee's
datukship has very much to do with her role in helping the BN hijack the
Perak State Government. Surely Hee must be rewarded handsomely for such
great handiwork!
Hee Yit Foong will remain haunted for the rest of her life for having
committed the the "hee-nous" and "hee-deous" crime of betraying the trust of
those who voted for the party that she once represented.
As Hee makes hay while the sun shines, it is very clear that she will be
"hee-story" when the next general election comes!
For now the rakyat of Perak have to bear up with the new Datuk's
"hee-pocrisy"!
=====================================
Posted by: soh6299
Hello Puan Hee Yit Foong,
I understand you are OKU but I can not feel what you are feeling now. Being a traitor in chinese means you will be a shame for what you have done in times to come.
Why after 22 years in DAP, you choose to turn back the wisdom you have held for all these long years? Money?
Money can not buy you respect, it has to be earned. The picture of you talking to Perak Sultan is clearly a statement that you know what you are doing. People elected you yet you jump ship for whatever reasons, and you have your last chance when you are facing the Perak Sultan. If you are under pressure or threaten from someone, you have the chance to tell the Perak Sultan to save yourself. But I don't think so by looking at the picture.
By next week when all things are settled down, you will not be the same person anymore. All your life will be different because of : you have let down those people who voted for you.
Posted: 26 Apr 2010 07:26 AM PDT
两晚《想说话的歌》结束。爆满是一个刺目的名词,毕竟,从原有每一场的120席位增加到160,两场加起来 充其量也只不过是320的人数,但无可否认,这却也是一种安慰,小小的剧场,满满的人,歌曲一首一首的唱,掌声温温暖暖,欢笑声回响 荡漾。
两个晚上带给我最大的意义,莫过于让我深深体会,用心付出、诚意为首、别抱以侥幸的态度闯关、一步一步踏实的走,路,是 在前面的。
人在做,天在看,我并没有觉得自己有什么成就可以在此大言不惭,只是想和大家分享一点点心里的激荡以做共勉,更是想对出席这两天《想 说话的歌》的朋友们由衷说一声谢谢!我会以你们的掌声作为跨出下一步的动力。
落幕后,身心疲累但感恩整个过程中同事门的投入和付出、亲 人和朋友们的支持与鼓励,对于这一切,我怎能放肆让自己言倦?
188首歌之后下来另外的188首歌我又该迈向怎么样的一个天空?
窗 外夜色漆黑,我开始整理生命在这一刻所带给我的千头万绪。
歌,会一直唱下去。
晚安,我亲爱的朋友。
[周金亮] 
250410---0509am
Hulu Selangor : Bangkitkan Semangat PR Ke Putrajaya
Posted: 26 Apr 2010 06:19 AM PDT
P
enasihat DAP, Lim Kit Siang membawa ingatan penyokong Pakatan Rakyat kepada keperitan keputusan pilihan raya kecil Ijok pada 2007 tetapi berubah menjadi nostalgia manis setahun kemudian.
Beliau berkata demikian pada ceramah di Stadium Mini Kuala Kubu Baru sejurus selepas keputusan pilihan raya kecil Hulu Selangor Pada pilihan raya kecil Parlimen Hulu Selangor.
Beliau menegaskan kekalahan Pakatan Rakyat kali ini tidak akan merencat perjuangan rakyat.
"Dalam perjuangan, jalannya tidak mudah sebaliknya akan mengambil masa untuk mencapai kejayaan yang diharap-harapkan," katanya.
Kit Siang turut mengajak semua pihak khususnya penyokong Pakatan Rakyat mengimbas kembali keputusan pilihan raya Dewan Undangan Negeri (DUN) Ijok.

Pada 2007, calon Pakatan Rakyat, Tan Sri Khalid Ibrahim ditewaskan BN yang memperalat seluruh jentera dan menggunakan pelbagai taktik kotor, dengan majoriti 1,850 undi.

Seperti Datuk Zaid Ibrahim, Tan Sri Khalid juga ditewaskan calon BN dari MIC.
Malah, majoriti Parlimen Hulu Selangor yang diperoleh BN kali ini hampir sama dengan majoriti DUN Ijok pada 2007, bahkan lebih kecil iaitu 1,725 undi.

Bagaimanapun, kerusi DUN Ijok mudah dimenangi Pakatan Rakyat pada pilihan raya umum ke-12 setahun kemudian, malah calonnya kemudian menjadi Menteri Besar Selangor.

Sehubungan itu, Kit Siang mengisytihar Hulu Selangor sebagai Ijok kedua, malah menganggap Parlimen Hulu Selangor bakal menjadi landasan ke Putrajaya.

"Dari kekalahan DUN Ijok, kita tawan Selangor . Kali ini dengan kekalahan Parlimen Hulu Selangor, kita jadikan landasan untuk mengambil alih kerajaan Persekutuan," katanya. -TVS


P.212 Sibu By-Election - Part 5
Posted: 26 Apr 2010 05:33 AM PDT
A new blog has just been born into our blogsphere! This Sibuian blogger is creating a space for herself to pour out her grievances against the politics in Malaysia generally and Sibu in particular.
I came to know about this politically-motivated blog from the comment she left in my blog.
This blog came at the right time when the by-election mood is running high in Sibu. Filling the air of Sibu now are the burning issues facing the local folks. Can we afford not to make a wise decision in casting our invaluable votes?
The blog name "
B'U'Y Election (Sibu)
" carries a metaphor. And the blog address
http://www.veryfatlady.blogspot.com/
is pretty catchy!
In this by-election, we have to keep our minds quite open.
Posted: 26 Apr 2010 04:47 AM PDT
Salam to all & good day,
Zaman sekarang ni kalau seseorang nak mendapatkan sesuatu semestinya harus memperjuangkan nasib sendiri secara bersendirian, ada ada pula yg sanggup menjatuhkan airmuka ataupun membuka pekung didada seseorg itu demi periuk nasi mereka yg tertentu, ada yang sanggup mengadaikan maruah demia mencapai sesuatu yg di impikan tanpa memikirkan hati dan perasaan org lain.
Dalam bahasa kampungnya, org sebegini dipanggil pengkhianat bangsa, dah seperti peribahasa yg selalu kita dengan, org yg melempar batu, tapi dia sembunyikan tangan bila dh membaling, pengecut dan tidak gentleman, bagi aku dalam politik sekarang memang cukup busuk, ada yg nak menang, sanggup main busuk, kaki busuk punya, sanggup mengadaikan maruah org lain untuk kepentingan diri sendiri, cukup zalim kan kalau org sebegini lebih-lebih lagi kawan kita!.
Tapi hakikatnya manusia sebegini memang ada, cuma kadang-kadang kita harus peka, tak boleh percayakan sesiapa sekali pun dalam hidup ni, org yg nampak mana-mana sudut yg terbuka dan tenganga, pasti peluang yg diorg ada tu akan di manfaatkan dengan sebaik mungkin untuk menjahanamkan kita, so kalau difikirkan, naik marah dan sedih tapi apa boleh buat, nasib kadang2 tak baik.
Dalam dunia pekerjaan pun ada org macam ni, kalau nak naik sama-sama kena naik, kalau kita naik sorg, dia tak puah hati, dia cakap kita mengampu, tapi hakikatnya, performance dia dan kita jika dibandingkan memang jauh dari panggang dari api, kalau kerja kita lebih rajin dari diorg, makan diorg merah mata.
Blogger Of The Week - MY Trading Adventure
Posted: 26 Apr 2010 04:05 AM PDT
MY Trading Adventure

1.Hi Teh, can you please tell us a bit about yourself?


I am a maths lecturer. I am from science based, so no knowledge about economics, business, financial, accounting, management etc etc which needed in analysing markets. That was merely 2 years ago. I read a lot ...




2. Do you consider yourself a trader or an investor and are you in it full time or part time?


I am a trader, rather than an investor. I m both, actually as I m still experimenting on both, some to buy&hold … some for short trades, others using different approaches. Not many in......




3. What other market do you trade besides Bursa?


I have bought into HKEx and SGX stocks. I only bought some US stocks for trial. Basically, I am experimenting. I even bought call/put warrants in HKEx before. That requires different mindset. Then only we could compare the differences.....


4 Why do you blog and what do you blog about?


The main reason I blog WAS to record my trades but I traded too fast than I blog. Haha. Ok, it is my footprint in markets, if u know what I mean. Also, I WAS a blogger …......


5 What tips or advise you can share with us.

I will want to see myself well-verse in different markets, different way of investing/trading, seeking opportunities when it comes. I may want to TEACH investing/trading someday and ......

To read the rest of the Q & A Please click ==>
Link
UMNO BN Belanja RM64 Juta Namun Tewas 2 DUN
Posted: 26 Apr 2010 03:58 AM PDT
P
erdana Menteri Najib Razak telah membelanjakan sejumlah RM64 juta untuk memenangi Pilihan Raya Kecil Parlimen Hulu Selangor.
Meskipun begitu UMNO Barisan Nasional sekadar menang tipis dengan 1725 undi sahaja.

Lebih dari itu Barisan Nasional kehilangan 2 kerusi Dewan Undangan Negeri, Kuala Kubu Baru dan Batang Kali.
Bekas Menteri Undang- undang Datuk Zaid Ibrahim berkata Pakatan Rakyat tidak redha dengan kemenangan UMNO Barisan Nasional yang diraih dengan cara kotor dan dipalit rasuah.
"Perdana Menteri Najib Razak belanja lebih daripada RM64 juta untuk menang pilihan raya kali ini. Kita berdepan dengan keadaan dimana pembelian undi berleluasa,"
kata Zaid.
Beliau juga kesal Suruhanjaya Pilihan Raya (SPR) menutup mata, enggan mengambil sebarang tindakan terhadap rasuah undi yang disuakan kepada pengundi parlimen itu.

"Kita tewas kerana amalan membeli undi itu halal dinegara kita. Jika kita tidak atasi masalah ini, kita akan berdepan dengan masalah besar dimasa- masa akan datang," ujarnya lagi. -TVS




P'raya Hulu S'gor: BN menang, MCA tewas

"Perubahan" dalaman yang ditegaskan kembali oleh BN dalam pilihan raya Hulu Selangor sepanjang tempoh berkempen sepanjang minggu lalu perlu bermula dengan mengenalpasti kelemahan ketara MCA.

Walaupun pada permulaan kempen, BN bergelut dengan masalah dalaman MIC ekoran pemilihan calon kompromi P Kamalanathan, tetapi kemerosotan undi Cina kepada BN sebenarnya menggambarkan kerapuhan semangat dalam MCA.

Keputusan pilihan raya kecil semalam memihak kepada BN.

Pengerusinya Datuk Seri Najib Razak menyifatkan kemenangan itu sebagai peralihan sokongan masyarakat kembali kepada BN.

Namun BN masih di belakang dalam usaha mendapatkan sokongan daripada kaum Cina, sedangkan golongan India dan Melayu sudah mula beralih sokongan kepada parti itu bagi pilihan raya kecil semalam.

Najib melihat keputusan dengan kelebihan 1,725 undi berbanding 23,272 undi yang diraih calon PKR sebagai pencapaian signifikan kerana pertandingan berlangsung dalam negeri Pakatan Rakyat.

Pilihan raya semalam turut menyaksikan BN kehilangan 30 peratus sokongan masyarakat Cina berbanding pencapaian mereka dalam pilihan raya umum dua tahun lalu.

Beliau juga mengaitkan keputusan itu dengan usaha perubahan yang dilakukan BN, seperti yang diuar-uarkan sepanjang kempen pilihan raya berlangsung.

Kamalanathan anak kampung

Sepanjang lapan hari tempoh berkempen, banyak poster bertulis "BN mampu berubah" dikesan di serata tempat - dilihat bertujuan mengembalikan kepercayaan pengundi.

BN sebelum ini ditolak oleh pengundi dalam pemilihan Mac 2008, antaranya kerana sikap 'angkuh' yang ditunjukkan parti pemerintah itu. Kali ini mereka cuba kembali ke gelanggang Hulu Selangor dengan rendah hati.

Ia cuba menonjolkan kepada pengundi bahawa parti itu "mampu berubah" dan cuba mendekati rakyat Hulu Selangor dengan kelebihan sumbernya.

Imej Kamalanathan juga cuba dipotretkan sebagai anak kampung, berbanding perwatakan 'urban dan liberal' calon PKR Datuk Zaid Ibrahim.

Jika janji-janji pembangunan - yang didakwa melebihi RM 64 juta - lanskap Hulu Selangor mungkin akan berubah sepenuhnya. Imbuhan-imbuhan tersebut tidak dinafikan mampu memikat sebahagian pengundi, terumanya golongan Melayu.

Kerja keras BN apabila Najib sebagai presiden Umno sendiri turun sejurus selepas sahaja pulang daripada luar negara juga menunjukkan kesungguhannya.

Umpama ayam tiada kepala

Malah, Najib masih berada di Hulu Selangor bagi bertemu dengan masyarakat Cina melalui lawatan rumah ke rumah, di hari terakhir kempen kelmarin.

Kelmarin juga, dalam perbualan tidak formalnya dengan Malaysiakini di pusat media, Najib sejak awal lagi memberitahu, masyarakat Cina tidak banyak memberikan undi kepada BN disebabkan masalah dalaman regu utama MCA.

Seorang pemimpin tempatan Datuk Zainal Abidin Sakom pula berpendapat pertikaian di kalangan pucuk pimpinan parti Cina itu - yang lama berlarutan - menimbulkan masalah penyelarasan jentera sokongan kepada BN.

"(Jentera) mereka seolah-oleh seperti ayam tak ada kepala," katanya kepada Malaysiakini ketika ditanya mengenai prestasi jentera MCA.

Zainal yang juga bekas Adun Batang Kali bagaimanapun akur, proses pemulihan MCA akan mengambil tempoh yang lebih lama sebelum dapat dinilai sepenuhnya.

"Pemilihan (MCA) pun baru lagi, baru sangat lagi," tambahnya ketika ditemui selepas pengumuman keputusan pemilihan di Dewan Serbaguna Kuala Kubu Baharu malam semalam.

Senario ini juga diakui presiden MCA sendiri Datuk Seri Dr Chua Soi Lek yang membayangkan bahawa masyarakat Cina lebih memandang kepada faktor kepemimpinan, berbanding soal kehendak dan keperluan asas mereka sendiri. -mk

A warrior's 80th birthday, Colonel Harchand Singh of the Ranger Corps
Posted: 26 Apr 2010 03:40 AM PDT
Colonel Harchand Singh celebrated his 80th birthday amongst his brother officers.


Click on image to enlarge. L to R : Col Mike Nasir Taib, Col Harchand, Major Gen Amin and Col Stephen Mundaw.
This birthday bash was held on the 24th April 2010 at the Port Dickson Golf Club. 90 Officers serving and non serving along with Officers who served in other Corps, they that knew him or had served under him attended this function. They included Brig Gen Datuk Kalam Azad and Datin. Major Sangaran organised this function, at the same time he acted as the MC for the occassion. Everyone had a good time celebrating Colonle Harchand's birthday. The Rangers Corps bagpipers led Colonel Harchand to dinner. The Colonel was very happy, and will not easily forget this memorable birthday. Happy Birthday, Colonel! Photo: Courtesy of Col Mike Nasir Taib
Pandan Perdana Pavement Upgrade – Never On Sunday
Posted: 26 Apr 2010 02:14 AM PDT
Upgrading of pavement at Pandan Perdana.
A few stretches of pavements at Jalan Perdana 3/1 in Pandan Perdana are currently being upgraded. I am very particular about these upgrading works because the previous upgrading on a different stretch of the pavement was done haphazardly and could not be used safely although I have stressed to the previous ADUN for Teratai on the need to follow the code of practice. He was the one who got the allocation for upgrading part of the pavement in 2007.
Anyway, imagine to my horror when I found out that there were no kerb ramps to the pavements in the current upgrading works. I asked around and was made to understand that the MP for Pandan Datuk Seri Ong Tee Keat had provided an allocation for these works. I posted a note in Facebook and tagged him, asking him to ensure that there are kerbs ramps as one of the pavements has a bus stop. If we cannot get to the bus stop, we definitely cannot board the buses when RapidKL deploy their non-step buses on this route.
The bus stop in the midst of pavement upgrading works at Pandan Perdana.
Through Facebook, I was given the phone number of Ong Tee Keat's Service Centre Public Liaison Officer, Kent Ng, together with the office phone and email. I called the office number on Sunday afternoon. There was no answer. Then I called Kent and explained the issue to him. He said he would get back to me. I followed up with an email briefly detailing on how the kerb ramp should be constructed.
Work on the pavement is currently still on going. I was afraid that the pavement would be completed before any action is taken. I waited until this afternoon and called Kent again. He told me that he would submit my complaint to Datuk Seri Ong. I asked him when and explained the urgency of the matter. What he said to me following that was totally unexpected.
No kerb ramp.
"Mister, you called me on Sunday. Do you know Sunday is rest day?"
It was not what he said that irked me but the tone of him saying it. I said I knew but it is Monday now and I am calling him again to check and ask him when action will be taken. He gave me the same line that he will submit my complaint and that I had called him on a Sunday. YES, I KNEW IT WAS SUNDAY! If the matter was not urgent, I would not have called.
After that incident, and as far as I am concerned, I have done the necessary to enlighten Datuk Seri Ong regarding this matter. I shall wait and see how it pans out. Surely, the MP for Pandan who is also the Minister of Transport already understands the issues of public transport with regards to the street environment. His ministry and related agencies have been engaging disabled persons' organisations in this matter for a long time already. I pray he will do the right thing.
Hmm, I hear the Chordettes singing…
Another end of pavement with no kerb ramp.
Close up of the dug up pavement with kerb.
Related posts:
Stephen Hawking says: Don't contact the aliens
Posted: 25 Apr 2010 11:21 PM PDT
Renowned scientist Stephen Hawking has warned human beings against making contact with the aliens.
Prof Hawking thinks that, rather than actively trying to communicate with extraterrestrials, humans should do everything possible to avoid contact.

He explained: "We only have to look at ourselves to see how intelligent life might develop into something we wouldn't want to meet.

"If aliens visit us, the outcome would be much as when Columbus landed in America, which didn't turn out well for the Native Americans," he said.

"The real challenge is to work out what aliens might actually be like."
The words are quoted from a new Discovery Channel documentary series about the possibility of extraterrestrial life forms [via BBC].
The quotes are probably taken out of context, but it's a valid point. Thing is, we don't really know how the aliens would be like; it could be super-friendly or ultra-dominant… and we won't know until the day that a serious contact is made.
I would like to think that they're not as 'evil' as human beings though lol.
Stephen Hawking says: Don't contact the aliens from YeinJee's Asian Journal
"Love In Any Language" By Sandi Patty
Posted: 25 Apr 2010 11:16 PM PDT
This is one of my childhood favourites.
One of the classes performed this for one of the Teachers' Day with the help of their form teacher, i think , if not its the chinese teacher.
Video: http://www.youtube.com/watch?v=Nmi1KYC5Htw
Lyrics: http://www.lyricsdownload.com/sandi-patti-love-in-any-language-lyrics.html
Je t'aime
Te amo
Ya ti-bya lyu blyu
Ani o hev ot cha
I love you
The sounds are all as different
As the lands from which they came
And though the words are all unique
Our hearts are still the same
Love in any language
Straight from the heart
Pulls us all together
Never apart
And once we learn to speak it
All the world will hear
Love in any language
Fluently spoken here
We teach the young our differences
Yet look how we're the same
We love to laugh, to dream our dreams
We know the sting of pain
From Leningrad to Lexington
The farmer loves his land
And daddies all get misty-eyed
To give their daughter's hand
Oh maybe when we realize
How much there is to share
We'll find too much in common
To pretend it isn't there
Love in any language
Straight from the heart
Pulls us all together
Never apart
And once we learn to speak it
All the world will hear
Love in any language
Fluently spoken here
Tho' the rehtoric of government
May keep us worlds apart
There's no misinterpreting
The language of the heart
Love in any language
Straight from the heart
Pulls us all together
Never apart
And once we learn to speak it
All the world will hear
Love in any language
Fluently spoken here
Filed under:
Entertainment
This posting includes an audio/video/photo media file: Download Now
Away to PLKN (Day 30): PCGHS Food Fair
Posted: 25 Apr 2010 11:08 PM PDT
On 14 March 2010, I went to Penang Chinese Girls' High School to check out their food fair. It had been quite some time I didn't visit school organized food fair. In 2006, my school organized a food fair, but I was not there because I went outstation, that's sad because Chung Ling High School don't always organise food fair.
When I was Form 4, I attended Convent Datuk Keramat Secondary School food fair, could be said as my first time going to a school's food fair. Then this PCGHS Food Fair could be my second time already.
Food fair are always fun with game stalls but not the food. I actually go there to check up stalls by Leo Club of Penang Chinese Girls' High School, to see what they did and support support them. I don't really know a lot of friends from that school except the Leo Club.

DSLR gang, Kelvin and Teik Hua.
I went there at around 10am. It's all traffic jam already at Jalan Gottlieb, the road outside PCGHS, all because of the food fair. Luckily I found a good parking spot. Went in alone and look for Leo Club's booth. Later then Arron, Tee Jin, Chien Chern and Yiphing came and I went to join them
The Leo Club was a game booth. Their game was fishing, each player pays RM2 for a game and do like the Japanese style of fishing with a piece of paper instead of net. You can take home the fish you got. So it's like buying fish at there. Haha.
Very hot day and keep sweating all the way. I met many Chung Ling juniors, friends, bloggers and Plurkers. Many people, very crowded, very happening, and I like, just I really hate the weather.

Plurkers.
I was hungry and I ate my breakfast at there. Unfortunately, the food I ate sucks, it's a Japanese Fried Rice. But gonna thank Arron for the sponsor of coupon so it was a free breakfast for that morning.
There's many food, many things, many game stall. There's also haunted house but we didn't get a chance to go in because it's closed when we were there. Sucks man. We thought that the Q would be shorter when we go in at the last minute, but they said the ghosts were tired already, so early closure. Oops.

Edmond, Hanna, Hui Mei and Liang Sun.

Lion Ong Lai was there too! My Regional District Chairperson for Leo Club and also Kok Sheng, vice president for Leo Cabinet.
That morning was pretty fun also, but very hot.
Hulu Selangor: Anugerah Dari Kegagalan
Posted: 25 Apr 2010 10:57 PM PDT
C
alon Parti Keadilan Rakyat (PKR), Datuk Zaid Ibrahim akur dengan kekalahannya pada pilihan raya kecil Parlimen Hulu Selangor.
Menurutnya, kekalahan itu bukanlah penentu kepada kejatuhan PKR tetapi bakal bangkit dengan kemenangan pada pilihan raya umum ke 13.
"Saya boleh terima kekalahan saya dan saya percaya semua terima kekalahan ini sebab dalam pertandingan pasti ada yang tewas.
"Tetapi biarlah rakyat negara ini merasa mereka tewas bukan kerana ditipu. Tewas kerana kita ingin kestabilan negara dan rakyat mestilah diberi keyakinan bahawa tidak sia-sia undi itu," katanya ketika berucap di hadapan kira-kira 300 penyokong PKR di Stadium Kuala Kubu Baru di sini selepas pengumuman kekalahannya malam semalam.
Turut hadir, Menteri Besar, Tan Sri Abdul Khalid Ibrahim, Penasihat DAP, Lim Kit Siang, Naib Presiden PKR, Azmin Ali, Ketua Wanita PKR, Zuraida Kamaruddin, Pengarah Pilihan Raya PKR, Fuziah Salleh dan Pengarah Strategik PKR, Tian Chua.

Zaid berkata, apa yang dihadapi ialah satu sistem politik yang teruk dan pemimpin yang tidak hormat pada undang-undang.

Beliau mendakwa pilihan raya kecil kali ini adalah yang paling buruk dan penuh dengan rasuah dalam sejarah pilihan raya kecil.

"Kita berdepan dengan mereka yang membeli dan menghalalkan undi tidak kira di waktu siang mahupun malam.

"Saya harap penyokong-penyokong kita bersabar dan usah risau dengan keadaan ini kerana saya boleh menghadapi cabaran ini.

"Saya berjanji saya akan sama-sama dengan Menteri Besar Tan Sri Abdul Khalid Ibrahim dan bekerja keras dalam menghadapi pilihan raya umum ke-13 nanti," katanya.

Beliau berharap pengundi di Hulu Selangor akan dapat memahami dan menerima perjuangannya selepas ini.

Dalam keputusan semalam, Barisan Nasional memenangi kerusi Parlimen Hulu Selangor dengan calonnya, P Kamalanathan memperoleh 24,997 undi, sementara Zaid hanya mendapat 23,272 undi. Kamalanathan menang dengan majoriti 1725 undi.

Keputusan itu diumumkan oleh Pegawai Pengurus Pilihan Raya Parlimen Hulu Selangor, Nor Hisham Ahmad Dahlan pada pukul 9.15 malam tadi di Dewan Serbaguna dan Kompleks Sukan Pejabat Daerah Hulu Selangor di Kuala Kubu Baru. -SK

Ulasan GB

Sebaik saja berita kekalahan PKR diterima, GB malam tadi memutar sebuah lagu "Anugerah Dari Kegagalan" nyanyian Datok Shake. Ramai tertanya apa ertinya kegagalan Pakatan Rakyat di Hulu Selangor?

Bagi yang memahami, menang atau gagal adalah satu anugerah.

Gagal itu juga satu syurga. Kerana selepas ini Hulu Selangor akan dibangunkan oleh BN seperti yang mereka janjikan. Ratusan juta perlu dicurahkan bagi memenuhi janji itu.

Kemudiannya, Pakatan Rakyat akan merampas kerusi itu semula seperti Ijok.

Maka bukankah itu satu anugerah?


The Rasa Chinese primary school is RM3 million richer today because of buy-election!
Posted: 25 Apr 2010 10:51 PM PDT
UPDATED
KUALA LUMPUR, April 26 — The Rasa Chinese primary school is RM3 million richer today from a campaign promise after Barisan Nasional (BN) won yesterday's Hulu Selangor by-election but the ruling federal coalition is concerned that it failed to garner greater Chinese support.
BN secretary-general Datuk Seri Tengku Adnan Tengku Mansor said it might have won the seat with a 1,725-vote majority but the coalition has to improve support from the Chinese community, which again turned its back on the BN this by-election and in Election 2008.
Actually, Chinese also stupid but not as stupid as...(you fill in the blanks lah). Why stupid? Reason being MCA  Chinese can elect a 'PORN' star as their President! What has MCA done for the Chinese community?
I just give one example: Chinese get to eat less and less pork nowadays. If you Chinese do notice, food courts in hypermarkets are all halal. If MCA as a CHINESE party cannot even demand for one

non-halal

CHINESE FOOD stall to be in every food court in every hypermarket, then MCA, as a CHINESE party has failed.
How about 1Malaysia? 1Malaysia is inclusive, right? If 1Malaysia cannot even allow 1, just one

non-halal

stall selling

pork

dishes in every food court in every hypermarket in  Malaysia, 1Malaysia has failed. 1Malaysia does not care for the minority even though Chinese is the so-called second largest majority!
So, if 1Malaysia cannot even do it, forget about MCA lah! Dr 'Porn' Chua's worst fear is confirmed -
MCA has, indeed, already become a political dinosaur!
'Teoh was fully conscious before he fell' but neck injury, he cannot tell! Neck injury expert kononnya!
Posted: 25 Apr 2010 10:22 PM PDT
BREAKING NEWS updated 11.35am British forensic pathologist Prof Peter Vanezis also says Teoh Beng Hock's injuries were consistent with a fall from height.
Even though
he stated that he held a doctorate on neck injuries when
he took the stand this morning,
he could not determine or rule out whether strangulation or a choke-hold had been applied, but said Teoh was conscious before the fall. 
I'm feeling a bit suspicious. Here is a guy who is an expert on neck injuries yet he can't tell if the neck injury suffered by Teoh is caused by strangulation or choke-hold.
Like how we say it here in Bahasa Malaysia (or Melayu?) - 'Expert kononnya!'
Posted: 25 Apr 2010 09:26 PM PDT
Manchester United striker Wayne Rooney has been named the Professional Footballers' Association Player of the Year, though he missed out an awards double as James Milner beat him to the PFA Young Player of the Year prize.



(THERE are only two games left for the EPL. Manchester United in a neck-to-neck race with Chelsea for the trophy. Perhaps even Arsenal will end up champions. May be it will be decided this weekend, that is if Chelsea lose to Liverpool in Anfield. Perhaps Rooney the great will inspire MU to defend its crown. Whatever it is, the long and short of it, football is just a game. Good to be "involved", yet there are more important things in life. Like drinking good Luwak coffee... hoping MU makes me enjoy coffee more.)