---
One Way Jesus: One Way-Hillsong Lyrics
Posted: 12 Apr 2010 10:28 AM PDT
This posting includes an audio/video/photo media file: Download Now
Will SMALL FRY Koh Tsu Koon get clarification from BIG FRY Muhyiddin??
Posted: 12 Apr 2010 10:30 AM PDT
Inter-faith committee faces collapse
By Asrul Hadi Abdullah Sani
KUALA LUMPUR, April 12 — The Malaysian Consultative Council on Buddhism, Christianity, Hinduism, Sikhism and Taoism (MCCBCHST) will boycott the Cabinet-endorsed inter-faith committee, unless the deputy prime minister provides an explanation for his "small-fry" remark today.
Earlier today Tan Sri Muhyiddin Yassin had said the inter-faith committee set up by the Cabinet consisted only of "small-fry," in a bid to calm fears expressed by right-wing Malay groups that it would threaten the sanctity of Islam.
The lack of any legal powers in the committee, said Muhyiddin, means it will not have any influence over the nation's official religion.
However, non-Muslim groups have taken offence at the DPM's remarks and are now threatening a boycott of the panel.
MCCBCHST president, Reverend Dr Thomas Philips, said that they will not attend the sub-committee meeting scheduled tomorrow if there is no explanation for the remark.
"We want clarification before tomorrow's meeting before we proceed. So until there is a clarification then there will be no meeting. We feel that if we are 'small fry' or have no influence, then there is no point to the committee.
"Tan Sri Dr Koh Tsu Koon must get the clarification from the deputy prime minister. He was the one that made the statement," he told The Malaysian Insider tonight.
The Cabinet agreed recently to form an inter-faith committee to foster religious understanding and harmony, damaged in the past few months by religious differences such as the controversial "Allah" ruling.
It had earlier this year appointed Datuk Ilani Isahak to chair the committee and green-lighted five sub-committees to draw up proposals on how best to deal with the inter-religious conflicts.
The sub-committees will be jointly-chaired by a Muslim and a non-Muslim, and include five religious representatives from both communities.
The MCCBCHST president went on to express discontent over the label given by Muhyiddin, and pressed for the latter to specifically identify those he was referring to.
"It was a bit offensive to everybody but who do you mean when you called a 'small fry'? You know religious heads are not 'small fry'. If you call the committee as 'small fry' then I do not think so because [the] head of Jakim, Ikim, all were there. Even the head of the Fatwa Council was there. It was very insulting.
"We want a clarification on what he meant in the light of what Perkasa has said in a lot of statements," he said.
Nevertheless, Philips remained optimistic but cautiously so given the national leader's slur on the inter-faith committee.
"We say that we want to engage in the inter-faith issues because it is important for the country and is about the people's interests. Even though they call it a small committee but it is a good start and beginning. We still have a long way to go. If any other person had said it, it would not have mattered but the deputy prime minister who is the acting prime minister has said this," he said, referring to the fact that Prime Minister Datuk Seri Najib Razak is currently overseas.
Meanwhile, the Perak Fatwa Committee, led by influential state Mufti Tan Sri Harussani Zakaria, also announced its objection to the panel, dealing a further blow to Najib's efforts to repair inter-religious ties.
Harussani said other religions could not be placed on equal footing with Islam, which he said had a higher position by Allah's side.
The idea for an inter-faith panel was first mooted in the early 1980s but was shot down following objections from Muslim groups such as the Islamic Development Department, better known by its Malay acronym Jakim.
According to sources, the objection was because an inter-faith council would place Islam, the nation's official religion, on equal footing with the other religions.
This was the same objection put forward by Malay rights group Perkasa yesterday. Perkasa has demanded the Najib administration places its new inter-faith panel under the national Islamic Affairs Department, saying it rejected the entity in its current form.
Perkasa says it would tolerate the committee only if it fell under the guidance of Datuk Jamil Khir Baharom, the Islamic Affairs Minister under the Prime Minister's Department and not Tan Sri Dr Koh Tsu Koon, who is currently the minister in charge.
Posted: 12 Apr 2010 09:45 AM PDT
PETPOSITIVE NEWS!

DATELINE PETALING JAYA: 

THE BIGGEST NEWS that is keeping all of us at PETPOSITIVE enthused and excited is the arrival soon of the godsend PETMOBIL.

That's the name that we at Malaysia's very first animal-assisted therapy national society have decided to - very proudly - name our van which is being donated to us by the CIMB Foundation.   

It hasn't quite arrived to us yet
It's Child Play: The Young Often Learn Faster And Deeper During Playtime
Posted: 12 Apr 2010 08:41 AM PDT
Pakatan Rakyat Tidak Rela Wang Rakyat Dibayar Kepada Israel-Zionis
Posted: 12 Apr 2010 08:26 AM PDT
P
impinan Pakatan Rakyat sama sekali tidak akan merelakan wang rakyat digunakan untuk membayar sebuah firma yang terang-terangan didalangi pimpinan Israel-Zionis.
Bercakap depan kira-kira 1,000 penduduk sekitar Taman Chempaka Perdana di sini, Ahli Parlimen Kuala Langat, Abdullah Sani Abdul Hamid menegaskan latar belakang dan modus operandi APCO Worldwide jelas diragui.
"Lembaga Pengarah APCO ini merencanakan One Israel. Ini bukan kebetulan sebab itu, kita tidak mengizinkan duit rakyat dibayar kepada manusia Israel-Zionis," katanya dengan lantang.
Beliau kesal kerana Malaysia tiada hubungan diplomatik dengan Israel sebaliknya kerajaan Umno-Barisan Nasional melantik APCO Worldwide sekaligus bersahabat dengan segala bentuk kezaliman Israel terhadap rakyat Palestin.
"Dalam masa sama, kerajaan Umno BN mengambil APCO Worldwide menjadi penasihat komunikasi, maknanya APCO dibayar dalam membantu gerak kerja negara.

"Satu tangan kita serang bermati-matian (isu melibatkan kekejaman Israel) di peringkat antarabangsa, satu tangan kita angkat mereka menjadi penasihat negara," kata Abdullah Sani lagi.

Turut berucap ialah Datuk Seri Nizar Jalaludin yang terkilan kerana pimpinan Umno BN menggunakan wang rakyat yang majoriti beragama Islam untuk disalur kepada dana Israel-Zionis.

"Umno tahu mereka berinteraksi dengan syarikat yang berpangkalan di Tel Aviv. Mereka turut mengesa kerajaan Malaysia dan Parlimen meluluskan bayaran lebih RM20 juta kepada Asiasoft," katanya. -TVS



Khalid slams China Man Dr Porn Chua, Balik China lah, DR PORN CHUA!!!
Posted: 12 Apr 2010 08:15 AM PDT
Selangor Menteri Besar Khalid Ibrahim
slammed newly-minted MCA president Dr Chua Soi Lek for accusing the Selangor government of not supporting Chinese vernacular schools and said his government had provided financial assistance for all schools, including Chinese schools, despite this being the federal government's responsibility.

Khalid also explained that the only power the state had was in providing land for schools while funding and the location were still decided by the Education Ministry - thus, Chua should take up the matter (of school expansion) with the minister.

"How many schools have been approved by the federal government but have not gotten the support of the state?" asked Khalid.
Posted: 12 Apr 2010 08:11 AM PDT
Nothing much to blog about today. Been a little busy with my work. No, no, more work doesn't mean I'm getting any richer or anything. Just been working on the same job for ages. You know la, clients who cannot make up their mind. One minute they want this, when give it to them, they come come back and say they want that ... siggghhh ...
So, I'm just going to keep this short. The good news is I can comment again so there goes my excuse not to comment in your blogs now ... LOL! No seriously, I'm glad I can comment again. It was frustrating while it lasted.
I've been feeling under the weather for the past two days and have now lost my voice. Been down with the flu, cough, fever, runny nose ... you know, the whole entire package. When it hits you, it hits you all at one go.
It's not good losing your voice especially when you're into client servicing. It's been a heck of a day just trying to communicate with people when no matter how hard you try, your voice comes out with nothing more than a hoarse whisper. And to make that worse, speaking on the telephone makes me sound like a pervert ... LOL!
Before I head to bed cos I'm feeling a little drowsy, I need to ask you all this question. Do you think it's proper for someone to light up a cigarette and smoke right in front of you in an enclose meeting room? Well, I for one think that it's totally inconsiderate of that person.
I met a client today and we were discussing about a print campaign when all of a sudden, he whips out a cigarette and lights up and starts puffing away without a care in the world. What made it worse was it was in a small enclosed room with no ventilation let alone windows!
I'm not a smoker, never was one and never will be. So you can imagine how pissed I was at this guys attitude. I had half a mind to walk right out of there, to hell with the job. All that smoke didn't help my sore throat one single bit. Why is it that smokers don't have any consideration for other people? Do they think I like smelling or inhaling that god awful second hand smoke that just came out from the inside of their bodies?
Well, I know for a fact that from now on I'll only be dealing with this client over the phone or through emails. I don't intend to get another barrage second hand smoke down my lungs, that's for sure. Ok, with that said and done, I bid you all a good night and for some of you, a good morning :D
And if you're wondering just what the heck my post title is all about, it really has no meaning. I couldn't think of anything better to put up there ... LOL!
.
Posted: 12 Apr 2010 07:34 AM PDT
A fellow volunteer assigned to be the buddy to Wan, an Orang Asli lady, called me recently asking if there'd be any sort of financial assistance to Wan. The volunteer had just met up with Wan and found that her condition was so bad, she was begging for help. Without a job, staying in a real ulu kampong not accessible by car, and a 10 year old son depending on her, Wan was quite desperate.
Her son is already covered by our CEF for his educational needs. But CEF is paid based on claims – not on monthly basis. For our Sponsorship programme (which also includes monthly pocket money), our procedure is that at least 2 other buddies must visit the PLHIVs at their homes to assess their situation.
But if we follow that procedure strictly, I can't be too sure when Wan's son, Asri, can be considered for sponsorship. With a house in an ulu Orang Asli kampong that is not accessible by car, I figured in situations like these, "budibicara" needs to be used. After discussing the matter unofficially with my vice-chair, we decided to just proceed with the matter and rectify later at the next Board meeting.
So this time I used my FB account to highlight the matter and within a few days, I got a sponsor for Asri. Alhamdulillah.
Meanwhile, I got the volunteer to get all the necessary info on the boy. And today she called me up, not just with some info on the boy, but also with some good news. The good news is, Wan finally managed to get herself a job, at a kedai jahit, with a pay of RM16 a day. At least now she has some income to buy food for herself and her son. Only thing is, the shop where she works is in town. Although the kampong where she stays is in the same town, commuting from her ulu kampong to town is not easy unless she has a motorbike.
So Wan is renting a small house in town together with a few other Orang Asli ladies. Her son is left under the care of a relative and Wan would "balik kampong" during the weekends.
On another note, remember Fiza, Sofie's sis-in-law who needed help? Since Fiza is not HIV infected/affected, I couldn't apply any of the Buddies funds to help her out. Well, members of a certain alumni with their own charity fund had approached me recently to ask if I could give them some leads as to where they could expand their charity drive. I suggested Fiza's family and they agreed. I have been asked to get more details on her. Only problem is, the last time I met Fiza, she couldn't even tell me the exact address of her rented house (she couldn't even remember her own MyKad number!). She did give me a phone number, but the last I heard, she was desperate for money, she sold her phone for RM20. So I couldn't call her.
Coincidentally today Sofie called me up. She's thinking of moving house earlier than she had initially planned. Her new neighbor (who's also her landlord's younger brother) has been making Sofie's family feeling somewhat unwanted. He has been building all sorts of barriers between his house and the house Sofie is staying in. Maybe he heard about her HIV and so those barriers are to avoid the virus from spreading to his house???!!
Anyway, Sofie plans to move to the same town as Fiza. She wants to start her small business of selling kuih as soon as possible and she wants to start afresh at a new town. The town where Fiza is staying is perfect as it is not too far from the town where she is currently staying. In the event that she is not able to arrange for the transfer of her children's schools that soon, they can at least still commute to their present school by bus.
When Sofie said she wants to look around for a house at that town within these next few days, I thought it would be a good opportunity to visit Fiza's family. So I volunteered to fetch Sofie at her house and bring her around to find a suitable house, but after that Sofie will have to show me the way to Fiza's house. Sofie agreed.
The earlier I can get details to be passed to the alumni wanting to help to Fiza's family, the better. InsyaAllah we (Sofie & myself) will be visiting them this Friday afternoon. And I can bet Sofie's children, Saiful and Ika will be tagging along as well…
Keluarga Teoh Akan Fail Usul Hina Mahkamah Oleh Nazri
Posted: 12 Apr 2010 06:55 AM PDT
K
eluarga mendiang Teoh Beng Hock mungkin mengambil tindakan lanjut dengan memfailkan usul menghina mahkamah ke atas Menteri di Jabatan Perdana Menteri Nazri Aziz selepas menyifatkan keterangan Dr Pornthip Rojanasunand sebagai 'berbohong'.
Ahli Parlimen Segambut, Lim Lip Eng yang juga peguam untuk keluarga Teoh berkata tindakan itu mungkin diambil pada 20 April ini apabila inkues bersambung semula.
Nazri dalam kenyataan semalam melabelkan Dr Pornthip sebagai pembohong selepas pakar patologi Thailand itu mendakwa berdepan dengan 'tekanan politik' daripada kerajaan Malaysia berhubung pembabitannya dengan inkues itu.
"Adakah Nazri mempunyai bukti bagi menyokong dakwaannya itu? Jika tidak, bukankah kenyataannya itu bersifat menghina mahkamah?" soal Lip Eng.
Ahli Parlimen DAP itu juga telah memfailkan notis mengikut Peraturan 18(2) bagi mendebatkan dakwaan Pornthip di Dewan Rakyat sebagai sesuatu yang mempunyai kepentingan umum.

"Rakyat berhak mengetahui jika ada kebenaran dalam dakwaan itu.

Mengapa dia dihalang daripada memasuki Kelantan awal tahun ini? Ancaman yang macam mana negara ini akan terdedah jika dia dibenarkan masuk? Adakah dia seorang pengganas atau perisik asing?" soalnya.

Seorang lagi peguam keluarga Teoh, Gobind Singh Deo mahu penjelasan diberi oleh Nazri ekoran mengeluarkan tuduhan sedemikian.

Malah beliau menuntut Nazri mengemukakan bukti di mahkamah kelak.

"Saya cabarnya supaya tampil jika dia mempunyai bukti bahawa Pornthip telah menipu dalam pengakuannya ketika inkues,"

"Jika Nazri gagal membuktikan tuduhan itu, kita akan bertindak.

Satu cara ialah mengenakan usul menghina mahkamah ke atas Nazri.

Kita akan putuskan tidak lama lagi menjelang 20 April ini." katanya. -FMT



Visit to Little Sister of the Poor - Home for the elderly
Posted: 12 Apr 2010 06:59 AM PDT
I visited Little Sister of the Poor, Air Itam on Sunday afternoon. Joining me are the JKKK from Air itam with a good multiracial representation. We delivered the RM100
ang pow (Penang State Governement Senior Citizens Appreciation Programme) to 47 senior citizens. We hosted a lunch and this in line with our spirit to care for the elderly, weak and infirm.
Counter
Data
.com
credit cards
Counter
Stephen Tong's Evangelistic Rally In Sibu (唐崇栄佈道會) - Part4
Posted: 12 Apr 2010 06:54 AM PDT
Posted: 12 Apr 2010 06:38 AM PDT
All the pictures are obtained from GOOGLE search and may be subject to copy rights. As I am not using these pictures for my profits (commercial use) but for the benefits of friends and public,  I hope no one would object the usage. If any objection, please kindly contact me, I will remove accordingly. As I have connected to the source, viewers could trace and appreciate the original owner of the pictures. TQ all.
Please kindly go to the following web pages_
Stephen Tong's Evangelistic Rally In Sibu (唐崇栄佈道會) - Part3
Posted: 12 Apr 2010 06:08 AM PDT
The Working Committee of Stephen Tong's Evangelistic Rally In Sibu calls it a spiritual battle. As such, lots of prayer support is called for.
Prayer List for the evangelistic rally is out for all the prayer mates. Be part of it! Devote your daily quiet time to praying for the lost souls in Sibu. As Ephesians 6:18 says: And pray in the Spirit on all occasions with all kinds of prayers and requests. With this in mind, be alert and always keep on praying for all the Saints.
The Working Committee is enlisting 400 counselors to help out in the rally. If you are Mandarin-literate and feel burdened, step forward to offer yourself in this meaningful ministry. If you are far-away and not able to partake of the work, then just offer your prayer support.
Sultan Sharafuddin Ucap Syabas, Tahniah Kepada Kerajaan Selangor Bentuk Paradigma Baru
Posted: 12 Apr 2010 05:51 AM PDT
S
ultan Selangor, Sultan Sharafuddin Idris Shah mengucapkan syabas dan tahniah kepada kerajaan negeri yang berjaya menunjukkan pelbagai peningkatan dalam tempoh dua tahun memerintah negeri ini.
"Beta mengambil kesempatan ini untuk mengucapkan syabas dan tahniah kepada semua wakil rakyat kerana genap dua tahun selepas pilihan raya umum, semua Yang Berhormat bersemangat dalam memberi perkhidmatan terbaik," titah baginda.
Baginda juga menganggap kejayaan dalam dua tahun ini ialah prestasi tadbir urus kerajaan Selangor hingga mendapat pengiktirafan Sijil Tanpa Teguran daripada Ketua Audit Negara pada tahun lalu.
Pengiktirafan itu sekali gus meyakinkan Sultan Sharafuddin bahawa kerajaan negeri pada masa ini, dapat mentadbir Selangor dengan baik.
Titah baginda, kerajaan yang baik, telus dan bertanggungjawab yang dilaungkan kepimpinan kerajaan sekali gus membentuk paradigma baru dalam menyampaikan mesej keadilan dan kesejahteraan kepada rakyat.

Baginda turut gembira kerana kebanyakan program yang dilaksanakan oleh kerajaan negeri dapat merakyatkan ekonomi Selangor melalui pelbagai pendekatan yang dibuat.

Antaranya ialah Pakej Rangsangan Ekonomi Negeri Selangor, program SPIES, pengagihan 10 peratus keuntungan kepada mereka yang berhak, pemuliharaan dan pembangunan Sungai Klang, skim pinjaman mikrokredit, pembagunan sukan melalui Majlis Sukan Negeri Selangor dan pembangunan projek teknologi.

Baginda bertitah demikian ketika merasmikan Mesyuarat Pertama Penggal Ketiga Sidang Dewan Undangan Negeri Selangor Kali Ke-12 pagi tadi.

Sultan Sharafuddin bertitah kepada semua wakil rakyat supaya dapat memberikan khidmat terbaik selari dengan amanah yang diberikan rakyat.

"Beta berharap Dewan ini menjadi medan terbaik untuk menyelesaikan pelbagai isu melibatkan kepentingan rakyat. Mulakanlah dengan niat untuk bekerja dengan jujur, ikhlas dan betul dan berilah kerjasama yang perlu kepada pimpinan Menteri Besar, Tan Sri Datuk Abdul Khalid Ibrahim," titah baginda.

Sultan Sharafuddin turut bertitah segala bentuk isu peribadi akibat perbezaan politik perlu diketepikan untuk rakyat kerana mahu melihat kerajaan Selangor mendapat manfaat dan menjalankan amanah rakyat dengan cekap dan lancar.

"Beta sedar dalam politik tidak mungkin ada 100 peratus persetujuan dan memang diakui bahawa amalan check and balance perlu bagi memastikan semua kepentingan diteliti. Beta mahu semua pihak melaksanakan sistem yang ada atas landasan amanah dan bukan isu peribadi akibat perbezaan politik," titah baginda lagi.



Update photos of Mohd Shafi @ Nay Min Aung and Aisha Bi Bi @ A Kari Soe Min's wedding
Posted: 12 Apr 2010 05:45 AM PDT
Click to view slideshow.
[gallery link="file" order="DESC"]
Posted: 12 Apr 2010 03:51 AM PDT
I just arrived from Sabah last night. After 4 days in paradise I came back home wondering how could I live breathing this air? If I don't tell myself to get a grip I would probably just quit my job and move to KK and sell pearl earrings for living.
Because Sabah is way too cool. Damn nice place. I love it. I don't understand the language; but I love it.
Going to Sabah again after the first time was my idea. Azman had asked what I wanted to my birthday and most wives would answer a bag but I said it has to be the Land Below the Wind. I told him I wanted to go here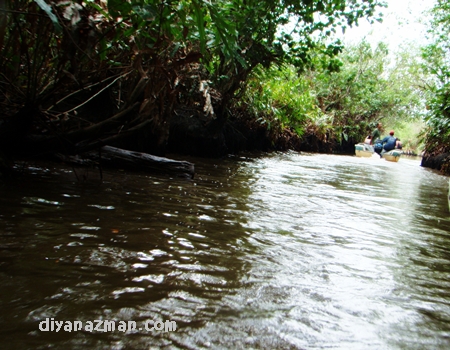 And see this place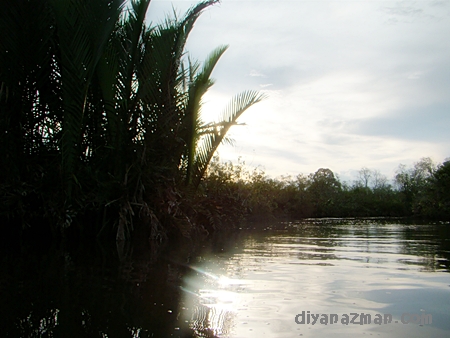 And watch the sunset with that guy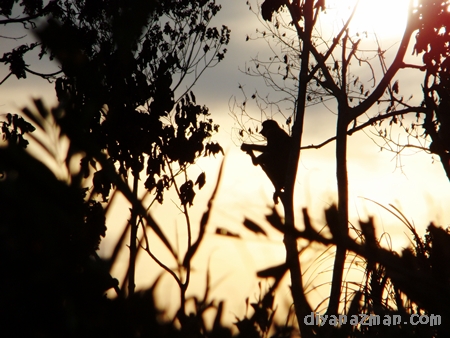 And do my thang like this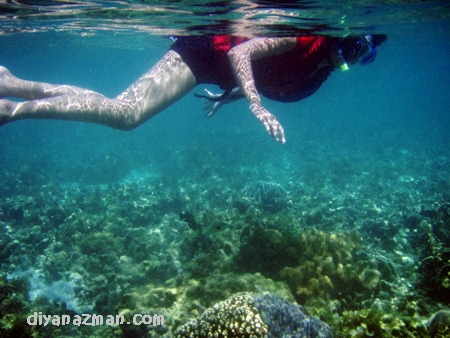 So I am weird ok? You happy?
And it was a blast. We arrived in Sabah on Thursday, had a very nice Sabahan dinner, Friday we went on river cruise to see amazing wildlife, Saturday we went to Manutik island off KK and I went snorkeling for the first time in my life with our friends, and Sunday was spent shopping.
I really enjoyed myself, thanks Azman for the treat and for taking my mom along in my birthday trip. My mom has never gotten a chance to go to Sabah, so thanks for making her wish come true. Yeay!
Anyway, although I am a girl from the Penang (kampong hanya Tuhan membalas) island. The one thing that I cannot tahan in Sabah's sunny heat. (tu diahhh dalam thank you-thank you ada jugak nak komplen tuuu!)
After we came back from hanging out at the beach on the beautiful island, Azman and I both are sunburned and our skin felt very sore. If you look at Azman's body you can see the color difference from the exposed skin and the parts covered by his clothing. He looks like a zebra! Stripedey. Tan and red. Macam udang harimau pun ada. Yang jual kat pasar malam Filipino tu! Yummeh!

Sunburn on me on the other hand, doesn't make much visual effect. Because ebony put next to charcoal you would see any difference. Tak paham ke? Maksudnya aku ni hitam, mengong! (tapi chantek kan? Kan?) Buek muntah darah sebakul!
Anyway, it was also very tiring, partly because of all the activities but mostly in dealing with super hyper Miki. I will dedicate a blog post just for him, my smart lil cheeky monkey. And I am gonna write individual posts on the activities. Mean time I need to go apply more toner anti aging cream on my face. I am 28. And still blogging.
Malaysiakini: "H1N1 outbreak" Survelliance system to be strengthened
Posted: 12 Apr 2010 03:34 AM PDT
Malaysiakini: "H1N1 outbreak" Survelliance system to be strengthened
The Health Ministry will strenghten its public survelliance system and awareness campaign in efforts to contain the re-surfacing of the Influenza A (H1N1) outbreak.
Minister Liow Tiong Lai said today that the ministry's technical committee would hold a meeting with relevant agencies and bodies on the preventive measures.
The meeting, to be held by Wednesday. would be chaired by Health Director-General Dr Ismail Merican.
"The most important thing now is the mitigation stage. We will continue with treatment.
"Spreading awareness among the public on the importance of maintaining personal hygience is very important," he told reporters after opening the Healthcare Tourism Congress 2010 in Kuala Lumpur today.
He added that Malaysia is still placed under the high alert category of level 6, which is the pandemic stage, in line with the alert level raised by World Health Organisation (WHO) following the outbreak last year.
On another developement, Liow said the vaccination stock was still sufficient at about 400,000 doses and the number of high-risk groups who had come forward to get the Tamiflu jabs was also increasing.
To date, 651 people had been warded with influenza-like illness (ILI) with 85 testing positive for A(H1N1).
- Bernama
Malaysiakini: Conditions relaxed for returning docs to do Gov't service
Posted: 12 Apr 2010 03:31 AM PDT
Malaysiakini: Conditions relaxed for returning docs to do Gov't service
The government is set to lure home more Malaysian doctors and specialists with more than 10 years experience abroad by exempting them for the compulsory three years service in public hospitals.
Health Minister Liow Tiong Lai said the programme, which was approved by the cabinet last week, would only be open to those who had self-funded their studies.
He said details of the programme would be announced soon and it was expected to be implemented this year.
"With the extensive planning and effort to strengthen medical tourism, it is time for us to lure them home. We hope they can come back and serve the country.
"We are increasing the facility in the private sector. There is big potential for them here," he told reporters after opening the Healthcare Tourism Congress 2010 in Kuala Lumpur today.
He said that to date, some 100 Malaysian doctors had returned from abroad under the various brain-gain programmes.
On another matter, Liow said Health Director-General Dr Ismail Merican had been instructed to look into the long-standing issue of restricting doctors from advertising their services in the media.
"I recognise this problem. We feel there is a need to liberalise on this and to allow doctors to advertise their services," he said.
He added that if this was allowed, doctors would have to follow strict guidelines which included disallowing them to do comparison with other doctors.
On health tourism, Liow said the Malaysian Healthcare Travel Council (MHTC), which was launched last year, had actively embarked on several programmes promoting Malaysia as the preferred healthcare destination.
He said that from the traditional markets like Singapore and Indonesia, Malaysia was now targeting medical tourists from Brunei, Europe, Australia and the United States, as well as developing Asean countries like Loas and Cambodia.
Medical tourism was also poised to become one of the major revenue earners for the country to spur it towards its high-income economy ambition, he added.
He said that private hospitals' revenue in the country grew from RM58.9 million with around 103,000 medical tourists in 2003 to RM299.1 million in 2008 with around 374,000 medical tourists and the arrival of medical tourists for this year was expected to rise to another 30 per cent.
- Bernama
Malaysiakini: DSAI, " 'Fourth wave' of Asian democracy"
Posted: 12 Apr 2010 03:28 AM PDT
Malaysiakini: DSAI, " 'Fourth wave' of Asian democracy"
Terence Netto
Anwar Ibrahim blended themes he has consistently been propounding in international forums in recent years by describing parts of Asia as in the throes of a "fourth wave of democratisation" in a speech in Jakarta yesterday.
Addressing the sixth assembly of the World Movement for Democracy in the Indonesian capital, Anwar traced the beginnings of the stirring for democracy in Asian countries to the poem,
'The Epic of Sheik Bedreddin' by Turkish poet Nazim Hikmet in 1938, which is said to have fired the Turkish people's quest for freedom from Kemalist (after Mustapha Kemal, founder of the modern Turkish state) autocracy.

The Malaysian opposition leader admitted that this was a rather arbitrary choice for the start of the democratic movement in Asia. But he claimed that the poem fired Muslim, Christian and Jewish Turks to rise in support of democracy in their country.

Clearly, Anwar was on to a wellspring of democratic inspiration that had multicultural potency.
Hence he was not trying to slight the impetus provided for democracy and freedom in Asian countries by
the struggles of the slain Jose Rizal in the Philippines in the late 19th century,

by Sun Yat Sen in China in the early 20th century

and Mohandas Gandhi in India in the third decade of the last century.
But those three progenitors of freedom for their countries were essentially in a fight against colonial rule.
The neo-colonialism that was imposed by local replacements after the colonial powers had departed was the bitter experience of some Asian countries after independence was gained.
Thus an eclectic Anwar was on to a slightly different stream of inspiration where the spark for the democratic struggle is provided by someone with the capacity to forge solidarity across racial and religious lines.
The second, third and fourth wave
But he did not restrict his arc of inspirational reference to someone with only multi-cultural ballast.
Although he did not mention South Korea's Kim Dae Jung by name, he cited that country's struggle, led by Kim, to free itself from military dictatorship.

He said Korea's successful struggle represented an eschewal of the argument that its Confucian mores placed communitarian ideals and prosperity above the individual liberty that a democracy valued.
Anwar was targeting the old 'Asian values' mantra, employed by autocratic leaders who clothed their authoritarianism in a mantle that scorned democracy as a western construct and held the continent's filial piety as somehow in conflict with libertarianism.

Anwar said he saw no conflict between values dear to Asian hearts and the features prized in a democracy – rule of law, free and fair elections, latitude for dissent, and an impartial judiciary.

Obviously, this was the second wave of democracy in Asia. The third wave was the movements that got rid of Marcos regime in the Philippines and the Suharto dictatorship in Indonesia.

The fourth wave of Anwar's coinage was the democracy he said he saw in Indonesia under its present leader, President Bambang Yudhoyono.
"I was in Surabaya in late January when I saw the news on television about the thousands of people protesting in the streets of Jakarta against President Yudhoyono.
"But he did not order troops to fire water cannon on the protesters or to use tear gas to break them up because in his words, 'democracy means expressing opinions, thoughts, and criticism.'

"And he advised the people to uphold the law and obey the constitution. So the Fourth Wave might well find its epicenter here in Indonesia," claimed Anwar.
Democracy and Islam not incompatible
Anwar reiterated an argument he has often espoused – that democracy and Islam are not, as skeptics suggest, incompatible.
Once again he held aloft the 'maqasid shariah', the higher objectives of the divine law, a 12th century promulgation by an Islamic thinker that Anwar said was a precursor of the European Enlightenment.
"In fact, not just freedom, but the same crucial elements in a constitutional democracy become moral imperatives in Islam – the freedom of conscience, freedom to speak out against tyranny, sanctity of life and right to property, gender equality and a call to reform," propounded Anwar.
After expatiating on the protection of minorities as a crucial plank of democratic governance, Anwar brought his initial salutation to Nazim Hikmet to a final summation of his overall themes:
"We can make diversity in culture and religion a source of strength and richness, and the shared history of oppression and political enslavement, a further impetus to solidarity. The flame that fires the passion for freedom and democracy must not be left to flicker, let alone die out.
"To keep it burning, we must remain resolute in our conviction to fight for freedom and democracy and defend it courage, honour and dignity."
Hebat Sangatkah Pertemuan Obama Najib Seperti Digembar-gemburkan?
Posted: 12 Apr 2010 02:54 AM PDT
K
etua Angkatan Muda Keadilan, Shamsul Iskandar Mohd Akin yakin pertemuan Perdana Menteri (PM) Najib Razak dan Presiden Amerika, Barack Obama kerana salah satu perjanjian yang telah ditandatangani bersama Apco sebelum ini.
"Dalam perjanjian Apco yang telah ditandatangani antara lain adalah untuk memulihkan hubungan antara Amarika dan Malaysia.
"Jika benar pertemuan itu untuk kepentingan negara,
kita minta Najib mendedahkan butiran perbincangannya bersama Obama semasa pertemuan itu nanti
," kata Shamsul kepada erapakatan.com.
Bagi beliau tiada sebab mengapa pertemuan Najib dan Obama itu perlu diagung-agungkan.
"Pertemuan itu setelah setahun lebih Najib menjadi PM. Kita hairan mengapa Najib mengambil masa yang agak lama untuk mengadakan pertemuan tersebut," kata Shamsul lagi.

Menurut Shamsul, pertemuan Najib dan Obama telah menjadi bukti kaitannya dengan Apco sepertimana yang didedahkan oleh Ketua Pembangkang, Datuk Seri Anwar Ibrahim.

"Najib boleh jawab secara menyeluruh mengenai Apco namun dia langsung tidak boleh menjawab segala bukti-bukti yang telah didedahkan oleh Anwar," kata beliau.

Pertemuan itu juga dilihat sebagai satu strategi menaikkan nama Najib yang semakin retak di mata dunia.

"Sudah pasti Obama akan membangkitkan pelbagai isu seperti enjin jet yang hilang, kes Anwar dan masalah rasuah serta penyelewengan yang berlaku di Malaysia.

Pertemuan Najib-Obama akan berlangsung sejurus sebelum Sidang Kemuncak Keselamatan Nuklear bermula. -erapakatan