---
Kapar MP names 'corrupt' S'gor officials in police report
Posted: 12 May 2010 09:57 AM PDT
Kapar MP S Manikavasagam today
identified 
three top officers
in Selangor-owned company whom he alleged were involved in illegal sand mining operations 
in Selangor-owned Kuala Semesta Sdn Bhd (KSSB). The trio named by Manikavasagam were KSSB chairperson Abdul Shukor Nagor, chief executive officer Ramli Abd Majed and marketing manager Wong Swee Leong.
In a police report that
was lodged by
Manikavasagam
at the Klang district police headquarters, following his meeting with Selangor Menteri Besar Khalid Ibrahim,
the three were alleged to be responsible for losses of RM10 million due to mismanagement and that they had issued permits to illegal sand miners.
Kes Anwar-Saiful, Amat Jelas Ia Satu Konspirasi
Posted: 12 May 2010 09:48 AM PDT
K
etua Angkatan Muda KEADILAN, Shamsul Iskandar Mohd Akin menggesa Peguam Negara, Tan Sri Abdul Gani Patail supaya menggugurkan pertuduhan terhadap Ketua Umum KEADILAN, Datuk Seri Anwar Ibrahim atas pertuduhan berniat jahat dan bersifat fitnah yang dihadapi beliau.
Shamsul berkata sepanjang perbicaraan soalbalas Mohd Saiful Bukhari Azlan di Mahkamah Tinggi, jelas terdapat percanggahan keterangan yang diberikan oleh saksi utama tersebut yang juga pengadu dalam kes itu.
"Pertuduhan ini sangat jelas di mana pengadu dalam kes ini tidak boleh mengelirukan mahkamah dengan membuat keterangan yang bercanggah.
"Ini kerana dalam laporan polis diketahui Saiful mengadu diliwat secara suka sama suka tetapi keterangan kemudiannya menjurus kepada dipaksa atau tanpa kerelaan.
Jadi keterangan ini ternyata bercanggah," tegas beliau kepada Suara Keadilan.
Menurut Shamsul, Peguam Negara mempunyai kuasa untuk menarik balik pertuduhan ke atas Anwar berdasarkan keterangan yang jelas bercanggah sekiranya beliau berpandu kepada prinsip undang-undang.

"Kuasa yang ada pada pihak Peguam Negara, pendakwaraya dan hakim tidak boleh digunakan sesuka hati. Pra syarat asas bagi perbicaraan yang adil ialah hakim yang adil, peguam dan pendakwaraya yang adil.

"Ini membuktikan kes ini adalah satu fitnah dan konspirasi peringkat tertinggi. Ini kita melihat pendekatan pendakwaan yang berbeza diambil dalam kes melibatkan Anwar.

Tambah beliau, keterangan Saiful bahawa beliau bertemu dengan pegawai penyiasat ACP Mohd Rodwan Yusof, berjumpa Perdana Menteri Datuk Seri Najib Razak, bertemu Senator Ezam Mohd Nor serta menghubungi Ketua Polis Negara, Tan Sri Musa Hassan mengukuhkan bukti wujudnya konspirasi peringkat tertinggi dalam kes itu.

Ini kerana hampir kesemua mereka terlibat dalam pendakwaan dan konspirasi pertama terhadap Anwar pada 1999.

"Kesemua mereka ini mendapat habuan politik, dinaikkan pangkat termasuk Ezam dilantik sebagai Senator yang jelas membuktikan kes ini merupakan satu konspirasi tertinggi dalam politik negara bagi menamatkan karier politik Anwar.," kata Shamsul lagi.

"Kuasa yang ada kepada Peguam Negara bukan mutlak, ia adalah kuasa yang perlu dipandu undang-undang. Justeru kita mendesak Peguam Negara menarik balik pendakwaan berlandaskan undang-undang," kata Shamsul lagi.

Jelas beliau lagi, Anwar bukan sahaja dinafikan hak untuk mendapatkan perbicaraan yang adil termasuk mendapatkan senarai saksi daripada pendakwaraya, malah dinafikan mendapat hak sewajarnya mengikut perundangan syariah apabila memfailkan pertuduhan qazaf terhadap Saiful.

"Sekiranya Datuk Seri Anwar dibenarkan untuk melalui proses di mahkamah syariah sudah pasti kes ini dibuang dan Anwar mendapat keadilan tetapi kes qazaf tersebut juga dinafikan terhadapa beliau," kata beliau.

Shamsul menggesa rakyat dan semua pihak termasuk pertubuhan bukan kerajaan (NGO) supaya menzahirkan sikap mereka terhadap apa yang berlaku di mahkamah hari ini.

Hakim Mahkamah Tinggi Kuala Lumpur hari ini menolak permohonan peguam, Karpal Singh untuk mendapatkan kenyataan beramaran daripada Saiful yang diberikannya kepada pihak polis yang menjurus kepada aduan beliau diliwat secara paksa.

Pihak peguam bertegas bahawa Saiful dalam kenyataannya kepada polis menyatakan kejadian liwat yang didakwa itu berlaku tanpa kerelaannya manakala pihak pendakwaan pula menuduh Anwar mengikut Seksyen 377B Kanun Keseksaan iaitu melakukan hubungan seksual secara sukarela.

Bagaimanapun, dalam penghakimannya, Mohd Zabidin memutuskan walaupun terdapat perbezaan antara keterangan Saiful dengan pertuduhan yang dihadapi Anwar, ia tidak boleh dijadikan asas bagi membolehkan kenyataan Saiful yang diberikan kepada polis, diserahkan kepada peguambela berdasarkan Seksyen 145 Akta Keterangan atau prosiding mencabar kesahihan di bawah Seksyen 155. -SK


Are you ready for the 2010 FIFA World Cup? Astro offering 12 channels wor
Posted: 12 May 2010 09:26 AM PDT
In exactly a month from today, Astro sports customers can experience the 2010 FIFA World Cup via twelve exclusive channels, including ten dedicated channels where 64 matches will be brought live in both High Definition (HD) and Standard Definition (SD).
Subscribers can also log on to
www.astro.com.my/stadiumastro
to enjoy the live video streaming of all the 64 matches. For non-subscribers, log on to
www.astro.com.my
or call
1 300 82 3838
now to register. Besides that, Maxis customers can also enjoy the matches on their mobile via the B.player application. Though the application is available for free via Astro B.yond, normal telco charges still apply and it's only available through the 3G network.
In addition to the ten channels, selected matches will also be made available on Astro's two other channels – Astro Arena (Channel 801) in Bahasa Malaysia commentary and Astro Wah Lai Toi (Channel 311) in Cantonese commentary.
Campaigning in Sibu By-Election
Posted: 12 May 2010 08:20 AM PDT
First day - arrive at Sibu Airport 4pm.
Participate in Tua Peh Kong Procession with Candidate Wong Ho Leng and other DAP leaders including Sdr Lim Kit Siang, Sdr Liew Chin Tong, Sdr Koid Teng Guan.
Counter
Data
.com
credit cards
Counter
Campaigning in Sibu By-Election
Posted: 12 May 2010 08:20 AM PDT
First day - arrive at Sibu Airport 4pm.
Participate in Tua Peh Kong Procession with Candidate Wong Ho Leng and other DAP leaders including Sdr Lim Kit Siang, Sdr Liew Chin Tong, Sdr Koid Teng Guan.
Counter
Data
.com
credit cards
Counter
BN playing dirty, growls election watchdog, SEW. So what else is NEW???
Posted: 12 May 2010 08:12 AM PDT
A local election monitoring NGO claims that the ruling coalition is blatantly throwing around money to secure support in Sibu.
Barisan Nasional is going the unscrupulous route by dangling multi-million ringgit 'carrots' in front of the Sibu's electorate in the run up to the constituency's parliamentary by-election this Saturday, said an NGO,
Sibu Election Watch (SEW).
SEW coordinator Wong Meng Chuo
claimed that the ruling coalition is using government-sanctioned functions to buy votes and is wantonly abusing government machinery and allocations and
told a press conference in Sibu today
,
"They have used their official position to host various functions and give out allocations. This is tantamount to the offence of bribery under the Elections Act."
Tail of the Tiger golf balls: The Mistress Collection! www.tailofthetiger.com
Posted: 12 May 2010 09:31 AM PDT
Posted: 12 May 2010 07:25 AM PDT
RThis is one helluva of a tank, an Israeli one at that. We can only look at them, no way Malaysia will buy them, as there alot of anti semtic asses in the government. They will buy crappy
APCs' from Turkey
, the technology is
of the M113
, way back technology from the 60's. Since when did Turkey become a leader in armour technology? They want it for two purposed only, becoz Turkey is considered Islamic and the fact that they can make money,
just like the money they pocketed in the deal for the Scorpenes.
Here is a clip on the Merkava 4, it can carry Infantry too. Our Polish tanks, are ancient compared to the Merkava!
Continued here until Part 3
. This is on the APAM rounds.
This posting includes an audio/video/photo media file: Download Now
Posted: 12 May 2010 06:16 AM PDT
For those who have never been to Dubai, I'm just going to humour you with some information about it. Who knows... you might drop by some day!
Dubai is the one of the largest cities in United Arab Emirates (UAE) after Abu Dhabi. Generally, most people here are International people (from South Africa, Britain, African countriesm , US, India, Pakistan, South-East Asian, and the list goes on..). So it really feels like you're in UK sometimes, except for the weather! Ha ha. It could get really hot in summer (they say up to 50 degrees.. ayark!!!).
So, if you still remember, I'm the type of person who just simply love outdoors and traveling! Thus, I've sort of have my holiday plans lined up before me ;)
1) Muscat - road trip. It's only 4 hours away (driving) from Dubai
2) Cairo - I'm dying to see the pyramids
3) Doha
4) Europe! Again? :p hehehe.. okay, maybe Spain now..
5) Istanbul not Constantinapole.. I kinda like the song.
You know what, I won't list places I want to go.. cos it will take hours! :p
Cameron PM Baru Britain, Petunjuk Baru Untuk PR Ke Putrajaya
Posted: 12 May 2010 06:07 AM PDT
D
avid Cameron mengetuai Parti Konservatif untuk kembali mentadbir Britain selepas 13 tahun, awal pagi ini, tetapi Perdana Menteri baru itu masih perlu memuktamadkan gabungan bersama Liberal Demokrat bagi membentuk kerajaan.
Ini berikutan Gordon Brown meletakkan jawatan sebelum itu yang menyaksikan saat dramatik dalam politik Britian.
Parti Buruh pimpinannya menguasai pemerintahan Britain sejak 1997 dengan Perdana Menteri pertama ialah Tony Blair sebelum diambil alih oleh Brown.
Cameron menjadi Perdana Menteri selepas Konservatif memenangi banyak kerusi pada pilihan raya Parlimen, minggu lalu tetapi gagal memenangi majoriti, manakala Parti Buruh kedua dan Liberal Demokrat ketiga.
Dalam ucapan sulungnya sebagai Perdana Menteri, Cameron, 43, berkata matlamatnya untuk membentuk kerajaan campuran pertama di Britain sejak 1945.

Bagaimanapun bentuk kerajaan campuran itu masih tidak jelas kerana Parti Liberal Demokrat masih belum memberi kata putus mengenai tawaran Konservatif bagi bersamanya dalam kerajaan.

"Ia tentunya satu keadaan yang sulit dan sukar. Kerajaan campuran tentunya akan berdepan dengan banyak cabaran.

"Namun saya percaya, kami akan membentuk satu pakatan yang kuat dan stabil dalam kerajaan yang diperlukan negara ini," katanya ditemani isterinya yang sarat mengandung, Samantha.

Apa yang pasti, Cameron muncul sebagai Perdana Menteri paling muda di Britain sejak kira-kira 200 tahun.

Antara cabaran pertamanya ialah bagaimana untuk mengurangkan bajet defisit Britain ketika ini selain menangani kemelesetan ekonomi. - Reuters

Ulasan GB

Kemenangan parti pimpinan Cameron memberi harapan baru kepada rakyat Britain, dan juga Pakatan Rakyat di Malaysia.

Sebagai sebuah negara komanwel, Malaysia sepastinya turut terkena tempias perubahan lanskap politik Britain.

Pakatan Rakyat sebelum ini sukar untuk menafikan majoriti 2/3 kerajaan BN, namun segala-galanya berubah pada pilihanraya 2008 dimana impian itu menjadi realiti.

Dan kini, hasrat PR ke Putrajaya... masih dalam impian, dan segera menjadi realiti jika kita meyakininya sekalipun dihalang dengan pelbagai cara yang tidak demokratik seperti memperkudakan institusi polis, kehakiman dan sebagainya.

Namun, bak kata TGNA, air dari gunung, siapa bisa menahannya untuk mengalir? Atau kamu kelak akan tercampak dek aliran air deras itu. Demikian siapa berani menahan arus kebangkitan rakyat yang telah muak dan mual dengan pemerintahan kerajaan BN yang ternyata gagal menangani masalah rasuah, jenayah, kronsme dan lain-lain penyakit kronik yang kini sedang dan akan menghantar UMNO dan BN ke lembah kehancuran!

Peralihan kuasa di Britain adalah fajar baru yang sedang menyinsing, yang akan dituruti dengan peralihan kuasa di negara-negara komanwel termasuk Malaysia. Satu kerajaan baru, pakatan dari PAS-PKR-DAP akan terbentuk, dengan izin Allah, tidak lama dari sekarang.


Posted: 12 May 2010 08:15 AM PDT
I think DAP made a huge mistake by playing up religion issue in Sibu election. Oh my God. Please lah, there are many other ''rakyat real issues'' they can play, i.e: development, Bintulu-Sibu highway, etc. But not religion, that ''Allah'' thingy.

Aiyooo......if I were the Sibu voters, I think I will vote for BN, whether I like it or not. But have to. This is not our problem, that is ''oversea'' problem. I don't care if we have 2 systems or not. I DON'T CARE, BECAUSE I LOVE SARAWAK. FULL STOP. AS LONG AS NOBODY DISTURB US.

I want to tell you something, here and there, is DIFFERENT. What we as the Sarawakian wanted is different from what over the South China Sea's people wanted. We want economic and job opportunities,

EQUAL DEVELOPMENT

and land rights.

Munyi ko jaku urang tuai, kami urang sarawak sigi enggai begulai enggau perintah seberai. Kami sigi ari suba deka bisi perintah diri empu, udah betaun kami dikerakar perintah laut seberai.

p/s: bodoh punya DAP.
DAP is digging their own grave.
*updated*: I'm still non-partisan. Although I sound like supporting BN, but I'm not supporting BN either.
Resolusi MCA Selangor: Keadilan Untuk Beng Hock, Siasat Kes Rasuah!
Posted: 12 May 2010 05:46 AM PDT
K
erajaan pusat seharusnya mempercepatkan penyiasatan terhadap kes kematian Teoh Beng Hock, agar menegakkan keadilan untuk mendiang dan keluarganya. Di samping itu, kerajaan pusat juga harus memberi penjelasan kepada rakyat, dalam kes "banglow mewah Khir Toyo".
Demikianlah antara resolusi yang diluluskan dalam mesyuarat Jawatankuasa Perhubungan MCA Selangor kedua, yang diadakan di Jenjarom pada malam 8 Mei 2010. Pengerusinya, yang juga Naib Presiden MCA Pusat, Donald Lim Siang Chai (gambar kiri) memaklumkan keputusan mesyuarat kepada Oriental Daily, yang menyiarkan berita ini pada hari ini.
Donald Lim berkata, seandainya kerajaan gagal memberi penjelasan kepada rakyat dalam isu rasuah, maka ia akan memberi kesan kepada pilihan raya umum yang akan datang. Oleh yang demikian, Donald Lim mendesak agar kes Zon Bebas Pelabuhan Klang (PKFZ) juga didedahkan kebenarannya dalam masa sesingkat mungkin.
Selain isu kematian Teoh Beng Hock, Setiausaha Politik Exco Selangor yang dijumpa mati di bangunan Suruhanjaya Pencegah Rasuah Malaysia (SPRM), dan banglow mewah yang dimiliki bekas Menteri Besar Selangor, Khir Toyo, mesyuarat Jawatankuasa Perhubungan MCA Selangor juga menggesa agar kerajaan pusat mengotakan janjinya terhadap masyarakat Cina ketika PRU ke-12, pada tahun 2008.

Donald Lim menyeru agar kerajaan pusat bekerjasama dengan kerajaan Pakatan Rakyat negeri Selangor, untuk menyelesaikan isu pembinaan dan perpindahan sekolah rendah jenis kebangsaan Cina, lantas mengatasi masalah kesesakan dalam sekolah Cina yang dihadapi pada hari ini. -MR


Posted: 12 May 2010 05:44 AM PDT
一如乌雪补选一样,首相纳吉昨天在诗巫拉票时再度向诗巫的华社大抛银弹,拨款1800万令吉给诗巫区内华小和独中及教会学校,并希望诗巫选民能够给予回报,在补选中投票支持国阵候选人刘会耀。1800万令吉的数额比起乌雪补选拨给华校的750万令吉总拨款(叻思华小300万+新古毛竞明华小150万+武吉柏伦东华小300万)还要高出200巴仙。在乌雪,纳吉是先承诺胜选之后在24小时之内兑现300万令吉拨款给竞明华小。这次首相带来1800万令吉支票的拨款。纳吉此举显然要以银弹攻势争取华裔选民的支持。纳吉也抨击安华当教育部长不比他开明,因为纳吉出任教长时修改教育法令。只是,华裔选民吃这一套吗?华社要求的不是一两百万、甚至是一两千万的拨款,而是制度性的拨款。民联的政策不是安华一个人决定,更和安华的过去没有关系。民联的政策和华社的意愿是一致的,那就是不管有没有补选、不管有没有大选,
The Coptic Monastery of Saint Anthony
Posted: 12 May 2010 04:43 AM PDT
Father Maximous el-Antony guides us through the Monastery of Saint Anthony in Egypt, founded in 356AD and one of the oldest monasteries still active today - and tells us more about its past and the current restoration works. Today Saint Anthony's Monastery is a beautiful self-contained village with gardens, a mill, a bakery and five churches, the most famous of which is St. Anthony's Church. Egypt's monasteries are experiencing a revival, and the monk population of St. Anthony's has grown considerably in recent years. For more information about the current reconstruction works, watch the video and
read Paula Veiga's blog
.
Saint Anthony monastery is an ideal monastery, an ideal Coptic monastery. It's like a small village. The monasticism spread out of Egypt in all Europe and everywhere from here.
We are trying to do a very scientific restoration, not only for the painting, but also for the architecture. Saint Anthony church painting is the unique painting in Egypt, because the church is complete, the walls are completely covered with painting. And it gives the idea of the medieval iconography of the Coptic art.
This art was covered with white plaster. We have a chance to take down the white plaster to discover this very early paintings of sixth or seventh century.
In 2003 we started to do restoration with the Supreme Council of Antiquities for the monastery and when we worked inside this church under the floor, we discovered very, very early monastic cell and another church from sixth century.
This is the service room, where we have the covered stone floor and the stone is there from the mountain. And there we have the oven, this is the last oven, where they made the bread. And then here we can find Coptic inscription written on the plaster. It is very interesting here to see in the inner room how there's a small pot inside still in the good condition, we can see.
What's interesting here for this excavation – it was a big challenge, because the excavation is inside the used church. This is ideal excavation project to let the people think about how we can excavate and at the same time display for the visitors in the protected way.
Saint Anthony died in 356 here and he was buried here in the monastery, but we don't know exactly where he is. Now in our process to discover the tomb of Saint Anthony we discovered another structure under the church of Saint Anthony, the entrance is from this church. And we are waiting now to just to have time to continue our excavation. Maybe, we hope we will discover the tomb of Saint Anthony under the altar of Saint Anthony.
Source
This posting includes an audio/video/photo media file: Download Now
Army's role: A reminder to politicians by Lt Col (Rtd) Mohd Idris Hassan
Posted: 12 May 2010 04:38 AM PDT
The Colonel tells off the politicians.

I REFER to the report "Azhar to face rights committee" (NST, May 7).
It was reported that Penang apposition leader Datuk Azhar Ibrahim had said the words "May 13" and "bawa masuk tentera" (bring in the army) as Penang Chief Minister Lim Guan Eng was winding up the debate on the motion of thanks to Yang di-Pertua Negeri Tun Abdul Rahman Abbas' address.
Politicians should be more responsible when they speak.
It is sad that after more than 40 years, this painful chapter among the races is once again raised, dragging with it the good name of the army.
I would like to remind politicians on both sides of the political divide that no individual or party can "bawa masuk tentera" or "dapat sokongan tentera" (get the support of the army) at his whim and fancy.
The loyalty and obedience of the army will always be to the king and the government, with whom it will cooperate to the fullest in the discharge of its duties.
Our men in blue, too, are better trained to deal with any public-order problem.
It is thus unbecoming and naughty of politicians to use words such as "May 13" and "bawa masuk tentera" in the same breath. It gives the perception that the army will act with impunity in public-order and crime-prevention situations, should it be involved.
This is not true and, given the lessons of hindsight, we have all become wiser.
Having spent a number of years in the National Security Council in the Prime Minister's Department, I am aware the government has, over the years, put into effect checks and measures to prevent any untoward incident that may affect our national security.
The public, too, is well read and more cautious.
People do not give in to emotions, no matter how sensitive or explosive the situation may be.
I would like to believe that the reactions after the "cow head" and "boar head" incidents, together with the attempted arson of churches and mosques recently, have proven that we are now a mature and level-headed society and that we will not act irresponsibly in the face of provocation.
Let's all get on with our lives as one people, one nation and 1Malay-sia, and help make this a great country.
The New Straits Times
Posted: 12 May 2010 04:16 AM PDT
I THOUGHT Obama was brilliant. I had posted his speeches here. Now, read this one. And am very impressed. Young and eloquent leaders... the youngest PM of Britain. Well done, sir.
DAVID CAMERON (Prime Minister elect of Britain): THE NEED OF THE HOUR
Her Majesty the Queen has asked me to form a new government, and I have accepted. Before I talk about that new government, let me say something about the one that has just passed. Compared with a decade ago, this country is more open at home, and more compassionate abroad, and that is something we should all be grateful for. And on behalf of the whole country, I'd like to pay tribute to the outgoing Prime Minister for his long record of dedicated public service.
In terms of the future, our country has a hung Parliament, where no party has an overall majority, and we have some deep and pressing problems. A huge deficit; deep social problems; and a political system in need of reform. For those reasons, I aim to form a proper and full coalition between the Conservatives and the Liberal Democrats.
I believe that is the right way to provide this country with the strong, the stable, the good, decent government that I think we need so badly.
Nick Clegg and I are both political leaders who want to put aside party differences and work hard for the common good and the national interest. I believe that is the best way to get the strong government that we need, decisive government that we need today.
I came into politics because I love this country, I think its best days still lie ahead, and I believe deeply in public service. And I think the service our country needs right now is to face up to our really big challenges, to confront our problems, to take difficult decisions, to lead people through those difficult decisions, so that together we can reach better times ahead.
One of the tasks that we clearly have is to rebuild trust in our political system. Yes, that's about cleaning up expenses, yes that's about reforming Parliament, and yes it's about making sure that people are in control, and that the politicians are always their servants, and never their masters.
But I believe it's also something else: it's about being honest about what government can achieve. Real change is not what government can do on its own; real change is when everyone pulls together, comes together, works together; when we all exercise our responsibilities to ourselves, to our families, to our communities, and to others. And I want to try to help build a more responsible society here in Britain. One where we don't just ask: "What are my entitlements," but: "What are my responsibilities?" One where we don't ask: "What am I just owed," but more: "What can I give?"
And a guide for that society, that those who can, should, and those who can't, we will always help - I want to make sure that my government always looks after the elderly, the frail, the poorest in our country. We must take everyone through us on some of the difficult decisions that we have ahead.
Above all, it will be a government that is built on some clear values, values of freedom, values of fairness, and values of responsibility. I want us to build an economy that rewards work, I want us to build a society with stronger families and stronger communities, and I want a political system that people can trust and look up to once again.
This is going to be hard and difficult work. A coalition will throw up all sorts of challenges. But I believe that together, we can provide that strong and stable government that our country needs, based on those values: rebuilding family, rebuilding community - above all building responsibility in our country. Those are the things I care about; those are the things that this government will now start work on doing.
Thank you very much.
Bagaimana Jika KPN Dan CPO Selangor Sebagai Penjenayah Yang Disyaki?
Posted: 12 May 2010 02:48 AM PDT
K
etua Polis Negara Tan Musa Hassan dan Ketua Polis Selangor Datuk Khalid Abu Bakar menolak permintaan keluarga Aminulrasyid Amzah agar kedua-dua mereka meminta maaf kerana melabelkan remaja berkenaan sebagai "penjenayah".
Ketika ditemui pemberita di sini hari ini, Musa enggan memohon maaf kepada keluarga berkenaan atas alasan "jika berbuat demikian ia akan membawa implikasi perundangan."
"Saya tidak akan menjawab, berbuat demikian akan membawa implikasi perundangan," kata Musa pada sidang media di sini.
Dalam pada itu, Khalid ketika dihubungi The Malaysian Insider mempertahankan bahawa remaja berkenaan merupakan "penjenayah yang disyaki" apabila polis mengejar kenderaan dipandu Aminulrasyid kira-kira enam kilometer.
Khalid memberitahu anggotanya mengejar kereta tersebut hanya kerana mereka disyaki sebagai "penjenayah disyaki."

"Adakah salah untuk mengatakan dia sebagai penjenayah disyaki?" kata beliau ketika dihubungi.

Bagaimanapun Khalid menafikan polis melabelkan Aminulrasyid sebagai "seorang perompak" dan istilah yang digunakan hanyalah "penjenayah disyaki."

"Kami tidak pernah mengatakan dia perompak. Pegawai-pegawai saya mengatakan bahawa mereka bertindak demikian kerana kedua-dua remaja lelaki itu adalah perompak yang disyaki.

"Itu sebabnya mereka mengejar mereka dengan cara begitu. Sebenarnya, mereka tidak mengatakan mereka sebagai perompak yang disyaki.... yang digunakan penjenayah disyaki," jelas beliau.

Semalam keluarga Aminulrasyid menuntut pihak berkuasa khususnya polis agar memohon maaf berhubung insiden menimpa pelajar berkenaan.

Bapa saudara Aminulrasyid, Kamarudin Hassan berkata keluarga itu mahukan permohonan maaf secara langsung daripada Musa, Khalid atau Kementerian Dalam Negeri yang telah mencemari nama pelajar berkenaan.

Malah tegas Kamarudin, keluarganya juga mahu pihak polis menarik balik kenyataan bahawa adanya parang dalam kereta yang dipandu oleh Aminulrasyid pada hari kejadian.

Kelmarin, Koperal Jenain Subi, 48, mengaku tidak bersalah terhadap pertuduhan di bawah Seksyen 304 (a) Kanun Keseksaan kerana menyebabkan kematian.

Beliau didakwa melakukan kesalahan itu pada 26 April antara pukul 1.10 pagi dan 2 pagi di Jalan Tarian 11/2 di Seksyen 11.

Jika bersabit kesalahan, tertuduh boleh dijatuhi hukuman penjara maksimum 30 tahun dan boleh dikenakan denda.

Ulasan GB

"Adakah salah untuk mengatakan dia sebagai penjenayah disyaki?" kata beliau ketika dihubungi.

Jika demikian jawab KPN dan CPO Selangor, maka rakyat juga boleh berkata bahawa kamu kedua-dua adalah penjenayah yang disyaki. Tentu lagi tak salah.

Sebabnya kamu melakukan pembelaan terhadap sekalian banyak jenayah yang dilakukan oleh anggota polis.

Daripada pemerhatian dan persepsi rakyat, kedua-dua penjawat awam ini telah sepatutnya meletakkan jawatannya kerana mencemari imej PDRM dan telah mengkhianati tugas yang diberikan oleh negara dengan melabelkan orang awam sesuka hati sematamata untuk melakukan pembelaan dan justifikasi terhadap jenayah yang dilakukan oleh anggota bawahan mereka berdua.


Memories of Marang, Terengganu
Posted: 12 May 2010 02:28 AM PDT
I have way too many photos that I love and I think if I just keep them in neatly labeled folders in my machine, first- they will be forgotten and second- well I can't think of a second. Anywaaaaayyyyy….
Here is Miki and me and some of my friends walking from the waterfront resort that we were staying to the jetty. Behind Miki is not a Hantu KumKum but Kak S the Puteri Lilin. hehehhehe… she doesnt read this blog. I can say whatever I want… wehehehe… These ladies, Kak S, Kak R and Adik N took care of Miki when we went snorkeling later in Pulau Kapas. Thank you ladies. I am sure you are an expert at cuci berak budak already. wahahah!
Marang. Tganu
This second photo is presented to you to challenge your brain. This photo has some optical illusion elements in it. If you were born genius, you will see all poles and tiang pagar dan kaki aku straight like a stick. Sesiapa yang nampak kaki aku bengkok tu tandanya dua Jumaat lagi nak goal. Haa… sapa nampak angkat tangan?!
Hehe. This is the jetty I was talking about. It's very small. And behind Miki, Hantu Kumkum terus menghantuiiiii…..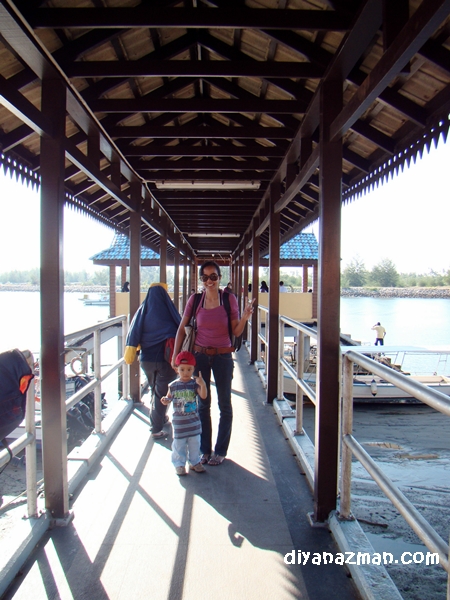 Gambar ilusi optik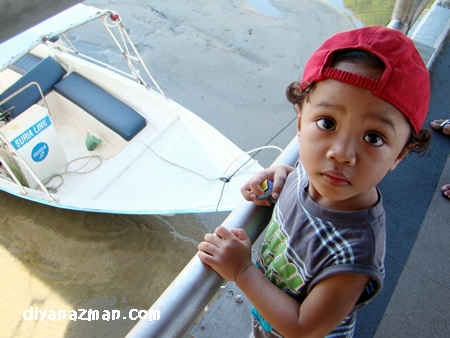 Ini budak yang tak sabar-sabar nak baik boat…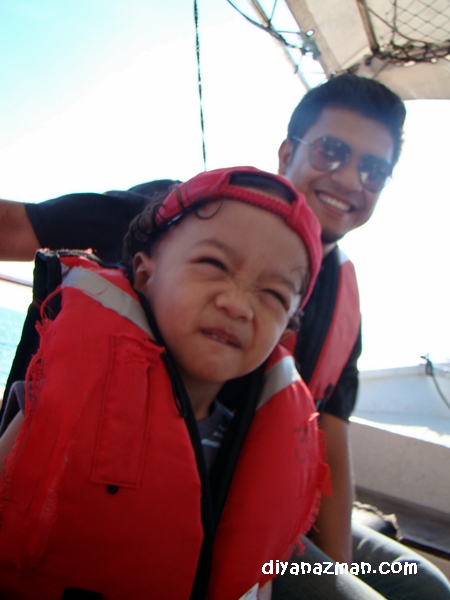 Cute guys in my life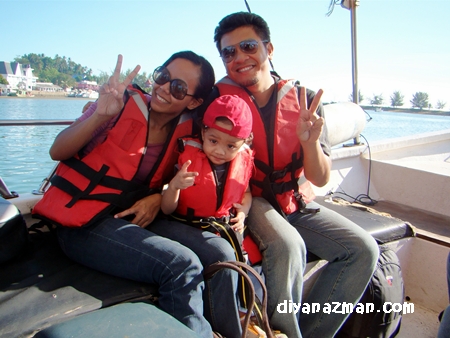 Ganu punya pasal, semua pakai jean labuh, kejap lagi londeh dengan Miki-Miki sekali…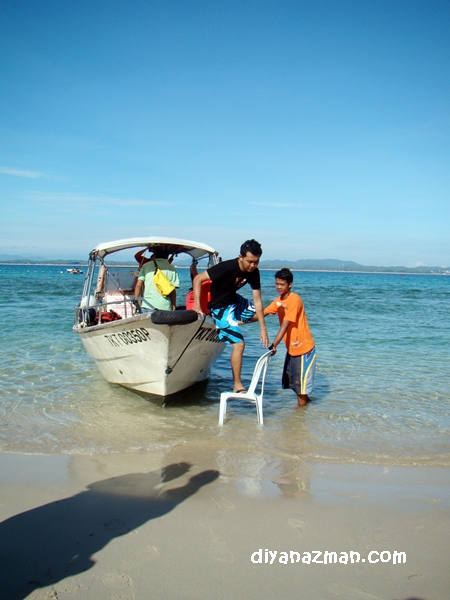 Above photo is posted with the sole purpose of making Azam looks ehem! macho. ehehehe.. Sopan bak gadis sunti gitu… turun boat pijak kerusi… wahahahaha…
I will post more pics later. :p
P.212 Sibu By-Election - Part 10
Posted: 12 May 2010 02:06 AM PDT
Waves of the by-election heat blew all over me as I strolled along Jalan Central this afternoon. By-election talks float around the town and it doesn't make any sense for you not to talk about it.
I spotted this good article in Malaysiainsider which is worth a read at this crucial run-up to the by-election.

Will Sibu make history? — Kim Quek
May 12, 2010
MAY 12 — Amidst the intense election campaigns of the Sibu parliamentary by-election, there is one way to help the beseeched electorate making a sound decision. And that is by asking the following question:
Which political coalition — Barisan Nasional (BN) or Pakatan Rakyat (PR) — is more likely to fulfil the wishes of the Sibu people, if given the chance to run the Federal government and the Sarawak state government?
The simple reason for asking the question is that only the Federal government has the power and resources, and to a lesser extent, the Sarawak state government, to solve their problems and fulfil their aspirations. And Sibu is now placed in the unique position to tip the political balance that may result in either one coalition assuming federal power come next general election, as will be explained later.
To begin, let us look at the problems Sibuans are facing. These are:
Perennial flooding, lack of basic infrastructures for the rural areas, deprivation of Customary Land Right, problems of land lease renewal, abject poverty and prolonged economic malaise that have caused the mass exodus of youth from their homeland.
Can a member of parliament, whoever he is, solve these problems? No way, not even the state government, as much of these can only be overcome through changes of national policies and utilisation of large sums of money that only the central government can provide.
Economy in bad shape
Take the sluggish economy. This is a national phenomenon. Sibu or even Sarawak cannot boom in a stagnant Malaysian economy, which has been in the doldrums for more than a decade.
The World Bank, in its recent economic report on Malaysia (dubbed "The Malaysian Economic Monitor"), described this phenomenon as "the middle-income trap" — unable to remain competitive as a low-cost producer, and yet incapable of moving up the economic ladder to a high-value economy, which is knowledge and innovation based.
As rightly pointed out by the World Bank, this is due to the collapse of private investment (foreign and local) which has been hovering around 10 per cent of GDP since the 1997/98 Asian financial crisis — a far cry from its pre-crisis height of 37 per cent. This stands in contrast to our regional neighbours which have rebounded healthily in private investment rate, leaving Malaysia as the laggard.
Malaysia's loss of competitiveness is rooted in politics — the inevitable consequence of an increasingly corrupt and authoritarian government. The name of Malaysia has virtually disappeared from the radar screen of foreign investors, as none would be interested to invest in a country where rule of law is openly and unabashedly flouted, law-enforcing institutions reduced to political stooges, and the economy semi-paralysed by racist protectionism and cronyism.
Malaysia's loss of grace with investors is most vividly illustrated in its massive capital flight — its 2008 FDI outflow of US$14.1 billion (RM45 million) exceeds its FDI inflow of US$8.1 billion by a whopping 70 per cent. Which other developing country in the world has such dubious distinction!?
Irresponsible squandering
Compounding this economic morass is the Barisan Nasional government's atrocious financial management. Despite the country's fabulous petroleum income — which now finances more than 40 per cent of the government's annual recurring expenditure — the country has been running heavy budget deficits every year for the past 13 years.
Such recurring expenditure virtually exploded during Tun Abdullah Ahmad Badawi's reign when it doubled within four years. And there is every indication that this trend will continue unabated despite promises to the contrary by Prime Minister cum Finance Minister Datuk Seri Najib Razak.
These hefty budget deficits are mainly caused by massive leakages through corrupt procurement practices and reckless spending for political expediency and personal gratifications, in addition to poor revenue collection from a lacklustre economy.
This huge income-expenditure gap is expected to widen in the days ahead as Petronas' ability to foot the bill will decline in tandem with shrinking reserves and escalating costs.
With the federal treasury in such dire straits, the people of Sibu must take it with a bit of salt when BN leaders promise voluminous funds for infrastructure projects, including the flood-prevention scheme for Sibu, which will cost RM1 billion, according to Deputy Prime Minister Tan Sri Muhyiddin Yassin.
Sarawak impoverished by corruption
In fact, the masses of Sarawak should not be suffering in its present state of poverty and neglect if not for the gross mismanagement by one of the most corrupt state governments in the country.
Blessed with abundant gas and oil, and owners of one of the richest rainforests of the world, Sarawakians should have been enjoying a standard of living second to none. But instead, the state now ranks among the poorest in Malaysia, thanks to the seemingly never-ending rule of Chief Minister Tan Sri Taib Mahmud.
Disparagingly known as "Pek Moh" (white hair), this autocrat has during his 29 year-rule massively misappropriated the state's timber wealth to himself, his family, political associates and business cronies, to the point that the once richest natural asset of the state is now near depletion.
In addition, his family's financial empire under flagship CMS, which extends its interests to every aspect of the state's economy, has virtually monopolized business opportunities offered by public spending through sweet-heart deals.
The cruellest cut of Taib's corrupt rule is perhaps the marginalisation of the indigenous population spread over the far flung interior of this vast territory. In addition to suffering the destruction of the natural habitat upon which they depend for their livelihood (due to reckless logging), they have been forcibly removed from their ancestral land without proper compensation so as to make way for the big logging and plantation corporations favoured by the Taib-led government.
There is not the slightest doubt that Sarawakians would have been wealthier and the interior population living in more civilized conditions, if the state had not been subjected to such corrupt authoritarian rule, under which only the ruling elite and their cronies prosper.
Pakatan's new politics
In sharp contrast to the aged and decadent rule of BN was the refreshingly new politics of Pakatan Rakyat which was swept into power over five key states in the Peninsula in the last general election. Pakatan's administration was marked by transparency and accountability as exemplified by its no-nonsense public procurement policy through open tenders.
This new style of administration is attested to by none other than the Auditor General who in his last annual report has exceptionally commended the PR-controlled states for their prudent financial management.
This again stands in contrast with the BN-controlled federal and state governments which have been ritualistically chided in every annual AG report for umpteen years for widespread squandering, negligence and corruption over the spending of public funds.
That Pakatan Rakyat's electoral success in the 2008 election was no fluke and its popularity has been growing is verified by the series of by-election victories won by Pakatan against overwhelming handicap of strongly pro-BN public institutions and completely one-sided mass media favouring BN.
The political tsunami swept in by the 2008 election has demonstrated beyond doubt that the people in Peninsula have woken up to the folly and deceit of the BN regime.
In fact, if not for BN's monopolistic hold on Sabah and Sarawak, Pakatan would have captured Putrajaya, considering the fact that many BN members of parliament would have supported the new politics of Pakatan in a delicately balanced parliament.
Sibu accepting the challenge?
This is where Sibu can come in to play its historical role. A Pakatan win in a traditional BN fortress like Sibu would embolden the indigenous population to vote for change, as these impoverished people have been casting votes for BN in the past more out of fear than out of love.
Sibu could then trigger off a domino effect that would enable Pakatan to score significant electoral success in the imminent state elections — enough to cause the tsunami to also hit Sabah, thereby precipitating a change of regime and the ushering of a new era for the country come next general election.
Will Sibuans rise to the occasion to be the maker of history for a new Malaysia?
* Kim Quek is a frequent commentator of Malaysian politics.
Photo: Steve Ling


Kerajaan Negeri Harus Menilai Semula Prestasi Alam Flora di Selangor
Posted: 12 May 2010 12:34 AM PDT
Saya telah menerima banyak aduan daripada orang ramai tentang prestasi Alam Flora dan kontraktor-kontraktornya yang rendah dalam mengendalikan masalah kutipan sampah dan pembersihan di kawasan mereka. Aduan-aduan yang sama turut diterima oleh wakil rakyat di kawasan yang lain.Antara aduan yang diterima ialah kekerapan kutipan sampah yang tidak mengikut jadual yang ditetapkan, pembersihan tidak