---
More Police Killings of Innocent People
Posted: 05 May 2010 09:45 AM PDT
Lagi kematian disebabkan ditembak polis
Suaram mengutuk keras tindakan Polis Diraja Malaysia (PDRM) yang giat menembak mati tidak kira warga Malaysia ataupun warga asing dengan lebih kerap. Terkini mangsa yang ditembak mati oleh polis termasuk R Logeswaran, 38, dan Satchithananthan, 25, pada 8 April; dan dua insiden yang melibatkan enam orang warga Indonesia di dalam dua kes yang berasingan – di Kuala Selangor pada 16 Mac 2010 dan di Temerloh, Pahang pada 5 April 2010.1
Suaram ingin mendapatkan maklum balas daripada PDRM tentang penggunaan senjata api dalam semua kejadian yang berlaku sebelum ini dan juga dalam kes-kes yang disebutkan di atas. Suaram menghormati hak pihak polis untuk melindungi diri dalam operasi-operasi yang dijalankan, namun hak dan nyawa suspek juga perlu diutamakan.
Suaram berpandangan kejadian kes-kes polis menembak mati suspek berlaku secara luas adalah kerana tiadanya mekanisme yang telus dan jelas tentang penggunaan senjata api oleh Polis. Malah apa yang lebih mengecewakan adalah dokumen panduan dalam menggunakan senjata api di Malaysia tidak dapat dirujuk oleh orang awam.2 Ini dengan jelas membuktikan bahawa penggunaan senjata api oleh polis tidak diimbangi oleh pemeriksaan awam dan sekaligus menyebabkan tahap akauntabiliti yang amat rendah di dalam institusi polis.
Tambahan pula, oleh kerana ketiadaan prosedur yang kukuh untuk memastikan setiap kes tembakan polis seperti ini dilaporkan dan disiasat secara bebas dan menyeluruh, timbul keraguan sama ada pihak polis sememangnya menggunakan senjata api untuk mempertahankan diri ataupun sengaja menggunakan terhadap suspek untuk memudahkan penyelesaian kes mereka.
Penyalahgunaan kuasa di kalangan PDRM dan penindasan terhadap hak asasi manusia adalah masalah serius yang jelas wujud dalam PDRM, seperti yang dinyatakan dalam Laporan Suruhanjaya Diraja Penambahbaikan Perjalanan dan Pengurusan Polis Diraja Malaysia.3
Memandangkan Kerajaan Malaysia berminat untuk bertanding untuk menjadi ahli Majlis Hak Asasi Manusia, Pertubuhan Bangsa-bangsa Bersatu (PBB) bagi 2010-2013, adalah wajib bagi kerajaan untuk mengambil langkah untuk memastikan masalah-masalah mengenai hak asasi manusia ditangani berdasarkan prinsip-prinsip dan undang-undang antarabangsa. Sebagai anggota PBB apalagi Negara yang berhasrat mengaggotai Majlis Hak Asasi Manusia, Kerajaan Malaysia harus mematuhi prinsip-prinsip antarabangsa mengenai penggunaan senjata api yang tertera di dalam dokumen PBB, "Code of Conduct for Law Enforcement Officials", bahawa "penggunaan senjata api hanya boleh digunakan dalam keadaan yang terdesak di samping untuk melindungi nyawa" dan "pihak berkuasa perlu memberi amaran yang jelas dengan masa yang mencukupi sebelum mereka menggunakan senjata api".
Suaram menuntut agar pihak Kerajaan melaksanakan cadangan-cadangan yang dikemukakan oleh Suruhanjaya Diraja Penambahbaikan Perjalanan dan Pengurusan Polis Diraja Malaysia terutama menubuhkan Suruhanjaya Bebas Pengaduan dan Salah Laku Polis (IPCMC) secepat mungkin sekiranya kerajaan ingin merealisasikan slogan ''Rakyat Didahulukan, Pencapaian Diutamakan.''
20 Das Tembakan Ke Arah Aminulrasyid, Forum Diberitahu.
Posted: 05 May 2010 09:28 AM PDT
F
orum keadilan untuk adik Aminulrasyid (Bahagian Pertama)
Adakah keadaan terlampau ekstrem sehingga polis perlu menggunakan senjata api untuk menembak mati adik Aminulrasyid?
"Kita tengok, jumpa parang dalam bonnet (dakwaan polis), apa bahayanya? Saya tak nampak apa bahaya, kecuali kalau parang itu diayunkan (wave) pada polis. Tapi kalau diayunkan pada polis, (itu pun) dalam kereta sahaja. Melainkan (ayunan parang) dalam keadaan bertentang muka (confronted, face to face)."
"Kalau dalam keadaan pertentangan yang bersemuka pun, polis masih boleh tembak pada kaki (Aminul). Why must you kill (Mengapa kamu membunuh)?"
Demikianlah kupasan dan pertikaian yang dilontar oleh pensyarah Undang-Undang, Universiti Islam Antarabangsa Malaysia (UIAM), Raja Badrol Hisham terhadap polis, ketika mengulas isu adik Aminulrasyid, remaja berusia 14 tahun yang ditembak mati oleh polis, pada awal pagi 26, April.
Berbekalkan dokumen perundangan seperti Kanun Prosedur Jenayah, Perintah Tetap Ketua Polis Negara dan sebagainya, pensyarah UIAM ini mengupas bagaimana cara yang sewajarnya untuk mengendalikan kes arwah Aminulrasyid, seandainya polis mengikut lunas undang-undang.

Syarat tangkapan tanpa waran


Raja Badrol Hisham bermula dengan Seksyen 15 Kanun Prosedur Jenayah, yang menyatakan tiga cara tangkapan polis, iaitu menyentuh tubuh badan, mengurung badan orang yang ditangkap dan ketiganya, orang yang ingin ditangkap menyerah diri.

Menurut Seksyen 23 Kanun Prosedur Jenayah, tangkapan tanpa waran memerlukan syarat seperti bersandarkan aduan munasabah (reasonable complaint) dan informasi yang credible. Sambil berseloroh mengandaikan dirinya pendakwa raya di mahkamah dalam kes ini, Raja Badrol Hisham (gambar kiri) berkata polis mungkin memberi justifikasi dengan prasyarat ketiga, iaitu "telah wujud syak yang munasabah di mana orang yang nak ditangkap terlibat dengan jenayah".

Jelasnya, perilaku jenayah yang dimaksudkan termasuklah kononnya arwah Aminulrasyid membawa kereta dengan laju, melepasi dua atau tiga lampu trafik, lari dari kereta dan tidak berhenti apabila dikejar polis.

Pensyarah undang-undang ini kemudiannya memetik seksyen 15 (2) Kanun Prosedur Jenayah yang membenarkan polis untuk menggunakan kekerasan ketika mencegah orang itu daripada melarikan diri. Raja Badrol Hisham mengingatkan, sungguhpun undang-undang membenarkan polis menggunakan segala langkah yang perlu untuk melakukan tangkapan, termasuk tembak mati, tetapi ia terikat dengan syaratnya.

"Misteri" parang terjawab

"Tembak sampai mati? Boleh, tetapi mesti jatuh kepada jenayah yang mungkin dilakukan itu ialah satu jenayah yang boleh dihukum mati, sekiranya dia disabitkan salah di mahkamah nanti."


Malah, Raja Badrol Hisham menambah, selain hukuman mati, tembakan sampai mati juga dibenarkan untuk kesalahan jenayah yang mengundang hukuman penjara seumur hidup. Kenyataan ini mungkin menjelaskan mengapa "parang misteri" dikatakan ditemui dalam kereta Aminulrasyid (gambar kanan), kerana hukuman untuk jenayah rompakan bersenjata adalah penjara seumur hidup.

"Bila penjara seumur hidup, boleh ditembak sampai mati," kata Raja Badrol Hisham, sambil mendakwa bahawa tuduhan parang ditemui itu adalah untuk menyelindung polis semata-mata (to cover their back).

Biarpun bersetuju dengan kenyataan Ketua Polis Negara bahawa "kereta digunakan sebagai senjata", namun Raja Badrol Hisham mempertikaikan, "Apakah bukti cukup?" Berhubung dakwaan ini, beliau mencadangkan agar pakar forensik mengenalpasti sama ada kereta arwah Aminulrasyid berundur, kerana kesan tayar pada jalan akan berbeza jikalau kereta mengundur.

Syarat menggunakan senjata api

Beliau membacakan syarat yang terkandung dalam Perintah Tetap Ketua Polis Negara, ketika polis menggunakan senjata api, iaitu "jika seseorang sedang diserang dengan cara yang boleh mendatangkan perasaan takut, iaitu akibat daripada serangan itu boleh mengakibatkan kematian atau cedera parah"; lantas menjelaskan bagaimana dakwaan bahawa "arwah mengundur keretanya untuk merempuh polis" sebagai justifikasi polis melepaskan tembakan.

Beliau menambah, "menembak orang hanya dengan tujuan untuk mencederakan orang, menjatuhkan orang itu atau menahan kesalahan itu daripada berlaku." Malah, beliau menyambung, "jika keadaan mengizinkan, haruslah ditujukan kepada kaki orang itu."

Bagaimanapun, ketika syarat tersebut diaplikasikan ke dalam kes Aminulrasyid, Raja Badrol Hisham mengakui bahawa polis tidak dapat menembak kaki arwah kerana arwah memandu dalam kereta, tetapi harus dihalakan ke arah roda kereta.

Pensyarah undang-undang ini beberapa kali mempertikaikan, apakah situasi ketika kejadian berlaku begitu "ekstrem" dan merbahaya, sehingga memerlukan polis untuk menembak, malah dikatakan kira-kira 20 peluru ditaburkan ke arah kereta arwah Aminulrasyid?

Rangkaian Command Center

Ketika mengulas kes ini, Raja Badrol Hisham berkata, "Dalam kejar-mengejar ni, dia (polis) akan refer kepada command center. Dapatkan maklumat. Semasa mengejar, kalau dia dapat nombor kereta tu, dia boleh gunakan rangkaian command center. Di setiap daerah (district), dia ada command center daerah. Ada juga command center negeri (state), dan di Bukit Aman dia ada command center nasional."

Dengan kata lain, polis sebenarnya boleh mengenalpasti sama ada kereta yang dikejar itu kereta penjenayah atau tidak kerana mereka dapat akses kepada Jabatan Pengangkutan Jalanraya. Malah, sesetengah kereta rondaan kini dibekalkan dengan kemudahan yang canggih, termasuk komputer untuk mendedahkan polis kepada maklumat yang diperlukan semasa rondaan.

Tidak cukup dengan itu, Raja Badrol Hisham mengingatkan bahawa kejadian tembakan berlaku di kawasan perumahan, di mana itulah kawasan yang sering dironda polis. Beliau berkata, dalam kawasan perumahan, dua kereta yang menutup kedua-dua penghujung jalan sudah memadai untuk menghalang seorang budak daripada melarikan diri.

Tembak mati: "Jimat"

Raja Badrol Hisham berkata, "Daripada itu, mereka (polis) mengambil jalan pintas. Tembak mati lagi senang. Ikut kawan saya yang ada dekat D9 (Jabatan Siasatan Jenayah) itu, quote word dia orang, 'jimat'."

"'So, kita (polis) tutup semua. Jimatkan keadaan'. Untuk mereka (polis), jimat duit rakyat," katanya itu mengundang ketawa hadirin, sebelum beliau melontarkan soalan, "Tapi, bolehkah kita jimat keadilan? Keadilan tidak boleh dikompromi."

Ketika menyimpulkan pembentangannya, Raja Badrol Hisham berkata, "kematian arwah (Aminulrasyid) ini sebenarnya boleh dielakkan, sekiranya pihak polis faham IGSO (Inspector General Standing Order atau Perintah Tetap Ketua Polis Negara) itu sendiri."

Lebih mengejutkan, apabila beliau mendedahkan, "Saya rasa terkilan juga, bila IGSO ini hanya dibekalkan kepada Ketua Polis Daerah. Pegawai-pegawai biasanya tak dapat. Kalau kita nak didik anggota polis ni, tentang kuasa mereka, maka setiap seorang mereka mesti ada IGSO. Dan setiap satu OCPD pun patut ada CPC (Kanun Prosedur Jenayah)."

Beliau berkata sedemikian kepada kira-kira 100 orang yang hadir dalam forum keadilan untuk adik Aminulrasyid, bertemakan "Bersatu pertahan Hak Asasi Rakyat", anjuran Persatuan Kebangsaan Pelajar Islam Malaysia (PKPIM) bersama Jawatankuasa Hak Sivil Dewan Perhimpunan Cina KL-Selangor, semalam.

Selain Raja Badrol Hisham, ahli panel yang diundang termasuklah peguam bagi pihak keluarga arwah Aminulrasyid, N.Surendren dan Timbalan Pengerusi Jawatankuasa Hak Sivil Dewan Perhimpunan Cina KL-Selangor, Wong Chin Huat. Moderator forum ini ialah Presiden PKPIM, Mohammad Faisal Abd Aziz. Forum ini dimulakan dengan bacaan puisi berjudul "Jeritan Senja September" oleh sasterawan negara, A. Samad Said.

Forum keadilan untuk adik Aminulrasyid (Bahagian Kedua, tamat)

Segala-galanya bermula dari "kesilapan ringan". Keluar malam, mengambil kereta kakak dan memandu tanpa lesen, bergeser dengan kereta lain... hampir setiap kesilapan itu pernah dilakukan oleh orang biasa. Namun, ia berakhir dengan sesuatu perkara yang serius, apabila tembakan bertalu-talu dilepaskan oleh polis ke arah seorang budak yang usianya belum mencecah 15 tahun.

"You are dealing with a 14-year-old frightened boy, you are not dealing with Bruce Willis in the Die Hard movie! (Anda berdepan dengan seorang budak berusia 14 tahun yang berada dalam ketakutan, anda bukan berdepan dengan Bruce Willis dalam filem Die Hard!)"


Demikianlah luahan daripada peguam keluarga arwah Aminulrasyid, N.Surendren ketika berucap dalam forum keadilan untuk adik Aminulrasyid, bertemakan "Bersatu pertahan Hak Asasi Rakyat", anjuran Persatuan Kebangsaan Pelajar Islam Malaysia (PKPIM) bersama Jawatankuasa Hak Sivil Dewan Perhimpunan Cina KL-Selangor, semalam.

Selain N.Surendren, ahli panel yang diundang termasuklah Timbalan Pengerusi Jawatankuasa Hak Sivil Dewan Perhimpunan Cina KL-Selangor, Wong Chin Huat dan Pensyarah Undang-Undang Universiti Islam Antarabangsa Malaysia, Raja Badrol Hisham. Moderator forum ini ialah Presiden PKPIM, Mohammad Faisal Abd Aziz. Forum ini dimulakan dengan bacaan puisi berjudul "Jeritan Senja September" oleh sasterawan negara, A. Samad Said (gambar atas, kiri).

Bagai penggambaran filem...


Namun, apa yang berlaku pada awal pagi 26 April cukup mendebarkan, seolah-olah penggambaran filem, sebagaimana yang disifatkan oleh salah seorang saksi kepada N.Surendren. Tembakan dilepaskan bertubi-tubi oleh polis ke arah kereta arwah Aminulrasyid, semasa kejar-mengejar, tanpa amaran oleh polis melalui pembesar suara.

Menurut N.Surendren (gambar kanan), seorang lagi saksi kejadian mendakwa dirinya mendengar bunyi tembakan, dan disusuli bunyi hentaman yang kuat kemudiannya (kereta arwah melanggar tembok), lantas menyangkal dakwaan polis bahawa arwah Aminulrasyid cuba merempuh polis dengan mengundur keretanya ke arah polis. Seandainya mengikut versi polis, maka saksi akan mendengar bunyi hentaman dan kemudian disusuli tembakan.

Malah, peguam yang berpengalaman dalam pembelaan mangsa keganasan polis ini berkata, setiap kali berlakunya kejadian sebegini, pihak polis atau kerajaan akan mengeluarkan kenyataan yang sama (same standard statement), menuduh bahawa senjata seperti parang atau kapak ditemui dalam kereta mangsa tembakan. Beliau juga menyelar Menteri Pembangunan Wanita, Keluarga dan Masyarakat, Shahrizat Abd Jalil yang cuba mengalihkan kesalahan kepada keluarga kerana tuduhan "membiarkan anak keluar lewat malam".


Turut hadir semalam, mangsa keganasan polis, Norizan bt Salleh (baris ketiga dari depan, kedua dari kanan, gambar kiri)yang terkena lima das tembakan polis pada awal pagi 30 Oktober 2009. Tuduhan yang hampir sama turut dilemparkan terhadap ibu tunggal ini, tetapi tiada pendakwaan ke mahkamah setakat ini. Bahkan, Menteri Dalam Negeri Hishammuddin Hussein pernah berjanji untuk menyiasat aduan Norizan, namun belum memperlihatkan hasil siasatannya sehingga hari ini.

Tragedi yang menunggu untuk berlaku

N.Surendren tidak terkejut dengan kejadian arwah Aminulrasyid, apabila memulakan ucapan dengan berkata, "Kes Aminulrasyid ini, adalah satu tragedi yang hanya menunggu masanya (untuk berlaku)."

Beliau menjelaskan, peguam hak asasi manusia, NGO, pembangkang telah berjuang bertahun-tahun, malah berdekad-dekad untuk memastikan pihak polis tidak menyalahkan kuasa ketika menggunakan senjata api, tetapi tidak diendahkan.


N.Surendren mengungkit satu peristiwa yang berlaku sekitar pertengahan tahun 1990-an, apabila bekas Presiden Majlis Peguam, Raja Aziz Addruse tegas mengkritik penembakan sebegitu. Perdana Menteri ketika itu, Mahathir Mohamad (gambar kanan) menyatakan kepada media, "Apakah perasaan Raja Aziz jikalau penjenayah mengajukan pistol pada kepalanya?"

N.Surendren berkata, "Soalnya bukan sama ada penjenayah meletakkan pistol pada kepalanya, tetapi soalnya jika ada penjenayah di sana, apakah cara pihak polis perlu (gunakan) untuk menangkap mereka? Adakah dengan cara menembak sewenang-wenangnya? Bermakna kita tak perlu mahkamah, tak perlu peguam bela, tak perlu DPP, tak perlu hakim... terus sahaja menghukum?"

Keresahan ini turut dikongsi bersama oleh Raja Badrol Hisham yang memperingatkan, "Seorang penjenayah pun ada hak untuk dilindungi dalam perlembagaan. Hanya undang-undang yang boleh mengambil hak itu, termasuk hak nyawa. Hak nyawa (yang dirampas) dalam undang-undang ialah gantung sampai mati, kalau didapati salah. Tetapi apa yang berlaku di sini ialah polis bertindak sebagai hakim."

"Mereka (polis) memutuskan siapa hidup siapa mati," tambah beliau.

Institusi berperangai suka menyeksa

Ketika merumuskan kes keganasan negara, yang berlaku sama ada dalam bentuk pembunuhan di luar hukum atau kematian dalam tahanan, yang mana mangsanya merentasi kaum, Wong Chin Huat menuding jarinya ke arah "institusi yang berperangai suka menyeksa".

"Kalau arwah Aminulrasyid seorang berketurunan India, maka saudara Uthayakumar (pemimpin Hindraf, Setiausaha Agung Parti Hak Asasi Manusia) akan berkata ini adalah institutional racism, kerana 'polis suka tembak orang India'. Tetapi arwah Aminulrasyid bukan orang India, puan Norizan bukan orang India, polis tembak juga, kan?"


"Saya kira itu institutional sadism, perangai suka menyeksa yang sudah bersifat institutional," katanya. Malah, Wong Chin Huat (gambar kiri) menganggap masyarakat Malaysia sebenarnya bermasalah, kerana mempunyai budaya menerima keganasan - menolak hanya seksaan terhadap warga baik, tetapi membutakan diri apabila keganasan berlaku terhadap penjenayah.

Wong Chin Huat kemudiannya mengajak hadirin untuk mengkaji masalah institusi polis, "Masyarakat kita tak kurang orangnya, yang setiap kali institusi negara dikecam kerana melanggar hak asasi manusia, ada orang yang kata, ini adalah ancaman kepada institusi Melayu, kerana institusi polis itu adalah majoritinya Melayu. Institusi kerajaan itu Melayu dan sebagainya..."

"Saya rasa adalah penting bagi kita untuk melihat bahawa kalau kita ada satu institusi yang berperangai suka menyeksa, maka tak kira apa warna kulit kita, apa kepercayaan kita, kita mempunyai peluang yang sama untuk menjadi mangsa," simpulnya.

Siasatan bermula selepas setiap tembakan

Menurut Wong Chin Huat, mereka yang mati dalam tahanan polis atau penjara dari tahun 2002 hingga 2009, mencatat angka 1,704 orang. Malah, statistik juga menunjukkan United Kingdom yang mempunyai populasi hampir satu kali ganda lebih daripada Malaysia, mencatat angka dua orang ditembak mati, berbanding dengan Malaysia, 39 orang yang ditembak mati (menurut rekod NGO), pada tahun 2009. Lebih mengejutkan, tiada rekod tembakan polis yang menyebabkan kematian pada tahun 2007 dan 2008 di UK.

Keadaan ini berlaku kerana setiap tembakan yang dilepaskan oleh polis di UK, akan disusuli dengan penyiasatan secara automatik, tidak kira tembakan tersebut salah atau betul dari sisi undang-undang. Untuk Wong Chin Huat, kita memerlukan satu mekanisme pemantauan dalam institusi polis, misalnya IPCMC untuk memastikan agar arwah Aminulrasyid menjadi mangsa terakhir.

Pengasingan kuasa

Untuk Wong Chin Huat, kuasa tunggal ke atas institusi polis yang dipusatkan kepada kerajaan persekutuan adalah antara faktor yang menjurus kepada masalah institusi polis hari ini. Sambil mengakui masalah tekanan yang dihadapi polis, beliau menegaskan bahawa kritikan terhadap institusi polis tidak harus dilihat sebagai memusuhi polis secara individu.

Malah, Raja Badrol Hisham (gambar kiri) juga bersetuju dengan pandangan untuk membantu agar institusi polis diperbaiki, setelah berlakunya tragedi hitam sebegini. "Di negeri lain, mereka menggunakan kesilapan atau kesalahan untuk memperbaiki institusi tersebut. Tetapi di Malaysia, kesilapan satu-satu institusi itu cuba diselindungi."

Wong Chin Huat mengupas dari rangka politik, memperlihatkan bagaimana dengan pemusatan kuasa pada kerajaan persekutuan, institusi polis menjadi perkakas politik kepada kerajaan persekutuan. Gambarannya cukup jelas apabila tenaga polis dikerah untuk menjadi perisik (special branch), dan menghalang "perhimpunan haram". Sebaliknya, salah laku polis terus dilindungi kerajaan kerana berkhidmat untuk kepentingan politiknya.

Justeru itu, beliau menyarankan agar kuasa terhadap polis diasingkan (decentralized) antara kerajaan persekutuan dan kerajaan negeri. Dengan kata lain, polis akan mempunyai dua "bos", satu di Putrajaya, dan satu lagi di ibu negeri masing-masing. Keadaaan ini akan menjurus kepada keadaan di mana kerajaan negeri perlu mengambil perhatian, seandainya kerajaan persekutuan enggan mengendahkan aduan rakyat terhadap polis.

- *Lim Hong Siang ialah Editor MerdekaReview, edisi bahasa Melayu.


Police pulled me 'like a cow': Kelantan sultanah - Aiyoyo, another bad publicity for the police!
Posted: 05 May 2010 08:53 AM PDT
This follows a dramatic operation by police and UTK personnel which saw the detention of her son and several others.
According to the Malay Mail, t
he Kelantan Sultan's consort Tengku Anis Tengku Abdul Hamid  claimed that she had sought refuge at the Universiti Sains Malaysia Hospital (HUSM) in Kubang Kerian, Kelantan since last night to evade police arrest and to be by the side of her husband and told the Malay Mail that she had been abused by the police who pulled her 'like a cow' to get her to come with them to the police station.
Posted: 05 May 2010 06:45 AM PDT
My best buddy has gone to the dogs! He's finally got himself a cute little doggy for his daughter. In fact, the bum ... urrrmmm ... I mean good chap kept it to himself for a few days before even telling me! Hrrrmmmppppp!
But I'm damn excited and happy for him. Now we've got more things to talk about besides girls ... urrrmmm ... I mean sports and
Lipofuze
... hehehe! He's now a proud owner of feisty little kamikaze Shnauzer that loves gives you his own custom made
'hit and run'
treatment.
He has this habit of running up to you, biting you on the feet and running away like a mad little fellow. He's still a little baby though but he's so darn cute :D You can check out his pix at
Adrian's
blog, he's got a couple of pictures of the little tyke.
Last Sunday we had a Dog day afternoon where I took Pebbles there to meet the little fellow who's called Rupert by the way. Would you believe Pebbles is afraid of the lil fellow? He kept chasing her around and she kept jumping into wifey and my arms to stay out of his way ... LOL!
The thing with Pebbles which surprised both wifey and me was how well behaved she was outside of the comforts of her own home. She kept quiet and didn't even raise a whimper, not even when she saw some cats passing by outside. If it was here at home, she'll bark non stop wanting to eat those cats ... hahaha!
I suppose she's more used to the familiar surroundings of home. She's like a little thug here at home wanting to fight with dogs bigger than her. What she doesn't know is that she's a teeny weeny little dog!
Anyways, I must say that I'm happy that you got a dog buddy, cos it's been a while since you wanted a dog of your own. And the little fellow is so bloody cute. I just hope he doesn't have brain damaged from nibbling on my toes all Sunday ... hahaha ...
We must get together more for these dog day afternoons. It's not often I get to see Pebbles on her best behavior :D
.
SOLD OUT: MALAYSIAN MAVERICK - Mahathir Mohamad in Turbulent Times by Barry Wain
Posted: 05 May 2010 07:03 AM PDT
By Lee Wei Lian
May 05, 2010
KUALA LUMPUR, May 5 — Bookshops in KL have sold out the controversial book on Tun Mahathir Mohamad written by former Asian Wall Street Journal editor Barry Wain due to high demand.
Checks with Kinokuniya and Borders revealed that they ran out of stock for the book — titled "Malaysian Maverick: Mahathir Mohamad in Turbulent Times" just a week after it first went on sale.
Both Kinokuniya and Borders have had to place orders for fresh stock.
MPH at the busy MidValley mall said that they are also almost sold out and had to send some of their own stock to branch outlets.
A Kinokuniya spokesman said that the first 20 copies they received didn't even make it to the display shelves as the books were shipped to customers who had made pre-orders.
The bookshop has ordered another 30 copies and said that the book's distributor only has limited stock on hand.
He noted however that the book's price — RM89.90 — could potentially deter some customers.
Wain told The Malaysian Insider that from his understanding, the 500 copies held by Malaysian customs officials in Port Klang have now been distributed to book shops in Malaysia.
Additional supplies have been rushed into Malaysia from Singapore and Hong Kong. He added that a fifth reprint, the sixth print run overall, is being contemplated.
Wain said that 12,500 copies of the book have been sold so far in Asia and Australia plus a few hundred more in Europe and the United States.
Some 11,000 of the total were sold in Singapore. The rest of the 1,500 copies were purchased by customers in Hong Kong, Thailand, Indonesia, Brunei and Australia. 
"Of course, hundreds, perhaps even a thousand or two of the 11,000 copies sold in Singapore have been bought by Malaysians or taken into the country for Malaysian readers," said Wain.
The controversial political biopic was approved for sale by the Home Ministry only in April, months after it was launched in Asia in December last year.
The book became famous due to its assertion that as much as RM100 billion in funds were squandered under Mahathir's watch via grandiose projects and corruption and the fact that even as a fierce US critic, he had signed a secret military deal with the US.
According to news reports, the book was on the bestseller list in Singapore for several months. Wain is also planning a book reception in KL later this month.
P.212 Sibu By-Election - Part 6
Posted: 05 May 2010 06:55 AM PDT
It was a meet-Facebook- friends dinner organised by Cr. Robert Lau at Kawan Hotel this evening. Although the gathering was small, it was a nice chat over some authentic local delicacies.
As expected, there was quite a fair bit of voicing out about the whole political system. It boiled down to a sharp question: A two-party system or a BN-concept system?
Cr. Robert Lau then expounded on his political aspirations and his views on BN-concept system. In his sharing, Cr. Robert Lau exhibited sincerity and deep commitment to serve rakyat and bring about desirable changes.
This by-election is very crucial. Let us stay rational and avoid acting hotheadedly!
Keterangan Saksi Utama Kali Ketiga Konsisten
Posted: 05 May 2010 06:41 AM PDT
P
olis hari ini memanggil semula Azzamuddin Omar, 15, untuk memberikan keterangan dalam insiden remaja 14 tahun, Aminulrasyid Amzah yang mati ditembak polis pada 26 April lepas.
Ini merupakan kali ketiga saksi utama insiden tersebut dipanggil memberi keterangan di Ibu Pejabat Kontinjen Selangor.
Azzamuddin tiba di IPK Selangor kira-kira jam 5.20 petang bersama seorang rakannya, peguambela N Surendran dan Latheefa Koya serta wakil Persatuan Ibu Bapa dan Guru (PIBG), Monalisa Mohtar.

Dalam sidang media yang diadakan di luar IPK, Surendran berkata Azzamuddin telah memberikan keterangan yang konsisten kepada pegawai polis, DSP Nazri Zawawi.
"Azzamuddin telah ditanya dengan beberapa soalan tambahan berhubung insiden malam semasa Aminulrasyid ditembak mati.

"Kebanyakkan soalan kepada saksi telah ditanya semasa sesi keterangan sebelum ini dan beliau telah konsisten menjawabnya.

Menurut Surendran lagi pada sesi keterangan kali ini, DSP Nazri telah bertanyakan sembilan soalan dan antaranya ialah bilakah kali terakhir Azzamudin mendengar bunyi tembakan.

"Azzamuddin secara konsisten menjawab kali terakhir bunyi tembakan adalah sebelum kereta tersebut melanggar pokok dan dinding.

"Tembakan kali terakhir itu juga katanya semasa kereta tersebut masih lagi bergerak dan pada ketika itu, kereta peronda polis berada di belakang kereta mangsa.

"Selepas tembakan tersebut, Aminulrasyid rebah ke pangkuan Azzamuddin dan kereta tersebut kemudiannya melanggar penghadang jalan, pokok dan akhirnya merempuh dinding," jelas Surendran kepada media.

Surendran juga menegaskan walaupun sudah tiga kali memberikan keterangan, Azzamuddin telah menjawab soalan yang diajukan kepada beliau secara konsisten termasuk keterangan semasa sesi sidang media yang diadakan pada Isnin lepas. -SK


May the FORCE be with you (do you wish to be in Star Wars?)
Posted: 05 May 2010 06:05 AM PDT
Malaysian Insider : May the 4th be with you, or you in Star Wars?
SAN FRANCISCO, May 5 — As the world turns to May 5, it is still May 4 or Star Wars Day — "May the 4th Be With You" in the United States.
To commemorate the day and also the 30th anniversary of "The Empire Strikes Back", the second movie in the franchise, producers Lucasfilm Ltd and JibJab.com has created an interactive online video for everyone to cast themselves in the classic adventures from "a galaxy far, far away".
In a statement issued today, both companies said people everywhere can cast themselves, family and friends with playful and irreverent two-minute re-tellings of the original Star Wars films by JibJab.
"Just visit JibJab.com or StarWars.com to feel the Force as it's never been possible before — by becoming a part of the Star Wars Saga!
"Making a personalised movie with JibJab's Starring You® technology is easy.  Users just upload a photo — using a computer, Facebook or a webcam — and use JibJab's simple tools to insert it into the movies," according to the statement from JibJab.com.
It added that after watching their movie, users can also share the video with friends via email, Facebook and Twitter.
"What better way to celebrate Empire's 30th anniversary than to allow fans to become part of the story," said Bill Gannon, Director of Digital Media at Lucasfilm Ltd.
"JibJab's inventive technology allows us to experience Star Wars in an all-new way. It's really a great partnership, and we are thrilled with what they've done with the Saga; it's lots of fun."
JibJab.com said creating and sharing a personalised version of Star Wars: Episode V The Empire Strikes Back is free in commemoration of the fan-favourite instalment's 30th anniversary.
It added that "Star Wars: Episode IV A New Hope and Star Wars: Episode VI Return of the Jedi are available exclusively to members of JibJab, a member-supported company that charges US$12 (RM38) a year for unlimited access.
"We aim to deliver a lot more value to our Members than the buck a month it winds up costing them," said JibJab co-founder Gregg Spiridellis.  "Star Wars Starring You is a perfect example of the kinds of amazing, special experiences we're working hard to bring our Members."
JibJab was founded in 1999 by brothers Evan and Gregg Spiridellis.
In 2004, in a pre-YouTube world, the pair created the smash online hit "This Land" featuring a singing George Bush and John Kerry.
Skrip Polis Sama dalam Kes Aminul, Norizan, Vikenes
Posted: 05 May 2010 05:42 AM PDT
P
eguam keluarga Aminulrasyid Amzah, N Surendran berkata
pihak polis seolah-olah sudah mempunyai skrip bertulis setiap kali polis terlibat dalam kejadian yanng melibatkan kematian orang awam
.
Jalan cerita yang digunakan oleh polis pula dalam kes kematian remaja 14 tahun itu seakan-akan sama dengan laporan yang dikeluarkan oleh polis dalam kes penembakan ibu tunggal, Norizan Salleh tahun lalu.
Surendran bwerkata demikian pada majlis penerangan mengenai kes Aminulrasyid dalam forum 'Keadilan Untuk Aminulrasyid' anjuran Persatuan Kebangsaan Pelajar Islam Malaysia semalam
"Jika dibandingkan dengan kes Norizan Salleh, jalan cerita dalam laporan polis sama dengan laporan yang diberikan untuk Aminulrasyid, iaitu, kedua-dua disyaki terbabit dalam jenayah, parang dijumpai di dalam kereta mereka dan yang ironinya dalam kedua-dua kes polis mendakwa mangsa kononnya cuba merempuh polis dengan mengundurkan kereta.
"Ini bukan cerita aksi Bruce Willis (pelakon Hollywood), ini merupakan seorang remaja berusia 14 tahun yang dalam ketakutan. Dari mana pula polis mendapat idea cerita aksi Hollywood sebegini?" tanya Surendran.

Jelas beliau, apa yang telah menimpa Aminulrasyid adalah satu tragedi dasyat yang bermula dengan beberapa kesalahan kecil yang tidak begitu serius.

"Pertama, Aminulrasyid keluar pada waktu malam, ini bukan kesalahan. Kalau dia balik rumah lepas itu maksima hukum seminggu tak boleh keluar rumah, itu saja. Kedua dia mengambil kereta kakaknya, ketiga kereta yang dipandu Aminul tergeser dengan sebuah kereta lain dan keempat Aminulrasyid dikejar oleh beberapa motosikal yang mungkin kawan kepada pemilik kenderaan yang digeser Aminulrasyid.

"Kesemua ini hanyalah insiden kecil yang tidak langsung memberi sebab kukuh untuk polis menembak mati Aminulrasyid. Jelas sekali polis telah mengambil keputusan sendiri, menjadi hakim dan memutuskan lebih baik Aminulrasyid ditembak mati," tegas beliau lagi.

Surendran mendedahkan ada saksi yang menyangkakan bahawa aksi penggambaran untuk filem sedang diambil, apabila melihat polis menembak bertubi-tubi ke arah kereta Aminulrasyid sambil mengejarnya.

Beliau memberikan contoh kes yang berlaku pada 10 Oktober 2003, di mana seorang pelajar Tingkatan 6, Vikenes Vesvanathan, ditembak mati bersama-sama dua orang rakannya di Nilai, Negeri sembilan.

Dalam kes ini luka tembakan di kepala Vikenes condong dari atas ke bawah dalam kira-kira 45 darjah, seolah-olah Vikenes ditembak dari jarak dekat semasa beliau dalam keadaan melutut di tanah semasa tembakan di kepala dilepaskan.

Surendran kesal sehingga kini tiada siasatan dan tiada anggota polis yang diheret ke mahkamah.

Malah lebih menyedihkan lagi, pelajar tersebut dilabel oleh polis sebagai suspek rompakan bersenjata sama seperti Aminulrasyid yang dituduh sebagai penjenayah oleh polis.

"Ini menunjukkan betapa perlunya IPCMC (Suruhanjaya Bebas Pengaduan dan Salah Laku Polis) di negara ini. Jika wujudnya badan untuk memantau setiap gerak geri polis, maka kesemua tragedi ini dapat dielakkan sama sekali kerana polis akan lebih berhati-hati apabila mengambil tindakan dan tidak berani melakukan sesuka hati mereka," kata peguam itu lagi

Surendran juga membuat perbandingan kes tembakan polis di antara United Kingdom dan Malaysia sepanjang 2009.

"Di United Kingdom yang mempunyai populasi lebih 50 juta hanya dua kes terjadi tetapi di Malaysia dengan jumlah pendudk separuh daripada UK, sejumlah 39 kes yang direkodkan oleh NGO sahaja. Jumlah sebenar kematian kerana keganasan polis tidak diketahui hingga kini," tambah beliau lagi. -SK
Ulasan GB

Kantoi.

"Jika dibandingkan dengan kes Norizan Salleh, jalan cerita dalam laporan polis sama dengan laporan yang diberikan untuk Aminulrasyid, iaitu, kedua-dua disyaki terbabit dalam jenayah, parang dijumpai di dalam kereta mereka dan yang ironinya dalam kedua-dua kes polis mendakwa mangsa kononnya cuba merempuh polis dengan mengundurkan kereta.

a) mangsa kononnya terlibat di dalam jenayah
b) parang dijumpai di dalam kereta
c) mangsa cuba merempuh polis dengan mengundurkan kereta

Ini saja idea yang ada pada polis yang nak menipu. Parang sengaja dibawa dan diletakkan di dalam kereta mangsa. Parang yang serupa, sama panjang, sama bentuk agaknya, polsi yang empunya, bukan mangsa!

Yang kata ada parang tu siapa? KPN Selangor, Khalid Abu Bakar namanya.


Posted: 05 May 2010 05:32 AM PDT
A man is taking a walk in Central Park in New York .
Suddenly he sees a little girl being attacked by a pit bull dog.
He runs over and starts fighting with the dog. He succeeds in killing the dog and saving the girl's life.
A policeman who was watching the scene walks over and says: "You are a hero, tomorrow you can read it in all the newspapers:
"Brave New Yorker saves the life of little girl".
The man says: "But I am not a New Yorker!"
Oh then it will say in newspapers in the morning:
Brave American saves life of little girl" the policeman answers.
"But I am not an American!" - says the man.
Oh, what are you then?"
The man says: "I am a Pakistani!"
The next day the newspapers say: "A Terrorist kills innocent American dog".
Via e-mail
Update #2 Of The Pandan Perdana Pavement Upgrade
Posted: 05 May 2010 02:49 AM PDT
The pavement upgrade works were completed yesterday. Fellow accessibility advocate Robert Wang who also resides at Pandan Perdana went to check and discovered that the ramps were too steep. This was despite assurances from Encik Zahari of Jabatan Kejuruteraan Majlis Perbandaran Ampang Jaya (MPAJ) that the ramps would be built according to the code of practice which is the Malaysian Standard MS 1184 and MS 1331. Robert made an appointment to meet Encik Zahari this morning to discuss about rectifying the mistakes.
At the meeting we conducted a brief audit of the ramps and pavement. Encik Zahari concurred that the ramps were not properly done. The three ramps that we checked all had gradients of 1:6 when it should have been the ratio of 1:15. It is an impossibility for a wheelchair to go up a gradient of 1:6 without tipping backwards. We discovered that the width of the pavements was only 900mm when the code of practice recommended 1200mm. The pavement connecting to both ends of the bus stop were not flushed. There was difference of height of 1 inch. This uneven height is a barrier to wheelchair users. Moreover, non-disabled people who are not aware of the small steps may trip over them and injure themselves. Encik Zahari assured us that he will get the contractor to rectify the mistakes.
What I cannot comprehend is the fact that Malaysia has the capability to build the iconic Petronas Twin Towers, SMART Tunnel and the award winning Kuala Lumpur International Airport but we cannot even build a decent pavement that is safe and usable by everyone. This is also most disappointing especially when MPAJ had given their commitment to improve accessibility in the Ampang Jaya municipality by organising the Seminar dan Sesi Dialog Bersama OKU, Agensi Kerajaan dan Pihak Swasta (Seminar and Dialogue Session with Disabled People, Government Agencies and the Private Sector) and Disability Awareness Training. What more will it take to ensure that the accessibility needs of disabled people are not forgotten? As it is, our needs are often ignored and disregarded unless we make the effort to remind the government of our existence.
Poorly built ramp at Pandan Perdana.
Close-up of the ramp – too steep for wheelchair user to ascend unassisted.
Arrows pointing to the uneven levels of the bus stop and pavement.
A closer view of the uneven level between the bus stop and pavement.
The ramp at the other end of the pavement.
Yet another steep ramp at the other side of the road.
Related posts:
Malaysian Insider : Government to push ahead with GST
Posted: 05 May 2010 03:29 AM PDT
KUALA LUMPUR, May 5 — The government listed down today essential items exempted from a proposed consumption tax, and indicated it plans to go ahead with the eventual introduction of the unpopular Goods and Services Tax (GST).
Deputy Finance Minister Datuk Seri Awang Adek Hussin told the Dewan Negara today that among the items not subjected to GST include rice, sugar, salt, flour as well as meats and some seafood items.
Electricity and water supply will also be partly exempted.
The deputy minister also gave an assurance that GST would only be implemented after the Price Control and Anti-Profiteering Act is passed by Parliament.
The new legislation is part of efforts by the government to contain short-term profiteering associated with the introduction of the consumption tax.
He said the law was in the final stages of drafting by the Attorney-General's Chambers and is expected to be tabled in Parliament by June.
"There is a fear that traders might increase prices of goods because of the GST to make more profits.
"Therefore, we need to have a law to prevent profiteering by traders," he was quoted as saying by Bernama.
The Najib Administration put off in March the introduction of GST and was expected to only revive the introduction of the unpopular consumption tax after the next general elections when it hopes to regain Barisan Nasional's (BN) customary two-thirds parliamentary majority.
The decision came after feedback from BN MPs suggested that opposition to the GST was also palpable among component party members apart from the Pakatan Rakyat (PR) bench.
Prime Minister Datuk Seri Najib Razak had said that it would take time to gather public feedback and also to educate people about the GST which the government said will initially be four per cent.
It would substantially lower than the present Sales and Services Tax of between five and 10 per cent.
The GST is expected to generate revenues totalling around RM8.8 billion.
It is due to be introduced in 2011, to replace an existing sales tax as part of measures to reduce Malaysia's dependence on oil revenues, which currently accounts for almost half of government income.
Malaysia's budget deficit hit a more than 20 year high of 7.4 per cent of gross domestic product in 2009, according to government data.
Awang Adek told Parliament today that the government was aware of the concern among consumers about the implementation of GST.
"Actually, there is a lot to be gained by the government and the country with the implementation of GST, among them, a new source of revenue," he added.
Wildlife Wednesday – My first snorkeling experience
Posted: 05 May 2010 02:42 AM PDT
This entry is given high priority in this blog. It is not another holiday entry, it is not another collection of pretty pictures. It is a story and collection of pretty pictures about THE DAY DIYANA BATTLES THE OCEAN!
Weeehooooooo! Come on people give her a big round applause!
When I was about 5-6, I had gone a train ride from Kuala Kangsar to Butterworth. Along the way, the train had choo choo its way across Lake Merah now popular for Bukit Merah Lake Town Resort. Maybe because I was just a child and short, when I looked out the window at that time I couldn't see any land just endless and endless of blue. The water was dark, deep, mysteriously calm and cold in my eyes and at that moment had this strange feeling slowly developing inside me and making me feel like running. I wanted to run run run till I reach a safe place that is warm and sturdy WITHOUT A MONSTER. Because I swear in any water that deep and calm THERE HAS GOT TO MONSTERS waiting to emerge slowly and say boo! Then I would die after I crap in my pants.
I was about 6 at that time and I still have the same sentiment 16 years later. I have always been afraid of water in large quantity, although the fear is not too great that avoid the pools and rivers altogether but enough to be the reason that I cannot swim. And it was also the reason Azman had not gone snorkeling or diving or even swimming on our holidays even when we were in one of the world's best island- Bali.
In April 2010, Azman and I went to MATTA Fair to get some ideas and great packages for our Sabah vacation. I wanted to see the proboscis monkeys and I could see that he was influenced by the travel agents to go diving. Two or three days later he told me that we should try island hopping in Sabah and he wanted to go snorkeling. Kerana chentaku padamu tak dapat ku terkata… eh tu macam lagu Faminin.. aku pun tak tau kenapa aku pergi kata ok! Amazing tul!

So on the day itself, Azman's best friend sejak zaman kanak-kanak ribena Abul and his lovely Atiqa has played world greatest travel agent and brought us to Manutik Island off coast Kota Kinabalu.
Here is a very nice photo of them. We really appreciate this couple's help and great hospitality. They packed delicious lunch for all of us to the island and showed us around, brought to nice dinner etc. Must be very tiring for Atiqah she was heavily pregnant. Thanks a lot to them..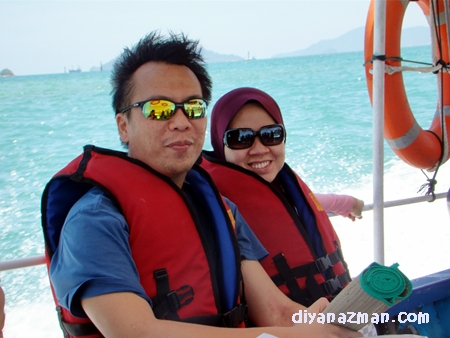 Atiqah doesnt look pregnant at all  I am jealous..
Please bear in mind that I was an aquaphobia trying to be a supportive wife to a life long adventurous husband. I was very jakun island girl from the west coast of peninsular Malaysia. I am only used to muddy sea water.  As we got the boat at Sabah, I was already marveled at the water, so clear and teeming with fish!
Miki was super excited. He kept repeating "Miki nak mandi!" and holding his floaties like a prized possession but he got into the cool water he changed his mind. He didnt expect there would be so many fish swimming around him, he was only used to swimming pool water. haha!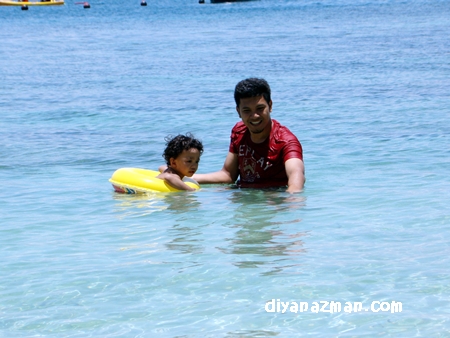 But seriously, Manutik Island if you ask me is all about FISH! FISH! FISH! There were so many fish!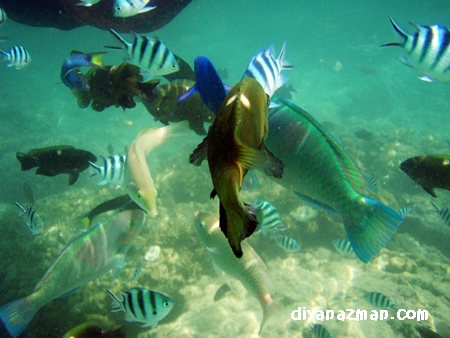 All sorta fish…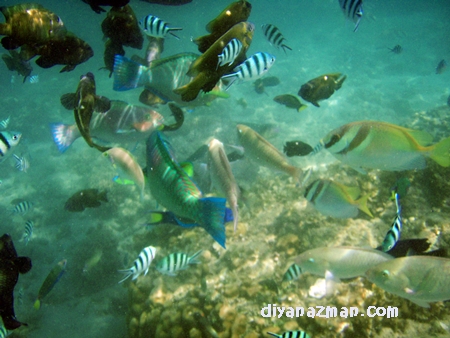 Colorful fish…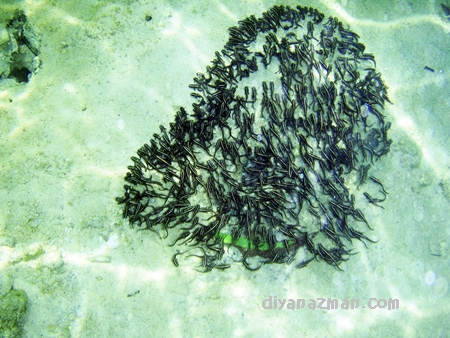 The tadpole-lookalike fish…
These school was swarming the sea bed and here almost making a heart shape…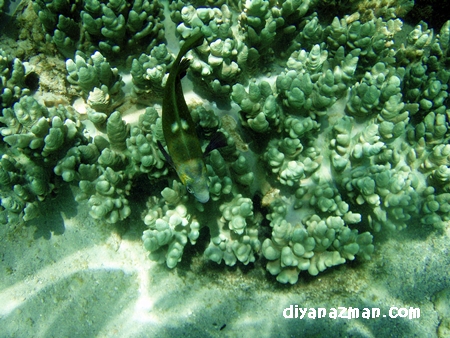 The camouflaging among coral fish…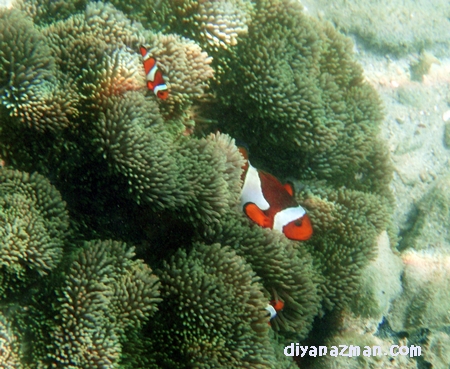 The famous film star fish… haha!
These clown fishes reminds me so much of the movie Finding Nemo, not only because well they were the leading stars (duh!) but the fact that they occupy the anemone in what looks like a family. A biggest one- most probably the Dad, slighly smaller one must be the Mom and a tiny baby. Really cute and Mr Dad is aggressively  guarding his crib and family by charging at other fishes swimming near by. Tak padan dengan kecik! Gedebe!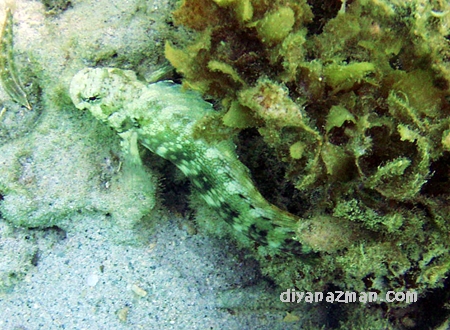 The fugly fish…
kesian mamat ni tak berapa nak handsome…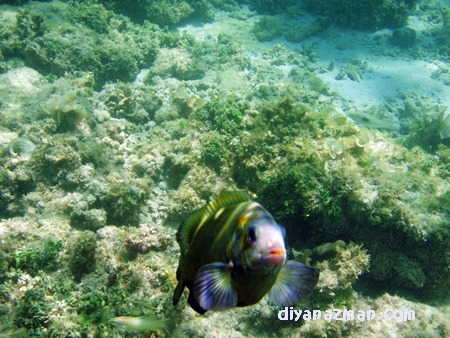 The angry fish…
This one is pretty fleshy (sedap masak kari) and colorful. But if it's a woman I'd say it having a period. It liked to come charging to our faces and then swim away. Ko pehal ikan??? Ko tahu tak aku tengah memberanikan diri snorkeling ni, yg ko nak feeling-feeling piranna ni apsal? Belasah kang!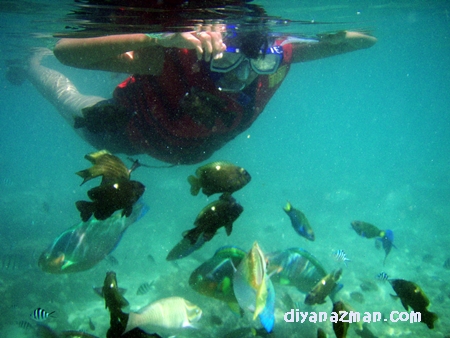 That's me in such a awkward position, my left hand was held above the water because it was holding to a sandwich and my right hand feeding these fishy their cousin Tuna. Bloody cannibals!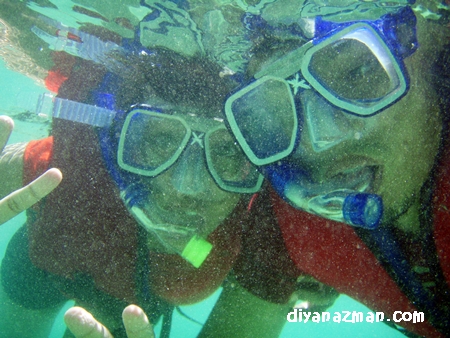 Azman dan isterinya yang penakut tetapi supportive (konon)
I am glad I went to this island for my first time snorkeling because we just had to waddle our way from the shore to how-ever deep sea that we wanna go. If I were to snorkel straight from the boat, my chicken shit self wouldn't be able to determine my whereabouts and freaked the hell out. Azman ended up snorkeling for quite a long time. At one point I felt pretty confident and that's when my curiosity aka jakunisity aroused. I wanted to touch everything. Which was wrong. You shouldn't be touching the corals but nope that's what I wanna. And all of a sudden I felt sharp pain on my toes.
I was like dammit AZMANNNNN A SHARKKK GOT MY TOEEEE!!!! SAKITTTT!!!!!!!!!!
So we went back to the shore and I saw sharp black needles planted in my big and second toe. OMG! I cannot believe I would be needing a foot removal!! Matilah aku jadi ibu tanpa kaki… kesiannya kat Miki mak dia kaki kena potong… huaaa…
Then Azman called the lifeguard. I was imagining David Hasselhoff comes running in spender merah but yang datang adalah seorang Iban ke Dayak wallahualam tapi beliau baik! Terima kasih encik kerana meneyelamatkan kaki saya. Dengan menuang cuka. Ya cuka sahaja. Part potong-potong kaki tu imaginasi saya.
He said I must have stepped on a sea urchin. Actually I kind knew I stepped on a sea urchin but Azman would walk faster if I said shark ok? He also said next time if we don't have vinegar around, alternatively we can pee on it. It's ok. Thank you very much. I rather wait a hundred years for the wine to become vinegar rather than be peed on. Hmmp!
Anyway, the pain went away after 5 minutes only. And then I went back to the sea. Begitulah kematunya kaki aku pegi sepak landak sakit 5 minit saja. Ada sapa-sapa nak rasa sepakan aku?
Keiko Kitagawa – Kanebo SALA commercials
Posted: 05 May 2010 01:11 AM PDT
Collection of Japanese TV commercials featuring popular actress Keiko Kitagawa for Kanebo SALA [Jp] haircare products…
Keiko Kitagawa – Kanebo SALA commercials from YeinJee's Asian Blog
This posting includes an audio/video/photo media file: Download Now
Malaysian Insider : Modern etiquette: Compliment or crawling? How to get it right
Posted: 05 May 2010 01:28 AM PDT
Modern etiquette: Compliment or crawling? How to get it right
SEATTLE, May 3 — Whatever their subject — our svelte new figure, our rousing speech, our strong sales figures — compliments lift us, honour us, validate our choices and efforts — as long as they are not seen as attempts to crawl into favour.
A compliment is a two-way gift that benefits the giver and receiver alike. Compliments are always socially proper, if sincerely extended and kept appropriate to the context, but in the workplace the giver needs to adhere to certain rules.
If someone looks great, tell him or her.
If someone is always efficient, acknowledge that.
Compliments can break the ice with a stranger, defuse stress, lift spirits, or tighten a bond.
The right words at the right time can motivate, comfort, reward, validate, and inspire.
Compliments are not the same as flattery.
Flattery is insincere and excessive.
Superfluous compliments are annoying and make others feel as though the giver were angling for something — as if the giver expected a receipt.
So what makes a good compliment? Here are the basics:
Be sincere:

Complimenting someone just because you think it's a good idea is a bad idea. Phoniness is easy to spot and destroys credibility.

So if the luncheon speaker was a flop, don't gush about her speech.
Instead, talk about her effort, thank her for her time, and note her other accomplishments.

Be specific:

"That was a wonderful casserole" is better than "You're a terrific cook." "That sales research was right on target" is better than "Great job!"

Don't compare:

Never compare one person's accomplishments to another's.
Compliments should be consistent with the setting and the relationship between giver and receiver. So what about the boss's new haircut? If she or he is a longtime colleague and you're on very friendly terms, it's fine to compliment it. In most cases, however, it's best to stick to compliments on a colleague's work, rather than his or her appearance.
That goes double for remarks made to someone above or below you on the organisational chart because these relationships contain a power dynamic, personal remarks may unintentionally become highly loaded or easily misunderstood.
At a very personal level, let's say an acquaintance looks far different from when you last met. Maybe he or she lost weight, or had a makeover or cosmetic surgery. You want to say something positive, but you are on delicate ground regarding the reason.
So what do you say? Just: "You look absolutely wonderful!" with a big exclamation point in your voice.
If the Wonderful Looking Person gives you a glimpse of the details, you can chat a bit about them. But if he or she merely thanks you, drop it and change the subject.
This is how you respond to a compliment:
"Thank you."

Some

unacceptable alternative (responses)

include:
• "Are you nuts? I'm a cow!"
• "It was nothing."
• "Oh, you're not serious."
• "Please. I just threw this together." And so forth.
3. Never dispute, disparage, or diminish a compliment.
To do so is to insult the giver by questioning his or her judgment, standards, taste, or — worse — sincerity.
        4. Much better to smile, savour the moment —
        5. and watch for the next opportunity to offer that great feeling to others!
This lesson is far easier said than done. I recall with embarrassment giving a lecture in Manhattan to a multinational company about self-defeating behaviour in women.
High on my list was our awkwardness at accepting compliments. After the programme, one woman approached me to say how much she liked the author's photo on one of my books. And how did I respond? "Thanks. It was taken a year ago, though, so I was younger then."
Life is humbling indeed! My own life frequently calls to mind the wise Asian saying: "We teach what we want to learn." — Reuters
By Mary Mitchell
Malaysiakini : Malaysian healthcare system ill, needs attention
Posted: 05 May 2010 12:40 AM PDT
Malaysian healthcare system ill, needs attention
It is frequently said that a true measure of society is how it treats its weak and poor.
To this we would like to add that the true measure of a civilisation is how it cares for its sick and dying.
Recently a friend's mother was diagnosed with advanced bowel cancer. In her mid-50s, with two children of college age, she was obviously desperate to put up a brave fight for as long as possible.
Six months and RM 400,000 worth of treatment later she sadly lost her battle with the Big C, leaving a grief stricken family that had re-mortgaged the family home and were waist deep in debt. Although she had healthcare insurance, the insurance firm would only cover 70 percent of the costs, hence the need to dig deep into savings and release property equity to raise the additional funds, at considerable cost to her loved ones.

Cardiovascular disease, diabetes and stroke are already among the leading causes of mortality in Malaysia, in line with that of the rest of the developed world. Cancer diagnosis is on the rise and over the next 20 years it is projected that 1 in 3 to 1 in 4 of us will develop cancer. Many of these diseases don't discriminate – at some point in the future either we ourselves or someone close to us will suffer from a potentially serious healthcare condition. How much will this cost us and how many of us will be unable to afford the treatment we need?
In recent years, Malaysia has witnessed the growth of the private sector share in our healthcare system. Whilst many private hospitals provide good standards of care, some are more concerned with profit margins.
Many of us will be familiar with stories of private hospitals performing unnecessary tests and additional treatments as a means of income generation. A friend's uncle tells the hilarious story of climbing a rambutan tree a few years back and falling off a branch, sustaining a mild concussion.
With a bit of a sore head he thought he'd better go and get checked out. Despite little in the way of additional signs and symptoms he was subjected to a MRI scan at a popular private hospital and an IV drip overnight although he was perfectly capable of eating and drinking.
The outcome? He was discharged the next day with a bill for RM5,000. On relaying his story to a doctor friend later on he was berated for having been taken for a ride, when a couple of Panadols and close observation would probably have sufficed.
Profiting from pain
When a close friend was recently accepted into an oncology training programme overseas, her father's friend, a respected surgeon, noted what a good career move she'd made. He congratulated her father on the fact that when she returned to Malaysia she could hope to make up to RM 70,000 a month as an oncologist in the private sector.
She was stunned and clearly dismayed by this proposition -in her mind, no one or no institution should ever be able to profit out of the pain and suffering of others. There is something fundamentally wrong with a system that puts profit and material gain before human life.
Some will argue that a private healthcare system should be allowed to develop and those that can afford it continue to pay, whilst those that can't can fall back on the government system. We would argue that promoting a two tier healthcare system is dangerous both in terms of ensuring equitable access, maintaining healthcare standards, promoting research and development as well as the inevitable brain and talent drain that follows -as clinicians are drawn away from the government system towards the private sector.
Currently the private sector accounts for 23 percent of the country's hospital beds (12,000 beds per year). Around 40 percent of the country's doctors are employed within the private sector (9,000 doctors) with a doctor to patient ratio of 1 to 1.3. This is compared to a doctor to patient ratio of 1 to 3 in the public sector.
However with the move towards semi-privatisation and lack of a coherent social welfare system, even healthcare provisions within the government sector are not completely 'free'. Neither are these provisions always affordable. A friend recalls undergoing cancer treatment at University Malaya Medical Centre (formerly known as University Hospital).
She was charged RM30 for her first round of chemotherapy. At the same time in the chemotherapy suite was another woman who was bemoaning the fact that she couldn't afford to have further treatment. She unfortunately was now onto her second course of chemotherapy for cancer recurrence and this time round had to pay around RM3,000. Apparently this was part of the additional charges for successive chemotherapy sessions.
Ethical dilemmas
Also, doctors in the government sector often face tough ethical dilemmas. One senior doctor was seriously disillusioned by the fact that difficult cost-benefit calculations have to sometimes be made on behalf of patients. Some patients may be faced with the prospect of treatment that may buy them a further 18 months of life but leave their family with RM 20,000 worth of debt.
For many of us, ANY additional time spent with a loved one would be considered immeasurably precious. However for a family existing on RM1,000 a month this could spell financial ruin. In many instances, doctors in the government service heroically choose to turn a blind eye and continue to treat patients regardless of their ability to pay. Many of them however find themselves on the sharp end of rebukes from finance departments and hospital managers.
So what is it that Malaysians need and what is it that they deserve?
We would argue that instead of wasting taxpayers money through superfluous vanity projects and outrageous spending, the government should in fact be focusing on providing a world class healthcare system that is free to all at the point of delivery. And by that, we don't simply mean a few token clinics hastily scrambled together devoid of properly qualified medical officers.
Malaysians are more than capable of leading cutting edge research and providing world class healthcare services that saves lives -the fact that there are many Malaysians in top consultant/research/public health posts abroad in the UK, US, Singapore, Canada and Australia is testimony to that.
Comprehensive plan required
We need to come up with a plan for comprehensive healthcare coverage that ensures we get the treatment we need when we need it, regardless of our ability to pay. We need a comprehensive overhaul of our public health policies that make diabetes, heart disease, stroke and cancer diagnosis and treatment top on our list of priorities.
We need to guarantee that the next time a minister's wife develops breast cancer she is able to access the best up to date treatment on her doorstep without having to fly halfway round the world. Along with our mothers, sisters, wives and daughters.
Breast cancer is, after all, hardly a rare disease. We need to pay our doctors a fair wage and reward initiative, innovation and hard work, so that we retain the talent we need to build a world-class health system within the public sector.
We need to invest more money in healthcare- last year the government spent only three percent of our gross domestic product (GDP) on healthcare (and only half of this-1.5 percent was spent in the public sector). During the recent economic downturn, public healthcare expenditure was among the first to be slashed by a staggering 30 percent. It is bad enough that existing levels of expenditure for healthcare fall short of the World Health Organisation recommended level of five percent and that of China and India who over the last seven years have consistently spent over five percent of their GDP on healthcare.
Most importantly we need to remind ourselves that many illnesses, including cancer, do not discriminate, and when you're ill and vulnerable all the money and material wealth in world may fail to make things better. More than skyscrapers, shopping malls and multi-million dollar vanity projects we need a robust healthcare system that serves the people and can be trusted and relied upon to care for us when we are at our most vulnerable.
// Nurul Izzah Anwar and Yolanda Augustin
Nurul Izzah Anwar is Lembah Pantai Member of Parliament and Yolanda Augustin is a Malaysian doctor training in the United Kingdom.
Posted: 05 May 2010 12:31 AM PDT
A decent compilation by GothTatsumaki@Youtube. Watch at your own discretion…
Top 20 Japanese horror films from YeinJee's Asian Blog
This posting includes an audio/video/photo media file: Download Now
Why no RCI? Why only a so-called special panel? To protect the police?
Posted: 04 May 2010 11:07 PM PDT
DAP advisor Lim Kit Siang believes that the special panel's visit last night was nothing more than a cheap publicity stunt.
Lim also maintained his call for a Royal Commission of Inquiry, and for the panel to expand its terms of reference to all police shooting deaths since 2005.
The panel, headed by deputy home minister Abu Seman Yusop was formed last week to probe into the police investigation of the shooting
has neither investigative powers nor the power to submit recommendations to the police.
Hanya 30 Minit Tinjau Lokasi Kejadian.
Posted: 04 May 2010 10:40 PM PDT
P
anel khas yang ditubuhkan untuk menyiasat insiden kematian Aminulrasyid Amzah, 26 April lepas, memulakan tugas mereka dengan melawat tempat kejadian di sini malam tadi.
Panel yang diketuai Timbalan Menteri Dalam Negeri, Datuk Wira Abu Seman Yusop bersama tujuh anggota lain dilihat mula berkumpul di Hotel Concorde Shah Alam kira-kira pukul 9.30 malam.
Mereka kemudian melawat beberapa lokasi dan laluan yang dipercayai dilalui
Aminulrasyid dan rakannya, Muhamad Azamuddin Omar, kedua-duanya berusia 15, sebelum mangsa terkena tembakan di kepalanya dan mati di riba Muhamad Azamuddin, di tepi sebuah rumah di Jalan 11/2G, Seksyen 11, di sini.
Panel menaiki sebuah bas yang diiringi kereta polis dan kereta peronda.

Antara tempat yang dilawati ialah Bulatan Kayangan dan Restoran Ali Corner di Jalan Platinum G 7/G, Seksyen 7, persimpangan lampu isyarat berhampiran Kompleks PKNS dan bangunan Sirim Berhad.

Rombongan berkenaan tiba di lokasi kejadian kira-kira pukul 11.10 malam dan menghabiskan masa selama 30 minit meninjau kawasan akhir iaitu di jalan utama berhampiran jalan 11/2G dan longkang di mana kereta mangsa terbabas.

Sementara itu, ketika ditemui pemberita Abu Seman berkata tujuan lawatan itu adalah bagi memahami situasi dan gambaran sebenar kejadian.

Turut hadir Ketua Jabatan Siasatan Jenayah Shah Alam, Deputi Superintendan Kamaruddin Ismail.

Bekas Ketua Polis Negara Tun Mohammed Haniff Omar adalah antara lapan anggota panel khas itu.

Anggota panel lain ialah tiga anggota Suruhanjaya Hak Asasi Manusia (Suhakam), pensyarah dan pakar jenayah bebas.

Tiga anggota Suhakam itu ialah Ketua Pegawai Eksekutif Institut Strategi dan Kepimpinan Asia (Asli) Datuk Dr Michael Yeoh, Datuk Seri Muhammad Shafee (peguam) dan Datuk Dr Denison Jayasooria (aktivis).

Dua lagi anggota panel ialah pensyarah Universiti Teknologi Mara (UiTM) Prof Madya Datuk Abd Halim Sidek dan penganalisis jenayah Kamal Affandi manakala Timbalan Ketua Setiausaha (Keselamatan) Kementerian Dalam Negeri (KDN) Datuk Ahmad Fuad Ab Aziz sebagai setiausaha panel.

Dalam kejadian kira-kira pukul 2 pagi 26 April lepas, Aminulrasyid mati selepas terkena tembakan yang dilepaskan anggota polis peronda apabila remaja itu dikatakan cuba melarikan diri ketika ingin ditahan di Seksyen 11, Shah Alam.



30 Minit Untuk Panel Khas Lawat Lokasi Tragedi Aminulrashid

Hanya 30 minit diperuntuk Panel Khas yang memulakan siasatan kes Aminulrashid Amzah, remaja berusia 15 tahun yang mati ditembak polis, malam tadi.

Mereka diketuai Timbalan Menteri Dalam Negeri, Datuk Wira Abu Seman Yusop bersama tujuh anggota lain dilihat berkumpul di Hotel Concorde Shah Alam kira-kira jam 9.30 malam.

Antara yang dilawati ialah Bulatan Kayangan dan Restoran Ali Corner di Jalan Platinum G 7/G, Seksyen 7, persimpangan lampu isyarat berhampiran Kompleks PKNS dan bangunan Sirim Berhad.

Mereka tiba di lokasi kejadian pada jam 11.10 malam dan meninjau jalan utama berhampiran jalan 11/2G dan longkang, tempat kereta yang dinaiki mangsa mangsa.

Mengikut laporan Bernama, Abu Seman berkata lawatan itu bertujuan memahami situasi dan gambaran sebenar kejadian.

Untuk rekod, ahli keluarga mangsa mendesak mahu kerajaan mengadakan suruhanjaya diraja bagi menyiasat tragedi ini dan penubuhan panel khas dianggap tidak memadai. -TVS

Kit Siang bemoans 'powerless' panel in boy's death

KUALA LUMPUR, May 4 — Lim Kit Siang today described the government's special panel on Aminulrasyid Amzah's shooting death as "powerless" and asked the Cabinet to put an end to what he called the Home Ministry's "guerilla" response to rising public anger.

The DAP leader also criticised the ministry for flip-flopping on the "powers" of the panel.

"The powerless Special Panel into Aminulrasyid's police killing is neither fish nor fowl even with Tun Haniff as member, as well as other members including former Suhakam commissioner Denison Jayasooria, crime analyst Kamal Affendi Hashim, lawyer Muhammad Shafee Abdullah, Asian Strategy and Leadership Institute (Asli) chief executive officer Dr Michael Yeoh and UiTM deputy vice-chancellor Prof Abdul Halim Sidek.

"The guerilla response of the Home Ministry could be seen from the on-the-run chop-and-change as to what the Special Panel can and cannot do," he said.

Lim had proposed a royal commission of inquiry to probe the shooting of the 14-year-old schoolboy and for such a panel to be chaired by former Inspector-General of Police Tun Haniff Omar.

However, the ministry announced today that Haniff would be appointed as a member of the special panel headed by Deputy Home Minister Datuk Abu Seman Yusup.

Lim said the Cabinet should be decisive in quelling public confusion on the panel.

"There is profound confusion as to the actual powers and terms of reference of the Special Panel which is neither fish nor fowl even with Tun Haniff as a member

"The Cabinet tomorrow should boldly and decisively put an end to such 'guerilla' responses to the police killing of Aminulrasyid, as the repercussions have reached far and wide as to affect public confidence in the independence, efficiency and professionalism of the police force," he said.

He added that the Cabinet should take a "holistic decision" to establish a royal commission of inquiry into all police shooting deaths since 2005.

Lim also ridiculed Abu Seman over his indecisiveness surrounding the formation of the special panel.

"Abu Seman now claims that the Special Panel is powerful because it is empowered to scrutinise the investigation papers at any time without needing the approval of the police or Attorney-General's Chambers.

"Where did Abu Seman get such powers? How did a powerless Special Panel become a 'powerful' panel overnight? On what basis are the powers of this Special Panel derived from, when the Cabinet had not met on the matter?" he asked.

Aminulrasyid allegedly tried to ram into police officers in Section 11, Shah Alam, which caused them to shoot him in apparent "self-defence", in the incident which happened at 2am on Monday.

However, the allegation was refuted by Azamuddin Omar, 15, who was the lone passenger in the car.

The young boy died about 100 metres away from his house. -TMI


Ulasan GB

Kalau sekadar 30 minit, mereka meninjau lokasi kejadiankah atau berjalan bersiar-siarkah?

Satu cara efisyien kerajaan perhabis wang rakyat!


Panel makes late-night visit to scene of teen shooting
Posted: 04 May 2010 10:39 PM PDT
Hours after the special panel to probe the fatal shooting of teenager Aminulrasyid Amzah was formed, it went on the ground late last night to begin investigations.
Headed by Deputy Home Minister Abu Seman Yusop (right), the eight-member panel started
their 6km journey from a mamak restaurant in Section 7 where the 14-year-old and his friend had watched football late into the night, to the Kayangan roundabout where their car had allegedly grazed another vehicle,
following the trail that Aminulrasyid and his friend took before the bloodshed about 2am on April 26.