---
umno playing racial card again – what else do they know what to do!
Posted: 06 May 2010 10:44 AM PDT
azhar, or azhar. ahzar ibrahim, penang state opposition leader, did it again.
from malaysiakini (see full article below)
Pandemonium erupted in the Penang state legislative assembly today when opposition leader Azhar Ibrahim warned that there would be a repeat of the May 13 riots if the people lost confidence in the authorities.
and why? because of this…
Azhar clarified that he mentioned May 13 as a response to the state's total loss of confidence in all government agencies, including the police and the Malaysian Anti-Corruption Commission (MACC).

"Everyone's wrong – police, MACC, Umno – only they (Pakatan) is right.
do you know he associate the criticism of the police as 'an insult to the malays' (and again accused CM lim as anti malay, anti islam). now that's strange… does this means the police (PDRM) is a malay institution? i remember sometime ago there was some issue about the MACC, someone was also hinting MACC is a malay institution with something he said.
so what? police malay institution? MACC malay institution? what ekse? oh, the judiciary!
no wonder the DPM said he is malay first and not malaysian first (where the PM agreed with him) – does this means malaysia is also for malays only? is this the meaning of 1 malaysia???
you know, this azhar ibrahim is really a shit stirrer each time he was in the state assembly. all he knows was to find fault with pakatan, to attack pakatan. ok if he attack pakatan with facts and proof but he seemed a very bitter man for having lost in the election and not being the govt. anymore, so he is taking every opportunity to simply attack pakatan.
i'm sure many have not forgotten how he was the one who led umno leaders and umno members in a protest at komtar, penang, just after a week after the march 8 general election result.
then once he defended ahmad ismail against the sin chew reporter, tan. instead he said that the reporter ought to be shot!
not too long ago, at the penang state assembly, he flashed his buttocks!
azhar, o azhar, what's wrong with you?
oh well let him continue with his usual way – this will made us all the more determined not to see umno getting back into power after GE13!!
————————————–
Azhar to privileges committee for May 13 threat
Susan Loone
May 6, 10
12:51pm
Pandemonium erupted in the Penang state legislative assembly today when opposition leader Azhar Ibrahim warned that there would be a repeat of the May 13 riots if the people lost confidence in the authorities.
Commenting on the public criticism over the police shooting of teenager Aminulrasyid Amzah, Azhar (right) said that the army can take over from the police if the later does not enjoy public support.
He lambasted Chief Minister Lim Guan Eng's constant criticism of Umno, which has three million members, for being corrupt.
Azhar also accused Lim of being anti-Malay and anti-Islamic for his attacks against Umno and Prime Minister Najib Razak.
"This is an insult to the Malays, don't you think that there will be no Malay gangsters, or the Barisan Tiga silat group, who will come here and teach those who utter these words a lesson?" he threatened.
"And if you continue to insult the police and its chief, then let's ask the army to take over," he added.
This was followed by scores of demands from Pakatan Rakyat assemblypersons for Azhar to withdraw his statement, to which he obliged.
A motion was, nevertheless, later passed to refer him to the Rights and Privileges Committee for uttering seditious words and inciting ill-will among different races.
Azhar will go before the powerful committee on charges of seeking "to forment rebellion through his seditious remarks" and "to create hatred and hostility among the races".
Government to lodge police report
Outside the hall, Lim slammed Umno for rejecting democracy with its call for the interference of the army.
"They have issued threats and even mentioned May 13 while slamming the table repetitively," said Lim, at an emergency press conference after his winding-up speech.
Lim added that it was unfair of Umno to link criticisms against BN to criticisms against Malays.
"Why do they have to resort to this action simply because they cannot debate; they do not have facts compared with us," he added.
"We see this as a very dangerous development, especially when these threats are made public."
Lim said the state will lodge a police report against Azhar for his 'dangerous' utterances in the assembly.
The state opposition leader, who could face suspension from the assembly, has downplayed the charges.
"I'm not worried," he said. "I spoke in that manner after Umno and BN were labelled as corrupt, autocratic and I am willing to face anyone, even in court."
Azhar clarified that he mentioned May 13 as a response to the state's total loss of confidence in all government agencies, including the police and the Malaysian Anti-Corruption Commission (MACC).
"Everyone's wrong – police, MACC, Umno – only they (Pakatan) is right.
"How can Umno which has ruled for 52 years in this country be deemed a gangster and corrupted?" asked a visibly peeved Azhar.
"We do not want it (May 13) to happen but if the situation is not controlled, it will happen again, especially when all races are angry," he added.
Musa not fit to be IGP
The assembly, into its fourth day, was already abuzz with a heated argument between Lim and Azhar before the motion referring the opposition leader to the privileges committee was passed.
The argument which lasted for about 30 minutes, started when Lim (DAP-Air Putih) was winding up debate on a motion of thanks to the Yang Dipertua Negeri Abdul Rahman Abbas.
>Azhar said since the Pakatan-led state government did not recognise the police force, he had suggested that the army take over the duties of ensuring law and order in the country.
Lim said DAP only deemed that Musa was not fit to be the federal police chief and that did not mean DAP does not respect the police force for their services.
"It is not wrong for us to criticise Musa Hassan because to us, he is not eligible to be the police chief.
"The latest issue of police shooting and killing a 15-year-old, Aminulrasyid (Amzah) is another case in point," he said.
Meanwhile, to another question by Azhar, Lim said the government awarded Taiyo (KL) Resorts Sdn Bhd the tender to manage the Bukit Jambul Golf Club because the company had offered a high price that would benefit the state government.
"Although it is a foreign-based company, the deal will benefit the state government," said Lim in response to Azhar who wanted to know why the tender was not awarded to a local company.
This is not the first time that Azhar has sparked a ruckus in the assembly.
He was ordered to leave the House twice last December – the first time for making disparaging remarks against a PKR representative and later for 'showing his behind' in the assembly.
Polis Bersikap Double Standard, Biarkan Demo Haram Pembela Negara Dan Perkasa
Posted: 06 May 2010 09:34 AM PDT
B
alai Polis yang terletak bersebelahan Ibu Pejabat Parti Keadilan Rakyat di Merchant Square, Petaling Jaya dianggap sebagai tunggul kayu yang tidak berfungsi apabila gagal bertindak terhadap kumpulan yang mengaku mewakili Majlis Gabungan NGO Pembela Negara dan Perkasa yang berhimpun dan menunjuk perasaan sambil membakar patung Ahli Majlis Pimpinan Pusat, Datuk Zaid Ibrahim.
Sehubungan itu Setiausaha Agung KEADILAN, Saifuddin Nasution Ismail kesal dengan pihak polis yang tidak profesional apabila gagal menghadirkan dan mengambil tindakan terhadap kumpulan tersebut.
"KEADILAN menghormati hak rakyat untuk bersuara dan berhimpun secara aman tetapi kumpulan tersebut bertindak biadap.
"Mereka telah mengeluarkan kata-kata kesat dan beraksi lucah yang boleh disifatkan sebagai provokatif dan ianya boleh mencetuskan kacau bilau ketenteraman awam," kata Saifuddin dalam satu kenyataan hari ini.

Menurut beliau, KEADILAN telah memaklumkan kepada pihak polis untuk sekurang-kurangnya menempatkan anggota polis untuk mengawal dan memerhati keadaan.

Namun katanya pihak polis yang kebetulan mempunyai balai di sebelah ibu pejabat parti mengatakan mereka tidak mendapat arahan untuk berbuat demikian.

"Perkara seperti ini tidak mungkin berlaku jika perhimpunan ini dibuat di hadapan pejabat Umno-Barisan Nasional.

"Institusi polis sekali lagi menunjukkan sikap "double standard" dan hanya mengikut telunjuk kerajaan Umno-BN," kata Saifuddin lagi.


Stephen Tong's Evangelistic Rally In Sibu (唐崇荣布道会)- Part 18
Posted: 06 May 2010 07:10 AM PDT
Let us pray together for the evangelistic rally falling on 10th May for a stretch of three days in Sibu at Sibu Town Square: Holy God, grant us faith to believe and perseverance to hold on to your promise of help. Amen
The photo shows Rev. Dr. Stephen Tong at a Gospel Rally in Vancover, Canada in 2009.
Pembinaan Loji Reaktor Nuklear Ancaman Kepada Keselamatan Rakyat dan Negara
Posted: 06 May 2010 06:49 AM PDT
A
ngkatan Muda Keadilan Selangor menolak keputusan kerajaan pusat untuk membina loji reaktor nuklear yang bakal beroperasi menjelang tahun 2021. Kebenaran untuk meneruskan cadangan ini dilihat oleh AMK Selangor satu ancaman amat kritikal terhadap keselamatan rakyat dan negara.
AMK Selangor menyatakan sokongan padu dan mantap keputusan kerajaan Selangor untuk tidak membenarkan sebarang pembangunan reaktor nuklear di Selangor. Malahan kerajaan negeri Selangor menyarankan agar digerakkan pembangunan tenaga alternatif lain yang lebih selamat, mesra alam dan produktif.
Pembinaan loji nuklear lebih memberi ancaman kepada alam sekitar kerana pengurusan sisa buangan bahan radioaktifnya sukar dikendalikan. Hujah mengatakan ia adalah berkos rendah ditolak kerana kerajaan perlu belajar daripada tragedi hitam 26 April 1986 apabila Loji Nuklear Chernobyl meletup dan menyebarkan radioaktif. Impak kesannya sehingga kini terus memudaratkan kesihatan manusia dan memusnahkan alam sekitar yang memberi kerugian yang terlalu tinggi.
Kerajaan pusat sebelum memberi kebenaran ini sewajarnya mengambil pendapat rakyat dan pakar-pakar pelbagai bidang sebelum apa-apa keputusan diambil. Trek rekod mutakhir kini terhadap beberapa bangunan dan stadium yang retak dan runtuh menjadi igauan ngeri rakyat. Pembinaan reaktor nuklear ini dilihat sebagai "bom jangka" yang meletakkan rakyat dan negara dalam situasi keselamatan masa hadapan yang amat kritikal dan mencemaskan.

Kita percaya pelbagai sumber tenaga alternatif lain boleh dibangunkan dan sesuai di negara ini seperti tenaga solar, tenaga angin, biomas dan teknologi baru yang lain. Permintaan mendadak terhadap sumber tenaga di masa hadapan boleh diatasi dengan memperkenalkan sistem penjimatan dan pengurusan tenaga yang efektif kini. Penyelidikan dan pembangunan berterusan perlu digiatkan bagi memastikan sumber tenaga alternatif yang lebih selamat dan sesuai dapat dibangunkan di negara ini.

Mohd Ezli Mashut
Ketua Penerangan AMK Selangor


Posted: 06 May 2010 05:48 AM PDT
Once upon a time in the kingdom of Heaven, God was missing for six days. Eventually, Michael the archangel found him, resting on the seventh day. He inquired of God. "Where have you been?"
God took a deep sigh of satisfaction and proudly pointed downwards through the clouds, "Look, Michael. Look what I've made!" Archangel Michael looked puzzled and said, "What is it?" "It's a planet," replied God, "and I've put Life on it. I'm going to call it Earth and it's going to be a great place of balance." "Balance?" inquired Michael, still confused. God explained, pointing to different parts of earth.
"For example, northern Europe will be a place of great opportunity and wealth while southern Europe is going to be poor. Over there I've placed a continent of white people and over there is a continent of black people," God continued pointing to different countries. "This one will be extremely hot while this one will be very cold and covered in ice."
The Archangel, impressed by God's work, then pointed to a triangular land mass and said, "What's that one?" "Ah," said God. "That's Malaysia, the most glorious place on earth. There are beautiful beaches, mountains, streams, hills, waterfalls and orchards. The people from Malaysia are going to be very beautiful, handsome, modest, intelligent and humorous and they are going to be found traveling the world holding good jobs. They will be extremely sociable, hardworking and high-achieving, and they will be known throughout the world as diplomats and carriers of peace, play hockey and win world tournements. Even their fruits will be appreciated and exported to far places."
Michael gasped in wonder and admiration, but then proclaimed, "What about balance, God? You said there would be balance!!!"
God replied wisely, "Wait until you see the clowns that will run their government."
Via email
Surrender ceremony of the Japanese to General McArthur in Tokyo Bay on September 2,1945. Actual voice of the General
Posted: 06 May 2010 05:35 AM PDT
This is a 'must see' for the WWII history buff or anyone interested in history. Interesting the other signers to the document, from New Zealand/Australia to Europe/Russia.
This is an actual film made of the surrender ceremony of the Japanese to General McArthur in Tokyo Bay on September 2,1945. Actual voice of the General. Never been shown to the general public before. We always saw the "stills" but never the film itself.
Historical Footage: Japanese Surrender Signing Aboard Battleship Missouri Sunday Sept. 2, 1945. An important piece of history.
Hat tip:
Col Mike Naser Taib
This posting includes an audio/video/photo media file: Download Now
UMNO BN Nak Halalkan Judi, Mana PAS?
Posted: 06 May 2010 05:49 AM PDT
K
erajaan timbang beri lesen judi Piala Dunia
Kerajaan mempertimbangkan kemungkinan
mengeluarkan lesen untuk membenarkan pertaruhan dilakukan semasa kejohanan bola sepak Piala Dunia 2010 berlangsung awal bulan depan
bagi mengelak berleluasanya aktiviti perjudian dan pertaruhan haram di negara ini.
Timbalan Menteri Kewangan, Datuk Awang Adek Hussein, berkata jika kerajaan tidak mengeluarkan lesen kepada pihak yang memohon, aktiviti perjudian dan pertaruhan haram tetap berlaku tanpa kawalan dan pemantauan pihak berkuasa.
"Ada beberapa perkara penting untuk dikaji sama ada perkara ini (mengeluarkan lesen membenarkan pertaruhan) baik bagi kerajaan atau jika kerajaan boleh cuba mengawalnya untuk mengetahui berapa banyak (jumlah wang daripada pertaruhan haram).
"Kerajaan sedang mengkaji perkara ini dan akan memutuskannya jika mahu membenarkan pertaruhan kerana kejohanan Piala Dunia ini semakin hampir," katanya kepada pemberita ketika ditemui di lobi Parlimen hari ini.

Awang Adek berkata, jika lesen itu dikeluarkan, kerajaan dapat mengawal aktiviti perjudian, selain hasilnya boleh digunakan terutama untuk pembangunan bidang sukan di negara ini.

Beliau mengakui sudah ada pihak yang membuat permohonan untuk mendapatkan lesen itu tetapi beliau enggan mendedahkan lebih lanjut maklumat itu sehingga kerajaan membuat keputusan mengenainya.

Terdahulu, isu itu dibangkitkan pada sesi soal jawab oleh Senator Ng Fook Heng yang mahukan penjelasan kemungkinan kerajaan mengeluarkan lesen pertaruhan kejohanan Piala Dunia untuk mengelakkan perjudian haram.

Awang Adek berkata, kerajaan memandang serius aktiviti perjudian tanpa lesen yang membabitkan pertaruhan nombor ramalan, permainan mesin slot dan pertaruhan membabitkan bookie bagi permainan bola sepak dan permainan lain.

"Aktiviti perjudian tanpa lesen adalah aktiviti yang boleh mewujudkan kegiatan sampingan lain seperti peminjam wang tanpa lesen, jenayah terancang, penyeludupan dan pengubahan wang haram.

"Oleh itu sebagai sebuah kerajaan yang prihatin terhadap rakyatnya, kerajaan akan memberi pertimbangan sewajarnya dan sebarang langkah perlu dilakukan secara berkesan bagi menangani masalah bookie tanpa lesen termasuk membenarkan pertaruhan bookie bola sepak dilaksanakan melalui perlesenan sah," katanya. - Bernama



Kerajaan Tidak Wajar Timbang Beri Lesen Judi Piala Dunia

SHAH ALAM 6 Mei - Kerajaan Umno-Barisan Nasional tidak wajar jadikan sektor perjudian sebagai salah satu penyumbang pendapatan kepada ekonomi negara.

Mengulas tindakan kerajaan untuk mempertimbangkan lesen judi Piala Dunia, Timbalan Angkatan Muda KEADILAN (AMK) Fariz Musa berpendapat tindakan kerajaan itu sebenarnya akan meningkat lagi masalah sosial dan keruntuhan akhlak di kalangan masyarakat.

"Ini membuktikan kerajaan Umno-BN tetap akan meneruskan dengan agenda untuk meluluskan lesen perjudian yang sebelum ini ditentang sekeras-kerasnya oleh Ahli Parlimen Pakatan Rakyat

"Amat jelas sama sekali, orang Islam dan bukan Islam menolak segala bentuk judi kerana amalan tersebut merosakkan akhlak dan tidak bermoral.

"Kerajaan Umno-BN nampaknya ingin menjadikan judi sebagai salah satu sektor yang memberikan pendapatan kepada ekonomi negara," jelas Fariz kepada Suara Keadilan.

Timbalan Menteri Kewangan, Datuk Awang Adek Hussein, yang ditemui media di lobi parlimen hari ini dipetik sebagai berkata kerajaan sedang mengkaji perkara ini dan akan memutuskannya jika mahu membenarkan pertaruhan kerana kejohanan Piala Dunia ini semakin hampir.

Pada masa yang sama, Awang Adek juga berpendapat jika lesen judi tersebut dikeluarkan, kerajaan kononnya akan dapat mengawal aktiviti perjudian, selain hasilnya boleh digunakan terutama untuk pembangunan bidang sukan di negara ini -TVS


Ulasan GB

GB tak tahu apa pasal PAS tidak mengeluarkan kenyataan pantas terhadap isu ini. Sedangkan ia mat menyentuh hukum, amat menyentuh dan bertentngan dengan dasar perjuangan Islam yang didokong oleh PAS.

UMNO BN sememangnya jahil, mereka kini menampakkan kejahilan mereka dengan cenderung untuk melawan hukum Allah yang JELAS mengharamkan perjudian.

Tetapi mana pemimpin PAS?
Lembab dan lambat memberi riaksi, menepis hujjah, menangkis lawan.
Macam ni nak menang pilihanraya?

Allah tak suka orang yang lembab-lembab, bikin malu Parti "Islam" SeMalaysia.


Udang Sambal Petai - Jusco Ayer Keroh Melaka - Update! 06.00pm
Posted: 06 May 2010 03:32 AM PDT
Salam to all & good day,
Jam
01.20pm
, aku telefon di bahagian HR JUSCO melaka, untuk membuat pengaduan tentang makan yg telah di beli aku di food court JUSCO, gerai NO-10, ( Mini wok ) semalam, aku meninggalkan pesan kepada operator di HR tersebut, kerana yg incharge untuk bahagian aduan tidak ada ketika itu kerana keluar lunch. Aku meninggalkan nama dan no telefon aku kepada operator tersebut, untuk mereka menghubungi aku kembali nanti.
Jam
02.48pm
, telefon dari JUSCO diterima oleh aku, dan pegawai dari bahagian aduan pelanggan menghubungi aku berkenaan dengan aduan yg aku buat mengenai makanan yg telah di pesan oleh aku, beliau memperkenalkan diri sebagai puan KAMAAZILA, setelah mengambil butir-butir tentang makanan, masa dan tentang makanan yg telah dimakan, beliau memaklumkan pada aku, bahawa pihak mereka tidak boleh berbuat apa-apa, kerana sudah terlewat sehari, maksudnya, jika makanan yg dipesan ketika dan dimasa itu mempunyai masalah, beliau menyarankan aku agar pergi ke stall terbabit dan boleh menukarkan makanan tersebut serta merta.
Dan jika pihak stall tidak mehu melayan, maka aku boleh melaporkan kejadian tersebut kepada kaunter khidmat pelanggan di JUSCO tersebut, aku menerangkan bahawa aku telah pun memberitahu salah seorg dari pekerja tersebut, tapi seperti tidak di endahkan, jadi aku tidak berpuas hati, dan oleh sebab itu aku menelefon beliau. So aku meminta mereka mengambil tindakkan terhadap stall tersebut dan memberikan bukti-bukti tindakan yg bakal diambil oleh pihak atasan untuk mengatasi masalah ini dari berulang, dan pihak JUSCO bersetuju, dan mereka memohon maaf kepada aku secara personal bagi pihak JUSCO kerana masalah ini.
Dan aku tidak banyak masalah, aku meminta pihak JUSCO agar menghantar email kepada aku sebagai tanda memohon maaf terhadap apa yg berlaku, So aku masih menunggu email tersebut.
Jam
06.00pm
, aku masih lagi menunggu email dari pihak JUSCO yg masih belum singgah di mailbox aku, jadi aku terpaksa menelefon sekali lagi kepada pihak JUSCO untuk bertanyakan email memohon maaf tersebut kepada aku, dan aku bercakap sekali lagi kepada KAMAAZILA pegawai di bahagian khidmat pelanggan, dan kali ini lain pula yg di katakan kepada aku, beliau memberitahu aku, beliau tidak boleh hantar email kepada aku, kerana boss beliau tidak ada, kerana bercuti.
So KAMAAZILA memberitahu pada aku, bahawa pihak JUSCO akan memberikan tindakan penalti dan last warning kepada kedai tersebut, dan aku menyatakan kembali perasaan tidak puas hati kerana tidak ada bukti bahawa pihak JUSCO ada mengambil tindakkan kerana aku tidak nampak dengan mata aku sendiri, jadi pihak JUSCO tidak boleh berbuat apa-apa, kerana itu adalah prosedure pihak JUSCO kepada pelanggan dan ia sulit, cuma pihak JUSCO akan update pada aku apa tindakkan susulan terhadap perkara ini.
Jam
06.20pm
, pihak JUSCO melaka menghubungi aku sekali lagi, KAMAAZILA menyatakan pada aku, bahawa beliau telah pun menghubungi boss beliau dan pihak JUSCO meminta tangguh sehingga minggu depan kepada aku, kerana hanya minggu depan bossnya akan kembali bertugas, dan akan follow up tentang issue ini, kerana sabtu dan ahad main office tutup. So aku hanya mampu menunggu lagi dari pihak JUSCO, dan apakah jawapan yg akan aku dapat? sila tunggu......aku akan updatenya nanti!
Shockingly Poor Condition of Bandar Armada Putra
Posted: 06 May 2010 02:15 AM PDT
The Selangor State Assembly Select Committee on State Government Agencies, Subsidiaries and Statutory Bodies had received a memorandum from a group of frustrated housebuyers from Bandar Armada Putra, Pulau Indah, Port Klang on 7th April 2010 led by DAP MP for Klang, YB Charles Santiago on escalating water bill due to internal leakage caused by negligence of various State Government
Violence, and imagined resistance
Posted: 06 May 2010 01:56 AM PDT
Many have celebrated the Internet as an instrument of emancipation, provider of media or information freedom and also a tool for social-political activism. The unprecedented win of the Pakatan Rakyat in the March 2008 elections for instance has been credited to the popularity and unstoppable wave of the liberating powers of the internet.
What I want to focus on is the much celebrated use and availability of the internet as a tool, method or mechanism of social-political activism or change, and leave out its supposed contribution of emancipation and media or information freedom to Malaysian socio-political shifts.
Firstly it must be said outright that never before has drastic social-political change taken place because of the internet. Not only because during the time of the American Revolution or the French Revolution or the Meiji Modernisation the internet had not exist but, even in the last 30 to 50 years since the web 2.0 revolution swept the world off its feet there has not been any great social or political change effected by it. Which brings to question the fact that why now so many politicians now have blogs, facebook and personal webpages? This is especially so of the Pakatan leaders who cry and shout for radical change. On the presumption that the internet was the catalyst of the March 08 ecstasy many politicians have now turned to the internet to boost their presence, image and personality. But one wonders, since when did politicians and leaders of a nation tasked with leading it are suppose to have a presence on the internet? The elementary duty of an individual who holds a public office is to deliberate policy and ensure the carrying out of concrete policy as well as political-economic-social reform. Politicians are not supposed to be part of the virtual associates. They are supposed to run the ground, not dominate the internet.
Immediately I can see two responses to this accusation ricochet back towards me. First is of course the fact that many of this blogs, facebook and websites are not manage by the politicians themselves but by their assistants. This raises another question; certainly it is only meaningful if the politicians themselves tend to these tools; it is one of the reasons why they were set up in the first place, so that these leaders can have personal rapport with their supporters or fans. Such purpose is defeated if the task is delegated. Secondly another response might be that this is important to relay information and latest updates. Again this is not the task of politicians. They should be discussing cutting edge policies and blueprints, not supply the latest information and scandals. Leave this to the independent media or alternative media or whatever you wish. Since when did political leaders become investigative journalists?
And of course BN leaders being the useless, senile and brainless people they are, hop as well on this internet bandwagon. Also falling into the belief that they lost so badly in the March 08 elections because of internet absence, they then come out with all sorts of virtual or electronic master plans to counter this great Pakatan 'internet challenge'. This is not surprising though because no one expects much of them, not being able to think of anything original, they just join in the perceived new found 'weapon'. Thus living up to their brand name as outdated users of second hand ideas, followers of stupidity, and their favourite, 'saya yang menurut perintah'.
Secondly, and this is what is most distressing, is that because of the internet, we; the society at large who seek social-political reform and change, have lost sight of the location of the Leviathan; the State, and the users of the State machinery and apparatus; the Barisan Nasional.
The State with all its bureaucracy and machinery is fundamentally a violent entity which task is to perpetrate violence. It is the only entity which has the power to impose legitimate violence on its people. It does so, and is given the right to do so, when individuals refuse to follow its dictates and commands. Any refusal or resistance will be met with the full force of the constitutional-legal system, the police force and the FRU. And let us not forget that cohabitating in intercourse with the State is of course the Barisan Nasional. It is the one which pulls the strings of the State bureaucracy and machinery. Consistent instances of State imposed violence; look at HINDRAF, BERSIH and the ISA march.
The point I want to make here is this; the State-BN violence does not exist in the internet, it does not exist in the virtual world. It exists everywhere around us; from our homes, to our schools and universities and also our workplace. What does not exist there cannot equally be threatened there. Thus all the activism or the calls for change or reform in the cyber sphere does not amount to anything. It does not threaten the State-BN unification in any way. All its machinery and bureaucracy are still intact. Where State-BN violence exists, there is where our resistance should be. That means in our homes, our universities and workplace. Physical and mental violence must be met with physical and mental resistance, not virtual demonstrations and protests.
The problem with our undying faith and dependency on the internet is this; it firstly, reconstitutes the terms of resistance and secondly, shifts the points of resistance. It induces a double consciousness in our minds, thinking that we are fighting the oppression of the State-BN in the internet but in truth, we are actually doing nothing. For where the real violence is, there is no resistance. While we are being oppressed in the streets and violence is perpetrated by the police and legal system blatantly, we resort to virtual resistance, protesting and demonstrating strongly on the internet. It is as if we are bullied by Rosmah in school but then we keep quiet and take it out on our Ultraman Taro action figure when we reach home. I'll give an example; the recent shooting of the 15 year old boy by the police. As usual there is the expression of outrage in the internet. The fact is this; the IGP and the PDRM does not exist in the internet, they are not virtual reality. Such an incident should actually immediately bring out the thousands to the streets or Putrajaya to call for the resignation of the Minister and IGP. It is in the streets where such arrogance and incompetence and recklessness have occurred.
By ranting and raving on the internet we are allowing the reconstitution of the terms of resistance; we limit the methods of protest through only words and writing, and in doing so we inevitably shift the points of resistance from the streets of Parliament, Kuala Lumpur, Shah Alam, Georgetown, Kota Bahru, Ipoh, and everywhere else, to the internet, a virtual world which does not exist and where you can become Rambo or Zorro and yet still be useless.
In short, if movies depicting acts of sexual intercourse on the internet are sexual pornography, social-political activism in the internet in pursuit of change is nothing but socio-political pornography. Something which you fantasize but cannot feel, something which you think but cannot touch. You indulge not only in intellectual masturbation, but also electronic masturbation. An imagined resistance.
Malaysian Insider : Jawi preaches sinless solutions to social woes
Posted: 06 May 2010 01:52 AM PDT
Jawi preaches sinless solutions to social woes
Comment: Quite interesting and very good religious talk ruined by bringing in S**T. Read below to know why I comment like this. I leave behind my edits to made it easy to read and undestand to prove that I had good intention and faith in reading this article. But, I decided not to read these articles written by 'moral police' who are more keen to protect their masters on earth.
KUALA LUMPUR, April 6 — The Malay family institution is fragile and its frailty is clearly reflected in the host of social woes faced by the community in the country.
In today's communities where_
family bonds

no longer takes precedence
and the

temptation for the modern trappings

of life is overwhelming,
people have become

detached from the spiritual and moral aspects

of life.
This has prompted many to
deviate from the right path in life

and engendered a sordid dissolute life,
and in the bigger picture their problem is reflected in the society's social decadence.
This is the succinct views of the Federal Territory Religious Department's (Jawi) Director, Datuk Che Mat Che Ali in an interview with Bernama at his office here recently.
"The world changes with time and our lives too would change.
Therefore,

we must be resilient and have forbearance.

"If not, we would drown in the big sea of temptation that the ummah is in now,"

he said.
The family institution is blamed for many of the social ills faced by the current younger generation.
The family institution breaks down when parents' divorce and children are left devoid of love and care.
He listed the four primary factors contributing to divorces in the Federal Territory: 
poor religious background;

monetary problems

due to poor money management or limited resources;

materialistic couples

who want to keep up with the joneses end up ruining their lives;
and

meddling by parents and in laws

and the influence from contemporaries.
Che Mat noted that couples who were at high risk of marital problems are those married for less than five years.
"Those married between five and 10 years can be considered in partial critical category while the risks for marriages above 15 years are less critical," he said.
Nonetheless, according to Che Mat, the divorce rate in the Federal Territory is under control and is expected to come down to 11-12 per cent this year compared with 15 per cent in 2009 and 18 per cent in 2008.
Looking at the Muslim community today riddled with numerous woes and social decadence, Jawi has conscientiously rolled out dakwah efforts to reverse the situation.
This is being achieved by implementing existing laws namely the Syariah Offences Act 559 (section 21, 23, 27, 29) on social problems including offences like close proximity and cohabitation that can penalised by fine or canning if found guilty.
According to Che Mat, Jawi is aware that enforcement of laws alone won't suffice and that is why it emphasises Muslims to know the essence of Islam.
If they know the true teachings only then they would avoid the mistake, he said.
In a nut shell, Che Mat viewed the dakwah efforts undertaken by Jawi as geared towards inculcating good behaviour and in leading the righteous path in life.
The Jawi's dakwah programme is divided into "Bil Lisan" and "Bil Hal".
Through Bil Lisan, the department has extended its networking to invite Muslims in the country to understand better the Islamic teachings

through a series of

talk shows in radio and television

, and also the

print media

.

Meanwhile, the Bil Hal dakwah, goes to the ground to meet its

target group,

often those disowned by the society — drug addicts, prostitutes, transvestites, vagrants and those involved in fornication.
This dakwah approach opens the door for Jawi to interact and understand further the needs of this target group.
"I have been to the ground to advice the drug addicts. It is not an easy job but I did my best.
"The same goes to the other target group, for example the neglected children around Kuala Lumpur.
 

We have provided social aid to 250 of them to enable them to carry on with their lives," he added.
Jawi channels aid for these children through the Rumah Nur Salam located in Chow Kit here.
"At the least we could

send them to school, apart from feeding and clothing

them though it may not be the same like having your own family.
"These children too would

no longer loiter at the road sides or back lanes.

It is shameful if we leave them in this state," he said.
As for those arrested for Syariah offences, Che Mat said this group
should not be despised,
instead should be given awareness
and understanding
to help them to repent.
While Jawi works using dakwah to eradicate social woes, Che Mat called upon city dwellers especially parents to share the responsibility.
One of the ways, is by taking note of the happenings around us or in another word there should be a little bit of the busy body attitude in us. Parents, he stressed should take note of their children's behaviour and movement while in school or work place.
"Remember when we were living in the kampungs previously, when our chicken or goat failed to return, we looked for them all over the place. The irony is that when our children don't return when it is already late, we don't worry like how we did for our chicken or goat," he said.
COMMENT: Although you are right, but during this time of police shotting a 14 year old, the readers like me could SMELL A RAT! Why did you want to spoil your good words and advise with this helping hand to one side? FYI I stopped my habit of FONDLY listening the Official Religious talks once you were "preaching abot Sodomy last 10 years ago. Becareful! You all must pay for ruining the audients' good habit of listening the religious talks by bringing the politics in religious talks.
Now I stopped reading your interview.
He added that in those days neighbours took note of each other but this is no longer the case at present.
"But if we did this today we would probably be reprimanded for the busybody attitude," he pointed out.
This busybody attitude contributed to the well-being and safety of the villagers apart from eliminating negative social influences including the free interaction between the different sexes.
"We would feel shy to talk with the members of the opposite sex and we would also feel shameful if we bring a girl to the village.
"Nowadays there is unlimited interaction and what is more disappointing is that there are some who bring partners of the opposite sex to their rooms. There are some who cohabitate together too," lamented Che Mat recalling the days when he was growing up in his village in Manir, Kuala Terengganu in the early 1960s.
But can the way of life that Che Mat underwent more than 40 years ago adopted today?
Would the society brush of any idea of the busybody attitude and limiting the interaction between the opposite sexes as being out of date? Maintain the identity, the way we lived in those days and adopt it in the present modern life.
This is what Che Mat wants the Malay society to ponder. — Bernama
Bawa Isu Serah Padang MInyak Ke Parlimen - Zaid
Posted: 06 May 2010 01:36 AM PDT
A
hli Majlis Pimpunan Pusat KEADILAN, Datuk Zaid Ibrahim menyifatkan
tindakan kerajaan Malaysia menyerahkan dua blok padang minyak L dan M kepada Brunei ketika di bawah pentadbiran Tun Abdullah Ahmad Badawi secara sulit sebagai tidak bertanggungjawab dan membelakangkan Perlembagaan Persekutuan.
Zaid yang juga bekas Menteri di Jabatan Perdana Menteri di bawah kerajaan pimpinan Abdullah menjelaskan
perjanjian yang dimeterai kerajaan dengan pihak lain berkaitan hak dan aset negara perlu dibentang, dibahas dan diluluskan di dalam Dewan Rakyat.
"Masalahnya apabila tak ada manusia di Malaysia ini yang tahu soal Petronas selain Perdana Menteri. Kita cuma dapat berita selepas tindakan atau keputusan diambil hanya melalui media.
Jadi perkara berkaitan Petronas ini patut dibentang dalam Parlimen supaya ia diketahui oleh rakyat
," jelas beliau kepada Suara Keadilan pada majlis kesyukuran pasca pilihan raya kecil Hulu Selangor di sini semalam.
Dalam pada itu
Zaid juga menyelar tindakan kerajaan menyekat hak royalti minyak kepada Kelantan, sedangkan pada masa yang sama melepaskan dua blok padang minyak yang dipercayai memiliki simpanan minyak bermutu tinggi berjumlah 1 bilion tong
.
Beliau mendedahkan Akta Pembangunan Petroleum 1974 yang digubal sewaktu pentadbiran Tun Abdul Razak Hussein membolehkan Perdana Menteri untuk tidak mendedahkan sebarang maklumat kepada umum.

Ia bertujuan bagi mengelakkan eksploitasi dan salahguna kuasa oleh ahli politik.

"Almarhum Tun Razak mengambil pengalaman dari skandal Pertamina di Indonesia sebagai pengajaran. Kita juga akur pada waktu itu agar maklumat Petronas dirahsiakan," kata Zaid.

Kematian mengejut Abdul Razak pada tahun 14 Januari 1976 menyebabkan akta tersebut tidak sempat dipinda dan seterusnya telah disalahgunakan oleh Perdana Menteri selepas beliau sehingga hari ini.

Zaid memberikan contoh arahan menyelamatkan syarikat kroni oleh mantan Perdana Menteri, Tun Dr Mahathir Mohamad ketika krisis ekonomi 1997 dengan menggunakan dana Petronas sebagai satu tindakan penyalahgunaan kuasa.

"Kita tak boleh buat apa-apa, sebab kuasa ada pada tangan Perdana Menteri. Kalau hari ini Najib nak jual blok lain pun mungkin kita tak tahu," kata Zaid lagi.

Beliau berpendapat jalan penyelesaian kepada isu ini hanyalah melalui perundangan dan perundingan.

Namun rakyat Malaysia berhak untuk mengetahui kandungan perjalanan dan pengurusan aset negara khususnya syarikat berkepentingan awam seperti Petronas.


Abu Seman Ada Konflik Kepentingan
Posted: 06 May 2010 12:47 AM PDT
K
es Aminulrasyid: Panel tiada asas undang-undang
Dua peguam keluarga Aminulrashid Amzah, 14, yang ditembak mati polis mendakwa penubuhan panel khas untuk menyiasat kejadian tersebut sebagai tiada asas undang-undang.
Peguam-peguam itu, N. Surendran dan Latheefa Koya menolak penubuhan panel tersebut dan menurut mereka ia lebih kepada "amalan perhubungan awam dan mengalih pandangan orang ramai."
"Panel khas itu tidak perlu kerana
ia tidak ada sebarang kuasa
. Ia bukan suruhanjaya diraja atau suruhanjaya hak asasi manusia yang mana penubuhannya tertakluk kepada undang-undang yang mengurustadbir prosidur, tingkah laku dan kuasa-kuasanya," kata mereka dalam satu kenyataan bersama semalam.
Mereka berkata, Timbalan Menteri Dalam Negeri,
Datuk Wira Abu Seman Yusop tersilap mengambil terma rujukan, tujuan dan kuasa panel khas
yang pada asalnya beliau berkata sama ada menjalankan siasatan sendiri atau membuat cadangan kepada polis.
Katanya, panel seharusnya diberi kuasa untuk memanggil saksi, melihat prosedur membabitkan penggunaan senjata api dan pengeluaran kertas siasatan oleh polis dan pejabat Peguam Negara.

"Kami terkejut bahawa panel khas itu memulakan siasatan tanpa kehadiran peguam keluarga kerana ia kes serius," kata mereka.

Mereka berkata, mereka akan menulis surat kepada Kementerian Dalam Negeri Isnin ini bagi pihak keluarga meminta pertemuan diadakan.

Mereka juga berkata, mereka prihatin wujudnya percanggahan kepentingan kerana Abu Seman merupakan salah seorang ahli panel tersebut.

Abu Seman ada konflik kepentingan

"Ada percanggahan kepentingan kerana beliau adalah menteri yang menjaga polis," kata mereka.

Surendran dan Latheefa menggesa kerajaan segera menubuhkan Suruhanjaya Siasatan Diraja menyiasat pembunuhan Aminulrashid.

Sementara itu, kedua-dua peguam tersebut terkilan dengan tindakan terburu-buru panel khas melawat lokasi kejadian pada waktu malam.

Latheefa juga melahirkan rasa sedih dengan tindakan panel khas tersebut tanpa memberitahu peguam dan keluarga Aminulrasyid berhubung lawatan tersebut.

"Panel khas ini sepatutnya membuat lawatan ke tempat kejadian pada waktu siang dan dengan cara yang tertib," katanya.

Malam kelmarin, panel tersebut yang diketuai Abu Seman menaiki bas bermula di Hotel Concorde jam 9.30 malam melawat beberapa lokasi dan laluan yang dipercayai dilalui oleh remaja tersebut bersama rakannya Azamuddin Omar.

Sementara itu, Majlis Peguam berkata, sidang media yang dianjurkan oleh para peguam yang mewakili Allahyarham Aminulrasyid Isnin lalu bukannya tidak bererti seperti mana yang didakwa oleh piihak polis.

Presidennya, Ragunath Kesavan berkata, "kami yakin sidang media itu diadakan ekoran tindak balas polis terhadap kejadian tersebut. Ianya perlu dan saksama dengan membenarkan seorang saksi menceritakan tentang kejadian itu untuk kepentingan awam.

Aminulrasyid ditembak mati dikepalanya oleh polis pada jam 2.00 pagi pada 26 April lalu ketika dalam perjalanan pulang ke rumahnya di Seksyen 11, Shah Alam. -FMT


Apek PotPetPotPet and the Mango Trees
Posted: 05 May 2010 11:04 PM PDT
Our current place is an intermediate unit that's facing other people's house. The landlord hadn't touch anything on its cosmetic value or privacy enhancement. If I open my front door, my neighbor from the left side unit will be able to see straight until my dining room. And the apek likes to hang out at his porch a lot. Mr Chan (or is it Chin?) is a very nice elderly Chinese man. The problem is with Uncles like him is – CAKAP SANGAT BANYAK! POT PET POT PET! Cukuplah aku sorang potpetpotpet dalam kejiranan ini, ok! Perlukah seorang apek berseluar katok berperangai yg sama? Owh tidakk!
Many a times when we wanted to remove things from the car into the house or vice versa, we kinda peek around and see if the coast is clear aka Uncle Chin is not outside and then only proceed. All the trouble just to avoid him asking so many question about our purchase etc. All the people coming to the house in front of ours also can see what we are doing because of our basic wire fencing.
And I have always longed for privacy. The new house has only one house attached to it and it belongs to Pakcik Ketayap Tapi Biadap. That means we only have one immediate neighbor to put up with. Dalam pada tu, I am considering raising a wall between our porch and his, we'll see how it goes.
One of the great many things that I love about the new house is the fact that it is facing well… not some people's house, not shop lots or school or anything but these lovely mango trees. Yes of course I would love it more if I can have a beach or waterfall view everytime I look outside but let's face it we are living in Klang valley with not much money to spend on property so an empty field with mango trees is good enough for me wee~~~~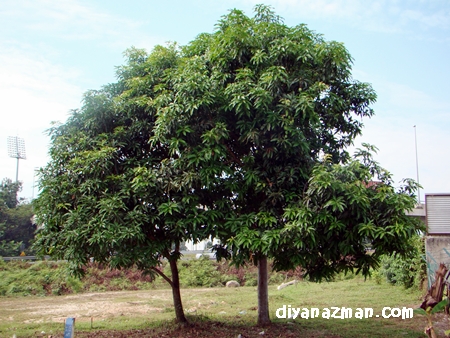 No more potpetpotpet Uncle. No more front door neighbor. I can open my sliding door wide and let fresh air in without having to think about people that can see how short my shorts are (itu kalau pakai shorts, kalau pakai spentot?) and how terbongkang Azman is sleeping and stuff.
Who knows someday kalau panjang umur kalau ada rezeki I would love to live in house facing the ocean or lake (chewah chewahh mentang2 dah berani sikit dengan air!). It would be the best house ever! But in the mean time, sesiapa yang mempunyai darah Spiderman atau Elastigirl please go ahead and help yourselves to our mangoes. There are so many of them up in that trees and we just couldn't be bothered to harvesting fruits right now.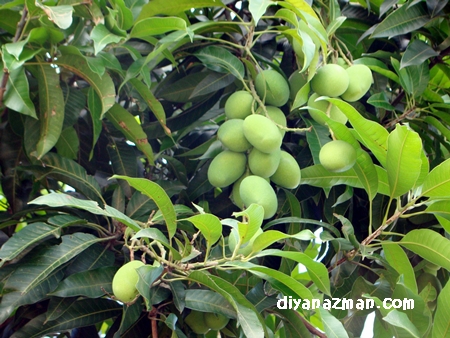 Best kan? Beli rumah dapat pokok free? There is another mango tree on the side of the house but that one is yet to bear any fruits.

Tomorrow is Friday! Cheers!
Kerugian Pos Malaysia Bukti Kerajaan Gagal Urus Dana Awam
Posted: 05 May 2010 11:01 PM PDT
A
hli Parlimen Kuala Langat, Abdullah Sani Abdul Hamid menggesa Kementerian Kewangan supaya menjelaskan kerugian yang ditanggung Pos Malaysia Berhad sebanyak RM227 juta bagi tempoh tiga tahun ekoran pelaburan dalam syarikat penyedia perkhidmatan kargo udara, Transmile Group Berhad.
Timbalan Menteri Kewangan, Datuk Dr Awang Adek Hussein Selasa lalu menafikan kerugian Pos Malaysia sebanyak RM546 juta seperti yang dilaporkan media tetapi sebaliknya mendakwa kerugian adalah sebanyak RM227 juta.
"Jumlah kerugian samada RM546 juta atau RM227 bukan isu pokok. Isunya ialah apa sebab kerugian dan mengapa boleh berlaku kerugian melibatkan jutaan ringgit saham milik awam.
"Kerugian ini mencerminkan kegagalan dasar penswastaan dan memberi kesan buruk kepada kerajaan. Mangsanya adalah kepada pekerja Pos Malaysia sendiri. Ini akan memberi kesan dan risiko yang terpaksa ditanggung pekerja samada mereka diikat secara kontrak atau diberhentikan. Ini semua menunjukkan kegagalan kerajaan menguruskan pelaburan dengan baik," ujar Abdullah Sani.
Menurut beliau keadaan yang sama berlaku kepada GLC lain seperti Lembaga Tabung Haji yang mengalami kerugian akibat kegagalan mengurus pelaburan dengan baik.

"Jawatankuasa pelaburan syarikat seharusnya mengenalpasti samada pelaburan akan mendatangkan keuntungan atau sebaliknya supaya setiap pelaburan tidak sia-sia kerana ini melibatkan duit rakyat," tegasnya.

Dr Awang Adek sebelum ini berkata kerugian itu disebabkan pelaburan dalam Transmile apabila Pos Malaysia membeli 20 peratus saham dalam syarikat berkenaan.

Kenyataan itu berbeza dengan dakwaan seorang pemimpin Umno yang menyatakan Pos Malaysia memiliki saham sebanyak 15 peratus seperti yang dilapor Bernama.

Menurut timbalan menteri itu, pada 2007 Pos Malaysia mengalami kerugian sebanyak RM33 juta dan meningkat kepada RM35.8 juta pada 2008.

Bagaimana pun beliau tidak nyatakan secara tepat kerugian yang dialami bagi setiap tahun dari 2007 sehingga 2010. -SK


Posted: 05 May 2010 10:55 PM PDT
1MALAYSIA: NUCLEAR FIRST, PERFORMANCE NOW, PEOPLE LAST!!!
Posted: 05 May 2010 10:46 PM PDT
Majority of respondents (
almost 75 percent
) in a survey that
has been running since Monday
on Prime Minister Najib Abdul Razak's website,were unfavourable of nuclear power as an alternative energy source.
According to a blog posted on Monday, Najib said the Energy,

Green

Technology and Water Ministry has been given the

green

light to scout for suitable sites for a nuclear power plant. 
Where is the sincerity of Umno-appointed PM, to only ask for public opinion when the green light has been given to the Energy,

Green

Technology and Water Ministry? You don't scout for a site until the

People

has given the

green

light!
The PM, should have,

first of all

, asked the

People

if they were favourable of nuclear power! Only after getting the

green

light from the

People

, should the

green

light be given to the ministry concerned!
Rakyat

didahulukan, kononnya!
Udang Sambal Petai - Jusco Ayer Keroh Melaka
Posted: 05 May 2010 10:27 PM PDT
Salam to all & good day,
Lama sebenarnya aku tak makan kat food court - food court mana2 juga shopping complexs, sebab semalam dh kebulur sangat, akhirnya kedai NO-10 - MINI WORK kat JUSCO AYER KEROH MELAKA jadi pilihan aku dengan tunangan aku Rani, sebab nak mencuba makan kat food court tu, aku memesan nasi goreng ikan masam manis ( sweet sour ) lebih kurang macam tu, dan Rani pula dia pesan nasi goreng ikan masin, dan nak tambah pembuka selera, then kami pesan sambal petai udang - harga dia RM14, takpa la sebab nak mencuba, sesekali rasanya ok, kalau tiap2 hari botak kepala den.
Pesanan yg dibuat nak dekat 20 menet baru siap, bukan main lambat lagi, tapi kalau lambat dan makanan sedap tak kisah, ni makanan dh boleh bagi kucing makan, dia org serve kan kita, ingat kita punya duit takde value ke? Udang sambal petai yg dimasak memang betul-betul out, udang dia betul-betul dh busuk, lembik gile isi udang dia, macam udang dah lama sangat diorg simpan, mungkin tak laku, then dia simpan lama dalam peti ais, lepas tu masak bila ada permintaan, dan akhirnya aku dan tunang aku yg makan.
Aku tak nak banyak bising-bising kat situ, just aku panggil satu mamat tu , kalau tak silap mamat tu org bangla atau nepal, aku ckp dia main angguk2 je, ntah paham atau tidak, aku cakap kat dia udang tu dh bau dan busuk, memang tak boleh nak makan, then dia angguk2 je last2 dia blah, aku memang rasa tak puas hati, aku cakap dengan dia panggil boss dia, tapi dia cakap boss dia takda, then aku memang rasa betul2 dh benggang, then aku terus blah.
Hari ni aku dh call HR di JAYA JUSCO MELAKA DI AYER KEROH bagi melaporkan hal makanan semalam, dan aku dapat cakap dengan operatornya saja, aku nak cakap dengan manager dia pasal ni direct, then dia ambil butir2 apa yg aku cakap, dan dia akan call aku balik nanti, aku tggu sampai pukul 3ptg nanti, kalau diorg tak call, aku akan terus buat laporan pada tribunal pengguna nanti pasal kes ni, aku bukan nak duit atau ganti rugi, tapi aku nak diorg tu minta maaf sebab makanan yg diorg serve tu makanan yg tak berkualiti, kalau bagi anjing makan tentu habis, tapi aku ni manusia, bukan haiwan, so tlg paham.
Aku tggu lagi sampai jam 3 ptg ni, dan kalau ada apa2 update dari diorg, aku akan entrikan dalam blog ni, tggguuuuuuuuu...................
Kedai makan ni yg jual sambal petai udang tu.
Tgk kepala udang ni, berair je, bau betul.
Nampak macam sedap, udang besar-besar, tapi tak da kualiti!.
Kepala udang mudah tercabut, kalau udang baru/fresh, kepala tak kan tertanggal punya
Ada warna hitam di bahagian sisi udang, udang lama.
Posted: 05 May 2010 09:16 PM PDT
I can't wait to get all my work done for the day cos tomorrow I'll be heading out of town with the family for a much needed 3 day getaway with two of my other buddies and their families. It's been a while since we all went on a holiday together. In fact I don't think all three families have ever gone on a holiday together.
I've still got a heck of a lot of work that needs to be completed before we head out tomorrow so today will be a crazy day running around sorting out all my work so that no one disturbs me during my getaway.
We'll be heading out of town the moment the boys get back from school tomorrow. I was thinking of getting them to skip school but wifey says that it's the last day of their exams so we have no choice but to go after they're back. Good thing it's a Friday tomorrow and they get back way earlier than normal.
The only thing I hate about leaving late is having to drive in the heat of the afternoon sun. With four of us in the car, my air conditioning is going to be working hard to keep us cool for the drive down.
There are so many things to do but so little time to do it in. The bags need to be packed. The camera batteries need to be charged. The car needs to be serviced and arrangements for Pebbles accommodation need to sorted out. As much as I would love to bring her along, unfortunately the place we're staying don't allow pets so it's off to a pet boarding place near our house for her.
This is the fist time she's going to be away from us for two whole days since she came to live with us and I'm sure she's not going to like it. I just hope she'll be alright though. Anyways, it's only for two nights. I'll bring along all her favourite toys so she'll have so company at least.
The boys are pretty excited and have been pestering wifey with a countdown of how many days to go since they found out about the trip. We try to keep it a secret until the very last cos once they find out, they'll be no stopping them from reminding us how many days there are left.
There's only one thing that is really not good during holidays is the fact that I'll be eating non-stop and would probably need
treatment for high cholesterol
when I come back. Oh well, it's a small price to pay for some fun in the sun :D
.
Posted: 05 May 2010 06:06 PM PDT
I woke up lazily today and my leg are so heavy to walk over to the toilet... My whole body is so not energetic to do anything. All i wish i could take a nice sleep but... It's only Thursday...
Time to go Office now... *sad sad* Anyway, weekend is coming... so what is your plan?
Have a great Thursday to all of my fellow readers eh~