---
Windows 7 Japanese anime mascot & commercial
Posted: 09 May 2010 09:56 AM PDT
Microsoft has created an anime character Nanami Madobe – voiced by popular voice actress Nana Mizuki – as mascot for the Window 7 operating system in Japan. Below is a Madobe's commercial targeting D.I.Y. computer users…
It seems that the commercial will not be shown on TV, but is shown at the Akiba electronic town, Tokyo's famous geek district. A limited number of bonus DVDs of the anime will be offer to customers who purchase a special version of Windows 7.
[Video via Monte1206@Youtube, info via ANN]
Windows 7 Japanese anime mascot & commercial from YeinJee's Asian Blog
This posting includes an audio/video/photo media file: Download Now
Posted: 09 May 2010 09:34 AM PDT
Korean race queen Hwang Mi-hee modelling at the 2010 Busan International Motor Show. The lady has been one of the most popular race queens in Korea for the past few years and one of the very few who is well known overseas as well.
Hwang Mi-hee at BIMOS 2010 from YeinJee's Asian Blog
Twitter Weekly Updates for 2010-05-09
Posted: 09 May 2010 08:59 AM PDT
Sodomy II: Still no list of witnesses from the prosecution - Malaysia on trial!!
Posted: 09 May 2010 09:06 AM PDT
Amazingly, Opposition Leader Anwar Ibrahim's lawyers have yet to receive the list of witnesses from the prosecution.
The Anwar Ibrahim Sodomy II trial resumes tomorrow after a lapse of almost three months, with a surprising revelation by star witness Mohd Saiful Bukhari Azlan. Nevertheless, until today, the Opposition Leader's defence team has yet to obtain the witness list from the prosecution.
One of Anwar's lawyers, Sankara Nair, when contacted today, confirmed that the defence team has yet to receive the list of witnesses even though in criminal trials, the witness list is usually given before the start of trial to facilitate the defence team's preparations.
Posted: 09 May 2010 08:57 AM PDT
Renovating a house to me is just like naming a child. Everybody doesn't agree with your choice, everybody thinks that their choice is the best and yours sucks!
But the problem is, the baby you are naming is yours and not theirs. It is you who are going to poop in that bathroom, burn some toast in that kitchen and not them.
Therefore peeps, the key to happiness in house renovation is to bloody ignore everyone else and follow your heart! Weee~~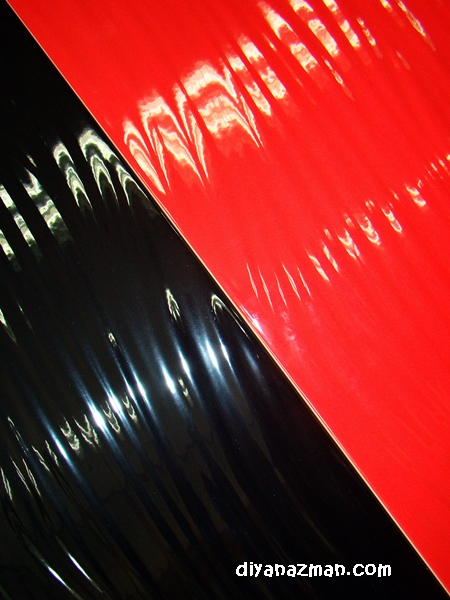 Bathroom tiles for downstairs/guest bathroom
I guess my guest bathroom is not for the faint-hearted.  Any of my friends who has history of angin ahmar tidak digalakkan tumpang berak kat umah aku. Nanti masuk toilet tergezut terus stroke sebelah badan. Jadi  kenapakah namanya Guest Bathroom? Kerana bagi yang diarrhea mmg ok, sebab lepas terkejut terus sembelit sampai bulan lapan.
The contractor promised to complete our house renovation works within 2 weeks. In condition that I have to slap my own face 5 times and MAKE UP MY MIND ALREADY!! My blood pressure must have sky rocketed while I was brainstorming  on my bathrooms design and now I am not only getting my b.p up high; I am also getting Azman mengucap dua kalimah syahadah tengok aku duk pilih warna cat pulak.
Making choices that involve a lot of money can be so confusing. And yet so exciting! I cannot wait! 2 weeks more…

NEM targets unachievable for Sabah, 1Malaysia agenda breaking apart...
Posted: 09 May 2010 08:44 AM PDT
The state economy has to grow at an unrealistic 15 percent or more to meet the NEM target of US$15,000 per capita income by 2020.
According to the
Federation of Sabah Manufacturers (FSM)
,
the recently-announced New Economic Model (NEM) targets set for 2020 are an impossibility for the state.
At best, the benefits to the state are expected to be indirect, tied to the country's overall performance and
hinge on the federal government pumping in funds to build up the state's infrastructure especially in the area of tourism, education, aquaculture and other revenue-oriented sectors.
The FSM is not entirely alone in its pessimism about the NEM and the prospects for Sabah with Malaysian Institute of Economic Research Research Fellow from Sabah, Pang Teck Wai not ruling out the 1Malaysia agenda breaking apart if the NEM fails.
Why 'Mother's Day' and not 'Mothers Day'? HAPPY MOTHER'S DAY!
Posted: 09 May 2010 08:14 AM PDT
Historically (and traditionally), Mother's Day is celebrated annually on "second Sunday in May".
Why?
According to
Mother's Day - Wikipedia
, In 1912,
Anna Jarvis
trademarked the phrases "second Sunday in May" and "Mother's Day", and created the Mother's Day International Association.
So, why 'Mother's Day' and not 'Mothers Day'?
Wikipedia gives us the answer: "She (Anna Jarvis) was specific about the location of the apostrophe; it was to be a singular possessive, for each family to honour their mother, not a plural possessive commemorating all mothers in the world."
Indeed Mother's Day is a personal celebration! No one can replace one's mother biologically. Nevertheless, there are instances when one can 'mother' someone as in the case of an adoption or perhaps on a mentoring basis. In Romans 16:13, the Apostle Paul said:

"Salute Rufus chosen in the Lord, and his mother and mine."
We know Paul was not referring to his own biological mother but rather, Rufus' mother who had become Paul's own mother. Rufus' mother is believed to be instrumental in mentoring Paul in his early Christian life. In short, she was Paul's spiritual parent. (read '
The Mother of the Apostle Paul
').
Shaking is child abuse - Shaken Baby Syndrome (SBS) cases on the rise!!
Posted: 09 May 2010 07:18 AM PDT
2010/05/03
ANNIE FREEDA CRUEZ AND ROZANNA LATIFF
anniefc@nst.com.my
It may not seem like a dangerous act, but shaking a young child can cause serious harm and lead to child abuse charges. ANNIE FREEDA CRUEZ AND ROZANNA LATIFF find out more about the Shaken Baby Syndrome.
Dr Irene Cheah
THE month-old baby boy who slipped into a coma last month, is still fighting for his life at Kuala Lumpur Hospital.

He is believed to have been abused.

Every month, there are reports of abuse, especially those involving caretakers and teams of doctors are battling to save the lives of these young victims.

In many cases, these are found to be victims of Shaken Baby Syndrome (SBS), says Kuala Lumpur Hospital consultant paediatrician Dr Irene Cheah.

They will require medical attention for the rest of their short lives.
SBS occurs when the person caring for the child becomes frustrated and angry, perhaps due to incessant crying, and shakes a child violently. Dr Cheah says there has been an increase in SBS cases of late.

"Shaking a young child will result in head injury or traumatic brain injury." She said when someone forcefully shakes a baby, the child's head moves uncontrollably because the neck muscles aren't well developed and provide little support.

"This violent movement pitches the infant's brain back and forth inside the skull, sometimes rupturing blood vessels and nerves and tearing brain tissue because the blood vessels connecting the skull to the brain are fragile and immature.

The brain may strike the inside of the skull, leading to bruising and bleeding which causes subdural haemorrhage and subarachnoid haemorrhage, parenchymal contusion, vascular infarction and global hypoxic injury. Dr Cheah says it's never okay to shake a baby. "A child can have a skull fracture, skull swelling, contact subdural haemorrhage and retinal haemorrhages or ocular injury," she says.

The injuries may cause permanent disabilities such as blindness, seizures, mental retardation and cerebral palsy.

Even if the shaking was not intended to injure the baby, it is child abuse. Also, when a baby is shaken its head may hit an object.

Even a soft object can cause injury to newborns and small infants.

Since their heads are large and heavy in proportion to their bodies and the skulls fragile, the shaking also causes whiplash.

Dr Cheah says that in more than 60 per cent of these cases the victims are boys.

The perpetrators are more likely to be men, either the caregiver or boyfriend of the mother.
Often, she adds, parents are not aware that their child has been abused and seek help only when they notice mild or severe symptoms such as decreased alertness, extreme irritability, lethargy, poor feeding, vomiting, loss of vision, seizures, and pale or bluish skin. Since there are no visible signs of injury the condition can be difficult to diagnose and may not be identified during a visit to a doctor.

Injuries such as rib fractures however, can be seen with an X-ray.

An estimated 1,200 to 1,400 cases of SBS occur each year in the United States.

Some of these involve young, unmarried mothers with little education and who come from unstable family situations, or mothers who have had multiple pregnancies. In view of the rising incidences of SBS, the Suspected Child Abuse and Neglect Team (Scan Team) of which Dr Cheah is chairman, is on an awareness drive with the Health Ministry to educate parents on the dangers and consequences of SBS, through the media, Antenatal Clinics and pre-discharged Neonatal Intensive Care Units "We plan to send trained maternal and child health nurses on home visits besides encouraging frequent parent-infant contact if the baby is a pre-term or has had prolonged hospitalisation," she says. Caregivers will be educated on ways to cope with incessant crying and encouraged to disclose their fears and frustrations, which are expected in such situations. "It's important that caregivers are properly trained to care for infants and children of all ages.

Its equally crucial that caregivers take care of themselves and get enough rest, have a balanced routine, adequate nutrition and exercise.

It's learned that the health authorities and the Scan team are also looking into teaching schoolchildren about SBS and anger management skills.
A few months ago, I heard about Shaken Baby Syndrome (SBS) for the first time. The victim was my ex-schoolmate's brother's baby and the perpetrator was the maid. I was sad upon hearing the news and how it could have happened to such an innocent infant. The baby underwent an operation. Thankfully, he recuperated.
Star : Corruption bends politicians
Posted: 09 May 2010 07:10 AM PDT
INDIA DIARY BY COOMI KAPOOR
Using the carrot and stick approach, the Manmohan Singh government managed to turn around sufficient proponents of an Opposition sponsored motion to save the day.
IN THE end, it was much ado about nothing.
The government not only survived a cut-motion seeking a rollback of the recent increase in the prices of fuel and fertilisers, but also tore Opposition unity apart.
Nearly a year after it won a second successive five-year term, Prime Minister Manmohan Singh's backroom managers convincingly beat off the first serious challenge against the government in Parliament.
It was a triumph of real politic, though, over principles, with the government armtwisting sections of the Opposition to make them fall in line.
In a curious twist to the drama over the much-ballyhooed cut-motion, two main movers failed to show up at the time of the actual vote. Both Rashtriya Janata Dal and Samajwadi Party members absented themselves during the vote. The two parties have 25 Lok Sabha members between them.
It is no coincidence that the leaders of both parties, Laloo Prasad Yadav and Mulayam Singh Yadav, are facing prosecution under the Prevention of Corruption Act for having amassed wealth far beyond their known sources of income.
The cases against the Yadav duo are in the courts. Should the government so desire, it can always get the Central Bureau of Investigation to pursue these more vigorously than has been the case so far.
Since the country's apex investigative agency is controlled by the ruling party at the centre, critics have alleged that the threat of CBI was used to browbeat the Yadav duo.
The charge seemed valid since the cutmotion was sponsored by a 13-party grouping of which the RJD and the SP were an integral part. The Communists too were a part of the new grouping, which is equidistant from both the ruling UPA and the BJP-led Opposition National Democratic Alliance.
The Yadavs were most vociferous against the government, both inside and outside Parliament, but they did a vanishing act moments before the actual vote, thus paving the way for the motion to be defeated 289 to 201.
However, the threat of CBI worked far more effectively in the case of Bahujan Samaj Party leader and UP Chief Minister Mayawati. If the two Yadav-led parties abstained from voting, Mayawati's 21 MPs voted against the cut-motion to bolster the Government tally from 268 to 289.
Since the half-way mark in the Lok Sabha is 272, a defeat would have embarrassed the government and led to demands for its resignation.
But the government saved the day by "persuading" the BSP to vote against the cut-motion.
Why Mayawati, who is engaged in a bitter turf battle with a resurgent Congress in UP, decided to bail out the government is an open secret. The case of corruption and disproportionate assets against her is now in the Supreme Court.
It was one of the more disingenuous arguments to justify broad daylight corruption.
In order to explain the source of income for buying a number of properties and to justify millions deposited in her and her family members' bank accounts, she claimed that the funds were donated by her workers out of "love and devotion".
It was her case that lakhs of BSP workers had donated small sums – as little as 10, 20, 50 cents daily – over the course of threeand-a-half years so that she could acquire properties worth over US$6mil.
No names of such donors were given since under the law it was not necessary. She had taken care not to claim big donations running into more than a US$100 each because in that case the Income Tax Department mandates furnishing identities of donors.
If you were to buy Mayawati's astounding claim, she had been gifted over US$5,000 daily for more than three years in small coins so that she could buy plum real estate!
Of course, it was all humbug. Not only was she widely known to be one of the more corrupt chief ministers, the assets the CBI had accounted for were only a fraction of the properties actually owned by her and members of her family.
But every time she was questioned about her elephantine corruption, she painted herself as a victim of an "upper caste conspiracy which is unwilling to see the rise of a lower-caste (Dalit) woman".
Another politician who found himself at the mercy of the CBI was Jharkhand Chief Minister Shibu Soren. Heading a Jharkhand Mukti Morcha-BJP coalition, Soren defied basic rules of the political game by voting for the Congress Party on the cut-motion.
(Elected to the Lok Sabha, he is yet to resign even after taking over as CM since he is yet to be elected to the State Assembly.
He can hold the CM's post for six months without being a state legislator.)
Soren is also facing trial in a murder case and has another case of corruption against him. The CBI has put both these cases on the back burner.
Notably, the Supreme Court had chastised the CBI for having become a pliable instrument in the hands of the ruling party at the centre. The apex court had not only prescribed full working autonomy for the CBI but had laid down the procedure for selecting its head. That was several years ago.
However nothing seemed to have changed.
Because the government has tremendous power of patronage, successive CBI directors have invariably done its bidding, launching investigations against the opponents of the ruling party and protecting those supporting it.
The vote on the cut-motion exposed the fault lines in the camps of both the ruling party and the Opposition. The ruling coalition had to rely on the CBI for survival while the fissures in the Opposition came to be exposed.
Star : Culturing safety on the road
Posted: 09 May 2010 07:09 AM PDT
At Your Service by DATUK SOLAH MAT HASSAN
There are 6,500 road deaths a year in Malaysia and to tackle this problem, a change of mindset is needed, with drivers obeying the rules — and a safe public transport exuding mass appeal.
"The Road Transport Department (RTD) should look at other root causes why people drive so badly in Malaysia. My guess is that 50% of all motorcyclists have fake or no licences, and many people still 'buy' their licences. There is no concerted, integrated effort between the various departments and agencies as is often the case where 'the left hand doesn't know what the right hand is doing".
THE above was an excerpt from a complaint received by RTD recently. It plainly described the despair of a concerned road user on the state of our road transport today.
The fact is — Malaysians misbehave on the road.
We often blame lack of enforcement for bad behaviour. Often, we fail to understand that enforcement is actually a deterrent only to those who are intent on defying the law, and provides security to those who seek to abide by it. In layman terms, enforcement is meant to protect the good majority from the bad minority.
However, if we are to take the excerpt above at face value and concede that more and more Malaysians are misbehaving on the roads, then we must accept that the lack of enforcement is indeed not the only cause of the problem.
Sadly, it is often easier to succumb to bad behaviour, because in most instances it provides shortcuts. When you see motorists take to the emergency lanes, it is often hard not to follow suit especially when you are caught in a traffic jam. This bad behaviour on the road, when unpunished, will become a culture.
The habitual offenders often graduate to hardcore road bullies who are even proud of having multiple summonses. They are willing to pay off enforcers to settle their problems and belittle the law without batting an eyelid.
Even more ironic is that influential figures themselves are traffic offenders.
Indeed, the root cause of why people drive badly in Malaysia lies in the driving culture. Numerous researches have attributed bad driving behaviour to human factors with the existing eco-system as an additional contributory factor. But the person behind the wheel is ultimately responsible for making the choice of whether to drive safely or to flout the law.
The government has spent millions of ringgit advocating the use of seat belts and motorcycle helmets, yet we see reluctance and nonchalance.
Changing the culture of our drivers is fundamental, even if it meets with stiff resistance.
When Australia introduced the mandatory rear seat belt in 1979, it took nearly two decades before it was ingrained in its culture. But given the technologically advanced era we live in, we could and should be able to establish the intended culture sooner rather than later.
Education is the key to changing bad culture. The Road Safety Depart­ment is working to incorporate road-safety education programmes into the school curriculum to inculcate positive culture among future road users.
When they enter driving schools, the curriculum for learner drivers must not only produce competent drivers but also include defensive driving which is based on the principle of courtesy and safe driving regardless of the surrounding conditions and behaviour of other drivers.
The Road Transport Act 1987 will be amended to accommodate changes meant to provide for stiffer penalties for habitual traffic offenders. The aim is to create disciplined drivers who are respectful of the law.
Changing the laws is the first step towards encouraging drivers to change. This needs to be complemented with effective enforcement which must be based on the tenets of swift, sure and severe to ensure that the behaviour of the minority of bad drivers will not affect the good majority.
Political will to see this through is equally essential.
Equally challenging is the effort to encourage the public to trade their private vehicles for public transport. But the state of our public transport system does not help. It requires a massive overhaul to make it an acceptable option for the public.
This is being addressed by the National Key Result Area of the Urban Public Transport initiatives. If all that is planned for is achieved, the problem of traffic congestion which leads to bad driving behaviour can be addressed.
All road users must demand for safety as first and last priority. When this happens, then a culture of favouring public transport will permeate among the general public.
All the changes that we are advocating point to the aspiration of creating a society with civil virtues. When we each embrace this, we will hopefully see a decline of our 6,500 road deaths per year.
> Datuk Solah Mat Hassan welcomes any comments about his article or department. They should be sent to his e-mail solah@jpj.gov.my
Posted: 09 May 2010 07:07 AM PDT
Lethal force must be used as a last resort By JOSEPH LOH
WHEN should the police use firearms when dealing with suspects? What is the standard operating procedure on this?
The answers to these questions are unfortunately classified information under the Inspector General of Police's Standing Orders.
 Bon: 'The use of firearms has to be the last resort'
But some light may be shed on arrests and the use of firearms based on several documents, says Edmund Bon of Malaysian Bar's constitutional law committee chair.
Regarding the use of firearms, Bon makes reference to Article 9 of the Basic Principles on the Use of Force and Firearms by Law Enforcement Officials from the United Nations High Commissioner for Human Rights which has been adopted by Malaysia.
It reads that "law enforcement officials shall not use firearms against persons except in self-defence or defence of others against the imminent threat of death or serious injury …."
It may be used to prevent a serious crime involving "grave threat to life" and to arrest a person presenting such a danger and resisting their authority, or to prevent his or her escape.
It also states that this measure is to be taken "only when less extreme means are insufficient to achieve these objectives".
In any event, intentional lethal use of firearms may only be made when strictly unavoidable in order to protect life, it adds.
He says that in cases where a suspect in a vehicle refuses to stop, and as a result is posing a threat to the public, the use of firearms can be allowed.
"The use of firearms has to be the last resort, so the person must have tried all means necessary to apprehend and stop the suspect," he says, emphasising that firearms should only be used in extreme circumstances.
As to arrests by the police, according to S15 of the Criminal Procedure Code (CPC), anyone forcibly resisting efforts to arrest him or attempts to evade the arrest, the police officers may use all means necessary to effect the arrest.
S15 (3) states that "Nothing in this section gives a right to cause the death of a person who is not accused of an offence punishable with death or with imprisonment for life."
Says Bon, "There must be clear grounds for arrest. If the person is in a car, for example, the car should be known to have been stolen or belongs to a known suspect. Alternatively, they have seen the person and identified him as a known suspect, or if the person starts shooting from the vehicle."
He says young people should know their rights and what to do in certain situations.
"It is your right to know why you are being arrested or stopped for questioning. The police must tell you why they stopped you, and if they want to arrest you, you can ask why.
"After being brought to the police station, you have a right to be brought before a magistrate within 24 hours, unless it is an immigrant offence, that is you are a non-citizen.
"If you are not brought before the magistrate within 24 hours, you must be released. (The police will only extend your remand for purposes of further investigation.)
"If they request for the extension of the remand for investigation, and you have a right to have a lawyer represent you, to argue why the extension is unnecessary," says Bon.
On raids at places of entertainment, Bon says the police have the power to conduct such raids.
"They have the power to go anywhere, but this cannot be abused. Even the National Library can be raided if, for example, they received information you have drugs in your bag."
They can do a search – a body search – and there is no avenue to refuse the search. Bon adds, however, that there must be reasonable cause to search a person.
"Basically, you have to comply with their request. Whether you are underaged or not. For example, for those suspected of driving under the influence of alcohol, the act of refusing a breathalyser test is in itself an offence," he says.
"Even if the search is unreasonable, you have to fight it in court that the policemen were being unreasonable. If the police ask you to do anything, do it, as long as it is not unreasonable such as nude squats. You can make a protest at the time, and lodge a report later," he says.
Star Teach young people the law
Posted: 09 May 2010 07:04 AM PDT
Teach young people the law by HARIATI AZIZAN 
The more we know our rights, the better prepared we would be when caught in tight situations. It is safer to face the music than risk our lives trying to get out of it.
THERE is a staircase leading to the library of a public university in Malaysia that all its students avoid at night.
"People say that a few years ago, a female student died there when she fell while trying to run away from the university's authorities.
"Apparently, she had been caught for khalwat (close proximity) with a male student in one of the private study rooms at the library. None of my friends know if the story is true or not but our seniors told us not to use the staircase at night," tells a first-year student who only wants to be known as Mira.
While this tragic tale remains an urban legend at the campus, it worryingly echoes recent deaths of suspects fleeing from religious officials.
Just last month, a 21-year-old college student fell to his death from the fifth floor of an apartment while trying to escape from religious officials in Gombak. It is believed that he panicked when mosque officials conducted checks early in the morning.
According to the minister in charge of Islamic Affairs under the Prime Minister's Department, Datuk Jamil Khir Baharom, the standard operating procedure (SOP) for religious department officials is clear.
"It is detailed to protect the enforcers and members of the public during their operations. What is not clear and what we cannot predict is how the suspects will react, whether they will comply or try to run and make things worse to the extent of endangering their own lives," he was quoted in a local daily.
Syariah lawyer Saadiah Din agrees that the SOP for religious enforcement officers is clear and the best thing for suspects to do is to cooperate with the authorities.
"Instead of jumping out of the window, for example, you should just follow them to the religious department or balai.
"It is just like any other arrest for an offence under the law – very similar to the criminal procedure act. If you are arrested, you are entitled to a phone call and legal representation."
She says the punishment is not worth risking anyone's life for.
Under Section 27 of the Syariah Criminal Offence Act, anyone found guilty of khalwat can be fined RM2,000 or sentenced to a two-year jail term or both.
"You get a fair chance to defend yourself in court. There is no need to panic," she says.
In reality, most offenders get off with less than the maximum fine and jail term.
Basic rights knowledge important
But for many suspects, especially the young, the fear of shame and reprimand from family is enough to drive them to the edge.
A student who only wants to be known as Suzilawati says one reason for panic is that many do not know their rights or the punishment the offence carries.
"I was once caught in a compromising situation when I was returning some research papers to a non-Muslim male coursemate late at night. I knew that I was not in the wrong, and we even took precautions like leaving the door wide open while I stayed by the door. Still, they dragged me to the religious department and grilled me for over an hour."
Suzilawati shares that she was humiliated and scolded for befriending a non-Muslim male and staying out late at night.
"They tried to goad me into confessing guilt. They even threatened to have me expelled. I stayed calm because I knew I had not done anything wrong and true enough, at the end, they said they had no case against me and sent me home with a warning.
"I've always felt that if I had not known my rights, I would have panicked and maybe signed a confession for something that I did not do. But how many young people know their rights? That is why many try to run," she says.
Saadiah points out that rightfully, the religious officers cannot threaten to expose or shame a suspect but she advises young people to find out more about the law.
"The law is clear and the offence is definitely not worth dying for. However, if you dare to commit the offence, you need to face the consequences," she says.
Monash University Malaysia student Jay agrees.
"For one, many of us were brought up fearing the police. Most parents like to scare their children by saying that the police will catch them if they don't do as asked," he says, adding that many don't know the law and their rights.
"It is the youth's nature to run away from his problems, as well as the authorities and the law. Many young people also feel that they are not understood by those in authority.
"At the same time, we don't know what our limitations are and what our rights are. Many do not know where to go to get information which should be more readily available," he opines.
Jay believes that the Malaysian Law and basic rights of Malaysians are topics that should be taught in school.
"I'm not sure if it will be enjoyable but I think it should be useful to have in school."
SMK Sri Hartamas parent-teacher association (PTA) vice-chairman Datin Noor Azimah Abdul Rahim agrees that it is knowledge that young people should have and should be addressed by the national education system. "For instance, it can be covered by civics education."
Azimah adds that the police need to foster closer ties with schools.
"For example, my children's school in Sri Hartamas has a good relationship with the police under its 'Sekolah Angkat' programme. That does not only help to dispel this fear of cops in young people but also exposes them to the law," she says.
Echoing the idea is Assoc Prof Datuk Mohamad Ali Hasan, president of the National Parent-Teacher Association Collaborative Council.
"It is essential to introduce rights education to our students. At the same time, our enforcement officers have to be more cautious and civilised when they deal with youths. Instead of using aggression, they can use psychology," he says.
Former convenor for youth organisation Youth for Change Lee Khai Loon believes that while many young people are interested in equipping themselves with knowledge of their basic rights, there is a shortage of resources available for them to do so.
And this lack of knoweledge can lead to unwanted incidents, he argues.
"For example, most adults know that if you drive a car without a licence, you will only be fined, even if you are a minor. You will not be jailed for it. But if you are young, you may not know this and will panic when the authorities try to stop you," says Lee.
Some are errant
Some traffic offenders who have been stopped by the police have had "pleasant" encounters in that the officer behaved in a professional manner. But it is common to be asked by traffic cops "Bagaimana?" repeatedly, giving the impression that they are subtly asking for a bribe.
A student who did not want to be named claims that she got away with a traffic offence by giving the policeman her phone number.
"He kept asking me, 'So how?' I thought he wanted a bribe but before I could say anything he said: 'All right, if you don't want to get a summon, give me your phone number and we berkenalan (be friends).' I was so desperate that I agreed and he has been texting me since then."
Young adults who have been driving for some time may be better prepared when caught for breaching traffic regulations. New drivers and college students, or worse, schoolchildren without a licence, may, however, be terrified when stopped by the cops.
Says a mother whose two children are college students, there is an important lesson to be learnt from the fatal shooting of Aminulrasyid Amzah, 14, by the police.
"My friends and I are now telling our children that if they break the law, they must stop, face the music and be fined for their offences by the cops," she says.
Star : It pays to know your rights
Posted: 09 May 2010 07:02 AM PDT
Star : It pays to know your rights
The Malaysian Bar Council's publication titled Police and Your Basic Rights is one good source for young people to get information on what to do when stopped by the police.
Here are some of the information provided:
When the police stop you
> If they are not in uniform, ask for identification or their police authority cards:
Police authority card
Red: Suspended police officer. He has no authority to do anything to you. Walk away.
Other colours:
• Blue: Rank of Inspector and above
• Yellow: Below the rank of Inspector
• White: Reserve police
> If they are in uniform:
Note their names and ID numbers on their uniforms.
> If they are in a police vehicle:
Note the number plate of the patrol car or motorcycle.
If police question you when stopped
> Your identification:
Only give your name, ID card number and address.
> The police ask other questions:
Politely ask "Am I under arrest?"
> When you are under arrest:
You are arrested if the police:
• tells you "yes";
• does not allow you to leave/want to take you to the police station; or
• handcuffs you
> If you are not under arrest:
You may walk away/refuse to follow him back to the police station or anywhere else, if asked.
> When you cannot be arrested:
The police cannot arrest you just because you are a potential witness and want to take a statement from you (112/Witness Statement).
> For more information about your rights when approached by the police, have a look at the Malaysian Bar's booklet titled "Police and Your Basic Rights", also known as the "Red Book" available from its website at www.malaysianbar.org.my.
Posted: 09 May 2010 06:58 AM PDT
Malaysians inspired me, Looking to the past for inspiration By TUNKU ABIDIN MUHRIZ and SHARYN LISA SHUFIYAN in The Stars
Great duo: Tuanku Abdul Rahman (left) with Tunku Abdul Rahman
IDEAS, which was launched recently by young people, hopes to restore the optimism of our great-grandfathers and bring freedom to each and every Malaysian.
THESE days it's normal for Malaysians to befriend and to form associations with one another abroad. In 1927, there were few Malayans in London but several young Malayans co-founded the Malay Students' Association of Great Britain.
They included two individuals by the name of Abdul Rahman. Their fathers were both monarchs of Malay States – independent Kedah and the Federated Malay State of Negri Sembilan – representing different traditions and experiences with modernity.
Kedah, with its history dating back to before the Siamese empire, was the most ancient and spiritual of the Malay States while Negri Sembilan, imbued with its Minangkabau traditions of constitutional democracy, federalism, female emancipation and individualist self-discovery (merantau), was one of the most progressive.
What both princes had in common was a yearning to see their countries develop and the lives of their people improved. Today, these two individuals are known as "Bapa Merdeka" and "the chap on our currency notes" respectively.
Symptomatic of the superficial way that history is taught in this country, there is little understanding of the ideological battles and numerous hardships they encountered. And there are those who would not care if this history was forgotten forever.
Being blood heirs of these two men who did so much to secure our free and independent nation, we were lucky to have unique access to their stories.
Sharyn on Tunku Abdul Rahman
I grew up as a complacent young girl. Only recently did I realise that I have some views of my own that are worth sharing with my fellow citizens. When I was given the opportunity to talk at the recent launch of the Institute of Democracy and Economic Affairs (IDEAS), I realised that as Tunku Abdul Rahman's great-granddaughter, I could propagate and promote his views and values that so few of us still remember.
The blogosphere has united me with a great-grandson of my great-grandfather's close friend, the first Yang di-Pertuan Agong Tuanku Abdul Rahman. We not only share a bond through our great-grandfathers, but also through our vision of a better Malaysia where democracy is upheld, justice is preserved, and the well-being of the people is ensured.
 Sharing a vision: The writers, Sharyn Shufiyan and Tunku Abidin Muhriz, at the launch of IDEAS.
Abidin and I were privileged to have been exposed to democracy during our years abroad, and these experiences have shaped our world views.
Studying in New Zealand, I saw how the police assisted in public marches rather than crackdowns, the public can question and pressure the government and that public opinion matters. When the public had enough of Labour, they voted National – without any dramatic legal proceedings! The media can play its independent role as the fourth estate, and public votes were not bought through bribery and business tenders.
Politics pre-Malaysia was not about race or power. It was about freedom and the people. May 13, 1969, has been allowed to become a tool of racist propaganda such that we forget the political motives behind the riots. Even the threat of communism was not one of race, as Malays were also involved. They framed their struggle as one against colonialism, even if some argue that their links with China represented a new imperialism. But this was an ideological, not a racial conflict – as is being claimed by some Malays now.
During my early years, my contact with my great-grandfather was limited. Alas, if I had been older, I would have rained upon him question upon question, and chatted with him about politics, society in general and religion.
My great-grandfather was a Malay nationalist, citing that Malaysia is a Malay country but "it is up to the Malays themselves to play an active and constructive part in every aspect of society, to take up the challenge that brighter future offers, bearing always in mind that it is the Constitution, its spirit and its application, which is and will be the safeguard of the security and progress of us all".
I believe it has now come to a point where non-Malays have as much right to this country as Malays, that special privileges should be awarded to those in need – the poor, the oppressed, the stateless, the powerless – regardless of race and religion. Government policies that were drawn up to help uplift the status of the Malay have-nots have been abused, giving rise to cronyism and nepotism.
Racial exclusivity is also a growing problem where people are only helping their own community. It is also disheartening that non-racial political parties also practise exclusivity.
The Democratic Action Party widely speaks in Mandarin and is intimidating to non-speakers who share their ideals while the Human Rights Party is very much Indian-oriented. Political parties should be accessible to all Malaysians. Malaysians have to work towards recognising merit and character instead of playing race politics and preferring connections over capability for business opportunities.
Tunku Abidin on Tuanku Abdul Rahman
Unlike Sharyn, I never met my great-grandfather. My father was only 12 years old when Tuanku Abdul Rahman passed away in the early morning of April 1, 1960. When the news was announced, some assumed it was an April Fool's Day joke, but the mood quickly turned sombre as the Federation of Malaya prepared for its first State Funeral. He had lived a full life, witnessing war and celebration, misery and splendour, ancient rites and modern industry.
As a boy he walked to school barefoot every day, picking his breakfast from fruit trees along the way. This humble attitude was later evident when, as King, he personally switched off all the lights in Istana Negara every night.
He was proclaimed the eighth Yang di-Pertuan Besar of Negri Sembilan in 1933, and administered the state with the generally cordial British advice. This was all to change after World War II.
During the Japanese Occupation, my great-grandfather was confined by the Japanese, forced to publicly approve of the replacement of one imperial power with another. When the British returned, he put his legal training – he was the first Malay Ruler to be qualified as a barrister – to good use as he fought the Malayan Union which was proposed by the new British Government.
Together with his brother Rulers, politicians and friends in the Malayan Civil Service from before the war, he fought the awful plan for centralisation until it was defeated. Indeed, Negri Sembilan provided the inspiration not only for the system of federation that replaced the Malayan Union, but also the system of elective monarchy that we continue to uphold.
Tunku Abdul Rahman wrote that he based this unique practice from Negri Sembilan's system of election and, in fact, the Reid Commission's minutes show that the proposed title for the Federal Head of State was Yang di-Pertuan Besar, changed only later to avoid confusion.
During the Emergency, my great-grandfather had a brush with death as communist terrorists attempted to murder him after derailing a train he was travelling in. If only I had the chance to ask him what was going through his mind at this and so many other pivotal points in history which he witnessed first hand.
I was, however, fortunate to know Tuanku Abdul Rahman's wife, the first Raja Permaisuri Agong Tunku Puan Besar Kurshiah. I did not appreciate her stature until her dying days: I remember clearly the doctor at the hospital where she was warded telling me his memories of her as Queen. And only recently did I find out that she was one of the ladies who donated her jewellery to support Tunku Abdul Rahman's mission to London to negotiate for Merdeka.
Thirty years after our great-grandfathers met in London, they shared a podium in the Merdeka Stadium as the first Head of Govern­ment read out the Proclamation of Indepen­dence which had been endorsed by the first Head of State and his brother Rulers.
If they were alive today, we are sure that they would be surprised and deeply disappointed at how Malaysia is evolving. The language and tenor of politics has changed. Politicians no longer invoke the word "freedom", as citizens endure restrictions in freedom of expression, controls on the media, limitations in peaceful activism and books disappearing from shelves.
The quest for unity is still languishing, 52 years after our ancestors adopted "Unity is Strength" as the federal motto. Optimism has been replaced by a strained hope that things will not degenerate further, as the government of the day battles to liberalise the economy and stem the emigration of increasing numbers of those it designates as "Malay".
Hyperbolic statements of the threat of racial and religious violence have emboldened the exclusivist diatribes of one set of racists and extremists, and the once great institutions of our country have been hijacked, infiltrated and subdued to obey politicians who have achieved their positions through bribery, patronage and intimidation. The few good eggs that have survived the maelstrom are routinely sidelined, co-opted or threatened, even if their names are adorned by prefixes and post-nominals.
IDEAS
IDEAS seeks to reverse this trend, to restore the optimism of our great-grandfathers and above all to bring freedom – Merdeka – to each and every Malaysian. We have been accused of unrealistic romanticism, striving to recreate a time long gone and irrelevant to today's generation. But if the vision of the future is that of extremists, inspiration from the past is necessary and timely.
This mission is not exclusive to IDEAS – there are many other organisations striving to achieve the same vision in their own ways: through charities and social enterprises, building schools and hospitals, empowering the marginalised and, yes, environmental conservation. After all, differences in methods and opinions must flourish in a healthy democracy.
And our ancestors believed in such differences because they valued parliamentary democracy, constitutional federalism, rule of law and individual liberty. They opposed global communism in favour of the free market and they understood the limitations of government. While we are proud to carry their blood, we are delighted to invite you to join us on a journey of rediscovery – for, after all is said and done, every Malaysian is an heir of their legacies.
Tunku Abidin Muhriz is president of the Institute for Democracy and Economic Affairs (www.ideas.org.my). Sharyn Shufiyan is a programme coordinator at Wild Asia Sdn Bhd.
Father's & Mother's Day 2010(孝親節)
Posted: 09 May 2010 06:31 AM PDT
Today is international Mother's Day. Locally, this occasion is much more widely celebrated now than it was ten years ago, albeit getting a bit over-commercialised. None the less, the spirit of filial piety is not lost.
Methodist Church traditionally celebrates the second Sunday of May as Father's & Mother's Day (孝親節)。To me, this is more meaningful as it accords equal recognition to both fathers and mothers.
This afternoon, I was pop-eyed to receive a card from Allen hand-delivered to my house by two advisers of Junior MYF of Hwai Ang Methodist Church. Seeing that I looked puzzled, they explained that part of programme of the fellowship gathering today was to encourage the fellowshippers to hand-write a heart-to-heart card to their parents. The advisers then volunteered to hand-deliver the cards to their parents as a surprise gift on Father's & Mother's Day.
This was the most heartwarming gift I had ever received on Father's & Mother's Day. Junior MYF of Hwai Ang Methodist Church deserves a word of mention for having such an innovative programme. Keep it up! This afternoon I was so overwhelmed by surprise that I forgot to get down the names of the two advisers. May God bless them!
Our pastor this morning in her sermon quoted Exodus 20:12 to emphasize the biblical teaching of filial piety: Honor your father and your mother, so that you may live long in the land the Lord your God is giving you.
Please take it as my gift to you on this great day!
YTL Treats Singaporeans With Andrea Bocelli Concert - Soooooo Goood
Posted: 09 May 2010 06:12 AM PDT
SINGAPORE, May 8 (Bernama) - Singaporeans Saturday night were treated to an outdoor concert by world-renowned Italian tenor Andrea Bocelli at the Singapore Botanic Gardens here, thanks to Malaysia's YTL Corporation.
About 5,000 seated audience including Singapore President S R Nathan were overawed by the over two-hour magical performance by Bocelli who was accompanied by the Singapore Philharmonic Orchestra and Philharmonic Chamber Choir conducted by Eugene Kohn.
Earlier, YTL managing director Tan Sri Dr Francis Yeoh said the show was a gratitude to the city-state for the company's successful investment here, among others its recently acquired power generation company PowerSeraya, Starhill Global Reit, real estate developments Sandy Island and Kasara in Sentosa Cove and Westwood Apartments on Orchard Boulevard.
--
BERNAMA
TGNA : Diam Diri Bukan Bererti Tidak Peduli
Posted: 09 May 2010 06:05 AM PDT
M
enteri Besar Kelantan, Datuk Nik Abdul Aziz Nik Mat menafikan beliau gagal mentadbir negeri berikutan tindakannya berdiam diri berhubung kemelut Istana Kelantan.
Katanya walaupun beliau dianggap sebagai penasihat kepada Sultan tetapi berpendapat adalah lebih baik mendiamkan diri daripada mengambil sesuatu tindakan yang tidak disenangi pihak tertentu kerana ia adalah masalah dalaman keluarga.
Nik Abdul Aziz berkata,
dalam Islam mendiamkan diri juga merupakan suatu nasihat daripada mengeluarkan kata-kata yang boleh mengeruhkan lagi suasana dalam keluarga itu."Bagi saya, sejak mentadbir negeri ini hampir 20 tahun lepas, saya anggap berjaya kerana membangunkan negeri ini. Siapa kata gagal?. Soal kemelut raja, itu kerja anak beranak, saya sengaja tak campur tangan supaya berlaku di sekitar anak beranak,"
katanya kepada pemberita selepas meraikan orang kelainan upaya (OKU) yang baru pulang daripada mengerjakan umrah di bangunan yayasan itu, di Pengkalan Chepa, dekat sini pada Ahad.
Beliau mengulas kenyataan Presiden Pertubuhan Pribumi Perkasa Malaysia (Perkasa), Datuk Ibrahim Ali yang dipetik sebagai berkata, krisis istana Kelantan tidak akan berlarutan sekiranya Nik Abdul Aziz memainkan peranannya sebagai penasihat kepada Sultan dan Pemangku Raja Kelantan.

Nik Abdul Aziz berkata Islam membenarkan seseorang itu berdiam diri daripada mengeluarkan kenyataan, walaupun seseorang itu merupakan penasihat, jika ia boleh memudaratkan keadaan.

Beliau menafikan sikap mendiamkan diri dalam isu itu sebagai tindakan lepas tangan daripada tanggungjawab sebagai penasihat dan beliau tidak mahu campur tangan dalam isu kemelut istana itu kerana ia melibatkan krisis dalaman keluarga.

"Jadi, saya ambil sikap senyap, supaya ianya hanya berkisar di sekitar anak beranak, senyap itu juga, adalah nasihat, ada kalanya Allah Taala suruh senyap. Ada kalanya suruh nasihat, jadi saya ambil sikap senyap, senyap itupun dianggap nasihat juga...," katanya.

Menurutnya, beliau bersama Exco akan menziarah Sultan, cuma menunggu tarikh yang akan ditentukan oleh Setiausaha Kerajaan Negeri, Datuk Aiseri Alias.

-- BERNAMA



Nik Aziz nafi tidak peduli krisis Istana Kelantan

Menteri Besar Kelantan, Datuk Nik Abdul Aziz Nik Mat nafi telahan sesetengah pihak kononnya kerajaan negeri seolah-olah tidak mempedulikan krisis Istana Kelantan.

Sebaliknya dalam reaksi ringkas Mursyidul Am PAS ini menyifatkannya sebagai konflik keluarga.

"Ini krisis anak-beranak, bukan kerajaan tidak mahu caro (ambil peduli)," kata beliau kepada pemberita selepas menghadiri Majlis Kesyukuran Orang Kurang Upaya di Yayasan Orang Kurang Upaya Kelantan di Padang Tembak, Pengkalan Chepa dekat sini.

Beliau menjawab soalan pemberita bahawa sikap berdiam diri kerajaan negeri secara tidak langsung telah menimbulkan pelbagai spekulasi rakyat negeri ini terhadap istana dan kerajaan negeri itu sendiri.

"Saya nak kata maca mana? Orang kata kerajaan negeri tak nasihat, itu silap kerana diam itu lah sebahagian daripada nasihat," katanya bersandarkan hujah ayat al-Quran mengatakan 'diam' juga adalah sebahagian daripada nasihat mengikut keperluan situasi tertentu.

Beliau membaca ayat berkenaan hal yang berkaitan.

Dalam pada itu Nik Aziz tidak menafikan kerajaan negeri belum melawat Sultan Kelantan Sultan Ismail Petra sejak dimasukkan ke hospital lima hari lalu.

"Belum melawat lagi, kita sedang minta Datuk Setiausaha Kerajaan Negeri uruskan jadual atau masa lawatan itu supaya kerajaan negeri dapat melawat tuanku bersama exco semua sekali," katanya.

Sultan Kelantan dimasukkan ke Hospital Universiti Sains Malaysia (HUSM) Kubang Kerian di sini Selasa lalu setelah dipertikaikan rawatan susulannya di Singapura.

Esok, Mahkamah Khas akan mendengar permohonan habeas corpus yang difailkan oleh Tengku Temenggong Tengku Muhamad Fakhry untuk membawa keluar Sultan Kelantan dari HUSM atas alasan baginda dikurung. -TMI


Ulasan GB

Orang semacam Ibrahim Ali bising-bising walau pada perkara yang kecil kerana nak cari publisiti. TGNA tidak perlu sedemikian.



A lot to be done for the Bumiputeras in Sibu and Sarawak
Posted: 09 May 2010 05:28 AM PDT
It is good that I can finally sit down quietly in my small room in Sibu to blog about what I saw during my stay in Sibu.To be on a brief note, today I visited Chinese-majority Sungai Merah area and several Melanau and Iban settlements in the rural area of Bawang Assan. Yesterday I also visited several Iban settlements in the rural area of Rantau Panjang in the afternoon (Note: there is also a
Good sign...? 1 million signatures for Malaysia to lift the Thomas Cup again
Posted: 09 May 2010 05:14 AM PDT
Posted: 09 May 2010 02:24 AM PDT