---
BreakingNews - Ulamak Umno jadi kenyataan
Posted: 25 Jun 2010 06:01 AM PDT
8.55pm
: Berita jam 8 malam memaklumkan, wakil dari 40 ulama telah pun menyerahkan borang keahlian Umno kepada Najib di PWTC malam tadi. 10 borang lagi akan diserahkan pada minggu hadapan. Syabas kepada ulamak kerana menyertai Umno. Bukan calang-calang ulamak yang berani mengambil risiko bersama Umno. Kelibat Asri tidak kelihatan.
Tulisan Penarik Beca dibawah ini juga sedap dibaca, double klik untuk lagi sedap membacanya..

Khalid Ibrahim and his enemies
Posted: 25 Jun 2010 05:10 AM PDT
TIGA WAJAH ASRI - EROTIK DAN BERGAYA !
Posted: 24 Jun 2010 10:52 PM PDT
Posted: 25 May 2010 11:10 PM PDT
Perempuan etnik Shan cantik; berkulit putih, ramping, dan tinggi.Ramai orang berpandangan begitu tidak terkecuali saya. Secantik bulan.Ha ha ha.Kadang-kadang pernah saya tertarik dengan mereka. Sedihnya ramai antara mereka menjadi mangsa sindiket pelacuran. Namun, ada juga antara mereka bekerja sebagai buruh kasar di Thailand dengan gaji sekitar RM5 -- 10 sehari. Kesian, apa bolah buat.Perhambaan di zaman moden ada dimana-mana.
Soa Sanda atau penuhnya
Sao
Nang Mya
Sanda adalah puteri sulung kepada
Sao Shwe Thaike, Putera Shan di Yawnghwe. Sebuah kerabat diraja kerajaan Negeri Shan, yang kini telah menjadi sebahagian Myanmar setelah berlaku revolusi tentera yang dipimpin Jeneral Ne Win tahun 1962.
The

Moon

Princess

: Memories of

the

Shan States adalah sebuah catatan kehidupan puteri terakhir ''Raja di Langit'' Soa Sanda sebahagian dari keluarga diraja di seluruh dunia yang menjadi mangsa perubahan
selepas perang Dunia Kedua. Kini keluarga diraja Shan hanya tinggal sejarah dan terbungkus dalam buku, journal dan juga tertulis di blog, termasuk blog ini, hanya itu yang boleh dibuat, sebagai kenangan-kenangan lalu.
Myanmar semua orang tahu sebuah negara tertutup( saya amat menyukainya). Kerajaan yang ada sekarang adalah kerajaan tentera dengan kuasa penuh terletak pada Jeneral Soe Win.Menoleh kebelakang, ayahanda Sao adalah presiden pertama dipilih untuk Kesatuan Burma.Selama ayahanda menjabat jabatan kekuasaan kehidupannya agak mewah. Dia ke UK, belajar, jadi guru dan berkahwin dengan orang putih.Dengan restu ayahnya.Kegenbiraannya tidal lama.
Akhirnya mendung hitam berarak menutup ruang Burma. Hidupnya pun kelam. Tiada lagi yang indah. Ayahnya pun hilang kuasa.Pada usia lebih 80 sekarang Sanda hanya melihat Negeri Shan atau Myanmar secara keseluruhanya dalam kabut-kabut di kelopak matanya. Semua masa lalu melintas, bergilir; kenangan di Bangkok, di Trium Udom, kuil, sami kuning,pasar pagi Sanam Luang,gunung-ganang Shan,dan trak tentera di pagi tahun 1962.Semuanya terlipat di dal
am memoir ini.
Sebuah kenangan yang bermula dengan indah dan berakhir dengan kepedihan, tiada harapan.
Sao Sanda

The

Moon

Princess

: Memories of

the

Shan States
ISBN: 9789749863374

River Books
ONE FANNY MALAYSIA - KAH KAH KAH
Posted: 24 Jun 2010 07:42 PM PDT
Hee Hee...Tak berjayalah, VT. Flip-flop Najib tarik balik lesen judi sukan!!!
Posted: 25 Jun 2010 09:47 AM PDT
Pada 7 Jun lalu, Najib berkata kerajaan belum lagi mengeluarkan atau memberi lesen kepada Ascot Sports untuk menjalankan operasi pertaruhan bookie di Malaysia. Selepas seminggu, Najib berkata, "Kementerian Kewangan telah memberikan kelulusan kepada pengeluaran semula lesen kepada Ascot Sports untuk mengendalikan operasi pertaruhan sukan berdasarkan beberapa syarat dan peraturan." 
Finally!
1Malaysia PM concedes public opinion!
Why did he flip-flop in the first place?!
NO GOVERNMENT IS PERMANENT. ONLY PEOPLE'S POWER IS!
Posted: 25 Jun 2010 08:27 AM PDT
Kuching MP Chong Chieng Jen is perplexed that Sarawak Chief Minister Abdul Taib Mahmud, a law graduate and former magistrate, would "stoop so low" as to link his now uncertain political future with the long-discredited concept of BN as a sacred cow.

Chong, who is one of two DAP MPs in Sarawak said that
Taib's statement in Balingian earlier this week was full of flaws and fallacies and it was
just so much nonsense to suggest that the people should not destroy the BN just because they didn't like certain personalities.
Chong noted that the BN was only the ruling party for five years, having been given the mandate by the people to spearhead the government but it was the civil service that was a permanent establishment and it would go on even if there was a change of political masters. Thus, the loyalty of the civil service must always be to the government of the day, as mandated by the people.

Chong reiterated that
voting out the BN
was not tantamount to destroying it.
Pan-dog, tiger dog, panda dog: Latest craze in China - dyed dogs! WOOF!
Posted: 25 Jun 2010 06:58 AM PDT
@ Mail Online
If this strange creature growled at you, you wouldn't know whether to run from his sharp claws or pat him on the head and give him a biscuit.
From a distance, its striped orange and black coat makes it look like a particularly odd tiger.
But it's actually a retriever, the victim of the latest craze among some dog owners in China to dye their pets to look like other animals.
The Chinese are always quick to embrace bizarre trends, and it is not unusual for owners to take their dogs to grooming parlours where they are not only given a shampoo and trim, but a multi-coloured dye job as well.
Bizarre: A pet retriever in China has been dyed by its owner to resemble a tiger
Today the retriever was joined by three furry friends whose dye jobs were much more convincing.
The tiny, fluffy dogs were the spitting image of baby giant pandas thanks to their makeovers.
The animals were pictured after being transferred to Zhenghou from Southwest China's Sichuan province at the weekend.
Doggy dye job: These small furry dogs look the spitting image of baby panda cubs
Transformation: The dog appears unfazed by its new coat
Recent figures show money spent on pets across the nation has seen nearly a 500 per cent increase between 1999 and 2008 - but, arguably, at the cost of their pets' dignity.
Quite what the animals might think about it is another matter. 
On parade: The dogs were put on show after being transferred to Zhenghou from Southwest China's Sichuan province
Confused: While some of the dogs didn't appear to be enjoying themselves, they were a hit with locals
Zidane's head butting had made us sad at last World Cup but this time, Headless chicken ad makes us smile
Posted: 25 Jun 2010 06:18 AM PDT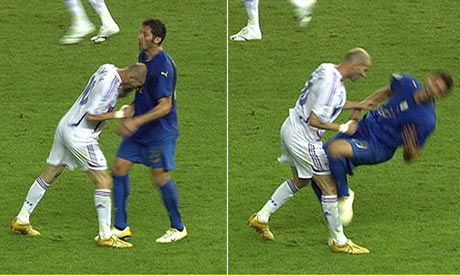 Pic. guardian.co.uk
Zinedine Yazid Zidane, (French pronunciation: [zinedin zidan]; born 23 June 1972 in Marseille, France) is a retired French World Cup-winning footballer. Widely regarded as one of the greatest footballers of all time, Zidane played for club teams in France, Italy and Spain, and was the captain of the French national team. His career accomplishments include helping France win the 1998 World Cup and Euro 2000, as well as taking them to the World Cup Final in 2006. At club level his accomplishments include winning the 2002 UEFA Champions League with Real Madrid. One of only two three-time FIFA World Player of the Year winners, the other being Ronaldo, Zidane also won the Ballon d'Or in 1998. He retired from professional football after the 2006 World Cup. 
Before the final, Zidane was awarded the Golden Ball as the best player of the competition.[14] Having already announced he was to retire after the expiration of his Real Madrid contract at the end of the 2005-06 season, the world of football already knew Zidane's second World Cup final was to be the last match of his career. Seven minutes into the match Zidane put France ahead with a penalty kick and became only the fourth player in World Cup history to score in two different finals, along with Pelé, Paul Breitner, and Vavá, in addition to being tied for first place with Vavá, Pelé and Geoff Hurst with three World Cup final goals apiece. Zidane was sent off in extra-time after headbutting Marco Materazzi following an insult from the Italian concerning a family member, and so did not participate in the penalty shootout, in which Italy won 5–3. Source: Wikipedia 
Read this _Headless chicken ad mocks French World Cup team 
PARIS  – Sony took a cheeky swipe at France's disastrous World Cup team Wednesday with a full-page newspaper ad for Playstation showing a cock with its head blown off above the words "Game Over." 
The video game console ad did not make specific reference to the team, but the cock is a clear reference to an unofficial symbol of France which features on French footballers' jerseys. 
The headless bird was a photo-montage and "no animal was killed," noted the small print at the bottom of the ad on the back page of Liberation newspaper. Sony was not immediately available for comment on the ad. 
L'Equipe sports newspaper said last week that for failing to dump the national squad's coach Raymond Domenech, the French football badge should "no longer be the cock but the headless chicken." 
The players were due to fly back to a humiliated country that has largely written them off as spoiled millionaires led by an incompetent coach and unworthy of the blue jersey worn by the 1998 world champions. – AFP 
JOHANNESBURG – Italy and France's miserable World Cupcampaigns were complete on Thursday as they became the first finalists from the previous World Cup to exit at the first hurdle of the following one.Champions Italy were eliminated after a stunning 3-2 defeat by Slovakia, and even finished bottom of the group below the rankoutsiders New Zealand. 
France, who lost on penalties to Italy in the final in Berlin in 2006, had exited on a suitably low note on Tuesday, bottom of their group like Italy, with a 2-1 defeat by hosts South Africa. 
Never in the previous 18 editions had the two finalists shared such an ignominious fate.
Pakatan Rakyat Perlu Tubuh Jawatankuasa Penyelaras Negeri Peringkat Pusat
Posted: 25 Jun 2010 06:13 AM PDT
K
halid berdepan tuntutan berat di permukiman PKR
Isu mengenai dakwaan kudeta terhadap Menteri Besar Selangor Tan Sri Khalid Ibrahim oleh sekumpulan ahli parlimen PKR, dijangka menjadi topik panas dalam permukiman parti itu di Shah Alam hujung minggu ini.
Bagaimanapun, naib presiden PKR, R Sivarasa berkata, ia hanya akan dibincangkan dalam kaitannya dengan strategi parti untuk berdepan dengan pilihanraya umum akan datang.
"Seseorang mungkin membangkitkannya dan kita harus menyelesaikannya, tetapi ia perlu dalam rangka bagaimana kita akan memenangi pilihan raya akan datang," katanya.
Ketua penerangan PKR Latheefa Koya pula berkata, salah satu daripada dua perkara dalam agenda permukiman tersebut ialah mengenai pentadbiran Selangor, dengan fokus khas untuk mencari jalan bagi parti menyalurkan lebih banyak input dalam dasar-dasar kerajaan negeri.

Katanya, kemungkinan hasil daripada permukiman tersebut - di mana lima kertas kerja akan dibentangkan - ialah penubuhan jawatankuasa yang akan memainkan peranan sebagai penasihat kepada exco kerajaan negeri dalam membuat keputusan mengenai dasar-dasar kerajaan negeri.

Ini serupa dengan amalan di negeri-negeri yang ditadbir oleh PAS di Kelantan dan Kedah, di mana ahli exco negeri dipengaruhi oleh halatuju parti tersebut.

"PAS telah mentadbir Kelantan selama 20 tahun, sistem mereka sangat berkesan, dan kita harus belajar daripadanya," kata ahli parlimen Balik Pulau, Yusmadi Yusoff.

Sumber-sumber lain parti itu pula membayangkan bahawa pihak parti akan mendesak senarai baru ahli exco negeri, bagi membuka ruang kepada ahli PKR memainkan peranan dalam kerajaan negeri.

Satu lagi tuntutan yang dijangka dibuat di permukaan tersebut ialah mengenai sumber untuk membantu wakil rakyatnya di Selangor.

"Seseorang wakil rakyat hanya boleh membei khidmat di kawasan pilihan rayanya sekiranya ada sistem sokongan yang berkesan, dan ini adalah tangungjawab kerajaan negeri, dan harus dilihat sebagai satu agenda nasional," kata Yusmadi.


Beliau menambah, langkah memisahkan negeri dan parti adalah pendekatan yang cacat kerana kedua-duanya harus saling berkaitan dan harus kuat dalam menguruskan masyarakat.

Selain itu, kata ahli parlimen Kelana Jaya, Loh Gwo Burne (kiri), parti itu juga memacu ke arah memainkan peranan lebih aktif dalam halatuju kerajaan negeri melalui penglibatan dalam syarikat berkaitan kerajaan (GLC).

"Sejak dua tahun terakhir, ADUN, ahli parlimen PKR dan ahli parti menunggu untuk memberikan sumbangan tetapi kami tidak boleh berbuat apa-apa kerana pihak negeri tidak mahu menggunakan (khidmat) kami.

"(Tapi) pengarah GLC tidak dibayar, dan diberikan elaun berdasarkan prestasi, jadi saya dapati sukar untuk melihat bagaimana seseorang itu boleh dianggap korup di sini," katanya.

Sementara itu, perkembangan terbaru tersebut mungkin memaksa Khalid menerima desakan pengkritiknya.

Ini menimbulkan persoalan mengenai model perkongsian kuasa dalam kerajaan Selangor - satu kerjasama antara PKR dan DAP - yang mempunyai hampir sama banyak wakil rakyat dalam kerajaan negeri.

Manakala naib presiden PKR, Azmin Ali menafikan beliau menjadi ketua kudeta kumpulan 15 ahli parlimen tersebut, para pemerhati melihatnya sebagai tanda semakin buruknya hubungan beliau dengan Khalid, yang turut menjejaskan imej parti.

Ketua umum PKR, Datuk Seri Anwar Ibrahim juga mungkin terasa bahang daripada dakwaan berlakunya pergeseran dalaman parti, dengan para pemerhati menganggapnya sebagai satu kecacatan dalam kepimpinannya.

Bagaimanapun, bertentangan dengan pendapat umum, Yusmadi menegaskan bahawa parti itu "tidak berpecah", tetapi hanya berdepan dengan "isu pengurusan".

Menurutnya, adalah tidak masuk akal untuk mengharapkan sebuah organisasi baru (seperti PKR) tidak mempunyai masalah seperti itu.

'Mesej saya kepada masyarakat ialah supaya bersama kami dan terus menyokong kami kerana masalah ini boleh diatasi," katanya. -mk

Ulasan GB

Pada pandangan GB, Pakatan Rakyat perlu ada jawatankuasa Penyelaras dan Pemantauan peringkat pusat untuk menyelaras pentadbiran negeri-negeri yang dikuasai oleh PR.

Sekalipun PR belum lagi menguasai kerajaan perseketuan, namun langkah ke arah itu perlu dimulakan dengan kewujudan jawatankuasa peringkat pusat.

Pengalaman-pengalaman dari negeri yang lebih lama dikuasai oleh PR dapat dikongsikan bersama dan yang paling utama semua urusan pentadbiran negeri-negeri PR dapat diselaras dan dipantau supaya tidak wujud dasar-dasar yang berbeza-beza di negeri-negeri yang dikuasai PR.

Hal tersebut juga membolehkan negeri-negeri PR berupaya untuk mewujudkan satu bentuk mekanisma bagi mempertahankan kerajaan negeri dari dipermain dan dibuli oleh agensi-agensi kerajaan pusat.



A new tennis record, but stretching to absurd lengths
Posted: 24 Jun 2010 07:59 PM PDT
My father left me two lasting legacies: a love of reading and a love of music. From young, the radio and records, books, magazines and newspapers have always been my constant companions. Unfortunately in the past 10 years or so, I had not been able to indulge myself with reading. Not until the past five months or so. Now, I do find myself enjoying my reading again because I have more time. at hand
In my teenaged years, I used to pour over the newspapers every day. Maybe not every page of a newspaper (definitely not the classifieds or the shipping pages) but yes, I did read them. They helped to broaden my general knowledge of the world around me. Of course, it's almost impossible to remember anything of what I read so long ago but curiously enough, when this year's Wimbledon tennis grand slam tournament began some five days ago, a little bit of forgotten trivia popped up in my mind.
I can't remember where I read it -- could be the New Straits Times or The Malay Mail or The Straits Echo or The Eastern Sun or The Star -- but there was a picture showing two players slugging it out at Wimbledon 1969 (actual date of play was 26 Jun 1969, I believe) with a caption saying that Pancho Gonzales had beaten Charlie Pasarell in a marathon match that went to 112 games and lasted more than five hours. It's true, there was such a picture in one of our local newspapers then. I won't say anything more about this historical match because there's so much reference to it these few days.
Therefore, it was with more than a passing curiosity that I read in the online newspapers during the past two days of the herculean effort between John Isner and Nikolas Mahut at Wimbledon 2010, how their first-round match had surpassed all other tennis records in history (except one, which was the speed of the fastest serve). It was incredible how the two players had been unable to get the better of one another until 138 games had been contested in the fifth set. This special historical moment in world tennis has now become sports lore. I won't say anything more too because there's a lot written about this match now.
Anyway, when I plonked myself down in front of the television to watch the drama at Wimbledon 2010, I was at the same time surfing the Internet and visiting the Wimbledon website, especially their live update page. Quite surreal to see a first-round match from a distant Court 18 garnering so much world-wide interest and prominent coverage on one of the Astro sports channels.
I noticed that there was a delay of about 10 minutes in the tennis "live" telecast. I wondered why. Was Astro worried that one of the Williams sisters may make an unexpected appearance in the men's competition wearing one of her dresses like in Paris, and that would require an on-the-spot censoring? Or maybe, to blank out Maria Sharapova?
When the Isner-Mahut match was finally over, I had sent a text message to my friend Eric at about 11.45pm but the closing stages of this match was only shown over television at about 11.55pm. A bit of disappointment over the 10-minute delay, really. But it allowed me time to snap this picture from my TV set.  Their expressions spoke volumes. That's over-the-top John Isner (United States) towering over down-in-the-dumps Nikolas Mahut (France) and chair umpire Mohamed Lahyani (Morocco) who looked almost clueless about his own place in tennis history which most probably would be the seven hours-plus that he spent on the chair on the second day without going to the washroom. Real dedication to the game but obviously can only be at the eventual expense of his own health.
ca-pub-5430283382112812
KTV, Cards and Talk at Martini Cafe
Posted: 25 Jun 2010 03:43 AM PDT
Last Friday, there's actually a gathering at Kayu Nasi Kandar at Bukit Jambul but it was late and raining, and Kayu Nasi Kandar is like 30 minutes away from home so I decided not to go there. And at almost late night, Yiphing asked me out to Martini Cafe near Gurney Drive, somewhere like 5 minutes away from my house only, so I went. =)
Never been there before, I thought the place is just like a normal cafe for drinks, alcohol and some football TV but there's more. There's KTV there, LCD screens, mic and we can sing like at RED KTV, except with food and more choice of drink, unlike RED has only alcohol.
And another thing is, there's less TV and more table, singing took a long time only reach our table and the sound system was not pro enough, though I still like karaok-ing. Singing is my hobby although my singing sucks. Who can teach me how to sing properly? T.T
Well, people there were Shan Shan, Yee Ling, Eunice, Jick, Yiphing and me. They are TAR College gang except me and Yiphing. I has no gang because I am still not in college yet. Simply mix around now. Haha.
The night was just talking, playing big2 cards and wait for our turn to sing. Whole night, I got to sing 3 songs, waited quite long but like it.
There's singing pro in the house too, the baby face Yee Ling, don't think that she's a kid base on her look, when she sings, she's professional. Really pro.
Spent there till like 1.30am and I went home.
Tun Dr Mahathir Mohamad continued to be the president of PERKIM or Malaysian Muslim Welfare Organisation
Posted: 25 Jun 2010 04:05 AM PDT
Local missionaries must be free from extremist influence which tarnishes the image of Islam in discharging their responsibilities, said Tun Dr Mahathir Mohamad. 
"They should preach smartly to suit the local situation," he said when opening the 49th annual general meeting of the Malaysian Muslim Welfare Organisation (Perkim), here.
Meanwhile, Tun Dr Mahathir was returned unopposed for the post of Perkim president which he has held since 2006.
Perkim honorary secretary-general Tan Sri Dr Abdul Hamid Othman announced the result at the general meeting held at a hotel here.
Four people elected as Perkim vice-presidents were former Perlis mentri besar Datuk Seri Dr Shahidan Kassim, Datuk Dr Ariffin Suhaimi, Tan Sri Abdul Rashid Abdul Rahman and Datuk Dr Mustapha Ma.
Read all here_ Missionaries have to be extremist-free, says Dr M
Posted: 25 Jun 2010 03:03 AM PDT
I've been reading Colm Toibin's Brooklyn and very much enjoying it, and keep coming across passages that resonate with me somehow. Today I read a bit about the main character, an Irish immigrant named Eilis Lacey, experiencing her first American winter:
It appeared impossible to imagine a time when it was not cold and she could walk these streets thinking about something other than the warm hallway of Mrs. Kehoe's house, the warm kitchen and her own warm bedroom.
There's much more that grabbed at me in the book than just that one sentence, of course. But when I read that one I caught myself nodding my head and thinking about all those winters back home, when I'd be stiffly pushing my way down the streets of my hometown, my entire body tensed against the cold despite the several layers of clothing I'd be wearing. I can remember now that on more than one occasion, in the deepest dead of winter, I tried to imagine those sidewalks bare and dry, the lawns green, the wind kissing me, not punching. I hated the cold, the gloom, the grey, the deadness. I hated it because after a couple of months of nothing but winter, the memories of warm days, no matter how tightly I held onto them, began to fade a bit. I had to will myself to remember them, to imagine I was taking a casual walk along streets that echoed with the sounds of birds and breathing trees. To imagine I was wearing a t-shirt, shorts, sandals. To imagine I was wearing summer, and it was soft and loose and light. It didn't scratch like wool. It didn't claw at my bones or squeeze the breath from my lungs, like winter.
I remember walking across the Halifax Commons in winter, back when I was working as a security guard, daydreaming about being somewhere else, like sitting at a cafe along the La Rambla in Barcelona. In those daydreams, the sun was shining, the air was warm, the place was alive. I yearned for that. Not a bitter yearning. It just warmed me up. It made me feel happy, even as the cold wind tried to sweep me off the frozen Commons. It made me feel happy, even though I was going through all that trouble just to spend the whole day (or night) guarding a little strip of the Halifax waterfront from beggars, thieves, drunks, and drug addicts, all for minimum wage. Somehow, I felt optimistic.
Of course, spring would always arrive. Then summer.
I left Canada just before the fall, eight years ago. It's been summer ever since, except for the one trip I made home, when it snowed in April — just for me, perhaps. It's always been summer for me here, except for those brief moments on rainy days when the air is cool and the wind is blowing, and I remember the end of summer back home, when I might wear a sweater outside. And those brief moments when I smell burning leaves and remember the golden glory of the fall. Then there are those moments when I'm driving through a monsoon rain and remember going out to play in blizzards, and later finding the soft warm glow of home. And then there are those moments when I peer through the haze and the stifling heat and try to imagine everything around me covered in pure snow. Those moments when I'm walking along this country's hot, sticky roads and I try to imagine snow crunching under my feet. I will myself to remember, to hold onto those memories as tightly as I can, so they won't fade away.
To be honest, of all the seasons, I like winter the least. But I have missed it since leaving Canada. In fact, five years ago I wrote about how much I missed snow. Heck, my first poem was about winter. I wrote it when I was six. I think my mother still has it. I wrote about snow crunching under my feet then, too.
I can't help but find it a little funny that those walks across the Halifax Commons are among the things for which I feel some sort of nostalgia. I'd like to say something about the irony of being nostalgic for a time when I was yearning for something else, about how I used to crave the destination but now I also crave the journey…but I said that five years ago. It's still true. Yearning makes the heart deep, as St. Augustine said centuries ago. That's still true, too.
Oh, and that passage from Colm Toibin's Brooklyn? What's really interesting about it isn't just that Eilis Lacey is walking down a street in winter having trouble imagining it was ever anything but winter. What's really interesting is that she can't stop thinking about "the warm hallway of Mrs. Kehoe's house, the warm kitchen and her own warm bedroom." It's interesting because at first she hated those places; whenever she was there, she'd be thinking about Ireland.
It's funny how home can become some other place, and some other place can become home.
LESSONS TO LEARN FROM SINGAPORE
Posted: 25 Jun 2010 02:54 AM PDT
It has been a long time since I last traveled to Singapore, a place where I had onces served. Back in the 60's when Singapore was still part of Malaya and subsequently Malaysia, I think the army had a Brigade HQ located at Fort Canning, two SIR Infantry Battalions at Ulu Pandan, a RMR Battalion at Temasek Camp, Logistics Units at Bukit Timah, and an Independent Recce Squadron at Tanah Merah.
Sembawang Camp to which the 6th Battalion RMR was to be located as a non family station, was built around the mid 60's. The battalion was initially accommodated in tents, while a semi-permanent camp was being constructed. I remembered that besides the camp was a pig farm that emits an unbearable smell that caused a lot of discomfort to most of us. The smell becomes even more unbearable during the rainy season. Besides the smell, the rains would also cause a nuisance to all of us, as some of the tents would leak, and the walk ways flooded. Living under tents for more than 6 months was a misery to most of us, for we had to bear the blistering afternoon heat, dust and with no proper lighting, bathing and toilet facilities.
The Sembawang landscape has now changed tremendously, and one could no longer recognize the existence formerly of an old army camp in that vicinity. Traveling along Holland Road and the neighboring areas, I could still see some old double storey bungalows that I believe were built as quarters for senior British military officers. These bungalows resembled those built at Port Dickson military camps that still exist till this day.
What strikes me most about Singapore is the cleanliness of the city center and the disciplined society, especially of its bus and taxi drivers. Traveling around the city keeps me wondering as to how could the local authorities up-keep the maintenance of all the buildings (HDB Flats in particular) and structures in such a perfect state. I could not see a single dilapidated and unkempt building. All are well painted and most HDB Flats have huge numbers painted high up on its walls that can be viewed from afar by impending visitors.
I could not see cars being parked indiscriminately besides roads in the city center, and this makes traveling in the city center easy, despite the heavy traffic and with no policemen to monitor the traffic flow. I decided to hitch a taxi ride back to my place of residence, and I do not have to wait long at the taxi stand for a taxi. I was greeted by the driver even before I could get into the taxi, and the ride was in a comfortable and clean Korean built Hyundai blue colored taxi. This is in vast contrast to the taxis that we get in this country that are small, and the rude treatment that passengers sometimes get from its drivers. Now, with the introduction of the Proton Saga, our taxis are getting even smaller and less comfortable. Passengers comfort, seems the last in the minds of our taxi service providers.
There are many more things that I saw in Singapore city that could serve a useful lesson to our local authorities, especially to the local councils, as well as KL City Hall. I believe the difference lies in the attitude, training, professionalism and dedication of the people involved that is severely lacking in our people and if such attitude does not changed, we will soon see our cities being in league with some of the worse among the underdeveloped countries.
I believe, we have been sending a number of our officers from the local authorities and City Hall for study visits abroad. I am told too that even parliamentarians and state councilors are send abroad on study tours, but what happened upon their return is everyone guess. Was it really a meaningful study tour, or was it merely a leisure tour? But I suppose, having been a fully paid overseas tour at public expense, it does not really matter whether it was to be a study tour or a leisure tour. Both are one and the same thing.
And having seen the latest of Singapore, one does not need to go to Europe, USA, Japan or Korea to do a study tour. The thing that needs to be learned by our local authorities in the management of a city is just a few miles south of Johore Bahru.
CRUSADE AGAINST CORRUPTION
PETPOSITIVE PURRING NEWS: Cat with bionic feet - a world's first! (Video inside)
Posted: 25 Jun 2010 04:16 AM PDT
PETPOSITIVE PURRING NEWS!Here's technology at it very best. A cat name Oscar gets a brand new lease on life from two bionic feet in a world's first. The story is from BBC Online.   Bionic feet for amputee cat
Oscar gets to try his new feet
A cat that had its back feet severed by a combine harvester has been given two prosthetic limbs in a pioneering operation by a UK vet.
The new feet are
ZAID SPEAKS WITH WISDOM AND UNDERSTANDING
Posted: 25 Jun 2010 02:47 AM PDT
It is always disconcerting to read news about trouble from within any organization. However, the most worrying fact is that it happens far too often within PKR. One can wonder till the cows come home and will probably never know why the leaders do not discipline their wayward members and why some members find it so difficult to submit to authority and to try to solve problems before taking matters into their own hands. Yet, there seems to be a glimmer of hope because PKR supreme council member Zaid Ibrahim speaks with much wisdom and understanding about party issues.
This evening, he expressed his belief
HERE
that party de facto leader Anwar Ibrahim should sack the 15 MPs who are allegedly plotting a "Selangor rebellion". Zaid called the move "a blatant show of indiscipline" and criticised the 15 MPs' disrespect for authority.
Datuk Zaid is certainly a fair and rational in his arguments. He said that at the recent party congress, (party president) Dr Wan Azizah (Wan Ismail) clearly said that Khalid would remain as MB and Anwar reaffirmed this statement. His argument is very simple. If the leadership has made a decision, the others should comply; if not, then the credibility of the party leadership is at stake.
PKR vice-president Azmin Ali resigned from the board of Selangor State Corporation on Wednesday after which news of an alleged revolt against Menteri Besar Abdul Khalid Ibrahim by a group of 15 MPs aligned to Azmin broke out. Apparently, they are unhappy over the unilateral manner in which Khalid appointed his new political secretary, Faekah Hussin, as well as his inability to make quick decisions. Azmin has denied any involvement in the alleged plot.
I agree with Datuk Zaid's observation that Anwar's leniency has encouraged brazenness among the leaders. To cope with such situations, a leader must be firm without being afraid that such firmness may cause them to jump ship.
Isn't the situation a plain and simple one? What is the point of being a lame and feeble leader for the sole purpose of preventing any frogs from jumping over? Strict disciplinary action would command respect and show the rest of the world that he means business and will not tolerate any uprising of any magnitude. It is better to flush them out NOW than at other inopportune moments! Why is he treating them with kids' gloves?
This is what Datuk Zaid said:

"Let them jump!" he said. "Let them join (prime minister) Najib (Tun Razak), enjoy the two-thirds and do whatever they want. But PKR is a reform party that has to stick to certain principles and if that means settling for a small but committed pool of leaders, then so be it."

Zaid added that he found it odd that the pressure for Khalid's removal came from MPs and not state assemblymen and councillors.

"The assemblymen and councillors know him best... they seem to have no problems with him," he said. "DAP and PAS have also been silent. They are very seasoned parties and if Khalid is a liability, they would have surely spoken up. They want to win the next election too, you know."


Such behavior reminds me of spoiled brats who are throwing tantrums just because they are not getting what they want.
Isn't there a channel for members to come together and to reason instead of having such embarrassing and disgraceful behavior that puts PKR in a bad light and also undermines the repute of PKR and PR?
Now, it seems as though some members are intent on meeting their PERSONAL objectives without taking a bird's eye view of the situation.
Datuk Zaid said:
"Stop this power play which only drives you to do silly things that make the headlines. Right now, PKR leaders are behaving like Umno by holding secret meetings and then a surprise press conference."

Zaid also likened PKR to Umno in its belief that the party must control the state government. He said that such a belief belongs to a communist party and PKR should steer clear of such ideology by respecting the institution of the state.

"Selangor is all we've got and our priority should be safeguarding it," he said. "If we owned two-thirds, we would have the luxury of playing such games."

"This is the time for PKR to show resilience, strength, unity and respect but these are also things that it needs to earn from the rakyat. We can't dole out projects like Najib does or offer to strike deals with certain people."

"PKR has nothing to offer but leaders who are credible and who command respect for their sincerity in their struggle. These are the leaders we want. And if we don't have them, then we have nothing."
You have spoken well, Datuk Zaid!!! You have my deepest respect for being able to reason and to see things from a bigger perspective with the collective good of the nation at heart. If PKR hopes to win more seats at the next GE, it is imperative that the leadership is able to execute firm decisions instead of waffling around nervously like a groom before the wedding day! All of them MUST think of the bigger goal in the long run instead of meeting immediate needs and risk losing it all in the short run!
Now, it is up to DSAI to call the shots and to rein in its disgruntled members. The question that remains is "Will he?". We will know soon enough as PKR's two-day retreat will begin tomorrow at Shah Alam.
'Jumping genes' make each person unique: Study
Posted: 25 Jun 2010 02:46 AM PDT
Saman Felda : Ahmad Maslan Cari Penyakit Sendiri
Posted: 25 Jun 2010 01:42 AM PDT
T
indakan Saman Felda, Peluang Dedah Penyelewengan
SHAH ALAM, 25 Jun - Tindakan Lembaga Tanah Persekutuan (Felda) untuk mengemukakan saman ke atas akhbar rasmi KEADILAN, Suara Keadilan dan juga beberapa pemimpin KEADILAN termasuk permimpin PAS dilihat sebagai satu peluang besar membongkarkan segala penyelewengan yang berlaku di dalam Felda.
Ahli Majlis Pimpinan Tertinggi KEADILAN, Datuk Zaid Ibrahim yang dihubungi memberitahu beliau mengetahu kenyataan tersebut dan sekarang hanya menunggu saman yang dikemukakan oleh Felda.
"Saya tahu dan kita menunggu saman tersebut, apa yang pasti tindakan saman yang dikemukakan oleh Felda itu sebenarnya memberi
peluang yang besar kepada kita untuk mendedahkan apa yang telah berlaku di dalam Felda.
Bagi saya ini tidak mengejutkan saya dan kita bersedia untuk menghadapi saman tersebut," jelasnya.
Sementara itu, Timbalan Pengerusi Biro Perhubungan Antarabangsa KEADILAN, Datuk Dr Tan Kee Kwong juga memberitahu tindakan saman Felda itu merupakan langkah untuk kita melakukan pendedahan di dalam Felda.

"Kita sudah pasti mengganggap ini sebagai peluang untuk membongkar apa yang telah berlaku di dalam Felda, kenyatan saya pada sidang media di parlimen juga meminta Perdana Menteri, Datuk Seri Najib Razak menjelaskan kenapa kedudukan tunai Felda boleh merosot dalam tempoh lima tahun.

"Selain itu juga alasan yang munasabah terhadap pembinaan bangunan baru Felda di kawasan yang kos tanah yang tinggi sedangkan Felda mempunyai tanah sendiri di Jalan Semarak. Perkara ini yang kita ingin penjelasan, dengan saman tersebut kita pasti kesemua persoalan dapat dibongkarkan," katanya.

Pengerusi Biro Felda dan Orang Asal KEADILAN Pahang, Suhaimi Said yang turut dihubungi memberitahu kenyataan yang kita keluarkan di dalam akhbar Suara Keadilan adalah berhubung dengan apa yang telah diperkatakan oleh Timbalan Menteri di Jabatan Perdana Menteri Datuk Ahmad Maslan semasa di Parlimen.

"Kita mengeluarkan kenyataan tentang apa yang telah diperkatakan oleh Ahmad Maslan di parlimen iaitu berkaitan dengan penyusutan kedudukan tunai Felda dalam tempoh lima tahun hampir RM3 bilion.

"Jika melihat pada senario sekarang sudah pasti dalam tempoh yang terdekat Felda akan bankrap, apa yang hendak kita mahu ialah perjalanan Felda itu perlu mengikut kepada matlamat asal penubuhan Felda.

"Jawapan Menteri yang menyatakan Felda mempunyai aset yang banyak, bagi saya itu bukan boleh diukur sebagai kedudukan tunai kerana aset tidak boleh di tukarkan kepada tunai bila kita memerlukan. Kedudukan sebuah syarikat bergantung kepada kedudukan tunai ataupun simpanan.

"Tanpa kedudukan tunai yang kukuh boleh membawa sebuah syarikat itu mengalami masalah mewangan yang amat terus sehinggakan membawa kepada berlakunya pinjaman dengan bank, jika bermulanya pinjaman bank dengan sendirinya Felda akan terus terikat dengan peraturan-peraturan intitusi kewangan.

"Secara jelas kedudukan tunai amat mengerunkan Felda di masa hadapan," kata Suhaimi.

Selain pemimpin KEADILAN, Ahli Parlimen Kuala Terengganu, Abdul Wahid Endut juga disebut terlibat dalam saman tersebut dan beliau juga memberitahu kenyataan yang dikeluarkan itu mengikut fakta yang tepat dan ia juga terkandung dalam soalannya di parlimen. Jika Felda mengambil tindakan saman beliau akan mencabar saman tersebut dan mendedahkan segala fakta yang berada padanya.

Felda yang mengeluarkan kenyataan tersebut pada satu sidang medianya di Anjung Felda, Jalan Semarak pagi tadi. Sidang media itu turut dihadiri Timbalan Menteri di Jabatan Perdana Menteri Datuk Ahmad Maslan.

Selain pemilik permit, pihaknya akan turut menamakan Ketua Pengarang akhbar itu, wartawan-wartawan terbabit dan pemimpin KEADILAN iaitu Zaid Ibrahim, Tan Kee Kwong dan Suhaimi Said serta seorang pemimpin PAS, Mohd Abdul Wahid Endut. -SK


ADAKAH NAJIB DIUGUT UNTUK TERIMA KEPUTUSAN RUNDINGAN MALAYSIA – SINGAPURA YANG MERUGIKAN ?
Posted: 25 Jun 2010 01:20 AM PDT
Kenyataan Media
25 Ogos 2010
Ogos 1965, regim pemerintah Negara telah menyerahkan Singapura. Kelemahan regim ini ditutup dengan perbagai sentiment. Rakyat yang terbakar dengan perbagai sentimen pada waktu itu melupakan kelemahan regim sehingga tergadai hak dan kedaulatan Negara. Semenjak itulah perbagai isu hubungan dua negara ini muncul dan tidak selesai.
Antara isu yang tidak diselesaikan dan berpanjangan sejak dulu antaranya ialah isu pembangunan tanah milik KTMB dan sekitar tambak Johor. Walau apa pun tuduhan terhadap Perdana Menteri sebelum ini namun jelas mereka mempertahankan kedaulatan Negara dan tidak mahu menerima tawaran rundingan Singapura yang jelas berat sebelah.
Namun baru – baru ini hasil pertemuan tertutup Datuk Seri Najib Tun Razak dengan rakan sejawat di Singapura. Kononya telah menyelesaikan beberapa isu tertangguh sekian lama. Dilaporkan di media Malaysia bersetuju memindahkan stesen Keretapi Tanah Melayu Berhad (KTMB) di Tanjong Pagar di Singapura ke Pusat Pemeriksaan Kereta Api Woodlands (WTCP) menjelang 1 Julai 2011.
Dilaporkan juga Najib turut menyatakan, 271 hektar tanah milik KTMB di Tanjung Pagar, Kranji dan Woodlands serta tiga keping tanah di Bukit Timah kini diserahkan kepada sebuah syarikat yang belum lagi ditubuhkan.
Syarikat usaha sama Malaysia-Singapura yang dikenali sebagai M-S Pte Ltd, akan ditubuhkan sebelum 31 Disember tahun ini di mana Khazanah Nasional memegang 60% kepentingan dan Temasek Holdings Limited akan memegang baki 40%.
Ini, bermakna dari jumlah 271 hektar tanah milik KTMB, 40% kini sudah sah menjadi milik Singapura melalui perkongsian pelaburan.
Walaupun belum ada kepastian mengenai status pemilikan tanah, tetapi projek sistem transit laju (RTS) menghubungkan Tanjung Puteri, Johor dengan stesen di Woodlands yang dijadual beroperasi pada 2018 melalui projek usaha sama ini, kini dibahagi dua kepada Singapura.
Najib juga, gagal memberikan penjelasan terperinci tentang cadangan memindahkan Stesen KTMB di Tanjong Pagar ke Pusat Pemeriksaan Kereta Api Woodlands (WTCP) milik Singapura menjelang 1 Julai 2011.
Tanah milik KTMB di Tanjung Pagar, Kranji dan Woodlands serta tiga keping tanah tambahan di Bukit Timah, yang kesemuanya berjumlah 271 hektar akan diserahkan kepada syarikat usaha sama Malaysia-Singapura yang dikenali sebagai M-S Pte Ltd, yang akan ditubuhkan sebelum 31 Disember tahun ini.
Malaysia juga dikatakan bakal memindahkan kemudahan kastam, imigresen dan kuarantin (CIQ) kereta api di WTCP.
Hampir pasti bahawa kos operasi KTMB pasti akan meningkat dan bayaran penyewaan WTCP milik Singapura akan membebankan pada masa akan datang.
Maka KTMB bakal menyertai senarai syarikat milik kerajaan yang rugi seperti Pos Malaysia Berhad dan Sime Darby Berhad yang juga dibawah perlaburan Khazanah Nasional.
Apa yang berlaku ialah kita bakal membentuk satu lagi perjanjian seperti perjanjian air dengan Singapura yang jelas amat berat sebelah dan menggadaikan kedaulatan Negara.
Semua ini mengarut dan tak masuk akal. Selepas pengumuman di Singapura , banyak bantahan kedengaran di Malaysia. Namun Perdana Menteri Singapura hadir pula ke Kuala Lumpur seolah 'mengingatkan' Najib mengenai sesuatu agar Najib terus mempertegaskan persetujuan Malaysia dengan keputusan berat sebelah yang dipersetujui di Singapura.
Seolah seperti ada sesuatu yang mengikat Najib untuk akur walaupun ia jelas merugikan Negara. Dari aspek politik juga Najib jelas akan rugi kerana suara bantahan yang keras sudah mula kedengaran. Namun Najib seolah terpaksa meneruskan.
Adakah Najib diugut dalam mempersetujui perjanjian ini ?
Berdasarkan kenyataan bersumpah yang di ikrarkan oleh Balasubramanian pada 1 Julai 2008 menyatakan Antara dakwaan Bala dalam surat akuan itu ialah, Najib telah memperkenalkan Altantuya yang dikenali sebagai 'Aminah' kepada Razak di Pameran Berlian di Singapura. Maknanya Najib pernah berada di Singapura bersama Altantuya.
Adakah 'perisik' Singapura telah mengumpulkan rekod tersebut ? Adakah rekod tersebut digunakan untuk mengugut Najib dalam akur dan bersetuju dalam satu lagi penggadaian hak dan kedaulatan Negara ?
Najib perlu tampil dan berterus terang depan rakyat Malaysia. Jika benar dia diugut rakyat Malaysia seharusnya bangkit bersatu bersama Najib yang sedang menghadapi ugutanmelalui rekod maklumat risikan Singapura ini.
Solidariti Anak Muda Malaysia (SAMM) melihat isu ini sebagai isu besar kedaulatan, maruah dan masadepan Negara. Untuk itu 2 Julai ini Solidariti Anak Muda Malaysia akan menghantar surat terbuka kepada Perdana Menteri Malaysia mengenai isu ini dan surat terbuka ini akan dicetak sekurang – kurangnya 20,000 naskah akan diedar seluruh Negara bagi mempertingkatkan pemahaman rakyat agar bangkit mempertahankan kedaulatan Negara.
BADRUL HISHAM SHAHARIN a.k.a che'GuBard
Penyelaras
Solidariti Anak Muda Malaysia (SAMM)