---
George Town's heritage bank buildings
Posted: 12 Jul 2010 10:50 AM PDT
George Town can boast today that it has some of the oldest banks in the country. Long before the foreign banks decided to open their branches in Kuala Lumpur, they were already doing business in George Town.
For example, I mentioned in this blog three years ago, that the Mercantile Bank Ltd used to occupy a building beside the Algemene Bank Nederland (ABN). The former began operations in Penang as the Chartered Mercantile Bank of India, London & China in 1860 and were issuing Straits Settlements currency notes by 1882. As for the latter, it began operations in Penang in 1905.
After a merger with the Amsterdam-Rotterdam Bank (AMRO), the merged entity became known as the ABN-AMRO Bank in 1991. Then about 10 years ago, the bank relocated to another part of Penang and the old building was converted first into a restaurant and later, used an art gallery. In the last few years, the Royal Bank of Scotland completed its purchase of the ABN-AMRO Bank and moved back into the building. Interestingly, this heritage building originally sported a hemispherical dome on its tower instead of the pyramidal roof we know today.
When I was blogging about the heritage banks in George Town three years ago, I mentioned that the premises of this old Mercantile Bank had long been empty. Mercantile Bank later became the Beach Street branch of the Hongkong & Shanghai Banking Corporation (HSBC) in the mid-1960s. For about 30 years, the Downing Street and Beach Street branches of HSBC were operating almost side by side, separated only by the ABN-AMRO Bank. In the late 1990s or early 2000s, the two branches were consolidated into one and the old glass building in Beach Street was vacated.
For many years, this building with the glass facade was empty. In the last two years or so, contractors boarded up the front of the building and some feverish renovation work was being carried out away from the eyes of the public. It was only in the last few months that I noticed that the renovations were almost completed. Today, this is the result:
The front of the building now has an almost colonial look. Maybe I shouldn't use this word and should instead say heritage look. At first, I thought that the building's new heritage facade couldn't be real. As far as I can remember, it had always had a glass facade and now, the front looked almost as old as its neighbour, the ABN-AMRO building.
Then over the weekend, I remembered that I had some digital pictures of Old George Town stored somewhere in my computer. I opened them and was delighted to see that there was actually one picture that showed the original facade of this building.
Well, it may not be an exact reproduction of the original facade but the restoration work is close enough. And I'm happy that there are corporations in Penang who take conservation work seriously to bring the shine back to George Town. It's not only this building that is undergoing restoration. Even the row of shophouses on the opposite side of the road are being restored. I can't wait to see what's in store for Beach Street once all this have been accomplished.
ca-pub-5430283382112812
Iker Casillas kisses Sara Carbonero
Posted: 12 Jul 2010 10:31 AM PDT
He's the Spanish captain who just won the World Cup. She's the TV presenter girlfriend who had to hide her excitement (which was still pretty apparent btw) and interview the emotion-filled boyfriend. Sweetness…
Found this at MKL, kudos to the one who added the background music lol.
Iker Casillas kisses Sara Carbonero from YeinJee's Asian Blog
This posting includes an audio/video/photo media file: Download Now
Phil Collins Farewell Tour - Drums and "Take Me Home"
Posted: 12 Jul 2010 09:21 AM PDT
Wow! Phil Collins the Man!

visit my scribd - rutz.zainal
This posting includes an audio/video/photo media file: Download Now
remembering the cry of justice for teoh beng hock
Posted: 12 Jul 2010 09:09 AM PDT
july 16 is the first anniversary of the death of teoh beng hock. all of us are still awaiting for justice for teoh beng hock (TBH).  it is more of the anger we feel, the justice we want that made us remember TBH. somebody was complaining why there is so much hype over TBH. what was so special about him. others too died tragically. why others not remembered but why TBH was remembered.  well, simple. it is because of the circumstances of his death that makes us want to see justice prevail. as the title of this post suggest – remembering that justice must be accorded to TBH, not merely remembering TBH.
he did not have to die. he was so young. he was going to get married soon. he was quized over a mere RM2000 (or was it RM200) so-called misappropriation of fund.  he was interrogate at strange late hours and long hours. he was found dead under the window of where he was interrogated. surely something's fishy was going on. surely people want answers, want to know the truth, wants JUSTICE!! it's all about JUSTICE more than about TBH.
to quote from a friend, anak merdeka, on facebook:
The image of Teoh Beng Hock lying sprawled, broken and dead at the foot of MACC bldg, a day before he was to get married, is powerfully seared into our consciousness. All the other victims who died unjustly under our corrupt system are no less tragically mourned, but in my mind, TBH's image is hard to shake and remains…
so to you penangites, do come to the speakers square at the esplanade this friday to remind us that we should continue  crying for justice for TBH.
for those who are in KL, to commemorate TBH 1st anniversary, DAP youth is organising a ceramah – do attend. the details:
Date:  Friday, 16 July 2010
Time: 20:00 – 23:30
Venue:   KL & Selangor Chinese Assembly Hall, No.1, Jalan Maharajalela, 50150 Kuala Lumpur, Malaysia
(view map direction)
Speakers:
1. YAB Lim Guan Eng
2. YB Lim Kit Siang
3. YB Tan Kok Wai
4. YB Teng Chang Khim
5. YB Gobind Singh
6. YB Ean Yong Hian Wah
7. YB Anthony Loke
8. Cik Teoh Lee Lan
Enquruies:  016-232 8828 (Loh)
'Military intelligence officers tortured me': N Tharmendran - Lucky to be alive unlike Teoh Beng Hock!
Posted: 12 Jul 2010 09:09 AM PDT
EXCLUSIVE A solitary bulb hangs from the ceiling, barely lighting the blackened walls of the cell that trap him like a rat. In the tiny, windowless room, he battles madness from within and relentless chill from without.
A year has passed, but N Tharmendran,
a former RMAF sergeant,
can vividly recount every detail of the internal military investigation that he claims he was subjected to, as if it was just yesterday.
Tharmendran, 42, has been charged over the theft of two jet-fighter engines. He claimed he was detained and tortured
for three weeks
by two interrogators -
allegedly led by a major and his assistant, also a major
. Tharmendran
alleged that he was made to wear a crash helmet whilst being hit repeatedly
with a golf stick and something long like a cricket bat. This method of torture eliminated any injury mark on the head. Nevertheless, it inflicted internal pain.
Eric Clapton&Phil Collins - In The Air Tonight-Live
Posted: 12 Jul 2010 08:54 AM PDT
All time favourite
visit my scribd - rutz.zainal
This posting includes an audio/video/photo media file: Download Now
Beratus Usul PR Ditolak, Tak Melenting Macam ADUN Kuang
Posted: 12 Jul 2010 06:58 AM PDT
.
Ahli Dewan Undangan Negeri (Adun) BN-Kuang Abdul Shukor Idrus hari ini dihalau keluar dari persidangan dewan selepas bertikam lidah dengan Speaker Teng Chang Khim.
Speaker DUN itu mengambil tindakan tersebut mengikut peraturan mesyuarat 44 (2) berikutan Abdul Shukor gagal untuk menghormati persidangan dewan.
"Saya perintahkan mengikut peraturan mesyuarat 44 (2), saya arahkan yang berhormat keluar daripada dewan sekarang," kata Teng setelah memberi peluang kepada Abdul Shukor supaya menghentikan pertanyaan yang tidak mengikut peraturan.
Abdul Shukor ingin mengemukakan soalan berkaitan aktiviti kecurian pasir di negeri Selangor namun disekat oleh Teng berikutan Menteri Besar Tan Sri Abdul Khalid Ibrahim masih lagi dalam perbahasan menjawab persoalan Adun Sungai Burung.
Shukor ketika di temui di luar dewan mempertikaikan keputusan Speaker kerana menolakuntuk membahaskan isu penting kecurian pasir di Selangor.

"Saya mahu bahaskan isu kecurian pasir di negeri ini kerana terlalu banyak perkara yang tidak dimaklumkan oleh kerajaaan negeri terutamanya jumlah keuntungan dan kerugian yang ditanggung.

"Semua pihak ingin tahu dari mulut Tan Sri Khalid sendiri kerana beliau menyatakan banyak keuntungan diterima hasil dari perlombongan pasir," katanya diluar dewan.

Shukor berkata, Menteri Besar gagal memaklumkan secara lebih terperinci malah tidak konsisten mengenai jumlah keuntungan yang diterima.

"Tindakan ini merupakan satu penipuan oleh kerajaan negeri yang menyebabkan rakyat terus tertanya-tanya," ujar beliau.

Beliau mendakwa usul yang ingin dikemukakan itu adalah untuk kepentingan rakyat tetapi ditolak dari dibahas.

Ulasan GB

Baru ditolak usul dah berperangai macam samseng.

Berpuluh malah beratus usul-usul dari wakil rakyat Pakatan Rakyat di DUN dan di Parlimen, tidak pula wakil rakyat PR bertindak sesamseng wakil rakyat UMNO yang seorang ini.

Sekarang UMNO baru merasa panasnya bila wakil rakyatnya kena keluar dari dewan sedangkan speaker-speaker UMNO BN selama ini menghalau wakil rakyat PR mereka tak pernah pula bising-bising.

Hei UMNO, sunnatullah, apa yang anda lakukan kepada orang lain, itulah yang akan akan perolehi semula.


They virtually fleece the lonely and the desperate
Posted: 12 Jul 2010 06:33 AM PDT
PETALING JAYA: Wendy (not her real name) met a man who claimed he was an American over Facebook in 2008 and they had a successful online courtship which lasted a few months.
The banker said they decided to meet after half-a-year into the relationship but the man, who said he was from Seattle, told her he needed to travel overseas on business.
"We texted each other until the fourth day of his business trip. It was then that he asked me for money as he had had an unexpected tragedy and needed US$15,000 (RM47,962) to pay for his hospital treatment," said the 30-year-old.
"I felt lonely and vulnerable and wanted to be there to help him. I gave him my credit card information without checking his background as I thought he was the man in my life. That was the last I heard of him."
Her credit bills came up to RM40,000 in two weeks and none of it was for hospital treatment.
Wendy soon realised that it was a scam and reported it to the police but it was too late.
Melissa Leong, 32, meanwhile had always doubted social networking websites like Facebook and reserved her judgment until she met a man called Barry from Britain.
"In the beginning it was all sweet talk and hard-luck stories but I had my suspicions and decided to play along," she said.
"After about seven to eight weeks, he had business in Nigeria and while there, he told me that he got mugged and robbed."
She said Barry claimed he needed money to return home but she refused to give him the cash.
"Within a month, I saw that he had started chatting with other girls on Facebook and that he was romancing yet another woman and used another tragic incident to draw undue attention," she said, adding that she has reported him to Facebook operators but feared he would just start up another account and continue to scam women.
SOURCE: They virtually fleece the lonely and the desperate
Posted: 12 Jul 2010 06:31 AM PDT
PETALING JAYA: It is important for women to check the background of a person they meet over Internet social networking websites to avoid being cheated.
"You need to check the background of the person to know whether the person is genuine or just a sweet talker. Whatever is posted by the man should be vetted thoroughly like calling up a company to see if he really works there," said Wanita MCA Cupid Space project executor Peggy Lim.
She also cautioned women not to rush into making a commitment.
"You need at least eight months to know a person. There is no need to rush into things," she added.
"Feelings are a huge emotional trigger and for a woman, it is important to control these feelings when the courtship has only been going on for a short while."
She said that among the reasons that women were scammed by online Casanovas was due to loneliness and desperation as they were afraid they would not be able to find a companion and accepted "any man who fancies them"
"The essential tools to sustain a relationship are patience and to earn the trust needed," she said.
In June, a 47-year-old housewife said that she lost her savings and money she borrowed from her family and friends totalling RM1.2mil to a con man that she befriended on the Internet.
The man had claimed to be a Briton.
Meanwhile, MCA Public Services and Complaints Department head Datuk Michael Chong said he received complaints from 18 women on cheating scams with losses amounting to more than RM2.4mil since 2007.
He urged women to be wary of such con men.
Chong said the complaints that he received had a similar modus operandi – the men would get to know the women via Internet and send them expensive gifts before demanding for money.
Chong added that most of the victims were single mothers, divorcees and unmarried women.
"The con men also introduced themselves as businessmen, sons of senior politicians and professionals like engineers," he said.
Chong said he believed the men involved in the scam were foreigners although some may have had the help of locals.
SOURCE: Beware the online con by SEREAN LAU and CHRISTINA TAN
Suara Keadilan defies suspension
Posted: 12 Jul 2010 06:20 AM PDT
Parti Keadilan's newspaper 'Suara Keadilan' has defied government suspension, imposed about a week ago. Its latest issue hits the news stalls as usual, without any delay.
The Home Ministry, in monitoring the paper, did not take any action. One of its senior officials, when contacted by phone today said the ministry is yet to consider other optional measures to curb the paper from circulation.
The Mnistry recently suspended the publication license of Suara Keadilan, the weekly newspaper of the Opposition party, after it ran an article that claimed the state-run land development agency was in grave financial peril (read
here
).
However, the party distributed 100,000 copies of the paper to newsstands over the weekend by exploiting an apparent loophole in the law, said editor Dzulkarnain Taib.
Two other newspapers belong to the Opposition also failed to obtain the printing permit recently.
Posted: 12 Jul 2010 06:16 AM PDT
Occasionally you get glimpses of how things really are, and Frances Guy has given us just such a glimpse. She has been the British Ambassador in Lebanon since 2006, and is said to have a lot of Middle East experience. Her employers, the Foreign and Commonwealth Office,
had up on their website this week
her extraordinary obituary of Sheikh Muhammad Fadlallah, a Shia cleric and former guiding spirit of Hezbollah, Iran's armed militia and proxy in Lebanon. The title of her obituary tells all: "The Passing of a Decent Man." She writes, "The world needs more men like him willing to reach out across faiths." He was a man she most respected, she burbles.
This decent man, this man to be respected, was a mass-murderer. In 1983, Fadlallah was responsible for sending Hezbollah members in trucks loaded with explosives into the barracks in Beirut of American and French troops come to keep the peace there. Almost 300 of these soldiers were killed. Fadlallah has always praised suicide bombing and hostage-taking. As for his willingness to reach out across faiths, this decent man worthy of Mrs. Guy's respect consistently preached the extermination of Jews, praised suicide bombing, and denied the Holocaust. How a British diplomat comes to toady to prejudice and blood-lust ought to be a major scandal. Instead of firing this Ambassador, the Foreign Office is merely tut-tutting.
By coincidence, a judicial travesty unfolding at the same moment involves two convicted Islamist terrorists currently serving sentences in British jails. One of them is Abu Hamza, the cleric whose arms were blown off and fitted instead with hooks. He is wanted in the United States on charges of terrorism in Yemen. He and the other prisoner have appealed to the European Court of Human Rights against extradition orders on the grounds that they might face a life sentence without parole, and this would be a breach of their rights. They are playing one jurisdiction off against another in a lawyers' paradise that amounts to making a mockery of justice. Instead of throwing out this flagrant abuse, the Court wants more time to examine the implications. The terrorists may well be released at the end of their present sentences before they can be extradited to face other grave charges.
I think it may have been Sadiq el-Azm, a Syrian and a philosopher, who first formulated the choice that is currently working itself out: either Islam Europeanises or Europe Islamises. Ambassador Guy and the European Court are helping to bring on a future in which neither of them will have any role at all.
National Review
Posted: 12 Jul 2010 06:15 AM PDT
I didn't go to the office today. Instead I was emceeing an event at Technology Park Malaysia (TPM).
One thing I hate about emceeing any event is the fact that I don't get to eat. Not that the organizers require anorexic emcee or anything but it's just me, I have belahakophobia ( fear of burping while talking on the microphone in public especially while emceeing).
Just imagine myself go
"Without further ado, I would like to call upon YBerhormat Tuan Haji Fadillah…Deputy Minister of Burppppppp to present his welcoming remarks"
I bet after he gave his welcoming remarks I am also welcomed to submit my resignation letter without any remarks.
So I hardly eat which resulting to a chronic case of hunger-induced meroyan. I am lucky however with the fact TPM is 5 minutes away from so by 7.00pm sharp, people!!! I HAD DINNER READY ON THE TABLE!
Isn't that speedy or what? I made mackerel  asam pedas with tomatoes, daun kesum and black pepper, yum! Stir fried oyster mushroom with spinach in soy sauce. For Miki I made vegetarian rice porridge with a lot of vegetables and a dash of olive oil. I also have ulam pegaga yum yum!
The vege is as always though- a bit n the layu side to suit Miki's taste.
Now all I have to do is wait for Azman The Boss to come back. It's gonna be great, we can eat early, I made vege that's healthy… I dont always get to go home cook so early….This is nice.. I love playing housewife!
UNTIL I RECEIVED HIS TEXT 5 MINUTES AGO!!!!!!
"SAYA BALIK LAMBAT" katanya!!!!
Waghhhh penat tau masak dengan penuh semangat kesukanan!! Cepatla balik Daddyyyyyy.. Lapar gilerr niiiii….. waaaaaa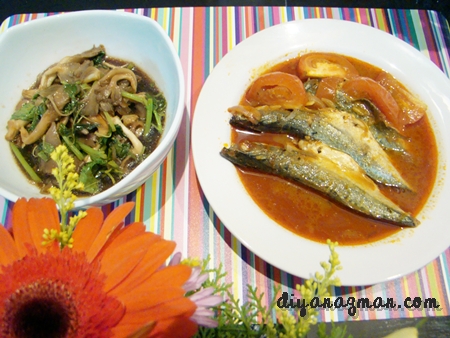 Dear Helen: From One American Lebanese Journalist To another…
Posted: 12 Jul 2010 06:07 AM PDT
With a great deal of disappointment I
watched your interview
, replayed over and over on television, in which you said that Jews should "go back home to Poland and Germany." I find it both appalling and unsettling that someone with your level of journalistic accomplishment would lack a basic knowledge of Middle Eastern history. So please allow me to make the case as to why Israel has a
According to the Arab-Palestinian-Muslim narrative, Israel is an alien colony recently planted in the Arab world by American and European imperialism. This narrative recognizes no history prior to the arrival of the first Zionist pioneers in the 1880's, and emphatically denies any ancient historical connection of the Jewish people to the land of Israel. This is the central lie, offered to justify uncompromising opposition to Jewish national rights. It's almost as if they actually expect people to think the word "Israel" was invented in modern times. What is alarming is that their increasingly successful rewrite of history has taken hold in minds supposedly as informed as yours.
The historical truth is carved in Egyptian stone. According to a well-known hieroglyphic inscription, the tribes of Israel were a significant, established presence in Canaan no later than 1212 BCE. There is a vast body of archaeological evidence that demonstrates the ancient Israelite/Jewish presence in Israel/Judea as far back as 925 BCE. This historical presence is verified in the ancient records of the Egyptian, Assyrian, Babylonian, Persian, Greek, Roman, Byzantine and Moslem Empires. The Arab conquest did not occur until 638 CE (AD). An exercise in elementary arithmetic reveals that the Jewish people were there eighteen and one-half centuries before the arrival of the Muslim Arabs.
Despite being conquered many times, the Jewish people have had a constant, uninterrupted presence in the Land of Israel for over thirty centuries. The Arabs and Islam have been there less than fourteen centuries. It has conveniently been forgotten that the Jews and Christians were there first.Furthermore, in the thirty centuries preceding the re-establishment of the State of Israel in 1948, there have been only two periods when there was an independent, internationally recognized state in the area that now comprises Israel. Both of them were Jewish states. Even when this land was part of the Arab empire (638 CE/AD through 1099 CE/AD), there was never an independent Arab state in "Palestine," by that name or any other.
No wonder Arabs are donating millions of dollars to U.S. colleges for Middle Eastern schools of study. They have a lot of hard historical evidence to rewrite in the young minds of students, most of whom enter college with little or no knowledge of ancient Middle Eastern history. The Jewish people have a distinct national identity. Religion is only one of the unique characteristics that defines this national identity. In addition, the Jewish people have a separate and distinct language, culture and customs, with a documented history of development over the past three thousand years. The Jewish people have created a vast body of art and literature, both secular and religious, which reflects the connection of the Jewish people to the land of Israel.
The
Dead Sea Scrolls
, written when the descendents of the Maccabees ruled an independent Judea, demonstrate that the Jewish people, both in the Holy Land and in exile all over the world, have been reading and writing secular and sectarian literature in the same distinct language for over two thousand years. In contrast, the Arabic language and culture and the Muslim religion of the Palestinians are essentially indistinguishable from the wider Arab world. Prior to the mid 1800's there is no trace whatsoever of uniquely "Palestinian" art, literature, music, or any other manifestation of a distinct culture. If you find this hard to believe, try to think of one "Palestinian" book, or author, or artist, from the year 1300 through the year 1800. That's a period of 500 years.
There must be one book written by a "Palestinian" Arab author. There must be one painting by a "Palestinian" Arab artist. Guess what? There are none.
If you still don't believe it, ask a Palestinian nationalist or a Columbia University professor of Middle Eastern history to name one. The most honest response you will get is silence. The most likely response you will get is a lie. People can propagate lies but they cannot erase historical facts. For more historical facts about the Palestinians and how they destroyed your own country of heritage, Lebanon, and how the Israelis helped and protected the Christians during the war, I invite you to pick up a copy of my New York Times bestseller
Because They Hate
. It's never too late to learn and catch up on history, even at 90.
Source
Hat tip: Eye On The World
Peace partner Abbas would love to see Arab war on Israel
Posted: 12 Jul 2010 06:09 AM PDT
Was, not there someone who said," Does Israel really want peace?". Then that person extracted some article from an ant semitic idiot-edit.
From
Palestinian Media Watch
:
The PA daily reports that Abbas said this at a meeting with writers and journalists in the home of the Palestinian Ambassador to Jordan. The following is the transcript from the official PA daily Al-Hayat Al-Jadida:
"'We don't accept the statement [of Hamas]: a [Palestinian] state of resistance and refusal. What we hear from everyone is that the basis is negotiations, at a time that the entire world agrees about this, despite the absence of other options, we either have negotiations or no negotiations, what has put Israel in the corner. We are unable to confront Israel militarily, and this point was discussed at the Arab League Summit in March in Sirt (Libya). There I turned to the Arab States and I said: 'If you want war, and if all of you will fight Israel, we are in favor. But the Palestinians will not fight alone because they don't have the ability to do it.' He [Abbas] said: 'The West Bank was completely destroyed and we will not agree that it will be destroyed again,' in addition to 'the inability to confront Israel militarily.'"
[Al-Hayat Al-Jadida (Fatah), July 6, 2010
Al Hayat al Jadida online, with the quote highlighted in yellow. Hat tip:
Elder Of Ziyon
Kickdefella Sudah Salah Maklumat
Posted: 11 Jul 2010 07:31 PM PDT
Hahaha... sungguh panjang lebar blogger Kickdefella menulis dalam blog dier... citer pasai isu di Perak.... dier kata maklumat yang dier dapat tue sohih dan fakta... hahaha... tapi itu Kickdefalla sudah salah maklumat la...
Hahaha... tak tahan betul gua baca orang Kelantan punya analisis dan huraian tentang senario di Perak... walhal senario di Kelantan pon dier tak abis khatam.... hahaha... lawak... lawak...
Kickdefella tulis...
"Secara rasminya, PAS menolak cadangan Kerajaan Campuran dengan BN, sebuah keputusan yang saya amat hargai pada waktu itu. Jika PAS menubuhkan Kerajaan bersama BN pada ketika itu, ia hanya akan menyukarkan semula usaha untuk menyingkirkan Abdullah Ahmad Badawi dari tampuk pemerintahan negara. Abdullah adalah masalah besar kepada Malaysia.
Abdullah sudah membawa petaka itu kepada rakyat Malaysia. Usaha yang boleh membantu menyelamatkan Abdullah adalah usaha yang belot terhadap keputusan pengundi pada 8 Mac 2008 itu. Pendirian Husam amat jelas dalam soal ini, dan saya bangga sekali.
Tetapi menyertai Kerajaan Campuran bersama DAP adalah satu matlamat singkat dan merbahaya kepada bukan sahaja PAS, tetapi kepada umat Islam dan orang-orang Melayu di Malaysia. Tersingkirnya Abdullah Ahmad Badawi sepatuntya membuka ruang penyatuan semula bagi orang-orang Melayu dan rakyat Malaysia.
Negeri Perak Darul Ridzuan mempunyai 59 buah kerusi Dewan Undangan Negeri. 38 kerusi DUN adalah kawasan di mana lebih 50% pemilihnya terdiri daripada orang-orang Melayu. Manakala 21 kerusi DUN nya mempunyai komposisi pemilih Melayu kurang daripada 50%.
Daripada 21 kerusi yang mana pemilih Melayu kurang daripada 50%, 19 daripadanya menunjukkan penguasaan pemilih Cina lebih daripada 50% dan kerusi-kerusi itu dimenangi secara total oleh Pembangkang."
Ini jawapan gua.... hahaha...
Bhai Kickdefella...


Lu sudah salah fakta... Perak mempunyai lebih ramai pengundi bukan Melayu daripada pengundi Melayu...

Dan kitorang di Perak memang dah lama mengundi DAP... kalu kawasan tue DAP lawan BN... for sure kitorang undi DAP... sejak dah lama dah... sebelum ujudnyer Barisan Alternatif... sebelum ujudnyer Pakatan Rakyat... dan kalu tak silap gua seawal pilihanraya ke 9 lagi dah ramai undi DAP kalu yang bertanding tue satu lawan satu dengan BN...

Walaupun BN letak calon Melayu... ramai pengundi Melayu di Perak akan mengundi DAP (calon Cina/India/Sikh) sejak dari dulu lagi....

Lu orang luar mana lu tau... hahaha... Kelantan pon lu tak abis paham lagie... nak buat ulasan pasai pengundi di Perak...

Bhai... gua dah mengundi di Perak sejak sekian la.. dan gua tau sangat aper yang berlaku disana... gua mengundi di DUN Tualang Sekah dalam Parlimen Kampar....

So bhai Kickdefella.... lu sudah salah maklumat nih... hahaha
So... hahaha... mari kiter orang Perak gelakkan samer ini Kickdefella (yang sepatutnyer join kumpulan Konsensusn Bebas macam Zulkifli Nordin tue).... errr... Kickdefella nih bukan ADUN atau MP kan... hahaha... jadi kira dier tak laya la join... dier cuma layak jadi machai UMNO/BN pon...
dan sememangnyer Kickdefella dan RockyBru nih kedua-duanyer samer... adalah machai UMNO/BN jer.... hahaha.. jenis kejar duit, nama dan pangkat... hahahaha ... kayu.. kayu...
Posted: 11 Jul 2010 08:14 PM PDT
'Tamadun yang hebat tercipta dari pemimpin dan rakyat yang gemar membaca dan cintakan ilmu'
&
Mendidik masyarakat membaca samalah seperti mendidik anak anda membaca. Longgokkan bahan bacaan untuk mereka!
1.
Saya lupa darimana kata-kata ini dipetik, tetapi jelas ia dari sebuah buku. Masakan tidak, wahyu pertama yang diturunkan Allah kepada Nabi Muhammad untuk umat manusia ialah suruhan membaca. Sudah tentu bahan bacaan adalah mengikut tahap fikiran dan objektif masing-masing. Juga membaca tidak terhad kepada bahan berbentuk tulisan, mungkin ia boleh datang dalam bentuk jelmaan objek untuk difikirkan, penaakulan terhadap alam ciptaan Tuhan dan kejadian di sekeliling.
2.
Jawapan mengapa kita perlu banyak membaca ialah supaya setiap gerak langkah dan tindak tanduk kita dalam menentukan setiap keputusan adalah mengikut logik akal yang munasabah, mengurangkan kadar kesilapan, dan berakhir dengan kebahagiaan dan kepuasan dengan tindakan tersebut. Bukanlah tindakan semberono yang melibatkan hati dan perasaan semata-mata tanpa disusuli dengan akal waras.
3.
Sesetengah daripada kita, kadangkala masih keliru bila akal itu berfungsi dan bila pula hati yang menguasai tindakan. Amat sukar membezakannya. Di dalam ajaran agama, kerapkali kita mendengar ungkapan ' jangan difikirkan lagi tentang itu dan ini', ia sudah termaktub hukum-hakamnya'. Iya kan sahaja tanpa banyak soal. Adakah benar begitu ? Jawapan kepada setiap persoalan akan dapat dijawab bila kita gemar dan mencari masa untuk membaca. Inilah yang selalu dimiliki oleh orang yang tidak beragama. Di barat misalnya.
4.
Baiklah, mari kita lihat satu contoh. Penerbitan buku dan kegiatan ilmiah dewasa ini banyak dimonopoli oleh negara-negara bukan islam. McGraw Hill, Oxford Press, Cambridge, Barron's, Harper Business dan ribuan lagi yang lain. Setiap tahun statistik penerbitan buku dari barat jika dibandingkan dengan negara Islam, terlalu jauh bezanya. Bahkan jarang sekali kita mendengar syarikat penerbitan buku dari negara Islam yang tersebar luas. Mengapa ia tidak banyak muncul disebabkan tidak banyak permintaan. Dari siapa? Dari umat islam itu sendiri. Jadi jelas, secara mudah boleh kita katakan kadar membaca dan mencari kebenaran di kalangan umat Islam masih jauh berbanding dengan negara-negara barat maju yang lain.
5.
Bila tahap membaca ini kurang dan ketinggalan, maka akan wujudlah apa yang dinamakan kelemahan-kelemahan dalam tindakan. Perundangan misalnya, masih lagi kucar-kacir di tangan pemimpin dan pengamal undang-undang negara-negara yang dikatakan Islam. Bila perundangan dan pentadbiran lemah, maka banyaklah ketidakadilan yang berlaku. Korupsi berleluasa, jenayah bertambah dan persekitaran rimas dan tidak memberansangkan.
6.
Kita lihat di barat. Misalnya negara yang saya diami buat sementara waktu ini. Budaya membaca, penerbitan buku, kedai buku, masyarakat, persekitaran, perundangan mereka cukup jelas. Mereka tidak mempunyai agama. Namun begitu teratur hidup mereka. Berita korupsi susah sekali untuk ditemui dalam akhbar. Pemimpin mereka hidup sederhana. Budaya meminum minuman keras (heavy drinkers) di kalangan warga Canada dihadkan di dalam premis kediaman atau pub sahaja. Peraturan jalanraya, menghormati warga tua, kebersihan dan puluhan lagi amalan-amalan mulia mereka perlu dicontohi oleh masyarakat di timur dan beragama Islam.
7.
Semua ini datangnya dari budaya membaca. Tabiat membaca boleh dibentuk sejak di zaman kanak-kanak. Ibu bapa yang membaca dan menghimpunkan bahan bacaan di rumah secara tidak lansung akan menggalakkan anak-anak membaca. Terlalu banyak contoh yang boleh dijadikan teladan. Itulah doa dan harapan kami. Melahirkan keluarga yang cintakan ilmu pengetahuan berbanding karut marut yang lain. Berjaya atau tidak, itu urusan lain, yang penting mulakan dari diri dan keluarga sebelum tabiat ini merebak ke dalam masyarakat.
 ~faizal~
11.15 malam
Verdun, Summer 2010
Kembara Melalui Buku : Rindu Bau Pohon Tin
Posted: 11 Jul 2010 07:51 PM PDT
بِسۡمِ ٱللهِ ٱلرَّحۡمَـٰنِ ٱلرَّحِيمِ
Malam tadi baru dapat saya habiskan bacaan. Itu pun setelah berhempas pulas dengan tugas sebagai ibu & kesibukan saya mengemas untuk berpindah ke rumah sendiri. Memang mencabar, kadang-kadang terpaksa lupakan sekejap minat membaca saya (dalam tempoh sehari dua ). Melayan karenah anak kecil yang tengah membesar. Apa yang saya baca, buku itulah juga yang dia nak. Tapi bangga jugalah sebab dia mewarisi saya, pantang nampak buku atau apa2 kertas. Mesti di belek-beleknya.:)Buku yang nipis ni saya terpaksa ambil masa selama seminggu. Kalau bujang, mungkin sehari semalam dah selesai.
Buku ni merupakan buku Travelog pertama saya untuk tahun ni. Mengisahkan catatan Ustaz Hasrizal dari mula perjalanan beliau untuk menuntut ilmu di bumi Anbiya iaitu di Universiti Mu'tah, Jordan. Menarik. Saya dapat membayangkan keadaan negara Jordan. Penulisan yang mudah untuk saya faham. Semasa tengah membaca buku ni, teringat saya kepada 2 orang rakan sekolah rendah saya yang dihantar oleh orang tua mereka belajar di Cairo, Universiti Al-Azhar, Mesir dan sepupu saya di Jordan sekarang. Seawal usia 15 tahun mereka ke sana. Bersekolah dan masuk Universiti kat sana. Saya membayangkan keadaan mereka (lebih kurang) dengan catatan Ustaz Hasrizal. Lebih mengasyikkan ialah saya menyimpan hasrat untuk ke sana. Berkobar-kobar pulak jadinya.Hehe.
Apapun Travelog ni memang menarik. Tahniah kpd Ustaz Hasrizal @
Saifulislam.com
Posted: 11 Jul 2010 08:10 PM PDT
Dr M joins Anwar attack to deflect focus from Najib, French probe
Posted: 11 Jul 2010 08:02 PM PDT
Malaysia Chronicle
In a media blitz pundits say is to deflect attention from a French corruption probe involving Prime Minister Najib Razak, former premier Mahathir Mohamad is the latest Umno politician to attack Opposition Leader Anwar Ibrahim, labeling him as being loyal to Jewish groups.
Over the weekend, nearly all the top Umno leaders including Najib, his deputy Muhyiddin Yassin, Home Minister Hishammuddin Hussein and even Information Minister Rais Yatim have called Anwar a traitor, urging Malaysians not to trust him.
Rais even accused Anwar of being a tool of U.S. secret service CIA. He based his view on a report by an obscure New York blogger Elaine Meinel Supkis entitled
"CIA and Mossad want Anwar Ibrahim assassinated".
Whilst Mahathir was responding to an article by Trevino Strategies and Media Inc president Joshua Trevino, who accused Anwar of hiring media contacts, particularly in CNN, to apologise to the Jewish community in the United States for the Pakatan Rakyat's recent attack against Najib's media firm APCO.
"If you are loyal to them, you cannot be loyal to Malaysia,"
Bernama
reported Mahathir as saying.
APCO, Najib and the French probe
The controversial APCO, which Anwar has revealed had links to the Israeli secret service, recently had its cushy contract renewed by Najib for at least another year, according to local news reports.
The international communications firm has advised Najib on his
1Malaysia
platform and is trying hard to steer him away from the damaging negative publicity of the graft probe instituted by the French police into a submarines purchase from DCNS that Najib had sanctioned in 2002 when he was defense minister.
"All trails lead to APCO," PKR Youth Chief Shamsul Iskandar Akin told
Malaysia Chronicle.
"They are believed to be behind the recent reports by little-known people in the U.S. trying to damage Anwar's image as a Muslim leader. The end goal is to deflect attention from the French probe, where all the details will soon emerge and the Malaysian government cannot ignore or say that it is just lies by the opposition. There is no escape for Najib anymore."
Indeed, Malaysian private investigator P Balasubramaniam is due to have his statement recorded by the French police in Paris at 2pm (Malaysian time 8pm).
Bala was hired by Najib's friend Razak Baginda, whose firm was awarded a RM570 million contract that is now being scrutinized as a possible kickback to the Malaysian leader. The contract was for coordination and support services for the two submarines that have cost Malaysian taxpayers a total of RM6.7 billion.
The French police have said Bala will be their first key witness, although the Malaysian Anti-Corruption Commission last week suddenly U-turned from meeting him in London to record his statement.

Related Stories:
PGPO Will Study Sea Law for Legal Implication on Israel Boarding Mavi Marmara
Posted: 11 Jul 2010 07:35 PM PDT