---
SPRM Terus Diperkudakan Untuk Rampas Selangor Dari PR
Posted: 02 Jul 2010 05:05 AM PDT
S
iasatan SPRM terhadap 2 ADUN PKR bermotif politik
Kerajaan negeri Selangor mendakwa Suruhanjaya Pencegahan Rasuah Malaysia (SPRM) sengaja mengucar-kacirkan pentadbiran negeri itu dengan menyiasat dua Ahli Dewan Undangan Negeri (ADUN) mengenai kegiatan melombong pasir.
Semalam ADUN Batu Caves, Amirudin Shari dan ADUN Sri Muda, Shuhaimi Shafie dipanggil SPRM untuk memberi keterangan berhubung skandal melombong pasir di negeri berkenaan.
ADUN Kampung Tunku, Lau Weng San berkata, siasatan ke atas kedua-dua ADUN tersebut bermotifkan politik.
"Cara mereka menyiasat mirip siasatan terhadap Teoh Beng Hock," katanya yang bercakap bagi pihak perhimpunan penyokong-penyokong Selangor dalam sidang media di ibu pejabat kerajaan negeri di sini hari ini.

Teoh yang merupakan setiausaha politik Exco Selangor Ean Yong Hian Wah ditemui mati selepas disoal siasat semalaman oleh SPRM di ibu pejabatnya, sekaligus mencetuskan pelbagai spekulasi mengenai kematiannya.

"Malah kejadian sama turut berulang dan kali ini membabitkan Suhaimi dan Amirudin yang disoal siasat berhubung 'penyalahgunaan dana kerajaan negeri' iaitu dakwaan yang sama terhadap Teoh," kata Lau.

Suhaimi dan Amirudin diuar-uarkan sebagai di antara empat ADUN Parti Keadilan Rakyat (PKR) yang bakal keluar parti kerana mempunyai pandangan yang berbeza tentang cara kepimpinan Menteri Besar Tan Sri Khalid Ibrahim.

Namun mereka menafikan perkara tersebut, sementara Lau dan para penyokong memberi sokongan penuh ke atas mereka sekaligus menolak spekulasi bahawa kerajaan negeri mengalami perpecahan.

"Saya Tidak Tertekan"

Dalam pada itu, Suhaimi berkata beliau tidak berasa tertekan dengan tindakan SPRM itu malah akan memberi kerjasama yang baik kepada mereka.

Namun beliau berulang kali menegaskan bahawa tidak melakukan sebarang kesalahan yang boleh menyabitkannnya dalam hal tersebut.

"Penyiasatan dijalankan secara profesional, saya tiada sebarang tekanan, dan yakin bahawa mereka hanya mengumpulkan maklumat kerana jelas SPRM cuba mencari maklumat lanjut berhubung skandal pasir itu.

"Walaupun pada awal saya tidak jelas dengan siasatan itu namun saya tidak nampak perkara sedemikian berlaku," katanya ketika dihubungi Free Malaysia Today.

Walau bagaimanapun Suhaimi tidak menolak kemungkinan siasatan itu wujud pergerakan politik seperti didakwanya dalam blog Free Malaysia Today semalam.

"Saya rasa ada sedikit 'movement' politik dalam siasatan ini," katanya ringkas.

Sementara itu, siasatan terhadapnya akan bersambung di Ibu Pejabat SPRM, 5 Julai ini pada pukul 2 petang. -FMT



'BN salah guna agensi cuba tumbang k'jaan S'gor'

Kelab penyokong Pakatan Rakyat (PRBBC) menuduh BN menggunakan agensi dan jentera kerajaan bagi menggulingkan kerajaan negeri Selangor yang diterajui PKR.

Pengerusi PRBBC Azmin Ali berkata mereka mendapat maklumat bahawa tindakan Suruhanjaya Pencegahan Rasuah Malaysia (SPRM) menyoal dua ADUN Pakatan semalam "bermotifkan politik".

"Umno menggunakan institusi seperti SPRM, polis dan pejabat Peguam Negara bagi menumbangkan kerajaan Pakatan," katanya selepas mempengerusikan mesyuarat PRBBC pagi ini.

Semasa pertemuan itu, dua ADUN yang disoal oleh SPRM semalam - Amirudin Shari (Batu Caves) dan Shuhaimie Shafie (Sri Muda) - menceritakan kepada rakan-rakan bagaimana suruhanjaya itu menyoal mereka berhubung isu pasir kerajaan Selangor.

Azmin, yang juga ADUN Bukit Antarabangsa berkata selain itu, mesyuarat berkenaan turut membincangkan kononnya berlaku pergeseran antaranya dengan Menteri Besar Tan Sri Khalid Ibrahim.

Azmin menyifatkan tuduhan berkenaan sebagai propaganda jentera Umno.

Katanya, mesyuarat juga membincangkan situasi semasa Pakatan di Selangor tetapi enggan mengulas lanjut. -mk
Kapor says embrace failure for success
Posted: 02 Jul 2010 05:02 AM PDT
The fear of failure has been a hindrance to many potential success stories, Lotus 1-2-3 designer Mitchell Kapor said today.
Kapor stressed that the United States' famed Silicon Valley is not a formula to be copied blindly. Instead, it is important to understand how to successfully apply the same principles, which is to embrace failures and to learn from mistakes.
"If we're not going to take risks, we'll never going to get started," Kapor said when giving a lecture on "Innovation & Entrepreneurship" in Shah Alam today.
In addition to Lotus 1-2-3, Kapor was the first chairman of the Mozilla Foundation and a member Wikimedia Foundation advisory board apart from being made the honorary adviser in Innovation and Entrepreneurship for Selangor.
"It is important to understand that societies can encourage innovation and encourage the entrepreneurs if there are favourable conditions to it," he added.
Kapor highlighted the importance of promoting science, technology, engineering and medicine fields of studies.
He also said investment in affordable broadband would contribute to the growth of interest in entrepreneurship.
With the worldwide users of virtual entertainment such as World of Warcraft and Second Life, Kapor expressed his vision to have the convenience of having a face-to-face conversation with avatars, instead of being present physically.
SOURCE: Kapor says embrace failure for success By Melissa Chi
Posted: 02 Jul 2010 02:55 AM PDT
Remember Siti Aisya? The little girl who was suffering from a rare syndrome called Fraser Syndrome? Her story was first highlighted by Daphne Ling in her blog back in 2007. Fellow bloggers and blog readers then rallied to collect donations in cash and kind for the family since Aisya was a high maintenance child due to her needs – follow-ups to hospital, diapers, milk (Aisya could only take milk and not any other kind of food).
On 19th April this year, little Aisya passed away. When I received the text message from Daphne, I went to visit their home, but nobody was there. I knew then that probably her funeral arrangements would be at her grandparent's kampong. I didn't know where that was, so I didn't get to visit the little girl for one last time.
Well, Daphne is now back in Malaysia for her holidays, and when she asked if I'd like to visit Aisya's family, I definitely said yes. It was an opportunity not only to visit the girl's parents, but also to meet up with Daphne… although we actually stay only 5 minutes from each other!
So yes, this morning we went to visit Aisya's mom, Yati. Big brother Syazwan was in school, while dad Shahidan was away.
The first thing I noticed when I walked into the house was that Aisya's mattress and pillows were still there in the middle of the living room – right where it was when I visited a few years back. Yati simply couldn't bring herself to put them aside. She tried once, but felt 'empty', so she put it back where it always had been when Aisya was still around.
Yati showed us the latest pic she had of Aisya after her last operation. Wah, the girl had grown! She's taller and her face was also chubbier. According to Yati, Aisya was no longer scared of people like she used to be. She loved meeting people and she'd go to salam them, kissing their hands and all. Yati & Shahidan even brought Aisya out shopping and the girl loved it despite not being able to see anything. Yati herself had expected there would be all kinds of reactions by the people they'd meet outside.
There was a kid who said out loud, "Mak, tengok dia takde mata!!" – earning the kid a pinch from the mother, telling him to keep quiet. There were parents who came to talk to Yati and asked her about little Aisya. Then she'd hear some who'd say, "Ya Allah, kesiannya dia…" And then there were kids who'd cry when they saw Aisya.
Yati was okay with all those. She was kinda prepared for such reactions.
But what I hate is the fact that there were parents who scolded Yati for bringing Aisya out because their children got scared and cried!
Goodness gracious me, they should have taken the opportunity to explain to their children how unfortunate the little girl was… that they should be thankful with what they have! They should have taken the opportunity to teach their children about sympathy and empathy! Or the least they could do, just drag their children away lah. What right did they have to deny Aisya the opportunity to go to public places? Why scold Yati for giving Aisya a chance to live like other children – going out shopping with their parents etc?
Hmmm… maybe if such people had a child like Aisya, they would probably just lock her up at home?
Which reminds me of the time many years ago when I was at the hospital, waiting for my mom's medication at the pharmacy. I noticed there was this one child with a cap on, sitting beside a lady. I could tell he was a down-syndrome child. I think he got restless, and uncomfortable having the cap on when it was indoors, so he took his cap off. Immediately he got scolded by this lady (I think it was his mother, but I shall not assume) who immediately put the cap back on, with the front being pulled down a bit to hide his face. Goodness, this person was embarrassed to be seen with a down-syndrome child??? In contrast, a very young couple sitting behind them, who had nothing to do with the child, I noticed were trying to play with the child, making him laugh and smile.
A child is a precious gift – no matter how she/he looks like. There's nothing to be embarrassed about even if they are physically different from other children – just appreciate them for who they are.
By the way, Yati now opens a food stall right in front of her house. And to keep herself busy, she visits parents with special children from time to time – to educate them, to give them encouragement. Aisya may be gone, but the little girl has turned Yati into a stronger person, whether she realised it or not.
Mahkamah Benar Putrajaya Tangguh Dedah Dokumen Syabas
Posted: 02 Jul 2010 02:25 AM PDT
M
ahkamah benar Putrajaya tangguh dedah dokumen Syabas Isnin ini
Mahkamah Tinggi membenarkan permohonan kerajaan pusat agar pelaksanaan keputusan berkaitan pendedahan dokumen perjanjian dan laporan audit, yang ditandatangani dengan Syarikat Bekalan Air Selangor Sdn Bhd (Syabas) pada 2004, ditangguhkan.
Pesuruhjaya Kehakiman Hadhariah Syed Ismail berkata, beliau membenarkan permohonan itu agar hak kerajaan untuk membuat rayuan di Mahkamah Rayuan tidak terjejas.
Kata Hadhariah, memandangkan kedua-dua dokumen itu akan didedahkan Isnin ini, jika beliau tidak memutuskan agar urusan itu ditangguhkan sebarang usaha mengemukakan rayuan kelak akan kelihatan dipertikai.
Isnin lalu Mahkamah Tinggi Kuala Lumpur memerintahkan kerajaan persekutuan mengumumkan kepada orang ramai laporan audit dan perjanjian konsesi air yang ditandatanganinya dengan kerajaan negeri Selangor dan Syabas.

Dalam keputusannya itu, Hadhariah berkata pendedahan dokumen tersebut tidak bercanggah dengan kepentingan negara dan awam.

Sebaliknya, kata beliau, ia akan memenuhi kepentingan awam kerana memaklumkan kepada mereka cara kerajaan berfungsi dan menggalakkan perbincangan tentang perkara berkaitan hal ehwal awam.

Hadhariah membuat keputusan itu bagi memenuhi permohonan Kongres Kesatuan Sekerja Malaysia (MTUC) dan 13 pihak lain agar semakan penghakiman dibuat berikutan tindakan Menteri Tenaga, Air dan Komunikasi ketika itu Datuk Seri Dr Lim Keng Yaik menolak permintaan mereka agar dokumen berkenaan didedahkan kepada orang ramai.
Grab a Celcom Blue Bear(TM) and stand to walk away with RM10,000!

Pada 7 Nov 2006, mereka menghantar sepucuk surat kepada menteri itu memohon agar laporan audit dan butiran perjanjian konsesi berkenaan didedahkan kepada umum, tetapi ditolak kementerian berkenaan pada 4 Dis 2006 atas alasan dokumen terbabit telah diklasifikasikan sebagai sulit dan rahsia.

Utiliti itu kini terletak di bawah portfolio Kementerian Tenaga, Teknologi Hijau dan Air.

Dalam penghakiman beliau, Hadhariah berkata walaupun perjanjian konsesi itu belum didedahkan kepada umum, tetapi maklumat tentang air bukan hasil (NRW) dan peratusan pengurangannya, formula peningkatan tarif, tempoh kajian semula dan pembayaran pampasan kepada Syabas telah diedarkan oleh media dan pihak ketiga.

"Oleh itu, ia tidak lagi boleh dianggaap sebagai maklumat rahsia kerana ia merupakan isu-isu utama. Lagipun, perjanjian konsesi bukan suatu perjanjian persendirian. Ia dibuat dengan mengambil kira kepentingan awam," kata beliau.

Hadhariah berkata orang ramai bergantung pada konsesi dan tadbir urus yang baik oleh kerajaan bagi melindungi kepentingan mereka dan oleh itu, demi kepentingan awam juga, perjanjian itu perlu diumumkan kepada orang ramai.

Pemohon berkata mereka telah menulis surat kepada menteri berkenaan pada 7 Nov 2006 bagi meminta dua dokumen berkenaan daripada beliau, tetapi ditolak kementerian itu pada 4 Dis 2006 atas alasan dokumen berkenaan telah diklasifikasikan sebagai sulit dan rahsia kerajaan.

Pemohon diwakili peguam Ang Hean Leng, manakala Peguam Kanan Persekutuan Shamsul Bolhassan mewakili menteri berkenaan dan kerajaan Malaysia dan Md Azhari Abu Hanif, pembantu penasihat undang-undang Selangor, mewakili kerajaan negeri itu. -TMI

Ulasan GB.

Tepat seperti yang GB jangkakan. GB sebelum ini amat sangsi dengan keputusan Mahkamah Tinggi yang membenarkan permohonan kerajaan pusat agar pelaksanaan keputusan berkaitan pendedahan dokumen perjanjian dan laporan audit, yang ditandatangani dengan Syarikat Bekalan Air Selangor Sdn Bhd (Syabas) pada 2004.

Petikan dari SINI.



GB masih sangsi.. apakah berkemungkinan keputusan hakim Mahkamah Tinggi di atas akan diterbalikkan oleh hakim-hakim di Mahkamah Rayuan dan Mahkamah Persekutuan?


Setiap sesuatu keputusan mahkamah yang berpihak kepada PR akan segera diterbalikkan kemudiannya. Itu hal institusi kehakiman yang sudah dilihat tidak mempunyai integriti di dalam mempertahankan kebenaran dan keadilan.


THE SWORD OF DAMOCLES STRIKES AGAIN
Posted: 02 Jul 2010 01:17 AM PDT
It is common knowledge that our MSM is not as free as some claim or think. The
Printing Presses and Publications Ac
t 1984
is the
sword of Damocles
that indirectly controls news and media organisations as they require the annual permits issued by the Home Ministry to continue publishing which the Home Minister may "in his absolute discretion revoke or suspend such licence for any period he considers desirable".
Today, various online news portals have reported that our Home Ministry suspended
Suara Keadilan
's publishing permit for running foul of the Printing Presses and Publication Act (PPPA).
According to
Free Malaysia Today
, that the ministry's Al-Quran and Text Control department secretary Zaitun Samad said that the decision was made after reviewing the PKR organ's answer to the ministry's show-cause letter on Tuesday.
The ministry had asked Suara Keadilan to give an explanation regarding thearticle in its June 22-29 edition about the financial status of Federal Land and Development Agency (Felda). As such, the Home Minstry did not renew its annual publishing permit which expired yesterday. You can read more about it
HERE
or
HERE.
On June 29th, Malaysiakini reported
HERE
that PKR organ Suara Keadilan was attempting to buy time to explain itself, albeit risking losing its publications permit by not replying to show-cause letters by 5pm today. Chief editor Dzulkarnain Taib said that was because they had no copies of the letters letters, issued by the Home Ministry in January, February and April respectively.
The ministry reportedly sent Suara Keadilan three show-cause letters prior to the one on its Felda article, which was sent on June 28. The publisher of Suara Keadilan said it did not receive any of the three earlier letters and was not provided with copies when these were requested.
According to Malaysiakini
:
When contacted, Dzulkarnain confirmed that they had received the letter and will respond accordingly.

"Their letter did not specifically say why they were dissatisfied... We will reply, but our explanation would not be much different from what we previously stated," he said.

He also questioned why the ministry had decided to stop them from printing when the decision was still under review.

"The ministry has even sent a letter to our printer to stop them from printing our next edition. It's very strange. By right, there should be an interim period because a decision has not been made.

"This gives people the impression that the ministry is under pressure to act, and that Suara Keadilan is targeted because of its connection to PKR leader Anwar Ibrahim," he said.

He added that they have yet to receive copies of the three show-cause letters sent prior to June 28, and that he will be in touch with Zaitun to get further clarification over why the ministry is dissatisfied.
Ironically, The Nut Graph reported
HERE
a very interesting discussion about controlling the media. Jacqueline Ann Surin said that whether or not media controls have worsened, one thing is certain: the evidence demonstrates that media control
continues
under Najib's administration. Click
HERE
to read the examples that she gave about a year ago.
On June 14th this year,
FMT
reported that Umno Youth chief Khairy Jamaluddin today called for the Printing Presses and Publications Act 1984 (PPPA) to be repealed, snubbing his peers in Barisan Nasional. The Rembau MP said the powers to decide on media matters should be within the jurisdiction of the government's proposed National Media Council.
"It is time that the government consider amending or abolishing the act and bring it with the ambit of an independent body like in the UK where the media governs itself," said Khairy.
While it is commendable that KJ made such a statement, I believe Malaysians are very familiar with the way the PPPA has been used to wield control over the MSM and any other media which does not comply with requirements. There is no use whining about how unfair it is because the situation will persist as long as BN is in control of the government.
At the same time, I cannot wonder why they still want to use old methods that only result in backlash from the citizens. Such a move ensures that PKR gains brownie points and the opposite might happen for the status quo. The signs seem to show that things are not really in order.
While there are rumors about an imminent snap elections, such a move would erode the rakyat's patience with BN and compel many, especially the fence-sitters to swing to the Opposition. It is quite alarming that when certain issues are reported, the whistle blowers have to face a lot of flak and risk losing their platform of discussion while some seem to have an invisible shield of protection whereby almost nothing can happen to them as they thrive in spewing racist remarks that could create disunity and disharmony.
Without press freedom, how are citizens expected to know about corruption, abuse, immorality, crimes and other issues of concern?
To be fair, all media must exercise responsibility and adhere to the Code of Ethics of the profession. Failure to do so would bring disrepute to the profession not forgetting a host of related problems. Do we live in a society that muzzles the press? The loss of the freedom of opinion paves the way for it to stagnate and to erode the pillars of democracy.
This latest development is evidence that the regime is deeply entrenched in archaic methods of tight control which will not work in a borderless world, not when we can get so much information with the click of the mouse. Such a bid is a move to close down the platform of PKR and by doing so, the status quo may be robbing itself of any last vestige of support from the rakyat, especially when SOME favored media are exempt from such rules.
The million dollar question at the tip of our tongues is how and why the Home Ministry has yet to deal with Utusan Malaysia's questionable articles. They have to get out of their physical and mental inertia to tighten the noose around Utusan Malaysia before embarking on another mission like this one.
The fact is we are no longer living in the medieval ages but with net penetration, many have the capacity and maturity to think, analyze and criticize, even if THEY don't know how to do so. The writing is on the wall. Muzzling the media this way is nothing but a myopic move to exacerbate matters and to make the rakyat more alert for any misdeeds and suspicious of the evil intentions on the part of certain parties!
Today, we see the sword of Damocles swinging swish swoosh over the heads of those who need that 'passport' to exist. In true mediaeval fashion, I will have to say
en garde
(a French phrase used to warn one's fencing opponent to be "on guard".)
This posting includes an audio/video/photo media file: Download Now
Posted: 02 Jul 2010 12:37 AM PDT
Freedom of information legislation are rules that guarantee access to data held by the state.
The "right-to-know" legal process by which requests may be made for government-held information, to be received freely or at minimal cost, barring standard exceptions. Also variously referred to as open records or (especially in the United States) sunshine laws, governments are also typically bound by a duty to publish and promote openness.
Over 85 countries around the world have implemented some form of such legislation. Sweden's Freedom of the Press Act of 1766 is the oldest.
All states of the United States have laws governing access to public documents of state and local taxing entities, in addition to the country's Freedom of Information Act which governs records management of documents in the possession of the federal government.
A related concept is open meetings legislation, which allows access to government meetings, not just to the records of them.
A basic principle behind most freedom of information legislation is that the burden of proof falls on the body asked for information, not the person asking for it. The requester does not usually have to give an explanation for their request, but if the information is not disclosed a valid reason has to be given.
Read all in the Wikipedia_Freedom of information legislation
Warga Puchong Indah Hati-hati!
Posted: 01 Jul 2010 11:07 PM PDT
haloooooo...chantek ke?...
lama dah akak x update kan..saje feeling2 malas...
ni akak ade satu story ni....kapal kejiranan umah kakak akak di Puchong indah...wahai warga2 puchong indahhhhhh...sila beri perhatiannnnnnnn.....
cerita ini di cerita semula oleh anak buah akak...minggu lepas anak buah akak darjah enam..balik sekolah..dia balik naik basikal ngan kawan dia...tetiba sampai di kawasan padang berhadapan umah teres 2 tingkat ade seorang yenna tahan anak buah akak...umur lingkungan lewat 30 an cam tu...
then anak buah akak pun berenti..then yenna tu tanya anak buah akak...
" adik adik tau x kat mane nak beli aiskrim..?"..biase lah budak2 kan..terus jawap.."entah"...
then anak buah akak kata dia bawak kuar hp dia dalam poket then tunjuk kat anak buah akak...anak buah akak kata kat telefon dia ade gambar pompuan bogel...
then yenna tu cakap "tengok gambar ni dik..ni sedap ni"... anak buah akak takut terus pecut basikal...then yenna tu jerit2 panggil2 dia..tapi dia kata dia takut terus balik...jarang dr rumah kakak akak tu dalam 150 meter je...
lepas tu dia punya sengal 3-4 ari lepas tu baru dia cerita kat kakak akak...x ke kakak akak tu hangin...budak2 mane lah tau kan...dia ingat benda tu x serius...
mane lah tau kena rogol ke..ni x leh di amik enteng kan..perkara serius....
ape lagi kakak akak terus menjalan kan operasi ...sampai kan berita kepada jiran2 dia...rupa2nya anak2 jiran dia pun pernah mengalami perkata yang sama....
ada pulak yang kata anak mereka cakap yenna ni siap tunjuk kemaluan " flasher"...berani kan..
kalau dah tahap tunjuk kemaluan ni kira ni dah kes berat kan...
so geng2 kawan kakak akak nak buat polis report...
bayang kan lah kalau sesuatu yang buruk berlaku...x ke hazap..ko rela kena rogol ngan yenna yang ketiak hangit tu..ayooooo....
so akak bercadang nak buat sesi intipan dan sesi penyamaran....akak nak ajak baby bee, Najeslina, kak bed..hot mama join sama...akak dan geng2 akak akan pakai baju kurung dan tudung sekolah rendah...dan buat2 naik basikal lalu2 situ..mesti diorang ingat kitorang budak sekolah rendah kan....lagi2 hotmama..
then kalau kitorang nampak yenna tu datang...diorang pulak goda dia..then suruh najesline rogol dia..then tangkap...amacam bijak x akak....
akak bukan bersifat racist ...tapi yang buat benda ni yenna..tu akak cakap tu..x kira lah ape bangsa pun...kalau dah buat cam tu kira dah parah lah kan...
itew yang anak2 melayu kita cakap...yang anak2 bangsa lain terkena kita x tau plak kan...
ni dia peta lokasi di mana yenna2 itu berada..kotak merah itew tempat2 kejadian..di lakukan oleh orang lain dan tempat berlainan...yang dalam kotak biru tu adalah jalan yang sedikit selamat...
so sape2 yang tinggal di sekitar jalan puchong indah ni hati2 lah yer..perhatikan anak2 anda ketika pulang or pergi sekolah..sekarang ni banyak perkara2 yang berlaku membabitkan budak2 sekolah....
pantau lah anak2 anda..biar lah kita bayar lebih sikit untuk van amik dan anta anak2 kita...takut nanti kerana nak jimat sangat x nak bayar van n biar anak2 kita jalan or naik basikal...ujung2 anak kita di naik yenna pula..nak ke....
..
No need for MACC to probe Scorpene deal because Umno Zahid says so
Posted: 01 Jul 2010 11:00 PM PDT
Defence Minister Ahmad Zahid Hamidi said there was no necessity to refer the purchase of submarines to the Malaysian Anti-Corruption Commission (MACC).
When asked to comment on claims that 114 million euro in commission was paid to four Malaysian companies, Zahid said,
"All the procedures for the purchase of the submarines had been adhered to."
DefenseNews
AGENCE FRANCE-PRESSE
Published: 29 Apr 2010 08:06
KUALA LUMPUR, Malaysia - Malaysia on April 29 downplayed a French probe into claims of corruption over a $1.1 billion submarine deal linked to Prime Minister Najib Razak, saying there was "no case" to answer.
The opposition welcomed the investigation and said the case was just the "tip of the iceberg" of corrupt defense contracts in Malaysia.
French judicial officials have confirmed to AFP that they opened a probe in March into the 2002 sale of two Scorpene submarines made by the French shipbuilder DCN.
The case was opened at the request of Malaysian rights group Suaram, which alleges DCN paid a commission of $150 million (114 million euros) to a company called Perimekar.
Perimekar is linked to Abdul Razak Baginda, an associate of Najib. Abdul was later acquitted on charges of abetting the 2006 murder of his mistress, Mongolian interpreter Altantuya Shaariibuu, in a case which captivated the nation.
"It is their right to investigate but for us, there is no case," a spokesman from the prime minister's office told AFP, maintaining the deal was free of graft and that Perimekar had not improperly benefited.
"This is not a new issue - it is a concerted and continued effort by the opposition to discredit the premier," the spokesman said. "It is politically motivated."
"The deal has always been politicized and associated with the Altantuya Shaariibuu murder case. Since they are not making any headway now, they are pursuing it from another angle," he added.
He declined to say whether Malaysian officials would cooperate in the probe.
Najib, defense minister when the deal was brokered, has defended the submarines' purchase and denied any involvement in Altantuya's murder.
Two Malaysian policemen, members of an elite unit that guards top ministers, were last year sentenced to death for killing Altantuya, whose body was blown up with military-grade explosives in a jungle clearing.
No motive was offered for Altantuya's killing during the murder trial. Popular blogger Raja Petra Kamaruddin has been charged with sedition after repeatedly linking Najib and his wife to the crime.
The opposition welcomed the French probe, saying the government has not been transparent on the submarine deal and that it was "alarming" that the French authorities had to investigate the case.
"It shows Malaysia was engaged in a dubious deal and as a result of that, a foreign country - where the submarines were bought from - is actually investigating it," said Tian Chua of the lead opposition party Keadilan.
"There is a long list of [defense] scandals, this looks like just a tip of the iceberg," he said.
Joseph Breham, a lawyer representing Suaram in France, told reporters in Malaysia on April 28 that the investigation was opened as part of an ongoing probe against DCN over other defense deals in Pakistan and Taiwan.
Breham said the Malaysian case was opened after French prosecutors found Perimekar was created only "a few months before" the submarine deal was inked and that the company had no experience in the submarine industry.
The case will proceed before a judge if prosecutors are satisfied with the probe, according to the lawyer, who added that Malaysian officials are not obliged to testify in the French court.
"The onus is on the Malaysian government to respond on an issue that we have not been able to get an answer," Suaram director Cynthia Gabriel said.
The Malaysian government has said it did not pay any commission to Perimekar, but that the company has a six-year contract to provide support services for the submarines.
The first submarine was delivered last year, while the second is expected to arrive from France on May 31.
Posted: 01 Jul 2010 10:26 PM PDT
Carol, one of my blogging friends left this comment in my
previous post
.
'i thought you work from home? ...'
She does raise up an interesting point since I did say I was working on my own and was based at home so why do I need to bring a lunch box to work when I'm supposedly working from home, right?
I am still working on my own. I still do have my own company but now I also have a partner and an office to work from with a few staff and production people and our own large format inkjet printing machines.
A few months back, a friend approached me and asked me if I wanted to join him as a partner and run our own printing business. At that time I had to think about it since I was working for myself. Joining a partnership with someone was a big step. After all I had only been in business for myself for only a couple of months.
Well, I told him I would think about it and after some deep thought, I decided to agree to a partnership with him. I've known this guy for a while. He used to be my supplier back when I was working in my previous Ad agency and he's a pretty decent and very hardworking guy.
I knew it was a risk to be in a business partnership but life is full of risks anyway. Wifey was supportive of my decision so I agreed to join him. He already has an office building and had just brought in some printing machines so all I had to do was just bring my side of things into the picture. Well, it's been three months since I've been in a business partnership and I must say that it was the right decision to make.
We have a small little office with a few personnel to handle our admin and production work which is really not nearly enough people with the workload we have. My partner has his own set of clientele and I have mine and business has been booming so much that we're already making plans to move to a bigger office in two months time and also bring in a few more printing machines to cope with the workload.
I never ever thought I'd have the courage to start my own business let alone join a partnership with someone else. You know how everyone has their own views on how to run a business which is why before even agreeing to this partnership, both me and my partner had a sit down and made things clear about how we should run this company together. One of the most important things we agreed upon was to be direct and honest with each other so there wouldn't be any backstabbing later on.
I'm a very straight forward and direct person. If you have an issue with me, just be honest and tell me straight to my face and I'll do likewise. So far, it's been working with the two of us complementing each others work scope pretty well. The good thing is we're both production and client service based people which makes our work all that much easier.
So there you have it Carol, the reason why I bring a lunch box to work these days :D For the past three months, I've actually had to change and go to work ... LOL! But being one half
'boss'
of this company, I have the advantage of going to work later and avoiding all the jam which also gives me the time to work out and run in the mornings :D
So, if any of you have the need for printing jobs such as buntings, banners, backdrops, stickers, greeting cards, leaflets, T-shirts right up to annual reports and corporate profiles, even
cheap car insurance (okay, maybe not car insurance la)
do drop me an email and I'll for sure give you all my special blogging friends discount ... LOL!
.
Posted: 01 Jul 2010 10:26 PM PDT
The things that I put in my wish list are very simple things. They are in the list and not already inside my house because some of them are expensive, most of them are available at places I don't know and ALL of them are unnecessary. But of all things in the world the ones that I don't need is the one that I most desire.
The reason why I post this entry is simply because I am quite obsessed with them right now and secondly I want to give Bani some guidance on what to buy for my housewarming party. He has been bugging me about the party and I want him to know KALAU KO NAK DATANG MELANTAK SILA BELIKAN AKU SOFA KULIT ITTEWWWW!
Aku over kan? I am just kidding. Bani, you don't have to buy me the sofa. The cushions will do. Thank you very much.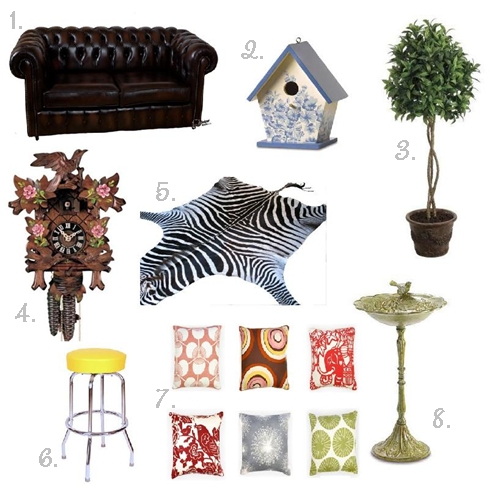 Here are the things that I want for the house:
1. Full leather chesterfield sofa
2. Birdhouse
3. Faux tree (that looks real)
4. Cuckoo Bird clock
5. Zebra rug
6. Rustic/old school stool
7. Colorful cushions
8. Bird bath
The sofa and the tree is available but too expensive for me at this moment. The cushions and stools are affordable but not very necessary. The zebra rug and bird bath I don't know where to buy. The bird house too but who knows God may shine his blessing on me and suddenly Azman I can build one myself. My sister is going to Germany I really hope she will buy me one of those cuckoo bird clock.
Sighhh… I want these things! I want! I want!
Non-minister MP Khairy vs Deputy Finance Minister, Donald 'DUCK' Lim
Posted: 01 Jul 2010 10:23 PM PDT
Donald Lim ducks KJ's questions on Proton
A bemused Khairy Jamaluddin (BN-Rembau) couldn't contain his mirth over the answer given to him by Deputy Finance Minister Donald Lim.
Khairy said he got the worst answer in Parliment in his two years as MP. The question he posed to Donald was -
'What are the government's strategies in national car manufacturer Proton's search for a strategic foreign partner and would it involve foreign equity ownership?'
Donald answered, '
"The government will ensure that Proton will be more competitive."
Congratulations to Donald for being the most unqualified appointed-senator-cum-deputy-minister!
Vincent Tan lebih gagah dari Najib
Posted: 01 Jul 2010 09:01 PM PDT
Posted: 01 Jul 2010 08:30 PM PDT
Mistreating foreign workers is as bad as chasing out rich tourists
Posted: 01 Jul 2010 09:37 PM PDT
All of us Malaysians tend to forget that_
it was the immigrants

who brought about the greatest development of our country in the past 100 years

and we should honour their memory and sacrifices

by treating the present day migrant workers – legal and illegal – fairly.
Let's be honest. There had been NO development project – private or government – of any significance in our country in the past 20 years that had been untouched by an illegal foreign worker.
I dare say that our rapid physical development was built on the backs of the two million to four million foreign workers, legal and illegal.
To our Asean neighbours like Indonesia, Myanmar, Philippines, Vietnam and Laos, supplying labour to other countries is a major industry. The same can be said of India, Pakistan and Bangladesh. The foreign exchange that their millions of workers earn, pays for development in their own countries.
Our dependency on these migrant workers means a significant loss in foreign exchange, but I think this is one cost we have no choice but to accept because our own physical development will head nowhere without them.
Instead of being grateful, we blame them for all manner of ills.
We blame them for crime, we blame them for stealing our daughters and wives, we blame them for stealing our jobs.
So, when Indonesians get upset when their fellow citizens in Malaysia are harassed by the authorities, abused and cheated by their employers, we tend to shrug our shoulders and wonder why they are so angry.
The truth is most of the street crime is not committed by illegal foreign workers who are here to eke a living; our wives and daughters eloping with them, its something called mutual love; and they are stealing no jobs from us because no Malaysian wants to sweep the streets, collect the garbage or lay bricks.
Mistreating foreign workers is as bad as chasing out rich tourists.
MORE than 20 years ago, a group of Bangladeshi workers turned up at The Star office in Seremban to complain that they had been cheated by a fellow countryman and a Malaysian agent who had fled with their passports and their money after promising to get them jobs in Malaysia.
They had each paid the job agent in Bangladesh a princely sum of US$1,000 (RM3234) to secure jobs legally in Malaysia and a further US$5,000 (RM16,168) for tickets and a work permit.
They were met on arrival at the airport by another Bangladeshi and a Malaysian.
These Bangladeshi workers were promised jobs like waiters, factory workers and even clerks – all of them were university graduates and one was even doing his PhD.
However, when they arrived here, they were sent to an estate in Bahau where they had to slog it out in the heat and sun.
These people were not made for such jobs and thus they suffered.
On top of that, the Malaysian agent took all their salaries to compensate for his expenses.
They were given limited food and the 20 were crammed into a single-storey house.
They finally approached The Star when their food ran out and the Malaysian agent failed to appear for several days.
The group appointed Qadir, the guy pursuing a PhD, as their spokesman.
Their story made it to the newspaper and shocked everyone then, because 20 years ago foreign workers from Bangladesh were a rarity and being mistreated was even 'rarer' still.
Everyone, from the police to Immigration officers, was very helpful to Qadir and his friends.
Some sent rice and food, while one contractor even offered them jobs.
About 10 of them took up the offer and the helpful immigration officials arranged their work permit transfer.
Several months later, after they had returned home, Qadir wrote me a letter to thank us for our help and express their gratitude to all who had been kind to them.
However, he confessed that some of his countrymen who had been cheated like him had made a second attempt to get into the country via Thailand.
That was the first time we reported how Bangladeshis were getting into Malaysia.
Fast forward to the present day. Nothing much has changed as there are hundreds of thousands of Bangladeshis in our country as migrant workers, most of them illegals.
What has changed is that we are no longer sympathetic to these foreign workers when they are cheated.
Look at those working at the new Istana Negara that cost over RM1bil.
The Star reported that many of the foreign workers had not been paid, and were subject to harassment from enforcement units every time they complained to the authorities.
The sad outcome from our report on the unpaid Istana workers is that the majority will be rounded up by the authorities and deported to their countries soon.
The main contractor and sub-contractor will not be really bothered, because deported employees need not be paid.
Instead of being sympathetic to them, many expressed disgust that the expensive palace was being built by foreigners.The Works Ministry
The fact that they work very hard escapes most of us.
The Works Ministry, responsible for monitoring all Government contract works, however, threatened the contractors and sub-contractors with being blacklisted, if they had indeed not paid their workers or were hiring illegal foreign workers.
We, it seems, are blameless.
Why not?
After all we have gained greatly from their hard work as most of modern Malaysia's physical development was built on their backs.
Executive Editor Wong Sai Wan is very grateful to his foreign maid for helping to raise his two children for the past 11 years.
SOURCE: Built on foreign backs. Why Not? By WONG SAI WAN
There must be proper check and balance mechanism to protect the people as police abuse their brutal forces every where
Posted: 01 Jul 2010 08:57 PM PDT
Permit Suara Keadilan Digantung.
Posted: 01 Jul 2010 08:36 PM PDT
K
DN gantung permit Suara Keadilan
Kementerian Dalam Negeri (KDN) telah menggantung akhbar PKR - Suara Keadilan berkuatkuasa semalam kerana didakwa melanggar Akta Mesin Cetak dan Penerbitan 1984.
Dalam kenyataanya, KDN dikatakan tidak berpuas hati dengan penjelasan yang diberikan oleh tabloid itu dan permit penerbitan tahunannya yang tamat tempoh semalam, tidak akan diperbaharui.
Sehubungan itu, kata setiausaha Bahagian Kawalan Penerbitan dan Teks Al-Quran, KDN, Datuk Zaitun Ab Samad, mulai semalam permit penerbitan akhbar PKR itu tidak lagi sah dan ia tidak lagi boleh dicetak atau diterbitkan.
"Panel penilaian permohonan permit penerbitan dan lesen mesin cetak, KDN telah bersidang pada 1.7.2010 dan membuat keputusan - tidak berpuashati dengan jawapan yang diberikan oleh pihak Suara Keadilan bertarikh 29.6.2010 yang diterima pada jam 4.45 petang hari yang sama berkaitan dengan surat teguran Kementerian ini.

"Tidak berpuashati dengan jawapan yang diberikan oleh Editor Suara Keadilan, Encik Dzulkarnain Taib melalui suratnya bertarikh 29.6.2010 yang diterima pada 30.6.2010 jam 12.00 tengahari berkaitan artikel bertajuk "Felda Bankrap," katanya dalam satu kenyataan.

Menurut Zaitun, permohonan pembaharuan permit Suara Keadilan yang tamat tempoh pada 30 Jun lalu akan hanya dipertimbangkan apabila penjelasan yang memuaskan diterima daripada pihak berkenaan.

"Satu surat akan dikeluarkan kepada pencetak berkenaan untuk memaklumkan agar tidak mencetak penerbitan ini sehingga satu keputusan mengenai permohonan pembaharuan permit tersebut dikeluarkan oleh Kementerian ini," katanya. -mk

Ulasan GB

Tindakan KDN tersebut memang sudah dijangka.

Tindakan diskriminasi terhadap media ang tidak sehaluan dengan kerajaan sudah lama berlaku. Permit akhbar Harakah misalnya telah beberapa kali digantung, namun gelombang rakyat tidak mampu disekat sekalipun oleh bapak KDN.

TGNA pernah menyatakan bahawa air dari gunung jangan cuba ada yang menyekat, kelak anda akan disapu hanyut oleh air yang turun laju itu. Begitulah gelombang kebangkitan rakyat, jangan ada yang cuba untuk menyekatnya, anda bakal tercampak keluar lantarannya.


Free download of Medical E-Books
Posted: 01 Jul 2010 08:08 PM PDT
Already have shared more than 1000 books through Fan page ,But recently FB has changed there policies and we are not longer able to communicate via this page ,So to connect us please subscribe with your email addresses Subscribe to Medical E-Books & Medical applications….. by Email
Read all here_ Medical E-Books
Posted: 01 Jul 2010 07:23 PM PDT
MP Segambut Lim Lip Eng listens to residents of Country Heights Damansara. Photo by NICK.
Massive: The three-storey structure built on a hill next to Country Heights Damansara, Kuala Lumpur. Photo by M. AZHAR
Source: http://thestar.com.my/metro/story By PRIYA MENON (2/7/2010)
RESIDENTS of Country Heights Damansara, Kuala Lumpur, are resenting the bird calls they hear every day and night from an illegal bird nest building next door. The massive three-storey structure built on a hill near the posh neighbourhood has been there for more than six months and attracts a large number of swiftlets into the building.
"An electronic musical sound mimicking birds had been placed inside the building to attract the swiftlets," said Pete Meehan. At first, residents were puzzled by the constant noise from the jungle that never ceased until they discovered the activity.
"We were surprised that the jungle was so noisy, then we found out that an electronic musical sound mimicking birds had been placed inside the building to attract the swiftlets," said Pete Meehan. He added that people bought the RM8mil to RM10mil homes to enjoy peace and quiet only to be disturbed by the sound of birds.
According to another resident, Ang Kim Jhew, they have made at least six complaints to the Kuala Lumpur City Hall (DBKL) since April. "We were later told the problem is under the Department of Environment (DoE) and we complained to them as well. DoE later sent a letter to the DBKL supporting our complaint," added Ang. However, no action has been taken so far. They are also worried about environmental issues, including the droppings.
The residents contacted Segambut MP Lim Lip Eng to help them in their task. "I have checked with the DBKL and they told me that there has been no permit for bird's nest harvesting in Kuala Lumpur," he said.
Lim and StarMetro visited the site and found another structure being built. When asked, the Indonesian workers who declined to be named, said the new structure was a section of rooms to be rented out. The bird's nest building was also locked and the workers said they did not have the keys to the building. "We have not harvested the nests yet but there have been many birds coming and in out of the building," said the worker.
Lim said he would lodge an official statement with the DBKL on behalf of the residents and would give the council two weeks to resolve the problem. "I will ask that the man running the business be served a notice to close down the place and if the structure is illegal the owner will have to tear that down as well," he added.
When contacted, DBKL's corporate communications unit said they were aware of the problem and that the structure was illegal as it was built without a development order. DBKL confirmed it will be taking action against the businessman as soon as possible.
The man, who did not want to be named, refused to talk to the press.
GLC director can sit on five boards, says PM
Posted: 01 Jul 2010 07:06 PM PDT
Source: http://thestar.com.my/news=parliament (2/7/2010)
A GOVERNMENT-linked company (GLC) director is allowed to sit on the board of directors of no more than five listed companies and a maximum of 10 non-listed companies at any one time.
The guidelines were set by the Putrajaya Committee for GLCs' High Performance.
"The numbers are lower compared with the maximum set by Bursa Malaysia, which allows a person to become a director in not more than 10 listed companies and 15 non-listed companies," Prime Minister Datuk Seri Najib Razak said in a written reply to Lim Lip Eng (DAP - Segam­but) yesterday.
Lim had asked the Finance Ministry to state the names of senior officers in GLCs, including chairmen and chief executive officers, who held more than one post at any one time, and whether there were plans to employ senior officers via advertisements. Najib said GLCs had succession models of their own. "The GLCs, like multinational companies, also use the services of experienced executive head-hunting firms, as good company practice," he said.
GLCs also deployed people with experience and selected skills that could contribute to their operations, said Najib.
Posted: 01 Jul 2010 06:59 PM PDT
While you SCREAM at your woman, there's a man wishing he could talk softly to her in her ear. While you HUMILIATE,OFFEND and INSULT her, there's a man flirting with her and reminding her how wonderful she is.
While you HURT your woman, there's a man wishing he could make love to her. While you make your woman CRY there's a man stealing smiles from her.
Post this on your wall blog if you're against Domestic Violence.