---
Orientation Day and First Day in Taylor's University College, Lakeside Campus
Posted: 10 Aug 2010 10:45 AM PDT
Oh my god. I have been away for so long. Don't know why lately have been so lazy on the blogging job. Always slacking in my comfy hostel room or just hang out around the university. Life here is kinda fun, but I do miss home occasionally.
I haven't been online like I do so consistence at home last time because Internet at my hostel is still not ready yet, I am on the DiGi 3G Broadband and it always DC and another thing is I can't online 24/7 because of the capped and saving electricity bill. Somemore, I have homework and assignment already, don't have many time to spend in front of the computer like before during the holidays. >.< Now I know why my friend seldom online when they went to college. Haha.
Taylor's University College had an orientation for Julu 2010 intake students 2 weeks ago. It's for everyone that's studying in Lakeside Campus and basically there's many courses available at the Lakeside Campus except Pre-U studies. The reason I pick this university is because it's new and beautiful. =D I like studying in a place that look like a school than an office building.
It's not really start of school yet but it's an orientation to let you know what's around the school and I was pretty excited for it because get to meet new people and back to school after the long 7 months holiday of mine. A little bit nervous also, because I knew no one at there. I have no friend of my age from Penang with me at there. Though I did meet people afterall.
Thanks to Leo Club, I knew Victor, a senior of mine in Leo Club and also during my high school. He also July intake student but on a different course. Then I knew who to mix with on first day. Oh yeah, luckily I was not alone. Rocks.
There's like thousands of student. Business course have the longest queue which I think they have many students as for me in The Design School, there's not super many but at least there still around 30 students in my course. At least it's not less than 10. Haha.
It's the boring talk about what the school have, what are the dos and don'ts, welcoming speech and blablabla. Didn't really enjoy it as I was like keeping my hands busy on the phone. One thing, the hall was so damn cold and we spent like 3 hours in the hall. Hungry in the morning!
After the hall thing, we have our little own orientation. The Design School is under the Division of Engineering, Architecture, Building and Design. =D
orang asli converted to islam by force
Posted: 10 Aug 2010 10:47 AM PDT
see, what did i tell you. i had mentioned this a number of times in some of my blog posts, like here, where i linked an article from the nut graph.
now i managed to find a video here that tells of how the orang asli were bribed to embraced islam, only then they will be given infrastructures.

This posting includes an audio/video/photo media file: Download Now
Posted: 10 Aug 2010 10:42 AM PDT
To all Muslims, wherever you are, let's welcome the holy month of Ramadan al-Mubarak wholeheartedly. Fasting is not only an ibadah but practically a good test against all forms of greed and hunger...
Turn to
U-Tube
to listen to what Barack Obama tells Muslims around the world about Ramadan.
BoA – Hurricane Venus music video
Posted: 08 Aug 2010 10:00 AM PDT
Hurricane Venus, title track of Korean pop star BoA's latest album.
Catchy tune, love the chorus. The video seems a bit dull though.
BoA series – Previous: Hurricane Venus album photos
Extra: Hurricane Venus lyrics (romanisation)
BoA – Hurricane Venus music video from YeinJee's Asian Blog
This posting includes an audio/video/photo media file: Download Now
Perfume – Voice promotional video
Posted: 10 Aug 2010 09:47 AM PDT
Voice, latest single from Japanese female techno-pop trio Perfume…
Techno tune with oriental flavour. Decent video (incomplete unfortunately). I like.
Perfume – Voice promotional video from YeinJee's Asian Blog
This posting includes an audio/video/photo media file: Download Now
Proof that MCA is irrelevant: Unmask Pakatan? Think how you can fight for Chinese, silly!
Posted: 10 Aug 2010 09:26 AM PDT
MCA needs to explain more to the Chinese voters on the 'hidden picture' should the opposition pact Pakatan Rakyat comes to power at federal level.
Hello, MCA. You are a Chinese party right?
Why are you such a busybody? Why do you care so much about Pakatan?
Why can't you think how you can contribute to BN by truly fighting for the Chinese?
If you can fight against all the injustices faced by the Chinese community, then the Chinese will surely give you the votes in the next general election.
The question is, 'Can you?' The more important question is, 'Will you?'
Are you courageous enough to fight for the Chinese community, to voice out? Fight for justice?
No, you dare not because the truth is you are Umno's running dog.
Do your job. Focus: Chinese! Understand?!
Dialog bersama Penduduk Pangsapuri PKNS SS8
Posted: 07 Aug 2010 12:01 PM PDT
Pecat Gani Patail Segera Dan ...
Posted: 10 Aug 2010 08:21 AM PDT
I
nkues Teoh: Kecuaian, keraguan burukkan lagi persepsi rakyat
Peguam Negara Tan Sri Abdul Gani Patail digesa memikul tanggungjawab atas kontroversi pendedahan bukti baru berhubung kematian bekas setiausaha politik Teoh Beng Hock kerana didakwa memperlihatkan kecuaian dalam mengendalikan pendakwaan tanpa menimbulkan keraguan.
Perkembangan terbaru ini juga dilihat sebagai satu lagi tamparan kepada usaha pentadbiran Perdana Menteri Datuk Seri Najib Razak mahu memulihkan persepsi rakyat sejak pilihan raya umum ke-12, malah terhadap sistem keadilan dan Suruhanjaya Pencegahan Rasuah Malaysia (SPRM).
Penganalisis politik dan pakar perundangan Prof Abdul Aziz Bari berkata, walaupun pasukan pendakwa mempunyai segala hak untuk membawa sesuatu bukti yang baru tetapi dalam kes terbaru ini menunjukkan wujud unsur kecuaian.
"Oleh itu, saya merasakan Peguam Negara dan pasukan siasatan (polis) perlu memikul tanggungjawab kerana didapati memandang remeh proses siasatan dan pendakwaan... ini sekali gus menimbulkan keraguan di kalangan rakyat, menyebabkan persepsi negatif rakyat terhadap kerajaan makin meningkat," kata beliau ketika dihubungi The Malaysian Insider.

Situasi kecuaian yang membawa kepada persepsi negatif di kalangan rakyat berhubung sistem pendakwaan, keadilan dan proses siasatan bukan sesuatu yang baru.

"Kita sudah banyak kali berhadapan dengan kes macam ini, misalnya kes Kugan (suspek mati dalam tahanan polis), enjin jet TUDM hilang, remaja Aminulrasyid Amzah (yang mati ditembak polis Mei lalu)... semuanya berkaitan dengan keraguan dan persepsi rakyat," kata Aziz lagi.

"Perkara ini tidak sepatutnya berlaku ketika SPRM, kerajaan sedang berusaha untuk memperbaiki persepsi rakyat terhadap kerajaan," katanya lagi.

Ketika ditanya sama ada pihak pendakwa mempunyai hak untuk mengetengahkan bukti baru di mana-mana peringkat perbicaraan, Aziz berkata, "boleh, tetapi benda (cara ini) tidak betul."

"Ini kerana tindakan macam ini menimbulkan syak-wasangka," kata beliau lagi.

Dalam pada itu, Ketua Angkatan Muda Keadilan (AMK) Shamsul Iskandar Mohd Akin juga mempertikaikan tindakan mengemukakan bukti baru pada peringkat ini, tindakan yang menimbulkan kesangsian di kalangan rakyat.

"Ini satu kejutan, sepatutnya Peguam Negara tidak menunggu sehingga sekarang untuk mengemukakan bukti baru, seolah-olah menunjukkan ada unsur jahat, dan menimbulkan keraguan," kata beliau yang juga seorang peguam.

"Bila timbul kesangsian, ia akan mengakibatkan persepsi dan ketidakyakinan rakyat terhadap inkues," kata beliau yang turut mengakui pasukan pendakwa boleh membawa bukti baru.

"Tetapi masa bukti baru ini dibawa menimbulkan keraguan, yang mana mereka sepatutnya telah dibawa lebih awal, di peringkat awal inkues.... tapi menunggu sehingga sekarang," katanya lagi.

Kata beliau, kesangsian itu menjadi perhatian selepas saksi forensik dari Thailand sebelum ini pernah mengatakan bahawa ada kemungkinan 80 peratus kematian Teoh disebabkan oleh elemen "dibunuh".

"Di antara persoalan Teoh kemungkinan membunuh diri dan tanggapan dia dibunuh, bukti baru seperti ini boleh menimbulkan keraguan dan kesangsian," katanya lagi.

Kenyataan pejabat Peguam Negara itu, dikeluarkan lewat petang semalam menjelaskan, pejabat Peguam Negara dimaklumkan mengenai penemuan nota itu oleh pegawai penyiasat ASP Nazri Zainal pada 7 Oktober lalu iaitu lebih dua bulan selepas kematian Teoh.

Kehadiran bukti baru di saat akhir inkues kematian Teoh menimbulkan rasa tidak puas hati di kalangan peguam yang mewakili keluarga bekas setiausaha politik itu dan kerajaan Selangor.

Peguam Gobind Singh Deo yang mewakili keluarga Teoh memberitahu pemberita keadaan yang berlaku menunjukkan seolah-olah sesuatu yang dirancang dan beliau amat kecewa atas apa yang berlaku kerana bukti itu sepatutnya dikemukakan sebelum bermulanya prosiding.

Gobind berkata berikutan keadaan ini, beliau memohon supaya inkues dibicarakan menerusi Suruhanjaya Diraja dan berharap Peguam Negara dapat memberi penjelasan berhubung bukti baru ini.

Teoh, 30, setiausaha politik kepada Exco kerajaan negeri Selangor, Ean Yong Hian Wah ditemui mati pada 16 Julai tahun lalu di tingkat lima, Plaza Masalam di sini selepas memberi keterangan di pejabat SPRM Selangor yang terletak di tingkat 14 bangunan itu. -TMI

Ulasan GB

Ringkas sahaja.

Selamatkan Malaysia, Gani Patail perlu dipecat segera.

Jika Najib enggan melakukan, biar rakyat melakukannya. Bagaimana? Allah Maha Penolong kita semua.

Di bulan Ramadhan ini, sampai masanya ditamatkan segala konspirasi mereka semua.

"Allahumma inna naj'aluka fii nuhuri a'ada ina
wa nauzubilLahi min syuruurihim,
Allahumma baddad syamlahum, wa farriq jam'ahum,
wa syattit kalimatahum,
wa zalzil aqdaamahum,
wa sallidt 'alaihim kalban min kilabik
Ya Qahaar, Ya Jabbar, Ya Muntaqim,
Ya Allah ,Ya Allah, Ya Allah.
Allahumma ya munzilal kitab,
wa Ya mujriassahaab,
wa Ya hazimal Ahzab
ihzimhum, ihzimhum, ihzinmhum
wansurna 'alaihim

Ya Allah,
Sesungguhnya kami meletakkan leher musuh -musuh kami kepada Engkau
Dan kami berlindung dengan-Mu daripada kejahatan-kejahatan mereka
Ya Allah,
Leburkanlah kumpulan mereka
Pecah belahkan dan kacau bilaukan pertubuhan mereka
Goncangkan pendirian mereka
Dan hantarkanlah anjing-anjing Engkau kepada mereka
Wahai Tuhan yang gagah perkasa
Wahai Tuhan yang Maha Kuat
Wahai Tuhan yang ada bersifat murka
Ya Allah Ya Allah Ya Allah,
Wahai Tuhan yang menurunkan kitab,
Wahai Tuhan yang mengarakkan awan
Wahai Tuhan yang menewaskan bala tentera al-ahzab
Kalahkan mereka, Kalahkan mereka, Kalahkan mereka
Dan menangkan kami ke atas mereka."


Merasmikan Program Kesedaran Rakyat tentang Dadah bersama MBPJ dan AADK
Posted: 06 Aug 2010 11:59 AM PDT
Hadir di Pelancaran Tabung Impian Rakyat Malaysia (TIRAM)
Posted: 06 Aug 2010 11:54 AM PDT
Posted: 10 Aug 2010 07:51 AM PDT
Posted: 10 Aug 2010 07:31 AM PDT
The Muslim fasting month starts tomorrow and normally I'd be pretty excited about it. There would be loads of buka puasa
(breaking of fast)
food in the Ramadhan bazaar just a stones throw away from my house, not to mention my office too.
I'd always head over there with wifey after work joining the huge crowds of people lining up to buy the many food stuff on sale. The air would be wafting with the smells of ayam perchik, murtabak, roti john, grilled fish and lots of other yummy food.
We would normally end up buying tons of food and stuffing ourselves silly. it would be the same scenario for us every year. This year though, I don't think I have the time to even go there as much as I'd love to. I'm pretty tied up with work and just finding the time to get home before the bazaar closes is going to be a huge challenge.
I know we're going to miss a heck of a lot of yummy Ramadhan food but there really is no rest for us slave types ... LOL! Maybe to keep my mind of the yummy offerings I'll just go looking for some
spa cover's
or something. But with that said and done, I'd like to wish all my Muslim buddies a very blessed Ramadhan. May you all enjoy all the delicious Ramadhan goodies on offer and do send some food my way ... hehehe!
Errrrr ... the fasting month starts tomorrow doesn't it?
.
Posted: 10 Aug 2010 07:08 AM PDT
Aku rasa mmg elok aku pergi kerja sebab kalau duk umah ni lama2 mmg aku boleh jadi giler.
Miki (read : we) were watching Yo Gabba Gabba on DVD. Miki has memorized the entire story. If you know this show, at the beginning this unspeakable creature man called DJ Lance Rock will be entering the scene carrying an over sized boom box that could be opened and contained miniatures of the other characters of the show.
Whenever Miki hears the theme music of Yo Gabba Gabba, he will proceed carrying his own imaginary boom box, puts it on an imaginary table, open it and imaginarily arrange the miniatures on his absurd imaginary Yo Gabba Gabba environment.
Miki is very funny and cute. DJ Lance Rock is very funny and orange.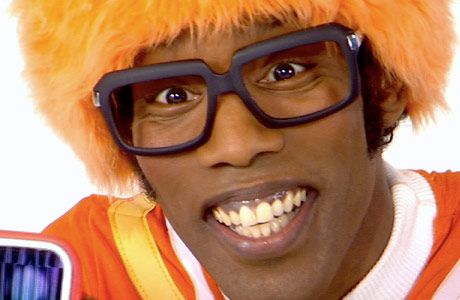 Sedikit horror kan?

Anyway, while Miki was busy following all the dance steps in the show Azman told me that DJ Lance Rock has died, beaten up in the streets.
I was very startled and almost sad because Miki adored the show, if the main actor died, they'd better find a replacement that is as just as absurd and orange.
"Ye ke?" I said almost is disbelieve.
Azman hold his chuckled for a while and then laughed out loud at the naive me, for actually buying his crappy spontaneous lie!
Eii hampehnyaaa… aku ingat bebetol mati ok!
"Don't you just wanna beat him up?" My husband said in fury! He was eating rice or else I bet he would have curled up his fist and swing it in the air.
"One day this guy is just gonna walk down the street and hit by a mob and die!!" I see evil in his eyes as he said it.
Dude! I understand DJ Lance is orange and black in the middle. And sometimes when the camera zooms out we dont know if he was crying or grinning because all we see is white at the mouth. And that he wears orange jumpsuit so tight he almost look like a ballerina. And he laughs so fakingly I myself feels like punching him on the gut!
But please darling, dont hate the jumpsuit. Your friends working at offshores rigs (read : Olet) wears it obnoxiously too. You never wanted them harmed right?
All I could do was sigh. It used to be Handy Manny and now Yo Gabba Gabba. It's the cartoons…. they can do to things to ya brain…. beware new parents… beware…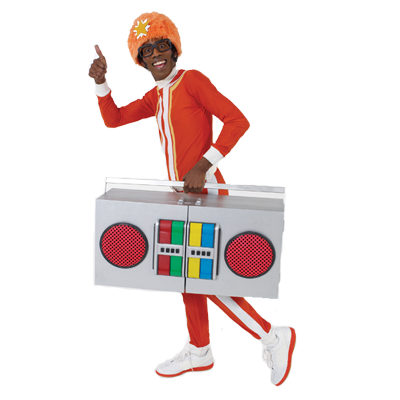 Chantekk!
Posted: 10 Aug 2010 07:03 AM PDT
Posted: 10 Aug 2010 05:14 AM PDT
PROTES kenaikan harga barang bertempat di Flat 17 tingkat PKNS pada 9 Ogos bermula pukul 5:00 petang. 3 orang aktivis ditahan polis sebelum pelancaran protes bermula.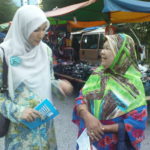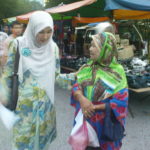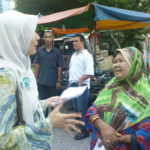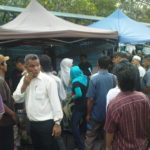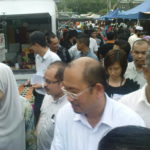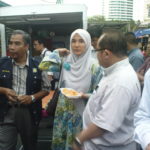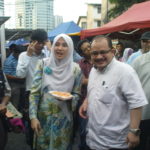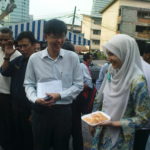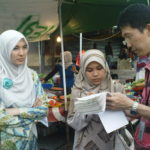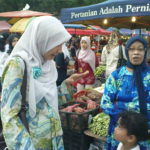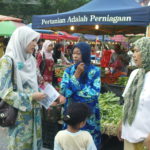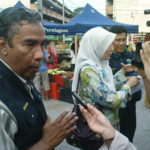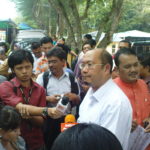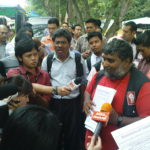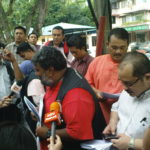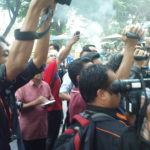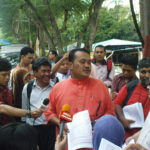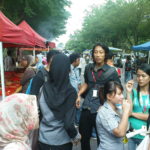 Saya bersama YB Dr.Hatta, YB Tian Chua, Arul (PSM), Ketua AMK Shamsul Iskandar, Haji Nahar (Jemaah Islam Malaysia (JIM),SUARAM, Saudara Sani (Ketua Pemuda PAS Kuala Langat), wakil-wakil Solidariti Mahasiswa Malaysia(SMM), GAMIS,JERIT dan beberapa teman prihatin lain yang turut serta dalam program pelancaran Bantah Pembaziran, Potongan Subsidi Rakyat dalam Usaha Menyelamatkan Wang Negara.
Program tersebut diadakan di pasar malam Kerinchi dan mendapat sambutan yang menggalakkan daripada penjaja, penduduk sekitar serta pengunjung pasar malam.
Malangnya, tindakan pihak polis menahan 3 orang aktivis tanpa sebab menunjukkan ketidakadilan dan kezaliman pihak mereka kerana PROTES tidak menganjurkan sebarang demonstrasi tetapi hanya melancarkan pengedaran risalah tentang kenaikan harga minyak dan barang baru-baru ini.
Walaupun kenaikan harga minyak sebanyak 5 sen, akan tetapi janji kerajaan bahawa penstrukturan semula subsidi akan dilaksanakan, untuk memastikan rakyat termiskin dilindungi tidak dilaksanakan. Program penstrukturan semula yang dirancang dan diberikan kepada Maybank gagal, tetapi potongan subsidi diteruskan jua. Penjana-penjana bebas masih kebal tidak tersentuh. Sila rujuk keratan risalah yang diedar semalam.
Posted: 10 Aug 2010 05:11 AM PDT
Back in 2007, I blogged about getting my dream ride. I was deciding between the Kuschall Airlite Pro and the Invacare Top End Crossfire Titanium. In the end, I got the Matsunaga Max Pleasure Synergy GS-V instead. I settled on this is a Japanese-made aluminium folding wheelchair due to the fact that they had a local dealer who could take measurements and customise the chair to fit my body.
Matsunaga Max Pleasure Synergy GS-V.
The first chair that they delivered was too wide. I had problems going through doorways. I complained and it was replaced with a narrower chair. Having used it for more than two years, I quite like its maneuverability, how my body fits into it and how it improves my sitting posture. At 10kg, it is lighter than my previous chairs and easier for Wuan to lift up and store in the car boot.
Unfortunately, it began to squeak early this year. The seat does not fit snugly to the frame anymore and it tends to pull to the left when pushed. I cannot send it back to the local dealer for repairs as he is no longer in the wheelchair business. While looking for a wheelchair repairman who is familiar with this chair, I am going to get another one.
Tilite ZRA Series 2.
Image taken from Tilite.
This time, I am going for the Tilite ZRA Series 2. It is a rigid titanium frame wheelchair and weighs about 5kg without the rear wheels. I have never used a rigid wheelchair before but from what I read, the frame has less flex as compared to a folding one thus making it easier to push. Besides that, less moving parts translates to less wear and tear and less maintenance.
The Tilite ZRA Series 2 has to be ordered from one of the online stores in the USA. The frame itself costs USD1,895. The chair I configured with the parts I want is around RM13,000 inclusive of a suitable cushion and shipping. The other snag here is that I have to do my own measurements. I need to get it right else it will be a very expensive piece of living room décor. The good thing about the ZRA Series 2 it is adjustable to a certain degree should my measurements be marginally off.
My "Tilite ZRA Series 2 Wheelchair Fund" has only achieved one-third of the amount needed. I plan to place my order before the year is out. Hopefully, I do not need to dig into my savings to fund this ride by then. It may appear like a large amount to pay for a wheelchair but it is worth the money if properly tuned to fit my body. In the long run it will reduce repetitive strain injuries to my shoulders caused by pushing a badly fitted wheelchair.
Related posts:
Alexander the Great made the shaving popular
Posted: 10 Aug 2010 05:11 AM PDT
MKini:Who will handle injustice of judicial system?
Posted: 10 Aug 2010 04:59 AM PDT
Extracts taken and edited out the names to make it more international and for my safety from Malaysiakini David Anthony's, Who will handle injustice of judicial system?
The denial of justice, be it for prisoners in Guantanamo Bay or victims of clergy abuse in the Catholic Church, is a global phenomenon but in ASEAN countries it verges on the ridiculously serious.
Authoritative figures, quoting some of the legal heavyweights of Britain like Lord Denning, and others have repeatedly called for the professional obligations and standards governing the conduct of judges, let alone the attorney and the prosecutors, to be adhered to in order to promote confidence in the judiciary. Alas, our courts appear to be following standards other than professional.
Justice is not only not seen to be done but it is seen to be undone. If and when justice is seen to be done in any court, it is deemed a landmark decision but only to be undone by a higher court. The higher the court the lower the chances of justice being done. This is a well grounded popular perception.
This on-going 'justice denied' debate makes one wonder and ponder on the continued relevance of the current judiciary in ASEAN. The lay people cannot but interpret the court happenings as political (and military) maneuverings. If the final bastion of appeal is a foregone failure what other recourse is there?
Case studies are endless. Will people prefer to settle disputes outside of court? Yes, but it may work as a compromise and may not work in accordance with justice. You beg, plead, cajole, yell, threaten and eventually when push comes to shove, will the people take the law into their own hands? What might appear just for one may be considered unjust for the other. Does justice have two faces?
Who is 'justified' when the mob catches a snatch thief and beats him to a pulp? The thief becomes a victim and the mob criminal by consequence. If the thief had a gun and began shooting at the mob that would be self-defence. Can the mob argue its case on ideological grounds as procedural justice for which some of them paid the price? There is no point in this argument when we are outside the courtroom.
The fact that people can defy court orders indicates that they are unwilling to accept them and are prepared to pay a price. This would be a dangerous turn of events just because the people have lost confidence in court judgments. The travesty in our courts is already shaking the country's stability.
All talk and debate will not bring about a change unless we attempt to do something about it.
To boycott the courts one day in a month may send a message but the judges will merely fix new dates and procrastinate the process while the backlog of pending cases gets worse.
Can we look elsewhere for redress? There is this International Criminal Court seated in The Hague.
Although we have not ratified it, there is a very slim chance of appeal. The court exercises jurisdiction only on those states that have ratified the ICC statute or have accepted it at least on an ad hoc basis. On both of these, we do not qualify. The third condition is when the UN Security Council refers the situation to the court.
Apart from foreign aggression the court has jurisdiction over the most serious crimes committed by individuals in the form of genocide, crimes against humanity such as murder, extermination, rape, sexual slavery, disappearance of persons and crimes of apartheid etc. Police brutality, deaths in police custody, torture under ISA detention, selective investigation and prosecution and mala fide court judgments can also be equally serious.
Who will handle the injustice of the judicial system? When that fails, there is still the slim opening, provided we can muster very strong arguments, for a referral by the UN Security Council. This is undoubtedly a formidable task with a high risk factor – the hovering ISA sword of Damocles.
To establish a strong case will require brains and courageous people and time. We could solicit the help of Amnesty International and Human Rights Watch through the Bar Council and Human Rights Commission to facilitate the process. A long shot, perhaps, but we have much to lose otherwise.
The final option is regime change through the voice of the people and strength of the people, democratically exercised through the ballot box. Political parties present their election manifestos prior to elections. Even before that the people should present the political parties with a 'People's Manifesto' spelling out what they expect from elected representatives resulting from a free and fair electoral process.
Indeed, another formidable task! If and when we have a new government its primary task should be to sweep the halls of the judiciary, police force and law-enforcing commissions clean. The slate must be wiped clean leaving behind not a speck of dirt. New fresh faces of good, competent and honourable ASEANs should appear for we do have such ASEANs.
Advance justice!
Posted: 10 Aug 2010 01:44 AM PDT
Yesterday there was an article in the Sun that had me shaking my head. It quoted Michael Chong, head of the MCA's Public Services and Complaints Department, as saying that "Malaysian men should not marry foreign women if they can help it." He was referring to cases in which mail-order brides from China, Vietnam and some other countries ran off to their home countries, sometimes taking their Malaysian children with them. Okay, fine, maybe there have been several cases in which that happened. But how do they stack up against the number of foreign-born wives who don't do such things? I'll bet the former would turn out to be a very, very small minority, which makes statements like the following way out of line:
"Don't take a foreign wife. There are many pretty, talented and intelligent Malaysian women to choose from," he added.
He's right that there are lots of great Malaysian women. I married one. But overall his statements come off sounding as bad as what Rais Yatim said not long ago about marrying foreigners. I would expect such things from Rais, who makes no secret of his contempt for all things he thinks are foreign. I find Chong's remarks disappointing, though. He usually fights for the underdog and seems to have helped a lot of people. If only he could give better advice.
How To Spot A Get Rich Quick Scheme ( 快速致富)
Posted: 10 Aug 2010 03:20 AM PDT
How to Spot a Get Rich Quick Scheme
There is one simple rule to spotting get rich quick scams, no matter whether they are sales oriented, money investing, or other things. That is, the proposal seems too good to be real. Believe your instincts, because they are right.Take this case for example
at CBS News
:
An infomercial huckster was promising that if you sold just 20 bottles of his vitamins, they'd send you $1,000. What they didn't say, is they were actually selling you a website for your initial fee, from which you would then have to promote and sell the vitamins. And then they would charge you for various incidentals to increase your traffic, none of which are guaranteed to get results. There was no thousand dollars just for selling 20 bottles of vitamins, because few of his members sold that many.How about the ones that claim they can drive traffic to your website so you too can make $5 million dollars a month, like XYZ.com (or any website they bring out of thin air)? Often, when you see claims like that, the named site may have no idea they are being used in a scam. Or else, it belongs to the same person trying to sell you search engine rankings. Basically all you will get is your name submitted to a list of search engines, with no guarantee of traffic. And even the biggest search engines, like Google & Yahoo, already tell you
search engine submission is not necessary
. So prevalent is the boom in these schemes that the FTC mounted a massive, worldwide sweep of Internet sites in coordination with other countries and organizations, to identify and charge, if possible, the organizers.For some good information on current and past scams, and how to spot or deal with them, visit these sites below:
http://www.ftc.gov/opa/2000/03/rich.htm
Even just those two examples, barely scratch the surface. Even though it's cliche, remember this:
"If It's Too Good to be True...It Is."
Recommendations for Making Money Legitimately Online
Always, remember if you want to make money online, it's going to take some hard work and dedication. If you would like to learn more about starting a legitimate online business, claim your free
Make Your Site Sell Ebook
and Dr. Ken Evoy will walk you through the steps to building a legitimate online business.
But What if You Need Money Now?
Many people try to find income opportunities online because they need to earn money quickly. They don't really have the time to build a business or wait for results.
Other people just don't want to start an online business and don't feel their cut out for business ownership. That is completely understandable, and there plenty of legitimate ways to earn an income from home - you just have to make your own opportunities. For help finding legitimate and good paying work online, please read the article entitled
But I Need to Make Money Now: How to Work from Home
.