---
Posted: 09 Oct 2010 10:03 AM PDT
My Sis is in town for this weekend. She will be flying back to Vietnam Monday morning. I was assigned to be my sis's personal driver for the day. Anyway, it was a busy Saturday and i spent most of the time on the road traveled from point A to point B... especially being forced to co-exist in the road with all those horny drivers... sigh~
Anyway, we have accomplished a lots of things... including visiting grandpa, hitting the gym, shopping etc. Of cause i thought i was going to miss my gym session but ended up i managed to do 2 hours of weights training. What a lucky day :)
I planned for Mom and Sis to meet my aunt in The Curve so that i could hit the gym while they were having dinner with aunt.
After my workout, i happened to crave for Salmon Bagel @ Coffee Bean (CB). So i decided to drop by CB in The Curve. Ordered Salmon Bagels and a frozen lemon. Guess how much it costs me?... I ended paying RM30.75 for my dinner. Such an expensive dinner compare if i took my dinner in Tony Romas... If i ordered a salad and refillable soft drink. It only costs me RM20+ after my RM10 off and 10% off for the total bill. :(
You are a Home Minister, Hisham!!!
Posted: 09 Oct 2010 09:58 AM PDT
Home Minister Hishammuddin will have an audience with the Sultan of Johor on Tuesday over an article written by Hindraf's P Waythamoorthy in the news portal Free Malaysia Today on October 7.
Moorthy who fled overseas had questioned the position of the Malays and Malay rulers in a posting on the website. Many felt his statement was to create hatred towards the Malay Rulers and to dupe the people's thinking.
What Moorthy wrote is secondary now. However, the ministry's 'a little late' action should be put to question. Yes, we are talking about the Home Ministry.
I think Hisham needs a special task force to monitor all blogs, news portals and other news medium the moment they hit the cyberspace. Sensitive matters such as postings by Moorthy and others like the Namewee case must be attended to immediately and not a few days or a month later.
A deferred action would lead to a public uproar. Racial sentiment will flare again. Hisham is always seen acting 'too late', especially on Namewee who is now free to go on with his concert in Johor Baru later this month.
There are things which Hisham himself can decide there and then without having to refer it to the police. A Home Minister is someone who can take prompt and drastic decision (depending on the circumstances) to contain subversive elements like that from taking a spread. The police can come later.
However, Hisham had never even once taken such an action. He normally will wait for the police or reporting it to the Prime Minister first. And by the time police begins investigation, the damage has been done, and the whole nation erupted with fury.
Come on, bro. You are a Home Minister, not an Education Minister anymore. Your portfolio warrants you to be strict, tough, stiff and willing to take pre-emptive measures. Or you just dont know what your real responsibility is and how much power is vested in you?
Dont be afraid if you are not popular for being a 'no-nonsense' minister as long as the country is put to order. Some crooks are popular too! So, be a man and you would be appreciated!
Hungary evacuates sludge village
Posted: 09 Oct 2010 04:44 AM PDT
Drill reaches trapped Chilean miners
Posted: 09 Oct 2010 07:51 AM PDT
Michael Caine 'aided' father's death
Posted: 08 Oct 2010 04:56 PM PDT
Putrajaya, Whitehall may face suit over Malaysia 'Disagreement'
Posted: 08 Oct 2010 01:03 PM PDT
Posted: 09 Oct 2010 04:10 AM PDT
Posted: 08 Oct 2010 09:44 PM PDT
Salam semua rakyat Malaysia yang menggunakan kereta jenama Proton Gen2, Neo yang dikeluarkan dari tahun 2004 hingga 2008!!!!
Sila baca link yang disertakan....
Kerosakan dikesan pada komponen 'clock spring' 15,911 unit keluaran 2004 hingga 2008
KUALA LUMPUR: Proton Holdings Bhd (PROTON) memanggil semula kereta Gen2 dan Satria Neo yang dikeluarkan di antara 2004 hingga 2008 disebabkan kerosakan pada komponen 'clock spring' yang mungkin boleh menjejaskan keselamatan.
Pengarah Urusan Kumpulan PROTON, Datuk Syed Zainal Abidin Syed Mohamed Tahir, berkata komponen terbabit menyambungkan beberapa suis dan beg udara kepada peralatan seperti radio, hon dan kawalan 'cruise'.
Katanya, ujian rutin mengenal pasti kerosakan pada 'clock spring' menyebabkan bunyi geseran dalam stereng, hon berbunyi atau lampu kereta terpasang sendiri, kerosakan suis kawalan audio dan dalam kes lebih serius boleh menyebabkan pelepasan beg udara di bahagian pemandu.
Beliau berkata, panggilan sukarela itu adalah sebahagian daripada program jaminan kualiti global Proton membabitkan 15,911 unit atau dua peratus daripada 660,000 unit kereta yang dikeluarkan dan dijual dalam tempoh berkenaan.
"Meskipun bilangannya kecil, keselamatan pelanggan kami sangat penting dan kami memohon maaf berikutan masalah itu.
"Kami berharap pelanggan memahami bahawa panggilan semula ini perlu untuk memastikan keyakinan berterusan terhadap keselamatan dan prestasi kenderaan mereka," katanya dalam satu kenyataan di sini semalam.
Pemilik kenderaan yang terbabit boleh menghubungi mana-mana pusat servis Proton yang sah untuk membuat temu janji bagi mendapatkan pemeriksaan percuma.
Semua kos buruh dan peralatan yang berkaitan penggantian 'clock spring' akan disediakan tanpa caj di pusat sah Proton di seluruh negara.
Proton akan menghantar surat kepada pelanggan yang terbabit untuk memaklumkan mereka mengenai perkara itu.
Pada masa sama, Proton membuka laman web khusus, www.protonaftersales.com untuk membantu pelanggan menyemak tahun pengeluaran kenderaan masing-masing
baca lagi di sini
Posted: 08 Oct 2010 09:55 PM PDT
Posted: 08 Oct 2010 09:38 PM PDT
Prizes: Judging the Man Booker
Posted: 08 Oct 2010 09:31 PM PDT
"Killer Monkey" And Media Sensationalism
Posted: 09 Oct 2010 10:18 AM PDT
Malaysiakini Letter By Shenaaz Khan
I wish to refer to the report, 'Killer monkey' in a local daily . The header itself reeks of irresponsible and ignorant sensationalism. 
The editorial inferred that the simian, with its shaman like powers had, 'abducted, bit and then dropped' the four-day-old infant to its death. Yes, abducted! Not kidnapped, because that would entail the monkey demanding
MCA has a close relationship with Umno! MCA goooooooooooooood dog
Posted: 09 Oct 2010 08:59 AM PDT
Published: Saturday October 9, 2010 MYT 5:04:00 PM
KUALA LUMPUR: MCA Youth should become more internet-savvy and start a friendship, and network with voters through the internet, said party deputy president Datuk Seri Liow Tiong Lai.
He said, in tackling today's political situation, MCA Youth should be innovative in its bid to fulfil the demands of the people, especially in view of the upcoming 13th general election.
Hence, he said MCA Youth should participate in the new medium like Twitter and Facebook to get close to the voters as the campaigns for the next general election would probably depend on these technologies.
"Therefore, we have to be aware of these issues. I call on those who have yet to use the social media as a tool, to start doing so and reach the people," he said when opening the 46th MCA Youth general assembly at Wisma MCA here Saturday.
Liow, who is Health Minister, also proposed to MCA Youth to use the opportunity at the general assembly to discuss preparations to face the next general election.
He said MCA Youth should make full use of the positive factors, like the promising economic growth and the crisis faced by the opposition parties, to get back the voters' support.
Liow said issues of public concern, like environment, renewed technology and healthy lifestyle, should be given priority.
Refuting allegations by certain quarters that the party did not have the nerve to speak, especially on racial issues, the MCA deputy president said it was because MCA chose to fight for those issues in the Cabinet and in the spirit of a family within Barisan Nasional.
"It is my responsibility to inform all of you that
MCA leaders have a close relationship with the prime minister and his deputy
, and we have an understanding in our every action and plan to bring about changes towards the nation's development and people's well-being.
"We are aware of the nuisance created by the opposition, but we realise that continuous disputes will not only affect the people, but also the country's development," he said. -- Bernama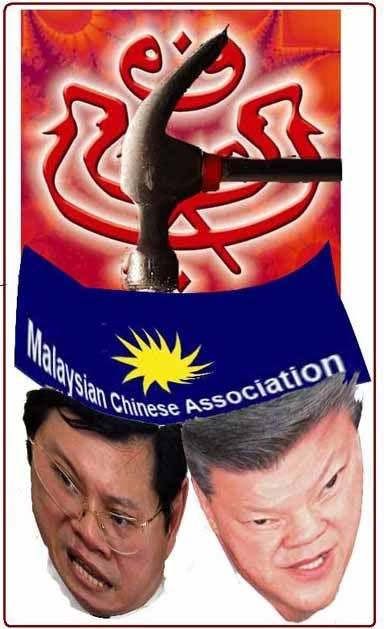 Galas: Isu Royalti TETAP Relevan Pada Bila-bila Masa Sehingga Ia Dibayar Kepada Kerajaan Kelantan
Posted: 09 Oct 2010 10:34 AM PDT
I
su Wang Ehsan, Royalti Minyak Tidak Jejas Peluang BN Di Galas
KUALA LUMPUR, 9 Okt (Bernama) -- Isu pemberian wang ehsan dan royalti minyak buat rakyat Kelantan tidak akan menjejaskan peluang Barisan Nasional (BN) untuk memenangi kerusi pilihan raya kecil di Galas, kata Pengerusi Badan Perhubungan Umno Kelantan Datuk Seri Mustapa Mohamed.
Katanya isu itu tidak akan menjejaskan peluang BN dalam pilihan raya kecil itu kerana ianya adalah isu di peringkat nasional.
"Yang penting di peringkat negeri, kita sudah agihkan wang ehsan dan rakyat sudah mulai menerima wang ehsan tersebut, jadi isu ini tidak relevan lagi," katanya kepada pemberita selepas menghadiri Majlis Sambutan Hari Raya anjuran Dewan Perniagaan dan Perindustrian Kebangsaan Malaysia (NCCIM) di sini.
Beliau berkata demikian ketika mengulas mengenai strategi pembangkang yang bakal membangkitkan isu-isu sensitif termasuk isu wang ehsan dan royalti minyak.

Pilihan raya kecil itu diadakan berikutan kematian wakil rakyat dari Pas, Chek Hashim Sulaima, 46, akibat barah usus pada 27 September lepas.

Pada pilihan raya umum 2008, Allahyarham berjaya merampas kerusi Dewan Undangan Negeri (DUN) Galas yang terletak dalam kawasan Parlimen Gua Musang daripada BN, mengalahkan calon BN Mohd Saufi Deraman, dengan majoriti 646 undi.

Suruhanjaya Pilihan Raya (SPR) menetapkan tarikh penamaan calon bagi pilihan raya kecil DUN itu pada 26 Oktober ini dan jika ada pertandingan tarikh pilihan raya ditetapkan pada 4 Nov.

Mustapa, yang juga Menteri Perdagangan Antarabangsa dan Industri itu berkata mesyuarat rasmi pertama antara Pengarah Pilihan Raya Kecil Galas iaitu Tengku Razaleigh Hamzah bersama jentera pilihan raya BN Isnin ini.

Sementara itu, Timbalan Perdana Menteri Tan Sri Muhyiddin Yassin akan ke Galas Rabu ini untuk bertemu dengan jentera pilihan raya bagi membincangkan strategi pilihan raya kecil kali ini, katanya. -- BERNAMA

Ulasan GB

Banyak cantik awak punya muka, kata isu royalti tidak relevan. Isu royalti tetap akan mendominasi setiap kali pilihanraya di Kelantan selagi Petronas tidak mematuhi perjanjian.

Rompakan yang dilakukan oleh UMNO BN dengan menggantikannya dengan wang ihsan, kemudian diserahkan bukan kepada kerajaan negeri sepeertimana termaktub di dalam perjanjian adalah merupakan satu pengkhianatan terhadap rakyat Kelantan khususnya.

Pengarah pilihanraya UMNO BN bagi PRK Galas, YBM Tengku Razaleigh akan menjadi sasaran rakyat untuk menjawab setiap persoalan mengenai royalti ini. Apakah akan ada pusingan U pada pendirian Ku Li terhadap isu royalti ini. Kita akan sama-sama nantikannya.


Ha Ji-won does Lara Croft in Secret Garden
Posted: 09 Oct 2010 07:47 AM PDT
A recent still from Korean drama Secret Garden, featuring actress Ha Ji-won in an all-action-Lara-Croft style, has garnered plenty of interest online…
According to Dramabeans, the drama is about a stuntwoman (Ha Ji-won) who somehow traded souls/bodies with the male lead (played by Hyun Bin). It's said to be a fantasy-romance drama, so I guess the still is probably just a small part in the series when the actress is playing her stuntwoman role, which is unfortunate cause it would be nice to have her kicking around more often in the smexy outfit.
ADVERTISEMENTS

Ha Ji-won does Lara Croft in Secret Garden from YeinJee's Asian Blog
The Warrior's Way (aka Ninja vs Cowboy) movie trailer
Posted: 09 Oct 2010 07:10 AM PDT
Trailer for The Warrior's Way, Korean actor Jang Dong-gun's debut Hollywood film, co-starring Kate Bosworth, Danny Huston and Geoffrey Rush etc…
ADVERTISEMENTS

I posted a bizarre Japanese movie trailer
Alien vs Ninja
just a week ago, so the
Ninja vs Cowboy
idea sprung naturally into my mind… and apparently I'm not the only one who thought of this judging from the Youtube comments lol. It's arguably if NvC could be a better title, but it sums up the film perfectly well.
Set the plot aside, I'm not liking the 'fake' settings a single bit. It reminds me of the over-fantasised box office flop Speed Racer, which funny enough was the Hollywood debut of another Korean star Rain. The expectation is probably not as high this time though, so it's not major disappointment if history repeats itself.
On final thought… I think some cheapo production company will come out with an Alien vs Cowboy film pretty soon. You read this from me first lol.
The Warrior's Way (aka Ninja vs Cowboy) movie trailer from YeinJee's Asian Blog
This posting includes an audio/video/photo media file: Download Now
Skandal Seks Chua Soi Lek Masih Menghantui Wanita MCA
Posted: 09 Oct 2010 07:55 AM PDT
M
esyuarat Agung Wanita MCA Hangat Dengan Isu Skandal Seks Dr Chua
KUALA LUMPUR, 9 Okt - Sesi perbahasan Mesyuarat Agung Tahunan Wanita MCA kali ke-35 hari ini hangat apabila skandal seks yang melibatkan presiden parti Datuk Seri Dr Chua Soi Lek dibangkitkan oleh anggota perwakilan.
Seorang perwakilan dari Pahang, Khiew Yuh Jiuan, mendakwa kebanyakan anggota parti itu berasa malu kerana mempunyai seorang pemimpin tertinggi yang mempunyai "masalah moral".
Beliau turut menyifatkan perjuangan parti itu sebagai gagal berhubung perkara itu yang menyebabkan ramai anggota tidak dapat menyatakan pendirian mereka dengan jelas tentang pelbagai perkara.
"Bila kami mahu menyampaikan pandangan, orang lain akan menyerang parti ini dengan mudah melalui skandal seks presiden. Sebagai ahli, kami terpaksa berdiam diri sahaja. Presiden (Dr Chua), bolehkah kepimpinan anda membantu memperkembangkan MCA?" katanya.

Kata-kata itu kemudiannya disambut dengan tepukan gemuruh para perwakilan yang memenuhi dewan mesyuarat di Hotel Berjaya Times Square di sini.

Speaker Ooi Siew Kim pula berkata ucapan Khiew itu jelas merupakan suara hati anggota dari peringkat akar umbi kepada pucuk pimpinan parti.

Pada Januari 2008, Dr Chua melepaskan jawatannya dalam Kabinet dan Naib Presiden MCA selepas mengakui beliaulah lelaki dalam video seks yang tersebar dengan meluas.

Dr Chua dipilih menerajui MCA dalam mesyuarat agung luar biasa parti itu pada 28 Mac lepas selepas menewaskan dua orang bekas presiden iaitu Datuk Seri Ong Tee Kiat dan Tan Sri Ong Ka Ting. -Bernama

Ulasan GB

Kan dah susah bila dapat Presiden cenggitu...
dulu nak sangat...


Posted: 09 Oct 2010 07:15 AM PDT
Catalogue of posts for Daryn Mishka ဒ ါရင္း မစ္ကာ (ေခၚ) သီိရိ
Posted: 09 Oct 2010 06:59 AM PDT
Galas: UMNO Tapis Penceramah. Perkasa Mungkin Diberi Lampu Merah
Posted: 09 Oct 2010 06:52 AM PDT
U
mno guna model berbeza di Galas, tapis penceramah
KOTA BARU, 9 Okt — Umno Kelantan akan membuat tapisan barisan penceramahnya pada kempen pilihan raya kecil Dewan Undangan Negeri (DUN) Galas bagi memastikan hanya penceramah berwibawa sahaja dibenarkan berkempen.
Ketua Penerangan Umno Kelantan, Dali Hussin berkata ia bagi mengelakkan ada penceramah yang dipertikaikan kebolehan dan tidak mampu memberikan hujah bertepatan dengan isu semasa.
"Sebab itu penceramah yang akan berkempen nanti perlu bersesuaian dan mampu memberikan impak dengan hujah-hujah yang bernas dan diterima pengundi di DUN Galas itu nanti.
"Kita akan susun jentera penerangan ini agar menepati kehendak pengundi dan bukan ceramah sahaja yang akan ditekankan tetapi ada kaedah kempen lain akan kita gunakan untuk mematah serangan lawan," katanya kepada pemberita selepas merasmikan Pertandingan Futsal 1Belia Peringkat Parlimen Pengkalan Chepa di sini, hari ini.

Dali yang juga Ketua Umno Bahagian Pengkalan Chepa itu berkata tidak semua modul pilihan raya kecil DUN Manek Urai yang diadakan pada Julai tahun lalu sesuai untuk digunakan di Galas nanti.

"Keadaan di Galas mungkin berbeza dan kehendak rakyat tidak akan sama seperti di Manek Urai dan sebab itu tidak semua modul dan pendekatan di Manek Urai boleh digunakan di Galas nanti," katanya.

Beliau berkata jentera penerangan Umno Kelantan yang diketuainya kini sudah bersiap sedia untuk berkempen di Galas dan menunggu lampu hijau daripada ibu pejabat parti untuk bergerak.

Dali berkata selain itu pihaknya juga akan mendekati kira-kira 2,000 pengundi Cina di DUN itu dan yakin isu perkauman yang sering dijadikan 'senjata' oleh pembangkang tidak berkesan kali ini.

"Pengundi Cina sudah memahami keadaan politik semasa dan yakin akan menerima semula BN menerusi konsep 1Malaysia serta pengaruh pengarah jentera pilihan raya BN, Tengku Razaleigh Hamzah," katanya.

Pilihan raya kecil itu akan diadakan berikutan kematian wakil rakyat dari PAS Che Hashim Sulaima, 46, akibat barah usus pada 27 September lepas.

Suruhanjaya Pilihan Raya (SPR) telah mengumumkan tarikh penamaan calon bagi pilihan raya kecil DUN itu akan diadakan pada 26 Oktober ini dan jika ada pertandingan tarikh pilihan raya ditetapkan pada 4 November. — Bernama

Ulasan GB

Dengan mengambil langkah untuk menapis penceramah, difahamkan UMNO tidak akan membenarkan PERKASA untuk turut serta di dalam siri ceramah yang bakal diadakan sepanjang kempen PRK Galas.

Ini kerana Perkasa akan menyebabkan pengundi-pengundi bukan Melayu akan mengenepikan calon UMNO BN di situ.

Namun hubungan intim Perkasa-UMNO sudah diketahui umum dan rakyat Galas juga sudah menghidu sandiwara UMNO tersebut.