---
Facing the climate @ Ikano Power Station Malaysia
Posted: 13 Oct 2010 10:12 AM PDT
Facing the climate is a cartoon / comic exhibition @ Ikano from Oct 10-17th 2010. This event is held in conjunction of the Stockholm environmental conference. There are cartoonist from Sweden and Malaysia. I was invited by my friend Sheldon (one of the cartoonist from Malaysia) to attend this opening ceremony. This was a nice and simple exhibition/events to build the awareness of how important we need to conserve our environment.
As the theme is about global warming, go green, conserve energy etc... all the comics/cartoons that exhibit in this event was about saving environment... I managed to capture some pictures via iPhone during the ceremony.
Simple traditional Leather puppet show 
on describing how important to conserve our environment
Everyone was very focus on the performance
Datuk Lat kick start the live drawing session
Anyone know which character is Dato Lat's drawing?
Sheldon (my friend) drew the Panquin
The cartoon that drawn during the open ceremony by 7 famous cartoonist a.k.a the picture above was auctioned in the event. Guess how much this piece of art work sold? The starting price was RM500.
There is a board that encourage all of us to post our suggestion on how to contribute on saving the environment...  I found the below two messages very interesting especially the first one... 
Do pay a visit to Ikano before Oct 17th 2010... to take a look @ the exhibition at the same time place your suggestion on the board eh~
Picture taken from michael Chuah blog
More detail on the exhibition click
here
10.10.10 - it's a good day & a bad day: Horror crash! Bus accident no more
Posted: 13 Oct 2010 10:24 AM PDT
10.10.10 - it's a good day & a bad day...Good day of course is a memorable for the newly wed couple..as for the bad day is the news came out that 12pp
die in the car accident with a terrible mass.. R.I.P
One of the passengers of the express bus said:
Once, I had been in this kind of 'washing machine' that was meandering the Karak highway. Thank God, I was safe!
Posted: 13 Oct 2010 09:27 AM PDT
Hello people, I don't know why I am sharing about Building Materials class again. You think I very like the class? Haha. So-so only. I like drawing and design class more. =D
It was a tutorial class. Tutorial about our project so it was free time and we have got nothing to do at there in the class and it was cold. Talk, talk, talk only.
Then suddenly, Wesley took a paper trash ball, and a T square then started acting like playing golf. LOL.
HAHAHA.
Polis Bebaskan Tiga Individu Termasuk Surendren, Jesyntha
Posted: 13 Oct 2010 09:21 AM PDT
P
olis Bebas Tiga Individu Disiasat Kes Sosilawati
KUALA LUMPUR: Polis hari ini membebaskan seorang wanita dan dua lelaki yang ditahan reman bagi membantu siasatan kes pembunuhan jutawan kosmetik Datuk Sosilawati Lawiya dan tiga yang lain.
Menurut laman web Polis Diraja Malaysia dalam Facebook petang ini, pembebasan wanita itu dibuat dengan bon mahkamah manakala dua lelaki berkenaan dengan jaminan polis selepas empat suspek kes itu didakwa di Mahkamah Majistret Telok Datok, Banting di Selangor pagi ini.
Peguam N. Patmanabhan, 41, bersama-sama pekerja ladang T. Thilaiyalagan, 19, R. Matan, 20, dan R. Khatavarayan, 30, didakwa membunuh Sosilawati, 47, pemandunya Kamaruddin Shamsudin, 44, pegawai CIMB Noorhisham Mohammad, 38, dan peguam peribadi Ahmad Kamil Abdul Karim, 32.
Sosilawati dan tiga yang lain dibunuh di Lot No. 2001, Jalan Tanjung Layang Tanjung Sepat, Banting, Selangor antara 8.30 malam hingga pukul 9.45 malam pada 30 Ogos lalu.

Difahamkan wanita itu, Jesyntha Clarene Isreal, 27, dan adik lelaki Patmanabhan serta seorang lagi lelaki, dibebaskan di Ibu Pejabat Polis Kontinjen Kuala Lumpur tengah hari tadi.

Dua suspek lain masih ditahan reman sehingga Jumaat ini. - BERNAMA

Ulasan GB

Tidak diketahui butiran lanjut tentang pembebasan mereka. Namun mengikut pandangan GB mereka dibebaskan berkemungkinan mereka telah memberikan kerjasama di sepanang siasatan polis sehingga beberapa maklumat kritikal mengenai pembunuhan diperolehi.


Open Letter to My Son – Thirty Cents Cliché
Posted: 13 Oct 2010 08:56 AM PDT
Dear Miki,
Someday when you grow up and go to school perhaps you will hear this story from your Ustaz or Ustazah or maybe you will read it on your own from the web or books.
It is a short story about a child who wanted to borrow ten dollars from his very busy father. His angered father snapped angrily at him later on he felt so devastated when his child had actually needed some money to "buy" him off his work for one evening.
To me and you Daddy this story just another cliché. Until one day…
Several weeks ago Daddy was driving with you to Mama Rose's. He would drop you off and go to work. For the past few months your communication skills had improved drastically and we could understand almost everything you say. Plus being your own flesh and blood we can even read your body language. Like I wrote before, you were feeling punished every time your Daddy and I go to work.
In attempt to get your understanding right, I have been telling in simple words that although your parents love you very much, we still need to go to the office, because if we don't all of us would not have any money to spend for our necessities.
"Mummy Daddy kena pergi work, Miki… Kalau tak kita takde duit!" I hope soon you will understand this statement.
Back in the car in that morning, your Daddy was concentrating on the early traffic. You were very unhappy knowing you were going to be left at your babysitter's and tried to make yourself busy by playing with the things in the car.
You grabbed some money in the coin box and toyed with them for awhile. You said "Daddy nak pergi work nak dapat duit banyak-banyak ke?"Your old man did not reply you. For some reason he didn't know how to answer.
Then you lift up your chubby arm with rusty thirty cents worth of coins held by your chubby fingers; you look at your Daddy right in the face and said "Nah duit! Miki takde duit banyak-banyak pun…."

With that you hang your head low, your shoulder slumped and your lips turned downwards. You were very upset.
But you got your Daddy very upset too…
We spent some time thinking about what you said. Did you really mean to give your Daddy money in attempt to help him with his conquest to get a lot of money by working? Or were you simply implying that unlike Daddy you didn't have much money?
Whatever that was playing inside your mind at time only God knows but goshhh Miki… please stop saying these things! You are breaking our heart in pieces!
Miki, I just want you to know if Daddy really wants a lot of money he could have gone to work in another field called the oil and gas. He could have gone to work offshore where he would get paid very handsomely compared to what he is getting now.
But happiness to your Daddy and I is not money. Our happiness is being together with our loved ones as a family, always be there for each other and that's all that matters. If money was he after he would need to sacrifice the precious time we are spending watching grow every inch every kilos, learn to speak new word after word, climb the monkey bar higher and higher and for richness he would not give these moments up.
Neither would I. I could have been in Paris expending my super model career but we just wanna be with you…
So someday when you are all grown up and reading this. Remember that Mummy and Daddy is doing our best to put warm food on the table and enjoy what ever we have as a family. Together. Always and forever. You are beyond diamonds and pearls to us, baby!
We love you,
Mummy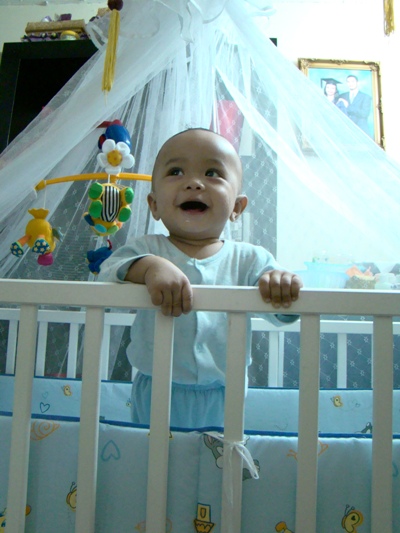 Always be my baby… picture taken 26 August 2008
Bantahan Terhadap Pemilihan PKR
Posted: 13 Oct 2010 08:25 AM PDT
6
4 cabang PKR bantah pemilihan masing-masing
Jawatankuasa pemilihan pusat PKR telah menerima bantahan ahli daripada 64 cabang yang tidak puas hati dengan mesyuarat dan pemilihan masing-masing.
Ia merupakan satu pertiga daripada 195 cabang PKR yang mengadakan pemilihan mereka sebelum ini.
Ini termasuk bantahan yang diterima oleh jawatankuasa itu daripada lima cabang hari ini, iaitu - Hulu Selangor, Kota Raja, Kuala Langat, Pandan dan Kelana Jaya.
Ketika menerima memorandum bantahan tersebut, pentadbir pemilihan PKR Raden Shamsulkamar Raden Shamsudin berkata beliau akan memajukanny akepada pengerusi jawatankuasa berkenaan, Dr Molly Cheah.

"Saya akan bagi tahu Dr Molly bahawa ahli-ahli nak keputusan mengenai bantahan mereka, secepat mungkin," katanya ketika menerima bantahan dari kira-kira 40 ahli dari Kota Raja, Kuala Langat, Pandan dan Kelana Jaya.

Beliau menerima mereka di pintu masuk ibupejabat PKR di Petaling Jaya kira-kira jam 3.15 petang tadi

Manakala bantahan dari cabang Hulu Selangor diserahkan lebih awal pada kira-kirajam 1.45 tengahari tadi.

Raden juga berkata, setakat ini, jawatankuasa pemilihan sedang menjalankan siasatan terhadap cabang Subang, Hulu Selangor, Kapar, Klang, Petaling Jaya Selatan dan Kuala Langat.

Sementara itu, Malaysiakini menemui beberapa ahli dari cabang-cabang yang hadir berhubung bantahan mereka.

Ketua cabang Kuala Selangor, Norazmi Tahir berkata antara bantahan mereka ialah terdapat kertas undi yang tidak betul dicetak di mana jawatan naib ketua Angkatan Muda Keadilan (AMK), dicetak naib ketua cabang.

Berikutan itu, beliau mahu pemilihan diadakan semula, di samping menuntut penjelasan mengenai calon-calon yang didakwa tidak mengikut etika berkempen.

Di Pandan pula, seorang ahli yang tidak mahu namanya disiarkan mendakwa mereka menuntut supaya pemilihan diadakan semula berhubung dengan keputusan seri bagi jawatan ketua cabang tersebut.

Dalam pemilihan yang lalu, dua calon yang bertanding - Zakaria Rahim dan Nik Md Zin Mohamad masing-masing mendapat 105 undi.

Beliau mendakwa sebelum ini ada arahan dari pihak pusat meminta pengerusi tetap pemilihan untuk memilih yang mana satu.

Di Hulu Selangor pula ketua cabang itu, Nazar Yatim tidak puas hati dengan arahan pusat supaya pemilihan cabang itu diadakan semula.

Ia ekoran dakwaan bahawa undi yang diterima lebih banyak daripada ahli yang mengundi di mana 1,583 ahli mengundi tetapi terdapat 1,622 kertas undi dalam kotak undian.

Manakala di Kota Raja pula, calon ketua cabang tersebut, K S Kottapan tidak puas hati pengiraan undi di ibupejabat PKR tanpa kehadirannya.

Ulasan GB

Berita di atas membenarkan ulasan GB di Saifuddin Tidak Bersikap Berkecuali Di dalam Pemilihan


Where Is The Internet at Taylor's University Hostel?
Posted: 13 Oct 2010 08:20 AM PDT
When I first moved into Taylor's Residences, the apartment hostel located in-campus of Taylor's University, there's no Internet access I was told that the service will be ready by end of August. Okay, I subscribe to DiGi Broadband while waiting for it.
When end of August came, there's no Internet service. Sucks. A new notice were given up that they were upgrading the signal strength and stuff and Internet access was promised to ready before October. Fine.
Obviously it's just some stupid reason to cover their slowness. Because they only install the modem/router/access point thing in the middle of September.
Now is already October right? Almost middle of the month already and still no Internet access here! WTF and pissed off by their service and promises. Now they don't dare to give us an exact date of when it will be available. Everything is just so slow. Taylor's University is a good school, but the service is really bad.
Complain? I did already and I would like to write on my blog and share with you guys. Sigh.
Reign of Assassin (2010) movie trailer
Posted: 13 Oct 2010 07:18 AM PDT
Trailer for Chinese Wuxia (ancient martial arts) film Reign of Assassin, starring Malaysian actress Michelle Yeoh and Korean actor Jung Woo-sung…
The movie is about an assassin (Yeoh) who possessed a Buddhist monk's remains which holds a big secret which could unleash enormous power. She thus gone into hiding and got married with a martial artist (Jung), but her former assassin organisation and some other parties were in hot pursuit.
The film is produced by John Woo, his first wuxia film. Other co-stars include Wang Xueqi, Barbie Hsu, Shawn Yue, Kelly Lin, Leon Dai, Guo Xiaodong, Pace Wu, Li Zhonghan, Paw Hee-Ching and Jiang Yiyan. Thanks to Tina for the tip.
ADVERTISEMENTS

Reign of Assassin (2010) movie trailer from YeinJee's Asian Blog
This posting includes an audio/video/photo media file: Download Now
Saifuddin Tidak Bersikap Berkecuali Di dalam Pemilihan
Posted: 13 Oct 2010 07:00 AM PDT
K
onspirasi untuk halang pencalonan Nurul Izzah?
Enam cabang PKR mendakwa wujudnya konspirasi bagi menafikan Nurul Izzah Anwar bertanding jawatan timbalan presiden dalam pemilihan PKR yang akan datang.
Dalam kenyataan berasingan, cabang Selangau dan Semporna dari Sabah yang mencalonkan Nurul Izzah untuk jawatan nombor dua parti, mendakwa mereka tidak dimaklumkan bahawa semua pencalonan perlu dikemukakan sebelum tarikh akhir 10 Oktober lalu.
"Kami tidak pernah diberitahu mengenai tarikh akhir itu dan adalah tidak adil bagi menafikan Nurul Izzah daripada bertanding sebagai timbalan presiden. Adakah ini satu konspirasi bagi menghalang beliau?" soal ketua cabang Semporna, Lokman Uri.
Ketua cabang Selangau Steven Epay Ganing juga mengakui bahawa tarikh akhir mengemukakan pencalonan perlu dihebahkan dengan teratur bagi membolehkan cabang mengambil tindakan sewajarnya.

"Kami beranggapan ini adalah kelalaian penganjur (pemilihan) kerana gagal menyelaras pemilihan dan berharap ini bukan cubaan menghalang Nurul Izzah daripada bertanding.

Dalam kenyataan bersama, empat cabang di Selangor mendakwa mereka "terkejut" bahawa pencalonan 35 cabang ditolak oleh ibu pejabat parti kerana gagal menepati tarikh akhir 10 Oktober itu.




"Kami binggung bahawa terdapat tarikh 10 Oktober 2010 ditetapkan sebagai tarikh akhir bagi mengemukakan pencalonan manakala 35 lagi cabang tidak menyedari tarikh itu," katanya kenyataan bersama itu.

Ia ditandatangani oleh ketua cabang dari Tanjung Karang, Petaling Jaya Utara dan Putrajaya serta pemangku ketua Petaling Jaya Selatan.
Lanjutkan tarikh akhir

Sementara itu, ahli majlis tertinggi PKR, S Manikavasagam mencadangkan jawatankuasa pemilihan melanjutkan tarikh akhir kepada 16 Oktober ini bagi membolehkan Nurul Izzah bertanding jawatan timbalan presiden.

"Ini bagi membolehkan cabang-cabang memperbetulkan apa-apa salah faham yang mungkin berlaku," katanya pada satu kenyataan akhbar.

Dalam satu kenyataan media lain, bekas pengarah komunikasi PKR, Jonson Chong berkata Nurul Izzah tidak sepatutnya dilucutkan kelayakannya untuk bertanding hanya kerana berdasarkan soal teknikal.

"Adalah baik bagi mempunyai proses pentadbiran tetapi mereka mesti telus dan memenuhi objektif parti," katanya.

Semalam, Pentadbir Pemilihan PKR Raden Shamsulkamar Raden Shamsudin berkata, selepas tarikh akhir penghantaran pencalonan dari bahagian ditutup pada 10 Oktober (Ahad) lalu, Nurul Izzah hanya mendapat satu pencalonan dari Keningau, Sabah.

Sehubungan itu, katanya, ahli parlimen Lembah Pantai itu Anwar tidak layak bertanding jawatan timbalan presiden PKR kerana gagal mendapat cukup pencalonan.

Ulasan GB


Dari awal GB lihat Setiausaha Agong PKR yang bernama Saifuddin Nasution itu tidak benar-benar berkecuali, tidak jujur malah dalam banyak hal dan ketika, menampakkan secara jelas beliau terlalu partisan, terutama di dalam pemilihan yang sedang berlansung ini.

Beliau dilihat seperti mahu mengaturkan siapa perlu duduk di jawatan apa di dalam pemilihan PKR. Dengan kedudukannya sebagai Setiausaha Agong, beliau mengeluarkan procedure-procedure anih bagi mengubah "padang permainan" agar calon yang disukainya berjaya.

Sebelum GB ulas lebih lanjut, kita lihat dulu rentak dan tarinya. Lebih banyak cakap dan tindakannya akan lebih banyak mendedahkan siapa Saifuddin sebenarnya.


Posted: 13 Oct 2010 06:35 AM PDT
Thanks to Linda for the following post. I am so sorry for this late posting. A dear friend's husband passed away suddenly from a massive heart attack and together with a few other friends,I was with her and her son this evening during this moment of grief and loss. Life is so short and we must take time to smell the roses and to cherish every waking moment with our loved ones. Here's something to remind us of the responsibilities of parenting. This post is specially dedicated to the memory of P.L. who was a great father, husband and friend.
PARENT - Job Description
This is hysterical. If it had been presented this way,
I don't believe any of us would have done it!!!!
POSITION :
Mom, Mommy, Mama, Ma
Dad, Daddy, Dada, Pa, Pop
JOB DESCRIPTION :
Long term, team players needed, for challenging, permanent work in an
often chaotic environment.
Candidates must possess excellent communication and organizational skills and be willing to work variable hours, which will include evenings and weekends and frequent 24 hour shifts on call.
Some overnight travel required, including trips to primitive camping sites on rainy weekends and endless sports tournaments in far away cities!
Travel expenses not reimbursed.
Extensive courier duties also required.
RESPONSIBILITIES :
The rest of your life.
Must be willing to be hated, at least temporarily, until someone needs $5.
Must be willing to bite tongue repeatedly.
Also, must possess the physical stamina of a pack mule and be able to go from zero to 60 mph in three seconds flat in case, this time, the screams from the backyard are not someone just crying wolf.
Must be willing to face stimulating technical challenges, such as small gadget repair, mysteriously sluggish toilets and stuck zippers.
Must screen phone calls, maintain calendars and coordinate production of multiple homework projects.
Must have ability to plan and organize social gatherings for clients of all ages and mental outlooks.
Must be willing to be indispensable one minute, and an embarrassment the next.
Must handle assembly and product safety testing of a half million cheap, plastic toys, and battery operated devices.
Must always hope for the best but be prepared for the worst.
Must assume final, complete accountability for
the quality of the end product.
Responsibilities also include floor maintenance and
janitorial work throughout the facility.
POSSIBILITY FOR ADVANCEMENT & PROMOTION :
None.
Your job is to remain in the same position for years, without complaining,constantly retraining and updating your skills, so that those in your charge can ultimately surpass you
PREVIOUS EXPERIENCE :
None required unfortunately.
On-the-job training offered on a continually exhausting basis.
WAGES AND COMPENSATION :
Get this! You pay them!
Offering frequent raises and bonuses.
A balloon payment is due when they turn 18 because of the assumption that college will help them become financially independent.
When you die, you give them whatever is left.
The oddest thing about this reverse-salary scheme is that you actually enjoy it and wish you could only do more.
BENEFITS :
While no health or dental insurance, no pension, no tuition reimbursement, no paid holidays and no stock options are offered; this job supplies limitless opportunities for personal growth, unconditional love, and free hugs and kisses for life if you play your cards right.
Forward this on to all the PARENTS you know, in appreciation for everything they do on a daily basis, letting them know they are appreciated for the fabulous job they do... or forward with love to anyone thinking of applying for the job.
P.S. THERE IS NO RETIREMENT EVER!!
Doublethink or Doubltalk or Newspeak
Posted: 13 Oct 2010 06:29 AM PDT
Doublethink or Doubltalk or Newspeak incorporates doublethink, as it contains many words that create assumed associations between contradictory meanings, especially true of fundamentally important words such as good and evil; right and wrong; truth and falsehood; justice and injustice.
In the case of workers at the Records Department in the Ministry of Truth, doublethink means being able to falsify public records, and then believe in the new history that they, themselves, had just written.
As revealed in Goldstein's Book, the Ministry's name is itself an example of doublethink: the Ministry of Truth is really concerned with lies. The other ministries of Airstrip One are similarly named: the Ministry of Peace is concerned with war, the Ministry of Love is concerned with torture and the Ministry of Plenty is concerned with starvation.
Moreover, doublethink's self-deception allows the Party to maintain huge goals and realistic expectations: If one is to rule, and to continue ruling, one must be able to dislocate the sense of reality. For the secret of rulership is to combine a belief in one's own infallibility with the power to learn from past mistakes. Thus, each Party member could be a credulous pawn, but would never lack relevant information. The Party is both fanatical and well-informed, thus unlikely either to "ossify" or "grow soft" and collapse. Doublethink would avoid a "killing the messenger" attitude that could disturb the Command structure. Thus, doublethink is the key tool of self-discipline for the Party, complementing the state-imposed discipline of propaganda, and the police state. Together, these tools hid the government's evil not just from the people, but from the government itself, but without the confusion and misinformation associated with primitive totalitarian regimes.
Doublethink is critical in allowing the Party to know what its true goals are without recoiling from them, avoiding the conflation of a regime's egalitarian propaganda with its true purpose.
In the novel Nineteen Eighty-Four, doublethink is the act of simultaneously accepting as correct, two mutually contradictory beliefs. It is related to, but distinct from, hypocrisy and neutrality. Its opposite is cognitive dissonance, where the two beliefs cause conflict in one's mind.
Doublethink is an integral concept of George Orwell's dystopian novel Nineteen Eighty-Four and the word doublethink is part of Newspeak.
Read all in Doublethink. From Wikipedia, the free encyclopedia
Related Articles
My weakness in not able to breed hatred, selfishness and to strike back with revenge
Posted: 13 Oct 2010 06:15 AM PDT
ငါ့ရဲ့အားနည္းခ်က္(ကဗ်ာ)
အျမဲတမ္း သနားတတ္တဲ့ငါ…
ရက္စက္တတ္တဲ့ စိတ္တစ္ခုကို ပိုင္ဆိုင္ခ်င္တယ္။
အျမဲတမ္း ကိုယ္ခ်င္းစာတတ္တဲ့ငါ…
တစ္ကိုယ္ေကာင္းဆန္တတ္တဲ့ စိတ္တစ္ခုကို ပိုင္ဆိုင္ခ်င္တယ္။
အျမဲတမ္း ေဖာ္ေရြတတ္တဲ့ငါ…
မာနၾကီးတဲ့ စိတ္တစ္ခုကို ပိုင္ဆိုင္ခ်င္တယ္။
အျမဲတမ္း ခြင့္လႊတ္ေနတတ္တဲ့ငါ…
နာက်ည္းတတ္တဲ့ စိတ္တစ္ခုကို ပိုင္ဆိုင္ခ်င္တယ္။
အျမဲတမ္း ငိုေနရတဲ့ငါ…
ေပ်ာ္ရႊင္မႈရွိတဲ့ စိတ္တစ္ခုကို ပိုင္ဆိုင္ခ်င္တယ္။
အျမဲတမ္း ေၾကကြဲေနရတဲ့ငါ…
နားလည္မႈရွိတဲ့ အခ်စ္စိတ္တစ္ခုကို ေတာင့္တေနမိတယ္။
My comment:
But… I cannot.
I will be like this forever.
Although the people I helped, I love, I care….
Betrayed me, Backbite me, Backstab me….
I would not revenge….
I am ready to help any one
If they need, if I could
Whether they asked or not
I never hope to get even a, "TQ"
But I strongly believe that Allah/God is always there
Knows every thing
And always reward me for my good deeds.
(I am afraid because Allah always warn 
me if I am wrong)
Related Articles
Kes Sosilawati: Surendren Terlepas?
Posted: 13 Oct 2010 06:25 AM PDT
H
ari ini, negara menyaksikan Peguam N. Patmanabhan dan tiga orang lagi telah didakwa di Mahkamah Majistret Teluk Datok di sini, hari ini, atas tuduhan membunuh jutawan kosmetik Datuk Sosilawati Lawiya dan tiga yang lain.
Peguam berusia 41 tahun itu didakwa bersama-sama pekerja ladang T. Thilaiyalagan, 19, R. Matan, 20, dan R. Khatavarayan, 30.
Majistret Hurman Hussain menetapkan 16 Disember ini untuk sebutan semula kes tersebut.
Apa yang menjadi bualan orangramai di mana-mana sekarang ini ialah bagaimana dengan adik kepada suspek utama iaitu
Surendren a/l Nalilannen
.
Apakah beliau telah dilepaskan atau apakah beliau lansung tidak terlibat dengan pembunuhan berkenaan?

Apakah siasatan sudah begitu lengkap untuk tidak mendakwa Surendren atau apa?


Patmanabhan diwakili oleh empat peguam iaitu Ravi Neeko, R. Pushpa, Amer Hamzah Arshad dan Datuk Ng See Teong, manakala tiga yang lain tidak diwakili peguam pada prosiding pagi tadi.

Pendakwaan diketuai oleh Timbalan Pendakwaraya Ishak Mohd Yusoff yang dibantu oleh Idham Abdul Ghani dan Saiful Edris Zainuddin.

Ishak turut memberitahu mahkamah bahawa pihaknya belum menerima laporan kimia daripada Jabatan Kimia, yang memerlukan masa untuk dilengkapkan.

Beliau kemudian memohon satu tarikh sebutan, sementara menunggu laporan tersebut diterima.

"Ia berupa amalan kes dadah satu bulan (untuk memperolehi laporan kimia), tarikh sebutan (untuk kes ini) memerlukan dua bulan," kata Hurman.

"Beliau kemudian menetapkan tarikh sebutan semula kes pada 16 Disember "

Amer Hamzah pula membangkitkan isu mengenai keperluan tiga tertuduh diwakili peguam.

Hurman menjelaskan bahawa Pegawai Penyiasat telah dimaklumkan mengenai perkara tersebut.

"Kalau nak ambil peguam silakan. Ada sesiapa yang kamu fikirkan," katanya.

Salah seorang tertuduh iaitu Thilaiyalagan kemudiannya memberitahu mahkamah bahawa keluarganya tidak mengetahui dia ditahan polis.

Hurman menyoalnya di mana dia ditangkap.

Dia memberitahu dia ditangkap di ladang di Tanjung Layang.

Hurman lalu mengarahkan supaya polis memberitahu keluarga Thilaiyalagan mengenai penahanannya.

Beliau juga berkata peguam boleh dilantik oleh keluarga tiga tertuduh berkenaan semasa perbicaraan nanti.

Patmanabhan memberitahu mahkamah bahawa ketiga-tiganya tidak arif mengenai soal undang-undang dan hak mereka untuk mendapatkan peguam bela.

Hurman juga membenarkan permohonan Amer Hamzah dan tiga peguam lain untuk bertemu dengan anak guam mereka iaitu Patmanabhan selama 10 minit dengan pengawasan pihak polis bagi menjamin keselamatan mereka.

Beliau turut membenarkan keempat-empat peguam untuk bertemu dengan tiga tertuduh lain untuk membantu mereka dalam soal perundangan juga dengan pengawasan polis.


Posted: 13 Oct 2010 05:40 AM PDT
HOW would I be after spending 69 days in a cramped, dark, always-in-danger mine some 700 meters underground?
I have been following this story whenever I could. And like a sponge near water, I tried to absorb as much as I possibly could. The lesson, is, put simply, beyond words. It is a miracle. Yes, a miracle. A mysterious grace meant to touch our lives. Praise God. And congrats to the world, especially the Chilean government. And the 33 miracles......
By Juan Forero and Jonathan Franklin
Wednesday, October 13, 2010; 6:45 AM
SAN JOSE MINE, CHILE - After 10 weeks in a dark, hot purgatory 2,000 feet underground, the first of 33 trapped miners were hoisted to freedom early Wednesday, a rescue marking the beginning of the end of a drama that captivated people worldwide.
The rescue operation continued at a steady pace of about one miner per hour, with eight men brought safely to the surface so far, each emerging to cheers of "Chi! Chi! Chi! Le! Le! Le!" -- the country's name. The operation to free all 33 miners could last until Thursday.
Florencio Avalos, 31, emerged in the cold of Chile's northern Atacama Desert just after midnight Wednesday (11 p.m. Eastern time Tuesday), 69 days after he and his fellow miners were sealed in a cavern. They were trapped Aug. 5 when hundreds of thousands of tons of rocks collapsed on the gold and copper mine.
A specially designed rescue capsule, sporting the Chilean flag and shaped like a missile, maneuvered deep into the Earth down a 28-inch-wide emergency shaft and extricated Avalos. He was welcomed back to the surface with spirited cheers and tearful hugs before medical personnel led him away for a checkup.
The capsule, meanwhile, was quickly sent back down to bring out Mario Sepulveda, 40, whose whoops of joy could be heard even before the capsule broke the surface. Once freed, Sepulveda exubrantly handed out souvenir rocks he brought up with him in a yellow satchel, even giving one to Chilean President Sebastian Pinera.
"I think I had extraordinary luck," Sepulveda later told reporters. "I was with God and with the devil - and God took me."
Among the other rescued miners was the youngest -- 19-year-old Jimmy Sanchez, who hugged his waiting father -- and a Bolivian, Carlos Mamani, who shouted, "Gracias, Chile!" when he emerged from the escape capsule.
The plight of the miners has gripped this country of 17 million, and the dramatic nighttime rescue of Avalos played out on national television. The government carefully choreographed several facets, including Pinera's pep talk to rescue planners and the singing of the national anthem.
"We made a promise to never surrender, and we kept it," Pinera said as he waited to welcome the miners.
The government also provided a televised feed of events at both ends of the rescue shaft that was seen worldwide.
The rescue drew scores of people Tuesday night to the Chilean Embassy in the District. High hopes mixed with anxiety as the crowd watched live coverage from a Chilean network on a jumbo television screen, and they celebrated Avalos's arrival with an eruption of cheers and the popping of champagne corks.
The 33 men are believed to have survived longer underground than anyone else in the history of mining accidents.
"All Chileans are with you, and may God be with you," Pinera told rescuer Manuel Gonzalez moments before he entered the capsule and went deep underground. "And may you bring us the miners."
When Gonzalez reached the cavern 18 minutes later, he hugged several of the miners and then helped Avalos fit into the capsule. A winch then pulled Avalos on his bumpy, claustrophobic journey to the surface.
Every step of the operation had been meticulously planned, from the engineering that went into the construction of the rescue capsule to Tuesday's tests of the winch.
The miners had been given a special diet to help prevent their becoming nauseated on the way up. After weeks in the sweltering mine, they were also expected to wear sweaters for their reentry into the world above; temperatures in the Atacama Desert can drop close to freezing at night.
Rescue planners chose Avalos to go first after careful consideration. An expert miner used to working in tight places, he was considered fit of body and mind and thus seen as capable of dealing with any unforeseen problems, such as the capsule becoming lodged in the rescue shaft.
The three miners picked to follow Avalos to the surface are also considered capable of handling difficulties on the way up. The next group includes those who are weaker, older and suffering from a range of ailments. The final group of miners, like those who led off the rescue, are also strong and able.
The last miner to be raised is scheduled to be Luis Urzua, 54, shift chief when the mine collapsed and a steady leader for the other miners.
Speaking by phone from the mine Tuesday morning, Urzua reflected on the saga, carefully choosing his words to describe what it was like for such a large group to be imprisoned in such tight quarters for so long. "This was a group with different personalities and manners of being," he said.
"We have had a stage here in our lives that we never planned for," said Urzua, who has been mining for three decades. "I hope to never live again like this, but that's the life of a miner."
Taking charge after the collapse, Urzua rationed food, giving each miner one spoonful of tuna every 48 hours during their first 17 days trapped underground. He also kept order, something that NASA specialists who have been monitoring the crisis say was vital to keeping up morale and preventing discord.
"We had to be strong," Urzua said. "All the workers in the mine fulfilled their roles."
One miner became the spokesman to the outside world, for instance, while others provided comic relief for their comrades and still others simply showed fortitude for their less experienced colleagues.
Asked about the dangers of mining, particularly at this copper and gold deposit, Urzua said he and the others knew of the hazards. "We always say that when you go into the mine, you respect the mine and hope you get out," he said.
'We knew they were alive'
The miners' lifeline to the outside world since late August has been a tube no wider than an orange, through which they have been able to converse with rescuers and family members by telephone. They have received necessities such as medicine and food but also personal items to pass the time, such as music.
"They think this is room service," quipped Jean Romagnoli, a doctor who has been monitoring the miners' health through special straps that track their heart rate and blood pressure.
The miners have been told how their saga mobilized a battalion of rescue planners, medical authorities, mining executives and even NASA engineers, who helped troubleshoot some of the equipment the Chileans designed for the rescue.
Mining expertise permitted rescuers to drill a bore hole 17 days after the mine collapsed that reached the space where the miners had been trapped. Rescue workers on the surface heard a faint clanging on the drill bit.
"It was like they were hitting it with a spoon," said Eduardo Hurtado, who operated the machine that enabled rescuers to make that first contact with the miners. "Then a far stronger clanging came up. We knew they were alive."
Then on Saturday, another drill finished chewing through hundreds of feet of rock, creating a wider shaft. That hole is only about the diameter of a bicycle tire but is big enough for the capsule designed to hoist the men up, one by one.
The capsule rises at a rate of about a yard per second, bumping against the sides of the tunnel. A camera on the vessel allows doctors on the surface to monitor how each miner reacts as he is being raised. Rescue planners were also to be in constant radio contact with the men as they made their way up.
Those waiting on the surface include medical teams that will quickly examine the miners before they are airlifted to a hospital in Copiapo, a town nearby.
Preparing for exit
In their final hours underground, the miners tried to wash up and comb their hair to appear presentable. Special clothes, tailored to each man, were sent down. Some of the miners gathered a few rocks to take with them, a memento from the place they called home for more than two months.
Richard Villaroel, 26, said by phone that he was excited about reuniting with his wife, who is expecting a baby this week. "I didn't sleep at all last night," he said. "I couldn't."
Up in Camp Hope, where the miners' families have lived for weeks as authorities methodically planned the rescue, loved ones could hardly contain themselves as word spread that the operation was about to begin.
"I feel anxious," said Olga Carmona, 36, the niece of Mario Gomez, 63, the eldest miner. "We have waited all these weeks, so it's just hours away, but it is eternal."
Belgica Ramirez, Gomez's sister-in-law, said she could imagine how they will all want to embrace. "We will just hug him and cry," she said. "Then we plan to do a cookout and celebrate."
Franklin is a special correspondent. Staff writer Mary Pat Flaherty contributed to this report from Washington.
MORE STORY HERE about miner's encounter with God and the devil

Orwellian:behaviours of State and The Party
Posted: 13 Oct 2010 05:00 AM PDT
The adjective Orwellian refers to these behaviours of State and The Party, especially when the Party is the State:
Invasion of personal privacy, either directly physically or indirectly by surveillance.
State control of its citizens' daily life, as in a "Big Brother" society.
Official encouragement of policies contributing to the socio-economic disintegration of the family.
The substitution of traditional religion with the adoration of state leaders and their Party.
The encouragement of "doublethink", whereby the population must learn to embrace inconsistent concepts without dissent, e.g. giving up liberty for freedom. Similar terms used, are "doublespeak", and "newspeak"
The revision of history in the favour of the State's interpretation of it.
A (generally) dystopian future.
The use of euphemism to describe an agency, program or other concept, especially when the name denotes the opposite of what is actually occurring. E.g. a department that wages war is called the "Ministry of Peace" or Ministry of Defence." (=Almost Every country in this world is using this term)
"Orwellian" describes the situation, idea, or societal condition that George Orwell identified as being destructive to the welfare of a free society. It connotes an attitude and a policy of control by propaganda, surveillance, misinformation, denial of truth, and manipulation of the past, including the "unperson" — a person whose past existence is expunged from the public record and memory, practiced by modern repressive governments. Often, this includes the circumstances depicted in his novels, particularly Nineteen Eighty-Four.
Orwell's ideas about personal freedom and state authority developed when he was a British colonial administrator in Burma. He was fascinated by the effect of colonialism on the individual person, requiring acceptance of the idea that the colonialist oppressor exists only for the good of the oppressed person and people.
There has also been a great deal of discourse on the possibility that Orwell galvanized his ideas of oppression during his experience, and his subsequent writings in the English press, in Spain. Orwell was a member of the POUM militia and suffered suppression and escaped arrest by the Comintern faction working within the Republican Government. Following his escape he made a strong case for defending the Spanish revolution from the Communists there, and the mis-information in the press at home. During this period he formed strong ideas about the reportage of events, and their context in his own ideas of imperialism and democracy.
This often brought him into conflict with literary peers such as W.H. Auden and Stephen Spender[1].
In 1940 he engaged himself in the practise of supporting mis-information for a revolutionary purpose with The Lion and the Unicorn: Socialism and the English Genius. A counter-point to his previous work, immediately after his return from Spain, Homage to Catalonia. Homage was elementary in Orwell's definition of the process of truth-power connection and its relevance to ideas of freedom versus authority, whereas Lion & Unicorn was a formative piece of 'propaganda'. The narrative of the two is one that informed Orwell's later works such as Nineteen Eighty-Four and Animal Farm.
Read all in Orwellian From Wikipedia, the free encyclopedia
Posted: 13 Oct 2010 04:40 AM PDT
Lord Kitchener, a possible inspiration for Big Brother
Big Brother is a fictional character in George Orwell's novel Nineteen Eighty-Four. He is the enigmatic dictator of Oceania, a totalitarian state taken to its utmost logical consequence – where the ruling elite ('the Party') wield total power for its own sake over the inhabitants.
In the society that Orwell describes, everyone is under complete surveillance by the authorities, mainly by telescreens. The people are constantly reminded of this by the phrase "Big Brother is watching you", which is the core "truth" of the propaganda system in this state.
Since the publication of Nineteen Eighty-Four, the term "Big Brother" has entered the lexicon as a synonym for abuse of government power, particularly in respect to civil liberties.
Read all here in Wikipedia, the free encyclopedia
Related Articles
Laporan Polis Perlu Dilakukan Ke Atas Rais Yatim
Posted: 13 Oct 2010 05:08 AM PDT
A
hirudin beri keterangan dakwaan babitkan anak Rais
CYBERJAYA: Penulis blog Rocky's Bru hari ini hadir memberi keterangan di ibu pejabat Suruhanjaya Komunikasi dan Multimedia Malaysia (SKMM) di sini berhubung laporan dalam blognya yang mengaitkan anak lelaki Menteri Penerangan Komunikasi dan Kebudayaan, Datuk Seri Dr Rais Yatim.
Rocky's Bru atau nama sebenarnya Datuk Ahirudin Attan tiba pada jam 11.30 pagi dan selesai memberi keterangan kepada seorang pegawai SKMM satu setengah jam kemudian.
Ketika ditemui pemberita, Ahirudin berkata, beliau diminta hadir bagi memberi keterangan bagi membolehkan siasatan terhadap laporan dalam blognya itu berjalan dengan lancar.
"Soalan yang ditanya berdasarkan kepada perkara-perkara rutin... sama ada blog itu milik saya dan beberapa perkara lain," katanya.

Semalam, Rais membuat laporan polis berhubung dakwaan blog Rocky's Bru itu kononnya anak lelakinya mempunyai kepentingan dalam kementerian berkenaan dengan memperoleh geran RM1 bilion bagi menaik taraf akses jalur lebar di seluruh negara.

Ahiruddin berkata, beliau juga bersedia menyerahkan komputer peribadinya kepada SKMM seperti yang diminta bagi membantu siasatan isu itu.

Katanya, setakat ini, beliau belum dihubungi oleh pihak polis untuk memberikan keterangan berhubung laporan itu.

Beliau berkata, Rais sepatutnya tidak membuat laporan polis sebaliknya menafikan bahawa anaknya terbabit dalam pemberian geran RM1 bilion itu.

"Saya kecewa dengan tindakan menteri. Beliau sepatutnya mengambil masa untuk memahami mesej yang cuba disampaikan," katanya. -Bernama

Ulasan GB

Siasatan perlu menyeluruh. Bukan sekadar menyoalsiasat Datuk Ahiruddin Atan. Kini Ahiruddin sendiri cuba mengelak dengan menyatakan Datuk Seri Rais Yatim tidak memahami mesej yang hendak disampaikan. Apa sebenarnya kisah ini?

Datuk Rais Yatim dan anaknya juga perlulah disiasat untuk membuktikan berita itu tidak benar.

Satu laporan polis oleh Pakatan Rakyat boleh/perlu dibuat ke atas Rais Yatim bersandarkan kepada laporan Rocky's Bru! Apakah PR buat tak kisah hal ini? Atau PR sendiri tidak ada komitmen untuk mencungkil dan mendedahkan penyelewengan pemberian geran RM1 billion itu?


George Orwell's Nineteen Eighty-Four
Posted: 13 Oct 2010 04:27 AM PDT
Nineteen Eighty-Four (sometimes written 1984) is a 1949 dystopian novel by George Orwell about an oligarchical, collectivist society. Life in the Oceanian province of Airstrip One is a world of perpetual war, pervasive government surveillance, and incessant public mind control. The individual is always subordinated to the state, and it is in part this philosophy which allows the Party to manipulate and control humanity. In the Ministry of Truth (Minitrue, in Newspeak), protagonist Winston Smith is a civil servant responsible for perpetuating the Party's propaganda by revising historical records to render the Party omniscient and always correct, yet his meagre existence disillusions him to the point of seeking rebellion against Big Brother, eventually leading to his arrest, torture, and conversion.
As literary political fiction, 1984 is a classic novel of the social science fiction subgenre, thus, since its publication in 1949, the terms and concepts of Big Brother, doublethink, thoughtcrime, Newspeak, Memory hole, et cetera, became contemporary vernacular, including the adjective Orwellian, denoting George Orwell's writings and totalitarianism as exposited in Nineteen Eighty-Four and Animal Farm (1945). Other classifications for the novel may include science fiction and satire.
Read all here at the sourse at_Wikipedia, the free encyclopedia
Related Articles
ျမန္မာစာလံုးေပါင္း သတ္ပံုက်မ္း
Posted: 13 Oct 2010 04:16 AM PDT
History of Mandalay Quarters (in Burmese)
Posted: 13 Oct 2010 03:48 AM PDT
READ THE SCRIBD : 
Mg Mg Tin