---
had been away and will be away again
Posted: 16 Oct 2010 10:48 AM PDT
the past week i was away here….
see, i even have a seat reserved for me with my name and under 'press'.
for more photos please visit my facebook album.
this coming monday i will be away again, at the same place for 4 nights, 5 days, so i guess there will be no or less blogging from me again.
now that i'm here blogging, should i blog on something? the 'BIG" budget? the 'in out' PKR polls? perkasa chief in ICU? nah, it's a sunday, remember, sunday is the day i stay away from political and current news/issues.  ok lah, i'll post a motivational story.
—————————————————————
Know yOur Value …!!!
A well-known speaker started off his seminar by holding up a Rupee 500 note.
In the room of 200, he asked, "Who would like this Rupee 500 note?"
Hands started going up.
He said, "I am going to give this note to one of you but first let me do this."  He proceeded to crumple the note up.
He then asked,  "Who still wants it?"  Still the hands were up in the air.
"Well," he replied, "What if I do this?"  And he dropped it on the ground and started to grind it into the floor with his shoe. He picked it up, now all crumpled and dirty.
"Now who still wants it ?"  Still the hands went into the air. "My friends, you have all learned a very valuable lesson. No matter what I did to the money, you still wanted it because it did not decrease in value. It was still worth Rupee 500/-
Many times in our lives, we are dropped, crumpled, and ground into the dirt by the decisions we make and the circumstances that come our way. We feel as though we are worthless. But no matter what has happened or what will happen, you will never lose your value.
You are special. Don't ever forget it ! Never let Yesterday's Disappointments Bitter experiences Names tarnished by gossipers/leaders your own slipping and falling Your distractions & Deviations still God considers you with same value then why can't you value yourself
Posted: 16 Oct 2010 09:30 AM PDT
This evening, I had a lovely seafood dinner with my dear husband, son, mom-in-law and another couple at Bali-Hai Restaurant in Gurney Drive Penang. For starters, we had freshly salmon sashimi followed by jellyfish salad and (sorry to confess) shark's fin soup :-(. I was so hungry that I forgot to take pics of those dishes. Then we had a fresh lobster steamed in ginger and other condiments.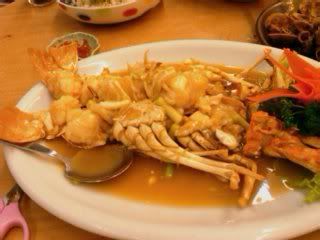 The next dish was fresh drunken tiger prawns.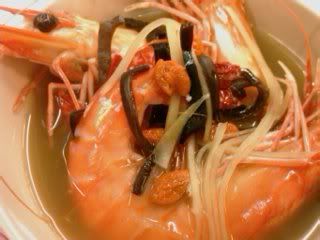 Following that, we had stir-fried broccoli. Soon enough, the waiter brought sauteed dragon fish cooked with capsicum and pacific clams which we slowly washed down with a few bottles of Merlot.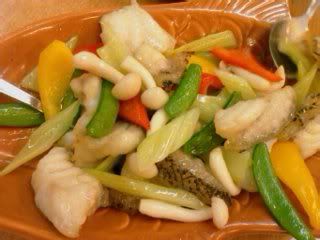 We also had seafood fried rice and kam poh mussels.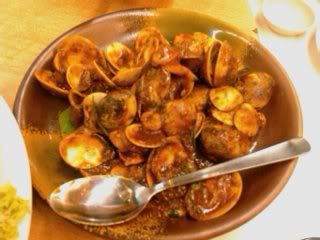 It was such a lovely meal and would recommend the place to any visitor to Penang. There is ample parking space behind the restaurant. The food is fresh, staff friendly, attentive and helpful but most of oil, the food is fabulous - not oily and definitely no MSG cos I am very sensitive to any such additives. Do try the place if you have yet to visit Bali-Hai. During my previous visit, I remember I had black towfoo with crispy deep fried inoki mushrooms - absolutely divine.
Take care and have a lovely evening!
Wajah Pemuda Yang Menikam Sosilawati Dan Tiga Yang Lain
Posted: 16 Oct 2010 09:40 AM PDT
I
nilah remaja yang didakwa menikam sehingga mati kesemua mangsa dalam kes pembunuhan Sosilawati. Sekilas pandang, wajahnya tidaklah seganas perbuatan kejam yang dikatakan telah dilakukannya. Salah siapa dan apakah faktor yang menyebabkannya hilang pertimbangan sehingga sanggup menjadi pembunuh kejam?
Dua pekerja ladang, K.Sarawanan (kiri) dan U.Suresh dipenjara tujuh tahun selepas mengaku bersalah atas tuduhan melupuskan bukti kes pembunuhan Datuk Sosilawati Lawiya di Mahkamah Majistret, Telok Datok, Banting di sini hari ini.
Kenderaan yang digunakan untuk mengangkut abu mayat keempat-empat mangsa.



Kesemua suspek yang didakwa terlibat dalam kes pembunuhan Sosilawati dan 3 yang lain.



Petikan berita berkaitan:
[HM] ...Sarawanan didakwa menghilangkan bukti yang menjadi satu kesalahan serius dengan sengaja membakar mayat keempat-empat mangsa dengan niat untuk mengelakkan N Pathmanabhan, T Thilaiyalagan, R Matan dan R Kathavarayan daripada seksaan undang-undang.

Dia didakwa melakukan perbuatan itu di Lot 2001, Jalan Tanjung Layang, Tanjung Sepat, Banting, pada jam 9.45 malam hingga jam 12 tengah malam, 30 Ogos lalu.

Berdasarkan fakta kes, Sarawanan didakwa melihat keempat-empat mangsa dibunuh Thilaiyalagan. Dia diarahkan Thilaiyalagan dan Matan untuk mengambil petrol dan diesel yang diletakkan di hadapan sebuah rumah pekerja ladang.

Tertuduh kemudian membawa dua tong putih dan menyerahkan kepada Thilaiyalagan dan Matan sebelum ketiga-tiga mereka mengangkat mayat semua mangsa untuk diletakkan di atas longgokan kayu yang sudah disusun.

Ketiga-tiga mereka juga menyusun kayu di atas keempat-empat mangsa sebelum mencurahkan minyak. Tertuduh bersama Matan membakar semua mayat itu.

Suresh pula didakwa menghilangkan bukti berkaitan kesalahan tertuduh utama dengan sengaja membuang abu mayat keempat-empat mangsa ke dalam Sungai Panchau, Jalan Morib, Banting, pada masa dan tarikh sama, juga bagi mengelakkan Pathmanabhan, Thilaiyalagan, Matan, dan Kathavarayan daripada seksaan undang-undang.

Sumber gambar: Berita Harian/H Metro
duniacacabarba

Civil servants no bonus: Government no $! People last! Performance none!
Posted: 16 Oct 2010 10:01 AM PDT
2010-10-16 16:33
KUALA LUMPUR, Saturday 16 October 2010 (Bernama) -- Prime Minister Datuk Seri Najib Tun Razak said today the government could not pay a month's bonus to the 1.2 million civil servants in Budget 2011 because it incurred a huge expenditure, of RM3.1 billion.
As such, he said, the special financial assistance of RM500 for each civil servant was appropriate.
Najib, who is also the finance minister, said many quarters had lobbied to him to announce a month's bonus to the civil servants.
"But I would like to share with you... that a month's bonus incurs an expenditure of RM3.1 billion for the government. Personally, I would want to give a bonus but as a responsible finance minister, I cannot expend more than the national revenue.
"It is for this reason that I gave RM500 as a special financial assistance to civil servants," he said when addressing the 1Malaysia gathering of teachers at the Putra Stadium in Bukit Jalil, here.
When tabling Budget 2011 in the Dewan Rakyat yesterday, Najib announced a special financial assistance of RM500 for all civil servants from Grade 54 and below as well as contract officers and retirees. The payment will be made in December this year.
The prime minister said the aid could help civil servants cope with schooling expenses for their children at the end of the year.
He also said that though no bonus was given, the government had proposed other incentives for civil servants, such as maternity leave of up to 90 days.
This also benefited women teachers, who made up almost 70% of the 400,000 teachers in the country, he said. "The maternity leave is a gift for women. But they can opt not to take the 90 days. It is up to them," he said.
Under Budget 2011, the government will allow flexibility to self-determine fully-paid maternity leave, not exceeding 90 days from the current 60 days. The facility is subject to a total of 300 days of maternity leave through the tenure of service.
The prime minister also said that the government facilitated civil servants in owning houses as well as improving the terms and conditions for housing loans.
He said it had raised the maximum loan eligibility to RM450,000 compared with the current RM360,000, so that civil servants could buy more expensive houses.
Najib also referred to the various memorandums sent to him to make improvements to the teaching service scheme, and said he needed some time to scrutinise the proposals because they had financial implications and involved a large number of teachers.
"I have to look at them together with the Public Service Department and the Finance Ministry. There are many proposals. If the government can afford it, I will have discussions with (Deputy Prime Minister and Education Minister) Tan Sri Muhyiddin Yassin... and an announcement can be made when the time comes," he said.
MySinchew 2010.10.16
RPK: Dimana Rakaman Video Pengakuan Rahimi? - Ulasan GB
Posted: 16 Oct 2010 07:59 AM PDT
P
eguam Anwar Dalang Pengakuan Rahimi?
Sepertimana yang saya telah beritahu Anwar minggu lalu apabila berlaku pertikaian antara kami apabila saya terlalu lantang bersuara: anda sepatutnya gembira kerana saya masih bersuara. Itu bererti saya masih mengambil berat. Bila saya berdiam diri kamu sepatutnya patut berasa bimbang. Itu bererti saya sudah tidak peduli lagi.
Raja Petra Kamarudin
Pada Jun 2008, apabila isu Liwat 2 ini meletus, saya telah pergi ke Quality Hotel di Shah Alam untuk bertemu Anwar Ibrahim dan peguam-peguamnya. Lobi hotel penuh dengan wartawan-wartawan yang dianggarkan lebih kurang 50 atau lebih, pemberita ini boleh mengesahkan pertemuan ini.
Wartawan-wartawan mula meluru ke arah saya apabila mereka melihat saya dan isteri masuk ke dalam hotel. Dengan silauan flash kamera-kamera, perakam video dan mikrofon telah ditolak dihadapan muka saya. Mereka semua mahu tahu apa tujuan saya berada di situ dan adakah ia ada kaitan dengan isu liwat ini.
Saya hanya tersenyum dan tidak menjawab banyak soalan. Saya kemudiannya naik ke tingkat atas bertemu Anwar dan peguam-peguamnya. Peguam-peguam mereka memberi saya sebuah fail tebal dengan pelbagai dokumen dan testimoni-testimoni.

Lebih kurang satu jam kemudian saya turun ke bawah dan kumpulan pemberita yang ramai itu masih di sana. Bila mereka melihat saya dan isteri keluar daripada lif, wartawan-wartawan sekali lagi tergesa-gesa ke arah saya dan mengerumuni saya. Mereka semua mahu tahu apa yang sedang berlaku di tingkat atas.

Beberapa wartawan telah perasan fail tebal berikat dengan pita merah yang saya bawa dan mereka bertanyakan apa yang ada di tangan saya. Saya pura-pura tidak faham dan mereka kata ketika saya tiba saya tidak membawa sebarang fail jadi fail ini pastinya telah diberikan kepada saya. Mereka mahu tahu apa kandungan di dalam fail itu.

Saya hanya tersenyum dan kata 'no komen'. Saya kemudian berjalan keluar, dan telah menghampakan ramai wartawan yang telah berkhemah di lobi hotel itu sejak malam semalam dan sedang kelaparan berita.

Malam itu saya kembali semula ke hotel dengan kamera video saya. Masih terdapat beberapa wartawan yang terhendap-hendap di sekitar tempat tetapi saya berjaya mengelakkan mereka dan naik ke tingkat atas di mana saya bertemu Rahimi. Saya membuat rakaman video kenyataan Rahimi dan dia telah mendedahkan apa yang telah terjadi -- dia dan Saiful bertemu Najib Tun Razak, apa yang berlaku semasa pertemuan itu, dan sebagainya.

Saya sebenarnya pernah menulis tentang perkara ini dengan perincian yang hebat.

Selepas sesi rakaman saya membuat satu salinan video dan memberikannya kepada para peguam Anwar. Saya menyimpan pita asli di rumah. Saya kemudiannya meminta kebenaran Anwar untuk menerbitkan video itu di dalam Malaysia Today tetapi Anwar tidak membenarkannya. Ia kelihatan seperti peguam-peguamnya telah menasihatkan dia tidak membenarkannya. Mereka merasakan pendedahan ini patut disimpan sebagai bukti untuk perbicaraan.

Saya memberitahu Anwar saya tidak bersetuju dengan strategi ini. Saya merasakan video ini patut dihebahkan segera. Perbicaraan tidak penting, saya memberitahu Anwar, kerana mereka akan memastikannya bersalah walau apa pun bukti yang Anwar ada.





Rahimi dan isterinya Febby



Saya dapat rasakan mereka akan sentiasa mencari pelbagai cara untuk membawanya ke penjara, dengan bukti yang dia ada sepatutnya digunakan untuk membersihkan namanya. Lantaran itu adalah lebih baik untuk menghalang setiap langkah yang mungkin mereka ambil dengan menghebahkan video itu ketika Rahimi masih lagi 'friendly party'. Wang boleh mengubah ramai orang dan jika orang-orang Najib berpeluang menghampiri Rahimi , dengan harga yang betul, dia boleh mengatakan bahawa video itu adalah tipu atau dia dipaksa untuk memberi keterangan palsu di dalam video, atau apa sahaja.

Rahimi bercakap dengan bebas dan terbuka. Saya atau isteri tidak menyeksanya atau memaksanya supaya membuat kenyataan seperti di dalam rakaman vidoe itu. Ia telah dibuat dengan relahati dan sukarela. Lagipun , saya seorang sahaja yang berada di dalam bilik itu dengannya dan tiada toughies atau pengawal-pengawal peribadi yang hadir. Dia mempunyai pilihan untuk tidak membuat sebarang kenyataan atau untuk membuat kenyataan yang berlawanan dengan apa yang dia perkatakan. Ia di atas persetujuannya sendiri untuk memberi keterangan bahawa dia dan Saiful telah pergi ke pejabat Najib untuk membincangkan bagaimana untuk mencipta dakwaan liwat ke atas Anwar.

Saya berpendapat kami memiliki sesuatu yang sangat mudah meletup dan ia seharusnya segera didedahkan kepada orang awam. Tetapi Anwar mendengar pendapat peguam-peguamnya dan saya gagal membuatnya mengubah fikiran. Saya malahan berkira-kira untuk melawan Anwar dengan meneruskan menghebahkan video itu. Lagipun , saya merasakan yang peguam-peguamnya telah salah bertindak dan keseluruhan episod ini akhirnya akan mengenai muka sendiri jika mereka tidak berhati-hati.

Bagaimanapun, saya mendengar kepada Anwar, walaupun dengan berat hati, dan tidak melakukannya. Tetapi saya ada berpesan kepada Anwar yang peguam-peguamnya harus melakukan apa arahannya dan bukan dia yang mengikut arahan peguam-peguamnya. Biar peguam-peguam fokus dalam persediaan untuk perbicaraan dan serahkan strategi-strategi politik kepada kami yang lebih arif, saya beritahu Anwar. Saya juga memberitahu perkara ini kepada Datuk Kamarul Bahrin Abbas, Ahli Parlimen TELUK KEMANG, yang turut serupa -- bersetuju dengan saya dan berfikir yang peguam-peguamnya telah bertindak salah.

Tiga bulan kemudian, pada September 2008, polis datang ke rumah saya untuk menahan saya di bawah Akta Keselamatan Dalam Negeri. Mereka menghabiskan masa berjam-jam menggeledah rumah saya untuk mencari 'bukti'. Mereka akhirnya menjumpai koleksi video-video, VCD dan dokumen-dokumen lain.

"Ini apa?" mereka bertanya sambil memegang video.

"Ia pastinya bukan porno atau rakaman saya dan isteri sedang mengadakan hubungan seks," jawab saya. (Saya menyembunyikan semuanya di tempat lain Boom, Rodi, Vic, MsMo and Chris boleh mengesahkannya). Ia adalah rakaman-rakaman peristiwa, saya beritahu polis.

Polis itu memaklumkan saya bahawa mereka perlu merampas semuanya. Saya membantah tetapi tidak berguna dan semua video-video saya, VCD dan dokumen-dokumen diangkut oleh pihak polis.

Dua bulan kemudian, pada November 2008, Mahkamah Tinggi Shah Alam mengarahkan saya dibebaskan. Tetapi polis tidak mengembalikan semua barangan saya yang telah mereka ambil. Sehingga hari ini polis masih memiliki video-video saya, VCD dan dokumen-dokumen.

Bagaimanapun, salinan-salinan yang saya buat semasa pengakuan Rahimi / testimoni berada bersama kumpulan peguam Anwar. Jadi apa yang telah terjadi kepada mereka? Ini adalah sesuatu yang Anwar kena jawab.

Pada 1999, semasa perbicaraan Liwat 1, saya memberitahu Anwar yang saya mendapat makluman beberapa peguam-peguamnya telah dibayar oleh UMNO. Kerja mereka ialah untuk mengganggu perbicaraan supaya kerajaan boleh mensabitkan dakwaan terhadap Anwar.

Anwar, sudah tentu, tidak mempercayai saya. Dia berfikir yang semua peguam-peguamnya adalah jelmaan malaikat. Saya merasakan bahawa ada beberapa diantaranya adalah jelmaan syaitan.

Dan ianya benar, dua daripada para peguam Anwar telahpun keluar dan menyeberangi UMNO. Mungkin mereka tidak benar-benar menyeberang kepada UMNO. Mungkin mereka sebenarnya sudah lama bersama UMNO dan berjaya telah memasuki di dalam kumpulan peguam Anwar supaya mereka boleh menjejaskan pembelaannya.

Sekarang saya bertanyakan kepada Anwar: adakah dia amat yakin dia tidak mempunyai sebarang 'tahi lalat' UMNO di dalam kumpulan peguamnya yang sedang mengusahakan perbicaraan kes Liwat 2? Jika tidak, di mana perginya salinan-salinan rakaman video yang saya telah berikan kepada mereka? Adakah ia menghilang secara misteri? Kalau begitu, bagaimana boleh hilang?

Sekarang Rahimi mendakwa dia telah dipaksa supaya menandatangani Statutory Declaration (Akuan Bersumpah). Dan saya mempunyai satu rakaman video untuk membuktikan bahawa ia tidak begitu. Tetapi polis telah mengambil pita-pita induk dan ia kelihatannya seolah-olah para peguam Anwar juga telah kehilangan salinan-salinan rakaman itu. Tidakkah anda mengesyaki sesuatu?

Sebab tu lah! Bila saya mengkritik Anwar dia menjadi sangat marah dengan saya. Bila saya menuduh yang dia dikepung oleh 'tahi lalat', Trojan Horses, Judas dan Brutus, dia kata saya bersikap nakal dan berniat jahat dan ia adalah untuk kepentingan tertentu demi wujudkan perselisihan dalam PKR. Dia merasakan saya sebuah kilang yang bermotif untuk memusnahkan perpaduan parti.

Baiklah, jawab satu soalan ini: di mana rakaman video testimoni Rahimi, yang saya telah berikan kepada peguam-peguamnya?

Aiyah Datuk Kamarul! Cakap dengan Anwar lah! Saya dah bosan nak cakap. Dan saya tahu anda juga turut merasa perkara yang sama kerana anda sudah puas mengeluh terhadap perkara yang serupa. Tetapi nampaknya kita perlu untuk menyelamatkan Anwar dari dirinya -- atau sekurang-kurangnya dari orang di sekelilingnya.

Sepertimana yang saya telah beritahu Anwar minggu lalu apabila berlaku pertikaian antara kami apabila saya terlalu lantang bersuara: anda sepatutnya gembira kerana saya masih bersuara. Itu bererti saya masih mengambil berat. Bila saya berdiam diri kamu sepatutnya patut berasa bimbang. Itu bererti saya sudah tidak peduli lagi.

Terjemahan artikel : So, who was right, Anwar or I?

Sumber: pulakdah

Ulasan GB

Apa yang dikatakan oleh RPK di atas hampir menyamai dengan apa yang GB pernah rasakan. Sebelum ini GB nyatakan ulasan GB di SINI. Petikan:


Menurut laporan itu lagi, Rahimi mendakwa dia telah dihubungi oleh Latheefa beberapa bulan yang lalu melalui telefon untuk menandatangani satu lagi akuan bersumpah.

"Dia mengatakan bahawa akuan bersumpah yang telah saya tandatangani sebelum ini telah hilang. Namun saya tidak melayan mereka dan cuba sedaya upaya menjauhkan diri dari mereka."

Dakwaan di atas juga perlu disiasat. Apakah benar peguam meminta Rahimi menandatangani semula akuan bersumpah lantaran laporan yang pertama dikatakan sudah hilang. Jika benar dakwaan itu bagaimana peguam boleh menghilangkan akuan bersumpah? Jika benar, peguam itu perlu dipertanggungjawabkan. Jika tidak, Rahimi boleh didakwa lagi oleh peguam berkenaan kerana menipu.


Dan beberapa orang peguam Anwar telah bertindak untuk menapak keluar meninggalkan Anwar diantaranya Zainur Zakaria dan Zulkifli Nordin. Malah ada yang bertindak untuk memburukkan Anwar sendiri.

Tidak mustahil akan ada lagi yang mengekorinya.

Tetapi Anwar seperti sudah tidak mempunyai kekuatannya sendiri. Yang anehnya sebagai klien peguam, Anwar tidak mampu untuk mengarahkan peguamnya apa yang sepatutnya peguam-peguam itu lakukan. Sebaliknya Anwar yang menampakkan dirinya sebagai seorang pesalah, beliau mengharapkan peguamnya untuk membantunya apa yang sepatutnya dilakukan dan dalam banyak ketika Anwar dilihat mohon dirinya dikasihani oleh peguam-peguam terbabit.

GB hairan sebenarnya sikap Anwar tersebut. Dan di dalam pemilihan kali ini Anwar terlalu berpihak kepada Azmin. Anwar tidak berkecuali malah dilihat sebagai lansung tidak berkecuali. GB sudah mengulasnya di SINI.

Penutupnya: GB ingin meminjam kata-kata RPK: Anwar sepatutnya gembira kerana saya masih bersuara. Itu bererti saya masih mengambil berat. Bila saya berdiam diri kamu sepatutnya patut berasa bimbang. Itu bererti saya sudah tidak peduli lagi.




How do you protect your memory? Working and walking
Posted: 16 Oct 2010 07:28 AM PDT
Notice to all in their fifties who are beginning to do the countdown to retirement and can not wait to be able to
slumped in a chair
and finally rest, perhaps to reconsider the case for the
good for your brain
.
The results of a recent U.S. study, Reported by New York Times, Speak for themselves: go pension is the antechamber for forgetfulness. And other research shows that those who 10 km walk a week halved the risk of incurring the risk of dementia in old age.
"The size of the brain decreased in the late age, which can cause memory problems. Our results shouldencourage exercise in older adults as a promising approach for Prevention of dementia and Alzheimer's disease. " He said Kirk Erickson, Author of study published in the online version of the magazine 'sAmerican Academy of Neurology Neurology, Commenting on the findings from his research.
For the study 299 people with no problem of dementia recorded the distance walked in a week. Nine years later, the researchers have done brain scans of participants to measure their size. The researchers realized that those who reported walking around between 10 and 14 miles a week had a volume of more gray matter compared to the pax that they walked not the same. While walking over that distance is not shown to have additional beneficial effects.
After four years, all participants underwent some tests to see if they developed dementia or cognitive impairment. 40 per cent of them had actually developed some form of cognitive impairment. But scholars have pointed out that in larger camminatorin the risk of experiencing memory problems was halved.
As the study conducted by the United States'National Institute on Aging and lasted 20 years, followed by similar surveys in other European countries, what has emerged is that there is a relationship between the decline of memory and the board. The countries in which they work longer are the ones where you have obtained the best results in a simple memory test.
The test was simple to overcome: a list of 10 words to remember and immediately after 10 minutes. The maximum score was then 20. The country has recorded the best average score (11) are United States, Among the worst instead of the listed 'Italy and France (7 points) and Spain (6).
It remains unclear whether there is indeed a relationship cause-effect between the board and the decline of memory. And even if there is no need to explain the relationship which aspects of working life are those that protect us from dementia: relationships, increased physical activity also need to get to the office every day, the problems to be solved ...?
Regular exercise and a job, or at least a stimulating activity that takes trained intellect, however, seem to be two effective Weapons of prevention against the loss of those faculties without which the retirement age may be far less rosy as we like to imagine.

Posted: 16 Oct 2010 07:23 AM PDT
Source_MKini:How many M'sians are there in Singapore? by Leong Sze Hian
The 10th Malaysia Plan revealed in June announced a Talent Corporation to headhunt Malaysians abroad with the skills to drive economic growth based on innovation and entrepreneurship.
Prime Minister Najib Razak (below) said last week that the body will start work in January.
So far, however, Malaysia has had little success in getting its best people home. Two programmes in the last 15 years have drawn fewer than 1,000 respondents, according to The Straits Times Singapore on Oct 14. Since Singapore is probably the country with the most Malaysians, it is perhaps a good starting point.
The Singapore Census of Population 2010 Advance Census Release revealed some surprising statistics about Malaysians in Singapore.
It says about 1 in 4 (23 percent) of the resident population – Singaporeans and permanent residents (PRs) – were not born in Singapore. Of that 23 percent, about half (45 percent) were from Malaysia.
The population of Singapore-born residents dropped from 81.9 to 77.2 percent from 2000 to 2010, ie from 3.3 to 3.8 million.
The non-Singapore-born population rose from 18.1 (592,000) to 22.8 (859,000) percent.
What the census does not say is how many of the 386,000 Malaysian-born residents are Singapore citizens and how many are PRs.
Malaysians everywhere
Out of the total population of 5.08 million, Singapore has 3.77 million residents, of which 3.23 million were Singapore citizens and 0.54 million were PRs. This means that about 4 in 10 are not Singaporeans.
In this regard, what are the corresponding statistics for Malaysia?
According to Wikipedia, Malaysia has 10 to 20 percent foreign workers, the exact figure being uncertain due in part to the large number of illegal workers. There are a million legal foreign workers and perhaps another million unauthorised foreigners.
Sabah alone had nearly 25 percent of its 2.7 million population listed as illegal foreign workers in the last census. Sabah NGOs estimate that out of the 3 million population, 2 million are illegal immigrants.
As Singapore does not allow dual citizenship, Malaysians who take up Singapore citizenship will have to give up their Malaysian citizenship.
In this connection, how many of the 40,000 new citizens and 140,000 PRs in the last two years were Malaysians?
The majority of the increase in PRs comprise immigrants from Malaysia and the Indian subcontinent. The ethnic Chinese PRs in Singapore predominantly hail from Malaysia.
Over the 10-year period, the number of Malaysia-born Chinese in Singapore (PRs and Singapore citizens combined) went up by 81,000, while that of China-born Chinese rose by just 13,000.
Perhaps all Malaysians who have given up their citizenship could be encouraged to return by offering them Malaysian citizenship again or allowing dual citizenship.
Some notable countries that allow dual citizenship are the United States, France, Canada, Italy, New Zealand, Switzerland, Sweden, United Kingdom.
LEONG SZE HIAN's late father moved from Kuala Lumpur to Singapore in 1952. Since he was born in Singapore in 1953, there may be some confusion as to whether he was conceived in Malaysia or Singapore.
Who's afraid of an Islamic party in Italy?
Posted: 16 Oct 2010 07:09 AM PDT
The news ten days ago, but is expected to be discussed. At least until elections scheduled in May 2011. WhyAbdel Hamid Shaari, Chairman of the Islamic center in Viale Jenner in Milan, the seat in front of which up to two years ago, hundreds of faithful were forced to pray along the pavement (with some inconvenience to the residents), announced that the government came to present a new list of civic immigrants. We will call the new Milan.
He has not been enough to specify that it will not be "a list Islamic but secular" and will not be a political movement against the Italians "to prevent it was immediately branded - rightly or wrongly - as the first Islamist party in Italy. So much so that the President of the Lombardy Regional Council, the Northern League Davide BoniHas blurted"It 's a pericolisissima comes to discrimination on the contrary."
Toni perhaps exaggerated, but concerns not be underestimated. Why should in theory be present today in the political parties to take on their shoulders some of the legitimate demands of foreigners in Italy, thus avoiding the proliferation of parties based on sectarian or ethnic origin, as already happens without great success in other European countries. Will, the traditional parties, the power to renew and expand its basin to foreign election? The question, to avoid the risk of the proliferation of ethnic or sectarian party, it is this.
But once admitted to running for local elections, on what constituencies could have an Islamic party? According to a calculation made by Republic, The Milanese of foreign origin who have obtained Italian citizenship and thus voting rights would be about 11 000 out of a total of 208 000 foreigners officially registered, which could add 28 000 citizens from EU countries that can make application form to vote in local elections. So, in a city of over one million inhabitants, the list of immigrants would be targeted by about 40 000 potential voters.
But not all immigrants will be drawn from a list that has its roots in an Islamic center and is likely to gather consensus, if he can take votes, only foreigners loyal to the religion of Mohammed. Not to mention that even within the Muslim community does not everyone agrees. Sergio Pallavicini Yayha, Imam of the mosque in Via Meda to Milan, just a year ago Panorama.it stated which "believers of every religion should be able to participate in political life, but the creation of confessional parties in Italy in 2009 seems artificial from the point of view, politically and religious."
More or less the same view expressed in recent days, at the end of 2010, the provincial coordinator of the PDL, Romano La Russa, Explaining that it is not necessary, "an Islamic party to support instances of immigrants."
Perhaps both are right. If we look beyond borders, indeed,in the EU of
Islamic parties
There are only two in Germany, one in Holland, one in Spain and one in France, active since 1997. But in all cases do not have much political weight. Sign that in the secrecy of the voting booth, a party that is directly inspired by the principles of the Koran does not even like the Muslims of Europe. At least for now.
Posted: 16 Oct 2010 06:55 AM PDT
Saturday, 16th October 2010 – As early as 6.30 am, I was already out of my house. I had earlier told 3 other volunteers who was supposed to come along, that we'd be making a move from the center by 6.45 am and I also reminded them to be punctual. By the time I got to the center (which is just about 5 minutes drive from my house), 2 of them were already there. We only had to wait for one more, and she too arrived on time.
We made it to TLDM at 8.15 am and managed to set up our booth before 8.30am when the exhibition was supposed to officially start. Since the event was co-organised by TLDM, JAKIM and Malaysian Aids Council (MAC), and MAC themselves set up their own booth, I didn't bother to bring along any posters related to HIV per se. Besides many of the posters we have, we got from MAC. So why display the same thing, huh?
I decided to just display our buntings, brochures, bookmarks and 2 posters which I got done just this week… one on what may go through the minds of HIV+ people… "From negative to positive – Breaking down barriers in the mind"; and the other poster describes the kind of activities/services that we do.
There were quite a number of exhibitors – other than Buddies and MAC, there were booths representing Jabatan Kesihatan, Jabatan Kebajikan Masyarakat, Majlis Agama Islam, Pertubuhan Komuniti Intan (PKI), PDRM and of course, the navy themselves.
And oh, not forgetting, Agensi Anti Dadah Kebangsaan (AADK) who came in their bus…
The exhibitors were also offered for a tour of one of their surveillance vessels, the KD Perantau. They organised 2 trips, so the exhibitors could take turns to man the booths.
Anyway, usually during exhibitions, we would have extra brochures to bring back. This time we finished ours before the exhibition ended at 4 pm! And the navy personnel who came to visit did seem a lot more interested in what we do.
I also found it very heartening that 2 JAKIM ladies showed interest in what we do. They have it seems, visited PLHIVs at shelter homes, and they found it interesting that we Buddies visit the families at the PLHIV's own homes.
Unlike the usual exhibitions where we'd get the volunteers to work in shifts to man the exhibition booths, it wasn't an option for this exhibition as it took almost 1 1/2 hours to get from Ipoh to TLDM. We came in just one car… just the 4 of us, so the same 4 had to be on duty the whole day.
It was rather tiring, but based on the responses we got, it was worth the trip. By 4 pm sharp, we packed up and made a move. For the next 1 1/2 hours, the 3 volunteers could just sit back and relax (and sleep in the car)… while I… still had to concentrate on the road!! Sigh.. the "perks" of being the chairperson…
Banyak Hotel Dikesani Guna Ramuan Tidak Halal
Posted: 16 Oct 2010 07:11 AM PDT
K
uantan - Beberapa hotel di daerah Cameron Highlands yang memohon logo halal tidak prihatin dengan penggunaan bahan masakan di premis mereka kerana masih menggunakan bahan tidak halal.
Penolong Pengarah Pengurusan Halal, Bahagian Penyelidikan, Jabatan Agama Islam Pahang (Jaip), Noridzuan bin Abdul Manan berkata, pemantauan Jawatankuasa Kajian Makanan Dan Barang Gunaan Orang Islam Pahang ke beberapa hotel di daerah itu mendapati tahap kesedaran dan keprihatinan pihak pengusaha hotel terhadap standard halal perlu dipertingkatkan.
Menurutnya, walaupun kesedaran untuk mendapat sijil halal adalah tinggi tetapi kefahaman terhadap standard halal kurang memuaskan.
"Lebih mengejutkan ada dapur hotel yang menggunakan produk terutama sos salad yang jelas mengandungi alkohol dan tidak dibenarkan penggunaannya sama sekali bagi maksud persijilan halal," katanya kepada Sinar Harian, semalam.
Beliau berkata, pihak jawatankuasa halal mengingatkan pengusaha hotel mengenai garis panduan yang wajib dipatuhi jika mereka berhasrat memohon sijil halal.

Katanya, memang ada pelbagai pilihan sos yang digunakan sebagai ramuan sajian tetapi pihak hotel perlu menukar produk yang tiada perakuan halal kepada produk yang diperakui halal dan suci.

Bagaimanapun, katanya, tidak ada masalah untuk mendapatkan jenama yang mempunyai sijil halal di negara ini kerana banyak pilihan yang terdapat di pasaran.

"Kita nasihatkan supaya pengurusan hotel perlu bijak memilih produk yang tidak dikilangkan di Malaysia seperti bahan-bahan di dalam tin serta ramuan yang digunakan untuk penyediaan masakan barat," katanya.

Lawatan pemeriksaan dan pemantauan disertai 14 pegawai Jaip, Jabatan Kesihatan Cameron Highlands, Jabatan Perkhidmatan Veterinar Cameron Highlands dan Pejabat Perdagangan Dalam Negeri Koperasi dan Kepenggunaan Daerah Raub.

Sementara itu, Noridzuan kesal kerana ada pengusaha hotel yang masih keliru mengenai status persijilan yang dibenarkan Jaip dan Jabatan Kemajuan Islam Malaysia.

"Masih ada pengurusan hotel yang keliru mengenai status sijil halal dari pihak swasta sedangkan sijil berkenaan tidak sah.

Menurutnya, di antara aspek utama yang perlu dicapai oleh pihak hotel ialah memastikan semua bahan atau ramuan yang digunakan di dalam penyediaan semua masakan dan minuman diperakui halal oleh badan yang diiktiraf. -SH


Posted: 16 Oct 2010 05:12 AM PDT
Japanese pop group AKB48 on November issue of Bomb magazine…
AKB48 on Bomb magazine from YeinJee's Asian Blog
Wheelchair Protest At Police Station
Posted: 16 Oct 2010 05:30 AM PDT
Press conference in Brickfields
NEARLY TWO DOZEN animal activists made their way to the police station to express their outrage and condemnation over a picture that has been wildly and widely circulating on the Internet recently where two youths are seen showing their finger and holding a strangled pup by a string.




Cruel and defiant: Just a joke?
The young men are smiling over the camera
PKR Kedah Mahu SPRM Siasat Bekas MB, Exco
Posted: 16 Oct 2010 05:29 AM PDT
A
lor Setar – Pengerusi Parti Keadilan Rakyat (PKR) Kedah, Ahmad Kasim menggesa Suruhanjaya Pencegahan Rasuah Malaysia (SPRM) menjalankan siasatan terhadap dua pemimpin UMNO negeri ini, bekas Menteri Besar, Datuk Seri Mahdzir Khalid dan Ahli Dewan Undangan Negeri (ADUN) Kuah, Datuk Ir Nawawi Ahmad.
"Saya nak minta SPRM siasat pembinaan rumah milik Mahdzir di Pedu yang menelan kos yang agak tinggi, berbanding dua rumah bekas Menteri Besar sebelum ini, Tan Sri Osman Aroff dan Datuk Seri Syed Razak Syed Zain. Tempoh beliau jadi Menteri Besar pun tidak selama mereka," katanya.
Menurutnya, beliau juga mahu SPRM menyiasat penganjuran rumah terbuka sempena Hari Raya Aidilfitri ADUN Kuah sewaktu beliau menjawat jawatan sebagai Exco Kerajaan Negeri, sebelum Pakatan Rakyat (PR) menawan Kedah dalam Pilihan Raya Umum (PRU) ke12 pada 2008.
"SPRM perlu menyiasat siapa yang menaja penganjuran rumah terbuka itu memandangkan ianya dilihat terlalu mewah," katanya.

Sementara itu, ketika ditanya sama ada beliau sendiri akan membuat laporan berhubung dakwaannya itu, Ahmad berkata, beliau mahu SPRM sendiri yang menjalankan siasatan.

"Sebelum ini, Nawawi mencabar SPRM menjalankan siasatan (terhadap pegawai-pegawai di bawah pentadbiran Barisan Nasional) menerusi media.

"Justeru, saya juga menggunakan pendekatan yang sama iaitu agar SPRM menjalankan siasatan terhadapnya berdasarkan laporan media, biar pegawai-pegawai SPRM sendiri yang menjalankan siasatan untuk mendapatkan maklumat lanjut," katanya.

Sementara itu, Ir Nawawi ketika dihubungi menyangkal dakwaan majlis rumah terbukanya ketika menjadi Exco Kerajaan Negeri ditaja pihak tertentu.

Menurutnya, perbelanjaan rumah terbuka itu daripada peruntukan Kerajaan Negeri, UMNO negeri serta wangnya sendiri.

"Seingat saya ketika itu, RM10,000 disediakan untuk menganjurkan majlis rumah terbuka dengan anggaran tetamu antara 3,000 hingga 5,000 orang. Kita jemput semua penduduk Langkawi.

"Exco Kerajaan Negeri diberi peruntukan kira-kira RM5,000 untuk mengadakan jamuan rumah terbuka dan selaku Exco pada ketika itu, pendapatan saya sendiri mencecah RM20,000. Justeru tidak menjadi masalah untuk mengeluarkan wang sendiri bagi menampung perbelanjaan jamuan itu," katanya.

Ir Nawawi tidak menafikan ada mendapat tajaan tetapi dalam bentuk makanan dan minuman daripada beberapa hotel di Langkawi selain sumbangan penduduk setempat.

Difahamkan, peruntukan RM3,000 untuk ADUN dan RM5,000 untuk Exco Kerajaan Negeri menganjurkan rumah terbuka sempena Hari Raya Aidilfitri diamalkan sejak dahulu lagi.

"Peruntukan sebanyak itu memang tidak mencukupi kerana tuan rumah masih perlu menambah wang sendiri, mungkin Kerajaan Negeri boleh mempertimbangkan menambah jumlah peruntukan itu pada masa akan datang," katanya.

Ir Nawawi menafikan penglibatan syarikat operator bekalan air di Langkawi, Taliworks Sdn Bhd sebagai penaja majlis itu.

Menurutnya, hubungannya dengan syarikat berkenaan ketika itu tidak begitu akrab memandangkan beliau selaku Exco Air sering mempertikaikan mutu perkhidmatan mereka.

"Sekiranya penganjuran majlis rumah terbuka Aidilfitri oleh bekas Exco atau ADUN perlu disiasat SPRM, suruhanjaya itu juga mesti menyiasat semua Exco dan ADUN sama ada kerajaan terdahulu atau yang mentadbir Kedah pada masa ini," kata Nawawi.

Sementara itu, Mahdzir yang juga Ketua Pembangkang Dewan Undangan Negeri Kedah, ketika dihubungi enggan mengulas perkara itu. -SH


Anwar: Umno crony is the main contractor for new Palace
Posted: 15 Oct 2010 04:55 PM PDT
New Palace certainly fit for an emperor
KUALA LUMPUR - Opposition Leader Anwar Ibrahim yesterday revealed that the on-going construction of the National Palace in Jalan Duta here was being undertaken by an unlicensed 'dormant' company named Maya Maju (M) Sdn Bhd.
The company, it is understood, is linked to former UMNO Merbok division treasurer, Haji Man bin Mat.
According to Anwar, who is also the former Finance minister, the company was appointed as the main contractor on October 26 three years ago with the original construction cost of RM649 million, awarded by the Works Ministry through direct negotiation.
Anwar said that at the time the contract was awarded by the Federal government, the Malaysian Companies Commission (SSM) had stated the company's status as 'dormant'.
"The main contractor was only re-registered with SSM on August 2008, but the contract was given to the company on October 2007," Anwar, who is also the member of parliament for Permatang Pauh, told reporters at the Parliament lobby.
Anwar also questioned the repeated extensions of deadline for the Palace's completion, which as of now was scheduled to be in February 2011.
"The deadline was agreed between Jabatan Kerja Raya (JKR) and the main contractor is 29 November this year," he said.
Calling on prime minister Najib Razak to explain why the cost had escalated to RM811.2 million from the original cost of RM394 million, Anwar did not rule out "cronyism" playing a part in the Finance ministry's handling of the project.

- Harakahdaily
Temasek wants alternative political website to change name
Posted: 15 Oct 2010 07:17 PM PDT
Temasek CEO Ho Ching (centre), wife of Prime Minister Lee Hsien Loong
SINGAPORE - State-owned investment firm Temasek Holdings said it wanted alternative political news website "Temasek Review" to change its name.
Previously known as The Wayang Party, the website is reported to have changed its name to "Temasek Review" in 2009.
But investment firm Temasek Holdings said it had also been using "Temasek Review" for its annual performance review reports since 2004.
This was according to Temasek Holding's senior managing director and head of Strategic Relation Goh Yong Siang.
In a letter addressed to a Dr Joseph Ong Chor Teck, who is believed to be the website's founder, Temasek Holdings said it had no qualms about the website's mission.
But it added it appeared the website had been capitalising on the goodwill and reputation of investment firm Temasek Holding's name.
A lawyer said a lot would depend on if and when both parties acquired trade mark rights in the name "Temasek Review".
The lawyer, who requested anonymity, said: "Although Temasek Holdings (TH) used the name 'Temasek Review' for its annual performance reports since 2004, it did not register this name as a trade mark until November 9, 2009.
"In other words, between 2004 and November 9, 2009, TH has common law rights in the name "Temasek Review" but it is only with effect from November 9, 2009 that it acquired trade mark rights in the name 'Temasek Review'.
"The Wayang Party changed its name to 'Temasek Review' in 2009. The question is whether it changed its name before or after November 9, 2009."
The lawyer added: "If Wayang Party changed its name before November 9, 2009, TH would have to proceed on a claim for passing off.
"In other words, TH has to prove to the court that it has a reputation in the name 'Temasek Review'; that (website) Temasek Review has misrepresented to the public that its on-line publication originated from or is associated with TH; and as a result of the misrepresentation, TH has suffered damages".
In relation to registering a company with the name "Temasek" in it, Accounting and Corporate Regulatory Authority Singapore (ACRA), in its website, advised that the following is not allowed:
1. Undesirable names
2. Names which are identical to a sole-proprietorship / partnership name or to that of any other company, corporation, limited liability partnership or limited partnership
3. Names which are identical to a name being reserved under the Business Registration Act, the Companies Act, the Limited Liability Partnerships Act or Limited Partnerships Act
4. Names which the Minister has directed the Registrar not to accept for registration, eg Temasek.
Malaysia Chronicle appends below Temasek's letter to Dr Joseph Ong. Temasek Holdings is the investment arm of the Singapore government and magaes a portfolio of about S$200 billion. It's chief executive and executive director is Ho Ching, the wife of Prime Minister Lee Hisen Loong)
Letter from Goh Yong Siang, Senior Managing Director Head, Strategic Relations Temasek Holdings Pte Ltd
The Oct 9, 2010 edition of The New Paper reported that you informed the police that you are the founder of the so-called "Temasek Review" website.
The purpose of this letter is to request, if you are the founder of the website, that the website stops using the good name of "Temasek Review" and that its name be changed.
As is well known, Temasek Holdings (Private) Limited ("Temasek") has been using the name "Temasek Review" for our annual performance review reports since 2004. Electronic versions of the Temasek Review reports also appear on our company website. The Temasek Review is meant for Temasek to share and review our performance annually with our Singapore as well as international stakeholders. The name "Temasek Review" has become well known and is indisputably associated with Temasek.
It also appears from the report that sometime in 2009, a decision was made to change the name of the website from "The Wayang Party" to the "The Temasek Review".
According to the website, its aim is "To provide space for columnists and reader comments from across the political spectrum to foster, facilitate and promote serious debate and discourse ... " and to provide "coverage on socio-political affairs of Singapore".
Temasek has no issue with the desire to foster and facilitate serious debate and discourse and to provide news of socio-political affairs of Singapore. That is the right of every Singaporean.
However, it appears that this has been done by capitalising on the goodwill and reputation of our "Temasek Review" for the website in place of its original name. This is misleading and irresponsible.
The website also claims that its editorial position is based, among other things, "on the principles of transparency, accountability and responsibility ... ".
It should live up to its own words and do the responsible thing to change the name of the website, and not misuse "Temasek Review" for the website. Thank you.
- sourced from TODAY and Asia News Network
Pusat penternakan jin dalam Belanjawan 2011
Posted: 16 Oct 2010 12:46 AM PDT
1Budget + 1Tower + 1Legacy = 1Najib
Posted: 15 Oct 2010 07:27 PM PDT
Richard Loh
The budget as a whole is going to sink the country faster. "Spending without Earning", just to gloss an overall scenic picture and claim a legacy.
"We need to cut subsidies or we will become bankrupt by 2019"
"We have not enough money for scholarship"
BUT
2011 budget
An integrated development project costing RM5 billion, which will include a 100-storey tower,
justification:
"We need it because we can do it"
PM's residence gets RM65 mil facelift
Do you really need this facelift, can this RM65 mil be put into better use for the rakyat?
No toll hike on four PLUS highways for five years, says Najib
But did not tell the truth how much of the rakyat money will be used to compensate the highway robbers? Bear in mind that this compensation will use the rakyat's money "everyone" irrespective of whether you used the toll highway or not.
There are many other items in the budget that benefit not the rakyat but to those you know who. No point grumbling and shout about it. This is what you get from the government you elect.
This budget will get big applause from those who have interest and will gain something in one way or another. But a majority of the rakyat will not be too happy for these kind of short term gain just to garner for votes.
They give you 10 ringgit now but rob you of 100 ringgit later.
Related Stories:
Budget 2011: Slammed for mega-projects, high expenses, silence on deficit
Najib's Budget 2011 the "most irresponsible" and "ultra-kiasu"

...
Budget 2011: Remembered for phallic symbols, cheap undies
Konsensus Bebas: Belanjawan 2011 - positif!
Kor Ming: Biggest budget but no clues how to control deficit.

..
Tony Pua: Why are operating expenses up, development down.

..
VIDEO

Anwar: It's an election budget, no control on debt...
VIDEO

Barisan ministers laud Budget 2011
VIDEO

Muhyiddin: A people-inspired budget
VIDEO

Malaysia economy forecast to grow 5-6% in 2011...
Hand phones now tax-exempt
Subsidy cuts to continue
1Budget + 1Tower + 1Legacy = 1Najib
Budget 2011: A budget for the big boys and civil servants

...
Ibrahim Ali in ICU, to undergo heart surgery on Monday
Posted: 16 Oct 2010 03:30 AM PDT
Ibrahim Ali - overdid it
KUALA LUMPUR – Pasir Mas MP Datuk Ibrahim Ali is undergoing treatment at the Ampang Puteri Specialist Hospital here for a heart ailment, according to Malay rights group (Perkasa) deputy president Abdul Rahman Abu Bakar.
He said Ibrahim, 57, who is president of Perkasa, was admitted to the hospital yesterday and was in the Intensive Care Unit (ICU).
"His condition is stable and he is scheduled to undergo heart surgery on Monday," he said when contacted today.
Abdul Rahman said the hospital only allowed Ibrahim's wife and family members to visit him.
He said Ibrahim had complained of being unwell over the past three weeks and went to the hospital for a check-up yesterday.
Three days ago, the Kelantan royal palace stripped Ibrahim of his datukship.
"After the examination, the doctor advised him to undergo surgery immediately," he said.
Abdul Rahman said that even after being informed of his health condition, Ibrahim attended parliament yesterday to follow the tabling of Budget 2011 by Prime Minister Najib Razak.
He said Ibrahim was scheduled to deliver a speech at the Nusantara gathering of Malaysian Malays and Indonesians living in Malaysia, at the Sultan Sulaiman Club in Kampung Baru this evening.
In view of Ibrahim's health condition, Perkasa would hold prayers at the surau of the De Palma Ampang Hotel at 6.30pm tomorrow, he said. – Bernama
Posted: 16 Oct 2010 12:11 AM PDT
Posted: 15 Oct 2010 09:35 PM PDT