---
So You Think: up for the challenge
Posted: 23 Oct 2010 09:10 AM PDT
With the Cox Plate, run over 2040 metres, won and the title defended, surely the sights are now turned on the Melbourne Cup on 2 Nov 2010, which is over the longer distance of 3200 metres. Will
So You Think
gear up to the challenge? Will the four-year-old stallion fulfil its destiny to become a legend in Australian horse racing history? I think it will. Eight days to find out.
ca-pub-5430283382112812
Sultan Muhammad ke-V Sampaikan Geran Tanah Kepada 114 Penerima Di Gua Musang
Posted: 23 Oct 2010 09:24 AM PDT
1
14 terima geran tanah
GUA MUSANG - Sultan Muhammad ke-V, berkenan menyampaikan geran tanah kepada 114 penerima pelbagai kaum dari daerah Gua Musang di Istana Persinggahan, di sini.
Ketua Jajahan Gua Musang, Wan Mustapha Wan Abdul Hamid berkata, daripada 114 penerima, 13 daripadanya kaum Cina, dua masyarakat India dan selebihnya masyarakat Melayu.
Menurutnya, penerima menerima geran tanah untuk tempoh sama ada 33,66 atau 99 tahun bergantung kepada jenis geran tanah sama ada bangunan atau pertanian serta bergantung kepada penerima sama ada mereka merupakan anak Kelantan atau sebaliknya.
"Walau bagaimanapun kebanyakan geran dikeluarkan dalam bentuk pajakan 99 tahun dalam bentuk dusun, kebun getah atau kelapa sawit, tetapi ada juga tapak rumah pemindahan mangsa banjir.

"Pemberian tanah yang menjadi acara tahunan ini melibatkan semua mukim di daerah Gua Musang," katanya kepada pemberita selepas upacara pengurniaan tersebut, di sini, semalam.

Sementara itu, penerima, Noriah Udin, 52 , dari Kampung Baru Limau Kasturi melahirkan rasa gembira kerana status tanah miliknya selama ini telah pun diperolehi.

Menurutnya, dia tidak dapat menggambarkan betapa gembiranya dia apabila diberitahu tentang pengurniaan tersebut.

"Saya gembira sebab akhirnya tanah yang dipohon untuk mendapatkan geran sejak tahun lalu diluluskan dalam tempoh yang agak singkat. Sekarang saya tidak perlu risau tentang status tanah ini lagi," katanya.

Sementara itu, seorang lagi penerima, Siti Hamidah Md Hasan, 58, juga dari Limau Kasturi, berkata, permohonan bagi mendapat geran tersebut dibuat lima tahun lalu.

Menurutnya, mulanya dia menyangka terpaksa melupakan hasrat memiliki geran terbabit.

"Saya diami tanah ini sejak 1984, dan mula memohon geran sejak lima tahun lalu, saya jangkakan terpaksa keluar dari tanah yang saya diami selama ini kerana tidak mendengar sebarang berita tentang geran yang saya pohon.

"Alhamdulillah, syukur, nampaknya hasrat saya akhirnya tercapai," katanya.


Keys to Sexy Dancing: ATTRACT WOMEN WITH THE RIGHT MOVES! ;-)
Posted: 23 Oct 2010 07:45 AM PDT
At Last, Science Figures Out The Keys to Sexy Dancing
Motion-capture technology allows an objective analysis of which dance moves are most attractive
For Fred Astaire, it was best done cheek to cheek. Madonna made it all about getting into the groove. And Outkast advocated shaking it like a Polaroid picture. Dancing can take many different forms. But which is proven to attract more members of the opposite sex? Science has been silent on the subject until now.
Psychologists at Northumbria University in Newcastle, the U.K., say they have used avatars shimmying to computer-generated dance sequences to pinpoint the moves most likely to win over women, reports
LiveScience
.
So, guys out there! Know your moves before you make a move! ;)





This posting includes an audio/video/photo media file: Download Now
Polis Lepaskan Tembakan Selepas Keretanya Dipotong
Posted: 23 Oct 2010 07:22 AM PDT
G
ara-gara cuba potong memotong ketika memandu kereta,
seorang lelaki cedera di punggung selepas dipercayai terkena tembakan yang dilepaskan anggota polis
.
Dalam kejadian kira-kira jam 1 pagi semalam di Batu 2, Jalan Kuala Krai dekat sini, mangsa yang berusia 20-an itu terpaksa dikejarkan ke Hospital Raja Perempuan Zainab (HRPZ) II akibat kecederaan yang dialaminya dan dibenarkan pulang selepas menerima rawatan kecemasan.
Ketua Polis Kelantan, Datuk Abdul Rahim Hanafi (gambar) berkata, kejadian berlaku ketika mangsa bersama dua rakannya menaiki kereta jenis Perodua Kancil melalui Jalan Kuala Krai.
Menurutnya, sebaik tiba di tempat kejadian, kereta yang dinaiki mangsa dipercayai cuba memotong sebuah kereta Perodua Kelisa yang dinaiki dua anggota polis terbabit.

"Pada masa sama berlaku potong memotong dan secara tiba-tiba anggota polis terbabit dikatakan melepaskan beberapa das tembakan ke arah kereta mangsa. Tembakan itu mengena bahagian punggung dan mangsa mengalami luka," katanya ketika ditemui di sini semalam.

Beliau berkata, pemandu kereta yang dinaiki mangsa kemudian berhenti di tempat kejadian dan anggota polis terbabit kemudian keluar dari kenderaannya lalu memperkenalkan diri sebagai anggota polis.

"Selepas kejadian anggota polis terbabit kemudian melarikan diri dan mangsa kemudian dibawa ke HRPZ II oleh rakannya sebelum membuat laporan di Balai Polis Kota Bharu.

"Sebaik menerima laporan, polis Kelantan membuat semakan terhadap kereta Perodua Kelisa dan mendapati kenderaan itu milik seorang anggota polis yang berusia 28 tahun," katanya.

Menurutnya, anggota polis terbabit bertugas di Ibu Pejabat Polis Daerah Pekan, Pahang dan datang ke Kelantan untuk urusan perbicaraan di mahkamah.

"Polis Kelantan juga sudah menghubungi IPD Pekan dan memaklumkan mengenai kejadian itu," katanya.

Katanya, pihaknya kini mengesan anggota polis terbabit dan sudah mengarahkan tindakan disiplin dikenakan terhadap anggota berkenaan.

"Siasatan akan dilakukan mengikut Seksyen 307 Kanun Keseksaan kerana cuba membunuh. Jika sabitkan kesalahan boleh dipenjarakan sehingga 20 tahun," katanya. -SH


Posted: 23 Oct 2010 06:40 AM PDT
Somehow I'm keen on going back to track. I told Nick about it. Vanessa is encouraging me to go on. But Leonard told me to go against it. Mummy just reminded me that my doctor once told me to avoid staircases as much as possible. And it was because the newspaper article she read today about a torn ligament after this middle aged woman who ran and heard something torn. She couldn't lift her leg let alone walk and complete the race she was in.
Am I too ambitious? I felt that the TNP Big Walk's 5KM was nothing. I wanted to try 10KM. And I didn't purposely train for it. I didnt plan to run the 10KM. I just wanted to walk or no, maybe some brisk walking and jogging. I want to know my limits. I feel like i had never tested my limits ever since I put down the sports for good since 2003. 7 years since i really train and compete. I miss this feeling, the adrenaline rush through my whole body. The very moment your waist brushes past the finishing line. The moment you step up and receive the gold medal. I did mention I didnt like gold as a whole. But receiving gold medals and trophies are exceptions.
The trophies at home are now eating dust. I want a glass cupboard to display all of them. Reminiscing those days I got medals and everyone at the stadium cheering for our team.
i miss track. but am i ready for it? do i have time for it?
Filed under:
Daily Reports
Posted: 23 Oct 2010 06:15 AM PDT
I haven't blogged about Pebbles my dog for quite a bit. Nothing really new to mention. She's still the same cute little doggie with the diva attitude who thinks she's the queen of the house. Her fur was getting to be a little too bushy and she was feeling kinda uncomfortable, what with the recent heat wave we've been having.
So today, just before I went out looking for
muscle building supplements
, wifey and me took her to the groomers. Unfortunately we took her out too early and her regular groomer wasn't even opened yet. Not wanting to wait around for too long, we took her to another nearby groomer, one that I wasn't too fond off cos the last time I sent her there, they didn't do such a good job.
But since we were already out and didn't want to have to send her back home, I decided to just give this groomer a second try. Well, it turned out that they did a better job this time round but heck, they were pretty expensive. It cost us RM80.00 for her session. Good grief, my haircut costs me RM10.00 and this little diva dogs haircut cost a heck of a lot more! It's a good thing we only send her once every two to three months.
Well, she's had her haircut and it's really short, so much so that she looks more like a little lamb than a Shih Tzu ... LOL! I almost didn't recognize her at all when I went and picked her up. Without that scruffy fur of hers, she's now so light that she's running around and jumping about everywhere in the house. She always becomes a little bit naughtier after her grooming sessions. Must be her way of getting back at us for shaving of her scruffy but lovable little locks :D
Here's a picture of her taken last week and one just after her grooming session today. Doesn't she look like a little lamb?
Before
After ... the little lamb :D








But she'll be back to looking like her scruffy self in no time cos her fur grows pretty fast :D
.
Invitation To The Launch Of BERSIH 2.0
Posted: 23 Oct 2010 06:15 AM PDT
In July 2005, Bersih started as the Joint Action Committee for Electoral Reform to push for a thorough reform of the electoral process in Malaysia. BERSIH was officially launched on 23 November 2006 in the Malaysian Parliament building lobby.
That historical launching was witnessed by poitical party leaders, civil society groups and NGOs, including PKR president Dr Wan Azizah Wan Ismail, PKR vice-president Sivarasa Rasiah, DAP Secretary-General Lim Guan Eng, DAP National Publicity Secretary and MP for Seputeh Teresa Kok, PAS deputy president Nasharudin Mat Isa, PAS Youth chief Salahudin Ayub, PSM Secretary-General S. Arutchelvan, Malaysian Trade Union Congress Syed Shahir Syed Mohamud, WDC executive director Maria Chin Abdullah and SUARAM executive director Yap Swee Seng.
Online media
portals
have been speculating that recent developments seem to hint at an early polls. The following invitation from
Dato' Ambiga Sreenevasan
, Chairperson of the Steering Committee of BERSIH 2.0 to members of the public to unite and advance electoral reform is most timely.
Please read the following and spread the word. Please be there if you are in KL on that day.
______________________________

UNITE AND ADVANCE ELECTORAL REFORM
We, the BERSIH 2.0 steering committee, invite your organisation to join and unite with us to advance clean and fair elections in Malaysia. Much still needs to be done and Bersih 2.0 needs your support and help to make the mission come true for a democratic Malaysia.
BERSIH 2.0 believes that it is only when elections are clean and fair, can citizens determine their own destiny and expect holders of public office to act accountably and effectively. The road to electoral reform is part and parcel of the democratic process to put into place the rule of law, human rights protection, good governance and sustainable development in Malaysia. As citizens we can make this our reality.
The key issues of electoral reform include
1. A complete revision of the electoral roll to ensure that the existing irregularities are removed and a roll with full integrity is in place.
2. The use of indelible ink (as is done in Indonesia and India) to prevent multiple voting.
3. The reform of postal voting to abolish the existing separate electoral roll for postal voters and to make it flexible for all voters, at home or abroad, with valid reasons to opt for postal voting.
4. Free and fair media access for all contesting parties, which should include: (a) free access to state-owned media especially television and radio; (b) fair paid access (political advertisement) to private media; and (c) provision of the right of reply for all contesting parties and personalities who are covered negatively in news reports.
5. A meaningful minimum campaign period of 21 days.
6. Fair and professional practices in constituency redelineation exercises to minimise malapportionment, gerrymandering and consequent disproportionality in seats and votes.
7. Automatic registration of all eligible voters.
8. Reduction of the voting eligibility age from 21 to 18 years old.
9. Reform in electoral financing to ensure transparency and limit the influence of money politics.
10. Administrative neutrality of all levels of governments before, during and after general and by-elections for the federal and state legislatures.
11. Affirming the right of all students of 18 years and above, to participate in politics inside and outside campus.
Bersih 2.0, whilst acknowledging the importance of the reform agenda of Bersih, is now relaunched as a fully non-partisan coalition of civil society groups. It is a movement of ordinary citizens asserting the right of all, to clean and fair elections as guaranteed by law. We must ensure our votes and voices count.
We, therefore, warmly invite you and your organisations to join us and extend your full support to ensure that the next election and future ones will be clean, fair and democratic.
The details of the launch are as follows:
Date: 10 November 2010 (Wednesday)

Time: 8.30 p.m. – 10.30 p.m.

Venue: PJ Civic Hall, Jalan Yong Shook Lin, Petaling Jaya.

Please bring your members and friends to the launch.
You can contact Nurul at 03-77844977 for more information. If you have not joined BERSIH 2.0 as a member, we have enclosed a membership form for your action.
Yours sincerely,
Dato' Ambiga Sreenevasan
Chairperson
The Steering Committee of BERSIH 2.0 comprises:
Dato' Ambiga Sreenevasan, (Chairperson), Andrew Khoo, Arumugam K., Dr Farouk Musa, Haris Ibrahim, Liau Koh Fah, Maria Chin Abdullah, Richard Y W Yeoh, Dr Toh Kin Woon, Dr Wong Chin Huat, Yeoh Yang Poh and Zaid Kamaruddin.
____________________________________________________________________________________
BORANG KEAHLIAN
Kami, ___________________________________ (nama organisasi) bersetuju untuk menyertai BERSIH 2.0 sebagai ahli.
Nama:
Jawatan:
Tandatangan:
Maklumat untuk dihubungi:
Tel. pejabat:
Faks:
Emel:
No. tel bimbit:
Tel: 603 77844977
Fax: 603 77844978
Email: empower05@gmail.com
_______________________________

Your support to this movement is vital and will make a difference to our nation. Thanks!
For further reading:
Electoral Reforms Needed by Dr. Mavis Puthucheary
What is Electoral Reform?
Electoral Reform - Wikipedia
Kenderaan Terbakar Lagi, Seorang Peneroka Rentung
Posted: 23 Oct 2010 06:00 AM PDT
M
ayat Peneroka Rentung Dalam Ladang Sawit
JEMPOL: Seorang lelaki berusia 60 tahun, peneroka Felda Raja Alias 1 di sini maut dalam satu tragedi misteri apabila kereta yang dipandunya terbakar di satu lorong terpencil dalam kebun sawit dekat rancangan Felda itu pada pukul 9.30 pagi Jumaat.
Menurut Ketua Polis Daerah Jempol Supreitendan Mohd Sabri Muhamad, mayat Abd Aziz Hashim ditemui rentung dalam kereta Proton Iswara yang sudah hangus dalam keadaan tertiarap di bahagian pemandu. "Kematian Abd Aziz diklasifikasi sebagai kes kematian mengejut kerana tidak ada unsur jenayah yang ditemui buat masa sekarang," katanya.
Katanya, ada saksi yang mendengar letupan kuat dari kawasan itu yang terletak kira-kira 1.5 km dari jalan utama.

Ketika disiasat, kereta mangsa telah pun terbakar, katanya.

Mayat Abd Aziz dihantar ke Hospital Jempol untuk bedah siasat. - BERNAMA

Ulasan GB

Ada sesuatu yang meresahkan rakyat mutakhir ini - iaitu - di dalam beberapa kes yang melibatkan kemalangan kenderaan jalanraya terutama kereta, didapati kebanyakannya berkesudahan dengan kereta "terbakar".

Banyak pihak kini meletakkan terhadap wujudnya hubungkait penggunaan minyak RON95 dengan kebakaran kenderaan yang berlaku itu.

Berikut ialah beberapa insiden kebakaran yang berlaku mutakhir ini.




Walaupun setakat ini belum ada sebarang bukti untuk mengesahkan wujudnya hubungkait diantara kebakaran kenderaan dengan penggunaan minyak RON95, namun ianya perlu sangat diberikan perhatian oleh pihak berwajib.






NEP: Umno's tool to keep Malays 'poor' and 'weak' and Umnoputras rich!!!
Posted: 23 Oct 2010 05:17 AM PDT
On 30 June 2009,
Bernama
reported Najib as saying:
Of the RM54 billion in shares allocated, only RM2 billion worth of shares were left in the hands of Bumiputeras and the total Bumiputera equity was only 19.4 percent, far from the targeted 30 percent 19 years ago.
Note
: The NEP, put in place in 1971, officially ended in 1990, but many of its programmes are still being continued.
On Sept 02, 2010, The Malaysian Insider reported:
Isu IIF: Kenyataan Rasmi ILMAM
Posted: 23 Oct 2010 04:22 AM PDT
U
mat Islam di seluruh dunia khususnya di Malaysia baru-baru ini telah dikejutkan dengan satu penganjuran pertunjukkan fesyen yang mana secara jelas telah menghina Islam dan Rasulullah s.a.w.
Pertunjukkan fesyen ini telah menggunakan nama Islam tetapi langsung tidak menepati cara pemakaian Islam bahkan mempamerkan satu tindakan mencemarkan kesucian Islam.
Apa yang dikesalkan adalah penaung kepada pertunjukan fesyen ini yang merupakan isteri kepada Perdana Menteri Malaysia sendiri iaitu Datin Seri Rosmah Mansor yang beragama Islam.
Pertubuhan Lepasan Mahasiswa Mesir Malaysia (ILMAM) dengan dukacitanya melahirkan rasa kesal yang tidak terhingga terhadap penglibatan Datin Seri Rosmah sebagai penaung kepada IFF yang juga merupakan seorang muslimah khususnya dan kesal terhadap penganjuran program ini secara umumnya.
Adakah umat Islam belum cukup terhina dengan pelbagai siri pencemaran dan pengkhianatan barat terhadap Islam dengan terbitnya karikatur-karikatur yang menghina Rasulullah s.a.w? Adakah kita puas melihat Islam dipermainkan begitu sahaja dan banyak lagi syubhat-syubhat yang telah dimainkan oleh musuh Islam untuk menghancurkan maruah Islam? ILMAM melahirkan satu kebimbangan terhadap kepimpinan negara yang tidak prihatin terhadap isu ini. Ini secara jelas adalah satu perancangan jahat musuh Islam untuk merosakkan pemikiran umat Islam di mana sahaja mereka berada.

ILMAM dengan ini menyeru kepada seluruh umat Islam untuk membantah dan mencela IFF ini dengan apa jua cara khususnya para ilmuan Islam yang berada dalam kerajaan Malaysia atau parti pemerintah agar turut sama bangkit membantah dan tidak menjadi 'Syaitan Bisu'. Ingatlah firman Allah s.w.t:

"Wahai orang-orang yang beriman kenapah kamu menuturkan apa yang kamu tidak lakukannya? Sungguh besar kemurkaan Allah pada kata-kata kamu yang tidak dikotakan!"(Surah As-Sof:2-3)

ILMAM juga menyeru agar pihak yang terlibat agar segera bertaubat dan tidak lagi mengulangi kemungkaran ini. Setiap individu umat Islam harus berhati-hati dalam setiap tindakan kerana kemungkinan tindakan tersebut akan dikira sebagai perkara yang membatalkan syahadah tanpa disedari walaupun apa yang dilakukan itu tidak berniat untuk menghina. Semua pihak terutama pihak yang berkuasa haruslah insaf dan sedar akan tanggungjawab masing-masing untuk menjaga agama dan kesucian aqidah Islam. Ingatlah pesanan Baginda Nabi Muhammad s.a.w bahawa Islam itu berada di tempat paling tinggi dan tiada sesuatu pun yang lebih tinggi daripadanya.

Ustaz Mohd Azizul Hisham bin Zulkifli
Presiden,
Pertubuhan Lepasan Mahasiswa Mesir Malaysia (ILMAM)


Thomas Carlyle's theory of history as the arena of heroic individuals
Posted: 23 Oct 2010 03:52 AM PDT
Thomas Carlyle : "History is the arena of heroic individuals"
His belief in the importance of heroic leadership found form in his book "On Heroes, Hero-Worship, and the Heroic in History", in which he compared a wide range of different types of heroes, including Oliver Cromwell, Odin, William Shakespeare and the Prophet Mohammed.

The Hero as Man of Letters (Quotes):"In books lies the soul of the whole Past Time; the articulate audible voice of the Past, when the body and material substance of it has altogether vanished like a dream.""A man lives by believing something; not by debating and arguing about many things.""All that mankind has done, thought, gained or been: it is lying as in magic preservation in the pages of books.""What we become depends on what we read after all of the professors have finished with us. The greatest university of all is a collection of books.""The suffering man ought really to consume his own smoke; there is no good in emitting smoke till you have made it into fire.""Adversity is sometimes hard upon a man; but for one man who can stand prosperity, there are a hundred that will stand adversity." (Often shortened to "can't stand prosperity" as an unknown quote.)"Not what I have, but what I do, is my kingdom."
See More in Wikipedia:Thomas Carlyle
The Video That Made Me Exercise
Posted: 23 Oct 2010 03:22 AM PDT
Blogging has helped me to grow in many ways; unfortunately - horizontally too! The hours spent at the laptop has helped to broaden my waist and hips to an all time record high. Honestly, I have put on far too much in the last two years! Friends such as Angela, Freddie, Dr. Murali, Philip, Bee Choo, Pat R. rainstorm and my long suffering husband and sons have tried for ages to get me to exercise but I was still stuck to my laptop until anthropologist/movie producer/multi-talented Dr. Michael Chick told me about Singaporean Sun Ho's music videos.
THIS ONE
reminds me so much of Lady Gaga and
THIS ONE
is also terrific.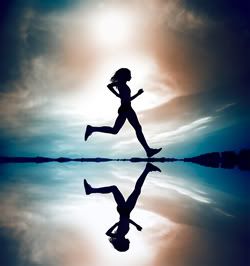 And then when I watched
THIS VIDEO CLIP
, I told myself I am going to get back my abs! Holy abs! From 2005 to 2008, I was a gym freak. I would hit the gym by 7.30am on weekdays after dropping my boy at school. Then I would do my cardio routine for half and hour, attend 8 a.m. classes and then go home. In the evening, I would hit the gym again to swim or for other classes. However, I gradually became lazy when my workout pal Reo transferred his membership to another gym. He was no longer there to push me to increase my reps or my workout. Reo is a very disciplined guy and the best hairstylist in Penang - with a body fat level of less than 15%!!!
By late 2008, I quit my gym when I became a blog addict and got back what I painstakingly worked off pumping iron, running on the treadmill or working furiously at the cross-trainer or bike or stepper and going for all the cardio classes such as kickboxing, salsa and hip hop classes. Shhheeeeesh!! Watching that video reminded me of what I
USED
to look like and a grim reminder of what I look like now :-(...Sighs..
When my friend's husband passed away last week from a heart attack (
may he R.I.P always
), I asked myself this question - Am I at risk with my sedentary lifestyle sitting in front of the computer day and night? I decided to take control of my life and from last Friday, I started exercising everyday.
I am not going to go into the moral, $$ or religious issues related to Sun Ho or her husband. Neither am I going to judge her/them wrt Sun Tech City. But if a woman like Sun Ho who is in her 40's can have those abs and look trim, fit and healthy, by Jove, I am not going to let it all hang loose just because of my blog addiction. I am going to get back what I lost - my figure - and stay healthy and slim so that I do not have health issues at my age.
Honestly, I have to thank the horrible news that we read almost everyday which has left an awful taste in my mouth. I still blog but am not glued to the pc an average of 14 hours a day like in the past!
I also joined a dance class on Tuesday and have been grooving to the beat instead of letting my fingers move over the keyboard. After the first lesson, I felt good even though I ended up facing the wrong walls or facing other dancers cos I turned in the wrong direction. I could hardly walk up the stairs after the second lesson but it sure feels good cos dancing is absolutely tiring, enjoyable and the exhaustion knocks me off by 11pm!
Most joyfully, I am ecstatic that I have since lost 5 pounds :-) and once I put up this post, will be heading for another evening jog to sweat it out. After all, I have lots of fats to burn :-).
I am sure glad and thankful to all my other friends who have been trying to make me exercise!! In the mean time, take care, exercise and swing by later for the next post! Have a lovely evening!
Tempikan Najib Semacam Beliau Yakin PR Akan Rampas Putrajaya
Posted: 23 Oct 2010 03:00 AM PDT
N
Najib macam yakin berlaku rampasan kuasa
KUALA LUMPUR, 23 Okt: Kenyataan Presiden Umno, Datuk Seri Najib Razak Najib bahawa akan pertahan Putrajaya walau terpaksa hilang nyawa seolah-olah yakin akan berlaku rampasan kuasa secara keganasan.
Biarpun Najib tidak menyebut mahu mempertahankan Putrajaya dari dirampas pihak mana, namun dipercayai ditujukan kepada Pakatan Rakyat.
Ini kerana Pakatan Rakyat sejak tsunami politik 2008, telah meletakkan sasaran mahu menguasai Putrajaya menggantikan kerajaan BN.
Menurut Pengarah Pilihan Raya Dewan Pemuda PAS Pusat, Mohd Firdaus Jaafar, kenyataan Perdana Menteri itu juga seolah-olah tidak faham amalan demokrasi di negara ini.

"Najib masih tak faham demokrasi, PR nak kuasai Putrajaya bukan dengan rampasan kuasa. Kita guna saluran pilihan raya, dengan rakyat yang tentukan.

"Mungkin juga dia lupa, yang merampas kuasa secara ganas ni Umno BN. Merekalah yang merampas Perak dari Pakatan Rakyat," katanya kepada Harakahdaily.

Najib ketika menyampaikan ucapan dasar presiden di Perhimpunan Agung Umno berkata, Umno perlu mempertahan Putrajaya dari pihak yang mahu merampasnya biarpun terpaksa hilang nyawa.

Firdaus bagaimanpun turut mempersoal niat Najib di sebalik berkata begitu, atau mungkin mempunyai agenda politik tersembunyi.

"Adakah dia cuba menggambarkan bahawa Pakatan Rakyat ini perampas kuasa secara ganas?" soalnya.

Beliau bagaimanapun tidak menolak kemungkinan, kenyataan tersebut dilontar Najib hasil daripada perasaan takut melihat sokongan rakyat terhadap Pakatan Rakyat.

Tambahnya lagi, ianya juga mungkin menggambarkan Umno tidak boleh menerima jika Pakatan Rakyat benar-benar dapat menguasai Putrajaya.

"Atau Najib mahu ahli Umno bertindak ganas pada Pakatan Rakyat jika dapat menguasai Putrajaya pada Pilihan Raya Umum ke-13 nanti," katanya.

Bagaimanapun tegasnya, Pakatan Rakyat tetap bertekad dan sedang berusaha untuk menguasai Putrajaya, dengan sokongan padu rakyat negara ini.

Sementara itu, Presiden PKR, Datin Sri Dr Wan Azizah Wan Ismail dalam satu kenyataan mahu Najib memohon maaf dan menarik balik kenyataan tersebut yang disifatkan sebagai anti-demokrasi.

"Saya mewakili pimpinan dan anggota KEADILAN mendesak agar Presiden Umno menarik semula kenyataan beliau yang jelas sekali berniat jahat dan bersifat anti-demokrasi.

"KEADILAN juga menuntut supaya Datuk Sri Najib memohon maaf kepada seluruh rakyat Malaysia dan memberi jaminan bahawa sekiranya perubahan Kerajaan Persekutuan benar-benar berlaku dalam Pilihan Raya Umum akan datang, maka Umno BN akan menyerahkan kuasa secara terhormat dan dalam suasana yang aman dan harmoni," katanya. -harakahdaily


How come Malaysian cars don't have Electronic Stability Control/Program (ESP)?
Posted: 23 Oct 2010 01:34 AM PDT
Source_MKini:How come Malaysian cars don't have ESP? By Reuben How
Just several days earlier, about 15 people lost their lives in a bus crash. A little after that, another six people lost their lives in a car which lost control and hit a tree.  
I will safely predict that the roadkill and mayhem on our roads will increase despite good infrastructure and better mantainence. Road safety in developed countries is reaching a consistent standard.
This is true also for recently poor countries like South Korea, who had the worst league tables in the OECD. On an average day, a motorist heading out onto Seoul's roads was 11 times more likely to have a fatal accident than the same motorist in heading out in the heart of London.
What changed? The relevant Korean ministries benchmarked the best in the OECD and looked carefully at their data to implement policies that would eventually save lives of its citizens.
Copying Australia's method of using Safe-T-Cams which monitor the average speed over an entire journey as well as implementing recommendations from the National Highway and Traffic Safety Administration (United States), European New Car Assesment program (Europe) and the Australian New Car Assessment Program (ANCAP), Korea was able to halve the number of fatalities on the road between 1998 to 2010.
By far the most important policy is the mandatory inclusion of the Electronic Stability Control/Program (ESP) in all new vehicles. This is a system where an on board computer regulates engine power and braking to each individual wheel, to ensure that the vehicle does not skid and maintains the intended input from the steering wheel.
ESP reacts faster than a typical driver, and monitors the vehicles condition several thousand times a second. Crucially, the cheapest place to install this technology is on the manufacturing floor, as it cannot be retrofitted to an existing vehicle.
All members (this includes motoring authorities in the EU, United States , Australia and Japan) agree that its inclusion would prevent one in every three fatal car crashes. These countries, in which South Korea is a part of this group, will gradually make it illegal for a new car to be sold without ESP in all member countries. In every new vehicle, ESP adds an extra RM 800 to the total cost of the car.
What's shocking is that Malaysian manufacturers, being partners having access to this technology has never made it standard (or even an option!) on their vehicles. Mitsubishi, which had partnered with Proton in the past was a key player in inventing ESP in the early 1990s.
Perodua, who have a tagline 'Building cars, People first' are partnered with Daihatsu and parent company Toyota, which have made this feature standard on their vehicles for many years.
The Malaysian motoring industry has a responsible body which collects data and monitors its members. To its head, Aishah Ahmad, I have this to say: If RM800 stood in the way of your son or daughter dying in a car crash, what's it really worth?
Posted: 23 Oct 2010 01:30 AM PDT
Here are some pictures that we took while we were at the zoo – Miki's current favorite place in the whole world after Bikini Bottom.  We went there last week and like any other parents, true happiness is making our kids happy. Not that I don't enjoy the zoo, I love any place that has got some wilderness in it… you know like lake garden and J-Card Day Midvalley.
At the entrance of Zoo Negara there's this little pond and I love it so much it looks so natural! I really want something like this in my garden! Daddy Azman take note!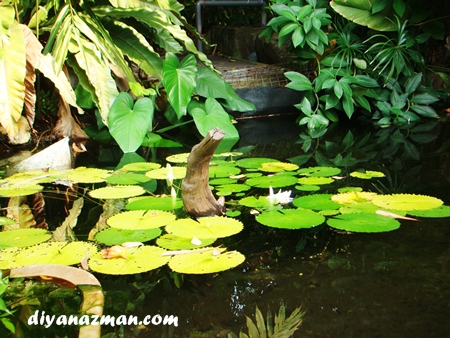 beautiful pond
We bought RM3 worth of some kinda plant from the Zoo personnel that these giraffes seem to love so much. But Miki was afraid to feed them after seeing their black tongue I think! haha!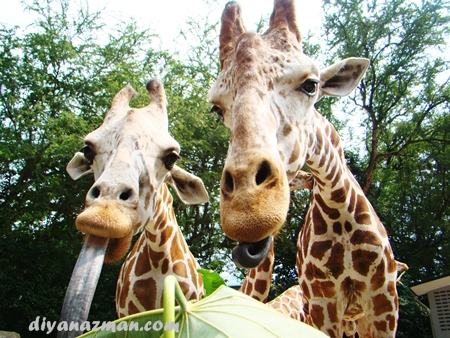 Zirafah aka Giraffe
And here one of the most beloved animal of the little boy – Elephant. Each time he sees this picture Miki would do a dance and chant "Miki nak pergi Zoo! Miki nak pergi Zoo". Kosserr aku nak pergi tiap2 minggu…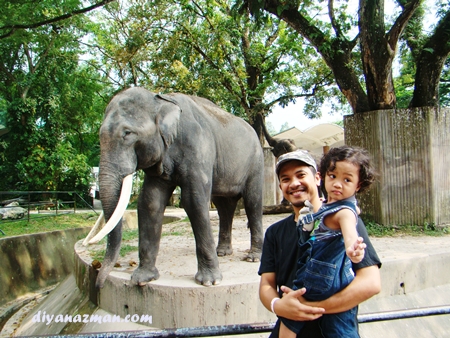 Gajah aka elephant
The best thing about going to the zoo last week was the fact that most of the animals were active! Usually they were all asleep just when we wanted to look at them. I guess somebody has taught these animals that being nocturnal is not very commercial! Check out this video of the tigers fighting or something. Maybe it's the mating season. ( I think it is, I saw Bani acting weird around a cat yesterday). Although the sound is not so clear in the video but their roar was actually really loud and people from other parts of the zoo came hurrying to see what's happening.
Roaarrr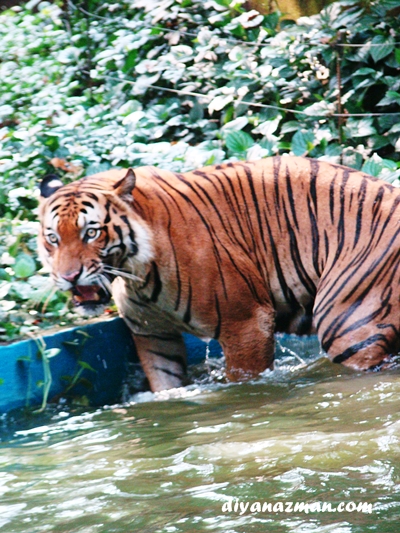 Ko ni nak mating dengan awek buat muka garang2 camni saper nak?? Rimau ni tgh mandi sebelum pergi dating.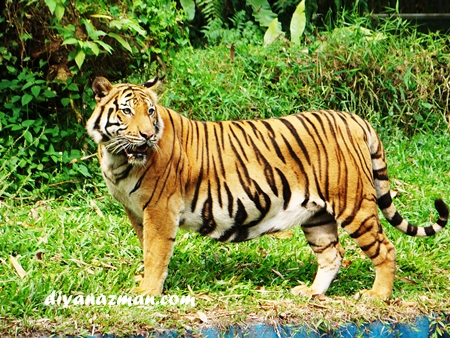 Ni lah awek dia tengah tunggu pakwe tengah panas tak sampai2. Lambat sangat janji Melayu tu yg bergaduh tu!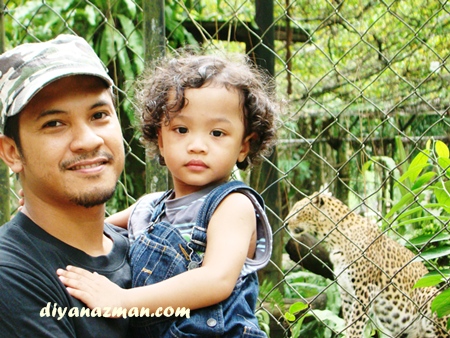 Chomel kan mereka-mereka ini? MINE~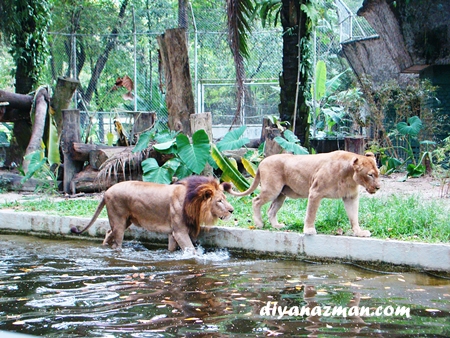 See above pic, even the lion was active. Bercanda di pasiran longkang kekdahnya. Miki loves family institutions, everytime he sees this photo, he would point at the lion and says "Ni Daddy dia!"; the lioness, "Ni Mummy dia!" and when asked about the baby, he says "Baby sleep kat dalam rumah!" pointing at the shelter behind.
Same goes with other animals that has an adult and a young; which he would say "Baby kecik macam Miki!" walaupun anak yang ditunjukkan itu adalah anak badak! *pengsan*
Jalan punya jalan sampai kandang rabbit. Miki climbed the fence and watched the same freaking animals that we have at home for ten minutes. See his Daddy's face dah sangap nak muntah darah bagai. When we asked him to leave he said
"Eiiii….. Nanti rabbit ni takde orang!" Nak je aku campak dia masuk kandang tu pastu ko jadilah orang peneman setia binatang berbulu tu sampai esok pagi!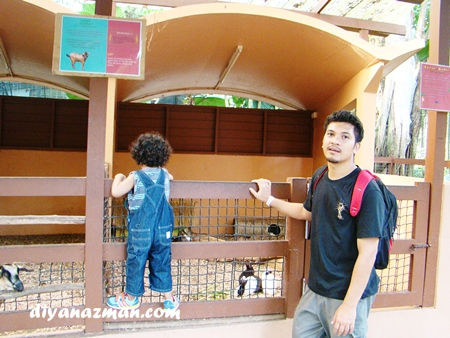 Rabbits' shelter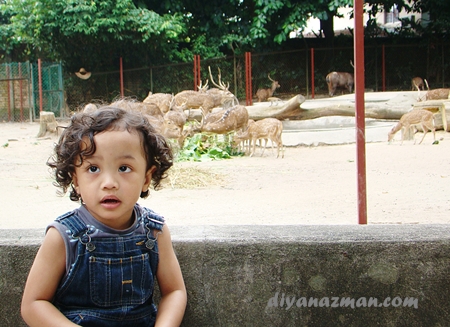 Buat muka rusa Bambi
Apabila masing0masing sudah kebulur we stopped for a picnic. I prepared food from home and we found a nice shady spot for lunch. I made simple Aglio Olio; roasted BBQ meatballs with blackpepper; I also packed some yummy seedless grapes and banana cake for dessert.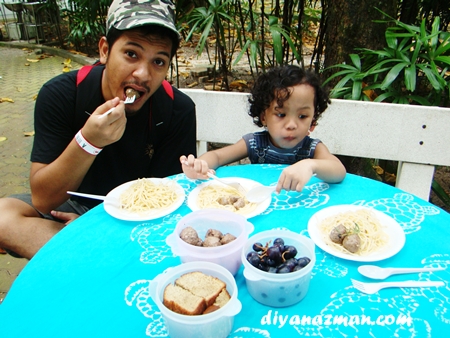 Sorang tengah ngap! Sorang tengah ngop!
Perhatikan alas meja juga bermotifkan penyu sempena lawatan ke pusat haiwan! haha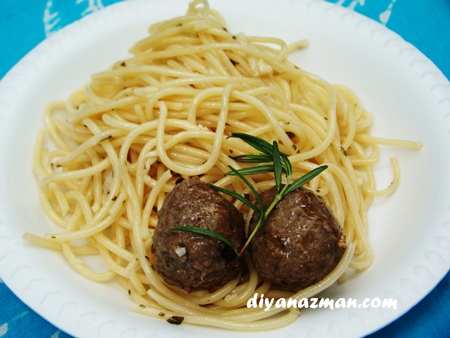 Food Miki loves…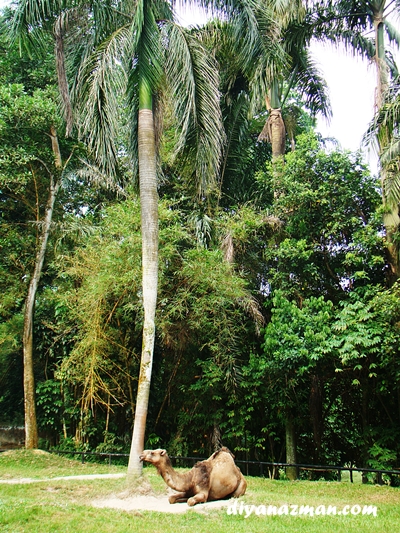 Camel aka Unta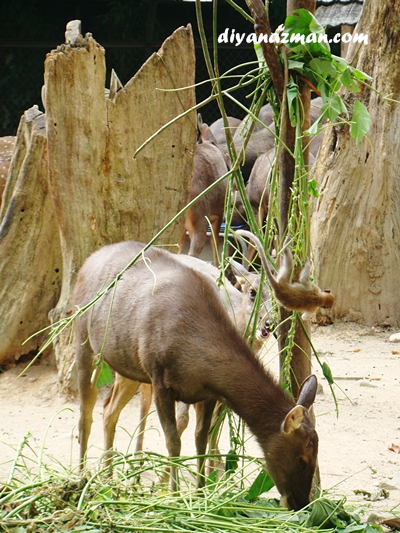 Cheeky monkey! Like literally! The little monkey was goofing around in the deer's section chasing young deers around the place for fun! Miki stared and I see he has got some inspiration of fun to have at Mama Rose's on Monday.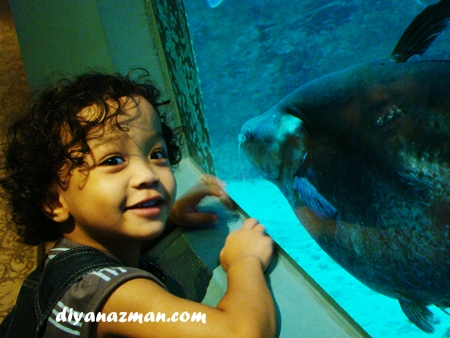 "Here fishy fishy! Here fishy fishy! kata Miki. Kat sini tengok ikan debab ni saja pun dekat 10minit jugak. Oleh sebab aku lenguh nak dukung budak hantap ni aku angkat je dia begini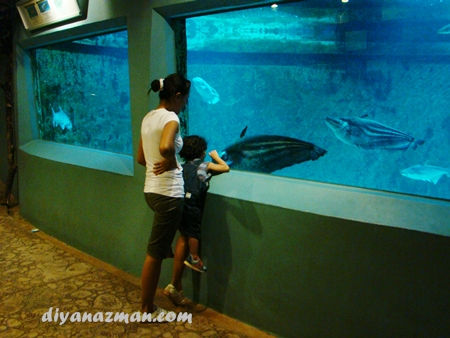 Gantung kat lutut! Style kan aku? Dah la bagi anak makan ais-krim.. haaishhhh
This posting includes an audio/video/photo media file: Download Now
Biographies of Myanmar Muslims under Burmese Kings
Posted: 23 Oct 2010 01:13 AM PDT
Posted: 23 Oct 2010 12:51 AM PDT
Music video of First, by 4minute. Finally, an original Japanese song from the horde of Korean girl groups which are invading J-pop in recent months…
Ok song, typical 4minute stuff, nice beat but not really that catchy. Like the video though… should look interesting when performed live.
ADVERTISEMENTS

4minute – First music video from YeinJee's Asian Blog
This posting includes an audio/video/photo media file: Download Now
Our common destiny, a journey towards true independence
Posted: 23 Oct 2010 12:40 AM PDT
The Utimate Malaysian Debate: Malaysia or Malaysaja? Part 4: (Imagine) Our common destiny, a journey towards true independence.
This is my final part in a four part article series titled 'The Ultimate Malaysian Debate: Malaysia or Malaysaja?'.
However, I hope that all Malaysians will join together with me to write, Part 5: Malaysia Free at Last, as a fitting conclusion to our struggle for a Better Malaysia, soon.
So Let's Imagine……
Fast forward to the year 2020, a new Malaysia has emerged from a long ardours journey that started more than 600 years ago in Malacca, a global cosmopolitan port-polity which is the meeting point of international  trade and civilisations.
Malacca of yesterday is our true nation's legacy, that embodies the spirit of universalism, inclusiveness, tolerance, industry and diversity, that is unfortunately lost to us today, drowned by an exclusive, racial, bigoted, feudalistic and narrow ideology.
This historical 'Spirit of Malacca' has become our redeeming feature for our new tomorrow.
We as a people have reclaimed it as the foundation and true spirit of our nation.
Our struggles and conflicts to fulfil the promise of Merdeka in 1957 have found a final definition and resolution.
Malaysia is now a fully functioning democratic and pluralistic nation that not only has become fully developed politically and economically but also has become a beacon of hope for other developing nations in charting their own unique nation-building path.
We have built a nation based on our common humanity rather than on our different ethnicity.
We have built our nation on a new script that has rejected the old destructive political theatrics.
We have built a sustainable and diversified economy.
We have built stable and independent institutions.
Malaysia has transcended narrow racial interest to shape a confident, humanistic and enlightened society based on our 'Rukun Negara' and universal values.
Article 153 became a liberating rather than an enslaving clause for the Malays.
The 'politics of fear' that used Article 153 as a political instrument to perpetuate a victim mentality by the few ruling elite was reclaimed by the Malays as an instrument for the new 'politics of hope and liberation', that transformed the Malay Mind from fear of losing their identity and economical development to a liberating force that created a confident community with a sustainable economic model.
Article 153 became the fulfilment of social justice objectives, as it was intended by the founding fathers.
The Malays had rediscovered the 'Spirit of Malacca' to become partners with other citizens in celebrating diversity as a source of national identity and empowerment.
We have honoured our founding fathers, and honoured the sacrifices of our fighters for independence along with our soldiers of all races, who fought defending this nation, by living our constitution in a true, equitable and sincere manner.
We have built a strong foundation based on a new 'Contract for a Better Malaysia', that will carry our children forward to an even brighter future.
Our experiences and history has become a lesson for the world in how a determined people can eventually be truly independent in spite of insurmountable odds.
We have become a nation of brothers, a true family of humanity, in a nation called Malaysia and not Malaysaja.
So how did we achieve this monumental task?
What events shaped this outcome?
What happened?
The answers lay in understanding the following historical process and philosophical justification perspectives rather than on a misguided 'Social Darwinism' dilemma inducing theory, which shamelessly used 'the end justifies the means' approach of race-based politics of fear, to undermine a people's aspiration for freedom and liberty.
A Historical Process Perspective — The 'Clash of Opposing Ideas'
A Historical Process Perspective interprets human events as a 'clash of opposing ideas', which is set on a historical development path that has a purpose, a guiding principle, a pattern and a final conclusion to it.
The 'clash of opposing ideas' theme alludes to a dialectic process of — a thesis and anti-thesis producing an eventual synthesis – which will define and shape human entities, for example a nation.
In the case of Malaysia, the path to reach our common national destiny is a journey or clash of two opposing ideas  or interpretation of nationhood, between — a thesis (Ketuanan Melayu, Malay Supremacy) and an anti-thesis (Ketuanan Rakyat, People Supremacy) — that is necessary to create a synthesis (a Better Malaysia).
Therefore, is there a purpose or meaning to all the current racial tensions, political rhetoric, polemics and events plaguing our nation today?
How can we make sense of it? Is there hope for our future? Will things ever change for the better?
The Divergent Narrative of Malaysian History and Destiny
Currently, there exist two opposing and divergent narratives of our history that will shape our destiny. The two narratives are the 'Ketuanan Melayu, Malay Supremacy' and the 'Ketuanan Rakyat, People's Supremacy' worldview.
In the 'Ketuanan Melayu' narrative, it is said (and in one long breath) that, 'because we, the Malays  ( who became dominant after the indigenous people in peninsular Malaysia), were influenced and colonised  by several foreign nations and kingdoms throughout history (including  Kedah which was conquered by a Tamil Emperor, Rajendra Chola and the Siam Buddhist Ligor Kingdom; Bruas, Perak ruled by the Khmer prince Raja Ganji Sarjuna, the Siam Sukhotai Kings and Indonesian Srivijaya empire that colonised part of peninsular Malaysia; Malacca as a vassal state to China's Ming Dynasty, Indonesian Majapahit and the five northern states to Siam Ayutthaya Kingdom by paying tributes (ufti), the Acheh Sultan that ruled Pahang and Kedah; the Bugis from east Indonesia that ruled Johor then Selangor; the Minangkabau from Sumatera that ruled Negeri Sembilan — and due to the closing of the Asia to Europe land route by the Ottoman Empire and the need to search for an alternative sea route — came the Portuguese, Dutch, British, Japanese and then British again before independence) which in spite of experiencing a diversified east and west civilisations' influence that should have made us global in outlook — we instead chose to dwell  inward, playing the role as historical victims that projects blame on others- by focusing  on the indignity of being made a 'pendatang' in our own land, when the British forced  us to welcome other races as new comers or new 'pendatang' to share in the bounty of this land, while we were marginalised in political, education and economic matters, that upon independence, we demanded protection of our rights in the form of a 'Social Contract' — with the intended but never achieved — aim of achieving racial parity due to abuse and corruption, has made 'Ketuanan Melayu' (Malay Supremacy) our  'true and noble cause'.
Meanwhile, in the 'Ketuanan Rakyat' narrative, it is argued in (again in one but shorter breath) that, 'Yes while  we acknowledge the circumstances we found ourselves in at independence that produced a contingent 'special position' for the Malays, that this privilege must not be abused by the few in its implementation and used as a reason to deny all the rakyat, who must be seen as co-partners and not 'pendatang' in a common nation founded on a constitution, the rights to grow and prosper mutually, as we face a globalised and competitive world together, is a natural cycle(phases) of history that demands equality through 'Ketuanan Rakyat' (Peoples Supremacy) to be our 'true and noble cause.'
Regardless of how we choose the narration of our history which becomes the 'truth' upheld by both sides, these divergent narratives must be acknowledged as a necessary process for progress.
Each side believe that theirs is the 'true and noble cause'.
Each side will advocate and defend their cause in a contest and clash of two opposing ideas of nation hood.
Therefore, does this historical process perspective puts everything in context?
Does it gives us the bigger picture of our nation's struggle which will make us transcend all insignificant petty matters (in society, in our family, in our political parties) to forge together confidently because righteousness and history is on our side?
A Philosophical Justification Perspective — Defining the True and Noble Cause
Undeniably, the determining factor or driving force that will shape our nation's historical process outcome, lies in, which of these two opposing ideas  and philosophy of 'Ketuanan Melayu' (Malay Supremacy) and 'Ketuanan Rakyat' (Peoples Supremacy), is the 'true and noble cause'?
Therefore, the most fundamental question or the philosophical justification of our entire debate is, how do we determine which qualifies as the rightful 'True and Noble Cause' for our nation's destiny?
If we choose to rationalise the legitimacy of both causes, then from a humanistic, universal and even Islamic perspective, a cause based on exclusiveness of race can never be justified, become viable and sustainable.
And to proof this point, if we take the race based philosophy in the context that Malaysia is homogenously Malay, then there would not be inter-racial tensions but we would instead have intra-racial tensions.
Meaning that if the Malay and Non-Malay divide didn't exist, then wouldn't there be intra-racial tensions between the Javanese and Bugis or Minangkabau and Achehnese or Boyan and Mendeling and to top it off, between the Indian lineage Malay and the Arab or Turkish lineage Malay?
Consequently, wouldn't all these Malay sub- groupings then would be seeking dominance and supremacy over the other 'Malays', each with their own version of say 'Ketuanan Melayu Keturunan India'(Indian lineage Malay Supremacy) which in fact permeates the ruling party's leadership, past and present?
What is also important is that one of the defining characteristic found in the constitution is that, a Malay is also a Muslim.
Therefore, shouldn't Islamic philosophy and principles apart from- historical, cultural, genetics and Social Darwinism arguments — also be used to philosophically justify 'Ketuanan Melayu' (Malay Supremacy)?
With this we can find, that racism definitely, does not conform to the Islamic 'Common Good Principle' (Maslahah Umum) which demands 'promoting the overall good (maslahat) and avoiding harm (mafsadah) in society'.
Since this principle is aimed at promoting the 'common good' and not an 'exclusive good' of a particular group or race, confirms without a doubt that racism is un-Islamic.
All of these examples go to illustrate the fact that a race-based philosophy is transient and expedient; hence it is impossible and unjust to be used to build a nation and sustain true national harmony.
Here then lies the answer to the fundamental and philosophical justified question of which of the two 'Ketuanan' or Supremacy, is the 'True and Noble Cause', that will drive our nation's historical process to its natural and righteous outcome?
Indeed, history and philosophy is on the side of 'Ketuanan Rakyat'.
In Conclusion
If we choose to see our current events in both — a historical process and philosophically justified perspective — then we can better understand and be assured that the outcome of a better Malaysia, is certainly based on 'Ketuanan Rakyat'.
The dynamics and events of the 'clash of ideas', can sometime make us miss seeing the bigger picture unfolding which traps us in a narrow world view, and so we act defensively, selfishly and irrationally with destructive consequences.
For those who fail or choose not to understand, that there is a historical process and a philosophical justification, to create a synthesis of a better Malaysia, our outcome as a nation would appear uncertain which makes us desperate, delusional, depressed, pessimistic, cynical and inhumane. We are then seen driven by lust (nafsu), ego and a short term view of things and events.
But by understanding, that producing a synthesis of a better Malaysia is the definitive outcome; it will make us rational, calm, constructive, cooperative, optimistic and human.
We are instead driven by wisdom (hikmah), manners (adab) and a long term view of things and events.
Furthermore, it can be agreed that there is an imminent sense or instinct where the political divide of 'Ketuanan Melayu' (Malay Supremacy) and 'Ketuanan Rakyat' (Peoples Supremacy) is reaching a defining and conclusive end soon.
This general sense that the end-game is about to unfold and that our destiny is about to take shape, hangs in the air like a thick cloud.
Even if this cloud turns dark because the 'game' is not played democratically, then this must be seen, just as a temporary — reactionary — interruption of the unstoppable march of history driven by the 'True and Noble Cause' of 'Ketuanan Rakyat' (Peoples Supremacy).
So without a doubt, we have to preserve and be even more resolute in our determination for freedom and justice.
We have to close ranks, be united and continue the good fight to its righteous end.
The politics of fear must be replaced with the politics of hope and liberation.
Therefore, I call upon all true patriots to discuss, print and distribute or email all four articles to everyone you know without haste.
Let us create a constructive engagement climate, where all Malaysians can be set free with the 'truth'.
Spread the word and message of hope that, a new dawn for a Better Malaysia for all Malaysians is approaching.
And God Willing, Our Common Destiny; a journey to true independence and liberty will have arrived.
Hidup Malaysia! Hidup Malaysia! Hidup Malaysia!
COMMONWEALTH GAMES DELHI 2010 Ceremony........
Posted: 23 Oct 2010 12:28 AM PDT
Posted: 23 Oct 2010 12:20 AM PDT
Andrew Aitken "Andy" Rooney (born January 14, 1919) is an American radio and television writer. He is most notable for his weekly broadcast "A Few Minutes with Andy Rooney", a part of the CBS News program 60 Minutes since 1978. He has led a controversial life and you can read more about him
HERE
.
Here's a list of quotable quotes from Andy Rooney which may or may not touch your heart. Have a lovely Saturday afternoon and take care! I am still doing my readings for my next post so do swing by later. Thanks!
___________________________

Lessons from Andy Rooney

I've learned...that the best classroom in the world is at the feet of an elderly person.

I've learned...that when you're in love, it shows.

I've learned...that just one person saying to me, "You've made my day!" makes my day.

I've learned...that having a child fall asleep in your arms is one of the most peaceful feelings in the world.

I've learned...that being kind is more important than being right.

I've learned...that you should never say no to a gift from a child.

I've learned...that I can always pray for someone when I don't have the strength to help him in some other way.

I've learned...that no matter how serious your life requires you to be, everyone needs a friend to act goofy with.

I've learned...that sometimes all a person needs is a hand to hold and a heart to understand.

I've learned...that simple walks with my father around the block on summer nights when I was a child did wonders for me as an adult.

I've learned...that life is like a roll of toilet paper. The closer it gets to the end, the faster it goes.

I've learned...that we should be glad God doesn't give us everything we ask for.

I've learned...that money doesn't buy class.

I've learned...that it's those small daily happenings that make life so spectacular.

I've learned...that under everyone's hard shell is someone who wants to be appreciated and loved.

I've learned...that the Lord didn't do it all in one day. What makes me think I can?

I've learned...that to ignore the facts does not change the facts.

I've learned...that when you plan to get even with someone, you are only letting that person continue to hurt you.

I've learned...that love, not time, heals all wounds.

I've learned...that the easiest way for me to grow as a person is to surround myself with people smarter than I am.

I've learned...that everyone you meet deserves to be greeted with a smile.

I've learned...that there's nothing sweeter than sleeping with your babies and feeling their breath on your cheeks.

I've learned...that no one is perfect until you fall in love with them.

I've learned...that life is tough, but I'm tougher.

I've learned...that opportunities are never lost; someone will take the ones you miss.

I've learned...that when you harbor bitterness, happiness will dock elsewhere.

I've learned...that I wish I could have told my Dad that I love him one more time before he passed away.

I've learned...that one should keep his words both soft and tender, because tomorrow he may have to eat them.

I've learned...that a smile is an inexpensive way to improve your looks.

I've learned...that I can't choose how I feel, but I can choose what I do about it.

I've learned...that when your newly born grandchild holds your little finger in his little fist, that you're hooked for life.

I've learned...that everyone wants to live on top of the mountain, but all the happiness and growth occurs while you're climbing it.

I've learned...that it is best to give advice in only two circumstances; when it is requested and when it is a life threatening situation.

I've learned...that the less time I have to work with, the more things I get done.

By Andy Rooney