---
Constitution can be changed without Royal Assent, thanks to Dr Umno Dr M
Posted: 29 Nov 2010 10:53 AM PST
The Malaysian Insider reported that MCA president Datuk Seri Dr Chua Soi Lek reminded the people not to have any thoughts of changing what had been written in the Federal Constitution as only the Yang di-Pertuan Agong can change it. (Click
here
to read 'Soi Lek: Don't think of changing constitution').
Obviously, Dr 'Porn' Chua lied.

There seemed to be no way out of the impasse except by compromise – which is what happened. The

Rulers

agreed

to the

Constitutional (Amendment) Bill 1983

on the condition that many of its provisions were modified or repealed immediately with the introduction of the Constitution (Amendment) Bill 1984.

The new bill

,

passed in January 1984

, meant that the

King

could now only delay a piece of

non-money

legislation for a month. It then had to be sent back to Parliament with his objections. If the

King

still opposed it in the form in which Parliament then passed it, he could only delay it for another month before it was gazetted as law. The

King

could therefore only delay legislation for

up to two months

before it became

the law of the land

.
DR 'PORN' CHUA, DON'T THINK OF FOOLING THE

RAKYAT

. WE ARE NOW MUCH SMARTER!
about shopping, market and paintings
Posted: 29 Nov 2010 09:50 AM PST
ok guys, this is a personal rantings post (and it is going to be long, i warn you) so if you are not into this kind of thing, skip this! i'm going to talk about my outing yesterday – a review – talking about 2 new shopping malls, food, little penang street market and susan loone's paintings! (heh. maybe fans of susan will want to scroll down and read now).
last sunday i had decided to go to the little penang street market (a market held every last sunday of the month) when i learned that susan loone will be exhibiting and selling her paintings there.  yes, that's right, susan loone,, the malaysiakini reporter. she's a multi-talented lady, you know. she writes so well (reporting) and she paints so beautifully. oh and she also writes poems. wait… later i'll show you her stunning artwork.
ok so the first place i dropped in was… to take lunch, i decided to drop in at the ICT mall food court. it's just right in front of the bus-stop where i get down at komtar! yeah, penang has a new ICT mall, which is said to be like a mini low yat plaza in KL… you know where all computer and tech stuffs are on sale. it was opened, i think, beginning of nov. or somewhere oct. before last sunday, i went there before twice. once to the 1st floor where there are sale of handphones only. handphones and handphones accessories. the other floors not yet opened. the 2nd time i went was during the anti-isa event at komtar walk, with shiela. the food court is not bad. plenty of food to choose from. that time i try the indonesian mee call 'basko'.  i sort of heart of it before but since i haven't try it, decided to try it. basically it is a 'beef noodle'. lots of beef balls. the picture below here is the 'basko' mee.
last sunday, i try one of the dish from the 'little wok' stall. wow! they have so many different kind of dishes (near 50 i think) to choose from. i pick one that is unfamiliar to me… that's why i can't remember the name but i remember the number (on the menu), which is no. 3.  all the mee and rice came in tiny wok. (forgot to take pictures of the cute wok).  as i finished my mee and was about to drink my coffee, i spy 2 of my friends on the other table, so i went over to them and chat with them. they too had the mee/bee hoon from 'little wok' stall.
we were seated near the 'buffet at RM5 per serving' stall, which is a chinese rice stall with dishes. seemed that the patrons can take any dishes they want, how much they want, as long as it is one serving on the plate – all for RM5. there was a long queue! my friend, F, keep saying it is so cheap and how on earth can the seller made money. we saw many people with plates that had dishes as high as a mountain! then i saw a couple taking mountain high dishes on their plate too and they were seated 2 tables away from us… facing me.  since we were being kaypo, watching people taking food, seeing how much they take, i also watched them when they were at the table – like this couple. and you know what i saw?? the lady who took the mountain high dishes, took out a tiffin carrier and put in the big fish she had on the plate into the tiffin carrier!! gosh! some people are so greedy. i guess since they said to themselves as they were allowed to take as much food as possible all for only RM5, they intentionlly take more… to taupau back some! no shame. my friend keep on saying it is very worth it, only RM5 and can have as m any dishes as you like but i said to me it is not worth it since i usually take only 2 dishes (at the most 3) if i do take rice and it'll be less than RM5. anyway, i hardly eat rice when i'm out.
actually we wanted to catch the funeral procession of lim chong eu but F was saying it won't be so fast, so let us wait. we were kind of fascinated with the people who queue up for the RM5 food buffet! then i saw another friend, M, who also wanted to buy the food and called out to her. we spoke a while and i just mentioned to her that we were waiting to see ling chong eu's funeral procession and she suddenly said the procession went pass already. aiyo! and there we were siting there waiting and waiting. silly. so then we decided to go over to the new shopping mall, 1st avenue, which is just next door.
1st avenue was opened only 5 days ago. what? another shopping mall? and next to 2 big shopping malls too – komtar and prangin mall. personally i feel, we don't need another shopping mall. we have so many already. walking around 1st avenue, we realised that there's nothing much new. i mean all shopping malls are more or less same. stores here and there, food court, restaurants here and there. it's not 100% occupied yet though. you know, 1st avenue is just on the left of traders hotel and i understand they will build a linking bridge between traders hotel and 1st avenue. then i also spy linking bridges in between prangin mall and komtar too! wow! people can shop 24 hours (oops. i don't mean that as they are not open 24 hrs. exaggeration lah) at all the 3 major shopping malls, not leaving the malls at all by using the inter-linking bridges.
after 1st avenue, i then decided to go to the little penang street market. i sms dalbinder singh, who had earlier said he wanted to go too and will go at the same time i go. so i sms him that i'll be on my way and can meet him there.
this time i see the market has so many stalls and lots of stuffs. the last time i went… think it was many months ago, there were only a few stalls.  i met so many people i know at the market! the patrons and some of the sellers. 3 of our church friends were there. J, from the lighthouse, selling buns and bread. P, selling antiques items like old coins and JL selling her hand-made brooch made of beads. well this market is actually and 'arts and handicraft' market so most o the items sold are hand-made and the buns, cakes, cookies, etc, of course home-made.
this photo shows the lovely hand-made beads (hair-pins, brooches) done by a friend from church.
susan loone's stall was right towards the end. wow! first time i saw her paintings 'live'. her painting were done on canvass.  she had coloured and black and white paintings.  the big painting (as seen below) went for RM100, which is reasonable, i see, and which i don't mind buying if i have a nice house to hang it (but poor me only staying in a cramped low-cost flat).  i wanted to buy the small framed one but it is only made for wall-hanging, whereas i want it to stand on desk. i bought the postcards paintings from her instead, which is only at RM2 each.
following 2 pictures shows the paintings exhibit by susan at the market.
and the following are the 2 out of the 5  paintings on postcard size that i bought  (these two pictures not taken by me but i grabbed them from the net)

i love her black and white paintings.
oh and if you want to see lots more of her paintings, please visit this site for a slide show of her paintings.
i saw this cute chocolate banana. after i took photo of it, the seller asked if i want to buy. i didn't intend to but my heart is soft, so when asked, i bought lah! bought 3 pcs – just nice, 2 pcs bring back to share with my 2 friends in church.
i also bought an indoor plant for my office to put at my cubicle. it's good to have some green in the office. beside, i need it, to absorb the dry air-con air. i saw one of our vietnamese friend who attend our church at the market and was surprised that she and her sister (who works at tenaganita) were selling some stuffs from vietnam. i bought the kopi-o from them. must try vietnam coffee and see how it taste.  oh and of course something that i never ever fail to buy – ear-rings! 2 ear-rings plus a beaded ring for RM10.
oh yeah i have all the pictures up in my facebook album as usual, so please drop in there to have a look.
Posted: 29 Nov 2010 08:50 AM PST
Korean actress Park Min-young is featuring on December issue of Ceci [Kr] magazine. Photos taken in the City of Paris…
Park Min-young, Ceci, Paris from YeinJee's Asian Blog
Posted: 29 Nov 2010 08:09 AM PST
Merujuk kepada video rakaman diatas adalah disimpulkan bahawa ciri-ciri doktor kerajaan mahupun doktor kat klinik swasta adalah seperti berikut:-
1)Belum check sakit apa lagi dah bagi ubat
2)Patient tanya soalan buat bodo tak jawap
3)Check patient merapu-rapu, sakit kat tempat lain, check kat tempat lain
4)Patient diagnose penyakit dia sendiri pastu doktor iya kan ajerr
5) Muka maintain serious walaupun tahu patient tu tengah purak-purak sakit je bukan betul-betul
6)Walapun cam haremm tetapp pemurah bagi MC berhari-hari
Namun begitu cubalah cari kat klinik mana-mana mahupun hospital mana2 kat dalam dunia ni kalau boleh jumpa doktor yg lebih chomel dari doktor tersebut siap pakai specs bulat kaler pink takde cermin. (Janji bergaya!)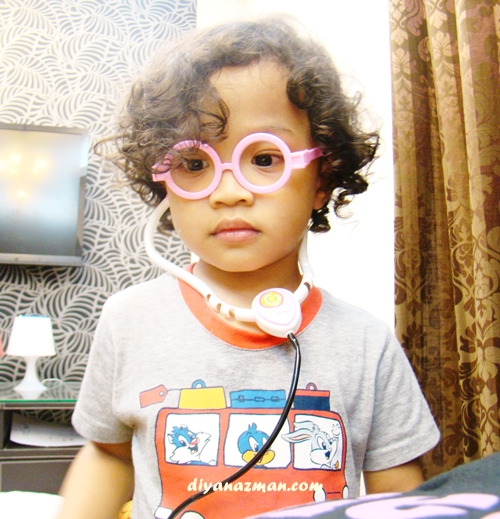 eiii menyampahkan kat doktor-doktor ni semua?! Treat patients macam hampeh je pastu naik sports car! eiii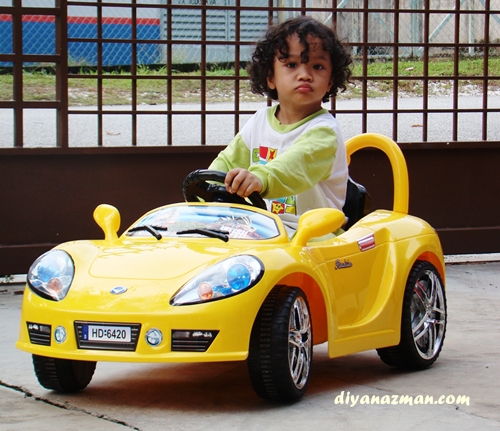 Haha! Just kidding lah you people! Above remote control car is Miki's pre-birthday present. He is turning three in January. Isn't he super adorable?
This posting includes an audio/video/photo media file: Download Now
Ipoh Dogcatchers Learn How It's Done From MBPJ
Posted: 29 Nov 2010 08:00 AM PST
Pix courtesy from MBPJ & PETPOSITIVE
DATELINE: MBPJ HEADQUARTERS, PETALING JAYA

AS MANY AS EIGHT OFFICIALS FROM THE IPOH CITY COUNCIL (MBI) IN PERAK WERE SENT OVER TO THE PETALING JAYA CITY COUNCIL (MBPJ) IN SELANGOR ON A SPECIAL MISSION LAST THURSDAY.

THEY WERE ON A SPECIAL STUDY TRIP TO FIND OUT MORE ABOUT THE SUCCESS OF PETALING JAYA'S MANAGEMENT OF STRAY ANIMALS IN THE AREA.



Memorandum
Posted: 29 Nov 2010 07:52 AM PST
An older woman will never wake you up in the middle of the night & ask you, "What are you thinking?" An older woman doesn't care what you think.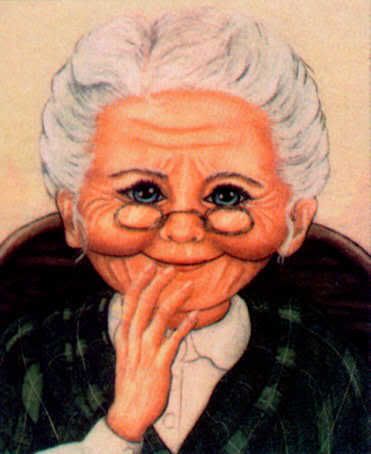 An older woman always carries a condom in her purse. A younger woman is still hoping the guy might have one on him.
The older a woman gets, the stronger her libido gets and the older a man gets, the weaker his libido gets ... which is why nature intended young guys to go out with older women and young women to go out with older men.
An older woman can wear bright red lipstick during the day without looking like she just had an adventure inside a jam jar. This is not true of younger women or drag queens.
An older woman is into free sex! An older woman is almost always already attached to someone, so there's no need to develop a phobia about committing to her. The last thing she needs in her life is another clingy, whiny, dependent lover!
Older women are more honest. An older woman will tell you that you are an asshole if you're acting like one. A young woman will say nothing, just in case it means you might break up with her.
An older woman will never get pregnant and then suddenly demand that the two of you get married. In fact, if you impregnate an older woman, you will probably be the last to know...
Older women have jobs with dental plans. Younger women can't help you when your teeth get knocked out playing hockey.
An older woman will never accuse you of "using her." She's using you.
Older women take charge of the situation. An older woman will call you up and ask you for a date. A younger woman will wait forever, by the phone, for you to call...
Older women know how to cook. Young women know how to dial Pizza Hut Take out.
An older woman will introduce you to all of her girlfriends. A younger woman will avoid her girlfriends when she's with you, in case you get any ideas...
Older women are psychic. You never have to confess to having an affair, because somehow they always know.
Older women often own an interesting collection of lingerie that they have acquired from admirers over the years. Young women often don't wear underpants at all, thus practically eliminating all possibility of a strip-tease.
Older women are dignified. They are beyond having a screaming match with you in the middle of the night in a public park.
Older women are experienced. They understand that sometimes, after 12 beers, a boy just can't get it up. A younger woman may need some time to grasp this fact.
An older woman will never accuse you of stealing the best years of her youth because chances are someone else has stolen them first.
*Posted for humor!!!
Dr M, Rafidah to speak at MEF dialogue tomorrow
Posted: 29 Nov 2010 03:48 AM PST
Shared by jedyoong
UMNO Lapuk. AP 'King + Queen'.
KUALA LUMPUR, Nov 29 — Picture this: Tun Dr Mahathir Mohamad and Tan Sri Rafidah Aziz will be featured at a dialogue here tomorrow, and this will perhaps be the first time they are speaking at a public forum together following the widely-publicised "Merdeka embrace" of the two iconic personalities on National Day in 2005. Dr Mahathir and Rafidah ...
Wikileaks 'Embassy cables' are now breaking…
Posted: 28 Nov 2010 11:33 AM PST
The Wikileaks dump of "US Embassy cables" that include Israel Palestine has apparently started dropping. At the Guardian site.
Here's a juicy one. Stuart Levey, under secretary of the Treasury in the Bush Administration, goes to Israel two weeks after the presidential election in '08, and promises that the Obama administration will keep up the pressure to stop Iran from getting nukes:
In a visit to Israel on 16-17 November, Treasury Under Secretary for Terrorism and Financial Intelligence, Stuart A. Levey, reassured GOI officials that no momentum would be lost in USG efforts to combat terrorist financing or to pressure Iran during the transition to a new US administration in January...

[Israeli] National Security Council (NCS) Chairman, Dani Arditi, in a November 16 meeting with U/S Stuart Levey, asked whether Levey thought his efforts would continue into the next U.S. administration. Even though he said he planned to resign as required in January, Levey told Arditi that he believed the Obama team would be committed to continuing the ambitious program against terrorism finance that he has shepherded over the last several years.
Levey didn't resign by the way. He's still around. Guess he knew something.
Yusoff Islam dan Isteri Bergambar Bersama Najib dan Rosmah
Posted: 29 Nov 2010 01:03 AM PST
Dr M: M'sia has no need for 100-storey Warisan Merdeka
Posted: 29 Nov 2010 01:06 AM PST
New tender for stalled Shah Alam Hospital project
Posted: 29 Nov 2010 01:29 AM PST
Rumi Mathnawi in Malay translation by Prof Ajmal M. Razak Aidrus
Posted: 29 Nov 2010 01:06 AM PST
This is an announcement for those who are interested in listening or have their souls be mesmerised into a deep, inner voyeur of the mystical aspect of Islam. It is said that the Mathnawi is a mystical interpretation of the Al-Quran itself by Jalaluddin Rumi. It was related by Ibn 'Arabi, that one day Rumi, who was about 8 yrs old, visited him, accompanied by his father. As they were leaving him, Rumi followed his father from behind, and Ibn 'Arabi commented, "Look, an ocean following a river."
We are having a class on Islamic literature, which will focus on the Mathnawi by Jalaluddin Rumi, at ISTAC for the new semester which may start the 2nd week of December 2010. This class is conducted by Prof Ajmal Al-Aidrus, who has translated the whole works into Malay which will be launched soon in Kuala Lumpur. Prof Ajmal has confirmed with me this morning, that the class is also open for outsiders and will be held on tuesdays between 1- 4 pm. Please call ISTAC and speak to Proj Ajmal at 03- 62073400. He welcomed all to his class.
Muka-muka bakal menteri dan timbalan menteri
Posted: 29 Nov 2010 04:21 AM PST
Posted: 28 Nov 2010 08:37 PM PST
Senarai hitam tapi belum dibawa ke mahkamah
Posted: 28 Nov 2010 08:10 PM PST
Nik Aziz: Umno Punca Masalah Di Negara
Posted: 28 Nov 2010 09:41 PM PST
Al-Quran Menjawab Setiap Pertanyaan Manusia
Posted: 29 Nov 2010 08:56 AM PST
M
anusia Bertanya : Kenapa aku diuji ?
Qur'an Menjawab :
Apakah manusia itu mengira bahwa mereka dibiarkan (saja) mengatakan:" Kami telah beriman", sedang mereka tidak diuji lagi? (Al-Ankabuut : 2). Dan sesungguhnya Kami telah menguji orang-orang sebelum mereka, maka sesungguhnya Allah mengetahui orang-orang yang benar dan sesungguhnya Dia mengetahui orang-orang yang dusta. (Al-Ankabuut : 3)
Manusia Bertanya :
Kenapa aku tidak diuji saja dengan hal-hal yang baik ?

Qur'an Menjawab : boleh jadi kamu membenci sesuatu, padahal ia amat baik bagimu, dan boleh jadi (pula) kamu menyukai sesuatu padahal ia amat buruk bagimu; Allah mengetahui, sedang kamu tidak mengetahui. (Al-Baqarah : 216)

Manusia Bertanya : Kenapa aku diberi ujian seberat ini?

Qur'an Menjawab : Allah tidak membebani seseorang melainkan sesuai dengan kesanggupannya. (Al-Baqarah : 286)

Manusia Bertanya : Bolehkah aku menyatakan aku frust ?

Qur'an Menjawab : Janganlah kamu bersikap lemah, dan janganlah (pula) kamu bersedih hati, padahal kamulah orang-orang yang paling tinggi (derajatnya), jika kamu orang-orang yang beriman. (Ali Imraan : 139)

Manusia Bertanya : Bolehkah aku berputus asa ?

Qur'an Menjawab : dan jangan kamu berputus asa dari rahmat Allah. Sesungguhnya tiada berputus asa dari rahmat Allah, melainkan kaum yang kafir. (Yusuf : 87)

Manusia Bertanya : Bagaimana cara menghadapi ujian hidup ini?

Qur'an Menjawab : Hai orang-orang yang beriman, bersabarlah kamu dan kuatkanlah kesabaranmu dan tetaplah bersiap siaga (di perbatasan negerimu) dan bertaqwalah kepada Allah supaya kamu beruntung. (Ali Imraan : 200) Jadikanlah sabar dan solat sebagai penolongmu. Dan sesungguhnya yang demikian itu sungguh berat, kecuali bagi orang-orang yang khusyu'. (Al-Baqarah : 45)

Manusia Bertanya : Bagaimana menguatkan hatiku?

Qur'an Menjawab : Cukuplah Allah bagiku; tidak ada Tuhan selain Dia. Hanya kepada-Nya aku bertawakal. (At-Taubah : 129)

Manusia Bertanya : Apa yang kudapat dari semua ujian ini?

Qur'an Menjawab : Sesungguhnya Allah telah membeli dari orang-orang mu'min, diri dan harta mereka dengan memberikan surga untuk mereka. (At-Taubah : 111)


Posted: 29 Nov 2010 06:58 AM PST
If I could help it I wouldn't have gone to The Malaysian Agriculture Horticulture & Agrotourism (MAHA) International Show yesterday as it was a Sunday and I was expecting a big crowd. The Sua Rasa event by TV9 was held at the site too adding to the attraction for those who are more interested in The Sua Rasa more than the MAHA show to draw the crowd. Unfortunately I had no choice since the son who could provide the conveyance was only free on Sunday. He made the mistake of waking up late and coming to pick me up late at his sister's Taman Amanputra hom from his Shah Alam home despite his friend's warning that he must go early due to congestion at the car park. It was only after we saw the traffic jam on the highway near the expo ground that we realized the folly of coming there late. The crawl began from almost two kilometers away to the ground.
After seeing others parking their cars at the road side on both sides of the highway, we decided to do the same and walk the distance as the traffic was crawling at a pace slower than our leisurely walking speed.
Some people had brought young kids along and some even have babies. I really feel sorry for these kids and babies. Even though the sun wasn't blazing hot as it normally does, the walking activities still made us sweat profusely. The cloudy sky was definitely a blessing in disguise.
There was so much to see and I couldn't cover the whole exhibition. By 1.00 PM I had to call it quit as my legs just refuse to obey orders. As I had bought a few kgs of bananas, the prospect of walking 2 kms back to the car really made me want to conserve some energy. So we decided to go home after covering about one fifth of the whole show.
I wouldn't want to burden you all with a long write up so just see the pictures that I have taken to learn a bit of what I saw from part of the extensive exposition.
If you intend to go to MAHA, please do so on a weekday as there will be less crowd. Avoid bringing babies or even young kids even though it is very educational for the kids.
If I could get the chance, I would love to go again to cover the other sections that I have yet to cover before the exhibitions ends on the 5th of December. This time it will never be on a Sunday.
My son's kancil was crawling with other cars four abreast on the highway on the way to Mardi Serdang.
Ahead of us there more cars. This signage gave us the impression that the expo wasn't faraway.
This pretty little girl was so excited seeing me taking photographs of the traffic. The mother rolled down the window to allow me to take a clearer shot of her baby.
We were on the Litrak Highway to Kajang from Puchong. Exit 5 to the expo ground must be pretty near.
There two entrances to the expo ground. The nearest was of course Entrance 2.
It was still a distance from the parking area yet we saw this Parking full sign.
Many visitors parked their cars by the road side and walk to the site. My son Azuan did carry an umbrella just in case the weather may turn either too hot or too wet.
The no parking area and the threat of being towed away. Nobody heeded the sign.
Now you know what MAEPS stand for.
Another Parking Penuh sign and yet people are still driving into the parking area. Do they really mean it that the parking area is full?
The owner of this van was using the ruse that his van is 'Rosak' (broke dowo parking) to avoid being towed away or summoned for parking in a no parking zone. I wonder if this ruse worked for him all the time.
Upon entering the exhibition area we saw orchid and ornamental plants stalls. Sua Rasa is on our left.
The signage says the stall is 50 meters away but actually it was just beside it.
The jackfruit was cut up so you don't have to buy a whole fruit
The Orchid Society participated in MAHA.
A Rhyncostylis spp in bloom. I have a similar plant back home and it had bloomed once.
The Catleyas bear beautiful colorful flowers.
Vandas are beautiful too.
I can't resist the temptation of having my photograph taken with the blooming orchids.
Shuttle busses are provided to transport visitors to the other distant part of the show area.
Who says Malaysians don't know how to queue up?
While waiting for the shuttle buses, you can always watch the goings on around the park on the big screen near the second entrance.
Juicy roasted mutton. My full stomach due to a heavy breakfast before coming to the expo prevented me from enjoy it.
A precious Boer Stud.
An even more expensive bull to be used for breeding.
Stalls selling several varietiges of food product from mutton to beef and eggs. Satay arnab was available too.
Saw this oil palm harvester at the machinery expo by various government agencies.
The Deputy Prime Minister came to the machinery display site while I was there. I took a few shots of him and his entourage. Included in his entourage was Tan Sri Mohamad Nor Ismail whom I had served for a short while when I was in Kumpulan Fima Sdn Bhd.
the first exercise – 4.3km run after 3 years hiatus
Posted: 29 Nov 2010 06:53 AM PST
Sunday just went for this Run aCross 4.3km run. It is a charity run for the Red Cross for the Physically disabled people.
And so you guys would have known, Jacqueline haven't really exercise for at least 2 years. Other than those non-competitive walks and well, walking within the restaurant itself. Sometimes I am really curious about how much calories do I actually get to burn while working and walking around in the restaurant itself. It not exactly big neither is it small – FUN SIZE.
I was in Ngee Ann Poly Track team for a short while in my freshmen year. But the knee was acting up pretty frequently and the doctor did mentioned its either track or I'd lose my use of my knee eventually. Also, I was also advised to avoid walking the stairs as much as possible. Tell me, how to take the train home without going up/down the overhead bridge? And to NOT use the overhead bridge. I have to walk till Maju Camp to cross and it is like 2 bus stops away, probably about 400m down.
As I was mentioning earlier, this is the FIRST run, FIRST exercise after a 3-4 hiatus. It felt like a suicidal run. I left the house with my Adidas sport shoes which I haven't been wearing for at least 2 years. I didn't check the condition of it and left the house with it. I didnt realise that the left sole has come off until it was ONE MINUTE before the flag off. I quickly asked for masking tape and tape the my left shoe with it.
And then this BFF/Valentines run only has 10 runners – 5 boys and 5 girls. And out of the 10 people, there's like 6 who look like they would chiong. The other couple look like they jog regularly. And I think I must have look the MOST unhealthy one. hahahahaha. I think I managed about 300-400m before stopping to walk. And before i know it the other sole is loose. We stopped again to get the soles fixed – using the shoelaces to tie the soles to the shoes. Because it was only tied in the middle, it keeps sliding to the front everytime I try to jog. In the end I decided, to remove both soles and run with just the "in-soles". By the time we are done with all this – the first 6 runners are probably reaching the finishing line. And the other couple is probably 1km ahead of us. And so we jog + briskwalk the 3km or so with nick encouraging along the way.
With a  pair of spoilt sport shoes, I was thinking whether to get a new pair or not. If i get a new pair and I dont wear it often, it would probably be the same as this pair of shoes. I had earlier expected my knee to act up during the run, but luckily it didn't. It was the muscles supporting the knee that were hurting and the chest (probably because I was forcing myself to run and my heart is working abit too hard).
I took part in the race partly because of Van's recommendation/encouragement. Nick has also been trying to get me to exercise and havent been quite successful. So I think this is the FIRST competitive run/exercise as a couple throughout our 2 years odd time together. We had earlier took part in the THE NEW PAPER'S Big Walk  – a 5km walk, which we really WALKED leisurely – well, that is in my opinion/definition of walking.
It may be just another run organised by the student boy for the charity. But i think it made me feel like a rebirth.
track, welcome me back sweetie.
Filed under:
Daily Reports
,
Events & Holidays
,
Heartfelt
,
School Days
,
The Man She Loved
Ingatan MB Kedah: PR Tidak Mudah Untuk Menang Dalam PRU13
Posted: 29 Nov 2010 07:32 AM PST
U
Usah sangka kemenangan PRU 2008 berulang mudah, MB Kedah nasihat Pakatan
SHAH ALAM, 29 Nov – Ketua Menteri dan Menteri-menteri Besar kerajaan negeri Pakatan Rakyat (PR) mengadakan pertemuan di sini hari ini dengan Datuk Seri Azizan Abdul Razak memberi amaran pemimpin-pemimpin perikatan tiga parti itu agar tidak mengharapkan kemenangan 2008 akan berulang dengan mudah.
"Pakatan tidak boleh terlalu yakin bahawa mereka akan kekal berkuasa," kata Menteri Besar Kedah (gambar) itu.
"Jadikan pilihan raya umum 2004 sebagai contoh, di mana PAS kehilangan Terengganu dan menang tipis di Kelantan," kata beliau seolah-olah senada dengan pandangan Penasihat DAP Lim Ki Siang ketika merasmikan Konvensyen DAP Selangor semalam.
Pada 8 Mac 2008, BN kehilangan empat lagi negeri selepas Kelantan dikuasai PAS sejak 1990 manakala di Parlimen pula ia hilang penguasaan majoriti dua pertiga.

Bagaimana Azizan menekankan bahawa pengundi-pengundi Kedah sudah mula menyesuaikan diri dengan pentadbirannya, yang menyaksikan peningkatan dalam hasil pulangan pembalakan.

"Pengundi-pengundi Kedah sudah selesa dengan kerajaan negeri Pakatan Kedah yang mengamalkan ketelusan dan dengan jayanya menambah hasil negeri daripada pembalakan," kata Azizan.

Semalam, Lim memberi DAP Selangor amaran bahawa PR kemungkinan akan tewas dalam pilihan raya umum akan datang jika mereka tidak bersatu padu sambil mengingatkan konvensyen kepimpinan negeri agar belajar daripada pengalaman Terengganu pada 2004.

Penasihat DAP itu juga meminta perwakilan barisan menyokong kepimpinan negeri yang menganggotai kerajaan negeri Selangor sebagai tanda perpaduan.

"Bolehkah Umno dan Barisan Nasional (BN) menang balik Selangor dalam pilihan raya umum akan datang? Adakah kerajaan Pakatan Rakyat di Selangor tidak boleh ditembusi dan tidak dapat dikalahkan?" kata Lim ketika berucap membuka Konvensyen DAP Selangor.

"Saya tahu ada orang yang percaya bahawa Pakatan Rakyat tidak boleh hilangan kawalan dan kuasa di Selangor dalam pilihan raya umum akan datang," kata Ahli Parlimen Ipoh Timur ini.

Beliau mengingatkan para perwakilan konvensyen bahawa PAS tidak menjangkakan ia akan kehilangan Terengganu dalam pilihan raya umum 2004 selepas memperoleh kemenangan tidak disangkakan sama sekali pada 1999.

"Pada pilihan raya umum 1999, PAS tidak pernah menjangkakan kuasa menang di Terengganu tetapi menyapu bersih 28-4 di Dewan Undangan Negeri," kata Lim.

"Pada pilihan raya umum 2004, PAS tidak menjangkakan akan kehilangan kuasa di Terengganu tetapi tewas dengan keputusan terbalik 4-28, disapu oleh Umno dan BN," kata beliau.

Lim juga berkata bekas perdana menteri Tun Dr Mahathir Mohamad membayangkan BN akan menang balik Selangor memandangkan PR berada dalam keadaan tunggang-langgang.

Dalam pada itu, Menteri Besar Selangor Tan Sri Khalid Ibrahim berkata, kerajaan-kerajaan negeri PR telah berjaya mengatasi serangan bertubi-tubi dilemparkan terhadap pentadbiran mereka.

"Negeri-negeri Pakatan Rakyat telah berhadapan dengan pelbagai cabaran sepanjang tiga tahun pentadbiran, tetapi dengan jayanya telah mengatasi kesemua percubaan mereka yang mahu mengganggu usaha memperbaharui pentadbiran negeri-negeri (yang terletak di bawah mereka)," kata Khalid.

"Saya berharap persidangan kali ini akan menjadi platform untuk berkongsi pengalaman kita dan untuk memperbaiki perkhidmatan-perkhidmatan kami bagi memperkukuhkan pentadbiran menghadapi pilihan raya umum ke-13," kata beliau lagi.

Menteri Besar Kelantan Datuk Nik Abdul Aziz Nik Mat pula menasihatkan negeri-negeri PR agar bersatu menghadapi media arus perdana yang cuba mencetuskan sentimen rakyat terhadap perikatan itu.

"Negeri-negeri Pakatan Rakyat mesti berlawan menghadapi serangan media arus perdana yang terus-menerus memutarbelitkan fakta bagi mengelirukan orang ramai," kata beliau yang juga Mursyidul Am PAS.

Persidangan hari ini dihadiri oleh Khalid, Nik Aziz, Azizan dan Lim Guan Eng serta Exco Kerajaan Negeri dan waki daripada subsidiari negeri. -TMI

Ulasan GB

Dengan pelbagai karenah yang ditimbulkan oleh komponen PR, GB melihat apa yang dicanangkan iaitu "kemaraan ke Putrajaya" semakin menjadi lambat.

Ramai yang berjuang mengikut nafsu, bukan ilmu. Nafsu yang meluap-lupa tanpa menhiraukan akhlak serta disiplin perjuangan akan hanya menyebabkan perjuangan itu menjadi sia-sia.

Teguran dan kritikan tidak diendahkan malah cuba diinjak dan segala masalah cuba disapu ke bawah karpet.

Ini diperburukkan dengan sikap para penyokong PR yang mendewa-dewakan pimpinan sehingga pimpinan menjadi orang yang lupa diri untuk melihat perjuangan dari sudut kebenaran dan keadilan yang hakiki.

Memang PR kini sedang dilanda wabak syok sendiri.