---
Posted: 25 Nov 2010 08:27 AM PST
Melihat Keajaiban Kalimat Allah

ILUSI PENGLIHATAN - Lihat tiga titik hitam di tengah-tengah gambar kalimah Allah di atas selama 10 saat, kemudian lihat dinding/ruang kosong yang berhampiran dengan anda.

Tunggu 10 saat. Lihatlah keajaibannya. Subhanallah..rasa sangat kagum dengan ilusi mata kurniaanNya ini.

Tepat... sungguh indah sekali...
Posted: 25 Nov 2010 07:41 AM PST
oleh mesincetak
Malam itu, dengan jeans lusuh koyak,  t-shirt bundle dan rambut yang tidak pernah bersikat aku aturkan sebuah temujanji.  Temujanji dengan seorang minah comel di kopitiam sekitar Bangi.  Temujanji ini bukan temujanji kosong, temujanji ini barangkali menentukan sama ada aku mendapat surga atau neraka.  Temujanji ini punya sejarahnya.  Aku berulangkali pikir untuk adakan temujanji ini dengan dia.  Menimbang-nimbang dengan akal sihat dan memikirkan risiko yang datang.  Setelah bermeditasi hamper seminggu, aku putuskan untuk berjumpa dia.  Kali ini, seperti kebiasaan, aku tidak sedia untuk menang, tetapi sudah bersedia dengan risiko.
Sekarang, aku dan dia duduk berhadapan.  Hanya bertemankan 2 cawan kopi O.  Sama-sama diam.  Dalam tenang itu, aku cakap "Saudari minah,aku suka kau" – sekali lafaz.  Dia terkejut, kopi di cawannya berkocak.  Pekerja-pekerja Kopitiam itu dan pelanggan lain semuanya terdiam, semuanya menoleh arah aku.  Hujan turun renyai-renyai tiba-tiba berselang seli dengan kilat.  Lampu di kedai itu tiba-tiba berkelip-kelip.  Dia tunduk tanpa jawapan.  Orang-orang keliling aku kelihatan cemas, seakan berbisikkan dalam hati 'hero mana boleh kena tolak'…. Dia terus diam, cuma sebelum pulang, dia janji akan memberi jawapannya nanti.  Aku senyum. Aku tunggu.
Awal pagi esoknya, ada satu panggilan.  Aku capai Nokia 3310 atas meja.  Rupanya panggilan dari minah comel.  Tanpa berbasi-basi dia berikan jawapan "aku tolak kau wahai sang hero, kerana aku sudah berjumpa dengan seorang lelaki yang bekerja tetap, berkereta, berkredit kad, berpakaian kemas dan meyakinkan dia boleh menjamin kehidupan aku kelak.  Lebihnya kau adalah dari sudut ketampanan. Itu saja. Tidak jamin apa-apa".  Selepas itu minah comel terus letak.  Aku kaget.  Bukan kerana ditolak, itu perkara biasa.  Cuma terkejut dengan ayat kedua terakhirnya.  Namun yang pelik, kenapa aku ditolak kerana tidak memberi jaminan, apakah jaminan adalah perkara teratas dalam hidup manusia?  Pening memikirkannya sampai ke malam hinggalah aku tertidur.  Dalam tidur itu aku bermimpi kawan lamaku (sudah meninggal) datang, Hoppes namanya.  Tanpa aku bertanya, dia berkata….
"-apapun juga yang diam akan selalu diam, kecuali ada barang lain yang membuatnya tidak diam. Dan apapun juga yang bergerak akan selalu bergerak, sampai ada barang lain yang menghalangnya-
Dari konsep ini, manusia akan terus menerus bergerak, dan cuba menghindari dari apa-apa penghalang untuk bergerak. Jika dalam fizika, apa yang menggerakkan dan menghentikan adalah daya, tetapi antara manusia ialah kuasa.  Kuasa adalah sarana untuk manusia mencapai sesuatu keberhasilan, dan juga melupuskan malapetaka yang mengganggu-gugat kestabilan.  Mengapakah kuasa ini harus didapati sepenuhnya, seakan tidak cukup dan tidak terpuas?  Hobbes menjawab manusia bukan tidak selesa dengan kuasa yang sedang-sedang, tetapi adakah kuasa yang sedang-sedang (boleh dibatasi) ini menjamin kedudukan agar tidak direbut oleh orang lain.  Ya, apa yang paling penting bagi manusia adalah jaminan.  Manusia terus-menerus mencari makanan bukan kerana sedang lapar, tetapi jaminan untuk hari mendatang.  Manusia masuk ke sekolah dan sekolah tinggi, kerana mahukan jaminan. Manusia berkawan kerana mahukan jaminan.  Barangkali manusia beribadah, tunduk, patuh kerana mahukan jaminan.  Manusia ucapkan kata-kata cinta kepada pasangannya kerana mahukan jaminan.   Manusia berkahwin kerana mahukan jaminan.  Hari-hari manusia memikirkan apakah jaminannya hidupnya pada masa akan datang, dan kerana itulah 'aku' melihat sesuatu yang lain adalah pesaing, yang bila-bila masa berupaya untuk menutup dan menghalang usaha-usaha 'aku' untuk peroleh kedudukan yang terjamin – dengan kata lain mencampakkan aku dalam keadaan yang tidak terjamin, ini adalah ketakutan.
Kembar kepada manusia adalah ketakutan.  Perkara ini yang dilihat oleh Hobbes dalam masyarakat zamannya.  Ketakutan ini tidak lain dan tidak bukan adalah merasakan keadaan yang tidak terjamin.  Pada bila-bila masa sahaja yang kuat berupaya memeras yang lemah.  Namun yang lemah juga mempunyai peluang dengan pelbagai helah untuk menundukkan yang lemah.  Kuat – lemah bukan perkara penting dalam persaingan.  Masing-masing (si kuat dan si lemah) ada kebarangkalian untuk ditundukkan.  Masing-masing tidak terjamin.  Ketakutan bukan milik satu pihak, ketakutan milik semua dan ketakutan serta kecurigaan terhadap yang lain terus menerus, tiada titik.  Nah, di sini ketakutan harus diberhentikan.  Sebagaimana apa yang bergerak akan terus bergerak, ketakutan ini juga terus bergerak.  Hobbes berpendapat perlu ada daya penghalang (kuasa) untuk hentikan ketakutan.  Kuasa ini bukan kecil-kecil anak.  Kuasa ini yang akan mengawal kuasa-kuasa yang lain.  Maka dari sini munculnya Leviathan – si raksasa air.  Manusia lain perlu menyerahkan sebahagian haknya terhadap Leviathan ini bagi menjamin keselamatan daripada pemerkosaan dari yang lain.  Leviathan wajib mutlak, dan kesemua tunduk kepadanya.  Maka inilah batas kepada manusia untuk terus menerus capai kuasa absolute.  Kekuasaan Leviathan, batas kuasa yang lain akan memberi jaminan kestabilan – nyahkan ketakutan."
Selepas berkata, aku pon terjaga.  Hoppes pon hilang dari pandangan. Dan dia, minah comel yang aku temu di kedai kopi itu, mungkin happy-happy peroleh 'Leviathan' yang memberi jaminan, nyahkan ketakutan.  Semoga dia sedia untuk serahkan sebahagian haknya nanti.  Tiba-tiba, aku terdengar suara Hoppes lagi, dia pesan " bro, sorry la, minah comel tu adik aku la, aku sudah pesan sebelum meninggal, jangan ada hubungan dengan mamat selekeh"….cis!
Inching Closer To Malaysian Animal Welfare Act
Posted: 25 Nov 2010 07:34 AM PST
DATELINE: PUTRAJAYA  

MALAYSIA IS ALL THE MORE CLOSER NOW THAN SHE EVER WAS BEFORE IN HAVING HER FIRST ANIMAL WELFARE ACT.

THE MOVE WILL PUT THE NATION IN PAR WITH MANY COUNTRIES AROUND THE WORLD AND IN THE REGION THAT ALREADY HAVE LAWS TO PROTECT THE RIGHTS OF ANIMALS. 


This was confirmed after the Department of Veterinary Services (DVS) held its first protem committee meeting at its
My Buah Hati My Intan Payung My Lapiz Lazuli My Chanel LV
Posted: 25 Nov 2010 06:48 AM PST
I was working late at the office last night. Azman bought Egg Benjo for Miki for dinner and Ramlee Burger for himself. Then they played football on the front porch from 9 until 10.30pm when I arrived home. Earlier Miki was talking to his Dad, he said
"Mummy pergi mana? Mummy pergi work ke? Kenapa Mummy tu work lama sangat? Mummy tu pergi cari baby lain ke? Kenapa Mummy tak sayang Miki? Miki baik je…."
Could anybody ever blame me if I wanna wrap him up in seaweed, dip him in soy sauce laced with wasabi and gobble him up whole? Because I think he is too cute talking like that when he is just 2 years old! But at the same time I feel like stitching up a kangaroo pouch on my tummy and stuff him in there so that I can carry him all over the place without ever leaving him again and never hear him say such heart-wrenching things again! Mummy always love you Miki, no matter when you good or naughty, I always adore you!
But you do need to cut it out a lil bit on the naughtiness cos it always gives me more chances of a sudden stroke angin ahmar lumpuh sebelah badan. Mengertih?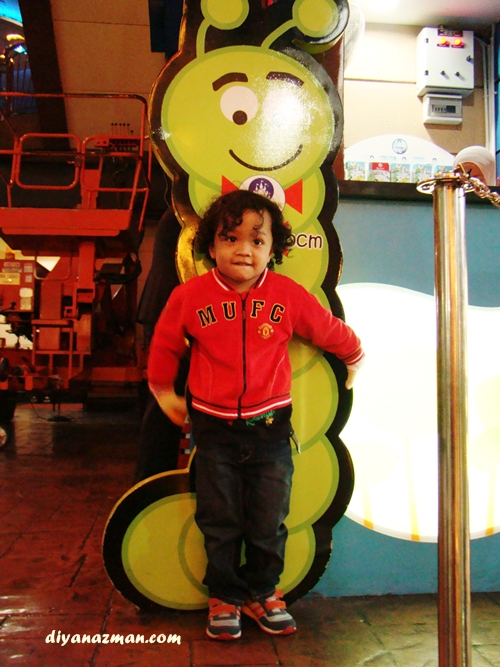 Genting Highlands, 1November 2010

The little boy can really puzzles me too. He can be so smart most of the time but refuse to learn when we try to teach him stuff. Tried to teach him ABCs but he just refused to follow the lessons resulting his knowledge on the alphabets is most probably 90% – pronouncing and 50%- recognizing the alphabets only. I know I shouldn't be pressuring him, he is just a baby in diapers for goodness sake but I just don't know what makes him uninterested on such lessons when he could absorb other information, grasp and process it so miraculously well? You Moms out there have any idea? Any child psychologist here?
I remember during Aidilfitri holiday we stopped at Sg Buloh R&R and while waiting for me, Azman showed him the picture of KLCC on the Klang Valley map on the wall. His intention was to well… showed him the pic of the world's tallest towers but Miki pointed out at the area next to towers and said "Sini parking!".  He then traced his tiny finger further south and pointed at some building area and said "Sini rumah baru!"
Azman was so startled and told me about the pleasant surprise. Both of us got so proud of Miki – our baby freaking knows what a map is and how it works! Awesome! Although the location of our "rumah baru" that he pointed out was incorrect but for a toddler who spends day in day out goofing around without learning anything that's really amazing! Where did he learn that? I guess Miki managed to put the bits and pieces together from the English-Spanish speaking Dora that he watches once in every blue moon! Bravo! Smart kid!
Miki impresses us with his unknown intelligence like that regularly and the most recent one happened a couple of weeks ago when we rushed him into the car quickly due to the rain. "Cepat Miki! Hari hujan!" said his Dad and Miki replied "Daddy! Hujan tu kan…. Mula-mula awan tu datang… datang…. Awan tu kaler white. Pastu awan tu turun air!… pastu HUJAN!!"
Wooow…wait a minute! Did our two year old just explained how rain occurs? As though his Mummy-Daddy didn't know? Awesome! I never taught him that and the only source of info (may it be good or bad) that I know Miki pays attention to is Spongebob! Where ever you learn that from, kid! You sure caught your parents by surprise and we are mighty proud of you.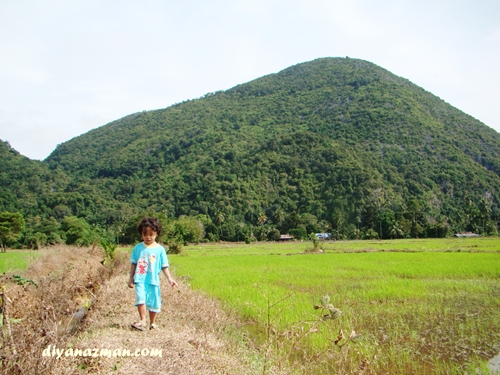 Kampung @ Kedah, 15November 2010
But then again, while he can learn about maps and basic science (that I only learned about in standard 4 through "Alam & Manusia") so informally, why is he so stubborn not to learn ABC? I can be so bengang! I feel like Miki can be a wasted talent sometimes.
Playing football has become a must every night unless it rains cats and dogs. The father and son would be running around in the front porch kicking and dribbling the ball from each other. Every now and then Miki would come running to me in the kitchen or living room telling me that it was not him that kicked the ball into my flower beds. It was Daddy! It wasn't Miki.  Dengan muka bersungguh-sungguh dan keazaman serta iltizam yang tinggi denying the harmless sin. Kalau ko diam pun Mummy takkan tahu kan? Hehe! At this age he could be that gullible… and I am waiting for the time when he would just choose to keep quiet instead if blowing his own cover.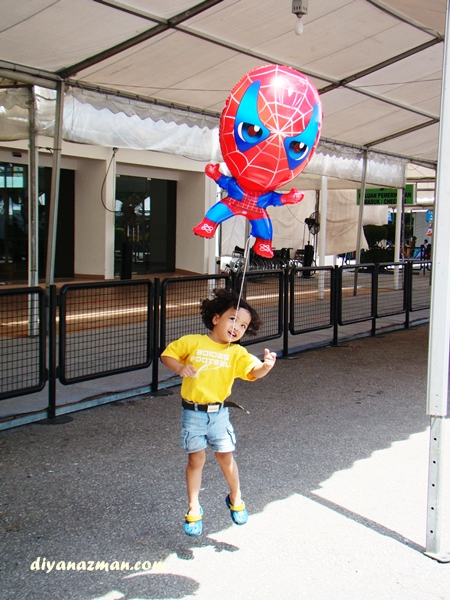 31st October 2010, Kompleks Tabung Haji Kelana Jaya

Above photo was taken during the trip to Kompleks Tabung Haji for bidding farewell to his Opah who was going to Mekah. Miki chose the Spiderman balloon and was very pleased with own pick. At the cafeteria, the was another boy about his age with Ultraman balloon in his clasp. Miki peered at the boy from afar and then whispered to his Dad..
"Balloon Miki besar kan Daddy! Balloon dia tu kecik je! HA HA HA! Jom kita gelak kat dia Daddy? Jom kita gelak kat dia!!"
His laugh was very nasty and evil. "Ha Ha Ha!" Oh you are so naughty Miki! He likes to tease people and doesn't mind being teased. Very loving but takes sometime to warm up with strangers.
We watched Harry Porter 7 last night and as much as I regretted taking him with us, I couldnt help being very amused with the drama Miki reenact after every scene. When Ron was badly wounded and gurgling what looked his final breath Miki did exactly the same! When the witches and sorceress was shooting each other with magical wands, Miki acted exactly the same. And  at the last 15 minutes of the movie, Miki was all groaning and collapsing  his body in various pose of dead bodies!
"Ughhhh…. bleeughhh… Mumm..myyyy!!! Helpp…." terjelepok atas riba aku sambil terpejam mata  lidah terkeluar…
"Ughh ughhh!! brrrr….. Mumyyyyy……. ughhhh.." siap buat bunyi macam gajah tercekik durian je pastu terjelepok kat lantai pulak pura-pura mati… Tahap kedramaan ni memang Mummy and Daddy tak boleh blah! Nak pengsan!
Memang selalu nak pengsan membesarkan Miki… but we would pengsan a million times and come back to life just to see you well, our son! Mummy and Daddy loves you! Muahhh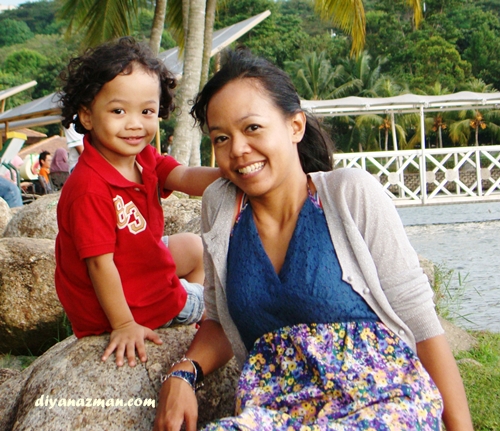 6 November 2010, Botanical Park, Putrajaya
PS – January is going to be a very busy month but I cannot help but to plan for Miki's 3rd birthday party! He already said he wanted Spongebob cake. He even said Atuk, cousin Sarah, Abg Arash, Abg Adam and Mama Rose is invited to his party! How can I deny this kid? After all he is my only son… My buah hati, my intan payung, my lapiz lazuli, my Chanel LV.. my baby Miki!
2 Beradik Perempuan Dipaksa Jadi Hamba Seks Oleh Abang Kandungnya
Posted: 25 Nov 2010 07:21 AM PST
K
akak bongkar rahsia 2 beradik
MERSING: Rahsia dua beradik perempuan berusia 13 dan 16 tahun yang menjadi hamba seks abang kandung sejak bertahun lalu di Felda Tenggaroh 5 di sini, terbongkar apabila kakak mereka terlihat perlakuan ganas lelaki berusia 24 tahun itu, pagi kelmarin.
Kakak mereka yang berada dalam rumah berkenaan, terlihat suspek menarik dengan ganas tangan adik yang berusia 13 tahun masuk ke dalam bilik.
Apabila lelaki itu menyedari perbuatannya dilihat kakaknya, dia melarikan diri dari rumah sebelum menumpang lori menuju ke Felda Tenggaroh 2.
Ketua Polis Daerah Mersing, Deputi Superintendan Mohd Nor Rashid yang mengesahkan kejadian itu berkata, pihaknya sudah menahan suspek kes itu.

"Dia ditahan ketika menumpang lori tidak jauh dari kawasan Felda berkenaan dan kini direman untuk membantu siasatan.

"Suspek bekerja di sebuah ladang di Kota Tinggi dan turut positif ganja," katanya.

Mohd Nor berkata, kakak mangsa membuat laporan polis apabila terlihat perbuatan adik lelakinya itu dan siasatan mendapati gadis berusia 13 tahun itu dirogol sejak tiga tahun lalu.

Pendedahan gadis itu membongkar rahsia kakaknya yang berusia 16 tahun turut menjadi mangsa rogol abang mereka sejak awal tahun ini.

"Mangsa tidak mahu membuat laporan polis kerana suspek mengugut membunuh seisi keluarga jika tembelangnya pecah. Mereka dirogol ketika ibu bapa keluar bekerja," katanya.

Kedua-dua beradik itu yang dihantar ke Hospital Sultanah Aminah (HSA), Johor Bahru, semalam, untuk menjalani pemeriksaan, berjaya dipujuk supaya membuat laporan polis berkaitan kejadian di Balai Polis Sugai Ambat, tengah hari, kelmarin.

Mohd Nor berkata, kes disiasat mengikut Seksyen 376 B Kanun Keseksaan kerana sumbang mahram. -hm


Rejoicing in the tidal creek, the blue coloured Miss Beda,
Posted: 25 Nov 2010 06:08 AM PST
 Rejoicing in the tidal creek, the blue coloured Miss Beda,
Giving pretext of the jasmine flower,
She wants to dock at the shore near. 
Rejoicing in the tidal creek, Miss Beda of a bluish colour,
Giving pretext of the belle lady,
She fancies to stop at the shore here.
Rejoicing in the tidal creek, bluish Miss Beda,
Giving pretext of the small stupa,
She desires to land at the shore hither.
With a sail aloft while I glide,
The words of the piper I have learned to abide,
Wearing like a sash the noble wish of escape, bluish ladyBeda
Flowing up and dawn in the tidal creek's water,
She says, this is my way; no other. 
- Noble wish of escape.
The wish of escape from endless births of Samsara, and
taking the other way round, it means the attainment of Nirvana 
Source of poem – "Keep on flowing Ayeyarwaddy…"- anthology of the Myanmar Poetry –
Zaw Gyi : Hyacinth's Way  – This is My Way  
No judge, no Tun, no Sultan, no Agong is above the law - Tuanku Ja' afar, the first reigning royalty in Malaysia to have a judgement made against him in a court of law
Posted: 25 Nov 2010 05:39 AM PST
By Shazwan Mustafa Kamal
November 25, 2010
KUALA LUMPUR, Nov 25 — Datuk Seri Anwar Ibrahim's lead defence counsel Karpal Singh today cautioned Sodomy II trial judge Datuk Mohd Zabidin Mohd Diah in deciding on the defence's application to disqualify him, saying that there were laws and rules in place to punish a judge for being "biased".
Anwar claimed yesterday the presiding judge in his Sodomy II trial had "intimidated" Karpal after he moved to disqualify the judge.
In a written affidavit filed along with a notice of motion to disqualify Mohd Zabidin, Anwar said the judge had "threatened" Karpal earlier this week when the lawyer gave notice of the defence's intentions to file an application to disqualify him.
In presenting the defence's oral submission today, Karpal stressed that a judge was by no means above the law, and could face punishment "short of removal" of office.
"A judge can be subjected to disciplinary proceedings if he is found to be biased.
"I'm giving your lordship a gentle reminder, your lordship would have to carefully consider, if your lordship insists on carrying on, with biasness, (then) be prepared for the consequences," said Karpal
(picture)
.
Karpal explained that a Judges' Ethics Committee 2010 was set up recently and the committee was empowered to look in possible cases of misconduct by trial judges as well as hand out punishments.
"A judge cannot act as he pleases, he or she is subjected to rules and laws," he said.
Speaking to reporters outside the court, Karpal added that besides the ethics committee, a judge's actions in presiding over cases were also under scrutiny in accordance with the judges' Code of Conduct 2009.
"If a judge rules in a manner deemed biased, the Court of Appeal can also decide whether he has been biased.
"He (Mohd Zabidin) is subject to laws which can result in punishment short of removal," said Karpal.
The white-haired lawyer had also told the court earlier of the international repercussions of the sodomy trial.
"This trial under close scrutiny. (There have been) calls by the United States Secretary of State, European Union and others for a fair trial. Malaysia's legal system is also under trial.
"Your honour has no alternative but to recuse," said Karpal.
The trial is scheduled to continue tomorrow to allow the prosecution to reply to the defence's submission.
Deputy public prosecutor Mohd Hanafiah Zakaria said the prosecution needed more time as Solicitor-General II Datuk Yusof Zainal Abiden could not make it to court today as he was "unwell".
It is understood that Yusof had an accident this morning and injured his leg, although his exact condition has yet to be confirmed.
Anwar, the 62-year-old PKR de facto leader, is currently facing sodomy charges for the second time in his life.
The former deputy prime minister is charged with sodomising a former aide, Mohd Saiful Bukhari Azlan, at Unit 11-5-1 of the Desa Damansara Condominium in Jalan Setiakasih, Bukit Damansara here between 3.01pm and 4.30pm on June 26, 2008.
Anwar has denied the charge, describing it as "evil, frivolous lies by those in power" when the charge was read out to him. He is charged under section 377B of the Penal Code and can be sentenced to a maximum of 20 years' jail and whipping upon conviction. The trial is taking place 18 months after Anwar was charged in court in August 2008.
He was charged with sodomy and corruption in 1998 after he was sacked from the Cabinet and was later convicted and jailed for both offences. He was freed in September 2004 and later resurrected his political career by winning back his Permatang Pauh parliamentary seat in a by-election in 2008, which had been held in the interim by his wife.
He had two years ago led the opposition coalition, Pakatan Rakyat, to a historic sweep of five states and 82 parliamentary seats in Election 2008.
Posted: 25 Nov 2010 05:21 AM PST
The Malaysian Insider carried a post
HERE
about how the government claims property prices only rose 3.3pc!!!
According to that report:
The Najib Administration shrugged off today mounting speculation of an eventual property bubble in the country, claiming that despite figures showing otherwise, property prices in Malaysia had only surged by an overall of 3.3 per cent in the last decade.

Deputy Housing and Local Government Minister Datuk Seri Lajim Ukin told the Dewan Rakyat today that between 2000 and 2010, Malaysia's property prices had not increased exponentially unlike what has been claimed by other parties, and maintaining that the country's property prices were still the cheapest if compared to other Asian nations.

"Although in some hotspots there was an increase in prices but overall in Malaysia, there was only a 3.3 per cent increase, compared to other countries in Asia.

"In Singapore, it is 38.18 per cent, in Hong Kong 12.78 per cent and in Taiwan, 8.57 per cent.

"Therefore, the property prices in Malaysia is still the cheapest," he said.



CLICK HERE for the rest of the article.



1. We cannot compare Malaysia with developed countries such as Singapore, Hong Kong and Taiwan because our GDP is different from theirs. Any such comparison will surely show that property prices in Malaysia is still the cheapest. Comparisons should be made with countries that have similar GDP, standard of living and population/land size. To put it simply, we cannot compare apples with oranges!
2. That is a general statement that does not mean anything.
Potential house buyers look at affordability at specific sectors. We do not look at the general trend which is not relevant at all because the average means nothing to potential house buyers!
For example, the average income earner, we do not look at agriculture or hill land. So if you compute those types of land, there is hardly any increase in prices. Thus the figure given in the report is not relevant to potential house buyers!
Property investors and house buyers are more interested in residential properties and even for commercial properties. These are the sectors that have appreciated over the years, especially in Penang and other towns both in West and East Malaysia!
CLICK HERE for the Property Market Status Report for Property Overhang in Malaysia.
CLICK HERE for Press Releases on the Malaysian Property Market (2006 to 2009) from the Valuation and Property Services Department
CLICK HERE for the Valuation and Property Services Department Official Website
The Malaysian Insider article also featured excerpts from Dr. Dzulkefly's press conference that was held later. Excerpt from
the article
(I have highlighted important points in bold):
In a press conference later this afternoon, Dzulkefly insisted that according to the Property Overhang report by the National Property Informational Center for the third quarter of last year had shown that

while a glut was emerging, prices of residential property had actually surged by a whopping 35 per cent in the past year alone.





"This is far above the income growth of the country and gives rise to concerns that the market is fast becoming unsustainable," he said.



He noted that the report had shown that in

the third quarter of last year, there was an overhang of 20,286 residential, 5,450 shops and 619 industrial units worth a whopping RM5.3 billion.

(I provided the link to the report in the earlier part of this post.)

Of the 6,401 new residential units launched, he added, only

20.2 per cent

had found buyers.



"If the RM5.3 billion overhang failed to deter the enthusiasm of the National Economic Model planners, let us consider what is in the pipeline," he said.





Dzulkefly noted that the Finance Ministry had also reported another 44,954 residential, 4,605 shops and 794 industrial units were under construction as of the third quarter while projects approved but yet to be implemented comprised another 14,993 residential, 1,011 shops and 872 industrial units.





"The massive overhang constitutes not just a financial burden to the developers and their financiers, most of whom are financial institutions, but is also a waste of resources, or much worse, contrary to the 40 per cent carbon emission reduction as voiced by the Prime Minister in Copenhagen," he said.



(What is the government going to do about this???)

Also in Napic's report, Dzulkefly pointed out tha

t unsold properties in Malaysia had risen to 22.6 per cent of new launches in the second quarter of this year, from 19.5 per cent in the fourth quarter of last year.





For Kuala Lumpur, he added, unsold properties rose to 16.1 per cent from 15.8 per cent, while for Selangor, it rose to 14.6 per cent from 12.4 per cent.





"Checks on developments completed this year also show that vacancy rates remain at 50 per cent or higher," he said.





Despite the surge in prices, Dzulkefly said, economic returns continued to face decline, thus contributing towards distorting the economy and plunging the country deeper into a "frightening" economic bubble.





Additionally, he also pointed to the ballooning household debt of Malaysians, comprising mainly household mortgages, car loans and personal financing like credit cards and debit cards, which stood at an all time high of RM560 billion as at August 31 thus year, as according to Bank Negara's figures.



This report
HERE
says:
Property prices will continue with the uptrend despite speculation of a bubble building up in the property market, said SP Setia Deputy President and Chief Operating Officer, Datuk Voon Tin Yow.



"The market is still very strong. In terms of the

uptrend in landed property prices

, it is just a matter of catching up with the higher income individuals are receiving, and other factors related to society," he added, after speaking as a panelist at the launch of the Bursa Malaysia Business Sustainability Programme here today.
And they are telling us don't worry, be happy, vote BN???
Truth is veiled and spins are rammed down our throats. What are we to do?
Without a doubt, vote for a new government of course!!!
This posting includes an audio/video/photo media file: Download Now
Seorang Ulamak Indonesia Dipenjara Kerana Kahwini Budak
Posted: 25 Nov 2010 06:14 AM PST
U
lama Indonesia dipenjara kahwin budak
SEMARANG - Seorang ulama Indonesia yang mencetuskan kemarahan ramai kerana berkahwin dengan seorang kanak-kanak perempuan berumur 12 tahun dipenjara selama empat tahun, semalam.
Pujiono Cahyo Widianto, 46, didapati bersalah oleh mahkamah Indonesia kerana mengadakan hubungan seksual dengan kanak-kanak bawah umur dan turut didenda sebanyak 60 juta Rupiah (RM21,000).
Ulama yang juga ahli perniagaan itu mengadakan majlis perkahwinan besar-besaran dihadiri ribuan tetamu semasa berkahwin dengan Lutfiana Ulfa, pada 2008.

Pujiono, yang juga dikenali sebagai Sheikh Puji menegaskan tidak melakukan kesalahan kerana mendakwa kanak-kanak itu sudah baligh semasa berkahwin.

Bagaimanapun, Pujiono membangkitkan kemarahan ramai, termasuk Majlis Ulama negara itu apabila menyuarakan hasrat untuk mengahwini dua lagi kanak-kanak yang berumur tujuh dan sembilan tahun.

Undang-undang di Indonesia menghalang kanak-kanak perempuan berumur di bawah 16 tahun daripada berkahwin. -SH


Sasaran 9 Emas Dicapai: Pasukan Skuasy Wanita Menang Pingat Emas Tewaskan Hong Kong
Posted: 25 Nov 2010 04:51 AM PST
S
ukan Asia: Malaysia Capai Sasaran 9 EmasGambar:
TERCAPAI... Pasukan skuasy negara (dari kiri) Datuk Nicol David, Low Wee Wern, Sharon Wee dan Delia Arnold meraikan kutipan pingat emas kesembilan selepas memenangi acara berpasukan wanita di Sukan Asia ke-16 di Guangzhou.
- Foto GLENN GUAN/The Star
GUANGZHOU: Pasukan skuasy wanita Malaysia menguasai acara skuasy pada Sukan Asia ke-16 selepas menewaskan Hong Kong dalam pertandingan akhir berpasukan di sini, Khamis.
Pasukan Malaysia yang diketuai pemain skuasy Nombor Satu dunia, Nicol Ann David, Low Wee Wern, Delia Arnold dan Sharon Wee mengalahkan Hong Kong, 2-0.
Kemenangan itu membolehkan kontinjen Malaysia mencapai sasaran untuk memenangi sembilan pingat emas pada Sukan Asia di Guangzhou.

Pemain Nombor Dua Malaysia, Low Wee Wern memulakan langkah awal selepas menewaskan pemain berpengalaman Rebecca Chiu, 11-4, 7-11, 11-6 dan 11-9 dalam pertemuan 54 minit.

"Saya sedar ini merupakan set permainan yang mencabar. Beliau seorang yang berpengalaman dan rentak permainannya baik dan saya perlu berhati-hati.

"Ini merupakan pertemuan kali kedua dengan Rebecca. Kali pertama kira-kira dua atau tiga tahun lalu. Ranking kami lebih kurang sama dan kami tidak pernah bertemu sejak dua tahun lepas dan saya sedar ia sudah pasti mencabar," katanya yang kini merupakan pemain di ranking ke-16 dunia.

Pada pertemuan di NSC Tour 2007 dan pusingan kelayakan Terbuka Kuala Lumpur 2008, Wee Wern tewas kepada Rebecca, 3-0 dalam kedua-dua kejohanan.

Pemenang pingat emas individu wanita Nicol, memperoleh mata kemenangan dengan 11-8, 11-7 dan 11-6 ke atas Annie Au.

Bagi Nicol, kemenangan ke atas Hong Kong memberi satu perasaan yang berbeza kerana pasukan Malaysia sering bertemu pasukan itu beberapa kali pada kejohanan Asia.

"Dalam setiap kejohanan peringkat Asia dengan mereka...ia mengimbau satu kenangan tetapi ia berlainan dengan Sukan Asia," kata Nicol.

Beliau berkata Wee Wern telah melakukan tugas dengan baik dengan memenangi mata pertama buat Malaysia.

"Wee Wern telah bermain dengan cemerlang untuk menewaskan Rebecca, yang benar-benar berpengalaman dan kemenangan 3-1 itu adalah hebat.

Saya gembira kerana pasukan telah melakukan yang terbaik dan menghasilkan keputusan.

"Saya bangga kerana kontinjen Malaysia gembira dengan apa yang telah kami lakukan setakat ini," kata juara dunia lima kali itu.

Sementara itu, pasukan India dan Korea Selatan mendapat pingat gangsa sebagai pasukan yang tewas dalam peringkat separuh akhir.

Pakistan pula berjaya menafikan usaha Malaysia menyapu bersih semua pingat emas dalam acara skuasy pada Sukan Asia ke-16 di sini apabila memenangi emas acara berpasukan lelaki hari ini.

Pakistan menumpaskan Malaysia 2-0 pada perlawanan akhir di Gimnasium Bandar Sukan Asia di sini setelah Farhan Mehboob menewaskan Ong Beng Hee 11-4, 11-4, 11-7 dalam masa 23 minit.

Pemain muda, Aamir Atlas Khan, 20, melakukan kejutan apabila menundukkan pemenang emas perseorangan, Mohd Azlan Iskandar 14-12, 15-13, 11-4, dalam masa 42 minit untuk mengesahkan pingat emas kedua Pakistan.

"Malangnya, kami terlepas pingat emas apabila sudah menghampirinya. Kami harap sekiranya Azlan menang, kami yakin Mohd Nafiizwan Mohd Adnan boleh menewaskan pemain nombor tiga Pakistan.

"Saya turun hari ini atas alasan teknikal. Saya mengalami keracunan makanan sejajak beberapa hari lalu dan sebab itu saya tidak turun semasa menentang India dalam perlawanan kumpulan dan Hong Kong pada saingan separuh akhir," kata Beng Hee, selaku ketua pasukan.

Mohd Azlan berkata, beliau berasa amat kecewa kerana gagal membantu menyumbang pingat emas untuk negara.

"Tiada apa-apa yang boleh saya katakan masa ini. Saya tahu saya perlu memang supaya mencerahkan peluang emas tetapi Aamir memberi persembahan baik sekali," katanya.
India dan Hong Kong masing-masing memperoleh pingat gangsa selepas tewas dalam separuh akhir.


Menteri Pertahanan Perlu Jawab: Tertuduh Kes Enjin TUDM Diculik Pegawai Tentera
Posted: 25 Nov 2010 05:17 AM PST
P
eguam dakwa tertuduh kes enjin TUDM diculik pegawai tentera
SHAH ALAM, 25 Nov — Peguam bekas sarjan Tentera Udara Diraja Malaysia (TUDM) N. Tharmendran mendakwa anak guamnya itu "diculik" oleh sekumpulan pegawai sayap Angkatan Tentera Malaysia itu di pekarangan Mahkamah Tinggi Shah Alam pagi ini.
Ketika dihubungi The Malaysian Insider, N Surendran berkata beliau yakin tindakan pegawai-pegawai itu bertujuan menghalang Tharmendran (gambar) daripada mendedahkan butiran mengenai skandal kehilangan enjin dua jet TUDM yang dilapor hilang dan kemudian didakwa dicuri.
"Sekumpulan kira-kira 10 pegawai TUDM diketuai oleh Leftenan Kolonel Mohd Razif Razak menahan Tharmendran di pekarangan mahkamah kira-kira 11 pagi tadi ketika dia dan bapanya menuju ke kereta selepas keluar bilik mahkamah," kata beliau.
Kata Surendran walaupun beliau memprotes tindakan itu tetapi Razif mendakwa Tharmendran ditahan kerana tidak datang untuk lapor diri tugas.

"Saya memberitahu mereka bahawa dokumen menunjukkan Tharmendran bukan lagi staf TUDM, dokumen menunjukakn dia bukan kakitangan TUDM sejak 28 Mei lalu.

"Tetapi mereka tidak kisah, dan mahu menahan dia di Kem Tahanan Tentera," kata beliau.


Surendran berkata beliau akan memfailkan habeas corpus petang ini bagi membebaskan anak guamannya dan juga perintah hina mahkamah ke atas Razif dan TUDM.

Sementara itu, dalam satu kenyataan dikeluarkan tengah hari ini, Kementerian Pertahanan berkata Tharmendran, yang menghadapi tuduhan mencuri dua enjin pesawat F5-E, hari ini ditahan semula oleh TUDM atas kesalahan meninggalkan tugas.

Tangkapan dibuat oleh lima pegawai Jabatanarah Provos Marsyal TUDM di pekarangan tempat letak kereta Kompleks Mahkamah di sini pada 12 tengah hari ini selepas Tharmendran menghadiri pendengaran permohonannya untuk menggugurkan pertuduhan ke atasnya di Mahkamah Tinggi di sini.

Menurut Unit Komunikasi Korporat Kementerian Pertahanan, kegagalan Tharmendran untuk hadir bertugas setelah membayar jaminan pada 6 September lepas sehingga ke hari ini merupakan satu kesalahan meninggalkan tugas yang bertentangan dengan peruntukan Akta Tentera 1972.

Tharmendran masih lagi berada dalam perkhidmatan TUDM, kata unit itu dalam satu kenyataan hari ini.

Pada 6 Januari lepas, Tharmendran, 42, mengaku tidak bersalah terhadap tuduhan bersubahat dengan Laskar Udara Mohamad Shukri Mohamad Yusop, mencuri dua enjin pesawat F5-E jenis J85-21 di Bangunan Material Processing Shed MATRA 1, Pangkalan Udara TUDM Sungai Besi di sini pada 30 April 2008.

Dia didakwa mengikut Seksyen 380 Kanun Keseksaan yang dibaca bersama Seksyen 109 kanun yang sama, yang membawa hukuman penjara sehingga 10 tahun dan denda jika sabit kesalahan. -TMI


Dari email : Bukti Dato' Zakiah Ibrahim, Setiausaha Sulit Najib ada rumah bernilai RM5juta
Posted: 25 Nov 2010 03:59 AM PST
berikut ialah email yang diperolehi dan disiar semula tanpa suntingan.
Berkaitan email terdahulu yang dihantar. Ini bukti-bukti baru yang saya serahkan. Demi menghormati privicy beliau, saya harap sdr tidak siarkan alamatnya dalam blog sdr. Hanya untuk pengetahuan sdr saja.
Deep Throat JPM
terima kasih.
Kalau bukan rasuah ini apa?
Bukti ZAKAYA, Setiausaha Sulit Najib ada rumah bernilai RM5juta
1. Dato'Zakiah Ibrahim AKA ZAKAYA telah mengarahkan PRnya untuk menjawab
dakwaan yang didedahkan
oleh blog-blog dan laman berita internet.
2. Penjelasan ZAKAYA hanya berligar soal beliau bukan setiausaha sulit PM Najib Tun Razak tetapi setiausaha sulit Menteri Kewangan yang namanya juga Najib Tun Razak, dan kisah sedih kononnya beliau memang tidak lagi ingin bekerja sebagai salah seorang setiausaha sulit Najib tetapi dipaksa berkerja juga.
3. Persoalan penting mengenai wang rakyat Malaysia yang digunakan untuk mendanai syarikat Aero Tree Defence & Servives Sdn Bhd ditidak dinafikan beliau.
4. ZAKAYA tidak menyentuh hubungan beliau dengan CEO dan salah seorang lembaga pengarah syarikat Aero Tree Defence & Servives Sdn Bhd.
5. Beliau tidak menafikan atau mengiyakan mengenai pinjaman berjumlah RM200 juta yang diberikan oleh dua buah institusi kewangan kepada syarikat tersebut untuk perniagaan bernilai RM20juta.
6. Kini apakah beliau berani menafikan, bahwa beliau memiliki rumah agam bernilai RM5 juta dengan kos untuk hiasan dalaman sahaja melibatkan perbelanjaan RM2 juta dengan mengupah perunding terbaik dari Da Vinci Group Holdings. Sila lihat jenis perabotnya dihttp://www.davinciasia.com/home.html
7. ZAKAYA baru tinggal di rumah tersebut pada Disember 2009 dan sesuai dengan sifatnya yang low profile, rumah mewah itu bukan di Bukit Damansara atau Taman Duta tetapi di Setiawangsa.
http://freemalaysiatoday.com/bahasa/?p=10506
Posted: 25 Nov 2010 03:57 AM PST
Oleh Nazli Ibrahim
PETALING JAYA: Sebagai golongan muda dalam PKR, Badrul Hisham Shaharin dan kumpulannya akan terus bergerak dalam parti sebagai kumpulan pendesak ke arah penambahbaikan dalam parti.
"InsyaAllah, tidak akan ada beza dari segi sumbangan saya kepada parti walaupun kini saya tidak mempunyai apa-apa jawatan dalam parti, malah kami akan terus bergerak sebagai kumpulan pendesak dalam parti ini.
"Cuma kini tidak ada lagi mesyuarat pusat yang wajib dihadiri seperti sebelumnya," kata Badrul yang juga dikenali sebagai Chegu Bard kepada FMT hari ini.
ketika ditanya berkenaan bantahan-bantahan yang telah dibuat kepada parti sebelum ini, beliau menegaskan bantahan tersebut dibuat demi kebaikan parti.
"Parti kena faham bantahan yang saya buat bukanlah kerana saya kalah atau menang atau saya anti sesiapa. Selama ini saya tidak ada jawatan pun saya tetap berjuang.
"Banyak kali saya dikhianati dalam parti oleh pemimpin tertentu tetapi saya masih terus berjuang. Saya lakukan kerana ingin membaiki parti dan terus menyakinkan rakyat bahawa parti ini benar-benar parti reformasi dan relevan dalam proses perubahan negara," ujar beliau.
Isu perletakan jawatan Fairus
Chegu Bard turut mengimbau kembali kejadian beliau dan rakan-rakannya di anggap musuh dan perosak parti apabila mendedahkan penyelewengan yang dilakukan oleh bekas Timbalan Ketua Menteri (TKM) Pulau Pinang, Mohamad Fairus Khairuddin April tahun lalu.
"Saya ambil contoh ketika saya bersama teman dari Pulau Pinang termasuk Din Binjai (Amizudin Ahmat), Cikgu Zul dan lain-lain cuba menyelamatkan parti dengan mendedahkan korupsi yang mengaitkan Fairus.
"Ketika itu ramai anggap kami musuh hingga pada satu peringkat parti bukan sahaja tidak peduli malah ada yang menganggap kami perosak parti.
"Sedangkan sudah sampai tahap bahan bukti yang diperolehi cukup meyakinkan kami dan percaya isu ini boleh menjadi faktor kejatuhan kerajaan Pakatan Rakyat Pulau Pinang dalam Pilihan Raya Umum akan datang jika dia terus berada di situ," kata beliau.
Beliau turut memberitahu bagaimana reaksi lesu telah ditunjukkan pemimpin parti di peringkat negeri dan pusat ketika itu dan cuba melindungi isu tersebut daripada terdedah kepada umum.
Amizudin nekad dedah kepada media perdana
"Apabila parti masih terus cuba menutup isu tersebut dengan mendiamkan diri, teman di Pulau Pinang, Din Binjai nekad untuk mendedahkan kepada media perdana.
"Setelah diasak dan diberi tekanan akhirnya Fairus meletakkan jawatannya manakala SPRM (Suruhanjaya Pencegahan Rasuah Malaysia) pula yang begitu beriya-iya menyiasat kes itu terus senyap dan menutup kes bila Fairus masuk Umno.
"Saya dan beberapa teman ketika itu beberapa kali bertemu Pegawai Tinggi SPRM dan kami faham apa yang berlaku," ujar beliau lagi.
"Bayangkan bagaimana tingginya penghormatan rakyat jika pada masa itu parti melucutkan jawatan Fairus kerana kita akui dia korup dan tidak kompeten.
"Tentu lebih dihormati dan meyakinkan masyarakat bahawa pendirian parti terhadap rasuah bukan sekadar retorik kosong tetapi dilaksanakan dengan telus apabila TKM pun boleh dipecat jika korup," ujar beliau dengan bersemangat.
Dalam isu bekas TKM tersebut, beberapa ahli AMK negeri dikenakan amaran dan Amizudin Ahmat pula dikenakan tindakan digantung oleh parti sekaligus jawatan ketua AMK negeri yang disandangnya turut terlucut.
Tindakan tersebut turut mendapat tentangan daripada Chegu Bard dan kumpulannya setelah mendapati tiada ketelusan dalam siasatan isu ini.
Menurut Chegu Bard pendakwa, penyiasat dan pencadang hukuman kes ini terdiri dari kelompok yang sama dalam parti.
Chegu Bard turut menjelaskan, disebabkan matlamat pendedahan yang dilakukan untuk kebaikan parti telah tercapai ketika itu maka akhirnya mereka akur dan berdiam diri walaupun dikenakan tindakan.
Bersama Malaysiakini "misi dan visi"
Posted: 25 Nov 2010 03:55 AM PST
This posting includes an audio/video/photo media file: Download Now
Cukuplah kenyataan nak bersihkan 'kuda trojan' - FMT
Posted: 25 Nov 2010 03:45 AM PST
Oleh Nazli Ibrahim
PETALING JAYA: "Hentikan kenyataan mengugut nak bersih kuda trojanlah, nak bersih pengkianatlah," demikian kenyataan sinis Chegu Bard berhubung tindak-tanduk beberapa pemimpin yang masih lagi bermain dengan teori 'kuda trojan' dalam Parti Keadilan Rakyat.
"Sebagai pemimpin besar memang betul harus membersihkan parti tetapi kenyataan mereka harus diikuti dengan pelaksanaan yang jujur dan penting juga mereka harus bertindak sebagai penyatu dalam parti.
"Dalam perihal ini nampaknya Shamsul jauh lebih baik dari Azmin di mana kenyataan pertama dia selepas minggu terakhir pengundian ada menyeru agar ahli PKR merapatkan saf kembali," ujar Chegu Bard lagi.
Menurut beliau lagi, walaupun pemilihan PKR telah pun berakhir minggu lalu, namun harapan untuk membersihkan parti dari penyelewengan masih ada.
"Harapan untuk membersihkan parti tetap ada. Tidak mengira samada musim pemilihan atau tidak, berjawatan atau tidak. Apa yang penting perjuangan diteruskan. Selagi ada Tuhan selagi itu ada harapan," kata beliau kepada FMT lagi.
Anwar masih terbaik
Disamping itu, beliau mengakui anak-anak muda tidak banyak pilihan untuk menumbangkan kerajaan Barisan Nasional (BN) selain menjadikan PKR sebagai landasan perjuangan.
"Kepada anak muda kita tidak punya banyak pilihan untuk menentang BN secara peribadi. Setakat ini parti ini ialah parti paling progresif untuk perubahan negara.
"Anwar pula ialah kereta kebal terbaik untuk kita berdepan merempuh regim warisan penjajah BN ini. Anwar ada karisma penyatu, setakat ini parti dan Anwar tidak sempurna tetapi masih yang terbaik.
Beliau turut menyeru agar ahli politik muda dalam PKR agar tidak mengamalkan politik naungan sebaliknya bina kekuatan sendiri.
"Anak muda mesti keluar dari kepompong politik naungan, bina kekuatan sendiri dan bersama bangkit merempuh untuk perubahan," kata beliau.
Posted: 25 Nov 2010 03:10 AM PST
Walaupun nampak seperti banyak yang berlaku di Malaysia dewasa ini mungkin membuat kita berasa hilang semangat, tapi sebenarnya banyak perkara yang harus kita raikan:
- pembebasan Daw Aung San Suu Kyi setelah lebih 20 tahun ditahan dan dibuang dari arena politik negara Myanmar, yang mana suara lantang beliau untuk reformasi politik secara aman serupa seruan kita di Malaysia
- tamatnya proses pemilihan PKR secara aman walaupun dipenuhi ranjau dugaan
- tamatnya suatu tahun yang cukup produktif yang membuatkan kita lapar… melaparkan reformasi, melaparkan perubahan, melaparkan… KEK!
Oleh itu, saya dengan cukup bangga menjemput saudara-saudari pembaca dan pengamat blog ini untuk menyertai saya dalam satu kempen perayaan: "Mari Kita Makan Kek!"
Nak turut serta? Mudah bak a-b-c!
1) Mari sama-sama turun ke Dewan Sivik MBPJ pada 27hb Nov 2010 ini, pada jam 12:30 tengah hari untuk makan kek PERCUMA!
2) Kalau tak dapat hadir, belilah kek sendiri (cukup bajet, kan??) ajak kengkawan, dan ambik gambar lalu hantar ke letsalleatcake2010@gmail.com
Gambar-gambar anda akan dimuatnaikkan ke http://letsalleatcake.tumblr.com/
INGAT: MAKAN KEK ITU BUKAN SATU KESALAHAN!

Marilah kita sama-sama mara ke depan, menuju Politik Harapan dan Pembebasan, meninggalkan Politik Ketakutan and Kelesuan.
(Acara ini menerima ilhamnya dari para pelajar UTAR dan kesemua mereka yang telah makan kek pada 16hb Nov 2010 yang lalu)
=====
Even though there is much in Malaysia that may be making us feel down, there is also a lot that we should be thankful for:
- the release of Daw Aung San Suu Kyi after 20 years of being in the political wilderness and detention, whose calls for peaceful democratic reforms we Malaysians also share
- the relatively peaceful yet challenging effort at setting the high standards for democratic practice through PKR's inaugural "1 member, 1 vote" party polls
- the end of a very productive year which has made us more hungry for reform, more hungry for change, more hungry for… CAKE!
As such, I would like to invite one and all to join me in a small campaign of celebration: "Let's All Eat Cake!"
How to join? Easy-peasy:
1) Join us on 27th Nov 2010 at PJ Civic Centre at 12:30pm for FREE cakes!
2) Buy yourself a cake, ajak a friend(s), makan je anywhere and send the pic to letsalleatcake2010@gmail.com
We'll then post all the pics up on http://letsalleatcake.tumblr.com/
REMEMBER: EATING CAKE IS NOT AN OFFENSE!

Let us all move forward, towards the Politics of Hope and Liberation, and leave behind us the Politics of Fear and Fatigue.
(This event is inspired by the UTAR students & all those who ate cake on 16 Nov 2010)
This act of selective favouritism is also a HUMAN RIGHT CRIME
Posted: 25 Nov 2010 02:33 AM PST
Source_Star: The ever-widening definition of 'anti-Semitism'. DIPLOMATICALLY SPEAKING. By DENNIS IGNATIUS
We are witnessing TOO MUCH protection not only on one religion, one race and one country BUT Islam BASHING every where in USA, EU, Australia and etc. This act of selective favouritism and persecution of Muslims just because of following the Islam is also a HUMAN RIGHT CRIME.
Revised definition of anti-Semitism could shield Israel from criticism and silence emerging Palestinian voices.
The second summit of the Inter-Parliamentary Coalition for Combatting Anti-Semitism (ICCA) concluded in Ottawa, Canada, earlier this month.
The summit, which was attended by parliamentarians from some 50 countries, discussed ways to combat what was described as "a dramatic increase in recorded anti-Semitic hate crimes …."
The key outcome of the summit, however, proved to be controversial – a widening of the definition of anti-Semitism to encompass criticism of the state of Israel.
By arguing that the State of Israel is "the collective Jew," criticism of the State of Israel could become, de facto, an anti-Semitic act punishable by law.
Independent Jewish Voices (IJV), a Jewish NGO committed to promoting a just resolution of the Arab-Israeli conflict, accused the ICCA of attempting to "silence international condemnation of Israeli human rights abuses and to criminalise criticism of Israeli misdeeds."
Other groups concerned with protecting free speech also warned of "severe restrictions on freedom of expression" if the definition of anti-Semitism recommended by the ICCA is adopted.
The initiative to conflate criticism of Israel with anti-Semitism was first mooted at an earlier ICCA summit in London in February 2009 at a time when Israel was coming under intense international criticism for its actions during the Gaza war.
Since then, other developments have added to the pressure on Israel.
Last year saw the release of the Goldstone Report which accused both the Israeli Defence Forces and the Hamas leadership of committing war crimes as well as deliberately targeting civilians.
Israel rebuked Judge Goldstone, a South African Jew, and rejected the report as "distorted, falsified and not balanced." Israel's UN Ambassador remarked that the Goldstone report was "conceived in hate."
Then in May, Israel suffered another public relations disaster when its troops killed nine members of an international flotilla attempting to break the Gaza blockade.
A subsequent UN Human Rights Council investigation concluded that the Israeli military broke international law by its disproportionate response and unacceptable level of brutality.
Again, Israel, as it now routinely does, dismissed all criticism of its actions as extremist and biased, implying that they were motivated more by anti-Semitic sentiment than anything else.
The ICCA appears to have developed upon this strategy.
There is also concern over the rising assertiveness of a new generation of Palestinians living abroad who are eloquent, western in outlook and better able to articulate their cry for justice.
They are beginning to emulate the successful methods of Jewish lobby groups in influencing public opinion and slowly challenging the distorted narrative of their struggle for freedom.
Their voices would be effectively silenced if it is now classified as hate speech.
At their London conference last year, the ICCA was also seized by what they called "illegal anti-Semitic discourse" on university campuses including calls for a boycott of Israel.
It is not inconceivable that even calling for a boycott of Israel might soon be considered hate speech as well.
Indeed, this is already happening – in September, the French government charged several activists with "incitement to racial hatred" for distributing leaflets calling for a boycott of Israel.
As one political commentator noted, "without a doubt, the main purpose of this redefinition of anti-Semitism is to create a serious chill on university campuses and in the media."
Engaging in political activism and debate to influence public opinion and win support for their cause is one of the last legitimate forms of resistance left to Palestinians.
It is disingenuous to attempt to shut it down under the guise of combatting anti-Semitism.
Palestinians are, without a doubt, now fighting for their very survival.
They live under punishing and deplorable conditions, their lands progressively expropriated, their homes demolished to make way for more Jewish settlements, and even the most basic of human rights are denied them.
If it happened anywhere else, there would be outrage in Western capitals.
Of course, parliamentary leaders at the Ottawa conference strenuously denied any intention to stifle legitimate criticism of Israel but, as the IJV noted, coming from a group that rarely admits to any Israeli wrongdoing, such denials don't amount to much.
Anti-Semitism is indeed a serious problem in the world and Jews, given their centuries long experience of discrimination and hate culminating in the Holocaust, have every reason to be concerned about it.
Right thinking people everywhere must stand against anti-Semitism, as well as other forms of discrimination and prejudice.
We all lose when religious or racial minorities are persecuted or discriminated against, when racism and intolerance of whatever nature is allowed to fester.
Redefining anti-Semitism to shield Israel from criticism or using it to stifle dissenting voices, however, is going too far and will be ultimately counter-productive.
Besides, no nation or government should ever be given a free pass.
It is only when governments are subject to the full force of public scrutiny, as harsh as that can be at times, can they be held accountable for their actions.
This is particularly vital in conflict situations where innocent civilians are most at risk.
Chegu Bard Bakal Dikenakan Tindakan Disiplin?
Posted: 25 Nov 2010 03:24 AM PST
C
hegu Bard bakal berhadapan tindakan?
PETALING JAYA: Chegu Bard tidak menolak kemungkinan beliau bakal menghadapi satu lagi krisis dengan Parti Keadilan Rakyat (PKR) apabila khabar angin mula bertiup dikalangan ahli parti beliau bakal dikenakan tindakan disiplin.
"Saya juga ada mendengarnya dari teman-teman termasuk daripada mereka yang menganggotai Biro Politik. Beberapa media turut bertanyakan kepada saya, tapi buat masa ini saya lebih senang mengambil sikap tidak mengambil tahu tentang rancangan mereka," kata beliau kepada FMT.
Beliau turut mengulangi peringatan yang dibuatnya sebelum ini terhadap Jawatankuasa Dispilin Parti agar tidak gentar dengan mana- mana pemimpin untuk bertindak adil terhadap segala salah laku ahli-ahlinya tanpa memilih bulu.
"Jawatankuasa Disiplin Parti hendaklah tidak memilih bulu untuk siasat dan ambil tindakan. Kewibawaan mereka semakin lemah dan banyak yang rosak sebab takut kepada pemimpin tertentu dalam parti.

"Kalau mereka hendak ambil tindakan ke atas saya, pastikan punya asas yang kukuh. Apa kesalahan saya dan apa saya buat yang telah melanggar prinsip keadilan?

Berjuang untuk mendapat keadilan

"Adakah kerana menegur kelemahan parti, berjuang untuk mendapatkan keadilan itu dianggap satu kesalahan dalam parti?

"Tetapi bagaimana pula status aduan-aduan lain yang saya dan calon lain laporkan di sepanjang pemilihan? Senyap begitu sahajakah?," soal beliau.

Beliau turut menegaskan bahawa beliau akan terus menentang kepincangan dalam parti tidak mengira samada ketika musim pemilihan berjalan atau sebaliknya.

"Dalam apa keadaan sekali pun, bila-bila masa pun saya tetap menentang penipuan dan penyelewengan kuasa dalam parti termasuk sikap memilih bulu dalam siasatan ini jika ada," tegas beliau lagi.

Selain itu, beliau turut meluahkan pendapat bahawa pemimpin dalam PKR termasuk Jawatankuasa Disiplinnya harus mempunyai jiwa besar untuk mengakui kesilapan dan kelemahan diri.


Real meaning is in the mind of the person
Posted: 25 Nov 2010 02:24 AM PST
In an earlier posting, I wrote_
Beauty is in the eye of the beholder

Heroism and Nationalism is a thing purely depend on beholder's eyes and perception.
One man's meat is another man's poison.
One nation's hero is another's criminal.
One nation's martyr or hero may be another's murderer.
Look or rather read, Mr KJ John wrote in MKini, quoting the famous blogger RPK in, "A conversation with Hillary Clinton, Pt 3″:
About the interpretive nuances of meanings of words in people,
"For example, when you say someone is a fundamentalist, you may actually mean that he or she is an

extremist

-
whereas to the person in question

a fundamentalist is someone who follows the true and fundamental teachings of the religion.

Therefore,

to the first person, a fundamentalist is a negative thing

(something not quite right with that person's brain) whereas

to the second it is positive

(they are a purist).
"Again, when you say someone is

a liberal,

to one person i

t is positive (this person is reasonable and modern thinking)

 

whereas to another person it would be considered

as deviant beliefs (not following the teachings too strictly and straying from the correct path).

"A non-Muslim would look at a Muslim who drinks wine as good (this means the person is a liberal Muslim)
whereas

a fellow Muslim would not share that view

- it would be considered bad.
So liberal can be both good and

bad

depending on where you stand."
That is precisely the issue of miscommunication in any communication model.
The

key or core issues

are

implicit meanings

and

nuances embedded

within the worldview of the communicators;

whether

the sender

of the message or

the receiver

of the message.

Unless these nuanced meanings are fully understood within a moment of "aha" experience by the others, very often the communication is incomplete. That is exactly the point that RPK is making, and I fully agree.
Related Articles
Nine cats being cute in gifs, 9 ekor kucing beraksi comel dalam gifs
Posted: 25 Nov 2010 05:53 AM PST