---
SHY TAIB TO ADMIT TO BRIDE ON JAN 15TH
Posted: 10 Jan 2011 11:24 AM PST
Not the Grandad, but the Groom - prepare for something
a little more flattering with the official photos next week
Why should the marriage of a Head of State be treated as a whispered secret?  We can now confirm that at last there will be an official recognition of the fact the Abdul Taib Mahmud has taken a new wife with an event in Kuching on Saturday 15th of this month. 
Presumably,  it will be on this occasion that the Chief Minister will finally announce the name, true age and identity of the lucky lady?  Meanwhile, Sarawak Report feels obliged to issue previously unseen pictures that can prove to a bewildered public that the actual wedding has indeed already taken place and that Taib is indeed a married man once more.
Not the grandad but the groom
The couple, seen here in our exclusive picture, are both dressed in white, having just been married.  We can confirm that the gentleman, who is somewhat dwarfed by his much younger new wife, is the groom and not an elderly relative.
It may seem ridiculous that the proven marital status of Sarawak's Chief Minister has still failed to be formally announced.  However perhaps the couple were in a hurry?   Indeed, Taib's failure so far to officially present and acknowledge his wife in the normal fashion has made it inevitable that people have been left speculating over the speed and secrecy of this event.  Is a fifth potential heir to arrive for the lucky family sooner rather than later?  Or was the lightning marriage designed to quash unhealthy rumours (or worse, evidence) of an existing relationship? 
Poor PR?
Taib acts the paternal figure at another wedding of a lady older than his new wife today - the daugher of Jabu his deputy
Indeed, there have been numerous marital scandals associated with the Mahmud family, which Taib has fought hard to quash and there would be no desire to add to any of them on the brink of the election.  So why such a grave mishandling of PR by Taib and BN by this displaying of  all the hallmarks of an emergency wedding?
Worse,  it  has been followed by a lengthy period of silence with no official confirmation of the situation, giving the appearance that the actors in the affair have been working behind the scenes on how to best present the matter.  A wedding should be treated as a public celebration and not a secret scandal, so why has the Chief Minister not managed the affair more skillfully to avoid such an unfortunate style of presentation? 
In a country with a free press Taib would not have had a restful New Year's break, after such a slack management of his PR.  Yet, in fact it is understood that he and his young new wife were able to fly off on their holidays and enjoy another marriage ceremony nearer her home, in Syria in the Middle East. 
How many years younger than Jabu's daughter is Taib's new bride? Maybe we will find out next weekend?
Wouldn't it be nice to know who her family are and how the couple met?  Public figures have to accept a certain amount of scrutiny in such matters – it comes with the job.



Posted: 10 Jan 2011 08:11 AM PST
What do you do when you are having the first day of work... I meant new environment. I was sitting in the training room with all the new hire to go through a whole day briefing from various department.
The new company has a nice environment with all the different facilities. There is a big cafeteria, a big fridge size coffee machine with all kinds of different hot drinks... And a vendor machine that sells can drink. Not to forget there is a gym with showers, a pool table, a gaming room with Dota, Warcraft etc..., a foosball table etc... So what do you think about my new office... Fun place to work?  :p
I will report myself back to the department and will get a work laptop... BTW, each of us will be given a nice lanyard together with the access card, a mug with our name on it and a nice pen drive with the company logo as the goodies for joining the company :)
What else i will get?... Hmmm... need to find out more tomorrow.  Anyway, gotta hit the bed now.
Good night everyone... Ciao~
Posted: 10 Jan 2011 09:15 AM PST
that, my dears, is the title of the new book by kee thuan chye.
some of you might remember his book 'march 8: the day malaysia woke up' which came out somewhere in sept. 2008. i have blogged about it when the book came out because my contribution was in the book. to refresh your memory, do read here and here please.
this time more than 2 years later, kee came out with another book, a 'revised and upgraded version of march 8: the day malaysia woke up' so said the review in malaysiakini (CnP below for you to read if you are not a subscriber of malaysiakini).  i haven;t read the book so don't know about the contents and who contribute to it. i do know that facebook friend, vijay kumar did contribute an article. reading the review from malaysiakini.  i notice that the first part of 'march 8: time for real change' consists of  articles from 'march 8: the day malaysia woke up'. there are 3 parts in the new book. since having read the first book, so i guess for the second book, only 2 parts are new to me. nevertheless i will still get hold of the book to read. make sure you do too ok!
===============================================
AN INSPIRING CHRONICLE OF CHANGE
Review by Jee Wan
Jan 9, Malaysiakini
When we won the Asian Football Federation Suzuki Cup, our PM declared 31st December a public holiday, claiming to support the 1Malaysia concept of "People First, Performance Now". Hurrah, hurrah.
But when our PM attended a Christmas celebration at the Catholic Church Archbishop residence, the PMO directive ordered the church officials to remove crucifixes and prohibit them from singing hymns and praying, saying it's to protect the prime minister's Islamic credentials.
Here we are shouting 1Malaysia this and 1Malaysia that, but know not how to respect the tradition, culture and beliefs of another religion? What message are we sending out to the public and the world at large? That we are still immature even after 53 years of independence?
That even our own leaders can't walk the talk?
That's just the tip of the tip of the iceberg. And our opinion would probably sound very biased to those who only read the mainstream media or who have been constantly reminded and instilled with fear of change.
But seriously; if we want to see improvement and real progress, we need to change. Change the way we think. Change the way we perceive things. Change for the better.
A wise man once said, "He who rejects change is the architect of decay." So, let this book, 'March 8: Time for Real Change', open your mind. Read it and then, tell me and those whom I share my stand with, if we're biased.
'March 8: Time for Real Change', is an upgraded and revised edition of the 2008 original, titled 'March 8 The Day Malaysia Woke Up', put together by Kee Thuan Chye.
This edition is divided into 3 sections – Where We Are Now, Back to the Beginning and Where Do We Go from Here, and contains 42 essays altogether.
The ones in Where We Are Now discuss major issues that have happened since March 8, 2008 and reflect on whether the country is better or worse off.
Back to the Beginning consists of essays and interviews selected from the original book, which bring us back to the beginning of March 8, helping us to reflect and learn from our mistakes before moving forward. Lastly, in Where Do We Go from Here, we look forward and reignite hopes for a better future.
Spread sporadically throughout the book are comments and opinions shared by Malaysians from all walks of life, young and old, expressing their hopes for real change – each very moving, especially the ones written by determined, hopeful youths.
The essay that tugged at our hearts was the one written by Kee (right), titled Merdeka on March 8, which reminded us of what happened three years ago – the joy that spread like wild fire and camaraderie that had the right ingredients for the now 1Malaysia.
Everyone did their part to make a difference. There were those who came back from afar just to cast their votes, those who volunteered to help out at the polls and those who attended the numerous ceramahs during the campaign period, to see change. And change is what we got.
If this can't convince people that we can make a difference, then I don't know what can.
There are also brilliant interviews in this compilation. We enjoyed the ones with Raja Petra Kamaruddin (RPK) that had a rather suggestive title, How Big Are Your Balls? and Steven Gan in We Stand with the Underdogs.
It goes without saying that the interview with RPK is not without some bluntness, wisecracks and Malaysian slang slipping in every now and then. Not only did it tickle us to the core, but it made us ponder on a few things.
We liked what he said about fear. "Once you keep fearing and fearing, everything takut, gangster-lah, takut ini-lah, takut itu, I tell you we will never move forward." And how can one learn not to be scared? "…set an example, and you get people to join you."
And we found the last comment he gave in regard to Umno ruling by sheer intimidation, so true. Don't blame the musang for eating the ayam, because that is its basic instinct. If you want to blame, blame the one who opened the door to let the musang in, i.e. people who gave the power to the parties to do so.
We Stand with the Underdogs, is an interview with Steven Gan, the editor of Malaysiakini, who's also a dedicated, rare Malaysian journalist. In this interview, Steven shares with us about his experience and challenges working with an independent media.
The second half of this interview focuses on being an underdog and supporting those in the same position. "I think if BN happened to be out of power, we would be standing with them. It is part and parcel of the fact that there has to be some check and balance, and we need to play that role."
Like many other Malaysians, he too, shared the sweet success of March 8. He said, "I think the most meaningful thing that came out of it is that there can be a change in government without riot", further proving that we need not fear change, because we can handle change.
This book reminded us that change is possible; that there is hope for a better Malaysia. It helped us recollect what has happened and reignited that fire in us again, to want to make a difference.
Youths and those interested in knowing a little more about politics besides the ones you have read in the mainstream media would appreciate this book, as it gives a clear picture of what we have achieved thus far and what our future holds if we don't do something about it today.
Please do not to turn a deaf ear and blind eye to politics; it's not dirty if you're fighting for peace and justice.
If you've never really cared about the future of Malaysia, then 'March 8: Time for Real Change' might just make you want to care about it now.
KOH TSU KOON AND BN USE THE SAME EVIL TACTICS AS UTUSAN!!!
Posted: 10 Jan 2011 08:17 AM PST
Former Penang chief minister Koh Tsu Koon's vow of a more aggressive role for Barisan Nasional to counter criticisms of its rivals in Penang seems to have backfired. His successor, Lim Guan Eng, today criticised him severely for keeping mum on alleged misdeeds the previous state government was said to have committed.
Koh, who is also a minister, said he had waited and given the opposition a chance to criticise him and the BN, however in March, the BN would be more active and aggressive in convincing Penangites on what BN has done for them and efforts would be made to regain public confidence and trust in the BN government's capability of bringing more development to the state. On Koh's tactic to regain public confidence in BN, Lim said there was nothing that would shock his administration as it had been practising good governance under the CAT (Competency, Accountability, Transparency) principles that resulted in being complimented by the auditor-general for two consecutive years for good financial management and also praised by Transparency International, a well-established organisation.
Lim said the state government can foresee what kind of tactics Koh and the BN would use on Penangites before the coming general election, likening them to the same kind of tactics that Utusan Malaysia uses - namely, to slander, threaten and make malicious claims.
Nombor-nombor Plat Kereta Yang Unik
Posted: 10 Jan 2011 08:53 AM PST
B
ulan lepas nombor plat pendaftaran kenderaan "MCA 1" telah ditender pada harga RM300,100 dan merupakan tawaran tertinggi untuk nombor plat di negara ini, setakat ini.
Kementerian Pengangkutan berkata, sebelum ini harga plat pendaftaran tertinggi ialah "TAY 1" yang ditender pada harga RM242,000 dan "TAN 1" sebanyak RM200,900.
Apakah plat kereta 'unik' yang pernah anda jumpa? Samada di jalan raya atau dimana sahaja? Ini ada beberapa plat yang unik pernah ditemukan:


Apa-apa pun plat nombor kenderaan ia perlu mematuhi undang-undang.

Mengikut Kaedah 6 di bawah Kaedah-kaedah Kenderaan Bermotor (Pendaftaran & Pelesenan) 1959 -

'Nombor pendaftaran yang diberikan kepada kenderaan bermotor dalam kaedah-kaedah ini pada sepanjang masa, dipamerkan di hadapan dan belakang kenderaan bermotor tersebut dalam kedudukan menegak pada plat segi empat atau pada permulaan segi empat tidak pecah membentuk sebahagian kenderaan dan hendaklah mematuhi perkataan dan nombor dan sebaliknya dengan peruntukan-peruntukan yang mesti dipatuhi di mana plat nombor pendaftaran boleh dibina daripada besi berbentuk besi tekanan, plastik atau bahan-bahan lain yang sesuai yang ditetapkan oleh Ketua Pengarah dan mempunyai huruf dan nombor yang menaik atau timbul'.Pihak JPJ sentiasa menjalankan operasi penguatkuasaan dan mempelbagaikan tumpuan dan sasaran dalam mengatur perancangan operasi di seluruh negara, termasuk juga berkenaan penguatkuasaan terhadap nombor pendaftaran.'




Mohon rayuan pertahan tanah adat di Rembau
Posted: 10 Jan 2011 07:26 AM PST
Rumah Melayu nak diruntuh, Tanah Melayu dirampas tanpa diganti bersama YB Taufek dan che'GuBard pertahankan. Esok (11 Jan 2011) dijadualkan pihak berkuasa akan meruntuhkan rumah. Ada ramai yang enggan berpindah.
Semua diminta bersama, pihak media diminta dapat hadir membuat liputan. Esok (11 Jan 2011) , jam 11.30pg berkumpul berhampiran kedai minum dkt Lampu Isyarat Chembong. Sebarang pertanyaan sila hubungi 0123696474 (sdr. Norazizi, Setiausaha Keadilan Rembau). Bersama che'GuBard dan YB Taufek pertahan rumah tersebut dari dirobohkan.
untuk memahami isu ini sila klik
http://chegubard.blogspot.com/2009/06/surat-terbuka-buat-mb-ns-berkenaan-isu.html
http://chegubard.blogspot.com/2009/10/umno-pelindung-tanah-melayu.html
http://chegubard.blogspot.com/2009/07/keadilan-rembau-boleh-duduk-dengan-umno.html
http://chegubard.blogspot.com/2009/07/email-rozmal-india-ppinang-jauh-lebih.html
http://chegubard.blogspot.com/2009/07/mana-janji-umno-untuk-perjuangkan-hak.html
http://chegubard.blogspot.com/2009/07/selamatkan-tanah-adat-langsung-tidak.html
http://chegubard.blogspot.com/2009/07/antara-buah-pala-dan-tanah-adat-rembau_02.html
http://chegubard.blogspot.com/2009/06/umno-yang-menjahanamkan-tanah-melayu.html
http://chegubard.blogspot.com/2009/06/adakah-tanah-adat-rizab-melayu-akan.html
Mohon sebaran dan bantuan.
Parti Keadilan Rakyat Cabang Rembau dan PAS Kawasan Rembau
Posted: 10 Jan 2011 06:49 AM PST
Years ago, when life had been down and out for me. 987FM had been playing this song: Alicia Pan's This Love. I can't seem to find the lyrics online, and so I supposed you just have to make do with the video.
It's nice. Trust me.

And in case, it doesn't work, you can still go : http://www.reverbnation.com/artist/song_details/756997 and get it played or downloaded if you want to.
Now years later, I finally found the song that had been playing in my heart all this while. The wait had been worth while.
No matter how many tantrums I throw. No matter how angry I get. You always will hold me close and reassure me that everything will be fine. i love you, my ferocious tiger!
Filed under:
Entertainment
,
Heartfelt
Miki invades Penang – Pesta Flora Pulau Pinang & Botanical Garden
Posted: 10 Jan 2011 06:37 AM PST
Looking at my picture albums I realized that we have done so many activities in our spare time but none has been featured in this website. I was browsing my own blog just now and felt really nice having to walk in our own memory lane, so I guess despite some stories being long over-due I would still write about all of them anyway…
OK not all… just Miki related activities… Mummy-Daddy related activities tak payah la noo? haha..
Anyway, comparing to his parents' childhood, Miki sure has one that is very interesting. He gets to go to so many places and see great many things, no wonder he is so smart unlike me when I was his age…
Miki is a cute IPhone -tapping, Youtube-subscribing, nature-loving kid that hangs out by the pool while  I was a comot hingus-dripping, teddybear-playing, dramaswasta-watching kid that hangs out by the pokok jambu playing with dirt… His Daddy on the other hand, has no memories what so ever about when he was 6 years a below. Lagi dasyat siot!
Several weeks ago, we went to Penang Botanical Garden. Although my family lives in Penang most of our lives and I could have sworn I fed the notorious Botanical Garden monkeys when I was a kid, but once I was there with my husband and son, aku pulak yang hilang ingatan tak ingat lansung apa-apa pasal garden tu…
Anyway, while we were there, they were having Penang Flora Fest 2010, and although the fest was nothing compared to Putrajaya's Flora Fest or MAHA but it was nice nonetheless.
I saw the most glorious bonsai of plumeria (dwarf frangipani) in my entire plant-noticing life. Apparently there was  a competition on bonzai plants of all sorts…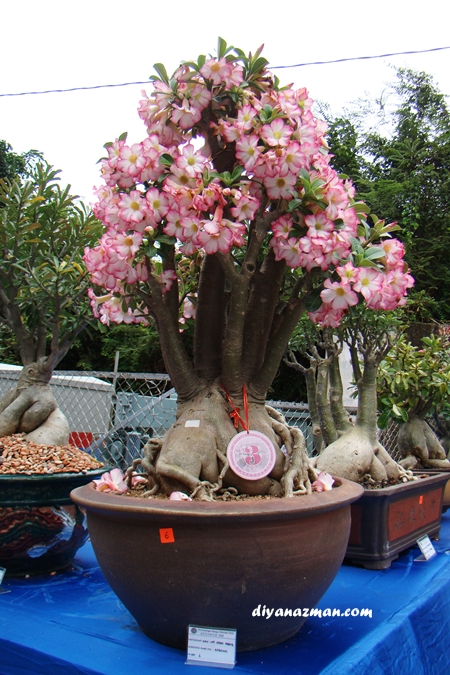 Dwarf plumeria that's not so dwarf I am telling ya…..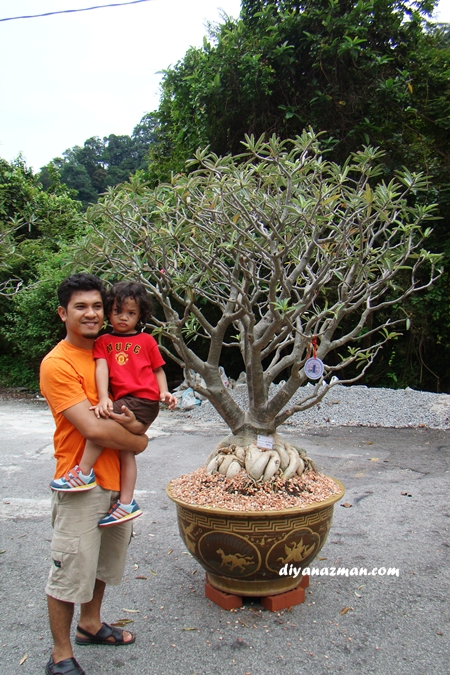 That's one huge bonzai plant eh?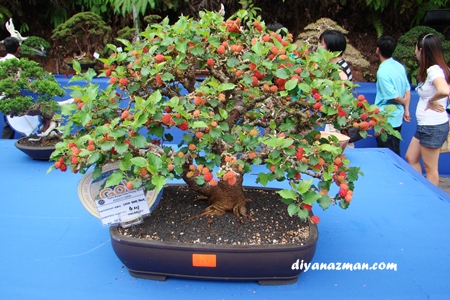 Wow.. I didnt know raspberry can go through bonsaification? heheehehehe
Above pic is also of something new to the big bad jakun me… it's a pot of mixed carnivorous plants that you could keep to feast on insects in your home. I could have bought this if only Azman gave the slightest encouraging look at me but he didnt because HE WAS CHASING THAT LIL MONSTER MIKI ALL OVER THE ISLAND!!!
Miki was totally anak kambing terlepas kandang. And anak kambing yang lapar ice-cream pulak tu… First he chose an RM2 ice-cream only to let it drip a few drops on his hands and he started to go-  "eww ewwww menitik!! menitikkk!!" sambil tergedik-gedik kegelian..eiii aiskrim pun ko geli? Masa ko kencing pancut kat carpet Mummy haritu ko tak geli!??????
Then he threw the RM2 ice -cream on the ground.
Don't let me start with  – "When Mummy was your age Miki……..". Well even if I did he wouldnt bother to understand, that's why he screamed for ANOTHER ICE-CREAM!!!!
*stress sampai beruban*
To distract him, we showed Miki these:-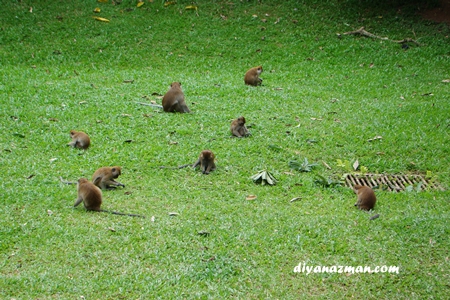 monkeys at Penang Botanical Garden, But he was more interested in this:-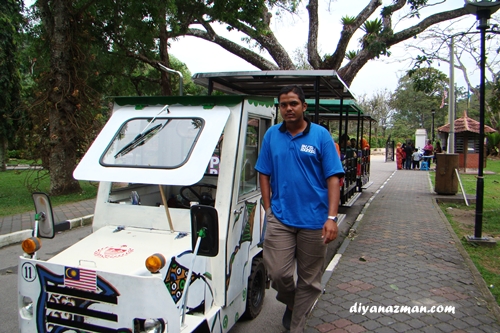 NO! Not the macha in blue! THE TRAM! Miki has this weakness towards vehicles of all sorts, he is kinda obsessed with them and given a chance would'n mind riding on the RM2 per pax tram 30 times in 30 days in a row.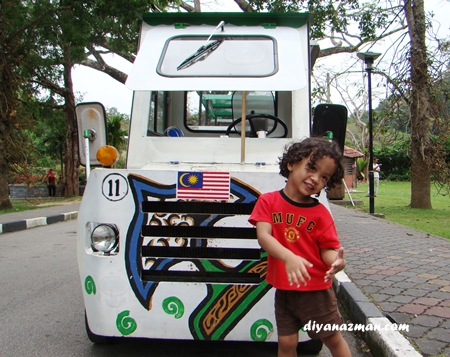 See? Tergedik-gedik kegembiraan…
The tram took us around the aged and magnificently beautiful park! But to tell you the truth, if you appreciate nature like we do, the tram wouldn't do the garden any justice. You have to walk and let your feet touch the grass in hilly side, touch the cool refreshing waterfall and smell the monkey poop.. NO I MEAN THE FLOWERS!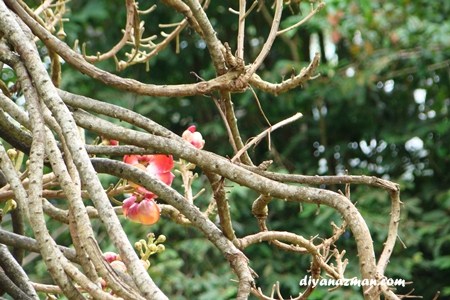 I don't know whats the name of this tree.. but it's weird and cool!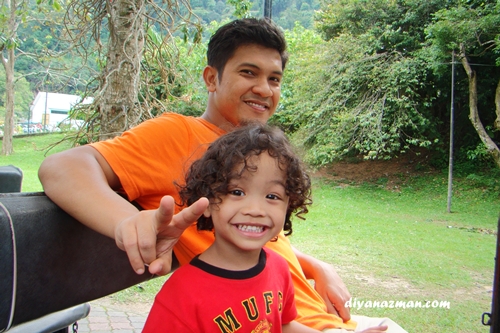 Happy Miki and Daddy
After the tram ride, like I said just now, Miki wanted to ride on it again and again… When we said no, he remembered his earlier meroyan about the spoiled ice-cream and wanted a replacement.
See below picture how he was was terkinja-kinja tanpa kesabaran menunggu ais-krimnye yang kedua…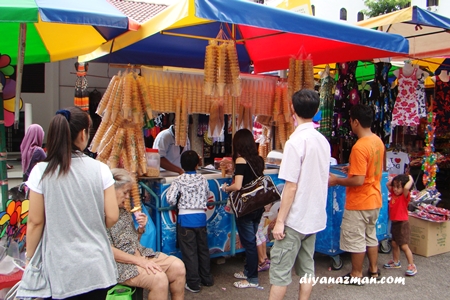 Yay! This time only RM1 teeth-rottening treat in a cup!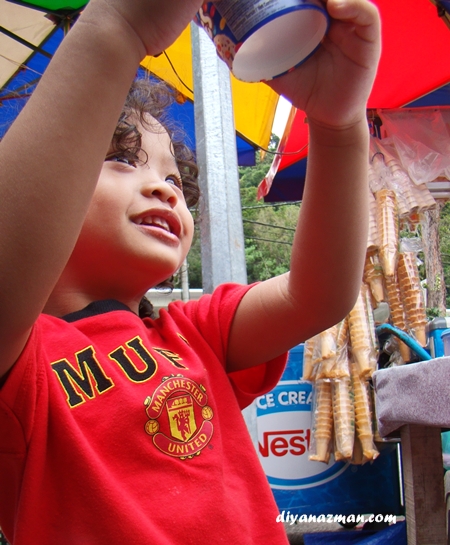 Love you spoiled lil Miki… I'll continue with Penang trip part two.
Polis Bantuan Belasah Jurugambar BERNAMA
Posted: 10 Jan 2011 07:05 AM PST
D
ipukul Dan Digari Polis Bantuan, Jurugambar Buat Laporan PolisGambar:
Jurugambar BERNAMA, Hairul Nizam Baharin, 37, menunjukkan bekas pergelangan tangannya yang cedera akibat digari oleh polis bantuan selepas mengambil gambar di Terminal Bersepadu Selatan-Bandar Tasik Selatan (TBS-BTS) di sini hari ini.
Seorang jurugambar membuat laporan polis terhadap beberapa anggota polis bantuan yang didakwanya telah memukul, menggari serta mengugutnya berhampiran Terminal Bersepadu Selatan-Bandar Tasik Selatan (TBS-BTS), di sini Ahad.
Hairul Nizam Baharin, 37, dari Pertubuhan Berita Nasional Malaysia (Bernama) berkata beliau diperlakukan sedemikian selepas menjalankan tugas mengambil gambar di persekitaran terminal tersebut kira-kira-kira pukul 11.30 pagi.

"Sekumpulan lelaki yang memakai ves polis bantuan meminta saya memberhentikan motosikal selepas saya selesai ambil gambar di situ, tapi saya enggan kerana tidak tahu tujuan mereka," katanya ketika ditemui selepas membuat laporan di Balai Polis Jalan Tun Razak di sini.


Hairul Nizam berkata beliau bagaimanapun terpaksa memberhentikan motosikalnya apabila kumpulan itu terus mengekori dan menghalangnya daripada meneruskan perjalanan.

"Mereka kemudian merampas kunci motosikal saya dan apabila saya tanya kenapa mereka cuma diam. Seorang daripada mereka minta kad pengenalan namun saya enggan serahkan kerana tidak tahu tujuan mereka.

"Polis berpangkat sarjan itu kemudian menyentuh badan saya dan saya kata padanya yang dia tidak boleh menyentuh saya. Dia kemudian bertindak menumbuk saya," katanya.

Hairul Nizam berkata kepalanya juga diketuk dengan topi keledar meskipun berulang kali meminta dilepaskan.

"Salah seorang daripada mereka kemudian mengarahkan saya digari sebelum dibawa ke balai polis TBS-BTS. Di situ anggota yang bertugas mengarahkan gari saya dibuka dan saya dibebaskan," katanya.

Hairul Nizam berkata tindakan kumpulan polis bantuan itu adalah tidak profesional selain memperlakukannya seperti penjenayah sedangkan beliau hanya menjalankan tugas yang diarah majikannya. -Bernama


Ban Hindraf, Najib... and strip Moorthy's citizenship!
Posted: 10 Jan 2011 06:01 AM PST
None of the Malaysian Chinese, the second largest race in the country had never instigated Beijing to sever its trade or other bilateral ties with Malaysia. Yes, there were some mistreatment and things like that. They understand that no government is so perfect.
Neither MCA, Gerakan nor other Chinese associations or NGOs have ever requested mainland China to do so. They remain Malaysians.
However, Hindraf which represents a minority of Malaysian Indians went overboard by asking New Delhi to sever all trade relation with Malaysia. There only reason, 'ill-treatment of the Indians by Malaysian Government' (
here
).
The call was made based on Hindraf's Malaysian Indian Minority and Human Rights Violations annual report 2010 which claimed that Malaysian Indians were suffering grave human rights violations committed by the Malaysian government. Hindraf activists had distributed copies of the report at the Pravasi Bharatiya Divas (Overseas Indians Conference) in New Delhi, which commenced yesterday last Friday.
(Former MIC president Datuk Seri S Samy Vellu was also there leading a 150-strong delegation but did not say anything to refute Hindraf's claim).
Based on news reports published by the Malaysian media, the Hindraf report alleged that 95 per cent of those killed by the Malaysian police were Indians, 90 per cent of custodial deaths and 80 per cent of those who experienced 'police harassment, unlawful arrests, frivolous and malicious prosecutions', were Malaysian Indians.
The report added that 48 per cent of prisoners in 28 prisons in Malaysia were ethnic Indians and in 2010 alone, 5,000 Indians were arrested and detained under the Emergency Ordinance, which allowed for detention without trial.
But a Human Ministry's report said about 200,000 Indian youths in Malaysia were involved in crime. About 100,000 ethnic Indian gangsters operate in Malaysia.
This gave Hindraf chairman's P Waythamoorthy (pic) the 'license' to ask the Indian government to issue a note of censure against its Malaysian counterpart in a language consistent with the serious and urgent nature of the problem.
I think Moorthy doesnt consider himself as a Malaysia, and so the rest of Hindraf members. They feel they are citizens of India. That's why they wanted to see the Malaysian economy takes a flop, hence giving room for its Indian gangsters to run an amok for survival.
This guy is a traitor. I commend former premier Tun Abdullah Ahmad Badawi for outlawing Hindraf during his tenancy but Najib legalised them.
People like Moorthy doesnt deserve to be a Malaysian and I personally would like the Home Minister to take up this matter. If there is a need to strip his citizenship, I believe many Indians would support the move!
Moorthy and his followers can leave Malaysia once they get their Indian citizenship!
Dogs should be understood and handled well
Posted: 10 Jan 2011 05:50 AM PST
This is my 5 year old grand niece, beside my "Gentle Giant" Kruger, a Doberman, who was raised up with love and affection. A great, gentle and obedient guard dog. The picture here speaks volumes.
GEORGE TOWN: An Irish tourist died after he was attacked by two dogs at an organic farm in Teluk Bahang, about 25km from here.The ears of Maurice Sullivan, 50, were bitten off and his chin was almost torn off in the attack which occurred at about 10am yesterday. He also suffered bites on his body. The cause of death has not been determined as it is learnt that the victim could have suffered a heart attack because of the trauma. More here
The Star
Posted: 10 Jan 2011 05:25 AM PST
I believe the Army is now in good hands. This is the impression I get from my conversation with a number of serving army officers whom I met recently. They say that the army leadership is now more focus in its primary duties of defence and security. Issues relating to the welfare and well being of soldiers and their families are being given due attention, especially the provision of better housing for the families. Gone are the days when soldiers, particularly those working in Kuala Lumpur and in large towns, have to stay in rented homes that sometimes resemble those of some Romanian gypsies?
Back in the early days, I as a young duty officer would be asked to visit the homes of our soldiers that are living in rented homes, and I sometimes wonder why have they to live in such dilapidated homes and in such unhealthy surroundings, despite them having to sacrifice their lives for the country. For those who served throughout the period of the 60's and 70's would know what I mean.
There is also very little that I hear now of the corrupt practices among officers that have been so rampant in the past, and I attribute this to the realization among the current leadership that this disgraceful act has to stop. I deem those who were involved in corrupt practices in the past, regardless of the magnitude, is so lucky not be caught. Let me remind those who still have the urge to indulge themselves in corrupt practice to be weary of their dastardly acts. There is nothing more disgraceful than to be apprehended for the act, and be shamed for life.
I know personally most of the top echelon leaders of the army today, and I think they are out to cast off the poor image of the army, that has been caused by some leaders of the past. I say this with utmost sincerity, and I am glad that some have even vowed to put back the army to its glorious past. Religious awareness too is also given serious attention by some commands.
It is heartening to hear from a lot of officers that the 'screaming and yelling' is over. There is greater openness and discourse between superiors and subordinates. I am also told that officers are now forbidden to take off for a game of golf during working hours, and at no time will they be seen playing with contractors. This is something that should have been enforced many years ago. My only hope is that such a ruling will remain in force forever.
CRUSADE AGAINST CORRUPTION
Kakitangan DBKU Ditahan Rakam Pengguna Tandas
Posted: 10 Jan 2011 05:56 AM PST
K
akitangan DBKU ditahan rakam pengguna tandas
KUCHING: Kegiatan seorang kakitangan Dewan Bandaraya Kuching Utara (DBKU) yang gemar merakam pengguna tandas awam di Muzium Kucing Sarawak di sini, terbongkar selepas lelaki berkenaan ditahan polis, petang semalam.
Dalam kejadian kira-kira jam 4 petang itu, suspek berusia 21 tahun itu dipercayai menggunakan telefon bimbitnya bagi merakam seorang pelancong wanita dari Australia yang menggunakan tandas ketika melawat muzium berkenaan.
Sebelum itu, mangsa berusia 20 tahun itu bertanya lokasi tandas dengan suspek yang kemudian mengambil kesempatan merakam mangsa di dalam tandas berkenaan.

Perbuatan suspek disedari mangsa apabila mendapati terdapat kotak sabun mencurigakan tergantung pada pemegang pintu sebelah dalam tandas.


Ketua Polis Daerah Kuching, Asisten Komisioner Mun Kock Keong, berkata mangsa yang berasa pelik kemudian memeriksa kotak berkenaan dan mendapati terdapat telefon bimbit yang sedang merakam video.

Katanya, mangsa terus memaklumkan kepada teman lelakinya yang kemudian membawa telefon itu ke pondok polis berdekatan untuk membuat laporan.

"Suspek kemudian cuba mendapatkan semula telefonnya tetapi ditahan anggota polis untuk disoal siasat," katanya.


Posted: 10 Jan 2011 04:45 AM PST
I was parked in front of the mall wiping off my car. I had just come from the car wash and was waiting for my wife to get out of work. Coming my way from across the parking lot was what society would consider a bum.

From the looks of him, he had no car, no home, no clean clothes, and no money. There are times when you feel generous but there are other times that you just don't want to be bothered. This was one of those "don't want to be bothered times."

"I hope he doesn't ask me for any money," I thought.
He didn't. He came and sat on the curb in front of the bus stop but he didn't look like he could have enough money to even ride the bus. After a few minutes he spoke.
"That's a very pretty car," he said.
He was ragged but he had an air of dignity around him. His scraggly blond beard keep more than his face warm.
I said, "thanks," and continued wiping off my car.
He sat there quietly as I worked. The expected plea for money never came. As the silence between us widened something inside said, "ask him if he needs any help." I was sure that he would say "yes" but I held true to the inner voice.
"Do you need any help?" I asked.
He answered in three simple but profound words that I shall never forget.
We often look for wisdom in great men and women. We expect it from those of higher learning and accomplishments.
I expected nothing but an outstretched grimy hand. He spoke the three words that shook me.
"Don't we all?" he said.
I was feeling high and mighty, successful and important, above a bum in the street, until those three words hit me like a twelve gauge shotgun.
Don't we all?
I needed help. Maybe not for bus fare or a place to sleep, but I needed help. I reached in my wallet and gave him not only enough for bus fare, but enough to get a warm meal and shelter for the day.
Those three little words still ring true. No matter how much you have, no matter how much you have accomplished, you need help too. No matter how little you have, no matter how loaded you are with problems, even without money or a place to sleep, you can give help.
Even if it's just a compliment, you can give that. You never know when you may see someone that appears to have it all. They are waiting on you to give them what they don't have. A different perspective on life, a glimpse at something beautiful, a respite from daily chaos, that only you through a torn world can see. Maybe the man was just a homeless stranger wandering the streets. Maybe he was more than that.
Maybe he was sent by a power that is great and wise, to minister to a soul too comfortable in themselves.
Maybe God looked down, called an Angel, dressed him like a bum, then said, "go minister to that man cleaning the car, that man needs help."
Don't we all?
Author Unknown
Posted: 10 Jan 2011 04:44 AM PST
I REFER to "Important to understand the Malay world" (Letters, Jan 6) and continue to be perplexed by its implication. The writer states that the Malay rulers were "sovereign legally" but "political power was in the hands of the British" and "only they had the capacity and the power to raise a modern Malay army". Semantics aside, how is this at odds with my statement that the British Empire created the Malay Regiment?
If they did not want a Malay Regiment they would not have created it, no matter who asked. And if a Malay ruler sought to create an army independently, it would have been met with more than just "raised eyebrows". This is the reality of occupation. Remember before the British, the northern Malay states were paying tribute to Siam, with less onerous conditions than those imposed by the British.
The writer goes on to state that serving in foreign lands is the greatest contribution to serving the Empire. This is a gross misunderstanding of the history of British colonialism. The greatest contribution to the British Empire was contribution to the coffers of the Empire and ensuring that natural resources among other treasures were diverted "back home". Colonial armies, working with British troops ensured this by maintaining British order. These armies never had to leave their homeland to carry out this function. This is why the Malay Regiment had British commanding officers.
I have no idea how to respond to the writer's contention that there is a monolithic Malay "society", "world" and "consciousness" with regards to the status of Singapore as a foreign land. I am amused that some Malays (today) still think of Singapore as part of the "Malay world" even though it was the Malay ruling class that twice in history lost this part of their "world".
The historical fact is that Singapore for whatever reasons was "legally" a foreign land or became one and Lt Adnan died on foreign soil. As an honorable soldier being led by his colonial superiors he would have served where needed much like non-Malay troops.
To clarify why I keep asking the difference between the roles played by Malay and non-Malay soldiers resisting occupation. This goes back to the idea raised by the writer of "In defence of the realm" that non-Malay resistance to Japanese Occupation should be considered as merely enforcing the imperialistic will of a foreign empire and Malays who resisted them should be considered as "freedom fighters". I don't see much difference between the two since as I have repeatedly explained; they were both – Malay and non-Malay - servicing the needs of the British Empire. This is why I made reference to Malay and non-Malay resistance to British occupation, whom some would consider freedom fighters.
The writer makes an interesting point when he reminds us to understand the "historical bedrock". I wholeheartedly agree with this especially when it comes to the question of citizenship. We have to understand that non-Malay contribution to the history of Malaysia is not merely confined to the period of British occupation. It goes back centuries. When I make reference to non-Malays who were born here, I refer to a whole narrative that seems lost from our history books.
And if the study of Malaysian History is solely about the study of Malay states as the writer contends, I think the writer would be surprised to learn how much influence non-Malay cultures had on "the politics, economy and society of the Malay states. This is OUR history after all. Perhaps too he would cease to think of the "Malays" as some sort of monolithic entity.
I end this response (my final one to this discussion) in agreement with the writer. I agree that we should not manufacture another history to achieve political correctness. I believe that the people who wrote in were concerned that the history being taught to the younger generation was indeed being manufactured to fit with the current ethnocentric narrative to the exclusion of the rich diversity which was the reality. I end with a Polly Toynbee quote from The Guardian "Bogus history fuels present day national delusion". Sun2Surf
S. Thayaparan
Commander (RTD)
Royal Malaysian Navy
Swami Mengaku Meniduri Lebih 20 Perempuan
Posted: 10 Jan 2011 04:28 AM PST
S
eorang guru agama kaum Hindu terlibat dalam skandal seks telah mengakui meniduri lebih dari 20 perempuan, termasuk dengan seorang bintang porno Tamil, Sin Chew Daily melaporkan.
Mereka yang melakukan hubungan seks dengan Guru Paramahamsa Nithyananda (gambar), 32, termasuk murid-murid perempuan, beberapa orang di antaranya dari Singapura.
Skandal itu telah meletus selepas penayangan rakaman video oleh sebuah saluran televisyen di India menunjukkan beliau sedang berkompromi dengan seorang pelakon Tamil.

Nithyananda mendakwa bahawa dia diperas untuk RM16 juta oleh orang yang mendakwa telah memiliki rakaman video seksnya dan mengancam akan menyiarkannya kepada media.

Setelah beberapa kali perundingan, beliau telah membayar RM6.4 juta di atas nama Nithyananda dalam harapan menutup skandal itu.

Selain India, Nithyananda mempunyai pengikut-pengikut di Los Angeles, New York, Toronto dan Singapura.

China Press pula melaporkan bahawa seorang wanita yang menjalani oengguguran meninggal beberapa jam kemudian di sebuah klinik swasta di Klang di sini.

Wanita tersebut, seorang-ibu-empat yang dikenali sebagai Rajeswari yang telah hamil dua bulan.

Menurut akhbar harian China berkenaan, samada beliau telah meninggal dunia kerana pendarahan yang berlebihan atau disebabkan oleh kekurangan oksigen sewaktu menjalani pembedahan.

Rajeswari, 35, sbeleumnya ditemani oleh suaminya ke klinik jam 9:40 pada hari Sabtu.

Suaminya telah menerima panggilan sekitar 2:00 memberitahu kepadanya bahawa isterinya telah meninggal dunia.


Teoh Beng Hock Death: Defying Binary Rationality
Posted: 08 Jan 2011 09:58 PM PST
My good friend who shares the same initials as me, Kamarul Shahrin is an analyst (he sometimes refers to himself as ANALyst) with a GLC. And the analyst being the ANALyst that he says he sometimes is, has come up with another explanation for TBH's death that belongs somewhere between The Twilight Zone and One Step Beyond. Well, analyse this from his blog:
WEDNESDAY, JANUARY 5, 2011
Cause of Teoh's death unknown - The Star
The Star reported "The lengthy Teoh Beng Hock inquest ended with coroner Azmil Muntapha Abas ruling that the political aide did not commit suicide. Azmil Muntapha, however, also said there was insufficient evidence to prove that Teoh's death was homicide".
At most times, I think in terms of binary rationality, that if a parameter does not fit, then it must be the other. One or Zero. Yes or No. The coroner's statement above is perplexing, suicide was not committed by Teoh. And so, to my mind, his death must have been brought about by an external party. If you don't die from your own actions, then you must have died from other people's actions, in that context. So, it is perplexing indeed. Perhaps, I have been watching too many CSI shows, if there had been a murder, there should be a murderer. That is how I tend to see things.
But then, I cannot manage to grasp a conclusion. Teoh's death did not reach the classification of murder. It is somewhere in the space between the words suicide and murder. Death was the certainty but its cause is not. I am confounded by the apparent ambiguity in the equation. It scares me as it is not just about the case, but about the ambiguity in determining the murder. It tells me that it can happen to just about any Malaysian. Yes, I am afraid. If science cannot explain it, then it will normally categorise it as paranormal until such time, that it can be explained by science. So, is Teoh's death paranormal? I dare to stand firm by my opinion, until such time that the coroner classifies Teoh's death as murder. And I have sufficient cause to worry.
One can die from paranormal activity here. I can be in a building in one minute and in the next minute, I will be falling out through the window, meeting death on the pavement. Paranormal indeed. I have a firm reason to be afraid. Of what can become of future deaths. Not suicide but not murder. It can happen to you.
Teresa Kok: Is Satim the best Umno has for Selangor?
Posted: 08 Jan 2011 01:24 AM PST
Ketua Kampung Cabul Pelajar Tadika
Posted: 09 Jan 2011 01:00 AM PST
R
ahsia terbongkar
KUALA KUBU BHARU: Rahsia selama dua tahun menjadi mangsa seks 'Pak Cik Jan' akhirnya terbongkar apabila kanak-kanak perempuan berusia enam tahun itu menceritakan kejadian terbabit kepada ibunya sebelum laporan polis dibuat, Selasa lalu.
Susulan laporan itu, polis menahan suspek berusia 53 tahun itu yang bekerja sebagai pembantu tadika milik isterinya.
Difahamkan, hanya kanak-kanak perempuan terbabit menjadi mangsa cabul lelaki itu kerana dia dikatakan berkulit putih dan lebih comel daripada kanak-kanak lain.

Lelaki berkenaan yang juga ketua kampung membantu menjaga tadika terbabit yang beroperasi hampir 10 tahun dan mangsa adalah anak saudaranya sendiri.

Lebih menyedihkan, suspek yang layak dipanggil datuk itu juga disyaki pernah meliwat mangsa sejak empat tahun lalu.

Ketua Polis Daerah Hulu Selangor, Superintendan Norel Azmi Yahya Affandi berkata, bapa mangsa yang juga pembantu Pejabat Kesihatan Kuala Kubu Bharu menyedari perbuatan itu apabila dimaklumkan mangsa kerap mengadu sakit di kemaluan.

"Mangsa mengadu sering dicabul oleh suspek sejak dua tahun lalu.

"Bapa mangsa membuat laporan Selasa lalu," katanya kepada Metro Ahad di sini, semalam.

Menurutnya, suspek direman 5 Januari lalu dan dibebaskan kelmarin selepas dijamin ahli keluarganya.

Kes disiasat mengikut Seksyen 337e Kanun Keseksaan kerana cubaan mencabul mangsa.


Posted: 09 Jan 2011 12:49 AM PST