---
Video: Komen saya tentang kedudukan ADUN Pelabuhan Klang
Posted: 26 Jan 2011 10:06 AM PST
'Dont corrupt people of Tenang!'
Posted: 26 Jan 2011 09:15 AM PST
I like what Home Minister Hisham said in Labis on Tuesday that politic of racism, hatred and division is not accepted in Johor. Johorians, irrespective of race and religion will never advocate themselves to such a politic.
In a statement prior to Tenang by-election on Jan 30, he said nobody should be allowed to sow the seeds of hatred in the state because Johorians will not accept it.
Frankly, I admire how the people in Tenang are still one despite subscribing to different political ideology. The Malays, Chinese and Indians observe mutual respect and will not do anything to provoke each other into an argument or confrontation.
And Hisham is right. Johor politics differ from that of other states. I think its unique in the sense that their politicians do not really go for personal attacks or character assassination during campaigning. They normally go after professional arguments. It is only of late that one of two 'growing up' politicians have subscribed to unpleasant tactics.
I believe in what Hisham said. A few days in Tenang proved it. The unity demonstrated by its people is not similar with that of other places. The people not only know each other but also can tell one's house. The Malays, Chinese, Indians and others bump into each other mostly everyday at the 'pasar tani' and the wet market.
Some say such a social environment is attainable because Tenang is a small area. I agree but there are many other smaller constituencies in Malaysia where the people are not only politically divided but 'they screw each other' (the best to describe it,I guess!).
In Tenang, you can be a member of Umno, Pas, PKR, DAP, MCA, Gerakan and other parties but they always meet at coffee shops and other places. Members of Umno, Pas and PKR usually meet at suraus and mosques and they can talk for hours without offending one another.
Members of MCA and DAP share the same 'house of God' and meet up regularly to discuss social and political issues but they never land a fist on each other's face.
For years, this people have observed mutual understanding and respect. For outsiders who came to Tenang for the by-election, they too should recognise the fact that Tenang's unity is not easy to be rattled. Badmouth campaigning should be avoided as the people, irrespective of politics, do not like it.
In fact, both candidates Azahar (BN) and Normala (PR) are not aliens in Tenang and Labis. Both are well respected and recognised for their contribution to the constituents.
As how Hisham puts it - dont corrupt the people of Tenang with bad politics! Let's have a clean one...
Posted: 26 Jan 2011 08:51 AM PST
alhamdulillah, i gt selangor.
i wana do something that i can be proud of and smile when im 60. i jus dun wana regret those things that i didnt try when i can still do it.
i wana read and write. more. sitting on a couch, with a book n lappy n chai latte.
i wana cook good food and have those people that i love enjoying it.
i wana get married n have babies. i wana have my own home. i wana have my own world.
i wana be a better person.i wana be a better muslim.
i wana be more knowledgeable.
i wana have a good life.
__________________________________________________________

yes, a good life.
Suruhanja Diraja Siasatan Teoh Beng Hock Perlu Siasat Sebab Kematian Teoh Juga
Posted: 26 Jan 2011 09:00 AM PST
K
es Beng Hock: Hakim Mahkamah Persekutuan ketuai suruhanjaya siasatan
Suruhanjaya yang ditubuhkan berhubung kematian setiausaha politik Teoh Beng Hock pertengahan 2009 — yang diperluaskan peranan dan terma operasi — akan dipengerusikan oleh Hakim Mahkamah Persekutuan Tan Sri James Foong Cheng Yuen (gambar).
Suruhanjaya itu akan menyiasat sama ada atau tidak terdapat apa-apa "ketidakwajaran dalam perjalanan pemeriksaan" Teoh dalam proses siasatan Suruhanjaya Pencegahan Rasuah Malaysia (SPRM) berhubung dengan Perintah-Perintah Tetap dan amalannya dan untuk mengesyorkan apa-apa tindakan yang sesuai.
Selain itu, jika perlu suruhanjaya tersebut juga akan menyiasat kematian Teoh dan hal keadaan yang menyelubungi dan membawa kepada kematiannya.

Perkara tersebut merupakan aspek tambahan berbanding terma yang disyorkan sebelum ini.

Difahamkan ini kali pertama seorang hakim yang sedang berkhidmat dilantik mengetuai sebuah suruhanjaya siasatan.

Suruhanjaya itu dikehendaki menyelesaikan siasatannya dalam tempoh tiga bulan dari tarikh tauliah pelantikan dikeluarkan dan laporannya akan diserahkan kepada Yang di-Pertuan Agong.

Perkara ini diumumkan oleh Perdana Menteri Datuk Seri Najib Razak dalam satu kenyataan yang dikeluarkan hari ini.

"Saya ingin maklumkan bahawa Seri Paduka Baginda Yang di-Pertuan Agong Tuanku Mizan Zainal Abidin telah pun berkenan dengan cadangan kerajaan untuk menubuhkan Suruhanjaya Siasatan bagi menyiasat kematian Teoh Beng Hock di bawah Akta Suruhanjaya Siasatan 1950," kata beliau.

Selain Foong, turut akan menganggotai ialah bekas hakim Mahkamah Persekutuan Datuk Abdul Kadir Sulaiman, bekas hakim Mahkamah Rayuan Datuk Selventhiranathan Thiagarajah, Pakar Perunding Patologi Forensik, Jabatan Perubatan Forensik, Hospital Pulau Pinang, Datuk Dr. Bhupinder Singh, dan Pakar Perunding Psikiatri Forensik yang juga Dekan Fakulti Perubatan Kolej Universiti Sains Perubatan Cyberjaya, Profesor Dr. Mohamed Hatta Shaharom.

Selain itu, turut menganggotai ialah Datuk Saripuddin Kasim iaitu Ketua Pengarah Bahagian Hal Ehwal Undang-Undang, Jabatan Perdana Menteri, yang bertindak sebagai setiausaha suruhanjaya ini.

"Tiga pegawai kerajaan juga dilantik sebagai pegawai pengendali suruhanjaya ini," kata Najib dalam satu kenyataan dikeluarkan hari ini.

Mereka ialah Amarjeet Singh Serjit Singh iaitu Timbalan Ketua Bahagian Guaman I serta Awang Armadajaya Awang Mahmud dan Kwan Li Sa.

Awang Armadajaya dan Kwan merupakan timbalan pendakwa raya.

Najib mengumumkan penubuhan suruhanjaya siasatan sehari selepas inkues kematian Teoh berakhir dengan keputusan terbuka.

Ketika itu Najib memberitahu suruhanjaya tersebut akan meneliti prosedur siasatan SPRM.

Bagaimanapun pelbagai pihak termasuk Majlis Peguam dan Suhakam menggesa agar Putrajaya membentuk suruhanjaya diraja yang boleh menyiasat punca kematian Teoh tanpa hanya mengehadkan kepada skop meneliti prosedur siasatan SPRM.

Najib berkata kerajaan akan meneruskan keputusan dibuat 17 Julai 2009 untuk mewujudkan suruhanjaya diraja, dengan terma-terma khusus, bagi mengkaji kaedah soal siasat yang diguna pakai SPRM dan menentukan sama ada berlaku pencabulan hak asasi semasa proses soal siasat terhadap mendiang Teoh.

Suruhanjaya itu diwujudkan di bawah Seksyen 2 Akta Suruhanjaya Siasatan 1950 akan menyiasat perjalanan dan pengurusan SPRM serta di mana sesuai, menyiasat kelakuan mana-mana pegawai SPRM.

Peguam Negara Tan Sri Abdul Gani Patail telah memfailkan permohonan kepada Mahkamah Tinggi pada 6 Januari lalu bagi semakan terhadap keputusan terbuka dalam inkues kematian Teoh.

Koroner Azmil Muntapha Abas memutuskan kematian setiausaha politik Exco Selangor itu pada 2009 bukan disebabkan bunuh diri ataupun homisid.

Pesuruhjaya Suhakam Muhammad Sha'ani Abdullah juga menyokong gesaan agar suruhanjaya diraja diberikan kuasa meluas.

Ulasan GB

Penubuhan Suruhanjaya Diraja Siasatan kematian Teoh Beng Hock tidak mempunyai apa-apa jika skopnya dipersempitkan dengan tidak menyiasat sebab-sebab kematian Teoh.

Justeru itu, terma tambahan "jika perlu suruhanjaya tersebut juga akan menyiasat kematian Teoh dan hal keadaan yang menyelubungi dan membawa kepada kematiannya" dialu-alukan, tetapi sepatutnya perkataan jika perlu itu ditiadakan samasekali.

Jika sebab-sebab kematian Teoh tidak disiasat, Suruhanjaya tersebut tidak diperlukan. Buang wang rakyat dan buang masa sepertimana inkues!

Censorship: Najib not listening to Mahathir, Wikipedia founder and Khairy
Posted: 26 Jan 2011 08:00 AM PST
One of the most popular bloggers in the country, Dr Mahathir Mohamad, believes that the government should not follow China in censoring political views on the Internet.
AFP - A co-founder of online encyclopedia Wikipedia said on a visit to Malaysia Tuesday that the country should ditch censorship which is a damper on economic growth.
Jimmy Wales said censorship was counter-productive for Malaysia, which ranked 131 out of 175 nations on the 2009 Reporters Without Borders press freedom index because of its tight controls on print and broadcast media.
BN Youth chief Khairy Jamaluddin warned that the nation's Internet users, who are mostly youths, will not accept federal government attempts to tighten controls on the Internet.

On a statement on his blog today, Khairy expressed strong reservations against the Home Ministry's proposal to expand press laws and make it enforceable on Internet content.
PETPOSITIVE To Make Police Report On Poodle This Morning
Posted: 26 Jan 2011 08:00 AM PST
DATELINE DANG WANGI POLICE STATION KUALA LUMPUR:SEVERAL ANIMAL WELFARE AND RIGHTS GROUPS ARE MAKING A POLICE REPORT AGAINST THE OWNERS OF A TOY POODLE FOR CRUELTY.They will be assembling at the police station at midday today to voice their outrage.PETPOSITIVE will be joined by other groups including ROAR and MAW.We hope to have pictures and stories for you after the event.SPCA Selangor is also
Refuting Chua Soi Lek's Blasphemy
Posted: 26 Jan 2011 07:47 AM PST
I
n response to MCA president Datuk Seri Dr Chua Soi Lek's remarks "
What's so great' about knowing Muslim values?
", we would like to list here several greatest quotes from the world's greatest people in many fields.
As the President of the Malaysian Chinese Association, one of the three major political parties in the ruling Barisan Nasional coalition of the Federal Malaysian Government, its a shameful such ignorance of what can be considered as belittling the faith of the majority of citizens here in this country.

Napolean Bonaparte as Quoted in Christian Cherfils, 'Bonaparte et Islam,' Pedone Ed., Paris, France, 1914, pp. 105, 125.
Original References: "Correspondance de Napoléon Ier Tome V pièce n° 4287 du 17/07/1799; profession de foi, voir aussi pièce n° 3148. Also, Journal inédit de Ste Hélène, de 1815 à 1818" du Gal Baron Gourgaud -2 tomes- Ed. Flammarion.

"Moses has revealed the existence of God to his nation. Jesus Christ to the Roman world, Muhammad to the old continent...

"Arabia was idolatrous when, six centuries after Jesus, Muhammad introduced the worship of the God of Abraham, of Ishmael, of Moses, and Jesus.... Muhammad declared that there was none but one God who had no father, no son and that the trinity imported the idea of idolatry...

"I hope the time is not far off when I shall be able to unite all the wise and educated men of all the countries and establish a uniform regime based on the principles of Qur'an which alone are true and which alone can lead men to happiness."

[Note: Some Muslim historians have suggested that Asad bin Al Furat, the commander of Muslim forces in Sicily [see 827 CE in Muslim History], is the progenitor of Napoleon Bonaparte (1769-1821). Asad's descendants were known as 'Banu Furat'; for other such names see 1031 CE. One of Napoleon's brother-in-law was Joachim Murat.]

Sir George Bernard Shaw in 'The Genuine Islam,' Vol. 1, No. 8, 1936.

"If any religion had the chance of ruling over England, nay Europe within the next hundred years, it could be Islam."

"I have always held the religion of Muhammad in high estimation because of its wonderful vitality. It is the only religion which appears to me to possess that assimilating capacity to the changing phase of existence which can make itself appeal to every age. I have studied him - the wonderful man and in my opinion far from being an anti-Christ, he must be called the Savior of Humanity."

"I believe that if a man like him were to assume the dictatorship of the modern world he would succeed in solving its problems in a way that would bring it the much needed peace and happiness: I have prophesied about the faith of Muhammad that it would be acceptable to the Europe of tomorrow as it is beginning to be acceptable to the Europe of today."

Bertrand Russel in 'History of Western Philosophy,' London, 1948, p. 419.

"Our use of phrase 'The Dark ages' to cover the period from 699 to 1,000 marks our undue concentration on Western Europe...
"From India to Spain, the brilliant civilization of Islam flourished. What was lost to christendom at this time was not lost to civilization, but quite the contrary...

"To us it seems that West-European civilization is civilization, but this is a narrow view."

H.G. Wells

"The Islamic teachings have left great traditions for equitable and gentle dealings and behavior, and inspire people with nobility and tolerance. These are human teachings of the highest order and at the same time practicable. These teachings brought into existence a society in which hard-heartedness and collective oppression and injustice were the least as compared with all other societies preceding it....Islam is replete with gentleness, courtesy, and fraternity."

Edward Montet, 'La Propagande Chretienne et ses Adversaries Musulmans,' Paris 1890. (Also in T.W. Arnold in 'The Preaching of Islam,' London 1913.)

"Islam is a religion that is essentially rationalistic in the widest sense of this term considered etymologically and historically.... the teachings of the Prophet, the Qur'an has invariably kept its place as the fundamental starting point, and the dogma of unity of God has always been proclaimed therein with a grandeur a majesty, an invariable purity and with a note of sure conviction, which it is hard to find surpassed outside the pale of Islam.... A creed so precise, so stripped of all theological complexities and consequently so accessible to the ordinary understanding might be expected to possess and does indeed possess a marvelous power of winning its way into the consciences of men."

Thomas Carlyle in 'Heroes, Hero Worship, and the Heroic in History,' Lecture 2, Friday, 8th May 1840.

"As there is no danger of our becoming, any of us, Mahometans (i.e. Muslim), I mean to say all the good of him I justly can...
"When Pococke inquired of Grotius, where the proof was of that story of the pigeon, trained to pick peas from Mahomet's (Muhammad's) ear, and pass for an angel dictating to him? Grotius answered that there was no proof!...

"A poor, hard-toiling, ill-provided man; careless of what vulgar men toil for. Not a bad man, I should say; Something better in him than hunger of any sort, -- or these wild arab men, fighting and jostling three-and-twenty years at his hand, in close contact with him always, would not revered him so!... They called him prophet you say? Why he stood there face to face with them; bare, not enshrined in any mystry; visibly clouting his own cloak, cobbling his own shoes; fighting, counselling, ordering in the midst of them: they must have seen what kind of man he was, let him be called what you like! No emperor with his tiaras was obeyed as this man in a cloak of his own clouting. During three-and-twenty years of rough actual trial. I find something of a veritable Hero necessary for that, of itself...

"These Arabs, the man Mahomet, and that one century, - is it not as if a spark had fallen, one spark, on a world of what proves explosive powder, blazes heaven-high from Delhi to Granada! I said, the Great man was always as lightning out of Heaven; the rest of men waited for him like fuel, and then they too would flame..."

Simon Ockley in 'History of the Saracens'.

"A rugged, strife-torn and mountaineering people...were suddenly turned into an indomitable Arab force, which achieved a series of splendid victories unparalleled in the history of nations, for in the short space of ninety years that mighty range of Saracenic conquest embraced a wider extent of territory than Rome had mastered in the course of eight hundred."

Phillip Hitti in 'Short History of the Arabs.'

"During all the first part of the Middle Ages, no other people made as important a contribution to human progress as did the Arabs, if we take this term to mean all those whose mother-tongue was Arabic, and not merely those living in the Arabian peninsula. For centuries, Arabic was the language of learning, culture and intellectual progress for the whole of the civilized world with the exception of the Far East. From the IXth to the XIIth century there were more philosophical, medical, historical, religiuos, astronomical and geographical works written in Arabic than in any other human tongue."

Carra de Vaux in 'The Philosophers of Islam,' Paris, 1921.

"Finally how can one forget that at the same time the Mogul Empire of India (1526-1857 C.E.) was giving the world the Taj Mahal (completed in 1648 C.E.) the architectural beauty of which has never been surpassed, and the 'Akbar Nameh' of Abul Fazl: "That extraordinary work full of life ideas and learning where every aspect of life is examined listed and classified, and where progress continually dazzles the eye, is a document of which Oriental civilization may justly be proud.... Those poets those philosophers knew how to deal with the world or matter. They observe, classify, calculate and experiment. All the ideas that occur to them are tested against facts. They express them with eloquence but they also support them with statistics."...the principles of tolerance, justice and humanity which prevailed during the long reign of Akbar."

Marcel Clerget in 'La Turquie, Passe et Present,' Paris, 1938.

"Many proofs of high cultural level of the Ottoman Empire during the reign of Suleiman the Magnificent are to be found in the development of science and law; in the flowering of literary works in Arabic, Persian and Turkish; in the contemporary monuments in Istanbul, Bursa, and Edirne; in the boom in luxury industries; in the sumptuous life of the court and high dignitaries, and last but not least in its religious tolerance. All the various influences - notably Turkish, Byzantine and Italian mingle together and help to make this the most brilliant epoch of the Ottomans."

Thomas Arnold in 'The Call to Islam.'

"We have never heard about any attempt to compel Non-Muslim parties to adopt Islam or about any organized persecution aiming at exterminating Christianity. If the Caliphs had chosen one of these plans, they would have wiped out Christianity as easily as what happened to Islam during the reign of Ferdinand and Isabella in Spain; by the same method which Louis XIV followed to make Protestantism a creed whose followers were to be sentenced to death; or with the same ease of keeping the Jews away from Britain for a period of three hundred fifty years."

In his speech in Cairo, U.S. President Barack Obama made the following statement:

As a student of history, I also know civilization's debt to Islam. It was Islam – at places like Al-Azhar University – that carried the light of learning through so many centuries, paving the way for Europe's Renaissance and Enlightenment. It was innovation in Muslim communities that developed the order of algebra; our magnetic compass and tools of navigation; our mastery of pens and printing; our understanding of how disease spreads and how it can be healed. Islamic culture has given us majestic arches and soaring spires; timeless poetry and cherished music; elegant calligraphy and places of peaceful contemplation. And throughout history, Islam has demonstrated through words and deeds the possibilities of religious tolerance and racial equality.


There are many more. But I hope the above quotes suffice to open his mind and shut his bloody mouth from babbling things he do not know.

Even before this, Chua has made several remarks which is considered blasphemy. Chua once accused DAP – which is MCA's main rival for the Chinese vote – of being willing to sacrifice the community for the sake of power by agreeing with PAS to implement hudud.

But in his haste to score political points, Chua denigrated Islam by suggesting that hudud was something that Chinese should reject at all costs.

"It is an eye opener to all citizens in this country that PAS would never never give up on its Islamic agenda. So it is wrong to say why not we try to vote for them. It is wrong because it concerns the welfare of the rakyat," Chua was quoted as saying.

The main point is why does Chua Soi Lek want to talk about hudud when he hasn't taken the trouble to understand what it is about?

We wish to strongly warn him not to politicize hudud because it is part of Islamic law. He don't have to agree or to accept but don't turn it into something evil just to scare the Chinese voters away from DAP.




China to create world's largest mega city
Posted: 26 Jan 2011 06:42 AM PST
China is planning to create the world's biggest mega city by merging nine cities to create a metropolis twice the size of Wales with a population of 42 million.
The "Turn Pearl River Delta Into One" scheme will cover a large part of China's manufacturing heartland, stretching from Guangzhou to Shenzhen and including Foshan, Dongguan, Zhongshan, Zhuhai, Jiangmen, Huizhou and Zhaoqing.
Over the next six years, around 150 major infrastructure projects will mesh the transport, energy, water and telecommunications networks of the nine cities together, at a cost of some 2 trillion yuan (£190 billion). More on Telegraph.
China to create world's largest mega city from YeinJee's Asian Blog
Pengundi India dan Cina Sokong PAS
Posted: 26 Jan 2011 06:30 AM PST
Barisan pimpinan Dewan Himpunan Penyokong PAS Pusat (DHPP) dan ahlinya yang turun padang ke Tenang melihat masyarakat Cina dan India begitu postif terhadap Calon PAS, Normala Sudirman.
Richard Wong, Timbalan Ketua DHPP Perak berkata, mesej ke arah perubahan perlu disampaikan kepada pengundi-pengundi di Tenang.
"Perubahan itu penting bagi menjaga kebajikan dan hak generasi akan datang. Sekiranya mereka mengundi BN, hasilnya tidak sama seperti generasi muda yang terbela di negeri di bawah pimpinan PR" .

Beliau yang turut turun berkempen pagi tadi menyeru pengundi melayu yang masih mempercayai BN agar melakukan perubahan dengan mengenali agama sendiri.

"Jika orang Cina dan India sokong perjuangan PAS, kenapa orang melayu masih takut?

"Bila ada perubahan, akan ada harapan baru," ujarnya.




DHPP juga katanya menyelar tindakan kerajaan terhadap kebajikan peneroka felda yang berhadapan masalah sekiranya harga komoditi kelapa sawit jatuh.

"Apakah nasib peneroka, adakah dibantu?" soalnya.

Nasib generasi kedua felda terhadap isu tanah, pendidikan dan peluang pekerjaan juga turut dipertikaikan DHPP.

Tambahnya, tiada konsep permilikan perkauman di dalam Islam, kerana Islam tidak dimiliki oleh sesuatu kaum. -n05tenang


Posted: 26 Jan 2011 05:43 AM PST
Lau Weng San walkabout in SEA Park handing out CNY lanterns and angpow packets
Posted: 26 Jan 2011 05:32 AM PST
26th Jan, Petaling Jaya – DAP Kampung Tunku state assemblyman (ADUN) Lau Weng San was welcomed with open arms during his walkabout at the commercial areas of Section 21 SEA Park in Petaling Jaya on Sunday morning 23rd January 2011.Many among the traders, business owners, customers and residents recognised Lau when he approached to shake hands and wish them "Gong Xi Fa Cai" (Wishing You A
Hudud Tidak Dikenakan Jika Mencuri Disebabkan Kemiskinan
Posted: 26 Jan 2011 06:01 AM PST
P
AS Tukar Agenda, Hudud Bukan Lagi Fokus Utama - Mustaffa
LABIS: PAS menegaskan hukum hudud dan isu negara Islam bukan agenda utama dalam dasar bersamaan Pakatan Rakyat sekiranya pakatan pembangkang berjaya memerintah negara ini.
Setiausaha Agung PAS, Datuk Mustaffa Ali berkata, sekiranya parti itu mendapat kuasa mutlak untuk memerintah negara hukum hudud tidak akan dilaksanakan sehingga rakyat di Malaysia benar-benar dapat menikmati keadilan ekonomi dan peluang pekerjaan yang secukupnya.
"Hudud bukan agenda bersama Pakatan Rakyat, mana-mana negara nak laksanakan hukum hudud kena ikut prasyarat... kalau tidak, tidak boleh (laksanakan).

"Antara prasyarat adalah keadilan ekonomi, gaji minumum, kalau mencuri sebab miskin tidak boleh laksanakan (hukum hudud), pemerintah yang perlu dipersalahkan.

"Hudud tak termasuk dalam agenda Pakatan Rakyat, kalau PAS mempunyai kuasa mutlak... dapat dua pertiga majoriti dalam Parlimen perkara pertama yang akan dilakukan PAS bukan hudud," katanya pada sidang media di sini pada Rabu.

Beliau berkata demikian sebagai mengulas isu negara Islam yang dibangkitkan dalam kempen pilihan raya kecil Dewan Undangan Negeri Tenang kali ini.

Beliau mengulas dakwaan sekiranya pengundi di Tenang memberi sokongan kepada PAS maka DAP menjadi rakan komponen dalam Pakatan Rakyat tidak mampu menghalang PAS daripada meneruskan dasar negara Islamnya.

Mengulas lanjut, Mustaffa yang juga bekas Pesuruhjaya PAS Terengganu mendakwa perkara itu sengaja ditimbulkan bagi menimbulkan rasa benci pengundi Cina dan India terhadap PAS.

"Ini politik perkauman, sebab pihak lawan kata DAP akan turut serta apa yang akan PAS akan buat iaitu hudud, terus terang saya cakap Islam adalah dasar PAS dan tidak berganjak sejak dulu.

"Islam adalah dasar PAS, ia mesti diterima oleh semua baik PAS atau Umno... tapi kalau Umno nak guna separuh separuh ikut dialah," katanya.

Justeru, beliau meminta supaya semua pihak menghentikan politik perkauman ketika berkempen kerana ia boleh memberikan suasana yang kurang senang dalam masyarakat berbilang kaum.

Pada pilihan raya kecil DUN Tenang ini, Pakatan Rakyat meletakkan Normala Sudirman, Ketua Muslimat PAS Labis sebagai calon manakala BN pula diwakili bekas Penolong Pentadbir Tanah Daerah Kecil Rengit, Mohd Azahar Ibrahim.

Pilihan raya kecil ke-14 ini diadakan bagi mengisi kekosongan berikutan kematian penyandang Datuk Sulaiman Taha, wakil rakyat BN, pada 17 Disember lepas.

Ia pilihan raya kecil pertama di Johor sejak Mac 2008 dan yang pertama sejak 1989. Hari pengundian akan diadakan pada 30 Januari ini.


Posted: 26 Jan 2011 05:16 AM PST
I am proud to announce that I'll be going to Tenang tomorrow with some old Umno friends.
It's going to be a daytrip, for I'm told that from Kuantan, the journey is only about 2-3 hours.
Once you reach Segamat, it takes about 15 mins or so to reach Tenang..O ok..
I'll be lugging my dear friend Nikkon.
Hopefully, I can capture some good snapshots of what's currently happening in Tenang..
And just maybe, I may get to talk to the BN candidate himself.
Otherwise, I'll just make friends with the kind folks out there.
I am naturally very excited to peek at the by-election place.
Hopefully, I can share loads of interesting photos of the atmosphere in Tenang.
p.s. I was born in Tangkak estate.
My late mum made one of the best nasik lemak with the sambal tumis sotong janggut when she was conceiving me.
My sister Cik told me that one could slurp the sambal tumis gravy that was so finger-lickin good..hope KFC will forgive me for borrowing their catchy line!
Arwah mak was an ustazah and my late dad was an ustaz..
Luckily, I was not born with a janggut but I really took in much of the Indian features..ehhmm!
All my 12 siblings were born in Johor, Malacca and Muar areas.
Somehow, we have never forgotten Johor even though most of us have not been there for God knows how long.
When the children were still very young..when there were only J and H, we stayed for about 2 years in Batu Pahat.
O wait..can't remember whether F was already born then.
Anyway, on most weekends, we'd drive to Johor and cross over to Singapore to go gallavanting around Woodlands and Orchard Road.
That was a very2 long time ago.
Our 7 children are all grown-up now.
My status too has changed and, I am now happily going to Johor as an adventurous single mom.
Posted: 26 Jan 2011 05:19 AM PST
The past two months have been a busy period reconnecting with old friends, former students and relatives. One of them is C. C. - a brilliant guy whom I taught in 2004 in my A-level class. A 13A1 SPM scorer, he turned down a few scholarships and went to Australia on his parents' 'scholarship', excelled and graduated with first class honors in software engineering. Today, he works with Microsoft in Seattle.
A most unassuming guy, C. C. and I had a great time dining at Soho, Penang Road. We sat there for three hours during which he shared many things with me about technology and the usual arguments about which operating system is better - Windows or Apple. He also explained the developments with regards to communications technology and how some giants have fallen along the wayside and how others have taken over in most unexpected ways. In those three hours, I learnt so much about IT and communication technology and felt most inspired to read and learn more even if it means attending IT classes.
Frankly, Chris is simply amazing as he made me realize so many things that I had taken for granted and he debunked many of the fallacies that I had picked up from the net about the various operating systems. At the same time, he shared with me the differences between the two organizations and why each has its own strengths and weaknesses and most importantly, the differences between
Bill Gates
and
Steve Jobs
, both whom I admire greatly. When I dropped him home that night, my heart was bursting with admiration and awe for this brilliant young man who remained humble, simple and yet so innovative and creative in his life - ever willing to share and to enlighten. It was truly a role reversal scenario that I will treasure always.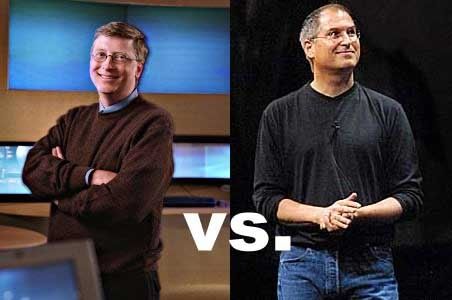 This evening, I thought I'd post the following links for your viewing pleasure. They have been most inspiring to me and have taught me loads about life and perspectives.
Click on the following links to enjoy the many lessons on life from the speakers.
1. Steve Jobs -
Stay Hungry, Stay Foolish
2. Steve Jobs on
Microsoft
3. Bill Gates -
Speech at Harvard Part 1
4. Bill Gates -
Speech at Harvard Part 2
5. Steve Jobs and Bill Gates Together -
Part 1
6. Steve Jobs and Bill Gates Together -
Part 2
Many of you would be aware that Apple CEO Steve Jobs is on an indefinite
medical leave of absence.
He is still CEO involved in major strategic decisions for the company. This move has caused a fall in Apple stock prices. Jobs has had recurring medical problems since 2004, when he was treated for pancreatic cancer.
This site
said that the leave was made public ahead of a holiday observed by the US stock exchanges. As the market reopened last Tuesday, Apple's total stock value dropped by nearly $20 billion before recovering most of the loss through the day. I wish him speedy recovery for I cannot imagine what life would be like for Mac users without Steve Jobs at the helm of Apple.
Enjoy the videos and have a pleasant evening! Cheers!
AWAS: Harga Minyak Naik Jika BN Menang Di Tenang
Posted: 26 Jan 2011 05:04 AM PST
P
RK Tenang penentu harga minyak RON95
Dua hari sebelum hari pengundian PRK Galas dan Batu Sapi, iaitu pada 2 November 2010, kerajaan mengumumkan kenaikan harga minyak RON97 sebanyak 5 sen perliter, kepada RM2.15. Menaikkan harga barang menjadi sesuatu yang pantang sebelum pilihan raya.
Ironinya, keputusan pilihan raya memperlihatkan bahawa bukan sahaja pengundi tidak rasa tersinggung, malah BN memperolehi undi majoriti yang lebih banyak di kedua-dua kawasan, sebahagian besarnya mungkin disebabkan faktor tempatan. Ia memberi lampu hijau kepada kerajaan BN untuk mendakwa bahawa rakyat merestui keputusan kerajaan untuk mengurangkan subsidi.
Selepas satu bulan, kerajaan BN yang mendapat galakan daripada rakyat menaikkan harga RON97 sebanyak 15 sen lagi, kemudian melanjutkan kenaikan harga kepada RON95, diesel, gas dan gula. Pada 5 Januari 2011, harga minyak RON97 dinaikkan kepada RM2.40, bersamaan kenaikan 30 sen perliter dalam tempoh dua bulan, atau kadar kenaikan 14%.

Maka, PRK Tenang bakal membawa dua kesan utama. Pertama, tarikh pilihan raya umum. Kedua, perubahan harga barang. Struktur pengundi Tenang mengikut kaum adalah Melayu (sedikit lebih kurang daripada 50%), Cina (38%), India dan lain-lain (12%), tidak jauh daripada nisbah populasi pengundi peringkat negara.

Jadi, meskipun Johor merupakan kubu BN, dan secara umumnya menganggap UMNO bakal menang dalam PRK Tenang, tetapi kedua-dua BN dan PRK masih berhempas pulas - kerana melihat ia sebagai pertarungan awal sebelum PRU ke-13. Seandainya BN menang, maka ia akan terus mendesak selangkah ke depan. Sebaliknya, jikalau BN menang tipis, maka PR akan mendakwa sentimen tsunami politik 8 Mac 2008 belum menyurut.

Kemenangan besar BN akan mengundang kenaikan harga

Sudah tentunya tarikh PRU bakal memberi kesan kepada perubahan harga barang. Jikalau langkah PRU semakin hampir, maka harga barang akan melonjak hanya selepas pilihan raya. Sebaliknya, jikalau PRU tidak diadakan segera, maka harga barang mungkin dinaikkan dahulu supaya perbelanjaan kerajaan dijimatkan, sementara rakyat menyesuaikan diri dengan kadar kenaikan tersebut.

Untuk menyimpulkan kesannya terhadap tarikh PRU dan harga barang, PRK Tenang mungkin mempunyai tiga kesudahan.

Pertama, BN menang besar, malah melebihi sokongan pada tahun 2004. Ia mungkin memberangsangkan BN untuk mengadakan PRU sebelum Jun tahun ini (mungkin serentak dengan pilihan raya negeri Sarawak). Jadi, kenaikan harga lantaran pengurangan subsidi mungkin berlaku selepas pertengahan tahun ini.

Kedua, BN memperolehi keputusan yang lebih baik daripada 8 Mac 2008, namun gagal mengembalikan sokongan yang diperolehi pada PRU tahun 2004. Jadi, BN tidak berani untuk mengadakan PRU dengan segera. Dalam keadaan ini, kenaikan harga barang mungkin berlaku secara berperingkat. Kerajaan mengurangkan defisit, sementara rakyat menyesuaikan diri dengan keadaan - untuk mengurangkan impak inflasi terhadap BN dalam pilihan raya.

Ketiga, BN menang tipis atau kecundang. Bukan sahaja PRU terpaksa ditunda untuk menunggu keadaan ekonomi pulih, malah "subsidy rationalization" akan diperlahankan langkahnya.

Selepas krisis Greek, adalah menjadi sesuatu yang "wajib" untuk kerajaan mengurangkan subsidi di negara merata dunia. Bezanya, pendekatan dan pakej pengurangan subsidi. Langkah pertama kerajaan Ireland, Britain dan Sepanyol mengurangkan subsidi adalah pengurangkan gaji menteri kabinet dan pegawai kanan, untuk menunjukkan "berat sama dipikul". Lebih penting, jikalau langkah pengurangan subsidi atau perbelanjaan kebajikan itu membebankan golongan bawah, maka kerajaan harus mengemukakan pakej untuk meringankannya.

Jikalau BN tewas atau terkejut dengan keputusan PRK Tenang, maka agak mustahil untuk harga minyak RON 97 dinaikkan dalam tempoh enam ini, malah subsidi kepada barangan kawalan yang lain juga tidak akan dikurangkan segera. Sekurang-kurangnya kerajaan akan merasai bahang tekanan, dan perlu menawarkan sesuatu sebaliknya, misalnya penurunan harga pengangkutan awam sebagai pampasan kepada rakyat. Malah, pengurangan gaji menteri, pegawai kanan kerajaan, elaun pelancongan dan sebagainya, mungkin perlu dimasukkan sebagai agenda.

Jadi, mampukah 14,592 orang pengundi di kawasan Tenang membantu rakyat di seluruh negara untuk menghalang kenaikan harga barang? -MR

*Wong Chin Huat ialah pengkaji politik dan kolumnis MerdekaReview. Disedut, terjemah dan disunting dari teks asal.


UMNO BN Terkejut Beruk Ditentang Hebat Di Tenang
Posted: 26 Jan 2011 03:18 AM PST
U
mno BN tak jangka dapat tentangan hebat
LABIS, 26 Jan: Umno BN tidak pernah menjangka akan mendapat tentangan hebat pada pilihan raya kecil (PRK) Dun Tenang, kata Setiausaha Agung PAS, Datuk Mustafa Ali.
Ekoran itu, katanya Umno BN menggunakan isu yang remeh-temeh bagi menarik sokongan pengundi.
Menurutnya, berdasarkan tinjauan yang dibuat, tentangan yang dihadapi oleh Umno BN pada PRK Tenang adalah di luar jangkaan.
Ini, ujarnya kerana Pakatan Rakyat yang terdiri daripada PAS, PKR dan DAP telah menunjukkan kerjasama yang erat menyebabkan Umno BN menggunakan politik perkauman dan kebencian semasa berkempen.

"Apabila pergi ke kawasan Cina, mereka kata DAP ikut telunjuk PAS, bika pergi ke kawasan Melayu, mereka kata PAS jadi tunggangan DAP," ujarnya pada sidang media di Pusat Media PAS PRK Tenang di sini, pagi ini.

Tambahnya lagi, pemimpin Umno BN menggunakan politik kebencian itu di dalam kempen mereka sama ada secara senyap atau terbuka.

Justeru, beliau menyeru pemimpin Umno BN supaya menghentikan daripada terus menggunakan politik kebencian pada kempen PRK Tenang.

Mengenai isu pelaksanaan hukum hudud sebagaimana yang ditimbulkan oleh Presiden MCA, Datuk Seri Dr Chua Soi Lek, beliau berkata ia menjadi keliru kerana tidak mendapat penjelasan yang sebenarnya mengenai undang-undang jenayah Islam.

Jelasnya, mana-mana negara yang mahu melaksanakan undang-undang tersebut mesti mempunyai prasyarat, antaranya wujud keadilan ekonomi.

Justeru, beliau menegaskan bahawa PAS tidak berganjak dengan dasarnya adalah Islam tetapi masalah hukum hudud bukanlah agenda Pakatan Rakyat. -harakahdaily



Tenang: Kebangkitan PAS Johor
Abd Shukur Harun shukurharun@yahoo.com

Hanya beberapa hari saja lagi hari penentu pilihan raya kecil Dun Tenang, Labis, Johor, semua pihak berdebar menanti hari pengundian Ahad itu, 30 Januari ini.

Bandar Labis seolah-olah dikejutkan dari tidurnya dengan menerima kedatangan beribu-ribu orang luar untuk menyaksikan pilihan raya tersebut.

Ketika menikmati makan tengah hari bersama teman-teman dari PAS Kelana Jaya di sebuah restoran, saya merasa terharu dengan kemajuan PAS Johor yang kelihatannya semakin pesat.

Nyatalah calon PAS, Cikgu Normala Sudirman menjadi elemen penting kepada kebangkitan PAS Johor ini dengan tidak menafikan sama sekali jasa dan pengorbanan pimpinan dan pendukung PAS lain di negeri itu sejak dulu hingga kini.

Jasa dan pengorbanan tokoh PAS Johor selama ini, antaranya Dr. Sanusi Daeng Mariok, Dr. Mahfuz Muhamad, Almarhum Tuan Haji Ismail, Ahmad Anang, Ustaz Abdullah Husein, Khairul Faizi, Aminudin Ayub, Dr. Muhamad Taslim, Dr. Haji Sheikh Ibrahim, Aminul Huda, Mazlan Aliman, Suhaizan Kaiat dan ramai lagi yang tidak dapat disebutkan semuanya.

Dahulu PAS Johor terpinggir, miskin, dipandang 'sebelah mata' saja oleh kebanyakan orang di Johor, banyak kali bertanding dan ramai hilang wang pertaruhan. Tetapi kini PAS Johor berdiri dengan gagah, sudah diterima oleh ramai rakyat di Johor, tidak lagi hilang wang pertaruhan, bahkan mampu memenangi dua Dun – Maharani dan Sungai Abung – dalam PRU Ke-12 yang lalu.

Sebagai anak kelahiran Pontian, Johor, saya dapat memahami pahit getir pendukung PAS negeri Johor untuk mengembangkan parti itu di tengah-tengah keangkuhan Umno yang selama ini menganggap Johor adalah Umno dan Umno adalah Johor.

Kini PAS Johor dengan dua Dun dimenanginya – Dun Sungai Abong dan Maharani – sedang bangkit dan menyerlahkan namanya di peringkat nasional. Pemilihan terhadap Normala sebagai calon untuk bertanding di Dun tersebut memberikan kelebihan kepada PAS/Umno dan memberikan erti yang cukup besar kepada perjuangan parti itu di negeri yang kononnya selama ini dianggap sebagai kubu kuat Umno.

Pada hal kenyataan yang ada tidak begitu. Di tengah-tengah kepesatan perkembangan PAS Johor ini, saya terkenang bagaimana tungkus lumus pendukung PAS Johor mula menggeragkannya secara aktif di tahun 1978 di Batu Pahat.

Dapat dibayangkan bagaimana pahit getir PAS Johor waktu itu di mana ceramahnya tidak mendapat sambutan, hanya beberapa puluh orang saja yang mendengarnya, sementara ramai orang Johor mencebikkan bibir ketika siapa saja yang menyebutkan nama PAS.

Polis pula waktu itu mematikan pembesar suara jika ada pemimpin Umno berceramah berdekatan. Namun PAS Johor terus bangun hingga kini bahkan semakin gagah.

Pada hari penamaan calon Sabtu lalu, saya ada terdengar perbualan beberapa orang dalam loghat Kedah di sebuah restoran. Mereka
kagum dengan kebangkitan PAS Johor. Mereka berkata, PAS Johor tidak lagi terpencil seperti yang kita dengar, bahkan sudah semakin ramai orang Johor menerima PAS.

Sementara itu bantuan petugas PAS/Pakatan Rakyat dari luar Johor sudah demikian ramai tiba, di mana muslimat PAS Johor mengerahkan seluruh tenaga ahlinya memimpin kempen ini dan mengiringi setiap pergerakan calon PAS itu.

Di beberapa tempat di kawasan pengundi Cina, kelihatan petugas DAP mengiringi Cikgu Normala berkempen dan oleh kerana suasana Tahun Baru Cina sudah sangat terasa di Dun Tenang ini, kunjungan Normala disambut hangat oleh orang Cina dengan suasana Tahun Baru.

Normala tidak kekok berdepan dengan situasi begini kerana beliau sudah biasa bergaul dengan orang ramai, bahkan ada sesetengah ibu bapa yang anak mereka pernah menjadi murid Normala telah memberikan sambutan hangat terhdapat kedatangan calon ini bersama rombongannya.

Di kawasan pengundi Melayu, muslimat PAS Johor juga di depan dengan dibantu oleh petugas PAS dari seluruh negara. Gerak kerja kempen calon PAS ini berjalan lancar.

Nampaknya PAS tidak bimbang dengan isu Normala tidak bersalaman dengan lelaki seperti yang dibangkitkan oleh pemimpin MCA, kerana isu ini dan isu negara Islam dilihat tidak berkesan.

Bahkan isu bersalaman ini memukul pemimpin Umno/BN sendiri kerana selama ini tidak meneranghkan peraturan dan adab Islam kepada rakan mereka dari MCA walaupun sudah bergabung lebih setengah abad.

Ramai yang bertanya mana pergi tokoh dan menteri agama di dalam Umno selama ini yang membisu seribu bahasa, membiarkan pemimpin MCA menghina hukum Islam.

Sementara itu, sekiranya ada anggapan bahawa golongan generasi lama masih menyokong Umno/BN maka anggapan itu mungkin separuh benar. Ini kerana ramai juga orang veteran dalam perbualan mereka, termasuk di pekarangan masjid dan surau terang-terang menyatakan sokongan kepada PAS dan calonnya.

"Normala ini guru, pendidik, dia bijak, akhlaknya baik. Calon macam seperti ini patut kita sokong," kata seorang warga emas ketika berbual dengan kawannya di pekarangan sebuah masjid di kawasan Melayu di Labis ketika menuju ke keretanya selepas menunaikan solat Zohor.

Antara isu yang mendominasi dan kelihatan berkesan dalam kempen calon PAS/Pakatan Rakyat ini ialah isu kenaikan harga barang di samping isu lain seperti gejala sosial, penagihan dadah oleh remaja Melayu dan sebagainya.

Boleh dirumuskan di sini bahawa antara hikmah pilihan raya kecil Dun Tenang ini ialah menyerlahnya PAS Johor dengan perkembangannya yang sangat pesat, berjaya mengenengahkan calon terbaik dari muslimat Johor dan memperlihatkan kesepaduan gerak kerja seluruh petugas Pakatan Rakyat.

Ternyata PAS negeri Johor begitu harum namanya. -harakahdaily
Arrest warrant out for runaway cop: Cops failed to catch own 'in-house' cop!
Posted: 26 Jan 2011 02:52 AM PST
A warrant of arrest was issued against a policeman who did not turn up at the Petaling Jaya Magistrate's Court to answer a charge of making a false report against trader Chia Buang Hing.

Magistrate Ahmad Solihin decided to issue the warrant against Lans Koperal Norzali Rosle upon request by deputy public prosecutor Amirah Md Yusof who said, "Your honour, the suspect was reasonably aware that he was going to be charged today. However they seem to be an attempt at running away or to defy the court's order for him to present himself here today."
 
Amirah, the DPP, argued that all avenues have been exhausted in their attempt to contact the accused.

Norzali, 25, is stationed at the Damansara police station was supposed to be charged in the court today under Section 211 of the Penal Code for making a false charge of an offence made with intent to injure Chia who operates a framing shop in Taman Tun Dr Ismail, for drug and weapons possession.
 
Norzali faces a maximum jail term of two years or a fine, or both and is among five people that were
charged earlier
with assaulting Chia.
AMARAN, Wabak demam dan batuk sedang melanda
Posted: 26 Jan 2011 01:53 AM PST
Dua minggu lepas saya demam dan batuk. Minggu lepas anak perempuan saya pula yang kena. Minggu ni anak lelaki saya. Tempat kerja saya pun sama, seorang demi seorang MC, ada yang masuk wad. Rupa-rupanya di Singapura dah isytihar wabak batuk, selsema dan demam sedang melanda, tapi kenapa tak kecoh di Malaysia? Mungkin semua pihak dan media sedang sibuk di DUN Tenang agaknya.
Kawan saya yang masuk hospital kata, doktor menasihatkan para pesakit jangan sekali-kali makan buah …… yang banyak terdapat sekarang kerana ianya banyak mengandungi bahan kimia dan memburukkan lagi kesihatan kita semua.
Alhamdulillah, anak-anak saya sudah mula pulih. Banyakkan beri minum air kosong yang masak. Air kelapa amat baik untuk demam terbukti sejak dahulu dan secara saintifik, insyaAllah. Ada tanda demam, jumpa doktor terlebih dahulu untuk dapatkan diagnos dan rawatan.
Singapore
Jan 21, 2011
COUGHS, COLD, FEVER AT EPIDEMIC LEVEL
UNUSUALLY large numbers of people are falling ill with sore throats, the common cold, fever and diarrhoea - numbers large enough to classify the infections as an epidemic.
Last week, polyclinics saw more than 20,000 patients with such problems - an indication that the infections have passed the epidemic threshold and are now spreading rapidly in the community.
Polyclinics see roughly 20 per cent of primary care patients, so the Ministry of Health (MOH) uses its patient numbers to gauge the level of infectious illnesses in the country.
When the numbers at polyclinics top 17,032 cases a week in the case of acute respiratory infections (ARI), it is severe enough to be classified as an epidemic.
Last week, 18,377 patients turned up at polyclinics with ARI, a term used to cover a range of infections such as the common cold, influenza, bronchitis and pneumonia. This is almost 1,000 cases more a day than the norm.
In fact, the number of such patients at polyclinics jumped from 2,842 a day the previous week to 3,341 last week.
http://www.straitstimes.com/BreakingNews/Singapore/Story/STIStory_626609.html
Friday, January 21, 2011
SINGAPURA ISTYIHAR BATUK, SAKIT TEKAK DAN DEMAM SEBAGAI EPIDEMIK: 20,000 PENDUDUK DAPATKAN RAWATAN SETAKAT INI
KENAIKAN mendadak pesakit mengalami batuk, sakit tekak dan demam di Singapura, telah memasuki tahap epidemik atau wabak.
Ini berikutan hampir 20,000 pesakit mendapatkan rawatan di Poliklinik negara itu sehingga kini dan kenaikan mendadak pesakit dikesan apabila angkanya mencecah 3,341 orang sepanjang minggu lalu.
Jumlah itu meningkat berbanding 2,842 orang pada minggu sebelumnya. Di negara itu, jumlah pesakit yang didafttarkan melebihi 17,032 orang bagi satu-satu jenis penyakit akan dikatogerikan sebagai wabak.
Kini angka itu dijangka akan terus meningkat dan Kementerian Kesihatan telah mengambil langkah perlu menangani wabak Acute Respiratory Infection (ACI) itu yang dikatakan datang menyerang rakyatnya secara tiba-tiba.-ST
http://singalautmetro.blogspot.com/2011/01/singapura-istyihar-batuk-sakit-tekak.html
Posted: 26 Jan 2011 02:33 AM PST
I was supposed to be on clinic duty in Taiping yesterday, and today in Ipoh. But I couldn't make it to Taiping yesterday as my uncle passed away on Monday and I had to rush to KL for his funeral. No problem about going for today's Ipoh clinic though.
As usual, the moment I got to the specialist clinic, I headed straight to the doctor's room to inform the nurse that I was already there and to ask if there were any new cases. The nurse told me there was one, and she told me that SN (the staff nurse we had been working with and had gone for a 6 months course during the second half of last year) was back. Immediately I went to the room next door and SN was there, talking to Wan, the orang asli lady whose son is under our sponsorship programme.
SN told me about an old client, Normi, who may need help. Normi had been referred to Buddies before (not during my duty though) but at that time the volunteers on duty didn't assign her any buddy. My guess is there were 2 main problems back then – the volunteers on duty were non-Malays… and Normi speaks in Parit dialect, and in addition she has hearing problems as well.
So SN got Normi to see me at the counselling room. The counselling room by the way, had so many people today, definitely no privacy at all. Other than the usual pharmacists, there were also student pharmacists as well. It was noisier than usual, and with Normi's hearing problems, I had to speak louder than usual, something I don't usually do… at least not in the counselling room!
Normi is a single mother with 5 children. However only the youngest, a 14 year old girl, stays with her. The eldest is married, stays in another town. The other 3? They're staying with their married eldest sister. I asked Normi if they're working, but she herself was not sure if they were.  I asked how often they come back, and Normi said that only happens during Raya. With Normi herself not working, I asked if Normi had been getting any form of financial help from anyone. All she gets is Welfare Dept's Bantuan Kanak-kanak of RM100 for her youngest daughter. She has to pay RM70 per month for her house rental. So what does she survive on? I asked if her children give her any money. Only when she asks them for money, she said.
When Normi's husband was still alive, they used to get PPRT assistance. The house was under her name, while the land belonged to her father-in-law. According to her, after her husband and FIL died, her in-laws chased her out of the house. She claimed she "kena buat" and the numbness she feels on the left side of her body is also "buatan orang".
Frankly, I don't quite know what to think of this case. For someone who only gets RM100/month and has to pay RM70 for rental, she looked rather "bergaya". There must be a reason all her children except for one prefer to stay elsewhere. She also said she came to the hospital with a "kawan". I wonder what her children's version of the story is like…
The next case referred to me was a prisoner's case. He came handcuffed to a policeman, so whatever conversations I had with him, the policeman listened as well. There were no secrets though, I wasn't discussing with him how to escape from prison… :), he is due to be released in March anyway. SN referred the case to me because this guy has 2 children, aged 11 and 7 who may need help. The children are now staying with their mother, his wife. The wife works as a cleaner, earning about RM400 – RM500 per month, and she has to pay RM170 for rental. Hmmm… I think I may need to pay a visit to assess this family's needs. I've got the wife's number, so I shall be calling her soon.
There were no further cases referred and it was still early. When I went to the doctor's room to inform them that I was leaving, Dr Ker gave me the name and number of a new Taiping case. "You tak datang yesterday pun I ada case untuk you," she said. I called the lady, and frankly I think she'd feel more comfortable speaking to a Chinese-speaking volunteer. I told her I'd get a Chinese volunteer to call her.
Since it was still early, I decided to visit Sofie at the ward. She had been warded since Thursday 2 weeks ago, and initially the doc thought it was  just due to dehydration as a result of ARV allergies (she'd vomit every time she tries to eat/drink anything). So rightfully she should have been discharged after 2 or 3 days. But after she fainted at the toilet in the ward, and the next day she had very high fever, they decided to do x-ray and scan.
When I got to Sofie's bed, Saiful was there. Apparently he had not gone home ever since he started accompanying his mother at the hospital 2 weeks ago. Meaning he skipped school for the same length of time. I asked if he had informed his teacher.
"Mintak tolong kawan aje bagitau cikgu. Tapi hari tu kawan kata cikgu dah marah."
Well, I'm a bit concerned too. I know of a girl who skipped school for a month to take care of her mother and ended up being expelled from school. I don't want Saiful to go through the same thing, although he himself didn't seem too bothered. I told Sofie to get her sister to call the school to inform them of Saiful's situation. At least getting the news from an adult, hopefully the school teacher would be more understanding.
At first I wanted to suggest that the boys take turns to take care of Sofie at the hospital. But it was a women's ward, and males are not supposed to stay overnight at the women's wards. It was different for Saiful, because although 13, he looks like a 9 year old! Initially he even had problems getting in because the guards didn't believe he was 13. But now, after 2 weeks, all the guards know him already.
Noticing that it was too early for visiting hours, Saiful asked, "Macam mana makcik boleh masuk?" I showed him my pass. Definitely more "power" than his temporary pass… :)
As for Sofie, there were some equipments attached… drip… machine… I don't know what the machine was for. Sofie herself was not able to tell me anything. She only said that further tests were done but results were not out yet.
After a while, I left Sofie, and told Saiful to come along with me downstairs so I could help top-up his mom's phone credit. After 2 weeks in the hospital, they ran out of credit. They could top-up at the shop at the ground floor, but Saiful had to buy food at the hospital canteen and things aren't cheap. After 2 weeks, they don't have much cash in hand.
After paying to top-up their phone's credit, I gave Saiful some extra cash for his lunch. Then I headed back to the HIV clinic to see the doctor, hoping to get more info regarding Sofie's condition.
According to the doctor, the scan done showed "something" in Sofie's brains, and so now they needed to do further tests to find out what exactly the "something" was. The doc did explain some things in medical terms which I can't quite recall (I did badly for my science subjects in school!) but one thing she could confirm, Sofie may need to spend a lot more time at the hospital than anticipated.
Oh dear… I think I may need to visit the children at home without waiting for Sofie to be discharged.
I just hope that the "something" is not something dangerous…
Polis Dikenakan Waran Tangkap Tak Hadir Mahkamah
Posted: 26 Jan 2011 02:31 AM PST
W
aran tangkap ke atas polis tak hadir mahkamah
Waran tangkap dikeluarkan hari ini ke atas seorang anggota polis yang tidak hadir di mahkamah majistret di Petaling Jaya kerana membuat laporan palsu ke atas ahli perniagaan, Chia Buang Hing.
Chia (gambar), 38, sebelum ini memfailkan laporan polis mendakwa dia dibelasah ketika berada dalam tahanan polis.
Katanya, pada jam sekitar 10 pagi tadi, beliau dimaklumkan oleh pengawai penyiasat yang hanya dikenali sebagai ASP Nasuha, bahawa anggota polis berkenaan sepatutnya didakwa.
"Nasuha beritahu saya, supaya saya boleh dapatkan peguam saya Lim Lip Eng untuk hadir di mahkamah," katanya.

"Namun, apabila saya sampai, Nasuha memberitahu saya tertuduh sudah larikan diri dan polis tidak tahu di mana dia berada. Isteri anggota polis itu beritahu Nasuha, dia juga tidak tahu di mana suaminya dan dia mungkin di Kelantan."

Lim berkata: "Malangnya, tertuduh tidak hadir dan mereka tidak tahu dia di mana. Nasuha maklumkan kepada Chia bahawa anggota polis itu adalah orang yang menggari Chia, dan juga yang pertama memukulnya.

Tidak tahu di mana

"Ini tidak sepatutnya berlaku kerana dia pegawai yang tinggal di kuarters polis - tetapi mereka tidak tahu dia dimana."

Peguam itu, sebelum ini mengadu kepada majistret bahawa dirinya dan anak guamnya, Chia tidak memaklumkan sama ada lima anggota polis yang dikatakan memukul Chia sudah didakwa ataupun tidak.

Sehubungan itu, Lim berkata Nasuha memaklumkan Chia berhubung perkara itu hari ini.

Chia juga melahirkan kebimbangan keselamatan dirinya dan keluarganya dan kini semakin risau kerana anggota polis yang menahannya dulu itu kini tidak dapat dikesan.

"Saya kini ketakutan kerana tertuduh sudah terlepas. Bagaimana jika dia memburu saya?" soalnya.

Chia juga mengulangi dakwaannya yang dia ditahan reman, tangkap, belasah dan sebahagian besar wangnya diambil oleh anggota polis yang menahannya kerana memandu dengan cukai jalan yang tamat tempohnya. -mk