---
Posted: 11 Jan 2011 09:33 AM PST
There is a time when the emotions have to go through the drill.
In my case, although I knew that ultimately a divorce would come, naturally, I still plunged into that pit of despair and sadness.
I am now slowly recovering from this episode and moving on carefully.
It was a long union.
Definitely, it wasn't a marriage made in heaven.
We groggily did manage to stick together for 30 years and that was a bit of a feat.
So for those who are currently experiencing the same, let's get ourselves back into action again.
We musn't give up on finding happiness and we must enjoy every minute of our freedom and achieve what we really deserve..a better deal in life!
Our kids are forever depending on us for love and affection.
What do they know about all these busted marriages and all these crap.
Mine are fortunately adult enough to understand most of the reasons for the breakup.
They have accepted the divorce like a fast oncoming train.
Maybe for now they do not have much to say to their father and vice-versa.
They too need time to adjust to the whole new broken family scenario.
They love their father very much no matter what and I am so very glad for that.
Though we parents are not together anymore, the children will always be the most crucial part of the memory of two people who were once in love.
I have already taken down all our lovey-dovey picture portraits but those with the children posing together with us are still on the wall.
We used to enjoy framing quite a lot of huge, expensive portraits during our earlier years especially when the children were still very young.
Gosh, we had a gallery of family photos on all our walls.
Now I've kept photos of our happier times in the storeroom.
Heck many years ago, I saw a huge photo frame of a lovely, besotted-looking Chinese couple thrown by the roadside..so my protocol in treating such items are still admirable..hmmm.
Life is on a better footing..I can feel that now.
I have an extremely sympathetic few who are quietly by my side to help me out, and so many emotionally, supportive cyberspace and FB friends who are always lending their ears.
Thank you.
Truly its not easy when all your life you've been a housewife and suddenly your simple fantasy of that 'happily ever after' crumbles..especially at 52+.
To top it all, theres not much material wealth to divide and be content with.
But Alhamdullillah, God definitely has better things for me and I believe the beginning of my happy ending is about to start soon..InsyaAllah.
And I am ever so thankful for that 2nd chance..
Posted: 11 Jan 2011 07:44 AM PST
Adapun Tuanku segala anak cucu patik sedia akan jadi hamba ke bawah Duli Yang Di Pertuan; hendaklah ia diperbaiki oleh anak cucu duli Tuanku. Dan jika ia berdosa, sebesar-besar dosanya pun, jangan difadihatkan, dinista dengan kata-kata yang jahat; jikalau besar dosanya dibunuh, itu pun jikalau berlaku pada hukum syarak'
Maka di persetujui oleh Sang Sapurba akan perjanjian itu dengan Demang Lebar Daun yang mewakili rakyat terbanyak berbangsa Melayu tetapi Sang Sapurba pula meminta satu janji dengan Demang Lebar Daun.
Maka sembah Demang Lebar Daun, 'Janji yang mana itu, Tuanku?' Maka titah Sang Sapurba, 'Hendaklah pada akhir zaman kelak anak cucu bapa hamba jangan durhaka pada anak cucu kita, jikalau ia zalim dan jahat pekerti sekalipun'
Maka sembah Demang Lebar Daun, 'Baiklah, Tuanku. Tetapi jikalau anak buah Tuanku dahulu mengubahkan dia, maka anak cucu patik pun mengubahkanlah'
Ada pun daripada kisah yang telah tersulam ratusan tahun dalam tulang sum – sum sejarah dan jalan fikir orang Melayu ini telah acap kali dijadi bukti tanda pasti akan waadat dan daulat Sultan. Ada pula buah fikir yang mengatakan  Demang Lebar Daun adalah pertamanya yang berpatek dan memanggil  Sultannya dengan gelaran Duli Yang Di Pertuan. Tapi tidak itulah yang kita ingin sembahkan dalam tulisan yang penuh cela ini. Maka entah bagaimana terdetik dalam hati kita berkat kurnia rahmat dari Tuhan RabbiulAlamin untuk membaca semula Sulalatus Salatin yang mahsyur itu karangan Tun Seri Lanang.
Tertarik kita pada ayat yang ada dalamnya kata hukum syarak. Apakah dia gerangan makhluk Allah yang  memakai nama hukum syarak ini? Jika ditilik dalam buku Pendidikan Islam tingkatan 2, kurang lebih jawapannya adalah hukum yang bersandar undang – undang Islam. Adalah terpakai maknanya kini bahawa Sultan yang bersemayam di negeri Darul Ehsan itu juga harus bersandarkan undang – undang.
Maka tidaklah timbul soal derhaka akan Sultan jika persoalan yang rumit itu berkehendak kepada faham undang – undang yang lebih dasar  dan  sudah tentunya dengan jalan ke mahkamah. Selain menilik balik sebarang ayat dalam undang – undang tubuh negeri atau segala apa pun yang perlu ditinta semula. Tidaklah ini dilaksanakan untuk bersuka – sukaan, melainkan bagi menjamin akan sentosanya Sultan kekal bersemayam dan rakyat aman bersalam.
Namun begitu adalah menjadi tercela jika Sultan yang bersemayam dijadikan sebagai umpan si kitol buat merosak sentosa rakyat. Maruah diraja dijaja laksana berjual barang dagang adanya. Kononnya umat Melayu kini telah hilang segala nikmat, telah hancur tali pengikat, hingga musuh bertambah kuat.  Sungguhpun demikian, barang buruk jika dijaja pasti tidak disentuh orang. Maka, tidaklah menjadi kerugian barang sedikit pun jika rakyat Melayu ini berpecah pandangan, asal saja tidak berpecah saudara. Sesungguhnya kan telah dijelas dalam kitab agama  bahawa sesungguhnya perbezaan itu satu rahmat yang Esa. Dan Sultan akan terpelihara selagi mana rakyat sentosa.
Malaysia must respond to stop brain drain, says Kit Siang
Posted: 11 Jan 2011 01:30 AM PST
[Bergambar] Perubahan Pasti Berlaku
Posted: 11 Jan 2011 09:00 AM PST
P
erubahan semestinya akan berlaku mengikut masa. Begitu jugalah yang terjadi diri kita dan pada alam sekeliling kita.
"Perubahan" tidak memperdulikan samada kita menyedarinya atau tidak, suka atau pun tidak, kerana tidak ada dua detik yang benar-benar serupa, begitu juga tidak ada dua kondisi yang benar-benar sama.
Perubahan itu sunnatullah.
"Sunnatullah (peraturan Allah) yang telah berlaku semenjak dahulu lagi; dan Engkau tidak akan mendapati sebarang perubahan bagi cara dan peraturan Allah itu." - Al Fath :23

Roda berputar... saksikan tayangan foto dahulu dan sekarang:


JALAN BUKIT BINTANG

dahulu

sekarang
MASJID JAMEK
dahulu
sekarang
PETALING STREET
dahulu
sekarang
LAKE GARDEN
dahulu
sekarang
MUZIUM NEGARA
dahulu
sekarang


Manusia juga turut berubah

TG NIK AND AZIZ NIK MAT




ABDUL HADI AWANG




TUN DR MAHATHIR




NAJIB TUN RAZAK




SITI NURHALIZA




Mesejnya:

Perubahan dari BN ke BA juga pasti berlaku. Hanya menunggu masa dan ketikanya.


Pemberian Beg Sekolah – Sinar 27 Disember 2010
Posted: 11 Jan 2011 07:29 AM PST
Penang Batu Feringgi Sidewalk Bazaar
Posted: 11 Jan 2011 07:19 AM PST
On the evening, after the Botanical Gardens, we dropped by at Gurney Plaza initially to find a decent Baby Room. Miki pooped without warning and regardless of any time and place. What was supposed to be a 20 minutes stop turned out to be a 2 hour affair when the Penang Maxis sales crew sold me Iphones that I have been searching  for a long time in Klang Valley. They were always out of stock here but once the funny speaking guys in Penang told they have ready stock, I immediately shaved all my bulu-bulu and used them to buy two Iphones for Azman and I. Sungguh mahal harga tiket masuk jamban nak basuh berak Miki… haishhh
After that we went to Batu Feringgi. This is the part in Penang where all the nice hotels and beaches are. For as long as I have remembered, they have Night Markets along the streets of Batu Feringgi and this time I wanted to show Azman how the place is like.You see, he spent his first 17 years of life in Kedah and the rest in KL/Selangor, Penang is to him like a tourism spot.
Anyway the Night Market or also known as Batu Feringgi Sidewalk Bazaar starts at nightfall until wee hours in the morning. It makes Batu Feringgi very active, colorful and interesting place to visit.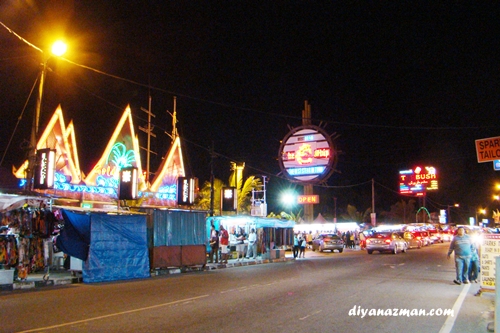 The shops stretch from Rasa Sayang Resort until Casuarina Hotel so that's a lot of walking to do, you know! Below pic is a nicely decorated fruit stall.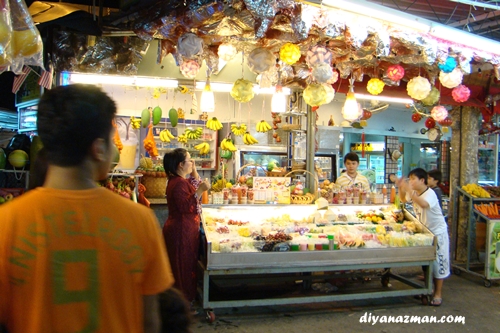 fruit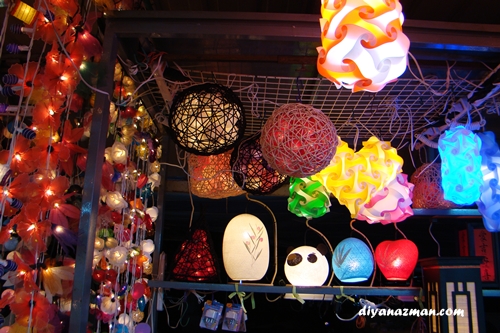 They sure sell all sorts of things there from clothes to paintings to lights to toys to ladies accessories and crafts. However I feel like Malaysia's local products aren't too many because many that are being sold here reminds me of the things we saw in Bangkok, Bali, Vietnam, China etc..
Mana labu sayong weehhh???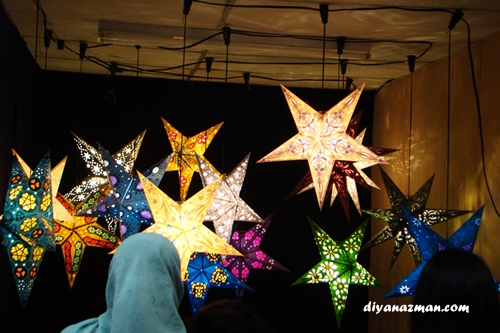 Starry lights for sale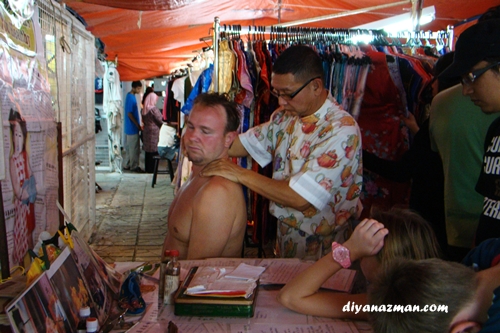 They also have roadside massage parlor… See above a mat salleh manyak syokkk wooo kena urut sama itu apek..
We didnt buy anything there except some toys for Miki and that's only because he much insisted. This place is so much like Bangkok la… I myself as a local didnt know they have these express tailor that can custom made business suits for you within hours… See below pic for the sigh boards. Next to it is me and Miki. Hate the way my bum look in the pic! So rectangular while Miki's was well itchy! heheheh….
Dont for get to check out this place next time you visit Penang, peeps!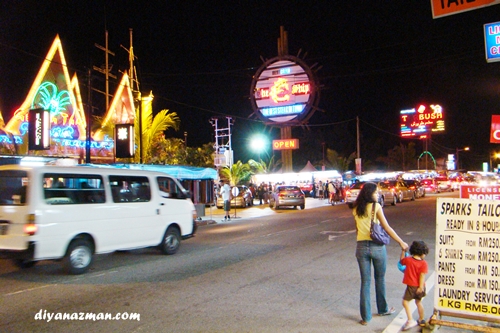 Ooo...Oh is protecting Koh. Why Oh has a problem with Lim's right of reply?!
Posted: 11 Jan 2011 07:11 AM PST
The deputy chief of Gerakan Youth, Oh Tong Keong has jumped to the defence of party president Koh Tsu Koon, telling Penang Chief Minister Lim Guan Eng to "wait for the surprises" to be revealed after March. Oh said the wing is "shocked and surprised" that Lim had so swiftly responded to Koh's challenge that the BN would soon expose Pakatan Rakyat's state government weaknesses.
Pointing at Lim's apparent impatience, Oh said, "Within a day, Lim is asking Koh to say what he has to say now and don't wait until after March."
New Governor's 1st Duty (Part 2)
Posted: 11 Jan 2011 06:51 AM PST
I received a comment from a reader who preferred to remain anonymous. He commented on my last post, New Governor's 1st Duty.
He pointed out to me that I missed out mentioning the late Tun Ahmad Koroh, governor from 1977 to 1978. He said when Ahmad was TYT, his younger brother Tan Sri Suffian Koroh was Deputy Chief Minister and his (Ahmad's) son Azmy (Azmi?) was the State Assemblyman for Pensiangan.
He (I assume the it's a man) also mentioned Tun Ahmad's successor, the late Tun Adnan Robert whom he said was related to the Korohs. He also pointed out that both Tuns (the highest award for Malaysian civilians) were Muruts from the Interior of Sabah and that they were converts.
If I am not mistaken, Tun Ahmad was the former Thomas Koroh while Tun Adnan was Mickey Robert. For the full comments of my visitor, please click the Comment ikon below the said post
Well, friend (since he/she addressed me that way), first of all thank you for your comment and taking the trouble to point that out to me.
But you see, I left out both Tun Ahmad and Tun Adnan for two reasons. Firstly, my last post was only talking about new governor Juhar's visit to Tun Mustapha's grave as well as those former TYTs buried at the Heroes' Mausoleum (Makam Pahlawan) at the State Mosque.
The late Tun Fuad Stephens, the late Tun Hamdan Abdullah (the former Datuk Indan bin Kari) and the late Tun Said Keruak were all buried at the State Mosque while, if I am not mistaken, Tun Ahmad and Tun Adnan were both buried in Keningau, their home town. Another former TYT who was buried in his home town of Sipitang was the late Tun Ahmad Raffae.
The second reason why I left out Tun Koroh and Tun Adnan was that I was talking about the father and son teams where the father was TYT and the son Minister or, in the case of the Keruak family, the Chief Minister.
But I do agree with my visitor that the Korohs' case was also unique whereby two brothers were TYT/DCM and on top of that the TYT's son was Assemblyman. That was another first for Sabah.
In conclusion, I once again thank my visitor for his comment. In fact, he just gave me an idea. For the sake of future Sabah generations and our overseas friends, in one or more of my future posts I will chronicle Sabah's TYTs from the 1st (Tun Mustapha) to the current 10th (Datuk Seri Panglima Juhar).
Mengapa Perlu Keyakinan PM Untuk Siasat & Dakwa Rais?
Posted: 11 Jan 2011 07:00 AM PST
A
dakah siasatan polis bermula dengan keyakinan PM?
Usaha untuk menjatuhkan seseorang di dalam organisasi berlaku di mana-mana; di dalam parti, di luar parti, di dalam syarikat, di dalam jabatan - pada ketika mereka merebut kerusi dan jawatan.
Kali ini, usaha bagi menjatuhkan Menteri Penerangan Komunikasi dan Kebudayaan, Rais Yatim berlaku dengan menyebarkan berita beliau memperkosa pembantu rumahnya, Robengah yang bekerja di rumah menteri itu sejak 23 Disember 1999 hingga 2007 selama lapan tahun.
Insiden dikatakan berlaku sekitar 2007 yang diketengahkan oleh Migrant Care, sebuah badan bukan kerajaan yang menjaga kebajikan pekerja-pekerja Indonesia di Malaysia. Pada tahun 2007, sekiranya perkara ini dibangkitkan, sesungguhnya warga Indonesia serta kerajaan Indonesia sendiri sudah "mengamuk" kerana perhubungan Malaysia-Indonesia pada waktu itu tidak berapa baik, malah lebih teruk daripada kemarahan Indonesia terhadap Malaysia atas kekalahan semasa perlawanan bola sepak akhir Piala Suzuki baru-baru ini.

Oleh kerana kejadian berlaku pada tahun 2007 dan dibangkitkan sekarang, maka menimbulkan persoalan sendiri. Adakah pihak yang membangkitkan isu ini benar-benar simpati terhadap mangsa dirogol si menteri atau tujuan menjatuhkan kerjaya menteri tersebut?

Sumber yang mendedahkan jenayah Menteri pada asalnya datangnya dari WikiLeaks dan kemudiannya diperbesarkan lagi oleh blog bigdogdotcom.wordpress.com dan rockybru.com.my.


Suruhanjaya Komunikasi dan Multimedia Malaysia (SKMM) didapati lambat bertindak berhubung dakwaan terhadap menterinya, sedangkan SKMM tangkas bertindak ke atas RockyBru melalui laman blognya apabila menteri yang bertanggjungjawab ke atas suruhanjaya itu membuat laporan polis ke atasnya sebelum ini.

Media Indonesia sendiri tidak terbakar dengan liputan yang dibuat. Mereka berpendapat, sikap Robengah itu sendiri yang sudah membuat pengakuan bahawa beliau tidak dirogol menutup segala spekulasi. Pihak Migrant Care yang menerima laporan awal kes ini juga tidak berhasrat untuk memperbesarkan kes tersebut kerana menghormati permintaan Robengah dan Pejabat Luar Negara Indonesia juga telah mengeluarkan kenyataan bahawa kes tersebut ditutup.

Robengah tidak mengakui dirinya dirogol. Suaminya juga meminta supaya tidak memporak-perandakan keluarganya. Bagi Perdana Menteri pada waktu kejadian berlaku, Abdullah Badawi juga mengeluarkan kenyataan dengan menafikan tindakannya berdiam diri berhubung tuduhan memperkosa terhadap Rais Yatim bertujuan menutup kes dan melindunginya. Abdullah berkata dakwaan penulis blog dan pembangkang itu adalah tidak berasas, malah kejadian itu tidak pernah dilaporkan kepadanya sepanjang menjawat jawatan Perdana Menteri dari Oktober 2003 hingga April 2009.

Lagipun, perkara ini dibangkitkan oleh seorang penulis yang sememangnya dijangkakan beragenda tersendiri.

Keputusan atas keyakinan PM


Berlainan sungguh dengan dakwaan yang dikenakan sebelum ini terhadap mantan Timbalan Perdana Menteri, Anwar Ibrahim (gambar kiri) sewaktu waktu dahulu. Di saat Anwar Ibrahim diserang media, dinafikan hak bersuara, dikecam peribadinya di sebalik perbicaraan mahkamah yang lompong dan belum dibuktikan bersalah. Anwar berkali-kali menafikan sekeras-kerasnya tuduhan bahawa dia meliwat pemandu kereta isterinya, tetapi dakwaan tetap dikenakan - kerana Perdana Menteri yakin perkara ini berlaku.

Sehingga rencana ini ditulis, tiada sebarang dakwaan oleh pihak Peguam Negara terhadap Rais Yatim. Barangkali keputusan Peguam Negara (untuk tidak bertindak) berdasarkan atas keyakinan Perdana Menteri bahawa perkara tersebut tidak berlaku.

Tolak-tarik Pengakuan Bersumpah

Di Malaysia, pengakuan bersumpah seperti suatu yang boleh dipermainkan. Terdapat beberapa kes di mana pengakuan bersumpah yang dibuat, boleh dibuat pengakuan bersumpah lain satu lagi bagi menutup pengakuan bersumpah yang awal. Antara faktor-faktor yang menjadikannya begitu ialah kerana dipaksa membuat pengakuan, ada juga tidak lari daripada diugut, dan diberi rasuah.

Berikut beberapa contoh insiden pengakuan bersumpah yang dibuat di negara ini:


1. Julai 2008: P.Balasubramaniam (gambar kanan), seorang peyiasat persendirian yang diupah oleh Abdul Razak Baginda memperincikan kisah yang mahu diceritakan berkenaan apa yang berlaku dan apa yang diberitahu kepadanya oleh tokoh-tokoh utama dalam kes tersebut termasuk Abdul Razak Baginda dan Altantuya sendiri. Pengakuan berkanunnya juga mengaitkan Timbalan Perdana Menteri pada waktu itu, Najib Razak dengan Altantuya Shaariibuu.

Pada 4 Julai 2008, P.Balasubramaniam didapati menarik kembali pengakuan tersebut. Akuan berkanun yang baru itu tanpa rujukan Najib mempunyai hubungan seksual dengan Altantuya ataupun Najib yang memperkenalkan Abdul Razak baginda kepada wanita Mongolia tersebut.

2. Penghujung tahun 1998: Pengakuan bersumpah Munawar Ahmad Anees, penulis ucapan mantan Timbalan Perdana Menteri, Anwar Ibrahim yang memperjelaskan betapa keji dan hinanya perbuatan polis Malaysia di dalam tindakan mereka yang mereka banggakan sebagai "profesional". Munawar mendakwa dipaksa membuat pengakuan bersumpah untuk membebaskannya daripada pendakwaan diliwat oleh Anwar Ibrahim.


3. Penghujung tahun 1998: Pengakuan bersumpah adik angkat Anwar, Sukma Darmawan Sasmitaatmadja bahawa dia diliwat oleh Anwar Ibrahim kemudiannya membuat pengakuan bersumpah yang lain yang menyatakan beliau dipaksa membuat pengakuan bersumpah awal dan kemudiannya menafikan segala dakwaan liwat antara beliau dengan Anwar Ibrahim.

4. September 2008: Pengakuan Doktor Mohamed Osman, doktor yang memeriksa Saiful Bukhari (pihak yang mengadu diliwat Anwar Ibrahim) bahawa tiada kesan tusukan pada dubur Saiful.

5. 19 Jun 2008: Pengakuan bersumpah Raja Petra Kamarudin penglibatan Rosmah Mansor, isteri Perdana Menteri sekarang, dalam kes pembunuhan Altantuya. Raja Petra kini menjadi buruan polis dan dakwaan di dalam pengakuan bersumpah tersebut langsung tidak dipertikaikan.

Mungkin benar, bahawa daripada pendakwaan tersebut mempunyai kepentingan tertentu, tetapi mengapakah siasatan tidak dibuat ke atas laporan polis (gambar kiri) yang telah pun dibuat oleh Norazizi Abd Aziz, Penyelaras SAMM b/p Solidariti Anak Muda Malaysia? -MR

*Faisal Mustaffa ialah penulis bebas.


Posted: 11 Jan 2011 06:12 AM PST
About a week ago, I received a text message from the nurse at the ID clinic, giving me the name and phone number of a patient, SK, whom she said needed help for his children. After I called SK and found out that one of his children hadn't gone to school for over a year, I asked if it was okay for me to visit them at home. He agreed.
There's also another couple, Ali and Aina, whom I met during my Taiping clinic duty, whom I needed to visit to assess their situation before I submit their application for financial assistance from the Paediatric Aids Fund. Although Ali and Aina stay further, I'd still need to pass the town where SK lives. So I decided to visit both families on the same day.
I had some communication problem with SK, so I decided to bring along a Chinese-speaking volunteer. We made a move about 8.40 am or so from the centre and headed straight to the town where SK lives, not to visit him first, but to fetch a trainee volunteer staying in that town. Just as I was about to reach the trainee volunteer's house, a call came in on my hand phone. It was Mr Rajah, whose daughter has HIV and whose grandchildren last year had received help from our Children Education Fund. He asked if the children can still get help for this year. I told him I was driving and I'd be busy the whole day and that I'd call him back later.
Then after fetching the volunteer, another call came in. This time from Sharifah, Cek Mek's mother. She's supposed to come to Ipoh for her blood tests soon, but had misplaced her appointment card and the letters/forms given earlier by the ID clinic during her last appointment, and so she couldn't remember the dates when she's supposed to go for her blood tests. Since she's not staying in Ipoh, she couldn't simply go to the hospital to see the nurse at the ID clinic to get another letter. I told her to call the ID clinic direct to get advise on what she should do (I'm not going to pamper them and do all the asking for them!). But because she had lost the appointment card (which has the ID clinic's phone number), she didn't have the number to call. Thus, as always, the next option was to call ME! I was driving then, so I told her I'd SMS her the number later.
Thank goodness no further calls as we headed on to Ali's & Aina's place about one and half hours away. None of us familiar with the place, we had to stop to ask, and I also made a call to Aina, to get an idea of where I needed to go. Then when we reached her kampong, we needed to make another call. This time Aina told me to wait there, she'd come and meet us. She was there within just minutes, so the house couldn't be far.
Indeed it wasn't far. But when we reached the Dewan Serbaguna at her kampong, she stopped and signalled to us to park the car there. Apparently her house was just up the hill but due to the poor condition of the road, I was advised not to drive my car up there. She should know better and I figured I shouldn't go against her advise. And so I parked my car at the Dewan Serbaguna. Only problem was, we brought along some groceries with us. Meaning we (errm, I mean my 2 fellow volunteers) had to carry the groceries on foot up the hill. Me? I had to carry my camera! Hehehe…
I only took over from my female colleague about three quarter way through… when I saw that she was about to give up and put the box down.
Then when we got to the house, we couldn't simply bring the stuff up the stairs into the house. Going in using the stairs to the living room was out of the question…
We had to go in using the staircase to the kitchen which was thankfully lower…
Only Aina was around. The 2 children were in school, one in standard one and the other in kindergarten. Ali was at his mother's home nearer to Taiping Hospital. His appointment is coming soon, and given his condition, and the fact that they'd have to take 5 buses to get to Taiping Hospital from their house, staying at his mother's place was the best option. Aina on the other hand had to bring the children home since school reopened. So far tests showed that Aina had not been infected, let's home she'll stay that way.
The house actually belonged to Aina's late grandmother's house. The condition was pretty bad, with leaking zinc roofs. They had electricity and water supply. No refrigerator, and no TV. Well, there were 2 old TV sets in the house, both no longer usable.
After getting some info from Aina, and getting her to sign the form, we decided to make a move. It was nearing 12 noon by then and Aina had to go fetch her daughter from the kindergarten at 12.
Heading back to the town where I fetched the trainee volunteer, I told my Chinese colleague to call SK to tell him we were on our way. At least she could get better directions, speaking to him in Chinese. It was nearing 1.30 pm by the time we reached the police station where he promised he'd meet us, as he knew it wouldn't be easy for us to find his house. True enough, we had to go through back lanes to get to his house.
The moment we got into the house, I saw pictures on the wall, Somehow I thought the faces all looked quite familiar. SK said he was staying there only with his 13 year old son, but there were pictures of him and his wife. SK said his wife had left him. I saw some marks on his son's neck, according to SK that was due to whatever that was needed to be done by the doctors when the boy had TB recently. The boy had TB? I immediately suspected the boy was infected with HIV as well, and when I asked SK, he wasn't hesitant at all to admit that the boy was infected since birth. The boy's mother died, and the one whose picture was on the wall was his second wife, who left him about 2 years ago.
Then only one by one the facts started clicking. No wonder I thought the faces looked familiar! I had met them before! Even his estranged 2nd wife who had gone back to her home country up north. They came twice to our Family Day – once in Teluk Batik in 2006 and the other in LWOT in 2007.
SK has another son, 17, schooling in a private school – sponsored by somebody. Another daughter, whom I had also met during our Family Day, died when she drowned in a river near their house (when they were staying in another town).
My main concern now is the 13 year old boy. He hadn't gone to school for more than a year now. If I thought the 15 year old HIV+ girl who didn't sit for her PMR was bad enough, this boy didn't even sit for his UPSR! I asked the boy if he was interested to go back to school if we could arrange for him to do so. He does want to go to school! Hopefully we can arrange for something… like getting him back to standard 6, albeit a year late.
I will need to ask around first, as I myself am not too familiar with all these…
Lima Polis Didakwa Kerana Belasah Ahli Perniagaan
Posted: 11 Jan 2011 05:15 AM PST
B
elasah' ahli perniagaan, lima polis didakwa
Lima anggota polis hari ini dihadapkan ke mahkamah majistret Petaling Jaya hari ini berhubung dakwaan membelasah ahli perniagaan Chia Buang Hing, 35.
Daripada lima anggota itu, empat konstabel didakwa mengikut seksyen 323, Kanun Keseksaan kerana dakwaan mencederakan mangsa.
Mereka didakwa melakukan kesalahan itu ke atas Chia di balai polis Kota Damansara daripada jam 12.30 pagi hingga 3 pagi pada 19 Disember tahun lalu.

Keempat-empat mereka adalah Konstabel Mohd Azwan Hassan, Konstabel Norzali Rosle, Konstabel Ahmad Saifullah Osman dan Konstabel Alizulhafiz Abdul Ghafar.

Mohd Azwan dan Norzali menghadapi pertuduhan kedua atas akta yang sama kerana mencederakan Chia di Jalan PJU 3/15, Persiaran Tropicana, Petaling Jaya antara jam 11.30 malam 18 Disember hingga 12.30 awal pagi hari keesokannya.

Keempat-empat mereka mohon dibicarakan. Mereka didakwa mengikut Seksyen 323 Kanun Keseksaan dan boleh dibaca bersama Seksyen 34 kanun yang sama yang memperuntukkan hukuman penjara sehingga setahun atau denda maksimum RM2,000 atau kedua-duanya, jika sabit kesalahan.


Seorang lagi anggota yang didaakwa adalah lans korporal Mohadi Adam.

Beliau turut mengaku tidak bersalah di mahkamah yang sama atas tuduhan mengingkari suatu arahan undang-undang di bawah Seksyen 20 (3) Akta Polis 1967, dengan mengetahui bahawa dengan keingkaran itu telah menyebabkan bencana kepada Chia.

Mohadi mohon dibicarakan. Jika bersalah dia menghadapi hukuman penjara maksimun setahun, denda dan juga kedua-duanya.

Terdahulu, Timbalan Pendakwa Raya Amirah Mohamed Yusoff memohon mahkamah mengenakan jaminan sebanyak RM3,000 ke atas kesemua anggota polis itu.


Peguam Suraj Singh yang mewakili Norzali dan Mohd Azwan dan peguam Ahmad Zaharil Muhaiyar yang mewakili Ahmad Saifullah, Alizulhafiz dan Mahadi membantah permohonan itu atas alasan tiada peruntukan undang-undang untuk mengenakan jaminan bagi kesalahan saman.

"Anak guam saya hadir ke mahkamah seawal 9 pagi selepas mereka menerima panggilan telefon daripada pihak polis dan hanya menerima surat saman beberapa minit sebelum prosiding kes itu pada 3.40 petang tadi.

"Semua mereka hadir tanpa dipaksa walaupun surat saman belum dikemukakan kepada mereka," katanya.

Majistret Nik Mohd Fadli Nik Azlan bagaimanapun menolak permohonan pihak pendakwaan untuk mengenakan jaminan terhadap kesemua anggota polis itu dan menetapkan 14 Feb untuk sebutan kes.

Chia sebelum ini juga mendakwa anggota polis berkenaan bukan sahaja menyerang tetapi merompak wang tunai RM13,000 daripadanya.


Posted: 11 Jan 2011 04:45 AM PST
Once upon a time, there was an island where all the feelings lived: Happiness, Sadness, Knowledge, and all of the others, including Love. One day it was announced to the feelings that the island would sink, so all constructed boats and left. Except for Love.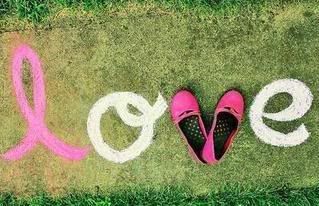 Love was the only one who stayed. Love wanted to hold out until the last possible moment.
When the island had almost sunk, Love decided to ask for help.
Richness was passing by Love in a grand boat. Love said,
"Richness, can you take me with you?"
Richness answered, "No, I can't. There is a lot of gold and silver in my boat. There is no place here for you."
Love decided to ask Vanity who was also passing by in a beautiful vessel. "Vanity, please help me!"
"I can't help you, Love. You are all wet and might damage my boat," Vanity answered.
Sadness was close by so Love asked, "Sadness, let me go with you."
"Oh . . . Love, I am so sad that I need to be by myself!"
Happiness passed by Love, too, but she was so happy that she did not even hear when Love called her.
Suddenly, there was a voice, "Come, Love, I will take you." It was an elder. So blessed and overjoyed, Love even forgot to ask the elder where they were going. When they arrived at dry land, the elder went her own way. Realizing how much was owed the elder,
Love asked Knowledge, another elder, "Who Helped me?"
"It was Time," Knowledge answered.
"Time?" asked Love. "But why did Time help me?"
Knowledge smiled with deep wisdom and answered, "Because only Time is capable of understanding how valuable Love is."
Kain Rentang Dinaikkan Untuk Fitnah Kerajaan PR Selangor
Posted: 11 Jan 2011 04:59 AM PST
I
su SUK: Pakatan nafi naik kain rentang
Pakatan Rakyat Selangor hari ini menafikan bahawa gabungan itu menggantung kain rentang yang yang didakwa menolak campur tangan sultan dalam pentadbiran negeri.
"Kami menafikan ianya daripada pihak kami. Daripada isu kandungan (kain rentang) ia bercanggah dengan (pendirian) Pakatan.


"Kita tidak mahu ada sengketa dengan pihak Istana. Ia terbukti apabila MB dan Exco hadir dalam majlis Sultan (dalam pelantikan setiausaha kerajaan negeri," kata ahli parlimen Shah Alam, Khalid Samad (dua dari kiri).

Bercakap dalam satu sidang akhbar di pejabatnya di Shah Alam, Khalid berkata, terdapat tiga kain rentang, di mana salah satu daripadanya berbunyi "Dimanakah Keadilan Sultan Dalam isu pemilihan SUK Siapa Lebih Berhak?" ditemui di Seksyen 9, Shah Alam.

Dua lagi kain rentang ditemui di seksyen 13 dan satu lagi bulatan di kawasannya.

Menurutnya lagi, dalam kain rentang tersebut tertera bendera ketiga-tiga parti gabungan Pakatan, dan tertulis biro penerangan Selangor.

Sementara itu, seorang ahli jawatankuasa PAS Shah Alam telah membuat laporan polis berhubung kain rentang tersebut.

Mohd Sofian Mohd Shariff membuat laporan tersebut di balai polis Seksyen 11, Shah Alam.

Dalam laporannya, Mohd Sofian berkata, beliau menemui kain rentang tersebut pada jam 9 pagi di Seksyen 9 dan mengesyaki ianya dilakukan oleh pihak yang tidak bertanggungjawab. -mk

Ulasan GB

Taktik yang sama digunakan oleh ...
semasa kes Dr Chua Jui Meng di Johor.


Anwar challenges Najib for debate, KJ volunteers
Posted: 11 Jan 2011 03:36 AM PST
Anwar cabar Najib debat ekonomi, KJ yang tawar diri!
Sounds interesting. In a press conference today, the Pakatan Rakyat de-facto leader threw a challenge to Prime Minister to enter a special debate on the economy.
As a prime minister, he said Najib should accept the challenge.
"I dont want to have a debate with his rep. He is the PM, so he should take up my challenge. A debate with PM is the best solution as he was the one who launched an open attack on us, that if our program is implemented, the whole nation will go bankrupt. So, its better for Najib himself to defend his statements and at the same time give us the opportunity to defend ours. Let the rakyat be the judge."
Read the story by
Agendadaily
.
Pemuda Umno Youth chief, Khairy Jamaluddin instead offered himself for the debate with Anwar, accusing the former deputy premier as distorting what Najib has said.
Its information chief Rezal Merican also urged Anwar to accept KJ's challenge while Senator Ezam told Najib and KJ not to 'entertain' Anwar's challenge as it would be 'a waste of time'.
Now that everybody can enter into debate to defend his or her case, why not Rais Yatim calls for a debate with a few bloggers? That would be more interesting, dont you think so, guys?
SPRM Tahan Dua Anggota Polis Kerana Rasuah
Posted: 11 Jan 2011 03:15 AM PST
D
ua Anggota Polis Cedera Ketika Ditangkap Oleh SPRM
GEORGE TOWN: Dua anggota polis mengalami kecederaan ringan ketika cuba melarikan diri daripada ditangkap oleh pegawai Suruhanjaya Pencegah Rasuah Malaysia (SPRM) di Persiaran Gurney, di sini, Isnin.
Dalam kejadian pukul 1.30 tengah hari itu, kedua-dua anggota polis itu berjaya ditahan selepas berlaku pergelutan dengan pegawai SPRM di tempat kejadian.
Menurut sumber, SPRM sebelum itu menerima aduan dari orang awam mengenai kegiatan dua anggota polis itu meminta rasuah daripada pesalah trafik di kawasan itu.

Katanya, dua anggota SPRM kemudian bergegas ke kawasan itu dan menyamar sebagai orang awam dan melakukan kesalahan trafik di hadapan anggota polis terbabit sebelum mereka ditahan dan diminta rasuah sebanyak RM800.

Setelah kedua-dua anggota SPRM itu memberi rasuah seperti yang diminta, dua anggota SPRM lain menyerbu dan menangkap anggota polis terbabit, katanya.

Sumber itu berkata, kedua-dua anggota polis itu kemudian dibawa ke Hospital Pulau Pinang untuk menerima rawatan pesakit luar sebelum ditahan mengikut Seksyen 17 (A) Akta SPRM.

Pengarah SPRM Pulau Pinang, Datuk Latifah Md Yatim, ketika dihubungi mengesahkan kejadian itu dan enggan mengulas lanjut. - BERNAMA

Posted: 11 Jan 2011 03:01 AM PST
Prime Minister Datuk Seri Najib Tun Razak invited Malaysians on Facebook and Twitter to ask him questions from 4.30 pm to 5.30 pm today. The Twitter hashtag is #tanyanajib while questions through Facebook can be submitted at www.facebook.com/najibrazak. I have never seen a Twitter timeline scroll down so fast. Due to the overwhelming response, the time to pose questions was extended to 6.00 pm.
I thought that this would be a good opportunity to pose the questions on longstanding disability issues to him and see if he responds. These issues are, after all, not new but ones that have gone unresolved for the longest time. Will Najib address any of them? Time will tell. By the way, at this moment, #tanyanajib is trending in ninth position worldwide. We truly have a lot of questions for the Prime Minister!
#tanyanajib Why are roads in KL full of potholes? Dangerous to motorcyclists. DBKL not doing a good job.

#tanyanajib Why is Prasarana/RapidKL so reluctant in using non-step buses? We don't need to reinvent the wheel. Look at Japan and Australia.

#tanyanajib Why is full relief on income tax not given to purchase of rehabilitative and support equipment for disabled people?

#tanyanajib Will you amend UBBL 34A to make it COMPULSORY for all buildings and street environment to have access for disabled people?

#tanyanajib Will the MRT be barrier-free?

#tanyanajib What is the govt doing to prevent abuse of parking and toilet for disabled people?

#tanyanajib Public transport is not accessible. Disabled people stuck at home. What is the govt doing to resolve this?

#tanyanajib Will Malaysia enact punitive anti-discrimination law to protect the rights of disabled people?

#tanyanajib Join OKUs on a wheelchair ride around KL to experience the mega-problems we face everyday. Not much has changed since Akta OKU.

#tanyanajib Is the govt changing "orang kurang upaya" to something more empowering? We certainly are not people of lesser abilities.

What is the govt's plan in making Malaysia barrier free? If yes, is there a time frame to it? #tanyanajib @ShahrizatJalil
Related posts:
Five cops charged with assault
Posted: 11 Jan 2011 02:55 AM PST
Source: http://malaysiakini.com/news/153096 (By Kuek Ser Kuang Keng, 11/1/2011)
Five police personnel were charged at the Petaling Jaya Magistrate's Court this afternoon in relation to the assault of businessman Chia Buang Hing. Four of them were charged under Section 323 of the Penal Code with voluntarily causing hurt. They were accused of causing harm to Chia at the Kota Damansara police station from 12.30am to 3am on Dec 19 last year. The four are constables Mohd Azwan Hassan, Norzali Rosle, Ahmad Saifullah Osman and Alizulhafiz Abdul Ghafar. Mohd Azwan and Norzali also face a second charge under the same enactment for causing harm to Chia at Jalan PJU 3/15, Persiaran Tropicana, Petaling Jaya between 11.30pm on Dec 18 to 12.30am the next day. All four claimed trial. They face a maximum of one year in jail, a maximum fine of RM2,000 or both upon conviction.
Meanwhile, lance corporal Mohadi Adam was charged under Section 166 of the Penal Code for disobeying the law in order to cause harm. Mohadi too claimed trial. The penalty is a maximum of a year in jail, a fine or both upon conviction. Magistrate Nik Mohd Fadli Nik Azlan did not impose bail on the five. The case is set for mention on Feb 14. The prosecution team was led by DPP Amirah Mohamed Yusoff and Izazi Muhamedin. Mohd Azwan Hassan was represented by Suraj Singh while the other four were represented by Ahmad Zaharil Muhaiyar.
Magistrate's order
Segambut MP Lim Lip Eng, a lawyer, rushed to the court to hold a watching brief for Chia after he was informed of the proceedings by a journalist. Lim (in suit) complained to the magistrate that Chia (in pink shirt) had not been informed about the hearing. On his request, the magistrate ordered the prosecution to keep Lim updated on developments in the case.
Chia, who arrived after the hearing was adjourned, told reporters that he is still suffering from various internal injuries and currently undergoing treatment under a Chinese traditional doctor. "I though I would die in the police station," he said, pointing to parts of his body.
Two weeks ago, Chia lodged a police report that he had been assaulted by 11 police officers when arrested for allegedly carrying drugs at a road block in Petaling Jaya Utara. In his report, he also claimed that the police personnel had stolen RM13,000 from him. Chia said he was repeatedly beaten by a group of police officers while detained at the Kota Damansara police station for five days. The police filed a counter-report against him, accusing him of making false report. Subsequently he identified six of his assailants in a police line-up on Dec 26. However he could not confirm whether the five accused were among the 11 because he was not in court when they were charged. Chia has also decided to file a civil suit against the government demanding compensation. He will be represented by Gobind Singh Deo.
Posted: 10 Jan 2011 02:46 PM PST
Dang Wangi Jadi Saksi
(Pada teman-teman yang hadir menyatu suara dengan Interlok, lisan kreatif-sejarah oleh Sasterawan Negara, Datuk Abdullah Hussin yang dibakar secara tragis)
Teman-teman
biar Dang Wangi
jadi saksi
bersetiakan Tuah
berjiwakan Jebat.
Akan kita
amukkan kota
dengan keris hujah
dan hulubalang kata.
Kerana kejahilan
sudah beraja di mata
bersultan di hati.
Teman-teman
Tuah tak lagi melulu
Jebat tak pernah mati.
Tak kita ulangi
episod luka
kerana sudah
kita bebatkan duka
dengan jiwa laksamana
dan akal budiman.
Teman-teman
biar Dang Wangi
jadi saksi
keris hujah
tak lagi bersarung
kalimah pertama
sudah kita ukir.
Dang Wangi, 10 Januari 2010

Isa Ugut Pecat Kakitangan Felda Yang Sokong Pakatan Rakyat
Posted: 10 Jan 2011 04:24 AM PST
Buah catur yang gian nak jadi dominan
Posted: 10 Jan 2011 11:29 PM PST