---
How many did 'get permits for fireworks'? Not many, I believe. Who cares? - Video of fireworks taken using xperia x10 mini pro
Posted: 16 Feb 2011 09:52 AM PST
Sunday January 30, 2011
TANGKAK: Residents celebrating Chinese New Year in Ledang are urged to apply for police permits if they want to let off firecrackers and fireworks.
Speaking to some 20 Chinese community leaders in the district, Ledang police chief Supt Harun Idris said the "pop-pop" firecrackers which do not contain explosive materials do not need permits.
"However, those who want to celebrate the festive season with firecrackers and fireworks can apply for the permits," he said at the Ledang police operations room on Friday.
Funny. I wonder why this short news report and why only the residents celebrating Chinese New Year (CNY) in Ledang were urged to 'get permit for fireworks'. No wonder I seemed to see and hear more firecrackers and fireworks being let off this year than last year.
Here's a video of fireworks somewhere in Puchong.
This posting includes an audio/video/photo media file: Download Now
Posted: 16 Feb 2011 08:42 AM PST
I love Hong Kong, City Where Asian Dreams Are Made Of. =D
Oh hello people, I am now in Hong Kong. Yeah, that's right, the New York of Asia, just so much smaller than New York City but impressive and awesome skyscrapers. No I am not having a school holiday right now, just I am "forced" to come to holiday because university told us that I have a longer break but they changed the break schedule and so I couldn't cancel my flight and hotel reservation, so again, I am here!
To include my first visit when I was super young, this is my 3rd visit. Although I have already visited most of the attractions, still the feeling of visiting here again and again feels good, and friendly. I just love the atmosphere, the people, the skyscrapers, the MRT, the food and everything. It isn't expensive afterall, somemore cheap than Singapore!
Arrived here at about 6.30pm and reached hotel at about 9pm because we took the public bus to save cost. So didn't check out much, just walked around North Point. Weather was pretty cold on arrival, but the body slowly got suitable with the temperature around. It's around 13-17 degree celcius here. =)
Gonna wake up early tomorrow early to do some little Hong Kong island tour on the tram while waiting for my brother to arrive here at noon. So good night! Happy last day of Chinese New Year too!
Posted: 16 Feb 2011 08:36 AM PST
There is one good reason why the Queensbay Mall at the southern part of Penang island should be a place of choice for anyone to visit. No, make that two good reasons.
The first is the presence of Ace Hardware. When I visited the Queensbay Mall yesterday - my first in two months, I think - I was pleasantly surprised to find that Ace Hardware has finally arrived in Penang. Whee! There's no longer a need to visit the chain at the MidValley MegaMall anymore. All I want, I can now find on the island.
And the second good reason is finding Daiso Japan also at this shopping mall. My aunt and wife would love this place! Admittedly, I'm not familiar at all with Daiso but a walk through the shop quickly told me what I've been missing all along. Daiso sells everyday household stuff at an unbelievable RM5 per item. Reminds me of those Sepuluh Sen or Dua Puluh Sen thrift shops that used to be so popular in George Town during the 1970s.
ca-pub-5430283382112812
Disabled Laud Disabled Friendly Park By MBPJ - NST
Posted: 16 Feb 2011 08:00 AM PST
Anthony Siva Balan Thanasayan, says the upgrade shows the council's commitment.
Read more: Council's move lauded http://www.nst.com.my/nst/articles/gooku2/Article/#ixzz1E6Fiaqgs
STORY BY NST:

THE DISABLED are applauding the council's effort to provide the necessary facilities for the group. They hoped that in future, local councils would not take too much time to ensure that public
How did Dr M rule for 22 years if he did not only want to win general elections?
Posted: 16 Feb 2011 07:45 AM PST
KUALA LUMPUR, Feb 16 (Bernama) -- Former prime minister Tun Dr Mahathir Mohamad has slammed Datuk Nik Aziz Nik Mat for desperately wanting to win the general election and not fight for Islam.
He said the PAS spiritual leader's wish was to win the general election and rule the country with DAP and Parti Keadilan Rakyat (PKR).
"Nik Aziz openly called Muslim Umno members infidels and is prepared to work with the devil which rejected the Islamic state championed by PAS.
"His support for non-Muslim views that Muslims become less Islamic is to garner support from non-Muslims for the general election.
"Priority is given to non-Muslims and not to enslave himself to Allah," he said in his blog www.chedet.co.cc Wednesday.
He urged the Kelantan menteri besar to stop abusing and misinterpreting Islam for his political end.
"Have faith in Allah and stop confusing Muslims in Malaysia just to win the general election," he added.
Dr Mahathir said contrary to claims, Nik Aziz only fought in Malaysia and not throughout the oppressed Islamic world.
He challenged Nik Aziz to ask DAP to state that the Pakatan Rakyat coalition government would ban gambling, the sale of liquor and accept hudud law.
"If DAP refuses, will PAS be willing to take on DAP or will PAS remain silent as DAP's help is important to win the general election?.
The former premier said Umno did not claim only its members were Muslims and bound for heaven although Nik Aziz labelled others as primitive.
"Muslim Umno members fight for race, religion (Islam) and country. The Umno constitution states that a person is considered a Malay if he is a Muslim.
"Nik Aziz will not include this condition as Malays are primitive and non-Muslims as they do not support PAS," he added.
-- BERNAMA
A Selection of Inspiring Quotes
Posted: 16 Feb 2011 07:34 AM PST
The credit belongs to those who are actually in the arena, who strive valiantly; who know the great enthusiasms, the great devotions, and spend themselves in a worthy cause; who at the best, know the triumph of high achievement; and who, at the worst, if they fail, fail while daring greatly, so that their place shall never be with those cold and timid souls who know neither victory nor defeat.
-- Theodore Roosevelt
Love grows by giving. The love we give away is the only love we keep. The only way to retain love is to give it away.
-- Elbert Hubbard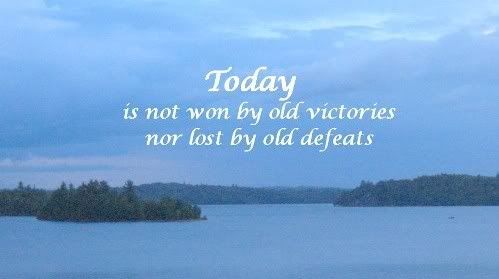 Taking action is how you GIVE your gift and live a life of true service to yourself and others. And that doesn't mean that your life's work has to be something that seems grand and noble. The real key to being of service and living your purpose is simply to do what you LOVE to do -- whatever it may be.
-- Rebecca Fine
The greatest achievement was at first and for a time a dream. The oak sleeps in the acorn, the bird waits in the egg, and in the highest vision of the soul a waking angel stirs. Dreams are the seedlings of realities.
-- James Allen
The most beautiful people we have known are those who have known defeat, known suffering, known struggle, known loss, and have found their way out of the depths. These persons have an appreciation, a sensitivity, and an understanding of life that fills them with compassion, gentleness, and a deep loving concern. Beautiful people do not just happen.
-- Elisabeth Kübler-Ross
The most difficult thing is the decision to act, the rest is merely tenacity. The fears are paper tigers. You can do anything you decide to do. You can act to change and control your life; and the procedure, the process is its own reward.
-- Amelia Earhart
Thoughts mixed with definiteness of purpose, persistence, and a burning desire are powerful things.
-- Napoleon Hill
To laugh often and much; to win the respect of intelligent people and the affection of children...to leave the world a better place...to know even one life has breathed easier because you have lived. This is to have succeeded.
-- Ralph Waldo Emerson
Twenty years from now you will be more disappointed by the things that you didn't do than by the ones you did do. So throw off the bowlines. Sail away from the safe harbor. Catch the trade winds in your sails. Explore. Dream. Discover.
-- Mark Twain
Your time is limited, don't waste it living someone else's life. Don't be trapped by dogma, which is living the result of other people's thinking. Don't let the noise of other's opinion drown your own inner voice. And most important, have the courage to follow your heart and intuition, they somehow already know what you truly want to become. Everything else is secondary.
-- Steve Jobs
Be thankful for what you have; you'll end up having more. If you concentrate on what you don't have, you will never, ever have enough.
-- Oprah Winfrey
Character cannot be developed in ease and quiet. Only through experience of trial and suffering can the soul be strengthened, ambition inspired, and success achieved.
-- Helen Keller
Dream lofty dreams, and as you dream, so you shall become. Your vision is the promise of what you shall one day be; your ideal is the prophecy of what you shall at last unveil.
-- James Allen
Even if I don't reach all my goals, I've gone higher than I would have if I hadn't set any.
-- Danielle Fotopoulis
Failure should be our teacher, not our undertaker. Failure is delay, not defeat. It is a temporary detour, not a dead end. Failure is something we can avoid only by saying nothing, doing nothing, and being nothing.
-- Denis Waitley
Feeling grateful or appreciative of someone or something in your life actually attracts more of the things that you appreciate and value into your life.
-- Christiane Northrup
Finish each day and be done with it. You have done what you could. Some blunders and absurdities no doubt crept in; forget them as soon as you can. Tomorrow is a new day; begin it well and serenely and with too high a spirit to be encumbered with your old nonsense.
-- Ralph Waldo Emerson
I am only one, but still I am one. I cannot do everything, but still I can do something; and because I cannot do everything, I will not refuse to do something that I can do.
-- Helen Keller
I expect to pass through this world but once. Any good, therefore, that I can do or any kindness I can show to any fellow creature, let me do it now. Let me not defer or neglect it for I shall not pass this way again.
-- Stephen Grellet
If everything is smooth sailing right from the beginning, we cannot become people of substance and character. By surmounting paining setbacks and obstacles, we can create a brilliant history of triumph that will shine forever. That is what makes life so exciting and enjoyable. In any field of endeavour, those who overcome hardships and grow as human beings are advancing towards success and victory in life.
-- Daisaku Ikeda
If one advances confidently in the direction of one's dreams, and endeavors to live the life which one has imagined, one will meet with a success unexpected in common hours.
-- Henry David Thoreau
In the depth of winter, I finally learned that within me there lay an invincible summer.
-- Albert Camus
It is one of the most beautiful compensations of life, that no man can sincerely try to help another without helping himself.
-- Ralph Waldo
It's not what you do once in a while, it's what you do day in and day out that makes the difference.
-- Jenny Craig
Let us give something to each person we meet: joy, courage, hope, assurance, or philosophy, wisdom, a vision for the future. Let us always give something.
-- Daisaku Ikeda
Siapa Perempuan Yang Beraksi Terlampau Ini?
Posted: 16 Feb 2011 09:07 AM PST
S
yabas! Untuk Elia Geneid,
anak saudara Ketua Menteri Abdul Taib Mahmud yang juga anak perempuan [drinking wine elia] kepada Raziah Mahmud
. Elia kelihatan berani menampilkan diri di khalayak ramai, walaupun dia seorang Muslimin, bergambar sambil memegang segelas bir atau menikmati champagne, di mana Muslimin yang lain pula pasti akan dikenakan hukuman sebatan jika berbuat demikian!
Elia (kanan) begitu yakin berpakaian semahunya, selain dipercayai meneguk arak secara terbuka
Sarawak Report .... meragui kenapa Elia dan rakan-rakan seagamanya berani beraksi untuk juru-juru gambar? Kita dapat simpulkan bahawa keberanian seperti itu wujud dari dalam keluarga mereka, di mana keluarga-keluarga Islam dari golongan kebanyakannya tetap mendidik anak-anak mereka untuk hidup dan bertindak sebagaimana dituntut oleh agama Islam.

Selain bergelumang dengan alcohol, Elia juga berani berpakaian menjolok mata di khalayak ramai dan bukannya berpakaian menutup aurat seperti yang diharapkan oleh wanita-wanita Islam yang lain dan juga golongan lelaki yang mentadbir kerajaan BN, termasuk juga bapa saudaranya, Taib Mahmud.




Umat Islam, khasnya kaum Muslimin di Malaysia pernah dikejutkan oleh suatu kes di mana seorang model Muslim yang pernah ditahan kerana meminum bir di sebuah restoran hotel tetapi kemudian telah dikecualikan dari hukuman sebatan, tetapi, sebaliknya tidak bagi Elia.

Mungkin Taib sekeluarga selalu memikirkan bahawa mereka berada di atas undang-undang, di mana mereka menggubal undang-undang hanya untuk dikenakan ke atas orang lain.

Kami ingin mencadangkan kepada Taib untuk membuat pertimbangan sewajarnya bagaimana beliau harus mendidik ahli-ahli keluarganya, meneladani kes Kartika Sari Dewi Shukarno. Elia, seperti mana yang kita ketahui pada entri terdahulu merupakan pewaris kepada harta yang bernilai berjuta-juta ringgit yang diterimanya daripada bapa saudaranya Taib, dalam bentuk tanah-tanah yang dirampas dari orang-orang asal. Justeru itu, Elia sudah pastinya telah melanggar undang-undang.

Pakcik Taib, kami ada menyimpan banyak lagi gambar yang menunjukkan ahli-ahli keluarga pakcik yang menunjukkan mereka berpakaian menjolok mata, gelas-gelas alkohol, barangan-barangan kemas mereka, walaupun pakcik sering berkhutbah sebagai seorang Muslim (mengalahkan seorang imam), tetapi akan menyebabkan mereka merasa marah terhadap pakcik. -sarawakreport


Special officer NA is Rais' 'pet'?
Posted: 16 Feb 2011 06:55 AM PST
Confirmed! The number of 1Malaysia netbook given to 6 companies belong to-and related to Datuk Rais Yatim's special officer is 135,842 units, as stated in my earlier posting. The figure is compatible with that of the MCMC.
Furthermore, this guy is Rais' favourite or closest (his pet?), according to ministry and MCMC sources. NA has been making frequent visits to the MCMC in Cyberjaya over the past few months after the government announced the distribution of the netbook throughout the country.
Out of 25 companies shortlisted as distributors for 349,000 netbooks (my earlier posting put it at 349,732), his and friends' companies got almost half of it.
Breakdowns for the six companies are:
1.
Juang Jaya Sdn Bhd
23,850 units
2.
CQ Communications
26,277
3.
Tirai Jitu (M) Sdn Bhd
10,220
4.
Creative Century Management
27,142
5.
Esmartpay Solutions SB
23,906
6.
Dynasty IT Service Sdn Bhd
24,447
There is no need for me to reveal the full list as our concern is more towards the six.
Now, I was told that Rais has denied any involvement in it, and that he never issued any letter of recommendation, directive or desk memo instruction to NA to be made as 'a passport' to influence MCMC's decision making.
A friend at the Info Ministry also called me today that this NA wanted to see me.
Anyway, I will be at the MACC next week...
[Bergambar] Adik-beradik Nekad Rempuh Peragut
Posted: 16 Feb 2011 06:30 AM PST
K
uching: Dua adik beradik bertindak nekad dengan merempuh dua orang peragut bersenjata yang cuba melarikan diri dari tempat jenayah selepas meragut dan mencederakan seorang warga tua.
Kejadian tersebut bermula apabila dua orang adik-beradik yang tinggal di Three Hill Park keluar dari rumah dan hendak menuju ke Petra Jaya. Abang yang tua berumur 28 tahun hendak pergi bekerja dan menyuruh adiknya memandu balik kereta tersebut. Adiknya berumur 24 tahun dan masih seorang pelajar.
Lebih kurang pukul 7 pagi, seorang jirannya, seorang warga tua berumur 61 tahun hendak pergi membeli sayur-sayuran.

Tiba-tiba dua orang penjenayah tiba. Pembonceng motosikal itu, menolak perempuan tersebut, menghulurkan parang di lehennya dan meragut rantai emas yang dipakainya.

Kedua adik-beradik yang kebetulan baru saja herndak memandu keluar menyangkakan ia satu pergaduhan. Apabila mereka ternampak perompak itu sedang bergelut dengan perempuan berkenaan, si abang yang memandu kereta memecut dan merempuh motosikal yang pada ketika itu telah cuba melarikan dari dari lokasi kejadian.

Kesan rempuhan berkenaan menyebabkan motosikal itu tercampak. Penunggangnya bumur 32 tahun mengalami kecederaan di kepala dan patah kaki kiri. Kereta tersebut rosak teruk. Walau bagaimanapun perompak yang bersenjatakan parang berjaya melarikan diri dengan rantai emas yang diragutnya.

Warga tua tersebut cedera di tangan, kaki dan badannya. Rantai emasnya dianggar bernilai RM1,500. Polis menjumpai senjata yang digunakan di tempat berkenaan.

Isteri kepada suspek yang cedera bergegas ke hospital setelah dimaklumkan mengenai kejadian tersebut.

Wanita yang hamil itu menyatakan suaminua itu beraal dari Sibu tetapi mereka baru saja berpindah ke Kampung Gita.

Suaminua memberitahu yang beliau hendak pergi memancing dan telah keluar rumah sejak jam 5 petang semalam.

Suspek dipercayai bekerja sebagai pengawal keselamatan. -sarawakupdate


Listening: From the airport - taxi - hotel
Posted: 15 Feb 2011 06:37 PM PST
Posted: 15 Feb 2011 06:27 PM PST
Langkah Tepat: Karpal & Gobind Boikot Prosiding Suruhanjaya Diraja
Posted: 16 Feb 2011 05:53 AM PST
S
uruhanjaya Diraja yang menyiasat punca kematian pembantu politik Teoh Beng Hock menerima tamparan dengan krediblitinya dipersoal apabila keluarga mangsa menarik diri daripada prosiding suruhanjaya untuk menyiasat kematian setiausaha politik exco Selangor itu.
Sebelum ini, suruhanjaya diraja itu menolak permohonan keluarga Teoh untuk menundakkan inkuiri sehingga semakan kehakiman yang difailkan oleh mereka ke atas penghakiman terbuka oleh Mahkamah Kotoner berhubung kematian Beng Hock didengar.
Setelah menimbang permohonan keluarga itu, suruhanjaya berkenaan yang diketuai oleh hakim Mahkamah Persekutuan, Tan Sri James Foong Cheng Yuen berkata siasatan akan diteruskan.

Berikutan itu, peguam keluarga Teoh, - Karpal Singh dan Gobind Singh Deo mengumumkan mereka akan berundur diri daripada terbabit dengan perbicaraan.

"Kami tidak mahu ambil bahagian kerana tidak yakin dengannya," kata Karpal.

Beliau, peguam Gobind Singh Deo dan semua ahli keluarga Teohkemudiannya dilihat terus meninggalkan bilik bicara selepas permohonan untuk menangguhkan prosiding sementara menunggu keputusan semakan kehakiman berhubung penyingkiran pegawai pengendali turut ditolak.

Selain ditubuhkan bagi menyiasat punca kematian Teoh, suruhanjaya itu juga ditugaskan bagi menilai sama ada Suruhanjaya Pencegahan Rasuah Malaysia (SPRM) mematuhi prosedur ketika menyoalsiasat Teoh sebagai saksi, berhubung kes dakwaan penyalahgunaan dana kerajaan Selangor.

Teoh yang merupakan pembantu kepada exco kerajaan Selangor, ditemui mati di tingkat lima Plaza Masalam di Shah Alam pada 16 Julai 2009, selepas disoalsiasat semalaman di pejabat SPRM Selangor di tingkat 14 bangunan tersebut.

Suruhanjaya ini dijangka menyelesaikan siasatan dan menyerahkan laporan kepada Yang di-Pertuan Agong selewat-lewatnya pada 25 April. -mk

Ulasan GB

GB sudah ulas sebelum ini. Petikan:

Suruhanjaya yang dikatakan bebas itu sebenarnya tidak bebas.

Ia dilantik oleh kerajaan berdasarkan kepada "telunjuk" Peguam Negara.

Dan kita sudah tahu sikap Peguam Negara yang sebenar di dalam kes Teoh Beng Hock ini iaitu sentiasa cuba melindungi Polis dan SPRM.


esok bersama Din Binjai a.k.a Sharpshooter di Mahkamah Tinggi kes saman Rais
Posted: 16 Feb 2011 05:09 AM PST
Datuk Seri Utama Dr Rais Yatim telah bertindak mengambil tindakan u/undang bg menghalang Amizudin Ahmat pengendali Blog http://sharpshooter.blogspot.com utk menyiarkan tulisan mengaitkan beliau dgn kejadian atau tuduhan 'rogol amah' yg terkandung dlm satu laporan ngo migrant care.
Esok (17feb) jam 9pg Amizudin Ahmat dan di iringi che'GuBard serta aktivis SAMM akan hadir ke Mahkamah Tinggi Malaya,K.Lumpur utk urusan fail balas afadavit.
Dijemput teman media, pimpinan dan khususnya rakan2 bloggers utk hadir sama melakukan liputan dan memberikan sokongan..
Pertanyaan +60164695343
Meneliti artikel yg dimaksudkan ia sama sekali tidak terkandung fitnah malah cuba melaporkan maklumat yg ada.
Proses tindakan saman sivil ini dilihat cubaan mengalih isu. Sepatutnya PDRM tampil dgn hasil siasatan bersihkan nama Rais. Malangnya selaku menteri beliau melakukan saman sivil dari meminta polis menyiasat dan umumkan hasil siasatan utk membersih nama.
Tindakan ini juga dilihat satu ugutan kepada blogger progresif yang berani mutaakhir ini.
Sekian
che'GuBard
Solidariti Anak Muda Malaysia (SAMM)
Utusan, Perkasa and Pornography
Posted: 16 Feb 2011 04:46 AM PST
Let's be honest. People do get horny, and they watch porn from time to time if they could get their hands on porn. When people see porn, they get sexually high, obviously. I can't help think that Utusan and Perkasa is like porn. Utusan sells racially and religiously charged news to a segment of the society so that that segment will get their daily high. Perkasa's Ibrahim Ali gets high turning racial polarisation into reality, and Perkasa's members get high tuning in his diatribes day after orgasmic day.
Now, a little bit of porn is obviously good. Too much, and it's bad. Right now, Malaysia is having too much Utusan, and Perkasa. Too much racial and religious bigotry is like an erection that just won't die. It becomes a sickness.
It's up to all of us voters to be the doctors that we are meant to be, and to cure Malaysia of this unhealthy addiction.
If Pakatan does not win the next GE, it's both its fault as well as the people's fault
Posted: 16 Feb 2011 04:40 AM PST
There are hard-core Pakatan fans. They believe that Pakatan can do no evil. The fact that Pakatan parties are strange bed-fellows don't concern them because ultimately, Pakatan must form the federal government for the good of Malaysians. Politics is the art of possibilities and compromise. Anything is better than what we have now: a federal government that is corrupt, abuses its powers, and tolerates racial and religious polarisation as long as it is perpetrated by UMNO, Perkasa and Biro Tata Negara.
Then there are those smart "independent" voters who voted for Pakatan because things were rapidly deteriorating under Tun Abdullah. They are more cautious in their support for any particular parties. Recent defections in PKR, the occasional show of insensitivity and incompetence by state-level Pakatan officials, influence their view that Pakatan is not going to do any better than BN. That PAS is in the same bed with DAP is disturbing, because PAS never retracted its party goal of turning Malaysia into an Islamic State. And who is to say that once they come into power, they would not be tempted to keep the ISA, Printing Presses and Publications Act etc. just so that they can exact revenge on BN for the years of abuse and then to make some money of their own?
The hard-core fans will continue to support Pakatan. The independent block poses a significant challenge to Pakatan's ability to retain their seats, nevermind winning more.
Independent voters' block comprising many Malays and Indians have swung back to BN in recent times. Why?
The politics of a nascent two-party system is a messy business. Consider the following:
1) Are this block of independent voters easily influenced by mainstream media? Would their views change if they know that the mainstream media is controlled by BN component parties and therefore liable to be biased? The mainstream media, in particular Utusan, has been going on creative opposition bashing since March 2008 watershed in Malaysian politics. They have left no seeds of racial and religious hatred go unplanted whenever the opportunity arises, and blaming it on Pakatan State government every ounce of chance they get. Add oil to fire is Perkasa, champions of a RACE, regardless whether they are championing the same failed policies and (non) solutions - harping on purportedly failed policies of the Pakatan state governments. Would this block of independent voters think any differently if they realise that the Pakatan states may have many solutions and made improvements, but it's gone unheard of? Can they be personally sure that for each diatribe thrown at Pakatan officials for alleged misdeeds which they read or hear from the news, they have given Pakatan a chance to tell their side of the story?
My concern is not so much of Pakatan losing this block of voters. My concern is what if this block of voters are lost because of:
a) Pakatan being up against a cynical use of state media to influence their minds,
b) Pakatan itself not having the right strategy and channel to deliver its message and platform.
I have heard of independent voters who tell me that right up until today, Pakatan does not have a common platform. I was quite aghast to hear that. It could be a case of this message planted by BN media, lack of initiative on the part of that independent voter to find out more, as well as Pakatan's failure to pass on the message.
2) Are the independent voters being fair to Pakatan, wanting solutions that were never forthcoming in 50 odd years of BN rule, yet expecting solutions in just 3 years? Are the independent voters being fair to expect Pakatan states to provide all solutions to their woes, when taxpayers still pay money to federal government and it is the federal government that determines how those monies are used (and invariably they are used less for opposition held states, for obvious reasons)?
Again, we come back to the question of influence of mainstream media in daily bashing of Pakatan Rakyat, to the attention an independent voter spend on good news from Pakatan, to failure of Pakatan to circumvent the media restriction and reach out to this block of important electorate.
3) Have a little bit of success gotten into the heads of Pakatan parties, their leaders and members alike? I have a friend who told me he went to a DAP couple's open house and left with a distinct impression that if he didn't agree with their views, then he is WRONG. Bravo. That was a
great
way to win over voters - with arrogance, instead of patient understanding and persuasion. I'm not a supporter of any party - but clearly my view is one that WE MUST CHANGE SO THAT WE HAVE A CHANCE. And I am probably guilty of "arrogance" once in a while, perhaps borne out of the sense of frustration that many people still think it is a juggling act to see which are the lesser of two evils, while for me it is clear that I'd rather subject myself to the deep blue sea than vote for the devil. But clearly, if Pakatan is to win, it must win over the hearts and minds of the people, with gentler, not harsher politics. It must start at the grassroots level - instead of imposing, try a little bit of gentle persuasion. And if people still don't agree with you, move on. Politics is like sales, it's not supposed to be coercive. If Pakatan supporters behave coercively, then they are no different than BN imposing their views by imprisoning people under ISA.
In summary, whether Pakatan wins the next GE has very much to do with cleaning its house up in more than one way. It also has to do with new paradigms as to how to reach the voters and their imagination.
In all fairness, I think independent voters should also try to get the full picture by reading both mainstream and alternate media. Political awareness is far more important today even compared with 2008. Consider the following:
1) If Pakatan is beaten, there won't be another chance because BN will have the mandate to ride roughshod over media controls including on the internet - and the only source of independent, objective views will be gone together with it.
2) If BN wins, our resources are not plucked from thin air, and are limited in supply. By the following GE, BN's cronies would have sucked Malaysia dry and we would have already turned into a Pariah state. It is not a question of if, but when.
3) Given this dire background, the question that independent voters must ultimately decide is this: do we want to give a disparate opposition (with all their glaring weaknesses) a chance to reform the country and arrest the slide in every sense of the word be it our education system, our economy, our system of governance, and our overall competitiveness? I suppose I am a hopeless optimist. I say give them a chance. They can't really screw up much further an already screwed up country. For me, only good things can come out of this. At the very least, even if Pakatan leaders become corrupt, at least we are not feeding the same corrupt regime MORE MONEY, we are willing to share it with Pakatan leaders. Most importantly, if Pakatan is corrupt, it will still take time for us to see through that veil. In the meantime, BN in opposition will be forced to clean itself up - and provide real policy competition with Pakatan in power. In any event, just to address the Islamic State issue - as if the conversion cases, recent tirade on Valentine's Day, and especially Dr M's declaration is not enough - we are already sliding into an Islamic State under UMNO. PAS by itself won't be able to do any further damage even if it wanted to - and I do believe that DAP and PKR will be there to keep it in check.
In Britain Sikh soldiers are honoured, not insulted for not being patriotic enough.
Posted: 16 Feb 2011 04:17 AM PST
In Malaysia,they insult those Non Malays by
being called unpatriotic.
In Britain they honor their warriors immaterial of ethnicity, religion or nationality.
This posting includes an audio/video/photo media file: Download Now
Kontraktor Puja Pokok Minta Tender - Amalan Khurafat Di Melaka
Posted: 16 Feb 2011 04:51 AM PST
P
uja pokok minta tender
MELAKA: Segelintir kontraktor yang mahu mendapatkan projek pembinaan besar dikesan sanggup menjadikan pokok di Pulau Besar sebagai tempat memohon hajat supaya berjaya membida tender kerja berkenaan.
Perkara khurafat itu didedahkan Jabatan Agama Islam Melaka (Jaim) yang melakukan pemantauan di kawasan dikenali Batu Belah.
Hajat yang ditulis menerusi sehelai kain atau kertas itu diikat pada ranting pokok berkenaan kononnya bagi membolehkan hajat itu dimakbulkan.

Ketua Pegawai Penguat Kuasa Agama Jaim, Rahimin Bani berkata, bukan setakat projek saja dihajatkan oleh individu terbabit, malah turut memohon dipermudahkan jodoh dan pekerjaan.

Katanya, hajat berkenaan ditulis atas kertas atau kain sebelum dibungkus dengan plastik dipercayai bagi mengelaknya rosak jika terkena hujan.

"Perbuatan khurafat itu mendorong sehingga begitu banyak hajat diikat beberapa ranting pokok yang terletak berhampiran kawasan berkenaan.

"Perkara ini dikesan oleh Jaim bukan baru, malah sudah berlarutan sejak tahun 90-an dan antara usaha dilakukan adalah memantau kawasan berkenaan serta membersihkannya," katanya, di sini, semalam.

Rahimin berkata, malah bukan saja hajat ditemui apabila ada juga golongan tertentu dipercayai meletakkan perkara dipercayai berkaitan ilmu hitam atau sihir di ranting itu.

Katanya, beliau sendiri pernah menemui balutan kain dibungkus seperti kapan dan didalamnya penuh dengan jarum.

"Penemuan itu juga menggambarkan beberapa aktiviti khurafat dilakukan di situ dengan menjadikan pokok berkenaan sebagai tempat memohon hajat mereka," katanya.

Beliau berkata, kubur dan beberapa pokok berhampiran juga turut menjadi tumpuan golongan tertentu meletakkan bahan dipercayai untuk tujuan pemujaan seperti setanggi, colok dan kemenyan.

Pihaknya turut mengesan hajat berkenaan diletakkan di dalam tabung derma di dalam surau di pulau berkenaan.

"Bukan setakat pokok itu menjadi tumpuan, ada juga lokasi lain yang turut dijadikan pihak tertentu melakukan perkara bertentangan dengan akidah," katanya. -hm


PM "Playboy" Itali Dibicara Atas Dakwaan Seks
Posted: 16 Feb 2011 02:30 AM PST
M
ilan - Seorang hakim Itali semalam memerintahkan Perdana Menteri, Silvio Berlusconi dibicarakan atas tuduhan membayar sejumlah wang kepada seorang gadis bawah umur dari Maghribi untuk mendapatkan khidmat seksnya dan cuba menutup perbuatan itu.
Hakim Cristina Di Censo membuat keputusan tersebut semalam dan menetapkan kes Berlusconi dibicarakan pada 6 April depan.
Kes beliau akan didengar oleh satu panel yang disertai oleh tiga juri wanita.

Berlusconi didakwa membayar gadis tersebut yang dikenali sebagai Ruby yang ketika itu berusia 17 tahun untuk melakukan hubungan seks dengannya.

Beliau juga didakwa menyalahgunakan pengaruhnya untuk membebaskan Ruby yang nama sebenarnya Karima El Mahroug daripada tahanan polis.

Ruby ditahan polis kerana disyaki mencuri wang berjumlah AS$4,103 (RM12,522) tetapi Berlusconi campur tangan bagi meminta polis membebaskannya.

Perdana Menteri itu dipercayai berusaha untuk membebaskan gadis tersebut kerana bimbang rahsianya akan bocor.

Undang-undang Itali membenarkan pelacur dilanggan tetapi mengharamkan hubungan seks dengan remaja berusia di bawah 18 tahun.

Bagi kesalahan pertama, beliau berdepan hukuman penjara antara enam bulan hingga tiga tahun manakala hukuman salah guna kuasa adalah lebih serius iaitu penjara maksimum 12 tahun.

Berlusconi, bagaiamanapun, menafikan semua tuduhan ke atas dirinya itu.

Perdana menteri berkenaan memberitahu, arahan pembebasan Ruby dilakukan bagi mengelak ketegangan diplomatik kerana beliau percaya gadis itu ialah cucu Presiden Mesir ketika itu, Hosni Mubarak.

Hosni telah meletakkan jawatan pada Jumaat lalu.

Berlusconi turut mendakwa tindakan pihak pendakwa raya mengheretnya ke mahkamah adalah bermotifkan politik dengan tujuan untuk menggulingkannya.

Berlusconi, 74, pernah dibicarakan kerana beberapa kes berkaitan perniagaan tetapi ini adalah kali pertama beliau dihadapkan ke mahkamah kerana tingkah lakunya.

Berlusconi didakwa susulan pihak pendakwa raya memberitahu, mereka memiliki bukti kukuh untuk mensabitkannya dalam kes tersebut. - AP






Playboy PM Silvio Berlusconi to stand trial accused of bedding underage prostitute

by Melissa Thompson, Daily Mirror 16/02/2011



PLAYBOY Prime Minister Silvio Berlusconi was yesterday ordered to stand trial on charges he had sex with an underage prostitute.

A judge accepted the prosecutors' request for a fast-track hearing on claims the Italian leader paid to bed nightclub dancer Karima El Mahrough, who was 17 at the time, and then covered it up.

The 74-year-old billionaire will also face a charge of abuse of power for apparently pressuring police to drop theft claims against her.

Berlusconi denies the accusations, which follow countless reports about his alleged "bunga bunga" sex parties. The accelerated trial, which will begin on April 16, misses out the preliminary hearing stage as there is said to be overwhelming evidence.

Yesterday Berlusconi's lawyer Piero Longo shrugged off the move, saying: "We did not expect anything different." Several women claim that they had sex with the Italian PM at private events at his luxury villa near Milan.


Noemi Letizia

The bunga bunga bashes take their name from the sex parties held by Libyan leader Colonel Gaddafi.

Berlusconi and Moroccan El Mahrough, now 18, denied they ever had sex although she admits he gave her £5,900 on Valentine's Day last year. Later, when she was held on suspicion of theft, the PM is said to have called the police and requested her release.

Berlusconi is also said to have had a relationship with Noemi Letizia and gave a diamond necklace when she turned 18. It prompted his second wife Veronica Lario to divorce him in 2009.

Paying for sex is not illegal in Italy, but it is if the prostitute is under 18.


Karima Keyek

The speedy trial comes after protests in 200 cities last Sunday in which hundreds of thousands of Italians condemned Berlusconi. The PM said the claims are a left-wing conspiracy.

He is also facing another trial on fraud charges. -dailymirror


Egypt Army Saves CBS News' Lara Logan after Rape and Beating by Egypt's Freedom Loving Protesters
Posted: 16 Feb 2011 02:21 AM PST
Freedom-yearning young Egyptian role models? Not so much.
CBS chief foreign correspondent Lara Logan was covering the jubilation in Tahrir Square for a "60 Minutes" story when she and her team and their security were surrounded by a dangerous element amidst the celebration. It was a mob of more than 200 people whipped into frenzy.
CBS reportage on this is ... interesting. Logan was brutally raped for a sustained period of time. I find their mealy-mouthed reporting appalling. Imagine if this were ..... Israel. Or a tea party.
She was saved by "a group of women and an estimated 20 Egyptian soldiers." Color me skeptical, but methinks it was more soldiers than women.
Photo right: CBS News Correspondent Lara Logan in Tahrir Square moments before she was attacked on Feb. 11, 2011.
CBS News' Lara Logan Assaulted During Egypt Protests CBS, Sixty Minutes
CBS News Chief Foreign Correspondent Separated From Her Crew And Brutally Assaulted on Day Mubarak Stepped Down(CBSNews)

On Friday, Feb. 11, the day Egyptian President Hosni Mubarak stepped down, CBS chief foreign correspondent Lara Logan was covering the jubilation in Tahrir Square for a "60 Minutes" story when she and her team and their security were surrounded by a dangerous element amidst the celebration. It was a mob of more than 200 people whipped into frenzy.

In the crush of the mob, she was separated from her crew. She was surrounded and suffered a brutal and sustained sexual assault and beating before being saved by a group of women and an estimated 20 Egyptian soldiers. She reconnected with the CBS team, returned to her hotel and returned to the United States on the first flight the next morning. She is currently in the hospital recovering.

There will be no further comment from CBS News and correspondent Logan and her family respectfully request privacy at this time. Hat tip: Atlas Shrugs
Posted: 16 Feb 2011 01:37 AM PST
I am deeply saddened by
THIS REPORT
in
The Malaysian Insider
which reported that the "Royal Commission of Inquiry (RCI) on Teoh Beng Hock's death suffered a major blow to its credibility today after the family of the dead political aide withdrew from the inquiry."
I can imagine the pain, frustration and anguish the family must have felt when they decided to pull out of proceedings after the royal panel decided to continue the inquiry despite a proposed judicial review over the appointment of deputy public prosecutors (DPPs) as conducting officers.
The panel also shot down Karpal's call for Foong to recuse himself as panel chairperson, saying that there are not enough grounds to support the application.
According to the report, DAP chief Karpal Singh, who is counsel for the Teohs, said that the family would withdraw so as not to lend legitimacy to the commission.
Malaysiakini also reported on this case. I am posting this excerpt from
HERE
for the benefit of those who have yet to subscribe to Malaysiakini:
Karpal argued that Foong should recuse himself as the latter is still a member of the judiciary, thus presenting a conflict of interest as the RCI should consist of independent panellists.

The panel however unanimously decided that there was no basis to support Karpal's contention.

Earlier, proceedings were stalled after Karpal objected to the commission's decision to continue with the hearing, saying that it was "unreasonable" to do so while their application for judicial review is still in process.

His co-counsel Gobind Singh pointed out that the commission runs the risk of "contamination of evidence", as the evidence presented in the earlier inquest would be considered compromised should the High Court rule in favour of a judicial review.

Shafee Abdullah, acting for the Malaysian Anti-Corruption Commission, agreed that the application by Teoh's family is an urgent and serious matter, but pointed out that the timing of the application would greatly delay the RCI.

He stressed that regardless of who wins in the High Court, there will be an appeal and it would push back the RCI proceedings by at least three months.

Shafee added that the integrity of the RCI would not be affected should it continue its hearing - should the High Court rule in favour of having a review, the commission can simply disqualify the evidence in question.

More to come later

AT THIS LINK

.
At 5.58pm, there were 42 comments in
Malaysiakini
in response to this development.
One of the comments in Malaysiakini by
ChangeAgent
stands out and he/she wrote:
Here is a comment I posted two days ago. Please allow me to re-emphasise on the last sentence to all fellow Malaysiakini readers: I plead with the Teoh family and lawyers to boycott the RCI and stage a walk-out en masse so as not to lend any further credence to this farcical event. I sincerely sympathise with the family and am touched by their unwavering determination to find justice for their beloved TBH. However, if truth be told, they are unlikely to find closure through this staged inquiry where the outcome has already been determined to protect the true culprits from facing the full brunt of law. It would be too cruel to see them to go through and relive the charades scripted by the BN government all over again. I hereby urge all sensible Malaysians to show solidarity with the Teoh family by remembering TBH's tragic death and sacrifices, and translating it into a resounding demand for justice at the next ballot box.
Another one named
LoverBoy
wrote:
It appears that the family of TBH are trying to get everything their way as suggested by some. But I hope you would consider the following. The RCI was appointed by the Agong and its duty is investigative in nature to determine the cause of death of TBH. I would accept the panel although some may disagree. What I cannot accept are the DPP and the reason raised by Gobin on possible Bias. In the review these DPP are moving for a suicide verdict and in the RCI they are suppose to assist the RCI. Now James Foong, the golden thread of Natural Justice is the issue of Bias? Can you persuade the Malaysian public that these DPP are free from Bias? Can they wear two hats when in another forum they are pushing for a suicide verdict and in the RCI they are to assist the RCI. Common sense will tell you otherwise. The other issue, can you tell Malaysia why Dr. Pornthip is not called as a witness to testify in this RCI? Karpal you did right and I support the withdrawal from the RCI.
Whatever the case, I pray all parties concerned will really have a heart for Teoh Beng Hock and his family who seek closure and justice for his death. Please leave no stone unturned to find the truth and punish those who are responsible for TBH's untimely and tragic death! Remember his widow and his fatherless son, his family and loved one not forgetting other Malaysians who are outraged by his death and subsequent developments.
JUSTICE FOR TEOH BENG HOCK, KUGAN and all who died tragic and untimely deaths.