---
MCA calls V-day detractors 'enemies of the state'
Posted: 14 Feb 2011 01:11 AM PST
MRT a rush job, needs more study, says group
Posted: 13 Feb 2011 08:32 PM PST
Tun M Reaffirms Claim That He Had Met Kit Siang Prior to Ops Lalang
Posted: 14 Feb 2011 03:00 AM PST
Ex-US envoy launches broadside at M'sia's racism
Posted: 14 Feb 2011 09:33 AM PST
yes, this appeared one week ago in malaysiakini. at that time, i had wanted to share it here but i forgot. since today is a public holiday, i decided to post it up anyway, as i fully agree with john malott's view. of course, as expected, a lot of  umno ministers jumped up and down and slammed malott, like the silly nazri who wanted to ban malott from entering our country.  i guess to them (umnoputera).  the truth hurts.
——————————
Malaysiakini
Ex-US envoy launches broadside at M'sia's racism
Feb 8, 11 12:47pm
Former United States ambassador to Malaysia John Malott has lambasted Prime Minister Najib Razak's hypocrisy over his 1Malaysia slogan in a scathing article published today in the Asian Wall Street Journal.
Malott (pic), a frequent critic of the government since ending his three-year tenure as US ambassador in 1998, told Najib to take "a long look in the mirror" if he was serious about achieving his 1Malaysia goal.
"Despite the government's new catchphrase, racial and religious tensions are higher today than when Najib took office in 2009.
"Indeed, they are worse than at any time since 1969, when at least 200 people died in racial clashes between the majority Malay and minority Chinese communities," said Malott in his AWSJ commentary.
He blamed the recent escalation of tensions on the government for "tolerating, and in some cases provoking, ethnic factionalism through words and actions".
Malott cited a number of examples, including the incident where a top Najib aide, Hardev Kaur, had suggested that no crucifixes be displayed during the premier's Christmas Day open house visit at the residence of the Catholic archbishop of Kuala Lumpur.
"Ms Kaur later insisted that she 'had made it clear that it was a request and not an instruction', as if any Malaysian could say no to a request from the prime minister's office," lamented Malott.
Other examples of insensitivities, said Malott, included Home Minister Hishammuddin Hussien defending the actions of a group of residents who paraded a cow's head to protest the relocation of a Hindu temple to their neighbourhood, and Defence Minister Zahid Hamidi questioning the "lack of patriotism" of ethnic Chinese and Indian Malaysians.
Malott also slammed Umno-owned Utusan Malaysia for stoking racial hatred by regularly attacking "Chinese Malaysian politicians, and even suggested that one of them, parliamentarian Teresa Kok, should be killed".
As a result of the growing racism, as many as 500,000 Malaysians left the country between 2007 and 2009, more than doubling the number of Malaysian professionals who live overseas, decried Malott.
The economic price tag of racism
He also said Najib is enamoured to right-wing groups such as Perkasa, which are against economic reforms in the name of 'Malay rights'.
"But stalling reform will mean a further loss in competitiveness and slower growth. It also means that the cronyism and no-bid contracts that favour the well-connected will continue."
Malott said that while Najib may not actually believe the rhetoric emanating from his party and his government's officers, he allows it because he needs to shore up Malay votes.
"It's politically convenient at a time when his party faces its most serious opposition challenge in recent memory – and especially when the opposition is challenging the government on ethnic policy and its economic consequences."
The steady erosion of tolerance, warned Malott, had become an economic problem as well.
"To meet its much-vaunted goal of becoming a developed nation by 2020, Malaysia needs to grow by 8 percent per year during this decade.
"That level of growth will require major private investments from both domestic and foreign sources, upgraded human skills and significant economic reform. Worsening racial and religious tensions stand in the way."
The former US ambassador argued that while the government might find it politically expedient to stir the racial and religious pot, such opportunism comes with an economic price tag.
"Its citizens will continue to vote with their feet and take their money and talents with them. And foreign investors, concerned about racial instability and the absence of meaningful economic reform, will continue to look elsewhere to do business."
Posted: 14 Feb 2011 08:59 AM PST
Korean actress Han Ji-min featuring on February 2011 issues of both Marie Claire [Kr] and GQ [Kr] magazines. Her latest movie Joseon's Great Detective, co-starring actor Kim Myung-min, is currently topping the Korean box office.
Marie Claire
There's more, read the full post »
Han Ji-min, Marie Claire, GQ from YeinJee's Asian Blog
X-Men: First Class (2011) movie trailer
Posted: 14 Feb 2011 08:13 AM PST
Official trailer for X-Men: First Class [YT], the latest of the X-Men film series…
X-Men: First Class charts the beginning of the X-Men saga, before mutants had revealed themselves to the world, and before Charles Xavier and Erik Lehnsherr took the names Professor X and Magneto and became archenemies.
X-Men: First Class (2011) movie trailer from YeinJee's Asian Blog
Posted: 13 Feb 2011 08:27 PM PST
A couple of weeks ago Azman and I went for a lovely dinner at Holliday Villa Subang. As usual I can be very slow at blogging about our activities but as today is Valentine's Day, I reminds me what wonderful experience Holiday Villa had given to us, and maybe those couples who celebrates the occasion would like to go there for a romantic dinner tonight.
Actually Holiday Villa is giving away a Valentines promotion at Coriander Garden Restaurant on 13th and 14th February; where you'll be feasting the delectable 4 course dinner just like what we had the other day.
Warning – do not proceed reading if you have an empty stomach, pictures may trigger excessive gastric juice and mad drumming in your tummy! hehe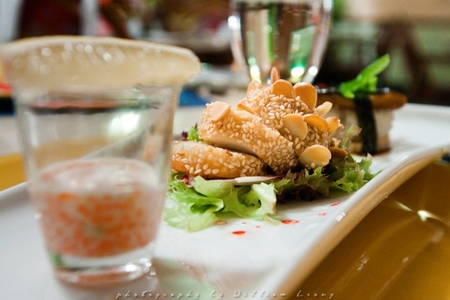 Appertizer
Appetizer, Grilled Unagi Onigiri with Scallop and Fish paste coated with Alamon Flake served with Yuzu Orange Wasabe Mayo.
Who doesn't know what is unagi angkat tangan!? We were actually offered with a fusion of Italian and Asian cuisine,being a food adventurist I really enjoyed this, the only other time that I had unagi was on a slab of rice as suchi.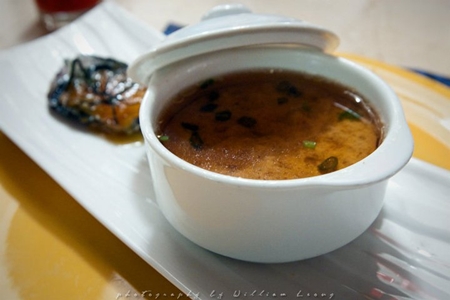 Soup
Soup, Double Boiled Chinese style Chicken Broth served with Kumomoto Oyster and Lychee Jam. I really enjoyed the soup, the chicken broth reminds me of the comfort of home and coziness of being with a family. Not a very romantic soup but good! Yummy.. the oyster however is more fiery! Served with lychee jam, it gave it a exotic taste.
I however is not a fan oysters, I can eat them but not more than two or three.. I am a cheap date! haha!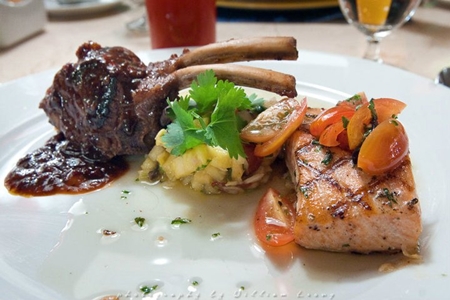 Diyana's main course
Vietnamese style Rack of Lamb and Fillet of Salmon seared until perfection served with Chef Speciality Salsa. Oh! This is definitely my kinda flavour! Not to mention that I believe one have not eaten meat until he has eaten mutton, the Vietnamese Rack of Lamb is tender and juicy and owhh so delicious when eaten with the salsa. The sweet and salty lamb create a bursting full of taste in contrary to the nutty, fruity salsa! I love it… The salmon fillet is also scrumptious and fresh.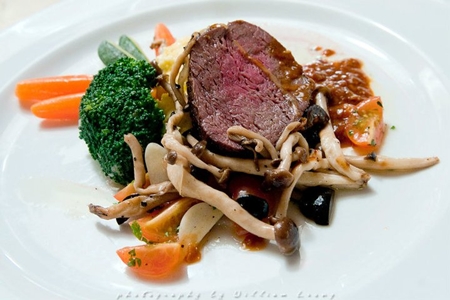 Azman's Main Course
Azman had Beef Medaglione al Forno topped with Mushroom Ragout reduction of Berries Balsamice and Raisin Bordelaise sauce. I curik some of his mushroom and it was really delicious. He seemed like he was really enjoying his food I bet everything on the plate was as good as it looked.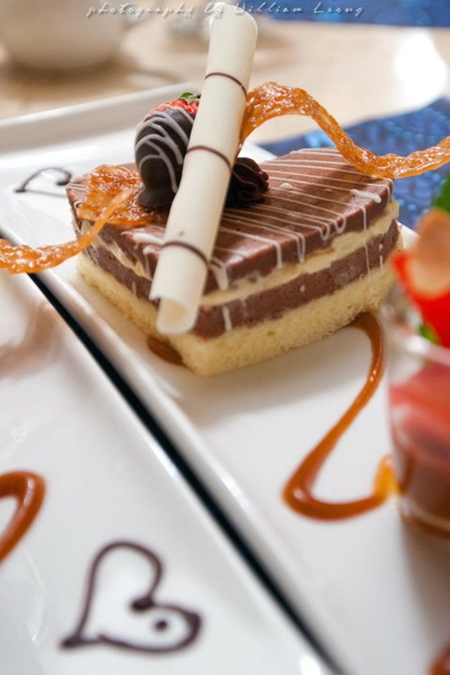 Chocolate Cheese Mousse and Strawberry dipped served with Caramelized Granny Smith Apple.  When we were served dessert, I thought the mousse was very cute sayang nya nak makan! haha…. As good as it looked, I enjoyed every morsel!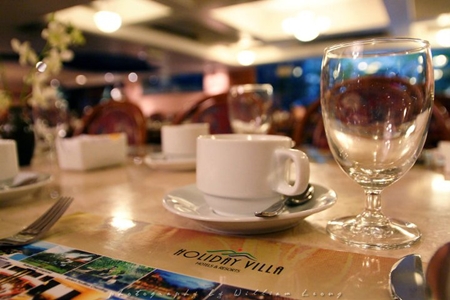 Coffee or tea?
As I have always loved Holiday Villa, most probbly I'd go there again for my birthday dinner! haha… If you guys would like to check for the price and offers, just go to Holiday Villa Website & their Facebook page.
Posted: 14 Feb 2011 07:32 AM PST
Dear friends and readers, I am truly touched by the many of you who either left comments in my blog, or emailed Beng directly (and some cc-ed me as well) to touch him with your words of encouragement and kindness. One of the emails from a reader and friend really made me cry. Thank you all so much.
This evening, I was on Skype with Angela when she called Beng, only to discover that he is in tears from pain and also crying out loud. Angela was in tears - so was I. She will be coming out soon to see Beng and God willing, I will see Beng together with Angela. Those of you in Penang who would like to visit him, please leave your email separately in the comment box (will not be published) and I will get in touch with you all wrt arrangements as to where to meet etc.
You know, life is so short. It is easy to take life or our loved ones for granted. Just yesterday afternoon, I realized how I have aged and how in a few years, I may be gone. I just hope that in my lifetime, I have touched some lives with mine just as I am sure you have touched many lives with yours. Let us reach out and touch Beng during this challenging time.
Beng messaged Angela to let both of us know that he had sent us an email which I am posting here.
THANK YOU MWS, MANY OF YOUR FOLLOWERS HAVE RESPONDED AND PLEASE THANK THEM ON MY BEHALF...I HAPPEN TO RESPOND TO MY PERSONAL BUDDIES EX UNDERMENTIONED MSG FOR I AM PROUD TO KNOW ALL OF YOU AND IT JUST GIVE ME MORE REASONS TO LIVE ON, TO FIGHT ON AND BACK ON LINE JUST LIKE ANGELA'S LINE DANCING!!!!
To all my buddies and close at hearts,
from the bottom of my heart, I 've enjoyed and treasured the happiness that I have received from all of you in one way or another...therefore in continuing to receive more, I have to live longer with all the blessings in good faith given to me ...less I stopped receiving or sanctioned?
from my own space in isolation, I can't help forgetting the good & not-so-bad moments... and you are the few chosen ones welcome to trespass my space at anytime under no obligation ...
from my own stubborness, I've learned the fear of death within my body, mind and soul especially when it is predictable by doctor based on medical data or expired opinion? whatever, it's always the patient's chance of survival rate and is real mental torture ! anyway, my fight is still ON
from my schooldays, the Saints will keep marching till Auld Lang Syne...
(to be continued ... cheers ! happy hour)
-written by Beng-
Those of you who still want to write to him can do so at:
bengship@yahoo.com
If you prefer to text him, his number is:
cell +6016 4623 926
Hang on,Beng. The battle is not over and we are praying for you. Don't give up!!! Keep praying and believing...
God bless Beng and all of you.
Giliran Blogger Pula Tinggalkan PKR, Cucumatkilau & Matsamankati Ucapkan Sayonara!
Posted: 14 Feb 2011 08:56 AM PST
S
elamat Jalan PKR
PKR pasca 2008, tak sama dengan PKR pra-2008. PKR sebelum menang, tak sama dengan PKR selepas menang.
Gambar:
cucumatkilau (kiri) matsamankati (kanan)
Sebelum menang, macam-macam janji. Macam-macam harapan yang ditaburkan. Selepas menang, janji entah kemana, harapan entah kemana.
Aku dah baca banyak komen. Aku dah dengar banyak alasan. Aku dah tengok banyak contoh. Dan aku dah rasa banyak pengalaman.

Cukup lah sampai disini. Aku tak mau lagi bersubahat dengan mereka yang mungkir janji. Sebab mungkir janji itu adalah sifat munafik.

Aku tak mau dengar alasan lagi. Sebab alasan hanyalah helah untuk menutup kelemahan.

Aku tak mau kutuk lagi, sebab itu bukan contoh yang baik.

Dengan itu…aku mengambil sikap untuk berundur dari PKR. Aku bukan keluar PKR, sebab aku masih lagi memegang prinsip yang diperjuangkan. Tetapi aku tak sanggup lagi berada dalam PKR yang ada hari ini kerana ianya tidak lagi memegang prinsip yang diperjuangkan.

Maka dengan ini, aku mengisytiharkan, bahawa aku bukan lagi ahli PKR, bukan lagi penyokong PKR dan tidak ada kena mengena dengan PKR. Tetapi bukan bermakna aku memusuhi semua kerabat PKR. Masih ramai mereka yang didalam PKR yang aku hormati.

Tetapi oleh kerana ianya dipimpin oleh mereka yang tidak lagi aku hormati, maka aku tidak lagi mahu bersubahat dengan mereka.

Selamat jalan PKR. -ureka.asia



Blogger Cucumatkilau 'Secara Rasmi' Isytiharkan Keputusannya Keluar Dari Parti Keadilan Rakyat

KUANTAN, 11 Feb [12.03 pm] - Akhirnya Blogger Cucumatkilau @ Mohd Shukri Mohd Ramli (foto), 39, hari ini mengesahkan yang dirinya secara rasmi mengundurkan diri daripada Parti Keadilan Rakyat (PKR). Sidang media telah berjaya diadakan di Restoran Sg.Kita, Jalan Tanah Putih dekat sini jam 10.00 pagi tadi. Dengan keputusan ini juga bermakna beliau kini tidak lagi terlibat secara langsung atau tidak langsung dengan parti itu.

Menurut Cucumatkilau keputusan yang diambil ini biar pun berat tetapi terpaksa ditelan jua memandangkan beliau mahu bergerak bebas dan menumpukan sepenuh perhatian kepada kerjayanya.

"Saya mahu berehat dan lupakan seketika dunia politik. Banyak benda yang perlu saya uruskan terutamanya berkaitan dengan keluarga. Saya mahu menumpukan sepenuh perhatian untuk membela nasib keluarga dan masa depan anak-anak", katanya.

Beliau juga tidak menolak kemungkinan keputusan yang diambil ini akan dicemuh dan dikutuk oleh ahli-ahli PKR terutamanya bagi mereka yang memang sejak sekian lama tidak bersetuju dengan pandangan saya.

"Orang boleh kata apa saja, namun niat saya untuk keluar memang sudah lama saya maklumkan cuma ia tidak secara rasmi. Kini barulah saya rasa bebas dan boleh menentukan hala tuju masa depan saya sendiri. Memang saya akui banyak tuduhan akan dilemparkan oleh mereka selepas ini. Itu hak mereka, tetapi hak saya perlu dipertahankan. Ketika saya jatuh, susah dan mengharapkan simpati tiada siapa yang mahu datang membantu tetapi bila saya memilih jalan hidup sendiri ramai pula yang mempertikaikan. Biasalah, buat baik pun orang akan mengutuk apatah lagi dengan keputusan berat yang saya ambil ini", tambah beliau lagi.

[Dalam pada itu, beliau juga tidak menolak kemungkinan akan kembali berpolitik suatu hari nanti jika ada kekuatan dan semangat untuk meneruskan perjuangan itu. Ikuti kenyataan beliau dalam blognya www.cucumatkilau.blogspot.com, terutamanya mengenai beberapa teguran dan nasihat buat mana-mana sahabat yang masih meneruskan perjuangan dalam Parti Keadilan Rakyat (PKR) itu sendiri.

Kami dan seluruh warga kerja Pahang Daily Online mengucapkan selama berehat untuk Cucumatkilau, semoga perjuangannya akan diteruskan dalam apa jua cara sekali pun.

Biar apa pun yang terjadi, kami yakin yang beliau telah memikirkan apa yang mahu dibuatnya. Keputusan yang dibuat itu adalah selepas beberapa lama membuka ruang perbincangan dengan sahabat terutamanya pemimpin PKR itu sendiri. Jika beliau seorang pengkhianat, lebih baik dia terus keluar dari PKR tanpa berbincang sebegitu lama. Namun, orang ramai yang mengenalinya saja yang boleh menilai apa yang dilakukannya ini. Bagi kami, hak peribadi beliau usahlah dipertikaikan kerana dia lebih mengetahui segala apa yang mahu dilakukannya sekarang. -pahangdaily


Ulasan GB

Apa yang GB katakan sebelum ini menjadi kenyataan.

Tindakan Anwar, Saifuddin dan Azmin sendiri yang menyebakan PKR jadi begitu menyebabkan ramai yang bertindak meninggalkan parti.

Dan anehnya pimpinan tidak memperbaikinya, sebaliknya terus mempertahankan kelemahan dengan nak jelajah satu negara baiki imej parti, kata mereka.

Petikan:

Imej parti nak dibersihkan dengan menjelajah satu Malaysia. Itu satu langkah yang baik. Setidak-tidaknya dari perspektif kekuatan PR sendiri supaya PKR tidak terus-terusan menjadi liabiliti kepada PR.

Tetapi pemulihan imej tidak hanya dapat dilakukan dengan sekadar menampal make-up di wajah yang telah hodoh sedangkan tak ambil langkah positif perbetulkan kelemahan yang menyebabkan PKR ditolak dan imejnya tercalar.

Ini zaman IT. Ini zaman orang berilmu, ini era twitter, era blogging, zaman orang berfacebook! Orangramai tidak semudah itu boleh menerima kata-kata ucapan retorik lagi.


Posted: 14 Feb 2011 06:43 AM PST
She had lodged 5 police reports against him for severe domestic violence.
On one occasion, she even had to go for some stitches at her mouth.
Saddled with 4 very young kids, all she wants now is enough divorce settlement for her children to face a good future.
During her iddah period, I was told that her husband had given her 'peanuts'.
It was he who divorced her and chased her out of their marital home.
And now, he has threatened to sell off all her stuff if she does not ship them out quickly.
It's shocking to hear that her ex is a a motivator, a famous writer on Islamic understanding, have done numerous talks on radio and TV and have also written a number of books!
An ex teacher, she is now a writer.
This morning, she requested me to just touch on her problem on my blog.
I am quite heavy emotionally and honestly, not totally at ease, in agreeing to do so for her.
But if it'll help her a bit, so be it.
I know she is in deep pain.
I am having a really tough time myself..
not having enough funds while the ex is having a dandy time as an old, amorous bachelor.
His focus is only on his new, sexy makwe.
He will race all the way to LCCT to fetch her irregardless of how late the time is.
Hours of spending time with her is now his happiest, quality time.
To drive my son around for his college purposes is so burdensome for him.
He never did like chauffeuring the kids around then and it's a more despicable chore now.
How can a supposedly-sane person show so much affection to his AA sexport and demotes his seven children to the bottom of his priority list?
Most unforgiveable and unforgettable!
As for his domestic violence bit, unlike my friend, I always manage to steer away fast from grave injury.
There were those times when I should have made police reports but I chose not to for fear of embarassing him and the whole family.
There were situations when my children would intervene and tell me to 'run mama run!'
And those traumatic times were countless.
Well then..my friend believes that there's no 3rd party involved in her breakup.
The problem is that he has an extremely volatile, violent temper..
he used to verbally torture her apart from the constant, physical bashings.
An attractive, gorgeous-looking lady in her late thirties, with a good career in hand, she prides in being a hardworking mom whenever possible.
But fate has ended her days as a happy wife..for the moment.
Even before the divorce papers were finalised and ready, she heard that her ex plans to send back her two younger boys to his homeplace outside the peninsula.
Her small daughters are with her.
Tired everyday, she stays in Kajang and drives 70 km everyday to ferry her children to and fro a school in Desa Pandan.
Last Saturday, while her thoughts brought her astray, she banged the butt of another person's car.
Fortunately, he was kind enough to accept a 50 ringgit compensation from her.
She now worries a lot about her work deadlines.
So much to be done and her mind is not focused.
Why can't some men practice what they preach?
Why is it that the ex wife is always thrown a raw deal?
Undeniably, some ex wives are luckier of course.
These kind of men can theoretically give many good written advice and ideas on leadership skills plus lots of fantastic advice on how to resolve conflicts in life and politics, but on the homefront, they leave a rotten, sickening mess!
They refuse to do all those honourable things.
The wife and children are largely left in a limbo when the 'marital wreckages' are just left strewn around for miles on the aftermath of the divorce.
Promises are geared specially to be ignored and broken.
Schizophrenic?
Or just plain egoistic?
Will they ever become really honest and true in whatever ideals that they profess to fight for?
p.s.
My dear friend, I hope what I've written will pacify your turbulent emotions a little bit.
May Allah give us lots of strength and intelligence, to finally win our rights at the end of the day.
May more happiness awaits us and our children soon.
Come..let's keep on praying hard.
Ameen.
General & offbeat roundup (February 14, 2011)
Posted: 14 Feb 2011 06:54 AM PST
General news and offbeat snippets from various sources…
[1] Chinese New Year 2011 photos collection.
[2] China overtakes Japan as world's second-biggest economy.
[3] Snow 'monsters' in Japan.
[4] Artsy ways of peeling a tangerine.
[5] Heaviest snowfall in century struck South Korea's east coast.
[6] Captured Somali pirates rave about Korean prison food.
[7] Violence marks fourth day of Yemen protests against president.
[8] Brazil football legend Ronaldo retires.
[9] Best News Pictures of 2010: World Press Winners.
General & offbeat roundup (February 14, 2011) from YeinJee's Asian Blog
Baju Dan Seluar Dalam Ditemui Berterabur Dalam Semak
Posted: 14 Feb 2011 06:57 AM PST
T
indakan orang gila seks. Mungkin itu sesuai untuk menggambarkan situasi menggemparkan berikutan penemuan sebahagian pakaian dalam wanita yang berhampiran semak di Lorong 12 Bukit Perdana, Setongkol di sini.
Paling mengejutkan, golongan terlibat itu sanggup menyusun coli pada tiang elektrik di lorong itu selain seluar dalam yang bertaburan dalam semak berdekatan.
Selain itu, turut ditemui uniform sekolah yang turut dibuang dalam semak tersebut.

Situasi ini menyebabkan penghuni lorong dan sekitarnya gusar berikutan kes kehilangan pakaian dan baju dalam milik mereka (wanita) sejak minggu lalu.

Seorang peniaga, Chew Yen Chin, 35 berkata, dia menyedari kehilangan baju dalam miliknya pada pagi Jumaat lalu selepas balik dari tugasan luar.

Menurutnya, selepas dua orang gajinya memberitahu, mereka memeriksa dan mendapati kehilangan pakaian dalam miliknya.

"Orang gaji saya turut kehilangan beberapa pasang coli dan seluar dalam milik mereka.

"Sebelum ini, saya pernah berhadapan dengan seorang lelaki bermotosikal yang cuba mencuri pakaian dalam di belakang laman rumah saya dua tiga tahun lalu," katanya tindakan lelaki itu berjaya digagalkan selepas dia menjerit terhadap pelaku itu.

Menurutnya, dia risau tentang keselamatan penghuni terutamanya kanak-kanak dan wanita memandangkan laluan itu turut menjadi tumpuan penduduk beriadah (jogging) selain gelap di waktu malam.

Bagi dua orang gajinya, Asi dan Asu, 21 yang berasal dari Jawa itu berkata, mereka mengetahui lokasi kejadian itu selepas berjalan-jalan di lorong itu.

"Kami terkejut dan pantas memberitahu majikan tentang penemuan ini dan turut menjumpai batang besi yang digunakan sebagai alat untuk mencuri pakaian dalam.

"Kami kini risau juga kalau mereka yang melakukan perbuatan ini ada niat lain dan buat perkara bukan-bukan," kata mereka yang masih terkejut kerana pertama kali berhadapan dengan masalah itu.

Sementara itu Pegawai Khas Parlimen Kuantan, Sim Chon Siang yang berkunjung ke lokasi itu selepas mendapat aduan menasihatkan mangsa terlibat membuat laporan polis untuk langkah keselamatan.

"Kita berharap pihak berkuasa dapat menyiasat seterusnya menangkap mereka yang terlibat untuk mengelakkan sebarang kejadian yang tidak diingini berlaku suatu hari nanti," katanya.
Posted: 14 Feb 2011 04:59 AM PST
Since it is Valentine's Day today, I thought I'd post something on love stories. Many famous lovers never ever got a chance to live happily ever after. Ironically, their names are etched in golden letters in the history of mankind. Such famous love stories are living proof that love is immortal. Though lovers die, love remains forever and does not let their sacrifices go waste. These popular love affairs are an inspiration to many around the world. Most youngsters smitten by love often think their lives are synonymous to these famous lovers. People give them names like Romeo-Juliet that proves that these famous lovers are a big inspiration for falling in love, regardless of the consequences.
It is said that love conquers all. Some foolishly sacrificed their lives without even thinking twice just so they could live together happily ever after. However, it is not that easy and we all know that fairy tales rarely end happily. The trials and tribulations that these young lovers braved, just to be with each other, is enough to send shivers down the spine. In those days, many thought they would be happy to die together too and rationalized that since they couldn't live together, at least in death they shouldn't be separated.
Some of the famous love stories are those of Antony-Cleopatra, Pyramus-Thisbe, Salim-Anarkali and Laila-Majnu. Their great love sagas are an inspiration to fall in love and not to be afraid of giving even the biggest of sacrifices. Though these great people are not alive, they shall always remain immortal in the hearts of all those who are in love.

Anthony and Cleopatra
One of the most famous love stories by William Shakespeare, the love saga of Anthony and Cleopatra is a truly a fable of worshipping your beloved. Antony and Cleopatra epitomize that love is another name for sacrifice. Their love story is among the most tragic ones, where both the lovers die instead of living 'happily ever after'. 'Antony and Cleopatra' is among the most popular plays by Shakespeare.
Laila and Majnu
Laila and Majnu is an eternal love story that has a tragic end. These two young lovers sacrificed their love for each other, as they couldn't be together. Such selfless was their love that they did not hesitate for even a minute when it came to laying down their lives for each other. The love story of Laila and Majnu is a very famous one and is no less than a legend. The love affair of Laila & Majnu is known to be so tragic and moving.
Pyramus and Thisbe
A very touching love story, sure to move anyone who reads it, is that of Pyramus and Thisbe. Their love story is part of a Roman mythology. It is a beautiful tale of the most sentimental romance, though not without its share of tragedy. Theirs was a selfless love and they made sure that even in death, they were together. The love story of Pyramus and Thisbe continues to inspire lovers all around the world.

Salim and Anarkali
The love story of Salim and Anarkali is a story that every lover knows. It is one of the most tragic love stories known to people. The Mughal prince Salim falling for a courtesan Anarkali is the kind of stuff that legends are made of. The relationship of Salim and Anarkali outraged the Mughal emperor Akbar to the extent that both father and son decided to go on war. However, as all great love stories are associated with a disastrous ending, the love affair of Salim and Anarkali did blossom, only to meet a tragic fate.
Happy Valentine's Day to all my readers and friends and Gong Xi Fa Cai!
DECKER: Obama's fake Christianity?
Posted: 14 Feb 2011 04:50 AM PST
President Obama's coddling of Islam has many Americans questioning his national-security judgment, if not his intentions. In his administration's muddled response to the crisis in Egypt, one clear message came from all the president's men: A new government in Cairo "has to include a whole host of important nonsecular actors," as stated by White House spokesman Robert L. Gibbs. The hitch is that in the Middle East, nonsecular means radical Islamist, like the Muslim Brotherhood. Now, in the middle of this global clash of civilizations, Mr. Obama's own religious disposition is being questioned – and not from the right, but the left.
On his HBO show "Real Time" on Friday, host Bill Maher said of Mr. Obama, "I think he's a centrist the way he's a Christian – not really. … His mother was a secular humanist and I think he is." When Princeton University professor Cornel West challenged Mr. Maher's point about Mr. Obama's religion, saying, "He changed his mind on the God question, brother Bill," the comic retorted, "It's like when he says 'I struggle with gay marriage' – you don't struggle with gay marriage, you're fine with gay marriage." Another guest – who insisted Mr. Obama has "always been pretty centrist" – helpfully reminded that Mr. Obama "did go to church before he was a candidate for the presidency." That church, of course, was presided over by the racist, anti-American, hate-spewing Rev. Jeremiah Wright.
Bill Maher can be a funny guy. His website flashes the crack, "It doesn't make me un-American to say I'd rather live in Paris than in places where cheese only comes in individually wrapped slices." Aside from the fact that bashing France is a national pasttime and a pretty reliable measure of patriotism, a man who prefers unpasteurized fromage can't be all bad. That said, his humor has a very tangible dark side, especially when it comes to faith. In the past, Mr. Maher has called Christianity "the ultimate hustle" and ridiculed the fight of good versus evil as a shakedown: "If God gets rid of the devil – and he could, he's all powerful – well, then there's no fear. There's no reason to come to church. There's no reason to pass the plate."
Liberals hate it when anybody throws their own gaffes back in their faces. Media Matters can chuck bricks at us all they want for taking purported cheap shots at the president. This debate over Mr. Obama's religion is happening among his most ardent supporters, just like the birther flames being fanned by MSNBC's Chris Matthews and Hawaii's Democratic Gov. Neil Abercrombie. Mr. Obama's critics just sit back and laugh while Democrats do their dirty work for them. With friends like Mr. Maher, Mr. Obama doesn't need enemies.
[Bergambar] Lagi Bas 2 Tingkat Kemalangan, Langgar 2 Kenderaan Didepannya
Posted: 14 Feb 2011 05:30 AM PST
S
ebuah bas dua tingkat yang membawa kira-kira 20 penumpang merempuh dua kenderaan di hadapannya di Kilometer 273 Lebuhraya Utara Selatan berhampiran Hentian Rehat dan Rawat (R&R) Seremban di sini, Isnin.
Kejadian pada pukul 9.30 pagi yang membabitkan bas dari Seremban ke Kuala Lumpur itu menyebabkan penumpang sebuah daripada kenderaan yang dirempuh bas itu cedera di kaki akibat tersepit di tempat duduk.
Anggota Bomba dan Penyelamat mengambil masa kira-kira 10 minit untuk mengeluarkan penumpang kenderaan pacuan empat roda yang tersepit itu. Kesemua penumpang bas selamat.

Jurucakap polis berkata kejadian dikatakan berpunca daripada pemandu bas terbabit tidak sempat memberhentikan kenderaan apabila menyedari terdapat kesesakan jalan raya di hadapannya.

"Bas itu merempuh sebuah kereta sebelum merempuh sebuah lagi pacuan empat roda sebelum berhenti di tengah jalan," katanya.

Kemalangan itu menyebabkan kesesakan teruk sejauh beberapa kilometer.

Seorang penumpang bas, Muhammad Hazwan Zulkifli, 23, berkata keadaan di dalam bas kelam kabut apabila berlaku rempuhan kuat menyebabkan ada penumpang tercampak dari kerusi.

"Beberapa penumpang menjerit ketakutan kerana terkejut. Walaupun ada yang tercampak dari kerusi, saya nampak penumpang bas tidak mengalami kecederaan yang serius.

"Saya tidak pasti bagaimana kemalangan itu berlaku, mungkin pemandu bas tidak nampak berlaku kesesakan di depan kerana keadaan jalan yang agak berbukit," katanya ketika ditemui di tempat kejadian.

Muhammad Hazwan yang duduk di tingkat atas bas itu, berkata ketika kejadian bas berkenaan dipandu mengikut kelajuan biasa.-BERNAMA



Ameng Mengaku Salah Miliki Dadah
Posted: 14 Feb 2011 04:00 AM PST
A
yer Keroh: Vokalis kumpulan rock terkenal Spring, Ameng, mengaku bersalah di Mahkamah Sesyen di sini hari ini terhadap dua pertuduhan memiliki dadah jenis kanabis dan methamphetamine di sebuah hotel di Jalan Melaka Raya 3, Taman Melaka Raya, dekat sini, pada 1 Februari lalu.
Mengikut pertuduhan pertama, Ameng atau nama sebenarnya, Wan Aminuddin Wan Ismail, 43, dan isterinya, Sabariah Zakariah, 41, didakwa memiliki dadah jenis kanabis dengan berat kasar 122 gram dalam sebuah bilik di Hotel Senyum Mesra pada kira-kira 5.20 petang.
Bagi pertuduhan kedua pula, pasangan berkenaan turut didakwa memiliki dadah jenis methamphetamine yang dianggarkan berat kasar sebanyak satu gram pada tarikh, tempat dan masa sama.

Bagaimanapun, Sabariah tidak mengaku bersalah terhadap kedua-dua dakwaan terbabit.

Kedua-dua tertuduh didakwa mengikut Seksyen 39A (2) Akta Dadah Berbahaya 1952 dan dibacakan bersama mengikut Seksyen 34 Kanun Keseksaan serta Seksyen 12 Akta Dadah Berbahaya 1952, Seksyen 12 (3) akta sama dan Seksyen 34 kanun sama.

Jika sabit kesalahan boleh dikenakan hukuman penjara seumur hidup atau minimum tidak kurang dari lima tahun dan sebatan tidak kurang dari 10 bagi pertuduhan pertama, manakala bagi pertuduhan kedua, hukumannya didenda tidak lebih dari RM100,000 atau penjara tidak lebih lima tahun atau kedua-duanya sekali.


WHERE ARE THE TUAN GURU'S AND PAK MUFTI'S
Posted: 14 Feb 2011 03:21 AM PST
Datuk John Tenewi Nuek, a former Malaysian diplomat and former Under-Secretary in the Foreign Ministry has drummed up a warning that Malaysia will end up like Myanmar or Ghana, if our political leaders continue to abuse their power. He also claimed that corruption in this country is now beyond redemption. Datuk John Tenewi Nuek is now the newly appointed PKR Vice-President and had served the Foreign Ministry for 33years.
I think, Datuk John Tenewi is the first retired senior government officer to come out openly to criticize the government. Beside Myanmar and Ghana, he cites the Philippines and Nigeria that were at one time countries that were wealthy and prosperous, are now economically backward and poor because its leaders were corrupt and abused their powers.
Earlier in the morning, a group of friends and I while having tea were in deep discussion over the happenings in Tunisia, Egypt, and now a similar wave of people's protest is emerging in Algeria and Yemen. The reasons for the protest in all the four Arab countries are similar i.e. a government that is corrupt, repressive laws and the abuse of power by its leaders, rampant poverty, high jobless rates within the society that ended up in broken marriages and families, nepotism and the enrichment of cronies an its family members.
As I have mentioned in an earlier article, this country has all the reasons and causes for its people to launch a protest against the government. But unfortunately, officials in the government today seem to suffer from a loss of hearing and sight.
As an example, when we say that corruption is endemic in this country, the response we get is that the level of corruption is not too bad when compared to other developing countries, and statistics says that it is manageable. And when we say that we have repressive laws like the ISA, the response is that such laws are necessary to protect the safety and security of the country. And when we say that our leaders are inclined to abuse their power for their own pecuniary self interest, than the response will be that there is no prove to such an accusation.
We have been fed constantly about the massive abuses of the Chief Minister of Sarawak, but do we hear of any strong criticism from any member of the government. Despite all the evidences that have been posted in the alternative media (read the tale by tale articles in Sarawak Report) nothing seems to meet the interest of the authorities. The MACC and the police play the game of the three monkeys i.e. 'see no evil, hear no evil and talk no evil'. I think they are waiting for someone to come up with a report written in gold and delivered in silver envelop.
By just looking at photos of the CM's female family member drinking beer is enough to suggest that she have not had enough religious up-bringing. Now, my question is where are all our Tuan Guru's and Pak Mufti's. Not a whimper from any one of them.
Are the beer drinkers not to be lashed, or are they all governed by a special set of Islamic laws, just because they are from families of the super rich? Or are you (Tuan Guru's and Pak Mufti's) too afraid that you might lose your job? You know damn well that you will have to answer all this maksiat and dosa in the hereafter.
Someone from the group that I had discussion with early this morning sums up his frustration with this prediction – "Negeri kita ini akan menerima musibah yang amat dahshat sekiranya pemimpin pemimpin kita masih tidak sedar akan maksiat dan dosa yang sedang berlaku tanpa sebarang sekatan di khalangan masyarakat kita. Padahnya bukan kepada mereka yang mengamalkan maksiat dan dosa, tapi pada seluruh umat di negera ini".
I do not deny the truth about such a prediction, but I hope it does not occur during my life time.
CRUSADE AGAINST CORRUPTION
Monkey Massacre In Gasing Indah
Posted: 14 Feb 2011 07:19 AM PST
LATEST 11.15pm: Residents are now claiming that the people who shot the monkeys were wearing a blue uniform rather than a green one which is used by Rela officers.

They said that the stench from the monkeys' carcass that were killed was unbearable. 


DATELINE GASING INDAH, KUALA LUMPUR: 



Internet file pix
DISTURBING REPORTS are coming in of what appears to be an illegal monkey culling
Posted: 14 Feb 2011 03:20 AM PST
Posted: 14 Feb 2011 12:59 AM PST
Assalamu'alaikum
bro
.
Aku tahu kau tak kenal aku. Tapi aku kenal kau. Aku kenal kau pun kerana ada berita yang memaparkan kisah kau. Aku terkedu membacanya.
Dulu masa aku diwawancara oleh UmmahOnline, ada satu soalan ditanya tentang 'korban' untuk membolehkan revolusi berlaku. Dulu pernah semasa aku jawab kepada seorang 'senior'ku di kampus bahawa aku percaya bahawa diktator hanya boleh dijatuhkan dengan tunjuk rasa. Tapi aku juga jelaskan bahawa aku tidak setuju jika hanya itu tawaran yang dijadikan pilihan kepada rakyat. Dalam wawancara di UmmahOnline itu, aku jawab bahawa ia tak semestinya. Aku ambil contoh bagaimana Wiji Thukul yang hilang dalam tunjuk rasa di Indonesia telah menjadi satu sesalan kepada angkatan sasterawan di sana.
Ya, memang. Sebenarnya mengorbankan diri bukan tugas mudah. Aku yakin kau lebih tahu dan faham. Aku hanya pandai cakap dan tulis untuk menjustifikasikan perlu atau tidak perlu untuk berkorban. Aku mungkin hanya boleh mengetuk kesedaran akal fikir kepada diri dan orang yang mahu membaca tulisan aku. Tapi aku belum tentu dapat mengetuk kesedaran pada dhamir dan jiwa mereka.
Gambar memang boleh berbahasa. Saat kau pilih untuk membakar diri, ia telah jadi bahasa yang tidak terungkap kepada siapa yang melihatnya.
Sebenarnya di dunia ini lebih ramai lagi mereka yang senasib denganmu dan menanti pembelaan. Dunia menjadi celaka sendiri apabila yang bijak itu berterusan mengikut jalan si penakut.
Damailah engkau di sana. Jutaan manusia akan meminta daripada Tuhan melalui jiwa mereka untuk memaafkan tindakanmu dan memilih kau untuk ke syurga.
--
Mohamed Bouazizi (29 Mac 1984-4 Januari 2011) ialah anak muda Tunisia yang memilih untuk membakar diri sebagai tanda protes terakhir selepas beliau dinafikan peluang berniaga oleh pemerintah Tunisia. Beliau pernah belajar dalam bidang Sains Komputer namun tidak menghabiskan pelajaran disebabkan kesempitan hidup.
Tidak ada peluang perniagaan diperolehinya sambil berdepan dengan kenaikan harga makanan. Pengangguran mencecah 30% dan rasuah bermaharajalela.
Anak yatim yang kematian bapanya ini memilih untuk berniaga gerai bagi menampung keluarganya termasuk adiknya yang diterima masuk ke universiti, hanya dengan pendapatan berniaga sekitar 140 dolar Amerika sebulan. Kerana tidak ada lesen, gerainya dirampas dan beliau dimalukan oleh seorang kakitangan wanita kerajaan. Beliau ditampar, diludah dan dua kakitangan lain memukulnya.
Menurut ibunya, Bouazizi membakar diri sebagai protes terhadap tindakan memalukannya ini dan bukan kerana masalah kemiskinan.