---
Upgrading of Kampung Melayu Flats
Posted: 10 Mar 2011 11:28 AM PST
Open tender for upgrading of flats
Safety first: Wong and Kampung Melayu flats resident, Sesu Anna Pushpa, 69, showing the new wiring system in her unit.
AN open tender and balloting will be called for two projects worth RM1mil to upgrade the Kampung Melayu flats in Air Itam, said state Town and Country Planning, Housing and Arts Committee chairman Wong Hon Wai.
"The project will involve the retarring of the car park area and the replacement of three new lifts.
"The retarring and the lifts' replacement will cost RM100,000 and RM900,000 respectively," he told reporters after inspecting the flats on Monday.
Wong, who is also Air Itam assemblyman, said any project costing more than RM200,000 will have to go through an open tender.
"The rewiring of the flat block comprising 400 units costing RM1.4mil, which is already 95 per cent completed, is scheduled to be completed next month."
The Kampung Melayu flat, which was built in 1969, is one of the earliest low-cost housing projects in the state.
He added that other maintenance works such replacing the sewer's missing covers and drain pipes were completed last year.
Better facilities: Kampung Melayu flats in Air Itam to get new lifts and retarred car park.
Wong also said that the state government would provide two shuttle buses to the Kampung Melayu Village Development and Security Committee (JKKK) to ferry residents to the Ning Baizura concert.
"The concert at the Penang International Sports Arena on March 12 is to celebrate the state's success in attracting the most investments to the country.
"Residents interested in attending the concert should gather at the JKKK compound by 6.30pm as the concert will start at 8pm," he said.
黃漢偉:州政府關注 百萬提升甘榜馬來由組屋
2011-03-07 18:26
今年計劃耗資90萬令吉為A座組屋更換3座新電梯。右起黃漢偉,阿里芬及英丹。
(檳城7日訊)亞依淡區州議員黃漢偉週一巡視樓齡超過40年的甘榜馬來由組屋,以驗收去年撥出170萬令吉的修復工程。今年則計劃再耗資100萬令吉,為該組屋進行重舖道路及停車場,和更換3座電梯工程。
黃漢偉週一到該組屋巡視有關提升工程時指出,該組屋擁有兩棟16層高,996個單位,其環境衛生及基本設備都需要改善。
"去年撥出的170萬6項修復工程,包括重新裝置各樓層垃圾槽、重新裝置垃圾溝蓋、替換殘舊的糞管、替換殘舊的雨水管、砍伐組屋附近的老樹及重接住家內各樓走廊和樓梯的電線。"
重接走廊工程近完成
他說,耗資140萬令吉的重接走廊及樓梯電線的工程,在A座組屋496個單位進行,已完成近95%,預計於四月竣工。
"由於舊電線不穩定,更新電線後,確保了他們的安全,共有496戶各族居民受惠。"
他強調,州政府從2009年起就訂下提升政府組屋的決心,每年撥出1000萬令吉,進行房屋整頓及提升計劃,計劃長達5年。
"而樓齡超過40年的甘榜馬來由組屋獲得關注。自從該組屋清潔承包商更換後,工作已改善,並獲得居民讚賞。"
他說,接下來他們計劃耗資100萬令吉,為該A座組屋重舖道路及停車場,和更換3座電梯。其中一架電梯已損壞無法操作,兩項工程分別由抽簽及公開招標方式進行。
"新計劃預料在今年展開,由於招標工程需時,預料電梯更換工程明年才能完成。"出席者包括甘榜馬來由鄉委會副主席阿里芬,鄉委會秘書英丹。
Counter
Data
.com
credit cards
Counter
DBKL - where thieves and cheats dwell!
Posted: 10 Mar 2011 08:39 AM PST
A few days ago, I found a parking lot about 40 meters from Maybank Desa Pandan. I walked to the parking meter for a ticket but 3 peoples were ahead of me. I waited for about a minute before getting mine.
While walking back to the car, a DBKL enforcement officer has already placed a summon ticket on the windscreen. He was still there. I tried to argue but he said: "Dah lama dah kereta ni kat sini!"
So, that is how DBKL makes easy money. In less than 2 minutes, I was made to pay RM100. I have heard of similar cases before where DBKL enforcement officers prey on 'just-parked' vehicles to issue summon.
Where is their discretion? Did DBKL train them to be such nuisance? No wonder some of our rakyat hate DBKL and other local councils. Their enforcement personnel are more like a bunch of robots that enjoy issuing summon tickets. I think they are into a competition - whoever issues most tickets will get rewarded!
Arrghhhh!!! Its ok, I will pay mine. However, I am thinking of making a report to the MACC about some thieves and cheats at DBKL, some officers who are on the take and preying on customers lacking in adequate knowledge about local councils.
I am calling on readers who got evidence about DBKL officers' wrongdoings to e-mail me at jailani_arena@yahoo.com
Najib Semakin Keterlaluan Seolah Ajak Rakyat Ke Jalanraya
Posted: 10 Mar 2011 09:04 AM PST
P
ilihanraya: Najib keterlaluan, seolah ajak rakyat ke jalan raya
Perdana Menteri, Datuk Seri Najib Tun Razak, kini dilihat semakin keterlaluan sehingga
seolah-olah telah mengundang rakyat mengalihkan tumpuan daripada pilihan raya kepada demonstrasi ke jalan raya
.
Sehubungan itu, Badan Bertindak Demokrasi PAS dan Gabungan Pilihan Raya Bersih dan Adil (Bersih) II menuntut pihak pemerintah supaya mengadakan pilihanraya yang adil di negara ini.
Pengerusi Badan Bertindak Demokrasi PAS, Mohamad Sabu menegaskan, Perdana Menteri perlu menilai kembali segala tindakan yang telah dilakukannya dalam perjalanan pilihanraya di negara ini agak benar-benar berada pada landasan demokrasi.

Menurut beliau, tujuan tuntutan pilihanraya yang adil dibuat supaya setiap keputusan pilihanraya akan dapat diterima oleh seluruh rakyat negara ini.

Katanya, namun keadaan hari ini berada di sebaliknya. Setiap keputusan pilihan raya amat meragukan semua pihak terutama pembangkang kerana ia dijalankan tanpa keadilan.

"Pihak Umno BN yang memerintah bukan sahaja mempergunakan segala jentera kerajaan dengan sewenang-wenengnya, tetapi juga turut mengawal dan memaksa SPR supaya memihak kepada Umno BN dalam pelbagai aspek," katanya pada sidang akhbar di Pejabat Agung PAS, Jalan Raja Laut, di sini, hari ini.

Disebabkan keadaan itu, menurut beliau, hak-hak pihak pembangkang dinafikan sama sekali oleh pihak pemerintah dalam perjalanan pilihanraya di negara ini sama ada pada pilihanraya umum, pilihanraya negeri dan pilihanraya kecil.

"Terbaru, perkara itu boleh dilihat dalam perjalanan pilihanraya dan kempen pilihan raya kecil Dun Merlimau dan Kerdau 6 Mac lalu yang jelas memperlihatkan tindakan SPR yang dikawal oleh Umno BN sehingga seratus peratus memihak kepada Umno BN.

"Dalam masa yang sama, pihak pembangkang pula ditekan dengan pelbagai peraturan yang bukan-bukan termasuk dilarang mengadakan pondok panas dan pemasangan bendera parti. Kesemua itu bertujuan untuk memberikan kemenangan kepada BN," katanya yang juga AJK PAS Pusat.

Menyentuh tentang perjalanan pilihan raya negeri Sarawak yang akan diadakan tidak lama lagi yang turut memperlihatkan beberapa peraturan baru diperkenalkan SPR, beliau mengatakan kesemua itu jelas menunjukkan sikap SPR yang tidak profesional dan adil dalam melaksanakan perjalanan pilihanraya di negara ini.

Menerusi peraturan baru itu, SPR akan membenarkan tempoh berkempen selama 7 hari sahaja. Antara alasan yang diberikan pula termasuklah disebabkan kebimbangan SPR dengan kemungkinan tindakan provokasi oleh pihak pembangkang yang jelas tidak masuk akal.

"Dalam kita menuntut supaya tempoh kempen dipanjangkan kepada 3 minggu, SPR pula membuat peraturan baru seperti itu. Ini jelas memperlihatkan sikap perlawanan SPR dengan pembangkang, pada hal tuntutan kita itu adalah untuk keadilan dalam pilihanraya.

"Dengan tempoh kempen sependek itu, apa yang pembangkang boleh buat? Pembangkang sudahlah tidak diberikan ruang bersuara menerusi media kerajaan dan media arus perdana, tidak banyak wang pula.

"Jadi kesemua itu adalah untuk memberikan keuntungan dan kemenangan kepada Umno BN yang memerintah dengan cara yang cukup jelas dan terang-terangan," katanya.

Dengan itu juga, tegasnya, bagaimana rakyat boleh bertahan yang tentunya akan memaksa rakyat berpilihanraya ke jalan-jalan raya nanti seperti yang telah berlaku di Mesir dan Libya.

Turut hadir pada sidang media itu, Bendahari PAS Pusat, Dr Mohd Hatta Ramli, AJK PAS Pusat, Datuk Seri Ir Mohamad Nizar Jamaluddin, Dr Dzulkefly Ahmad, Dr Syed Azman Syed Mohd Nawawi dan calon PAS Dun Merlimau yang baru lalu, Yuhaizad Abdullah. -HD


Posted: 10 Mar 2011 07:44 AM PST
L
os Angeles – Jutaan ikan ditemui mati di King Harbor, Redondo Beach, dekat Los Angeles, Amerika Syarikat. Menurut pejabat setempat, ikan-ikan ini kemungkinan mati kerana kekurangan oksigen di dalam air.
Dalam beberapa hari terakhir, kematian jutaan ikan di pelabuhan tersebut menjadi perhatian bagi para pengkaji dan menimbulkan pelbagai spekulasi atas penyebabnya. Namun para pengkaji dari Jabatan Perikanan California (CDFG) mengatakan, ujian yang dilakukan atas ikan menunjukkan mereka mati kerana kekurangan oksigen.
Menurut para pengkaji juga, hembusan angin mencapai 45 meter per jam mendorong kawanan ikan sardin bersama makarel dan ikan kakap putih, berkumpul di pelabuhan dalam beberapa hari terakhir. Akibatnya, pergerakan air berkurang dan meminimakan kadar oksigen.

Ikan sardin biasanya bergerak dalam kumpulan raksasa, terkadang disebut bola umpan. Jurucakap CDFG Andrew Hughan mengatakan, para pengkaji menyakini kumpulan ikan ini tersesat dan salah selekoh ke perairan di pelabuhan, demikian disiarkan oleh Xinhua.

Penelitian awal menunjukkan, tidak ada tanda keracunan alam, seperti domoic acid, yang terkadang membunuh kehidupan laut.

Hughan menyatakan, kota Redondo Beach tidak memiliki risiko bahaya kesihatan dan telah melakukan pekerjaan yang baik dalam menangani pembersihan. Datuk Bandar Redondo Beach, Mike Gin mengatakan pembersihan ikan dijangka memakan waktu seminggu dan belanja sekitar USD100,000.


Sodomy II: Prosecution's final witness testifies: Saiful's underwear shown!
Posted: 10 Mar 2011 07:11 AM PST
The prosecution in the Anwar Ibrahim sodomy trial today wrapped up its case with the final witness, investigating officer Supt (then DSP) Jude Blacious Pereira, taking the stand.
In his testimony, Pereira provided the links to the chain of evidence the police have secured in its investigation on the opposition leader.
However, the prosecution's case has been seriously undermined when Kuala Lumpur High Court judge Mohamad Zabidin Mohd Diah rejected the alleged DNA evidence which was obtained illegally from Anwar while he was held in a police lock-up.
Yesterday former Hospital Kuala Lumpur clinical pathologist Dr Razuin Rahimi testified that complainant Mohd Saiful Bukhari Azlan had told her
there was full penetration
and that he refused to perform oral sex during the alleged incident.
LIVE REPORTS
8.43am:
The prosecuting team led by solicitor-general II Mohd Yusof Zainal Abiden is in court as well as members of the defence team, Param Cumaraswamy and Sankara Nair.
Two big television screens have been erected in court, probably to show certain evidence.
8.52am: Opposition Leader Anwar Ibrahim arrives with wife and PKR president Dr Wan Azizah Wan Ismail.
Lead defence counsel Karpal Singh is seen having a chat with other defence counsel outside.
9.03am: Karpal, who is in a wheelchair, is wheeled into the courtroom. The court is about to start.
9.06am:
Court in session with High Court judge Mohamad Zabidin Mohd Diah presiding.
9.07am:
Investigating officer Jude Blacious Pereira takes his oath. He is attached to Bukit Aman's legal and prosecution division.
Questioned by solicitor-general II Mohd Yusof Zainal Abiden, he says he is Brickfields CID (Criminal Investigation Department) chief.
9.10am:
Pereira says Anwar faces a charge under section 377B following complaint from Mohd Saiful Bukhari Azlan.
"I investigated the case," he tells the court.
Saiful called into the courtroom to be identified by Pereira.
9.42am: Those in public gallery laugh when Saiful's underwear shown

Pereira says another blue-black underwear was retrieved from Saiful's girlfriend's house, which had been washed and identifies the underwear, saying, "It was wet then."
Saiful's underwear is the symbol of Malaysia gutter politics!
Don't Use Dogs Merely As Alarm Systems
Posted: 10 Mar 2011 06:16 AM PST
Malay Mail March 8, 2011
Tracking animal tormentorsVeterinary Services Dept to scour the web for abuse tip-offs
CECILIA VICTOR Tuesday, March 8th, 2011 11:11:00
PETALING JAYA: The Department of Veterinary Services (DVS) will increase its online monitoring activity to curb animal abuse.

This comes in the wake of two high-profile cases this year,
Cherie Make Up Exam Photoshoot
Posted: 10 Mar 2011 06:03 AM PST
Here are the raw pictures taken right after her make up exam at COSMOPROF. It was my virgin photo shoot. And NO ONE was free to accompany me inside the "room" when the REAL photos were taken. I was shivering quite badly till I couldn't really smile properly. Even my smile were the shivering-kind of smile. Thank god the photos turned out alright, or else I would have cost Cherie her exam! *shudders*
Many thought it was OUR WEDDING PHOTO SHOOT and asked WHEN am I getting married?

But no, it was all self-taken shot(s) and definitely NOT the wedding photo shoot.  Just take it as we like the things are right now, and no plans for the next step. =)
But then again since many said look like the real thing. It goes to show, the make up artist aka Cherie is a real professional here, and ME being the photographer is also QUITE professional in taking self-taken shots too!! *BHB*
Hee, I quite like the make up that day. Thanks Cherie!

And here is the photoshopped. Completed whiten to the max complete with artificial fake eyelashes HEH!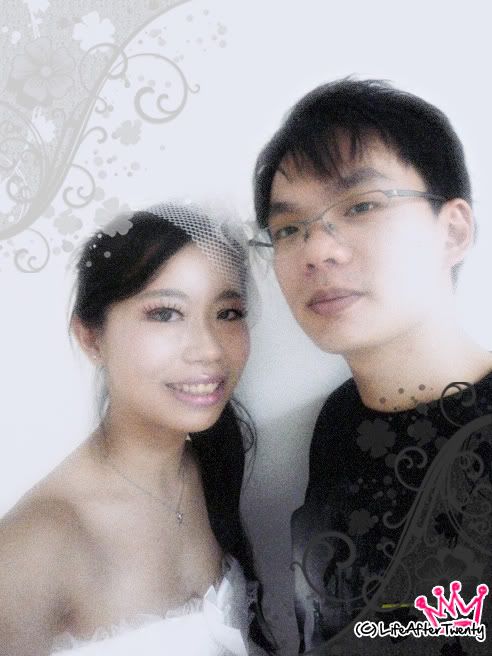 PKR Desak Gobala Disiasat, UMNO BN Bakal Tumbang Dengan Sendirinya
Posted: 10 Mar 2011 06:51 AM PST
K
uala Lumpur: Parti Keadilan Rakyat (PKR) menggesa Suruhanjaya Pencegahan Rasuah Malaysia (SPRM) dan Lembaga Hasil Dalam Negeri (LHDN) menyiasat mengenai kemampuan kewangan Ahli Parlimen Padang Serai, N. Gobalakrishnan menjelaskan bayaran pajakan tanah di Kelantan bernilai RM1.4 juta.
Setiausaha Agung PKR, Saifuddin Nasution mendakwa, pihaknya mempunyai bukti berupa dua salinan cek Hong Leong Bank masing-masing bernilai RM700,000 bertarikh 12 Januari 2011 dan RM701,250 bertarikh 15 Mac 2011.
Menurut Saifuddin, kedua-dua cek berkenaan bagi menjelaskan bayaran pajakan tanah seluas 40.47 hektar di Lojing, Kelantan di antara syarikat milik Gobalakrishnan iaitu Embun Megah Sdn Bhd dengan Kumpulan Pertanian Kelantan Berhad.

"Adalah aneh secara tiba-tiba Ahli Parlimen Padang Serai dapat menjelaskan bayaran berkenaan sejurus selepas keluar parti dan berterusan menyerang PKR.

"Dari mana sumbernya, siapa yang bermurah hati menolong, urusniaga apa yang dilakukan beliau hingga memungkinkan wang sebanyak itu diperolehnya?

"Januari dan Mac adalah kemuncak tempoh serangan, kecaman dan fitnah Gobalakrishnan terhadap PKR dan ketika ini jugalah beliau secara tidak semena-mena mampu membayar RM1.4 juta untuk bayaran tanah ini," katanya pada sidang media di lobi Parlimen di sini, Khamis.

Gobalakrishnan mengumumkan keluar daripada PKR dan menjadi Ahli Parlimen Bebas pada 29 Januari lalu kerana hilang kepercayaan terhadap kepimpinan parti itu yang dianggap gagal menyelesaikan masalah kaum India.

Selain itu Saifuddin mendakwa, PKR mengesyaki pengkhianatan beberapa Ahli Parlimennya yang bertindak keluar parti adalah atas dorongan habuan lumayan.

Sementara itu, pada sidang media berasingan, Gobalakrishnan menafikan menerima wang berjumlah RM1.4 juta seperti yang didakwa Saifuddin.

Malah beliau turut bersedia disiasat oleh pihak berkuasa berhubung dakwaan berkenaan.

"Saya sedia untuk disiasat pada bila-bila masa. Saya tidak pernah menerima apa-apa bayaran berjumlah RM1.4 juta daripada mana-mana pihak seperti yang dikatakan mereka.

"Anda boleh periksa tandatangan saya, malah saya tak ada tunaikan apa-apa cek lagi pada tahun ini," katanya.

Menurutnya lagi, syarikat Embun Megah Sdn Bhd yang dimaksudkan Saifuddin bukan miliknya.

"Syarikat itu bukan milik saya, sebaliknya keluarga saya mempunyai kepentingan di dalamnya, bukan saya," katanya. -mstar

Ulasan GB

Kita tidak tahu berapa juta yang sebenarnya telah digunakan oleh UMNO BN untuk membeli ahli-ahli parlimen dan ADUN-ADUN Pakatan Rakyat semenjak peristiwa "Rampasan Perak".

Maka tidak hairan laporan-laporan ada ADUN-ADUN melompa ini tiba-tiba menjadi "jutawan segera" yang mampu berbelanja mewah.

Itu baru YB-YB. Di dalam pilihanraya-pilihanraya kecil pula jutaan ringgit lagi digunakan untuk pelbagai tujuan termasuk pembelian undi dan sogokan tertentu bagi mendapatkan kemenangan.

Kesemuanya itu sebenarnya bakal menghancurkan UMNO BN sendiri kerana ia adalah kemenangan palsu yang bukan bertunjang kepada sokongan sebenar hati nurani rakyat.

UMNO BN bakal bangkrapkan dirinya dan negara dan UMNO BN bakal tumbang dengan sendirinya tanpa perlu dilawan oleh sesiapa. Demikian Hukum Alam. Hanya menunggu masa!



MB Kedah: 'BN Kedah Gila Talak'
Posted: 10 Mar 2011 05:00 AM PST
K
ota Sarang Semut - Menteri Besar Kedah, Azizan Abdul Razak mempertahankan pemerintahan Pakatan Rakyat (PR) di Kedah sejak tiga tahun lalu dan menyifatkan segala tohmahan Barisan Nasional (BN) terhadap Kerajaan Negeri sejak pilihan raya umum (PRU) yang lalu sebagai 'gila talak'.
Azizan yang juga Pesuruhjaya Pas Kedah itu berkata, di sebalik keupayaan Kerajaan Negeri PR memerintah Kedah mengatasi jangkaan UMNO dan BN, barisan pembangkang masih memandang rendah kerajaan pimpinannya dan berlagak seperti pemerintah.
Menurutnya, dakwaan Kerajaan Negeri gagal menunaikan manifesto pilihan raya lalu juga tidak benar kerana tindakan penurunan cukai tanah, perbelanjaan wang Kerajaan Negeri dengan lebih berhemah, pembatalan projek loji penapisan minyak di Yan dan tender pembalakan secara terbuka tidak pernah dilakukan UMNO dan BN sebelum ini.

"Dulu UMNO dan BN dengan angkuhnya mengatakan PR tidak akan memerintah lebih tiga bulan, tapi sekarang usia Kerajaan Negeri sudah tiga tahun.

"Dulu UMNO dan BN kata pertumbuhan ekonomi negara Kedah tidak akan melebihi 2.5 peratus. Namun, pencapaian ekonomi negeri membanggakan dan antara empat negeri terbaik di Malaysia. Sekiranya mereka menilai pencapaian kami hanya 2.5 peratus, saya anggap pencapaian mereka hanya 1.5 peratus semata-mata," katanya pada sidang media selepas Majlis Perasmian Buku Jingga peringkat negeri Kedah di Kompleks Pas, Kota Sarang Semut, semalam.

Turut hadir ialah Ketua Umum PKR, Datuk Seri Anwar Ibrahim; Pengerusi PKR Kedah, Datuk Wan Salleh Wan Isa; Pengerusi DAP Kedah/Perlis, Lee Guan Aik dan barisan Jawatankuasa Pas, PKR dan DAP negeri.

Azizan berkata, Kerajaan Pusat juga bersandiwara untuk menunjukkan kononnya mereka bersikap prihatin terhadap rakyat apabila pada mulanya sanggup mengeluarkan belanja yang besar untuk membawa pulang pelajar Malaysia yang berada di Mesir daripada krisis negara itu sebelum ini.

Bagaimanapun, mereka bertindak menghantar semula pelajar itu ke Mesir dalam masa sebulan, malah mengecualikan pembiayaan tambang ke atas pelajar yang tinggal di negeri pembangkang.

"Bila berlakunya pemberontakan rakyat terhadap kepimpinan Presiden, Hosni Mubarak di Mesir, mereka cepat-cepat membawa pulang pelajar kita, kononnya bimbang atas keselamatan mereka.

"Bila hendak dihantar pulang semula, mereka serahkan beban itu kepada kita. Tapi tidak mengapa, Kerajaan Negeri tidak ada masalah menanggung pembiayaan tambang penerbangan pulang ke Mesir berserta wang poket RM500 kerana wang sebanyak RM2.5 juta yang digunakan adalah wang rakyat," katanya.

Azizan berkata, UMNO dan BN turut disifatkannya lebih teruk daripada Jepun kerana mengkritik apa jua pelaksanaan Kerajaan Negeri terhadap rakyat secara konsisten tanpa memikirkan kerelevanan tindakan itu.

"Sebelum ini, bila tarif air dinaikkan 10 sen, banyak orang termasuk pemimpin UMNO dan BN yang beria-ria mengadakan tunjuk perasaan di hadapan Wisma Darulaman, kononnya Kerajaan Negeri berlaku zalim.

"Kini mereka mula protes tindakan Syarikat Air Darul Aman (Sada) menghentikan khidmat Pos Malaysia sebagai ejen kutipan bayaran bil walaupun Pos Malaysia bertindak menaikkan upah perkhidmatan daripada 70 sen kepada 90 sen bermula bulan ini.

"Atas dasar keprihatinan tidak mahu membebankan rakyat, kami menghentikan khidmat Pos Malaysia. Saya hendak tanya, adakah UMNO dan BN ada kepentingan dengan Pos Malaysia sehingga beria-ria menghentam Kerajaan Negeri?" katanya.

Ditanya dakwaan Kerajaan Negeri akan melaksanakan cukai pintu di pekan kecil setiap daerah dalam masa terdekat, Azizan menjelaskan beliau tidak tahu mengenainya kerana tidak pernah dibincangkan dalam mesyuarat. -SH


I see: a U.N. no-fly zone. Using the Congolese air force? Supported by offshore Russian aircraft carriers? By Charles Krauthammer
Posted: 10 Mar 2011 04:55 AM PST
After assuring us that I was fantasizing in claiming that anyone anywhere is asking for U.S intervention in Libya, Anne Applebaum explains that what is instead being discussed is a "no-fly zone -- but only as a U.N. or NATO action" and "with as little unilateral 'American' input as possible."
I see: a U.N. no-fly zone. Using the Congolese air force? Supported by offshore Russian aircraft carriers? Liberal internationalists tend to use the phrases "United Nations" and "international community" and "world opinion" so promiscuously that they actually come to believe these fictions have some reality. There is no such thing as a U.N. no-fly zone. A U.N. no-fly zone is nothing more than a no-fly zone enforced by the only power that can do it -- the United States -- under cover of a U.N. resolution.
NATO? As in the current NATO operation in Afghanistan, where German troops don't go out at night? Where the real fighting is carried out by the United States (with a major assistance from, as usual, the trusty British)?
And now a NATO no-fly zone over Libya. Who do you think will be taking out Gaddafi's surface-to-air missiles and other antiaircraft infrastructure? The Belgian air force? Sure, Italy and Spain will participate -- they will allow the U.S. aircraft pulverizing Libya to take off from their bases.
What Applebaum really means is not U.N. or NATO action but U.N.- and NATO-authorized action -- undertaken overwhelmingly by the United States. No one has any doubt about which air force has the power, the training and the experience to carry out a no-fly zone. Applebaum's objection to my claim that the world is looking for American intervention is nothing more than a complaint that I refuse to observe the niceties -- the hypocrisy and the disingenuousness -- of those who want America to save them but behind a fog of pseudo-multilateralism.
Applebaum's second point is that this wish for a multilateral fig leaf, this allergy to too-overt American assistance, this demand for American rescue with as little U.S. visible presence as possible, is the result of the Iraq war and the blow it delivered to the U.S. reputation in the region.
This is nonsense. To believe that you have to believe that this phenomenon started in 2003. In fact, this allergy to an overt American presence has been a constant feature of U.S.-Arab relations going back more than a half-century. Since the Second World War -- not the Iraq war -- the Saudis have depended on us for their very wealthy independence. But they insist that any U.S. military presence be disguised and hidden. No display of American soldiering or uniforms. We anchor the Fifth Fleet in Bahrain. Indeed, that's the reason so much of our protection of the Gulf states is offshore. Better no one see us at all.
Why did George Bush 41 have to gather such a massive coalition before the United States could (with, again, significant assistance mostly from the British) liberate Kuwait? Did our Syrian and Egyptian "allies" take a square inch of Kuwaiti territory? Of course not. They, like the dozens of other superfluous "coalition partners," were precisely the kind of window dressing people are looking for in Libya right now -- so one could pretend as much as possible not to be the beneficiary of U.S. intervention. Hence our decision to let Kuwaiti troops march into Kuwait City on liberation day (a farcical reprise of our allowing de Gaulle to parade first into Paris on its liberation): to perpetuate the fiction of self-liberation and to publicly minimize the American role.
It's a basic characteristic of superpower-client relations. Everyone wants American money, American protection, Americans' favor -- but no one wants to be seen taking it. This stigmatization of U.S. aid is born of envy, pride and resentment -- and has been around forever. It is as attributable to the Iraq war as is climate change. Though I'm sure the case for that connection is being developed as we speak.Washington Post

Wet'n'Wild Rock Solid Nail Polish
Posted: 10 Mar 2011 04:43 AM PST
I had just dropped by Shopping District's flea market at SCAPE over the weekend.
You can find them on Facebook. You can purchase items from Facebook just by dropping them a PM. They check for messages only on Mondays to Fridays only. Perfect for those working people.
Sidetrack: I know I am supposed to be studying for my PSOC Prelims paper this coming Monday, but you know too much information on PSOC can make you go mad too! So decided to PAINT MY NAILS! *HAPPWIEEE*
Alternatively, you can drop by on their website(s) CheriBeauty or ShoppingDistrict to look at what other things they have to offer. Makeup brushes, foundation powder, blushes, colour palettes, fake eyelashes, wigs, fragrances you could almost get everything you need from there.
And so, I bought this 3 bottles of nail polishes from them. 3 bottles for SGD10. Pretty cheap I should say. Even the cheapest range available from THE FACE SHOP is $2.90 for 10ml. And here it's just a little more than $3.30 a bottle of 11ml.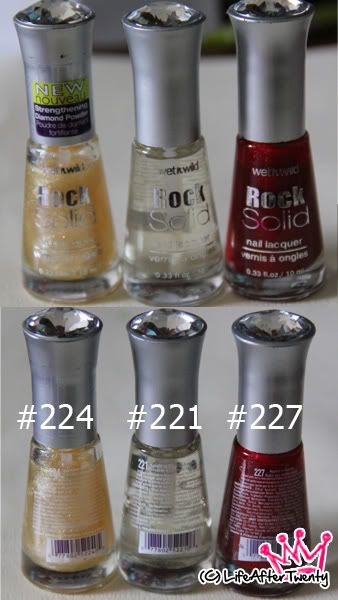 I don't know why but no matter how many shots I have tried to take from different angle under different light, I just can't seem to capture the glittery part (which is my FAVOURITE part) of the nail polish. Humph.
And so this is my base coat. It's pretty thick and had this "thicker consistency" than those from THE FACE SHOP.  The first application looks a little pink. So I supposed you need 1.5 to 2 coats to get the red shade.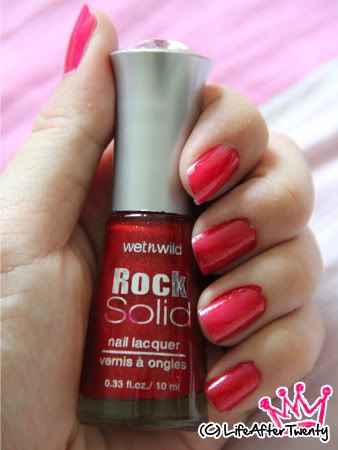 Wait for about 30seconds, then apply another 1-2 coats of this yellow glitter. It may look yellow here. But when you apply onto the base coat, it is just like any other transparent coat with EVEN MORE glitters! HEHHEH! Just compare the photo below and the one at the top. GLITTERS *screams with excitement* HAHA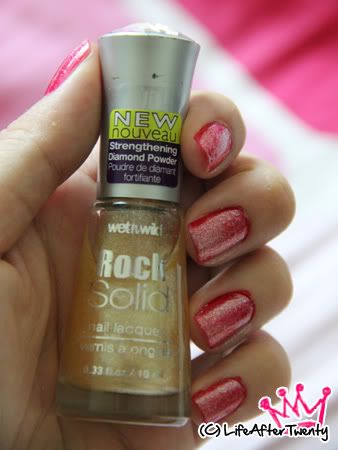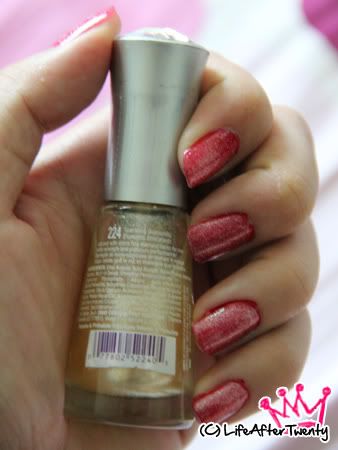 And then again, give it half a minute or so to dry, and then apply another transparent coat on top to protect my glittery filled nails. I know there are proper and "real" top coats available in the market. But being the stingy and budget me, I just make do with this transparent coat to act as a top coat.
Finally for that 10 dollars you spent, you can get many many weeks of pretty nails. I definitely know I won't be getting sick of this one-of-the-kind shade any time soon.
ADVICE: Friend had warned me about how hard it is to remove glitter-based nail polishes. If its just the 2 coats, I would still say the difficulty level is just about the same of removing 2-3 coats of THE FACE SHOP nail polishes. And with that additional top coat, you just need a few more scrubs. Well, that's entirely on my usage of nail polishes. Do share your views on removing glittery nail polishes. =)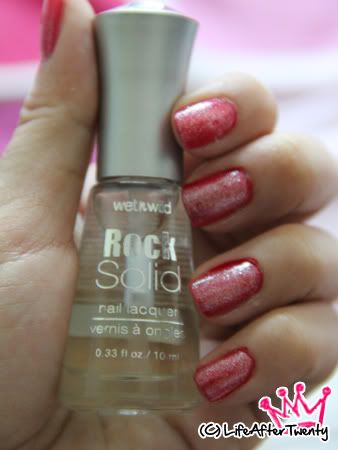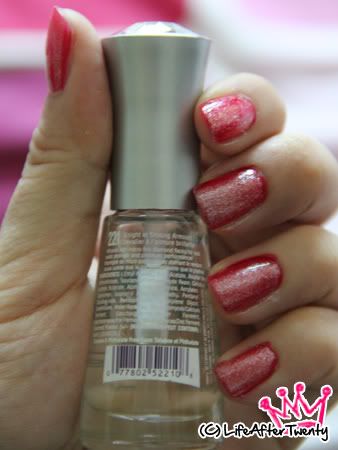 Filed under:
Entertainment
,
Retail Therapy
Posted: 10 Mar 2011 04:41 AM PST
The Star carried an article report
HERE
which said:
The Opposition has no leader in Parliament simply because

they cannot accept each other

, said Minister in the Prime Minister's Department Datuk Seri Mohamed Nazri Abdul Aziz.

He said they could have easily picked seasoned MPs such as Lim Kit Siang or Datuk Seri Abdul Hadi Awang to lead them.

"However, they just could not reach a consensus on who should lead them (in Parliament) because they are not really together.

"The DAP won't accept a PAS representative and I think PAS too, cannot see a DAP MP leading the Opposition bench.



"They are headless chicken,"

he told newsmen after meeting 229 Public Services Department-sponsored Japan-bound students here Thursday.

Nazri, however, expected the current Parliament session to be lively even though the Opposition were headless.

He said the Government backbenchers were capable of bringing up relevant issues and participates in the debate with facts.

"It is business as usual," he said.

Opposition Leader Datuk Seri Anwar Ibrahim was suspended for six months in December for linking Prime Minister Datuk Seri Najib Tun Razak's 1Malaysia concept to the One Israel campaign.

The Permatang Pauh MP and PKR adviser had said that the Government's public relations consultancy - Apco Worldwide - had masterminded both the initiatives.
I believe that the reason why the Opposition has no other leader besides Anwar is
NOT
because they cannot accept each other.
I opine that they cannot reach a consensus because:
if they choose a DAP leader such as LKS, some may not be happy with a Chinese leader
if they choose a PAS leader, Pakatan Rakyat may lose non-Muslim support as there are those who fear the implementation of hudud laws (You can read

MORE

here.)
if they choose Azmin, PKR supporters may not be happy as certain issues have not been resolved
Unless all are big-hearted and ready to give way to someone to take over, the rest will have to continue to support Anwar because he has been the one to have brought all three parties together.
At this point, even though Nazri claims they are HEADLESS, at least they are
GUILELESS
(free from any intent to deceive or impress others). But are they chickens?
Certainly NOT.
Look at Lim Kit Siang. According to Wikipedia
HERE
:
In 1969 Kit Siang was detained under the Internal Security Act for 18 months. Ten years later, in 1979, he was convicted of five charges under Official Secrets Act for exposing an inappropriate arms deal between the government and a Swiss company.





Lim was one of the people arrested during "Operation Lalang" in 1987 for inciting racism. He spent some years in prison under the Internal Security Act (Malaysia), which allows for two years of detention without trial at the pleasure of the Home Minister. The two-year sentence may, in practice, be extended indefinitely without any avenues for due process or appeal.



PR leaders are more sensitive to the needs and feelings of Malaysians and would work harder for the rakyat's aspirations without jeopardizing unity for their own agenda. Obviously, few have promoted themselves in any way!
Opposition leaders get
chicken feed
compared to what they could have earned in their respective industries. Why would they
chicken out
and compromise their commitment to the rakyat? They have yet to show that they are
chicken-hearted
. In fact, their lion-hearted responses when the need arises has been an inspiration whereas some spineless ones seem to be intent on cooking lies and every pore is seething with
bodekness
and rings with much insincerity.
The leaders of the PR component parties are no
spring chickens
who
count their chickens before they are hatched.
Of course there have been times when they seemed to be running around like
chickens
with their heads cut off and running around in circles but that is because PR leaders have yet to come together to strategize. Every which way they turn, they are under attack. Thus, much precious time has been wasted defending their turf instead of doing the real work that could have been done.
Let's face it. If it ain't
chickens
, it's feathers. There are always problems in life and no one and no single political party is perfect. It is a question of which one has MORE imperfections! While it is true that they may not be quite as together as they should, at this stage, anything is better than what we have been getting for the past fifty odd years.
Honestly,
the REAL chickens must go home to roost
(an old proverb which means that one has to face the consequences of mistakes or bad deeds).
It is time for them to sit out for a term or two and to reflect. When power is out of their hands, perhaps they can really see Malaysia as it is. As long as they hold the reins of power, the gravy train will continue to rumble and the roots of corruption could continue to grow deep in this land.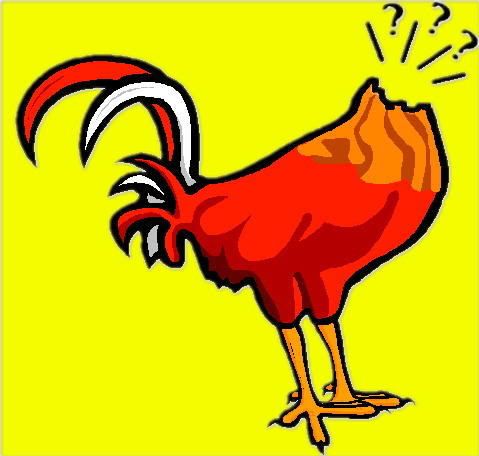 So tell me, which do you prefer?
Headless leaders or GUILELESS LEADERS?
Najib Razak - Hosni Mubarak: Banyak Persamaan Yang Ketara
Posted: 10 Mar 2011 04:31 AM PST
N
ajib dan Mubarak: Persamaan yang ketara
Najib menggunakan cara-cara yang sama dengan Mubarak dalam usahanya untuk mengekalkan kuasa BN - Naib Presiden PKR.
PETALING JAYA: Terdapat persamaan yang luar biasa antara pemerintahan autoritarian selama 30 tahun di Mesir oleh Presiden Hosni Mubarak dan pemerintahan menindas selama 53 tahun oleh Perdana Menteri Najib Tun Razak dan Barisan Nasional (BN) ke atas Malaysia.
"Najib menggunakan cara-cara yang sama dengan Mubarak dalam usahanya untuk mengekalkan kuasa BN keatas negara kita," kata Naib Presiden PKR N Surendran dalam satu kenyataan media hari ini.

Menurut beliau, antara persamaannya adalah: pergantungan kerajaan atas suatu sistem polis yang agam untuk menumpaskan pihak Pembangkang; kawalan ketat ke atas media cetak dan television serta tahanan tanpa bicara yang bermotifkan politik.

"Persamaan lain ialah keadaan darurat berdekad yang tidak dibatalkan; sistem kehakiman yang berat sebelah dan berpihak kepada kerajaan serta pilihan raya yang tidak bebas ataupun adil," katanya.

Beliau berkata, seperti Mubarak dan Parti Demokratik National (NDP), Najib dan BN telah secara konsisten menggunakan apa-apa cara, walaupun jahat, untuk terus kekal berkuasa.

"Tetapi yang amat ketara katanya, kedua-dua Mesir dibawah pemerintahan Mubarak dan Malaysia dibawah Najib, dari masa ke semasa mengheret pesaing politik ke Mahkamah untuk menghadapi tuduhan jenayah yang direka-reka," terang beliau.
Ujar Surendran, "objektifnya adalah untuk menghancurkan pesaing politik secara politik dan peribadi, dan oleh demikian menghapuskan ancaman kepada pemerintahan mereka.

"Rejim-rejim yang tidak bertoleransi dengan pasti akan menggunakan kaedah seperti ini kerana mereka tidak mempunyai pertimbangan keadilan dan tidak memperduli kedaulatan undang-undang," jelas beliau.

Penganiayaan kehakiman terhadap Anwar

Katanya lagi, dalam penganiayaan kehakiman yang sekarang berlangsung ke atas Ketua Pembangkang Anwar Ibrahim, Najib dengan ketara mencerminkan Mesir semasa di bawah Mubarak.

"Serangan mempergunakan sistem kehakiman ke atas Anwar yang ingin membawa perubahan dimulakan oleh pemerintah kuku besi mantan perdana menteri Dr Mahathir Mohamad dalam tahun 1998.

Dr Mahathir baru-baru ini katanya, menerbitkan sejilid memoirnya yang menipu dan tidak wajar bagi seorang bekas perdana menteri.

"Lebih satu dekad kemudian, Kerajaan Najib menggunakan taktik yang sama sahaja," ujar beliau.

Beliau berkata, Mubarak dengan terkenalnya menggunakan mahkamah Mesir untuk memenjarakan Ayman Nour, pemimpin Parti El Ghad (Parti Esok).

Ayman Nour adalah seorang pemimpin pembangkang yang utama dan merupakan pesaing Mubarak dalam pilihanraya Presiden tahun 2005.

"Berikutan suatu perbicaraan yang rata-rata dikecam dan farsa, Ayman Nour dipenjarakan selama lima tahun dengan kerja berat.

Persamaan dengan pendakwaan Anwar yang sekarang berlangsung adalah amat ketara," terangnya.

Rakyat Malaysia katanya, bersama dengan dunia, berasa girang melihat pemergian penzalim Mubarak dan kemenangan rakyat Mesir.

"Sekarang, kita mengalu-alukan hari yang cemerlang apabila rakyat Malaysia mengakhiri pemerintahan membazir, lembap dan menindas BN dan pemimpinnya Najib.

"Pemerintahan BN yang mencerminkan pemerintahan Mubarak ke atas Mesir, mesti berakhir. Untuk kebaikan negara, BN perlu disingkirkan," ujar beliau. -FMT


UMNO Senawang Tak Hormati Titah Agong, Sebar Risalah Untuk Wujudkan Ketegangan Kaum
Posted: 10 Mar 2011 02:55 AM PST
S
eremban - Pebuatan keji UMNO Cawangan Taman Rasa Sayang Umno di Senawang dalam bahagian Rembau mengedarkan risalah yang menimbulkan ketegangan di antara bangsa Melayu dan Cina menyebabkan Pakatan Rakyat membuat laporan polis di sini.
Setiausaha PKR Rembau, Norazizi Abdul Aziz, menyatakan risalah lapan halaman yang dilampirkan di minit mesyuarat UMNO Bahagian itu mengandungi perkataan dan gambar berunsur hasutan meruju kepada pemimpin-pemimpin PR.
"Kandungan dokumen itu, bertarikh 5 Mac, jelas berbaur hasutan dan bertujuan untuk menimbulkan ketegangan kaum diantara bangsa Melayu dan Cina di dalam Pakatan," jelas Norazizi selepas membuat laporan polis di balai polis daerah di sini.

Bertajuk "Pendedahan Untuk Kesedaran" meletakan gambar Penasihat DAP, Lim Kit Siang dengan tajuk kecilnya berbunyi : "DAP Anti Islam" dan perkataan-perkataan "Ketuanan Rakyat" (yang diperjuangkan Pakatan Rakyat) ditukar menjadi "Ketuanan Cina".


Satu lagi gambar memaparkan Kit Siang sedang menyampaikan ucapan dan tajuknya ditulis: "Kita hapuskan hak Melayu, kita tolak Islam! Mari bersama kami, PAS, PKR dan DAP"

Ketua Umum PKR, Anwar Ibrahim digambarkan sebagai Penipu No 1 dan dicopkan sebagai Pengkhinat Bangsa, Agama Dan Negara.

Menteri Besar Kelantan yang juga Mursyidul Am PAS, Nik Aziz tidak terkecuali dengan tindakan mereka.

Satu karikatur menunjukkan Ahli Parlimen Taiping dan bekas exco Perak Nga Kor Ming sebagai imam sedang mengetuai solat dengan Nik Aziz dan Anwar di belakang Kor Ming.

Gambar sejadah-sejadah yang digunakan mempunyai logo DAP di atasnya. Nik Aziz dan Anwar di lukiskan dengan sejadah dari logo parti masing-masing.

Yang Dipertua PAS Kawasan Rembau, Mohd Taufek Abdul Ghani, menyelar tindakan Umno kerana tidak menghormati ucapan DYMM Yang Dipertuan Agong sewaktu membuka sesi parlimen Isnin lepas. Yang di-Pertuan Agong Tuanku Mizan Zainal Abidin bertitah Seri Paduka Baginda memandang berat kecenderungan pihak-pihak tertentu membangkitkan isu sensitif dan berbaur perkauman serta mempolitikkan perkara yang tidak sepatutnya.

Mohd Taufek meminta Umno tidak menggunakan taktik murahan dan merbahaya untuk memecah-belahkan kaum.

Mesyuarat Umno tersebut dirasmikan oleh Menteri Besar Negeri Sembilan yang juga Ketua UMNO Bahagian Rembau.


Of Press Conferences, Police Reports And Final Victory
Posted: 10 Mar 2011 02:29 AM PST
LATEST: Disabled hawker received her license this morning from MBPJ!

WHAT an unbelievably action-packed seven days it was last week! It was also a goldmine of learning experiences not only for me but for all the people involved.
Recall the incident of the five hawkers – one of them in a wheelchair – in the Taman Megah market in Petaling
Najib spent five sen to spam 1.25 million Malaysians with Salam 1Malaysia!
Posted: 10 Mar 2011 06:00 AM PST
Thursday, 10 March 2011 10:05
KUALA LUMPUR - DAP's Teresa Kok is demanding Prime Minister Najib Tun Razak to explain the sum of RM63,000 paid for the "Salam 1Malaysia" sent to 1.25 million Malaysians at the cost of 5 sen per email address.
"I am stunned to learn that Prime Minister Najib Razak wasted RM63,000 of taxpayers' money to spam 1.25 million Malaysians with one same "Salam 1Malaysia" email at the jaw dropping cost of 5 sen per email address." Kok said in a statement issued yesterday.
"In the Prime Minister's Office written reply to MP for Batu Gajah yesterday, 'Ucapan peribadi YAB Perdana Menteri telah dihantar kepada sejuta dua ratus lima (1,255,528) penerima rakyat Malaysia… Kos yang dikenakan adalah berjumlah Ringgit Malaysia Lima sen (RM0.05) setiap satu email.'" she continued.
"For all his purported use of Twitter and Facebook, Najib is neither IT-savvy nor cost-savvy. If he was, he would have recognised the insanity of paying the exorbitant price of 5 sen per email when the cost of sending email is negligible. " she continued.
Kok further added that the cost of email transmission does not multiply with every email address added.
The Seputeh MP slammed Najib for the senseless spending and reminded him that the hard-earned money of Malaysian taxpayers is intended for public services which has to be managed prudently to serve all Malaysians.
The gutsy lady further questioned the company that was offered the "Salam 1Malaysia" project as there was no open tender process.
"Upon clicking on the URL of the "Unsubscribe" link in the said email, it appears that Najib awarded to contract to Lyris, Inc, a marketing technology company based in California, USA instead of any Malaysian company." she disclosed.
"I encourage all right-thinking Malaysians to click "Unsubscribe" on Najib's unsolicited "Salam 1 Malaysia" mailing list to save our taxpayers' money and to send a strong message of protest against the excessive spending on his trite, hollow and insincere 1Malaysia message." she said.
---
I really wonder why I did not receive Najib's 'Salam 1Malaysia' spam email but I am glad I did not receive yet another annoying spam. Also, I don't wish to receive anything associated with a 'murderer' Prime Minister. Seeing his face in Facebook already makes me want to puke!
Sadly, my wife was one of the recipients. Click here to read 'My wife received unsolicited email from Najib Razak and family. Najib spam!'.
media statement by CFM re: detained bibles
Posted: 10 Mar 2011 01:24 AM PST
CHRISTIAN FEDERATION OF MALAYSIA
(PERSEKUTUAN KRISTIAN MALAYSIA)
Address: 10, Jalan 11/9, Section 11, 46200 Petaling Jaya, Selangor Darul Ehsan, Malaysia
Telephone: (03) 7957 1278, (03) 7957 1463, Fax: (03) 7957 1457
Email: cfmsia@yahoo.co.uk
10 March 2011
MEDIA STATEMENT BY CFM
DETENTION OF BAHASA MALAYSIA BIBLES YET AGAIN
The Christian Federation of Malaysia (CFM) is greatly disillusioned, fed-up and angered by the repeated detention of Bibles written in our national language, Bahasa Malaysia. This time yet again at the Port of Kuching in Sarawak.
30,000 copies of the "Perjanjian Baru, Mazmur dan Amsal" i.e. the "New Testament, Psalms and Proverbs" are currently being withheld.
This is notwithstanding that the Government in its attempt to to justify its position against the use of the word "Allah" in the Alkitab, the Government had given the assurance that the Bible in Bahasa Malaysia, will be freely available, at least in Sabah and Sarawak.
Since March 2009, all attempts to import the Bible in Bahasa Malaysia, i.e. the Alkitab, whether through Port Klang or the Port of Kuching, have been thwarted.
The previous consignment of 5,000 copies of the Alkitab imported in March 2009 is still being held by the Ministry of Home Affairs in Port Klang. This is despite repeated appeals which resulted in the Prime Minister making a decision to release the Alkitab held in Port Klang in December 2009 which was reported to CFM leaders by several Cabinet Ministers and their aides.
In absolute disregard of this decision, the 5,000 copies of the Alkitab remain detained. The Prime Minister when told about the continued detention of these 5,000 Bibles at a hi-tea event last Christmas expressed surprise that the order to release the same held in Port Klang had not been implemented. However, nothing has been done by the authorities to ensure their release.
Prior to March 2009, there were several incidents where shipments of the Bible in Bahasa Malaysia were detained. Each time tedious steps had to be taken to secure their release. It would appear as if the authorities are waging a continuous, surreptitious and systematic programme against Christians in Malaysia to deny them access to the Bible in Bahasa Malaysia.
Malaysian Christians, many of whom have grown up with Bahasa Malaysia as their principal medium of communication as a result of the Government's education policies, must have access to Bibles in Bahasa Malaysia in order to read, comprehend and practise their faith.
The freedom of religion guaranteed as part of the fundamental liberties under our Federal Constitution is rendered meaningless if adherents to a religion are denied access to their religious texts in a language that they can understand.
It is an affront to them that they are being deprived of their sacred Scriptures. Many are wondering why their Scriptures are considered a threat to national security. All these actions in relation to the detention of the Bibles continue to hurt the Malaysian Christian community.
We would ask how the Government's transformation programme can be successfully implemented if civil servants can blatantly refuse to obey the Prime Minister's order? Is the Government powerless to act against these "little Napoleons" who substitute their own interests and agenda in place of the Prime Minister's directives?
We call upon the Government to act now and prove their sincerity and integrity in dealing with the Malaysian Christian community on this and all other issues which we have been raising with them since the formation of the Christian Federation of Malaysia in 1985.
As an immediate step, we insist upon the immediate release of all Bibles which have been detained.
Bishop Ng Moon Hing Chairman and the Executive Committee,
Christian Federation of Malaysia
Rakyat Tak Perlu Bayar Saman Apabila JPJ & Polis Sendiri Tak Patuh Undang-undang
Posted: 10 Mar 2011 01:30 AM PST
M
ahfuz: Jangan bayar kompaun saman ekor!
Jawatankuasa Kempen Anti Saman Ekor (Kase) menasihatkan mangsa saman ekor agar tidak membayar kompaun yang dikenakan biarpun tempoh promosi pembayaran berakhir hari ini,.
Harakahdaily memetik pengerusi Kase, Datuk Mahfuz Omar yang juga ahli parlimen Pokok Sena berkata, sekiranya selepas ini mereka disenarai hitam, Kase akan membantu untuk berdepan masalah berkenaan di mahkamah.
"Rakyat tidak perlu bayar, yang penting ambil insurans bawa ke JPJ (Jabatan Pengangkutan Jalan) untuk perbaharui cukai jalan, kalau JPJ tak benar, wajib pengarah JPJ kena bagi jawapan bertulis, kenapa.

"Kemudian bawa insurans dan surat itu, kalau polis tahan, biar dia saman, kita lawan di mahkamah," katanya ketika ditemui selepas membangkitkan perkara itu di parlimen semalam.

Tambahnya, keputusan sama ada seseorang itu bersalah dan perlu membayar kompaun hanya ditentukan mahkamah, dan bukan oleh notis saman yang dikeluarkan.

Menurutnya lagi, tindakan JPJ menyenarai hitam pesalah saman ekor adalah salah mengikut keputusan Mahkamah Kucing dalam kes Leonad Lim Yaw Chiang melawan Pengarah JPJ negeri Sarawak pada 2007.

Dalam kes itu hakim memutuskan bahawa tindakan JPJ menyenarai hitam mengikut Seksyen 17(1)(d) adalah tidak betul dan bertentangan dengan Perkara 13 Perlembagaan Persekutuan.

"Kita minta Peguam Negara nasihat JPJ supaya akur keputusan mahkamah iaitu tak boleh blacklist.

"Rakyat tidak boleh dipaksa membayar kompaun yang ditawarkan," katanya.

2 Mac lalu kerajaan bersetuju melanjutkan tempoh pemberian diskaun 50 peratus bagi pembayaran saman trafik bermula 1 Mac sehingga 10 Mac ini.

Menteri Dalam Negeri Datuk Seri Hishammuddin Hussein mendakwa keputusan itu dibuat selepas mengambil kira rintihan orang ramai yang ingin menjelaskan saman itu tetapi tidak dapat berbuat demikian berikutan masalah sistem tergendala serta kesesakan di kaunter untuk membuat pembayaran.

Namun mengikut perangkaan, hanya kira-kira empat peratus atau 700,000 daripada kira-kira 17.3 juta saman telah dibayar.

Ulasan GB

GB sudah menyatakan sebelum ini, bawa berjuta-juta rakyat yang tak bayar saman ekor ke mahkamah kerana mahkamah yang berhak menentukan samada tindakan polis berkenaan betul atau salah.

Kita perlu hentikan salahlaku pihak polis dan JPJ yang menyenaraihitam pemandu kerana mahkamah telah membuat keputusan di dalam kes Leonard Lim Yaw Chiang lwn Director of Jabatan Pengangkutan Jalan Negeri Sarawak & Anor [2009] 6 CLJ 280 yang telah memutuskan bahawa tindakan JPJ menghalang pemilik kenderaan memperbaharui cukai jalan di bawah Seksyen 17(1)(d) Akta Pengangkutan Jalan 1987 (APJ 1987) tanpa siasatan dan alasan yang wajar adalah salah di sisi undang-undang dan bertentangan dengan Perkara 13 Perlembagaan Malaysia.

Oil & The Turbulent Middle East
Posted: 10 Mar 2011 01:04 AM PST
Posted: 10 Mar 2011 12:51 AM PST
I have twittered about this and it is my current FB status. Exploitation! No, I didn't get exploited I just freaking forgot the word. For whole 15 minutes trying to remember it, all that came across my mine was HOW FARKING STUPID CAN I BE?
Seriously! I feel like I am getting dumber and dumber everyday… Grasp on English for instance, should be improving as time goes by, provided the language is being used frequently.  I talk to English speaking people everyday too but I think I am becoming more apek –apek makcik-makcik jual sayur kat pasar tani everyday… I write so horribly (as you can read NOW).. I feel so dumb!
If one would engage on a intellectual conversation with me these days I am sure he/she would find me as a complete bimbo that suffers amnesia or something.
Dammit la… I need to read more la.. and write better la.. and farking stop using "lah" in English sentences… ughhh
But how can I read??? I don't have time for that!!  Angry Bird Seasons : The St. Patricks's Day Edition is available for download now… I have to playyyy… I just gottaaaaa…. Oinkk oinkkkkkk
Oinkkk oinkkkk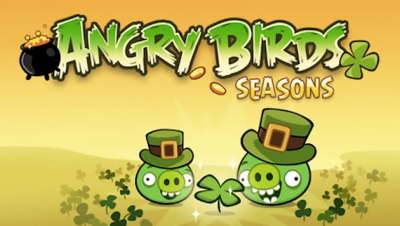 15 new green levels suckers! Azliza @EjamAris, see who can complete them first!!