---
A Wet Thai Cafe Bandar Puteri Puchong
Posted: 22 Mar 2011 09:00 AM PDT
Day before
My friend text me...
Text --> Hey wana hv din wt .... 6:30pm 2moro at Bandar Puteri?
I accept the invitation but not sure where were we going... only know somewhere in Puchong.
On the Day
I had made an appointment and went for my hairdo @ Shawn Cutler, Bangsar. Didn't get my friend's text regarding the dinner venue. So i text him. He replied...
Text --> A Wet Thai Restaurant, b puteri. It is in google.
To my disappointment, I could not find the A Wet Thai Cafe in Bandar Puteri in the Google Map. The result shown Cheras. Later, i went into some food blog and found the full address. Type it to the Google Map and found the exact location.
The timing was so perfect. I reached there same time as my friend as i saw them while they are in the carpark. We sat down and my friend started the ordering... I was glad that i don't need to order. Few minutes later we were done with the order.
So any idea what we have ordered?...
The whole table was full of food but the amount was just nice for 4 person.
Pineapple fried Rice, Paku Pakis, Tom Yam, Green Curry Chicken
Yummy Pork Neck dish
fish wrap with salt and bbq
Water Chestnut dessert
So now, are you hungry now?
lodging police report over the desecration of our holy books
Posted: 22 Mar 2011 10:10 AM PDT
a colleauge of mine, stanley, had organised a mass police report for today. this is his message:
———————
In regards to the defacement of the bible (Al-Kitab) by the Home Ministry of Malaysia, police reports will be lodged in Penang, Kuala Lumpur, Ipoh, Johor, Sarawak and Kedah tomorrow (Wed 23/3) at 3pm against the Government of Malaysia. The government has disrespected our holy bibles and have committed a crime against religion.
In Penang (Pulau Pinang), 20 people will be lodging the report in the Petani road police station and a official press conference will be held at 4pm at the police station
All members from the press are invited to cover this issue.
Youths For Justice and Peace Movement
———————
anyone who are free, do come and join us, ya.
btw, first the govt. defaced the bible with a lengthy chop, as i
blog here
; now the govt. suddenly
backs down…
and… horror! further defacement! why?
The Najib administration relented today to demands from the Church not to attach serial numbers to impounded Malay-language Bibles as it prepares itself to face a Christian-majority electorate in Sarawak in the coming state polls.don't be too happy! here's WHY:

It also promised that all future shipments of such holy books written in the national language would be released as long as they sported the words "For Christianity" in the Arial font, size 16, either printed at source or stamped at the receiving port.
don't be too happy! here's WHY:
For the consignment of 35,100 Alkitabs still held in Port Klang and Kuching Port, the administration said it was willing to provide "stickers" to cover the present stamps and serial numbers already marked on the books.
can you believe that? the bible with a stamp on it, then over the stamp, a sticker on it!! ya allah! i'm not appease at all. in fact, i felt more outrage. methink it's better for the importers not to collect the bibles at all. just leave the bibles there.  however, to get new bibles, why i wonder, 'christian donors' have to pay for them. who are these so called christian donors? why can't the govt. pay for the new bibles as after all it was the stupid govt who stamped the bibles.
then the govt. decided to stamp 'for christianity only' on the bibles (not forgetting specify the font and size too!). huh? if you are so scared of your own muslim fellows reading the bible and suddenly feel the urge to convert to christianity, then stamp 'not for muslim' lah!!  many non christians (even those moderate general muslim) don't mind reading the bible.  when you stamped 'for christianity' it means you are restricting our faith. so i was right after all, eh, when beginning many years back, i had been saying there's no freedom of religious practise in malaysia!
gosh, i don't want to talk further as i'm getting pretty stressed up just talking about it (after yesterday getting headache reading so much about sex). i'm going to leave you with this one very good letter from ng kam weng. do read! he explained why defacement of the bible is desecration.
DAP v Human Values In Sarawak Elections
Posted: 22 Mar 2011 09:00 AM PDT
The following post has been taken from The Owl blog. Please click on the title to read the post in its original site:

We have just read the latest posting on http://petpositive.blogspot.com/ . We understand their grief, and we share their pain.

We are less than impressed with Mr.Kulasegaran's tepid, weak comments on the issue as reported by the Malaysia Chronicle. 

Mr.Kulasegaran appeared
Ada Yang Bertanya, Siapa Pengganti Anwar Sebagai Ketua PR?
Posted: 22 Mar 2011 09:41 AM PDT
K
esahihan video seks baru dipertikai, tapi suram imej Pakatan
Kemunculan video seks baru mendakwa Datuk Seri Anwar Ibrahim mendapatkan khidmat seks di sebuah hotel dilihat akan menyuramkan kerjaya politik Ketua Umum Pakatan Rakyat itu, malah diramal merumitkan lagi kempen pilihan raya mereka di Sarawak dan usaha memulihkan populariti yang makin merosot.
Pilihan raya negeri Sarawak dijangka diadakan pertengahan bulan depan selepas ia dibubarkan semalam.
Rakaman video itu, yang didakwa dirakam 21 Februari lalu, juga didedahkan semalam.

Penganalis politik berpendapat sementara dakwaan itu belum dibuktikan benas manakala kesahihan pula masih samar-samar, pendedahan rakaman video berkenaan dalam dunia siber sudah pasti akan mencacatkan imej Anwar.

Malah perkembangan itu akan meletakkan perikatan tersebut kekurangan calon perdana menteri.

"Ia kemungkinan menjejaskan fokus Pakatan, jika kepimpinan (perikatan itu) tidak berfokus... ia akan memberi kesan ke atas keberkesanan persediaan Pakatan menghadapi pilihan raya negeri. Daripada menghadapi isu-isu kempen pilihan raya, mereka akan dipaksa mengatasi isu-isu berkaitan dengan hal ehwal peribadi," kata penganalisis bebas Ibrahim Suffian kepada The Malaysian Insider.

Pengarah Eksekutif Merdeka Center ini berkata persepsi orang ramai terhadap imej Anwar sebagai pemimpin bergantung sama ada video seks akan didedahkan kepada umum.

Bagaimanapun beliau mengingatkan bahawa Anwar berhadapan dengan situasi rugi dalam apa jua kemungkinan kelak.

"Dalam banyak keadaan, ia adalah situasi rugi bagi (Anwar). Jika publik akses kepada (rakaman video), dan jika mereka dipujuk bahawa beliau adalah lelaki (dalam rakaman), ia sesuatu yang malang bagi diri beliau.

"Jika mereka tidak percaya yang dia (lelaki itu) bukan beliau, peluang bagi Anwar keluar (daripada isu) ini tanpa sebarang kesan buruk sangat kecil," kata Ibrahim.

Anwar kini berhadapan dengan kes liwat kedua dan keputusannya selepas pendakwa selesai membentangkan kes mereka akan diketahui esok.

"Kadangkala terlalu banyak serangan juga tidak baik," kata Ibrahim.

Pemimpin-pemimpin Pakatan Rakyat mempertahankan lelaki dalam rakaman itu bukan Anwar.

Malah, Anwar juga menafikan dakwaan terbaru tersebut semalam.

Penganalisis politik dari USM Prof Madya Dr Sivamurugan Pandian juga bersetuju dengan pandangan Ibrahim sambil menegaskan dakwaan

skandal terbaru ini boleh menjejaskan pengundi-pengundi atas pagar

.

"Perkara terakhir Pakatan perlu lakukan ialah menghadapi perkara ini khususnya soal waktu (isu ini didedahkan).

"Anwar adalah kapten yang menghubungkan kedua-dua PAS dan DAP, tetapi beliau kelihatan satu liabiliti memandangkan beliau berhadapan dengan siri krisis yang akan memberi kesan ke atas Pakatan," kata beliau ketika dihubungi.

"Malah isunya sama ada PAS dan DAP mahu menyokong penuh Anwar sekarang," tambah Sivamurugan.

Menurut beliau, PKR kini perlu fikir kemungkinan pengganti kepada Anwar tetapi masalahnya ialah mencari calon yang boleh memenuhi 'citarasa' kedua-dua PAS dan DAP.

"Siapa yang mereka boleh terima? Anda tidak boleh memiliki (Penasihat DAP Lim) Kit Siang atau (Presiden PAS Datuk Seri Abdul) Hadi (Awang) sebagai ketua Pakatan Rakyat... dan Azmin juga ada isu.

"Persoalan sekarang ialah

siapa yang boleh mengambil alih apabila Anwar bukan lagi duduk di atas?

Ingat, rakyat mahu tahu siapa yang akan menjadi kepercayaan Pakatan dalam era pasca-Anwar," katanya lagi. -TMI

Ulasan GB

Mungkin ada kebenarannya tentang ulasan penganalisis di atas.

Anwar telah diserang untuk dihancurkan sehancur-hancurnya personaliti beliau agar fokus Pakatan Rakyat untuk memperkukuhkan parti terhalang.

Di dalam beberapa siri PRK yang GB pernah hadiri, di dalam beberapa program ceramah Pakatan Rakyat, kebanyakan serangan ditumpukan kepada program ceramah Anwar, dan kurang kepada ceramah-ceramah pemimpin PR yang lain.

Kekacauan, kekecohan dan provokasi juga kebanyakannya dilakukan semasa program Anwar diadakan.

Semacam ada "pihak tertentu" yang mengekori Anwar ke mana saja Anwar pergi dan di mana saja Anwar berada.

Ceramah BN yang semakin mendapat "crowd" sekitar 50 orang ialah kerana wujudnya pesonaliti-personaliti yang menyerang Anwar seperti Ummi Hafilda dan lain-lain, jika tidak ceramah-ceramah BN lengang dan hanya berlegar di sekitar 20-30 orang.

GB akui memang benar bahawa KESAN yang ada ialah ke atas pengundi atas pagar. Iaitu mereka yang tidak mengikuti perkembangan politik secara konsisten, tak tahu hujung pangkal, tetapi seumpama burung hinggap sekali sekala dan bergantung kepada berita kontemporari tak kira dari siapa.

Keputusan di PRK Kerdau dan Merlimau menjelaskan hal tersebut.

Pakatan Rakyat amat perlu beri perhatian terhadap hal ini.

Kedua tentang siapa pengganti Anwar jika Anwar terpaksa berundur atau diundurkan?

Menarik persoalan itu.

Kata penganalisis itu,

"Siapa yang mereka boleh terima? Anda tidak boleh memiliki (Penasihat DAP Lim) Kit Siang atau (Presiden PAS Datuk Seri Abdul) Hadi (Awang) sebagai ketua Pakatan Rakyat... dan Azmin juga ada isu.

"Persoalan sekarang ialah

siapa yang boleh mengambil alih apabila Anwar bukan lagi duduk di atas?

Ingat, rakyat mahu tahu siapa yang akan menjadi kepercayaan Pakatan dalam era pasca-Anwar," katanya lagi.

GB senyum sahaja kerana soalan itu tidak berapa relevan untuk dijawab.

Tetapi, jika nak tahu juga, siapakah yang layak, "pengganti itu" sebenarnya sudah pun menunggu di Parlimen. Dikirimkan Tuhan ke sana sejurus sahaja negerinya dirampas secara biadab oleh seorang manusia yang rakus kuasa.

Seandainya berlaku apa-apa ke atas Anwar, pengganti Anwar itu, yang juga dibenci oleh UMNO dan sekutunya, tetapi sentiasa bertapak di hati rakyat jelata seluruh negara tak kira bangsa, akan mengambil tempatnya.

Anda telah tahu siapa yang GB maksudkan.

Homemade Food Is The Best! Attn: Shanana
Posted: 22 Mar 2011 07:57 AM PDT
This entry is dedicated to my sister Shananananaaaa who is currently in Germany and eating bread everyday. Haha. Kesian this girl… How can a Penang girl lives without Char Kuey Teow? It's ok Shanaz, I just want you to know that I can cook several dishes very-very well and although I don't make Char Kuey Teow…
I can make the best asam pedas:-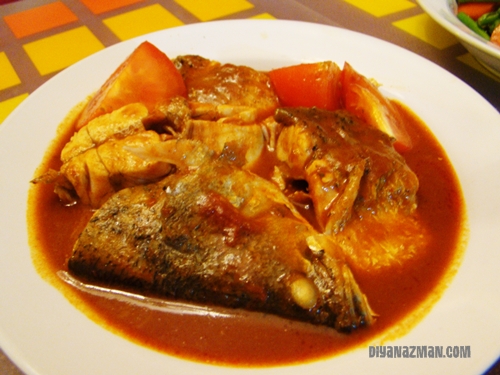 Asam pedas ikan siakap with tomatoes.  As you know siakap's flesh is so soft and sweet and so yummy… Coupled with asparagus goreng (alamak tak tangkap gambar lak)…Sungguh best Shanaz oi!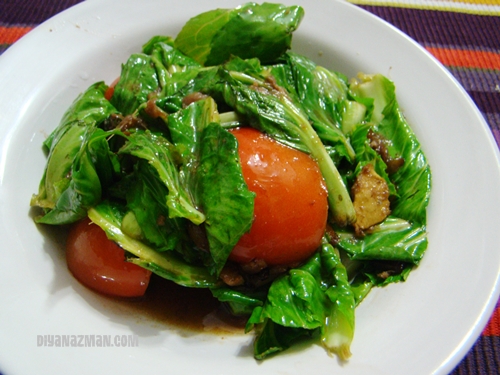 Ni pulak kailan ikan masin… The kailan was very fresh, I cooked it immediately after I bought it from the pasar malam. I used the bottled ikan tenggiri masin yang bila masak dia jadi hancur-hancur sikit tu… So when it was mixed together in the wok, sungguh sebati walauwwweiii… Kat German ada tak ikan masin Shanassss??? hehehhehe
Oh ini lunch last weekend, best ooo Shanass…… That's chicken curry (nyonya style), roasted lamb shoulders and mixed vegetables. Hang tau dak Shanass.. aku masak sayoq tu buh KICAP MANIS CAP KIPAS UDANG sikit weiii.. Best giler..
Sat ni aku pos kat hang kicap sebotoi naa… hahaha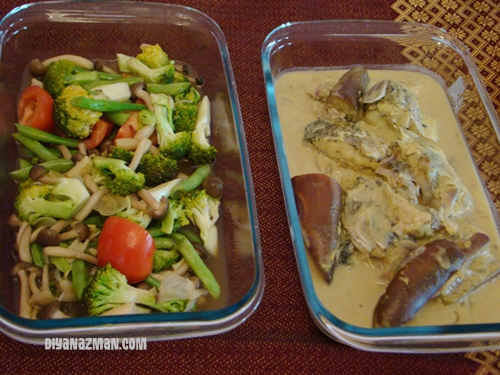 OK last pic. That's ikan siakap again this time Masak Lemak Cili Padi pulak. Served with mixed vege.
So Shananana, sok hang balik aku masak kat hang OK… janji hang bawak balik handbag and jam Cuckoo Clock kat aku satu.. haha… Enjoy!
Pemberontak Libya Hanya Inginkan Qaddafi Berundur, Bukan Dibunuh
Posted: 22 Mar 2011 07:47 AM PDT
P
aris - Utusan kubu pembangkang Libya menyatakan, mereka hanya menghendaki pimpinan Libya, Moammar Qaddafi berundur dan diadili, bukan memburunya untuk dibunuh. Ali Zeidan, utusan Libyan National Transitional Council untuk Eropah, menyatakan hal itu dalam wawancara eksklusif dengan The Associated Press tentang campurtangan Britain, Perancis, dan Amerika Syarikat atas negaranya.
Menurutnya, pihak mereka menghargai keputusan Majlis Keselamatan PBB, namun menolak campur tangan terlalu mendalam dari negara asing atas negaranya. "Kami akan membuat penghakiman dengan Qaddafi sendiri, tanpa campur tangan asing," katanya.
Zeidan, yang kini berada di Munich, telah menyatakan hal itu dalam pertemuannya dengan para pejabat Perancis. Presiden Perancis, Nicolas Sarkozy, menyatakan sebelumnya, pihaknya ada di balik pembangkang Libya.

Para pejabat Amerika Syarikat menyatakan tujuan ketenteraan mereka dari matlamat rejim Qaddafi diakhiri. Jenderal Angkatan Darat, Carter Ham, yang menjadi komandan pasukan AS mengatakan ada kemungkinan Qaddafi berhasil mempertahankan kekuasaan.

Ini bukan kali pertama AS mensasarkan pemimpin yang telah memerintah negara di Afrika Utara itu selama 42 tahun. Tahun 1986, Qaddafi pernah menjadi sasaran serangan udara AS.

Dalam lawatanannya di Chile, Obama mengatakan Qaddafi bukan target misi ketenteraan AS. Kombinasi dari langkah-langkah lain termasuk Amerika sekatan PBB yang dirancang untuk meminggirkan pemimpin Libya adalah pendekatan yang tepat untuk mempercepat kejatuhannya, Obama mengatakan, resolusi Majlis Keselamatan PBB mengesahkan tindakan ketenteraan tidak mengubah rejim sekatan. "Kami akan tetap berpegang pada mandat itu," kata Obama.


So What's the Difference between the Two Videos?
Posted: 22 Mar 2011 07:27 AM PDT
Cyberspace is all abuzz with the latest controversial video allegedly showing Datuk Seri Anwar Ibrahim having sex with a Chinese prostitute. You can read about it
HERE
. More then three years ago, On January 1, 2008, Chua Soi Lek, the then Health Minister admitted that he was the person featured in a sensational sex DVD that was widely being circulated in Johor. The two DVDs were distributed anonymously in Muar and other towns in Johor show Dr Chua having sex with a young woman, described by him as a "personal friend." The DVDs are believed to be wireless hidden camera recordings in a hotel suite. You can read more
HERE
.
In this post, I want to highlight some similarities and startling differences between the two cases.
Similarities
1. Both video recordings used
FOUR HIDDEN CAMERAS
!
According to
Asia Sentinel,
Chua Soi Lek, the current president of the Malaysian Chinese Association, was caught on film from
four cameras in a hotel room
with a woman, allegedly by opponents within the MCA. He was forced to resign from office, but made a comeback and was named to head the ethnic Chinese party.
According to
The Star
, Datuk T said he found
four well-hidden CCTV cameras
behind the dresser.
2. Both video recordings were in
BLACK AND WHITE.
Check
HERE
for the statement on the new video and
HERE
for CSL's video.
3. Both videos had the protagonists in various compromising positions (according to various online sites).
Asia Sentinel
said that in the one that surfaced yesterday, the couple were involved in the so-called "advanced lotus" sexual position.
I need not elaborate on what transpired in the CSL video.
4. Both videos were filmed with the same motive - to bring down the 'star' of the show.
Differences
1. With regards to the CSL videos, the Batu Pahat magistrate's court yesterday sentenced three persons to jail and hefty fines for possessing and reproducing the sex DVD of former Health Minister, Datuk Seri Dr. Chua Soi Lek. Read more
HERE.
For the video that surfaced yesterday, The Malaysian Insider reported
HERE
that:
Datuk Seri Nazri Aziz said today that the screening of the sex video allegedly showing Datuk Seri Anwar Ibrahim having sex with a Chinese prostitute may not have been illegal despite laws barring pornography.


"It depends on what the purpose is. They wanted to show proof that Anwar had sex with this woman, not to make a pornographic video," said the minister in the prime minister's department.
Hours later, The Malaysian Insider carried another report
HERE
which said:
Minister in the Prime Minister's Department Datuk Seri Mohamed Nazri Abdul Aziz today denied a claim that a sex video recording linked to an opposition leader was shown to several Barisan Nasional (BN) members of Parliament at the MPs' lounge yesterday.


"I think that was misreported. People were searching for the video yesterday but nobody saw it. Even until 9.30 last night, they (MPs) couldn't get it.


"And it is not correct to say only BN MPs. There were other MPs too. That report was totally wrong," Nazri (picture) said when asked to comment on yesterday's news portal (The Malaysian Insider) report.


The report said the sex video recording was watched on a staff laptop by several government backbenchers in the MPs' lounge in Parliament building yesterday, hours after media representatives watched it the morning.
Obviously, the only way to verify if indeed the MPs were watching the videos would be to check the cctv recordings of the lobby area. Then the truth will be revealed once and for all.
How is it possible that a person can change tune so quickly? One moment it is NOT illegal to view the videos and then later...the viewing did not take place. I wonder if some of us are in a different realm of existence.
2. Another difference is the reaction of BN towards both video clips. I need not elaborate cos it is glaringly and startlingly different.
3. A third difference is that one admitted being in the video and the other who is alleged to be in the video has vehemently denied.
Public reaction towards both videos is both interesting and different in treatment and tone. For CSL, he resigned from all public and political offices on January 2, 2008 but made a comeback in 2009 whereby he was reinstated as a member and deputy president of MCA.
What about Anwar? The persecution of Anwar started in 1998 and has not stopped, in fact, some may say his enemies are in overdrive to bulldoze him to ground zero politically.
4. Fourthly, in CSL's video, public outcry was mainly on the morality issue whereas in the new video, it is an entrapment issue.
5. CSL's video was easily available on the net and at pasar malam stalls BUT in the new development, Malaysian Digest reported that 'Datuk T' has refused to hand the video to police and Anwar. Malaysiakini provided an indepth first hand account HERE that outlined the bizarre top secret type of screening that went on in the press conference.
Many of us are in head-shaking mode and wondering how low some can go to resort to gutter politics.
The fact that they keep zeroing on DSAI means that despite the ailing support for PKR, DSAI is possibly still perceived as a threat to some.
When the going gets tough, the tough gets going. This is no time to point fingers at anyone. What we need is HARD EVIDENCE before any judgement is made.
Yet, I am still quite horrified that old plots are being played again to the hilt.
I just hope that all concerned will stop focusing on this issue. And yes, this is my last post on this topic. Let's go back to the brass tags of gearing up for the next election and not be dragged down to grovel in gutter politics.
The chain of events really prove beyond the shadow of any doubt that WE NEED TO SEE A CHANGE IN OUR COUNTRY.
And you and I can and must make that difference!
Together, we can and we will!!
Now everyone can possess porn stuff - Sex tape screening legit, says Nazri
Posted: 22 Mar 2011 08:21 AM PDT
By Shannon Teoh
March 22, 2011
Nazri: These individuals have committed all forms of crime — criminal defamation, intimidation, and the viewing of pornography in public.
KUALA LUMPUR, March 22 — Datuk Seri Nazri Aziz said today that the screening of the sex video allegedly showing Datuk Seri Anwar Ibrahim having sex with a Chinese prostitute may not have been illegal despite laws barring pornography.
"It depends on what the purpose is. They wanted to show proof that Anwar had sex with this woman, not to make a pornographic video," said the minister in the prime minister's department.
The de facto law minister said that "if they were screening it to reporters with the intention to have witnesses, or to have on record people who can corroborate what they say, then it is not against the law."
Opposition leader Anwar had lodged a police report earlier today and told reporters later that Prime Minister Datuk Seri Najib Razak and Home Minister Datuk Seri Hishammuddin Hussein were involved in what he says was a an attack on him and Pakatan Rakyat (PR).
"These individuals have committed all forms of crime — criminal defamation, intimidation, and the viewing of pornography in public.
"My proof of high-level involvement is that why no action was taken by the police on this? How can porn be displayed publicly? It's protection by the police," he said.
Section 292(a) of the Penal Code prohibits the production, sale, rental, distribution and public circulation of any obscene book, pamphlet, paper, drawing, painting, representation or object.
Nazri had also pointed out that the screening was not for money or commercial purposes.
"If you are collecting money and have a show without a licence, then it's an illegal blue movie. We all know that the intention is to report to the police and he just wanted to have witnesses," the Padang Rengas MP said.
Anwar yesterday denied that he was the man in the video after the video was screened to selected journalists by a shadowy figure who only identified himself as "Datuk T".
"Datuk T" had said that the video was taken from closed-circuit television camera recordings found in a hotel room in Kuala Lumpur.
Free Malaysia Today reported:
Act immediately against 'Datuk T', police told
The police must arrest 'Datuk T' immediately and take stern action against him for his public screening of a pornographic video recording, said DAP national chairperson Karpal Singh.
Karpal said the screening of the video, purportedly depicting PKR
de facto
leader Anwar Ibrahim having sex with an unidentified woman in Kuala Lumpur hotel room on Feb 21, clearly violates the laws of the country, 
In a statement today, Karpal said he was in left in a state of shock upon learning that police had yet to take any action to arrest 'Datuk T' following the 'public viewing' of the pornographic video clip.
"The police ought to have sprung into action yesterday itself to arrest 'Datuk T'. He has clearly committed offences under Section 5(1) of the Film Censorship Act, 2002 and Section 292 of the Penal Code," Karpal said i
Under Section 5(1) of the Film Censorship Act, a person who has in his possession, control or ownership; or circulates, distributes, displays, produces, sells or hires any film material that is obscene, can be fined up to RM50,000 or jailed up to five years, or both.
Section 292 of the Penal Code punishes a person who sells, hires, distributes or publicly exhibits any obscene or pornographic material with a jail term of up to three years or with a fine, or both.
Posted: 22 Mar 2011 05:32 AM PDT
Video Seks - Kenyataan Datuk T Yang Kantoi
Posted: 22 Mar 2011 06:45 AM PDT
V
ideo seks: Datuk T mahu media, NGO bentuk suruhanjaya tentukan ketulenan
Seorang lelaki yang mempertontonkan video seks kepada media semalam, mendakwa ia membabitkan seorang pemimpin kanan Pakatan Rakyat, hari ini meminta organisasi media dan pertubuhan bukan kerajaan (NGO) agar membentuk sebuah suruhanjaya bagi menentukan ketulenan rakaman tersebut.
Dalam kenyataan media dikeluarkan petang ini, lelaki itu yang masih mengenai dirinya "Datuk T" berkata, oleh kerana Datuk Seri Anwar Ibrahim dan isterinya Datuk Seri Dr Wan Azizah Wan Ismail sendiri tidak berminat untuk menerima salinan rakaman video, maka pihaknya mahu media dan NGO menyiasat ketulenannya.
"Sekarang Datuk Seri Anwar Ibrahim telah membuat laporan polis menafikan bahawa beliau adalah lelaki dalam video seks yang dipertontonkan kepada pengamal-pengamal media pada hari Isnin (semalam), saya menganggap bahawa beliau dan isterinya tidak berminat untuk menerima satu salinan daripada saya Isnin ini (28 Mac)," kata Datuk T dalam kenyataan yang dihantar menerusi e-mel.

"Oleh itu, saya minta pihak media dan NGO dengan segera membentuk sebuah suruhanjaya awam untuk menyiasat ketulenan pita tersebut," katanya lagi.

Jutseru kata Datuk T, suruhanjaya itu boleh mendapatkan khidmat pakar forensik dari mana-mana negara untuk menentukan kesahihan rakaman video seks berkenaan, yang didakwa dirakamkan pada 21 Februari lalu di sebuah hotel di ibu negara.

"Saya akan menyerahkan rakaman asal kepada suruhanjaya itu," katanya lagi.

Katanya, jam tangan jenama Omega yang ditemui di bilik di mana ahli politik tersebut mengadakan hubungan seks dengan pelacur asing juga akan diserahkan kepada suruhanjaya berkenaan.

Dalam kenyataan itu, Datuk T berkata, suruhanjaya yang disyorkan agar dibentuk boleh menghantar jam tangan tersebut kepada pakar forensik untuk menentukan sama ada DNA ditemui sepadan dengan pemimpin tersebut.

"Biar publik dan dunia menjadi hakim," katanya lagi.

Malah kata Datuk T, dia tidak akan menyerahkan rakaman kepada polis atas alasan Anwar akan mengalih tumpuan sambil mendakwa pihak berkuasa itu bersongkol dengan kerajaan jika hasil siasatan tidak memihak kepadanya.

"Oleh itu, saya memutuskan untuk tidak menyerahkan rakaman kepada pihak berkuasa. Saya akan menyerahkan kepada suruhanjaya awam yang terdiri daripada media dan NGO," katanya.

Pagi tadi, Anwar yang juga Ketua Pembangkang membuat laporan polis di ibu pejabat polis daerah Dang Wangi berhubung rakaman video aksi seks yang ditayangkan kepada wartawan di Carcosa Seri Negara semalam.

Dalam laporan yang salinannya diedarkan kepada media itu, Anwar menafikan bahawa dirinya adalah lelaki dalam video itu.

"Ini adalah serangan mengaibkan, melampau dan bermotif politik ke atas karektar serta reputasi saya dan keluarga saya," kata Anwar dalam laporan polis itu.

Laporan polis itu dibuat berikutan dakwaan satu kumpulan yang mendakwa mereka memiliki klip video hitam putih memaparkan aksi seks seorang pemimpin pembangkang dengan seorang wanita yang dikatakan pelacur di sebuah hotel di sini yang menawarkan perkhidmatan seks lewat bulan lalu.

Petang semalam, Anwar menafikan sekeras-kerasnya beliau adalah individu yang didakwa dalam rakaman video seks itu.

Beliau menegaskan penyebaran video seks tersebut adalah satu strategi Barisan Nasional (BN) untuk menjatuhkan imejnya sebagai tokoh pemimpin negara.-TMI

Ulasan GB

Pertama, bagaimana batang tubuh yang memegang video lucah itu mengetahui bahawa ia adalah rakaman asal video berkenaan jika bukan beliau sendiri yang terlibat di dalam menghasilkannya?

Kerana sebelum ini dilaporkan bahawa:

Datuk T memberitahu, pita rakaman itu ditemuinya secara tidak sengaja di bilik hotel tempat didakwa berlakunya hubungan seks ketika dia disuruh oleh pemimpin politik itu mengambil jam tangan Omega yang tertinggal di bilik hotel.

Yang ditemui itu mungkin salinan, mungkin yang telah diubahsuai, mungkin telah mengalami sentuhan perisian komputer, BUKAN RAKAMAN ASAL.

Jelas menunjukkan bahawa ia adalah satu konspirasi yang kantoi.


Kedua, ketulenan pita itu memang diragui kerana dewasa ini CCTV yang murah pun adalah jenis berwarna. Tetapi video lucah yang dipertontonkan itu adalah hitam-putih. Tidak sukar untuk memberi jawapan mengapa rakaman itu sengaja dihitam putihkan oleh para konspirator - iaitu untuk melindung dan memadamkan kesan "superimposed" yang jelas tampak jika ia di dalam keadaan berwarna sekalipun di tahap 8 bits/channel. Malah tahap warna hitam di skala grey scale itupun dipertingkatkan untuk tidak menampakkan sebarang kesan ton warna.

Ketiga: Datuk T berkata:

"Oleh itu, saya memutuskan untuk tidak menyerahkan rakaman kepada pihak berkuasa. Saya akan menyerahkan kepada suruhanjaya awam yang terdiri daripada media dan NGO," katanya.

Besar sangat pangkat DATUK kamu sehingga boleh mengatasi undang-undang dan tidak mahu menyerahkan rakaman kepada pihak berkuasa?

Ini menunjukkan kamu adalah sebahagian dari kumpulan yang melakukan konsprasi itu.

Keempat: Dalam kenyataan itu, Datuk T berkata, suruhanjaya yang disyorkan agar dibentuk boleh menghantar jam tangan tersebut kepada pakar forensik untuk menentukan sama ada DNA ditemui sepadan dengan pemimpin tersebut.

Sekali lagi persoalan DNA ditimbulkan. Saya katakan bahawa jam itu mungkin jam Anwar dan DNA mungkin sepadan tetapi ia tidak menjelaskan apa-apa hubungkait mengenai video seks berkenaan. Kerana anda mungkin sebagai anggota polis SUDAH mempunyai simpanan DNA Anwar yang boleh dicalitkan di mana-mana sepertimana dicalitkan didubur Saiful!

Kelima, kalau kamu anak jantan, kita cabar Datuk T itu usah berselindung. Dedahkan diri kamu siapa jika benar kamu seorang yang disuruh oleh Anwar mengambil jam tangan Omega yang tertinggal di bilik hotel tersebut?

Setakat artikel ini ditulis, Datuk T belum ditahan sedangkan Anwar sudah membuat laporan polis. Semakin jelas kini siapa beliau sebenarnya.

Kami ada Tuhan untuk kami berlindung dan bermohon, (bukan sekadar Suruhanjaya), agar Allah mendedahkan siapa kamu sebenarnya, dan mendedahkan segala konspirasi ini.


Kes video terbaru: Komentar paling menarik
Posted: 22 Mar 2011 05:15 AM PDT
Merungkai Penghasilan Video Panas - Najib, Hishamuddin, Polis, Datuk T
Posted: 21 Mar 2011 06:27 PM PDT
T
eknologi video dan kempen jatuhkan seteru
Sekali imbas, ceritanya memang panas – tetapi tidak masuk akal.
Adakah seorang yang begitu terkenal dan menghadapi pertuduhan liwat akan nekad untuk mendapatkan khidmat seorang pelacur di sebuah hotel di tengah-tengah ibu negara?
Dan, apakah kemungkinan bilik hotel itu pula mempunyai kemudahan rakaman yang begitu canggih sehingga video itu diambil daripada beberapa sudut.
Itulah yang juak-juak Umno dan blogger upahan mahukan rakyat percaya dalam fitnah terbaru terhadap Datuk Seri Anwar Ibrahim.

Dalam percubaan terbaru untuk memusnahkan kredibiliti Ketua Pembangkang berusia 63 tahun itu, seorang yang bergelar "Datuk T" hari ini menyewa kemudahan di Hotel Carcosa yang mempunyai kadar sewa paling mahal di Kuala Lumpur.

Beliau berbuat demikian kononnya untuk membolehkan wartawan menonton video itu sebelum ia dihantar kepada Anwar dan isterinya.

"Datuk T" menggambarkan dirinya sebagai ahli sebuah pertubuhan bukan kerajaan yang mahu menegakkan kebenaran.

Jika itu tujuannya, mengapa tidak diserahkan video itu kepada pihak berkuasa, termasuk Jabatan Agama Islam?

Mengapa tidak terus "melepaskan" video itu untuk disebarkan kepada orang ramai supaya kesahihan video ini dapat dikenal pasti secepat mungkin?

Kenapa harus tunggu seminggu?

Kenapa harus tunggu seminggu atas alasan memberi peluang kepada Anwar berundur secara terhormat?

Jelas tujuan untuk "menyembunyikan' video ini daripada khalayak ramai adalah hanya untuk mendapatkan publisiti maksimum untuk memalukan Anwar, sebelum kesahihan video diperinci oleh golongan profesional.

Bagi mereka yang mengenali selok belok politik Umno dan NGO upahan parti itu, persoalan utama ialah sebagus mana kualiti video fitnah ini. Dalam erti kata lain, apakah teknologi yang digunapakai untuk menghasilkannya.

Pada perbicaraan Anwar yang pertama tahun 1998, pihak pendakwaraya menjanjikan bukti video untuk mensabitkan perlakuan seks Anwar.

Namun akhirnya pihak pendakwaraya sendiri sedar bahawa "video" yang dimaksudkan itu direkacipta dengan kualiti yang begitu buruk dan tidak akan dapat dipertahankan di mahkamah.

Justeru, tidak ada bukti sebegitu ditampilkan, sungguhpun ia dijanjikan.

Sejak itu, teknologi video sudah jauh beranjak ke depan untuk memanfaatkan sesiapa yang bercadang membuat video membabitkan personaliti tertentu.

Kepada mereka yang arif dalam teknologi video, teknik memasang wajah orang tertentu melakukan sesuatu yang haram bukan perkara mustahil, namun ia adalah sesuatu yang boleh dibuktikan menerusi aplikasi teknologi yang ada.

Di tangan polis

Jika Datuk T "ikhlas" menyelamatkan negara, video itu sudah tentu berada di tangan polis, dan Jabatan Agama Islam serta pakar-pakar yang boleh memperakukan kesahihannya.

Sebaliknya tidak. Datuk T akan "menyimpan' video itu untuk seminggu manakala polis dan pihak berkuasa Islam pula tidak menunjukkan sebarang inisiatif untuk menyiasat dakwaan beliau.

Jelas tangan musuh-musuh politik Anwar sekali lagi terserlah dalam satu lagi percubaan untuk mengaibkan beliau dan keluarganya.

Dengan bertindak demikian, seteru-seteru politik Anwar mahu merencat kempen beliau dan Pakatan Rakyat di Sarawak menjelang pilihanraya negeri di situ.

Lawan politik Anwar juga amat mengharapkan "pendedahan" video seks itu akan memberikan nafas baru kepada tuduhan liwat terhadap beliau yang kini terjejas selepas hakim memutuskan polis memperolehi bukti sampel DNA terhadap Anwar secara tidak sah.

Amat mencurigakan apabila Menteri Dalam Negeri Hishamuddin Hussein awal-awal lagi menafikan pembabitan polis dalam video berkenaan.

"Jadi jangan ada spekulasi bahawa polis yang buat (video) ini, saya belum tengok dan mungkin tidak akan tengok," kata beliau.

Hanya Hishamuddin tahu kenapa beliau bingkas menafikan pembabitan polis walhal belum pun ada tuduhan sebegitu dibuat. -mk



Banyak persoalan mengenai video seks

Untuk kali kedua dalam tempoh kira-kira empat tahun, negara digemparkan dengan klip video seks yang didakwa membabitkan ahli politik terkemuka.

Kali ini, video tersebut didedahkan kepada pihak media di sebuah hotel mewah di Kuala Lumpur hari ini.

Manakala majoriti wartawan yang menonton video tersebut hampir pasti identiti ahli politik yang didakwa itu, namun masih banyak persoalan mengenainya.

Siapakah 'Datuk T'?

Orang yang menganjurkan tayangan video tersebut, hanya mahu dikenali sebagai 'Datuk T' dan dia amat berhati-hati untuk mendedahkan lebih banyak lagi tentang dirinya.

Bagaimanapun, yang pasti ialah Datuk T telah dengan teliti merancang pendedahan hari ini dan telah menempah sebuah bilik berharga RM1,350 di hotel mewah Carcosa Seri Negara untuk mendedahkan video tersebut.

Dia sentiasa diiringi dua pengawal peribadi dan enggan mendedahkan apa-apa ketika ditemui, dan hanya mengulangi apa yang dinyatakan dalam kenyataan bertulis kepada media, atau mendedahkan apa kaitannya dengan ahli politik yang didakwa terbabit dalam klip video tersebut. -mk

Najib: Polis tak rakam video seks didakwa libatkan pemimpin Pakatan

KUALA LUMPUR, 21 Mac – Datuk Seri Najib Razak menegaskan pihak polis tidak terlibat dalam kes rakaman video seks – yang didakwa melibatkan seorang pemimpin kanan Pakatan Rakyat – melanggan khidmat seks pelacur di hotel di sini akhir bulan lalu.

Dalam mesej Twitter malam ini, ketika isu terbaru ini hangat dibahaskan dan menarik perhatian ramai, Perdana Menteri berkata beliau mahu mengesahkan apa yang diperkatakan oleh Menteri Dalam Negeri Datuk Seri Hishammuddin Hussein di Bukit Aman tengah hari tadi.

"Saya suka mengesahkan apa yang Datuk Hishammuddin mengatakan bahawa polis tidak terlibat dalam rakaman video seks yang didakwa," kata Najib sekitar pukul 9 malam tadi.

Bagaimanapun Najib tidak menyebut sama ada pihaknya sudah diberi taklimat mengenai kes itu.

Pada sidang media di ibu pejabat PKR petang tadi, Anwar menafikan sekeras-kerasnya beliau adalah individu yang didakwa dalam rakaman video seks, yang mendapatkan khidmat seks pelacur.

Beliau menegaskan penyebaran video seks tersebut adalah satu strategi Barisan Nasional (BN) untuk menjatuhkan imejnya sebagai tokoh pemimpin negara.

"Saya menafikan sekeras-kerasnya, ia berniat jahat dan fitnah, saya nafikan secara keras saya adalah individu dalam video tersebut.

"Saya mengecam konspirasi terbaru untuk memfitnah dan mengaibkan saya serta keluarga, video yang ditayangkan merupakan satu taktik jahat yang dilakukan musuh politik yang berhasrat untuk membantutkan kemaraan Pakatan Rakyat," katanya.

Hishammuddin juga meminta individu yang rasa dirinya "teraniaya" ekoran penyebaran video seks, yang dikaitkan dengan seorang pemimpin kanan Pakatan Rakyat, agar membuat laporan polis.

Beliau berkata tanpa laporan polis, pihaknya tidak boleh melakukan siasatan.

Menurut Hishammuddin, beliau baru hari ini dimaklumkan mengenai video seks tersebut dan tidak mempunyai butiran lanjut mengenainya.

"Sama ada dia daripada pemimpin pembangkang (Pakatan Rakyat) saya tidak tahu, sama ada ia tulen atau palsu saya juga tidak tahu, saya belum tengok dan mungkin tidak akan tengok," katanya.

Naib Presiden Umno itu juga meminta semua pihak agar jangan membuat spekulasi bahawa polis terlibat dalam penyebaran video seks itu. -TMI


Ulasan GB

Ada seperkara yang aneh di dalam kenyataan Najib, bagaimana beliau boleh membela dan mempertahankan polis dengan menyatakan polis tidak terlibat sedangkan siasatan belum dilakukan?

Ia adalah premature untuk Najib berbuat demikian.

Jika demikian, Najib tahu seolah-olah tahu siapa sebenarnya pembikinnya atau perakamnya - atau satu konspirasi baru sama seperti kudeta Perak, tetapi ternyata tak berapa menjadi kali ini?

Apa tah lagi, Datuk T yang mempertontonkan video klip itu telah dengan teliti merancang pendedahan hari ini dan telah menempah sebuah bilik berharga RM1,350 di hotel mewah Carcosa Seri Negara untuk mendedahkan video tersebut.

Dia sentiasa diiringi dua pengawal peribadi dan enggan mendedahkan apa-apa ketika ditemui, dan hanya mengulangi apa yang dinyatakan dalam kenyataan bertulis kepada media, atau mendedahkan apa kaitannya dengan ahli politik yang didakwa terbabit dalam klip video tersebut.

Polis tidak pula menghalang sidang tontonan berkenaan sedangkan ia jelas menyalahi undang-undang.

• Akta Komunikasi dan Multimedia Malaysia 1998
Melarang penyebaran bahan berunsur kesat/lucah melalui kenyataan undang-undang tertentu (Seksyen 211 dan 233) dan penyelarasan industri di bawah Kod Kandungan (Content Code).
Klasifikasi Kod Kandungan
• Forum Kandungan Komunikasi Multimedia Malaysia berdasarkan Akta Komunikasi dan Multimedia 1998;• Kandungan lucah – perbuatan berunsurkan seks secara nyata, pornografi, pornografi kanak-kanak;
• Kandungan tidak bermoral – lucah, tidak bermoral;
• Kandungan berbentuk ancaman – propaganda menghasut, menanam kebencian, mengancam keselamatan negara, kesihatan dan keselamatan awam;
• Bahasa kesat – ucapan yang menghasut, keganasan;
• Kandungan salah/tidak tepat – salah, mengelirukan.

Cacatnya skrip sandiwara ini bilamana Najib sendiri bersuara membuat kenyataan "polis tak terlibat", yang memberi impak masyarakat merumuskan keadaan sebenar adalah disebaliknya.


What to do during an Earthquake
Posted: 22 Mar 2011 04:30 AM PDT
Thanks to Angela who sent me this post. I am sorry I do not know the author/source of this article but I am posting this for our safety. Take care and have a nice day.
Do remember earthquake victims in your prayers today.
____________________
Folks, please SHARE, SHARE, SHARE this with your loved ones:
Where to Go During an Earthquake
Remember that stuff about hiding under a table or standing in a doorway? Well, forget it! This is a real eye opener. It could save your life someday.
EXTRACT FROM DOUG COPP'S ARTICLE ON 'THE TRIANGLE OF LIFE'
My name is Doug Copp. I am the Rescue Chief and Disaster Manager of the American Rescue Team International (ARTI ), the world's most experienced rescue team. The information in this article will save lives in an earthquake.
I have crawled inside 875 collapsed buildings, worked with rescue teams from 60 countries, founded rescue teams in several countries, and I am a member of many rescue teams from many countries. I was the United Nations expert in Disaster Mitigation for two years, and have worked at every major disaster in the world since 1985, except for simultaneous disasters.
The first building I ever crawled inside of was a school in Mexico City during the 1985 earthquake. Every child was under its desk. Every child was crushed to the thickness of their bones. They could have survived by lying down next to their desks in the aisles. It was obscene -- unnecessary.
Simply stated, when buildings collapse, the weight of the ceilings falling upon the objects or furniture inside crushes these objects, leaving a space or void next to them - NOT under them. This space is what I call the 'triangle of life'. The larger the object, the stronger, the less it will compact. The less the object compacts, the larger the void, the greater the probability that the person who is using this void for safety will not be injured. The next time you watch collapsed buildings, on television, count the 'triangles' you see formed. They are everywhere. It is the most common shape, you will see, in a collapsed building.
TIPS FOR EARTHQUAKE SAFETY
1) Most everyone who simply 'ducks and covers' when building collapse are crushed to death. People who get under objects, like desks or cars, are crushed.
2) Cats, dogs and babies often naturally curl up in the fetal position. You should too in an earthquake. It is a natural safety/survival instinct. You can survive in a smaller void. Get next to an object, next to a sofa, next to a bed, next to a large bulky object that will compress slightly but leave a void next to it.
3) Wooden buildings are the safest type of construction to be in during an earthquake. Wood is flexible and moves with the force of the earthquake. If the wooden building does collapse, large survival voids are created. Also, the wooden building has less concentrated, crushing weight. Brick buildings will break into individual bricks. Bricks will cause many injuries but less squashed bodies than concrete slabs.
4) If you are in bed during the night and an earthquake occurs, simply roll off the bed. A safe void will exist around the bed. Hotels can achieve a much greater survival rate in earthquakes, simply by posting a sign on the back of the door of every room telling occupants to lie down on the floor, next to the bottom of the bed during an earthquake.
5) If an earthquake happens and you cannot easily escape by getting out the door or window, then lie down and curl up in the fetal position next to a sofa, or large chair.
6) Most everyone who gets under a doorway when buildings collapse is killed. How? If you stand under a doorway and the doorjamb falls forward or backward you will be crushed by the ceiling above. If the door jam falls sideways you will be cut in half by the doorway. In either case, you will be killed!
7) Never go to the stairs. The stairs have a different 'moment of frequency' (they swing separately from the main part of the building). The stairs and remainder of the building continuously bump into each other until structural failure of the stairs takes place. The people who get on stairs before they fail are chopped up by the stair treads - horribly mutilated. Even if the building doesn't collapse, stay away from the stairs. The stairs are a likely part of the building to be damaged. Even if the stairs are not collapsed by the earthquake, they may collapse later when overloaded by fleeing people. They should always be checked for safety, even when the rest of the building is not damaged.
8) Get near the outer walls of buildings or outside of them if possible - It is much better to be near the outside of the building rather than the interior. The farther inside you are from the outside perimeter of the building the greater the probability that your escape route will be blocked.
9) People inside of their vehicles are crushed when the road above falls in an earthquake and crushes their vehicles; which is exactly what happened with the slabs between the decks of the Nimitz Freeway. The victims of the San Francisco earthquake all stayed inside of their vehicles. They were all killed. They could have easily survived by getting out and sitting or lying next to their vehicles. Everyone killed would have survived if they had been able to get out of their cars and sit or lie next to them. All the crushed cars had voids 3 feet high next to them, except for the cars that had columns fall directly across them.
10) I discovered, while crawling inside of collapsed newspaper offices and other offices with a lot of paper, that paper does not compact. Large voids are found surrounding stacks of paper.
Spread the word and save someone's life...
The entire world is experiencing natural calamities so be prepared!
'We are but angels with one wing, it takes two to fly'
In 1996 we made a film, which proved my survival methodology to be correct. The Turkish Federal Government, City of Istanbul, University of Istanbul Case Productions and ARTI cooperated to film this practical, scientific test. We collapsed a school and a home with 20 mannequins inside. Ten mannequins did 'duck and cover,' and ten mannequins I used in my 'triangle of life' survival method. After the simulated earthquake collapse we crawled through the rubble and entered the building to film and document the results. The film, in which I practiced my survival techniques under directly observable, scientific conditions , relevant to building collapse, showed there would have been zero percent survival for those doing duck and cover.
There would likely have been 100 percent survivability for people using my method of the 'triangle of life.' This film has been seen by millions of viewers on television in Turkey and the rest of Europe, and it was seen in the USA , Canada and Latin America on the TV program Real TV.
Posted: 22 Mar 2011 05:56 AM PDT
Masa mengandungkan Hannan, kerap di muka kaca TV keluar seorang wanita terkenal dari Palestine yang bernama Hanan Ashrawi.
Dari situlah nama Hannan saya ambil dan Fahmeeda dicari dari dalam buku kecik yang tertulis bermacam2 nama yang dicadangkan untuk bayi Islam.
Digabungkan..Hannan Fahmeeda Binti Dato' Mohd Ariff Sabri..
permata/intan berlian kami yang ke 5 dari 7.
Hannan dilahirkan 19 tahun yang lalu.
Setahun sebelum itu, saya baru melahirkan abangnya Seth melalui kaedah Caesarean.
Doctor telah berdiri di hujung katil saya dan telah berkata secara selamber..
"jangan have any more babies for at least 2 years yea.."
Saya angguk2 jer..
Tetapi..rezki Allah SWT bagi..kami tidak menolak.
Hannan, Harris and Banun came out every year after that..
Ameen..Alhamdullillah..
Ok, bila saya dapati saya mengandung lagi, saya memang mengaku saya tidak sangat menjaga diri.
Kadang2 makan vitamins pun saya sambil lewakan.
Malasnya..
Saya tahu Hannan ada di dalam perut tetapi saya rasa bukan macam orang hamil.
Hannan pun tidak menyusahkan saya, senyap jer dia nyorok dalam tu.
Morning sickness saya sekejap saja dan kesihatan saya boleh dikatakan Alhamdullillah selalu.
Semua makanan sedap saya lanyak..takder loya2nya.
Apabila Hannan keluar 19 tahun yang lalu di SJMC, gynae berkata, "you have a baby girl!"
Hannan Hannan..halusnya you!
Oghang putih kata..puny-sized!
Masa kecik2, rambut macam bulu ayam..warna perang tapi sikit saja.
Kalau bawak berjalan2 dalam kereta, meleleh airliur sambil melentok atas kerusi..lelap terus!
tak larat duduk lama2 dalam kereta.
Sekarang..kus semangat!
Tinggi, badan tegap, sangat2 manis orangnya dan budiperkerti yang sangat baik..
Rambut tebal dan sexy!
Alhamdullillah.
Hannan jarang sekali marah atau melawan saya..
tidak pernah menjawab kalau kena bebel atau tegur.. samada dia diam saja atau sengih sokmo.
Sekarang Hannan sedang belajar civil engineering di sebuah institusi pengajian tinggi di Pahang.
Setiap hujung minggu dia akan cuba balik ke rumah untuk meluangkan masa bersama kami di rumah.
Rajin membasuh pinggan,mengemas rumah, rajin layan kucing2 Parsi kami dan rajin memasak.
Segala kek dan pies dia boleh buat..lain2 dishes pun boleh..google jer!
O oh..dia pandai masak nasi lemak! Sedaap..
Masa Baba dia ada bersama kami..jenuh kami makan karamel!
Tu kegemaran Babanya.
Kami gelarkan Hannan, Chef!
Alahai Hannan..berjela2 Mama boleh puji you tapi nanti oghang yang membaca ingat I nak advertise a potential husband for you! hahaha..
We love you so very2 much..jaga diri baik2 selalu.
Selamat panjang umur, sihat wal'afiat, bahagia, berjaya dan rajin sembahyang selalu.
Semoga Allah SWT Bless You with all the beautiful things in life now and forever..Ameen.
HAPPY BIRTHDAY SAYANG!!
p.s. Bila pergi ke Taman Negara nanti..please, please stick close to your group of friends.
Jangan lupa bawak torchlight, insect repellant, mineral water and some titbits!
Jangan lupa baca doa!!
If only I boleh ikut sama teman you..hooi!
Hannan, besok SPM results keluar..hope Harris dapat many As..nervous Ma!
Huh Dasyat, Lelaki Yang Dihukum Mati Oleh Mahkamah Terajang Jurugambar
Posted: 22 Mar 2011 04:37 AM PDT
P
enganggur Dihukum Mati Samun Bersenjata Api
GEORGE TOWN: Mahkamah Tinggi Pulau Pinang hari ini menjatuhkan hukuman gantung sampai mati terhadap seorang penganggur setelah didapati bersalah melakukan rompakan menggunakan senjata api di sebuah kedai emas empat tahun lepas.
Gambar:
Ravindran memberikan "flying kick" kepada seorang jurugambar yang merakam gambarnya di luar mahkamah.
- TheStar
Hakim Datuk Mohd Zaki Mohd Yassin juga memerintahkan R. Ravindran, 36, menjalani hukuman penjara maksimum 10 tahun dan 10 sebatan bagi pertuduhan kedua iaitu merompak barang kemas bernilai RM800,000 dengan menggunakan sebatang tukul besi.

Dalam penghakimannya Mohd Zaki berkata mahkamah mendapati wujudnya keraguan pada kenyataan tertuduh semasa membuat pembelaan secara bersumpah dan pihak pendakwaan berjaya mewujudkan kes prima facie.

Mahkamah memerintahkan hukuman penjara dijalankan bermula dari tarikh tangkapan dan hukuman gantung akan dijalankan setelah keputusan rayuan.

Ravindran dituduh melakukan kedua-dua kesalahan itu pada 11 pagi 14 Jan 2007di Gayathrii Tangga Maligai Jewellers di nombor 42, Lebuh Pasar, bersama-sama seorang rakannya yang telah meninggal dunia.

Dia didakwa telah melepaskan tembakan yang boleh mengakibatkan kematian ketika melakukan rompakan itu.

Ravindran diwakili peguam bela Naran Singh manakala pendakwaan dilakukan Timbalan Pendakwa Raya, Azhar Mokhtar. -BERNAMA

'Illegitimate' red tape insulting others
Posted: 22 Mar 2011 03:44 AM PDT
No one in the world outside their Coconut-shell is using Bin and Binti, why insult others? My name is Abdul Rahman Zafrudin, it means Abdul=Servant of Allah (because my proper name Rahman is one of the 99 names of Allah, I need to clarify myself I am not god but the servant of Allah only) So, you could understand that Rahman is my name. Zafrudin is my father's name. So I am Rahman but my full name is the servant of Allah, son of Zafrudin. I am a Myanmar citizen and I have a Burmese name, Ko Ko Gyi, meaning eldest brother. What's wrong with you guys? (If my brothers and sister call me Brah Bai, in Urdu, I will not be angry as that name is sentimental for me because my aunts and uncles called my father like that.
If anyone wish to give me a nick name, Ko Bama (Because my Burmese name has 2 Kos and Ko is used in Myanmar like Mr. I came from Burma (we pronounced Bama). I would be honoured to have a name rymed with the Mr President Obama. Afterall I had given my two sons names after the President Jimmy Carter and the King Sultan Azlan Shah.
Now read the main news.
Source_The Star online news: Made 'illegitimate' by red tape by MUHAMMAD ABDULLAH, Shah Alam.
MY wife and I went to the Registration Department in Shah Alam to get an IC done for our son who has turned 12. All our children do not have "bin" or "binti" to their names in their birth certificates. The Registration Department Officer suggested that we include a "bin" in his IC. We asked shouldn't the name on the IC be exactly the same as that on the birth certificate?
He then proceeded to recite to us a new ruling, Perkara 13, presumably of the Department's Regulations and Rules Book or By-laws, that says "an illegitimate child or a child born out of wedlock shall not bear the word 'bin' or 'binti' on his/her birth certificate or IC".
Thus if we do not include "bin" on our son's IC, he will be viewed as "illegitimate".
We reiterated that we do not want our son's name to be changed and his name on the IC must be exactly the same as that on the birth certificate.
The officer reminded us again of the consequences and possible repercussion of our request, the shame that we may put our son through in future, being mistaken for or viewed as illegitimate every time he uses his IC.
When we insisted, he relented, but asked us to sign some sort of declaration or consent form, which we did.
Now we have five "illegitimate" children in the family.
Is it fair to brand a child as illegitimate and subsequently make it publicly known and easily identifiable through the IC? The child through no fault of his/her own will have to live with that stigma all his/her life.
As a consequence of that ruling, too, legitimate children like ours are also wrongly categorised as "illegitimate". On both counts, it cannot be right, morally or otherwise.
I hope the relevant authorities will do away with the ruling.
RM52.8mil spent for 89,000 flood victim families
Posted: 22 Mar 2011 03:02 AM PDT
Source: http://thestar.com.my/news/parliament (22/3/2011)
The Federal Government has provided RM52.8mil to assist almost 89,000 families from six states affected by floods late last year. Minister in the Prime Minister's Department Datuk Seri Mohamed Nazri Aziz said that RM27,983,057 was spent to relocate the flood victims and to provide them food and other daily necessities. To help minimise the cost of moving back into their homes, he said the Government had given RM500 to each family.
Replying to a question raised by Lim Lip Eng (DAP–Segambut), he said states affected by the floods were Johor (16,455 families or 67,000 victims), Malacca (2,325 families or 9,098 victims), Negri Sembilan (715 families or 3,083 victims), Pahang (381 families or 2,663 victims), Sabah (903 families or 3,389 victims) and Sarawak (615 families or 2,949 victims).
To another question from Datuk Mahfuz Omar (PAS–Pokok Sena), he said any delay in providing financial aid could be due to the tedious process of identifying flood victims eligible for aid. He said this involved the affected families registering themselves with their respective village heads, who would then relay the information to the district office for verification.
Related news: Govt spent RM28m on flood victims http://www.nst.com.my/nst/Article
Fukushima Terkini, Radiasi Meningkat 1000 Kali Di Radius 20 Km
Posted: 22 Mar 2011 03:18 AM PDT
R
adiasi di wilayah sekitar loji tenaga nuklear Fukushima, Jepun, kian naik. Kali ini berdasar data dari Badan Energi Atom Internasional (IAEA), Isnin (21/3), radiasi mencapai 1,600 kali lebih tinggi dari tingkat normal dikesan di wilayah sekitar 20 kilometer dari PLTN Fukushima.
Data yang dikumpulkan oleh tim IAEA menunjukkan tingkat radiasi lebih dari 161 microsievert / jam dikesan di kota Namie, Wilayah Fukushima, kata beberapa kakitangan IAEA.
Kumpulan ahli IAEA yang memantau radiasi dari Tokyo dan lokasi-lokasi yang berdekatan dengan reaktor Fukushima dilaporkan telah mulai mengirimkan kembali pengukuran-pengukuran yang mereka lakukan ke pejabat IAEA di Wina.

Dalam kunjungannya ke Jepun pada Senin, Direktur Jenderal IAEA, Yukiya Amano melakukan pertemuan dengan Perdana Menteri Naoto Kan, sejumlah menteri kabinet, Badan Keamanan Industri dan nuklear (NISA) serta pihak Tokyo Electric Power Company (TEPCO), perusahaan yang menjalankan reaktor Fukushima.

Pemerintah telah menetapkan wilayah larangan yang meliputi area 20 kilometer dari PLTN tersebut dan mendesak warga yang berada di radius 20-30 kilometer untuk tidak keluar ruangan.

Kepulan asap dan wap panas masih membubung tinggi di atas PLTN Fukushima, yang mengalami kerosakan sistem pendingin reaktor sejak terjadinya gempa berkekuatan 9.0 skala Richter dua pekan lalu.

Berbagai usaha penyimbahan air dan pemulihan aliran elektrik sementara dihentikan, menurut laporan terakhir dari pejabat berita Kyodo. -ANTARA


RAZIAH'S BLOND BOMOH 'BEWITCHED TAIB'!
Posted: 22 Mar 2011 02:53 AM PDT
Stella - real name Kharleen Tashman at
Elia Geneid's yaght wedding last year.
Out of all the astonishing secrets that are now beginning to emerge during the dying days of Taib Mahmud's regime, one of the most bizarre has been his reliance on a blonde female witch provided as his Bomoh by his sister Raziah!
Taib has always been notorious for his consultation of black magic practitioners and after the death of his wife Laila, according to family and close friends, Raziah moved in to consolidate her influence by introducing her own in-house female Bomoh to him.
"The person who brings the bomoh becomes the controller"
as one insider explained to Sarawak Report, pointing out the orgy of acquisitions achieved by Raziah in terms of recent contracts and land titles from the state.
Another family insider told us:
"The real Chief Minister of Sarawak is Raziah.  She has used black magic on him!"
Stella!
Lady in Red - posing with Raziah for Asian Tatler (although she gave her name as Pashman)
Stella, as she is known to the Mahmud household, is in fact an Australian of Lebanese extraction called Kharleen Tashman.  She was taken up by the Geneids in 2002 (reportedly from a gypsy community in Sydney) to become Raziah's personal in-house black magic advisor!   
Later, Raziah came up with an ingenious way of extending her power over Taib, by exploiting his grief over the loss of his favourite brother, Arip, who died of lung cancer in 2005.  According to family members, Stella pronounced that she had 'transferred Arip's charisma' to Raziah, claiming that the younger sister now bore Arip's spirit !
It seems to have been a short step away from inheriting his spirit to inheriting Arip's former role as the main family business-partner and fixer for Taib (a job originally done by another brother Onn, who later fell out with Raziah and others in the family).  
Spiritual advice brings material benefits!
Arip, as we have already demonstrated in Sarawak Report, had benefited from vast chunks of land handed out  by Taib since 2000, much of it NCR territory.  Subsequent events would imply that Raziah now slipped into that lucky position of most favoured sibling.  The official data, 
now released on Sarawak Report
, shows that out of all her brothers and sisters Raziah has received by far the lion's share of state lands in recent years – we have calculated that an area at least the size of Singapore has gone to her.  Her daughter and husband have benefited also from handouts worth hundreds of millions of ringgit, according to recent land sales, and the jealousy amongst other family members is said to be seething!
Black Magic
We have already reported on Taib's addiction to the advice of a series of Bomoh's.  Insiders have detailed how his home in Demark Jaya is stuffed with artefacts related to the practice of dark arts – shrines, statues and even symbolic birds, which roam free indoors.  Particularly chilling is the story of a black eagle that was kept within the confines of the house, on the advice of one of his Bomoh's. 
Our informants have described how Stella enjoyed a period of close influence over Taib, aided by the proximity of her dwelling in Raziah's house next door.
" Her signature ritual includes tip-toeing and howling" explains one close contact.  "Each morning she would cross through the garden from Raziah's house into the grounds of Taib's residence and would perform a ritual of chasing away evil spirits before the Chief Minister rose for his early run!" 
"The latest mad excesses have been under the influence of Raziah.  She is the mistress of Sarawak, not Taib.  He has been possessed.  She took control the moment Laila died!"
Part of the inner circle
Stella's presence at any number of key family events and close occasions has also been documented in a number of photographs, where she has posed with the family.  Elia Geneid's wedding in 2010 saw Stella joining top guests, including the PM, at the exclusive event on a luxury yacht.  She has been photographed at numerous intimate family events and at grand occasions.  She even popped up at the Islamic Fashion Show last summer in Monaco, which was sponsored by Taib on behalf of Rosmah Mansor in a blatant attempt to curry favour with Najib in the run up to the current election.
Lady in Blue - posing between Elia Geneid and her husband, with Robert Geneid, Raziah and second daughter with Lebanese husband at the Islamic Fashion show in Monaco
Another close insider has related to Sarawak Report how guests were shocked at her bizarre contribution to Taib's daughter Hanifah's own wedding ceremony.  
"The bride entered the wedding hall and then suddenly there was Stella producing this weird hollering call.  Everyone was shocked, stunned.  It was some strange ritual!"
Top dollar consultant to the Chief Minister!
Family supper - Stella included (left)
The amounts paid to Stella when she was at the height of her powers are gasp-inducing!  She would regularly receive RM100,000 per two month stay with Raziah.  She would then go back for some time in Sydney.  However, we have been told that on one occasion Tashman, who is a mother of four, received half a million ringgit for her services!  
However, all good things come to an end and we understand that the female Bomoh over-reached herself when she tried to interfere in the conduct of Laila Taib's funeral and fell out with Taib's children. 
Kharleen Tashman, we are told, has recently been superseded by another Lebanese lady, who is more powerful and alluring still – yet we have learnt that she too was provided by the ever-resourceful Raziah!
The Geneid connection to Taib's new wife
We are of course referring to Ragat Waleed al Kurdi, the Chief Minister's extremely youthful new wife.  The origins of Ragat's relationship with the Chief Minister, who was already in office at the time she was born, have till now remained something of a mystery to outsiders.  However, Sarawak Report can report via extremely close sources that she is in fact a niece of Robert Geneid, Raziah's husband!    
 

 

Power behind the throne? Raziah Mahmud/Geneid, Taib's dazzlingly wealthy sister.

"Taib has come under the spell of Rosie (Raziah), she is controlling all.  She controls all the contracts and land handed out"
Complains one of our sources, voicing the growing jealousy and family resentment towards Taib's youngest sister by the rest of his siblings.
Indeed, the rivalry is such in the family that it rarely lies far beneath the surface! The company Taib set up to run the family trust of Arip Mahmud, in which he holds a personal share, is called Mesti Bersatu – he gave it that name to remind his brother's squabbling relatives that the family 'Must be United'!
Wise move by Raziah?
Raziah's logic in steering her brother into this new marriage is not hard to determine.  The Mahmuds are desperate to revive the old man's faltering image in order to stretch out their power longer in Sarawak and ensure a succession within their own flesh and blood (Taib infuriated Najib by putting up no less than 10 members of his family as candidates for his list for the election).
Under her spell? - Is Ragat Raziah's new power-base or a threat?
However, Raziah was clearly equally determined to cement the influence of the Geneid family over Sarawak's future.  For her husband Robert Geneid, the son of an Australian fruit seller who had had a patchy business career, the marriage of his neice has been the consolidation of his growing hold over wealth and business interests in Sarawak since his union with the Chief Minister's sister. 
If BN win the up-coming election these will be the figures controlling Sarawak's future, insiders warn.  However, Sarawak's power-broking couple might find that the new young wife could turn out to be a good deal less pliable than the hireling Bomoh, Kharleen Tashman.  Firing her would surely be a far more complicated matter to perform?
Posted: 21 Mar 2011 07:07 PM PDT