---
Blackpool 1-3 Arsenal: Arsenal continually exploit Blackpool's high defensive line
Posted: 10 Apr 2011 08:40 AM PDT
Golden Horses Health Sanctuary: Sales talk was good but I no budget lah!
Posted: 10 Apr 2011 09:34 AM PDT
My wife, my kid and I went to this place yesterday for a talk.
It was all about a health screening program that came with exclusive benefits for members only.
The '
ice-breaker
' introduction went something like this:
Health counselor
: How many children do you have?
Me: One.
Health counselor
: Planning to have a second one?
Me: No. Not until the economy improves.
Health counselor
: What are you working as?
Me: IT support.
Health counselor
: IT industry is stable right?
Me: Nothing is stable in this world. Even a bank in America that is more than 100 years old collapsed.
Health counselor
: Yeah...nothing is stable. Calamities can happen anytime. Look at Japan.
Me: Exactly! After the tsunami, the economy of Japan went worse.
After that conversation, I thought to myself, 'FAIL'.
You don't talk to you prospect like that!
The ice-breaker was followed by another one-hour talk.
The same health counselor did a good job of explaining the program to my wife and I.
We wanted very much to join the membership program but we just couldn't afford it.
The health counselor understood our financial situation and left to collect our 'free' vouchers.
I say 'free' because we had to 'work' for it, that is to sit for an hour just to listen to the sales pitch.
The health counselor came back with the 'free' vouchers and the manager.
He sat down and introduced himself to us.

Before he started his talk, he said, 'Don't worry, after I explain to you, you can decide if you want it or not. I'm just doing my job.'
'Great! This manager is just doing his job! He's just going through the motion,' I thought to myself.
True to his words, he was just doing his job. He summarized the benefits of joining to us in about ten minutes.
At the end of his talk, he did not even bother to ask us if we wanted to join.
Instead, he extended his right hand for a handshake and passed the 'free' vouchers to me.
Did he not say 'I am just doing my job'?
Yes, he was just doing his job!
~~~~~~~~~~~~~~~~~~~~~~~~~~~~~~~~~~~~~~~~~~~~~~~~~~~~~~~~~~~~~~~~~~~~~~~~~
Omega Yang Dibisingkannya Di PRN Sarawak
Posted: 10 Apr 2011 09:38 AM PDT
G
elagat seorang pemberita wanita dari stesen penyiaran 8TV yang bertanya soalan berkaitan jam tangan Omega pada sidang media Datuk Seri Anwar Ibrahim di Hotel Continental di sini, petang ini, mengundang kemarahan wartawan akhbar Sarawak.
Seorang wartawan akhbar Sarawak itu memintas dan menegur pemberita penyiaran berkenaan kira-kira jam 2.30 petang dengan menyatakan sidang media itu berkaitan isu Pilihan Raya Negeri (PRN) Sarawak.
"Lebih baik tanya isu pilihan raya dan manifesto Pakatan Rakyat.

Bukannya dengan bertanyakan soal-soal seks yang tidak masuk akal," kata wartawan akhbar Sarawak itu sebelum disambut tepukan wartawan lain.

Sarawak memiliki banyak akhbar tempatan yang hanya berpangkalan di negeri itu, kebanyakannya dikawal rejim Taib Mahmud tetapi mereka dipercayai mula berpaling tadah.


Pemberita penyiaran itu (gambar) dilihat cuba mengheret isu video fitnah berbanding perkembangan PRN Sarawak hingga meresahkan puluhan wartawan lain.

Beliau dipercayai diarah pihak atasannya supaya bertanyakan soalan itu kepada Anwar bagi menggembar-gemburkan isu video fitnah yang tidak mendapat perhatian rakyat Sarawak.

Anwar pada sidang media itu menyifatkan soalan berkenaan jam tangan Omega itu membuktikan media arus perdana tidak putus-putus mencari jalan merosakkan reputasinya.

"Untuk apa saya menjawab soalan-soala ini (isu video fitnah)?

Bukankah Azizah (isteri Anwar) sudah mengadakan sidang media berkenaan perkara ini?

"Inilah cara Barisan Nasional (BN) memperkudakan media dengan soalan yang tidak berkenaan," kata Anwar yang kelihatan sedikit berang dengan soalan itu. -jalanpulang





Anwar naik angin ditanya tentang video seks



Ketua umum PKR, Datuk Seri Anwar Ibrahim naik angin apabila bertanya tentang video seks lelaki yang didakwa miripnya dengan seorang wanita muda.

Ketua pembangkang itu naik angin bila ditanya wartawan tentang jam
Omega, yang didakwa trio Datuk T yang menayang video itu, ditinggal Anwar di bilik hotel tempat rakaman itu didakwa dibuat.

Anwar: Apa kena mengena jam Omega. sudah establish ke benda tu?



Wartawan:

Datuk Seri adakah...



Anwar:

Jawab soalan tu. adakah sudah establish.



Wartawan:

Dalam tweet sebelum ni...



Anwar:

Pasal apa saya nak jawab?



Wartawan:

Itu sebab saya tanya.

Anwar kemudiannya bertanya kepada wartawan penyiaran itu, sama ada berani bertanya Perdana Menteri, Datuk Seri Najib Tun Razak tentang kaitannya dengan wanita Mongolia, Altantuya Shaaribuu.



Anwar:

Pernah ada orang tanya?



Wartawan:

Sebelum ni Datuk Seri...



Anwar:

Media kena honest. Dia tak boleh menjadi perkakas orang yang zalim dan menghina. kalau ada basis.



Wartawan:

Dulu Datuk Seri ada janji untuk jelaskan di mana Datuk Seri ketika...



Anwar:

(Datuk Seri Dr Wan) Azizah (Wan Ismail) dah jawab. Saya tau soalan you untuk bantu Utusan tulis Anwar gagal jawab.

Wartawan: Bukan macam tu Datuk Seri.



Anwar:

Dah habis soalan?



Wartawan:

Belum



Anwar:

Habiskan soalan.



Wartawan lain:

Apa pendapat Datuk Seri tentang....



Anwar:

Biarkan dia habiskan soalanya. Saya mahu tunjukkan kepadanya bagaimana Umno operate.

Wartawan: Tak ada kena mengena dengan Umno. Saya media, saya jalankan tugas saya.



Anwar:

Ya, saya tahu tugas media.



Wartawan:

Sebelum ni Datin Seri Wan azizah kata ada jam dalam tangan.



Anwar:

Ya.



Wartawan:

Tapi belum lagi serah pada polis.



Anwar:

Bila yang polis minta?



Wartawan:

Jadi jam tu ada pada Datuk Seri?



Anwar:

Bila yang polis minta? bila yang polis minta?

(Beberapa orang cuba menghentikan perbalahan tersebut)



Anwar:

Tak apa, tak apa. saya nak tengok media perkakas Umno tanya soalan. Soalannya polis minta. bila polis minta. polis tak minta.



Wartawan:

jadi...



Anwar:

You tanya soalan I jawab.



Wartawan:

Datuk Seri tak jawab soalan saya.



Anwar:

You bagitau polis minta, saya bagitau polis tak minta.



Malaysiakini:

Adakah Datuk Seri akan menyerahkannya?



Anwar

: Biar polis minta. Apa isunya? Isunya ialah video. Mereka akan tanya hotel mana, adalah saya pergi ke hotel tersebut. Mengapa harus saya melayan soalan-soalan ini? Biar polis yang mengendalikannya. Soalan berikutnya. -mk




Ulasan GB



Jam Omega yang ditanya sewaktu PRN Sarawak. Rendah sangat mentaliti wartawan berkenaan.

Bermula kisah jam Omega ialah semasa Datuk Eskay menyatakan bahawa kononnya beliau telah diminta oleh Anwar untuk mengambil jam tersebut yang tertinggal di dalam bilik hotel.

Kemudian, tiba-tiba katanya yang ditemui ialah video seks.

Di dalam sidang media pula Eskay ini mengaku pula dia juga ada di dalam lakonan video berkenaan.

Bukankah bengap namanya tu, nak menipu tapi terbarai?

Tentang jam Omega pula. Ia tidak memberi apa-apa makna. Jika Eskay dapat tunjukkan jam Omega kepunyaan Anwar, beliau boleh dicaj mencuri. Jam Omega tidak signifikan di dalam kes ini kerana, mana-mana pihak pun boleh mendapatinya di kedai. Ini jam Omega milik Anwar. Habis cerita.

So apa yang bising sangat pasal Omega. Kalau "telur" Omega yang diperolehi mungkinlah ada kesannya. Sebab telur Omega tulen milik Anwar tak mungkin ada di kedai. Pun Eskay tak boleh curi. Kalauia di kedai itu bukanlah telur Omega tulen milik Anwar atau silap haribulan ia telur Omega tiruan.



Drinking Linked To Oral Cancer
Posted: 10 Apr 2011 09:00 AM PDT
7 April 2011 Last updated at 23:44 GMT Drinking over the limit 'raises cancer risk' Many people do not know that drinking alcohol can increase their cancer risk.  Drinking more than a pint of beer a day can substantially increase the risk of some cancers, research shows.
A large Europe-wide study in the British Medical Journal found that one-in-10
Posted: 10 Apr 2011 08:41 AM PDT
I was enthralled with Greek and Roman history at a very young age and read lots of Greek mythology and literary works then. Even as an older person, I still read the writings of Plato, Aristotle, Homer, Aesop, Thespis, Sophocles etc. This evening, I thought I'd post something about Aristotle.
According to Wikipedia
HERE
:
Aristotle(384 BC – 322 BC)[1] was a Greek philosopher, a student of Plato and teacher of Alexander the Great. His writings cover many subjects, including physics, metaphysics, poetry, theater, music, logic, rhetoric, linguistics, politics, government, ethics, biology, and zoology. Together with Plato and Socrates (Plato's teacher), Aristotle is one of the most important founding figures in Western philosophy. Aristotle's writings were the first to create a comprehensive system of Western philosophy, encompassing morality and aesthetics, logic and science, politics and metaphysics.
Aristotle's views on the physical sciences profoundly shaped medieval scholarship, and their influence extended well into the Renaissance, although they were ultimately replaced by Newtonian physics. In the zoological sciences, some of his observations were confirmed to be accurate only in the 19th century. His works contain the earliest known formal study of logic, which was incorporated in the late 19th century into modern formal logic.
In metaphysics, Aristotelianism had a profound influence on philosophical and theological thinking in the Islamic and Jewish traditions in the Middle Ages, and it continues to influence Christian theology, especially the scholastic tradition of the Catholic Church. His ethics, though always influential, gained renewed interest with the modern advent of virtue ethics. All aspects of Aristotle's philosophy continue to be the object of active academic study today. Though Aristotle wrote many elegant treatises and dialogues (Cicero described his literary style as "a river of gold"), it is thought that the majority of his writings are now lost and only about one-third of the original works have survived.
CLICK HERE FOR MORE.
Here are some of Aristotle's famous sayings. May they inspire you in every area of your life. Have a great week ahead!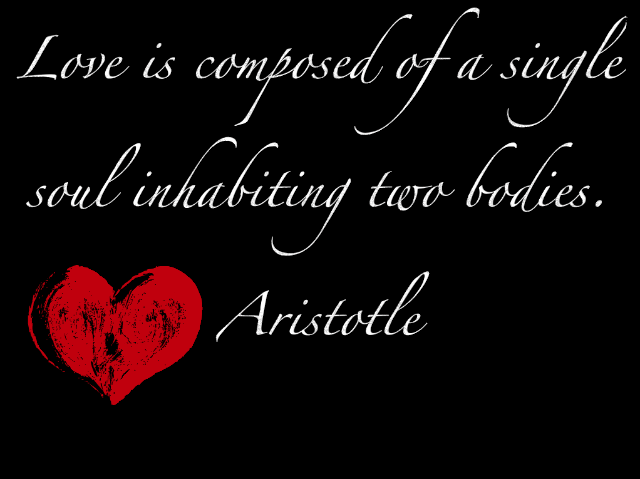 "For what is the best choice, for each individual is the highest it is possible for him to achieve." -- Aristotle (384 BC – 322 BC)
"Most people would rather give than get affection." -- Aristotle (384 BC – 322 BC)
"Anybody can become angry - that is easy; but to be angry with the right person, and to the right degree, and at the right time, and for the right purpose, and in the right way - that is not within everybody's power and is not easy." -- Aristotle (384 BC – 322 BC)
"The coward calls the brave man rash, the rash man calls him a coward." -- Aristotle (384 BC – 322 BC)
"How God ever brings like to like." -- Aristotle (384 BC – 322 BC)
"The wise man does not expose himself needlessly to danger, since there are few things for which he cares sufficiently; but he is willing, in great crises, to give even his life--knowing that under certain conditions it is not worth-while to live." -- Aristotle (384 BC – 322 BC)
"Dignity consists not in possessing honors, but in the consciousness that we deserve them." -- Aristotle (384 BC – 322 BC)
"The roots of education are bitter, but the fruit is sweet." -- Aristotle (384 BC – 322 BC)
"Those who educate children well are more to be honored than parents, for these only gave life, those the art of living well." -- Aristotle (384 BC – 322 BC)
"All who have meditated on the art of governing mankind have been convinced that the fate of empires depends on the education of youth." -- Aristotle (384 BC – 322 BC)
"The educated differ from the uneducated as much as the living from the dead." -- Aristotle (384 BC – 322 BC)
"The roots of education are bitter, but the fruit is sweet." -- Aristotle (384 BC – 322 BC)
"Those who educate children well are more to be honored than parents, for these only gave life, those the art of living well." -- Aristotle (384 BC – 322 BC)
"Education is an ornament in prosperity and a refuge in adversity." -- Aristotle (384 BC – 322 BC)
"Equality consists in the same treatment of similar persons." -- Aristotle (384 BC – 322 BC)
"We are what we repeatedly do. Excellence then is not an act but a habit." -- Aristotle (384 BC – 322 BC)
"A friend is a second self." -- Aristotle (384 BC – 322 BC)
"Friendship is a single soul dwelling in two bodies." -- Aristotle (384 BC – 322 BC)
"There is no great genius without a mixture of madness." -- Aristotle (384 BC – 322 BC) [Lat., Nullum magnum ingenium sine mixtura dementia.]
"No great genius is without an admixture of madness." -- Aristotle (384 BC – 322 BC)
"There are some who, because the point is the limit and extreme of the line, the line of the plane, and the plane of the solid, think there must be real things of this sort." -- Aristotle (384 BC – 322 BC)
"Man is a goal seeking animal. His life only has meaning if he is reaching out and striving for his goals." -- Aristotle (384 BC – 322 BC)
"It is easy to perform a good action, but not easy to acquire a settled habit of performing such actions." -- Aristotle (384 BC – 322 BC)
"It is well to be up before daybreak, for such habits contribute to health, wealth, and wisdom." -- Aristotle (384 BC – 322 BC)
"To live happily is an inward power of the soul." -- Aristotle (384 BC – 322 BC)
"Dignity consists not in possessing honors, but in the consciousness that we deserve them." -- Aristotle (384 BC – 322 BC)
"Hope is a waking dream." -- Aristotle (384 BC – 322 BC)
"Of mankind in general, the parts are greater than the whole." -- Aristotle (384 BC – 322 BC)
"Wit is cultured insolence." -- Aristotle (384 BC – 322 BC)
"It is not once nor twice but times without number that the same ideas make their appearance in the world." -- Aristotle (384 BC – 322 BC)
"If at first the idea is absurd, then there is no hope for it." -- Aristotle (384 BC – 322 BC)
"You ask me if I keep a notebook to record my great ideas. I've only ever had one." -- Aristotle (384 BC – 322 BC)
"No excellent soul is exempt from a mixture of madness." -- Aristotle (384 BC – 322 BC)
"Justice is that virtue of the soul which is distributive according to desert." -- Aristotle (384 BC – 322 BC)
Virus Adeno dan Senjata Biologi
Posted: 10 Apr 2011 07:02 AM PDT
Beberapa artikel menarik dari Blog AMKNS berkaitan Virus Adeno dan Senjata Biologi di bawah ini :
SISTEM PERTAHANAN BIOLOGI SINGAPURA

SENJATA BIOLOGI ANCAM REPUBLIK INDONESIA

Posted: 10 Apr 2011 07:08 AM PDT
I am not a religious person but I am concerned about the Alkitab issue for the sake of those who need to use the Alkitab. This evening, I came across an excellent article in The Malaysian Insider which I am reposting here. Do read it and leave your comment to share your thoughts.
Keeping the faith  by The Malaysian Insider
In an ideal world, one would put the Alkitab fiasco down to the actions of ignorant and insensitive government officials.
And there appeared to be some relief yesterday when Putrajaya's Performance and Management Delivery Unit (Pemandu) issued a press release saying all is well and the two importers have accepted a 10-point formula to solve the impasse over the impounded 35,000 Malay bibles.
But we only have the good word of Pemandu, which had its earlier release by Minister in the Prime Minister's Department Datuk Seri Idris Jala torn to shreds by his colleague, Home Minister Datuk Seri Hishammuddin Hussein.
We still don't know what the Christians have to say about these impounded Alkitab. Will they accept it from the importers? They have asked for time to reflect on the matter.
After all, the bibles have been locked up from them for more than two years. What are a few more days, a few more weeks or a few more months for them to forgive the government for what it has done, as asked by Jala in his initial statement.
As said from the outset, in an ideal world, this furore could have been dismissed. But our world isn't ideal, and some key officials have handled the issue so badly that one would find it hard to forgive and forget, let alone have faith in them and the government they represent.
After all, the solution to the Alkitab issue only gathered speed when the Sarawak election was announced. Is there a correlation or just a coincidence that bibles ostensibly held up due to the 'Allah' ruling can finally be released without much fuss, in Sarawak and Sabah, of course.
Did the authorities only now realise the number of Christians in these two states? Wouldn't the number of Malay bibles be a giveaway?
CLICK HERE for the rest of the entry.
Is the Alkitab being released just to get votes and keep Sarawak as a "fixed deposit"? State Chief Minister Tan Sri Abdul Taib Mahmud did not mince his words yesterday when he called the Home Ministry stamp on the Malay bibles a stupid act.
Will he call for the stupid act to be punished by Prime Minister and Barisan Nasional (BN) chairman Datuk Seri Najib Razak, who will be campaigning in Sarawak from today until the eve of the April 16 vote?
Will the home minister go beyond his statement in Pemandu to explain the inordinate delay over the release of the bibles and not link it to the 'Allah' ruling which happened months after the Alkitab copies were impounded?
CLICK HERE for the rest of the entry.
SPRM Sudah Banyak Lemak Minta Tambah Kakitangan
Posted: 10 Apr 2011 07:49 AM PDT
P
utrajaya sedia tambah staf SPRM jika perlu, kata Najib
Datuk Seri Najib Razak berkata, kerajaan akan mempertimbangkan langkah menambah staf Suruhanjaya Pencegahan Rasuah Malaysia (SPRM) jika benar-benar memerlukan dan tiada pilihan lain.
Bagaimanapun Perdana Menteri berkata (gambar), kerajaan juga tidak boleh menolak perubahan atau pembaharuan lain yang mungkin lebih sesuai untuk meningkatkan kekuatan SPRM tanpa melibatkan penambahan anggota.
"Ia akan dikaji dan jika ada keperluan, maka kami akan meluluskannya," kata beliau selepas merasmikan 1Malaysia Cardiff City Junior Football League 2011 di sini hari ini.

Najib yang juga Menteri Kewangan

mengulas permintaan SPRM yang memerlukan kira-kira 800 anggota lagi bagi memantapkan aspek keselamatan membabitkan bangunan dan individu yang berurusan di pejabat suruhanjaya itu di seluruh negara

.

Menurut laporan itu, ketika ini hanya 31 pegawai SPRM dan 90 pengawal keselamatan menjalankan tugas berkaitan keselamatan di seluruh negara membabitkan ibu pejabat SPRM, 15 ibu pejabat negeri dan 19 cawangan negeri di beberapa daerah.

Selain itu, pejabat SPRM yang terletak di bangunan guna sama di tingkat atas dan tidak mempunyai aras bawah pula membabitkan Kelantan, Terengganu, Sabah, Sarawak, Pahang, Johor, Kedah, Perlis dan Labuan, manakala pejabat cawangan pula di Sibu dan Miri.

Menurut Timbalan Ketua Pesuruhjaya (Pengurusan dan Profesionalisme) SPRM, Datuk Zakaria Jaafar, "kita mengharapkan tambahan 134 anggota untuk menjalankan tugas berkaitan keselamatan itu dapat segera dipenuhi bagi memastikan keselamatan fizikal membabitkan persekitaran bangunan pejabat SPRM termasuk dokumen dan harta benda di dalamnya serta individu yang berurusan dengan SPRM, terutama orang yang kena tuduh, orang yang disyaki, saksi atau pengadu sentiasa dalam keadaan selamat sepanjang tempoh masa berada di premis suruhanjaya."

Najib berkata, juga penting bagi melihat kemungkinan untuk mengambil pendekatan penempatan semula kakitangan daripada menambah buat masa sekarang.

"Sebagai contoh, seperti pasukan polis, penempatan semula lebih 30,000 kakitangan sebab kita mengambil pendekatan untuk berfikir secara kreatif dan ini menjimatkan wang kerajaan, jadi jika boleh menjimatkan duit, kita perlu melakukannya.

"Jika kita tiada pilihan, maka kita akan tambah," kata Najib lagi. -TMI



Ulasan GB



Laporan SPRM yang menyatakan ia memerlukan kira-kira 800 anggota lagi bagi memantapkan aspek keselamatan membabitkan bangunan dan individu yang berurusan di pejabat suruhanjaya itu di seluruh negara, dilihat oleh rakyat bukan sebagai penyelesaian kepada masalah keselamatan di bangunan SPRM yang telah menyebabkan kematian dua orang rakyat Malaysia.



Apa yang diperlukan sebenarnya ialah professionalime pegawai-pegawai SPRM yang sedia ada perlu dipertinkatkan.



Pendedahan

salahlaku pegawai SPRM dimana terdapatnya pegawai SPRM memuat-turun dan menonton bahan lucah sewaktu bekerja dan soalsiasat

sedang dijalankan adalah FAKTA jelas bahawa pegawai-pegawai SPRM tidak mempunyai disiplin dan kawal-selia ke atas mereka adalah terlalu lemah.

Ia adalah

perilaku yang bukan saja tidak bermoral malah menyalahi undang-undang. Bagaimana sebuah agensi penguatkuasa undang-undang sendiri tidak mematuhi undang-undang?



Sehingga kini,

TIADA tindakan diambil terhadap pegawai berkenaan,

malah dilaporkan ada pegawai tersebut telah dicadangkan oleh SPRM untuk menerima pingat dari Sultan untuk menutup salahlakunya. Ini amat keterlaluan.

Kita masih ingat di dalam kes Teoh Beng Hock dimana ada di kalangan pegawai tertinggi SPRM yang terlalu cepat menuduh mangsa membunuh diri sedangkan siasatan belum bermula, dan kemudian pegawai tertinggi itu tiba-tiba dinaikkan pangkat ke jawatan yang lebih tinggi.

Justeru itu rakyat melihat seluruh agensi SPRM itu perlu dibedah-siasat dan diperbaiki mutu professionalisme mereka dengan membersihkan ia dari kakitangan berjiwa syaitan yang merosakkan imej badan itu sendiri dan negara.

Bukan menambahkan kakitangan untuk melayan permintaan SPRM yang terlalu banyak lemak di mata rakyat.


Six days in Sarawak not desperate move but do-or-die move for PM Najib!
Posted: 10 Apr 2011 06:49 AM PDT
By Melissa Chi
April 10, 2011
Najib (centre) greets people during a walkabout at the Padungan market, April 7, 2011. — Picture by Choo Choy May
SUNGAI BULOH, April 10 — Datuk Seri Najib Razak dismissed today the notion that his spending a record six days in Sarawak for the upcoming state election was a desperate move to defend the hornbill state, saying he was merely doing his job.
The Malaysian Insider earlier reported that the prime minister will go on the stump for Barisan Nasional (BN) in Sarawak for six days from today until Friday.
Opposition leaders have tarred the whirlwind tour as a desperate move, adding that it was a clear sign the ruling pact was feeling the heat in its struggle to defend a state often referred to as its "fixed deposit".
"I think it is my duty to go to the grassroots when there are by-elections or state elections. So what I have been doing is not unusual," Najib told reporters after officiating the launch of the 1 Malaysia Cardiff City Junior Football League 2011 here today.
"And also Sarawak is such a huge state, there are 71 constituencies. So even if we want to go to a few areas, we will need a couple of days because of the distance."
The BN chairman, who already dropped in for a one-day visit on Thursday, will now lead the coalition's campaign for Sarawak and is scheduled for a hectic journey across the hornbill state beginning today, making lightning stops at numerous hotspots in Kuching, Miri and Sibu.
He will touch down at the Kuching International airport here at 7.40pm tonight before attending a meet-the-leaders session at the Kuching South City Council at 8.30pm.
BN is said to be facing tremendous pressure from Pakatan Rakyat (PR), particularly in the Chinese-majority constituencies where voters seem taken in by DAP's "vote for change" agenda.
In the capital city here as well as in Sibu and Miri, DAP's rallies have been drawing crowds in the thousands, a rare occurrence in Sarawak where voters have been described as cautious and conservative.
Despite the opposition's fierce campaign tactics, BN's Sarawak-based parties appear to have gotten off on a lacklustre start in their quest to defend the state, employing the pact's age-old playbook of organising formal meet-the-people functions and walkabouts graced by the presence of federal ministers.
BN's campaign is also said to be bogged down by countless reports and allegations of corruption and abuse of power against its Sarawak chief of executive, Tan Sri Abdul Taib Mahmud, the country's longest-serving chief minister.
Ultimately,

Najib

is doing it for himself.
Reason being if BN wins handsomely in the Sarawak State Elections 2011,

Najib

will ride on high confidence into the the next GE and return to power as PM!
Najib

not desperate for power?
Posted: 10 Apr 2011 06:39 AM PDT
Aunty, aunty..my young hairdresser called out to me..
"look at that guy!"
I peeked out of the hair saloon window and waited for Nomie to continue..
" Something is wrong with him upstairs!"
" Oh dear, how sad..he looks young, probably in his late 20s!" I replied.
I cupped my mouth..really devastated to see a young, cuckoo Malay chap walking around.
Where does he live, who are his parents?
Such a pitiful sight.
He was dirty-looking and finally sat at the bus stop muttering whatever without stopping.
"Maybe he has gone mad because he was heartbroken?" Nomie theorised.
"No, no, people seldom go insane because of a dejected love..
I think he probably came from a very poor family and the financial strain was so intensed, that he went bonkass!"
O God..how can I help the poor?
How can I help the unfortunate? The sick?
There are so many people who are in deep distress and in dire need of all sorts of help.
A wise friend said I should focus on my emotional and spiritual rehabilitation..
forget about other global issues for the moment..hmmm.
What the heck...I know the day will come when I can contribute to society in a more generous way.
Who knows I may be a philantrophist?? InsyaAllah.
Meanwhile, I'll just pray that Allah SWT grant me that chance very soon..Ameen.
Lawak Filem 3 Mat Boroi Belum Selesai
Posted: 10 Apr 2011 06:12 AM PDT
D
atuk T", Shazryl Eskay Abdullah mengemukakan lima persoalan untuk dijawab Anwar Ibrahim. Dalam tulisan terbaru blog Kickdefella hasil satu pertemuan minggu lalu, ahli perniagaan itu berkata beliau yakin semua yang berlaku sekarang adalah petunjuk Allah - (petikan dari Malaysian Insider.Com)
Lawak filem Tiga Mat Boroi ini nampaknya belum selesai. Macam-macam yang sempat aku dengar. Macam-macam khabar angin yang sampai. Semua tak boleh dipakai. Semuanya buat kelentong. Semua jual taik minyak. Aku sampai tak kering gusi kerana ketawa membaca berita yang bersangkutan dengan Tiga Mat Boroi ini.
Mulanya aku baca berita tentang Si Mamat yang jadi menteri undang-Undang. Mamat ini suka buat lawak. Dia seorang pakar lawak di Parlimen. Mamat ini pakar lawak sempit. Lawak sempit ini adalah satu genre lawak di mana kalau kita meminati dan percayai dengan lawak ini maka otak kita akan menjadi sempit. Lagi banyak kita dengar lawak ini lagi sempit otak kita.

Contohnya: Pada awalan apabila filem Tiga Mat Boroi ini ditayangkan di Carcosa, si Mamat ini telah berkata bahawa Tuan Pengarah dan Tuan Pengedar filem ini tidak boleh disaman. Ada hukum dan undang-undang yang mempertahankan hak pengarah dan pengedar.

Sehari kemudian si Mamat ini beralih cerita pula. Kali ini dia berkata yang Pengarah dan Pengedar boleh disaman jika dibuktikan filem ini mengarut dan menjadikan penonton sakit perut apabila melihatnya.

Tapi ini belum begitu lawak lagi. Ada satu lagi pelawak yang amat lawak.

Si Dol ini mengakui bahawa dirinya adalah pejuang Islam sejati – penjihad Islam.

Si Dol ini akan ke hulu ke hilir dengan memakai tarbus Turkinya. Meraban ke hulu ke hilir ini entah apa yang dicarinya.

Di hari pertama Tiga Mat Boroi dibuka di panggung, Si Dol ini telah melalak ke hulu ke hilir mengatakan bahawa jantan dalam filem itu ialah Brad Pitt. Bila diterangkan bahawa ini filem buatan krew Melayu bukan filem Hollywood, si Dol ini tak peduli dia masih berkeras kepala dengan Bradd Pittnya.

Wartawan kemudian bertanya apakah si Dol ini telah menonton filem ini. Jangan terperanjat. Jangan pengsan. Jawapan si Dol ini cukup ilmiah dan berilmu. Cukup dengan nas dan bukti. Lengkap dengan sharawi dan sarkawinya.

'Saya tak perlu tengok filem porno itu. Ianya haram untuk ditonton. Tapi saya tahu jantan yang sedang …ek ek ek… dengan pelacur itu ialah Bradd Pitt'.

Kalau aku wartawan yang ada berhampiran pasti aku belangkong kepala Si Dol ini. Kalau tak menonton filem ini mana tahu Bradd Pitt yang berlakon. Kalau tak baca buku Satanic Verses macam mana minta buku ini diharamkan. Kalau tak tahu tempoyak mana nak kenal ikan patin.

Pening kepala aku. Memang sahih dalam dunia ini ada macam-macam gila. Bila berhadapan dengan orang kurang akal kita tak mungkin dapat melakukan sesuatu. Kita terpaksa menerima hakikat bahawa manusia macam si Dol ini wujud. Tak mungkin kita hendak kunci mulut si Dol ini dari bercakap. Kalau kita kunci mulut mungkin si Dol ini akan bercakap dari lubang perut pulak. Ini lagi bahaya, bukan saja cakap tak tentu buah butir malah baunya pun akan busuk lagi membusukkan.

Cerita Tiga Mat Boroi ini tak habis di sini. Dua hari dulu sekali lagi negara jadi heboh. Ini apabila

ada seorang Pak Sarjan berkata bahawa filem Tiga Mat Boroi ini adalah filem tulen.



Memanglah filem ini filem tulen. Tak ada sesiapa yang mempertikaikan tentang ketulenan filem ini.

Apa yang dipertikaikan ialah penonton ingin tahu apakah teknik yang telah digunakan oleh Wira Jantan yang membolehkan dia membuat gerakan Tantrik Yoga di atas ranjang. Ini betul-betul hebat, macam-macam ajaran Kamasutra. Lebih hebat dari 69.



Para penonton sangsi apakah Wira Jantan ini telah diberikan Viagra sebelum adegan ranjang difilemkan.

Lalu timbul persoalan di kalangan jantan yang sudah berumur: Apakah semua ini sebenarnya teknologi imej filem yang membolehkan muka dan gerak badan direkacipta.



Adegan ranjang ini juga telah banyak menimbulkan persoalan. Orang ramai memang amat yakin yang filem Tiga Mat Boroi ini filem tulen. Malah keyakinan mereka lebih besar dari Wisma Yakin. Justeru, soal ketulenan tidak timbul di sini. Orang ramai telah sebulat suara bersetuju bahawa

tidak mungkin filem ini filem cetak rompak

.

Cerita lawak Tiga Mat Boroi ini tidak mungkin habis di sini. Dalam semua lawak, ini aku rasa yang paling terlawak sekali ialah jenaka yang telah dihamburkan oleh Datuk Sk. Lawak ini tidak ada tolok bandingan. Memang betul orang ramai dan penonton kurang arif dari mengetahui siapa sebenarnya Datuk ini. Kita hanya tahu bahawa si Datuk ini adalah orang Siam.

Datuk Sk berkata bahawa filem Tiga Mat Boroi ini adalah 'Anugerah Allah'. Aku terduduk bila membaca ini. Aku pernah dengar orang mendapat Anugerah Bintang Popular, Anugerah Pelakon Terbaik tetapi inilah kali pertama aku dengar sebuah filem telah mendapat Anugerah Allah.

Aku kurang faham, apa maknanya apabila filem Tiga Mat Boroi ini dapat Anugerah Allah? Semua ini persoalan yang memeningkan kepala aku. Tidak cukup dengan misteri Anugerah Allah ini aku juga membaca bahawa Datuk Sk telah berkata bahawa filem ini juga ialah Petunjuk dari Allah.

Nah! Ini lagi memporak-perandakan fikrah aku. Apa maknanya Petunjuk dari Allah?

Nampaknya pada tahun 2011 ini tidak mungkin lagi ada filem yang akan dapat menandingi filem Tiga Mat Boroi. Pengarah-pengarah baru kini banyak yang 'frust' telentang setelah puas 'frust' menonggeng.

Kini terbukti kemustahilan akan ada pengarah yang akan dapat merentasi keupayaan garapan tim Datuk Sk ini; kecuali pengarah ini bermentorkan pelakon tertentu. Atau dapat kautim dengan kumpulan tertentu yang telah dipilih untuk menjadi hakim penilai kesahihan filem Tiga Mat Boroi. -Hishamuddin Rais



Eskay mahu Anwar jawab lima soalan, dakwa video seks 'anugerah Allah'

KUALA LUMPUR, 30 Mac — "Datuk T", Datuk Shazryl Eskay Abdullah mengemukakan lima persoalan untuk dijawab Datuk Seri Anwar Ibrahim sambil menyifatkan video seks didakwanya melibatkan ketua pembangkang itu sebagai "anugerah Allah."

Dalam tulisan terbaru blog Kickdefella hasil satu pertemuan semalam, ahli perniagaan itu berkata beliau yakin semua yang berlaku sekarang adalah petunjuk Allah s.w.t.

Shazryl Eskay merupakan salah seorang daripada tiga "Datuk T" mengakui terlibat dalam pendedahan rakaman video seks pada 21 Mac lalu.

Pertemuan semalam turut dihadiri seorang lagi "Datuk T" iaitu Bendahari Perkasa Datuk Shuib Lazim dan ia disertai lima orang blogger dan seorang pengarang media alternatif.

Kata blog itu, Shazryl Eskay mengerjakan Haji pada tahun 2010 merasakan ini adalah "jawapan dari Allah s.w.t."

"Saya mahu semua orang tahu. Saya tidak minat politik dan saya rakan karib Anwar. (Dari satu sudut) Saya lihat kehadiran Anwar dalam politik Malaysia, bagus untuk 'check and balance'.

"Saya bukan ahli Umno dan mana-mana parti pun. Tetapi, saya suka bila pembangkang kuat supaya kepentingan rakyat terjaga," katanya.

Bagaimanapun blog itu memetik Shazryl Eskay berkata, "tetapi Anwar bukan manusia yang rakyat kenal. Cukuplah rakyat ditipu. Anwar kena berhenti dan letak jawatan."

Malah Eskay juga berkata, beliau tidak mahu penyokong-penyokong Anwar menyerangnya kerana jika mereka terus berbuat demikian, Eskay mendakwa dia akan bertindak balas.

"Jangan biar saya dedahkan lebih banyak," katanya.

Jumaat lalu, Mohamad Mahti Abdul Rahim, bekas pengawal peribadi Allahyarham Tan Sri Megat Junid Megat Ayub berkata, Shazryl Eskay ada memberitahunya bahawa beliau akan menjatuhkan Anwar dari arena politik sebelum mempertontonkan satu rakaman video seks kepada media, 21 Mac lalu.

Rakaman video seks itu mendakwa seorang pemimpin kanan Pakatan Rakyat mengadakan hubungan seks dengan seorang pelacur China.

Menurut Mohamad Mahti, Shazryl Eskay marah kerana Ahli Parlimen Permatang Pauh itu enggan menjadi saksi dalam kes samannya berkaitan projek jambatan bengkok yang diluluskan ketika era Tun Dr Mahathir Mohamad.

Kes itu sedang berlangsung di mahkamah dan Megat Junid pernah menjadi menteri dalam Kabinet Dr Mahathir.

"Selepas beliau bercakap dengan marah mengenai Anwar, beliau mula bercakap buruk mengenai beliau (Anwar), berkata 'saya akan menjatuhkan Datuk Seri Anwar, dengan apa jua cara pun," katanya.

"Sekarang awak semua tanya Anwar lima soalan," Shazryl Eskay dipetik berkata.

Menurut blog Kickdefella hari ini, soalan-soalan tersebut ialah "pertama, sejak dua tahun lalu berapa kali Anwar ke Thailand? Kedua, siapa yang menyambut Anwar di Thailand? Ketiga, di hotel mana Anwar menginap? Keempat, apa Anwar buat di bilik hotel tersebut? Dan kelima, siapa yang menyelesaikan semua bayaran tersebut?"

"Jangan paksa saya dedahkan semua itu… suruh Anwar jawab dulu soalan itu sebelum (semua) serang saya" kata Shazryl Eskay.

"Awak semua balik dan tanya soalan ini di dalam blog," kata Eskay kepada sekumpulan blogger dan penulis media alternatif.

"Saya tidak takut kepada Anwar…" akui Shazryl Eskay, yang mengakui kekuatan penyokong-penyokong Anwar tetapi akur bahawa di dalam dunia ini, ada yang lebih berkuasa. -TMI
Franklin D. Roosevelt:all of us, you and I, are descended from immigrants
Posted: 10 Apr 2011 05:19 AM PDT
"Remember, remember always, that all of us, and you and I especially, are descended from immigrants and revolutionists."
— Franklin D. Roosevelt (SOURCE OF THIS POSTING)
"We may not be able to prepare the future for our children, but we can at least prepare our children for the future."
"Men are not prisoners of fate, but only prisoners of their own minds."
"To reach a port we must set sail –
Sail, not tie at anchor
Sail, not drift."
"Freedom means the supremacy of human rights everywhere.
Our support goes to those who struggle to gain those rights and keep them. Our strength is our unity of purpose. To that high concept there can be no end save victory."
"Courage is

not the absence of fear

,

but rather the assessment that

something else is

more important than fear."
"I'm not the smartest fellow in the world, but I can sure pick smart colleagues."
"Happiness lies in the joy of achievement and the thrill of creative effort."
"Books can not be killed by fire. People die, but books never die. No man and no force can abolish memory… In this war, we know, books are weapons. And it is a part of your dedication always to make them weapons for man's freedom."
"The only limit to our realization of tomorrow will be our doubts of today. Let us move forward with strong and active faith."
"The test of our progress is not whether we add more to the abundance of those who have much; it is whether we provide enough for those who have too little."
"There are many ways of going forward, but only one way of standing still."
"The liberty of a democracy is not safe if the people tolerated the growth of private power to a point where it becomes stronger than the democratic state itself. That in its essence is fascism: ownership of government by an individual, by a group, or any controlling private power."
—
Franklin D. Roosevelt
"In the truest sense, freedom cannot be bestowed; it must be achieved."
"Repetition does not transform a lie into a truth."
"In these days of difficulty, we Americans everywhere must and shall choose the path of social justice…, the path of faith, the path of hope, and the path of love toward our fellow man."
"Democracy cannot succeed unless those who express their choice are prepared to choose wisely. The real safeguard of democracy, therefore, is education."
"Human kindness has never weakened the stamina or softened the fiber of a free people. A nation does not have to be cruel to be tough."
"True individual freedom cannot exist without economic security and independence. People who are hungry and out of a job are the stuff of which dictatorships are made.
Freedom"
"The only sure bulwark of continuing liberty is a government strong enough to protect the interests of the people, and a people strong enough and well enough informed to maintain its sovereign control over the government."
Source:goodread:
Related Articles
Posted: 10 Apr 2011 04:53 AM PDT
This is from Free Malaysia Today:
Snap grasping at straws to regain momentum
KOTA KINABALU: The 'who's who' and 'who's backing whom' mind game is continuing a week before Sarawakians go to the polls.
Sarawak outcast Snap is struggling to re-establish their credentials as an independent non-Barisan Nasional-supporting party in the election after PKR, Movement for Change Sarawak (MoCS) and and the Malaysian Civil Liberties Movement (MCLM) severed ties with them.
The party has snapped up Sarawak PKR chief Baru Bian's words that Snap is "struggling due to limited resources or lack of voter support" as a godsend as an admission that they are not engaged in dubious practices as claimed.
The party is desperate to be taken seriously after being dealt a body blow by MCLM two weeks ago when the independent grouping revealed that Snap candidates and some of their 'privileged' leaders had suddenly come into significant funds that were being made available by operatives from Kuala Lumpur acting under the directions of BN.
MCLM president Haris Ibrahim explained then that they were severing all ties or relationship with Snap as the objective of the alliance was to end the plight of marginalised Sarawakians by ending Sarawak Chief Minister Taib Mahmud's 30-year reign, and to establish a pro-rakyat federal government.
A Snap supporter today said that Bian's words showed that there was no truth in the accusations that Snap is a BN tool and funded by the ruling coalition in the election.
A Snap campaigner who is struggling to get the party's message across today accused PKR, DAP and MoCS for making the allegations against the state-based Dayak party to deny them the right to be a partner within Pakatan Rakyat.
The same Sabah tactic
He accused PKR and DAP campaigners of emphasising the accusation against Snap especially in areas Snap is contesting and said it was exactly the same tactic PKR and DAP did to Sabah-based party SAPP during the Batu Sapi by-election in November last year in Sabah.
SAPP, he said, was then accused of being untrustworthy and being in cahoots with BN and of harbouring ambitions of rejoining the BN if it won.
"PKR and DAP are now using the same tactics … accusing Snap too would rejoin BN when it wins some seats," said the Snap campaigner who only wanted to be known as Stanley.
"But now even Baru Bian knows that our candidates are short of fund…God is great. He puts words in Baru's mouth to vindicate us, for if we are funded by BN as accused, surely our campaign machineries are just as well-oiled like BN's," he argued.
"There is no truth whatsoever from the very beginning of Snap receiving aid from BN and being a tool for BN. PKR and MoCS created that accusation just to satisfy their own greed to push away Snap and pave the way for them to put up their own candidates," he told FMT.
Baru had called on Snap to withdraw its candidates in constituencies where its campaign are 'not making any headway' because of lack of fund.
Three-cornered fights witk PKR
Baru had said he heard that many of the Snap candidates were struggling due to limited resources or lack of voter support.
"I heard many of them are not making any headway. If this is the case, I advise them to withdraw and throw their support to Pakatan Rakyat candidates. After all our aim is to topple this government and bring change to Sarawak," he had told FMT.
Snap is contesting in 27 Dayak-majority seats following failed negotiations with PKR, who ironically insulted the Sarawak's oldest party by "offering" it to contest in only three out of the 71 seats up for grabs.
In almost all the 27 constituencies, Snap and PKR are facing each other apart from contesting against BN, independents and Parti Cinta Malaysia candidates.
Former PKR vice president Jeffrey Kitingan and his United Borneo Front (UBF) are lending their support to the local Sarawak party which has fallen on hard times.
---------------------------------------------------------------
It still makes sense for SNAP to be a trojan horse, albeit one that BN is reluctant to associate itself with now.
SNAP's leaders probably received money from KL earlier, but they haven't passed it on to their election campaign. Why? Consider this - originally, the idea is to split the seats between PKR and SNAP. If SNAP has gotten the lion's share, then the leaders could use the money to campaign, and if SNAP wins, and BN loses badly, SNAP is their insurance to still form the government. That means SNAP has value, and BN needs to recognise SNAP's contribution and reward SNAP with governmental positions.
But PKR, MCLM and Sarawak Report saw through the crook that SNAP leaders are (in a way, this demonstrates the political acumen of Azmin Ali), and so the original plan fell apart. SNAP leaders are to be blamed because they could not convince Azmin Ali to contest less seats. Now, SNAP stands to lose everything because they don't have a cause celebre, and they are not in the BN fold. So what's the point of spending money on the campaign?
Except that now BN is desperate - they realise that there is a firestorm sweeping across Sarawak. Therefore they take a calculated risk to (no doubt begrudgingly) fund SNAP so that SNAP can effectively take away some votes from Pakatan, and hopefully, BN will still win. It's a win win situation for SNAP because it's leaders have been enriched, nevermind if the party fails to get a single seat.
All the more reason for Pakatan supporters, workers and voters to double their effort not to leave anything to chances - phantom voters, multiple voting, vote rigging, ballot box switching, obstructing voters from voting, bribes, intimidation, rigged postal votes, abuse of federal governmental machinery, money and mainstream media etc.. Pakatan needs all the help it can get. The winds of change may be blowing, but to topple the BN mast, it has to be the strongest possible hurricane.
Penumpang Terkejut Ada 400 Ular Di atas Bas Yang Mereka Naiki
Posted: 10 Apr 2011 04:00 AM PDT
B
uenos Aires - Para penumpang sebuah bas di Argentina tersentak dan amat terkejut tatkala mereka telah disambut dengan hal yang meresahkan. Kerana di dalam bas yang mereka naiki, rupa-rupanya ada 600 ular dan hawan reptilia yang disimpan di dalam bag dan kotak.
Para penumpang pada awalnya tidak menyedari bahawa mereka telah bertolak bersama ratusan ular. Mereka baru menyedarinya ketika polis yang bertindak setelah mendapat laporan itu menahan bas tersebut di satu wilayah utara menuju Buenos Aires. Polis meminta penumpang memperlihatkan tanda pengenal dan lalu mulai memeriksa tas mereka.
Penumpang bus terperanjat kerana ternyata ada seorang penumpang duduk sambil membawa 40 ular.


"Seorang penumpang di dalam bas membawa 40 ular. Ular-ular lainnya ia simpan di beberapa kotak ditempat di dalam tempat barangan bas," kata polis penjaga hutan Santa Fe, Daniel Chersich, yang sedang menyelidiki jaringan penyeludup margasatwa.

Seperti dikutip surat khabar Clarin, polis terkejut ketika membuka beberapa kotak di tempat letak barangan bas. Penyeludup ternyata memasukkan 444 ular boa, viper dan dan ular jenis lain; 186 kura-kura yang terancam punah; 40 kadal, dan armadillo (binatang pemakan serangga).

Penyeludup yang kemudian ditangkap itu naik bas di Santiago del Estero.

"Di Tempat itu, ia telah menghabiskan waktu tiga bulan untuk menangkap bermacam spesies di belukar dengan tujuan menjual haiwan tangkapannya," kata Chersich.


How to make the people the masters of their own country
Posted: 10 Apr 2011 03:14 AM PDT
Edited and took extracts from the source, MKini letter,"Changing the face of the country" by R. Kengadharan
Theoretically a significant change will only blossom if there is a revolution, but this idea no longer seem as pragmatic as all that.
Today the objective is to liberate the minds of the people and create a mass non-violent movement and its importance cannot be discounted.
The purpose is to make the people the masters of their own destiny.
A major achievement would be in the ability to change the status quo without violence and to cast a current political practice into a limbo and adapt a new one by an election.
In this process the new government could remake the economy or renovate the institution yet not destroy it and re-fashion even the structure of government by votes rather than by force.
We must constantly remind ourselves that characteristics such as human dignity, economic freedom, individual responsibility, equal political rights are fundamental values that distinguish democracy from all other forms of government.
When the right to vote in any system of government you live in is undermined then you are a subject and not a citizen.
Additionally, "No democracy can long survive which does not accept as fundamental to its existence the recognition of the rights of minorities" – Franklin D. Roosevelt (U.S. President, 1882-1945).
Democracy is the only tangible vehicle that can extraordinarily extend the sphere of individual freedom and liberty and attach all possible values to each man and will seek equality in liberty without any form of restraint and servitude.
Another 4-5 yrs later the people of Myanmar will once again visit the ballot box. How do you propose to exercise your fundamental democratic right?
Many political parties and pundits are fearlessly lamenting about claims to promote human freedom but not it profits them concretely from the denial of freedom.
Note there are only two kinds of freedom i.e. the freedom of the military affiliated people, rich and powerful (who invariably will exploit manipulate and commit deception on the poor) and the freedom of the monk who renounce possessions.
In every civilized society human rights must have the upper hand and such rights cannot exist without economic security and independence.
Moreover, "no democracy can flourish half rich and half poor, any more then it can flourish half free and half slave"- Felix G. Rohatyn.
Never must we forget that "everyone has the right to a standard of living adequate for the health and well being of himself and his family including food, clothing, housing and medical care and necessary social services, and the right to security in the event of unemployment, sickness, disability, widowhood, old age or lack of livelihood in circumstances beyond his control." – Universal Declaration of the Human Rights United Nations Article 25.1, 1948.
In essence every voter attempting to exercise his universal freedom on next election must remind himself and herself of the following values:
(i) Dream of the reality that ought to be – that must be;
(ii) Live beyond the pain of reality with the dream of a bright tomorrow;
(iii) Use hope and imagination as weapons of survival and progress;
(iv) Need no longer hold your tongues or fear to vote the revolutionary or reformatory ticket;
(v) Your objective is to achieve complete freedom, justice and equality.
Finally: "Many politicians of our time are in the habit of laying it down as a self evident proposition, that no people ought to be free till that they are fit to use their freedom.
"The maxim is worthy of the fool in the old story, who resolved not to go in the water till he had learned to swim. If men are to wait for liberty till they become wise and good in slavery, they may indeed wait forever" – Thomas Babington Macaulay (1800-1859).
Daw Aung San Suu Kyi had already remarked about this:
The Universal Declaration of Human Rights of the United Nations proclaims that 'every individual and every organ of society' should strive to promote the basic rights and freedoms to which all human beings regardless of race, nationality or religion are entitled. But as long as there are governments whose authority is founded on coercion rather than on the mandate of the people, and interest groups which place short-term profits above long-term peace and prosperity, concerted international action to protect and promote human rights will remain at best a partially realized struggle.
The quintessential revolution is that of the spirit, born of an intellectual conviction of the need for change in those mental attitudes and values which shape the course of a nation's development.
A revolution which aims merely at changing official policies and institutions with a view to an improvement in material conditions has little chance of genuine success. Without a revolution of the spirit, the forces which produced the iniquities of the old order would continue to be operative, posing a constant threat to the process of reform and regeneration.
It is not enough merely to call for freedom, democracy and human rights. There has to be a united determination to persevere in the struggle, to make sacrifices in the name of enduring truths, to resist the corrupting influences of desire, ill will, ignorance and fear.
Related Articles
Taib to Najib: Bible serial numbers a 'stupid idea'. Najib to Taib: I AGREE!!
Posted: 10 Apr 2011 02:46 AM PDT
Regina Lee
Apr 9, 11
4:19pm
Sarawak chief minister Abdul Taib Mahmud has credited himself for solving the Bible impasse that has gripped the Malay-speaking Christian community.
Speaking to about 1,000 Melanau Christians in Mukah, he said that in contrast, the opposition didn't lift a finger to rectify the problem and it was he who talked to the prime minister. Taib told Najib  that it was a stupid idea to stamp serial numbers - hence it should be stopped. Najib agreed with Taib and put a stop to the stamping of the serial numbers.
"
Now there's no more of this nonsense," he said.
Taib said that now there was no more of this nonsense and denied that the stamping was the result of a federal government ruling. Taib instead blamed it on 'misinterpretation' by minor state officials.
Taib later told reporters, saying, "It was my lower officers who interpreted it the wrong way. When (Prime Minister Najib Abdul Razak) realised it, he also thought that it was a funny way to interpret (the ruling)."
Taib later stressed that Malay-languaged bibles and religious tolerance have been a "Sarawak tradition", saying, "This is a Sarawak tradition. We've had this for a long time.So why do something new to make people unhappy?"
Taib is so powerful.
If Taib says '1', Najib says '1'.
No wonder MACC has no balls to investigate Taib despite the many allegations against him.
Aura Najib Takkan Mampu Bendung Kebangkitan Rakyat Sarawak
Posted: 10 Apr 2011 03:39 AM PDT
N
ajib: Kempen enam hari saya bukan makna BN Sarawak tertekan
Datuk Seri Najib Razak menolak andaian langkah beliau meluangkan enam hari berturut-turut mulai petang ini untuk berkempen bagi Barisan Nasional (BN) Sarawak bukan petanda mereka makin tertekan dan terdesak dalam mempertahankan negeri itu.
Sebaliknya, Perdana Menteri (gambar) berkata, beliau selaku Pengerusi BN hanya menjalankan tugas membantu siri kempen menjelang hari pengundian Sabtu ini.
"Saya rasakan ia menjadi tanggungjawab saya untuk pergi menemui akar umbi apabila ada pilihan raya kecil atau pilihan raya negeri. Jadi, apa yang saya lakukan ini bukan sesuatu luar biasa.

"Dan, Sarawak juga sebuah negeri yang besar, ada 71 kerusi. Jadi, walaupun kita hendak pergi ke beberapa kawasan pun, kita memerlukan beberapa hari disebabkan (faktor) jarak," kata beliau kepada pemberita selepas merasmikan 1Malaysia Cardiff City Junior Football League di Institut Penyelidikan Getah di sini pagi ini.

The Malaysian Insider pagi tadi membawa laporan bahawa Najib akan menjelajah ke seluruh Sarawak bagi membantu BN sepanjang baki enam hari akan datang — sehingga Jumaat ini — yang menurut pembangkang petanda jelas perikatan yang memerintah ini sudah mula merasai kehangatan kempen pilihan raya dalam usaha mengekalkan negeri yang selama ini dianggap sebagai deposit hayat mereka.

BN dilihat berhadapan dengan tekanan hebat daripada Pakatan Rakyat (PR) khususnya di kawasan-kawasan majoriti pengundi Cina di mana pengundi-pengundi dilihat sudah mula menerima agenda "undi untuk perubahan" yang dibawa PR.

Malah, kempen BN juga dikatakan dibayangi laporan-laporan dan dakwaan rasuah dan salah guna kuasa membabitkan Tan Sri Abdul Taib Mahmud — ketua menteri Sarawak paling lama memegang jawatan.

Ramai pengundi yang ditemui kelihatan berhati-hati apabila ditanya siapa yang mereka akan menyokong Sabtu ini.

Berbanding dengan laungan "BN" yang sering didengar, mereka kelihatan 'membisu' kali ini mengenai pilihan mereka. DIfahamkan pendirian ini satu petanda jelas pembangkang telah berjaya memikat pengundi-pengundi di kawasan kubu kuat BN.

Ini pilihan raya negeri Sarawak yang pertama bagi Najib sejak dilantik sebagai perdana menteri.

Najib akan tiba di Kuching lewat petang ini.

Mengulas jadual ketat Najib yang sanggup menghabiskan enam hari di Sarawak menjelang hari pengundian 16 April, Setiausaha Publisiti DAP Kebangsaan Tony Pua berkata, ia petanda jelas BN makin terdesak untuk mengekalkan kubu kuatnya di Sarawak.

Bagaimanapun beliau bimbang BN akan menggunakan apa jua cara untuk memastikan ia dapat mengekalkan negeri Sarawak, Sabtu ini.

"Ia akan melakukan apa sahaja untuk memastikan ia dapat kekal meneruskan kuasa di Sarawak. Saya berharap ia tidak akan menjejaskan pengundian dan pilihan raya yang bebas, adil dan bersih," kata Pua yang juga anggota Parlimen.

Ini kali pertama sejak 1987, Sarawak menyaksikan persaingan bagi semua kerusi yang diperuntukkan. -TMI



Ulasan GB



Berkampunglah Najib di Sarawak selama 6 hari bermula hari ini.

Walaupun beliau menafikan bahawa BN sebenarnya sudah amat tertekan, namun semua orang sudah tahu, tsunami politik menolak BN yang dipimpin Abdul Taib Mahmud tidak mungkin dapat dibendung lagi.

Segala macam usaha dilakukan, tetapi gelombang kebangkitan rakyat Sarawak sama sperti tsunami yang berlaku di Jepun baru-baru ini, menerjah tanpa amaran dan di mana-mana bahagian bumi Sarawak, rakyat sudah berani bangkit menolak penindasan yang telah dilakukan ke atas mereka semenjak BN memerintah Sarawak.

Aura Najib sebagai PM tidak akan mampu lagi memebendung "kemarahan" rakyat Sarawak kini, malah GB mendapat laporan bahawa lebih lama Najib di Sarawak lebih ramai yang akan buktikan kepadanya

masa untuk BN sudah tamat di Sarawak.



"Imej Najib sebagai seorang Qarun, membawa berpundi-pundi wang emas ke Sarawak untuk ditaburkan semasa pilihanraya tidak lagi mampu merubah hati kami untuk menolak Taib dan BN," kata seorang rakyat Sarawak.

"Jangan kata 6 hari, tinggal lebih lama lagi, 6 bulan atau 60 tahun pun, rakyat Sarawak telah bulat untuk pastikan BN tidak berkuasa lagi di bumi kenyalaang ini," tambahnya.


TAIB MAHMUD DARE SPEAK HIS MIND?
Posted: 10 Apr 2011 02:22 AM PDT
CM Sarawak Taib Mahmud has finally vented his anger at the stamping of the Bahasa Malaysia bible (AlKitab) by calling the action taken by the federal authorities as a STUPID IDEA that should not be applied to Sarawak. Taib Mahmud further said that he had spoken to PM Najib about not stamping the bible which the latter agreed.
Such harsh statement coming from Taib Mahmud at a critical time of the Sarawak state election does not augur well for federal-state relations. The statement hits at the very heart of the federal authorities, in particular the Home Ministry, and to be more direct at Minister Hishamuddin himself. I am just too eager to see how Hishamuddin reacts to the statement made by Taib Mahmud, and the word STUPID, I think must have severely dented Hishamuddin's ego.
And by implicating PM Najib in this, Taib Mahmud is trying to tell the Christians in Sarawak that PM Najib has reneged in his agreement not to stamp the bible. What is Taib Mahmud trying to show the Christians in Sarawak? By his statements, is he not implying that PM Najib has not kept his word, and is therefore not to be trusted? To me, that is the impression I get out of Taib Mahmud's statement. Clearly, Taib Mahmud is trying to show the Christians in the state that he cares, and hitting out at the federal authorities, Minister Hishamuddin and including PM Najib is simply to show power against the federal authorities including his boss, that he hopes will translate into popular support for him in this Saturday's state election. He is purely playing politics here, and he knows that the loss of Christian support spells doom for his 30 odd years of rule.
I think PM Najib is being placed against the wall now over Taib Mahmud's statement. Likewise, the same goes to Minister Hishamuddin. What can both the cousins do now to react, or will they ever dare react at all? Can they just ignore Taib Mahmud? Can they sideline him and get an alternative leader from among the BN component parties to lead the coalition government; should BN win this state election? Will PM Najib be bold enough to ask Taib Mahmud to step down, or can Najib garner sufficient support to pressure Taib Mahmud to relinquish the post, the way UMNO did to Tun Abdullah Badawi? I personally think that 30 odd years at the helm of the state administration is much too long, and stepping down now is far too risky for Taib Mahmud in light of the massive exposure by Sarawak Report of his plundering and corrupt practices.
As I see it, PM Najib's dilemma is Taib Mahmud's strength. Bringing down Taib Mahmud now either through unpopular means or by way of persuasion may cause the fall of the federal government as well. Clearly, this is what PM Najib does not want. Even if Taib Mahmud willingly steps down, there is no guarantee that his replacement is strong enough to lead the state, as Taib Mahmud never really had someone ready and capable enough to take over the helm. I am told that all his subordinates are being held at arm's length; certainly not in the departments where Taib Mahmud's has direct control to plunder the state's wealth with impunity.
I think this state election will not bring about the expectant changes that the PR has hoped for. The PR may win additional seats, especially in the Chinese dominated urban areas; certainly not the rural areas where 30 years of Taib Mahmud's rule is well embedded in the minds of the rural folks, where Sarawak is synonymous with Taib Mahmud. They can be easily manipulated by mere promises at every state election, and being simple rural folks, an unfulfilled promise really means nothing to them. They are too simple to even bother to ask for electricity and clean drinking water.
CRUSADE AGAINST CORRUPTION
SNSD – Japanese Run Devil Run MV & screenshots
Posted: 10 Apr 2011 12:32 AM PDT
Korean pop group SNSD has released a Japanese music video for Run Devil Run, a cover of their original Korean version. The song is one of the title tracks of their third Japanese single-album which will be released on April 27.
There's more, read the full post »
SNSD – Japanese Run Devil Run MV & screenshots from YeinJee's Asian Blog
Hancurlah BN Di Sarawak, Harapkan Komik Lucah Sebagai Penyelamatnya
Posted: 10 Apr 2011 01:00 AM PDT
K
omik lucah disebarkan di kawasan Pakatan pula
Selepas komik lucah yang memaparkan kartun seks Ketua Pembangkang Datuk Seri Anwar Seri Anwar Ibrahim diedarkan di Parlimen Lembah Pantai, kini komik itu disebarkan pula di kawasan Pakatan Rakyat yang lain.
Kali ini, komik "Kisah Juara Raja Lawak" disebarkan di Damansara yang terletak di parlimen Subang yang diwakili bekas naib presiden PKR R Sivarasa.
Seorang pekerja swasta yang tidak mahu dikenali memberitahu Malaysiakini pada 26 Mac lalu, komik lucah itu diposkan ke rumahnya.

"Saya tidak pasti nama dan alamat saya diambil daripada (sumber) mana. Cop pos (atas sampul surat) dari sebuah pejabat pos di Shah Alam," katanya.

Menceritakan kandungan komik tersebut, wanita itu berkata terdapat lukisan kartun yang menyerupai gambar Anwar yang juga ahli parlimen Permatang Pauh melakukan aksi seks.

Menurut wanita yang berumur 26 tahun itu lagi, dia menyedari komik berkenaan berada di peti suratnya selepas memeriksanya semalam.



Laporan polis



"Saya tidak pasti sama ada jiran dan rakan-rakannya yang lain turut menerima komik itu," katanya.

Ditanya sama ada beliau membuat laporan polis berhubung perkara tersebut, wanita itu berkata beliau tidak membuat laporan polis dan tidak pasti sama ada mahu berbuat demikian.

"Saya baru sedar (komik itu) semalam, tidak pasti nak buat laporan atau tidak," katanya.

Akhir bukan lalu, ahli parlimen Lembah Pantai Nurul Izzah Anwar membuat laporan polis berhubung penyebaran komik itu yang memaparkan kartun lucah Anwar - yang juga bapanya - dalam pelbagai aksi.

Komik 16 halaman tersebut didakwa mempersendakan ketua pembangkang dihantar kepada pengundi baru di kawasan parlimennya di Lembah Pantai.

Dalam laporan polisnya, Nurul Izzah antaranya mendakwa, pengedaran komik itu berniat jahat "kelihatan seperti suatu kempen" bagi menjatuhkan reputasi dan kredibiliti bapa dan imej beliau sendiri sebagai anak sulungnya. -mk



Ulasan GB



Hancurlah BN kali ini di Sarawak.

Terpaksa menggunakan taktik kotor dan jijik dengan membawa komik lucah dari Shah Alam untuk di edarkan di Sarawak dengan harapan rakyat Sarawak membeci Pakatan Rakyat.

Sedangkan rakyat Sarawak sudah pun awal-awal menolak video seks inika pula komik lucah.

Rakyat Sarawak tak perlu komik lucah. Rakyat Sarawak perlukan air bersih. Rakyat Sarawak perlukan wakil rakyat yang lain selain BN. Rakyat Sarawak ingin KM yang lain selain dari Taib Mahmud. Rakyat Sarawak mahukan hak mereka sebagai rakyat Malaysia yang berdault. Rakyat Sarawak mahukan hasil negeri yang telah dirompak selama ini oleh KM dan kerajaan BN dikembalikan kepada rakyat Sarawak.