---
Buffet Ramadhan 2011 – Selera Kampung-Ku At Cinnamon Coffee House Of One World Hotel
Posted: 30 Jul 2011 10:08 AM PDT
Buffet Ramadhan started way too early for me this year. I was invited by One World Hotel to get a taste of their Ramadhan buffet last Thursday and I didn't just get a taste, I had one of the best feasts ever.
FYI the Cinnamon Coffee House that we went to is an award-winning restaurant! It is located on the concourse level of One World Hotel. I have never been to the Ramadhan buffet at this hotel before but I think this  year I will take my friends here laah… Simply because the selection of super yummy food is huge! Semua sedap-sedap including those authentic malay dishes that you can only find in specific places  is Malaysia.
The Ramadhan buffet is starting from 1 – 30 August 2011. I loveee the home-made kampung food! At times you can forget you are in PJ but feeling-feeling macam kat Pahang, Perak etc… They serve  traditional favourites like nasi minyak sari shawal, kari daging tetel berkentang, ayam masak rendang raya, ikan tenggiri goreng belada, udang sambal petai hirisan, ketam goreng berempah, nangka muda lemak cili padi dengan tulang ikan masin and much more.
Other than that, just like what Miki and I had, you can treat yourself to Middle Eastern specialties, Penang nasi kandar, barbecued delights, whole roast lamb and hawker stalls featuring char kway teow, laksa, mee mamak, popiah and rojak prepared a ala minute. There is also the kerabu station, dim sum corner, Japanese counter and Italian kitchen to satisfy your cravings. An assortment of refreshing beverages and sweet desserts complete a memorable dining experience.
Enjoy the pics!
RAMADAN BUFFET 2011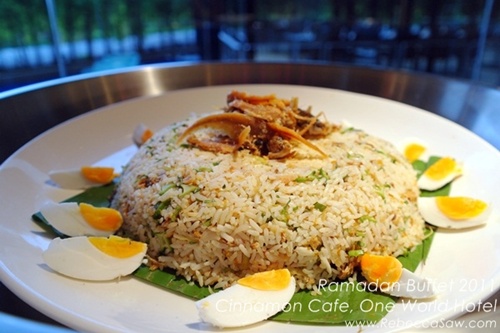 Nasi Ulam terbaik!!
DO YOUR OWN TRADITIONAL MALAYSIAN SALAD
Rojak buah-buahan with traditional condiments
Caesar salad with condiments
SAVORIES AND PICKLES
Aneka Keropok , Aneka papadom , Tempeh Ikan Bilis Berlada, Telur Masin,
Paru Goreng, Hati Goreng Kicap, Ikan Masin, Ikan Masin Talang, Ikan Masin Talang, Acar jelatah, acar buah, acar rampai, Ikan Masin Sepat ,Jeruk Kedondong, Jeruk Anggur, Jeruk Betik , Jeruk Kelubi ,Jeruk Cermai, Jeruk Mangga Muda, Jeruk Pala, Lemang , Ketupat Palas, Nasi Himpit, Serunding Ayam, Serunding Daging
MALAYSIAN SAMBALS
Sambal Tempoyak, Sambal Budu , Sambal Belacan , Sambal Cincaluk , Sambal Hijau,
Sambal Cili Manis, Sambal Mangga Pedas , Sambal Kicap Pedas, Sambal Kacang ,
Sambal Asam Jawa
HOMEMADE FUSION BREAD COUNTER
Assorted Bread Loaves & Roll, Serunding Bread, Morocco Bread, Spices Zatar Bread Kurma Roll., Grissini Stick & Lavash.
INTERNATIONAL APPETIZERS
Seafood With Penne Pasta Salad
Sausage Cheese Salad
Baked Potato Salad With Horseradish
Ulam – Ulaman Serantau, Petai , Jering , Kacang ,Botol , Timun ,
Daun Ceylon , Pegaga , Ulam Raja ,
Mattar Chat, Zaffrani Apple Chat Chicken, Karara Palak Chat
4 Types Chinese Salad
GARDEN Of VEGETABLES AND MIX LETTUCE (cold)
Mesclun mix, Tomato Cherry, Sweet Bean, Broccoli, Artichoke, Asparagus and Cucumber
CHOICES OF DRESSING (cold)
Thousand Island, French Dressing, Italian Vinaigrette, Balsamic Vinaigrette and Mango chutney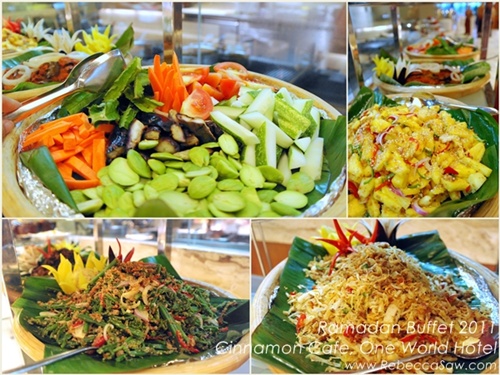 Aneka Kerabu! Peminat Petai sila angkat tangan!
ANEKA KERABU STATION
Urap Pegaga Sari
Kerabu Kaki Ayam
Kerabu Udang Dengan So Hoon
Acar Rampai Mahligai
Kerabu Mangga Bunga Kantan
Kerabu Taugeh Bercili
MIDDLE EASTERN FOOD
Salad and Cold Appetiser
Cucumber With Yoghurt, Labneh With Walnut, Hummus, Warak Enab(Stuff Vine Leafs),
Mutabble, Tabuleh, Fatoush, Hummus Bairuty, Hummus Eith Mince Lamb And Spices,
Tomato Tahini Salad.
HOT STARTERS
Bourke With Mince Lamb, Bourke With Spinaches, Bourke With Chess, Tahini Parley Sauce,
Potato With Corinder And Garlic, Falafel(Action Station), Kebbeh With Beef And Spice With Pine Nuts(Action Station), Spinach Arabic Pie(Bakery)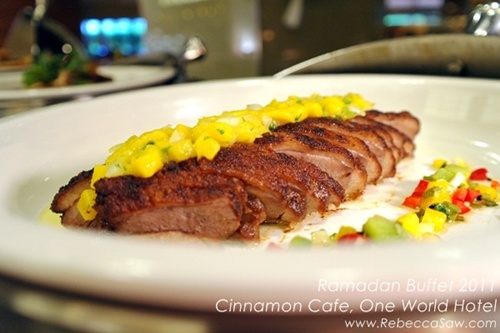 Duck breast with mango salsa… This is soooo delicious!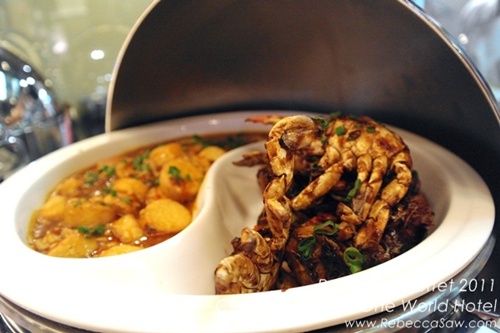 Crabs for seafood lovers..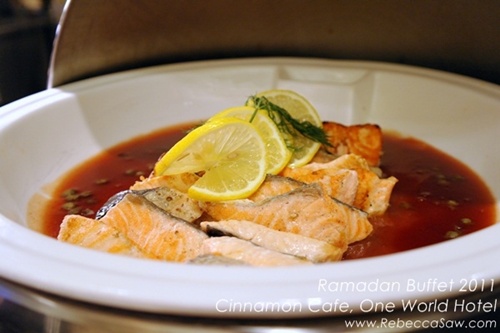 This is definitely my favorite!! SALMON!!
Soup on buffet
Soup Ekor Cendawan Hitam Bersuhun
Moroccan Harira
Soup Seafood Tom Yam
Chicken Rawa Rassenm
Vandalia Cream Onion Soup
Corn Soup With Crab Meat
Bubur Lambuk "One World"
With varieties of Condiment
Carving Of The Day With Condiment And Sauce
Marinated Roasted Whole Lamb with Garlic Rosemary Sauce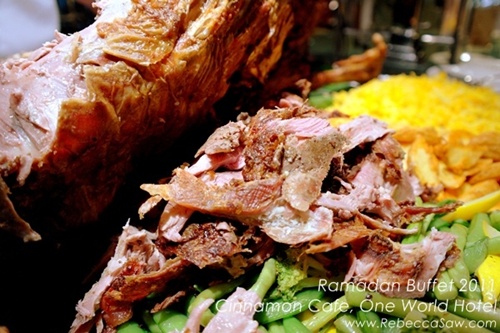 PIZZA
Seafood Percik Pizza, Beef Rendang Pizza, Chicken Satay Pizza, Masala Veggie & Seafood Pizza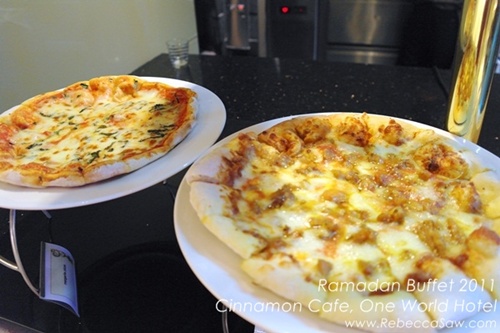 Pasta Station
Freshly home made pasta cook in tomato sauce with herbs and seafood
Dim Sum From Our Chinese Chef
Assorted Dim Sum Of Steam, Pau With Chili & Sweet Sauce
Putu Piring , Putu Mayam, Kacang Kuda Rebus,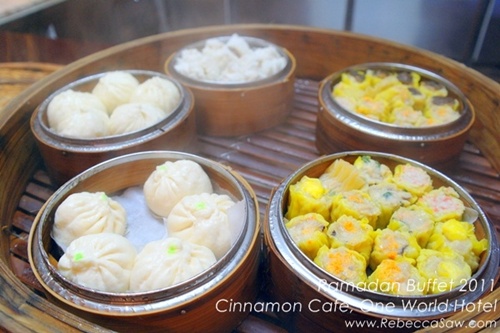 Dim Sum… Miki sangat suka ni sebab dia feeling-feeling KungFu Panda.. hehe!
Malaysian Hawkers Fare
Noodle Soup Of The Day
Mee Curry
Prawn Mee Soup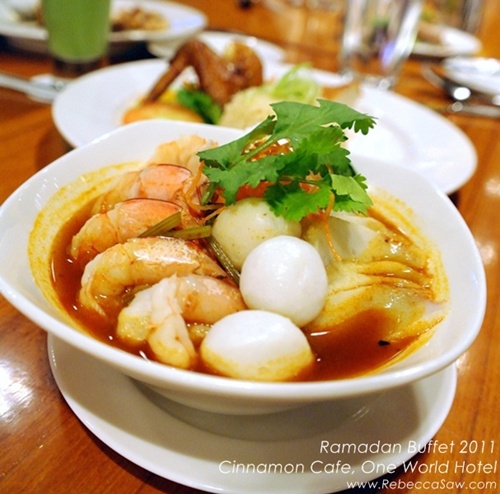 Mee Udang makes me feel like I am in Teluk Kumbar, Penang where the best prawn is found!
Hainanese Chicken Rice
With Steamed Or Roasted Farm Chicken, Roasted Duck
YOUNG TAU FOO CONER
20 Items For Guest Choice
Blanched And Dip With Your Choice Chili, Sweet Sauce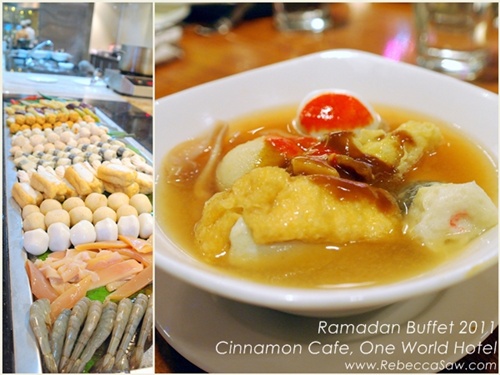 Yong Tau Fu

POPIAH BASAH CONER
ANEKA PANGGANG "SERANTAU"
Charcoal Grilled Chicken Wing, Beef, Lamb , Squid , Mini Steak, Green Mussel , Crab, Otak – Otak , Lamb Chop, Terubuk , Cencaru, Tenggiri , Kembong , Selar ,Pari With Kicap Manis, Cincaluk , Air Asam Tomato , Cili Manis, Rice Cake, Cucumber, Onion, Pineapple & Peanut Sauce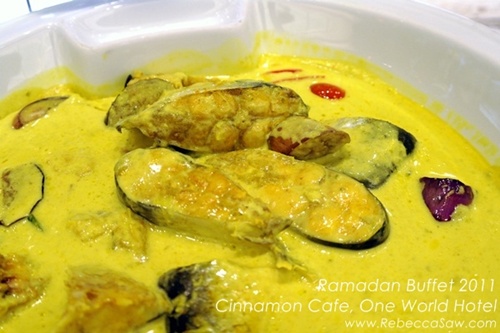 Gulai Tempoyak Ikan Patin Pahang! Terbaekkk!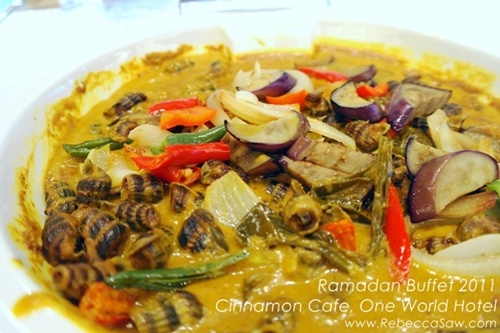 Lemak Cili Padi Siput Sedut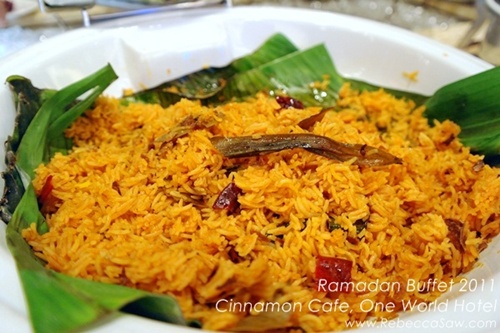 Nasi Tomato
Middle East Specialties
Shawarma
Incredible India
Tandoori
Murgh Malai Tikka
Chicken Tikka
Fish Tikka
Seekh Kebab
Order Your Favourite "Roti Canai"
Roti Pisang , Roti Tissue , Roti Cheese , Chicken Murtabak , Roti Kosong , Roti Susu Dan Gula.
Roti John, Roti Bom.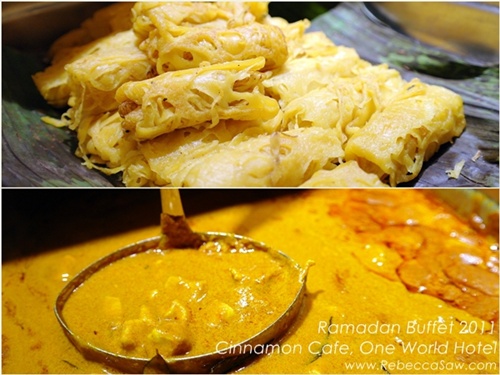 Japanese Appertizer
Japanese Kim Chee, Anchovies Aie, Sunomono, Unagi Su, Kurage Chuka, Edamame, Hotate Chuka,
Wakame Chukka, Parikozuke, Shibazuke, Takuan, Ama Rakyo.
Japanese corner
Tempura
Deep Fried Seafood, Meat & Vegetables Served With Soya Sauce, Grated White Radish & Wasabe
Tiger Prawns, Snapper, Seabass, Black Mussel, Octopus
Egg Plant, Carrot, Zuchinni, Bell Pepper, Lotus Root, Okra, And Yellow Squash
Sushi & Sashimi Deli Corner
Maguro & Salmon Sushi, Baby Octopus & Unagi Sashimi,
Futomaki Rice Rolls With Prawns & Vegetables
California Rolls With Avocado & Cucumber
Served With Kikoman, Wasabe & Pickles Radish
Deep Blue Seafood On Ice With Condiments (Cold)
Oyster, Green Mussel, Tiger Prawn, Crab And
Lemon Wedges, Cocktail Sauce, Red Tabasco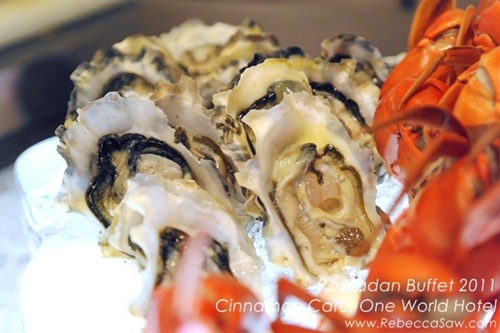 Azman's favorite – Fresh oysters and prawns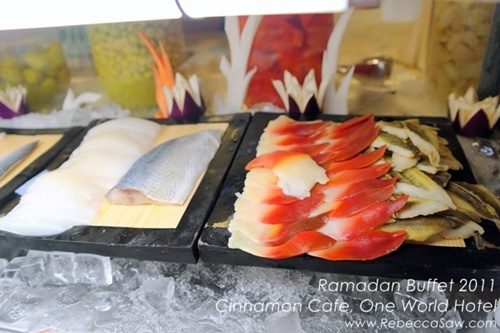 Sliced Fruits
Red Watermelon, Honeydew, Yellow Watermelon, Papaya , Pineapple
Dragon Fruit With Asam Powder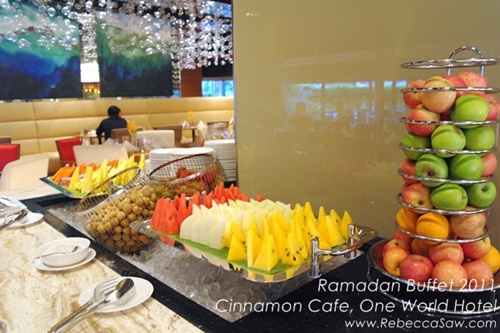 Seasonal Fruit Of The Day
Longan, Rambutan, Jambu Air And Banana Mas
Dessert Malaysian
Variety Of Malay Kuih, Pandan Kurma Layer Cake, Nutmeg Coconut Pie, White Lady Cake, Agar-Agar Gula Melaka, Agar-Agar Santan,Rich Cherry Chocolate Moist Cake, Kurma Cheese Cake, Cream Caramel, Fruit Tartlets,Cinnamon Souflle, Kurma Linzer Tart
Honeydew Pudding In Glass,Passion Pannacotta, Tart Kurma, Brownies, Dodol, Bahulu, Strawberry Mousse, Tapai Pulut , Tapai Ubi , Pisang Rebus ,Jala Emas ,Badak Berendam,
Mini Popia, Kuih Sepit, Kuih Bijan, Kuih Cakat Ayam, Tart Nenas ,Pulut Panggang, Kuih Kuci,
Lepat Pisang,, Ondeh- Ondeh , Kuih Lapis , Bingka Ubi, Kuih Talam,
Middle Eastern Dessert
Pistachio Baklava, Spice Semolina Cake, Rice Pudding With Blossom Water, Semolina Pudding.
Ice Cream Coner
Chocolate Ripple, Creamy Vanilla, Exotic Strawberry,
Peppermint Choc Chip, Sweet Corn, Vanilla Fun Blueberry, Vanilla Mix Berries, Yam
Ice Crem Potong 4 Type
Chocolate Fountain
Strawberry, Grapes, Marshmallow, Wafer Biscuit, Chocolate Éclair, Profiterole,
Chocolate Brownie, Selection Of Dates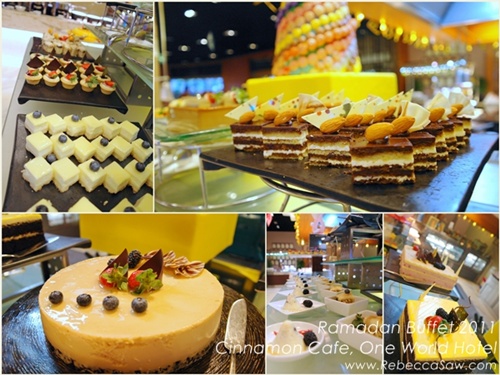 How can I resist this!?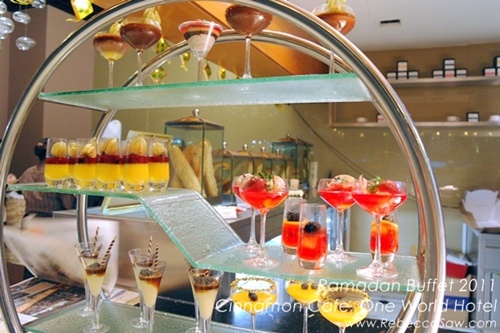 Jellies that Miki loves so much…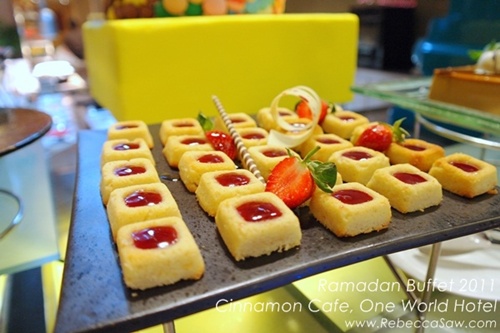 Dessert A La Minute
One World Ice Kacang With Condiment
Ice Crem Goreng ,Pop Corn,
Pengat Nangka Bersago
Ginkgo Nut With Soya Bean
Air Manisan Station
Air Jagung , Air Tebu , Air Sirap Bandung ,
Air Cincau, Air Soya Bean,Air Asam Boy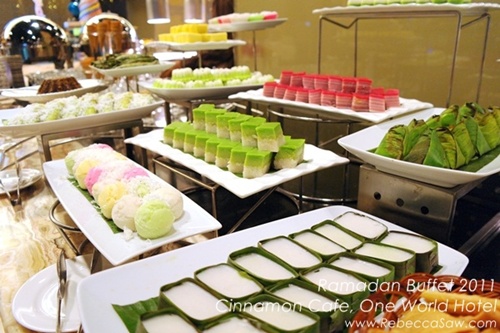 I was there at Cinnamon Cafe with my blogger friend Rebecca and other blogger. I was too busy eating, feeding and entertaining Miki until the pics that I took was lousy so I used Rebecca's.
If any of you would like to buka puasa here, these are the details:
Buffet Dinner: 6.30 pm to 10.30 pm
RM108++ per adult
RM54++ per child aged 4 – 12 years
Surau facilities are available for Muslim guests as well as ample parking. They also cater for private group dining.  For example if you would like to belanja your clients or your stakeholders for an unforgettable buka puasa event in the comfort and privacy of our function rooms, they offer delectable set menus priced from RM130++ per person.
For reservations, call Cinnamon Coffee House, One World Hotel at 603 7681 1157.
Selamat Berpuasa!

Posted: 30 Jul 2011 06:30 AM PDT
 Oleh: MSK
Ini bukan sambungan Konspirasi Yahudi menakluki Malaysia. Aku terpanggil untuk mengetahui misteri ini bila tukang komen bernama Botak bertanya kepada Chor,
"miker boley terjemahkan maksud kenapa bendera malaysia dicipta begitu? apa persamaan bendera malaysia dgn bendera amerika?"
Bendera Malaysia ini telah dicipta oleh seorang arkitek kerajaan Johor bernama En. Mohammad bin Hamzah dan telah diterima pada 28 November 1949...melalui satu pertandingan rekacipta yang dikelolakan oleh Ketua Setiausaha Negara ketika itu, Sir Alec Newboult. Bendera ciptaan Mohammad Hamzah bukanlah pilihan pertama, sebaliknya adalah pilihan ketiga. Pilihan pertama dan kedua tidak diterima kerana terlalu Melayu…kerana mempunyai lambang keris. Itu sebabnya umno terlalu paranoid dengan keris kerana Tok nenek depa gagal meletakkan keris pada bendera. Kalau lah Umno itu pejuang kemerdekaan…depa patut malu kerana tunduk kepada British.
Setelah mendapat persetujuan dari Raja-Raja Melayu, bendera tersebut telah mendapat kelulusan dari King George VI pada tahun 1950. Bendera Malaysia perlu mendapat kelulusan dari Raja Britain!!
Cuba perhatikan maksud bendera Malaysia ini.
Jalur merah putih berjumlah 14 dan sama banyak dengan bucu bintang. Ia bermaksud 13 buah negeri bergabung dibawah satu kerajaan Persekutuan.
Bendera Malaysia dikenali sebagai Jalur Gemilang, mengandungi 14 jalur merah dan putih (melintang) yang sama lebar bermula dengan jalur merah di sebelah atas dan berakhir dengan jalur putih di sebelah bawah, tanda keanggotaan yang sama dalam persekutuan 13 buah negeri dan 1 kerajaan persekutuan – Johor, Kedah, Kelantan, Melaka, Negeri Sembilan, Pahang, Pulau Pinang, Perak, Perlis, Sabah, Sarawak, Selangor dan Terengganu dan Kerajaan Persekutuan.
Come on, brader. Ini tahun 1949 dan British telah pun merancang untuk mencipta bendera Malaysia…bukan bendera Tanah Melayu. Tahun 1949, Singapura masih didalam Persekutuan Tanah Melayu,(betul ka? tolong betulkan kalau salah) tapi Sabah dan Sarawak adalah dibawah Pemerintahan British…tidak termasuk dalam Tanah Melayu.
Singapura memohon kemerdekaan dan pemerintahan sendiri daripada British pada tahun 1956 dalam satu rundingan yang diketuai oleh David Marshall. Tapi tak berjaya. Dalam ertikata lain, Singapura kekal dalam Persekutuan Tanah Melayu,dan apabila Tanah Melayu mencapai kemerdekaan pada tahun 1957, ia termasuk Singapura. Tapi mengapa Singapura tidak termasuk dalam bendera Malaysia? Adakah ia satu wilayah autonomi yang tidak termasuk dalam Persekutuan Tanah Melayu?
Pada pengertian aku, Singapura adalah sebahagian dari Persekutuan Tanah Melayu, tapi dibawah pemerintahan British. sama macam Sabah dan Sarawak. tapi aku sendiri tak yakin dengan statement ini.
Singapura, Sarawak dan Sabah bercantum dengan Persekutuan Tanah Melayu membentuk Malaysia pada tahun 1963..tetapi bendera untuk Malaysia sudah dicipta pada tahun 1949!! dengan lain perkataan, Persekutuan Malaysia sudah dirancang sejak tahun 1940an. Apa yang berlaku dalam tahun 1949, atau lebih tepat lagi selepas Perang Dunia Kedua adalah pelaksanaan kepada perancangan yang dibuat dalam tahun 1937.
Pada tahun 1965, Singapura disingkir dari Malaysia dan mendapat kemerdekaan dari Malaysia pada 9 Ogos 1965. Tapi bendera Malaysia tidak berubah walaupun Singapura sudah terkeluar. Yang berubah hanya maksud bendera.
Pada Tahun 1997, Bendera Malaysia melalui proses rebranding apabila ianya dinamakan Jalur Gemilang. nombor 7 lagi!!
(Kalau hangpa keliru dengan apa yang aku tulis…sori la. Sebab aku pun kompius)
Apa pun, satu posting yang dibuat oleh seorang blogger cukup menarik.
Selalunya, bendera melambangkan identiti sesuatu bangsa atau rumpun. Cuba perhatikan bendera Jordan, Palestin, Kuwait dan Sudan. Hampir sama kerana mereka dari rumpun yang sama.
Cuba tengok pula bendera-bendera di negara-negara Scandinavia. Finland, Denmark, Norway, Sweden
 Begitu juga negara-negara Asean. Indonesia, Singapura.
 Sepatutnya, bendera Malaysia macam ni…
 Tapi oleh kerana terpaksa tunduk kepada British…maka..jadilah ia bendera yang ada sekarang. Tak ada identiti, malah lebih kepada bendera Amerika.
So..hanpa nak kata Umno pejuang kemerdekaan? Aku kata…Umno hanyalah boneka kemerdekaan.
Kredit kepada, Hati Kecil.
Nota: Ada satu perkara yang aku nak minta tolong kat hangpa. Adakah hari baru bermula pada 0001 hrs dan berakhir pada 2400 hrs, atau…bermula pada 2400 hrs dan berakhir pada 2359 hrs? Ini ada lagi satu misteri disebalik Kemerdekaan Tanah Melayu.
PAS Dedahkan 44 Pengundi Nama & Kad Pengenalan Sama
Posted: 30 Jul 2011 12:30 AM PDT
P
AS terus mendedahkan kelemahan daftar pemilih Suruhanjaya Pilihan Raya (SPR) dengan mendakwa terdapat 44 orang di Terengganu yang mempunyai nama dan nombor kad pengenalan lama sama.
Bagaimanapun, nombor kad pengenalan baru hanya dua digit terakhir yang berbeza.
Ia didedahkan oleh Pesuruhjaya PAS Terengganu, Abdul Wahid Endut yang juga ahli Parlimen Kuala Terengganu yang dihubungi hari ini.
Beliau bimbang 44 nama terbabit boleh mengundi dua kali dalam pilihan raya umum akan datang.

"Besar kemungkinan mereka boleh mengundi di dua tempat berbeza. Pengalaman kita bila berurusan dengan SPR pengundi seperti ini boleh mengundi.

"Kerana SPR akan memberi alasan mereka boleh mengundi kerana perbezaan yang sedikit.

"Dari pengalaman lepas, nama yang telah didaftarkan sebagai pengundi agak sukar untuk dikeluarkan semula.



Bukan pengundi klon



"Dalam perbincangan kita dengan SPR, suruhanjaya itu memberitahu ia tidak ada kuasa," katanya.

Sementara itu, bekas timbalan ketua AMK, Fariz Musa berkata, beliau menolak dakwaan wujud pengundi klon di negara ini.

Sebaliknya, dakwa beliau Umno, SPR dan Jabatan Pendaftaran Negara (JPN) berpakat untuk mendaftarkan nama orang berkenaan dalam senarai daftar pemilih SPR.

"Mengapa saya kata tidak wujud pengundi klon? Mengapa nombor kad pengenalan lama dan kad pengenalan baru berbeza?

"PKR pernah memeriksa kad pengenalan pengundi dan mendapati kad pengenalan itu itu tidak wujud.

"Semua ini berlaku dengan pembabitan Umno, SPR dan JPN. Ia bukan berlaku di Terengganu sahaja tetapi di seluruh negara," tambahnya. -FMT


PAS veeps to sue gov't for July 9 'wrongful arrest'
Posted: 29 Jul 2011 10:55 PM PDT
SPR Mengaku Jadi Budak Suruhan UMNO
Posted: 29 Jul 2011 11:11 PM PDT
Dalam kedua-dua debat bersama Pengerusi BERSIH, Ambiga, Timbalan Pengerusi SPR, Wan Ahmad, kerap kali menyatakan SPR tidak mempunyai kuasa.
Sebagai contoh:
1.0 Dalam isu membersih daftar pemilih dari pengundi mati dan pengundi hantu, Wan
Ahmad kata kuasa di tangan Jabatan Pendaftaran dan Polis.
2.0 Dalam menggubal Akta Pilihanraya, Wan Ahmad kata ia kuasa Jabatan Peguam Negara. Maka, SPR tidak berkuasa memastikan Undang-Undang pilihanraya adil dan saksama
3.0 Dalam membenteras politik wang dan pembelian undi, Wan Ahmad kata SPR tiada kuasa kerana ia terletak dalam kuasa Polis.
Tak menjadi kehairanan, dalam isu Dakwat Kekal, SPR lebih suka mengikut kehendak UMNO dari mengikut kehendak rakyat. Bila UMNO mahukan sistem biometrik, SPR pun turut sama.
Mengikut satu artikel dalam MalaysianInsider, taktik UMNO adalah mengisi SPR dengan pegawai-pegawai kerajaan yang telah lama berkhidmat di bawak Kerajaan UMNO dan Barisan Nasional.
Selama berpuluh-puluh tahun lamanya, mereka dididik mengikut cakap serta mentaati UMNO dan Barisan NAsional. MAka, apabila mereka memegang jawatan dalam SPR, mereka terus kekal menjadi pak turut pada UMNO dan BArisan NAsional.
Tak hairanlah, apabila UMNO menolak dakwat kekal, mereka pun bersungguh-sungguh menolak dakwat kekal. Apabila UMNO mahukan biometrik bagi memudahkan pendatang asing mengundi, maka SPR pukul canang seluruh kampung mahukan biometrik.
Apabila 3 ekor katak lompat di Perak, SPR tunduk patuh pada UMNO dan tidak mahu mengosongkan kerusi-kerusi tersebut walaupun diarahkan Speaker.
SPR sememangnya PELACUR pada UMNO. Mereka tidak bebas dan mereka akan melakukan apa sahaja untuk memenangkan UMNO dan Barisan Nasional.
Tulang Besi
IBU BAPA WASPADA JANGN TERTIPU
Posted: 29 Jul 2011 07:55 PM PDT
Posted: 30 Jul 2011 08:42 AM PDT
谢永贤(坐者左起)与刘永山移交2万令吉予育才华小和白沙罗中华华小。刘长发(左起)、黄耀扬、纪荣发、陈国光、邓官发、张发龙、邱俊华、林征声及陈顺群。摘自《南洋商报》雪隆 地方新闻 2011-07-30 17:29(八打灵再也30日讯)民主行动党甘榜东姑区州议员刘永山与百乐镇区州议员谢永贤,今日代表民联雪州政府各别移交1万令吉支票予育才华小和白沙罗中华小学。刘永山说,雪州民联政府自2008年,就每年定期拨款400万令吉予州内华小,及200万令吉予州内的独中。他说,尽管拨款数额不多,但这是州政府通过的制度化拨款,而不是所谓的"大选时派发红包"。"州政府一直公平对待各族教育文化,捍卫各族群的利益,因此,每年通过制度化拨款予各源流学校,公平对待各族。"他在移交拨款支票后,在记者会上这么说。他指出,八打灵再也共有3间华小受惠,包括育才华小、白沙罗中华小学及八打灵再也双溪威华小。
Posted: 30 Jul 2011 08:37 AM PDT
PAS Akan Tayang Dan Edarkan 200,000 DVD BERS✔H Perbetulkan Video Versi Polis
Posted: 30 Jul 2011 10:07 AM PDT
P
AS akan menyiarkan video Bersih dan mengagihkan sekitar 200,000 DVD di kampung-kampung berhubung dengan perhimpunan aman sempena Hari Raya, untuk menepis dakwaan dan fitnah polis yang menyatakan tiada keganasan dilakukan ke atas peserta perhimpunan.
Langkah itu adalah sebahagian dari program "balik kampung" yang dianjurkan oleh PAS, yang akan berlansung sepanjang bulan Ramadan sehingga Hari Raya, dan ia bermatlamat membantu PAS mendapatkan sokongan untuk pilihanraya umum yang akan datang.
Ketua Penerangan PAS Datuk Tuan Ibrahim Tuan Man memberitahu akhbar online, The Malaysian Insider bahawa PAS mengambil berat tentang orang-orang kampung yang tidak memperolehi maklumat yang sebenar tentang apa yang berlaku pada 9 Julai lalu dan juga untuk memperbetulkan video versi yang dikeluarkan oleh pihak polis.

"Keseluruhan isu ini telah dimanipulasikan banyak pihak, oleh itu kami ingin masyarakat mengetahui kronologi sebenar perhimpunan berkenaan... terutamanya, mengapa himpunan Bersih diadakan dan apakah tuntutan-tuntutannya," ujar beliau.

Beliau menambah, ketika ini, fokus yang banyak diberikan kepada perhimpunan tersebut sehingga orangramai melupakan matlamat sebenar Bersih, iaitu untuk memperjuangkan pilihanraya yang telus, adil dan bersih.

DVD yang PAS hasilkan, katanya, akan meliputi beberapa kejadian dan foto yang membawa kepada perhimpunan 9 Julai, termasuk petikan dari perhimpunan Bersih 1.0 pada 2007.

"Kita akan paparkan kronologinya... daripada perhimpunan yang pertama kemudian perhimpunan yang kedua, dan kita akan tunjukkan klip-klip dan gambar-gambar apa yang berlaku pada hari BERSIH 2.0.

"Rakyat perlu faham bahawa Bersih bukan sekadar perhimpunan semata-mata tetapi satu perjuangan untuk membersihkan proses pilihanraya di Malaysia ini," katanya.

Namun Tuan Ibrahim menafikan video-video berkenaan bertujuan untuk menghasut rakyat membenci pihak-pihak terlibat, tetapi ia hanyalah untuk memberikan "penerangan".

"Kami belum memutuskan jumlah sebenar yang akan dibuat tetapi angkanya tidak kurang dari 200,000. Kami juga akan mengedarkan risalah terhadap peristiwa tersebut supaya rakyat boleh membacanya dan memahami isu tersebut dengan lebih baik.

Naib Presiden PAS Datuk Mahfuz Omar berkata selain dari mengagihkan DVD dan risalah, ahli-ahli PAS digalakkan untuk menayangkan video perhimpunan Bersih semasa aktiviti-aktiviti Hari Raya diadakan.

"Kami telah meminta ahli-ahli kami untuk memainkan video-video berkenaan di mana-mana semasa (Hari) Raya. Ramai penyokong dan ahli kami akan balik kampung di hari perayaan berkenaan dan kami mahu mereka menyiarkan di rumah-rumah ahli keluarga, sewaktu jamuan, semasa rumah terbuka, dan juga waktu makan malam.... kita ingin paparkan kepada semua betapa ganasnya polis dan betapa hak asasi manusia telah dinafikan," katanya.

Mahfuz menambah orang-orang kampung sudah pun meminta untuk menonton video berkenaan kerana ramai yang tidak mempunyai akses Internet atau membaca media alternatif.



"Tetapi perlu kita ingatkan usaha ini bukan untuk menerbitkan kebencian terhadap pasukan polis. Sebaliknya, kami hendak menunjukkan bagaiaman pihak polis telah diperkudakan oleh pihak parti kerajaan di dalam permainan politik mereka,"

katanya.

Ahli Parlimen Pokok Sena itu juga menyatakan tindakan berkenaan boleh membantu PAS dari segi sokongan dan menambahkan bilangan keahliannya. -TMI Terjemahan bebas Oleh GB



APA KATA MEREKA?






boboiboy · 14 hours ago

+85 Like
Also don't forget to upload in youtube and give us the URL....

we need EVERYBODY to see what really happened...the truth version.

Cheers PAS!

4 replies · active less than 1 minute ago




SpreadTheWord · 11 hours ago

+40 Like
Load it up so that Kampung folks, and indeed the whole world can compare the Police and Pakatan Version to decide for themselves who is telling the truth. Btw, don't forget to also make some VCD and VHS and Betamax as well. My mum is still using VHS.



hhhmmmm · 11 hours ago

+41 Like
this is a really good move.

Thumbs up for Pas to come up with this idea. Its really the kampong folks that we need to show and potray that we have a tyrant UMNO and BN Govt.

Whenever I balik kampong i will try to do my part in hiliting the ill things that they have done....most read Utusan and as you all know the newspaper twist facts in favour of UMNO.



serendipity hopeful 144p · 9 hours ago

+25 Like
Good move taken by PAS. Good way to counter BN's propaganda and to reach the rural folks.



Nathan · 9 hours ago

+18 Like
For once, I agree with PAS!



ras abu

· 14 hours ago +53 Like
Good idea and job well done.



AntiPasti · 14 hours ago

-33 Dislike
In other news, PAS supporters have DVD players...



boboiboy · 10 hours ago

+16 Like
The DVD are for umno folks. maybe we should even consider VHS.



Roland Koon Haw Li · 14 hours ago

+59 Like
Syabas.....a good way to counter the false reporting fr Utusan and various bias media.



Read_Between_Lines · 14 hours ago

+48 Like
Wah! I like it!



AnakMalaysia · 14 hours ago

+16 Like
Good move! If RTM and Police are biased, the rakyat is entitled to alternative views!!!



Pissed · 13 hours ago

+44 Like
That should be the way. Reach out to the community in the rural areas for these are the people have no idea of what is going on and easy preys of bn deception.



Sweet Corn · 13 hours ago

+39 Like
good move, keep the rural folks well inform



CAL · 13 hours ago

+43 Like
May I suggest that PAS do not print the word
BERSIH" on the DVD. Instead just print 709. This is to prevent the police from banning the discs.



hotcili 150p · 13 hours ago

+43 Like
Distribute coz this is genuine evidence ...................




anakmalaysia · 13 hours ago

+30 Like
very good idea...what better way to spread crucial information and share critical knowledge...as they say knowledge is king.....good luck and may this bring us the many successes we need to transform malaysia to be a better place for the rakyat.....i will pray for your success




PC Tan · 12 hours ag

o +41 Like
A very good move.Please tell us where we can get our hands on the DVDs..



goh · 12 hours ago

+32Like
Be very careful the authorities might enact new rulings to ban the DVD, anyone with the disks will be charged



1TrueMalaysian · 12 hours ago

+51 Like
I'm sure the BN government is finding a way to counter this now, as we speak, by telling the Police to confiscate this material wherever they see them. This is Malaysian 'democracy' under BN. Please vote them out.



Longjaafar · 12 hours ago

+35 Like
My feeling is that the govt will ask the police to stop all the screenings. The police will act, saying that the screening is tantamount to discrediting and undermining the police. The screening of the videos will damage the credibility of both the police and the govt.



truemalaysian · 12 hours ag

o +35 Like
Make sure you have a permit to produce the DVD......they are looking at every possible way to get you into trouble with the law...they have done this before



Humayun Khabeer · 12 hours ago

+26 Like
No one can hide the truth, the whole truth and nothing but the truth from the people as truth will always emerge supreme no matter how the BN govt tries to camouflage it through its control of the MSM! BN may pay a heavy price at the 13th GE for its fumbling of the Bersih 2 rally issue and also for the illegal dentention of the 6 PSM members under EO!



"WE ARE EQUAL" · 12 hours ago

+48 Like
PAS, let me say this from the bottom of my heart, you all are doing the most wonderful job by giving out 200K DVD to kampong folks. Without you taking the lead for "CHANGE" another May 13 will happened. Indians and Chinese are minority. Now Indians, Chinese and other races trust PAS 100% You will win all your seats with the support of other races. PAS, please work in harmony with DAP and PKR, the GE 13 will be in our hands. 55 years is the FIBONACI magic number for change.As long as there are no quarrels among yourself, BN just cannot win anything. Winning this election is like eating "tau-foo".No matter what happens, LET GOD'S WILL BE DONE.
Buang Bayi Menjadi-jadi - Apakah Penyelesaiannya?
Posted: 30 Jul 2011 08:01 AM PDT
B
ayi kena tinggal di gerai makan
ALOR SETAR - Sepasang suami isteri tidak menyangka niat murni mereka membantu seorang gadis yang meminta menjaga bayinya dengan alasan ingin ke tandas, menyebabkan mereka terpaksa menunggu selama satu jam di kawasan Terminal Bas Shahab Perdana, namun gadis itu terus menghilangkan diri.
Difahamkan, dalam kejadian kira-kira jam 9.30 malam kelmarin, pasangan suami isteri yang singgah menjamu selera di sebuah gerai makanan berhampiran terminal, dihampiri seorang gadis yang sedang mendukung seorang bayi.

Gadis berkenaan meminta wanita menjaga bayinya kerana dia ingin pergi ke tandas, bagaimanapun setelah sejam berlalu, kelibat gadis itu tidak kelihatan.

Bimbang dengan keadaan itu, pasangan suami isteri terbabit bergegas Ibu Pejabat Polis Daerah (IPD) Kota Setar untuk membuat laporan.

Sementara itu, Ketua Polis Daerah Kota Setar, Asisten Komisioner Mohd Adzaman Mohd Jan ketika dihubungi Sinar Harian, semalam, mengesahkan menerima laporan daripada pasangan suami isteri terbabit kira-kira jam 12.30 malam kelmarin.

"Bayi itu berada dalam keadaan sihat dan sudah dihantar ke Hospital Sultanah Bahiyah (HSB) untuk pemeriksaan lanjut serta akan dirujuk kepada Jabatan Kebajikan Masyarakat (JKM) berhubung proses penjagaan.

"Siasatan lanjut sedang dijalankan," katanya.

Dalam perkembangan sama, Pengarah HSB, Datuk Dr Juita Ghazalie ketika dihubungi berkata, bayi seberat 1.58 kilogram itu kini ditempatkan di dalam inkubator dan berada di dalam keadaan stabil.

"Sewaktu dibawa ke HSB, tiada kesan kecederaan pada tubuh bayi terbabit bagaimanapun bayi itu memerlukan pengawasan rapi memandangkan kelahirannya tidak matang.

"Bayi itu akan diletakkan di bawah pengawasan hospital sehingga beratnya mencecah 1.8 kg," katanya. -SH





Mayat bayi di tepi lebuh raya



SEREMBAN – Seorang penunggang motosikal yang dalam perjalanan dari Muar, Johor ke Kuala Lumpur terkejut apabila menjumpai mayat seorang bayi lelaki semasa sedang berhenti rehat di bawah sebuah jejambat di Kilometer 282.4 Lebuh Raya Utara - Selatan, berhampiran susur masuk Nilai, semalam.

Dalam kejadian kira-kira 2.30 petang itu, Azmi Talib, 44, bersama rakannya berhenti di tepi lebuh raya itu sebelum terlihat sebuah beg tangan wanita berwarna hitam di bawah jejambat berkenaan.

Disebabkan rasa curiga, Azmi berkata, dia kemudian mendapatkan beg berkenaan sebelum membukanya.

"Sebaik membuka beg tersebut, saya terlihat satu objek yang dibalut dengan tuala putih.

"Saya cuba memegang objek berkenaan tetapi terasa sesuatu yang lembik. Namun, saya terperanjat apabila melihat kaki bayi terkeluar di hujung tuala berkenaan," katanya ketika ditemui Sinar Harian di lokasi penemuan mayat bayi berkenaan, semalam.

Panik dengan penemuan itu, Azmi berkata, dia pergi ke tepi lebuh raya dan menahan sebuah kereta peronda Plus yang kebetulan berdekatan dengan lokasi kejadian.

Sementara itu, Timbalan Ketua Polis Daerah Seremban, Superintendan Mohd. Yusoff Awang berkata, buat masa ini, polis belum mempunyai sebarang maklumat lengkap berhubung penemuan itu termasuk punca kematian bayi berkenaan.

Bagaimanapun, katanya, bayi berkenaan dipercayai berbangas Melayu dan baru saja dilahirkan kerana masih terdapat tali pusat.

"Kita juga menjumpai satu bungkusan plastik yang mengandungi uri tidak jauh dari lokasi mayat bayi berkenaan dijumpai," katanya.

Beliau berkata, kes berkenaan disiasat mengikut Seksyen 318 Kanun Keseksaan kerana menyembunyikan kelahiran.

Berikutan itu, katanya, orang ramai yang mempunyai maklumat berhubung ke jadian itu diminta menghubungi mana-mana balai polis berhampiran. -SH




Ulasan GB



Apabila sistem hidup lebih menjurus kepada henodisme, maka perzinaan yang akhirnya mengakibatkan lahirnya bayi pada pasangan yang tidak mempunyai ikatan pernikahan.

Jalan mudah yang diambil ialah membuang bayi tersebut.

Semua pihak berkewajipan memandang isu ini sebagai isu yang serius. Dan tiada jalan lain selain dari mengembalikan sistem kehidupan kepada fitrahnya - Islam.


A Wife's Diary Vs A Husband's Diary
Posted: 30 Jul 2011 06:59 AM PDT
Wife's Diary:
Tonight, I thought my husband was acting weird. We had made plans to
meet at a nice restaurant for dinner. I was shopping with my friends all
day long, so I thought he was upset at the fact that I was a bit late,
but he made no comment on it. Conversation wasn't flowing, so afterwards
I suggested that we go somewhere quiet so we could talk. He agreed, but
he didn't say much.
I asked him what was wrong; He said, 'Nothing.' I asked him if it was my
fault that he was upset. He said he wasn't upset, that it had nothing to
do with me, and not to worry about it. On the way home, I told him that
I loved him. He smiled slightly, and kept driving.
I can't explain his behavior I don't know why he didn't say, 'I love
you, too.' When we got home, I felt as if I had lost him completely, as
if he wanted nothing to do with me anymore. He just sat there quietly,
and watched TV. He continued to seem distant and absent. Finally, with
silence all around us, I decided to go to bed. About 15 minutes later,
he came to bed. But I still felt that he was distracted, and his
thoughts were somewhere else. He fell asleep; I cried. I don't know what
to do. I'm almost sure that his thoughts are with someone else. My life
is a disaster.
Husband's Diary:
A four putt - Who in the world four putts?!
__________________________
*This hubby here is obsessed with the fact he
four putted
in golf....whereas the wife is wired differently.
Sounds familiar?
*Thanks to Angela who sent me this post.
Say goodbye to the typewriter, 1867-2011 - Typewriter is becoming history!
Posted: 30 Jul 2011 06:18 AM PDT
If you ever thought it might be fun to own an old style typewriter, you need to move fast. The last
typewriter
factory in the world has stopped making new ones, and they have only 500 left in stock.
The Godrej and Boyce factory in Mumbai India actually stopped making them in 2009, and have been selling from inventory since then. Twenty years ago they would sell 50,000 per year, but recently the number has been more like 800.
While the typewriter is obviously a victim of computers and word processors, I'm surprised they don't have more of an underground following like
vinyl turntables.
I have a bit of a soft spot for the clickity-clack of the manual typewriter, having gone through my college days doing all my work on my Dad's old 1950s Olympia manual (I guess that dates me too). I must admit however that I haven't dusted it off in decades, so I guess its time has come.
Pimpinan Tertinggi SPRM Mesti Dikenakan Tindakan
Posted: 30 Jul 2011 06:07 AM PDT
P
usat Pembangunan Kebudayaan LLG melahirkan kekesalan tentang laporan Suruhanjaya siasatan Teoh Beng Hock yang membuat kesimpulan bahawa Teoh Beng Hock "di-bunuh diri".
Analisis psikologi suruhanjaya siasatan bahawa
Teoh berubah daripada kumpulan risiko rendah kepada kumpulan risiko tinggi untuk membunuh diri selepas sesi soal siasat SPRM cuma suatu andaian, kesimpulan bunuh diri tersebut dibuat tanpa sebarang bukti fizikal adalah dangkal dan terburu-buru, melanggar prinsip-prinsip undang-undang yang memerlukan bukti kukuh
.
Kesimpulan yang tidak professional ini dibuat oleh lima orang pesuruhjaya yang mempunyai latar belakang professional telah mengecewakan rakyat.

Sebenarnya, bagi kes kematian Teoh Beng Hock,

rakyat telah ada jawapan di dalam hati, jika kesimpulan suruhanjaya siasatan dan kerajaan terpesong jauh dari persepsi umum rakyat, ia hanya akan merosakkan keseluruhan integriti kerajaan, tidak memanfaatkan usaha transformasi kerajaan

.

Kami menyeru kerajaan mengambil

tindakan keras terhadap pimpinan tertinggi SPRM. Dua tahun yang lalu, Ketua Pesuruhjaya SPRM Ahmad Said mengatakan Teoh bunuh diri sebelum pihak polis menyempurnakan siasatan. Dia berkata SPRM tidak perlu bertanggungjawab ke atas kematian Teoh kerana ketika itu Teoh tidak lagi di bawah jagaan SPRM. Sekarang, laporan suruhanjaya siasatan telah membuktikan, Teoh belum dibebaskan oleh SPRM pada masa kematiannya.





Jelasnya Ahmad Said telah berbohong dua tahun yang lalu, dia tidak ada sedikit pun perasaan kesal terhadap kematian Teoh, ini membangkitkan kemarahan rakyat! Kami meminta kerajaan mengambil kira tanggungjawab Ahmad Said, merampas segala pencen dan kebajikan penjawat awamnya. Kerajaan mesti menghukum Ahmad Said.



Ketua Pesuruhjaya SPRM kini Abu Kassim pernah mengemukakan surat terbuka kepada keluarga Teoh bahawa SPRM tidak akan melindungi sesiapa yang terlibat dalam kematian Teoh. Tetapi,

bekas Timbalan Pengarah SPRM Selangor Hishamuddin Hashim yang mengakibatkan kematian Teoh, telah dinaik-pangkat ke pengarah SPRM Negeri Sembilan semasa Abu Kassim memegang jawatan ketua pesuruhjaya.

Hishamuddin juga hanya digantung sementara selepas laporan suruhanjaya siasatan diumumkan.

Ini menunjukkan

Abu Kassim cakap tak serupa bikin, tidak benar-benar mengkaji semula kaedah-kaedah soal-siasat SPRM yang mencabuli hak asasi manusia

, SPRM tidak ada sebarang tindakan boleh dikatakan ikhlas dalam tragedi Teoh. Kes kematian kedua pula terjadi dalam tempoh Abu Kassim sebagai Ketua Pesuruhjaya.

Kami menggesa Abu Kassim segera meletakkan jawatan atas kematian Teoh dan kes-kes penyelewengan kuasa lain.

Jikalau tidak ada seorang pun bertanggungjawab ke atas kematian Teoh dan dikenakan hukuman, kematian di bawah tahanan agensi kerajaan tidak akan dipandang serius, reputasi kerajaan akan dicemarkan. -MR

*Kenyataan media oleh Toh Kin Woon selaku Presiden Pusat Pembangunan Kebudayaan LLG.


Nothing you do for a child is ever wasted - Garrison Keillor, Leaving Home
Posted: 30 Jul 2011 04:30 AM PDT
Let's avoid the subjunctive!!! ;)
Posted: 30 Jul 2011 03:36 AM PDT
This is what I
really
 want to do right now, but there isn't an easy way to do it. Perhaps, what I found
here
may help.
I've put it here for easy reference, but you can visit About.com for me. I love those guys there! Mwah!
So, here's how you might want to try to do it:
Impersonal expressions

For impersonal expressions, replace que with de and change the conjugated verb to an infinitive.

Il est important que tu sois là > Il est important d'être là.
It's important that you be there > It's important to be there.

C'est utile que Jacques connaisse trois langues > C'est utile de connaître trois langues.
It's useful that Jacques knows three languages > It's useful to know three languages.

Il n'est pas bon que tu aies faim > Il n'est pas bon d'avoir faim.
It's not good that you're hungry > It's not good to be hungry.

C'est honteux qu'il mente > C'est honteux de mentir.
It's shameful that he lies > It's shameful to lie.

Note that this substitution slightly changes the meaning of the sentence. When using the subjunctive, you are making an observation or giving advice to/about a specific person. By avoiding the subjunctive, you are changing it to a general observation or piece of advice.


Impersonal verbs

Impersonal verbs can be followed with que + subjunctive, or you can drop the que and use the infinitive.

Il faut que tu sois là > Il (te) faut être là.
It is necessary for you to be there.

Il importe qu'elle le fasse > Il importe de le faire.
It's important that she do it > It's important to do it.


Conjunctions

For many conjunctions that end in que and require the subjunctive, you can change the conjunction to a preposition (either by replacing que with de or by dropping que) and use the infinitive instead. Note that this can only be done if the subject of the main and dependent clauses are the same, or if you are speaking in general.

Il m'aide à condition qu'il soit payé > Il m'aide à condition d'être payé.
He's helping me on the condition that he is paid.

On doit travailler avant que l'on ne puisse prendre sa retraite > On doit travailler avant de pouvoir prendre sa retraite.
You need to work before you can retire.


Sometimes you can rewrite a sentence with two subjects in order to get rid of one of them and thus be able to avoid the subjunctive:

Il aide pour que tu sois content > Il aide pour te rendre content.
He's helping so that you will be happy > He's helping (in order) to make you happy.

Élise lit à haute voix afin que le bébé s'endorme > Élise lit à haute voix afin d'endormir le bébé.
Élise is reading out loud so that the baby falls asleep > Élise is reading out loud to make the baby fall asleep.


Some sentences with conjunctions that require the subjunctive can be reworded: change the conjunction into a preposition and replace the subjunctive with a noun.

Il est toujours gentil jusqu'à ce que tu arrives > Il est toujours gentil jusqu'à ton arrivée.
He's always nice until you arrive > He's always nice until your arrival.

Nous pouvons le faire sans que tu paies > Nous pouvons le faire sans ton argent.
We can do it without you paying > We can do it without your money.


Replace que with si

Je ne suis pas sûr qu'il soit là > Je ne suis pas sûr s'il est là.
I'm not sure he's there.

Il doute que nous ayons assez de temps > Il doute si nous avons assez de temps.
He doubts that we have enough time.


Replace subjunctive structure

Sometimes you can just take out the entire subjunctive structure and use an adverb instead.

Il est possible que je vienne > Je viendrai, peut-être.
It's possible that I'll come > I will come, maybe.

Il est heureux qu'elle soit travailleuse > Heureusement, elle est travailleuse.
It is fortunate that she is hard-working > Fortunately, she is hard-working.


Negative to affirmative

For structures that require the subjunctive only when used negatively, you can avoid the subjunctive by inverting the negative and affirmative.

Je ne crois pas qu'il soit là > Je crois qu'il n'est pas là.
I don't think he's there > I think he's not there.

Il n'est pas évident qu'il ait de l'argent > Il est évident qu'il n'a pas d'argent.
It's not obvious that he has money > It's obvious that he doesn't have money.

Note that this changes the meaning to a certain extent by removing the doubt.


As you can see, there is usually at least one way to avoid the subjunctive in any given sentence, but there is often some change in meaning that you need to be aware of. These techniques are not meant to make you believe that you don't need to know how to use the subjunctive, because you certainly do. But for those times when an alternative is available and the meaning change is acceptable, feel free to go ahead and avoid the subjunctive.
                                      ++++++++++++++++++
SO??? Is is going to be easier to avoid it - or to simply learn the damn thing?!!! Hahahahah! For me, the jury is still out! I'm going to give it a shot, and maybe in a thousand years or so, I'll kinda get it!
Posted: 30 Jul 2011 05:27 AM PDT
After visiting and delivering another month's supply of groceries to Sofie yesterday; and then visiting Zalia and delivering milk & diapers for her daughter before heading home, I was planning to just stay home today (other than my Saturday pasar tani routine) and tidy up my messy work table at home.
But when I was at the pasar tani, a call came in on my hand phone from an unfamiliar number. The caller identified herself as Shilla's sister-in-law and told me that Shila had just passed away about 6 something in the morning. She herself wasn't too sure what time the funeral would be as the family was still kelam-kabut calling relatives and friends.
So after my pasar tani routine, off I headed to Shila's house. Shila had been staying with her mother (at her mother's house) ever since her husband passed away about 8 years ago. It's a kampong house which I had visited quite a number of times even though I am not Shila's main buddy. Shila's buddy is for the moment overseas and was not able to visit today.
When I got to Shila's house at about 10 am, there were quite a number of people visiting. Laila, Shila's 11 year old daughter, looked rather calm. So did Shila's mother. I knew Shila's mother was busy with people always asking her where was this and that to help prepare for Shila's funeral, but I still managed to talk to her for a few minutes to find out what happened.
After being hospitalised some time last month, Shila's condition had improved a lot. Other than HIV, Shila also had heart problems. She & Laila did join us for our recent Family Day. I never thought that would be her last Family Day with us. Within the same week after the Family Day, I did get to meet Shila & Laila. Shila had to go to the hospital for some tests and after she was done with those tests, I went to fetch her. Shila was hungry by then (she had to fast before the tests were done) and so I brought both her & her daughter for makan-makan at a fast food outlet at a nearby shopping centre. Apparently Laila had always asked her mother if she could eat there but Shila couldn't afford to fulfil the girl's request. So when I offered to bring them there, the girl was all smiles.
That was the last I met Shila alive. And she was doing okay then.
So the news of her death came as quite a shock to me. As a matter of fact, it was a shock to her family as well. Even though they knew of her HIV, but based on her condition, they didn't expect her to go so soon. According to her mother, the only thing Shila was complaining about yesterday was a backache; and then later at night she complained she felt rather warm and so decided to sleep upstairs which was cooler. Usually she'd sleep downstairs with her daughter. And the next thing they knew, this morning Shila was gone.
I immediately sent a few text messages to a few people whom I thought should know about Shila's death – including SN. SN immediately called me back – she was shocked too. Apparently the doctor had just asked her to call Shila to arrange for some other tests to be done on her before deciding on the best ARV medication to be given to her.
Anyway, when I got to Shila's house, the first thing I did was to ask her mother if the funeral arrangements had been made.
"Jenazah semua dah ada orang uruskan ya?"
"Dah… saya suruh anak saya pergi ambik orang yang selalu uruskan jenazah tu."
OK, so everything had been arranged for, so I just sat there quietly and I thought probably I could leave early. But after a while, Shila's sister came back, and the family seemed a bit restless. I decided to ask. Apparently the regular lady whom the kampong folks had always depended on to handle pengurusan jenazah, was not home and nobody seemed to know where she was. A few ladies offered help to cut the kain kafan, but nobody dared lead. I could see Shila's mother was beginning to worry although she kept her cool. I finally decided to just go and join the ladies helping out with the kain kafan when one of them asked, "Adik boleh tolong ke?" "InsyaAllah boleh," I said, and immediately they put me as the "leader".
So yes, from then on I took over the pengurusan jenazah, right from preparing the kain kafan, mandi jenazah and on to mengkafankan jenazah. The other ladies gave full cooperation.
It was during mengkafankan jenazah that Laila started sobbing away. Poor girl. Being the only child, and losing her father when she was just about 3 years old, Laila had always been manja with her mother.
By the time the jenazah was all ready, it was about 12.45 pm. I sought permission from Shila's mom to leave as I had already done what I could. She hugged me and thanked me for helping her out. Somehow, from the way she thanked me, I get this gut feeling that maybe, just MAYBE, the regular lady could have heard rumours that Shila had HIV and therefore purposely made a disappearing act so that she didn't have to give any excuses for refusing to handle Shila's jenazah. Just for the record, during one of the kursus pengurusan jenazah that I had attended before, one of the participants actually asked if he could refuse to handle the body of an HIV infected person. I do hope I'm wrong about this lady though…
I do intend to visit again one of these days to discuss about Laila's future. No worries about who the girl will be staying with, she'll definitely be staying with her grandma at the very same house she's staying now. But other than monitoring Laila's educational needs, we need to monitor her emotional status as well. Ramadhan will begin on Monday, and one thing for sure is that this coming Raya will be Laila's first Raya without her mother.
Kes Kematian Baharudin: Shuhardi Nafi Enggan Kerjasama Dengan Polis
Posted: 30 Jul 2011 04:47 AM PDT
I
su Baharuddin: Shuhardi nafi sembunyi, tak mahu bantu siasatan polis
KUALA LUMPUR, 30 Julai — Shuhardi Md. Isa, lelaki yang didakwa berlakon sebagai Allahyarham Baharudin Ahmad yang meninggal dunia dalam perhimpunan haram di ibu negara pada 9 Julai lalu, hari ini menafikan dirinya bersembunyi, melarikan diri dan enggan bekerjasama dengan polis.
Shuhardi yang ditemui pada satu sidang akhbar di sini, sebaliknya berkata beliau tidak pernah menerima sebarang surat rasmi memintanya menghadirkan diri bagi membantu siasatan dari mana-mana balai polis.
"

Bukankah polis lebih profesional dan tahu segala prosuder jika mahu seseorang itu memberi keterangan berhubung apa-apa kes? Saya tidak bersembunyi, datanglah ke rumah saya dengan tertib. Saya akan bekerjasama dengan mereka (polis),"

katanya.

Shuhardi yang juga Setiausaha Agung Persatuan Usahawan Konsultan dan Pengarah Islam Malaysia (Uruskop) menjelaskan, beliau terpaksa tampil memberi penjelasan berhubung kekeliruan kematian Allahyarham Baharudin kerana ia jelas menjatuhkan maruah dirinya.

"Saya masih hidup... yang meninggal Allahyarham Baharudin. Saya ingat perkara ini dah selesai dan saya tidak perlu tampil beri keterangan kerana ada blogger-blogger yang mengeluarkan gambar saya dengan mengatakan saya adalah Allahyarham Baharudin, telah meminta maaf kepada saya.

"Tapi semalam bila saya lihat komen Timbalan Ketua Polis Negara, Datuk Seri Khalid Abu Bakar yang berkata saya dipercayai menyembunyikan diri, saya terpaksa mendedahkan perkara ini," katanya.

Beliau berkata polis sepatutnya menyiasat mereka yang mengeluarkan kenyataan mengelirukan mengenai dirinya daripada menumpukan siasatan ke atas dirnya sendiri.

"Saya yakin pihak polis mampu membuat siasatan berdasarkan maklumat dalam internet tanpa perlu melibatkan saya. Malah saya rasa polis sepatutnya siasat mereka yang keluarkan kenyataan keliru mengenai mereka. Saya rasa sepatutnya saya yang menyaman mereka (blogger) yang salah dengan mengaitkan nama saya itu," katanya.

"

Tetapi kerana kenyataan maaf dan pembetulan fakta yang dibuat seawal 10 Julai, maka saya menganggap perkara ini tidak perlu diperpanjangkan, malangnya kira-kira seminggu selepas peristiwa Bersih itu, pihak polis dan media masih mengaitkan nama saya,

" katanya.

Beliau berkata kekeliruan tersebut terlebih dahulu telah dijelaskan oleh anaknya menerusi "facebook" dengan menjelaskan bahawa gambar yang disiarkan bukanlah gambar Shuhardi yang pengsan dalam perhimpunan tersebut.

Bapa kepada dua isteri dan 10 anak ini mendakwa tidak berkomplot dengan mana-mana pihak tertentu untuk berlakon dalam apa jua "aksi" kematian serta tidak mengenali Allahyarham Baharudin sendiri.

"Saya juga tidak kenal dengan mana-mana wartawan atau jurugambar yang datang buat liputan.Saya bukanlah "desperate" untuk dapatkan sogokan yang tidak bermaruah kerana Alhamdulillah saya hidup mewah," katanya.

Suhardi berkata beliau bersedia memberikan kerjasama dengan pihak polis dan boleh dihubungi di talian 012-3900740. -Bernama


Posted: 30 Jul 2011 03:21 AM PDT
Posted: 30 Jul 2011 03:42 AM PDT
This is killing me in class, and I thought I'd look up some notes IN ENGLISH to see how to use it and not feel like a fool each time I simply GUESS (tembak), fingers crossed, and hope it is right!!!
In the English language,
the subjunctive mood
is not common, and is used when one is uncertain about the outcome of something. We use subjunctives mainly when talking about events that are not certain to happen. For example, we use the subjunctive when talking about events that somebody:
wants to happen
hopes will happen
imagines happening
D'accord. So much for the subjunctive in English. Now for it in French. The following are notes from
About.Com
, go
here
and see it in full, or to explore things further.
ALSO: About.com has what it calls a
SUBJUNCTIVATOR
- which is their interactive tool to help us decide whether to use the French subjunctive or not. That is, whether something is
subjonctif
 or
indicatif
. C'est bien, non?
The subjunctive mood is used to express actions or ideas which are subjective or otherwise uncertain: will/wanting, emotion, doubt, possibility, necessity, judgment. It is nearly always found in dependent clauses introduced by que or qui, and the subjects of the dependent and main clauses are usually different.
Je veux que tu le fasses.
I want you to do it.
Il faut que nous partions.
it is necessary that we leave.
Expressions of will:

Verbs and expressions which express someone's will, an 
order
, a need, a piece of advice, or a desire require the subjunctive.
aimer mieux que
   to like better / to prefer that
commander que
   to order that
demander que
   to ask (someone to do something)
désirer que
   to desire that
donner l'ordre que
   to order that
empêcher que*
   to prevent (someone from doing something)
éviter que*
   to avoid
exiger que
   to demand that
il est à souhaiter que
   it is to be hoped that
il est essentiel que
   it is essential that
il est important que
   it is important that
il est naturel que
   it is natural that
il est nécessaire que
   it is necessary that
il est normal que
   it is normal that
il est temps que
   it is time that
il est urgent que
   it is urgent that
il faut que
   it is necessary that
il vaut mieux que
   it is better that
interdire que
   to forbid that
s'opposer que
   to oppose that
ordonner que
   to order that
permettre que
   to permit that
préférer que
   to prefer that
proposer que
   to propose that
recommander que
   to recommend
souhaiter que
   to wish that
suggérer que
   to suggest that
tenir à ce que
   to insist that
vouloir que
   to want that
*These verbs are followed by the 
ne explétif
:   
Évitez qu'il ne parte.
   Prevent him from leaving.
Emotions and feelings:

Verbs and expressions of emotion or feeling - fear, happiness, anger, regret, surprise, or any other sentiments - require the subjunctive.
adorer que
   to love that
aimer que
   to like that
apprécier que
   to appreciate that
avoir honte que
   to be ashamed that
avoir peur que
*   to be afraid that
craindre que
*   to fear that
déplorer que
   to deplore that
détester que
   to hate that
être content que
   to be happy that
être désolé que
   to be sorry that
être étonné que
   to be amazed that
être heureux que
   to be happy that
être surpris que
   to be surprised that
être triste que
   to be sad that
il est bizarre que
   it is odd that
il est bon que
   it is good that
il est dommage que
   it is too bad that
il est étonnant que
   it is amazing that
il est étrange que
   it is strange that
il est heureux que
   it is fortunate that
il est honteux que
   it is shameful that
il est inutile que
   it is useless that
il est rare que
   it is rare that
il est regrettable que
   it is regrettable that
il est surprenant que
   it is surprising that
il est utile que
   it is useful that
redouter que
*   to dread that
regretter que
   to regret that
se réjouir que
   to be delighted that
*These verbs are followed by the 
ne explétif
:   
Je crains qu'il ne parte.
   I'm afraid he'll leave. 
Opinion, possibility, doubt
Verbs and expressions of doubt, possibility, supposition, and opinion
accepter que
   to accept
s'attendre à ce que
   to expect
chercher ... qui
*   to look for
détester que
   to hate
douter que
**   to doubt that
il est convenable que
   it is proper/fitting that
il est douteux que
**   it is doubtful that
il est faux que
   it is false that
il est impossible que
   it is impossible that
il est improbable que
   it is improbable that
il est juste que
   it is right/fair that
il est possible que
   it is possible that
il est peu probable que
   it is improbable that
il n'est pas certain que
   it is not certain that
il n'est pas clair que
   it is not clear that
il n'est pas évident que
   it is not obvious that
il n'est pas exact que
   it is not correct that
il n'est pas probable que
   it is improbable that
il n'est pas sûr que
   it is not certain that
il n'est pas vrai que
   it is not true that
il semble que
   it seems that
il se peut que
   it may be that
le fait que
   the fact that
nier que
***   to deny that
refuser que
   to refuse
supposer que
   to suppose, hypothesize
*When you are looking for someone who may not exist, that indicates doubt and therefore requires the subjunctive:   
Je cherche un homme qui sache la vérité.
   I'm looking for a man who knows the truth.
**These do not take the subjunctive when they are used negatively:   
Je doute qu'il vienne, Je ne doute pas qu'il vient.
   I doubt he's coming, I don't doubt he's coming.
***When 
nier
 is in the negative, it's followed by the 
ne explétif
:   
Il n'a pas nié qu'elle ne soit partie.
   He didn't deny that she left. 
Affirmative versus Negative
The following verbs and expressions do not take the subjunctive when they are used in the affirmative, because they express facts which are considered certain - at least in the speaker's mind. When negative or interrogatory, they require the subjunctive:

c'est que   it's that/because

connaître (quelqu'un) qui   to know (someone) that

croire que   to believe that

dire que   to say that

espérer que   to hope that

être certain que   to be certain that

être sûr que   to be sure that

il est certain que   it is certain that

il est clair que   it is clear/obvious that

il est évident que   it is obvious that

il est probable que   it is probable that

il est exact que   it is correct/true that

il est sûr que   it is certain that

il est vrai que   it is true that

il me (te, lui...) semble que   it seems to me (you, him...) that

il paraît que   it appears that

penser que   to think that

savoir que   to know that

trouver que   to find/think that

vouloir dire que   to mean that


Penses-tu qu'il soit sympa ? Oui, je pense qu'il est sympa, Non, je ne pense pas qu'il soit sympa.
Do you think he's nice? Yes, I think he's nice. No, I don't think he's nice. 
Conjunctions

à condition que
   provided that
à moins que
*   unless
à supposer que
   assuming that
afin que
   so that
avant que
*   before
bien que
   although
de crainte que
*   for fear that
de façon que
   so that, in order that, in such a way that
de manière que
   so that
de peur que
*   for fear that
de sorte que
   so that
en admettant que
   assuming that
en attendant que
   while, until
encore que
   even though
jusqu'à ce que
   until
pour que
   so that
pourvu que
   provided that
quoique
   even though
quoi que
   whatever, no matter what
sans que
*   without
*These conjunctions are followed by the 
ne explétif
:   
Mangeons avant que nous ne partions.
   Let's eat before we leave.
On the other hand, the following conjunctions do not take the subjunctive, because they express facts which are considered certain:
ainsi que
   just as, so as
alors que
   while, whereas
après que
**   after, when
aussitôt que
**   as soon as
car
   since, because
en même temps que
   at the same time that
depuis que
   since
dès que
**   as soon as, immediately
lorsque
** when
parce que
   because
pendant que
   while
plutôt que
   instead of, rather than
puisque
   since, as
quand
** when
tandis que
   while, whereas
une fois que
**   once
**These conjunctions are followed by the 
future tense
 in French, even though in English we use the present tense.   
Mangeons quand il arrivera.
   Let's eat when he arrives. 
Negative and indefinite pronouns

Je ne connais personne qui veuille m'aider.
   I don't know anyone who wants to help me.

   Il n'y a rien que nous puissions faire.
   There's nothing that we can do.

   Y a-t-il quelqu'un qui puisse m'aider ?
   Is there someone who can help me?

   J'aimerais inventer quelque chose qui fasse une différence.
   I'd like to invent something that will make a difference. 
Superlatives
After main clauses which contain adjectives like 
principal
, 
seul
, 
unique
, 
premier
, 
dernier
, or any
superlative
, the subjunctive is optional - it depends on how concrete the speaker feels about what is being said.   
Hélène est la seule personne qui puisse nous aider.
   Hélène is the only person who can help us.
   (Hélène may be the only person I think can help us, but there may be others.)   
Hélène est la seule personne que je vois.
   Hélène is the only person I see.
   (No subjunctive, because I know this for a fact - I only see Hélène.)   
C'est le meilleur livre que j'aie pu trouver.
   That's the best book I could find.
   (But it's not necessarily the best that exists.)   
C'est le meilleur livre que j'ai écrit.
   That's the best book I've written.
   (I wrote three, and I know for a fact that this is the best one.)
Ulangsiar: Siapa Sangka Bapa Tergilis Anaknya Sendiri
Posted: 30 Jul 2011 02:57 AM PDT
M
alang nasib seorang kanak-kanak perempuan berusia setahun sembilan bulan yang berhasrat mengikut ibu bapanya membeli kelengkapan hari raya tidak kesampaian apabila maut digilis kereta dipandu bapanya dalam kejadian di Kampung Tok Jawa, Bachok, pagi semalam.
Tambah menyedihkan, bapa kanak-kanak itu, Che Pauzi Mamat, 44, kehilangan anak tunggalnya, Nuramni Athirah adalah hasil perkahwinan keduanya bersama, Noraini Othman, 38.
Dalam kejadian jam 8.30 pagi itu,

Che Pauzi yang menghidupkan kereta Produa Alza di garaj rumahnya dikatakan tidak menyedari kehadiran Nuramni berhampiran kenderaan pelbagai guna (MPV) itu

.

"Saya ingatkan dia berada dengan ibunya dalam rumah. Saya undurkan kereta dan mendengar bunyi seolah-olah melanggar sesuatu lalu turun melihat ke luar.

"Alangkah terkejutnya, apabila ternampak sekujur tubuh Nuramni ditindih tayar depan sebelah kiri kereta," katanya.

Che Pauzi berkata, sebelum itu dia menghidupkan enjin kereta, sementara menunggu isterinya yang sedang bersiap untuk keluar membeli persiapan menjelang puasa, termasuk baju raya puteri tunggalnya itu.

"Saya tidak menyangka objek dilanggar itu adalah Nuramni. Dalam keadaan cemas saya berusaha mengubah kedudukan kereta bagi membolehkan anak saya diselamatkan," katanya.

Menurutnya, sejurus pelanggaran itu, isterinya keluar dari rumah dan terkejut apabila mendapati mangsa dalam keadaan tidak bergerak.

"Tanpa berlengah, saya segera membawa anak ke klinik berhampiran, sementara dalam perjalanan saya cuba memberi bantuan pernafasan, tetapi belum sempat sampai klinik anak sudah tidak bernyawa," katanya.

Che Pauzi berkata, sebelum ini setiap kali hendak menaiki kenderaan, dia akan mendukung anaknya itu, tetapi semalam tidak seperti kebiasaannya kerana menganggap Nuramni berada bersama ibunya.

"Telatah Nuramni pada Hari Raya Aidilfitri dan Aidiladha tahun lalu masih segar dalam ingatan," katanya.

Sementara itu, Ketua Jabatan Siasatan Jenayah Kelantan, Asisten Komisioner Lai Yong Heng mengesahkan menerima laporan dan kes diklasifikasikan sebagai mati mengejut. -SH