---
On watching Magical Musical Show @ Amphitheater Sunway Lagoon
Posted: 15 Jul 2011 10:07 AM PDT
Two more days to go... this musical show will be ended. My sister has given two ticket to my mom and I to watch the musical show.
the RM100 per ticket has been upgraded to RM200 per ticket
We gotten the Yellow Zone ticket which is RM100 per pax but due to low audiences / turn out rate, we were upgrade from Zone Yellow to Zone Blue i.e. RM200 per pax.
My mom and I, we reached the Sunway Lagoon entrance @ about 6:30pm and we waited for the crew's direction to allow us to go into the lagoon. about 15 mins later, we were directed to board the tram and it carried us over to the amphitheater.
The entrance
We walk passed this the entrance and got a nice seat on the blue zone. The seats that we had was very nice and it's quiet in the center of the amphitheater.
The stage taken from where i sat
We waited for the show to begin roughly about 20 mins and finally the shows start... (the clip below is not recorded by me, i obtained from YouTube via gwmchin)
BTW, you may get more clips on the magical musicals from
gwmchin's channel
Anyway, below is the official preview...
... last chance to watch it live before Sunday July 17th 2011 eh~
This posting includes an audio/video/photo media file: Download Now
You Know You Are Getting There Part 2
Posted: 15 Jul 2011 10:30 AM PDT
1. Your memory is shorter and your complaining lasts longer.
2. Your address book has mostly names that start with Dr.
3. You sit in a rocking chair and can't get it going.
4. The pharmacist has become your new best friend.
5. Getting "lucky" means you found your car in the parking lot.
6. The twinkle in your eye is merely a reflection from the sun on
your bifocals.
7. It takes twice as long - to look half as good.
8. Everything hurts, and what doesn't hurt - doesn't work.
9. You look for your glasses for half an hour and they were on your head the whole time.
10. You sink your teeth into a steak - and they stay there.
11. You give up all your bad habits and still don't feel good.
12. You have more patience, but it is actually that you just don't care anymore.
13. You finally get your head together and your body starts falling apart.
14. You wonder how you could be over the hill when you don't even remember being on top of it.
-Author Unknown-
Posted: 15 Jul 2011 10:13 AM PDT
On July 14, 1789, a Parisian crowd storms the Bastille, opening the French Revolution. After a brief resistance, King Louis XVI's forces yield.
The French celebrate their constitutional monarchy in 1790 at the Fête de la Fédération — what they consider the end of the Revolution.
That year, Britain's Edmund Burke publishes Reflections on the Revolution in France, labeling the Revolution an "atrocious spectacle."
In 1791, in The Rights of Man, Thomas Paine defends the Revolution against Burke's "outrageous abuse."
Another skeptic is Alexander Hamilton, who calls the Revolution a "political convulsion that in a great or less degree shakes the whole civilized world."
Thomas Jefferson is more sanguine: "Were there but an Adam and an Eve left in every country, and left free, it would be better than as it now is."
On Jan. 21, 1793, King Louis XVI is guillotined for treason, and the republic descends into a Reign of Terror.
On July 14, 1798, Pres. John Adams signs into law the Sedition Act — aimed at his Francophile critics — as tensions grow between the U.S. and France.
On Nov. 9, 1799, Napoleon Bonaparte stages the coup of 18 Brumaire, effectively establishing a dictatorship over France.
On Dec. 2, 1804, Napoleon crowns himself emperor of France at the cathedral of Notre Dame, officially ending the First Republic.
On June 18, 1815, Napoleon's army loses to the Duke of Wellington at Waterloo, bringing the Frenchman's military career to a close.
In 1848, the French people overthrow King Louis-Philippe, inaugurating the Second Republic.
In 1852, Napoleon III takes hold of power, ending the Second Republic.
After losing to Germany in the Franco-Prussian War, the Second Empire falls. The Third Republic is formed in 1870.
The Third Republic lasts until June 14, 1940, when the Nazis capture Paris.
Post-war, the Fourth Republic lasts until October 5, 1958, and the start of the Fifth Republic under Charles de Gaulle.
Moving On: Close To Heart – The Star – 14 July, 2011
Posted: 15 Jul 2011 10:05 AM PDT
It took exactly two months from the time Cheng Bee of Star 2 spoke to me about contributing an article on disability to the completion and submission of the manuscript to her. In the months of April and May, I was occupied with co-facilitating Disability Equality Training workshops with Dr. Kuno of JICA.
When I finally had time to start writing, I was overwhelmed in trying to compress the 27 years of my life post spinal cord injury into 1400 words. I spent a number of days writing and rewriting, throwing out the less consequential and adding more significant events as I went along.
There were a few ocassions when I teared, especially while recalling the sacrifices my parents made for me and the last few days of my mother's life as she slowly drifted away. Although a lot of emotions were stirred up in the course of writing, I felt a sense of fulfillment and serenity when I finally clicked the send button to submit the article.
The response from friends in Facebook and Twitter were truly encouraging. I did not set out with the intention to write an inspirational story of my life. In fact, it was anything but inspirational, seeing how long it took me to realise that there is life after spinal cord injury.
The message is simple. One should quickly go through the denial, rehabilitation and acceptance processes and move on while waiting for that elusive cure. There is no point in putting everything on hold and then realise that twenty year have passed by with nothing to show for it. It is a mistake I hope others in conditions similar to mine do not make. Viva la Vida!
Moving On – My life after spinal cord injury published on 14 July, 2011 in The Star.
Click on image for full size. Click here for online version.
Related posts:
How Christians Warmed to Harry Potter by Sarah Pulliam Bailey
Posted: 15 Jul 2011 10:02 AM PDT
After praising the "Harry Potter" books in 2001, author Connie Neal said that she opened her inbox to see death threats scattered among the reactions from fellow Christians. The one time the California-based writer found her book, "What's a Christian Got to Do with Harry Potter?," at a Christian bookstore, it was on the occult/New Age shelf.
In its early years, "Harry Potter" was a litmus test of orthodoxy for some conservative Christians, who expressed concern over its portrayal of witchcraft. A Christian lawyer sued a public library for encouraging young readers to check out the series. Texas Pastor John Hagee called the books a "precursor to witchcraft." In 2005 a Canadian website published a letter opposing the books written by Pope Benedict XVI when he was Cardinal Ratzinger. (In 2009, the Vatican's newspaper L'Osservatore Romano published a favorable review, seeming to reverse course on the series.)
The hysteria has largely died down, and not many religious leaders asked their flocks to avoid the final movie, which opens today. Potter observers cite a few possible reasons for the waning concern, including a natural desire to move on to other entertainment issues, but also an interest in the themes that unfolded.
Christians today are certainly not universally enchanted by the series. Over time, however, more readers have begun to express praise for its honest depiction of fear, loneliness and sacrifice as Harry faces the evil wizard Lord Voldemort. Many Christians have cheered the portrayals of loyalty, courage and love, as the main character repeatedly risks his life.
"These books are not written for people who have a mechanical faith," says John Granger, author of "Looking for God in Harry Potter." "For Christians who are consumed with moral elements and symbolism, Potter mania was ironic beyond words." Spoiler detail about the movie aside, the idea that sacrificial love conquers power, including magical power, is strongly suggested in the final book.
"Harry Potter" author J.K. Rowling, a member of the Church of Scotland that has Presbyterian roots, initially avoided talking explicitly about her faith. "To me, the religious parallels have always been obvious," Ms. Rowling said in 2007. "But I never wanted to talk too openly about it, because I thought it might show people who just wanted the story where we were going."
Ms. Rowling is hardly the first author to face misunderstanding from a religious audience. Before C.S. Lewis became well known as a Christian, he noted that most British reviewers missed the underlying theology in his science fiction "Space" trilogy. Christian writer Madeleine L'Engle was criticized by some for the magic elements in "A Wrinkle in Time." On the other hand, J.R.R. Tolkien's "The Lord of the Rings" appeared to escape similar scrutiny despite his characters' use of magic.
Since the seventh Potter book came out in 2007, Ms. Rowling—who acknowledged the influence of Tolkien and Lewis on her work—has drawn more explicit religious parallels. She suggested that the two Bible verses found on tombstones in the final book almost epitomized the whole series: "And the last enemy that shall be defeated is death" and "Where your treasure is, there your heart will be also."
The author put a little damper on some enthusiasm when she said that she always thought of one of her main characters, Albus Dumbledore, as gay (after which Pat Robertson's Christian Broadcasting Network called for a ban on the books.) And she did distance herself somewhat from C.S. Lewis when she told Time magazine in 2007 that "I did not set out to convert anyone to Christianity."
Christians are still somewhat divided on "Harry Potter," with lingering concerns. "We're not monolithic on this," says Bob Waliszewski, a media specialist for Focus on the Family. "The major issue for the faith community is all packed in that simple word: witchcraft."
Many cite biblical passages, such as Deuteronomy 18:10-11, that warn against witchcraft and sorcery. "But the literary witchcraft of the Harry Potter series has almost no resemblance to the I-am-God mumbo jumbo of Wiccan circles," Christianity Today said in a 2000 editorial.http://www.blogger.com/img/blank.gif
Mr. Waliszewski suggests that Christian families whose children express interest in the books use them as a teachable moment. "When you see self-sacrifice, heroism, the strong power of friendship, applaud it," he said. "I am more concerned about non-Christians reading the books because I do think it puts witchcraft in a light that is more favorable and positive than it deserves biblically."
Ms. Neal, for her part, is not worried about anyone reading the books. Rather than being a means for corrupting the youth with witchcraft and the like, she says, "The Harry Potter phenomenon was the greatest evangelistic opportunity that the church has missed."
Ms. Bailey is online editor for Christianity Today.
The Wall Street Journal
Bad News: Four In Ten Will Get Cancer
Posted: 15 Jul 2011 09:00 AM PDT
BBC ONLINE 13 July 2011 Last updated at 23:10 GMT Article written by Fergus Walsh Medical correspondent More from Fergus
Four in ten will get cancer
Related StoriesFour in 10 get cancer - charity
I can still remember as a small boy asking my mother to explain how a neighbour and family friend had met her death. My mum
Posted: 15 Jul 2011 08:02 AM PDT
As the world bows its collective head this week in shame to mark the 16th anniversary of not rescuing Muslim soldiers from the Serbs they were slaughtering, the Netherlands' largest internet news portal, NRC, was audacious enough to challenge the official version of the sacred, unquestionable, meticulously constructed lie known as the "Srebrenica Genocide," heralding a significant change in attitude toward the nature of the incident. As Stefan Karganovic of the Srebrenica Historical Project put it, "The expression of such heretical views would have been unthinkable in Holland [or anywhere else] a short time ago."
Repeatedly, the Srebrenica enclave, which was demilitarized in name only, was used by the Islamists inside it, sometimes reinforced by civilian men and women, as a base for provocative and murderous military assaults on the surrounding Serb villages. To combat and prevent the joining of Srebrenica and the neighbouring southern enclave of Žepa with the rest of the Muslim-dominated areas, many Bosnian Serb forces were tied down, while their army along the main front lines was facing the full burden of conducting the war hampered by a great shortage of military personnel.
Continued here......
This posting includes an audio/video/photo media file: Download Now
Sizzling yellow reception for Najib in Britain
Posted: 15 Jul 2011 07:46 AM PDT
Prime Minister Najib Abdul Razak's visit to the United Kingdom was greeted by protesters in yellow condemning the high-handed crackdown on Bersih 2.0 rally last Saturday and demanded electoral reform.
Dozens of protesters, comprising both Malaysians and foreigners, gathered outside Mansion House at London an hour before Najib's arrivalfor a meeting with the London business community.
Yellow posters and banners, condemning the clampdown on Bersih 2.0 were unfurled, urging the Malaysian government to release six Parti Sosialis (PSM) activists dubbed "EO6" being held under the Emergency Ordinance which allows indefinite detention without trial.
According to the
Sarawak Report
portal, Najib in a big convoy gave a cheery wave as soon as he spotted the crowd.
It said the protest went off peacefully with the policing minimal and friendly.
According to a protester, PKR youth leader Ginie Lim the police deployed a truck to block the protesters from the view of the delegates attending the meeting.
Yellow begins to reign supreme
There was another peaceful protest at Downing Street, London, where the official residence of UK Prime Minister is located. Najib was there to meet his UK counterpart, David Cameron.
Both leaders signed a memorandum of understanding on enhancing strategic cooperation to combat trans-boundary crime and international terrorism.


Protesters in yellow clothes put up posters, in matching colour, that read "Shame on you, Malaysia PM, clean and fair election and free our leaders now".

Another protest will be called at the Inter Continental Hotel today in UK time 7pm where Najib is expected to attend a function.
Before the meeting with Cameron, both Najib and his wife, Rosmah Mansor, had an audience with Queen Elizabeth II yesterday in Buckingham Palace, who coincidentally wore a bright yellow dress. Malaysiakini
Forum Invitation: Is it time for a Dayak Reawakening? KL-Selangor Chinese Assembly Hall, Monday, 18th July, 7pm
Posted: 15 Jul 2011 07:32 AM PDT
Dear fellow bloggers,
Even as the events from the recent Bersih March continue to dominate the headlines, we do not want to forget that many of the issues raised during the Sarawak state elections in April remains unresolved.
As part of the DAP's initiative to reach out to a broader base beyond its traditional areas of support, the party is organizing a series of forums in Peninsular Malaysia and in Sarawak on the specific issues and challenges facing the Dayak community.
The first forum, targeted at the Dayak community living in Johor Baru, took place on the 26th of June.
The second forum, targeted at the Dayak community living in KL, will take place on next Monday, on the 18th of July, at the KL Selangor Chinese Assembly Hall.
I know that as bloggers, many of you are non-partisan but I hope you can consider putting the details of this forum on up your respective blogs and also to email this invitation to your Dayak friends who are living in KL.
Forum Details:

DAP Forum: Is it time for a Dayak Reawakening?
Speakers:
YB Lim Kit Siang (MP for Ipoh Timur)
YB Wong Ho Leng (MP for Sibu, ADUN for Bukit Assek)
Dr. John Brian (Deputy President of the Sarawak Dayak National Union – SDNU)
YB Chiew Chin Sing (Kidurong ADUN)
Venue: The KL Selangor Chinese Assembly Hall
Date and Time: Monday, 18th of July, 7pm to 10pm
Details of the Dayak Consultative Council (DCC) will be announced at this event.
--
Dr. Ong Kian Ming
BSc (LSE), MPhil (Cantab), PhD (Duke)
email:
im.ok.man@gmail.com
office phone: 603-91018880 ext 5045
hphone: 016-238-1432
facebook page:
www.facebook.com/im.ok.man
twitter name: imokman
You Know You Are Getting There Part 1
Posted: 15 Jul 2011 07:30 AM PDT
One may know one is getting older when...
1. You and your teeth don't sleep together.
2. Your try to straighten out the wrinkles in your socks and discover you aren't wearing any.
3. At the breakfast table you hear snap, crackle, pop and you're not eating cereal.
4. Your back goes out but you stay home.
5. When you wake up looking like your driver's license picture.
6. It takes two tries to get up from the couch.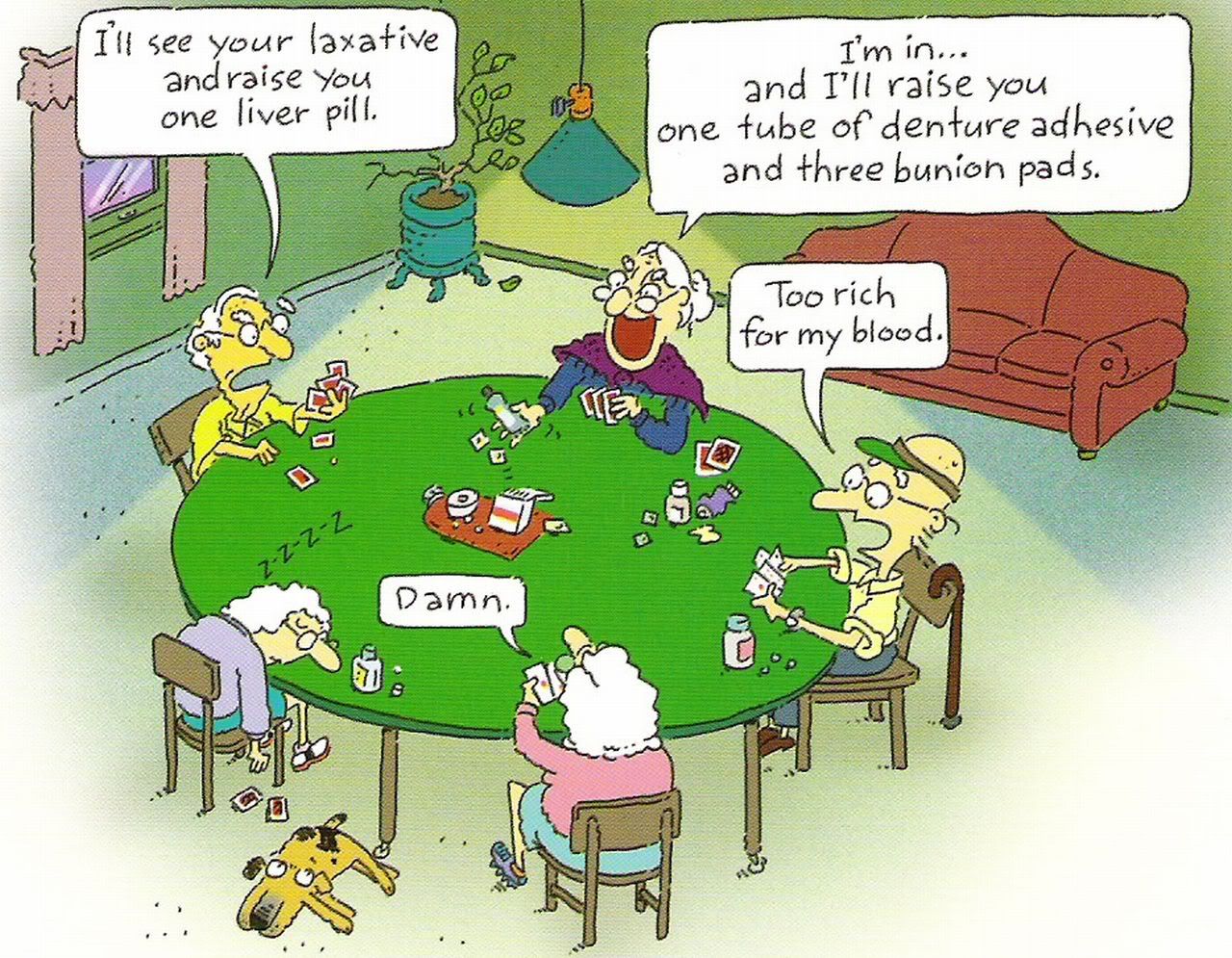 7. When your idea of a night out is sitting on the patio.
8. When happy hour is a nap.
9. When you're on vacation and your energy runs out before your money does..
10. When you say something to your kids that your mother said to you and you always hated it.
11. When all you want for your birthday is to not be reminded of your age.
12. When you step off a curb and look down one more time to make sure the street is still there.
13. Your idea of weight lifting is standing up.
14. It takes longer to rest than it did to get tired.
-Author Unknown-
*Sorry - I have been very busy today with some visitors. At the same time, I can feel age catching up far too quickly. Am posting this for the sake of humor and to keep smiling even though I am ageing! :-) Part 2 of this post will be up at 1.30a.m. Cheers!
Kisah Benar BERS✔H 2.0: Melayu Jerit, "Bagi Cina Keluar Dulu", Mengharukan Saya
Posted: 15 Jul 2011 09:45 AM PDT
A
degan yang terharu buat 1Malaysia: "Bagi Cina semua keluar dulu, kita jalan nanti"
Pada 9 Julai 2011, saya menyertai perhimpunan aman BERSIH 2.0. Saya dibasahi hujan, dua hari keletihan dan saya merehatkan diri selama dua hari, sekarang barulah ada mood untuk mencatatkan perasaan saya. Ramai warga internet telah menulis kisah 709 masing-masing, maka saya cuma nak mencatatkan adegan-adegan yang memahat hati sahaja.
1. Saya berkenalan dengan kawan Melayu baru.

Seorang ahli PAS yang berpengalaman dalam demonstrasi sebelumnya memegang tangan saya, "Terima kasih kerana sokongan kamu (orang Cina)"

. Saya menjawab, "Ini usaha yang saya patut lakukan. Ini negara saya juga."


(Rupa-rupanya dari pandangan mereka, orang Cina hanya mengaut keuntungan dan mengutamakan keuntungan sahaja. Jadi mereka amat gembira apabila ternampak dua tiga wajah orang Cina.)



2. Seorang uncle Cina membawa isterinya dan dua orang anak yang usianya kira-kira 20 tahun. Tinggi, kurus dan kelihatan lemah.

Beliau memesan anaknya, "Cepat, cepat ikut mereka (kelompok orang). Apa takut? Bukan suruh kita pergi mati pun? Jangan takut, kita bukan orang besar. Sekarang bilangan orang yang diperlukan (perhimpunan), kita mesti sokong!"




(Kebanyakan ibu bapa akan memarahi anak mereka, agar tidak terlibat dalam perhimpunan. Mengapa pula keluarga ini "terbalik" keadaannya?)




3. Seorang Melayu yang agak lanjut usianya berkata kepada beberapa orang pemuda Cina,

"Kita mahu tunjuk perasaan , bukan kemarahan."




(EQ pemuda Melayu lebih tinggi daripada orang Cina kali ini, memang cukup kelayakannya untuk berkata sedemikian.)



4. Sepasang

suami isteri membawa dua orang anak, yang usianya kira-kira 8 hingga 10 tahun

, mengambil makanan ringan di atas tangga. Hati saya berfikir, "Berkelah ke?" Wanita Melayu itu menatap saya, seolah-olah memahami apa yang bermain dalam fikiran saya. Maka beliau senyum dan berkata,

"Kami nak mereka tahu, dari kecil lagi, malah belajar bagaimana memperjuangkan demokrasi."




(Lantas saya mengangguk-angguk kepala saya, agak malu dengan diri saya yang memandang rendah orang tadi.)



5. Sepasang

suami isteri Melayu yang lanjut usianya, mengeluarkan topeng yang kelihatan seolah-olah alat mainan dari beg plastiknya

, dengan tangan yang bergetar. Mereka dengan ghairah berkata kepada saya, "Kami ada buat persediaan, kamu ada?"


(Hati saya berfikir, memang kamu perlukannya, sebab kamu tak dapat lari dengan cepat!)




6. Sepasang

suami isteri Cina yang muda, bukan sahaja turun ke jalan raya, malah membawa kereta bayinya.

Mereka memakai baju hujan semasa air hujan mencurah dari langit. Malah, kereta bayinya sudah disediakan dengan kain kalis air. Dengan cepat saya menutup kereta bayinya, kemudian bersama dibasahi hujan di situ.
(Bayi pun turut serta dalam perhimpunan, comel juga bayi tu!)

(Selepas saya balik, saya menceritakan kisah ini kepada jiran saya. Makcik-makcik itu mencelah, "Aiyoh, buat apa pergi demo? Apa kena-mengena dengan kita? Memang tak ada otak langsung. Bawa bayi pulak? Mengapa tidak kamu marahnya?" Saya berbisik dalam hati, "Aunty, saya terasa nak marah kamu...")

7. Seorang Mat Salleh nampak saya mengejar untuk merakamkan gambar bagaimana FRU menyuraikan orang ramai. Beliau berlari mengikut saya, malah berulang-kali berkata kepada saya,

"You must put it in the media."




(Brother, kamu terlebih memandang tinggi teknik sayalah. Saya bukannya pro (profesional) sangat...)




8.

Kawan Melayu saya memberitahu saya, dirinya mempunyai pengalaman yang banyak untuk berdemonstrasi - bagaimana beliau tidak gentar dengan kuasa, bagaimana bertahan sehingga akhir, malah beliau berjanji untuk menjaga saya.

Ketika gas pemedih mata ditembak untuk pusingan pertama, beliau menarik saya dan berlari. Dalam hati saya tertanya-tanya, "Bukankah kamu kata nak bertahan sampai ke akhir?"

Selepas kami keluar dari kelompok manusia, beliau menunjuk ke satu arah

, "Kamu jalan dari sini. Tunggu kami di Stadium Merdeka. Kami akan berjumpa kamu di sana. Hubungi kawan yang lain.

Bilangan yang menyertai perhimpunan dah mencukupi sekarang. Saya percaya polis akan lebihkan serangannya. Kamu tak boleh singgah di sini."

Saya bertanya, "Macam mana kamu pula?" Dia jawab,

"Saya nak ke baris depan, bersama kawan saya."

Seterusnya, beliau memaling dan melangkah menuju ke kepulan asap gas pemedih...

Akhirnya, saya berhimpun dengan kawan saya di tempat yang berhampiran dengan stadium, dan menyertai perarakan terakhir yang menuju ke Stadium Merdeka. Polis mengejar dan menangkap. Saya tidak lagi menemui kawan Melayu saya itu lagi. Saya dimaklumkan kemudiannya bahawa beliau telah ditangkap, bagaimanapun dibebaskan juga akhirnya.



Nota akhir:



Saya membaca pengalaman ramai peserta, termasuk cerita Aunty Anne yang membuatkan saya terharu. Tetapi saya tidak menitiskan air mata, sehingga saya terbaca catatan seorang warga internet,


"Adegan yang paling memahat ingatan saya sepanjang perhimpunan itu adalah, ketika kami sekumpulan orang melarikan diri dari tangkapan polis melalui pagar di belakang Hospital Tung Shin,

orang Melayu menendang pagar itu dengan kakinya, dan berkata 'Bagi Cina semua keluar dulu, kita jalan nanti'. Kata-kata ini terus menusuk hati saya, saya amat kagum! Kini barulah saya menghayati apa makna sebenarnya 'saling menolong tanpa mengira kaum dan budaya dalam Satu Malaysia', dan bukannya '1 Bumi, 1 Malaysia' yang didukung Barisan Nasional'. "



Tiba-tiba saya sebak.

Saya tahu apa yang dikatakannya adalah kisah benar, ini kerana kawan Melayu saya juga menjaga saya. Lebih-lebih lagi, kawan saya dalam Facebook rata-ratanya menceritakan pengalaman bagaimana sahabat Melayu menjaga orang Cina kali ini.

Mungkin mereka menganggap orang Cina jarang menyertai perhimpunan, tiada pengalaman.


Mengapa saya tersentuh dengan hal yang remeh sebegini? Kerana saya amat memahami, orang Cina adalah kaum minoriti di Malaysia.

Seandainya minda perkauman ini tidak dipecahkan, orang Cina akan tetap ditindas dan tidak dilayan dengan adil. Namun, kerajaan kita bersikap perkauman, ditambah pula PERKASA yang melaga-lagakan, hal ini sukar diselesaikan!



Perhimpunan ini melakar gambaran masa depan untuk saya,

malah mengubah persepsi saya terhadap kaum Melayu secara menyeluruh. Seandainya dikatakan negara ini musnah kerana politikus dari kaum ini, maka negara ini juga akan bangkit kerana kaum ini!

Saya masih menaruh harapan dan keyakinan terhadap kaum ini dan negara ini.



Kawan-kawan Cina saya, perhimpunan aman tidak menakutkan. Jom turun untuk sokong lain kali!

-MR


KTB girls, aerobic exercise, corporate culture
Posted: 15 Jul 2011 06:51 AM PDT
South Korea's KTB Investment & Securities has released a video of some girls (presumably the firm's female employees) doing some simple "aerobic exercises"…
Reminded me of my old Japanese employer, where staff would get together in the morning to do some stretching exercises. We didn't have much girls (95% male) in our department though, unfortunately… else I might have stayed there a bit longer ;)
Group exercise is a common corporate culture in Japan (and Korea to a lesser degree). Besides whatever benefit it brings, missing an exercise session – usually the first thing in the morning – literally means that someone is late for work, it's serious matter.
KTB girls, aerobic exercise, corporate culture from YeinJee's Asian Blog
Posted: 15 Jul 2011 06:38 AM PDT
This guy, lost in the desert for two weeks, finally spots a small oasis and crawls up to it before collapsing. The resident missionary finds him just in time, and slowly nurses him back to health.
Fully recovered the grateful guy wants to get back to civilization and asks his benefactor, "Could I borrow your horse, and give it back later, or possibly leave it for you in the next town?"
The missionary says, "Surely, you may, but there's one special thing about my horse. Instead of 'giddiup' you have to say 'Thank God' to make him go...and you have to say 'Amen' to make him stop. He won't respond to 'whoa.'"
Not paying much attention, the guy says, "Sure, Ok," mounts the horse and starts off with an initial "Thank God."
The horse starts walking slowly when the the guy repeats, "Thank God, thank God," and the horse starts trotting.
Encouraged by this, the guy then shouts, "Thank God, thank God, thank God!" and the horse just takes off at full tilt.
However, pretty soon the guy sees a cliff coming up ahead, and starts doing everything he can to make the horse stop.
"Whoa!!...Stop!!...Hold on!!" he screams - but to no avail.
The horse doesn't stop! Finally, he remembers what the missionary said and shouts, "Amen," and the horse slows just in time, just inches away from the precipice.
Relieved with still being alive, the guy leans back in the saddle, wipes his brow and audibly sighs, "Thank God."
-Author Unknown-
Posted: 15 Jul 2011 06:35 AM PDT
I went out with my partner to the nearby commercial area this afternoon to get some stationary for the office and also check out some
Pop up display
systems at the same time. After getting the stuff we needed, he said he wanted to buy some 4D numbers since the shop was just a few doors away. Now, I'm not the kind to buy these lottery thingies mainly because I have no luck whatsoever when it comes to games of chance and secondly I have no idea how to buy one ... LOL!
Anyways, we head to the shop and there was a small queue of people ahead of him. Just before his turn, there was this elderly lady about to place an order for her numbers of chance. Nothing peculiar about it except that she was buying 4D numbers worth a total of RM800 or more! I stood in stunned silence watching her dish out RM100 after another to the cashier. Even my partner turned and gave me this wide eyed look.
Don't get me wrong, I know people spend quite a bit to buy this numbers and have seen people spend RM50-RM100 at one go but this is the first time I've seen anyone spend RM800 plus for some lucky draw numbers! I mean, that's more than some people's entire monthly wages, for gods sake!
You wouldn't catch me just throwing my money away like that on chance. I suppose she must have won big time before to spend that much and I know it's her money to do as she pleases but for gods sake, there are people in this world who don't even have enough to eat and some people just throw away good cash like that ... siggghhh!
I was still stunned speechless
(and for a big mouth like me, that's saying a lot!)
while we walked back to the car and drove to the office. Oh how I wish I was rich enough to simply throw away cash like that without blinking an eye!
On happier note, I'm going to watch the Liverpool vs Malaysia match tomorrow with my best buddy Adrian, though I don't know why since I'm a livelong Arsenal fan ... LOL! He messaged me last night and asked if I wanted to go with him
(he's a livelong Liverpool fan)
to watch the game with him. Since I was free, I agreed though I have no idea who to support cos I'm not a fan of either Liverpool or Malaysia ... hahaha! But I'm sure we'll have some fun since it's been a heck of a long time since we've hung out together.
At least I can wear yellow tomorrow without fear of being arrested cos I can just tell those silly boys in blue that I'm here to support the
'clean'
playing Malaysian team in their yellow jerseys ... hahaha! Then again, those silly fellows in blue might just end up arresting the Malaysian team for wearing yellow. I wouldn't put it past them :D
With that said and done, have a happy weekend and don't forget it's yellow Saturday so wear something yellow :D
.
US Expresses Concerns Over Bersih
Posted: 15 Jul 2011 06:22 AM PDT
From BBC Online 14 July 2011 Last updated at 08:19 GMT US concern at Malaysia crackdown on protests Some 1,650 people were detained at the rally on Saturday  The US has expressed concern over a crackdown in Malaysia on protests last Saturday. The state department's Mark Toner said people should be allowed to "freely express their democratic
Gao Yuanyuan on Hotspot Magazine
Posted: 15 Jul 2011 06:11 AM PDT
Chinese actress Gao Yuanyuan is featured on recent issue of Hotspot [Cn] Magazine. The 31-year-old is pretty popular in China, but little known outside of Asian region.
There's more, read the full post »
Gao Yuanyuan on Hotspot Magazine from YeinJee's Asian Blog
Bersih A Sign That Msia Is Changing - BBC
Posted: 15 Jul 2011 06:19 AM PDT
BBC ONLINE 13 July 2011 Last updated at 23:21 GMT Breezes of change in Malaysia By Rachel Harvey BBC South East Asia Correspondent Protesters on the streets of Kuala Lumpur were met by police in full riot gear and clouds of tear gas
Malaysia's reputation as a peaceful, multi-ethnic role model was shaken last
RM25 Sekepala Jamuan Tahanan BERS✔H? Siasat Salahguna Dana Awam Oleh Polis
Posted: 15 Jul 2011 06:15 AM PDT
P
olis akui salah guna dana awam?
"Mereka yang ditahan memberitahu bahawa mereka makan ayam goreng, sayur, sambal dan nasi kosong beserta dengan air manis. Hah! adakah ini harganya RM25 seorang?"
PETALING JAYA:
Benarkah polis membelanjakan sebanyak RM25 seorang untuk menyediakan makan dan minum kepada peserta Himpunan Bersih 2.0 yang ditahan pada 9 Julai lalu?
"Jika benar, ini bermakna pihak polis sudah menyalah guna dana awam ketika menyediakan makan minum peserta yang ditahan," ujar

Pengerusi Solidariti Anak Muda Malaysia (SAMM), Badrul Hisham Shaharin, dipetik dari blognya hari ini.

Beliau, yang dikenali sebagai CheguBard, merujuk laporan media yang memetik kenyataan polis yang cuba membela diri kononya semua peserta Himpunan Bersih diberikan layanan sempurna.

"Bila ditanya kepada mereka yang ditahan, rata-rata memberitahu bahawa

mereka makan ayam goreng, sayur, sambal dan nasi kosong beserta dengan air manis. Hah! adakah ini harganya RM25 satu orang?

" soal beliau.

"Pergilah ke mana-mana pembekal makanan memasak, tanyakan harga menu tersebut untuk lebih dari

1,000 orang makan secara buffet…..rata-rata akan mengatakan RM6 satu kepala malah ada yang akan menawarkan semurah RM4 sahaja

jika cara pembayaran dipermudahkan," jelasnya.

Katanya, ini bermakna, polis mengeluarkan belanjawan RM25 untuk seorang daripada wang rakyat. Mana pergi lagi RM20? Ini melibatkan salah guna kuasa.

Justeru itu, beliau menggesa Suruhanjaya Pencegahan Rasuah Malaysia melaksanakan tugasnya untuk menyiasat perkara ini.

CheguBard berkata, perkara seperti ini sememangnya sudah lama berlaku……

makanan dalam lokap siapa pernah periksa berapa harga diperuntukkan dan bagaimana mutu makanan disajikan dan siapa yang meraih keuntungan 'rasuah' tersebut?



"Satu lagi teori menurut mereka yang ditahan, jumlah peserta demonstrasi Bersih sebenarnya menjangkau lebih 3,500 orang tetapi sebaliknya yang diisytiharkan ditahan hanya lebih 1,000 orang," katanya.

Beliau mahu pihak polis memberi penjelasan mengenai adakah benar sebanyak RM25 dibelanjakan untuk seorang peserta dan adakah jumlah yang ditahan melebihi dari jumlah yang diisytiharkan. -FMT


[Bergambar] BERS✔H 2.0: Lagi Banyak Kuning Sambut Najib Di London
Posted: 15 Jul 2011 05:24 AM PDT
S
ambutan 'kuning' untuk Najib di United Kingdom
Lawatan Perdana Menteri Datuk Seri Najib Abdul Razak ke United Kingdom hari ini diberi sambutan 'hangat' oleh penunjuk perasaan yang berpakain serba kuning.
Mereka membidas tindakan kerajaan yang menekan ribuan peserta perhimpunan BERSIH 2.0 Sabtu lalu yang menuntut pembaharuan dalam sistem pilihan raya negara.
Puluhan penunjuk perasaan yang terdiri daripada rakyat Malaysia dan juga asing berkumpul di Mansion House di London sejam sebelum ketibaan Najib yang dijadual mengakan pertemuan dengan tokoh perniagaan Britain.

Sambil membawa kain rentang dan sepanduk, penunjuk perasaan juga mendesak Najib supaya membebaskan segera enam tahanan Parti Sosialis (PSM).

Mereka yang dinamakan sebagai "EO6" yang ditahan mengikut Ordinan Darurat. Di bawah akta itu, seseorang boleh ditahan untuk tempoh 60 hari dan dinafikan hak untuk dibicarakan.



Diiringi Rosmah



Menurut portal Sarawak Report, konvoi Najib sempat melambai kepada penunjuk perasaan yang berlangsung dengan aman. Kehadiran polis adalah minimum dan mereka juga agak mesra.

Najib kini dalam lawatan rasmi lima hari ke London atas jemputan rasmi rakan sejawatannya.

Semalam, beliau dengan isterinya, Datin Seri Rosmah Mansor juga sempat menghadap Ratu Elizabeth II di Istana Buckingham sebelum mengadakan pertemuan dua hala dengan Perdana Menteri David Cameron di No 10, Downing Street.

Turut mengiringi mereka adalah Menteri Dalam Negeri, Datuk Seri Hishammuddin Hussein dan Menteri Luar Datuk Seri Anifah Aman. -mk





Gelombang kuning 'kejar' Najib di UK



KUALA LUMPUR, 15 Julai: Biarpun dilihat seolah-olah lari dari isu Bersih 2.0 sehingga ke luar negara, kehadiran Datuk Seri Najib Razak di United Kingdom hari ini bagaimanapun tetap 'dikejar' gelombang kuning.

Puluhan penunjuk perasaan yang terdiri daripada rakyat Malaysia dan juga asing berkumpul di Mansion House di London sejam sebelum ketibaan Perdana Menteri Malaysia itu yang dijadual mengadakan pertemuan dengan tokoh perniagaan Britain.

Mereka memakai baju kuning, dan membawa poster serta sepanduk mengutuk tindakan kerajaan Malaysia menangani peserta himpunan Bersih 2.0 di ibu negara 9 Julai lalu yang berhimpun secara aman menuntut pembaharuan dalam sistem pilihan raya.

Dalam tulisan yang terpapar pada sepanduk yang dibawa itu, mereka juga mendesak Najib supaya membebaskan segera enam tahanan Parti Sosialis (PSM) yang dinamakan sebagai "EO6" yang ditahan mengikut Ordinan Darurat.

Daripada gambar-gambar yang disebar di internet, Najib dilihat sempat menoleh ke arah kumpulan penunjuk perasaan itu yang hanya berjarak kira-kira 50 meter dari tempat turun kereta yang dinaikinya.

Sebuah van dan dua anggota polis juga dilihat berkawal di hadapan peserta himpunan itu.

Semalam, Ratu Elizabeth memakai baju kurung berwarna kuning ketika menerima mengadap Najib dan Rosmah di Istana Buckingham, London.

Setiausaha Pengangkutan Negeri, Philip Hammond bertali leher kuning ketika mengiringi Najib melawat Stesyen Kereta Api London.

Amnesty International sebelum ini mendesak Kerajaan UK agar memberi signal protes terhadap layanan zalim Kerajaan Malaysia kepada peserta perhimpunan aman Bersih 2.0 pada 9 Julai lalu. -hd
Posted: 15 Jul 2011 03:42 AM PDT
Pemandu Terburu-Buru, Leher Gadis Ini Disepit Pintu Bas
ANHUI – Seorang gadis mengalami nasib malang apabila kepalanya tersepit pada pintu bas ketika mahu turun di satu perhentian bas di bandar Maanshan, wilayah Anhui, China.
Wanita ini betul-betul malang gara-gara pemandu bas. Apa tidaknya…belum pun sempat gadis ini turun pemandu telah menutup pintu bas tersebut. Akibatnya kepala perempuan itu tersepit pintu, sementara badannya masih di dalam bus.
Namun nasibnya sedikit beruntung bila ada seorang penumpang yang menyedari hal itu dan meminta pemandu berhenti dan membuka pintu.
The best part… begitu bas itu berhenti dan pintu terbuka, perempuan itu turun sambil memicit lehernya yang sakit.
Ia berlalu begitu saja tanpa memprotes kepada pemandu yang mungkin disebabkan malu atau mungkin ada urat marah yang tak berfungsi disebabkan sepitan pintu bas itu. Kesian…kesian…