---
Posted: 03 Jul 2011 10:07 AM PDT
Yingluck Shinawatra will become Thailand's first female prime minister after leading the Pheu Thai Party to victory in the nation's general election on Sunday.
Yingluck is the younger sister of former PM Thaksin Shinawatra who was ousted in a military coup in 2006. Thaksin is currently in self-imposed exile (fleeing from corruption charges) but still remains influential in the country, obviously.
The political instability in Thailand had led to a couple of mass rally in the past few years. The last chaos in March-May 2010 resulted in dozens death and hundreds injured. Hope that the transition could be peacefully done this time.
Shinawatra wins Thai election from YeinJee's Asian Blog
Hong Kong: Causeway Bay And Somewhere Around
Posted: 03 Jul 2011 09:53 AM PDT
Hello my friends, I will be writing quite a few posts about Hong Kong this few days because I realized that I still have quite many photos to share with you guys about my Hong Kong trip during Chinese New Year this year. Although it's late, it's still nice to share and bring back my memory when I was in Hong Kong. This makes me miss Hong Kong so much.
As you know, one of the famous place in Hong Kong is Causeway Bay 铜锣湾 which is a mid-high end shopping district and people like to go there to shopping and also number one hang out place for Hong Kees. =)
Everytime go to Hong Kong must go to this place because of the crowds and it's the most happening place on the Hong Kong island, whereas on Kowloon side will be the Tsim Sha Tsui and Mongkok area.
The famous Times Square shopping mall also situated at there but I tell you it's quite boring inside, looking old and dull even it features some international brand at there. I don't really like walking inside.
One cool thing about this place is that if you comes at night at 1am, there's still people hanging around, it's like a place that does not sleep at night. Very happenings.
I don't know why Hong Kong has so many happenings place. Unlike Malaysia, Penang or KL. KL has the Bukit Bintang area and that's all, and Penang, I can't think of any happenings place, perhaps Gurney Drive? But on the weekend only. I like to go out and join the fun.
One thing that you must do at Causeway Bay, Times Square area is that go to the street food stall opposite of Times Square and grab some local street food like curry fish ball, mixed beef organs, sausages and more. They are real awesome and my dad love it very much.
It's a trend that people either stand by the roadside to eat, or grab and eat and shop at the same time. It's really an Hong Kong culture, that you probably can't find it here in Malaysia.
Causeway Bay is a real shopping district, given you want to find cheap stuff at Jardine's Crescent, or some young stuff and mid-end fashion at Sogo and Island Bevely Shopping Arcade, if you want high-end, go to Times Square. =D
Brother and I were actually walking pointlessly, and almost lost the way of going back to Times Square. Haha, but we didn't went back there, we went to somewhere else we didn't know where it was. We keep walking and walking to explore the place around.
And we found World Trade Centre. A office place revamped into a shopping mall too and I found Muji, my favourite Japanese minimalism item store. I wonder when Muji will come to Penang or Malaysia.
There's plenty street food corner in Hong Kong, you can find them at almost any corner, so no worry of being hungry in Hong Kong because you can get food easily.
We also found the famous in TVB series, 打小人 hit small people, which literally means hitting the paper man with the name of the person you hate or want to curse. It's kinda famous and lame, but still there's people visiting these grandmas.
=D D24 Durian at Hong Kong's Hui Lao Shan.
Miss A Suzy & Bean Pole handbags
Posted: 02 Jul 2011 09:33 AM PDT
Korean idol Suzy Bae (member of pop group Miss A) modelled for Bean Pole [Kr] handbags and accessories with an elfish concept…
There's more, read the full post »
Miss A Suzy & Bean Pole handbags from YeinJee's Asian Blog
Posted: 03 Jul 2011 09:06 AM PDT
Today on 3 July 2011, Pompuan left us and gone to heaven. This afternoon, we found her laying on her side with her eyes barely open. I didn't look closely, it was too sad for me. We gave her some water and moved her to another cage so that she could relax without the others bugging her. Later at 8pm, she was no longer breathing and Azman buried her safely under the plam tree.
Pompuan was just a few months old. Her fur was white as snow with black patches of her face and ears. She was one of the cutest bunny rabbit we ever had. That's why Miki adored her. He was the one who named her Pompuan anyway.
Pompuan and her brother Midnight was born a few months ago but she has always been very small compared to him. She was a picky eater, she only ate her rabbit food and soft leaves. No carrots or celery.
We don't know what was the cause of her passing. Takkan nak buat autopsy pulak. But still I am very sad and somehow scared.
Why scared you might ask me… Well, try reading this old entry of mine HERE.
Below are some pics taken recently.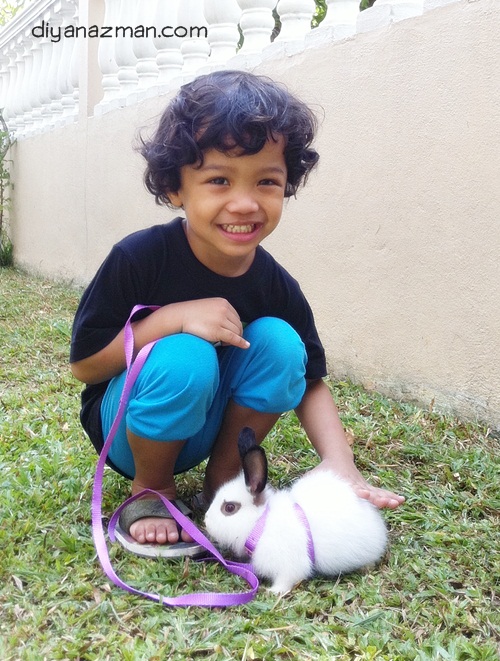 Miki and Pompuan –  taken on 26th June 2011. Miki just got up from bed, tak mandi tak gosok gigi terus main dengan rabbit using his new Bunny Harness. We just bought the harness for Miki to play with our rabbits simply because without it it's almost impossible to let the rabbits out of their cage without having to chase them around like crazy.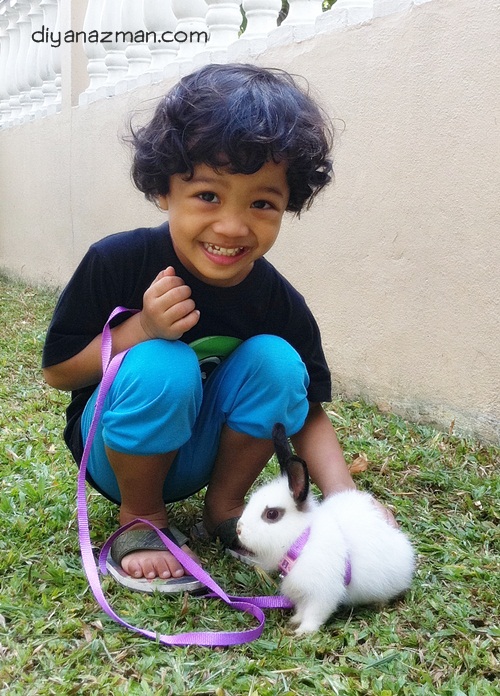 Arwah Pompuan adalah sangat chomel ok!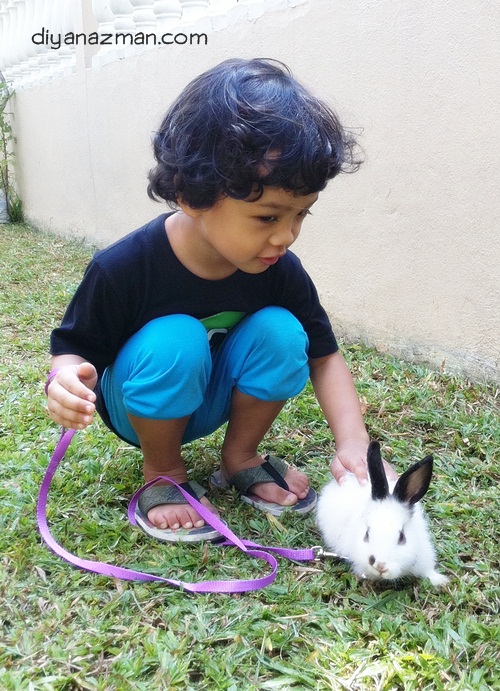 We will miss you Pompuan!
To all the readers of this blog. Yes, 99.99% of you are silent readers, have a great week ahead!
Himpunan Bersih Medan Untuk Pulihkan Demokrasi Negara
Posted: 03 Jul 2011 09:31 AM PDT
R
akyat di negara ini hakikatnya hanya mempunyai dua pilihan iaitu memperjuangkan sistem demokrasi yang semakin pudar fungsinya mahupun membiarkannya terkubur begitu sahaja.
Oleh itu kata Pensyarah Undang-undang Universiti Islam Antarabangsa (UIA), Profesor Dr Abdul Aziz Bari, satu pilihan bijak harus dibuat dalam memastikan masa depan negara terus terpelihara.
"Pilihan yang ada hanya dua sekarang,

hendakkan perlembagaan diperkasa dan dimartabatkan atau hendak perlembagaan itu dipijak dan dinafikan tempatnya,

" kata Aziz kepada Tv Selangor ketika mengulas perkembangan terkini berhubung tindakan polis dan kerajaan pemerintah yang melakukan pelbagai cara demi menghalang himpunan aman Bersih 2.0 menuntut pilihan raya adil pada 9 Julai ini.



Selain menahan sesiapa sahaja yang memakai pakaian berwarna kuning dan berlogo Bersih, mengenakan Ordinan Darurat kepada enam anggota Parti Sosialis Malaysia (PSM), mengisyitiharkan bahawa Bersih adalah sebuah pergerakan haram, kerajaan Umno-Barisan Nasioanal dilihat terus menggunakan segala kekuatan yang ada untuk menghalang perhimpunan aman berkenaan.



Ironinya, persoalan pokok kepada kebangkitan rakyat ini terus dibiarkan menjadi tanda tanya.

Lantaran itu kata Aziz,

rakyat Malaysia harus bangkit menyatakan pendirian mereka dalam hal ini memandangkan tuntutan yang disuarakan oleh Bersih adalah untuk kebaikan bersama.



"Sekarang ini sudah sampai ke tahap, orang biasa pun tahu undang-undang yang digunapakai sekarang adalah undang-udang yang tidak adil. Dan dalam konteks penggunaan Ordinan Darurat ini agak lucu sedikit sebab

pada tahun lepas Datuk Seri Hishamuddin mengatakan bahawa Malaysia tidak berada dalam darurat. Jadi dia telah mengeluarkan yang kenyataan yang bercanggah dan bertentangan

,"ujar Aziz.

Selain penahanan yang semakin diperhebatkan, hal ini kata Aziz l

ebih memalukan apabila ia diselang-seli dengan hujah rapuh pemimpin-pemimpin Umno-Barisan Nasional termasuk media kawalan mereka

.

Rata-rata mereka melabelkan Bersih adalah agenda pembangkang untuk menawan tampuk pemerintahan, walhal katanya, setiap orang juga pastinya mahukan sebuah pilihan raya yang adil dan bersih dilaksanakan tanpa mengenal fahaman politik.

"Apa salahnya menyokong pembangkang kalau pembangkang itu hendakkan sesuatu yang baik? Pakatan Rakyat bukannya pembangkang bawah tanah, mereka bukan pembangkang yang bergerak secara haram.

"Mereka adalah pembangkang yang didaftarkan secara sah dan mereka hendakkan perkara yang baik dan rakyat tidak salah kalau menyokong dan memberikan restu kepada mereka berbanding dengan parti yang hendak mengekalkan kelemahan, mengekalkan kekotoran dalam sistem pilihan raya,"kata beliau.

" Mereka (kerajaan) itu sebenarnya menentang usaha atau inisiatif untuk mewujudkan pilihan raya yang bersih dan adil. Ini tidak ada kaitan dengan huru-hara. Kalau kita lihat dua tiga hari ini, kita sendiri tahu siapa yang buat kacau. Ceramah yang begitu baik dalam premis pun dikacau oleh polis,"tambah beliau lagi.

Malah pensyarah undang-undang ini secara kritis membidas sikap kerajaan yang sanggup melakukan apa jua cara demi memastikan tampuk kekuasaan kekal di tangan mereka.

Lebih malang lagi apabila Suruhanjaya Pilihan Raya (SPR) yang sepatutnya mengambil pendirian berkecuali dan amanah dalam menjalankan proses demokrasi negara, mudah diperkudakan oleh pihak yang berkepentingan.

Dalam hal ini kata Aziz, kerajaan dan SPR seharusnya mengkaji sedalam-dalamnya mengapa rakyat bertindak nekad menggunakan saluran jalan raya untuk menuntut hak merekamendapatkan sebuah pilihan raya adil dan bersih.



"Penafian SPR tentang wujudnya pengundi hantu, penafian wujudnya masalah dalam undi pos, adalah satu penafian yang menyebabkan rakyat terpaksa berarak ke jalan raya. Sudah tidak ada cara lain lagi dan mereka takut dengan perarakan itu,"

jelas Aziz, di sebalik penafian kerajaan bahawa pilihan raya di negara ini dijalankan dengan telus, seraya menyatakan tidak perlu ada sebarang demonstrasi menuntut hal tersebut dilakukan.

Pada hemat beliau, lapan tuntutan yang disuarakan oleh Bersih 2.0 cukup berasas dalam memastikan proses pilihan raya di negara ini dapat dijalankan dengan penuh efisyen dan adil.

Tidak ada sebab katanya, SPR harus mengambil sikap dingin terhadap tuntutan yang disuarakan oleh gabungan NGO itu demi masa depan negara.

"Jadi saya tak nampak bagaimana Tun Dr Mahathir, Najib (Razak) atau siapa juga patut menentang perkara seperti ini. Semua ini telah dituntut dan diminta secara baik selama ini tetapi SPR buat tidak endah dan tidak buat apa-apa. Malah menafikan bahawa ada masalah,"kata Aziz.

Pada Jumaat, Menteri Dalam Negeri, Datuk Seri Hishamuddin Hussein mengisytiharkan bahawa Bersih sebuah pergerakan haram yang boleh mengancam keselamatan negara.

Malah Khutbah Jumaat di sekitar Kuala Lumpur dan Putrajaya turut disajikan dengan peringatan dan amaran bahawa Bersih adalah gerakan pelampau yang memperjuangkan kepentingan individu.

Malah himpunan Bersih itu dikatakan akan berarak ke hulu ke hilir, berkumpul untuk bertindak ganas, merosakkan harta benda awam dan sanggup mencederakan pasukan keselamatan.

Walaupun ditegaskan berkali-kali bahawa Bersih adalah sebuah perhimpunan aman namun kerajaan pemerintah melalui Jabatan Agama Islam Wilayah Persekutuan terus melancarkan fitnah ke atas Bersih demi menghalang hak rakyat bersuara.

"Kita lihat bagaimana masjid digunakan untuk menghentam Bersih. Saya rasa ini satu perkara yang tidak patut berlaku oleh kerana Bersih tidak seburuk itu.

"Apa yang disebut dalam khutbah itu jelas satu fitnah, pembohongan. Jadi bagaimana masjid itu boleh digunakan untuk perkara-perkara seperti itu?,"soal Aziz. -tvsnews






This posting includes an audio/video/photo media file: Download Now
Posted: 03 Jul 2011 08:36 AM PDT
Keeping tofu firm
Soft tofu in the cooking process is very easy to break into pieces.
If you want to maintain the integrity of tofu, you can soak it in salt water for about 30 minutes before cooking.
Soup is too salty
If this happens, the remedy is to add cooked potato pieces for few minutes.
The potato will absorb the salt.
When soup is served, then remove the potatoes.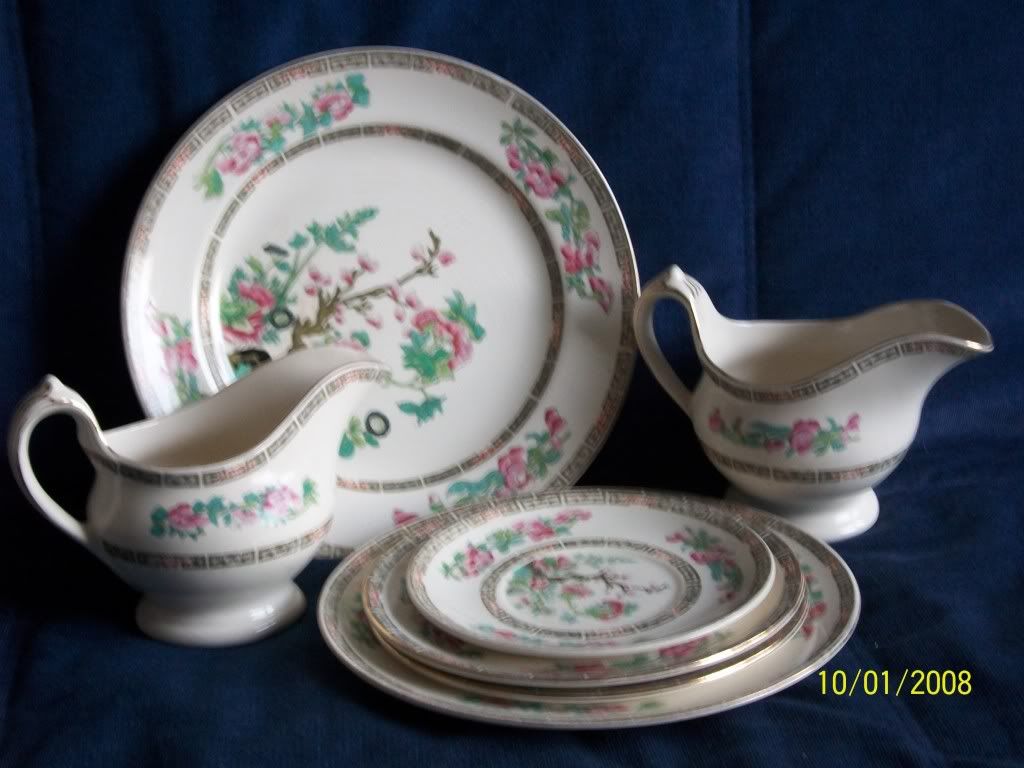 Soak a little vinegar before cutting taros
Cutting taro can make your hands itching.
Soaking your hands in vinegar before cutting taros will prevent your from itching.
How to remove the wax from an apple?
If you often eat apples with their skin, then you would need to remove the wax first before eating ....
(a) place the apple into hot water, the apple's wax will vanish.
(b) Apply toothpaste on the apple to clean out the wax.
How to make good rice?
After washing rice in water, add a few drops of lemon juice, (or a few drops of oil), cooked rice will turn out good and fragrant.
How to keep biscuits crispy?
When storing biscuits in a container, put a sugar cube in it at the same time.
As the sugar absorbs the moisture in the container, biscuits or cookies can remain crispy and delicious.
What can be done if clothing stains with ink?
If ink gets on your clothing or fabric, you can use cooked rice or paste with a little detergent to remove the stain.
Use your fingers to smear repeatedly on the spot, stain can be removed quickly.
Then soak it into fresh water with ordinary cleaning agent for a period of time before washing.
How to treat smelly shoes?
Put a small amount of baking soda directly into the boots, sneakers or shoes, that are obviously smelly due to dampness.
Baking soda powder has the effect of absorbing moisture and odour.
Ring around the collar, or spotty under the armpit area of the clothing?
First brush some shampoo, shaving cream or lotion on the dirty area for five minutes.
Then wash off the stain.
How to keep flower fresh?
Adding a little beer in the vase can keep house flowers fresh for an extended period of time.
This is because beer contains alcohol which is both antiseptic and disinfectant.
Beer also contains sugar and other nutrients for the leaves.
How to sharpen scissors?
Stacked three aluminium foil together, then cut them with the scissors to be sharpen.
You will see surprising result.
How to remove annoying gummed labels?
It is quite annoying when comes to remove the price tags on merchandise.
To remove the gummed labels neatly, all you need is to use a hair dryer to apply heat on the label before taking them off.
Remove crayon graffiti from wooden furniture.
If you you kids at home, wooden furniture are subject to crayon graffiti.
Crayon stains can not be removed with water.
Although the use of paint solvents can do the job, the paint on the surface could be damaged.
The most suitable method is to use toothpaste.
Not only it cleans, it does no harm to the furniture.
Use vinegar to help mopping the kitchen floor.
The kitchen floor is often easy to get greasy. Before mopping the kitchen floor, pour some vinegar on the mop.
This will enable easy removal of grease.
How to remove stains from tea cups?
Stained tea cups can affect their appearance.
To clean up the stain with a man-made loofah cloth the cups would have scratches in the long run.
Just spread a little toothpaste and hand-wash the cups, stain can be removed easily.
If the stain is too thick, wait a few minutes after applying toothpaste before washing.
Improved floor sweeping
The unused stockings can be attached to a broom to clean the floor.
Stockings can help sweeping up cotton, hair and other particles that are difficult to sweep with an ordinary broom.
-Author Unknown-
Thanks to TO who sent me this list. Take care and rest well, dear readers!
Posted: 03 Jul 2011 04:56 AM PDT
Use of EO a preventive measure, says Najib
Posted: 03 Jul 2011 12:47 AM PDT
Lagi Banyak Tangkapan Polis, Lagi Cepat UMNO BN Runtuh!
Posted: 03 Jul 2011 08:26 AM PDT
S
etiap tangkapan satu paku untuk keranda BN
KUALA LUMPUR, 3 Julai:
Setiap tangkapan polis terhadap aktivis Bersih menambahkan kebencian rakyat dan tangkapan itu adalah sebutir paku untuk keranda BN yang akan dikuburkan bersama
.
Pengerusi Jawatankuasa Tetap Perumahan, Pengurusan Bangunan dan Setinggan Kerajaan Selangor, Iskandar Abdul Samad berkata demikian sebagai mengulas Exco Kerajaan negeri, Ronnie Liew, telah ditahan polis malam semalam selepas satu majlis penerangan kerajaan negeri di Hulu Selangor bersama Menteri Besar, Tan Sri Khalid Ibrahim.
Beliau diberitahu oleh seorang lagi rakan Exconya, Teresa Kok, Ronnie ditahan kerana mengajak orang ramai menyertai Himpunan Bersih 2.0 pada 9 Julai ini dalam ceramah itu.

"Tangkapan-tangkapan yang berkaitan dengan Bersih 2.0 seperti ini semakin bertambah.

"Dari Exco kepada peniaga kecil yang menjual baju kuning. Dari ahli Parlimen kepada mereka yang datang untuk mendengar ceramah dengan berbaju kuning. Semuanya telah menjadi mangsa," kata Iskandar dalam kenyataan kepada Harakahdaily hari ini.

Menurut beliau, ada rakan-rakan yang marah kepada pihak polis, tetapi pada beliau, tidak perlu marah kepada pihak polis kerana mereka hanya menurut perintah pemimpin-pemimpin BN sahaja.

"Ada pula yang marah kepada BN dan mahu tangkapan-tangkapan ini diberhentikan. Namun pada saya pula, pihak berkuasa elok meneruskan tangkapan.

"Tangkaplah lebih ramai. Tangkaplah sesiapa sahaja yang memakai baju kuning, seluar kuning, topi kuning, jubah kuning malah apa-apa yang kuning.

"Tangkapan-tangkapan ini tidak akan sama sekali menjejaskan Bersih 2.0. Tetapi mendedahkan sikap sebenar BN. Setiap tangkapan menambah kebencian rakyat. Setiap tangkapan adalah sebutir paku untuk keranda BN yang akan kita kuburkan bersama," katanya.

Beliau yang juga Adun Chempaka menegaskan, tangkapan-tangkapan itu tidak akan menakutkan rakyat tetapi menambah maki hamun rakyat dan sumpah seranah rakyat terhadap BN.

"Bukan sahaja ahli-ahli parti sahaja yang sedemikian tetapi orang awam, orang tidak berparti dan orang atas pagar telah mengakui bahawa BN sudah hilang akal di saat-saat kematiannya," katanya. -hd



Ulasan GB



Polis tidak pernah belajar dari kesilapan.

Setiap satu tangkapan akan menyaksikan peralihan undi BN kepada PR sekurang-kurangnya 100 orang.

Ini kerana seorang yang ditangkap terdapat sekurang-kurangnya 100 ahli keluarga dan rakan-rakan mereka yang bersimpati. Kirakan jika 1000 orang yang dtangkap, bererti 100,000 BN akan kehilangan undinya.



Bererti setiap tangkapan yang dilakukan oleh polis akan menyebabkan UMNO BN akan kehilangan lebih banyak undi.



GB sudah memberikan pandangan GB sebelum ini. Petikan:

GB yakin kesan daripada tindakan polis ini akan mendapat tentangan hebat daripada majoriti rakyat. Ianya akan dimanifestasikan melalui kertas undi di dalam pilihanraya nanti.

Sepertimana yang bekas Tun Dr Mahathir Mahathir yang cuba lepas tangan begitu sahaja tanggungjawab politiknya dalam "Operasi Lalang" pada tahun 1987, dalam satu wawancaranya yang dibukukan dalam Doctor M: Operation Malaysia - Conversations with Mahathir Mohamad, oleh Tom Plate.

Mahathir mendakwa penangkapan pada 26 Oktober 1987 adalah keputusan polis, dan beliau hanya menerima keputusan itu. Malah, TDM mendakwa konon dirinya pernah berjumpa dan menjamin kepada pembangkang sebelum "Operasi Lalang", bahawa mereka tidak akan ditangkap.

Apa yang berlaku selepas Operasi Lalang?



Keputusan pilihanraya umum ke 8 pada tahun 1990 Barisan Nasional kalah teruk dimana undi popular BN adalah yang terrendah selepas PRU 1969 iaitu hanya memperolehi 53.4% dan jumlah kerusi parlimen yang dimenangi BN pada ketika itu merosot dengan teruk buat kali pertama sehingga ke paras hanya 70%.



Hal yang sama berulang dimana tangkapan dilakukan terhadap peserta BERSIH 1.0 pada 2007.

Pada 9 Disember 2007, Naib Presiden Pas, Mohamad Sabu telah ditahan oleh polis Perak diketuai oleh Ketua Jabatan Siasatan Jenayah Perak, SAC II Ismail Yatim.



Kereta Naza Ria Mohamad Sabu ditahan berhampiran Pasar Raya Tesco di Kepala Batas, Seberang Perai, Pulau Pinang. Beliau dalam perjalanan pulang dari majlis perkahwinan anak perempuannya di Sunway City, Tambun, Perak. Mohamad Sabu dipercayai terlibat dalam perhimpunan Bersih pada 10 November 2007. Rumah Mohamad Sabu terletak di Guar Petai, Tasek Gelugor, Pulau Pinang.


Tian Chua yang merupakan Ketua Penerangan KeADILan turut ditahan

di bawah Akta Polis, Seksyen 27(5)(a), di Johor Bahru, jam 5.15 petang pada 9 Disember 2007 kerana menjadi penggerak perhimpunan Bersih.



Apa yang berlaku pada PRU 2008?



Pertama kali di dalam sejarah B

N gagal menguasai majoriti 2/3 parlimen sehingga begitu ramai menteri kabinet kecundang dan terkangkang untuk mempertahankan parlimen masing-masing!



Tian Chua diangkat menjadi ahli parlimen Malaysia. Polis tak tahu malukah?

Justeru itu, jika polis ingin melihat BN kalah teruk di dalam PRU13 ini, kamu boleh terus ugut dan tangkap rakyat yang telah menyuarakan hati nurani mereka bahawa BERSIH TETAP DITERUSKAN.

Tindakan polis akan hanya meruntuhkan UMNO BN. Terima kasih PDRM!


The Ingredients for Terrorism: extremism, poverty, ignorance and injustice
Posted: 03 Jul 2011 07:14 AM PDT
Posted: 03 Jul 2011 06:19 AM PDT
如果单凭拥有切格瓦拉衣服就会被调查,那么警方早应扫荡吉隆坡中央艺术坊
Posted: 03 Jul 2011 06:19 AM PDT
全体国人应该以最严厉的措辞谴责和抨击内政部长希山慕丁以紧急法令重新逮捕6位社会主义党干部,因为希山慕丁这么做已经严重违反人权。警方是在上个星期以试图重振国内共产主义力量的"罪名"扣留30名社会主义党干部7天,其中和丰国会议员再也古玛等6人突然获得释放后旋即又被警方援引紧急法令重新逮捕,而且警方有权扣留长达60天。其实,紧急法令一般上是用来对付重犯,不含政治因素。这是大马史上首次用来逮捕政治人物,而且扣留的罪名为涉嫌勾结外国势力及被颠覆元素渗透,简直是荒谬至极。警方日前以试图重振国内共产主义力量的"罪名"扣留30名社会主义党干部是不可思议的。须知社会主义党干部被逮捕的时候,警方只是在巴士上起获28件印有切格瓦拉、马共总书记陈平、阿都拉西迪(Abdullah CD)、拉昔迈丁(Rashid Maidin)及应敏钦(Suriani Abdullah)肖像的红色及黑色T恤、逾7000张"够了,
Bersih Diharamkan. Apakah Tuntutan Pilihan Raya Adil Ancam Keselamatan Negara?
Posted: 03 Jul 2011 06:34 AM PDT
P
arti Keadilan Rakyat (PKR) mengutuk sekeras-kerasnya tindakan Kementerian Dalam Negeri (KDN) yang mengisytiharkan Bersih 2.0 sebagai sebuah pertubuhan haram.
Naib Presiden PKR, N. Surendran dalam satu kenyataan media mempersoalkan bagaimana sebuah pergerakan yang menuntut sebuah pilihan raya adil dilaksanakan di negara ini boleh dianggap mengancam keselematan negara.
"Bagaimanakah sebuah perhimpunan aman dengan matlamat demokrasi yang murni menjadi ancaman kepada keselamatan awam?,"soal Surendran.

Malah menurut peguam muda itu, arahan yang dikeluarkan oleh Datuk Seri Hishamuddin Hussein jelas bertentangan dengan Perlembagaan Persekutuan.

"Seksyen 5 Akta Pertubuhan adalah bercanggah dengan Artikel 10(1)(c) Perlembagaan Persekutuan yang menjamin kebebasan berpersatuan untuk rakyat.

"Menteri turut menyalahgunakan kuasanya di dalam mengeluarkan perintah tersebut memandangkan tindakan tersebut bermotifkan politik dan berhasrat mengekang kritikan terhadap Kerajaan BN,"katanya lagi.

Oleh yang demikian, PKR menuntut perintah tersebut dibatalkan dan semua yang ditahan kerana dikaitkan dengan Bersih 2.0 segera dibebaskan.

Gabungan Pilihan Raya Adil dan Bersih (Bersih 2.0) telah diisytiharkan haram oleh Pendaftar Pertubuhan (ROS) berkuatkuasa pada Jumaat.

Ketua Pengarah ROS Datuk Abdul Rahman Othman berkata perisytiharaan itu dibuat oleh Hishammuddin mengikut seksyen 5 Akta Pertubuhan 1966. -tvsnews









This posting includes an audio/video/photo media file: Download Now
Baju BERSIH - 17 Ahli PAS Jasin Ditangkap Di Kompleks PAS Jasin
Posted: 03 Jul 2011 05:37 AM PDT
B
erita Terkini: Seramai 17 orang ahli PAS Kawasan Jasin telah ditahan di dalam operasi polis menahan penjualan baju Himpunan BERSIH di Jasin hari ini. Mereka ditahan di dalam serbuan polis selepas Seminar PAS Ganti UMNO di di Dataran Hamas, Kompleks PAS Jasin.
Antara yang ditahan ialah Ketua Dewan Pemuda PAS Negeri, Yuhaizad Abdullah, Ketua Penerangan PAS Kawasan Jasin, Fauzi Maelah, Adnan Abu, Ali Mahadi, Abd Hannan, Ibrahim Talib, Ust Hasri, Ust. Sofi, Azizan Anuar, Tn Hj Samsudin dan beberapa ahli PAS Jasin.
Polis bertindak masuk ke perkarangan Pejabat PAS Jasin di Simpang Kemendor dekat sini kira-kira jam 1.00 petang sebaik sahaja selesai Seminar PAS Ganti Umno yang dianjurkan oleh PAS Kawasan Jasin yang bermula pada jam 9.00 pagi.

Seramai 30 orang anggota polis yang berpakaian preman telah merampas kira-kira 200 helai baju Bersih 2.0.

Sementara itu beberapa orang polis yang beruniform yang lain menunggu di luar.

Dalam pada itu kesemua ahli PAS yang ada di perkarangan pejabat tersebut dihalang dari meninggalkan pejabat tersebut sehingga tangkapan dibuat.

Semua kenderaan diperiksa, nama tuan punya kenderaan dan nombor telefon masing-masing diambil.

Sehingga kini dilaporkan pihak polis belum menyatakan secara khusus di atas kesalahan apa yang dikenakan terhadap mereka yang ditahan.






MP Bakri Teck Hwa dan 5 lagi ditangkap



Ahli parlimen DAP Bakri, Er Teck Hwa; pemimpin Pemuda DAP Johor Tan Hong Ping dan empat yang lain ditahan dan dibawa ke balai polis Taman Pelangi, Kuala Lumpur, dalam satu lagi episod tindakan polis terhadap sebarang aktiviti 'BERSIH'.

Bagaimanapun, ketika dihubungi, Er menafikan kehadiran mereka di pasar Taman Pelangi pagi ini ada kena mengena dengan perhimpunan BERSIH 2.0 YANG dirancang pada 9 Julai.

Er berkata beliau dan Tan hanya menjalankan kempen kebersihan 'gotong-royong' dengan tema "Negara Bersih, Rakyat bertuah".

"Saya fikir pihak polis terlalu sensitif. Tema kami adalah Negara Bersih, Rakyat Bertuah, tetapi mereka tidak mahu menerima penjelasan mengenainya," kata pemimpin DAP itu.

Baju kuning yang mereka pakai juga direkabentuk berbeza dari baju-T BERSIH yang sehingga ini menyebabkan lebih 100 aktivis politik dan sosial ditahan minggu lalu.

"Kami juga menyebut bahawa kempen itu tidak berkaitan dengan perhimpunan BERSIH di Kuala Lumpur pada 9 Julai," kata Er, tetapi ia tidak dapat menyakinkan 20 anggota polis yang tiba di pasar itu sejurus selepas mengetahui tentang aktiviti kumpulan tersebut. -mk
Refreshing Barley Lime: Woot! PappaRich New Outlet, opp Taman Midah!
Posted: 03 Jul 2011 05:53 AM PDT
Didn't get to take that many pictures due to the dim lighting but managed to at least take one picture of my favorite drink!
 Barley Lime - a must try!
Click
HERE
for direction from end of Jalan Loke Yew, coming  from KL, to Wisma CKE, Cheras:.
Posted: 03 Jul 2011 11:09 AM PDT
Yang di-Pertuan Agong's statement on Bersih illegal rally
here
...
NO ROOM FOR ILLEGAL DEMOS, says IGP Tan Sri Ismail Omar in Butterworth today (
here
)... and dont ever try to challenge the police in carrying out its duty!
For the first time since taking office from Musa Hassan about a year ago, the Inspector-General of Police has finally stood tall with this stinging remarks. He is beginning to be 'the man in-charge', and I think i am going to like him.
That's the way, bro. As the IGP, you are vested with a special power to act using your own jurisdiction in determining the best action to deal with security matters. Of course, while the Home Ministry is there as a political-governing regulatory institution for national security, an IGP should know how and when to act in attending to situations like this.
"Don't challenge the sovereignty of the law which has been enshrined in the federal constitution. Police will take appropriate action using the law provided against anyone violating the law," he said in urging those intending to participate in the illegal assembly on July 9 to abort their plan or face police action.
The police had received more than 2,000 police reports nationwide protesting against the illegal assembly and PDRM had certain strategies which could be used to maintain security.
And in Petaling Jaya, his deputy Datuk Seri Abdul Khalid Abu Bakar said (
here
) the police have not dismissed the possibility that more people will be arrested under the Emergency Ordinance (Public Order and Prevention of Crime) 1969 for subversive activities.
He also brushed aside claims by some groups that police were out to arrest anyone according to their whims.
Yesterday, police detained Sungai Siput Member of Parliament Dr Jeyakumar Devaraj and five members of the Parti Sosialis Malaysia (PSM) under the Emergency Ordinance. To date, 152 people have been arrested under Section 27(5) of the Police Act.
In 1987, the IGP used the special power vested in him to carry out the arrest of 106 people under Ops Lalang to quell street demonstrations in Kuala Lumpur. It met with heavy criticism from various quarters, including the Opposition, NGOs and foreign media but it proved to be very successful in bringing about stability to the nation.
And with Bersih 2.0 is ready to challenge the law and order on July 9, I believe Ismail and team are ready to brace it. As our IGP, peace-loving Malaysians are looking at him.
JANGAN KASI CAN SAMA DIORANG!
Marina Mahathir: Disingenuous for Dr M to say Bersih's purpose is political
Posted: 03 Jul 2011 03:09 AM PDT
"The purpose is political... precisely for PR (Pakatan Rakyat). It is not about whether the election is clean or not... that is secondary. But they want to paint the government black and therefore, although you are gray, you look more white."
"Equally disingenuous is to say that wanting clean elections is playing politics. But, isn't everyone playing politics these days? And is politics confined only to politicians?"
Posted: 03 Jul 2011 03:52 AM PDT
K
ulim: "Sebaik mendengar letupan kuat, saya berlari di sekeliling tangki untuk mencari rakan yang terjatuh sebelum terkejut menemui arwah di bawah tangga besi dalam keadaan tidak bernyawa lagi, kira-kira 30 meter dari tempat kejadian."
Begitu kata Al Azria Shamsudin, 20, apabila rakannya yang juga pembantu kimpalan, Che Hussin Che Kob, 49, maut disebabkan cedera parah di badan akibat letupan di sebuah kuari di Bandar Sri Mahkota, Sungai Ular, dekat sini, semalam.
Dalam kejadian jam 11 pagi, seorang lagi rakan mangsa, Mohd Fahmi Muzz Uddin Aripin, 21, turut cedera di badan dan menerima rawatan di Hospital Kulim.

Al Azria berkata, dia di bahagian bawah tangki minyak tar, manakala arwah yang baru sebulan bekerja di situ bersama Mohamad Fahmi membantu seorang lagi rakan melakukan kerja mengimpal di atas tangki.

Menurutnya, tiba-tiba berlaku letupan kuat dan dia melihat tiga rakannya terpelanting ke bawah, menyebabkannya terkejut lalu cuba membantu mangsa yang cedera dengan bantuan pekerja lain.

"Kejadian berlaku begitu pantas dan kami tidak sempat untuk menyelamatkan diri. Rakan yang menjalankan kerja mengimpal hanya terseliuh kaki akibat terjatuh dari tangki setinggi tiga meter itu.

"Manakala Mohd Fahmi dikejarkan ke Hospital Kulim dengan ambulans kerana cedera di badan, namun kami sedih arwah tidak dapat diselamatkan kerana mati di tempat kejadian," katanya ketika ditemui di rumah mayat Hospital Kulim, di sini.

Sementara itu, anak mangsa, Mohd Shafiq, 20, berkata bapanya tidak menunjukkan perlakuan pelik, sebaliknya bersikap seperti biasa ketika keluar dari rumah di Taman Angsana, di sini, untuk ke tempat kerja.

Menurutnya, dia hanya menyedari kejadian itu selepas dimaklumkan rakan bapanya lalu bergegas ke tempat kejadian.

Dalam pada itu, Ketua Polis Daerah Kulim, Superintendan Ghuzlan Saleh berkata, sepasukan anggota polis dihantar ke tempat kejadian selepas menerima maklumat sebelum menemui mayat seorang lelaki di tangga berhampiran tangki yang dalam pembaikan.

Menurutnya, berdasarkan siasatan awal, empat pekerja melakukan kerja pemasangan paip di tangki minyak tar di kawasan kuari itu.

"Mangsa bersama rakan tercedera berada di atas sebuah tangki dipercayai membantu memegang sebatang paip yang dikimpal seorang lagi rakan mereka," katanya. -hm

Funny Marriage Quotes and Sayings
Posted: 03 Jul 2011 02:53 AM PDT
Marriage is an adventure, like going to war.
Marriage is a wonderful invention: then again, so is a bicycle repair kit.
Marriage is like a phone call in the night: first the ring, and then you wake up.
My wife suggested a book for me to read to enhance our relationship. It's titled, "Women are from Venus, Men are Wrong."
When a man steals your wife there is no better revenge than to let him keep her.
It's a funny thing that when a man hasn't anything on earth to worry about, he goes off and gets married.
Love is blind, marriage is the eye-opener.
I was married by a judge. I should have asked for a jury.
I don't worry about terrorism. I was married for two years
A man in love is incomplete until he is married. Then he's finished.
Before marriage, a man declares that he would lay down his life to serve you; after marriage, he won't even lay down his newspaper to talk to you.
There's a way of transferring funds that is even faster than electronic banking. It's called marriage.
Your marriage is in trouble if your wife says, 'You're only interested in one thing,' and you can't remember what it is.
Marriage is give and take. You'd better give it to her or she'll take it anyway.
You know what I did before I married? Anything I wanted to.
The husband who wants a happy marriage should learn to keep his mouth shut and his cheque book open.
My wife and I were happy for twenty years. Then we met.
We always hold hands. If I let go, she shops.
A man's wife has more power over him than the state has.
In my house I'm the boss, my wife is just the decision maker.
Marriage–a book of which the first chapter is written in poetry and the remaining chapters written in prose.
A bachelor is a man who never makes the same mistake once.
My husband said he needed more space. So I locked him outside.
The only time a woman really succeeds in changing a man is when he's a baby.
I fell in love at first sight… I should have looked twice.
Marriage is the only war in which you sleep with the enemy.
The secret of a happy marriage remains a secret.
Marriage is like a hot bath. Once you get used to it, it's not so hot.
There is no more lovely, friendly and charming relationship, communion or company than a good marriage.
Marriage is nature's way of keeping us from fighting with strangers.
Compromise: An amiable arrangement between husband and wife whereby they agree to let her have her own way.
Marriage is a three ring circus: engagement ring, wedding ring, and suffering.
I've had bad luck with both my wives. The first one left me and the second one didn't.
Some people ask the secret of our long marriage. We take time to go to a restaurant two times a week. A little candlelight, dinner, soft music and dancing. She goes Tuesdays, I go Fridays
The appropriate age for marriage is around eighteen for girls and thirty-seven for men.
Bachelors know more about women than married men; if they didn't, they'd be married too.
I got rid of my husband. The cat was allergic.
I require only three things of a man. He must be handsome, ruthless and stupid.
Keep your eyes wide open before marriage, and half-shut afterwards.
I never knew what real happiness was until I got married. And by then it was too late.
Marriage has no guarantees. If that's what you're looking for, go live with a car battery.
Marriage is a wonderful institution, but who wants to live in an institution?
After marriage, husband and wife become two sides of a coin; they just can't face each other, but still they stay together.
*Posted for laughs with grateful thanks to TO. Have a restful evening!
Posted: 03 Jul 2011 02:14 AM PDT